Howard Kendall Interview
By Paul Traill
10/12/2013

Comments (13)
jump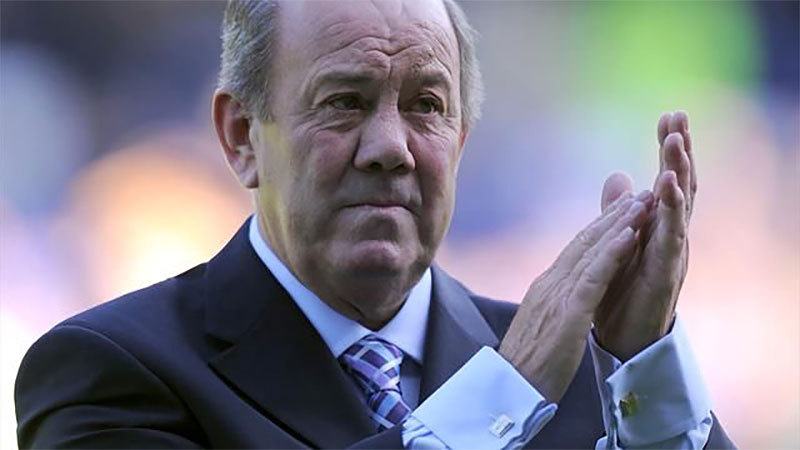 Having somehow managed to arrive at not only the wrong pub but also the wrong town to meet Howard Kendall for an interview, I was in a race against time to get from the unfamiliar surroundings of Southport to the even-less familiar town of Ormskirk. Being the ever-popular man that he is, Howard had a book signing nearby at 3pm, leaving me, thanks mainly to my Sat Nav, with roughly 30 minutes to squeeze an interview in with Everton's most successful manager.
Fortunately for me, Howard was in sparkling form and the interview passed by very nicely indeed. He was perhaps buoyed by the fact Newcastle Utd, his boyhood football club, had — as Everton did last Wednesday — just toppled Manchester United 1-0 at Old Trafford. Howard does still have a little soft spot for Newcastle Utd as he describes in his still-slightly-prevalent North-East twang.
"Oh yeah. My cousin played there, I was born up there. There's been a lot of changes since I left the North-East and there's a big foreign influx now. It's totally different but I still look for their results."
During his time at Athletic Bilbao ("Ath-lett-ick" as Howard corrects my pronunciation), Howard was courted about becoming manager at St James's Park. "Newcastle had been relegated and the Director came over to try and tempt me back and nobody could have tempted me more in that time than Newcastle but I felt the timing was wrong."
I asked how tough a decision it was to leave Everton and set sail to the Basque country of Bilbao?
"They sold the club to me and sold the idea of the club to me. We (Everton) had a ban in Europe. I wasn't expected to win the league. I wasn't expected to do a Real (Madrid) or a Barcelona and have the pressure on to win something. I didn't have that at Bilbao. It was a case of changing the older players and bringing in the younger players and achieving a satisfactory position in the table, which I did in the first season."
Of course after Athletic Bilbao came the cooler, more familiar surroundings of Manchester where Howard managed Manchester City before returning to Everton for the second time. He was doing very well at Manchester City before returning to Everton, as he was at Sheffield United before returning to Everton for his third spell. I asked Howard if he ever looked back at moments in his career such as these and the European ban we received following the Heysel disaster and pondered "What if?"
"I don't look back at it. The only way is to say 'you did a good job there'. When you look at situations and positions clubs were in when you got there and position they were in when you left, then I'm very satisfied with the job I did."
Regardless of how both his second and third Everton spells concluded, Howard looks back with no regrets about either spell.
"There was always a pull at Everton Football Club. If you look at the situation both times I went back, I don't think there was any possibility of repeating the '80s but I was just happy to be back there".
And was it frustrating to see Walter Smith (initially at least) be provided with significant money to buy players (Olivier Dacourt, Marco Materazzi, Alex Nyarko, John Collins) once Howard had been sent on his way following his third spell? Howard shrugs, "A manager goes into the club knowing how much he has to spend and I knew the finances I had to play with at the time."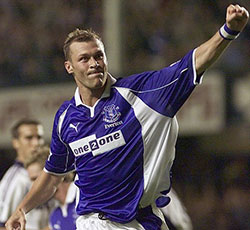 There is a glint in Howard Kendall's eye as he fondly remembers his time managing Duncan Ferguson at Everton. In his book, The Binman Chronicles, Neville Southall explains how much he felt Duncan Ferguson underachieved as a player, stating how he could have been the best player in the world had he better applied himself.
"Well, that's going a bit strong but, at the same time, maybe Duncan realized a little later how to play to his strengths. He was absolutely awesome, you know, and let himself down a few times on the pitch but technically aerial-wise no-one could touch him. You had to get the service into him. Duncan had to like you for you to get the best out of him".
And what was he like off the pitch?
"He still has his cup of tea and cake on Sunday morning sometimes" Howard grinned. "I'm very privileged when he knocks on the door and I don't think he knocks on many doors."
Howard is quite open about Neville Southall being his best ever signing, but who was his most disappointing?
"Danny Williamson. Shortly after signing him, I had terrible problems with him. I thought I was bringing into Everton a top class player, a good player, but it was disappointing, thanks to circumstances." said Howard.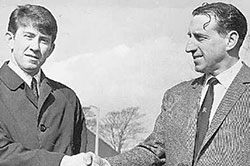 Kendall and Catterick when he first signed for Everton
Speaking of disappointments, I asked Howard how critical to the demise of Harry Catterick's team was the double cup defeat within four days, when Everton lost to Panathiniakos in the European Cup Quarter-Final and then Liverpool in the FA Cup Semi-Final in the 1970-71 season.
"That was a terrible week really. I think to this day it was bent in Greece, and having worked in Greece twice, I know their mentality. Then coming back to lose against Liverpool. It was a tremendous effort to go 1-0 ahead. We lost Labone at half-time then and it seemed as if it was the end of a Championship side. It was all too quick really but that's what happened."
Could Harry Catterick have been a better manager?
"He was ahead of his time in terms of the system he wanted to play, the players he bought in and the balance of the team. He knew the game in terms of the old style of management before the tracksuit managers came into the game. He was in his office all day and rarely came down."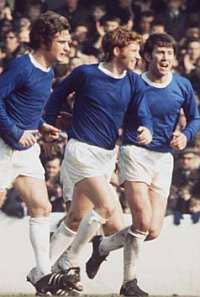 The Holy Trinity of Kendall, Harvey and Ball
And just how good was Alan Ball when compared with players in the modern game?
"When you look at goalscoring from midfield you'd look at Gerrard and look at Lampard but Bally was more up front, a Rooney position where Bally played. He was off Big Joe (Royle) who was supported by Jimmy Husband coming in from the flanks."
Moving from one of Everton's biggest European disappointments to one of our finest ever achievements when we defeated Bayern Munich at Goodison Park in 1985. Was this the best atmosphere Howard had experienced when compared with fixtures at the Nou Camp or the San Mamés?
"I think the Bayern Munich game is number one for me and it would be for the players if you asked the players playing that night. If you ask any of the players there at the game, it was absolutely fantastic. I've never known anything like it and I don't think it's been beaten yet, although it was a tremendous atmosphere at the (recent) derby game and I thought it was one of the best derbies of all time."
And so onto our new manager, what does Howard make of Roberto Martinez's early voyage into management at Everton?
"I think that he's won over the players and the fans and, over a short period of time, that's a tremendous achievement. It's been a great start results-wise and he's done a great job coming in from Wigan, a relegated club, although they did win the FA Cup – Wimbledon did once. He's come from a relegated team but I didn't think he had the defence or the goalkeeper but he had the attacking philosophy. He's brought this with him, bringing in players who can go past defenders but he's inherited a back four and a goalkeeper and that has really given him a great start."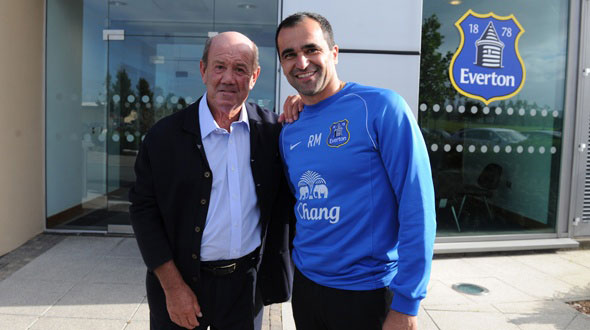 Past meets present: Kendall and Martinez at Finch Farm
Can Roberto bring Everton into the Holy Grail of the Champions League and help us enjoy great European nights at Goodison Park in the future?
"It's early days and I don't think you should heap pressure on him, I hope he doesn't swap and change in FA Cup. I don't think he will after experiencing the win when he was at Wigan. I think he'll play his strongest team in the Cup and field teams to win the game. He would enjoy it more with Everton. It means so much to Evertonians. Wigan probably didn't sell all their tickets. Everton could sell theirs two-fold."
It was splendid to meet Howard Kendall and he was in fantastic form. I really enjoyed sitting down and chatting to him and it did feel like more of an informal chat than an interview. He left to sign copies of his book at the local Waterstones and the reaction of the people in the pub when he left speaks volumes of what he achieved as player and manager of Everton. Blues and Reds alike were asking me about him and asking what he had said in the interview, what he was like, asking to look at the book...
A lady came and sat next to me later on when all the fuss had died down and saw Howard's book Love Affairs & Marriage – My Life In Football on the table. She enthused about how she adored him as Everton manager in the 1980s and was gutted to hear she'd just missed him.
I'm grateful I was lucky enough to meet and interview Howard Kendall – our greatest ever manager.
---
Reader Comments
Note: the following content is not moderated or vetted by the site owners at the time of submission. Comments are the responsibility of the poster. Disclaimer
Keith Edmunds
571
Posted 11/12/2013 at 04:07:10
Great work Paul, but I've been hanging out for your Arsenal match report?
Ian Burns
597
Posted 11/12/2013 at 09:35:42
Thanks for the article Paul - a really good read. Howard was a fantastic player (never had pace but what a footballer he was); great manager Mk 1 and I have posted before that I was amazed it took RM to invite him to Finch Farm for his first ever visit. Will never be able to get over that one.
Can't quite put my finger on it but I always feel there is something sad about Howard - but as part of the Holy Trinity (great pic by the way!), he will forever remain a hero to me.
David Harrison
631
Posted 11/12/2013 at 11:40:20
Privileged enough to meet him in the early 80s when he brought the youth team to play Lancaster Uni. He came over to the rugby pavilion because we were serving beer!! Chatted openly and was happy to talk to a star struck student fan. He will always be an EFC hero but agree about the sadness Ian. Perhaps it's the fact that he left four times...
Matt Traynor
666
Posted 11/12/2013 at 14:53:18
It's clear he's still held in high regard by his former players. I was in one of the unofficial lounges on Goodison Road a couple of seasons ago and he was in there with John Bailey and Kevin Ratcliffe after the match. He was happy to chat to everyone, and it was great to hear the former players refer to him as "Boss" or "Gaffer" still.
It was a shame that his managerial career rather petered out when at one stage he looked nailed on for the England job.
Matt Traynor
667
Posted 11/12/2013 at 14:53:18
It's clear he's still held in high regard by his former players. I was in one of the unofficial lounges on Goodison Road a couple of seasons ago and he was in there with John Bailey and Kevin Ratcliffe after the match. He was happy to chat to everyone, and it was great to hear the former players refer to him as "Boss" or "Gaffer" still.
It was a shame that his managerial career rather petered out when at one stage he looked nailed on for the England job.
Sam Higgins
724
Posted 11/12/2013 at 20:02:41
Great stuff Paul - but I too am awaiting your Arsenal match report!!
Danny Kewley
737
Posted 11/12/2013 at 20:12:07
Great read Paul lad! You have confirmed why Howard will always be held in such high esteem at our great club!
Still not to late for that Arsenal report you know!

Ross Edwards
776
Posted 11/12/2013 at 22:31:58
Brilliant stuff Paul- thank you.
An absolute legend of this club, our greatest manager. A man who brought huge success to this club both as manager, and player, and kept a complete pig of a squad up in 1997/98.
It is, in my opinion, and probably of others, an absolute disgrace that he was not allowed to visit Finch Farm by Moyes.
Mike Gaynes
784
Posted 11/12/2013 at 23:01:20
Many thanks, Paul.
But where's the photo of you and Howard together?
Paul Traill
855
Posted 12/12/2013 at 12:40:25
Sorry fellas, I didn't make it to the Emirates. Shame because that was some performance!
Ste Traverse
946
Posted 12/12/2013 at 19:42:22
Up there with Dixie and Big Nev as the 3 biggest legends of this club.
Had the pleasure of meeting Howard twice, and unlike the previous incumbent of the Goodison hot seat, HK is a man who knows what NSNO stands for and delivered success, as a manager and a player. None of this knife to a gunfight and punching above our weight bollocks.
With it being unlikely we'll be moving for years at least, we should name one of the stands at Goodison Park after him.
Add Your Comments
In order to post a comment, you need to be logged in as a registered user of the site.
Or Sign up as a ToffeeWeb Member — it's free, takes just a few minutes and will allow you to post your comments on articles and Talking Points submissions across the site.
© ToffeeWeb