Ted Critchley – My Dad
By Rob Sawyer
10/12/2013

Comments (16)
jump

Rob Sawyer in Conversation with Doris Holmes (née Critchley)
Ted Critchley was the Trevor Steven, Dave Thomas or Alex Scott of his day: fast and skilful with an unerring ability to dribble and deliver crosses into the box from the right flank.
Ted made his name as an outside-right with hometown club, Stockport County, whom he joined as a 17-year-old in 1922 after impressing in local football. His 188 games for The Hatters, including a few alongside Harry Catterick Senior, saw him play Second Division football and collect a Manchester Senior Cup winner's medal.
Everton, on the look-out for a replacement for Sam Chedgzoy, came calling in December 1926 — albeit after some procrastination. Ted turned out to be an astute signing as he and Alec Troup marauded down the flanks to help "Dixie" reach his glorious 60 in 1928. Famed for his pace, Ted would later joke: "Let's put it this way – I could run half-an-hour in 25 minutes!"
In his 8-year tenure with the Blues, he made 229 appearances and scored 42 goals. He remains one the the Blues' most decorated players with medals from two 1st Division Championships, a 2nd Division championship and two Community Shield victories. Remarkably, he was never capped for England but came close — just falling a vote short in the days when a Committee voted on the line-up.
Injury robbed Ted of the chance to wear the Number 7 shirt for the first time in the 1933 Cup Final. From thereon in, injury — and competition from Albert Geldard — restricted Ted's appearances. He left Goodison Park in 1934 to wind down his career with Preston, Port Vale and South Liverpool.
Ted lived a long and happy life after football, working in the Stockport pub trade with his wife Doris before passing away aged 91 in 1996. He made his last visit to Goodison as a guest of honour in January 1996, as Hatters fan Dave Moore recalls:
"I had the pleasure of meeting Ted when he was in a retirement home in Offerton. When County drew Everton in the Cup, I wrote a letter to the Echo, then Everton got in touch and we were invited to the match. On arrival, we were greeted by Brian Labone, who showed us all around. We met lots of players, past and present, went into the dressing rooms, then we made our way down the tunnel to the pitch. I don't know who was the most excited, me or Ted.
Everybody made a big fuss of Ted, wanting to hear his tales about Dixie Dean; he made us all laugh when he said, "No wonder he scored so many goals, he couldn't miss with the crosses I sent over." A fantastic day – everybody connected with Everton treated him with the utmost respect. He loved the match and didn't know who to cheers for! I believe that he talked about his trip there for the rest of his days".
Tipped off that Ted's daughter lived nearby in Stockport by Deako – When Skies are Grey correspondent and fellow Handforth Blue – I made contact with her. Doris (named after her Mum) had long-ago sold off her Dad's medals and mementos but her memories of her father were vivid and touching: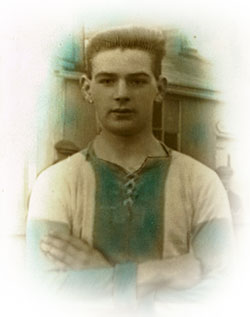 My Dad was born on Hall Street in Stockport. He always knew he was going to be a footballer from the age of six and, by the time he was eight, the sports master would ask him to pick the sides! He was always great at lots of sports – as a youngster, he once beat Fred Perry, who was also from Stockport, in a tennis match. In fact he could have had a tennis career but decided that there would be more money as a footballer. Despite being right-footed he was left handed – in cricket he would bowl right-handed but then go out and bat left-handed!
They say he was Stockport's best ever home grown player. The first medal he ever won was the Manchester Senior Cup in 1923. When he left County to join Everton, they signed him at the Midland Hotel in Manchester, he was earning £8 per week plus a £2 win bonus.
After he married my mum in 1928, they lived in a club house at 10 St Lucia Drive in Wallasey – which is where I was born in 1931. In the late 1920s, he bought his first car – quite an unusual thing then. He went to a dealer in Leasowe and the man asked him if he knew how to drive... to which he replied "No". So the man said get in and I'll show you – and that was that!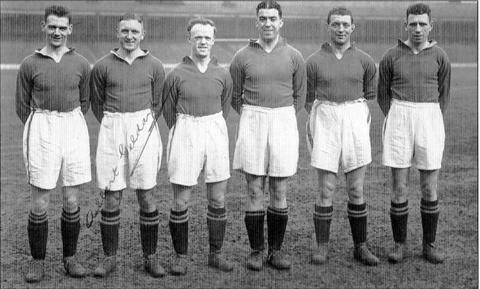 After Everton, he also played for Preston and Port Vale but Everton was always "his" club. He used to say that he could not have had a nicer club to play for – they were so decent and whenever you went away touring it was always first class.
When they went to Switzerland in 1928, they had a "continental breakfast" but they were used to a Full English – so they all went down to the kitchens and found an English speaking chef and said "we want a Full English breakfast!"
Once they went to Germany (1933) and played in the new stadium in Nuremberg; they gave them little flag badges to wear on their suits. Afterwards, when they got to Cologne one of the people who met them there said "You'd better take them out – we don't agree with them here". Of course they were Swastika badges but they thought they were just flags – they didn't realise.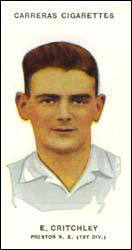 After he retired, he didn't have a trade so he moved into the pub business – the Bells brewery got him a job as landlord of the Three Tunns in Hazel Grove. He and Mum were ideal for the pub trade as they both had a wicked sense of humour. Dad was good company and a terrible tease whilst my mother was quick with an answer if some men were a bit risqué. Dad never had a drink before 9pm and then just a half of mild – if people offered him a drink earlier, he'd make an excuse.
Whilst he was a landlord, he played for Macclesfield Town in 1936-37 as a part-time thing – they were supposed to pay him but never did!
In about 1942 he was called up; he wanted to be a Physical Training Instructor but they said "Oh no – you're too old" so he went in the RAF Police. After a while, they realised who he was and asked "Would you play for the RAF for us?" and he replied "Oh sorry, I'm too old"! He did eventually come to an agreement whereby he'd play if they gave him extra leave passes.
After training at Blackpool, he was posted to Uxbridge, Rutland, Chester and finally the Munitions Unit in Handforth which he used to cycle to. He'd take prisoners from one place to the other – sometimes from as far as Scotland – but he'd always bring them via Hazel Grove and keep the prisoners in the cells at the local Police Station.
After Mum and Dad retired, they were asked to look after pubs if the landlords went away. The takings would often go up as people came to see my Mum and Dad.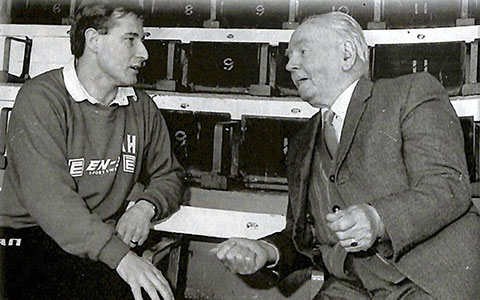 Ted Critchley with Asa Hartford in 1988
When he was in his 80s, Anthony, a local journalist, contacted Everton and they said "bring him along". Dad just thought he was going as an ordinary spectator. At the turnstile, Anthony said "I have to go to the press box but this man will look after you"... and they really did. They took him up to the Directors Box next to Joe Mercer and Bobby Charlton – he really enjoyed himself. When Joe came to Everton, my Dad took him under his wing and Joe never forgot that. At half time, Bobby Charlton come up to Dad and said "Can I shake your hand? Joe has been telling me about what a great player you were so it's an honour to meet you; I wish I'd seen you play".
Later in life, Mum and Dad moved to a bungalow in Offerton and after she died, he moved to another smaller bungalow. When he died, the flowers at the funeral were white and blue; a representative from Everton attended which was good of them.
As a young man, he reminded people a bit of James Cagney – a nice looking man. But to me he was just my Dad.
Acknowledgements:
Thanks to the following who assisted with this article: Doris Holmes, "Deako the Toffee", George Orr (EFC Heritage Society), James Corbett, Dave Moore, Ian Watts (SCFC Historian).
---
Reader Comments
Note: the following content is not moderated or vetted by the site owners at the time of submission. Comments are the responsibility of the poster. Disclaimer
Mick Wrende
830
Posted 12/12/2013 at 09:30:51
Great article thanks. You were obviously very proud of your dad and rightly so. He was a bit before my time but a true Everton legend. I am sure you still miss him.
Bill Gall
865
Posted 12/12/2013 at 14:16:41
Before my time as an Everton supporter but always a pleasure reading these articles on former Everton players. One of the topics that comes up in these articles that shows what a club like Everton mean to players and makes me proud to be an Everton supporter is, no matter how many clubs they play for, Everton remain their favourite club.

Thanks for the article, Rob, just made my day.


Paul Wharton
868
Posted 12/12/2013 at 14:25:12
Great article Rob
Joe Bibb
895
Posted 12/12/2013 at 16:15:24
Lovely to read about the older players and that their family can now be told just what they achieved at Everton thanks to the EFC Heritage Society and fans like Rob Sawyer.

Well done, Rob, and all those who helped.
Bob McEvoy
898
Posted 12/12/2013 at 16:52:36
Rob..brilliant read
Dave Moore
901
Posted 12/12/2013 at 17:15:07
Fantastic story Rob, i'm so glad I met your dad, and I know he had a fantastic day back at Goodison for the FA Cup tie against my team Stockport County.
He was treated with the utmost respect by everybody concerned with Everton on the day, and it left an impression on me as well, and to this day, I always look out for Everton's results.
Mike Gaynes
959
Posted 12/12/2013 at 20:37:00
Superb piece of writing, Rob. Many thanks.
Tony Doran
984
Posted 12/12/2013 at 22:07:35
Great read. Sounds like a lovely man unlike some of the players today.
Patrick Murphy
992
Posted 12/12/2013 at 22:53:53
Whatever our thoughts about the club as a business, they certainly have one of the best models with regards to ex-players and how they treat them.
It is the single most important tradition that the club has and it seems always has had and apart from a very few rare exceptions the type of people who have represented the club over the centuries seem to have been the down-to-earth type blokes who did their best for the club and if they were fortunate to have picked up trophies along the way they never lost that humility and affection for the club. We are lucky to support such a club and the club has been fortunate that players like Ted have entertained the fans and represented it with such pride and professionalism.

Vincent Lysaght
020
Posted 13/12/2013 at 04:22:54
Well summed up Patrick. Very enjoyable and amusing read Rob.
Tony Onslow
342
Posted 14/12/2013 at 14:07:31
Great story Rob. What wonderful memories you must hold of family life with your parents and how proud you must be to see your dad standing, in a photograph, next to Dixie Dean. The great man often remarked that if it was not for the great service he received from his teammates he would have never have scored so many goals. Thank you for sharing such a great article
Noticed the comments you posted on my Tom Evans article so please keep me informed of anything you might discover about the later years of his life in Stockport because, I am sure, he must have some relations in the area. I ask you this because, I believe, there are more facts, yet to come to light, of the part Tom Evans played in the formation of Everton Football Club.
Tony Onslow
349
Posted 14/12/2013 at 16:05:34
Sorry Rob, I should have said the parents of Doris, get confused in my old age.
Liz Shaw
902
Posted 04/04/2014 at 00:51:10
What a lovely article about
Ted Critchley
. I found your website while doing a search for Ted online. I appreciate all the history you shared about Ted and his daughter's memories as well. I hope what I share can be shared with her.
My father, Harry Lester, was a 9-year-old boy whose father died in June 1928 and who lived at 14 St Lucia, Wallasey. All of my life, my dad spoke fondly of the Everton players who lived on his street, including Ted Critchley, Charlie Gee and others. He hero-worshipped them all, but he had a special connection with Ted.
Ted took time to pay special attention to Dad and to kick a football around with him. His memory of Ted was as "a football idol" who went out of his way to offer kindness and compassion to a grieving lad. He made my dad feel special at a time when he needed it. He was a star on and off the football pitch.
As Harry's daughter, I am grateful for this good man who made such a difference in my dad's life. He was an Everton fan all his life as was his Dad before him. Unfortunately, he wasn't able to follow Everton as closely after he moved to California in 1954.
My dad died in 2001, but he always joked that he'd like me to bury his ashes under the penalty spot at Goodison Park so he could thwart Liverpool's penalty shots!
Rob Sawyer
617
Posted 12/04/2014 at 20:25:36
Liz - many thanks for the lovely comments about Ted Critchley which I will share with Doris - she will be delighted. Did your Dad have any particular recollections of Charlie Gee or did he meet Harry Cook - Everton's blind masseur who lived nearby?
Liz Shaw
202
Posted 15/04/2014 at 00:39:20
Thank you for a wonderful retrospective on Ted Critchley. I don't recall separate recollections from Dad about Charlie Gee. I don't recall him mentioning Harry Cook.
Add Your Comments
In order to post a comment, you need to be logged in as a registered user of the site.
Or Sign up as a ToffeeWeb Member — it's free, takes just a few minutes and will allow you to post your comments on articles and Talking Points submissions across the site.
© ToffeeWeb