Sin Meido? Sin defensivo.
By Michael Kenrick
28/01/2014

Comments (294)
jump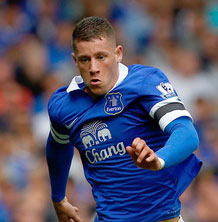 Boost: Ross Barkley is back in the starting XI after recovering from a foot fracture
Everton should have been boosted by the return to the starting XI of Ross Barkley, Steven Pienaar and Antolin Alcaraz for tonight's Merseyside derby at Anfield. John Stones deputised at right back for Seamus Coleman but new signing Lacina Traoré did not make the squad due to a slight hamstring injury.
Everton kicked off, showing some determination to keep possession, Barkley setting a fantastic tone with a fabulous shot off a great pass from Mirallas. the ball searing just above the angle with Mignolet beaten. But Liverpool then got forward, Henderson lashing a shot at Howard, forcing a good parry by the American keeper.
Pienaar went down and needed treatment for a head injury, the reply showing a Liverpool player climbing all over him. A drag back by Sterling on Jagielka allowed Saurez to shoot, Howard pushing the ball behind for a corner, that was defended away. Everton's attack broke down when Baines was restrained and Suarez was released but Stones anticipated him brilliantly. Sturridge was next to shoot but without power as Liverpool threatened to take early command,
Everton were trying to build with good possession and passing until the final ball given away very cheaply as Liverpool snapped at every ball. Alcaraz wasted a forward ball, overhit. It seemed that The Blues had resisted Liverpool's early pressure, but Suarez got anther shot in on target that Howard saved. Stones got forward down the Everton right, the ball falling to Pienaar but his strike was poor and blocked away. Gerrard tried one fr long range as the pendulum swung back and forth, Everton gaining more of a foothold but unable to create a real threat on the Liverpool goal.
Somehow Sterling got in behind Alcaraz and Howard came out to make another vital stop. Barry was called for foul on Sturridge as the game threatened to explode at any moment... Liverpool tried to pass their way to goal, Suarez earning a corner, fired in superbly and Gerrad billeted home a near post header that was unstoppable as it flashed past McCarthy on the line. Lukaku was somehow injured in the play, and he was stretched off, as the game threatened to go away from the Blues with Naismith the enforced change.
Another probing Everton attack stalled, Gerrard determinedly blocking Barkley, who wanted a fraction too long to wind up his shot, and another sweeping Liverpool attack saw Sturridge curl another shot fractionally over the angle. Everton won their first corner on the half, Mirallas curling it too deep for everyone Mirallas got the ball in to Barry who's stretching shot forced a good save from Mignolet, finally a Blues shot on goal.
Mirallas took things into his own hands, a gret run, one-two and shot, just wide of Mignolet's far post. But at the other end, Sturridge played in by Coutinho, given far too much space, shooting with ease past Howard to make it 2-0, and unfortunatley fully deserved as the Reds threatened to overrun their Blue neighbours who just could not get their game going, McCarthy fouled Suarez and the ball overthe top to Sturridfe a superb finish under pressure from Howard outside his area, alopong the ball inside teh far post. Three nil, Everton on a hiding.
Pienaar was finally booked, but for dissent, as the rain poured down, and a wide Everton free-kick fired in, coming to nothing. Mirallas tried to power his way in and won another corner but the header lacked power, winning another corner from the left by Baines, headed away, Some fun between Sterling and McCarthy, Howard joining in on the afters.
Another somewhat laboured build-up won another corner from the crowd of red shirts, the Blues applying a little bit of pressure but joined-up play was as at a premium as they always faced a mass of bodies between them and the ball, whereas Liverpool seemed able to break into acres of space almost at will.
Barkley tried to dig out another shot, blocked again, then Barry finally went in the book for his tenth poor foul to bring to an end a horrible horrible half for Everton, who had tried to play their passing game, but were no match for the far superior desire shown by their obnoxious opponents.
Osman replaced Pienaar at the break — probably to prevent a second yellow card, if he was not injured. Continuous Blues pressure from the off, earning a corner, but the quality from Baines not good enough. Still, the Blues tried and tried, Osman selling a dummy for Osman to curl in a great shot. But a loose ball by Jagielka for Suaraz, a free run on in Howard, and an easy finish for four-nil. Absolutely shocking.
Then more acres of space for Sturridge, looking offsside on a soft through ball, played it beyond Howard, whose bodyt blocked the forward; penalty (but no red card), lashed laughably over the bar by an over-confident Sturridge... Whatever next! A wicked free-kick powered in by Gerrard, defended behind by Alcaraz, as Everton kept out a fifth.
Osman won a dangerous free-kick that Mirallas smacked into the wall, summing up Everton's miserable night of hope cruelly dashed.
Barry, on a yellow, was annoyed that Gerrard was not booked for a cynical foul on Mirallas, saw Atkinson lecture Jagielka about Barry's dissent. Everton tried to play their game when in possession, but the build-up was always way too slow although McCarthy did get a low shot in that forced a save at least, But then Sturridge again wide open in on the Everton goal, and Stones doing well to finally contain him.
Mirallas was keeping Everton alive as McGeady replaced Barkley, and he worked the ball in for McCarthy who's perfect low centre was inches from conversion by Naismith sliding in.
Liverpool relaxed a little leaving Everton to play out the half, pride heavily bruised by a stunning encounter that was meant to expose defensive weaknesses in the Liverpool back line....
Scorers: Gerrard 21′ Sturridge 33′, 35′ Suárez 50′
Liverpool: Mignolet, Cissokho, Skrtel, Toure, Flanagan (73' Kelly), Gerrard, Henderson, Coutinho (79' Alberto), Sturridge (72' Moses), Sterling, Suarez.
Subs not Used: B Jones, Aspas, Ibe, Smith.
Everton (4-2-3-1): Howard; Stones, Jagielka, Alcaraz, Baines; McCarthy, Barry Y:45'; Pienaar Y:33' (46' Osman) , Barkley (76' McGeady), Mirallas Y:51'; Lukaku (25' Naismith).
Subs not Used: Robles, Hibbert, Garbutt, Gueye.
Referee: Martin Atkinson
Attendance: 44,450
---
Reader Comments
Note: the following content is not moderated or vetted by the site owners at the time of submission. Comments are the responsibility of the poster. Disclaimer
Linda Morrison
952
Posted 28/01/2014 at 18:57:29
It's not good news if we miss Distin. However, I am not so sure he could keep up with SAS although he is my best Everton player
Whatever happens tonight we are building a team for the future.
An article in the Independent stated that Everton need to get into the top 4 now or we won't as Liverpool will soon have an increased ground capacity.
I don't swallow that as Martinez has stated in The Guardian that although Everton do not have the income of the richer clubs there are other ways round this.
I don't ever remember Everton going for the loans as they have since he came in. I am positive whatever happens tonight...
Drew O'Neall
953
Posted 28/01/2014 at 19:08:00
As stated a couple of weeks ago; BARKLEY STARTS!
Colin Glassar
954
Posted 28/01/2014 at 19:10:12
Let's batter the bastards!!
Michael Polley
955
Posted 28/01/2014 at 19:09:55
Great to hear the that Barkley starts. Lets's bring on the Dogs of War!!!
Steven Telford
956
Posted 28/01/2014 at 19:12:17
Our bench is very weak...
James Carlisle
957
Posted 28/01/2014 at 19:12:02
My confidence has just been given a huge boost. We're gonna smash 'em!
COYB!!!!!!!!
Phil Sammon
958
Posted 28/01/2014 at 19:15:12
I literally cheered when I saw Barkley and Pienaar on the teamsheet. Lets hope I'm cheering more come full time.
Craig Mills
960
Posted 28/01/2014 at 19:20:30
We can do this tonight, we need to attack them like Villa did a few weeks ago and we will do them
Kris Boner
961
Posted 28/01/2014 at 19:19:49
Pleased with Barkley making it, but not worried about Alcaraz, knowing that he is better in possession that Distin means that we might be able to confidently stroke it around the back. Stones won't give us as much as Coleman going forward, but from set-plays he might give more defensively.
Plan A for me would be take the possession all day and let Barkley and Mirallas make the chances. Everyone else be sensible.
Elsewhere Jelavic starts with Shane Long for Hull. Lot of people spoke before w sold him that we should have played 2 up top, with a partner for Jelly, and a lot of people liked Shane Long. I've got my eyes on that to see what happens.
Michael Polley
963
Posted 28/01/2014 at 19:17:23
What's the odds Barkley will get the winner? Don't know about everyone else but I'm feeling the tension & nerves now. Might lock myself in a dark room for 90 minutes and wait for final score!!
Linda Morrison
964
Posted 28/01/2014 at 19:25:52
I am going to state that if we get a draw tonight this will be a great result for us.
I'm still not happy about Barkley playing with an injection but he could make the difference
It is so refreshing to have a positive manager
Kris Boner
966
Posted 28/01/2014 at 19:28:47
Have we had it confirmed about the injection Linda, or is that still ToffeeWeb supposition? I haven't seen the article stating it but it would make sense given the short recovery time. Took a couple of months to recover from my metatarsal injury.
Steven Telford
967
Posted 28/01/2014 at 19:29:03
Linda, are you 100% sure Barkley got an injection? or is it just rumour?
Sean Roberts
968
Posted 28/01/2014 at 19:29:46
Just hope we are not putting Barkley back in too soon due to needs must !!! Come on you blues.
Steven Telford
970
Posted 28/01/2014 at 19:33:42
I was fearing that Howard may be suspended from his red, when does his suspension have to be served?
Tommy Coleman
972
Posted 28/01/2014 at 19:39:37
They just said on BT Sport that he's had an injection. It's probably ok but still a bit sore.
COYBS! !!!!!!!!
Jim Bennings
975
Posted 28/01/2014 at 19:35:45
Thats actually a much stronger line-up than I expected to be honest.
Ok we are missing Coleman and Deulofue and Distin but to have Barkley and Pienaar back means we have team strong enough to have no excuses.
Its arguably our first choice midfield out there, at least the midfield we started the first two months of the season relying on.
The bench is weakish but we have McGeady to come on if we need someone to inject a bit of pace and maybe Naismith to win a few high balls if we are chasing the game in the latter stages.
The back four is the big worry, how Stones reacts at right back will be intriguing and also how will Alcaraz handle the heat against arguably the second best strike force in England.
Please though Everton don't start giving them two goals in the first 20 minutes again , something which has become a bad habit against the shite over the last few seasons. We cant afford to keep chasing the game.
Big games needed by Pieanaar, Lukaku and Mirallas tonight.
Infact fucking big games needed by everyone.
Shittin myself....
Sean Roberts
980
Posted 28/01/2014 at 19:42:53
Steven 970. Tim Howard has already served his suspension, he missed the Southampton game. For a reason I don't know he only had a one match ban!!!
Dave Williams
985
Posted 28/01/2014 at 19:42:32
I would think if there was a problem with Ross he would have started on the bench.
our bench is okay theirs is full of guys who have never played more than a couple of games but ultimately we have to stop Ratboy and Gerrard. If Ross is on form then we could just do it.
Very nervous about this all day and about to lose WiFi on the train — come on, boys!!!!
Si Cooper
987
Posted 28/01/2014 at 19:53:39
Sean - straight red for a 'technical' offence rather than a reckless / violent one so has the lower punishment.
Jimmy Sørheim
989
Posted 28/01/2014 at 19:55:17
I think it is for the best Distin does not play here, I am pleased to see Alcaraz back.
With Barkley and Pienaar we have a very decent chance and Hibbert can help the defence out by tackling Suarez hard.
Michael Polley
990
Posted 28/01/2014 at 19:49:42
This is it then. Let's hope all Evertonians will be celebrating at 21:50 tonight. COYB
Jermaine Jennings
992
Posted 28/01/2014 at 20:22:32
Fucking Lukaku is shite, that goal came from his shite misplaced header... he does it every game, gives away possession and sets up the opposition.
Jim Bennings
993
Posted 28/01/2014 at 20:30:02
Yet again, yet a fuckingain another setpiece, DO WE LEARN NOTHING??
Gerrard with a header from a corner? how many times has that happened??
Yet again we dissappear under the white hot atmosphere of the Kop.
SHITHOUSES
Steven Telford
994
Posted 28/01/2014 at 20:22:05
What the fuck is wrong with our back four???
Mike Anson
995
Posted 28/01/2014 at 20:35:16
It happens again, what is it? Looks like were being blown off the park. I am following the match on the BBC
Jim Bennings
996
Posted 28/01/2014 at 20:31:59
GAME OVER FUCKIN THANKYOU EVERTON
YET AGAIN SPINELESS DISPLAYS FROM OUR USUAL CULPRITS PIENAAR...JAGIELKA..BAINES.
FUCKING YEAR IN YEAR OUT.
THATS THE FIRST CHOICE MIDFIELD THERE ON THE PITCH YET WHERE ARE THEY???
NO FIGHT NO DESIRE..WHY DO LIVERPOOL ALWAYS WANT THE DERBY MORE THAN US??? WHY DO THEY CLOSE US DOWN YET WE NEVER GET NEAR THEM??
EVER FUCKING YEAR YOU SHITEHOUSE BASTARDS.
MR KENWRIGHT SAVE OUR SEASON NOW AND FORCE MARTINEZ TO SIGN SOME BASTARD QUALITY PLAYERS.
Nick Entwistle
997
Posted 28/01/2014 at 20:38:54
Sin miedo sin miedo.... without any precaution that translates as fucking naive. And this has been coming. I'm not saying the team have been found out, but that first half against Newcastle was a long time ago.
James Carlisle
998
Posted 28/01/2014 at 20:40:14
What a horror show.....
It'll be a fucking miracle if we get anything from here.
Michael Polley
999
Posted 28/01/2014 at 20:37:25
That's it. Total disaster. Switching channels. Only one making an effort is Mirallas. By the way, our we cursed with getting injuries.This is going to be a bad night. Oh well! Villa on Saturday then!
Jim Bennings
000
Posted 28/01/2014 at 20:39:58
YOU SORRY SHOWER OF BASTARDS.
LIVERPOOL IS A PROUD CLUB THAT KNOWS WHAT A DERBY MEANS TO THE FANS..OUR PLAYERS ARE THE SAME SPINELESS CUNTS YEAR IN YEAR OUT..
JAGIELKA AND BAINES ENGLAND INTERNATIONALS MY FUCKIN ARSE?? SELL THE PAIR OF THEM NOW FOR ALL I CARE
THIS WILL BE 6-0
Tamhas Woods
001
Posted 28/01/2014 at 20:43:43
Jim 996.... you've summed it up perfectly.
Zaid Omar
002
Posted 28/01/2014 at 20:44:06
What an embarrassment ...
Zaid Omar
003
Posted 28/01/2014 at 20:45:45
Don't know whether to laugh or cry... Shocked
Jim Bennings
004
Posted 28/01/2014 at 20:44:09
We have been found out tonight mate, in fact we were found out at West Brom last week when we failed to beat that pile of shite and didn't even have as much of the ball.
The club is now on its knees with another player missing in Lukaku, not that it wouldn't still be 3-0 because lets be honest these cunts have shown no fight or want at all, every year Liverpool totally put us to shame.
One thing that could never be said of Joe Royle's teams is that they didn't battle.. Whether Barkley is fit or not there is no disputing that if he wants to be a local hero he should look no further than Gerrard, I hate the cunt but fucking hell I wish we had somebody with the same love and desire for our club that he has for them.
ps: What was that somebody said last season about Sturridge being no better than Anichebe?
Jim Bennings
005
Posted 28/01/2014 at 20:49:17
This is what you get when your chairman rakes in money but never fuckin spends any and if its Martinez that thought our squad didnt need anymore signings I seriously hope tonight has given him the major wake up call that's needed.
UTTER DISGRACE TO THE BLUE SHIRT THAT .
Tommy Coleman
006
Posted 28/01/2014 at 20:50:20
What a disaster. Jags, Alcaraz and Pienaar look injured. Everything is so slow particularly at the back.
At least Nick Entwistle is finally happy.
Nick Entwistle
007
Posted 28/01/2014 at 20:50:34
Horrendarse.
Ralph Basnett
008
Posted 28/01/2014 at 20:50:13
Two words – utter shit!!!!!
No heart – another two!!!!!!
No bottle – another two!!!!!
It's bad enough getting slaughtered by this shite but when it is on channel Liverpool and it is being compered by an ex-Evertonian (McManaman) and that great Everton star Ginola that makes it worse. Glad I'm off work tomorrow as I can remember the 5-0 and the shit I took then was bad enough!!!!!!

Pete Hughes
009
Posted 28/01/2014 at 20:52:11
Jim, agree with what you say, but had to laugh at the part that said 'Mr Kenwright, force Martinez to sign players". Old tightarse himself.. haha!
Tom R Owen
010
Posted 28/01/2014 at 20:55:35
So where are all Bill's fans now?
Utterly pathetic — carrying on from last Monday. Good job we are only playing the shite. Man City would have had 6 by now.
Kenwright, Earl, Woods... fuck off .
Steven Telford
011
Posted 28/01/2014 at 20:49:25
Alcaraz seems pretty crap.
We don't seem to know how to break, to much back passing and slowing it down at the wrong times to slow it down.
Stones is not experienced enough for a game like this.
So many lost passes, and surrendering to pressure.
Bill Gall
012
Posted 28/01/2014 at 20:47:44
Just as people said, one bad game and the criers come out shouting for different players' heads. How many more times have supporters have to realise that every January we need players and BK and the board do nothing.
We have been in this position before and we just have to suck it up a forget it.and get behind the team in the next game. Everton have been lucky over the last number of league games and we had better come down from cuckoo land and encourage the team to get as high as possible. Regardless what the feelings on loan players are what is happening is money talks.
Pete Hughes
013
Posted 28/01/2014 at 20:58:11
You look at our bench and it makes you want to fucking weep!
Tony I'Anson
016
Posted 28/01/2014 at 20:40:31
We need a performance 2nd half or this could be one they'll ram down our throat for years to come.
Gerry McGuirk
017
Posted 28/01/2014 at 20:47:46
I hope Roberto has a ten foot hair dryer in the dressing room! Would suggest drawing a line under the game.... it's not going to cost us any more than the Sunderland game. Keep it respectable in the second half Roberto and run the Bejaysus out them on the training ground before Villa.
Remind them how much they have let everyone associated with the club down and how much we feel almost physical pain from such a mauling by the RS. We don 't expect Brazil 1970 but we are entitled to 100% effort at least. At the very least I expect them to come out spitting fire at the weekend. Too late tonight though.... :-(
Jermaine Jennings
018
Posted 28/01/2014 at 20:47:52
Ain't worth crying, Zaid, they don't deserve it!!!
Jim Bennings
019
Posted 28/01/2014 at 20:58:25
Someone explain to me why our bench is so fuckin weak tonight after the money that we have raked in over the last year??
Please just try and explain to me because I am at a fuckin loss.
I don't want to hear any excuses mate about who is injured and who isn't.
This is a fucking Merseyside derby, you fuckin well man up and get out there, fucking Gerrard is 34 but is dominating it because HE WANTS IT.
WHERE IS OUR PASSION AND OUR WANT??
Its the same thing at Anfield virtually every year at this place and their fans must be pissing themselves laughing because they know all we ever do is shit ourselves in the atmosphere and go to pieces.
Same thing year in year out.
THREE DERBY WINS IN 29 MATCHES..YOU WOULD THINK WE WERE FUCKIN TRANMERE
Anto Byrne
020
Posted 28/01/2014 at 20:54:30
We have a had a good run but injuries are starting to bite. Damage limitation for the second half with no more injuries. Too many unfit players on the park. Atkinson may as well be wearing red. Utter Bastard. Looking for a good performance this second half and a bit of luck to go our way.
Tony I'Anson
021
Posted 28/01/2014 at 21:03:02
As I said
Mike Anson
022
Posted 28/01/2014 at 21:07:01
Agree with Tony (016) we deserve a better second half. COYB
Ralph Basnett
023
Posted 28/01/2014 at 21:09:20
Oh fuck..............
Ian Tunstead
024
Posted 28/01/2014 at 21:01:28
All this talk of belief and footballing philosophy are all good sound bites, but 9 times out of 10, quality players decide games and 9 times out of 10 its money that attracts the quality players. This is a worse surrender than any Moyes derby.
Nick Entwistle
025
Posted 28/01/2014 at 21:08:50
Car crash football.
Tom R Owen
026
Posted 28/01/2014 at 21:06:10
Jim
With you all the way. That luvvie cunt has bled our club dry. nvestment is now 20 years overdue and who has stopped it? Blue Bill .
I'm ashamed to be an Evertonian tonight.
Thanks, Bill.
David Johnson
027
Posted 28/01/2014 at 20:59:33
Agree Bill 012 as painful as this is I'd rather go down this way than losing one nil under Moyes. Roberto is doing his bit and needs to be backed.
Net Spend 13/13 -£16,500,000
12/13 -£1,816,000
11/12 -£12,500,000
10/11 -£1,700,000
9/10 -£2,800,000
Jim Bennings
028
Posted 28/01/2014 at 21:10:40
4-0 YOU FUCKING SAD BASTARDS.
JUST SHOWS HOW FAR BEHIND THESE WE REALLY ARE.
FORGET INJURIES DISTIN AND COLEMAN WOULDNT HAVE MADE MUCH DIFFERENCE HERE..
HOW BAD ARE WE?
MARTINEZ HAS MAJOR MAJOR MAJOR WORRIES HERE NOW.
HE HAS BEEN WELL AND TRULY FUCKED IN THE FACE TONIGHT
Nick Entwistle
029
Posted 28/01/2014 at 21:11:20
'Reason to go to ground', 'Sterling wasn't going to pass up the possibility'... that's Jim Beglin talk for taking a dive.
Jack Collins
030
Posted 28/01/2014 at 21:10:19
What would you give if the score line was the other way around?
Doubt I'll ever live to see that day.
Jim Bennings
031
Posted 28/01/2014 at 21:13:57
I don't think I will be bothering going on Saturday, not sure I want to be arsed with a team that clearly can't be arsed themselves tonight.
They really have made a fucking show of us tonight and more importantly a show of themselves.
The 11 players out there tonight will always be remembered as the team that got smashed to fuck by the Redshite, this could be any score they want it to be now... could be 8-0, and NO — YOU CANT BLAME INJURIES FOR THAT.
Alan McGuffog
032
Posted 28/01/2014 at 21:19:00
What a lot of you are forgetting is that the rs have lots of big lads who like playing with a casey and kick it dead hard
Mike Anson
034
Posted 28/01/2014 at 21:26:14
It's looking up now, 18 minutes and not conceded phew. :-(
Jim Bennings
035
Posted 28/01/2014 at 21:20:16
It's funny really how last month I was saying January would be a make or break month for Everton Football Club and that they would have to speculate to accumulate to maybe be in with an outside chance of Champions League football.
True to my prediction we have basically sat on the money, lauded what had been done for half a season and not strengthened the side but for a loan player who we will probably hardly ever see because like with the rest, he is crocked upon signing, and McGeady who must be so unfit that he cant even displace an unfit, basically past his best Pienaar.
Tonight has killed our top four chances anyway, so at least that stupid Cup or 4th debate can end now... We can tackle Villa on Saturday with Naismith up front and same shite that didn't turn up tonight whilst the Redshite will do to West Brom what they are doing to us and hit them for 5.
Dominic Tonge
036
Posted 28/01/2014 at 21:28:48
I want to fucking cry this is so shit. Also I am now having to use my phone. Anyone got a laptop for sale? Mine is in bits after my wall failed to duck as the third went in.
Gerry McGuirk
037
Posted 28/01/2014 at 21:26:55
Yes... a shite performance.
Yes... a distinct lack of fight and guts,
Yes... a complete embarrassment to lose like this to that shower, but perhaps a little perspective is needed.

We are still in a way better position and playing much better football than many would have predicted at this stage of the season and there still is a lot to play for. Of course it cuts deep to be so badly savaged by the RS but instead of dwelling on it what really matters is how we respond.

We absolutely must tear into Villa next week whether the team is made up of walking wounded or not. Everything we have achieved so far could slip away if we let this embarrassment define our season.

Over to you, Roberto..... earn your corn!
Mike Walker
038
Posted 28/01/2014 at 21:35:16
I HAVE NEVER SEE A EVERTON SIDE PLAY SO BAD. WE ARE CRAP TONIGHT. WHY, WHY, WHY IS IT WE PLAY SO BAD AGAINST THE REDS???
NOT HAPPY... BYE-BYE TO 4TH SPOT.
Jermaine Jennings
039
Posted 28/01/2014 at 21:19:12
Pass, pass, pass, pass... no shot.
Pass, pass, pass, slow down the attack when men over... no shot on target.
Pass pass, pass... make a mistake... set up counter attack for opposition, they shoot and work the goalkeeper and almost score....

Sound familiar!!!
Jermaine Jennings
040
Posted 28/01/2014 at 21:42:48
Well said, Gerry... shit happens. But we've been so open all game, it was a gung-ho attitude.
Oliver Molloy
041
Posted 28/01/2014 at 21:25:58
I cannot believe some of the comments on here. Is this our best 11 out there? We had at least 3 players on the pitch who are not match fit.
Bad mistakes for their goals and per usual when things start going wrong it snowballs. Now another injury for us caused by one of our players.
It is one of those nights and unfortunately it has come against the team us Evertonians despise the most.
We will come again no worries. Martinez will see to that.

Ross Edwards
043
Posted 28/01/2014 at 21:49:56
The players should be ashamed. A disgraceful surrender, no fight, no passion, they should pay a refund for each fan who went tonight.
Bill, you are a disgrace. You, are getting away with murder.
Drew Shortis
045
Posted 28/01/2014 at 21:40:34
This hurts! However, being philosophical, if they had beaten us 1-0 by a fluke goal we would still only have lost out on three points. The Champions League dream is not over, but they are certainly in a much stronger position now. It's all about how we pick ourselves up from this and what we learn from it.
The only positives I can find from this game are that our play has been fairly good, bar the defensive lapses. We probably went into this a bit too gung ho, but if you don't take a risk you won't get rewards. At least the lads heads never dropped and we kept on playing, despite the horrific scoreline.
What to do next. Do we go for a few more players in to try and claw our way back into the CL race and risk getting in panic buy duds, or do we accept it is now unlikely to happen, aim to finish as high as possible and put our hope in the cup, saving our resources until the summer when we have a better chance of getting the right people in?
Considering the expectations at the start of the season (transition, building and comfortable league position) it isn't suddenly a bad season. To be honest most of us didn't expect to be challenging for the top four. The problem is that once that prospect has been put into our minds (especially when so many other teams were also in transition) failure to achieve it is a big disappointment. If we do miss out I'm going to take the positives from this season. Tonight though is not one of them!

Jim Bennings
048
Posted 28/01/2014 at 21:49:04
Gerry
What are we going to tear into Villa with? This is a Villa team packed with pace and thrives on playing away from home and put up a far better fight at Anfield than we have tonight.
We are going to have Naismith leading the line in a Premier League football match. We have had a decent season so far but as so often is the case with Everton rather than truly pushing on this month and making certain we signed some top drawer players we have sat on the cash.
I don't know how long its going to take McGeady to get match fit but he should have started tonight instead of Pienaar, another guy living off past exploits but is now dead as a force.
Traore we sign him, then are told that he may not make an impact until the last 9 games?? That's just got to be a joke surely?
We need players who are going to play here and now?
Wheres the interest gone in Tom Ince?? What about Canales??
We need a left back because Baines is just fuckin cruising through games now and Oviedo is crocked for months.
Distin is 37 nearly, Alcaraz is as fit as me gran, and Jagielka is and always has been massively over rated in my opinion, never any fucking good when he comes up against strikers that can move.
And we are talking about letting Heitinga go????
We can't fuckin afford to — it's as simple as that.
Jack Wilkinson
050
Posted 28/01/2014 at 21:55:48
Let's no give it the "no heart, no passion" platitudes. If you were really watching you'd see they wanted it as much as we did. Inexperience and risky passing by us was what gave that away.
Regarding the latter, we all knew this results was going to happen sooner or later, fucking horrible it's against them admittedly. Rather a 4-0 loss amongst good wins and draws away to the big teams under Roberto than countless drab 1-0 losses under Moyes.
Dave Lynch
053
Posted 28/01/2014 at 21:55:29
This just wasn't a shit performance, it was a total capitulation.
Everyone of them bar Mirallas should hold their head in shame including the manager. We always play the occasion, not the match when we go there. I thought Roberto would instill a bit of belief, but no. We bend over and take it up the tradesman's again.
Well, thank you very fucking much, you shower of fucking losers.
Faz Bhayat
055
Posted 28/01/2014 at 21:58:26
What an embarrassment! There goes Champions League football.
Bill, get the cheque book out!!
Ian Tunstead
056
Posted 28/01/2014 at 21:58:33
Humiliation. Some shambolic play on show tonight. If Martinez had any sense he would have watched Aston Villa destroy Liverpool and learnt something. Without the pace of Distin at the back we were asking for trouble with the Liverpool counter attacking football.
David Finney
057
Posted 28/01/2014 at 21:51:04
We have has a psychological problem with them for years now and I was hoping the new manager might bring a change of attitude. Apparently not. The players and maybe we the fans also need to start viewing this as just another fixture. Or maybe the multimillionaires could just pull their fucking socks up and grow a pair. A 1-0 defeat would have been bad but this could kill our confidence for the rest of the season.
I agree with Gerry. This is where Roberto shows how good or otherwise he is. This one result could undo all the positives so far. That said, I remember him coming away from Spurs having lost 8-0 with Wigan and talking about the positives.
Joe O'Brien
059
Posted 28/01/2014 at 21:54:45
Embarrassing. In total shock. Keep thinking at least we got some days left in the window that Bill will have to do something but I know the tight arse well do fuck all and worse still he still had no intention of investing or selling. How can he call himself a fan. What a fucking joke the whole thing is...
Michael Winstanley
060
Posted 28/01/2014 at 21:55:30
Nasmith for Lukaku... kind of sums it up.

Jim Bennings
061
Posted 28/01/2014 at 21:57:32
My son is in tears tonight because he has never seen us win at Anfield and because all he ever see's is the same abject Everton performance every year there.
What scares our players so much about Anfield?
Is it standing in the tunnel listening to YNWA?
Is it the Kop?
What is it? I would just love to know so badly because they just never ever ever play their own games, no matter what form they are in going into the Anfield derby we can rest assured that all our so called big names become shrinking violets...
Even though you are getting outclassed you should still work hard to close men down and press your opponent but we never even do that right with any gusto, Liverpool always show us how its done.
Mike Hughes
062
Posted 28/01/2014 at 22:02:45
According to the BBC website, we had 61% possession. Still, we were soundly thrashed. No excuses.
Clinical finishing was the difference. It was like surgery without an anaesthetic. Not quite as bad as the Glen Keeley night but still a horrible night.
Steve Makinson
063
Posted 28/01/2014 at 22:01:26
No panic required here. A bad performance granted and an embarrassing few days in work ahead... But lets look at the season as a whole and move on to Villa on Saturday.
Lukaku being out is a major blow but he hasn't been at it for a while now... Despite the defeat I thought Mirallas looked a class act again and I'm looking forward to Del boy and Barkley attacking defences over the coming weeks.
COYB
Zaid Omar
064
Posted 28/01/2014 at 22:05:04
Well on the bright side at least we got 40 points and avoided relegation!!! I'm searching for positives
James Carlisle
066
Posted 28/01/2014 at 22:05:09
Gonna take a leaf out of George Orr's book and attempt to overdose on whiskey.
Drew Shortis
067
Posted 28/01/2014 at 21:57:57
Jim Bennings
I'm as disappointed as you mate and wouldn't dispute any of your points. However, we can't just give in. Life will go on and we will have better nights. Think of it like a war. We have been beaten in an important battle, but we are not defeated. I think we are heading in the right direction, but tonight we were beaten by a more ruthless team who exploited our naivety.
In hindsight we should have been more cautious and tried to hit them on the break, rather than exposing our defence to their pacey counter attacking play. Martinez will learn from this experience and in the next battle we will be better.
Paul Holden
070
Posted 28/01/2014 at 22:08:30
The whole fucking season crashes down around our ears – mid table here we come = not good enough.
Ciaràn McGlone
071
Posted 28/01/2014 at 22:06:02
I actually thought we played well in midfield and dominated most of the game. The difference was they counter-attacked with Suarez and Sturridge... and we had Naismith up front.
Jagielka was an absolute shambles. Poorest display I've seen from two centre halves since Tough and Weir were being wheeled onto the pitch.
Our offensive displays this season have covered for Jagielka's shortcomings. And Alcaraz just compounded this.
Can't wait for work tomorrow.
Ciarán McGlone
072
Posted 28/01/2014 at 22:06:02
I actually thought we played well in midfield and dominated most of the game.. the difference was they counterattacked with Suarez and Sturridge .. and we had Naismith up front..
Jagielka were an absolute shambles. Poorest display I've seen from two centre halves since Tough and Weir were being wheeled onto the pitch.
Our offensive displays this season have covered for Jags shortcomings. .. and Alcaraz just compounded this.
Can't wait for work tommorow.
Anto Byrne
073
Posted 28/01/2014 at 21:51:19
We got nothing from Atkinson but, having said that, we were utter shite. Baines in particular very poor and for me Howard always makes me nervous. I thought McGeady and Mirallas performed well. It could have been a different story had those early efforts from Barkley and Mirallas gone in.
We need to bounce back against Villa and get the season back on track. It's one game and we had a shocker.
Carl Sanderson
075
Posted 28/01/2014 at 21:59:51
Playing that high line with crocked defenders against the Redshite's speed merchants was just suicidal tactics.
It's that kind of decision-making that gave me the heebie-jeebies when Martinez was appointed in the summer.
I hope to Christ he learns from it.
Zaid Omar
077
Posted 28/01/2014 at 22:09:49
Just heard Martinez post match on BEIN... he was fumbling with his words, clearly shell shocked!! Regrets bringing some of injured players back too early... Says they lacked match fitness and sharpness for a derby.
Tom Dodds
078
Posted 28/01/2014 at 22:03:00
Dave Lynch said all there is to say about tonight...Except just one thing..Rodgers was the better strategist.
My 2 cents ?...No Money = 8th.+.
Got it yet ???? This league is all about money.
More so now than it ever was...So sad.Sadly.

Michael Kidd
080
Posted 28/01/2014 at 22:04:55
Usually I feel robbed against them, except for the Moyes 0-3 capitulation. But tonight we were well and truly second-best. Passes going to the opposition, truly dreadful defending and generally not at the races. Not sure how much you can blame the manager for usually reliable players having their worst games of the season (Jagielka; Barry). The acid test for Roberto is how he turns it around, especially if Lukaku is badly crocked. And as for that commentator, Peter Drury, he couldn't have been more excited if he'd scored four goals himself.
Neil Pickering
081
Posted 28/01/2014 at 22:07:17
I admit that I only watched 35 mins then I went and played FIFA upstairs. Gutted aint the word, but I think it highlighted how thin the squad is.
It's not an excuse but how unlucky can we be? No Distin, Coleman, Geri, a half-fit Alcaraz, Pienaar, Barkley, and then we lose Lukaku! Anything that could go wrong did, and for me that game wasn't a level playing field from the get go.
We need to learn from this. It showed me Stones isn't ready against top sides, ditto Alcaraz, and we are just too pedestrian in the final third and lack incisiveness. Lukaku being out to me might not be a bad thing, as I don't care what everyone else says he's been a passenger for the past 8 games. Get Lacina in, let's see if he's up to it.
There is still lots of football left this season, and I just hope that this game hasn't damaged morale, coz it believe the way we play will win more times than not. I love Martinez, but tonight, for the first time I think he was a bit too positive, and possibly a bit too naive.
Coyb
James Morgan
083
Posted 28/01/2014 at 22:13:04
A fucking disgraceful abomination. After about an hour, I just started pissing about doing other things. The funny the thing is I'm actually not even that bothered anymore, I get more wound up losing to teams like Sunderland or Norwich etc because I come to expect this from us against Liverpool, I've been conditioned.
I've decide I'm not watching the derby any more. Sad isn't it.
Martin Farrington
084
Posted 28/01/2014 at 22:10:36
Stephen Sulliven – spot on about Atkinson. When Rat Boy rolled around, our players got booked. Ford Courtina dives, Barry get booked. Rat Boy is late in on John 'Mick Lyons' Stones – nothing – same on Bainesy and nothing!!!
The team are too honest against professional cheats like the shite.
Yes we were dreadful and 90% of the team need to give their wages to charity for that dreadful performance, but that referee was as shocking as we were.
City put 6 past Arsenal and Spurs and they bounced back.

Drew Shortis
087
Posted 28/01/2014 at 22:07:52
Jack Wilkinson, 050, I agree with you. We lost this due to naive tactical decisions, kamikaze defending and a bit of bad luck. I didn't see a lack of passion or heads going down. We tried, but we were not good enough on the night.
I understand the posts saying that we get overawed when playing at Anfield, but perhaps a more cautious approach would have been wise. We were looking comfortable until the set piece goal and injury to Lukaku. After that we were too incautious and got caught trying to force an equalizer when perhaps we should have bided our time. The more we chased it the easier it was for them to hit us on the counter attack.
Still a lot of work for Martinez to do but I believe he can turn it around. Rodgers didn't have the best season last year but he has turned them around, lets hope our manager will do the same!
Zaid Omar
088
Posted 28/01/2014 at 22:16:49
The bigger teams will have watched tonight, and taken a lesson from how Liverpool stifled Everton, especially in midfield. We looked so hurried in the middle of the park, Liverpool were all over us... I hope I'm wrong, but think thee second half of the season is gonna be a lot harder after this result.
Patrick Murphy
091
Posted 28/01/2014 at 22:17:52
James, I haven't watched a derby at the other place in the flesh or on TV/Internet for about ten years – they don't appear in my memory bank and so it hurts a little less.
I obviously went to Wembley a couple of years ago and now I'll only watch Everton play them at Goodison – even if we play them in the Cup Final, I won't go – which would mean I won't see us play at Wembley for the first time since I started following the Blues.
Bill Kenwright, get your wallet out now. You won't because you know you have another season in the Premier League.
Jim Bennings
092
Posted 28/01/2014 at 22:10:52
Its the whole top and bottom though isn't it?
Its one thing having possession but its what you end up doing with it and since the turn of the year we have struggled for goals.
We looked dreadful at West Brom last week, were were ok against a poor Norwich side and we struggled for goals against Stoke needing a injury time pen to save our skins.
Its ok mentioning how well we have done but its past now.
At the current moment in time we are effectively at crisis level.
We have no end of injuries and if we keep believing that we must wait for Barkley, Del boy, McGeady, Traore to get match fit, just how long do we wait exactly??
We are not going to have anything at all to hurt Villa with.
Alan Corken
093
Posted 28/01/2014 at 22:16:19
It was a bad day for Everton a good one for RS - nothing more. The top 4 is still very much on? RS are not as good as this score suggests. Keep the faith.
Bill Gall
094
Posted 28/01/2014 at 21:57:32
Okay, I was not in favour of Mr Martinez as manager but I have stated in numerous posts I was and I am still willing to give him a chance.
We all are aware of the flack that is going to come on TW after another typical poor performance at Anfield. Before you begin to write, calm down have a drink and reflect on all the praise and accolades the manager and the players have received on here over the last couple of weeks that has been deserved.
If you are going to write, let's direct your anger to who is responsible. Over the last 5-6 years, Everton have been in a position that required financial help to push up to the next level but have always been let down by the Chairman and his band of yes-men.
People may have read that I am against the loan system and that is because I believe that BK is behind it as a cheaper way to bring in players but it is not a way to bring success.
Words can't describe how the true Evertonians feel after that display but the season is not over, so get behind the team and give them our full support and let the manager know we are behind what he is trying to achieve at the club, even if he has his hands tied behind his back.
Craig Mills
095
Posted 28/01/2014 at 22:14:22
Fuck me, that was a nightmare, Martinez described it as naive, wide open and exposed.... three-nil down at half-time and you think we might have done something about it, if Liverpool had scored 8 tonight it wouldn't have flattered them, we were totally steamrolled by them,
The whole back 4 played as if they had been pulled out of the crowd 5 minutes before kick off, Barry had an absolute horror show, Barkley and Pienaar so unfit and off the pace and poor old Naismith upfront was lost.
I cannot believe we were so bad – fucking shocking.
Brian Denton
096
Posted 28/01/2014 at 22:22:28
Just back. Can you imagine what it was like sitting among Redshite and witnessing THAT? I'm never going to that shithole again - in forty years I've seen us win three times.
Roberto got it horribly, horribly wrong tonight.
Paul Smith
097
Posted 28/01/2014 at 22:20:09
Btw, I'm no ref conspiracy theorist, but Atkinson is one corrupt TWAT.
Mike Price
098
Posted 28/01/2014 at 22:00:56
I've been worried about the personalities of our players for a while now, they're all 'flat' and seem to lack that essential bite and aggression. The only one with any at all is Mirallas and he's not exactly a hard man. It needs addressing and quick.
That was a disgrace and the lesson better be learnt and fast.
Mike Allison
099
Posted 28/01/2014 at 22:20:31
There's a lot to say but I'd prefer to let the dust settle a bit.
One thing I have to say though is this: we must take in-swinging corners. Liverpool took one and scored from it. We had eight corners tonight and there was more chance of Liverpool scoring off one of them than us. We had one chance to put an in-swinger in and Mirallas played it short instead. It seems to be a deliberate policy, and I wonder what the theory is. Its clearly not one that other teams subscribe to. We have two good corner takers in Baines and Mirallas, but both use their skills to kick the ball away from the goal rather than towards. Over time we'd be so much more dangerous if every corner swung in. This is basic, school-boy level stuff that we're getting wrong.
Everything in football is up for debate and discussion, but I've never heard anyone argue in favour of out-swinging corners.
Mark Fitzgerald
100
Posted 28/01/2014 at 22:11:11
Perspective: we struggled to cope without some regulars. Makeshift back-line just couldn't cope with the Pool's pacey front three. Bad day at the office for Jags but he'll shake it off. Stones shows he's a CB for the future but at RB he can't offer anything going forward. Losing 4-0 questions the validity of playing two DMs.
Naismith tries his heart out but is limited. Osman added absolutely nothing when he came on. Mirallas one of the few to emerge with any credit. No further proof required that our squad is threadbare. Need some new additions. Let's move on and bounce back from this.
Gerry McGuirk
102
Posted 28/01/2014 at 21:59:51
Jim 048, hopefully this will be the wake up call upstairs needs to show them that Roberto needs them to loosen the purse strings and we absolutely have to get some reinforcements in if we are to entertain any hope of 4th or even the FA Cup.
We have some great prospects (Barkley, Coleman, McCarthy, Mirallas etc) and some seasoned proven performers (Baines, Jagielka, Barry) but we also have some that are definitely over the hill (Osman, Pienaar, Distin) or just not top quality Premier League players (Naismith, most of our reserves).
Season loans are not the answer... we need and deserve quality defensive and attacking additions (reckon midfield is okay) if we are to push on. Surely that is what the club wants.....yes Bill??
Whatever team we put out I expect at least total commitment. Our "dogs of war" squad may not have been pretty but Horne, Carsley etc would have shed blood for the club.....
Declan Burke
103
Posted 28/01/2014 at 22:18:24
Note the comments about Roberto will have to sign reinforcements by Friday night...
May I make an observation? Who in their right mind would sign for us after that abject, gutless, shite performance?
James Martin
106
Posted 28/01/2014 at 22:21:15
Worst away performance at Anfield in my lifetime. So you can shut up with all this Moyes "knife to a gunfight rubbish". Words are cheap. It's what you do on the pitch that counts and apart from winning at the sweetie ship that is Old Trafford, we've had the same old problems. The players are not good enough, their mentality is not good enough. There hasn't been a creative midfielder at Everton that's been good enough since Arteta. Missing Gibson, missing Arteta. Embarrassing. Hard work for Roberto starts now.
Steve Brown
108
Posted 28/01/2014 at 22:19:53
We conceded yet another set piece goal to Liverpool (happens every Derby), then showed complete naivety in over-chasing the game. That allowed them to counter-attack us. That allied with playing two patently unfit centre halves and we got hammered.
Keep calm and carry on I reckon.
Michael Rawlins
109
Posted 28/01/2014 at 22:14:05
Too many players bottled it tonight. We committed football suicide after conceding the first goal. Pienaar was a disgrace. Men against boys comes to mind after what must be our worst performance of the season.
Steve Brown
111
Posted 28/01/2014 at 22:27:00
Kenwright needs to give Martinez money if Lukaku has a bad injury.
Gary Reeves
113
Posted 28/01/2014 at 22:11:45
I didn't see a lack of passion, and heart, but it was most definitely a lack of strategy and purpose. First goal put us in deep trouble and that was when our squad strength told. Pienaar had a bit of a 'mare, and no need to add anything further about Alcaraz.
Still... it's February next week and it's only our 3rd defeat! I'm big enough and old enough to admit we were well beaten on the night, but we move on and we learn.
Mark Frere
114
Posted 28/01/2014 at 22:27:23
Bill Gall 094 - well said.
Brent Stephens
115
Posted 28/01/2014 at 22:28:53
Somebody blaming the ref! Says it all!
Oliver Molloy
116
Posted 28/01/2014 at 22:05:04
Stephen @ 54
"No way are they superior to us"
They probably have one of the best strikers in the world right now and another one who knows how to put the ball in!
Until we get a striker or two who can get us 20 odd goals a season it will always be the same most of the time. Our problem is where do we get the money to buy them?
Kevin Naylor
118
Posted 28/01/2014 at 22:32:54
Let's stop playing this game second; we would have had a fit squad if this had been the first derby and the crowd would have been a huge bonus tonight if it had been at home.
Tom R Owen
119
Posted 28/01/2014 at 22:29:55
Gerry (102) — Kenwright will bluff his way out as usual with his "my blood runs blue" and "I'm a fan" bollocks.
In truth, nothing but nothing will change and mark my words in a couple of days time someone will write into TW and say "Don't blame Bill, he's one of us!"
Neil Pickering
122
Posted 28/01/2014 at 22:28:46
Some of you on here should be ashamed of yourselves! What a fickle bunch you are! We got our arses handed to us with half a team out, against a side with 2 world class forwards in as much as it pains me to say. Take them out and they are mid table at best.
I still maintain we have a better balanced team than them when we have everyone fit. The gods yet again conspired against us to fuck us over, but I tell you one thing, I'm so glad I'm not one of them. They have sold their souls to the devil, and will literally do anything, including harboring a racist cheat, to stay on the coat tails of the top 4.
They will get theirs, the mutants.
Mark Stone
123
Posted 28/01/2014 at 22:30:47
Martinez has to shoulder the blame tonight I'm afraid. The team was set up completely wrong and played right into the hands of Suarez, Sturridge and Sterling. What was most worrying was the complete lack of a plan B. Even after 3 and 4 we didn't learn our lesson. Finally, I know we've got injuries but he's messed about with the defence too much as well. Should have stuck with the defence that played against Stevenage. But one game doesn't define a season, as with his predecessor, I'll judge him in May.
Dick Brady
125
Posted 28/01/2014 at 22:34:27
Hurting, just really really hurting. All I want from a season is to beat Liverpool or finish above them in the league and neither looks likely now. I'll keep the faith and hope we do something in the FA Cup.
But tonight's result has really upset me. It makes me so sad. :(
Martin Farrington
127
Posted 28/01/2014 at 22:32:52
The recurring theme about Everton is Kenwright – no matter who the players manager and coaches are. The latter 3 can all pull out the stops and over perform and achieve exceptional results and achievement. He is the mill stone preventing the club from greater things.
It still doesn't excuse this performance.

Ralph Basnett
129
Posted 28/01/2014 at 22:36:13
Without Suarez and Sturridge they had fuck all.
Unfortunately Rodgers out thought RM as they hit us on the break all night.
See the stats, we won everything except goals and attempts, unfortunately the important ones.
Onwards and upwards, roll on Saturday.
Mark Stone
130
Posted 28/01/2014 at 22:36:47
Not quite sure how this is Bill's fault. That is clutching at straws a bit.
Bobby Mallon
131
Posted 28/01/2014 at 22:19:38
This result is down to Martinez. I love Roberto but to play such a high line with unfit players was suicide. Hibbo should have played right back tonight.
Brian Denton
133
Posted 28/01/2014 at 22:38:36
Perhaps we can appoint Joe Royle on a two games per season contract......
Tom R Owen
134
Posted 28/01/2014 at 22:35:15
RM has just stated on Sky Transfer Centre, the only dealings now will be Heitinga leaving.
Where is the money, Bill?
Sell up and fuck off.
Kevin Tully
135
Posted 28/01/2014 at 22:26:32
What the fuck has BK got to do with that performance? This is from a man who has absolutely no time for the actor.
Call it what you want, we were fucking awful in the opposition half. They let us play out in our half, and tackled like Trojans in their last third. Game fucking won.
Every time we got within 20 yards of their box, we had two or three on our case. I am not going to blame any particular player, we applied ourselves, but there was no quality when it mattered. Half fit players and going for the win undone us.
If you want to go back to 10 men and defend for your lives - good luck.
City battered Utd at home, Arsenal have taken Spurs to the cleaners. Barca have taught Real many lessons. It happens when you go all out. If damage limitation is what some want. Okay - I can see that.
We were shite, but let's move on, and let's keep trying to win. That's why I pay fortunes to follow this club.
Steve Brown
136
Posted 28/01/2014 at 22:37:55
Kenwright didn't play tonight. The fault lies with the players, as I'm sure Martinez didn't send them out tactically to play that way.
Mark Stone
137
Posted 28/01/2014 at 22:39:24
Those saying without Suarez and Sturridge, Liverpool are nothing. Well, they've got Suarez and Sturridge, so that's redundant.
David Israel
138
Posted 28/01/2014 at 22:28:09
Somehow, something tells me that David Moyes would have got off this one with a draw!;-) Now, seriously, we over-exposed ourselves, no doubt, but one has to consider that the two centre-halves are not probably fully match-fit.
Another thing: footabll stats can be very deceiving: we had 61% possession, just imagine!
Like Steve Brown # 108 says, keep calm and carry on. This was just an aberration - albeit in the worst of places!
Tom R Owen
139
Posted 28/01/2014 at 22:39:48
Didn't have to wait long for a
Can't see why it's Bill's fault! Amazing !!
Brian Wilkinson
141
Posted 28/01/2014 at 22:24:31
Say what you like, Liverpool closed us down well; clinical finishing and awful defending.
It was a derby, you get closed down quicker yet for some reason we wanted an age to get our shots on goal.
Make no mistake, we were shocking and in my opinion I really felt for Mirallas, he gave his all and ran his nuts off. Shame we didn't have another 10 on the pitch with the same heart and effort.
David Graves
143
Posted 28/01/2014 at 22:32:27
For fuck's sake, man up. Like we've never been here before? Those saying that Coleman, Distin and Lukaku wouldn't have made a difference don't know their arse from their elbow. They did us again but there's a long way to go and the world has hardly crashed down around our ears yet.
Chris Wilson
145
Posted 28/01/2014 at 22:31:47
I think everyone who is saying things like, "who would come to our club now after that performance"; I understand the frustration, but please, please, please calm down, step away from the ledge, and have some dip.
This was one of those games where Liverpool caught all of the breaks: Lukaku goes down with an injury, Coleman is out, Distin is out, it's pouring rain, Atkinson is the ref - these things unfortunately happen. Imagine the meltdown THEY had when they lost to us 3-0.
We had a bad game. Maybe RM could have deployed the team differently, maybe he could have played some different players. At least we were trying to go at them. Let's give Roberto the chance to recover from this and for me personally; I hope we beat Swansea in the FA Cup, and Liverpool beat Arsenal in the FA cup, and we get drawn together, cuz I would like us to have another shot at the bastards!
David Israel
146
Posted 28/01/2014 at 22:41:45
Tom R Owen (#134), let him fuck off, most of all.
Ian Riley
151
Posted 28/01/2014 at 22:34:16
What the bloody hell was that!
Players half fit and at 3-0 down still going forward as if it's 0-0.
Thank god Liverpool took their foot of the gas or it could have been 7 or 8. We were so bad from back to front.
Saturday's game against Villa is massive for our season and we will see what our manager is all about.
By the way, why are people blaming the owner!
Sorry this was down to the manager, did he know we were the away team and no Plan B.
Goodnight All.
Kevin Naylor
152
Posted 28/01/2014 at 22:47:59
I still say why do we always play this game second, with our usually small squad it surely favours them every season.
James Martin
154
Posted 28/01/2014 at 22:43:40
Honeymoon period is over. Moyes always got a reaction after his bad losses. Martinez is going to learn what being Everton manager is all about – dealing with players with the mentalities of school children. They'll probably need a week of motivational videos now to remind them how to defend and shoot and other complicated footballing actions.
Ian Tunstead
155
Posted 28/01/2014 at 22:40:26
Neil Pickering, it's you who should be ashamed of yourself, calling people fickle — you were the first one to quit your team by the sounds of things. You admitted in this thread that you gave up after 35 mins to go and play FIFA. I had to sit through that shite. I just feel sorry for the ones who have to walk out of Anfield to the sound of that rabble mocking them all.
Steve Cotton
156
Posted 28/01/2014 at 22:29:38
Atkinson gave us nothing, fell for their diving time after time and was only ever going to book blue shirts.
Don't get me wrong — we were shite... but playing 12 when you have too many under-performing is a recipe for disaster.
Atkinson was as one sided as they come...
Zaid Omar
157
Posted 28/01/2014 at 22:44:23
Chris, after tonight, I don't want to ever see a Derby again!!!
I genuinely thought tonight would be different, and we just weren't up for it... Liverpool were far better in every aspect of the game. A thrashing and well deserved.
Raymond Fox
158
Posted 28/01/2014 at 22:26:32
Drew, you're spot on, mate, we were out-thought for starters, they let us come at them, soaked the pressure up & hit us on the break.
We knew their attack is more than a match for anyone.
I'm RM's biggest fan but he was too gung ho in this game.
To be fair we played quite well till they scored their 1st goal – off a bloody corner again. Then we played into their hands perfectly, by pressing too far up the field after an equaliser, then when they got the 2nd, we chased the game again & so it went on!
We'd nobody in the middle after we lost Lukaku to offer a threat & put themselves about; it was plain sailing for them after that.
Everybody gave it 100%, we were out-thought & out-played in the end... there's always tomorrow.
Al Reddish
160
Posted 28/01/2014 at 22:41:46
Should have started Hibbert. At least he knows the derbies and would have put a couple of the shite into the stands. I hate Gerrard but at least he shows the passion to win these games. Our equivalent is Osman.
Tom R Owen
161
Posted 28/01/2014 at 22:52:19
David (#138)
Only one statistic matters...
They scored 4; we did not score any.
Anthony Lamb
163
Posted 28/01/2014 at 22:28:15
Like everyone else, tonight has been a bitter pill to swallow – and being near 70 I have seen a lot! However, so many of the comments here do not seem to acknowledge that sometimes you really do have to face facts.
Such is this curse that Liverpool often hold over Everton that just when Everton suffer a catastrophic series of injuries and are at their lowest point, who do we play? ... yes... them!
But you simply cannot ignore the fact that that the solidity of the back four was decimated by the absence of Coleman and Distin and a barely 90% fit Jagielka, with the added loss of Coleman's offensive threat. In the middle of the park, we had Pienaar and Barkley who have not played in weeks and then Lukaku gets carried off after 15 minutes to be replaced by... Naismith!
I must admit at this point that I have not been Pienaar's greatest admirer. Coming back from Spurs has given him an even greater over-inflated sense of security that his overall contributions simply do not merit. Osman gets slaughtered on here (sometimes with justification) but this guy's lack of goals, goal threat, direct goal assists etc never seems to arouse the same criticism.
It is why the dreadful injury to Oviedo is such a blow as he was proving to be a crucial member of this squad, whose pace, energy, directness and goal threat finally suggested that rather than being seen as an understudy to Baines (questionable now?) he was tailor made to replace the largely ineffectual Pienaar and add further bite to the middle of the team.
All of this then means that you are going to struggle against a Liverpool team containing the threat of one of the very top players in the world (odious though he may be) and a partner who although intensely irritating is a top goal scorer. It was just typical that, coming when the match did, Everton were in a dire situation - do we really think that with a fully fit first eleven with the added possibilities offered by a fit "Del boy", Everton would have sunk to a four goal defeat? (It could of course easily have been 6 or 7!)
Oliver (041) is quite right, it was "one of those nights" when there are other issues behind the scoreline. A real test for the manager and the squad is how do they now positively react to this – it may also be a test for the supporters.
Nick Armitage
167
Posted 28/01/2014 at 22:56:22
Bad tactics and selections compounded by a leadership vacuum in defence. A calculating Rodgers played a naive Martinez like a fiddle. Genuinely appalling. Don't see us bouncing back from that. Season over.
David Israel
168
Posted 28/01/2014 at 22:57:36
Right you are Tom R Owen # 161! That was my point!

Kevin Tully
169
Posted 28/01/2014 at 22:58:09
Anthony - If Carlsberg did post-match summaries, you would be the man. I feel better already. (Not really)
James Martin
170
Posted 28/01/2014 at 22:52:28
Give up with all this 'it was just one bad performance'. When was the last time we lost 4-0 to anyone? We had almost a full team out. It was just shambolic and not good enough for this club . Let's forget it and just do the same again next year hey? Oh for a manager who would actually learn from ine of these bad losses at Anfield. No wonder Moyes ended up going for 0-0s, I probably would with these players, barely a winner between them. What I'd give for a carsley or Cahill on the side. At least they cared. Not one of them out their did tonight.
Chris Wilson
173
Posted 28/01/2014 at 23:01:39
Season over? Seriously? C'mon man, that has to be sarcasm.
Patrick Murphy
174
Posted 28/01/2014 at 22:50:52
James I am as disappointed as you are but if you had the 'pleasure' of watching every derby game since they got promoted in 1962 - there have been many many times when we have come away with our tail between our legs - Six fuckin wins in 51 years is a disgrace for the Club and it doesn't seem as if that figure will improve much in the coming years - that's not counting losing to them in the really important cup-ties on neutral grounds and watching them parade around with trophies. Everton FC needs a big-hitter who won't tolerate losing such important matches so regularly not some poncy actor who may feel the pain but seems to accept that it is a part of life.
I bet City had a better record in that period against United at Old Trafford pre the money-men arriving and Spurs have probably won more times at Arsenal. It's no wonder all the kids lean towards our neigbhours when we appear in these games to be such gutless losers at their place.
I can't feel better knowing we had 61% of the ball - in fact in some ways that makes it worse - we need to learn that football matches are won by scoring goals - that lot have always known it - but we as a club think that pretty football is the be all and end all - it isn't - it's a mixture of good play and scoring goals. Everton known for its famous centre-forwards and goalscrorers has forgotten that to get one who is any good you have to spend money - real money - not £5m here and £6m there - we need a proper striker and have done for years.
Michael Polley
175
Posted 28/01/2014 at 22:56:10
Our makeshift Back Four were shite. They obviously hadn't played together before, and it showed.
Alcaraz & Stones were shocking. Making basic errors. No communication. No marking. No closing down players or spaces. Jags looks to be struggling with injury, and Baines didn't show up.
We need Distin/Coleman back against Villa.

Brian Denton
176
Posted 28/01/2014 at 23:04:55
We must be the only club whose 'bogey team' is its local rivals. Thank you God......!
Martin Farrington
177
Posted 28/01/2014 at 23:03:24
Let's face it - we're gonna finish 7th, WIN the FA Cup. Bob will get MOTY, Bill will get a knighthood whilst selling the pitch rights and undersoil heating for a tenner. Job done. Good season. Good Night
James Martin
180
Posted 28/01/2014 at 23:05:52
McCarthy needs taking out the team. Lost his bite, doesn't pass forward, no creativity. Osman did more than he did all game. Overplayed.
Mike Hughes
181
Posted 28/01/2014 at 22:58:54
Very well put, Anthony.
A number of factors contributed to a perfect storm.
Or imperfect storm from our point of view.
I totally agree re: Pienaar.
I think the injury crisis will make February difficult.
Ste Keating
182
Posted 28/01/2014 at 22:52:30
Everton were the only team playing football, them twats were just sitting back and feeding off scraps in my opinion.. They were playing at home ffs!! They were fucking scared of us.
Although I hate that result, I thought we played attacking football and for a few misplaced and being a bit naive and them cunts having 10 defenders this could've been so different. Twats, I fucking hate them!!
Mike Connolly
183
Posted 28/01/2014 at 23:02:14
James 170 — Apart from Mirallas.
David Israel
184
Posted 28/01/2014 at 23:03:35
Anthony # 163, nice piece. I'm slightly behind you, I'm coming on to 60, but I have watched plenty of Derbies at Anfield (the last one was that 1-1 draw when Tim Cahill scored with about 5 minutes to go). Among those I watched was the one when Graeme Sharp scored that beauty! But we do seem to have something of a curse when playing them. Let's get this one behind us, although Villa are not our favourite team...
Kris Hall
186
Posted 28/01/2014 at 22:54:53
Shit fellas, its not all bad. We lost. Get over it. We also dominated possession and on another night would have scored a couple. Turning point was at one nil down when we had a chance to equalize. Instead our high (inexperienced) line got caught out and we were chasing the game.
Several players weren't match fit but played. We were let down by our back line tonight. Too many balls over the top that we didn't deal with. Defensively, we had a night to forget. We missed Bryan (speedy recovery) and Seamus. We got into lots of decent positions but Stones doesn't have the pace to get in behind - he failed to cross too. Hibbert would have been my preferred option tonight..

I thought Mirallas was excellent. A constant threat. Should play him through the middle now Lukaku is out. Barkley too was decent in patches for a lad that's been out for a month.

Nick Armitage
187
Posted 28/01/2014 at 23:04:44
Anthony Lamb - Pienaar has had one good game since returning from Spurs and that was against Spurs. He is a relic living off former glories. Needs shipping out.
Bill Gall
188
Posted 28/01/2014 at 22:59:39
Poeple on here saying we can't blame BK tonight are right. However, what he is to blame for is, over the past 5-6 years, he has failed to find financial backing for the manager in times that even someone who has no knowledge about football could see that, with a couple of fresh players in January, Everton will impove, and maybe would have got into Europe.
Si Cooper
189
Posted 28/01/2014 at 23:01:26
Anthony Lamb - great post.
We were comprehensively beaten but we were not steam-rollered. Suckered in to playing the game on their terms and then individual errors sprang the trap for them. Early on we looked happy to let them get within 25 yards and try their luck which odd, then after their first we went for a ridiculously high line with acres for them to run into. Something in between would probably have been better, but we seemed bamboozled by their tactics which will need some sort of enquiry at Finch Farm.
Don't know why Baines is getting a slating from some. McCarthy was conspicuous by his lack of impact in the first half (though he recovered his poise in the second) and Gareth Barry showed a fair amount of fallibility even if his effort was exemplary. Individual errors from Stones, Jagielka and Alcaraz gave them the opportunities which they took ruthlessly.
Upsides - there was no sulking or slacking and the players got it together for some decent play though it lacked an end product (a bit of luck and we could have converted a few chances).
Steavey Buckley
190
Posted 28/01/2014 at 22:54:49
I do believe Everton fans have to put things into clear prospective about tonight's game. Liverpool did to Everton what Aston Villa did to Liverpool in their last home game. Villa got at Liverpool's defence from the kick off in the first half and should have been 3 up, not 2 up at half time.
The slippery greasy surface assisted with constant rain made it difficult for the Everton defence to deal with so many Liverpool forwards running on to through balls who were just outpacing them. The sad fact the Everton attack could not do to Liverpool's defence what their attack did to the Everton's defence.
The sad fact is, Everton are not the same team going forward as they have been in previous games, excluding Stevenage. I do believe Everton are still suffering a hangover from the West Brom game which ended in 1:1 that left a bad taste in every Evertonians mouth in the way the blues capitulated so easily to Brum in the second half.
Let us all hope that Martinez can put out a decent team to beat Aston Villa at home on Saturday with big striker in Traore hoping to make his Everton debut in place of the injured Lukaku, who was not playing particularly well recently when he got injured tonight. So can't be said he will be a big loss if he is not playing. But I hope Barkley is playing.
Raymond Fox
191
Posted 28/01/2014 at 23:01:54
It's like everything else, you have to make mistakes to learn.
The manager didn't play his best game, some of the players should also learn from the defeat, but I think sometimes it's a series of events that just makes the situation go from bad to worse, ie, chasing the game.
They also highlight where we're lacking.
Joe Clitherow
193
Posted 28/01/2014 at 23:07:59
Don't really understand the specific criticism of BK tonight as he wasn't playing centre mid and most of us would have been quite pleased at the team news that started.
Desperately disappointed we played such a high line up the pitch and even more disappointed we continued to play it even when we were getting our behinds handed to us. The third (yes THIRD goal was directly attributable to this a la an old style Wimbledon punt. In all this, despite it apparently being a conspiratorial player decision to play this rather than a managerial instruction, I did not see our manager screaming from the technical area against this suicide when it was completely obvious to all and sundry, especially Suarez, Sturridge and Gerrard who facilitated said lumps past said back line.
Also, it's Bye Bye Lukaku I'm afraid and since the guy is taking up a loan slot we have a big decision to make in the next couple of days, either to return him, free up the slot and loan someone else (is this possible?) or spend 10M+ on a striker as we have not a single one we can field at the club (I don't count Naismith here for obvious reasons and we seem left with Mirallas who is still primarily a winger).
Finally, Alcaraz should be locked up for that display (sorry!!)....
The guy is a Championship defender in my opinion who has flattered to deceive.
Tony Sullivan
194
Posted 28/01/2014 at 22:38:42
So we have lost a game. It was a sporting fixture not a civil war. The over-reaction on here borders on the hysterical.
Blaming the chairman for naive defending is childish. If our fans blind hatred of the opposition results in fans throwing coins at Liverpool players, we should be ashamed.
Shouting and swearing about your own team's performance is pointless. We defended poorly and were punished, but continued to try to play football but were outplayed by a better side on the night.
There are 16 fixtures left to play and given RM's positive outlook we can still achieve a Champion's League finish. The result tonight hurts me just as much as every effer and blinder on here tonight.
We should just try to keep things in perspective, difficult though that appears to be.
Mark Wilson
195
Posted 28/01/2014 at 22:44:58
I'm not sure you can expect too much rationale comment after that gut wrenching pathetic display. But I'm going to try.....
RM clearly blames himself for picking unfit players but the squad is so thin. It was NEVER going to withstand an injury crisis. Yet the damage was done relatively early in this game and I'm not sure "fitness" cost us three aweful first half goals ? Nope, it was DIRE defending.
Ross didn't too at all badly but when so many behind you are playing so badly it's hard not to over compensate and try to do it all yourself and I thought he fell into that role at times tonight.
Mirallas realky did himself proud and I'm praying RM plays him as centre forward against Villa because he's up for it. Naismith, willing though he is, showed again tonight that he makes very little happen himself and we need more in that position.
I've heard the reasoning but all CL hopefuls have three or four forwards to call,on of some quality. So why let Yelavic go when despite poor form he still managed to look likely to convert chances if we give him the opportunity and I'm wondering why "being juice about his World Cup chances" has any place in PL football ?
I don't understand the Pienaar hating. He wasn't good tonight but still worked hard and it just didn't come off for him. He's not become aweful overnight but he and Baines just haven't connected as in last season. McGeady will likely start against Villa so it will interesting to see how that works out but unless Traore's hamstring is sorted he ain't going to have a rampaging no9 to hit with inch perfect crosses.
Alcaraz looked soooo good alongside Stones but he was ruthlessly exposed by pace tonight...worried others will see that and exploit it over the next few months.
Stones was not as bad as some are saying but I see him as a future centre back anyway and he will be very very good.
The huge issue now is a simple one. Will we slide and see a very encouraging season collapse ? We are relatively close to fourth spot but in truth unless a miracle happens and the club finds the money to support the manager as they should, right now, I really rear injuries will finish us off send its a battling seventh place. Hope like hell that isn't the case but I guess I'm just fed up of a lifetime being humiliated by the shite.

Andrew James
197
Posted 28/01/2014 at 22:53:41
Stones - out of position
Jags - still recovering from injury
Alcaraz - the same
Baines - the same and out of form
Barry - worst performance of season and showed why he won't go to Brazil
McCarthy - has to expend a lot of energy if Barry cocks it up
Pienaar - recovering from injury but a spent force
Mirallas - played well but didn't score.
Barkley - 3 weeks out, came back too early
Lukaku - been poor for a while, then injured
Naismith - not going to do it at this level
Too many players injured, out of form or past it. Moyes is somewhat to blame because he didn't bring through some of the better kids and re-signed the likes of Pienaar. But Martinez hasn't exactly covered himself in glory by buying Alcaraz and Kone.
I had a bad feeling about this one. We have been flattering to deceive for a while. We monumentally fecked up against Sunderland and couldn't even score. We struggled at Stoke and were rubbish at West Brom.
Martinez has done well thus far but we looked like his former club tonight we really did. Naive, defensively awful and blunt. To be fair to him, he could not have legislated for such season low outings from Barry and Jags but there needs to be some major surgery in the summer. This is still a work in progress and we have to stick with it.
Chad Schofield
198
Posted 28/01/2014 at 23:09:03
Anthony Lamb, I salute you.
Obviously disappointed, but, yeah... shit really.
Some hefty over reaction. Some horrible commentary.
James Martin
199
Posted 28/01/2014 at 23:17:55
Some of you give your heads a shake. Pienaar was half fit. He is one if the few players in our team who can create anything and people want him dropped. Let's just replace him with another crab or headless winger, hey?
I will never understand the adoration imaginationless players like Rodwell, Fellaini, McCarthy get whilst anyone trying to make something happen, like Osman, Pienaar, Arteta get blasted when they give the ball away.
Nick Armitage
200
Posted 28/01/2014 at 23:17:14
Steavey Buckley  – I don't agree; to say Liverpool did to us what Villa did to Liverpool is a bit disingenuous. Liverpool drew 2-2 in that game. We never even looked like salvaging pride.
Colin Glassar
202
Posted 28/01/2014 at 23:23:32
I think everyone should read Greg O'Keefe's analysis of the game in the Liverpool Echo. I don't have anything to add to what he writes.
Joe Clitherow
204
Posted 28/01/2014 at 23:28:24
Hmmm, Heitinga shipping out, Alcaraz propping up the defence? Are we really all comfortable about this?
Drew O'Neall
205
Posted 28/01/2014 at 23:22:27
Having taken some time to reflect and relax I just think it came too soon for too many of our recently injured players all at the same time.
There's no way we are as bad as that but RM just took a risk and it didn't pay off.
At least all those players are one game closer to match fitness.
Chin up.
Nick Armitage
206
Posted 28/01/2014 at 23:24:32
Pienaar is finished and those who think otherwise, name his last good performance.
Bill Gall
208
Posted 28/01/2014 at 23:21:51
Wonder if the supporters saying Barkley came back too early are the same ones that were praying for him to be able to play some even suggesting painkillers?
Yes, it's painful to accept but hey we are only 4 points behind. Now is the time to show our support not blaming the manger for the team he put out. Have a look at the bench — who else could he have played that could have made a difference?
Brent Stephens
210
Posted 28/01/2014 at 23:28:51
Stephen #185. Sorry, mate. I thought there was an excuse in what you wrote. Clearly not.
Ian Tunstead
211
Posted 28/01/2014 at 23:30:35
The thing is Nick, Pienaar is one of the few players who tries to make a forward pass. He was shite but I think he's just struggling for form with having injury problems.
Steavey Buckley
212
Posted 28/01/2014 at 23:30:54
"Steavey Buckley - I don't agree. To say Liverpool did to us, what Villa did to Liverpool is a bit disingenuous" I was referring to Aston Villa's first half performance against Liverpool, not the whole match, when Liverpool were at home and expected to respond in the second half, which they did and grabbed a 2-2 draw.
Roman Sidey
213
Posted 28/01/2014 at 23:11:18
I always thought it was Moyes's fault we couldn't win at Anfield. Perhaps it was just the players all along. Jagielka and Alcaraz were probably the worst CB partnership we've had in a very long time, Pienaar had probably his worst match in a blue shirt, and that's something I've said a few times this season. Baines has turned into a shithouse since the end of last season and has no value to the side at the moment - if Oviedo wasn't out I'd be shouting for United to come back with £10m for the supposed "best left back in the country. This season, he hasn't even been the best or second best left back at Everton!
Not that it was his fault, but Atkinson did exactly what we all thought he would do. One of their goals came from a Suarez dive and quick countering free kick and another came from the ref playing on when we'd been fouled outside the box. The penalty was fitting as it just wouldn't be a derby without a shite call like that.
The only players who I'd not yell obscenities at are Mirallas, Stones, and... (deep breath) Osman, who came on and was ten times the player Pienaar was.
Naismith proved he's a lower-league standard of player, and Hibbo made my skin crawl just sitting in that spot on the bench where you can always see his liability of a head.
Raymond Fox
214
Posted 28/01/2014 at 23:21:38
The first goal, you could call it bad defending, but the other 3 were because we were all gung ho very high up the pitch!
They were off good passes which cut us to pieces on the break, if you watch them again Usain Bolt couldn't have given them yards start & caught them!
Kevin Tully
215
Posted 28/01/2014 at 23:32:56
One thing guys, let's see if this team is worth our support. They absolutely have to go out on Saturday against Villa a pull their tripe out. Go and prove what it means to pull on that shirt.
If they don't, they can all fuck right off as a bunch of bottling pricks. Baines and every player want £75k a week and C.L. - well fucking prove it!
Dan Durnin
216
Posted 28/01/2014 at 23:03:36
It was a horrible night for us all but try and cheer up and move on. Many teams this season have been severely drubbed at Anfield by an average team that has two or three good players but are fortunate so, so much of the time. The ref was a twat-bag of the highest order tonight, as we knew he would be. Rogers tactics did work well but that doesn't mean Roberto becomes a bad manager all of a sudden.
Don't forget Old Trafford, or the Arsenal game at the Emirates, Christ, even after the Sunderland game Gus Poyet said we were the best team he'd faced in the league and that was with ten men! It was a poor performance and a shit night but we'll get points at home and finish well this season.
More importantly for me, we'll be stronger and better equipped under Martinez next season. Yes Bill could give us more money and/or sell up but even more monied sides like Spurs fuck up like this (see Man city Away).
I agree that our recent record at Anfield is so depressing that it does beggar belief. Personally, I think Stevie G-turd made a pact with the devil back in 1998 that went along these lines:

Stevie: 'Satan, have you heard of the Beano?'
Satan: 'Why yes young Steven. Why do you ask?
Stevie: 'Well, Satan, I was thinking, If I always promise to cut my hair in the style of Smiffy, from the Bash Street Kids in the Beano, you know, a regular short back and sides with a stupid extra tincy-wincy little bit at the fringe. Well, if I always cut my hair like that for the next 16 years and never change it, will you let me always be on the winning side in derby matches?'
Satan: 'Well, I don't know, it sounds most irregular.'
Stevie: 'Oh go on Satan, I'll do anything. Please, pretty please.'
Satan: 'Ok then , if you have hair like Smiffy from the Bash Street Kids... and promise to suck my cock on a regular basis then you can have your wish.'
Stevie: 'Thanks Satan!
Satan: 'That's ok son. Personally I'd have asked for a voice that didn't sound like a 5 year old girl, but each to his own. Now, suck SATAN's COCK... HA HA HA HA.'
And thus, at the Crossroads, history was made.
Clive Lewis
217
Posted 28/01/2014 at 23:35:12
61% percent possession losing 4-0 erm where have I heard that before ah yes I remember Wigan!
David Cornmell
218
Posted 28/01/2014 at 22:07:35
A good old fashioned tin mine hiding!

Colin Glassar
219
Posted 28/01/2014 at 23:46:07
I can hear the sound of knives sharpening.
John Paul McGurk
221
Posted 28/01/2014 at 23:39:58
Before I start, this is my opinion. BR is a shit manager, give me RM or DM anyday. The amount of shit he talks is unbelievable, the amount of shit players he has bought is unbelievable.
Tonight was bad, I sat in a living room with 2 RS. They have S&S but what else? For the amount of money they have spent...
We had only 2 regulars of our back 4 playing, one of which is the best RB in Europe and the other not 100% fit. Barkley and Pienaar not fit, we lose Lukaku but in a few weeks all our main players 100% fit touch wood and our best player so far (Deulofeu) fit, we will finish above the RS if there ever was RS.
Patrick Murphy
224
Posted 28/01/2014 at 23:54:52
Kevin if they don't put up a better performance on Saturday they probably don't deserve the support - RM wants to put up in six foot letters the BBC Teletext headline "Liverpool thrash Everton in derby' if they don't react to that, European football is not on the agenda for next season.
Tony Twist
225
Posted 28/01/2014 at 23:54:45
Embarrassing, truly embarrassing... but understandable with so many players not fit and also playing too high up the pitch and let's be honest we have been riding our luck defensively for some time.
Plain and simple we need to buy some quality players, players that aren't already injured or don't have a history of injuries. Manager's fault for playing too high up the pitch and buying players with injuries.
The honeymoon period well and truly over, time to earn your money Roberto.
Mick Davies
226
Posted 28/01/2014 at 22:44:35
We are the victims of years of bad management. It's going to take more than 7 months to turn this leviathan around, and with the shit luck we've had with injuries, the one trick pony called LFC was sure to do something like that. They've won a battle, but I'm convinced we will win the war.
Stones was ridiculously straying up front where he was ineffective anyway, therefore leaving the whole flank exposed. In mitigation, he had no one with him until McGeady come on. With Coleman, we all know it would have been totally different. We had no striker after Lukaku went off, what could Traore have done to that shite defence? Alcatraz and Jags have obviously been patched up as we have no CB's left uninjured. The fight for 4th place is not over, and the best way to get revenge for tonight would be to take a CL place off them twats
Mike Gwyer
227
Posted 28/01/2014 at 23:28:30
That was fun.
RS mates already texting - well they can fuckoff. Sisters RS husband continually ringing mobile - just texted him to fuck right off as well. Can we please not play this game anymore? I have had enough, It is too damaging and we do not have the capacity to win the game - 11 Messi's are no good, you need a Cahill and some hard fucking bastard in the middle of the park.
James Martin
228
Posted 28/01/2014 at 23:50:43
Pathetic when you think about it really. Continuously getting done like that at the same ground most seasons Pathetic for a top premier league side who have beaten every team in this league multiple times to be unable to beat their local rivals who just last week were gifting Villa 2 goal leads. Pathetic player mentality.
Now was this good football or is that just the label we put on anything that is played on the ground no matter how pointless it is. Were we playing to win? Were we playing without fear? Sin Miedo? Perhaps the one good thing that will come out of this game is the end of all those ridiculous cliches and some more objective views of our current and former manager that don't involve prostrating yourself at the altar of one extremity or the other. Martinez is facing up to exactly the same problems Moyes did: useless board, weak players who hide behind the manager, strength of others, bad refereeing, inability of a small squad to play 38 games at the same level, crippling injuries.
Yet when Martinez finishes outside the top 4, we'lla ll think its ok to hide behind some ridiculous 'sin mideo' cliche, banging on about how at least we are enjoying our football (did anyone enjoy tonight?). We are not moving forward in the league regardless of what comes out of anyones mouth at a press conference, regardless of who was or wasnt invited to the training ground, regardless of how many passes we do per game. The result is the same. Until there's some investment in the squad this massive glass ceiling over us will continue to be ignored. Hope everyone is as intolerant of 'best of the rest' as they have been in the past. That wil prove that we're actually bothered about the progression of Everton and not just whether or not we're bored of who's in charge or whether we like what they say at press conferences. Reality bites for Everton and Martinez from now on thanks to this result
Scott Phelps
229
Posted 28/01/2014 at 23:56:40
An awful performance, defensively shocking... gutted!!
However, I am proud that at least our players can play the game with honestly unlike the redshite who roll around like children at the faintest of touches. which is a fuckin disgrace. Suarez with an awful challenge on Stones's ankle but the lad carries on...
Our squad is now worryingly thin; we need reinforcements before the window closes.
Keep the faith!
Peter Laing
230
Posted 28/01/2014 at 23:36:48
Lambs to the slaughter, how Stones could be considered a safer bet than Hibbert for this one is beyond me. Jags and Barry absolute nightmare, Alcaraz horribly exposed for his lack of pace. Martinez got it badly wrong tonight, shit happens and it's a learning curve for our attack minded manager, in these games away to the dark side defence should be our priority.
Ross Kerry
232
Posted 28/01/2014 at 23:47:22
Poor reaction to their first goal (again) and the game has gone before you know it. Their front line was great, totally ruthless - no point making excuses about half fit players, how many times have we had opposition in similar situations achieve a freak result against us?
Might well be the end for Lukaku at Everton, that nobody seems to care says it all about his ability. Mourinho is no fool, he is West Brom standard.
We got pasted good and proper by a Liverpool team that completely had our number but we kept on playing into their hands - that's down to the manager.
First Anfield derby for Roberto, and it was humiliating for him; Rogers took him to the cleaners. It doesn't mean we can't make the top four but the fact that we have not brought in the quality that was needed having got into a good half season position is probably going to be more decisive now that our small squad has been hit by injuries.
Patrick Murphy
234
Posted 29/01/2014 at 00:02:55
Mike #227 we really do need a leader on the pitch - not just for games against that lot - but for every game, we are far too quiet and nice and this is probably one of the most cut-throat leagues in the world of sport.
We also need a player who the fans can get behind similar to Cahill et al - My assessment for a team is if they find themselves at the wrong end of the table can they battle their way to safety and with some of the players in the team - even a full strength team - I'm not sure they could.
On a similar subject if we had our usual poor start to the season, would the Board and manager be so blase about the injuries and having a weaker squad than we started with - Season Ticket holders pay to watch the team for a whole season and shouldn't have to watch a side with no proper Striker available. I hope Lakuku gets back to fitness soon, but he is not the player we should be buying even when fully fit.
John Daley
235
Posted 29/01/2014 at 00:13:42
So after that rusty spike through the heart of a first half I didn't think I could get much more wound up. Then I take a quick look on here, seeking to share my sorrow with those suffering as much as myself...only to be greeted by the special brand of self satisfied, smug-twatitis spewn forth by ToffeeWebs own version of a fucking opportunistic ambulance chaser: Nick Entwhistle.
Holding court like a more mincing iteration of intergalactic shithouse Ming the Merciless, wiping away mock tears and giving a mournful cry of "Flash! Aaa-aa-ahh!" at the blonde space bastards funeral....even though he fucking hated his hairy human ass and couldn't wait for him to pop his clogs.
Strange how you never seem to pipe up after a win Nick. One might think you're just constantly waiting for those rare occasions where things go tits up so you can seize the chance to try and sew some seeds of doubt and shout 'I fucking told you so!!'. Pathetic.
Gaute Lie
236
Posted 29/01/2014 at 00:11:25
Poor display from half sick defenders. Looks like they lost the soap in the shower all at once, and bending down for the RS to haul over them. No wonder Distin kept his distance from this one, he'd already seen the Vaseline tube in Gerrard's back pocket.
John Daley
237
Posted 29/01/2014 at 00:15:41
Anyway...as for the game itself? Biggest difference was pace up front. We didn't have any, they had an abundance.
Jagielka, even when fully fit, isn't the swiftest and with Distin out, and the even slower Alcaraz alongside him, then our defence were always going to be under threat of being left choking on dust. The fact they scored first and we had to push forward in search of an equaliser meant we were really up shit creek whenever they launched a swift counter attack.
I've maintained for a while that Mirallas should be played up front as the furthest man forward. I was hoping that would be the move Martinez would make after Lukaku came off, with Mcgeady going out wide. Instead, he brought on Naismith who struggles to get forward like a liquid nitrogen drenched T1000 that's just seen it's own rapidly freezing leg snap right the fuck off in front of it's red, robotic eyes.
Despite his faults, Mirallas is tricky and quick and could be much more productive through the middle, playing off the shoulder of the last defender. A quick turn or burst of pace and he's bearing down on goal instead of turning back on himself out wide.
Continually cutting in from the wing he has to beat two or three men in front of him to try and get a shot off and doesn't possess the awareness, or unselfish attitude, to simply settle for an assist. He wants to get on the scoresheet and often goes for glory, no matter how slim the chance of success, or how many stand between him and the goal.
With Lukaku now out with ankle ligament damage and Jar Jar Binks not yet fit, then surely now must be the time to try it?

Joe Clitherow
238
Posted 29/01/2014 at 00:10:43
How we react is the most important thing now. A blip or a decline?
The most worrying thing for me is that when Plan A was demonstrably and obviously failing in front of everyone's eyes, Plan B was not forthcoming from the touchline.
The image that sprang into my head was Kevin Keegan, England vs Germany at the last game at the old Wembley. Hopefully that isn't the comparison.
Callum McNab
240
Posted 29/01/2014 at 00:02:51
I hope to god I'm wrong,but sadly I don't think we will ever get any success while under this shithouse Kenwright . Sadly no matter how you look at it success requires money , and that ain't going to happen with these frigging leaches called our board.
Someone hit the nail on the head tonight,you cannot go a full season on loans. We should be strengthening ,but only everton can make ourselves weaker. What we would of given tonight for jelly to of come on and done something . But no, we let him go and replace him with a injured loan striker. Naismith was like a headless chicken tonight and is not good enough full stop. We need defensive cover,but we will let heitinga go.
I just hope to god Bobby has not fell under kenwrongs magic act ,and just puts up with that frequent trick from the board in making the millions disappear again.it hurts like hell tonight ,but what hurts more is more than half of them players won't be bothered at what happened tonight. I will keep supporting my Blue boys till I die along with many others,and that's why nothing will change,because Kenwright knows we will still be there no matter what happens.COYB

Gerry Quinn
243
Posted 29/01/2014 at 00:13:18
Anthony #163 - your post has summed it all up - and still we get the moaners and groaners on here having their tuppence worth of doom and gloom. Shoot Ossie, Hang Hibbo, Arsehole Alcaraz. Don't you just love Toffee Web? Wouldn't change it for a thing
Mick Davies
247
Posted 29/01/2014 at 00:20:08
So, according to TW, the answer is Jelavic, Hibbert and Moyes!! Really, some "fans" need to get a grip (cue the clown march v Villa)
Tony J Williams
248
Posted 29/01/2014 at 00:01:23
Here's a thought for our team and manager, when you are playing a team who main attacking tactic is on the break which mostly consists of a twat upfield for the speed freaks to run on to.............. don't play a high line with clearly not fully fit centre halves..... just a thought like, it's not as if those tactics are a secret really......
Andrew Hawes
251
Posted 29/01/2014 at 00:06:26
How many more fucking years do I have to look at Gerrard's smug face after a derby???
1. Where has Baines and Pienaar's link-up play gone?? No point them being on the same wing if they act like strangers!
2. Do we not even practice how to jump at corners anymore?? Not even asking for us to test the keeper, just win a fuckin header!!
3.Are these the "right characters" that we constantly harp on about signing? If they are well you can stick them!!
Give me a snarling Sturridge or Suarez any day because there WINNERS!! Only player that gets grief on this site about his cocky attitude is Mirallas, best player tonight by a country mile. Where we're are so called leaders?? Not one rollicking did I see tonight!! Jagielka your our captain for Christ sake!! Not Mary fucking Poppins!!
Jamie Sweet
252
Posted 29/01/2014 at 00:06:21
Don't worry everyone. You all thought Martinez was saying "no more signings", but he was actually talking about "Neymar signing", after striking another loan deal with Barcelona, but with his accent we all mis-heard him.
Frank Fearns
253
Posted 29/01/2014 at 00:24:10
Chelsea's full backs don't go beyond the half way line. If Everton adapted this way of playing they would not have conceded the goals tonight. Sometimes you can be too adventurous leaving huge gaps at the back. Midfield players should be more mobile and aggressive. Soooooooooo shattered by this battering. Big climb back with Man u on the tail. Please don't let them get past us.
Peter Laing
254
Posted 29/01/2014 at 00:27:53
Mick Davies, could Tony Hibbert have really done any worse than a 19 year old inexperienced player whose best position is probably centre half, a half-fit gutless Captain in the shape of Jagielka, sick note Alcaraz with the pace of a snail, and a can't be arsed left back in the shape of Baines. Hibbert and Heitinga should feel hard done to after witnessing that shambolic, car crash of a defensive performance.
Damian Nolan
255
Posted 29/01/2014 at 00:25:37
How many noms de plume does BK have? Tune in for the cliché ridden Echo tomorrow. The main author will be Jagielka and he will be asking for the fans "to get behind the team."
Steve Durham
256
Posted 29/01/2014 at 00:32:51
Barry Fry tripping over a dog
Paul Smith
259
Posted 29/01/2014 at 00:33:08
I can't believe it.
What I know about football you could write on the back of a Rizla paper.
However, last week I posted, how I perceived Liverpool to play, and that was : direct, pacey and sometimes clinical counter attacking football.
If I can see it, then RM surely can - can't he?
We have to set up for what's in front of us, taking into consideration the limitations of the players and the context of the occasion.
Flexibility can not be underestimated.

Peter Laing
261
Posted 29/01/2014 at 00:40:10
Bainsey needs to get off the guitar and onto the training pitch, fucking gruel tonight him and Jagielka, Sewer rat must be creaming his pants at the prospect of coming up against those two in about 100 degrees heat in Brazil.
Chris Butler
262
Posted 29/01/2014 at 00:23:29
I don't think people are over-reacting I believe Martinez deserves to be criticized because to me our tactics were suicidal. Our results at Old Trafford and Arsenal were in completely different circumstances he had a full squad to chose from then. Also he had another proven goal scorer to bring on if Lukaku got injured.
I knew we were going to lose when I watched our pre-match conference. Playing attacking football is great but you have to know how to defend. We should of gone to Anfield looking for a draw and tried to get something on the break. After they scored the first and Lukaku was taken off Martinez should have changed it around slightly and tried to make sure we didn't concede any more.
At least at 1-0 we would have had a chance to get back into the game. Coleman and Distin have been excellent this season and without them we really struggled. I can only hope we draw them in the FA Cup so we get the chance for revenge.
Jackie Barry
264
Posted 29/01/2014 at 00:38:15
What gets me is the Moyes fans who can't get over him leaving. It's as if he was thrown on the street when the fact is he simply chose to leave for what he sees as a better job, get over it. We were well beaten but to say the season over is quite frankly stupid, there is still plenty to play for, even 4th. RM has done a fantastic job so far, I see this as a blip and nothing more, stop talking doom and gloom for pete's sake!
Ian Tunstead
265
Posted 29/01/2014 at 00:32:20
But Tony, we only play one way and don't change for anyone. Is that a good thing or a bad thing....? I'm not sure. On tonight's evidence, maybe we need to learn to adapt when playing certain teams.
Tazul Islam
266
Posted 29/01/2014 at 00:35:23
I think everyone needs to calm down... I said to my brother before the game we will either win this or get hammered and of course we got hammered... It's not the end of the world, frustrating yes.
Martinez has done better than expected so far and this is his first real setback every team has one.
Now we will see what he is made of; sometimes you learn more from a defeat than a win. So let's just wait and see
Si Cooper
267
Posted 29/01/2014 at 00:41:49
Paul (#259) - it wasn't just the system, or even just the defenders, that was at fault though was it? Barry, Jagielka, Alcaraz and Stones all made their system that bit more effective by their individual errors and McCarthy was pretty much AWOL for large chunks of the first half.
We didn't actually play the high line early on but we couldn't seem to get possession, move it upfield and retain it. Until their opener our defenders were pretty much pinned on our own 18 yard box and they were either taking potshots or trying to play short balls in to feet. The likes of Pienaar, Mirallas, Barkley and Lukaku were 20/30 yards up-field and largely inactive.
Then, after their first goal, we suddenly tried to compress the game around the half way line but that left us wide open for their counters when we coughed up possession too easily. We did actually seem to change tactics but neither was effective because of the individual cock-ups.
We were far more effective in retaining the ball in the second half but were still vulnerable to the counter attacks and unable to break them down regularly enough because their back four had no real reason to break ranks.
Jim Harrison
268
Posted 29/01/2014 at 00:42:12
Shit result, but hell, the reaction on here is as if we just got spanked by Shrewsbury to send us into the 3rd division!!!!
Liverpool are quite clearly a decent side. They have one of the worlds best strikers playing up front in an attacking forward line that has hit 4 past at least 4 teams this season. Our lot have been playing well but have been decimated by injuries. 4 of our starting lineup have been rushed back from injury, quite obviously not in the best shape. Our only decent striker was only on the pitch for 25 minutes. So we took the spanking that was on the cards. Sorry, but it was always a possibility.
Now disappointment is one thing, but reactions like Jim Bennings "not even going to bother on saturday" are puzzling. I understand that this result hurts all the more because of who it is against, but in the context of the season so far it is only a set back. To jump ship after one bad result smacks a little of fickleness.
Top four is possible, but just as unlikely as it was at the beginning of the season. Most supporters before the season started were not expecting Martinez to achieve so much so quickly, with as under the last guy very little investment. The improvement in the football being played cant hide the fact that whilst the first choice starting 11 can give any team a game, the squad is lacking quality, no matter how Bobby dresses it up.
So stick at it. Bad days happen. They are shit. I am not suggesting everyone just says "oh well, it was just an off day", but not react in utter disgust when a clearly strong team pumps a clearly understrength one
Bradley Benham
270
Posted 29/01/2014 at 00:58:34
I am as gloom and negative as any Everton supporter and today was certainly a kick right in the nuts . . . . but, how quickly everyone turns into the fire and pitchfork carriers?!
I'm honestly disgusted by the flip-flopping of these comments, or maybe 200 of you have been waiting, secretly hoping for a horrible day so you can pop up and say "I told you so." If so, sick.
Everton have had a change in attitude this year, and so have I. So, instead of jumping on your negative bandwagon as I would have in the past - I think we should follow the example of our little Costa Rican, take the bad break and immediately get to work on how to fix it and how to conquer the next challenge.
Steve Carse
271
Posted 29/01/2014 at 00:52:21
Is it possible to over react to a 4-0 defeat in a derby? Don't think so. All the criticism posted here is totally valid.
Jim Knightley
272
Posted 28/01/2014 at 23:56:00
We were always going to lose badly with Alcaraz and Stones in the team...they are quite simply not up to it.
It's a devastating defeat...but the season has over a third to run yet. We had some players in the team today who were lacking match practice, and were missing several important players. We need to win on Saturday, and then worry about the match against Spurs.
This would have been a different game with our normal backfour.
That said, our back up defensive options are too weak. Stones is nowhere near ready yet, and Alcaraz is not good enough. With an ageing Distin, this is Martinez's big test; we know he can get his teams to attack well, but bringing in the right defenders may well be the biggest test of his talents.
Steavey Buckley
273
Posted 29/01/2014 at 01:11:29
In a game where Everton players were frightened to tackle too much in case a very biased referee sent them off, with 2 yellow or 1 red cards (the same referee who sent off Rodwell in last season's Everton home game, that was later over turned on appeal - the ref has form) ; but the same referee had no problem overlooking Liverpool's misdemeanors especially Gerrard's. Under those circumstances, it was going to be a one sided attacking game, but strangely a 61% to 39% possession game in favour of Everton. There's hope as long as Everton can find the back of the net more times than Villa this Saturday.
Jim Harrison
274
Posted 29/01/2014 at 01:13:38
I have to say, if Hibbert is fit, he should have played. Experience would have been valuable at the back.
Funny seeing how so many have turned on Alcaraz. Two weeks ago he was the mutts nuts on here, now he isn't good enough.
Roman Sidey
275
Posted 29/01/2014 at 01:06:39
A few people labeling the reaction on here as reactionary, fickle, etc etc. Fair enough we have had a good season so far, and, as was pointed out by the commentators, RM has 42 points for the first time in his EPL managerial history. However, the writing has been on the wall since Boxing Day, and most of the criticisms are not new.
Jagielka slow and mistake prone. Pienaar not playing to a decent standard. Baines playing like he's still at Wigan. Naismith not being cut out for this level of football despite a handful of goals in big matches. Hibbo still being alive. None of this started today. These are all issues that have popped up regardless of our results all season.
The only thing that is different today is that there isn't much/any stick for Osman, and rightly so. I am one of his biggest critics, but today he looked like the player that so many keep saying is in there somewhere.
If Heitinga is still an Everton player on the weekend, he should be on the field. Firstly to rectify last season's Villa debace, and secondly, because neither centre halves that played today deserve to play next week.
James Stewart
276
Posted 29/01/2014 at 01:14:22
Yes the performance and effort was a disgrace. However it perhaps is a reality check of sorts. All this talk of being a top for side is nonsense. You can't seriously expect to be a top for side with Naismith up front. We have good first 11 who can give most a good game however beyond that there isn't much quality at all and its starting to show. We need another 3 or 4 first team quality players in and thats without losing any.
John Gilfoyle
277
Posted 29/01/2014 at 00:59:54
Read a comment from someone saying DIstin and Coleman did'nt make a difference — haha. Coleman's side of the pitch we conceded from and were totally dominated. I think most of us are impressed with Coleman's attacking prowess but take for granted the nitty gritty side of his game, winning tackles, outpacing opponents.
Same for Distin, Suarez's goal; the 36-year-old would have sprinted back and caught Suarez in my opinion, another garbage comment. Distin is over the hill, I also read.
Don't think you can judge Jags on that as Suarez was in front of him ready to go down and earn Jags a red card but Alcaraz was too slow. A man running with a ball should never outsprint a man without a ball on any football pitch.
When I think of these two I think of the times Coleman covering Jags side with his pace and Distin covering Baines with his pace, we missed that pace in the back line tonight.
We are mustard with our first team all fully fit but have no back-up, which transcends from BK. Oh and Naismith is Ali Dia reborn without being found out yet.
Robin Cannon
278
Posted 29/01/2014 at 01:14:17
I feel surprisingly OK.
It was a shit result, an awful defensive performance, and a demonstration of the dangers of playing/rushing back unfit players.
I don't agree that we showed no spirit; at least we kept trying to attack and kept trying to do the right things going forward. We still very clearly lack a cutting edge, and that's a very very long standing issue that isn't going to get fixed unless we strike it very lucky with the youth team, or with a lower budget purchase.
But I'm also going to accept this as a one off, one of those things that happens and just goes bad quickly. Not something that we should let undermine our opinion of the many good things that have happened this season.
At least, it shouldn't while in isolation. Vital will be how we respond, and how we play against Villa on Saturday.
Doug Nestor
279
Posted 29/01/2014 at 01:24:01
What pisses me off is those bottlers still get paid for that shite...............
Patrick Murphy
280
Posted 29/01/2014 at 01:19:42
BTW some posters on here and on the Live Forum who think that Rogers is some sort of tactical genius - are you sure that a Sunday league manager couldn't have spotted our weak spots and played the long ball over the top to a fast pacy forward line - despite the loss I'd still prefer Roberto as our manager but with the same backing that the other lot have.
United are the latest club to get another load of mega-bucks for their new shirt sponsorship - But at least our board are True Blues eh - that is where the problem is and always will be no matter how much hard work the manager does - and those people who are worried about Roberto turning us into Wigan - well I'm afraid our board had already started that process five years ago because as a club we are like Wigan but a slightly bigger version in a football mad city.

Si Cooper
281
Posted 29/01/2014 at 01:16:43
Steavey, I didn't see players avoiding making tackles, I saw too much space for very mobile players to exploit, possession coughed up cheaply, poor positioning, individual mistakes, and very clinical finishing. None of those can be blamed on an obvious homer of a ref.
Haven't Alcaraz and Stones played before this season and been pretty effective? The RS scored four times tonight and I am pretty sure you couldn't say those two players were culpable for all of them. We just weren't capable enough as a team to contain their attackers.
Stones is a centre back not a full back and Alcaraz is not the quickest but they were only part of the problem. Both of them are pretty comfortable on the ball and can tackle and will play their part in future games.
Roman Sidey
283
Posted 29/01/2014 at 01:45:42
To be fair, Si, towards the end of the match, most of our players were standing off from tackles between the boxes because they knew the ref was card happy.
Steavey Buckley
285
Posted 29/01/2014 at 01:49:45
Si Cooper: I did not notice Everton getting stuck into Liverpool like in previous encounters at Anfield, yet, Everton had 3 players booked - more bookings and sendings off, if Everton had tackled more with vigour and intent.
I believe Everton were playing to the manager's orders.
On a very greasy surface the Suarez and a like would have no qualms going down quite easily and readily with tackles flying about. Without tackles flying about, that's the main reason why Everton's defence was easily breached, yet, possession stats. showed 69% to 31% in Everton's favour.
So Everton were not much outplayed, but playing without tempo and real purpose to make much of a real match of it. And boy, didn't it show?
Fraser Auld
292
Posted 29/01/2014 at 01:16:30
Horrible, had to sit and watch it with my RS dad and brother! They started to look sorry for me when it got to 4 - 0.
First off, let's be honest, this was not a good time to play them. Although the team resembled the one that played in the 1st derby of the season there were 3,4,5 guys there who haven't played for weeks and with hindsight the game came too soon for some, if not all of them.
Secondly, support Bobby and the team. Get some perspective, very very disappointed with the result but some of the posts on here are poor to say the least.
As far as the game goes, I don't agree that it was all going fine until their 1st goal and Lukaku's injury. We started the first 5 minutes okay but that was it. In the ten minutes leading up to their 1st goal they looked dangerous every time they won possession and that turned out to be the pattern for the whole game. Let's not pretend Lukaku's injury had much to do with the result, we still would have been beaten with him on the pitch.
Loads of posts quite rightly pointing the terrible performance from the defenders but they were hung out to dry and exposed by our midfield tonight. By an absolute mile Barry and McCarthy's worst performance of the season. I can't quite get over how out of position they both were - the number of times we lost the ball in the RS half of the pitch and both Barry and McCarthy were ahead of the ball was unreal. It was literally like every time we turned the ball over their pacy, mobile front three were running directly at our slow, unfit back line with half the pitch to run into. Bobby obviously could see it but didn't do anything about it - you would have thought a guy with Barry's experience would have sussed it on his own though...apparently not.
Howard: don't think he could do much about the goals, gave away penalty but didn't do much wrong and made a couple of decent saves.
Baines: Just what has happened to Bainsey? Anonymous. Expect more from him, much more. As one of the senior players he needed to take responsibility and really step up...but didn't.
Stones: Going to be a good player, clearly. That said, caught out of position a lot and also looked a bit suspect positionally against Norwich when he played centre back. He seems a nice kid but looks to lack aggression and needs to develop a mean streak if he wants to be a top top defender. Ultimately, this is what you will get from a youngster some good, some bad and that is how they develop and improve. If he's still doing the same in a season or two then would begin to worry,
Jags/Alcaraz: that was humiliating for them both and I sincerely hope it was down to a cruel combination of lack of fitness and being left exposed by the midfield. Just as with Baines, I thought the most disappointing aspect of Jags performance tonight (and that is no mean feat) was lack of taking responsibility - he is the captain, a respected senior player. We were getting absolutely dicked on out there, we needed our captain and I was looking to see Jags screaming at those around him but alas all in vain, he went quiet. Alcaraz has looked a good signing when he has actually been fit but he was so bad tonight and the worst thing was he just didn't look bothered. He might be a decent player but i'm coming round to thinking he's a mercenary and I don't really want that type of player at the club. He needs to have a huge last third of the season for me.
Barry/McCarthy - Their lack of positional discipline really cost us tonight, can't work out why that was as they have been excellent so far for us.
Pienaar: Just didn't look like he should have been playing, simple as. Was absolutely miles off it and no surprise when he went off at half time.
Barkley: Thought he was the best of the returning injured players. Had a quiet game but little glimpses of quality.
Mirales: Great effort and really looked up for it and like he cared - looked like he hated getting beaten by the RS.
Naismith: Didn't have anything to work with, thought his first touch was actually quite good on a few occasions.
Bobby: Weak dude...very fucking weak!!
Paul Ferry
293
Posted 29/01/2014 at 02:22:18
I'm so sorry to harp on about this but I just went to the other thread and here is Bennings - 42: 'Fucking bollocks this has quickly turned into the season of hell for me now'.
Again, sorry, but you have been a disgrace on these boards today Mr. Benning, a living embarrassment, I suggest many many cold baths, perhaps a month of them, stop tapping on the hinternett, stop making a fool of yourself .......
Graham Haines
295
Posted 29/01/2014 at 02:20:46
Just got home and had to suffer that shit sat in the anfield rd end with all the RS supporters. Really poor gutless performance, I'm guessing to many injuries and some of those that played clearly not fully fit. Only one with any credit from that shambles was Mirrallas. Oh and was the ref as bad as he seemed at the game, don't think we had a freekick for the first 25 mins but every time we tackled them and they rolled over he blew up. Right rant over lets get 3 points sat if we can field a team! COYB
Paul Ferry
296
Posted 29/01/2014 at 02:38:37
Fraser mate - 292 - thats a long post and except for the very last sentence nothing to disagree with - a superb analysis of Jags - I FEEL for you mate sitting with your dad and bro - take care
Jim Harrison
297
Posted 29/01/2014 at 02:38:22
Sat in a class of Asian school kids here in KL getting barracked. They are all Liverpool or Utd fans. Asked them If they know their 'istory? Blank looks all round.
I have to echo Paul Ferry, Jim Bennings needs to have a good look at some of his posts tomorrow and put some perspective on things.
Richard Harris
298
Posted 29/01/2014 at 02:31:09
Well I just got back after that awful performance. I don't usually go to 'that place' but with the positive attitude this season I felt confident that we could go there and get a result. After the West Brom game I began to waver, when the injuries piled up and players looked like coming back not fully recovered or match fit, I began to get nervous as normal but ignoring that nagging feeling that this could be the game when they would take advantage of our deficiencies, I had some hopes of a close game. At times it was like Wigan at their worst and if the penalty had been converted it could have 6 or 7 as we didn't even look like scoring for large portions of the game. When we were exposed a number of times before the first goal I almost wished for a KITAP1 approach early on, until our players had chance to settle and get into the pace of the game.
There seem to be a number of people who are saying that it's 'only' three points and we are still 'only' four points behind them (although with a much inferior goal difference) so move on but if we had beaten them would we be downplaying the win and saying it's only three points and we are only two points above them so the result is not significant ?
Harold Matthews
303
Posted 29/01/2014 at 02:25:02
People keep saying Stones is a CB when he's only played there half a dozen times. The rest of his life he has played RB. He is also well below Premier League level and I can only guess that his casual strolling style looks good in training..The sooner he is loaned out the better. For him and for us.
Kevin Rowlands
309
Posted 29/01/2014 at 03:20:20
I agree Harold, he's looked very shaky to me in a few games this season, but of course he's only 19, Hibbert should have started.
What is the most disappointing thing to me is the RS last home game was Aston Villa, where they were outplayed and should have been beaten, and then last Sat where B'mouth gave them a run for their money, surely we are better than them two yet we get twatted 4-0, I suppose we'll find out on Saturday.
David Ellis
310
Posted 29/01/2014 at 03:28:11
All very hard to take...but to play with no fear means not to fear the consequences of losing, and losing badly. Its part of the process. You can't expect the players to play without fear if the supporters run for their pitchforks and torches when it does not work out.
The only way forward from this is to find a positive reaction and drive onward (ok I know that's a tautology but I have other things to worry about)
Paul Ferry
313
Posted 29/01/2014 at 03:55:26
Is this the wisest post of this awful day - think so - cheers mate
Dave Ellis - 310 - All very hard to take...but to play with no fear means not to fear the consequences of losing, and losing badly. Its part of the process. You can't expect the players to play without fear if the supporters run for their pitchforks and torches when it does not work out.
Pete Gunby
314
Posted 29/01/2014 at 03:48:59
If it could go wrong it did. Getting caught so easily on the counter exposed our slow back line. Distin's pace and strength would have made a difference. Coleman's penetrating runs were a big miss and, let's be honest, our passing was shoddy all over the park. Pienaar was appalling, Jags, Alcaraz and Barry not much better. The high line we played is always exposed if :1)we are slow at the back. 2) if they are fast up top. and
3) If you don't pressure the ball. Dont understand why we don't know this!!!!

Jim Harrison
316
Posted 29/01/2014 at 04:03:39
Well said David Ellis, I remember someone saying similar before the season started. Add into the mix the issues with personnel and fitness and in this case it was a recipe for disaster. But, before the match everyone was up for going for it. well, they went for it. Maybe not the wisest approach in hindsight, but how long did we complain about Moyes's negative approach? Actually, I never did as I was fully subscribed to his ways, but have since seen the light.
Gerry Rutter
317
Posted 29/01/2014 at 04:22:04
Gotta love the comments on this site: one minute we are the Barcelona of the Premier League... next it's the worst shower of shite to ever pull on a blue jumper! We"ll beat Villa and it will be business as usual. By the way I'm totally gutted this year again.
Jackie Barry
318
Posted 29/01/2014 at 04:16:42
Thank you Dave Ellis for that post, and for some strange reason it doesn't feel nearly as bad as a derby defeat normally does, strange. I still think our season has a lot of twists and turn to come, today was not our day but we will be back up and winning again in no time.
Fair enough people can criticise RM for today but to come out and start saying this was coming after the season we have had so far is pretty disgraceful in all honesty. I am still far more optimistic with RM in charge than I was at the end of Moyes 11-years.
Trevor Thompson
319
Posted 29/01/2014 at 04:17:34
I think the WBA game summed it up for me as it was a game we should have made a statement but didn't. In all honesty this has been a reality check. We don't have the players to qualify for the CL. Any one thinking we can is just kidding themselves. The game has moved on and if you don't have money you can't compete. Look at Man City, who the hell were they before they got taken over by a money bags board?
I think we can only expect Europa League and perhaps the odd cup here and there but without money, CL is not going to happen.
Paul Ferry
327
Posted 29/01/2014 at 06:07:05
Thanks Trev - 319 - clears it all up in a nutshell, nice one... NOT!
Barry Rathbone
335
Posted 29/01/2014 at 06:56:48
4-0.
This is why I don't watch these games.
Phil Sammon
341
Posted 29/01/2014 at 07:10:49
Some very harsh comments re John Stones on here. He was caught out on a few occasions by two of the best strikers around. He is very young and still learning.
Harold - People say he's a centre back because that is clearly his best position. He can do a job at right back, but he isn't a natural there. Maybe a loan would be a good idea if we had the cover, but I still don't like the way you talk about one of our brightest prospects.
Mike Green
342
Posted 29/01/2014 at 07:09:17
Harold and Kevin - I'm running against general opinion It would seem but Stones was one of the very, very few silver linings for me last night.
He's very young, yes, but looks a class act to me and I'm happy for him to make his mistakes with us as he develops to be honest, I wouldn't like to see him loaned out.
What he needs though is real cover and support from the experienced pro's around him, which I don't think he got last night. He will only get better though, and after last night he should absolutely hate Liverpool too....
Mike Green
343
Posted 29/01/2014 at 07:22:19
Great minds Phil :D
Brent Stephens
344
Posted 29/01/2014 at 07:22:44
After that I have to face the long haul back to UK from Oz. What's the bets I sit next to a bleeding rs fan. That would be time for a yawn and wide elbow stretch.
Eric Myles
348
Posted 29/01/2014 at 07:32:50
Brent, you think sitting next to a rs fan for a few hours is bad, try being married to one!
David Cornmell
352
Posted 29/01/2014 at 07:27:37
The derby has gone from a game I used to look for on the fixture list with anticipation, to uneasiness, to utter dread. That was an absolute hiding, a proper pasting. You can talk injuries, or referees or pacts with satan...but ultimately they were far far better.
If we are the fourth best team in the country on that showing I'll eat dogs gonads on toast. Reduced expectations for the rest of the season, and ideally some player acquisitions that start to address the gulf between where we are and where we would like to be.
Sam Hoare
362
Posted 29/01/2014 at 08:10:07
Maybe some times it is better to play WITH fear.
Only joking.
Last night was awful but like it or not they have a good team with arguably the most on form striker in the world. We were severely disrupted by injuries and those that were playing had a bad night.
It's far from the end of the season and although top 4 looks increasingly tough this is still a team in transition.
Trevor Thompson
365
Posted 29/01/2014 at 08:08:20
Paul 327. Look at the clubs around us trying to get into the CL all of them have spent huge sums of money or at least have far more than us. If we'd had the amount they had to spend on players I'd expect a real push for 4th. As it stands we can't compete and when we have injuries to key players we have to bring on players like Naismith (Who I actually think is much better this season than last) who, less face it, isn't CL quality.
Look at City, Chelsea, Arsenal and even them lot. A few injuries and they've either got the squad depth to replace them or they'll just splash the cash.
It's a different game now. The teams that have won the league have spent huge sums of money. Chelsea were shite until the Russian took over. Even bloody Blackburn had to spend to win anything and only then they JUST won it.
Truth hurts but it's how crap the modern game as become.
Glad you believe we can make it but unless Liverp**l and Spurs really mess up this season I doubt we'll be able.
Brian Denton
367
Posted 29/01/2014 at 08:19:30
Still in shell-shock. My friend e-mailed me:
"A key metric of an Everton manager is how well he does against the Shite.
Not very, is the half-term report. Even Moyes never inflicted such a humilation on us.
And, truthfully, what other team would beat us 4-0 this season? Correct.
Thank God I don't share an office with RS."
Please, no lectures from out-of-towners about how 'it is just another game', 'three points like any other' etc etc

Colin Glassar
371
Posted 29/01/2014 at 08:31:29
I feel even worse today then yesterday. May the magnitude of the defeat has finally sunk in. Dreading going to work today.
David Smith
377
Posted 29/01/2014 at 08:20:27
A bad day at the office, indeed. But for the first 20 mins, we didn't look bad at all. We shipped a goal from a dead ball situation, losing our attacking force in one fell swoop, followed by two sucker punches in a horrible 15-minute period. Such is life, you have to get over it. I personally am proud that they carried on trying to play attacking football, foolhardy as it may have been. With a full squad things would have been different
At the end of the day, it is just three points lost but the partisan Ref and a shower of diving shithouses (cf. the 'penalty') make it all the more galling. I fell like twatting Suárez on general principles - every time the fucker goes down he has to do a Tom Daley. Bastard!
And I agree with Paul Ferry (313): right with you Dave Ellis ( 310)
Charles Brewer
388
Posted 29/01/2014 at 08:38:45
Objectively, it's 3 points, second away loss of the season, a game we ought not to expect to win (same level in the division, on their ground, crap ref). Subjectively, it is the usual low of the season and the dog is hiding under the sofa and the wife is explaining that they always do badly against the Shite so what's different.
As far as I can see, this was a horrible coalescence of bad stuff. RS with no injuries that matter, Everton forced to play a team a good half of whom should not have been on the pitch due to injury (Pienaar, Alcaraz, Baines, Barklay, Jagielka) inexperience (Stones) or loss of form (Lukaku, McCarthy). All this coupled with a genuine tactical error in having a slow back four against a fast attack. Especially given Liverpool's traditional crude kick and rush style.
Funnily enough, this might have been just the game to dump our beautiful flowing dominant style and go for KITAP1, since this would probably have thrown Brenda's standard lower division approach into chaos. Suarez and Sturridge's could have dived squealing all over the place but if few tackles were going in even Atkinson would have had trouble giving bookings (OK that's not true, I am sure he'd book a player who was being eaten by Suarez, or being jumped on by Gerrard, or raped by Carragher or Skrtl).
Part of management is throwing the opposition tactics into confusion. RM is a wonderful Romantic manager - a sort of updated Cruyff - who thinks that playing beautiful football is sufficient. Sadly, with professional cheats and easily conned referees infesting the game, this is going to fail to deliver at the highest level unless you have the resources of City or Barcelona. RM needs a Plan B, and in fact, this could be the Moyes legacy which delivers when skill and daring don't.
The greatest victories are own when generals do something the enemy does not expect which negates the enemy's strengths and emphasizes his own. The Napoleon of Austerlitz won through outstanding and perfect tactics; the Napoleon of Borodino lost the entire campaign by using just the tactics which the Russians could withstand even though their army was composed of drooling idiot officers and retarded peasants. Last night RM fought Borodino, not Austerlitz.
Peter Mills
409
Posted 29/01/2014 at 09:20:19
Most of us accepted at the start of the season that we were going to be in for a roller-coaster ride under Sr Martinez. We've had some thrills so far, so I guess we can't really complain when we go through the water chute, even though it feels like it was full of cow slurry. The important thing now is to ensure the wheels don't come off.
We've had a run of 9 games in under 40 days, last night it showed that trying to do that successfully with a small squad of top class players with a glut of injuries is impossible. Time to re-group to tackle the last 3.5 months of the season, and that includes us as supporters. There is still time for a bit more excitement.
Mike Gwyer
443
Posted 29/01/2014 at 09:49:00
Patrick #234.
Lukaku!!!!!!! I am a great believer in RM taking players on loan - actually lets be fucking honest, I doubt RM has much choice because BK is not paying top dollar for anyone.
But for me there is a certain position on the pitch that requires the player to belong to the club, to wear that shirt with total fucking pride. The front man has to put his head on the line, he has to take hit or two and when goals come he has to be involved. After the West Ham game I thought we had just signed the god of strikers - now, I get the feeling Lukaku don't give that much of a fuck wearing a blue, white or red shirt, just as long as he's playing and getting his name put about the media. For me he doesn't put on the part of the shirt that counts - the badge. He needs to show the heart that belongs to that shirt, he needs to show that he is the main man at Everton, our number 9. Sadly we all know that he's not and in my opinion, I doubt he even wants it.
Jackie Barry
520
Posted 29/01/2014 at 13:13:24
So Brian finishing in 4th and above the RS is not more important than beating them? Jeez. Sorry but through the 80's to the present my number one priority for us has never been to beat them, yes it's nice and all but the overall aim should be far higher than just beating our neighbours.
Mike Green
534
Posted 29/01/2014 at 14:11:01
Pete Gunby #314 - 'If it could go wrong it did'.
Well done Pete - I think that, in seven words, pretty much sums it up. That's certainly how it feels. That and wanting to punch something....
Nigel Gregson
541
Posted 29/01/2014 at 13:37:23
David Ellis - 310 - Nail on head !!!
When the season started I was prepared for more of these types of beatings. To improve in the long term, we need to play outside our comfort zone even when the most appropriate short term thing to do is to go back to things that we are comfortable with.
Last night it would have been very easy to switch to 5-4-1 after goal no. 1 and the Lukaku injury, play deep and long; try to nick a 1-1 draw - dogs of war style. In fact I'll bet thats what OFM would have done. And then we'd have probably 'only' lost 1-0 or 2-0.
Whether we like it or not, a 1-0 loss or a 4-0 drubbing is effectively the same thing in the context of points earned and net result. There is no 'salvaging pride' after 1-0 loss. A loss is still a loss and it still sucks. We need to accept that if we are to evolve into a 'footballing' side then we will have to bear more short term pain. The shock for me wasn't last night, but that there haven't been more such nights this season.
If someone put together a youtube video of all our opportunities to score last night, you'll see that actually we didn't do that bad, but just lacked the cutting edge, ruthlessness and the extra bit of quality that Liverpool posses.
Robin Cannon
543
Posted 29/01/2014 at 14:32:35
@David Ellis (310)
Yes.
This should be plastered over every fucking post in every single thread that's going on about our season being over, or that we "proved" our players are crap, or that Martinez got it wrong.
Patrick Murphy
545
Posted 29/01/2014 at 14:39:25
Mike - not sure what your beef is - I said I hope he recovers from his injury - but added even when's he's fully fit I wouldn't buy him... So I think you agree with me? I do agree that our need for a striker has not been addressed in the last few years and have posted somewhere else that we need to stop pissing about bringing in cheap options and bite the bullet. Also agree with whoever posted that strikers helped to build the dynasty at MU, starting with the likes of Pearson and Hughes early in SAF's rein.
Andy Boyer
548
Posted 29/01/2014 at 14:51:16
@Jackie Barry 520
Spot on, I have said for many years that if I was offered a 4/5 place finish with European football but the price was to lose to the shite I would've taken it every time.
I don't give a shit about them, they are what they are and let's be honest here, 90% of people on this site predicted a mid table finish in Bert's first season and we are exceeding those expectations so I for one am happy despite last night's horror show.
Brin Williams
552
Posted 29/01/2014 at 14:55:39
Out thought, out played, out of position, out classed and out and out terrible performance.
The naivety is not all to do with the players - Martinez must take a lot of responsibility for that hammering. I think he was naive if he thought he could use the Old Trafford/Emirates tactics against the RS speed merchants especially as we were fielding a very makeshift team. Of course if we are being paid what they say we are they should be good enough to come up with a better performance than that.
I have been ecstatic about Martinez this season and I am sure he will sit down and fully reflect upon his naivety last night.

Patrick Murphy
555
Posted 29/01/2014 at 15:19:13
Brin - In my opinion Roberto looked a pretty angry man in his interview on the OS, it doesn't matter what formation or what players the manager puts on the pitch if they fail to pass the ball properly and abdicate their responsibilities.
Andy Boyer
574
Posted 29/01/2014 at 15:55:10
It was piss poor from start to finish, how Jagielka can go and say that he wants a reaction on saturday when he was one of the worst culprits beggars belief.
The players let Bert down last night although I do think he should have put Hibbert in ahead of Stones just for experience's sake and Osman ahead of Barkley because of fitness, too many players failed to stand up and be counted and Pienaar was a shining example of that.
Keith Young
601
Posted 29/01/2014 at 16:17:18
I have not finished reading this thread yet, I'm about half way. What a relief to have ToffeeWeb! All those words of wisdom, intertwined with agony from some and realism from others (this latter lot unnerve me with their calmness). Oh, to be in that category.
BUT just think how we fooled the RS into thinking they are wonderful when clearly they'll be found out soon. At least we are now able to say if only we had more investment, better.luck with injuries and less victimisation from referees. We Blue supporters have been trained in how to deal with failure those fans of the RS won't know what's hit them.

That missed penalty and the Sturridge/ Suerez spat is just the start. Whereas for us the only way is up. Unfortunately, we haven't been trained for success so we won't get as much enjoyment if we remain anxiety ridden.Unless we truly believe that RM can and will deliver. So let's all begin by having continued faith in RM and calmly enjoy the ride in confidence. However, it was bad last night .....Oops! There I go again...
Brian Denton
665
Posted 29/01/2014 at 18:07:42
Andy Boyer 548, just out of interest - no offense intended - are you a scouser or an out of towner? Welcome either way, don't get me wrong.
Anyway, in some ways it's a false choice - you won't finish 4th or 5th without beating Liverpool (as a general rule). I think in the seasons Moyes got 4th and 5th we beat Liverpool at Goodison.
Andy Crooks
671
Posted 29/01/2014 at 17:28:22
I thought that adjusting to a new style would result in a thumping at some stage. Unfortunately it had to be last night. However, I believe it is small reverse in what has been a good season and will continue to be a good season.
One final point. Surely it would make sense to bring Duffy back from Yeovil. He has been excellent there and I would have been happy to see him play last night.
Jon Cox
704
Posted 29/01/2014 at 19:10:11
Drew (067)
"....but tonight we were beaten by a more ruthless team who exploited our naivety."
I completely agree 100% But I have to say although true, that statement, is the equivalent of a metaphorical, verbal cyanide pill.
Colin Wainwright
734
Posted 29/01/2014 at 19:59:12
Well that was the fuckin' worst 24 hours I've had in a long time. At least I'm up in Scotland, feel sorry for Blues back home. I can always turn Facebook off.
Jon Cox
755
Posted 29/01/2014 at 20:15:23
Paul, 291,
I'm really saddened at your post. Why shouldn't this guy (Jim B) Get it off his chest what he has to say?
Aren't we now seeing the likes of Tony Marsh being proved right in as much as what he said over the DM years being totally correct? And wasn't he castigated for it?
Mate, I am moderated for things I said in the past but I believe in free speech and once that's gone we're all dead.
Jim, you carry on pal because I for one enjoy what you say. If it hurts some people then tough, it's a cruel world.
Paul, do what you do best and comment on "things" and not "people". Having said that, Paul, next time you're in the UK, get round to my gaff, lets go for a pint yeah? I'm from Southport but, these days it's a Somerset thing ;-P
j

Add Your Comments
In order to post a comment, you need to be logged in as a registered user of the site.
Or Sign up as a ToffeeWeb Member — it's free, takes just a few minutes and will allow you to post your comments on articles and Talking Points submissions across the site.
© ToffeeWeb