Gerard Deulofeu bids fond farewell
''I wish Everton lots of luck and success in the future. You will always be in my heart''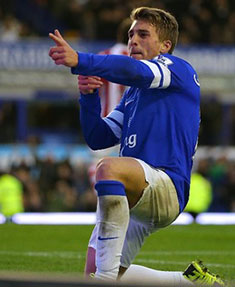 Gerard Deulofeu has said his goodbyes to Evertonians at the end of a memorable loan season in the Royal Blue Number 10 shirt. Barcelona have appointed former midfielder Luis Enrique as their new manager and Deulofeu has been promoted from the club's B team following a successful loan spell under Roberto Martinez at Goodison Park.
"I would like to thank Everton and all their fans for this year so special in my career. A new country, a new club, a new way of seeing life and understanding football.

"I have grown as a soccer player, but also as a person and that is why I would like to thank every person that has helped and accompanied me on this journey. The club and the manager for the great opportunity, my team mates for welcoming me and the fans for the fantastic support.

"I am proud and fulfilled with my year at Everton, having both helped the club and hoping that the fans enjoyed my football.

"I wish Everton lots of luck and success in the future.

"You will always be in my heart."

Gerard Deulofeu
Quotes sourced from Liverpool Echo
Reader Comments (26)
Note: the following content is not moderated or vetted by the site owners at the time of submission. Comments are the responsibility of the poster. Disclaimer
Sharabi Singh
1
Posted 23/05/2014 at 15:02:15
Good of him to acknowledge everyone associated with the club. Shows the guy has his head screwed on. I wish he had stayed another season but you can't blame him for going back, especially now he'll be in the first-team setup.
I'm not sure if we really need a replacement as we've some good youth players and Oviedo to come back can play on the wing.
That's one of our loanees gone... wonder what will happen to the other two!!

Paul Ferry
2
Posted 23/05/2014 at 15:10:58
Never understood moaners on here taking a pop at GD. I loved having him with us and yes he could annoy but he could also thrill and there were occasions on the match-forum where people were screaming for GD to come on thinking of him as our best creative option.
I really hope that he makes it at Barça. It sounds like he learned a lot of things in a number of walks of life this last year and all of us are better for it.
His year at Everton will I suspect pay dividends next year too and perhaps a few more to come as Barça and their like realize that in Everton/Martinez there is a creative option that benefits both parties to nurture younger players.
Jason Broome
3
Posted 23/05/2014 at 15:13:08
Wish the boy well in his career. I can only hope that we will one day be ambitious enough to attract players of his potential on permanent deals.

Julian Wait
4
Posted 23/05/2014 at 15:38:31
We'll see him again when we beat Barca in the CL Final in a few years time ... :-)
Eugene Ruane
5
Posted 23/05/2014 at 15:42:00
Good lad, wish him all the best.
Chris Lawlor
6
Posted 23/05/2014 at 15:58:26
Farewell Gerard lad. He's destined to be a name at Barça and I'm looking forward to seeing him run at the Madrid defences next season.
Dan Parker
7
Posted 23/05/2014 at 16:17:39
Great to have him, played brilliantly. Patiently waited for his turn early in the season. Looks like a solid professional. Hopefully Barcelona trusts Everton to develop their young players and we'll have more of the same coming our way!
Liam Reilly
8
Posted 23/05/2014 at 16:49:42
Nice to see. Seems well grounded and wish him well.
Alexander Regueiro
9
Posted 23/05/2014 at 16:18:25
Gerard is a good guy, will definitely miss him. Shows he has class with his twitter messages and this letter saying goodbye! He's a Toffee for life now.
Anyway he's not yet a prodigious goalscorer, but he more than matched my expectations for a 19-year-old winger with no top-tier experience at the start, and limited minutes. For sure he's going to develop into something special over the next couple of years at Barça, and we can watch him outshining Bale in La Liga before long (and maybe even the Cannibal if rumours are true)!
Wonder if we'll get another good loan from Barça soon... obviously we need to sign some permanent talent, but someone like Sergi Roberto, who's been warming Barça's 1st team bench mainly, would be a great addition to the squad. Or one of their B team star forwards like Munir or Adama Traore (no relation to Lacina, but an absolute beast).
Scott Goin
10
Posted 23/05/2014 at 17:14:39
I'm still not sure this means Gerry D won't be back. Barca has just lost several players, it makes sense to bring up some B-team talent for now. But I strongly suspect they're going to be buying many more players over the summer. Don't forget that Barca's transfer ban has only been put on hold. They'll be shopping, not only for this year, but possibly for the next 2 years this summer. That could leave Deulofeu at the very end of the bench with no playing time.
Tony Draper
11
Posted 23/05/2014 at 19:15:26
Classy acknowledgement to top off some exciting performances.
Really enjoyed Geri's contributions and loved how much he developed with us.
Genuinely hope that he goes on to completely fulfill his potential, hopes and wishes.
Trevor Lynes
12
Posted 23/05/2014 at 19:51:14
If it means a final farewell then all the best to him and his future career. He has all the attributes to develop into yet another top Spanish player. Let's hope that a couple more of our youngsters blossom and bring the club success.
Deulofeu is obviously a very nice lad and has been a credit to his country. I am sure we will all be hearing much more of him in the very near future.
Jamie Crowley
13
Posted 23/05/2014 at 20:53:33
You know it's coming but it's still sad when it actually happens.
Wish all the best for this kid. He got me out of a sitting position many times and standing on my feet. Very exciting player.
Good luck De-lo-fee-oo. Doo-lo-fah-ya. Duh-la-foo-oo.
Good luck kiddo!
Jay Richo
14
Posted 23/05/2014 at 21:21:15
Gerard Deulofeuuuuuu... He's magic you knowwwww.. Good luck gerri it was a pleasure watching you make defenders shit their pants! All the best.
Christopher Kelly
15
Posted 23/05/2014 at 22:01:31
Fabulous talent. Pleasure to watch. Not many players have the ability to get us up out of our seats like this young man did.
I for one will miss him.
Terry Murphy
16
Posted 23/05/2014 at 22:14:26
He's going to feel a right numpty if he gets lent back here.
James Marshall
17
Posted 23/05/2014 at 22:16:50
I expect him to get a standing ovation if he gets loaned back to us.
Lee Courtliff
18
Posted 24/05/2014 at 07:01:28
I've got a feeling he'll be back next season. I bloody hope so too. Exciting player, full of potential and seems like a decent lad as well. Good luck, Gérard.
Ajay Gopal
19
Posted 24/05/2014 at 07:01:23
We at Everton we're so fortunate last year – we had 3 of the future stars of world football playing for us – Barkley, Lukaku and Deulofeu. It was an absolute joy to watch them play together. I wish the partnership had continued 1 more year – who knows what might have happened? All the best to Gerard; I will now be following his career with great interest.
Andy Meighan
20
Posted 24/05/2014 at 09:17:14
Well, like Bally once famously said, "Once Everton has touched you..." etc.
Keith Glazzard
21
Posted 24/05/2014 at 19:27:42
A bit like a holiday romance, the other way round. And a lovely memory.
Gracies Gerard.
Danny Kewley
23
Posted 25/05/2014 at 12:29:17
This kid was never dull — he both thrilled us with some Bobby Dazzler skills... yet frustrated us with the end result at times.
Hey ho... all part of the learning curve. My lad reckons he is going to be at the very top in years to come; I hope so because there's no doubting GDs ability.
Good luck, Geri lad!
Martin Handley
24
Posted 25/05/2014 at 14:01:18
I like one or two others on here think Gerard may well be back. Barcelona have a new coach,who incidently coached young Gerry in the B team at Barca , who will want to take a look at all his options. He will then decide just like Roberto did who he wants to keep,sell and loan out. And one would hope that if he decides to lend him out again Everton would be the preferred destination of both player and club.
Kieran Riding
25
Posted 25/05/2014 at 14:24:26
He's just been called up by Spain.
I hope he makes the final squad.. Will make Spain a bit more watchable !
Colin Glassar
26
Posted 26/05/2014 at 23:00:05
I've just read the SB report on him (a Barça site) and they say he's nowhere near to getting in the Barça team. In fact, they say he was a bit disappointing at Everton. He only scored three goals, a couple of assists, can't or won't defend, only started a few games etc...
I can see him coming back before the window closes in August as Barça won't want him sitting on the bench wasting his time watching Neymar and Pedro playing in his position.
---
Add Your Comments
In order to post a comment, you need to be logged in as a registered user of the site.
Or Sign up as a ToffeeWeb Member — it's free, takes just a few minutes and will allow you to post your comments on articles and Talking Points submissions across the site.
© ToffeeWeb