"Buck" – Mick Buckley Remembered
By Rob Sawyer

07/10/2014

Comments (16)
jump

Michael John Buckley was born to Roy and Jean in Salford on 4 November 1953. He was the eldest of five children raised in the Salford and south Manchester areas. Like his father, Mick followed Manchester United – he idolised Denis Law and his school satchel had the names of George Best and Bobby Charlton scrawled on it. Youngest brother Craig also followed United but siblings Roy and Gary were seduced by the blue of Manchester City.
As a teenager Mick attended Brookway High School near Wythenshawe, whilst also helping his father in the family building business in his spare time. In football he would captain Manchester Schoolboys and also represent Lancashire. On Facebook, school-friend Colin Hartley recalled:
"I have fond memories of playing football with Mick at Wythenshawe High School, going for after-school tea at his house in Moss Side (you should've signed for City, Mick), watching Mick play for the 6th form first XI when he was only in the third year. Wonderful talent, wicked sense of humour, great lad."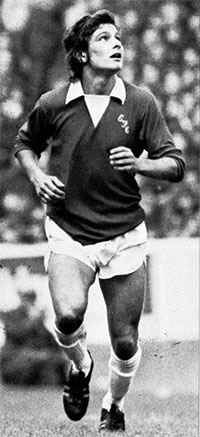 Selection for England Schoolboys followed alongside the likes of Eamonn O'Keefe and Ronny Goodlass. Inevitably club scouts from around England came knocking, Manchester United chief amongst them. However Harry Cooke, Harry Catterick's Chief Scout, had the midfielder firmly in his sights and pulled out the stops to ensure that Everton's offer was attractive. Mick recalled to the Everton programme in 1974:
"As a schoolboy I knew I was watched by quite a few clubs, including both of the Manchester sides. But I took the advice of my father and didn't sign schoolboy forms for both of them. ..had I done so I wouldn't have had the opportunity of visiting other clubs to see what facilities they had to offer.

"Another piece of advice my father gave me was to focus on northern clubs. He knew, because of my shyness, that I would not relish the idea of living in digs. I went to both Manchester clubs, and to Burnley, and even to Liverpool, but the place that impressed me most was Everton – and a lot of that was due to the fact that Harry Cooke showed such a great interest in my development."
Another factor that may have helped Mick choose life at Bellefield was the lobbying of Ronny Goodlass during Lancashire and England Schoolboy get-togethers. Goodlass recalls:
"I was telling all the lads at that level that if they had the chance they should sign for 'the greatest club in the World' – Everton. One of them was as big a Manchester United fanatic as I was a Blue – his name was Mick Buckley. You should remember that United had just won the European Cup around this time, with stars like Best, Charlton and Law in their ranks. I succeeded in convincing Mick that as talented as these United stars were, Everton was the club that was going places. I kept saying that we had the best team on the planet. Mick relented.

"I'm sure he would have signed for United. Instead, he came to Goodison with me. We would both eventually have the honour, and pleasure, of rising from the youth team to the first team ranks. But in our first season, we were just starry-eyed apprentices, working in the dressing rooms and cleaning the first team kit and the boots. Mick would always look at me as we got the brush out and I would keep telling him: 'Best club on the planet!' When we won the League Championship at the end of our first season, with one of the greatest sides ever to walk out at Goodison Park, he was finally saying it back to me: 'Definitely the best club on the planet!'"
Mick's brothers Roy and Gary would later have trials with Everton. Gary was offered an apprenticeship – however, his sky-blue affiliation ensured he joined his boyhood team, for whom he played a handful of games in the early 1980s.
Stan Osborne, who would go on to recount his Everton apprenticeship in the book Making The Grade, recalls his times with Mick:
"I first met Mick when I played against him for Kirkby Boys versus Manchester Boys, knocking them, the holders, out of the English Schools Trophy in what was regarded by many outside Kirkby as a shock result. We played together for Lancashire Boys, even at that stage he was being touted as a fine midfield prospect.

"He made an immediate impact at Everton as an apprentice and progressed from the B Team into the A Team within his first season. Fit as fiddle, with a tremendous engine and although small in stature, he was ferocious in the tackle and able to distribute the ball calmly, effectively and accurately. It was always a boost for me when I played with him in the junior ranks because he usually put me in for a goal or two! He was quietly spoken but very confident with a sharp wit and didn't take any nonsense. Just as well as he was one of only two Mancs at a club full of Scousers! On a personal level, like almost everyone at the club, I got on well with Mick. He wasn't someone you could easily fall out with."
Having initially commuted to training and matches by train from the family home in Salford, Mick became the first of this intake of apprentices to buy a car. Stan Osborne recalls:
"It was a clapped out old green Mini that you could see the road from through the foot wells! In typically generous mode he would pick myself, Paul MacEwan and Ray Pritchard (the Kirkby Apprentices) up at the Cherry Tree Pub on the East Lancs on his way through to Bellefield from his Manchester home. The quality of his driving sometimes made us wish we'd caught the bus!"
Terry Darracott, who had already made a couple of first team appearances when Mick arrived at Everton, recalls:
"We were lucky to get him – he really was a young talent. He was as confident a kid as I'd ever met with regards to his ability. He didn't scream and shout – he was a quiet kid – but he was quietly confident in his ability. You could see it straight away on the pitch that he was a footballer – tough as well, he liked to make a tackle. He had a good mixture which you needed in midfield – he could get on the ball and pass it where he wanted it. He was a very confident young fella."
Mick, alongside George Telfer, Ronny Goodlass, Peter Scott, Mick Lyons and Gary Jones, represented part of the next generation of Bellefield-schooled talent which Harry Catterick expected to dominate domestic football with trademark swagger and style. He was the typical Catterick midfielder – diminutive, dashing and driven – in the best traditions of the "Holy Trinity". Gary Buckley recalls trips to watch his brother play:
"The youth matches were all at Bellefield. I'd play for school on Saturday morning and then Dad would dash down the East Lancs Road so we didn't miss many games as he was coming through the ranks – home or away. I'd be there watching, kicking a ball down the line. When Michael was in the reserves he got us all tickets for a match against Panathinaikos – it was exciting and tremendous game that always sticks in my mind."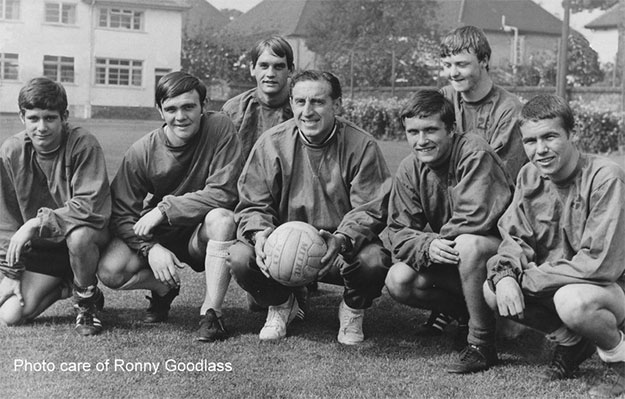 Harry Catterick with Everton apprentices at Bellefield, including Mick Buckley
Mick's senior Everton debut was not long coming, on 25 March 1972, in a 2-2 draw with Wolves at Goodison Park. He would retain his place for six matches and scored the winning goal at The Dell to give Everton their first away league win since September 1970 – such a startling statistic underlines how Everton's standards had slipped since the heady days of the spring of 1970. The alarming dip in form would, in retrospect, stymie the development of Mick and his young colleagues, but, on the other hand it gave them more first team opportunities than might normally have been expected. Mick reflected in a programme article in November 1974:
"I came into a side which was struggling to find its form both as individuals and as a team. It was very difficult for me – a comparatively inexperienced player – to come into a side which was struggling as we were. In these circumstances every player is more concerned with his own problems, and trying to straighten them out, than worrying over the problems affecting others."
Craig Buckley recalls the thrill of having his big brother at Everton:
"I spent all my childhood following Everton all over the country with my Dad. Not only was Mike living the dream but I was too – in the players' lounge meeting all the players – great days. I love Everton so much and I'm Manchester United – Everton are in my heart."
Having progressed to England Under-18s, Mick was selected, alongside the likes of Trevor Francis, Kevin Beattie and John Gidman for 1972 Uefa European Under-18 Championship held in Spain – dubbed the "Mini World Cup". In a highlight of his career, Mick was, perhaps, the player of the tournament – scoring as England secured victory in the final against West Germany at the Nou Camp. Journalists were effusive in their praise for the midfielder. Steve Curry of the Daily Express told the Everton programme:
"Possibly the best and most impressive player, not only of England but the whole tournament. Small but aggressive, very good tackler, quick, very good heart."
England Under-18 team mate Peter Eastoe, who himself joined the Blues in 1979, remembers:
"Mick and I played together in the England Under-18s. He was an honest player with two good feet who always laid a good ball up to you – he made it easy for you by laying a good ball up to you so that you could deal with it easier. He was quite small but he could tackle – he wasn't afraid to get stuck in. Mick was a quiet character who just got on with his job – a bit like myself. Perhaps it would have helped Mick if he'd moved on a bit earlier in his career. I moved from Wolves when I was 20 – it brought me out of my shell really."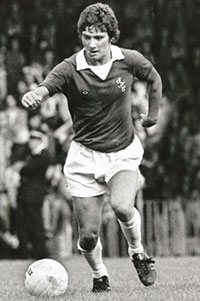 The following 1972-73 season, Catterick's last at the helm, Mick would make a further 11 appearances – generally in place of the increasingly injury-plagued Colin Harvey. Some would draw comparisons with "The White Pele" but, in truth Harvey possessed greater pace and levels of skill that few could equal. Traits they shared, however, were competitiveness, bravery and a poor strike rate – Mick would notch only 12 goals in his 158-game Everton career.
The summer of 1973 saw Billy Bingham take the hot-seat in place of the ailing Harry Catterick. He placed his faith in Mick, selecting him in the Number 10 shirt for the opening match at Elland Road – a 1-3 defeat. He would make 40 league and cup appearances in Bingham's debut season. Mick confessed to feeling the pressure to perform in a 1974 interview for the club programme:
"The pressure is always on for a first team place and that is why it has been – and still remains – vital for me to be at in my best form in every game... A regular place gives one confidence and this extra assurance has been reflected in my play."
The 1974-75 season saw Mick make a further 33 starts as Everton pushed, in vain, for the title. By now, Bingham was reshaping the team with more bulk and brawn – Martin Dobson joined and Dave Clements in midfield and Bob Latchford took the Number 9 shirt. Mick was swift to praise the steadying influence of Clements when interviewed for the Everton programme in November 1974:
"Last season, I got a tremendous amount of help and advice from Dave Clements. As a very experienced player, with international honours at every level, he gave me a lot of great tips and when you're alongside a player in such great form something has to rub off on you. Confidence, that's the key to it. I no longer regard other midfield men as my superiors. I now say to myself that I'm as good as anyone I come across in midfield and then go out to try and prove myself right. And, as I'm basically a shy lad, that's a change in my outlook on the game."
Everton historian David France recalls his impressions of Mick as a player:
"A hard working terrier and extremely skillful footballer with tremendous ball control, he reminded me of young Colin Harvey. Yes, he looked like a real footballer. I was impressed that he was a Manchester lad who chose Goodison Park over Old Trafford. He was one of my favourites in the Seventies and, like Goodison youngsters such as Billy Kenny, Michael Ball, Wayne Rooney and Ross Barkley, I had expected him to become a mainstay of the England national side. Sadly, he never realized his full potential. I've often wondered if he would have excelled under different club management or playing alongside Alan Ball."
Everton historian and author George Orr recalls watching Mick from the Gwladys Street terraces:
"Mick was a good hard-working Everton player. The 70s Leon Osman always gave 100% and was the ideal team player. Never one to say how good he was, he talked with his boots. His lack of height was against him and a slim frame didn't help in what could be a brutal world. But Mick never shirked a tackle. I can honestly say I never worried when Mick had the ball, his passing was excellent. While everyone talks about the more stylish players from the 70s, Mick was Mr Reliable"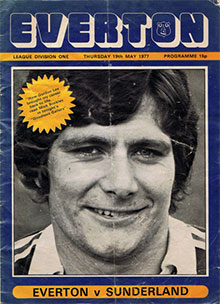 By the mid-70s, Mick had progressed to England Under-23 honours and won his final cap in September 1975 against Czechoslovakia in Trnava. He was once invited to join up with the full England squad but had to decline due to injury. Sadly, by the mid-1970s things were not progressing quite as hoped on the Goodison front. The 1975-76 season and first half of the 1976-77 season saw a downturn in fortunes for Bingham's men. After 0-3 defeat to Manchester City in February 1976, a fierce post-match dressing room row ended with Mick and Gary Jones demanding that the manager grant them transfers. The incident was not totally surprising in view of Terry Darracott's observations:
"Mick was a stubborn little fellow. If he wasn't getting his own way or didn't get in the team he'd speak his piece – he'd be knocking on the manager's door asking, 'Why aren't I in the team?'"
Although matters would be smoothed over, it signalled the beginning of the end of both Bingham's and Mick's Everton careers. The arrival of Bruce Rioch from Derby added to competition from Martin Dobson and Andy King for a central midfield berth. Though he remained an accomplished and reliable performer, it was becoming clear that Mick would not attain the heights predicted a few years earlier. Terry Darracott recalls the esteem he was held in despite not featuring in the first team regularly:
"We all sang his praises as we appreciated his ability. I thought he'd play in the first team for years. I was a right-back and he was in central midfield and he always wanted the ball. It didn't matter if he was marked or in a tight situation – he'd always say 'Give me the ball, it doesn't matter if I'm marked' – so you'd give it to him.

"We weren't going through a particularly successful time in the Billy Bingham era and the team did change quite a bit. It was an unsuccessful team and the manager decided to change it quite often – it could quite well be the reason Mick was held back. If you've been messed about and lose your place in the first team you can lose your way."

Within 11 months of the Maine Road showdown, Bingham was dismissed and replaced by Gordon Lee. The change in manager, however, failed to re-ignite Mick's career. In fact, following a match at Upton Park in April 1976 he went 10 months without making a first team start. He recalled in the club programme May 1977:
"I ended last season in the first team but things started to go wrong when we went on tour to Germany before the new season started. I didn't play and this was hard to accept. While I wasn't saying I was the best player at the club, I felt that my form in the previous season had made me the best out of the midfield. That was a personal assessment made with all honesty. I could see no way of winning a place. It came to the stage where I didn't think I'd be at the club by the end of the season. After making my debut at 18, and playing regularly in the first team from 19 or 20, I found it soul destroying to be out of things."
After a few substitute appearances in the spring of 1977, a freak run of injuries saw Mick restored to the line up for the FA Cup semi-final against Liverpool. He recalled his shock at the recall:
"I had no chance in my own mind. The thought (of playing) simply didn't cross my mind. The game took a hell of a lot out of me. I was absolutely shattered afterwards and I think it showed a little when we had to go through it all over again the following week."
The semi-final was dominated by the goal that never was but it gave many Evertonians their fondest memory of Mick as he clattered "The Anfield Iron" with an agricultural challenge. Tommy Smith was incredulous that the featherweight Mick had floored him.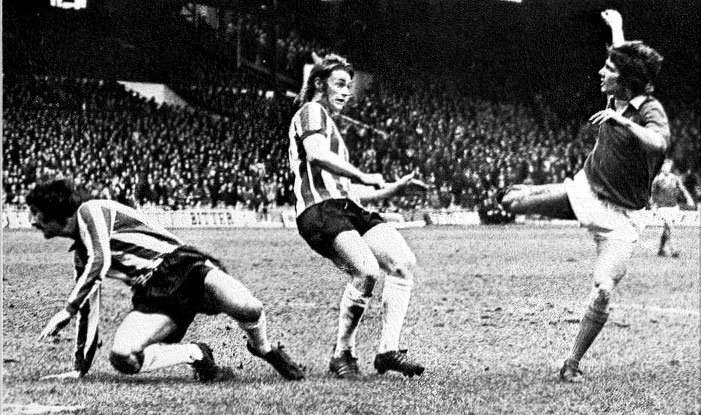 Mick ended the 1976-77 season in possession of the Number 7 shirt and, with things looking rosier, he moved to Rainford having married Joan Appleton. However, come the start of the following season, Mick was back on the Goodison sidelines. Perhaps the final straw was the signing of fellow-Mancunian Trevor Ross during the festive season. Gary Buckley recalls:
"Trevor Ross was brought in from Arsenal to play in midfield and I think that pushed our Michael's nose out a little bit. Gordon Lee was trying to revamp the side and Michael had a few little injuries around that time – nothing major but for five or six weeks out each time so he couldn't get up to speed."
Despite this latest blow Mick battled to regain his place, reclaiming the Number 6 shirt from Ross for the final two matches of the season. In the closing fixture, Mick played his part in a six-goal rout of Chelsea which saw Latchford grab the brace required to take him to 30 league goals for the season. This Indian summer could not mask the fact that Mick, still only 24 years of age, was on borrowed time at Everton. The Chelsea fixture would turn out to be his final game in the royal blue shirt. During the summer, he found himself on a trial with QPR as Neil Robinson recalls:
"Mick was a great player and reminded me a bit of Colin Harvey.  It was pre-season and Everton wanted to sign the QPR right-back Dave Clement so Mick and I were the bait plus cash.  Mick and I met up with the QPR team by literally getting the train down to London together, travelling to Loftus Road and then straight on to the team bus to go to Heathrow to fly to Germany for a 10-day pre-season tour!  We roomed together on the tour and we got on great together. I played well and Mick did OK. The manager at QPR was Frank Sibley and, after the German tour, he wanted me to stay on but Mick didn't get asked back.  We came home for a few days and I was due to fly out to Holland for another 7-day tour with them but, in the meantime, Frank Sibley resigned and Alec Stock took over!  I still travelled with the team for the tour but didn't play as well. Alec Stock didn't want to sell Dave Clement so the deal broke down and I returned to Everton.
With Wolves also interested in acquiring his signature, Mick eventually completed an £80,000 switch to Sunderland – then of Division Two – in August 1978. Gary Buckley recalls:
"When you've been at Everton so long it becomes part of you – Everton's always been in his heart. It's not just the affinity you have with the manager – it's with the youth team coaches who have brought you through. Then, people preferred to stay at one club and I often wonder if Michael could have sat on it and bided his time – but it was just the way of the world. He was okay with Billy Bingham and Howard Kendall but Gordon Lee didn't take to him."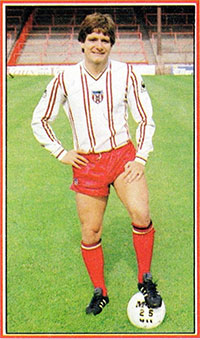 The Salut! Sunderland website summarised Mick's time at Roker Park:
Buckley was a hard tackler and a player who rarely stood out – a bit of a 70s Craig Gardner. He was signed by Jimmy Adamson to add some steel to the midfield and settled into the team well, playing regularly in a season that saw us miss out on promotion to everyone's least favourite team, Crystal Palace.

The next season, under Ken Knighton, his presence was less frequent, although he did play in the promotion run-in and was a strong presence in midfield as goals from Kevin Arnott and Stan Cummins took us back to the top flight. Knighton didn't seem to fancy him as a First Division player (although he had made 158 top flight appearances for Everton) and he spent a fair amount of time playing for the reserves in the North Midlands League, a competition of spectacular awfulness.

When Alan Durban came to the club, Buckley fitted in well and was a regular in the tennis-playing Welshman's first season. He scored the goal that kept us up, a 20-yard shot against Manchester City which flew past Joe Corrigan to send Leeds United down. And that was about as good as it got for him in a red and white striped shirt. His Roker career slipped away after that and his last game was against Brighton and Hove Albion in April 1983 in front of a crowd of 13,414.
As Mick left Roker Park, he was replaced by a promising midfielder from Stoke City who would, a year later make the switch to Goodison Park. His name? Paul Bracewell.
A brief non-contract spell at Hartlepool followed before, as he approached his 30th birthday, Mick headed for the Borders. Bob Stokoe gave him his Carlisle United debut wearing the Number 10 shirt on 1 October 1983 in a 4-1 victory at Derby County. His first United goal came in the 2-0 win over Fulham in mid-October, his second and final strike took place in the 1-1 draw at Grimsby on 26 November 1983. Injury disrupted the second half of his season and, after a final day defeat at Barnsley, he was released on a free transfer. In his 24 full appearances, Carlisle won 11 of those games, drew 9 and lost only 4 times.
In August 1984, his final posting was back in the North-East at Ayresome Park – his Middlesbrough adventure only lasted one season in which he made 31 appearances, scoring one goal. He was released at the end of his one-year contract, thus ending his 13-year professional career. Gary Buckley recalls:
"Michael found it harder at the lower standard than he did at the higher standard; as a player myself I can understand that – the enjoyment goes out."
Roy Buckley concurs:
"He fell out of love with the game. He was offered the chance to carry on playing at semi-pro level but he said, 'No, I'm not going down that road.' He'd had enough, to be honest."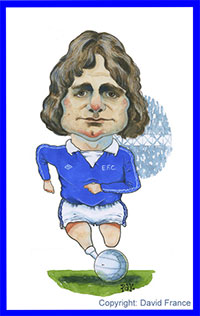 Mick and Joan would manage a pub in South Shields for several years before returning to the North West in the late 1980s whereupon Mick became publican at the Derby Arms in Whitefield. He'd sometimes put up Sunderland fans when their team was playing in the area. After leaving the pub trade he worked as a driver for Norweb and a courier company. Sadly in the new millennium, in common with a number of other ex-pros, Mick struggled with alcohol-related issues which, despite the best efforts of his loved-ones, spiralled with devastating effect on his life. David France, a founder of the Everton Former- Players' Foundation founder recalls:
"I invited Mick to a half dozen Hall of Fame dinners. Always, he declined graciously. Finally, he confessed that he didn't want to be seen in public by his fellow Blues. I had heard that he struggled with alcohol and had lost his job, his home and his marriage. Back then, many players retired with little money and even less ideas on how to spend the rest of their days. Often this big hole was filled by alcohol. Thankfully, Mick was blessed with loyal team-mates such as Gary Jones, Terry Darracott and Ronny Goodlass and fans such as Harry Ross and the many dedicated people at the Everton Former-Players' Foundation. Together, we enrolled him in the Sporting Chance Clinic, the brainchild of former England captain Tony Adams. He attended a handful of Foundation events – the fans loved him. We rescued him when all appeared lost – at least for a while."
The episode in which Gary Jones and Terry Darracott journeyed to Manchester in search of their stricken comrade is documented in a candid interview which Mick gave in 2008 to David Prentice of the Liverpool Echo. Craig Buckley recalls,
"Mike was not just an Everton player but an Everton fan. He loved them; they were his team, like they are yours. Everton should be proud of themselves for the way they rallied round and did absolutely everything to help my brother." 
There followed a cycle of rehabilitation, sobriety and relapse. There was to be no fairy tale ending as Mick passed away in his sleep on 7 October 2013, just weeks short of his sixtieth birthday. The funeral was held at Blackley Cemetery and Crematorium. There to pay respects were former teammates including Terry Darracott, Roger Kenyon, Mark Higgins, Joe Royle, Duncan McKenzie and Mike Lester who had played alongside Mick at Manchester Boys. Joe Hinnigan, another attendee, recalled to fellow mourners that "Buck" had been a big influence on him when he arrived at Roker Park as a young player joining from Wigan.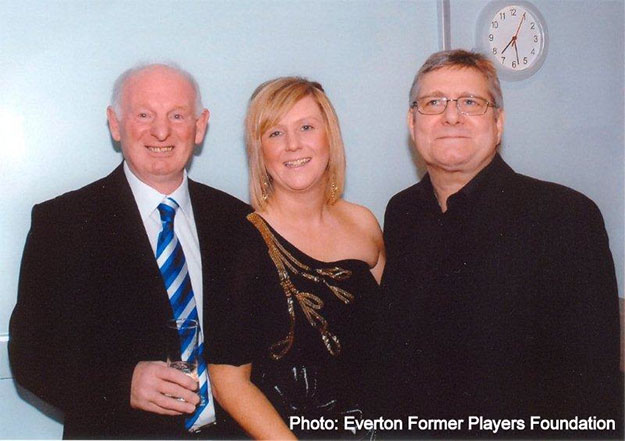 Mick Buckley with Aiden Maher at a Former Players Foundation function in 2009
Terry Darracott reflects:
"When he passed away it really hit home how precious life is – especially as a footballer. We should remember him the way he was: as a fun-loving lad who loved football."
The last words go to David France:
"How should we remember Mick Buckley? Well, I prefer to think of him as an extremely gifted footballer who was one of us. The last time I met him at Goodison, he reminded me that real families are not formed by blood but by love – make that a love for fellow Evertonians."
---
My thanks to:
Members of the Buckley family
Terry Darracott
Peter Eastoe
David France
Ronny Goodlass – healththroughsport.co.uk
George Orr
Stan Osborne
Neil Robinson
David Steele (Carlisle United historian)
Source material and further reading:
The Everton Collection
Everton matchday programmes
Everton FC website
Everton Former-Players' Foundation
Everton Encyclopaedia (James Corbett)
Liverpool Echo
Making the Grade (Stan Osborne)
Everton - The Official Complete Record (Steve Johnson)
Salut! Sunderland website
Toffeeweb
When Skies Are Grey (article by Adrian Thomas)

Follow @Handforth70
---
Reader Comments (16)
Note: the following content is not moderated or vetted by the site owners at the time of submission. Comments are the responsibility of the poster. Disclaimer
Rick Tarleton
1
Posted 07/10/2014 at 06:40:58
A very good player, skilful and hard-working. Always suffered from being compared to the great Colin Harvey, but in his own right a top class mid-fielder.
Brian Hill
2
Posted 07/10/2014 at 06:53:51
Marvellous story. Thank you Mr Sawyer. Buckley was a very good player in an often poorly managed team which should have achieved more than it did.
Throughout the article one thing shines through – the magnificent institution that is Everton Football Club.
Chris Hockenhull
3
Posted 07/10/2014 at 11:09:19
Wonderful piece, Ray. Well done. A player who promised so so much but never quite grasped his potential but still one who left great memories during a period of uncertainty in the '70s. A sad tragic but not uncommon tale.
David Harrison
4
Posted 07/10/2014 at 11:54:46
One of my favourites, Mick's drift down the ranks is a fairly accurate parable of EFC in the 70s.
Life has a nasty habit of appearing to give you everything but then taking it away and Mick won't be the last footballer to need support after playing. Well done to individuals like Darracott, Jones etc and the past players for picking up a comrade when he was down. Qualities like that are increasingly hard to find in today's dog-eat-dog, me-me-me world.
Dave Brierley
5
Posted 07/10/2014 at 11:46:28
A great read, Rob. I remember Buckley well. As Rick said, it was unfortunate he followed Colin Harvey which was no easy task and the comparisons were inevitable. Nonetheless a very good player and it was sad to read of his decline in later years.
Andrew Davies
6
Posted 07/10/2014 at 12:03:06
Wonderful article on a player I remember well in that frustrating period in the '70s after the greatness and early demise of our great 1970 team.
Terry Darracott says that he always wanted the ball. That's right and he would take pressure off others (including Terry!) by always making himself available for the ball. Moreover, he wouldn't make cheap passes, would be prepared to hold on to the ball until an opportunity developed... that could open him up to criticism but I always admired what he was trying to do. He looked a huge prospect and had we developed what we had in 1970, I am sure he would have fully achieved his potential.
Like Brian Hill, I think we are a very special club; it was moving to read about how Ronnie Goodlass pressured him to join. Very sorry about how things worked out for Mick.
Derek Knox
7
Posted 07/10/2014 at 15:54:47
Good article Rob, although a very sad ending to another who had graced the Goodison Turf, and although not from Liverpool, fell in love with the club, as so many others have over the years.
I am from Scotland myself, and remember going to my first live games at the Old Lady, in between going to sea both with the Royal and Merchant Navy's. I also remember seeing Mick play alongside the likes of Dobson, Kenyon, Jones, Goodlass, Darracott etc.
It's also comforting I'm sure for his family to know that his time at Everton has been well remembered and appreciated by all. It is also a poignant example of how thin the dividing line between success and downfall can be.
Sadly missed, but not forgotten.
Peter Murray
9
Posted 07/10/2014 at 21:12:27
Mick Buckley looked a bit like Colin Harvey, played a lot like him and was his natural successor.
My mates and I would walk home to Bootle from the Goodison games singing his praises. A potential great. Sad, so sad.
Well done to Gary Jones, Terry Darracott and the rest of the Everton family for giving the support he needed. It is moving to know that these values still exist in the greed-driven world of today's football.
Pete Gunby
10
Posted 07/10/2014 at 22:27:33
Good player at an underwhelming time for Everton. I always thought we were a few players shy of a good team – some things never change.
Dennis Stevens
11
Posted 07/10/2014 at 22:41:26
A quality player through the disappointing 1970s. We seemed to have quite a few decent players at any given time but it never quite turned into a great team.
David Ellis
12
Posted 08/10/2014 at 04:16:14
I did not realise he left at the young age of 24! Decent willing player - Leon Osman reminds me of him a bit (although Buckley was stronger in the tackle and perhaps not quite as skillful). Clearly his form dipped early in his career as often happened in those days – I think they just did not look after players well enough and did not know how to manage injuries properly. No-one lasted much beyond 30 in those days.
Andy Meighan
13
Posted 11/10/2014 at 20:34:42
Fabulous stuff. And I'm close to tears reading that. A great little player and he really was as good as Colin – not quite but up there... The 70s were my era and we produced some great sides and some great players and it still galls how close we came to snatching the title off our beautiful neighbours. Who by the way won the title every season from 1970 until 1990 if you'd believe the press but all that aside.
I only realised only until a few years ago that mick was from Manchester. I honestly thought he was local. I remember a game at Sheffield Utd in '74, a 2-2 draw, he scored but was absolutely fantastic. He totally put Currie (a big name then) in the shade. RIP, Mick... Never to be forgotten by us Blues.

Andy Meighan
14
Posted 11/10/2014 at 21:00:00
I meant to add: As some of the former greats who have passed on, eg, Labby, Bally, Westy – this was more poignantly sad because of the nature of his passing. I have actually had mates who've said, "Well what did you expect?" etc. It still saddens me. Goodnight, Mick... may your soul rest in peace.
Michael Winstanley
15
Posted 14/10/2014 at 22:20:14
Great read, thanks Rob.
Paul Wharton
16
Posted 14/10/2014 at 23:13:01
Rob, brilliant as usual. I really liked Mick Buckley, two good feet , tackle and a good shot. As the good Dr said: one of us, was Mick.
---
Add Your Comments
In order to post a comment, you need to be logged in as a registered user of the site.
Or Sign up as a ToffeeWeb Member — it's free, takes just a few minutes and will allow you to post your comments on articles and Talking Points submissions across the site.
© ToffeeWeb