In Search of the First Everton Stalwart
By Tony Onslow
17/11/2014

Comments (8)
jump

Rain was falling heavily as I left the train at New Brighton Railway Station in search of a former Everton captain who, I had discovered, was buried in Wallasey at Rake Lane cemetery. The person, whose last resting place I was searching for, was George Dobson. I knew he had died in 1941 but, as I had no grave number, I searched for over an hour without success before, wet through, I started to head for home.
However, as I passed through the main gate, I noticed the resident stonemasons' office and knocked at the door. My luck was in. I was greeted by a man whose name, I later learned, was Alan and he turned out to be an Everton season ticket holder. I told him why I was here, what I was looking for, and he did all in his power to assist. Having found the information I required he then took me, by car, to area where George was buried. Alas, when Alan identified the plot, we were disappointed to find that no headstone marked the last resting place of this former captain of Everton Football Club. I thanked Alan for his help and, with my research now complete, I returned home.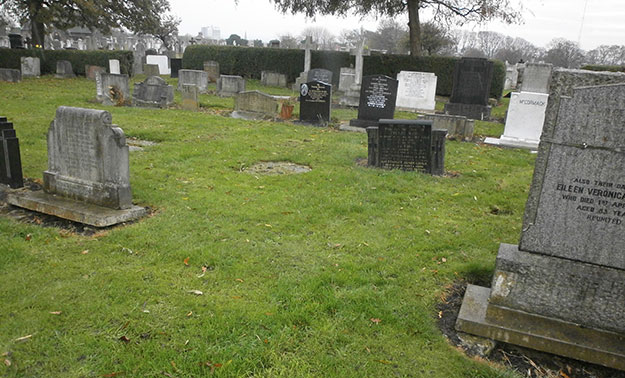 Last resting place of George Dobson
---
George Dobson was born, April 1863, at Bolton. He was third child born to cotton mill worker Francis Dobson and his wife Elizabeth. The 1871 census finds him, now aged nine, living at 32 Lupson Street in Bolton while the 1881 census tells us that George, still in the same house with his parents, in now working, as a piecer, in a local cotton mill. It is around this time that he began playing association football.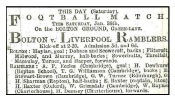 George Dobson is first mentioned in the Liverpool newspapers when he appears for a side, which played under the name of the Bolton Association, against Liverpool Ramblers on the home of Bolton Cricket Club at Green Lane. The game was played in a downpour until the referee, as the pitch filled with water, called an early end to the proceedings with the score standing at 2 goals a piece. Next season Dobson signed for Bolton Wanderers and was first seen at Anfield, 22-10-1884, when he played for the clubs second X1 against Everton.
The local press hinted at the possibly of the Bolton committee sending along their first X1 to fulfill the fixture but as Everton were considered, by the Lancashire FA, to be of " Junior Status", they decided that their second X1 would be "competent enough" to compete against this still developing young club from the Mersey seaport. This decision proved to be a disappointment for the 3,000 or so fans that paid for admission to Anfield enclosure, but they were, nevertheless, treated to fine game of football that ended in a 2-2 draw. George Dobson, it must be assumed, caught the eye of the Everton executive who offered him to the position of club professional. He accepted the terms and joined Everton before the close of the season.
George Dobson made his Everton debut on Easter Monday 1885 against Blackburn Olympic and made several more appearances before the season ended. During the summer he came to live, close to the Everton ground, at 37 Blessington Road and, as this advertisement depicts, he also became the local agent for a Bolton based sports company.
George Dobson took up position at right back, in the opening game of the season, against Burnley, where he was partnered by local born player, Tom Marriott. He was then joined at Everton by George Farmer and Job Wilding from North Wales. The ex Bolton man then spent an unremarkable first season with Everton that ended with them winning the Liverpool Cup final that was played, against Bootle, at Walton Stiles. The trophy, after the game, was presented to George Dobson who then boarded a horse drawn carriage to be transported, amid cheers from the crowd, back to the Everton headquarters at the Sandon Hotel.
Next season, with Dobson as their captain, Everton strengthened their side by bringing in Sandy Dick and Andy Gibson, both Scots from Kilmarnock, and Tommy Costley from Blackburn Olympic. They again won the Liverpool Cup but failed to make any headway against the leading clubs of East Lancashire such as the currant FA Cup holders, Blackburn Rovers. The Everton executive, anxious to address this problem, recruited from North of Border.
George Dobson now found himself leading a team of Everton players who were, almost certainly, being rewarded for their services. He captained them through the infamous FA Cup tie against his old club Bolton Wanderers which led to them being fined for "Professionalism" and banned from playing for a period of one month. Nevertheless, the attendance at the two ties, played at Anfield, was nearly double the number that had attended to two corresponding matches at Bolton and this fact, no doubt, went some way to convincing the authorities that Everton were a suitable candidate to become a founded member of the new Football League. Their decision must have given George Dobson a great sense of satisfaction because, he had been instrumental, since his arrival in Liverpool, in moving the Everton club forward to this position of privilege. He was, nevertheless, now about to be replaced as club captain.
The Everton executive, still anxious to progress further, now brought in Nick Ross, who was reputed to be the highest paid football player in the land, from Preston North End and handed him the captaincy. Partnered by Sandy Dick, he took over the right back position from the former club captain. George Dobson, still considered a valuable asset, was pushed forward in to the half back line for opening game of the campaign against Accrington.
However, due to a lack of firepower, Ross was later ordered in to the forward line and Dobson retained his old position at right back. It proved to a somewhat disappointing inaugural season for Everton who, having fielded more players than any other of the new members, had finished in bottom half of the table. George Dobson had taken part in 18 of the 22 football league matches played by Everton but, as the club had recently signed two Scottish International full backs, he was not offered an extension of his contract and left at the end of season. His football days however, were, as of yet, far from over.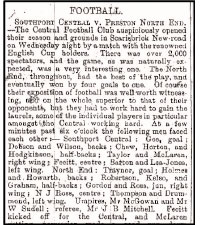 George Dobson was now approached by the directors of the newly formed Southport Central Football Club who were now about to become founder members of the new Lancashire League. The seaside club had just moved to new ground and Preston North End, the present FA Cup holders, arrived to help them celebrate the occasion. George Dobson took part in the game and was opposed by the man who had replaced him as Everton captain; Nick Ross. He remained at the Southport club for one season and helped them to finish sixth in a table that included such teams as Blackpool and Bury. George Dobson then made a surprise return to Everton.
The reason why the Everton executive, it would appear, approached George Dobson was because they needed someone they could rely on to captain the clubs second eleven. The team were not part and any league set up and were set to fulfill the list of fixtures that had been compiled for them by the club secretary, Richard Molyneux. The line up included Pat Gordon (Renton) and John Murray (Rangers) who had recently joined Everton, on a trail period, from Scotland. George Dobson took part in the first game of the season, against the second X1 of Bootle and played his last game for the club, 24-04-1892, against Rawtenstall. He then retired from the game.
George Dobson now becomes a General Clerk and shows up on 1891 census, as a Lodger, at the home of Mrs Irene Cox in the Poulton area of Wallasey. The 1905 street directory then tells us that he is now living at 4 Latham Avenue, Liscard in a fine house that is rented in the name of his mother, Lizzie Dobson. However, the 1911 census reveals that George, now 48, has now married Adelaide Lathom and lives with her and his stepson Herbert, at 4 Latham Avenue.
He lived at this address until he died, 16-10-1941, at Victoria Hospital and was buried beside Adelaide, who had died before him, at Rake Lane cemetery. His estate, which amounted to £2,800, was left in care of Sir John Hugo Rutherford the former conservative Member of Parliament for Edge Hill constituency of Liverpool. George Dobson, a former captain of Everton FC, was 79 years old.
---
Reader Comments (8)
Note: the following content is not moderated or vetted by the site owners at the time of submission. Comments are the responsibility of the poster. Disclaimer
Anthony Lewis
1
Posted 18/11/2014 at 12:39:28
Well you certainly found him. Nice read, Tony, thanks. :)
Geoff Evans
2
Posted 18/11/2014 at 12:59:14
Great research, lot of hard work.
Brent Stephens
3
Posted 18/11/2014 at 13:35:31
I thought I'd read this in an idle moment. Glad I did. A nicely-written story. Thanks, Tony.
Mike Childs
4
Posted 18/11/2014 at 21:24:36
As a Yank who only knows the history of the club due to the great writings of fellow TWers, thanks for an interesting piece of the club's history.
David Ellis
5
Posted 19/11/2014 at 06:23:18
Very interesting. It shows how random the success of clubs can be. I did not realise we were ever considered "junior" to Bolton Wanderers – I guess our star started to rise just at the right time to become founder members of the Football League.
I love that they moved a full back to the forward line... that must have been a slap in the face for the forwards. But in those days, given that there were five forwards, some in reality would be considered midfielders nowadays.
And when Dodson moved from full back to centre half – in those days that was a move to a midfield position, but nowadays would be a move accross the defence (which is why for the young uns on here why central defenders are called centre halves – it's the move from a 2-3-5 formation to a 4-4-2 or whatever the modern formation is. The centre of the "3" in midfield was effectively a centre back or defensive centre mid).
Paul Gladwell
6
Posted 24/11/2014 at 16:36:13
Great read, would be nice to see him get a headstone for the man who was our clubs first professional.
Max Wilson
7
Posted 27/11/2014 at 09:53:27
Fascinating. Great work. No monument to them? Are we able to commence a fund?
---
Add Your Comments
In order to post a comment, you need to be logged in as a registered user of the site.
Or Sign up as a ToffeeWeb Member — it's free, takes just a few minutes and will allow you to post your comments on articles and Talking Points submissions across the site.
© ToffeeWeb