Blunders abound as Lukaku misses a hat-trick
By Michael Kenrick
22/02/2015

Comments (214)
jump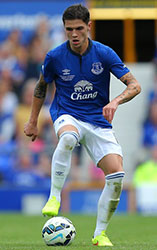 With Gareth Barry suspended, Muhamed Besic goes straight back into the starting XI
Everton 2 - 2 Leicester City
Roberto Martinez made three changes from the team that started against Young Boys, with Leighton Baines, Aaron Lennon and Muhamed Besic coming in for Bryan Oviedo, Kevin Mirallas and the suspended Gareth Barry.
A nervy start to a helter-skelter early period of maddening turnovers was hearlded by Everton's first touch after Leicester kicked off, Naismith intercepting but immediately giving the ball away, and a string more exchanges leading to a corner for the Foxes after Howard turned a low shot behind. Howard claimed it well.
It didn't get much better until Everton broke with Barkley passing to Lennon who went on a great forward run but his cross was really poor under the circumstances with Barkley and Lukaku waiting for it. Baines then clipped a ball in for Lukaku to head but it had too much curl and pace for the big man to control.
After the poor opening 15 mins, Everton were starting to take more control of the game, with a little more care going into their passes. After better possession, Besic tried a low shot that did not trouble Schwarzer in the Leicester goal.
Barkley picked out Lukaku who was wide right, looking along the back line, with no excuse for being offside, as is his way. Huth then got called for a very soft nudge on Lukaku , Barkley placing the ball with great care only to lash the free-kick well over the bar. Morgan was first in Dowd's book for a coming together with Naismith, but the sideways kick was met with groans from crowd.
Coleman did get to the line and pulled it back on a plate for Lukaku who casually sidefooted a glorious opportunity over the bar... dreadful miss put down to a slight bounce before the str. Kramaric then got a dangerous shot in at the other end that flew inches over Howard's bar.
Another great counter saw Barkley play a superb pass for Lennon to chase, and this time his cross was right to Lukaku's feet but his horrible first touch was effectively a tackle by the defender, the ball setting up for Barkley who skied it shockingly high.
After getting into the Everton area, Schlupp showed good control but fired just over, worsening the mood of an increasingly ugly crowd who were generally unimpressed with what they were seeing against the Premier League's bottom club.
The mood worsened as Leicester pressed forward in the final 5 mins of a poor first half, Stones flinging himself to block a dangerous shot on goal.
The visitors almost went ahead after the break, James forcing Howard to parry the ball out to where Schlupp would surely fire home but somehow he contrived to screw his shot beyond the far post, a tremendous let-off.
Martinez must have been less than impressed with the restart, readying two changes inside 5 mins, but Gibson and Atsu had to wait, freezing on the Goodison touchline as Leicester pressed and won a corner. Barkley and Besic finally gave way.
The changes seemed to do the trick, Naismith obliging as Lukaku battled through to set him up for a weak shot that dribbled in at the near post, and finally gave the Blues fans something to sing about.
But two changes for Leicester minutes later paid massively for Leicester as Nugent got behind Baines and crossed low, Howard unable to hold it and Vardy was there to prod home off Gibson.
At the other end, the ball came through nicely for Lukaku, at his feet, all the time in the world, and he scooped it a foot over the bar with the goal at his mercy. But at least the goals had raised the tempo, if not the quality of play on show.
That was until Howard typically flapped at a cross, Vardy, crossing it back for Cambiasso to smash it home. Unbelievable. Lukaku got another fantastic chance, all by himself, but chose to hit the ball at the top of its bounce... and the result was horrible beyond measure.
Gibson did well to pick out Coleman but he delayed the cross, winning a corner that Schwarzer claimed. Lennon tried to show some pace but his cross was to no-one. Everton started playing forward with more drive and desire into the final 15 minutes, but it was summed up by a horrible cross-shot from Atsu that nearly hit the corner flag.
A great clip from Naismith should have seen Atsu shoot but he could not get his foot around the ball and a handsome chance went for a corner that Baines overhit. Stones put in an excellent tackle as Mirallas replaced Naismith for the last 5 mins.
Make that FOUR incredible chances for Lukaku, who needed to put more effort behind a lovely ball played/shot through right onto his foot. It looked like Lukaku finally scored with a brilliant diving header but he missed that as well, the ball flying in off Upson's head a foot behind him.
Leicester had a couple of chances as they pressed hard for a winner in the last few minutes. Lukaku then had a great header, straight at a defender, while Leicester won a corner later into added time that was thankfully overhit.
It ended amidst another chorus of boos from some of the Goodison crowd, a game that was different task from Europe, with exception of the number of chances set up for Lukaku, who could not even take credit for the equalizer.
Everton: Howard; Coleman, Stones, Jagielka, Baines; Besic (55' Gibson), McCarthy; Lennon, Barkley (55' Atsu), Naismith (85' Mirallas); Lukaku.
Subs not Used: Robles, Alcaraz, Garbutt, Kone.
Leicester City: Schwarzer; Konchesky, Morgan [Y:25'], Upson, Huth; James (62' Nugent), Schlupp (62' Vardy); Cambiasso (87' King), Simpson, Mahrez; Kramaric.
Subs not Used:Hamer, Drinkwater, Ulloa, Wasilewski.
Referee: Phil Dowd
Attendance: 38,904
---
Reader Comments (214)
Note: the following content is not moderated or vetted by the site owners at the time of submission. Comments are the responsibility of the poster. Disclaimer
Mark Frere
1
Posted 22/02/2015 at 13:35:00
I really are sick of seeing Naismith played out wide. We do have Astu and Mirallas sat on the bench!
Victor Jones
2
Posted 22/02/2015 at 14:06:19
Come on you Blues. No mistakes today. Here's hoping that Everton keep a clean sheet, but I suspect that we will concede at least one goal. But as long as we score three. My prediction is 3-1 to Everton.
And we need some creative midfield play. So here's hoping that Ross Barkley steps up. He's due a big game. As is Naismith. No slip ups, no mistakes, no nonsense. Just three points. Plain and simple. Forever Everton...
Rahul Sreekumar
3
Posted 22/02/2015 at 14:53:10
If Lukaku's season could be summarised in one pic, it would a pic of him with his hands over his mouth after just missing a chance!

Alex Jones
5
Posted 22/02/2015 at 14:54:22
Boring negative side, plays boring negative football shocker! Clearly ToffeeWeb poll voters are as dumb and negative as Martiniez as this partnership of Besic and McCarthy is even worse than McCarthy and Barry as at least Barry can pass.
At home to Leicester, we should not be playing two defensive mids and then to top that we play Naismith in an offensive position because of the amount of defensive work he gets through. Get Barkley back with Besic or McCarthy, doesn't matter which they both are pretty similar, and then get Mirallas on instead of Naismith and put Kone on through the middle.
Terry McLavey
6
Posted 22/02/2015 at 14:53:02
Looks like it's back to business as usual! How can a 28 million pound striker sky it from six yards?!!
Ross isn't much better, has he put a bet on how many times he can get it into Row Z? it's called the side of the foot, it gives you more accuracy!
They could nick this if they weren't clearly lacking in confidence, they've had better chances.
Anto Byrne
7
Posted 22/02/2015 at 14:56:39
Mirallas, Atsu, Kone. on Lennon, Barkley, Naismith off. Howard is a worry.
Gary Carter
8
Posted 22/02/2015 at 15:17:13
Don't really get the Barkley substitution, bringing off a talented have a go youngster for an immobile injury prone crock that lacks match fitness!! But then I don't really get Martinez, how is he managing in the Premier League, never mind at our club!!
Anto Byrne
9
Posted 22/02/2015 at 15:28:26
Howard is a total fucking liability.
Roman Sidey
10
Posted 22/02/2015 at 15:33:11
Howard's finished.
Gary Carter
11
Posted 22/02/2015 at 15:31:10
I can't decide who's the most awful, Howard, Atsu, Lukaku or Martinez
Mark Burrage
12
Posted 22/02/2015 at 15:34:46
Pathetic!
Jamie Barlow
13
Posted 22/02/2015 at 15:33:56
If Martinez doesn't drop that bearded clown for the rest of the season, he should be sacked. He's a complete liability. Fuckin useless in fact. Robles must be devastated watching Howard on the pitch.
Mark Burrage
15
Posted 22/02/2015 at 15:44:19
Gary... you don't have to, all equally embarrassing!
Gary Carter
16
Posted 22/02/2015 at 15:43:14
Jamie Barlow, after proving beyond all doubt that barring one season in the Premier League that was off the back of another manager, Roberto Martinez and his inane footballing principles don't work in the Premier League. He should have been sacked months ago!
Si Mar
17
Posted 22/02/2015 at 15:45:23
Could be a taxi for Martinez?
Peter Lynch
19
Posted 22/02/2015 at 15:49:14
I was incredulous when Howard was selected for Thursday's game but we got away with it. Robles had just kept 3 or 4 clean sheets. Disgraceful management. Martinez out - NOW. Allardyce in - we cannot afford to go down.
Chris Gordon
20
Posted 22/02/2015 at 15:44:32
This is an embassment yet again. I was never a massive fan when we appointed Martinez, but I thought I'd got it all wrong after last season. I was right with my gut feeling. He doesn't seem to be able to motivate the players this season.
Howard has become a joke. I feel so sorry for Robles, he was starting to find his feet after a shaky start. I can't work out what's happened to our midfield and Lukaku has gone backwards. I can forgive Barkley as he's still a kid but the rest including Martinez need a rocket up their arse at the end of the season.
I predict we'll stay up (just) and Billy will keep Roberto on. However, if there is not a MASSIVE improvement next season then it's addios Roberto. We have the players now but they're just not performing for him.
Roman Sidey
21
Posted 22/02/2015 at 15:56:35
A draw against the 20th placed team is unacceptable.
MOB.
Peter Lynch
23
Posted 22/02/2015 at 15:53:24
And I stand by my last comment in spite of the late equalizer. It's just rank bad management to drop a guy who's kept you clean sheets. Howard has been a liability for some time.
Terry McLavey
24
Posted 22/02/2015 at 15:57:12
It could be called a comedy of errors , if it was funny......!
Brian Williams
25
Posted 22/02/2015 at 15:58:02
Poor Robles must wonder what he's got to do. Howard was abysmal and has been on more than a few occasions.
The rest out there weren't much better today to be honest but Howard should be benched for the rest of the season.
Steven Telford
26
Posted 22/02/2015 at 15:58:14
That must go down as Lukaku's worst game for us. and for once, Service was not the issue.
Half the season gone, and 3 wins at Goodison.
Tom R Owen
27
Posted 22/02/2015 at 16:00:25
And just how shite is Howard?!
Tony Hill
28
Posted 22/02/2015 at 15:56:37
A disappointment obviously. We should have won but Lukaku's finishing was hopeless. The Barkley miss was also big.
I was impressed with Gibson when he came on. Good from Naismith.
Howard must, absolutely must, be dropped.
Roman Sidey
29
Posted 22/02/2015 at 16:00:52
Missing those goals was poor from Rom, but Howard gifting them two goals is a lot worse.
Gary Carter
30
Posted 22/02/2015 at 15:59:43
There should definitely be a TW poll on who was the worst out there today, Lukaku, Howard, Atsu or Martinez.
I can't wait for the post match interview when he tells us how phenomenal it was to come back from 2-1 down to draw. Well let me tell you, I had really bad diarrhoea on Saturday morning, as I heard and smelt it run out of me I couldn't help but be reminded of Roberto Martinez talking
Timothy Sebastian
31
Posted 22/02/2015 at 15:57:33
Last corner of the game to Leicester, ball floated in and Howard flaps his punch and nearly gives away a last minute goal. Can't Martinez see that Howard is a liability.
Poor performance all around. Lukaku should have netted at least 2 other goals aside from the one he glanced against Upson for the equaliser. Only bright spot for me was seeing Gibson back to his old self. Outstanding passing and awareness from him.
Sean Patton
33
Posted 22/02/2015 at 16:02:45
Simply put, that 'goalkeeper' – and I use the term loosely – should never play for the club again.
Robles plays in that game and Everton win it.
Brian Waring
34
Posted 22/02/2015 at 16:03:36
Howard doesn't fuck up, we win. Lukaku doesn't miss two sitters, we win. Funny thing was his header for our goal, if it doesn't hit Upson, Lukaku's header is going out for a throw-in.
Kris Boner
35
Posted 22/02/2015 at 16:03:59
Service was good today, Lukaku was not.
Defence was good today, Howard was not.
Atsu looked lively when he came on, Naismith was fantastic and Gibson was strangely dynamic. Lennon had a good game, but all in all it was the men at either end of our team that decided that result.
If Howard doesn't flap, we don't concede. If Lukaku could actually finish today we walk away comfortably.
Tom Magill
36
Posted 22/02/2015 at 16:00:18
We can't beat Leicester at home! Just think about that for a minute, they nearly beat us!
We should be taking Leicester and teams like them apart, we are pretty dire this season, we need a proper manager who knows what he's doing, ASAP.
Anto Byrne
37
Posted 22/02/2015 at 15:59:45
Gibson was outstanding and Atsu showed he has something, they need a run in the side. Back to the Under-21s for Barkley offered nothing, not one decent forward pass. Robles is my first-choice keeper. Disgusted overall.
Jay Wood
39
Posted 22/02/2015 at 16:03:24
I second that Timothy ... the saving grace from another underwhelming performance was the introduction of Gibson.
If only this man could stay fit. He sees and makes FORWARD incisive passes, perfectly weighted, that nobody else in our squad has the vision or the ability to imitate.
Eddie Dunn
40
Posted 22/02/2015 at 16:06:28
Normal service has been resumed.
Ross Edwards
41
Posted 22/02/2015 at 16:05:40
An absolute disgrace. Feels like a defeat. 1 win in 10, 6 wins in 26, couldn't even beat Leicester home or away. Howard is finished and needs to go ASAP, he was absolutely useless today.
Absolutely incredible that he retains his place, almost a free pass, a 'make way, make way' from Martinez. A liability.
Mike Price
42
Posted 22/02/2015 at 16:04:08
Howard must have personally cost us at least 15 points this season. That must be the end for him, Lukaku was embarrassing, but Howard gifted them 2 goals.
This is the worst season ever and we are in deep trouble.
Ian Burns
43
Posted 22/02/2015 at 16:05:45
Just come off the Live Forum where the condemnation of RM must in excess of 90%.
We can blame Howard; Ross was not at it today and so on but this game proved beyond doubt that RM is completely out of his depth in the Premier League.
We are in a relegation battle, make no mistake simply because winning games against the likes of Leicester should be as close to a given as one can get in this league.
Whilst RM remains our manager, I shall make my point as often as possible until he has gone.
Gary Carter
44
Posted 22/02/2015 at 16:07:32
Kris Boner (35) when you go fishing and catch a fish, it flaps around on the floor and looks very lively. I would draw the same comparisons of a fish flapping around on the floor with Atsu's footballing ability and performance today.
Rahul Sreekumar
45
Posted 22/02/2015 at 16:08:52
I think Sylvester Stallone has spent more time in an Everton shirt than Kone...
Jason Murray
46
Posted 22/02/2015 at 16:05:48
What a shocking performance. The only positives to take from the game is that we did'nt lose and we're now one point closer to Newcastle. I've always supported Tim Howard but he needs to be dropped immediately.
Anto Byrne
47
Posted 22/02/2015 at 16:06:38
Did someone mention Big Sam? Now there is a thought...
Ernie Baywood
48
Posted 22/02/2015 at 16:05:36
Joel still doesn't full me with confidence but he's certainly earned the shirt over Howard.
I laughed at Lukaku today. Which is a strange reaction.
Steve Barr
49
Posted 22/02/2015 at 16:01:20
Europa League hangover is no excuse here.
This performance was dire by any yardstick. No excuses.
Martinez does not have the ability to motivate the team to kick on and has been exposed as a bit of a fraud to be honest. He has no Plan B and does not make examples of certain key players when they continually underperform.
To compound Martinez's weaknesses, we do not have a single leader on the pitch. No one really wants the ball and you can see them trying to get rid as soon as they have the damn ball. Gibson was the only player pushing forward with probing balls.
This summer we have to bring in a couple of players with balls or else it will be the same next season.
Hopefully we'll still be in the Premier League... but I don't have the confidence that others on this site on that issue.
Our form this season, both at home and away, is most definitely relegation form.
Jermaine Jennings
50
Posted 22/02/2015 at 16:05:46
I nearly cried today at the final whistle; the last time was when we beat Wimbledon to stay up!!! This has to stop and will only stop when RM leaves. RM has no answers to anything and I can't see us winning another home game all season based on that performance.
Yes, Lukaku missed a lot of chances, that happens with strikers!!! So let's get over it, I'm just glad the fans didn't boo him and he got in the right position to force the equaliser.
It's strange the players who are playing seemed to have lost confidence in RM, which is why we are so poor at home. Darren Gibson has got confidence as he hasn't played most of the season and he played well, he passed the ball forward... amazing!!!!
We are deep in a relegation battle now with Arsenal up next.
Tommy Coleman
51
Posted 22/02/2015 at 16:08:33
Howard and Lukaku were Leicester's best players.
And our pitch looks like it's the worst in the division.
So frustrating to watch.
Paul Thompson
52
Posted 22/02/2015 at 16:08:44
Agree with comment's @34/35. That result was down to Howard and Lukaku. I'm not a major critic of either, but no escaping that conclusion.
In the second half we made chances and he (mostly) missed them. They made a couple of chances and Howard failed to deal with them. We looked so much better with Gibson. Lennon and Atsu lively in patches. Howard must be dropped for Arsenal.
Breandan Clarke
54
Posted 22/02/2015 at 16:07:26
Martinez was let down badly today by his players. I actually feel sorry for him.
Steve Cotton
55
Posted 22/02/2015 at 16:07:14
Lukaku could have been aiming for the golden boot award after that game, he should have added about 5 more to his tally instead of the none he did get.
BTW he scored 3 midweek and missed 4 others that night. Could Kone be as bad?
John Gee
56
Posted 22/02/2015 at 16:06:45
Martinez screwed up a perfect situation when he put Howard back in the team. Robles had 3 clean sheets in a row, Howard was out of form before his injury, it was the perfect time to make the point that he believes in competition for places. It was a big mistake to put Howard back in goal just for that reason.
As for Howard himself, he's flapping at high balls, not moving his feet, falling instead of diving, staying rooted to his line, distributing the ball poorly, panicking under pressure, not showing any degree of bravery and failing to hold on to almost every ball. How badly does he have to play to be dropped?
We know it won't happen but on a related point, Gibson looked fantastic when he came on. I didn't understand the sub at the time but, fair play, the boy done good.
Jermaine Jennings
57
Posted 22/02/2015 at 16:13:21
Bring back Robles...
Howard is past it, FFS.
Gary Carter
58
Posted 22/02/2015 at 16:14:30
To summarise, Martinez is massively out of his depth and needs to go.
Barry Thompson
59
Posted 22/02/2015 at 16:13:52
You've got more chance of hearing a Gary Glitter song at the annual school disco than you have of Martinez dropping Taliban Tim, or Gareth Barry for that matter.
Ross Edwards
60
Posted 22/02/2015 at 16:15:41
How long do we continue to give Martinez? What if in the summer someone like Bilic, Bielsa or De Boer becomes available?
John Gee
61
Posted 22/02/2015 at 16:15:34
I meant to say... *we know it won't happen but on a related point, Gibson should keep his place...etc
Ajay Gopal
62
Posted 22/02/2015 at 16:14:36
Howard had a shocker. Regarding Lukaku, he had a bad day, but at least he was trying and even if the equaliser was an own goal, it was his movement and desire that caused the goal.
Bad result for us, if we don't get 3 points in these type of games, then we can't complain about our position.
And for those screaming "Relegation, Relegation", my advice is look at the table. In spite of the shocking run of results, we are 12th in the league. I always think that goal difference is a more accurate reflection of where we will end up, and based on that, I think we will reach 10th – barely! (plus or minus).
Roman Sidey
63
Posted 22/02/2015 at 16:14:42
Somewhat agree, Brendan Clarke, until I remembered how at 1-2 down with five minutes to go the players (aside from Gibson) were still walking around and passing anywhere but forward. That is down to management tactics.
Tony Marsh
64
Posted 22/02/2015 at 16:17:35
We all knew, the moment RM dropped Robles for Blunder Boy, we would start conceding goals. Howard since coming back has played 3 conceded 4 – and all 4 have been down to his mistakes. It''s an absolute disgrace as Robles was starting to look the real deal and gets bombed out...
Martinez is to blame for this terrible mess we are in. Once more, Besic is subbed off... WHY?
Andy Mead
65
Posted 22/02/2015 at 16:09:53
First of all, Gibson looked like the creative midfielder that we have missed all season. Will he stay fit? Who knows.
I must say in 30 years of following Everton, this is the most boring side I have ever watched. There is no urgency, even when we are behind late in games! Even Walter Smith sides entertained at times!
Howard really is a liability when balls are crossed into the area. two schoolboy keeping errors to gift wrap a point for Leicester, and like another poster said, he nearly gifted them the winner at the death. It doesn't matter who you play, if your keeper keeps dropping clangers, then you will be punished.
Now for Lukaku. He looks like another Amokachi to me. Big, clumsy, no first touch and can't hit a cows ass with a banjo! He even had the cheek to claim the goal! Old Jose must have been pissing himself when we offered 㿈M... Into his 2nd season and he seams so inconsistent.
I'm not one to call for managers' heads but something is so wrong at our club. Unless we drastically improve in what's left of this season, then Roberto must go on the final whistle of the season.
Bill Gall
66
Posted 22/02/2015 at 16:08:38
Martinez's job is safe, that means Howard's job is safe and the playing of people out of position will be the norm. All decisions come from the top... so, while we have a Chairman who is the poorest we have had, do not expect any different.
I can't think of another manager with such a poor home record keeping his job. I hope it is not all out for Europe regardless – if it is jeopardizing your league position.
Ian Riley
67
Posted 22/02/2015 at 16:06:14
How lucky we are, 6 points clear of bottom three. Let's face it, the first half was dreadful and we could, should have gone in behind. How do we play with two holding players and look so open? Howard was playing crap before he got injured and has carried on that form.
Anyway, we can renew season tickets from tomorrow. See you all at the box office, 9am sharp!
Mark Andersson
68
Posted 22/02/2015 at 16:16:30
I got exactly what I thought from this shit match, not worth staying up late and sober for. Barkley should not play another game at Goodison until we have a new manager or he plays for another team.
Howard cost us 3 more points, we will go down coz we do not have the fight and strength of character which is a reflection of the manager.
And for that poll on who should play in the middle, Besic and McCarthy didn't get my vote. Bollocks to this 'on paper we are a better team'... No we're not – the results and performances says so.
Oh, by the way, give credit where it's due, Leicester played well and deserved more than one point. Good night.
Ray Said
69
Posted 22/02/2015 at 16:20:08
Due to staggering gross financial mismanagement, Barry, Howard, Pienaar and Distin have at least eight years (combined) remaining on their contracts at a cost of at least 𧵘k per week. That limits our options for replacement as none of them should be first teamers. That is over ٦ million per year and over 㿨 mill in total. Shocking and the seeds of ruin.
Roman Sidey
70
Posted 22/02/2015 at 16:25:51
Bill Gall, your final comment gave me a funny thought: can you imagine a team playing in the Champions League from the Championship? It is an actual possibility now with the rule change.
Alan McGuffog
71
Posted 22/02/2015 at 16:26:03
Ross... De Boer? Bilic? Why in the name of God would either of them come here? We have been piss poor for almost all of the last thirty years.
Gary Megson... Come on down, your destiny awaits!
Tahir Abdullah
72
Posted 22/02/2015 at 16:23:55
"Perseverance – a lowly virtue whereby mediocrity achieves its inglorious success."... Absolutely shocking what EFC has become under RM; yet there remains those who "keep the faith" in this snake oil salesman.
Today was not a disaster in of itself, but in the grander scheme of things it confirms the view of many that we are a club in decline under RM. When and where will this end...
Roman Sidey
73
Posted 22/02/2015 at 16:29:03
Ray, I'm not sure if the maths works out like that, mate. If you combine the years of the contracts you have to average the cost of the wage. Slightly less than 㿨m.
Ray Said
74
Posted 22/02/2015 at 16:30:54
Roman, thanks for pointing that out. It's still near 㿨 mill maximum commitment over the projected duration of the contracts though?
Tony Hill
75
Posted 22/02/2015 at 16:29:31
Another flat game from Baines. He is another one selected on history rather than form and we are losing an attacking threat because of it.
Anthony Hughes
76
Posted 22/02/2015 at 16:30:03
At home to the bottom club and the best we can do is scrape a draw late on. Garbage.
Michael Polley
77
Posted 22/02/2015 at 16:25:59
FFS!!! Howard is a liability. Drop him! Lukaku was a disaster.
I need this season to end now, and hopefully we are still in the Premier League by the end of it.
One totally pissed off Evertonian.
Paul Tran
78
Posted 22/02/2015 at 16:21:38
Three things from today. First is that Howard should never play for Everton again. He consistently costs us points. One up and ready to move on and he hands momentum back to the opposition. Again. Robles came in, grew in confidence, proved the doubters wrong and was then dropped......for Howard.
Second is that Gibson came on and gave us what we've been missing; a commanding midfielder who always looks for a forward pass. All of a sudden our forward players were making runs because they actually thought they'd get a pass. And guess what, we started creating chances and looked like a team with goals in it.
Third, imagine if Martinez had played the other striker he bought as well, you know, the one he just doesn't want to play?
So here's my take on the current situation. Martinez should get Robles straight back into the team. He should keep Gibson in and look for a similar player in case he gets injured again. He should play Kone up front with Lukaku and have two wide men. We would then have more goals in us and would be less prone to keeper error.
His decision-making has been shocking this season, so I'm not holding my breath. If he doesn't do these three things I'll be withholding any support I have for him keeping his job.
Jamie Barlow
79
Posted 22/02/2015 at 16:26:07
Breandan, how let down do your think Robles feels after being dropped like a stone for the bearded one?
Martinez said Howard can lose his place if he doesn't perform. He wasn't performing before his injury and he hasn't performed since he came back. Let's see if he's up to dropping him or it's more bluster.
This isn't just a Howard bash. I just can't be arsed to write anymore about the likes of superstar Barkley and the rest of the shite I've just had to watch.
Chris Sillett
80
Posted 22/02/2015 at 16:34:53
That's three goals (arguably four if you criticise the Chelsea goal) Howard has been at fault for in his last three games. How Martinez can justify putting him straight back in the team is a disgrace. Big question marks over Martinez after decisions like this.
John Gee
81
Posted 22/02/2015 at 16:48:11
If Howard plays in the next game then we'll have to play Alcaraz to man mark him!
Steve Barr
82
Posted 22/02/2015 at 16:44:40
For me it has been our pre-season preparation and our overall performance (or lack of) in the league and cups that have put many question marks over Martinez's right to still be the leader of Everton Football Club.
I believe in giving anyone a reasonable run to prove their ability and worth. I reckon Martinez, along with a few of our so-called stars, have had long enough.
Phil Walling
83
Posted 22/02/2015 at 16:37:54
In spite of being a sceptic by nature, I could not have been more confident of victory today but it was not to be.
Chatter during my brief time in the lounge was that both Martinez and BK are banking everything on getting into EC via winning the Europa and that there is little fear of relegation in high places.
It takes some believing but given that Roberto was engaged on the back of his winning the FA Cup – it could hardly have been his 25% Premier win record at that point – the gossip could well be right.
So it's 'hey lads, hey' in the Europa whilst we continue to scratch our way to 36 points and safety in the league.
Who'd be a bloody Evertonian, hey? But Bill will see us OK!
Jim Knightley
84
Posted 22/02/2015 at 16:42:23
Martinez... sorry to say it again, but he must go. As pretty much all of us have said: Robles should have stayed in, because he was playing very well. What did he do wrong? Howard has come in, and made some massive blunders, and he fucked up several times today. He needs dropping.
Again, our tactics were poor. Leicester created more for much of the game, and Lukaku and Barkley looked devoid of all confidence. We improved markedly when we were desperate and played the ball forward at pace, and when Gibson, a passer, came on and started passing. Martinez is not to blame for Gibson, Pienaar and Osman being injured, but he is to blame for the failure to buy a passing midfielder when his tactics rely on it, and on his insistence on playing passing tactics when they do not suit the players we have fit, and in the first 11.
He should go. This is not about the Europa League, where we have been consistently impressive, it's about the league, where we have been consistently poor. Martinez started the season with unfit players – he is to blame for that. Martinez implemented tactics which were wrong for this team. Martinez has played a series of AMC/strikers out wide (and in the process nullified our attacking full back/s).
Martinez failed to buy the creative presence we need. Martinez has failed to keep a lid on discontent and on egos. Martinez has failed to play to the strengths of our record signing. Martinez has failed to put pressure on referees as others managers do, until too late. Martinez has inexplicably dropped Robles, after he found form. Martinez continues to make the same mistakes over and over again.
Martinez has taken perhaps the most promising Everton squad in 20 years, and turned them into bottom half shit, and in the process, reversed the overachieving legacy which became part of Moyes Everton, and created the foundation for the best Everton squad in 20 years. Martinez should go, before the big players do, and we become the Everton of bottom half struggles again.
Paul Thompson
85
Posted 22/02/2015 at 16:50:10
I know that Martinez has to extract some positives from any game, but his after-match comments are the usual avoid reality waffle-fest.
"It is a fantastic sign to have the character we have shown to get a point out of the game. The character was very pleasing on a very difficult day."
And he's blaming coming back from Europe again. Bollocks. Lack of effort/fatigue was not a problem. Unbalanced set-ups and howlers at both ends.
Oliver Molloy
86
Posted 22/02/2015 at 16:33:47
Howard is a liability and I agree with those who have commented that he should never walked straight back into the team. His decision-making is getting worse and he has no balls! Robles back in the side for our next game would be a major statement from the manager.
Big Rom needs to shut up and do his talking on the pitch,how many good chances did he miss today?
Lennon is not worthy of a contract with Everton, another typical "head down" winger going now where.
As a team of footballers Everton need sorting out,and I am now beginning to think that Martinez is not capable of doing just that. The season started with very poor preparation,and has continued. As soon as we meet a team that is any way decent in the Europa League, that will be that!
The only positive from the result today was we should have lost and we got lucky with a point. If we can not beat the likes of Leicester (with respect) then big questions need to be asked of our manager. In saying this, we will not be relegated.

Paul Tran
87
Posted 22/02/2015 at 16:51:56
Phil, I'm positive by nature, but I'll hold my view that the first decent team we'll play in the EL will knock us out. I've no doubt we'll stay up, but the fact that we're talking in those terms tells us everything about this season.
I'm very curious about the next game. Will he continue with the out of form keeper, will he bring back the out of form midfielder, will he bench the midfielder who made a big difference when he came on today, will he persist with the boy wonder who has done nothing for the last 12 months, will he continue not to play the striker he bought and nursed back from injury, will he persist with playing an unbalanced team?
Paul Jeronovich
88
Posted 22/02/2015 at 16:57:17
It's now as clear as day that the defensive uncertainty stems from Tim Howard. I was bricking it when Robles had to cover but I prefer him 100% over Tim. Scraping a draw at home to Leicester is fucking shocking. Two steps forward and ten back.
Paul Tran
89
Posted 22/02/2015 at 17:01:23
Jim. lots of good points there, can't argue with any of that. That's the definitive Martinez out case, all substance and no personal attack nonsense.
Dave Abrahams
90
Posted 22/02/2015 at 16:46:22
Be a man Martinez, you know who you have to replace on Thursday.
Gibson was man of the match for me, although I don't think he can perform for 90 minutes, but he created more in half an hour than most have this season.
Loads on here love the Europa League, it can also be the cause of us going down. The performance today was very poor indeed.
Breandan Clarke
91
Posted 22/02/2015 at 16:51:49
Agree, Jamie, Howard has been awful post World Cup but I don't see any other manager who wouldn't do the exact same thing and play their senior keeper no matter how good the deputy has been. I'm a big supporter of Martinez and feel it's just another thing to beat him about, but in truth there probably right to do so.
I didn't realise Martinez had said that. Dug himself a serious hole there. Howard as at fault in my eyes for the goal on Thursday and then the disaster today. If any good can come from today, it's that Martinez HAS to consider that Howard isn't Number One any more.
Tony Waring
92
Posted 22/02/2015 at 17:00:39
I am as disappointed as everyone else about today's performance but I give Lukaku one accolade; he never stopped trying (our patience !) and he didn't hide. He'll come good again and the goals will flow. (I hope!)
Phil Walling
93
Posted 22/02/2015 at 17:00:01
Jim Knightly @84. Thank you for expressing my views so precisely. And without mentioning the W-word once!
David Barks
94
Posted 22/02/2015 at 17:10:13
Wow, Jim completely nails it there. There just is no defense for this man. Saved at home by an own goal to earn a point against the worst side in the Prem. I actually think BK might sack him in the Summer
James Marshall
95
Posted 22/02/2015 at 17:15:13
Weird subs at an odd time today, I thought.
Shit second half. Crap goalkeeping. Move on. We'll stay up.
David Hallwood
96
Posted 22/02/2015 at 16:49:28
I'm on holiday and I've finally managed to get a signal and I wish I hadn't. FFS what's going on? Is Martinez the new Benitez – all Europe and fuck the Prem?
Somebody mentioned who was worse – Howard or Lukaku? Howard all day long. A striker can miss 6 sitters, and it sounds not far from Lukaku's performance today, but convert one and we get the points. Howard makes 6 mistakes and we get beat. Simple as. General consensus he's cost us 15-18 points enough is enough.
One final point: all these big time (Belgian) Charlies who want CL football will have to learn how to play twice a week and not just turn up for the Euro games.

Andrew Clare
97
Posted 22/02/2015 at 17:07:24
It's plain to see that it's not working for Martinez. The success in the Europa League is distorting the real picture. My worry is that we almost get relegated and Kenwright still perseveres with Martinez for next season.
As someone said earlier as soon as we meet class opposition in the Europa League we will exit the competition and be left facing a relegation battle to end the season with. I'm sad to say it but Martinez must go if that happens. He probably should've gone 6 or 7 weeks ago really.
Charles Brewer
98
Posted 22/02/2015 at 17:10:16
I have always been of the view that a goalkeeper should, whenever possible catch and/or smother the ball and kill play in his penalty area as the number one objective. It's far better to give away a corner than to risk giving the ball to an opposition player anywhere near the penalty area.
If it's really not possible to catch or put the ball out, deflecting it towards the nearer corner flag is next.
In Robles' first match, he looked nervous, and tried to punch everything that came near him. In the next couple, he began to catch the ball and to come out of the goal and dominate the penalty area.
He has a tendency to misjudge when to pursue the ball with an opposition player on it, but over the course of a few matches, seemed to relax a bit and his judgement got better and better.
In other words, he was a young goalkeeper starting to get control of his own nerves and to give the defence confidence that he would at least try to get the situation under control.
Howard, since returning, has managed a weak punch straight out to a Chelsea player, grossly misjudged a 30 yard shot, played one straight out to an opposing forward 6 yards from goal, and took the sting out of a cross so that an opposing forward could get to the ball.
If Howard was 25, we might think he would improve (as Lukaku might), but he won't.
After the serial errors of judgement and technique in the past three games, he should never play for Everton again.

Ian Hollingworth
99
Posted 22/02/2015 at 17:23:09
"We need to defend well in the box because at two moments in the match we conceded soft goals. Everyone is in the scrap until you get 40 points, that's the way the league works. Our focus is to get as high up the league as we can."
These words from the man who promised the Chairman Champions League...
Charles Brewer
100
Posted 22/02/2015 at 17:19:28
I have just found this: "It is a fantastic sign to have the character we have shown to get a point out of the game. The character was very pleasing on a very difficult day."
If "character" means "disorganisation", "very pleasing" means "cringe making display of inept football, with shocking team selection compounded by atrocious lack of skill displayed at both ends", "difficult day" means "Leicester, bottom of the league and very unlucky not to have won" then I entirely agree with Mr Martinez.
Andy Crooks
101
Posted 22/02/2015 at 17:19:31
For all his faults, Moyes got rid of the label "crisis club Everton"; Martinez is bringing it back. He is inept in every area of his job. He will relegate our club.
Kenwright has been responsible for mismanagement of Everton Football Club. His continuing support for this out-of-his-depth charlatan is adding to his destruction of the club.
Mark Frere
102
Posted 22/02/2015 at 17:27:37
"I'll hold my view that the first decent team we'll play in the EL will knock us out.
Paul, we've beaten one of the best sides in the Europa League twice (Wolfsburg). Our style seems to suit the European games but not the hustle and bustle of the PL where we become clueless.
Dave (90), our poor league form has got nothing to do with the Europa League. We've been shit all season and at our worst over the festive period when we weren't even playing in Europa League
Howard Greene
103
Posted 22/02/2015 at 17:26:05
Thank the Christ that I have retired so that I don't have to go into work tomorrow and try and defend that lot on the Park to-day. The word is 'team' and for me since RM has taken control that has been steadily eroded, several players during the game looked lost. One credit, Lukaku, rubbish at times (most really) but he kept going to the final whistle. Thanks Tim, been good knowing you, now piss off

Mohammed Horoub
104
Posted 22/02/2015 at 17:27:47
5 straight home draws for the first time in our history. Well Dave Whelan did tell us... And we paid that muppet millions to give us Delusional Bobby. We can talk about Howard, Lukaku, Baines and Barkley all having bad games but the buck stops with El Dumbass. No motivitation, same tactics, blind loyalty to out of form players and can he please tell us what did he want Mirallas to do at 85 mins... I expected to lose to Chelsea and Arsenal but was sure we would pick up 3 pts today. Can people stop saying we are going to stay up. Nothing is given to you in this league and our manager has thrown us into a relegation battle. All players lose form and as a manager you have to juggle the team to suit each game. No point in saying more we are stuck with this moron for atleast another season. Hope BK is already thinking about plan B because his manager definitely doesn't have one. Just to try and end on a positive how good was Gibson. Hope he can stay healthy because he gave us a big lift. Something has to change this is not going in the right direction.
Paul Tran
105
Posted 22/02/2015 at 17:39:59
Fair point, Mark. I wasn't impressed with Wolfsburg in either game, two classic cases of the run, run, run, all-action team getting picked off, but you can't argue with where they are in their league. I suspect there are better teams awaiting us.
Tahir Abdullah
106
Posted 22/02/2015 at 17:50:16
Was Howard this consistently inept under Moyes? Memory fails me, but somehow I seem not to think of the pre RM Howard as being this poor....
Terence Tipler
107
Posted 22/02/2015 at 17:49:29
It took Martinez over 30 games last season, to get the players to play the way he wanted them to. its been all downhill since.
Clive Lewis
108
Posted 22/02/2015 at 17:46:23
The result was not down to Lukaku and Howard at all. It was down to Martinez for not continuing with Robles and for not substituting or starting with Kone. Lukaku cost us possession up front, old elastic ankles , how many professional footballers constantly control the ball with the outside of the foot!.
Dave Abrahams
109
Posted 22/02/2015 at 17:49:49
I've just read on another site that we have now gained ( ? ) eleven points from the last fourty two, is this correct.
Mark Frere, you think the Europa Cup is not affecting the league position, you might be right, but I'll tell you it 's definitely not helping and it will have a bearing on us staying in the premiership.
Mark Frere
110
Posted 22/02/2015 at 18:00:28
Paul, Wolfsburg did beat Beyern Munich 5-1 a couple of weeks ago. Make no mistake about, they are a top side... and we won't come up against many better teams. We've been superb in Europe and if we continue in the same way, we are in with a chance of winning it.
Sadly our displays in the PL, all season, have been nothing short of pathetic!
Jamie Crowley
111
Posted 22/02/2015 at 18:04:43
I'm a Roberto man but in this instance I have to agree with Clive at 108.
Robles was in form and had played his way to the #1 spot. Howard should not have walked right back into the starting position. Howard was definitely responsible for one of the goals and arguably both.
Roberto has made a selection error.
Bill Gall
112
Posted 22/02/2015 at 17:36:06
Do not get exited if RM brings in Robles on Thursday as with 4 away goals to our credit he will not be dropping Howard just resting him .
How a team can look so confident on Thursday and look so poor a couple of days later is beyond me . Build up play today was slow and ponderous and this must have been the tactics the manager wanted. As far as Howard playing RM has already stated that he is his #1 keeper and like his chairman is to stubborn to admit he made a mistake.
Everton FC is not going to change while we have a Chairman who has no backbone or vision for the future of the club. All though stranger things have happened I do not see RM being fired so these extremely poor performances are going to continue.
We are now coming into March and for the last 3 months we have been complaining about our poor league performances but it appears that only the supporters are the ones concerned while the clubs spin doctors spout excuses.
We have to get the people or person in charge of this club to do something positive or we are going to sink to just a mid table club with a great history.

Jamie Crowley
113
Posted 22/02/2015 at 18:07:18
Some calling for the removal of the manager after a draw on Sunday after a Thursday tilt, on the heels of a record points season...
Hahahaha.
Dave Lynch
114
Posted 22/02/2015 at 18:11:21
Is right Jamie.
Our league position is fucking hilarious. I can't get rid of the smile on my face ha ha ha ha ha fucking ha..
Jamie Crowley
115
Posted 22/02/2015 at 18:13:51
Dave - read the post and don't twist.
Nothing funny about our league position. Never said that.
What's fucking hilarious are the idio**... people on this site who have no concept of perspective and want the axe to fall on a young, progressive manager.
Terence Tipler
116
Posted 22/02/2015 at 18:10:46
we have got to forget about the European performances. WE ARE NOT GOING TO BE IN EUROPE NEXT SEASON. More chance we are going to be in the championship.

Jamie Crowley
117
Posted 22/02/2015 at 18:18:57
We have got to forget about the European performances.
Ummmmmm.....
Why? Thursday was a pretty good display. I prefer to remember it.
Ian Riley
118
Posted 22/02/2015 at 17:36:43
Mr Knightly, well said. Players have gone backwards this season. The style of play is boring and set plays are park level at best. The manager was given a five year contact in the summer, he is going no place soon. Sadly we can't blame players wishing to leave, we have gone from a team looking to compete for champions league places to staying out the championship.
The manager relegated wigan with his pure football ideologies. I thought it was the lack of quality in the wigan side but when I look at the quality we have, there can only be one person to blame. Sadly I don't see change coming soon, teams have worked us out and that is what worries me the most.
The manager is very lucky with villa in the bottom three has taken the heat from our appalling form. I like the manager but I love my club and fear of going down this year or next is very realistic prospect.
Ross Edwards
119
Posted 22/02/2015 at 18:16:59
A young progressive manager that has made horrendous tactical errors all season, nade bizarre substitutions, plays and blindly sticks to his favourites Howard and Barry despite them both being absolutely shocking all season above others in form, is a soft touch and hasn't come down on Lukaku and Mirallas for their comments, and lastly, led us to just 6 wins all season, with just 3 home wins with us taking just 2 points out of the team rock bottom of the league.
Yes Jamie, let's blindly support him and say that everything is fine and dandy.
Neil Pickering
120
Posted 22/02/2015 at 18:18:03
Sorry Jamie, but where is our manager progressing exactly? I see a tactically inflexible, stubborn bullShit merchant who the players don't respect or believe in.
So how is he progressive then exactly?
James Marshall
121
Posted 22/02/2015 at 18:20:35
Everyone needs to calm down again. It was a bit shit today but we won't go down because there are at least 3 teams shitter than us. I've said it before and I'll say it again.
We're effectively 7 points clear with our goal difference and thats a lot for the teams below to make up. It'll take a monumental collapse from us and a monumental improvement from the teams below for us to go down.
Never gonna happen. I'll take any bet on it.
Andy Crooks
122
Posted 22/02/2015 at 18:14:10
Jamie, # 113, do you seriously find Martinez 's performance, in every single aspect of his job this season , acceptable? Do you think that any other club of our stature would tolerate it? Do you think Liverpool would?
The lowest point so far has been the defeat at Southampton, the worst performance by a coach I have ever witnessed at any level. However, I fear he has more up his sleeve. His preparation, team selection, tactics, substitutions, motivation and media performance have for some time been utterly inept. He should have been sacked weeks ago but I fear we are stuck with him.
We have the best squad for some time but have , in my view, a rival for Walker as the worst to ever stink out Goodison Park.

Will Firstbrook
123
Posted 22/02/2015 at 17:59:15
Sigh! Really has been a diabolical season.
Not sure Bobby has the cajones to sit out a senior player. Contract terms or not, he seems to do everything in his power to avoid making that decision.
Howard should not even be considered for another minute of match time unless Robles falters. It is suicide to play him now as the uncertainty he presents has crept back into the psyche of the defense. They look much more confident when playing in front of Robles.
Barks just needs to sit for the time being. Bring him on as a sub but he should not be starting. Nais should to play in his natural central mid position. I don't really care who plays out wide as they are all kack, at present.
It was good to see Gibson show what he's always had in his locker. Although I would be cautious lining him up for any extended playing role as he will either be dropped when Barry returns or will blow his knee out getting on the team bus.
That brings me to Señor Brown Shoes - I am still not sure whether he has the ability (mental and tactical) to do the job. He really does seem more cut out for continental football. As we all know, to compete in the EPL you need to play with pace - from back to front. We have that ability in the squad yet he doesn't seem willing or able to adjust his tactics to leverage it. This, for me, is the most worrisome trait I see in him. Every manager adjusts his style and tactics based on the personnel he has at his disposal. EVERY successful manager has had to do this at some time in their career. Still trying to determine whether he is too stubborn or too inept to realize this.
Neil Pickering
124
Posted 22/02/2015 at 18:28:37
Hate to compare our manager to Brenda across the park but they went through a crisis early on but he then completely changed their team shape and tactics, and now look at them. Could u imagine Martinez doing that?
Jamie Crowley
125
Posted 22/02/2015 at 18:29:41
Andy -
No I don't find Roberto's performace in every aspect acceptable. In fact, I said he made an error by starting Howard back from injury and it bit us in the ass again.
There's been plenty of things this season where I've scratched my head.
I think there's a general overreaction to any game where we don't get 3 points. I think calling for Roberto's head on a spike is way, way over the top.
I believe Roberto will come good. I believe we are far more likely to right the ship and have a season like we did last year again. I believe this season has been very difficult for a myriad of reasons. Although it's been difficult I think Roberto is the right man at Everton and the man most likely to repeat his performance of 70+ points in a season.
Ross Edwards
126
Posted 22/02/2015 at 18:28:00
As for him being 'progressive' Jamie, explain? Other than Garbutt, have we seen any youngsters coming through and getting an opportunity this season other than v Krasnodar?
When you say 'progressive', I think of managers like Koeman and Pochettino who regularly give youngsters a chance.
He regularly sticks to his favourites and shows no sign of giving youngsters a go, that's not progressive. That's stagnant.
Ross Edwards
127
Posted 22/02/2015 at 18:34:18
James, we aren't going down but surely you must agree that this season and our decline in12 months from CL challengers to a relegation scrap is totally unacceptable.
Bill Gall
128
Posted 22/02/2015 at 18:26:30
James # 121
I am sorry but you seem to have the same attitude as a number of other people who seem happy because we will not be relegated because there are a number of teams below us who are worst than us .
Have a look at the table we are only 6 points better than the team in relegation and 32 points behind the top team with no chance of finishing in the top 6
.
We have been dragged down in a relegation battle with a manager with a premier winning record of I believe has been quoted as 28%.
Jay Harris
129
Posted 22/02/2015 at 18:02:58
Amateurish preseason preparations.
Bizarre totally unbalanced team selections.
Slow, boring tactics.
Lack of motivation for the players.
Conclusion - Something has to change.
The manager has to take responsibility and the chairman has to show some leadership and make the necessary changes.
Ian Glassey
130
Posted 22/02/2015 at 18:34:06
To day was very poor are goalkeeper is shite, are manager is shite and are 㿈mil stricker is shite end of.
Jamie Crowley
131
Posted 22/02/2015 at 18:34:56
I say "progressive" Ross because he's taken a team that was about as much fun to watch as watching paint dry under Moyes to a team that most of last year and in glimpses this year plays some stuff that is a joy to behold.
He's changing the ethos of Everton Football Club. He's trying to at any rate. He wants an attacking, possession-minded team. I for one applaud that. That's progressive when compared to TGT.
Re youth, I agree (Roberto's not the Pope...) he's handled Garbutt poorly. He should have started today and I'm afraid he's on his way out the door this summer and we will really regret it.
I take the good with the bad. I think Roberto and his approach will come good. It's going to take time. I'm willing to give him through the end of next year. And because I think if he succeeds we will be far, far better off for it... I'm giving him a ton of rope.
Mike Hughes
132
Posted 22/02/2015 at 18:27:43
Seriously, how bad are Leicester if they can only draw with us at GP? They are going down.
Which leaves 8 teams trying to avoid the remaining couple of places.
EFC too good to go? Not from what I see.
3 away games in March (Arsenal, Stoke and QPR) and home to NUFC. I reckon on current form we'll be going into April on 31 points maximum.
From then on, our easiest two fixtures on paper are at home to Sunderland and Burnley - and the latter are showing far more spirit than we are.
If we do survive (by the skin of our teeth), how much faith remains in RM to take us forward?
Jamie Crowley
133
Posted 22/02/2015 at 18:40:20
I wonder if Lukaku had converted more than one of his like 68 chances how different the tone would be here?
You know, the same player that had a hat trick on Thursday?
Terence Tipler
134
Posted 22/02/2015 at 18:34:39
We need to stop referring to Thursday's European performance, and smell the coffee. This club will not win anything in Europe with this manager or owner. We are heading in one direction only. Changes need to be made.
Colin Glassar
135
Posted 22/02/2015 at 18:40:37
I'm not trying to defend Martinez on this one but some of the players need to have a good look at themselves.
Howard = Pathetic. Coleman and Baines = useless first half, not much better second.
Besic and Macca = didn't work as expected, or hoped for.
Lukaku, Lennon = bloody useless.
Barkley = invisible.
Only Stones, Jags, Gibson and Naismith showed any desire in that game. Atsu is a waste of space as well. Roberto, get your act together or leave.
Sid Logan
136
Posted 22/02/2015 at 18:14:14
When teams play a high line Martinez opts for his patient game which means slow and slower with a build up that is aggravatingly frustating to watch.
I instinctively knew that the sort of success we saw on Thursday would enable a confident Martinez to immediately revert to his beloved possession football. This meant we effectively wasted the first half of this game.
We should have been pressing them hard from the start. The way we played in the second half should have been how we played from the kick off.
What decent team plays a patient game at home against the bottom team in the league? Answer – one Managed by Roberto Martinez.
Evertonians should be prepared for any success we can cobble together this season (or for that matter at any time in the future in the future) – by playing a more urgent direct attacking game – to be followed by a return to the Martinez brand of possession football (which has thrilled us for such a large part of this season) as swiftly as he was forced to abandon it.
Once any pressure is off him – he will go back to his deep rooted philosophy until eventually you achieve relegation. He is like a zealot who can knows it's only a matter of time before his beliefs are universally adopted.
Not only that I am pissed off walking home from Goodison Park in shite weather following a shire result!
Jay Harris
137
Posted 22/02/2015 at 18:37:43
Jamie
how you can support this bullshitter is beyond me.
His managerial record suggests he has no place in the Premier League so I don't know where you get the idea he is progressive unless you mean he progressively destroys clubs.
Name me one club he has managed where another manager has not done better and then try to convince yourself that he is "progressive".
Dave Lynch
138
Posted 22/02/2015 at 18:35:45
I wasn't trying to twist anything Jamie.
It's the managers fault were in this position no one else's, so yes, he should be held accountable.
I've just watch a young player called Ibe have a really good game for a certain team across the park, what are some posters on here advocating?
If Garbutt doesn't sign a contract probably well below what Ibe is earning then bin him. How the fuck are we supposed to improve if we sell our best young talent and let this charlatan of a manager play his over the hill favourites.
I rateGarbutt better than Ibe and at least Brenda has the balls to give the lad his chance.
Mike Hughes
139
Posted 22/02/2015 at 18:44:42
Jamie #133
I wonder if Lukaku had converted more than one of his like 68 chances how different the tone would be here?
But he didn't, did he!
I wonder how different the tone would be here if we won today?
But we didn't, did we! (Against the bottom side).
Ifs, buts and maybes don't win anything in case you haven't noticed.
Ross Edwards
140
Posted 22/02/2015 at 18:48:36
Next season is massive. It'll show us the true RM in my opinion. If it's like his 1st season then it'll prove that we were only panicking and he is the right man, but if it's like this season it'll set alarm bells ringing that he isn't good enough for this job.
Sam Hoare
141
Posted 22/02/2015 at 18:42:20
Jamie 131 'I say "progressive" Ross because he's taken a team that was about as much fun to watch as watching paint dry under Moyes to a team that most of last year and in glimpses this year plays some stuff that is a joy to behold.'
I'm sorry but that's rubbish. We were not that bad under Moyes, we played some decent football often lacking end product but we were certainly no duller than the pass-it-sidewaysathons we have seen this season. Our football this year in the league has been woeful and what's even more concerning is the longer Martinez stays the worse it seem to get. First half of last season was great, second half of last season was ok, first half of this season was poor and second half has been diabolical!
If that's the progression that you're after then I can only assume you're a fan of the Championship!
I was not sure about Martinez but remained open minded. I believe it takes time to build something special. Last season I began to think he could be the man; I began to believe. This season he has made some unforgivable decisions and we look far less than the sum of our parts. Unless we begin to play much better very soon then I will have to jump firmly aboard the Martinez out bandwagon, though realistically I suspect (unless he relegates us) he will definitely be given another shot.
Jamie Crowley
142
Posted 22/02/2015 at 18:50:20
Mike I'm clearly a lone tree in the wilderness, and I'm stuck in a fucking
It's a Wonderful Life
Christmas I've had so many candy and nuts...
I'm behind the man, what he's trying to do, and I think he'll turn this all around. Not as quickly as some would like, but he will.
Again, I'm giving him until the end of next year because I think he'll come good.
So you won't find me with the baying pitchfork crowd until that time comes.
And yes there's definitely room and cause for criticism as I've said.
Ta-ta
Mike Hughes
143
Posted 22/02/2015 at 18:53:46
Ross
Next season is massive. It'll show us the true RM in my opinion.
You mean in the Championship?

Ross Edwards
144
Posted 22/02/2015 at 18:55:02
I sincerely hope not Mike but next season will be the biggest judgement of his credentials.
Phil Walling
145
Posted 22/02/2015 at 18:42:02
Jamie Crowley, you have every right to continue to believe in Martinez's excellence as a manager but it is hardly an over-reaction on the part of those less enraptured than yourself to be not so impressed by the failure to take less than three points from no less than 20, yes TWENTY, of our 26 games this season. Surely?
Phil Walling
146
Posted 22/02/2015 at 18:57:59
Ross. If, as you suggest, next season will see 'the real Martinez', just who is this imposter we are stuck with now ?
Andrew Laird
147
Posted 22/02/2015 at 18:47:33
"I think there's a general overreaction to any game where we don't get 3 points."
So that is 20 games out of 26 this season then Jamie.
Ross Edwards
148
Posted 22/02/2015 at 19:05:33
Exactly Phil. That's my point. Is this an imposter or the real Martinez? Next season will judge him. If next season we're just as bad then it would certainly prove that this man is out of his depth.
Phil Walling
149
Posted 22/02/2015 at 19:08:03
Oh, Jamie, and can you tell us 'what he is trying to do' ?.' Cos it ain't working, whatever it is !
Tony Hill
150
Posted 22/02/2015 at 19:10:20
Mike (132), you are correct in my view to draw attention to our impending fixtures. We must not, especially after today, blithely assume that we are safe. Complacency could kill us. I think we'll just about be ok but we have to understand how tight it is for us.
Colin Glassar
151
Posted 22/02/2015 at 19:11:55
Roberto, you are making it increasingly hard for those of us who back you to continue to do so.
Why oh why do you continue to play Flapper Howard when Robles was starting to play well? Why put Baines back in when Garbutt has never let you down? Why listen to the uninformed and play Besic and McCarthy together when neither have the nouse or experience to open up a 10 man defence? Why not give Kone at least a few minutes when it was obvious that Lukaku wouldn't even score a tap in? Why didn't you drag off Ross after 30 minutes when it was obvious the lad was having a howler? Why bring on Atsu when it's obvious that apart from quick feet he offers very little in terms of creativity?
This is just not good enough Roberto and you know it.

Andy Walker
152
Posted 22/02/2015 at 19:14:54
I don't like Lukakuu, I think his repeated mistakes of being offside, poor finishing, poor control, laziness, standing waiting for the ball to come to him are not good enough. However when you add this to a completely unjustifiable arrogance on his part it gets even worse. But then again which idiot keeps picking him to start, yep another arrogant waste of space.
Phil Walling
153
Posted 22/02/2015 at 19:16:45
My son in law, who is a Villa man just rang me to say, 'Martinez has the scent of Lambert about him. He actually said he was delighted with some aspects of today's game !'
Remind me what happened to Lambert.
Ross Edwards
154
Posted 22/02/2015 at 19:21:29
Here's a stat I just saw on Twitter. This season, Roberto has led us to just 6 league wins in 26. In 01/02 under Walter Smith at the same stage, we had won 7,
We actually have a worse record this season than under Smith in his last season.
That's terrifying.
Mike Hughes
155
Posted 22/02/2015 at 19:17:14
Tony #150 - I think complacency that we are too good to go down is something only afflicting a portion of the fan base. Sadly, I don't think the team suffers from complacency. In my opinion, the team / squad suffers from incompetent set-up, preparation, team selection, strategy, tactics and other issues that are less easy to address than complacency. The numbers / stats tell their own sorry story. Phenomenal it ain't.
Andy Walker
156
Posted 22/02/2015 at 19:24:46
Yep Ross and Smith never had the money to spend that Martinez has.
Ross Edwards
157
Posted 22/02/2015 at 19:34:48
Indeed Andy. And we only stayed up in that season because he was sacked and Moyes saved us. Does BK have the balls to act if results get even worse?
Amit Vithlani
158
Posted 22/02/2015 at 19:27:45
Any confidence garnered from the mid week evaporated after 25 mins when it became apparent we had no plan to break down the oppo.
Its back to square zero as defensively the lack of organisation will probably mean the side will become very cagey in the next few games. It will mean more tight games and a reduced attacking threat.

Jamie Crowley
159
Posted 22/02/2015 at 19:28:24
Phil I think it's an overreaction coming off the performance from Thursday.
But we're supposed to forget about Thursday... I forgot...
Brent Stephens
160
Posted 22/02/2015 at 19:18:10
The space out on the left was massive, most of the game; with Barks and Nais in the middle so much; and then Atsu more right than left alongside Lennon. What was all that about? What was the tactical ploy in the wide open spaces down the left, that were hardly used? Why Atus pretty much alongside Lennon? I really am mystified! Can anybody explain those tactics to me?
Sid Logan
161
Posted 22/02/2015 at 19:14:31
Ross, the real Martinez was forced to play a more direct game by (probably) the players because our situation had become somewhat desperate.
What we witnessed to day in the first half was a return to the pedantic so called 'patient' football that he loves. The problem is it's us, the fans, who have to be patient - endlessly so when watching this invariably unproductive attempt to create an opening.
Martinez' problem is for many of us a fairly simple one to diagnose. He is apparently irreversibly tied in to a brand of football which, with our players, produces a slow, pendantic and over-deliberate build of our attacking moves. Whether that is because of the players we have I'm nor certain.
The bottom line is I don't care. I don't want to watch it. I and I think many Evertononians prefer fast direct attacking football on top of a solid defence. Now it would be stupid to thinks that's what we'll get for most of the time. But if I've got a choice between a manager who wants to aim for a more direct style as against the dream that Marinez has - I'll take the former anytime.
Martinez looks like someone whose locked in the past. He's more Barcelona (without the players) than Bayern Munich - or for that matter Real Madrid.
His romantic vision fits in well with our Chairman whose vision of the future lies completely in the past. The clock stopped on our Goodison timeline some years ago.
Whatever happens in the future I simply want us to get a manager with a proven track record from wherever that may be. But I don't want Marrinez.

Henrik Lyngsie
162
Posted 22/02/2015 at 19:30:22
Colin 135. Normally I agree with most you are saying. But to me the Macca - Besic partnership worked exactly as expected. They are two hardworking defensive midfielders. None of them got much creativity, they can't time a forward pass and they have very little shooting ability. I rate them both highly but at home against the bottom side you don't need two defensive specialists in midfield. That you can do away against Arsenal.
I argued before the match we should play Macca and Barkley as the defensive partnership. But Barkley really looks like he is struggling and if Gibson is as fit as he looked today he would have been a better choice.
It is really frustrating to see how slow the ball is moving in our passing game. Jags passes must be way slower than my U 11 teams passing. And Macca and Besic is much the same. Gibson seems to have a completely different passing range. ( as I think Barry had last season). It must be so easy to defend when we pass around like we did in first half.
Phil Walling
163
Posted 22/02/2015 at 19:38:48
Ross, Martinez needs THREE more wins to even equal the lowest number of victories Everton have registered since league football began in 1888 !
What's the betting ?
Sid Logan
164
Posted 22/02/2015 at 19:44:25
Or for that matter Martinez - I think they're both crap,
Paul Dark
165
Posted 22/02/2015 at 19:54:15
I think Howard should be dropped for a game or two at least. He's always been so stuck to his line, and he puts so much pressure on the defenders.
For all his limitations, Naismith did well, not least of all in scoring, but we are so one-dimensional, lacking craft.
It is scandalous that Atsu has been kept on the bench for so long while McGeady has been allowed to ruin our season. Atsu didn't have a great game today, but he's been given no chance, and he clearly is very able.
The team is like Martinez: predictable, soft and lacking substance. For all his offensive bluster, Martinez is quite defensive-minded. We play deep, slow and end up with a wall in front of us time and again.
I don't know him personally, but I sense from what I see and hear from him that RM isn't an intelligent manager, however suave a wordsmith he is in front of the cameras. He rarely, if ever, outwits any counterpart.
Dave Abrahams
166
Posted 22/02/2015 at 19:37:53
After about five minutes of the game, we all sensed that Martinez had reverted back to his slow tempo game and you feel and smell the tension in the crowd, this transfers itself to the players and most of them were then terrified of trying to do anything special or different even.
Martinez tried to change the tempo of the game and succeeded to a degree but was let down by someone who fails to do what most of us know he will do.
Not good enough and if Soft Lad plays again the same pattern will appear with him.
Joe Foster
168
Posted 22/02/2015 at 20:23:08
We will have RM untill the end of the season and then there will be a clear out goodbye Martinez
Brian Denton
169
Posted 22/02/2015 at 20:32:22
Oh dear - as I was watching, I thought "The ToffeeWeb Forum will be going *&@ing mental". I also imagined Phil Walling at home, stroking his cat and purring to himself.
We were dire, but at least Lukaku showed why he's too good for us....ahem. Gibson showed a few good touches, and can at least make a pass. Coleman (and Baines) looked as though their hearts weren't in it.
Leicester fans were good though. All their songs seemed to be based on seventies hits - these are my kind of people! Even had one based on Pilot's Magic, which took me back to my GCEs. Everton were crap then too.
Si Mar
170
Posted 22/02/2015 at 20:40:58
That stat about our lowest total of league wins is a bit scary, Im gutted about this season as last was so promising, I still think we lost big games at crucial times though but how can essentially the same teams fall to such lows?!!
I hope in 2 years time this season will be long forgotten as was Moyes 2nd full season (2003/04) which is on a par with this. I want Roberto to succeed but Ive a feeling he won't be in this job at Christmas!!
Fucking heartbreaking, 4 wins out of 7 in Europe and only 6 in the Prem!
Colin Glassar
171
Posted 22/02/2015 at 20:40:15
Henryk, if you read my post #151 I think I might've explained myself better. I wasn't convinced about playing Besic and Macca together as neither are creative players. I'd have preferred one of them with Barkley in CM.
Clive Rogers
172
Posted 22/02/2015 at 20:24:00
Apart from Lukaku, on his day, Martinez has packed the team with players who don't score goals. In that respect, Lennon is not what we needed. It has registered with teams that Luke is our only real goal threat. Watch him closely and you're nearly there. Lennon is an old fashioned winger who does not fit our style of play who certainly won't chip in with goals and probably not assists either.
David Graves
173
Posted 22/02/2015 at 21:06:33
Brian they were good weren't they. Had to chuckle at "We're winning away - how shit are you?"
Jim Knightley
174
Posted 22/02/2015 at 22:32:32
I can't agree that Martinez is progressive..I think he is naive. As I stated in my last post, I have numerous problems with him this year. But my biggest concern is this: Why is he trying to implement a style of playing which does not suit the players? And if he wants to implement this style, why didn't he bring in different players?
I'd love an answer from Jamie in response to this point?
We looked much better today when Gibson came on, because he can pick a pass. We would be able to play this style far more effectively if we had passing midfielders - but we don't. Barkley is not creative, or a passer. Mirallas? No. Naismith? No. McGeady, who was brought in by Martinez? No. Atsu, who was brought in by Martinez? No. Lennon? No.
This is what I cannot fathom, and why I think Martinez must go. There is an irreconcilable conflict between the style he is imposing, and the players onto whom he is imposing the style. I do not think we will go down, and I think we may well do well in the Europa League because teams will come onto us in a way in which they do not in the Premier League. But, I cannot support a manager who is acting in such an unintelligible way. Does anyone disagree that Martinez is playing a short passing game? Does anyone disagree with my assessment of our players? Is no one else wondering why he did not invest in a creative midfield passer, rather than one dimensional wingers, who hold the ball, in general, for far too long? We cannot be successful playing this short passing game with this team. We could be successful if we kept the ball on the ground, but were quicker and more direct, but we are not. I know that the players are low, and when confidence is low players pick the easy pass, but the problems are deeper than that. Intriguingly, we were alot more dangerous when Gibson came on today, and when we were desperate and went direct. It reminded me, in part, of the West Ham match when we went alot more direct after going down to 10 men. Gibson the passer helped us, but so did the need to score, and the need to move the ball quicker and more directly.
That's why Martinez has lost me: Because I cannot understand him. Every team goes through bad periods, and sometimes there are freak seasons. Borussia Dortmund have demonstrated that with an almighty collapse from a far higher height than ours. But, I do not see this team ever reaching its potential under Martinez, because he refuses to play to their strengths. I also do not believe that Barkley will get anywhere near to achieving his potential in this set up. I never joined the Barkley bandwagon, and I thought he was over-hyped to be honest, but his current performances are horrible to behold. He is playing with fear, without confidence, and without spirit. The same confidence which has disappeared from Lukaku's game. The same Lukaku, who if confident, could have added a hat-trick to his assist today. The same Lukaku who scored 17 and 15 Premier League goals in successive seasons as a 19/20 and 20/21 year old.
I think managers should always get time, because chairmen are too quick to pull the trigger. But this side has been poor since the end of last season, and I fear that our club could suffer serious damage with Martinez at the helm. I do believe we could have a better season next year with him, free from Europa League football, and after he has theoretically added the creative midfield presence we desperately need. I also think that confidence would change the way this team is playing to an extent. But a future with Martinez would be a limited future. Tags of 'progression' related to an imagined conception about his Spanish style of exciting football, which has consistently failed to materialise on the pitch over the last 10months. He had a great season last year, but did so after adding very good players to a fantastic Moyes foundation (Especially our defense). I'd love him to succeed but I do not think for a moment that he will, both in my heart, and more importantly, in my head.
Personally, I'd get rid in the summer, unless our flirtation with relegation gets more serious.
I also expect that Robles will come in on Thursday, because the tie is ours, but Howard will come back on Sunday. I'd love Martinez to prove me wrong, but I fear that he won't, because he his 'progressive' positivism conceals a stubborn centre.
Paul Dark
175
Posted 22/02/2015 at 23:07:42
Jim, 174 - a very good post and a very grim prognosis.
Jay Wood
176
Posted 22/02/2015 at 22:59:18
James Crowley @ 159
" I think it's an overreaction coming off the performance from Thursday.
But we're supposed to forget about Thursday... I forgot... "
Or maybe it's a continued frustration and exasperation that, since we beat Wolfsburg in Germany in the EL at the end of November - 3 months ago, we have played 14 league games (more than a third of the season).
Our league form in those 14 games reads:
W 2, D 5, L 7 F 11 A 17 Pts 11 (out of a possible 42).
Or ... maybe I forgot ... we are meant to forget about our league results and only concern ourselves with the EL results under the visionary 'progressive' Roberto...?
Jamie Crowley
177
Posted 22/02/2015 at 23:12:20
Jim -
I agree with you that it's infuriating that Roberto seems to prefer his system of possession football when it often appears he doesn't have the horses he needs to run the race.
Here's the thing Jim, and definitely call me naive and a dreamer!
I want us to try to play that way. I want us to try and become THE footballing side on a shoe string budget and be the envy of everyone.
Yes man, no question! At present it's frustrating as hell!
Maybe it's that I'm hanging on to last season far too much.
But... I want Roberto to stay the course through this. I want to go through hell to get to heaven. And because of that...
I'm not going to berate Roberto for his errors currently. I'm going to ride out the rough patch. I'm going to back the man.
Because I firmly, FIRMLY, believe that the pot of gold is on the other side of the rainbow.
And I'm prepared to allow this man who I believe, despite his faults, has a good footballing brain and tries to play the game the right way, THREE full years to get this right.
It's my contention, my desire, and my belief he'll get it right and we'll enjoy the fruits of Roberto's labor and the current "Troubles" will be squarely in the rear view mirror for years to come.
You may say, I'm a dreamer, and I'm probably the only one. I hope some day, I'm spot on and you'll join me, and Evertonians will live and rejoice as one...
Apologies to one Mr. Lennon.
You have, and everyone "in your camp" has, valid points that currently are much closer to reality than mine. I'm living for the future because I believe it's the best thing for Everton. I might be wrong... often am. Time will tell.
Bob Skelton
178
Posted 22/02/2015 at 23:10:54
Jim, agree with all of your comments. The manager has continually bought round pegs for square holes. His system is not facilitated by the people he has brought in. You are right. Who is a natural passer in the current team?
Jagielka?? He has most of the ball. Last season was built on surprise and Moyes disciplined defence.
We have been sussed now. Long may it NOT continue, RM even spent all of our brass on a centre forward whose inability to hold up the ball and bring the other square pegs into play has to be seen to be believed. He had 12 months to see this. Mourhinho is no fool.
I await the guys departure. Though I'm not holding my breathe.
Paul Smith
179
Posted 22/02/2015 at 23:00:55
His going back to basics and grinding out the clean sheets was a step in the right direction for me. Then Young Boys happened and he got carried away and reverted back to his theoretical El Niño tippa takka framework.
It doesn't, hasn't and won't work with these players.
At times today we were playing 6 at the back, big hole in midfield, then a pick & mix up top.
Gibbo illustrated the problem perfectly, we need a ball playing midfielder with half a brain. I believe Barry played this role quite well last year but has been dog shit since and I'm not blaming RM for once.
We're not too good to go down. Ourselves and Villa have been creeping towards the abyss for years and now we're staring at it.
I'll be at The Emirates on Sunday cheering the lads on, I hope for something better then today.
Jay Wood
180
Posted 22/02/2015 at 23:31:41
Jamie @ 177
"I agree with you that it's infuriating that Roberto seems to prefer his system of possession football when it often appears he doesn't have the horses he needs to run the race."
You can't have it both ways, Jamie ... It's basically the same squad as last year that had many more than just yourself dreaming that Everton could be "THE footballing side on a shoe string budget and be the envy of everyone."
And that's the frustration, the disappointment for many. He hasn't progressed the side and players, as you try to imply Jamie. Rather, he has regressed both the team and individual players.
For such a well-known student of the game, this season he has shown no variation in his game plan when confronted by sides who nullify last season's successful strategy.
Even the innovative, timely and match changing substitutions and tweaking of in game strategies of last season are a distant memory. I struggle to recall a single substitution this season which telling changed the destiny of the game.
Jim Knightley
181
Posted 23/02/2015 at 01:27:41
Jamie, I don't have a problem with the style on a theoretical level - but I have a problem because Martinez has brought players which do not suit the style. If Martinez wants to play a possession based game, then that is fair enough, and the approach has been demonstrably successful, even if I believe a mixed approach is the most fruitful. But, why not spend the money on a clever striker who makes space for those behind him? Why not invest money in a deep lying playmaker and a creative wide player? Instead we have signed Lennon, Atsu, McGeady, Lukaku, Barry, Besic, Kone... do any of these signings really suit the style? I'm not saying these are bad signings, and against the grain of many on here, I think that Lukaku will be a 20 goal a season striker when he plays in a system which suits him. But they are the wrong players. If I saw this as a transition, I would dream with you. But we can't be in transition when Martinez keeps buying players more suited to the Moyes era than his own.
And Bob, unfortunately I think Pienaar, Osman and Gibson are the best passers in the squad, along with Baines perhaps. That is the real problem: Pienaar and Osman are suited for the style, and both are passed their best, and both have been unfit this season.
I'm dreading this summer, not just because of where we might finish, and the significant financial implications of a lower placed finish, but because of who we might lose. Whilst some would celebrate his departure on here, I could see Lukaku leaving, and then really impressing elsewhere when his confidence returns, and he is playing in a team with tactics better suited to his style. If United or Chelsea come in for Stones or Coleman, after we have finished 12th, will we have any chance of keeping them? I think some on here might look at this as a freak season; as a one off perform storm of failure, before we resume the standard fight for European places next season. I hope that's the case, but I fear that the aftershock from this season could resound for sometime. It's all the more frustrating because I think that we are better than all but 5 teams in this league, and should be able to give anyone a game on our day.
Thank fuck for the Europa League, for being the light within the shirt storm. That's all we have to distract us from a battle to get numerically safe, and Jamie, that's where I'll be directing my capacity to dream.
Peter Gorman
182
Posted 23/02/2015 at 01:39:41
Jamie you might not be the only dreamer but the number is fast dwindling. I can't understand what you see in the man or his methods as this is the worst football I've seen for many years. It is a total myth you are peddling that Moyes made Everton play dull football. I was also going to bite at the sheer absurdity of you clinging to our performance on Thursday whilst ignoring the pathetic results and performances we've seen in the league but Jay beat me to it. As for Lukaku, only a dreamer like you could imagine his hatrick could make up for game after game of spooning the ball anywhere but the net.
And Ross, the very idea that we should judge Martinez on next season fills me with utter dread. Surely there can't be a next season. Surely.
Jamie Crowley
183
Posted 23/02/2015 at 02:04:23
Jim -
Firstly I think you're on "your" side of the Atlantic in Blighty so go to bed man! ;0)
A few things -
I'm with you on the focusing on Europa. It's all we have. But... I believe (I've started way too many sentences with those two words today) Martinez came into the season wanting to hit a home run and he prioritized Europa over the domestic campaign. I think the man wants to come true on his promise of CL football and he sees a way in through this competition.
Re the players and the system... I take your point. We agree on one thing for sure. You speak of Rom leaving and Stones as well. They are both excellent young players. Next year, yes year three - the year I keep carping on about as we should give Roberto three years - is absolutely massive. If we don't do something extraordinarily meaningful next year the best young players are off, and we're back to square one. If at that time post year three we just miss out on 4th place and pull in 70+ points, I'll say keep Roberto. If we end up 10th with no European Football and two other quick cup exits...
I'll say Jim Knightley was right. He's English and the game is in his blood. He knows the game and I should have listened.
I pray for both of us that I can say, "listen to the American! I see things you can't from a fresh perspective! Now who's the "soccer" expert friend?"
Re the players for the system... I have such a lengthy response I can't begin to go into it. Another time. I agree and disagree with your premise. Some players fit well (including Rom believe it or not), some don't. Some were "carryovers" from Wigan.
One thing I'll say is the page needs to turn this summer. We don't have the moola to make a complete page turn, but 4 dead weights minimally need to leave and 4 new players that fit Roberto's mold need to come in.
Jamie Crowley
184
Posted 23/02/2015 at 02:20:18
Peter -
I don't think it's absurd to cling to the performance on Thursday.
I actually thought (?) I posted in the pregame thread that I feared the Thursday hangover. Whether I posted that or not... I thought I did... the hangover is certifiably real.
The domestic campaign is shit. Plain and simple we're deep enough into the season to realize it as such.
Insofar as saying it's enough to oust Roberto which was and is my overriding point?
No. Not for me. No way.
I want to give Roberto more time.
Again, and I realize I may be a lone voice... I think the best thing for Everton Football Club is to allow Roberto to continue implementing his vision.
David Barks
185
Posted 23/02/2015 at 03:20:54
Would the piss poor preseason and season that Roberto has put together at Everton be acceptable at Manchester United, City, Chelsea, Arsenal, Spurs or the shite? The answer to anyone being honest is absolutely not. So it should absolutely not be acceptable at Everton. Martinez has repeatedly failed this season, even before the season started. He should not get a third year. He hasn't been unlucky, he's been incompetent, and continues to be so. That is not acceptable at a club like Everton.
James Marshall
189
Posted 23/02/2015 at 06:30:33
I agree it's it good enough, all I'm saying is people are going nuts about us getting relegated and that's simply not going to happen.
Of course we should be doing better and of course Martinez has been at fault many times for his constant changing the starting line-up, and weird subs (or none at Southampton) so has to take some blame for the lack of results.
I'm still in the keep him camp though (for now) as I don't see how changing manager would help us at this stage. I'm also not losing my shit about us being relegated, nor am I one for laying into players or managers when things don't go well. It's support they need, not blame and pressure. We're supposed to be on the same side but everyone on here just argues half the time and I find it pointless.
Voicing our opinions is one thing, slagging off and abusing our own players and manager is counter productive. I've never seen such a terrible atmosphere at Goodison as I have this season and we're really not helping the team at times.
Chris Gould
190
Posted 23/02/2015 at 07:25:47
Jamie Crowley 184 - I couldn't disagree more. Allowing RM to fully implement his vision will relegate us. The fact that he hasn't fully implemented it yet is what keeps us hovering above the relegation zone.
He had a good two thirds of last season. Since then it's got worse and worse. The more he implements his system the worse we get.
I don't know what you see that I don't.
It's very clear that his system doesn't work in the premier league. It seems to have more success in Europe. But as soon as these teams study us - we'll be out. Likewise if we come up against Spurs or Liverpool, who will consider us a favourable draw. Not even Leicester fear us at Goodison. They came expecting a result. Fucking Leicester!!!
James Marshall
191
Posted 23/02/2015 at 08:15:11
Chris Gould - Leicester have been playing well and been very competitive of late. They were very unlucky not to get a result at Arsenal last week as well so I'm not sure we should be thinking about rolling teams over. Leicester are a very well organised, if workmanlike team.
Chelsea had a tough game against Burnley at the weekend and drew at home, albeit with 10 men for the last 20 minutes. There are no easy games in the Premier League and we have no divine right to win against anyone, home or away.
We will stay up, I just wish Martinez would stop fucking about with the lineup and making odd subs at odd times. WTF he was doing taking Barkley and Besic off after 55 minutes last night is beyond me.
Andrew Clare
192
Posted 23/02/2015 at 08:03:01
It looks as if we will finish the season low down the table and have a good run in the Europa.
Which is just not good enough.
I think that then Martinez should be released.
I still find it hard to understand the Europa hangover.If a team has a successful season they will be playing many high pressure games at this time of the season. Can't we cope?
I suppose what has disappointed most fans this season is the pedestrian play. For me it has been Barkley's form and Lukaku's ineptitude for a player costing so much. Also Martinez's and the club's failure to sign a creative midfielder, the playing of Barry and Howard when both are below par. I could go on. It's obvious that there is a problem and it seems to be getting worse.
In my dreams I am hoping we win the Europa, finish mid table and sign two or three brilliant players in the summer but alas I have been dreaming for a long time now.
Joe Foster
193
Posted 23/02/2015 at 08:22:04
Ooohh terrible times ...don't scare the players they might get upset...they all need a hug and a nice cup of cocoa....man they need to get a grip before it gets worse and someone runs onto pitch to remonstrate
James Marshall
194
Posted 23/02/2015 at 08:30:38
Joe - you think that'll help? Turning on our own players? Strange attitude if you do.
Andrew Ellams
195
Posted 23/02/2015 at 08:35:45
James, I for one don't put the blame for this season on the shoulders of the players. BUT, if they continue to turn in these lacklustre performances like yesterday, whatever the reason then they need to be man enough to take the stick that they get from the crowd.
James Marshall
196
Posted 23/02/2015 at 08:52:00
Andrew - I think the manager made substitutions of the wrong players at the wrong time last night. Leicester are a hard battling team, working hard for each other and he took off the combative Besic, and even Ross was getting stuck in tackling and working hard when he was taken off - he brings on Gibson and Atsu who don't tackle at all, which to my mind was his biggest mistake and two subs made for no apparent reason.
With that in mind, I don't blame the players who went off, or those who came on, but the manager for making a completely pointless and senseless change in the circumstances.
The game changed from there on, and not for the better. Weird thinking from RM.
Ross Edwards
197
Posted 23/02/2015 at 09:03:47
Peter, if we stay up and get a good run in the Europa League, he will get another season. I reckon he'll only get the push if we either, go down, results get worse, or a manager like De Boer or Bilic becomes available.
Yes, they're both unlikely but they are the calibre we should be looking at for future managers.
Tony Hill
198
Posted 23/02/2015 at 09:09:31
Yesterday was an awful game between two sides at the bottom of the table. We were saved by a late own goal from defeat by the bottom club. Next up Arsenal away. I do not accept that we are out of danger and I hope, far more importantly, that the manager and team don't think so either.
Dave Lynch
199
Posted 23/02/2015 at 08:59:54
James.
Did you not notice Leicester start to sit deeper when Gibson came on?
Tackling or not, he is one of the few players we have who can pass a ball forward with any degree of accuracy.
Until he came on we where knocking it from side to side and the foxes where very comfortable in dealing with that. Gibson was always looking for the through ball and was far more effective than any other player who played the full 90.
I'd of given him MOM in fact.
Brent Stephens
200
Posted 23/02/2015 at 09:36:47
Jim #174 (a long piece, Jim, keep 'em shorter, mate!) such a valid point, IMO when you say "We looked much better today when Gibson came on, because he can pick a pass." I'm a Besic fan but the fast, accurate passing increased with that change.
and "We would be able to play this style far more effectively if we had passing midfielders - but we don't. Barkley is not creative [nor Mirallas, Nais, McGeady, Atsu, Lennon].... There is an irreconcilable conflict between the style he is imposing, and the players onto whom he is imposing the style." Well said.
James Marshall
201
Posted 23/02/2015 at 09:45:22
It's a funny old game, Dave!
Dave Abrahams
204
Posted 23/02/2015 at 14:45:29
James Marshall you keep saying we will not go down, why are you so sure of this, apart from the obvious, there are three worse teams than us?.
I have different opinions to you over Howard and Gibson, but that is all it is, different points of view, but over the relegation issue I would really like to know why you are so sure.
Peter Gorman
205
Posted 23/02/2015 at 14:54:02
Jamie, I think you are being far too charitable to Martinez. I wish I could believe in him but this shambles of a season is happening on his watch. The thing is, it isn't just the results. The keep-ball nonsense is not entertaining and I can't see it ever being successful in the league (though perhaps we shouldn't be surprised at the relative success in Europe). I've not called the man a charlatan, as many have, but he must be held to account for what is happening.
I would have sworn blind that Lambert was a massively talented manager after his feats at Norwich but he just didn't cut it at Villa and had to go. I really want Martinez to go because I have no faith he will change things. The drivel he spouts, the weakness of his leadership and the rest are just nails in the coffin. He is simply not good enough for our club.
I really hope you and Ross are wrong about this, though it would be just like us to keep him on next season. On the plus side, there won't be a major international tournament to distract him from his day job.
Ross Edwards
206
Posted 23/02/2015 at 15:08:41
I think if a manager becomes available that is good enough for this club in the summer, we consider a change. If not, we give him next season.
Ross Edwards
207
Posted 23/02/2015 at 15:11:24
Dave, I don't think we'll go down, but I do believe it'll be very close and could go down to the last 2 or 3 games. But it would be stupid to think that any team in the bottom half is immune to a relegation battle.
Dave Abrahams
208
Posted 23/02/2015 at 15:20:54
Ross I agree with that, I hope we stay up,it is horrible we are in this position and like a lot on here I want the season to be over with us still in the Premiership.
Ross Edwards
209
Posted 23/02/2015 at 15:26:32
Let's hope when this is over Dave we'll have comfortably survived. Relegation for this club would be a disaster and under this board an immediate return would be unlikely.
It's disgraceful that we should even be discussing relegation. The decline from last season is unacceptable.
Bill Gall
210
Posted 23/02/2015 at 18:31:25
Funny thing people noticing the difference Gibson made when he came on as most of us have been clamoring for a quality midfielder to be brought in ever since Arteta was sold.
You would think that someone at Everton would have noticed the difference this position makes and spent money on a younger less prone to injury type midfielder than Gibson, and then as supporters , we will believe that some of us do now something about the game.
Len Hawkins
211
Posted 23/02/2015 at 18:40:24
I think the BBC North West News put into perspective the expectation as far as Everton are concerned when giving the result last night they said something like "Leicester were held at Everton" as though they were expected to win.
I don't think the dark days of getting a result against Wimbledon felt as bad as the despair being shown at the moment.
You just don't have any confidence going into a game that Everton can do well. And I honestly think (I hope I'm wrong) that Arsenal will have a field day.
---
Add Your Comments
In order to post a comment, you need to be logged in as a registered user of the site.
Or Sign up as a ToffeeWeb Member — it's free, takes just a few minutes and will allow you to post your comments on articles and Talking Points submissions across the site.
© ToffeeWeb