Manchester City vs Everton
Match Preview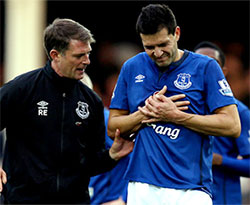 Antolin Alcaraz is fit for inclusion in the squad after recovering from a shoulder injury

Everton get an opportunity to re-establish their top-four credentials when they make the short trip to Manchester this weekend hoping to atone for two poor results over the past week that hit both the team's European qualification hopes and fan morale.

The Blues have lost just once in their last 10 games but have registered only three wins in their last seven Premier League games and failed to retain vital leads at White Hart Lane last Sunday and at home against Hull on Wednesday. After a rocky start to the Premier League campaign, Everton are still not near the kind of form that will carry them into the Champions League via the top four this season, leaving Roberto Martinez under what is arguably the greatest pressure he has felt in his tenure at Goodison Park so far to get his team performing.

A trip to the home of the reignin Champions, Manchester City, is not the kind of fixture you'd want under those circumstances, particularly as Manuel Pellegrini's men seem to have shaken off some patchy form of their own. Since picking up just one win six in all competitions between mid-October and mid-November, the Citizens have won four straight, including a remarkable turn-around against Bayern Munich in the Champions League where they won 3-2 to keep their hopes of qualification to the knockout round alive.

At the heart of their revival has been the scintiliating form of Sergio Aguero who has five goals in those last four games and already has 19 to his credit in all competitions this season. With Luis Suarez having deserted Anfield, the Argentine is unquestionably the Premier League's most dangerous striker and shackling him and shutting down the supply lines should be Everton's primary goal this weekend.

Martinez's best man for that particular job, James McCarthy, is highly unlikely to be available, though. The Irishman is continuing his rehabilitation from a recurrent hamstring problem and will sit out a third successive game but he has been deputised ably by Muhamed Besic who, while not as tenacious as McCarthy, has been demonstrating just why his manager made him a top transfer target over the summer. The Bosnian is visibly warming to life in the Premier League and was one of the few bright spots in the frustrating midweek draw against Hull.

He will partner Gareth Barry again, with the veteran midfielder now able to play against his old club after being ineligible to face them last season while he was on loan from the Etihad Stadium. Barry made an unexpectedly quick recovery from an ankle injury to return against Tottenham and also came through 90 minutes on Wednesday, albeit with some lingering rustiness.

Martinez has been further boosted by another early return to training in the form of Antolin Alcaraz. The Paraguayan was forced off with the injury half an hour into last month's draw at Swansea City but, after initial fears that he may need surgery were allayed, he returned to training a week ahead of schedule. He could come in to replace Sylvain Distin who, 10 days short of his 37th birthday, may find a fourth game in 9 days too much to handle.

While Alcaraz will boost the numbers available to Roberto Martinez, the manager told the media at his pre-match press conference that he will almost certainly be without Steven Naismith and Darron Gibson. Gibson suffered a setback on his return from a long-term knee injury playing for the Republic of Ireland in the middle of November and has had to face more time on the sidelines while Naismith is nursing a hamstring strain.

Steven Pienaar has been declared fully fit by Martinez, however. The South African made a disappointingly ineffective cameo as a substitute against Hull, something that has, unfortunately, been a theme for him for much of 2014 due to a succession of minor injuries that have prevented him from establishing any kind of rhythm. On his day, he could provide much of the creativity that has been lacking from the Blues' League performances of late, particularly if he can rediscover some of that magical understanding with Leighton Baines down the left flank.

Given how successful Everton have been in the Europa League this season where the likes of Kevin Mirallas and Romelu Lukaku have reveled in greater space than against more entrenched English defences, they may find the Etihad Stadium more accommodating for their expansive passing game. If Martinez can rouse his players out of any depression following two poor results and get his team humming again as an attacking force, they could cause City problems, particularly if the shaky Eliaquim Mangala plays, even alongside Vincent Kompany who is doubtful with a hamstring injury.

The likes of Stoke and CSKA Moscow, who have beaten Pellegrini's side on their turf this season, and QPR, who held them to a 2-2 draw at Loftus Road, have shown that City can be vulnerable when teams have a go at them. Obviously keeping the back door closed to threats like Aguero, Jesus Navas and Silva Yaya Touré will be paramount so balancing defence and attack will be key to Everton's chances.

Evertonians go into this match at a low ebb, though, struck by an a dreaded feeling of deja vu at what appears at the moment to be another false dawn. It not be that way but the manager certainly faces a big task now if another tilt at the top four is going to materialise. Score a surprise victory in this one and the Hull display would be more readily forgotten but a creditable draw would be a good start with another should-win game looming when QPR come to Goodison on Monday week.

Kick off: 5.30pm
Referee: Andre Marriner

Full coverage: ToffeeWeb Match Reports



Reader Comments (101)
Note: the following content is not moderated or vetted by the site owners at the time of submission. Comments are the responsibility of the poster. Disclaimer
Paul Harnett
1
Posted 05/12/2014 at 19:25:26
Thought Mangala was red carded?

John Voigt
2
Posted 05/12/2014 at 19:26:00
Barry should be up for this game.
Hope the team selection includes Eto'o in the starting lineup (he didn't feature at all in the last game).
We've got to figure Man City will score, so it's up to the Blues to play on the front foot and score too.
Paul Hewitt
3
Posted 05/12/2014 at 19:57:57
I'm having nightmares about this game already.
Nick Entwistle
4
Posted 05/12/2014 at 19:59:36
Amazing at what a loss and a draw does to people. This is a match where I can do without RM's philosophy and see some balls out Tiny Tim and Stracqualursi heroics. But this is, as much as football allows, a nailed-on loss so a point would be fine by me.
Timothy Sebastian
5
Posted 05/12/2014 at 20:00:57
Good lord, we're facing one of the most mobile sides in Europe with pacey players like Aguero and Navas, and we're thinking of bringing in Alcaraz for this game?
Together with Barry, Jaglieka, Osman and Hibbert, we probably have some of the slowest moving players in the league. Is it any wonder we keep moving the ball sideways and back. None of them would be able to catch up to a forward through ball.
I'm hoping for the best tomorrow, but something tells me that we're in for a hiding.
Colin Glassar
6
Posted 05/12/2014 at 20:19:07
Roberto's record against city is:
P 10
W 0
D 1
L 9
I'm pretty confident about tomorrow.
Barry McNally
8
Posted 05/12/2014 at 20:21:42
Paul, Mangala served his suspension midweek - he could be our saviour!
Colin, he beat them in the FA Cup Final against all the odds. It's a funny old game.
Mark Frere
9
Posted 05/12/2014 at 20:15:39
Distin is not as quick as he used to be but is still the quickest CB we have; I would rather have him start than a rusty Alcaraz to combat the pacey players like Aguero.
I would play:
Howard
Coleman Jagielka Distin Baines
Besic Barry
McGeady Eto'o Mirallas
Lukaku
Patrick Murphy
10
Posted 05/12/2014 at 20:25:21
This concerns me from Roberto as he says in the Echo, "But if I look at the efforts of the players – one defeat in 10, with the amount of travelling we've done – shows our potential.
"Of course we want to win every game but I'm more focused on the effort, approach and mentality of players towards winning those games because we need to be as good as we can until the final third of the season.
"Then it's all about the amount of points we get and where we end up."
I believe that a manager should look no further ahead than the next match – I'm not saying don't have a long-term plan for the club but, as far as fixtures are concerned, the only game that matters is the upcoming one.
The other thing that bothers me about this statement is that suddenly what has previously been the second-half of the season, has suddenly altered into the last third of the season. If we don't pick enough points up in the first half or two-thirds of the campaign, it is likely that the remainder of the season will be largely academic.

Colin Glassar
11
Posted 05/12/2014 at 20:32:04
I was waiting for someone to spot that out, Barry. Let's hope he's got another surprise up his sleeve.
Kunal Desai
12
Posted 05/12/2014 at 20:25:08
This will either be a performance by us where we have a goal disallowed, hit the woodwork, the referee becomes the centre of attention and we play our skins out and lose 1-0... or the second scenario: we get wiped the floor with by 3 or 4.
Patrick Murphy
13
Posted 05/12/2014 at 20:34:19
So what you're saying, Colin, is that we keep them at arms length for 90 minutes and earn a corner... .oops we almost did that on Wednesday. It just goes to show because I too read that statistic about Roberto and forgot about the FA Cup Final – never trust Journalists to tell the truth eh?

John Keating
14
Posted 05/12/2014 at 20:45:46
Mark, that is a far more balanced team than we've seen the last two games. If Eto'o doesn't perform, then bring in Barkley.
Yes, better than the last formation.
Colin Glassar
15
Posted 05/12/2014 at 20:43:41
Something like that Patrick. I'd take it, wouldn't you?
Tom Bowers
16
Posted 05/12/2014 at 20:44:04
Whilst most of us don't expect to get much at Man City in light of a couple of poor performances and the available squad, some of us may look to the fact that just sometimes recent results may mean zilch.
However, the loss of tireless Naismith and Ironman McCarthy may be too big a loss in this fixture. A midfield of Besic, Barry, Osman and Barkley or Pienaar just won't be strong enough to stop Man City.
They should have been strong enough to beat bottom feeders Hull, and they weren't, which unfortunately is a bad form line.

Ian Bennett
17
Posted 05/12/2014 at 20:45:58
For me:
Robles
Coleman
Baines
Jagielka
Browning or Hibbert
Osman
Besic
Pienaar
Barkley
Mirallas
Lukaku
John Keating
18
Posted 05/12/2014 at 20:56:51
Ian,
Man City are "huge". On another day, your team would be fine, but no defensive midfielder and lack of height spells disaster
Tony Abrahams
19
Posted 05/12/2014 at 20:58:44
I think that is the manager's biggest problem this season, Patrick. He has been looking too far ahead. Alright, thinking ahead. The most important game is usually the next one, but I think he's planned this season around Europe.
Anyway, whatever team we play tomorrow, I'm sure Tony Hibbert should start with Coleman playing in front of him.
Christopher Wallace
20
Posted 05/12/2014 at 21:23:35
Colin 6
That zero you have in the win column represents a trophy-winning game... or does that not count as a win?
Conor McCourt
21
Posted 05/12/2014 at 21:18:17
Poor report as both Silva and Kompany will be missing, the former has been out for a while and the latter due back after this game.
Colin, as bad as we have been in the last two games, Roberto's record was with Wigan and although clearly poor, you would expect a win record of only about 15% if lucky, given their resources.
The call for Distin to keep his place due to pace is absurd as unfortunately he's finished and its painful watching a great servant performing this way. Alcaraz should go straight into the team as even if he gets nailed tomorrow by Aguero the 90 minutes will help him and us for the upcoming more winnable fixtures.
I would like Roberto to come up with something different tomorrow as in the last two games he has started Mirallas and we have only had McGeady on the bench to win us the game as he didn't use Eto'o for some reason.
I would start Barkley, Eto'o and Kevin on the bench and start McGeady, Ossie and Pienaar and try and stay in the game until half time. Then perhaps go braver in the second half as its more important for Kevin to be flying at the end of the game than the start.
Anthony Lamb
22
Posted 05/12/2014 at 21:12:55
I am amazed that there have to be announcements that "inform" people that "Darren Gibson is unavailable". I would imagine that it is taken as read by most people that this guy is neither use nor ornament. Perhaps not his fault, but he fails every test for being "fit for purpose" regarding the professional game and the sooner he is removed from the payroll the better. Sadly, also I think we need to put to bed this mantra about the Baines/Pienaar axis. It has long since died for a whole variety of factors. But good luck to them tomorrow for they are going to need it.
Any more of this inane, so called "build up" stuff at the back that gets "the passing game" a bad name against talented quick players such as Aguero etc and it could get embarrassing. Anything less than blindingly obvious total applied commitment for the full game and the frustrations expressed against Hull may start to become embedded.
Christopher Wallace
24
Posted 05/12/2014 at 21:42:38
Off topic, but who was the person(s) who were always saying about signing Jelle Vossen, non stop?
Just remembered he signed for Boro – I forgot coz he's done fuck all so far!
Maybe we can get him on the cheap?
Jay Harris
25
Posted 05/12/2014 at 21:44:38
Ian
I wouldn't put Robles in the reserves let alone the first team.
IMO we need to beef up the midfield.
I would throw Garbutt in and play Baines, Besic and Barry in midfield with Mirallas, Barkley and Lukaku up front.
Ian Bennett
26
Posted 05/12/2014 at 21:52:04
If he isn't going to play Robles now, then we need two keepers in the window to go with the two centre-halves to replace Alcarez and Distin.
Howard and Distin are finished for me, roll on the transfer window.
Stephen Brown
27
Posted 05/12/2014 at 22:00:16
Dreading this game!
Howard
Coleman Jagelika Distin Baines
Mirralas Besic Barry Pienaar
Lukaku Eto'o
Try an old fashioned 4-4-2.
Peter Cummings
28
Posted 05/12/2014 at 22:01:34
Unless we improve 100% and Man City have an off day, I can't see us getting anything from this one except a hiding.
They way they destroyed Southampton with ten men was frightening, so, unless we can shackle Aguero and Toure especially, we are in for it.
Even if, by some chance, we go in front, we will simply sit back and await the inevitable as we have done so many times this season but hope springs eternal with Evertonians (even from 3,500 miles away).
Mike Childs
29
Posted 05/12/2014 at 22:09:52
Maybe Besic should man mark Sergio all game and like he did Messi.
Paul Smith
30
Posted 05/12/2014 at 22:25:43
My team for Man City would be as follows:
Howard if fit
Coleman
Garbutt
Jagielka
Distin
Besic
Barry
McGeady
Baines
Mirallas
Lukaku
I would like to see Mirallas just off the striker as he has a bit of pace to maybe get beyond Lukaku and trouble Demichilis.
John Malone
31
Posted 05/12/2014 at 22:29:01
Tough game, especially with Jimmy Mac missing, but definitely not unbeatable with Mangala and DiMichelis at the back.
Don't try and outpass them, run at them!
Mark Frere
32
Posted 05/12/2014 at 22:13:59
Conor (21) - yes, let's leave (one of most dangerous players) Mirallas on the bench because it's trying something different. Put Alcaraz and Pienaar straight in the team.... while we are at it, let's throw Oviedo and Kone straight into the starting 11 as it will only benefit us more in the more winnable upcoming fixtures.
Yes, I'm being absurd for wanting to get a positive result out of this fixture.
Lyndon Lloyd
33
Posted 05/12/2014 at 22:49:49
Conor: "
Poor report as both Silva and Kompany will be missing, the former has been out for a while and the latter due back after this game.
"
You're right about Silva and it doesn't look as though Kompany will be fit either. I usually go by the BBC preview for team news info and they didn't mention either player so I blame them!
David Hallwood
34
Posted 05/12/2014 at 22:56:47
How about playing Besic at CB to partner Jags. It's the position he plays for his national side and, as someone pointed out, he marked Messi out of the game.
Conor McCourt
35
Posted 05/12/2014 at 22:42:57
Mark I want us to have the best chance of winning this game also.
First point is that Mirallas is probably my favourite player and I was slated for defending him this time last year when most Toffees were calling him arrogant, selfish and just a show pony.
We have gone with a strong team in the last 2 games and when the points began getting away from us we had no option to win the match. Roberto is clearly trying to manage Kevin so he doesn't aggravate his injury and I just feel we need alternatives from the bench.
Last season Roberto started with players who I wouldn't have and had impact subs like Naismith and Delboy who helped win games we may have drawn.
Alcaraz has only missed about 3 weeks so if his shoulder is fine then he shouldn't be too much off the pace and our chances of winning this game are much better with him than with Distin. Not only is his confidence and most of his ability gone but against Aluko it now seems like his brain has also. Barry was in support and Aluko was always going to go down the line to get it onto his right foot but this somehow fooled Sylvan. Can you imagine what a two footed player like Aguero will do to him where its nearly impossible to know which way he will go and with what foot.
I'm not sure if any of our centre backs can contain Aguero but playing Alcaraz wont damage us anymore than Distin would have and will help us for the QPR game. Your suggestion of Kone and Oviedo are obviously foolish as are long term injuries and totally different to the suggestion of Alcaraz who was in fine form before his shoulder injury. Pienaar has been on the bench for the last two games so he must be close to fitness but I wouldn't mind if he started Baines ahead of Garbutt instead.
I just feel we may be best packing the midfield, keeping it tight and trying to control possession and then having a bit of flair and goal threat to come from the bench as we gain confidence.
Colin Glassar
36
Posted 05/12/2014 at 23:34:36
Just seen the Mo Besic interview. Seems like a great kid who just wants to get better and is loving life at Everton. He says it's the first time he's played in midfield (as he's a centre-back by nature) so he's still learning the ropes. Tomorrow he's going to take on Yaya Toure. Should be epic.
Christopher Wallace
37
Posted 06/12/2014 at 00:14:30
Colin
Do you think Besic has the skill to wreck Aguero and avoid a red? I certainly hope so!
Jason Heng
38
Posted 05/12/2014 at 23:51:54
Didn't Moyes play Hibbert once at centre-back against Man City for his pace and we won that game?
James Stewart
39
Posted 06/12/2014 at 00:10:16
I'm working so I will miss the game for the first time in ages. Not really too bothered. The last two games bored the life out of me – even more so than on Moyes's turgid worst days. Don't expect any better tomorrow considering Bobby's record against them.
James Flynn
40
Posted 06/12/2014 at 01:04:23
Talented as they are, they've been up and down so far. And they'd be more down than up if not for Aguero. If he's slung them on his back as Suarez did the RS last season, we have a problem. If he's just a wonderful player (which he is) on a good run of form and circumstance, that's different. Things change.
C'mon Roberto, this game cries out for a Moyesian approach. Defend as a team, absorb the pressure and hit em on the break. It's not as if Everton have had a hard time of it against them these last several years. And have Mo mark Toure Word Cup style.
However, do NOT tell Besic to "wreck" Aguero. Mo's to valuable to use as a some goon.
Paul Ferry
41
Posted 06/12/2014 at 02:20:32
If Howard, Baines, Distin, Barry, or Barkley all play, or four of them do, we will lose. I dearly wish to eat my words!
I know it's blasphemy but Baines needs to be dropped. Yep, peeps will say Barry will give us needed physical strength in the middle but he has been so awful, he can't be let loose to make yet more mistakes ......
Howard (I blame you Martinez you have failed to address this situation) - Browning - Jagielka - Distin (sort it out) - Garbutt (Oveido?) - Besic - Osman - Mirallas (our hope) - Coleman - Eto'o - Lukaku
Quite frankly, there are positions where, either through Martinez's choices or injuries, players will start who in an ideal world would not be in the starting eleven.
Bobby! Plan B! We can't always just pass it around at the back! I am still struggling to forgive you and Howard for minute 95.11 on Wednesday when the keeper who must be replaced had the ball in his hands with seconds counting down and did he hoof it up the pitch in a lottery Hail Mary as just about every other keeper /team wold have done? No! He gently threw the ball to a central defender.
God help us one and all 11:30/5:30 tomorrow... Make me look like a fool Martinez and be the Bobby I love and still totally support.
COYB!
Minik Hansen
42
Posted 06/12/2014 at 03:46:00
The Team vs. City probably:
Howard
Coleman Jagielka Distin Baines
Besic Barry
McGeady Eto'o Mirallas
Lukaku
I sense that McGeady will work his ass off, not to mention Mirallas, our main player in the last few games which will only help Lukaku and Eto'o will love to show off his skills against a Champions League club, same with Besic as he enjoyed the World Cup in the big arenas.
They will inspire each other, do I remember not just a few say they can show up against any opposition on their day? If Martinez takes good care of the right substitutions, and if the players are up for it, which I am sure of they are since it's against Man City (Remember Mancini days? I loved it! The lads haven't forgotten it either!)
Ajay Gopal
44
Posted 06/12/2014 at 03:45:51
Come on guys, way too much negativity here. Man City can be had just as any other team. Sure they have 2-3 wonderful players, but so do we.
Lukaku is coming into fine form, Barkley is due to have his headline grabbing game (why not today?), Mirallas is on fire, Coleman and Baines if they play as we know they are capable of playing can cause them all kinds of problems, maverick McGeady, the energetic Besic, experienced Barry, all good players.
The concerns are the back 3 and I would say let us put Hibbert in at CB – he did a fine job there in the game against Man City a couple of seasons ago.
I like Jay Harris's 4-3-3 formation:
Howard
Coleman Jagielka Hibbert Garbutt
Besic Barry Baines
Mirallas Lukaku Barkley
With Osman, Oviedo, Alcaraz, Eto'o, Pienaar, McGeady, Robles as subs.
COYB, we can win this!

Darryl Ritchie
45
Posted 06/12/2014 at 06:31:07
Ajay;
I like your lineup! Although I do believe if Alcaraz is available, RM will select him. I think Barry should play deep, just in front of CBs. He would be defensive cover, plus he would be a ready outlet. Might help eliminate the need to "hoof" it.
I like the idea of Baines in the middle. Thought it was a good idea earlier in the season. I think it's a better one now. It might be the spark we need to get things moving again.
The experts say we don't have a hope in hell. What better place to experiment a bit. Who knows; we may surprise ManCity and the experts.
Paul Andrews
46
Posted 06/12/2014 at 06:51:15
Eto'o has to start the game.
Peter Barry
47
Posted 06/12/2014 at 07:53:48
The way Everton are currently playing the only question would seem to be 'How many will we lose by and will it be embarrassing'
Neil Wood
50
Posted 06/12/2014 at 08:46:15
There's a whole host of negativity on this post !!!
Yes we are undoubtedly the underdogs I accept that. But we were against Arsenal for both games last season, and against Man Utd......
A season changing game I am hoping especially after the Hull game (Which lost me on my Acca!)
BESIC is quickly growing into a v v good premier league player and I think this kind of stage will suit him. Both he and Barkley will thrive on today's big stage game and I genuinely have a good feeling about this today.
I would start as follows:
Howard
Coleman. Jags. Distin. Baines
BESIC. Barry
MIRALLAS. Barkley. MCGEADY
Lukaku
I would give Barkley a rocket up him before the game and demand he works tirelessly today.
I have a feeling on a 3-1 victory for the blues today with BESIC to score his first goal for the blues.
Colin Glasser..... Are you going to have a game of premier league predictions with me this week?
Think positive today boys...
Derek Knox
51
Posted 06/12/2014 at 09:24:33
Paul Hewitt#3
Best thing to avoid that mate, is to stay awake!
How did you manage to type your post if you're asleep? Hmmmm. :-)
Andy Meighan
52
Posted 06/12/2014 at 09:26:36
Neil (#51), I'd love to share your optimism but a 3-1 win for us is not going to happen, mate. We didn't create three opportunities against a poor Hull City side the other night so there's not a prayer we'll do it against a side who are bang in form and scoring goals for fun. It's normally the derby at Anfield I fear more than any other game but I'm absolutely dreading this tonight. I can't see anything other than a comprehensive City win and that's not me being a pessimist – that's me being a realist.
Max Wilson
53
Posted 06/12/2014 at 09:50:32
Steve Brown has picked our best team! Eto'o gets lots of our votes, I'm glad to note – I can only think RM was resting him the other night.
This is a nail biter and a clean sheet would be a triumph. As for a win, I'd get pissed.
Jimmy Salt
54
Posted 06/12/2014 at 09:49:22
Besic centre back?
Neil Wood
55
Posted 06/12/2014 at 10:11:14
Jimmy, I kinda like the idea of Besic as centre-back but surely in a game like this, the risk of a red is too high?
Colin Metcalfe
56
Posted 06/12/2014 at 09:54:20
I'm dreading this game. I think this time last year we would have given them a good game; unfortunately we seem to have gone backwards this season.
We have too many players not performing or who are reaching that tipping point when they can't reach those peak levels of performance, eg, Hibbert, Howard, Distin & Osman...
Howard should've been benched after the Man Utd game and it has cost us; just how many more mistakes is he allowed to make before RM wakes up and gives him a rest?
Talking of RM, his decisions and tactics are becoming more bizarre – I could not understand taking Mirallas off the other night!
If we do lose tonight, we will be not too far off the relegation zone!! Crisis?? Not yet... but, like our football of late, a slow laborious slide down the table is very much a possibility if we don't start to turn things around and stop throwing games away from winning positions!!
I will watch the game tonight but I am afraid we are in for a bit of a hiding.
Dave Pritchard
57
Posted 06/12/2014 at 11:34:56
Besic doesn't look like a centre half to me, even if he has played there in the Hungarian league. He was our best player on Wednesday and should stay in midfield. He does need to be a little less rash, especially when he loses the ball, as he seems intent on winning it back whatever it takes.
Colin Glassar
58
Posted 06/12/2014 at 11:41:07
I only put Roberto's record against Man City as a point of reference, not as a downer on him as I am well aware that 8 of those games were as Wigan manager.
Neil W, we win 1-2. How's that for starters?
My team would be:
Joel (Robles is crap)
Hibbert
Jagielka
Galloway
Baines
Mirallas
Besic
Barry
Oviedo
Barkley
Lukaku
Subs: Howard, Coleman, Distin, Pienaar, Osman, Eto'o, McAleny.

Graham Mockford
59
Posted 06/12/2014 at 11:53:24
I wouldn't play Ross. If he performs like he has recently, it will probably be about 㿀M off his transfer value.
Paul Andrews
60
Posted 06/12/2014 at 11:54:20
Not forgetting his best win against them, Colin.
And not forgetting Martinez is a manager who has actually won a trophy.
Denis Richardson
61
Posted 06/12/2014 at 11:40:08
Not sure about playing the same back 4 as Hull and Spurs. Those players will be playing their 3rd game in 6 days and two of them are just coming back from injury and one is about to turn 37!
Roberto's made himself a real problem at the back as I don't think these 4 will have the puff to hold back city for 90 minutes. I'd be tempted to play Hibbert at RB and Alcaraz at CB.
The midfield will really have to put a shift in for us to have a chance. Mirallas and McGeady to start on the wings for me with Barkley to start in the middle. Save Eto'o for that 2nd half. Barry and Besic in the middle at CM.
It's going to be a long afternoon...
Colin Glassar
62
Posted 06/12/2014 at 12:11:02
I mentioned his famous win earlier on Paul. Let's see what he's made of. Can he conjure up a tactical surprise and shock Man City? I believe he can.
Mike Keating
63
Posted 06/12/2014 at 11:54:59
I don't think Pienaar should be involved at all
He has had a great understanding with Baines but on Wednesday he looked finished.
We are really missing Stones and McCarthy
We need a miracle
Think I'll nip up to the Cathedral and have a word with St Anthony on my way to the Fly in the Loaf
Dave Duggan
64
Posted 06/12/2014 at 12:40:31
I wouldn't mind seeing Barry drop to centre back today and see what baines can do at dm with garbutt brought in as set pieces for us today could be crucial.
Just seen a horrible stat on bt sports.. Most passes completed this season fabregas, yaya and matic top 3 followed by jags. An absolute joke that is for a supposed top team! I would go with
Robles
Coleman
Jags
Barry
Garbutt
Besic
Baines
Mcgeady
Barkley
Mirallas
Lukaku
Subs: Howard Alcaraz eto'o Pienaar Oviedo mcaleny osman.

Sean Kelly
65
Posted 06/12/2014 at 13:07:51
It's very crowded here behind the sofa. COYB
Dave Abrahams
66
Posted 06/12/2014 at 13:09:48
Colin Glassar @59.
Galloway? He's hardly played first team football any where. He's not ready and certainly not for this match.I like him, think he's got quality but not yet.
Tom Bowers
67
Posted 06/12/2014 at 13:18:14
This would be the wrong game to start experiments. The sharpness of Aguero has to be met with the speed of Jags but the big thing is keeping their midfield quiet and if ever the likes of Barklay and Besic had a chance to really shine it is now.
Is David Silva playing and if he is then he has to be shackled because they don't usually play well without him.
Colin Glassar
68
Posted 06/12/2014 at 13:29:23
Probably right Dave, but at some point young players need to be blooded and there are, as they say, no easy games.
Paul Mackie
69
Posted 06/12/2014 at 13:27:59
I think we need a similar setup to the one we had at Wolfsburg. Hit them with incredibly quick breaks. Their CBs are both shocking so it could well work IF we can stop Aguero scoring!
Mike Oates
70
Posted 06/12/2014 at 13:29:06
Colin Glassar # 59
For goodness sake wholesale changes Robles ! Galloway!, Hibbert ! Oviedo ! , you must be mad, particularly Robles and Galloway. Robles is a walkin disaster and Galloway isn't even setting the U21's alive with his performances.
I think we are all over reacting to a blip in levels, yes we know we haven't recahed anywhere near last year but losing key key players for months is a real issue we can't do much about - Mirallas, McCarthy, Naismith, Barkley, Coleman, Baines . But the kids aren't ready or good enough and clearly Robles has even lost Martinez faith
Colin Glassar
71
Posted 06/12/2014 at 13:40:55
Kamikaze tactics are called for today Mike. I think with a lineup like that we would confuse Pellegrini no end. Probably ourselves as well but as the u.s. marines say, Carpe Diem. Be bold, he who dares wins etc....
Max Wilson
72
Posted 06/12/2014 at 13:52:13
Lawro ( Shit Shirts) is predicting we'll go down 2.0 ! Usually I'm quite non-violent but if I ever met this guy I think I might have to be restrained.
Joe Foster
73
Posted 06/12/2014 at 13:59:41
By kick off I should be drunk enough to may be think we have a chance
Dave Lynch
74
Posted 06/12/2014 at 13:53:56
It's fuck all to do with losing key players etc, he has a squad that should be able to cope with injuries.
Colin Glasser is right in that he should blood the youngsters if they are right for the position that needs to be filled, our problem is our tactics.
If anyone remembers Wigans cup final win, they got at City by playing wide men and pounding them with crosses, Martinez appears to spur this tactic in favour of 3rd rate Barca tippy tippy shit.
For all you budding Uri Gellars, positive thinking will not make an ounce of difference to the result and I'm shitting myself, which is why I've posted this as a form of aversion therapy.
And breathe.........
Sean Kelly
75
Posted 06/12/2014 at 14:04:00
Max, you won't get near him. You will be blinded and disorientated by those shitty shirts.
Brian Waring
76
Posted 06/12/2014 at 14:12:13
Does anyone want to bet that Besic doesn't start today.
Jay Harris
77
Posted 06/12/2014 at 13:59:26
Colin
I will have a case of what you've been drinking. I assume a lot of it is tongue-in-cheek but the principle of blooding youngsters is correct.
IMO the kids need to be introduced gradually and one at a time until they get experience of the Prem under their belt. If Browning and Garbutt had been given some time earlier in the season, they would be ready now but Man City away is not the time for experimentation.
WE need the experienced pros to stand up today and avoid a slaughter. Again IMO Robles and Alcaraz would be a disaster in this game. WE need to defend as if our lives depend on it and hope to hit them on the break.
Patrick Murphy
78
Posted 06/12/2014 at 14:23:02
I think tonight's task just got a little more difficult as Chelsea are behind at St James' Park.
Philip Roberts
79
Posted 06/12/2014 at 14:20:01
I think we've got to stop them picking holes through us in the middle of the park, I would go with:
Howard
Jagielka Distin
Alcaraz
Coleman Baines
Barry Besic
Mirallas Barkley
Lukaku
Colin Glassar
81
Posted 06/12/2014 at 14:37:13
A bit of the old tongue-in-cheek, Jay, but at the same time I believe boldness can pay in some cases.
Patrick, if Newcastle can upset Chelsea why can't we do what we've done quite often in the past and beat Man City?
Patrick Murphy
82
Posted 06/12/2014 at 14:40:28
Colin, I'm not saying we can't get a positive result at City but with Chelsea dropping three points – quite how they managed it I'm not sure – City will be well up for it, even more so than had Chelsea won. I'd still rather watch Everton than Newcastle, that's for sure.

Bill Gall
83
Posted 06/12/2014 at 14:42:43
Chelsea loose Everton to win?
Kunal Desai
84
Posted 06/12/2014 at 14:46:13
Bigger incentive for City to win. I can't remember a time when Everton have thrown a spanner into the works to upset the applecart. Routine City win.
Colin Glassar
85
Posted 06/12/2014 at 14:55:19
Prior to last season we had won 6 out of the last 10 games at Man City (L1, D1).
Sam Hoare
86
Posted 06/12/2014 at 15:05:40
I can't even bring myself to think that much about this game. I'm usually quite optimistic but all I can see is us getting thumped or at very best clinging into a point that might just keep us around 11th in the league.
I have the worst type of Everton blues.
Jamie Crowley
87
Posted 06/12/2014 at 15:24:33
I too have a bad feeling about this game.
What really is gnawing at my craw is that I'm about to spend $100 or so taking 3 of my sons to the pub to watch the game.
The kids will enjoy it but I have this feeling that I'm about to piss away $100 to see a disappointing performance...
Is the negativity of some posters permeating into my being?
Kevin Rowlands
88
Posted 06/12/2014 at 15:27:26
Rumors on twitter Howard injured, Robles to start, gulp!
Jamie Crowley
89
Posted 06/12/2014 at 15:28:24
Brian at 77 -
If Besic doesn't start I'm chucking a pint through the large screen high def TV.
Brian Waring
91
Posted 06/12/2014 at 15:31:22
Just got this funny feeling Jamie, that Martinez will start with Barry and Osman in the middle.
Jamie Crowley
92
Posted 06/12/2014 at 15:32:44
I'm with you Brian, quite unfortunately. Let's see.....
IF we do win, whatever the lineup, I think it could be a massive boost going into the Holidays. It could turn the tide so to speak.
Which is why we watch...
Brian Waring
93
Posted 06/12/2014 at 15:37:02
"Which is why we watch..." and chuck pints through our large screen high def TVs, Jamie!
Conor McCourt
94
Posted 06/12/2014 at 15:26:21
Its all about Aguero- if we can stop him we can win this game. I think we will score plus they are missing 2 of their key players in Silva + Kompany. I think Big Dunc should throw the head into Aguero in the tunnel and take a Pardew style sabbatical for the team.
Ian Glassey
95
Posted 06/12/2014 at 15:37:48
This is the game for Ross to step up, we need a big shift from him today.
Jamie Crowley
96
Posted 06/12/2014 at 15:41:17
Brian -
The last time I met up with my boys and the two blues I'll be watching the game with today was the Arsenal game early this season. Same pub we're going to today.
When Jags had that ball float over his noggin and the Arsenal player headed it home to draw level 2-2, I slammed my beer (read pint...) on the table.
The glass instantly shattered and sent beer flying everywhere. Wasn't intentional at all, but it happened.
I felt so incredibly bad I grabbed a bar rag and mopped the entire thing up as fast as possible.
So I guess I'm saying breaking shit if things go south isn't out of the question. Sophomoric for a 45 year-old father of 5 admittedly, but sometimes you just get so frustrated.
Jay Harris
97
Posted 06/12/2014 at 15:45:32
Conor
I wish it was just about Aguerro.
When you spend 900 million assembling one of the best squads in the world and it clicks you create problems all over the pitch for opponents.
The more significant thing for me is Kompany missing. He is not just a top class defender but also a leaderr and organizer.
Without him and a couple of other key players they may be vulnerable at the back for the pace of Lukaku and Mirallas on the break.
IMO that is our only hope.

Max Wilson
98
Posted 06/12/2014 at 15:58:25
Maurhino has never won at Newcastle, Martinez has never won at City.
Conor McCourt
99
Posted 06/12/2014 at 16:00:55
Jay of course they have a great squad but I feel Aguero, Silve, Kompany and Toure are special players and 2 of those are missing. I think some of our players are as good as theirs and we will cause them a few problems. The likes of Milner and Navas aren't as good as Mirallas. If we somehow stop Aguero we will take a point from this game but of course that's a very big if.
Colin Glassar
100
Posted 06/12/2014 at 16:09:14
If Mo can boss Yaya then we've got a chance.
Max Wilson
101
Posted 06/12/2014 at 16:13:33
Hull are in the drop zone!
Jay Harris
102
Posted 06/12/2014 at 16:23:11
Conor
I get a feeling we should get something out of this game but is it blind optimism.
If we get beat by an under par Spurs outfit and draw at home with relegation threatened Hull logic would say we should get batttered today.
But hey when has logic ever been able to predict football matches.
We live in hope (and prayer).
Denis Richardson
103
Posted 06/12/2014 at 16:29:55
Man City 1 Everton 3.
Heard it here first!
Joe Foster
104
Posted 06/12/2014 at 16:43:29
Right let's have these over!
Denis Richardson
105
Posted 06/12/2014 at 17:04:29
Is that a 442 formation Roberto'a put out?
Al Reddish
106
Posted 06/12/2014 at 17:06:47
I reckon Hibbert Jags Distin at the back, wing backs Baines and Coleman.
Jay Harris
107
Posted 06/12/2014 at 17:14:48
Not sure about three at the back especially with Hibbo and Distin but happy to see 5 in MF and potential goals up front with Eto and Lukaku.
Denis Richardson
108
Posted 06/12/2014 at 17:48:27
So good so far..
---
Add Your Comments
In order to post a comment, you need to be logged in as a registered user of the site.
Or Sign up as a ToffeeWeb Member — it's free, takes just a few minutes and will allow you to post your comments on articles and Talking Points submissions across the site.
© ToffeeWeb