Lukaku saves Everton with last-gasp equaliser
Everton 1 - 1 West Ham United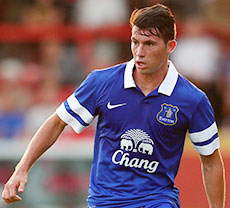 Oviedo, Lukaku and Distin are three changes from Thursday

An injury-time equaliser from Romelu Lukaku took this FA Cup Third Round tie to a replay, rescuing Everton from an early exit from the competition.

More poor defending had allowed James Collins to power home a header 10 minutes into the second half but the Blues' late pressure told when Lukaku rammed home with 91 minutes on the clock.

It was rich reward for the Belgian who carried the desire that the frustrated home fans were hoping for following four successive defeats all evening and had a perfectly good headed goal ruled out by referee Anthony Taylor earlier in the second half.

Roberto Martinez had named an amended starting XI for the visit of West Ham, with Sylvain Distin coming in for the suspended Antolin Alcaraz, Lukaku replacing Arouna Kone and Bryan Oviedo starting at left back in place of Leighton Baines who apparently picked up a knock against Hull.

The Blues started fairly tentatively, with the Hammers winning a succession of corners and Stewart Downing going close with a long-range effort that Robles palmed over.

Matt Jarvis also had a chance but couldn't convert in front of goal following an error by Phil Jagielka.

Everton finished the first half the stronger team, however. with Lukaku forced Adrian into spilling a couple of long-range shots and Steven Naismith flashing the ball across the face of goal.

Having defended set-pieces well in the first 45 minutes, Everton let themselves down with slack marking from a 56th-minute corner where Distin lost Collins and he headed unchecked past Joel Robles at the near post.

And it almost got worse immediately when Enner Valencia's free header was tipped over by Robles.

Everton responded, though, and Lukaku had the ball in the net but referee Taylor mystifyingly whistled for a foul as Jenkinson stumbled in front of him and the goal was disallowed.

The Blues appeared to lose their way after Kevin Mirallas was withdrawn midway through the second period and it wasn't until the final five minutes that they finally tried to lay siege to the Hammers goal.

Ross Barkley forced a parried save from Adrian with a stinging shot and Coleman headed well wide at the far post before Oviedo profited from an advantage call by the referee to cross hard and low into the six-yard box where Lukaku did the rest.

The ball spun up from his first touch and he volleyed the ball emphatically in from close range.

The replay at Upton Park has been scheduled for Tuesday 13 January at 7.45pm

Everton: Robles, Coleman, Distin, Jagielka, Oviedo, Besic, Barry, Barkley, Mirallas, Naismith, Lukaku
Subs: Griffiths, Kone, Garbutt, McGeady, Stones, Browning, Eto'o

West Ham: Adrian, Reid, Cresswell, Nolan, Jarvis, Downing, Noble, Jenkinson, Collins, Amalfitano, Valencia
Subs: Tomkins, Vaz Te, O'Brien, Demel, Jaaskelainen, Poyet, Cole.

Kick off: 7.45pm

Full coverage: ToffeeWeb Match Reports



Reader Comments (287)
Note: the following content is not moderated or vetted by the site owners at the time of submission. Comments are the responsibility of the poster. Disclaimer
Gavin Johnson
1
Posted 06/01/2015 at 18:57:09
Lot's of surprises in that formation then
Sam Barrett
2
Posted 06/01/2015 at 18:56:32
Can't believe he's playing Barry again after his awful performance against Hull!
Andy Crooks
3
Posted 06/01/2015 at 18:56:02
That looks like a decent side. Obviously we can all quibble but that line up, if confidence is installed, should be competitive.
David Barks
4
Posted 06/01/2015 at 19:00:19
So we continue to use Barkley and Naismith together, so one of them will be stuck out wide and be ineffective.
Barry keeps his place in the side, despite being consistently horrible.
Brian Waring
5
Posted 06/01/2015 at 19:01:07
Oh God, please not Barkley on the left!
Steve Cotton
6
Posted 06/01/2015 at 19:01:12
Where's Baines??
John Keating
7
Posted 06/01/2015 at 18:58:33
I just can't see sense there.
Surely if Baines is out then Garbutt should play with Oviedo giving width on the left
Barkley OR Naismith !!
Round holes/square pegs ??
Ian Jones
8
Posted 06/01/2015 at 19:02:02
3-1 Everton. Have to be confident with that team.
Andrew Laird
9
Posted 06/01/2015 at 19:00:38
Barry was the one player who needs a rest he is a red card/liability waiting to happen at the moment, where is Baines?
Michael Kenrick
10
Posted 06/01/2015 at 19:03:40
On his way to... guess where?
At least Barkley and Coleman are nicely cup-tied...
Kelvin Thomas
11
Posted 06/01/2015 at 18:56:13
Barkley out of position again! Need a big performance by Coleman and Oviedo!

Colin Glassar
12
Posted 06/01/2015 at 19:04:58
Garbutt still in the dog house? I just hope Barkley is let free tonight. Massive, massive game this one.
Matt Williams
13
Posted 06/01/2015 at 19:02:00
Is Garbutt injured? Or his he still being punished.
If he's fit he should have played. I'd change Barry for Garbutt if he is fit.
Garbutt left back, Oviedo left wing, Barkley deeper and Naisy number 10.
He looks like he's playing either Naisy or Ross out of position just to accommodate Barry.
Barry is a massive issue with no pace of his legs and the pace of his play.
Lyndon Lloyd
14
Posted 06/01/2015 at 19:05:36
Greg O'Keeffe has alluded to EFC keeping Baines's injury quiet this week, which would explain his absence.
Would have preferred Garbutt at left back and Oviedo at left midfield to avoid playing either Barkley or Naismith out of position but let's see how they do...
Mark Jensen
15
Posted 06/01/2015 at 19:06:17
With Barry playing at least we can concentrate on the league. He's not had a decent game since Arsenal away in the cup last year. What on earth does Martinez see that we don't?
Obviously, he's not solely to blame but, at the moment, it is like playing with 10 men against 12.
Colin Glassar
16
Posted 06/01/2015 at 19:07:10
At least Garbutt is on the bench.
Mike Oates
17
Posted 06/01/2015 at 19:08:19
Baines has an injury
Keith Glazzard
18
Posted 06/01/2015 at 19:08:18
Baines has been kicked from here to next Monday for several games now - part of the opposition tactics. He probably needs a rest.
Eddie Dunn
19
Posted 06/01/2015 at 19:08:55
Baines is pissed-off.

Colin Glassar
20
Posted 06/01/2015 at 19:10:23
Interesting to see the attendance tonight. Decent bench as well.
Brian Waring
21
Posted 06/01/2015 at 19:13:30
Attendance will be interesting Colin. One thing I would put my house on though, if it's low, there will be plenty on here using it as another stick to beat Martinez with.
Shaun Laycock
22
Posted 06/01/2015 at 19:11:47
Not a bad team and bench. There is enough to beat this lot if we move the ball quicker and press harder. Still trying to fit square pegs in round holes in attacking positions I see. Perhaps an audition for Winston Reid as he is supposed to be going in the summer...
Jon Withey
23
Posted 06/01/2015 at 19:14:15
I'm surprised anyone would predict 3-1 with our recent form.
2-3.
Mark Jensen
24
Posted 06/01/2015 at 19:15:57
Saw some stats today. Lukaku scores one goal in every 14.3 attempts. One of lowest (i.e. best) in league.
Brian Waring
25
Posted 06/01/2015 at 19:17:15
Shaun, according to Allardyce, a prem club has already made an illegal approach in regards to trying to get Winston Reid at the end of the season. Allardyce said he feels a deal has already been agreed with this prem club but he can't prove it.
John Gee
26
Posted 06/01/2015 at 19:16:33
Baines never gets rested. January transfer window. Cup tied players. Fuck - nominal.
Gavin Johnson
27
Posted 06/01/2015 at 19:10:41
It's a fairly strong side actually. I think it would have made more sense to to play Garbutt and Oviedo on the left but Gareth Barry seems to be the first name on the managers team sheet. So again we've got square pegs, and all that jazz. Makes you wonder what Barry would have to do to be dropped (red card, injury seems the only ways it'll ever happen) Another one who seems to keep getting the nod even though he's been awful for months is Distin. I was expecting Browning to play. I bet the kids starting to wonder what he needs to do to get a game when someone as bad as Distin keeps getting picked ahead of him.
Barry Stevens
28
Posted 06/01/2015 at 19:13:59
Of all the player's that need resting, surely Barry must be the priority. The guy's looked hammered the last few games. The Besic Barkley partnership looked good vs Qpr , so why not go with that again.
All this with Ross playing left or right midfield is a farce. Put him in the middle or the hole and let the boy play.
Andrew Rimmer
29
Posted 06/01/2015 at 19:21:42
Back 3 combined age....109.
Big Sam is laughing his tits off!
Brian Waring
30
Posted 06/01/2015 at 19:22:34
West Ham team, Adriàn, Jenkinson, Reid, Collins, Cresswell, Noble
Nolan,Amalfitano, Downing, Jarvis, E Valencia


David Booth
31
Posted 06/01/2015 at 19:25:28
No Sakho and no Caroll. If we don't win this tonight, we have got real problems...
Lyndon Lloyd
32
Posted 06/01/2015 at 19:26:03
Baines "picked up a knock against Hull" according to Martinez.
David Hallwood
33
Posted 06/01/2015 at 19:23:04
Beat me to it Barry Stevens (#28). I would put Barkley with Besic or Jimmy Mac (when fit) as a long term solution, and play McGeady wide mid-not the best but he's in the right position.
Linda Morrison
34
Posted 06/01/2015 at 19:23:00
Well folks I have heard Baines is injured, he is too much a professional to not give his all.
I just can't see why Martinez doesn't play Barkley where he belongs in the mid field.
I can't see anything but a loss tonight repeated on Saturday. The team has no heart or fight.
The commentators on the radio are all talking about the stories coming out that he "has lost the dressing room"
The board I feel will need to act next week before we run out of games
I hope I am wrong about tonight. Good luck lads
John Keating
35
Posted 06/01/2015 at 19:27:38
Barry badly out of form, playing. Distin, playing and out of form with Stones available.
We have tried playing Naismith and/or Barkley out of their natural positions and have been ineffectual every time. No natural cover for Oviedo.
Either Martinez has something up his sleeve or it's going to be a long long night !!
Paul Smith
36
Posted 06/01/2015 at 19:30:47
Maca on BT saying we've got some class players only a matter of time before we climb.....let's hope so!
Stephen Brown
37
Posted 06/01/2015 at 19:34:04
TalkSport say 3 at the back with Mirallas up front with Lukaku.
Gavin Johnson
38
Posted 06/01/2015 at 19:36:47
On Barry's form, it makes you wonder if there's some kind of clause in his contract that he must play if he's fit. That's the only explanation I can think of, of continuing to play someone who's been so poor this season.
Mark Jensen
39
Posted 06/01/2015 at 19:40:07
Stephen #37 - didn't Wigan play 3 at the back...?

Stephen Brown
40
Posted 06/01/2015 at 19:42:09
Barry Distin and Jags - last of the summer wine ! My earlier optimism is being sapped !
Stephen Brown
41
Posted 06/01/2015 at 19:43:52
Mark #39 I'm not advocating 3 at the back by the way !
Paul Smith
42
Posted 06/01/2015 at 19:45:06
Great to see Barks on the wing... classy move, Senor Bob.
Bill Gall
43
Posted 06/01/2015 at 19:46:34
Funny this is the first time we find out about Baines injury that he supposedly got against Hull. Start of the silly season
Jerome Shields
44
Posted 06/01/2015 at 19:47:40
Hope all goes well tonight.
Richard Carton
45
Posted 06/01/2015 at 19:33:40
do I detect us playing a bit higher up the pitch...besic went, then barry won it in opposition half and played in mirralas....near about time, this is the way we should play for most of the times in games
Bobby Thomas
46
Posted 06/01/2015 at 20:01:00
Looking at that I'm praying he's not playing three at the back, as that three have trouble written all over them.
Im trying to think of permutations how he can set us up going forward if its 3 center halves and it just doesnt look right with either Mirallas or Nais off Rom, or even with Rom on his own and Barkley/Nais/Mirallas behind & two holding.
Hoping he lines up with a back 4.
Max Murphy
47
Posted 06/01/2015 at 20:32:42
One half of garbage. Get Jagielka off.
Joe Duffin
48
Posted 06/01/2015 at 20:32:46
When we don't look tentative and get a bit of belief, we arent bad going forward. Then Distin and Jags look so nervy at the back - never seen a display where players were so nervous.
Fingers crossed, we convert one of the chances.
Terry McLavey
49
Posted 06/01/2015 at 20:33:52
Difficult to tell who is the home side? Same old confused and aimless football we've seen over the past few weeks, with the odd flash of the Everton we knew.
I don't know how this will end up? Probably a trip to London to be creamed!
Rom passes the ball to Naismith in the box who has three players marking him instead of having a dig.... Bless!
Craig Mills
50
Posted 06/01/2015 at 20:40:37
Half time and looking ok, good going forward and seemed to be moving the ball pretty quick, for me Naismith off, Barkley into the middle, McGeedy on to the wing and put some balls going into the box.
COYB - we need this......
Tom Loughrey
51
Posted 06/01/2015 at 20:59:39
Nobody on the posts for corners no more, no? Fuckin basic stuff. Just not learning. Jags an absolute fucking disgrace and offers nothing as a player let alone Captain.
Nigel Munford
52
Posted 06/01/2015 at 21:00:31
Looking good until that corner!!!
Rick Tarleton
53
Posted 06/01/2015 at 21:02:27
You amaze me, having not practised defending set pieces, we give the opposition a goal from a corner. Sounds about right.

Joe Duffin
54
Posted 06/01/2015 at 21:09:51
Has anyone ever seen a player lack as much confidence as Jags? No control, panicking every time he gets the ball, even headers are going everywhere.
Alan McGuffog
55
Posted 06/01/2015 at 21:10:11
One thing about going out in the third round... we can concentrate on the top four.
Tony Hill
56
Posted 06/01/2015 at 21:10:32
Distin stood and watched Collins run off him for the goal. Lukaku and Besic have been good. We need a break, overall we've been better and more committed but our defence is very weak.
Karl Jones
57
Posted 06/01/2015 at 21:20:44
Not only cant we defend, now the goals have dried up....We've only scored in two of the last seven games and don't look like scoring here either...Kenwrights got to act and get this clown out now.
Ant Ellis
58
Posted 06/01/2015 at 21:23:52
Honestly never thought I'd say this, but I'm passed caring now. If these pampered tarts don't give a shit after picking up their 㿞k a week then why should I lose sleep over it?!
On a side note, OFM was a dour sod but at least we offered a bit of bottle!
Joe Duffin
59
Posted 06/01/2015 at 21:21:28
2nd half been shocking other than when they scored. If we get something from this it will be a miracle.
Dave Duggan
60
Posted 06/01/2015 at 21:26:49
I thought we would get back in to this.... but then Eto'o came on. Basically it's his ball and he has to start everything! He is fucking shite!
It's been the best performance in a while but the defence is shit. Jagielka has been shocking! He should be dropped as captain.
Michael Kenrick
62
Posted 06/01/2015 at 21:32:46
It's a miracle!
Michael Kenrick
63
Posted 06/01/2015 at 21:36:38
Complete rubbish corner at the end summed that all up, sadly.
Just prolonging the agony...
Jermaine Jennings
64
Posted 06/01/2015 at 21:38:14
We stilll can't bloody defend. We drop deep drop deeper and deeper. Basic defending so poor. Why don't we press and push up? Seriously, if we did this, we would be so much better.
Lukaku was fucking awesome!
Tommy Coleman
65
Posted 06/01/2015 at 21:39:27
Get in!!
Look at the reaction, RM clearly hasn't lost the players.

Tony McNulty
66
Posted 06/01/2015 at 21:41:40
Oxford?
Conor Skelly
67
Posted 06/01/2015 at 21:41:21
OXFORD
William Tone
68
Posted 06/01/2015 at 21:30:01
I was in the process of writing an extremely negative post, then Big Rom finally scored and I didn't feel quite so angry.
Frustrating game, but let's hope this stops the bleeding.
Once again, refereeing was terrible and Rom and Barkley get punished repeatedly for being strong.
Until Oviedo gets back to form, I think Garbutt has earned the right to start when Baines gets rested.
Tony Hill
70
Posted 06/01/2015 at 21:21:00
Critical goal. Absolutely critical. Who knows now? Much still to worry about, notably in defence, but that is a big moment. Coleman poor again as well as, obviously, the two central defenders but there was proper effort there for the most part and that is something I can live with.
I'm afraid Naismith is also a problem. Never shirks but he's getting in the way and his lack of pace is ever more evident.
Oh for a win on Saturday.
Richard Carton
71
Posted 06/01/2015 at 20:33:43
Phewwww...Gotta say im glad to still be in the cup, but could it be a curse? Last thing we need with our squad of injury prone players is a replay. Thought Lukaku was really good tonight...I have long since condemended him as a waste of space but tonight things seem to have clicked with him...Now can he keep that up? Even with our lacklustre creativity, if Lukaku plays that every week we should be all right....Afraid, Besic and Barkely went missing in long parts of the game and I think need dropping. Confidence is lacking throughout the side big time, but lets get behind them and hopefully it will turn....Gotta prioritise defending, especially from corners!! Did seem to play with a bit more heart tonight, although that wouldnt be hard!

Peter Laing
72
Posted 06/01/2015 at 21:45:00
Maybe just maybe, that saves Martinez skin. Makes me sick looking at Kenwright, Woods and Elstone sat there in the directors box like three wise monkeys. Get the cheque book out as we need a centre half to replace Distin with Stones replacing Jags who also needs phasing out.
Rick Tarleton
73
Posted 06/01/2015 at 21:45:58
Lukaku deserves so much better than the way we set up. In a good team , he'd get twenty plus goals every season.
Brian Hennessy
74
Posted 06/01/2015 at 21:40:58
Lukaku deserved that goal for his efforts, but my mind is now made up, sadly Martinez has to get the sack.
It took one of West Ham's own players to take out one of his own for us to score. The stuborness of RM not to change his way of playing when needed and the lack of any defensive plan is just too much to take any longer.
Tony Hill
75
Posted 06/01/2015 at 21:47:55
Don't agree about Besic, Richard, thought he faded a bit but he was strong for much of the game and always looks to push things forward.
Chris Leyland
76
Posted 06/01/2015 at 21:48:47
Get in 52% possession. It is like a win to me
Brian Carey
78
Posted 06/01/2015 at 21:50:11
At least the effort was back. Stones needs to start, and get in someone like Shawcross to partner him. Jags and Distin to be phased out. Over to you, Bill!!!!!!.
William Tone
79
Posted 06/01/2015 at 21:46:43
The style of football that Bobby wants to play is all about positional awareness, and tonight both Barkley and Besic looked lost for long stretches. I am confident that they are both on their way to being top class players, but suspect that they've been given too much to try to understand. Injuries have forced RM to give Besic important minutes earlier in the season the otherwise would have wanted and Barkley keeps getting moved around, hasn't spent enough time in a single position so he can learn all his responsibilities.
Lukaku I though was great and deserved his goal. Very proud of both Rom and Besic for not knocking Cresswell's teeth out, as I wanted to reach through the screen and do.
Keith Davies
80
Posted 06/01/2015 at 21:51:34
In Orlando international airport following game on my phone with my daughter & have just told her the Oxford story. I can remember the replay at Goodison Park very well & how it turned things around for Kendall. Please let this happen again. (Though I doubt it tbh.)
Gavin McGarvey
81
Posted 06/01/2015 at 21:48:02
Well, it wasn't the back to our best performance we were hoping for, but maybe that wasn't realistic. I thought we were a little better than we have been, and we're finally starting to show a bit of fight. Here's to hoping they can push on from here and gradually get back to where we were. COYB.
Tony Hill
82
Posted 06/01/2015 at 21:51:04
A word for Robles and his save from Valencia. That was crucial too.
Wesley Mitchell
83
Posted 06/01/2015 at 21:51:35
We are crying out for some width but when McGeady is your width it worries a lot of people. Stop playing Barkley and Naismith in the same team when they clearly want to play the same position.
Andrew Rimmer
84
Posted 06/01/2015 at 21:56:35
Didn't Wigan have a cup run once?
Oh, hold on.... We're not on a cup run yet!
Lee Gray
85
Posted 06/01/2015 at 21:58:36
Just delaying the inevitable for me.
Jamie Barlow
86
Posted 06/01/2015 at 21:51:42
Get it wide and put the ball into the box Bobby ffs!!!
Why does it always go through the middle? Why do we always pass the ball so slow when we look miles better when we speed it up?
Much better today but still too many mistakes. Too many half hearted tackles. Too many not knowing what job they're supposed to be doing.
Good to see Lukaku up for it again. He needs to take that into the City game and he'll do alright.
How calmer do we look when Stones comes in?
Conor Skelly
87
Posted 06/01/2015 at 21:53:22
Don't agree at all that we were poor. We were much more positive and deserved at least a draw. Hammers played well but MoTM was Lukaku. Really took the game by the scruff. I've a good feeling after that game. They played for the shirt tonight. Oxford anyone? Have a feeling that will change our season. Just a a feeling but it's been so long since I've felt anything. Thought Joel was excellent btw. We need reinforcements in defense but I believe again. Roberto can breath again for now. I'll personally allow it.
Mark Pierpoint
88
Posted 06/01/2015 at 21:57:29
Better. Definitely better. Anyone else think Jags has to step things up as a captain. Looks and acts like a kid sent to his bedroom. How can the players, many of them young and inexperienced, look up to any of these?
Joe Clitherow
89
Posted 06/01/2015 at 21:55:50
Don't know why people giving flak to Jags and Distin. Much better tonight because they were playing much more like their natural game instead of the RM rubbish
Paul Andrews
90
Posted 06/01/2015 at 22:02:04
A lot better performance. Edgy, and still lacking confidence but more spirit and energy. Lukakus best game in an Everton shirt for me.
Conor Skelly
91
Posted 06/01/2015 at 22:03:12
Mark. Totally agree on Jags. Just being in on time for training everyday doesn't make you a captain. Give it to who though???
Dave White
92
Posted 06/01/2015 at 22:01:18
Green shoots there. At least there was some fight. West Ham were very solid too. And for those calling off Martinez's head...how short are your memories? And who would you see instead?
I'm proud that we don't shoot our manager every time the team is in a lull, he deserves a chance to turn things around. And the players must shoulder a considerable chunk of responsibility.
Denis Richardson
93
Posted 06/01/2015 at 22:00:13
Good that the cup is still there for the next manager to try and win...
Terry Downes
95
Posted 06/01/2015 at 22:04:52
Trouble with Jags and Distin when they play together they play too deep, there's a massive gap between them and the midfield tonight.
Jay Wood
96
Posted 06/01/2015 at 21:55:41
Phew! Some wobbly performances, but also a glimmer of improvement. Still not switched on defensively. As well as the goal conceded from the corner, how many times did they take a quick short corner with some of our lot with their backs turned?
At least there was some urgency, some fight, which has been distinctly lacking this season.
Romelu was immense. So happy he got a goal.
But this is still clearly a side bereft of confidence. Very 'hang dog' expressions by Jags and Rom in the after match interviews.
Let's hope this signals the green shoots of recovery.
Dave White
97
Posted 06/01/2015 at 22:06:27
Conor 'Just been so long since I felt anything' Hit the nail on the head, not pretty and way off where we can and need to be, but at least we had something to get behind tonight.
John Daley
98
Posted 06/01/2015 at 22:04:09
Joe #91, both central defenders were pretty poor once again. Particularly Jagielka, who had a 15-20 minute spell where he looked like the guy from Quantum Leap had taken over his body. Misjudging the flight of the ball, stumbling, getting caught in possessiob when he had plenty of time etc. If the captain sets the example for the rest of the team then there was a brief snap shot of our current problems right there. Also, he's virtually mute when he's out on the pitch. Robles was going ape shit at some of the non-existent defending in front of him but Jags never said a fucking word to anyone.
Lukaku putting a real shift in was a major plus point today.
Steve Guy
99
Posted 06/01/2015 at 22:08:17
thought we were better than of late. Lukaku's best game of the season. Crosses would be nice, they tend to lead to goals like the one LuLu scored. More fight shown tonight as well.
On the downside...defence is still poor though I think Robles did well. Also body language of LuLu and Jags in the TV interview was not great....looking at the floor, mumbling and not making eye contact.
John Malone
100
Posted 06/01/2015 at 21:41:03
Lukaku been playing a lot better lately since the Lyon game the lad will score if we put crosses in the box, glad to see we never passed it round as much and got the ball forward quicker.
Jagielka shouldn't be captain he got the job through his performances and professionalism but he hasn't got the character or self belief that's required to lead the team his unconfident dodgy performance and his all round nature in his post match interview stinks of doubt and negativity the dressing room badly misses Tim Cahill and Phil Neville.
Ross Barkley need s a good rollicking but there is no captain there to give it, the amount of time's he gives the ball away and dribbles into players when he should be releasing the ball is ridiculous.
On a positive I think Oviedo is great a real positive left back what Leighton Baines used to be he never stops and is fearless going forward if anyone rembers it was Baines getting injured and him playing regularly that gave us big boost last year and he scored some vital goals.
Even though we conceded a shite goal the overall feel before then was a lot better and a lot more positive than of late I honestly feel we can get something against City if he gets his tactics right with them having no strikers and Toure missing, park the bus and counter with Kev, Ross and Rom!
Dave Pritchard
101
Posted 06/01/2015 at 22:10:44
Feels like a win, pity it wasn't.
Positives - Rom was very good and we were quicker going forward.
Barry much better, Oviedo got better as the game went on. Besic pretty good. Apart from first minute Robles could not be faulted.
Big negative - Central defence Distin and especially Jags. Coleman still out of sorts. Can't defend corners and hopeless on our own corners.
Michael Ward
102
Posted 06/01/2015 at 22:07:57
That is the best we have played for weeks, although that says more about how poor we have been. Lukaku man of the match by an absolute mile and the main positive was him putting in the effort and getting his well deserved goal. As I was saying to friends over the holidays I think Naismiths good form earlier in the season is coming back to bite us forcing Barkley and eto'o to the wing. The main difference to last season for me is the lack of dynamism from the wings we have one winger who can be relied on, Mirallas I remember last year there were calls for him to be dropped so that shows the lack of options out there.
As awful as he was against Newcastle and has been for most of the season we need to give mcgeady a run to bring some real width to the team. Barring that Oviedo or Naismith on the wing is a much better solution to what Martinez is trying with barks and Sam at the moment.
Overall though a bit of positivity from tonight lets try and use this to built a bit of momentum even in terms of better performances if not results.
Btw distin getting injured could be one of the best things that has happened to us
Nick West
103
Posted 06/01/2015 at 22:14:43
Much more direct tonight. Robles kicked it most of the time. It looked like a defo change of plan. A lot more long balls too. The team still look like they were playing in treacle but at least they showed some spirit and saved the game. Really not looking forward to Shitty....
James Lauwervine
104
Posted 06/01/2015 at 22:18:26
This is inchy v Oxford all over again...

Lee Gray
105
Posted 06/01/2015 at 22:19:09
Just delaying the inevitable for me.
Patrick Murphy
106
Posted 06/01/2015 at 22:20:05
What's all this delaying the inevitable business? Delaying the removal of Roberto or delaying Everton's exit from the FA Cup?
Bob Heyward
107
Posted 06/01/2015 at 21:51:04
I'm sorry. That was not anywhere near the performance to save him. The apologists will try and buy him more time by obfuscating, saying Lukaku was improved, that the half time pie was hot, that the weather was nice...anything positive to save their ego. The truth is, we're beyond such petty, childish egotism.
This game was billed as crucial and a chance to build positivity. Martinez failed. The same terrible problems were evident throughout, against a West Ham team that didn't even play that we'll. For example:
Awful zonal marking allowed West Ham's best header of the ball a free run from outside the box
That goal came on the 12 th corner of the game. By sixty minutes, we'd conceded 14 corners.
Every corner was short. We failed to defend every one of them. A more clinical team would have annihilated us in the first half.
First half was poor, though at least Lukaku held the ball and came short. Second half, we deteriorated, not even testing the keeper till 85 minutes.
McGeady...our white night! Sending him on as a saviour on 85 sums up both the lack of ideas and the poor decision of Martinez to leave it so late
Coleman - he's gone. Something very wrong there.
We have big problems. It's a poor defence and an insipid attack. even Martinez's trump card of being able to change the game is a busted flush. Our problems are blatantly, BLATANTLY beyond Martinez's ability to fix. Sorry, but time is up.
We have to wake up now and pull the trigger. It'd give the new guy a decent run, time to save us, a Cup to build with and a transfer window to play with.
If we allow Martinez and his apologists to blind us with their BS, we end up like Wigan. There is no 'magical second half to the season' as he promised.
He has to go, now.
Max Murphy
108
Posted 06/01/2015 at 22:19:08
I just hope this lucky draw doesn't delay the hopeful departure of Martinez.
Colin Glassar
109
Posted 06/01/2015 at 22:21:43
This is not the end, this is not even the beginning of the end but, it might be the end of the beginning.
Dave White
110
Posted 06/01/2015 at 22:21:04
Lee 87 and 107 - inevitable what? You making a cogent point?
Lee Gray
111
Posted 06/01/2015 at 22:21:36
Exit from the FA Cup.
Kelvin Thomas
112
Posted 06/01/2015 at 22:16:11
Agree 100% Michael. Mirallas hardly offers the team any width either, always cutting in etc. McGeady the left, Mirallas supporting Lukaku from the right and Barkley or Naismith. Personally I'd go with Barkley as Naismith is off the boil.
GK, CB and a LM please!
Bob Heyward
113
Posted 06/01/2015 at 22:25:37
Max - bang on! That's the fiddle he played at Wigan, and I notice his acolyte apologists are already trying to dance to his BS tune.
What will it take, I wonder, for them to wake up? I know that as a true Blue, I could never let my ego come before my teams future. Shameful.
Paul Smith
114
Posted 06/01/2015 at 22:23:57
There were a few positives tonight we at least moved the ball quicker and created some good chances. I thought Besic, Lukaku and Barkley had better games. The worrying thing for me was Mirallas was hiding tonight and couldn't wait to get off.
Steve Barr
115
Posted 06/01/2015 at 22:22:16
Lukaku's first touch was much better today, particularly teeing up his goal.
We still lack width and off the ball movement.
Overall, still not good enough.
Phil Rodgers
116
Posted 06/01/2015 at 22:29:22
Oh my god, he said phenomenal. It was anything but. Papering cracks is what I call it.
Really needs to go.
Peter Laing
117
Posted 06/01/2015 at 22:27:37
I would drive Coleman up the M62 to Manchester myself if there was a cheque waiting for 25 million, can he take Distin and Jags with him ?
Colin Glassar
118
Posted 06/01/2015 at 22:30:16
Max, Bob upset lads? Maybe if we lose against city it will make you feel better. Words fail me.
Oliver Molloy
119
Posted 06/01/2015 at 22:16:31
Still playing far too slow. Opposing teams have us sussed the way we currently play,why can the manager not see this?
I can not make up my mind if Barkley is top notch or not,simply because he is all playing all the park by Martinez.
Jags is having a bad time,and is not captain material in my mind.Distin's best days are behind him.
Coleman just doesn't look himself - something up there I think.
We need a top centre half,and one in the mould of Lyons,Watson - take no prisoners type of guy.
I think a draw was a fair result,but Martinez simply has to get to grips with how we are playing.
West Brom is a must win game as is Crystal Palace.

Guy Hastings
120
Posted 06/01/2015 at 22:21:59
And there was BK in his new mid-life crisis Xmas present leather jacker ready to do what a man's got to what a man's got to do... Then Lukaku fucks up his first touch and scores with his second. Whatever the score, the performance was again utterly unconvincing.
Denis Richardson
121
Posted 06/01/2015 at 22:15:35
John 102, not sure where you get that City don't have strikers. Jovetic scored and made one in their last league game and and Dzeko's due back this weekend!
Going to need more than just hoping they turn up with no strikers....
Tommy Coleman
122
Posted 06/01/2015 at 22:31:58
It's sad that so many on here didn't want that equalising goal.
Raymond Fox
123
Posted 06/01/2015 at 21:54:55
Robles- had a decent game. 7
Coleman- not impressing this season. 6
Oviedo- did ok. 6
Jags- get rid at end of season or sooner if we could afford too. 3
Distin- ditto 3
Barry- ordinary 5
Besic- ok but needs to move the ball forward more. 7
Barkley- needs to buck his ideas up and quick, wants too much time on the ball, major disappointment this season. 5
Mirallas- lacks effort, needs to get himself involved more, always dangerous when running at the defence. 5
Naismith - 100% effort as usual 7
Lukaku- much better from the big man, really worked hard tonight got his reward. 9
Eto- even he's out of touch lately. 4
Stones- he'll do for 1 centre back. 6
McGeady- ok for the short time he played. 5
Distin went to sleep again for their goal and gave a free header, school boy defending by a very experienced player. Jags well what can you say!
Glaringly obvious again tonight, some players simply not good enough, and we desperately need an attacking midfielder that can actually find a pass forward.
Just as important, a solid centre back that can organise the defence on the field, oh and throw in a captain that loses his rag and gives some players a tongue lashing when they need it.
Ciaran Duff
124
Posted 06/01/2015 at 22:24:59
Call me the eternal optimist but let's pray that this draw has echoes of another turning point (Jan 18th 1984 v Oxford Utd).
Peter Laing
125
Posted 06/01/2015 at 22:33:12
If Distin and Jags turn up on Saturday Denis they won't need strikers. We need a massive clear out of the deadwood at the end of the season. Howard, Distin, Barry, Pienaar and Eto'o. Phase out Hibbert, Osman, Jags and Mc Geady the following one or two seasons.
Peter Laing
126
Posted 06/01/2015 at 22:36:53
Tommy, how can a proper Evertonian not want an equaliser ?
Patrick Murphy
127
Posted 06/01/2015 at 22:30:53
I agree that a supporters ego should never come before the club, but would we really have preferred to have been knocked out of the FA Cup tonight - for what it's worth I don't think Roberto will be sacked now, at the end of January or even at the end of the season. Not because of tonight's result or performance but because Blue Bill can't afford to replace him, I might be wrong but the silence from the board-room is noticeable.
Having said that circa 22,000 fans for a third round tie albeit in midweek is 10,000 down on last year's attendance against QPR and the lowest FA Cup attendance since 1998 when we lost against Newcastle United at Goodison Park.

John Keating
128
Posted 06/01/2015 at 22:31:16
Isn't it sad to what we have come too ?
A 3rd round home cup draw courtesy of an injury time goal against West Ham celebrated like we'd just won the Cup.
A pivotal game Martinez called it well Mr.Martinez thank you for a wonderful season so far.
I have no doubt we will not be called to defend any set pieces against City, possibly against West Ham in the replay.
Barry Stevens
129
Posted 06/01/2015 at 22:23:19
Some slating Besic but myself I really like the guy. Full of fight, always wants the ball and tries to move it forward quickly. Stick Barry on the bench and play Mo with Jimmy Mac. Play Barkley in the hole ahead of them.
Lukuku was on point tonight. Great finish for the goal and his hold up play was immense.
What is up with Coleman though. Looks a shadow of the player he was last year.
Matt Williams
130
Posted 06/01/2015 at 22:32:56
The gap between BesicBarry and Naismith is too big because we're too deep because Barry is dropping off because he's slower than erosion.
Barry is causing us all sorts of problems but not for the opposition.
I'm also sick of people having a go at Ross Barkley, when he starts getting a regular run in a central midfield position he can be judged.

Gavin Johnson
131
Posted 06/01/2015 at 22:25:21
When will we learn how to defend set pieces?? I was half expecting West Ham to score in the dying seconds from a corner. That's would be indicative of just how sloppy we at set-pieces, and that's taking them too! It might have finally been a lesson learned by Bobby, but I suspect that would have put the tin lid on his tenure as boss.
There were some good performances tonight. I'm pleased Lukaku got a goal after being much maligned in recent weeks. Joel looked more confident, and put in a decent performance. A couple of more like that, starting at the weekend and the lad might have a future with us yet. Again the trouble was the defence. Jags didn't play great but I think we looked more assured once Stones came on. He's so calm on the ball. I still can't work out why we try to play everything through the middle. Coleman was totally anonymous for the most part. It seems glaringly obvious but Bobby must know something we don.t
Ray Roche
132
Posted 06/01/2015 at 22:40:05
Besic played well tonight, as did Robles.Lukaku was MOTM by a country mile. So,us not practising defending against set pieces like corners. That went well, didn't it?
Alastair Donaldson
133
Posted 06/01/2015 at 22:34:05
Watched the game from behind the sofa... not really, but it wasn,t a complete horror show. Maybe enough to build some small momentum.
Thought there was still a lack of energy there and desire/instinct to go forward more quickly. On the occasions they did it was better.. it really is 50% in the head.
But Jeez the interviews after with Jags & Lukaku, you would have thought someone had died..WTF?
That ref tho... it's easy to critisize, but he was sXXXe. Rom's 1st goal should have stood... it bothers me the players never show enough annoyance with these officials....it's not about swearing at them but we lie back and take it too easily. Eto's booking...joke.
F
from
Thought Robles was ok
Terry Nolan
134
Posted 06/01/2015 at 22:38:19
Draw was a fair result tonight; at least we showed bit of fight.
We need to drop Distin & Barry, they are way too old. Distin's marking for the goal was bad, at least with Stones now fit, hopefully he won't get another game. Besic has proved him & McCarthy can handle MF role which will allow Ross to be the playmaker, not Eto'o...
I thought big Rom's 1st touch was good tonight... now it is just shooting practise they need!!!!
Tommy Coleman
135
Posted 06/01/2015 at 22:39:42
Peter Laing #128
Exactly, but its here in black and white amongst these posts.
They'd rather say "I told you so" than RM get it right and Everton be successful.
Sad Sacks: Official.
Andy Meighan
136
Posted 06/01/2015 at 22:32:52
45 minutes of the second half, and up until we scored, I can't remember us creating one single chance – and we were the home side. Luckily the chance fell to our best player on the night, Lukaku. I've slagged him to death this season, sometimes rightly, so sometimes not. But tonight I thought he was excellent.
But it rather begs the question: Why haven't we seen more of it from him? All that aside, to me, I can't take any comfort in that as it just delays the inevitable...
Paul Dark
137
Posted 06/01/2015 at 22:48:54
I thought we were better tonight - still a long way to go, but better.
MoM Besic, followed by Rom, then Bryan. GazBaz needs a break.
Make Besicbauer captain! He gives us real backbone.
Colin Glassar
138
Posted 06/01/2015 at 22:47:40
Peter Laing, sad to say but there were some hoping for a defeat tonight to reinforce their calls for a sacking. Despite detesting some past managers I would never, ever hope or wish Everton to lose a game.
Hate the manager if you like. Continue to bey for his head but for gods sake, support your team.
Andrew Rimmer
140
Posted 06/01/2015 at 22:41:04
I agree that there was a fair bit of fight that has been missing for a while but there were still square pegs........
Pellegrino's Man City next
Big Sam's Hammers away FA Cup
A Pulis inspired West Brom
Then a Pardew inspired match away to Palace.
Four Lads that Shook The Blues

Phil Walling
141
Posted 06/01/2015 at 22:27:51
WTF has Oxford in another century to do with what happened tonight ?
I do wish people would stop chasing echoes of the past to put a gloss on the present.
Good to stay in the Cup but we return to reality on Saturday. Perhaps Lukaku will deign to put in a similar shift to this evening whilst Jags sorts himself out. At least Robles began to look like a goalkeeper but defence and midfield still a bloody mess.
At least BK and Elstone looked like they were discussing the shambles st game's end !
Colin Glassar
142
Posted 06/01/2015 at 22:53:35
Bob do one you bs merchant. I did say jags was awful, not only awful pathetic!!! But you wanted the team to lose so who's a wum? Don't get me started lad.
Chad Schofield
143
Posted 06/01/2015 at 22:44:27
Great to see Lukaku dropping (not too far) and using his frame and pace - much better and pleased he got the goal.
Not a great performance overall, but pretty good under the circumstances. A fifth defeat would have been awful as well as unfair.
A replay isn't really what we need... but I know what people are saying about Jags. Regardless of hia own personal performance, as captain he should be more positive - maybe just avoiding exuberant superlatives like "phenomenal".
As ever disappointed with BT's ex-red led dampening.
James Lauwervine
144
Posted 06/01/2015 at 22:47:41
Anyone who accuses the lads of not trying tonight can absolutely fuck off!!!!!!!!!!!!!!!
Peter Mills
145
Posted 06/01/2015 at 22:44:34
On the plus side: there was some fight, Lukaku worked hard to get some shots in, Besic and Stones were ok, we equalised.
On the minus side: just about everything else.
I am desperate for this to be a turning point, I was on my feet when we scored. But in my heart I am fearful that our manager is very limited in his ideas, and we all know he talks absolute nonsense.
Ian Riley
146
Posted 06/01/2015 at 22:33:46
It's a start, we showed fight and desire. The interview by the players was worrying. Not a happy camp, but the captain I hope shows more desire and belief in the dressing room. I thought we had lost from his interview.
For the first time, the chairman looked very stressed. I don't know if tonight was a turning point. Move the ball more quickly with pace is still not happening (only for the goal). Still frustrating the hell out of me with the passing for the sake of it. We still can't defend but we showed more fight and that is what we need now.
Oh yes, man city next!
Andrew Hawes
147
Posted 06/01/2015 at 22:49:30
I think Coleman's head has been turned.
How do you go from one of the most exciting, attacking right backs in the Premier League, if not Europe, to the invisible man??
㿅 million for him and 㿊 million for Barkley is looking like good business at the minute, but I wouldn't be trusting Martinez with the profits to rebuild.
Martinez needs to go though, even Micheal Owen saw what we have seen all season??

Howard Parr
148
Posted 06/01/2015 at 22:29:03
No offence if you couldnt make it tonight, but anyone there could FEEL that we wanted to at least have a go - and it was a huge improvement!
No doubt that we changed our style a bit and thus asked more questions of the opposition. I just hope thats the start of RM accepting we need more than just 66% possession,5 million passes etc.
We don't need to seek the perfect goal... just build pressure which leads to goals.
Mirallas only one who didnt put a shift in. Not saying they were all excellent - and too early to call it another Oxford - but I have hope for Saturday.
Colin Glassar
149
Posted 06/01/2015 at 22:57:10
#109, he has to go, he has to go, he has to go. Mummy, he has to goooooooooo!!!!!
Chad, Jags was all over the place tonight and that post match interview shows that he might need to be pulled for the match against city. If Stones is fit then he should start next to........?
James Martin
150
Posted 06/01/2015 at 22:45:28
Lukaku and Besic are exempt from criticism and Stones looked good when he came on but the rest were woeful. The axis of evil that is Barry, Distin and Jagielka need to be dropped immediately and then we had the infamous three number 10s on in place of Besic and Mirallas two of our better players. Mind boggling from Martinez but maybe his luck is changing.
Adam Luszniak
151
Posted 06/01/2015 at 23:00:49
Bob Heyward you're a great laugh you are
Kieran Riding
152
Posted 06/01/2015 at 23:01:40
Oviedo better than Baines.
There, I said it.
Paul Thompson
153
Posted 06/01/2015 at 22:50:53
I don't know whether Coleman has lost form or heart or knows he's on his way, but he just didn't seem bothered. What a contrast to Rom. The thing he was doing all night to great effect was to roll the ball away from his body and turn, creating space for himself and others. Obviously been working on the training ground.
Still too cluttered in the middle. Don't really like McGeady, but he has to play - we need the width. Get the crosses in an Rom will put them away.
As for the central defence, it's still a massive concern. Jag's confidence is shot and Distin is in sharp decline. Get Stones back, but can't see us stopping shipping goals from set pieces.
Jack Cross
154
Posted 06/01/2015 at 22:50:13
I don't know which was the best, the equaliser against Shite or the one against West Ham, tonight. But I couldn't see either coming. Just a slightly better performance to what we've been watching all season. A bit more effort, with more mistakes. But I can see us beating them up there and I still think we will beat Man City on the 10th. I just have a feeling that we will. We have to come good against someone. So lets hope.
John Daley
155
Posted 06/01/2015 at 23:09:43
Raymond, how can you give Naismith a 7 and Barkley a 5?
What did Naismith actually contribute except for 'last kid chosen in the playground' endeavour? He chased around, following the path of the ball, and that was about it.
Sure, Ross looked lost for large parts of the game and clearly isn't suited to being shunted out on the left. However, on three occasions when he started a run through the middle he fashioned three goal scoring chances: a sublime through ball to put Lukaku through on goal, a dinked ball into the box that was just begging for a touch and a great run and shot. True, he frustratingly misplaced his final pass far too often but two of the very worst culprits for that are the competition he's currently facing for his favoured role: Naismith and Eto'o.
Naismith is a grafter and will run all day, but he lacks genuine talent. Eto'o was a player of true class but is some way past his best. He was also never a playmaker even in his heyday, so why he's dropping deep and trying to dictate things I don't know.
That they are being continuously given game time in that central role at the expense of the one player in the side who possesses game changing ability in that position is a travesty. Ross needs more than anything an uninterrupted run of games in his favoured role. How is he ever supposed to find any sort of form when he's continuously switched from one area of the pitch to another, to make way for an inferior player, and then expected to make a fist of a role he's completely unsuited to/uncomfortable with?
People say 'he's overrated', 'sell him and rebuild' and 'I'd rip their hand off for 㿔m' but I guarantee if he does leave and a top class manager subsequently gets to grips with his game, he'll become a rare talent we'll regret never making the most of while he was here.
Mark Taylor
156
Posted 06/01/2015 at 22:44:41
Either Barry has a 'plays when fit' clause in his contract or RM is embarrassed at giving him a massive contract only to see him put his pipe and slippers on now the World Cup has passed. How can he not be dropped or even subbed, given how he's playing? Does he have the pics of Martinez with the goat?
Seamus unfortunately is playing like his head has been turned and we clearly have very urgent need of reinforcements at CB and GK. Reid and/or Shawcross plus (in my dreams) Cech would make a hell of a difference.
I saw a quote earlier from the coaching staff saying we don't practice defending corners because there are only about 3 in the game, so it's not worth it. Well we had 4, so it's half true, and you don't need to practice defending against us (we can't take a corner anyway). But WH had 14 or 15. With a truly accountable and humble management, a public apology would be issued for that nonsense tomorrow.
A lot of people applauding Lukaku for the goal. It was a good finish but did everyone not see that first touch- the control was horrific. This was one of his better games but he has no skill to speak of, beyond a decent shot with both feet.
My mind is not made up about Barkley, roughly in proportion with the degree that our manager's mind is not made up as to where to play him. Why not CB or LB? Or GK? Surely he's phenomenal enough…?
Peter Bell
157
Posted 06/01/2015 at 23:09:10
Jack, a team is never more vulnerable when they earn a replay away from home and think they have done the hard part,I too think we will beat them down South
Kieran Riding
158
Posted 06/01/2015 at 23:10:45
Thought Distin was going to sprint off after picking up his knock.
Hope I don't see him start one more game for us.
Mark Andersson
159
Posted 06/01/2015 at 22:32:29
So the knives have been put back in the draw. Man City next and even the manager will expect nothing like wise the board.
Martinez will not be sacked and there is the 2nd half of the season to get through.
Colin Glassar
160
Posted 06/01/2015 at 23:09:59
Against city I would be tempted to play (if fit and available)
Robles
Hibbo
Stones
Barry
Oviedo
Mirallas
Besic
Barkley
Baines
Naismith
Lukaku
After tonight's performance I think Seamus and Jags need to be rested for a while.

Gavin Ramejkis
161
Posted 06/01/2015 at 23:02:22
Back from the game and lots of improvement but mixed with some characteristic flaws that could easily be put to the sword too.
Lukaku, Besic and Mirallas much much better game, a world of difference with Lukaku running onto a ball for a change. Besic some decent touches and put himself right in with tackles, a few silly backheels giving the ball away but hunted it back down again instead of standing off, Mirallas running at players always a pleasure to watch.
Negatives, hmm Jags was a mess some really poor mistakes which should have been punished, Distin completely asleep whilst Collins unmarked ran across our area for the header. Barry again some poor mistakes which could have been punished. Subs wise we remove a winger again leaving us no width plus a player who was running at them and leave Barry on the pitch, second sub we remove Besic undoubtedly our best midfielder on the night and Barry still stays on the pitch, luckily and for a change McGeady took the bull by the horns ad ran at the West Ham defence causing them a lot of panic and mistakes.
Then we have the clown prince in black Mr Taylor, a ref who has this season overseen 2 of our victories but tonight couldn't wait to throw yellow cards around at Eto'o for a bit of backchat, Mirallas for a nothing tackle and likewise Lukaku (this one he actually ran at him waving it, bastard couldn't wait to give it) add in Lukaku's header disallowed with fuck all wrong with it and Carlton Cole's two blatant elbow smashes to heads and you began to think he would give us nothing all game.
Screamed myself hoarse shutting up the Danny Dyer Utd fans at the equaliser and we have a second go at them. Note to Martinez, drop Barry don't care how much you love him use him to close a game out when you are comfortably ahead not as a starter, the quicker you find replacements for Jags and Distin the better and FFS play two wingers at once, not one then remove him and leave none or one then swap him for another we are frighteningly unbalanced and narrow, feed your strikers from the wings.
Dave Abrahams
162
Posted 06/01/2015 at 22:47:35
Not great but a lot better than the last few games. Thought Robles looked like a decent goalie tonight,more games more confidence.Besic was good in patches but we know he will improve with more games,Lukaku was very good and deserved his goal.
They had a lot more spirit tonight as well, but lack the movement off the ball, far too static at times but tonight they gave us some hope that they will improve and I think tonight gave us glimpses that better days are ahead.
Bob Heyward
163
Posted 06/01/2015 at 23:01:40
To be fair, Howard, their were improvements, the main of which was Lukaku coming short and holding the ball in the first half.
That said, we failed to defend a single corner. Not one. And the goal that came; a free header for a player running in from outside the box - and that player just happened to be West Ham's best header. Static, zonal marking did us fourteen times on corners in the first sixty-minutes. A more clinical team would have whalloped us.
As Mourinho said, you can't build a house from the roof down. Tonight was further evidence that we cannot defend, even against a simple short corner.
A more clinical team is going to embarrass us, and our attack is no were near enough to get us out of trouble.
John Maxwell
164
Posted 06/01/2015 at 22:59:11
Watch Distin on the replay for their goal, he just stands there.
He is totally finished.
Slightly better performance, cant see us getting anything from the replay but some positive signs.
Eddie Dunn
165
Posted 06/01/2015 at 23:10:36
Jags must be the most shy Captain ever. He can't even look at the BT interviewer. He jokes with gobshite Nolan in the tunnel, like he did with someone at Hull.
He was awful tonight, as was Distin. Thank God that Carrol was injured.
Stil too many people out of position, but what great heart from Rom.
What's up with Coleman?

Ste Traverse
166
Posted 06/01/2015 at 22:53:51
I had that much confidence in this team and it's manager I managed to miss Lukaku's goal. I was strolling down Gwladys Street when I heard the roar as I'd just fucked off.
I've stuck up for Rom many times on here this season when he's had stick. You get service into him and he'll score goals. He's had to live off crumbs this season.
That goal though doesn't change anything for me. I still want this buffoon out.
Colin Glassar
167
Posted 06/01/2015 at 23:17:28
Oh bobby, bobby, bobby. You must do better.
Minik Hansen
168
Posted 06/01/2015 at 23:14:38
Nice to see Oviedo given game time again, he makes things a bit different than three COMs and is full of confidence, which we've been missing. Stones did good, more of him please! Besic is good to have playing, him and McCarthy will do! There is some spark there beginning, Barkley had a moment here and there, and Lukaku was giving it. Here is for a bit better times.
Laurie Hartley
169
Posted 06/01/2015 at 23:12:19
Hopefully, that will put a glimmer of belief back into the players. How long is it since we came from behind to salvage something from a game? I think it was Sunderland away.
John Daley
170
Posted 06/01/2015 at 23:13:36
"..there were some hoping for a defeat tonight to reinforce their calls for a sacking.."
C'mon Colin, that's just crap. I don't know any Evertonian who would rather see Everton lose than Roberto Martinez succeed.
Gavin Johnson
171
Posted 06/01/2015 at 23:11:49
I wondered what the Oxford reference was about at first as you do get randomness on here at times. But yes, It's clicked now. Yes very good, the Kevin Brock back pass before the goal that kept Kendall in his job. I remember when the red tops used to run that story every FA cup run in the 90's as we were usually mired in the bottom half.
Peter Laing
172
Posted 06/01/2015 at 23:16:01
Agree Dave regarding Robles, he still needs to be an understudy but not to that Neanderthal Howard
Bob Heyward
173
Posted 06/01/2015 at 23:16:22
@Adam the polemicist - thanks, I try. No doubt you'll have seen that near debacle as further evidence that Bobby is the right man?
Tom Loughrey
175
Posted 06/01/2015 at 23:25:47
Copy / paste gone wrong there Eddie?! :-)
Kevin Tully
176
Posted 06/01/2015 at 23:15:56
Either they get in line, and play for the shirt, or fuck off!
Incredible to see Jagielka playing some 'floaters' it reminded of cap'n Phil. First time this season those 'passes' have been played this season.
Words have clearly been had between the players and manager - let's hope they can all come to a compromise. They have the makings of a proper team, lose the will to win, and forget it.
John Gee
177
Posted 06/01/2015 at 23:26:02
eddie, 176, it's point often made but I think you've nailed the spirit of ToffeeWeb.
Mike Green
178
Posted 06/01/2015 at 23:23:11
John #166 - sad, but absolutely true about Distin and how he left Collins to it for the goal.
We were abysmal again for long periods tonight, the only thing that saved us was the hoodoo we have over West Ham, they just can't beat us.
God knows what freak events will happen in the replay to sweep us into the next round. They'll have to be truly bizarre this time around....
Daniel Joseph
179
Posted 06/01/2015 at 23:12:13
Lukaku, for me, showed more commitment than in any other game in an Everton shirt, and was fully deserving of the equaliser.
As for the rest, well mixed is about the best that can describe the effort that was put in, and questionable for Bobby, by taking Mirallas off, who at the time was our most effective attacking force.
Robles.........yeah Robles..........Oh well
Coleman........has his head been turned?
Jags........what a difference a season makes!! Not good
Distin............lost too much pace
Oviedo.......The strong tackles can only be good for him
Barry ........A mistake re-signing him .....waaaayyy past it
Besic..............neat workhorse. Likes to tackle and did above average
Naismith.............worked hard, put his shift in, no complaints
Barkley..........promised so much but yet again failed when it mattered.
Mirallas..........subbed...............why?
Lukaku............best game this season

Raymond Fox
180
Posted 06/01/2015 at 22:54:32
Peter 127, I agree mate, but I'd give Eto another season.
We have a very big problem looming though as you say, where the hell is the money going to come from!
Not a very pleasant thought is it.
James Marshall
181
Posted 06/01/2015 at 23:32:29
What's the scoop on tickets for the replay? Anyone?
Mohammed Horoub
182
Posted 06/01/2015 at 22:53:29
The Good: Lukaku, Besic, Robles and Oviedo
The Bad: Jagielka, Distin and Eto'o
The Ugly: Martinez's tactics.
Big Sam must have looked out at the pitch when Eto'o, Barkley and Naismith were all within a few meters of each other and had a smile on his face.
Based on the performance I think we now know that Mirallas and Coleman are the 2 players who want out. Although not ideal, get the cash in and try and buy 3-4 players who can lift the team's morale. Martinez continues to send out teams with no balance but despite that we can take some positives from the game.
I still think there are 11 players in the squad who will gel and get us out of this mess. Would like to see what Garbutt and Oviedo can do out on the left. Barkley needs to be left in the #10 position for a few games. Only 2 of these players should be on the pitch at any time during the game: Barkley, Kone, Eto'o, Naismith and Lukaku.
Jags and Stones are still our best combo but would like to see a CB brought in before the end of Jan.
Robles is gaining confidence despite the muppet show that's playing in front of him.
Our right side needs strengthening because our best combo on that side have already checked out.
I don't think the board will make a move with RM until after the 2nd leg in the Europa. For his sake and the club's I hope the results and more importantly the defending has improved by then. Oh and we conceded 15 corners which means we had to defend atleast 20 set pieces. Maybe that will change RM's mind with regards to what to do in training. It would have been interesting to see what would have happend if the results this year had happend in Bobby's first season. Not sure he would have survived it.
Paul Dark
183
Posted 06/01/2015 at 23:28:29
Brock? Hm. Kendall is in a different (much higher) league from Martinez.
I still fear for Martinez; the ideology that was his making will bring him down, I fear. 'Move the ball' is not enough, Bobby lad. Sometimes we have to go quick and we have to play long - and sometimes we have to be hard too.
Paul Dark
184
Posted 06/01/2015 at 23:35:20
Sorry for the typo: I meant Professor Lord Sir Howard Kendall.
Apologies.
John Gee
185
Posted 06/01/2015 at 23:32:17
I'm not sure if I want him back but can you imagine these players under david Moyes?
Ian Smitham
186
Posted 06/01/2015 at 23:35:10
Just got back from the match. Lots of changes needed.
Bob Heyward
187
Posted 06/01/2015 at 23:24:34
@Adam - I'll throw my hat in and say that I did. Sorry!
We're in a relegation fight. I'd sooner we lost tonight to allow BK to make the big call.
I don't want Martinez to have any fig leaves. As it is, a woeful defensive performance against a poorly playing West Ham team was covered by a goal we barely merited. Now I hear Martinez is calling the draw 'phenomenal'. PHENOMENAL. Really?
That's why I wanted us to lose it. This guy is a BS of the highest order. His sycophants literally hang on his every word, shrieking at any questioning of their Bobby.
The FA Cup allowed him to pull the wool over the Wigan fans. They swallowed his BS. This chancer spins a yarn everyone wants to believe. But what he's producing on the park is a fraud and a sham. Tonight only allows him longer to spin his yarn...but mark my words, he will go sooner or later.
The critical question is, when. Get rid soon and the new manager has two cups, a transfer kitty, a transfer window and circa eighteen games to fix things. Wait three more games and it'll be a lot harder to attract any one of calibre.
Mike Corcoran
188
Posted 06/01/2015 at 23:27:10
Colemans probably looking poor cos there's no one playing in tandem with him down the right
Jerome Shields
189
Posted 06/01/2015 at 23:37:21
Everton hoofed the ball out of defence more rather than play it out tonight. But Jags managed to get caught in possession in the first half and you could see the confidence drain out of the Everton players.

I think Martinez's prematch instructions to Jags were: "Just kick the ball high, we stand a 50% chance of getting it, than giving it away as we have been." When he lost possession, Martinez shouts, "What did I fucking tell you!"

Jags managed 50% of the time to follow instructions, except when a West Ham player runs into the box from deep and heads the ball, when you hoof it in the opposite direction and give a corner.

Hopefully the other Everton players derive confidence from Martinez's new defensive tactics.
Ian Smitham
190
Posted 06/01/2015 at 23:39:00
We seemed a bit West Hamstrung, wrong thread maybe!!

James Marshall
191
Posted 06/01/2015 at 23:40:38
Lots of changes needed? We haven't played the same team all season and look where it's got us! We need the same team every week.
Ant Summers
192
Posted 06/01/2015 at 23:36:32
We will win this FA Cup, I have a real feeling, that 1 goal will make a huge difference. And I bet anyone, RM will still be in charge, and we will finish no lower than 7th. 1984 anyone?... and as someone who lived thru it Xmas 1983... Howard Kendall was hated by most for his tactics, he went more direct in the New Year... Martinez was more direct tonight, we just need to get that defence sorted out.
John Gee
193
Posted 06/01/2015 at 23:39:54
bob, 189, i'd be amazed if he's in charged for the palace game. its a shame because he is only a couple of decisions away from turning this around.
Graham Mockford
194
Posted 06/01/2015 at 23:28:20
Just got back from the game. We just about pulled it out the fire and got the draw we deserved but that's not saying much because other than Downing,who was the best player on the pitch by a country mile, West Ham were shit.
My seats are directly behind the goal in the Park End and provide an interesting view which I think is the root of our problems.
I have never seen an Everton team so narrow. Both Barkley and Mirallas who were nominally in wide positions spent most of the game in central positions. This meant on the whole the opportunity for the full backs to join in was extremely limited. At one point once Eto'o came on, Oviedo was playing both full back and wide left on his own.
We seem intent on playing through the centre of teams, lots of intricate passing which is easy to defend against, losing possession and on a number of occasions leaving us vulnerable to counter attack.
Last season ( and the previous 4 or 5) our full backs were one of our most potent attacking options. The current system has negated this and as a result we look a lot less dangerous.
On a plus point I thought Lukaku never gave up and got the goal he deserved but if we had Coleman and Baines bombing on and getting crosses in I am convinced he would be getting more goals because the lad certainly can finish. Asking him to play with his back to goal and play intricate passes with midfield players is to my mind a fucking waste.
Colin Glassar
195
Posted 06/01/2015 at 23:41:12
John Daley, really?
Gavin Johnson
196
Posted 06/01/2015 at 23:43:30
Get your cheque book out Bill and sign Winston Reid
Chad Schofield
197
Posted 06/01/2015 at 23:14:02
Colin Glassar, as long as its not Alcaraz!!!!
Bob Heyward
198
Posted 06/01/2015 at 23:40:41
@ Mohammed 184 : 'It would have been interesting to see what would have happened if the results this year had happened in Bobby's first season. Not sure he would have survived it.'
A really interesting point. I think you're right. Like Mike Walker all those years ago, there's no way it would have been tolerated.
I have to say, it's also worrying how common consensus seems to be developing that we've 'lost' Coleman, McCarthy and possibly Super Kev'. They're all players that could walk away with ease. If there is unrest in the dressing room, who ultimately carries the can?
Seriously, Moyes must be starting to chuckle at this farce...
Kev Wood
199
Posted 06/01/2015 at 23:44:59
All I was able to see of tonight's game was the brief 3 minute BBC website highlights- but what a lovely strike from Romelu. Movement through the air to connect and drive the ball home that I will remember forever.
Bob Heyward
200
Posted 06/01/2015 at 23:50:44
@ Graham - fantastic post. Agree with every word.
@ John - You're right, but I think that those two decisions were retrospective ones. Firstly, the happy holiday that was the closed season truly screwed us. Secondly, putting the spine of our defense in the hands of slower players who are encouraged to play a high line - Barry, Distin, Jags - (idiotically failing to learn the lesson of Anfield 2013)
Paul Smith
201
Posted 06/01/2015 at 23:51:50
Could be the start of something good. Just listened to a pod cast of the RM interview after the game. He said in reference to Rom's goal "...It wasn't a feeling of relief, just excitement & joy..." If that's genuine positivity, then I want some.
Well done tonight for stopping the rot and Rom looked right up for it. For me the Jury's still out with respect to RM's tenure; we'll know one way or the other in the next few weeks.
Roman Sidey
202
Posted 06/01/2015 at 23:12:17
Jags post-match interview says it all about the man for me. Looking at the ground instead of at the journo and mumbling the same old soundbite diatribe that is copy-paste crap that any writer could insert in their prepared match report. I've been a broken record about him this season, but I will not stop until he is not captain OR he dramatically changes his approach. In reality, both outcomes are paying 1/100.
Colin Malone
203
Posted 06/01/2015 at 23:22:53
Funny how fans have short memories of Jag,s. Unreplaceable in my eyes.
We got the ball to Lukaku much quicker tonight and we seen the benefits. Thats what I call a plan B Roberto.
Andrew Presly
204
Posted 07/01/2015 at 00:01:34
Tickets for the replay on general sale Friday from 1pm.
Special thanks to the lads leaving with 10 mins to go. Inspirational.
Paul Dark
205
Posted 07/01/2015 at 00:02:42
I think Pat Nevin's article in the Echo about RM having a 'pure heart' was fair and right. I do feel sorry for Roberto too. I think he really does want the best for Everton and he passionately believes in what he is building - but in the ugly rough and tumble of the PL with horrible characters like Allardyce and Mark Hughes, his philosophy might well founder,
Whatever happens, relegation can't happen, and he must be taken out if the Board feel this is a possibility. The cups are totally irrelevant compared to PL survival.
Dave Lynch
206
Posted 06/01/2015 at 23:56:11
All I observed was papered over cracks..
That was a weak WHU side and we should have beaten them comfortably. City will murder us if we play like that.
Chris Gould
207
Posted 06/01/2015 at 23:44:51
If losing tonight meant that RM would have been axed in the morning then it would have been short term pain for long term gain. I don't think it makes you less of a fan to wish for a result that gets shot of a shite manager. He is clueless. Ultimately a fan wants what is best for the team. I believe sacking RM as quickly as possible is the only way we have a chance of salvaging this season. If losing tonight forced BK's hand then fuck it, I'd have preferred to lose - because I am a fan, a massive fucking fan. And I want what is best for this club. Since March of last year we have been on a steady decline. I don't even like the guy any more!! He is one of the most irritating people in football. He now just reminds me of Manuel from Fawlty Towers. He's a total fucking buffoon!!
Colin Gee
208
Posted 07/01/2015 at 00:09:14
We played well in spells, probably in truth deserved a draw, but I am hoping that Rom's injury time equaliser is Roberto's Kevin Brock moment.
Simon Temme
209
Posted 06/01/2015 at 23:52:46
Bob Heywood@109 & many other recent posts on this and other threads:
I may possess a different opinion to you but I find this purile, arrogant and frankly juvenile one man crusade of labeling anyone with a different opinion to you regarding Martinez as an "Apologist" patronising and offensive.
It portrays the actions of a man with limited capacity when it comes to debate.
Self analysis may be not one of your strong points however, do you not understand that by dismissing and alienaiting alternative opinion with inflamatory comments nullifies any incisive views (And you do have some) on Martinez redundent.
Tommy Coleman
210
Posted 07/01/2015 at 00:18:18
Bob Heyward has just won the "Troll of the Season 2014" from from last year's "2013 Champion" Phil Walling.
Keep hoping Everton fail fellas to try and look "cleva".
Paul Smith
211
Posted 07/01/2015 at 00:25:40
Fuck it just orderered my ticket for the replay (live in the South) don't get to many games. I bet there's more than 650 of us, woeful support for the Hammers tonight. I'm looking forward to it, could be the revival.
Andy Crooks
212
Posted 07/01/2015 at 00:20:26
What ever anyone thought before the game , no supporter was anything other than elated at the equaliser.
John Daley that "last kid picked " thing was just brilliant .It brought back horrendous memories for, err, an old school mate I happened to mention it to.
Tommy Coleman
213
Posted 07/01/2015 at 00:34:57
Andy Crooks #214
Exactly Andy, I'm on holiday with a crap Internet connection watching the game and jumped up and down in the bar, by myself.
It is the FA Cup after all.
Ride this shit period out and I'm sure RM gets it right.
Jon Withey
214
Posted 07/01/2015 at 00:29:26
Its not really clever to point out imperfections - nothing is perfect. So, everybody who doesn't criticise everything is an apologist right ? For the imperfections, I mean.
Nightmare.
Drawing beats losing.
Ernie Baywood
215
Posted 07/01/2015 at 00:42:23
First half we were good, well after the first 10-15 minutes. There were times in that half that we did things that you don't see many teams do... for example the three quick pass move than ended up with Lukaku missing the far post. Barkey getting himself into the centre... just clear out of his way as he's incredible in full flight.
Besic had a great first half as a destroyer, although people claiming he moves the ball quickly or pushes us forward are being conned by what they're seeing. He may be very quick, look kind of dynamic and throw a lot of shimmies but he goes backwards. He did it from their penalty area at one point which ended up with ball back to Robles. There's a role for Besic (probably over Barry) but he doesn't solve the problem of getting the ball out of our half. Hopefully it's something that comes to him because he seems to be decent enough on the ball.
Then the second half and the goal conceded sapped their confidence. We again looked like the team that couldn't get out of defence and midfield. The space around Rom closed up. Eto'o came on, seemingly to close down Barkley and generally had a shocker.
Aiden McGeady got us back into that game tonight. A slightly tattered but correctly shaped peg in a gaping hole. He offered more in attack in 5 minutes than the rest did in the 40 that preceded it. You don't need to be brilliant.... just committed and playing in a position that suits you.
Strangely, I haven't celebrated a goal like that for a while. There was kind of a feeling of defiance... wonder if the players feel that too? We're in the shit and we need to fight our way out.
Simon Temme
216
Posted 07/01/2015 at 00:30:42
Sorry I should have said Heyward.
James Marshall
217
Posted 07/01/2015 at 00:56:43
I'm after a ticket for thr replay so if anyone has one going begging, I pay good price!
Paul Smith
218
Posted 07/01/2015 at 01:03:45
James #219 I will see what I can do for you. Here's my email: battle71@hotmail.co.uk
Throw me an email and I will send you the details as and when I get them. I will be travelling to the smoke from Pompey.
Paul Smith
219
Posted 07/01/2015 at 01:10:05
That should say battie71
John Voigt
220
Posted 07/01/2015 at 01:25:56
Very pleased Lukaku stuck with it and scored.
Don't know why Stones didn't start. My opinion he's our best central defender. He's fairly tall, mobile, and can track opposing players better than Jags or Distin. He's also much more comfortable playing the ball out of the back.
If we play this narrow we might as well play Baines and Coleman further forward. I wouldn't mind seeing Garbutt/Oveido and Hibbert in the back line with Baines and Coleman playing more as wingers. Both Baines and Coleman know how to play wide which is better than the other out of position options we seem to play.
Will be interested to see who starts this weekend.
Mark Wilson
221
Posted 07/01/2015 at 01:42:17
Very scary to read some of this thread. Clearly people fell asleep watching the telly and dreamt they were watching the game, because it certainly wasn't the match I was at !!
Besic had a cracking game and if McCarthy can be fit for Saturday that's the centre mid Id like to see, failing that I'm starting to think Baines alongside Besic might just work.....anything but Barry who was slightly better tonight but still looks horribly off form.
Lukaku had one of his best games for us and gave me hope he can do that on a regular basis if our shape and approach allows.
Oviedo was very good indeed. Garbutt at left back and Oviedo ahead of him on Saturday ? Ok that's three left backs in the team but there would be width and a little pace and defensive nouse down that side......worth a punt.
Barklay looked better any time he drifted inside and swopped places with a hard working but largely less effective Naisy....however until the mgr stops torturing Ross by playing wide left the guy might as well be on the bench.
Robles did ok considering until Stones arrived the centre of his defense had another less than great night.
The ref was an utter shambles and surely we will get some decisions going our way in the second half of the season...
The draw was deserved, a real mixed bag but West Ham are one of the six best teams in the league this year and we arn't so not that shabby to get a second chance.
None of which alters my fear that we are going to get utterley tonked against City. But this is Everton so who knows. Oh and anyone wanting us to lose tonight....crazy, totally crazy.
Harold Matthews
222
Posted 06/01/2015 at 23:41:31
True Mike Co @ 190. With Barry's legs gone and certain individuals very reluctant to track back, there were times when our whole rear line was far too exposed. A fit McCarthy would have made a difference but we still remain seriously disorganized with too many ball watchers and a lack of pace and aggression in vital areas.
Still poor in the air, Lukaku put in a good shift and got himself into the box for the equalizer. As the main striker he needs to get in there more often.
All in all, a better performance than recent efforts but the attackers are too static and predictable in the final third.
Gavin Johnson
223
Posted 07/01/2015 at 03:19:18
I said it half in jest earlier in the thread, but I alluded to Barry possibly having a clause in his contract to play when fit, because he is never dropped for more mobile players.
Besic had a really good game last night and McCarthy is returning from injury. I thought about the prospect of the two of them paired behind Barkley or Baines and I don't recall them ever playing together.. It's always one of the two, alongside Barry.
It might be an option As you say Harold, Barry hasn't got the legs to track back like McCarthy and while Besic might not be quite as creative as Barry, he is certainly more mobile and is a grafter. Also any lack of creativity could be offset by playing Baines or Barkley in front of them rather than Naismith.
Daniel Lim
224
Posted 07/01/2015 at 04:26:42
Will Rom's goal become the turning point of this season, much like "that turning point" a few seasons ago with the Neville tackle against Man Utd?I really hope so.
As much as I thought RM should be gone, I hope he could prove me wrong by motivating the players with this goal.
Should we bring Neville back for a day to tell the current squad what happened then, before and after his tackle?
Ian Jones
226
Posted 06/01/2015 at 23:41:25
I agree and disagree with many of the points made on here and haven't time to go through them unfortunately.
What I will say is that Evertonians shouldn't be wanting the team to lose any games. I sadly fell into that category before the Hull game but that was more because I wanted to hear Roberto Martinez talk his way out of the 4th defeat in a row. Last time I want them to lose.
The more matches we have to play the more successful a team we are. If we have to play 2 matches per week it would generally mean we are doing something right. Just have to find a way of dealing with it.
I appreciate it's tough watching us play at the moment for many reasons, especially if you pay to watch the games at Goodison and/or follow the away games.
But we didn't lose tonight. We came back from a goal down against a well-organised team. We are still in the cup and that means another game. Great. If we can get through we have a winnable tie against lower league opposition.
From what I could see from watching the game on TV there seemed to be more fight in the team, Lukaku seemed to run around a bit more. Not that running around more is always good but there were signs of improvement from him.
Yes mistakes were made. Confidence is low. The post match interview with Jagielka and Lukaku showed us 2 players who are low on confidence but also who were probably knackered and relieved....
Sorry not to bring any new points to this thread.

Mark Andersson
227
Posted 07/01/2015 at 06:26:15
Ant Summers, I once heard that the world was built by dreamers. If we all had your optimism then TW would be a lot less entertaining.
Thankfully we all see it differently, but it's good to dream. My nightmare still continues.
Neil Pickering
228
Posted 07/01/2015 at 07:16:28
Joel: did okay actually. Still need to replace him mind. An accident waiting to happen.
Distin: Hes been a great buy for us but its time he was put out to pasture. He has lost his agility and his reaction time has doubled.
Ditto Gareth Barry.
Jags: had a poor game but has to play every week
Coleman: lacking in confidence. Still our best right back.
Oviedo: should play wide left in front of either Baines or Garbutt.
Besic: love his enthusiasm. Needs run of games.
Mirallas: should play wide right.
Barkley: a fraud. Sell for as much as we can.
Naismith: god loves a trier. When hes out of form he looks a bit of a donkey. Works his plums off though.
Lukaku: think we made a massive boob paying 28 mil for him but he did well. Possibility best game ive seen him have. Needs to be in the box more.
Stones for Distin, Alcaraz to be burned at the stake, Kone for Barry and play Barkley and play 4-4-2 with him alongside Besic. Bypass midfield more, use width, feed 2 strikers= winning some games.
Thats that sorted. Anyone need anything else sorting out?
Russ Quinlan
229
Posted 07/01/2015 at 07:34:38
Last night the only times we looked dangerous was when we speeded up the passes, we cut through them and looked like creating chances as was shown at the end of the game. Hate to say the Macca comments summed it up after the game about going sideways, slowly, so its not just us mere mortals who have noticed. A bit more pace would make all the difference. As for Coleman, honestly don't know whats wrong with him, a couple of time he was fed the ball wide with the full back to beat and instead of going at him like he did last year, he looked up and then went back again, come on Seamus get your mojo back FFS !!
Paul Gladwell
230
Posted 07/01/2015 at 07:47:50
Would love to have been a fly on the wall at Finch Farm in the past week, things have obviously changed as our keeper and back four hit it long more times last night than we have done in the whole of last year.
Colin Glassar
231
Posted 07/01/2015 at 07:55:23
Did Robles really do anything bad last night? He seemed quite steady and made some very good reflex saves. What does he have to do to convince you that he might actually be an average goalie and not the walking disaster he's painted as?
Ian Jones
232
Posted 07/01/2015 at 07:37:21
Hi Neil
Re anything else need sorting out.
You left out your thoughts on the subs, Roberto.
re comments on Ross...not sure if you are serious but..I would love to hear Roy Hodgson's view on him
Not sure he is the next Paul Gascoigne just yet which is ok with me.
He's the first Ross Barkley.
It would be great if he could be our Gerrard. Not necessarily in the way he plays but be a one club man or almost...these days it is difficult to hold on to players like him as the players want more money and also a chance to win things and better themselves which is understandable. Gerrard has been lucky in that Liverpool always have the potential to win things so hasn't perhaps felt a need to move.
Thankfully for Everton fans they don't win as much as they use to!
Not sure about him being a fraud. But I also could be tempted to sell if there was a ridiculous bid of 40-50 million but there won't be. He is still young and needs to move up a gear to justify the hype. Certainly needs to impose himself more.
Just needs a good run of games in a position he can thrive in, for example his best position. However, exactly what is his best position. Certainly not playing out wide. Also would help if he was playing in a team full of players with confidence. Would be interesting to see how he would have developed without his injuries earlier in his career.
He could have been a contender or at least phenomenal.
He will fulfil his potential. Just hope it is with us.
Neil Pickering
233
Posted 07/01/2015 at 08:11:35
Colin, Robles did okay last night you are right, but if u drop crosses on him he looks like a 7 year old playing in under 13's football. You can clearly see the back 4 have no confidence in him.
James Martin
234
Posted 07/01/2015 at 08:16:44
I hate to say it but again Oviedo plays, again he gets an assist, again we look defensively better and Distin plays alright.
Baines should be dropped as simple as. He is one of the causes of our woeful defense. When replaced with Hibbert or Oviedo we've defended better this season. The amount of suicide runs he makes every game is ridiculous. He should focus on defending first and foremost like Oviedo does. We all know who will be straight in v city even if he's not fully fit.
Ian Jones
235
Posted 07/01/2015 at 08:17:30
Colin
Re Robles.
Agreed. He was decent yesterday. Goal wasn't his fault. Comical defending in front. Perhaps have a player stay on the post like the old days.
I admit he wouldn't be my choice as a keeper on what I have seen of him in the past especially his keepy uppy at Wigan which was funny. But he was good yesterday.
However as I have mentioned a few times it must be hard coming into a team low on confidence especially when you don't get too many matches in the first place. My understanding is that he doesn't play in any U21 games. So all he gets to do is train and sit on bench.
On a separate note I like Oviedo. Always looks to challenge and put a good shift in. Was it about this time last year he suffered his break.

Neil Pickering
236
Posted 07/01/2015 at 08:32:55
Ian, maybe calling our Ross, or Russ as Martinez calls him a fraud is a bit harsh. I don't doubt his effort, but I do doubt his ability dominate a game in the way the media seem to think he does. Hes like that lad you played with who you couldn't get near if you played in the park or in 5-aside, and then you put him in a game and he disappoints.
Nearly all players we regard as world class or potentially world have one thing in common. Arrogance abd swagger, and in some cases nastiness as well. Ross has ability granted, but like Rodwell before him I don't think he has the mentality to achieve his potential.
Max Murphy
237
Posted 07/01/2015 at 08:21:36
Colin #120 - I think you've been watching too many episodes of 'Game of Thrones'.
I'm baffled that you fail to see the long-term picture. Any minor blip in our current form, i.e. a draw or, heaven forbid, a victory, will delay the departure of this excuse for a manager.
Yes, I would take a defeat to City, if it meant Martinez was sacked the next day, and we get someone in quickly to stop our relegation slide.
One victory in 6 or 7 games is not going to save us. These rare occurences provide a feel-good factor for certain supporters, including yourself, who quickly forget the dire situation in which our club finds itself. After the QPR game there were posts on TW which stated "What's everyone complaining about? It's 3 points in the bag...". Realistic supporters were complaining about our dreadful performances and managerial tactics, and that was the last time we barely managed 3 points in the last 6 games.
Supporters should unite and make a concerted effort to get rid of our manager - otherwise we're staring down the barrel of a 'relegation gun'.
Colin Glassar
238
Posted 07/01/2015 at 08:41:08
James, Ian, agree about Oviedo. The guys enthusiasm is infectious and spreads throughout the team. I'm not ready to give up on Bainsey just yet as I'd like to see him gradually replace Barry in LM.
As for Robles well, he'll never be our number one but with a few more games to get his confidence he could be a decent stand in.
Some excellent points made on this thread. It's nice to see some blues feeling slightly better after an improved performance.
Pity about the Troll who appeared last night. So called fan wanting us to lose to prove his childish point.
Max Murphy
239
Posted 07/01/2015 at 08:49:28
Chris #209. Well stated. My sentiments exactly
Colin Glassar
240
Posted 07/01/2015 at 08:49:31
Max, Winter is coming.
Btw, you are not the Troll I was referring to. Your desire for us to lose is shameful IMO but at least you back up you arguments. The other 'person' last night was just an idiot. See ya.
Paul Gladwell
241
Posted 07/01/2015 at 08:52:12
James, Baines has most assist in the league, if he never did those marauding runs who would ? We have nothing wide.
I really feel for the lad as he's put a shift in most notably at Newcastle he ran his bollocks off closing down etc even when things have not been going well unlike Mirralas etc.
I'm all for Oviedo starting too but the stick Baines has been getting is wrong in my eyes.
Sam Hoare
242
Posted 07/01/2015 at 09:02:56
I agree about Oviedo and I think Baines energy and eye for a forward pass suggest he could more than flourish in central midfield alongside the energy of either Besic or McCarthy. The other option could be to play Oviedo on the wing where we are still short of a player (if only Shaqiri were a realistic option!)
I'd really love to see this team against City:
Robles
Coleman Jags Stones Baines
McCarthy Besic
Mirallas Barkley Oviedo
Lukaku
A younger looking team with good energy and pace, two things we have been sorely missing. Sadly though it seems Barry is undroppable despite being one of weakest players this season.
Chad Schofield
243
Posted 07/01/2015 at 08:20:08
Neil Pickering 230, I was going to pick up on your Barkley comments too because I agree with a lot of what you erote - but Ian Jones explained the Barkley bit.
It's difficult to justify Lukaku's price tag right at this moment - much in the same way it's hard to be an "apologist" on here.
Maybe something clicked with Lukaku yesterday. For me, he's looked like a player trying to take on board a lot of advice over the past 12 months ir so. The thing is actually he need a to believe in his natural ability a bit more rather than become a complete player.
Ross, had a game where very little came off for him. That doesn't make him a fraud, and I'd not like him to "simplify" and just play balls - God knows under Moyes, Barkley would have dropped him to the bench until summer for a performance like that.
Roberto changed things (although playing players out wide who are not wide men means we lack width as someone else mentioned). There weren't wholesale changes, but then if he did completely changed he'd be going against his natural game... much like expecting Hibbert to become a cultured Beckenbauer-esque player, Moyes an expansive manager or Robles a goalie (OK, he did better too).
Andrew Ellams
244
Posted 07/01/2015 at 08:43:39
Can't help thinking Coleman, like others in the team is suffering from the style of play. Slow sideways passing just doesn't suit him. Saying that though, there was an interesting stat on the TV last night that he is still sixth in most chances created by a defender and Baines is way ahead of anybody else.
Max Murphy
245
Posted 07/01/2015 at 09:17:09
Colin, "Now is the winter of our discontent ..."
Mike Gwyer
246
Posted 07/01/2015 at 08:50:13
Simon Temme #211.
Hey, cracking post. Personally I just thought "what a twat". So far this season I have seen many blues sit through the total dross & shite played at GP, for me these blues deserve far more than being labelled "apologist's" just because they want RM to succeed.
Now, more importantly, I'm planning to go to Bern for the Europa game and obviously my Mrs don't know yet!!! My intended speech "shut it, I'm going and that is that" sounds a bit harsh, (I know!!!!). So what would be your one liner that would keep family harmony and also sound totally PC.
Neil Pickering
247
Posted 07/01/2015 at 09:16:35
Chad 245, at this level of football I think personality and belief are the most important things when identifying who will be a top player or not, because all these lads can play. Thats why I doubt Lukaku and Barkley will fulfill their potential. Lukaku is 6ft 4 and is built like a heavyweight boxer. He is a really talented lad but has no aggression in him. Compare him to drogba, who is in my view not technically better but he has aggression and bottle, and that's what made him a great striker. You cant teach that.
Now compare Barkley to Gerrard or players if that ilk. Technically you can compare him to him, but in terms of heart, aggression, and arrogance to think "this is my game and I am running it" you cant compare him. Again you cant coach this into the lad. I keep going on about Rodwell, because for me he had all the tools and imo was better than Barkley. He could have been our Gerrard if he had the mentality, but like many before him he flattered to deceive.
Chris Gould
248
Posted 07/01/2015 at 09:18:52
Colin, if Like Max, you believed that the only way to save our season was to part with RM, and you believed losing an FA cup tie would force this decision. Wouldn't you accept that a defeat is a pill worth swallowing for the greater good? I am putting emotions to one side and being analytical. I believe that Martinez is out of his depth. I don't believe he can turn it around. I want to see a change immediately. If losing a game facilitates that change then so be it. Ultimately, I'm looking past one FA cup game and thinking about the 18 league games that we have left. I don't think that is shameful.
Ian Jones
249
Posted 07/01/2015 at 09:11:29
Neil @238
Totally agree with your views about the mentality of some players. So sad. We seem to have a great Academy, full of promising players but for various well-documented reasons they don't succeed and go out on loan, and then get moved on...
Agree also about Ross Barkley's effort, his ability to dominate a game etc. I think Roy Hodgson would agree with you as well..
What a great combination to have - arrogance, swagger and a little malice as well thrown in...you must have seen me play then...although that was more like me in the warm-up!
As for Rodwell did he not originally start out as a centre-back. Never saw him play there. Perhaps his career wasn't helped by playing him 'out of position' although I seem to remember when he signed for Sunderland he supposedly said that he found playing centre-back boring and feels he would be wasted there or something like that. He wouldn't have found playing there boring for Everton recently, would have been kept busy...
Colin @ 240
Enthusiasm is sometimes the key to unlocking the potential of players and therefore the team.
I didn't see the last Tottenham vs Chelsea match but listened to the report on the radio. The indication was that Harry Kane, whilst perhaps not the brightest spark, is making a difference to Spurs at the moment. Perhaps not as accomplished a player as Adebayor at the moment, and may be never will be, but his enthusiam for the game rubs off on the rest of his team mates. They see him running around the pitch making challenges, closing down players and feel compelled to do the same. The fact that he is on a good scoring run as well must help...
Onwards and upwards
Neil Pickering
250
Posted 07/01/2015 at 09:35:34
@Ian 251 I don't having a manager telling you you are best in world every 5 minutes does you any good at all if im honest. It doesn't really prepare you for adversity in your career when things go wrong. I think academy players have it too easy nowadays; there is no apprenticeship like there used to be. I think that is what builds character and resilience, and helps breed winning mentalities on the pitch. I maybe harsh, but out of our squad I would say only Eto'o, Coleman, McCarthy, Stones, and possibly Besic have it. The rest are talented granted, ultimately are shrinking violets.
Ian Jones
251
Posted 07/01/2015 at 09:33:32
Mike @ 248.
'Come with me to Berne' is as good as any!
Depending on budget, work and family commitments take your Mrs with you for a weekend break, it's just after Valentine's Day!
Not sure if you are going with any official Everton trip, but independently Berne is easy to get to, fly to Basel, train down to Berne from Basel station takes just over an hour...
Both Basel and Berne are worth visiting...plenty of shopping and spa stuff going on!
http://www.bern.com/en/index.cfm
Ant Summers
252
Posted 07/01/2015 at 10:40:39
We are stuck with Martinez... stop complaining. It's obvious BK will stick with him.
It's now pretty obvious Coleman is going to Man Utd, swap plus money. Its pretty obvious we won't get more than two players into the squad this month, one being a keeper.
This squad is good enough to lift a trophy and to climb the table. That one goal last night can/will make all the difference in a season. I too have been negative, but its now time to stop, accept our lot, get behind the manager and our great team...
Yes, have a moan, you're entitled to it, you support EFC we all moan it's in our DNA, but please stop the negativity... COYB
Charles McCann
253
Posted 07/01/2015 at 11:13:06
Can't agree with all the negative comments Re. Coleman having his head turned etc. While maybe not reaching the standard of play of last year he is still playing well. He is defensively sound and rarely gives the ball away. A great talent.
Harold Matthews
254
Posted 07/01/2015 at 10:33:50
Considering he never gets match practice, I thought Joel Robles had a pretty decent game and showed a safe pair of hands. One dodgy moment with Valencia when he let the ball drop to his chest instead of reaching out but coaching will eradicate this. It was something he used to do on a regular basis. De Gea had many bad habits when he first joined United, including punching everything in sight but Fergie turned a deaf ear to the critics and the lad is now top class. How our boy will fare is anyone's guess but we need a 6'-4" athlete in goal and I hope he makes the grade.
If he makes a howler he won't be on his own. Frazer-Foster had a blinder the other day following a nightmare in the previous match. Fabianski and the Gunners keeper committed hilarious errors, the RS lad is rubbish and the great Courtois let five in. Life between the sticks in the Premier League is not easy.
Gareth Fieldstead
255
Posted 07/01/2015 at 00:30:28
You are presuming Bob that there is going to be funds available to spend in this window? I think your being extremely optimistic. If anything he will have to sell to buy. If the league form doesn't pick up and we get a pasting in the derby in front of a television audience, then Kenwright will have to do something. Here's hoping we put in a good performance on Saturday and confidence s restored.
Daniel Thomas
256
Posted 07/01/2015 at 12:00:32
Still utter rubbish. At least showed signs of improving. Effort levels being one and a bit more directness in our play being another.
For me, McGeady has to play until we sign another natural winger. Yes, he's distinctly average but he keeps the width and he will make a yard and put the ball in the box. Just what Romelu needs.
Paul Dark
257
Posted 07/01/2015 at 11:54:57
I really don't want to see Martinez fail - and would love Rom's last-gasp goal be the beginning of an equalizer.
At present, the cons (re Martinez) outweigh the pros in terms of pure argument from what I've read here in debating terms. He makes too many regular mistakes and doesn't appear to learn. We can't keep losing to shite teams.
Roberto's 'pure heart' is also an inflexible an ideological one, I fear. I was very worried last night by the Jags and Rom interview - such dejection and lack of spirit.
I would give the captaincy to Besicbauer, even Rom. Jags is a nice man, but no captain. I never liked the Dogs of War (we aren't Stoke) and I don't like Royle (after his playing days), but we need more fight - towards other teams, the regs and ... even our own fans!
Martinez wants to play the right way, and I laud him. He just goes too far, much too far.
Stephen Brown
258
Posted 07/01/2015 at 09:26:51
Sam Hoare #244 that's the team for me too! Give it 3/4 games to find some consistency.
Paul Dark
259
Posted 07/01/2015 at 12:44:08
Beginning of an upturn in fortunes, I meant.
Colin Gee
260
Posted 07/01/2015 at 13:43:58
Mike #248
Just tell the missus that you're just nipping out for a pint with the lads.
Thomas Lennon
261
Posted 07/01/2015 at 14:02:31
http://www.bbc.co.uk/sport/0/football/30709994
Patrick Murphy
262
Posted 07/01/2015 at 14:32:25
Just watched a brief highlights FA Cup package of Aston Villa v Everton from 1978 which saw Andy Gray, Duncan McKenzie and Andy King among the goals all refereed by Clive Thomas. But the thing that I noticed was with Everton leading two-nil, Mike Pejic who was just in the Villa half, played the ball back to Mark Higgins who was yards from the half-way line and the crowd let out a howl of derision, It's in our DNA Roberto we have to attack attack attack.

Matthew Williams
263
Posted 07/01/2015 at 14:41:24
Word of warning on the replay folks! Our track record in the Smoke is a train wreck at best, even if we do have the hoodoo sign over the Hammers of late. But didn't we have an unbeaten record against the Swans before the League Cup tie down there?! We're still piss poor and will be till the Spaniard has gone, 3-1 to the Hammers... sigh.
Gavin Johnson
264
Posted 07/01/2015 at 14:44:25
Ant #254 Who would we be getting in an exchange for Coleman?
Patrick Murphy
265
Posted 07/01/2015 at 14:55:06
Mathew #266 Our last proper victory in London in the FA Cup if you don't count victories on penalties was the 1995 Cup Final and in matches outside of the final / semi-final our last victory in the FA Cup in London was way back in 1991 against Charlton Athletic when John Ebbrell scored twice. We'll have to hope to win on penalties, as you say our FA Cup track record in the smoke is abysmal.
Jamie Crowley
266
Posted 07/01/2015 at 14:55:53
Just a quick opinion / rhetorical question...
The self-righteousness of some here claiming a "true" fan can't root against their own team seems to me to be off the mark.
If a "fan" truly believes a manager is taking them in a downward spiral, can that fan not pray for a bad run for the team he/her loves if they truly believe it's in the best interest of the team to force the hand of management to oust the manager? If you really believe the Club is better off without the manager in charge and it's for the overall health and well-being of the team you adore to have the manager sacked, why wouldn't you then hope for a loss if you believe it will force a change and then reverse the downward spiral?
Now I don't for one second subscribe to this way of thinking in our current situation. Need to be clear on that count.
My own personal example is (of course) an American one.
A couple of seasons ago my beloved Red Sox hired a man named Bobby Valentine. He was an arrogant twat of a human being and I was livid when they named him manager. When, in his first season, it was clear they'd not win a damn thing, I practically prayed they'd have a poor year to force the ouster of this jackhole so they could have justification to fire him, hire a new manager, and re-vamp for the next season.
In my opinion, that did not make me less of a Boston Red Sox fan. I thought it was absolutely essential Bobby Valentine was shown the door for the good of the organization.
So whereas I completely and utterly disagree with posters in our current state wanting Martinez out, I don't understand how if they truly believe his sacking will benefit Everton Football Club, how they can be castigated as not "true" fans.
Are they not after all willing to go through hell (losing) to try to get back to heaven (winning) when viewed from their perspective?
Mike Corcoran
267
Posted 07/01/2015 at 15:19:20
I had 2 minor bets on West Ham winning and Nolan scoring. The wonky logic being that my bets rarely come off? Part of me does think though that staying in the cup will buy RM enough time to see out a fruitless window and due to his defensive tactical ineptitude we will be scraping by this season in 16th/17th and dumped out of Europa as soon as any of the opposition have the nous to watch a few DVDs of how we set our rigid store out. Reminds me of Ardiles at Spurs without the boss attacking.
Callum McNab
268
Posted 07/01/2015 at 15:21:29
Jamie,
It's your right to say what the hell you want, that's why it's called a forum. It gets my goat when people say do this and do that and you can't be a blue if that's your opinion and your opinion is wrong. You are not alone in thinking Bobby has gone as far as he can with our beloved club. And while I would never wish for Everton to get beat and I'm glad we got the draw last night.
I also know that things are still in a bad way at the club. The body language on Lukaku and Jags said it all for me. Coaches just don't leave at a drop of the hat for no reason,and the way the team has played you don't have to be Einstein to work out something has gone badly wrong behind closed doors.
I hope to god last nights last minute goal was our Adrian Heath's moment of things turning around. But what you say on her is your opinion and while I don't agree with it, that's your opinion. That's the beauty of a forum.
Michael Polley
269
Posted 07/01/2015 at 15:57:33
Thought we played more direct this time. Not playing the ball out from the back. There was more energy & commitment. Although we conceded a poor goal from the corner we never give up. Our play in the final third still needs to be more decisive ,but Lukaku had a good game. A much needed confidence boost. The city game will be a big test for us, but let's shock the SOB's. COYB
Paul Dark
271
Posted 07/01/2015 at 17:06:18
Jamie, 269: you're making a big mistake, mate: you're being straightforward and unsanctimonious. Tut-tut ... :-)
Dave Abrahams
272
Posted 07/01/2015 at 17:28:37
Mike Corcoran(270),you are in very good company, in 1966 Dixie Dean tipped Sheffield Wednesday to beat Everton on the basis that he was never right in tipping teams to win.
Mike Childs
273
Posted 07/01/2015 at 17:09:36
Harold glad to hear your appraisal of Robles. I agree a long way to go maybe just maybe.......
Mike Childs
274
Posted 07/01/2015 at 17:44:57
Sam back #244 excellent lineup love to see it.
Can players really have it written into their contracts they must play if healthy. In 50 plus years of being a sports junkie here in the states I never heard of such a thing.
Only a group of fools would give such a contract.
Jamie Crowley
275
Posted 07/01/2015 at 17:51:23
Real quick - I'm backing Martinez. Not sure if that's lost in translation. In fact, I'm in the "Glassar camp" even though I've come to the realization that Bobby doesn't walk on water.
Hence why I said, "I don't for one second subscribe to this way of thinking in our current situation. Need to be clear on that count."
I just think anyone who subscribes to the theory of thought that Roberto must go, and for that to happen for the good of the Club it's not the worst thing Everton lose... it's their opinion and if they feel the environment is that dire, in their own way they are saying what they say for the good of Everton Football Club.
Therefore, in my opinion, there's simply no conceivable way they are any less a Blue.
I don't agree with them. But I understand the thinking.
Colin Glassar
277
Posted 07/01/2015 at 18:36:46
Jamie, I also understand the frustration and anger shown towards Martinez, after all he's given his opponents plenty of ammo this season to question him as a manager. Notwithstanding, I think he's got it in him to be a top, top manager but he needs to buckle down and forget the 'jogo bonito' until results and confidence return.
Like many others I was bewildered by the post match interview with Jags and Lukaku. Jags wouldn't even look at the camera and their body language showed they just wanted to get out of there. Very strange.
Mike Corcoran
279
Posted 07/01/2015 at 20:58:22
The wider investment in RMs kids up approach both in cash and ideology right across the club means it will go right to the wire before BK and the board will contemplate binning it all. In that respect the board are gonna have to insist he starts to instigate some proper defensive training and dead ball work into his fairyland football vision as part of an employee performance review. If he doesn't then his line manager BK should take disciplinary action!
Kevin Rowlands
280
Posted 07/01/2015 at 21:27:22
I honestly think Barry will be an asset for us the next few seasons but only at center half, he played there against the Ruskies and looked good, he's a decent replacement at that position for Distin. Also I really hope Martinez sticks with the Baines in midfield experiment, we have more than adequate cover at LB in Garbutt and Oviedo, couple of decent signings this month an I believe we'll be fine,
Ant Summers
281
Posted 07/01/2015 at 21:42:53
Gavin 267, the whisper is Coleman for money plus Smalling.
Andrew Clare
282
Posted 07/01/2015 at 21:52:28
Patrick 265# It must have been Bob Latchford not Andy Gray scoring against Villa in '78.
Patrick Murphy
283
Posted 07/01/2015 at 22:03:09
Andrew - No it was definitely Andy Gray - he scored Villa's goal.

Joe Clitherow
284
Posted 07/01/2015 at 22:03:49
Andrew 285
Andy Gray would have been playing FOR Villa
Ian Bennett
285
Posted 07/01/2015 at 21:45:33
The senior pros haven't earnt their corn this season, with another one or two seasons to come it has to be a worry that the players will decline further - they ain't going to get better... (Eto'o, Kone, Osman, Barry, Gibson, Pienaar, Hibbert, Howard).
Barry played brilliantly for us last season, and with hindsight he could of been put in the brilliant brief affairs we've had like Power, Gray, and more recently Donovan and Martyn. Another two seasons, let's hope he fancies the MLS.
Alcaraz and Distin are out of contract come June, so hopefully we can get a class centre half to go with Browning and Galloway to address our heavy aged squad.
Paul Smith
286
Posted 07/01/2015 at 22:33:45
The Guardian is reporting that layer power had a hand in the change of tactics. Rom "...we asked the gaffer it we could play more direct, to my strengths, so we mixed it up abit and it paid off..." Wow! They could well of saved RM, they must really want it to work out.
Phil Sammon
287
Posted 07/01/2015 at 22:58:26
Paul Smith
Wow! That's something! Clearly Martinez doesn't have the players buying into his philosophy quite as much as he'd like.
Paul Smith
288
Posted 07/01/2015 at 23:04:20
True Phil, but I would like to think they're letting him know that and coming up with some answers to help Everton as a 'whole' out.
James Joseph
289
Posted 07/01/2015 at 23:11:35
Andrew (285) yes Andy Gray was playing for Villa that day and scored a great goal to briefly bring them back into the game. It was some revenge for us after they'd beaten us in the League Cup epic the season before and it was Clive Thomas's first Everton game since he'd cheated us in the semi-final - I can still remember the cacophony of boos that greeted the arrogant twat as he strutted onto the pitch.
Andy King was brilliant that day, one of his best games, and he along with Latch, Duncan and a Trevor Ross penalty were our scorers. We then played Villa again the following week in the league and scraped a lucky 1-0 win after playing as though we were still 4-1 up - Gordon wasn't impressed!
Chad Schofield
290
Posted 08/01/2015 at 08:53:12
Neil @249. You're comparing players at the end of their careers to players starting out. Compare either player to Giggs, who started at 17... actually he only played for Wales and his scoring record was is nowhere near Drigba's... Gerard's goal ratio not as good as Drigba's either. That must mean Giggs and Gerrard just lack the desire to win and are therefore shit.
Interestingly though, let's look at Drogba wiki circa 21:
"After playing in youth teams, Drogba made his professional debut aged 18 for Ligue 2 club Le Mans, and signed his first professional contract aged 21. After finishing the 2002–03 season with 17 goals in 34 appearances for Ligue 1 side Guingamp, he moved to Olympique de Marseille, where he finished as the third highest scorer in the 2003–04 season with 19 goals and helped the club reach the 2004 UEFA Cup Final."
Not a professional footballer until 21?! What a joker... should probably been written of as he clearly didn't have the character, arrogance and desire to make it.
Or are we comparing oranges and apples and being very unfair on two incredibly talented young men.
Bob Heyward
291
Posted 08/01/2015 at 11:29:53
Phil @290 If it is true that player power rocked the boat, then it illustrates a few things.
Firstly, the players care. It's especially heartening to hear the quote from Rom. This can only be a positive.
Secondly, why a patchy reform in tactics? Rom coming short and holding is obvious, yet other gimme tactics went unaddressed, eg Ross on the left. Are 㿈 million players Martinez signed listened to, while others aren't, eg Ross and Seamus?
Third, if it is true, why is Martinez having to be told this?
Fourth, why is Rom telling us this? Cui bono?
While it's obvious that you plan before a game, it's equally obvious that you need to manage during the game. I still think one of the most worrying things from Tuesday was Roberto's apparent refusal to work on major problems during the game. Nolan got every second ball and we couldn't defend short corners. If anything, we got worse on those two points as the game went on. We even saw players ignoring orders by coming out of position to be effective, eg Ross's occasional moves through the middle.
Adding Rom's comments to the lack of in-game management, it seems to me that we're going into games with poor planning. exacerbating this is that we seem to have given up on managing during the game. I think that assessment tallies with Garbutt's comments post-Newcastle on defensive orders.
Seems to me that we're struggling with an blinkered tikka-taka strategy that is undermined by a poor understanding of the importance of appropriate and tailored tactics. As such, news of player power may, perhaps, be more damaging to Martinez than helpful.
Brian Waring
292
Posted 08/01/2015 at 20:06:08
Would be interesting to know if you lads asking for Martinez to be fucked off, were lads who backed Moyes to the hilt.
Bob Heyward
293
Posted 08/01/2015 at 23:36:15
@Brian, Like all true Blues, I back all managers of Everton to the hilt, as long as they're capable. I supported Moyes. I supported Martinez. Heck, for a time, I supported Bingham.
Unlike an apologist, I love the Club, not the manager. And the love and loyalty I have for the Club means that I'm not willfully blind to the inadequacy of a manager... unlike the apologists.
Compare that view with the apologists, who support the manager first. Quite when such fans finally conclude that their manager is incapable, I don't know. The day after relegation? To be honest, I don't think they ever will accept it. Instead, they'll blame others for his demise – BK, players, the physio, fellow fans that failed to gush in adulation for their 'Bobby'.
I guess some people's childish 'I'm right, I'm right' ego comes before the Club I love. They can't accept that facts change; today's successful manager isn't necessarily tomorrow's.
Martinez had greatness in his grasp but he let go. Sad, but my great Everton will survive and rise again as true Everton fans like me give our support to the next manager – maybe he might be the one to bring us exciting football, solid defence, canny management and great transfer dealing... because all of those things are now dead under 'Bobby'.
Jay Wood
294
Posted 09/01/2015 at 08:05:33
@ Brian now here's the thing Brian ... I wonder if the reverse of what you say is true?
I wonder if all those lads backing Martinez to the hilt and who take great umbrage at any criticism of him were those who wanted Moyes fucked off?
And I speak as someone who considered Moyes did a good job at Everton, who doesn't want him back, who revelled in Roberto's football last sesson, who is now justifiably concerned at Martinez's performance this season, who hasn't called for him to be sacked and who hopes he can turn it around, even though the current evidence is contrary to that hope.
Colin Glassar
295
Posted 09/01/2015 at 08:28:45
Brian, it's obvious isn't it? Although some of his detractors back up their dislike with well thought arguments. Others, a tiny minority thankfully, react like hysterical little girls I.e. "I don't like him, I want him out, he scares me etc......"

Mike Allison
296
Posted 09/01/2015 at 08:40:40
Colin, Martinez has been scary this season. Most especially in his apparent unwillingness to recognise that there even are any problems.
The story this week about a change of style, and his investigation into the spate of hamstring injuries, finally suggest that he may be realising he didn't arrive here with all the answers, and has the potential to adapt and develop as a manager. If he can do that, then his positives are still there as they were last season, but he has some really important, basic things to realise. (Defence, set pieces and fitness.)
Colin Glassar
297
Posted 09/01/2015 at 08:57:24
Absolutely agree Mike. This has been a terrible season for him so far but if he really is the real deal then he will learn and adapt.
This is now HIS pivotal moment in the season. It's sink or swim. I take on board all the criticisms aimed at him (I share many of them), what I won't accept is some of the sheer hatred directed at a man who has our club's destiny in his hands (albeit for an unknown amount of time). Either sack him or back him IMO. While he's at the club I'll back him.
---
Add Your Comments
In order to post a comment, you need to be logged in as a registered user of the site.
Or Sign up as a ToffeeWeb Member — it's free, takes just a few minutes and will allow you to post your comments on articles and Talking Points submissions across the site.
© ToffeeWeb