Everton claw back a point to deny last-placed Foxes
Everton 2 - 2 Leicester City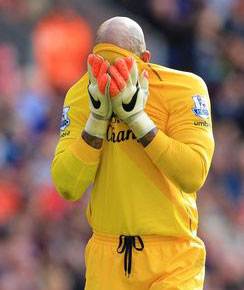 Two blunders by Howard left Everton chasing the game after Naismith looked to have set them on course for three points
Two errors by Tim Howard and a trio of missed chances by Romelu Lukaku looked to have gifted Leicester victory at a disgruntled Goodison Park but a late own goal by Matthew Upson saved the Blues from dismal defeat.
Roberto Martinez made three changes from the team that started against Young Boys, with Leighton Baines, Aaron Lennon and Muhamed Besic coming in for Bryan Oviedo, Kevin Mirallas and the suspended Gareth Barry.
Hopes that the momentum established in Europe on Thursday would carry through to the Premier League were not realised in a dull first half but Romelu Lukaku had a great chance to add to his goals in Bern but side-footed over the bar.
Ross Barkley also skied a good opportunity into the Park End while Jeff Schlupp fired over at the other end before being denied on the stroke of half time by a terrific block by John Stones.
Everton were struggling to break Leicester down until an early double change by Martinez introduced Darron Gibson and Christian Atsu in place of Besic and Barkley.
Determined work by Lukaku on the edge of the box ended with him laying the ball off to Steven Naismith who tucked a shot inside the near post through a defender's legs to give Everton the lead.
It was short-lived, however. Two of Foxes manager Nigel Pearson's changes combined just four minutes later ti level the game when Howard pushed Jamie Vardy's low cross into Stones and the ball fell to David Nugent who couldn't miss from the close range.
The game sprang to life then as Everton pushed to regain the lead which they almost did when Lukaku picked up James McCarthy's deft flick but the Belgian curled his shot inches over the bar with just Mark Schwarzer to beat.
And when Howard mis-judged another deep cross from the Leicester right and flapped the ball to Vardy, he laid it back to Esteban Cambiasso to fire home and turn the game on its head.
The Blues should have been level immediately. With Gibson orchestrating some incisive football from midfield, they had thrown off their cautious demeanour from the first half and Naismith's first-time pass put Lukaku in for a great chance but his finish with his weaker foot was again poor.
With Everton becoming increasingly desperate in the closing stages, Atsu almost found way through but the ball wouldn't come down in time for him and Lukaku poked Baines's shot inches wide.
The pressure told three minutes from time, though, when Atsu delivered an excellent cross from the left wing that glanced off Lukaku's head, off Upson and into the Leicester net.
An injury-time charge that saw Atsu's shot pushed behind by Schwarzer set up a last chance from a corner but Lukaku's header was blocked on its way to goal and the Blues' chance of a much-needed Premier League win was snuffed out.
With just three home wins in the League all season, just six points separating Everton from the bottom three and testing trips to Arsenal and Stoke next on the schedule, the pressure remains on Martinez and his team heading into the last three months of the campaign.
Full coverage: ToffeeWeb Match Reports
Reader Comments (104)
Note: the following content is not moderated or vetted by the site owners at the time of submission. Comments are the responsibility of the poster. Disclaimer
Karl Jones
1
Posted 22/02/2015 at 17:08:14
Martinez should never have dropped a keeper who's handling has been impressive, for a keeper who's handling has always been suspect. We almost lost the game from a winning position yet again.
Surely he's got to go at the end of the season as he clearly cannot solve the problems we have. Like Wigan, we have impressive displays followed by incredibly poor displays and it will catch you out eventually.
Ralph Basnett
2
Posted 22/02/2015 at 17:12:45
Tim Howard = shit! simple.
Robles has three clean sheets and gets dropped, Howard comes in and concedes in every game he has played, and all to his fault, yet RM will still stick with him – that is why he will never be a top manager and we will never be a top team.......
Seamus McCrudden
3
Posted 22/02/2015 at 17:16:09
Karl, any impressive displays have been few and very far between if you ask me.
Iain Love
4
Posted 22/02/2015 at 17:11:02
I couldn't believe I was watching the same team as Thursday night. From the start we where playing slow sideways and backwards passes, taking too many touches and generally getting nowhere.
From Baines looking like he'd aged 20 years to Barkley and Lukaku taking three touches to control the ball... Simply awful ponderous football.

Mike Powell
5
Posted 22/02/2015 at 17:23:09
Please just go, Martinez, and take that clown Howard with you.
That was embarrassing.
Guy Hastings
6
Posted 22/02/2015 at 17:25:04
Yet another missed photo op for beaming BK at the final whistle. Any more dents to his ego and for that reason alone Martinez will be out.
Kunal Desai
7
Posted 22/02/2015 at 17:22:12
The question to Martinez is what were the reasons he felt he needed to restore Howard to the starting lineup a fortnight? Robles was starting to put a string of good performances together notably the FA Cup replay at West Ham.
I really don't understand this man's thinking or what exactly he trying to achieve at this club, but what ever it is clearly not working. We will limp over the line to securing Premier League football next season. My worry is the summer and beyond. I want to see three areas of improvement.
1 - Identify now the replacements for players who will be departing in the summer and aim to complete the majority of the transfer activity for other key areas before the start of pre season.
2 - A solid pre season work out is needed, by that I don't mean botching together a shitty list of three friendlies. Ensure the calender is filled with atleast 5-6 games with some competitive sides included.
3. First 6-10 games of next season is crucial.
Start well. If there is a repeat of the performances of this season. the board must then let Martinez go. I don't/can't accept another abject season like the one so far.
Phil Walling
8
Posted 22/02/2015 at 17:16:46
Everton's 6 wins from 26 games this season is now - at 23% - a couple of points BELOW his overall win percentage in the Prem before joining us.
Last season saw him achieve 21 victories ( an outstanding 55% win ratio ) which means that his overall 5.7 seasons at top level gives him a success rate of exactly 30 %.
BK is said to have been seduced by the Catalan's FA Cup triumph to which must be added last season's success and the results in the Europa this term.
He will, I believe, stand by his man.
Ian Bennett
9
Posted 22/02/2015 at 17:49:56
Tim Howard has told us nothing new, he's finished.
Roberto - Just how many times does the old dog have to piss on the carpet before getting dumped?
Jim Bennings
10
Posted 22/02/2015 at 17:51:00
Still far from safe.
Its going to go down to the wire this year.
We don't look any better than Leicester, we haven't done all season.
The penny still has not dropped with Martinez or the players that you CANNOT PLAY AT SUCH A SLOW TEMPO IN THE PREMIER LEAGUE..
6 league wins all season... One word I'm afraid.
DISGRACEFUL
Jay Harris
11
Posted 22/02/2015 at 17:43:20
This manager does not have a clue.
He does not believe in playing through MF or crossing the ball and his team selections do nothing to inspire confidence.
Robles starts to play well and is immediately dropped. Besic starts to get into top form after a run of games and is immediately dropped.
Garbutt is obviously being encouraged to seek his fortune elsewhere.
As regards the game I thought Jags was the only player to emerge with some credit.
Paul Smith
12
Posted 22/02/2015 at 17:55:47
I'm going to be at The Emirates next Sunday I'm expecting a better display than that abject bollox on offer today.
I'm beginning to think Martinez needs one of them Delta Taxi's calling, which are aptly promoted in the Old Lady. On that point, is that the best we can do when looking at selling advertising space ? Little signs of lack of ambition all add up.
Mike Childs
13
Posted 22/02/2015 at 17:55:17
If he has any honor at all Howard will walk over to Robles' locker and hand over the gloves. I won't hold my breath though as laughing boy has never impressed me with character.
John Keating
14
Posted 22/02/2015 at 18:06:13
Martinez' after match utterances are an embarrassment to him and the thousands of supporters worldwide.
The man is pitiful and should do the honourable thing.
Terence Tipler
15
Posted 22/02/2015 at 18:05:45
Just put remaining seson ticket home games on stubhub. Had enough of this manager
Glen Garrett
16
Posted 22/02/2015 at 17:54:56
Howard has got to be dropped now, no doubt about it. He has clearly cost Everton the game Robles needs to step in now & claim the Number 1 place.
Everton are in need of another goal keeper ASAP.
Next game Arsenal away (Jesus)... Everton are going to be in need of him.

Iain Love
17
Posted 22/02/2015 at 18:09:50
Martinez has said it's the europa leagues fault, at home to bottom of the league Leicester whereas the redshite have just won away at high flying Southampton. Go figure.
Jimmy-Ã…ge Sørheim
18
Posted 22/02/2015 at 18:06:04
Get Roberto out of this club -NOW.
To drop Robles with 3 consecutive clean sheets is INSANE for a RELEGATION manager.
Tom R Owen
19
Posted 22/02/2015 at 18:09:54
Useless Manager
Even more useless board
While BK lauds over everything EFC nothing will happen to move us on.
We need a strong board appointing a Slavan Belic type of manager.
I'm just tired of this shite
Mike Price
20
Posted 22/02/2015 at 18:14:52
It's not just this season, Howard is one of my least favourite Everton players ever. This season is beyond anything I've ever seen, it's as if he's trying to be ridiculous.
Victor Jones
21
Posted 22/02/2015 at 17:47:57
Maybe BK should hire a new manager every season. That way he can avoid the dreaded second season syndrome. Let them all have one good season, then get shot of them. Only joking folks. But on a serious note, does anyone really want this crap to continue next season. And can anyone really see Martinez turning this around. He is clueless. This season is nothing to do with bad luck, poor refereeing or injuries. Its solely down to poor management.
Lets hope and pray that Everton FC are still in the Premier League for next season. And that someone on the board has the good sense to see that Martinez is just not up to the job. This is our club, and Martinez is turning us into a laughing stock. Him and his ex Wigan cronies are floundering and taking Everton down the same path as they took Wigan. Lets get real here, before it is too late.
Just a little observation. I have in the not to distant past listened to talk of certain players causing unrest. IE S.Eto'o and Distin. They were nowhere near today. Injured and booted out. So what is the excuse now. And also , maybe we could have done with the likes of Sammy today.
Think most people on here have got it spot on about T.Howard. He is now a liability. And we need more midfielders. Playmakers. Barkley, Naismith and Mirallas are not doing it. They all run into the same spot. Every bloody game. Can Martinez not see that. And also , what has happened to our fullbacks this season. They need new fresh direction. New incentive. And we need proper competition and support for Lukaku. He will score goals, but his goals need to be meaningful and win football matches. Hard work here trying to look for positives from this season. There are none. No good winning on a Thursday night, and then playing rubbish on a Sunday.
For me, this season is surreal. And I cannot wait to see it over , and Everton in a safe position. And I blame Mr. Martinez. The buck stop with him. Expect much of the same next season, should he still be our manager.
Alan Bodell
22
Posted 22/02/2015 at 18:05:56
Well it is a shoe in now for Robles to replace a series of very poor performances from Howard and until we ever sign a creative midfielder, we have 2 very good defensive MCs but no-one who can playmaker, then we are treading water against teams fighting for survival.
We just have no one that can thread balls and the way it is right now even if we did then our 㿈M man would no likely spoon it out for a throw in.
Paul, post #12 – at least the taxi ads. are not in red at Goodison these days, took the hierarchy some years but finally the penny dropped.
Nais donates a fair wedge to locals and it would be nice to see Tim and Lukaku do similar after a series of very poor returns to EFC.
Bill Gall
23
Posted 22/02/2015 at 18:16:51
Just listened to Martinez's pathetic interview where he stated about the midweek game causing tiredness and then watched Liverpool playing Southampton in atrocious conditions with all there typical lucky decisions but the players looked quick .
How much longer do we have to put up with poor selection, players out of form and bad tactical play that is all up to the manager.
There are not a lot /// I will rephrase that to, there is no one I know who can do such a poor job and still keep it.
Tony Draper
24
Posted 22/02/2015 at 18:13:07
I really don't like singling out individuals, just doesn't feel right somehow.
However, apportioning blame to individuals when they have made basic mistakes is fair.
Howard.............dear oh dear oh dear, very very poor. Both Leicesters goals were attributable to Tim's sloppy handling and bad positioning.
Sadly, I also think that Stones was a contributor in both goals conceded, but they weren't alone.
Sadly, Lukaku squandered prize opportunities.
On another day we stroll away from that as 5-0 winners.
Naismith can hold up his head for his display. Midfield, defence and in attack, he put in a proper shift..........not all quality, but all heart.
Jimmy-Ã…ge Sørheim
25
Posted 22/02/2015 at 18:27:13
Just the fact that he dropped Robles is a sacking reason!!!!!!!
Now he has lost 3 very important points because of Howard.
Mick Wrende
26
Posted 22/02/2015 at 18:28:30
Even though we are playing poorly we would still have won quite easily if Howard and Lukaku hadn't played. I have said all season that Lukaku is dross and today he missed 5 chances - and to think we spent almost all our transfer kitty on him. As for Howard words fail me - he has always been a wimp and was terrified today diving out for the low cross for the first goal and then a timid flap at the second. But Martinez is obviously in love with both players. Shame on him.
Colin Glassar
27
Posted 22/02/2015 at 18:31:03
The first half 'display' was probably the worst I've seen all season. The second half was just a chaotic shambles. Very disappointed with everyone involved
Andy Crooks
28
Posted 22/02/2015 at 18:27:15
Iain,# 4, unlike every team in the Premier league our opponents on Thursday did not appear to have found our coach out. He seems totally incapable of changing a game. Right now I wouldn't be confident of us beating any other team in the division. He is incredibly bringing out the worst in every player we have. I defy anyone to defend him if Robles is not now first choice.

Ben Jones
29
Posted 22/02/2015 at 18:32:10
Apart from Howard, which is obviously a shocking decision, I think RM got the selection right.
The subs were very good and I liked he put Atsu in instead of Mirallas.
But yet again we looked to have turned a corner and we plummet.
Baines and Howard were awful.
Guy Hastings
30
Posted 22/02/2015 at 18:35:30
When RM promised BK Champions League football was he aware that the fixtures are played midweek?
Tom Magill
31
Posted 22/02/2015 at 18:28:41
I don't listen to Martinez's after match comments anymore,that display we've just endured only needs one word of description – crap.
Eric Paul
32
Posted 22/02/2015 at 18:39:24
If RM hadn't won the FA Cup what would have qualified him to manage our club. If he is in charge on early bird deadline day, I will not be renewing my season ticket> Even Mike Walker or Walter Smith didn't test my faith like this clown.

Keith Glazzard
33
Posted 22/02/2015 at 18:33:03
Gibson created more in half an hour than we have seen all season. If he stays injury free he could be our saviour, if Roberto plays him. We have been overrun in midfield all season. And I don't think it's the players' fault.
Tim Howard got it badly wrong today, and Robles had kept 3? clean sheets when he was replaced. Robles now commands his area, takes high balls/crosses and is a good shot stopper. Tim often gets it wrong in some of these departments. Yes, we should have buried them with the chances we created, but to give those goals away was unforgivable.
Jim Bennings
34
Posted 22/02/2015 at 18:36:50
Shite manager..end of story.
We can argue black and blue about this season and lets be honest it's been the ENTIRE season following on from a disastrous pre-season..
The manager is clueless and does not know how to win matches in the English Premier League.
He thinks you can just pass the ball about leisurely like your on a Thai beach in July.
Have we seen a single game at Goodison since the first half against Arsenal way way back in August where you genuinely felt you were watching an Everton team playing at Goodison Park?
The vast majority of this season has been like watch paint drying.
The sooner this season is over the better and we can then look for a new manager who knows what it takes to win matches in this league, fuck next season watching this shower of bollox again with the same manager and personnel.
John Malone
35
Posted 22/02/2015 at 18:41:55
Cant wait for this season to be over so we can see the back of the cliwn that is Tim Howard I'm not arsed how many shot's he saves that is his job the fact that he can't kick and has consistently made clangers which has cost us points means he should go. The squad needs an overhaul Baines has been playing with his slippers on ever since he signed his new contract a few assist does not make a top left back. I blame him and McCarthy for the pedestrian pace and backwards/sideways football we play. Gibson was like a breath of fresh air today a midfielder who can actually play a forward penetrating pass, wow what a thought!
Iain Love
36
Posted 22/02/2015 at 18:40:00
Andy #28, It's more about the players in comparison to Thursdays game. It's almost as if the Europa league gives our players a new lease of life , whereas the Premier league scares them a little .
They where nervous and tentative today afraid to make a mistake, which obviously leads to mistakes, taking too many touches and taking the safest option , but in Europe we zipped the ball about with pace.
Matt Muzi
38
Posted 22/02/2015 at 18:51:52
Very, very poor, when we need an own goal in the closing minutes of a home game against the bottom side in the league it is disgraceful.
This should be a major wake up call to the board more than anyone else. This idiot RM could take us down.
I'd like to say on Thursday RM will start Robles in goal, Garbutt at left back, both Atsu & Miralles on the wings & Kone up front, but lets be honest he won't!
Philip Bunting
39
Posted 22/02/2015 at 18:57:21
God I could rant but these are the main things that stood out for me. Howard is beyond shite. who pushes the ball back into the 6 yard box? On 94mins he did it again and we could have lost ffs. Secondly, as much as I luv mcCarthy and Besic they are too similair players, when Gibson came on at least he passes forward quickly and not sideways and back. Atsu looked sharp and dangerous and should start, whereras Barkley looked liked he just ate a sunday roast and pulled the boots on, by god if he does not get his act together I would sell to the nearest dickhead offering stupid money. He needs took out of the first team and sent to the championship for 4 months, havent made it yet son. For me Naismith puts his bollox on the line wereas the rest.....Lukaku had chances but I feel on another day he could have scored 1 or 2.
Brian Hennessy
40
Posted 22/02/2015 at 18:58:22
Even apart from the two Howard errors that led to goals, he palmed another tame shot straight to an attacker who should have scored.
I thought McCarthy was poor today also, particularly first half his passing was terrible.
Lennon showed exactly why Spurs got rid, no end product.
Only real bright spot was Gibson, he looked like the player he was two seasons ago, constantly wanted the ball and every pass was a forward one. Trouble is I fully expect Martinez NOT to pick him next game.
Atsu I thought did enough to merit a start next time in place of Lennon.
Tony Rutherford
41
Posted 22/02/2015 at 18:50:13
Just got back from the match and it sounds as if I was as frustrated as everyone else. Normal service resumed at Goodison, as we just can't start with any tempo at all. I blame Roberto for this because he can't get them fired up to come out the traps.
The difference between us playing well and badly all starts from the tempo we set and this is key to getting us, the crowd, behind them. I'm fed up of all the away fans taking the mick out of us because the place is like a morgue. Again this is down to the tempo. Give us something to roar about and we will.
In terms of the second half... I really was scratching my head when he brought Gibson and Atsu on but, to be fair, I thought both players made a difference and thought Gibson offered more than we showed in the whole of the first half. In terms of Roberto, I still want to see him influence a game with his subs more often... and I think his stance on Howard coming straight back in was a disgrace.
Big questions still left to be answered and I've not seen enough this year so far to be confident he's got what it takes. Think we'll stay up... just but he needs to have a massive summer and we need to start like rocket next year or the alarm bells will be ringing even louder.
Two more things, Roberto: stop talking shite in post-match interviews... and start practicing set-pieces — you never know, we might actually score from them.
Gutted.
Sean Roberts
42
Posted 22/02/2015 at 18:51:53
Taking positives out of the game I thought that apart from one cross field pass that was misplaced Gibson played some really good balls. Also thought Lennon looked quick.
Peter Morris
43
Posted 22/02/2015 at 19:03:17
Gibson's introduction completely transformed our ponderous sideways approach from midfield. He constantly was trying to probe and find the decisive defence pass which Barkley,Besic,Barry McCarthy and Uncle Tom Cobleigh and all have consistently failed to do all season. He pulled it off a few times too. Problem is of course Gibson's woeful fitness record, but based on the impact he made today, I would leave Barry out as well as Barkley at The Emirates and have Besic(a disruptive stopper,but no playmaker),McCarthy(Besic with energy) and Gibson in midfield. It's not a very exciting prospect but with the others I fear being over run by Arsenal.
Jim Bennings
44
Posted 22/02/2015 at 19:06:10
We have now won just ONE games at Goodison in our last NINE in all competitions..
That is embarrassing for a club like Everton.
The record at Goodison has long been one of the few things we have had to be proud of in recent years but this season has totally quashed that proud record.
I'd suggest the only thing keeping Martinez alive at present is the fact we are still in Europe.
Out of both domestic cup competitions at the first time of asking and perilously close to the bottom three... Surely something has to give soon.
David Graves
45
Posted 22/02/2015 at 19:08:53
We wont get relegated & we might have a decent run in the EL but the football I've endured this season means I certainly wont be taking up the 'early bird' offer thank you very much. Because of the auto-enrollment scheme I've got tickets for Thursday and I just cant be arsed anymore. Sad face.
Jim Bennings
46
Posted 22/02/2015 at 19:13:50
Brian
Lennon was one of few positives and it was his pace and ball across in the first half to Lukaku, and then for Barkley to do what he usually does at Goodison and hit row ZZ in the Park End.
Atsu still doesn't look like the player he is for Ghana, you get more time and space on the ball in international matches especially in the African games.
He looks like a rabbit caught in the headlights playing for us.
Its not about individual players anymore though.
You can try out them all from Barkley to Besic, to Gibson to Atsu to McGeady.
The fact is the manager will not stray away from his fucking principles even though it's become so apparent that it just does NOT work in the Premier League.
We have this same discussion after every single league match and have done since August.
While Martinez is here I'm afraid nothing will change.
James Byrne
48
Posted 22/02/2015 at 19:15:22
Martinez deserves to go just for the disgraceful handling of the goalkeeping situation alone.
How on earth can he allow an already piss poor Howard to walk straight back in to this squad after Robles showed really good signs of progress.
This is the worse football I've seen at Everton and the manager is responsible for every result and team selection. Get rid before it's too late.
Christy Ring
50
Posted 22/02/2015 at 19:11:31
The problem with Martinez unlike other managers is he doesn't pick the players in form which is SHOCKING. Howard has been a shambles all season, Baines very poor also and I won't talk about Barry.
You can see why Garbutt won't commit. It's a dog fight now and Bob's lost the plot.When you drop a keeper who didn't concede in 3 league games that says it all. Will he have the balls to drop Tim ? No.
Phil Brown
51
Posted 22/02/2015 at 19:26:49
Can't help but think that Howard, Barry and Lukaku have clauses in their contracts stating that they must play if not injured.
Lukaku was clearly drained from Thursday night but no sight of Kone and Howard in goal even though Robles had previously kept three clean sheets.
High price to pay in order for them to sign on the dotted line. Let's hope that Howard doesn't cost us too much until the end of the season.
I like Roberto and think that he will flourish next season if he has the requisite clear out.
Harold Matthews
54
Posted 22/02/2015 at 19:41:35
Not much to say. I've had enough of Howard, Lukaku and Martinez. I don't seek brilliant replacements. Just people who can do the job.
Jim Bennings
55
Posted 22/02/2015 at 19:44:45
Phil
Roberto won't be here next season to oversee a clearout.
This is the man who dished out new contracts to players clearly not good enough for the next level or past their best, this is also the man who spends all season hyping up Kone telling the world what we have and how good he's going to be yet now he is fit, where is he?
Then there is the soul destroying management of Robles, how is a lad meant to get any kind of confidence when he gets taken out of the team just as he's hitting form and the back five start gaining a level of trust and understanding.
I would hate to be a defender with Tim Howard behind me.
You can't trust the man, he is erratic, you never know what he's going to do next and frankly he is a circus act.
I would trust Martinez to coach a Nursery team these days let alone oversee the major overhaul this club needs.
Brian Harrison
56
Posted 22/02/2015 at 19:34:43
Yet another game were we were in front and couldn't hold on to a lead. The sooner we are safe and can get this charlatan out the club the better.
The only positive today was Darren Gibson, at last a midfield player who looks to start attacks with his first touch. Unlike Barry,McCarthy and Besic who are happier passing across or backwards. Gibson gave a masterclass in passing with precision, and I am sure the forwards at last felt they could make runs and we had someone with the class to find them.
The amount of forward 20 yard passes that found there target was a treat, lets hope he can stay fit till the end of the season. Howard needs replacing age is finally catching up with him, also Barkley looks like a lot of promising young players that never train on to become the player that we hoped he would be.
I would think if you asked any Premiership manager which squad he would choose between Everton and the other bottom 12 clubs and I think without exception they would all pick Everton. As I believe with this squad we should easily be in the top 7 just shows what happens when you appoint a very limited manager.
David Harrison
57
Posted 22/02/2015 at 19:51:03
There just seems a complete lack of structure to everything we do, both defensively and offensively. It's almost as if they're just told to go and play. There is no sense of teamwork or understanding of what each other is doing and that I'm afraid is down to the coach. Gibson was different class but how long is he likely to stay fit? He at least looked capable of knitting things together. We are shit and I'm losing interest rapidly!
Ernie Baywood
59
Posted 22/02/2015 at 19:45:47
Baines had a good first half. In fact he didn't put a foot wrong. He was very involved, his passing was neat and tidy, and he was the only player playing anything like incisive passes.
Second half the game lost all shape and he got as ragged as anyone. Their goals came from crosses down his flank but I don't think you can blame him.
The system is that both Baines and Coleman get high up the pitch. Blame the system.
In addition, for the first goal Jags had it with no pressure. He panicked and played a pointless ball to Stones who was under pressure. Stones did fine and gave it back to Jags, who again panicked and sliced a ball to a Leicester player. Then Tim took over.
No doubt you can blame Tim. He was at fault.
For the others, how long can we assume that every single player has turned to shit at the same time?
How long before we acknowledge that it is far more likely that the system is making good players look shit? Playing against their strengths.
After the discussion on Baines on the ToffeeWeb match preview, I watched him closely. He's still the same player. Still smart in possession, still chasing, still trying to create. The team is just so dysfunctional that there's a limit to what he can do. I'm sure that's the case for many of the players who are underperforming.
Case in point, Barry's performance in midweek. Teams flooding at us will always suit him. Good positioning, breaking up the play, getting us moving again. Yet we play him in games where teams are sitting back (so he's wasted offensively) and counter attacking (he's wasted defensively - hasn't got the pace for it).
Some kind of fucking clue please RM. There aren't many around who could be doing a worse job right now.
Mark Wilson
60
Posted 22/02/2015 at 18:13:15
What's starting to become painfully obvious about our manager, sadly, is that an increasing number of supporters think they have got the measure of the man, and don't like what they see. Myself, I'm just like a rabbit caught in the headlights, disbelieving of how far this team has fallen, and just how close to relegation we really are.....
Martinez clearly has one of the most serious failings to beset a PL manager, he's stubborn beyond belief. The more he is criticised the more he refuses to bend. He's brought back from injury his No1 keeper who has had a genuinely poor, poor season and displaced a keeper who, to be fair, few blues had any time for at all, but who has done what matters in football, he's taken his chance and done well, conceding nothing and shoeing capable hands and dominating the area. Howard's return really is a soap opera. He was aweful against the leagues bottom team. No matter what our failure to convert a couple of decent chances, he cost us three points. Id drop him now but there's more chance of me growing legs and being the oldest no9 to play for Everton than Martinez putting Robles back in.
It's stubborness that prevents Martinez giving Garbutt a chance at left back when signs are the usually impeccable Baines is struggling and in truth has been since a poor World Cup. I accept its a risk but one worth taking in my view. Besic alongside McCarthy has to be left in place but you just know Barry's back against Arsenal.
But regardless of all this I'm not sure much else matters other than manager and team seem to find it impossible to add real tempo and urgency to our play and even the leagues bottom team made us look pedestrian.
I still can't believe we will go down but it's going to be mighty close....where are the 14 or 15 points we need coming from? Europa League ? If there's anyone who thinks winning that is worth going down you must be utterley mad. Relegation will finish this club for a decade or more. How in gods name have we ended up here ?

Brian Porter
61
Posted 22/02/2015 at 19:55:28
If we win the Europa and get relegated, will we be able to coin a new phrase? "Doing a Martinez" I.e. Win a cup and get relegated in the same season. Robles should bot have been dropped, Kone should have started, Lukaku on the bench as he must have been knackered after Thursday and could have come on as a sub. Besic is taken off AGAIN. This manager is totally inept and is proving it over and again every match. Even Wigan wouldn't want this guy back again.
Brian Hennessy
62
Posted 22/02/2015 at 20:14:46
Look on the bright side lads, Garreth Barry will be back from suspension for the next game !!!!!!!!!!
Phil Walling
65
Posted 22/02/2015 at 20:25:25
More 'Brightside Thinking' for you. Wading through the record books, I can find instances of only FIVE clubs to be relegated from the Premier with more than 38 points in a 38 game season.
So as long as we can keep our points tally ahead of games played we should be safe. Just averaging a point a game will do it ..... in spite of Martinez !
David Graves
66
Posted 22/02/2015 at 20:27:55
Ernie I disagree with your assessment of Baines as I thought he was poor today. He slows down play by cutting inside too often, never goes on the outside and never plays the ball in early. Compare his crosses to those from oviedo or garbutt. When he does cross it's never between the keeper and the penalty spot. He shadow of the player he was last season.
Rick Tarleton
67
Posted 22/02/2015 at 20:26:34
Howard has always flapped and panicked at corners and from crosses when the box is crowded. He's capable of good direct saves from shots, but his panic and inability to marshal the defence or to inspire any confidence in those around him is deteriorating . In blunt terms, he's rarely been any good and now he's useless, amongst the three worst regular keepers in the Premiership.
The pace of the passing today was atrocious, Leicester could sit there and watch it going across the pitch from side to side. They are manifestly the worst team in this league and they were unlucky today to lose!
Gibson showed a little ability, but can we rely on him playing six matches on the run? Coleman ran into blind alleys and Lennon is so one footed that any defender worth his salt knows he can only go one way. Lukaku had a stinker, but at least he kept trying.
It was a shambles and Martinez states it's just a hangover from the Europa League. His self-delusion is astounding. Liverpool had a harder game and went away to one of the better teams and did the job.
Sorry we need a new manager and some new players.
Phil Walling
68
Posted 22/02/2015 at 21:00:07
Why do clubs seek to qualify for Europe if players can't cope with two games in a week ?
Jim Bennings
69
Posted 22/02/2015 at 21:03:29
Phil
Have a squiz through the record books for us and try and find out the last time Everton went into March with just three home wins.
I'm struggling to think back to a worst run in terms of Goodison victories than this season, could be Walter Smith's first season of 98/99 but I'm unsure, it certainly isn't more recent than that.
Colin Malone
70
Posted 22/02/2015 at 21:12:32
Martinez, if you have not the bollocks now, you will never will. Taxi for Martinez.

Clive Mitchell
71
Posted 22/02/2015 at 21:16:15
Jim, 4th home win of the season came 11 April 1999 v Coventry.
Phil, only five? How many do you want?
Ross Edwards
72
Posted 22/02/2015 at 21:23:28
3 home wins all season, 3 wins in 3 months. 6 in 26. 1 less win than our worst under Smith. Refusal to drop his favourites, stubborn, clueless.
Lucky to still be in a job really.
Dick Fearon
73
Posted 22/02/2015 at 20:54:05
Robertos dream of a Barca on the Mersey has resulted in a bunch of players who don't know if they are Arthur or Martha.
Warning signs were there toward the end of last season when this scribe and others pointed to the amount of time and passes plus the involvement of so many players to move the ball forwards just a few yards.
This season that worsened when opponents identified and took advantage of Robertos tactics that saw most of our players out of position while trying to maintain possession. All that was required was for opponents to pack their back line and play long balls to a couple of live wire strikers.
Martinez's incompetence as a manager is continuously exposed by his inability to to identify and make desperately needed changes to his system.
Or could it be that he is too arrogant and pig headed to admit his mistakes.
There can be no doubt that we are on the edge of a precipice and staring into the abyss of relegation.
I was amused and confused when Twebbers ridiculed the idea of Pulis or his ilk coming in to sort things out.
I hope our slide does not become irreversible before BK or his puppet masters say enough is enough.
Si Cooper
75
Posted 22/02/2015 at 21:13:32
Two points dropped at home in what has been a terribly disappointing season, but do people really think that today's was a terrible performance overall?
Both Lukaku and Barkley looked like novices when opportunities came their way, failing to keep their composure and do the basics of keeping their head over the ball and at least hitting the target, but Lukaku kept on working and had a positive involvement in both our goals.
Howard definitely messed up for the second goal, but the cross for the first is a nightmare ball for any defence. For it to ricochet off Stones and fall perfectly for Nugent to finish is just bad luck. It is a prime example of why it is important to try to prevent unpressured crosses from being made.
Apart from that I thought everyone at least did okay with Coleman and Gibson looking a class apart at times.
Leicester may be bottom of the league but they also have a deserved reputation for having given it a go against all-comers this season, and yet for the majority of this match we looked the far more likely to score and go on to win.
It is all about sticking the ball in the back of the net though, and because we could only match the opposition in that regard we are left bemoaning the squandering of precious points and the confidence that an accomplished win would have brought.
Murdo Laing
76
Posted 22/02/2015 at 20:58:48
We will be beaten badly at Arsenal if RM sets us up like that again . Woeful. The only consolation is that he can afford to bring in Robles, Garbutt, Gibson, Atsu and even possibly Kone for the return leg vs Young Boys and we will still get through.......but we all know he won't do it. Our best (and only) hope next week is to keep it tight for as long as possible and to hit the Gunners on the break, but I just cannot trust our forwards to make the best of what very few chances will come our way. Naismith deserves a rest on Thursday IMO to save him for Sunday , he gave his all today yet again, not in his best position, and his attitude is one of the few bright spots of an otherwise frustrating season. Even the players themselves must be aware of how plain boring and fruitless RM's tactics are?

Jim Bennings
78
Posted 22/02/2015 at 21:36:35
Cheers Clive
Had a feeling from memory it was that season of 98/99.
The oddest thing of all that term was as bad as we were all of a sudden we a 5-0 win over Middlesbrough and a 6-0 over West Ham.
Colin Glassar
79
Posted 22/02/2015 at 22:02:56
The frustrating thing Murdo is, we will probably play a lot better against arsenal then we do against the teams below us. Maybe it's the manager, maybe it's the players, maybe it's both but they don't seem bothered against the so-called weaker teams.

Michael Penley
81
Posted 22/02/2015 at 22:18:11
In hindsight, I don't think playing Besic and McCarthy was a good choice against a team at the bottom of the table. Gibson should have been on from the start, and we would have created more in the first half than the aimless sideways passing by two defensive midfielders.
Jim Bennings
82
Posted 22/02/2015 at 22:21:32
Not much point playing well at Arsenal though if it's just going to be another hard luck story like at Chelsea.
This is exactly the reason why I couldn't be like all the other posters on here and start patting us on the back despite playing ok at Chelsea because the fact is we lost the match and I knew it would be back to normal today and I was sadly proved right again.
I will pat us on the back after the Arsenal game if we actually take something from the match, a point or a win not just another hard luck tale.
Si Cooper
83
Posted 22/02/2015 at 22:15:36
Colin, I think it is as simple as the likes of Arsenal do not play the same way against us as the likes of Leicester and West Brom, and we are not very good at breaking down teams that are happy to merely sit tight for long periods. I don't think we were particularly good at it under the previous manager though, and I do think Martinez has tried to find a team / way of playing to improve this aspect of our play but the players keep fluffing their lines when it really counts.
Brian Roberts
85
Posted 22/02/2015 at 22:44:25
Martinez is influenced by E.S.P.N....thats why Howard is starting no other reason.
Colin Glassar
87
Posted 22/02/2015 at 23:07:55
I agree Si. Arsenal will play to win and that will give us a chance, albeit a small one.
Against the likes of Leicester, WBA, Hull etc...we just don't have the guile to break these teams down and then the panic (players and fans) set in.
The second half today was frenetic at times and the team completely lost its shape. It could easily have ended up 4-4 or more. Major work is needed in the summer.
Joe Foster
88
Posted 22/02/2015 at 23:15:53
I am with you on that Jim. Last week it was excuses that "well Chesea are premier league leaders" what's going to be this weeks excuse?. I am getting tired of saying it but RM is not the man for us. He would suit a mid to lower table Spanish club.
Craig Mills
89
Posted 22/02/2015 at 22:57:49
McCarthy /Besic clearly did not work today, T.H in goal had a shocker, Baines was continuing his poor form, Lukaku wouldn't have scored if we were still playing now but for me the worst on the pitch by a mile was Ross Barkley, he did not have one meaningful moment on the match, he looked sluggish, lazy and generally as if he didn't give a shit about his performance - the way he's heading he doesn't deserve a place on the bench, never mind the 1st 11. The only thing I can suggest is he gets his head from out of his arse, lose about a stone in weight and gets back to what he was good at
Teddy Bertin
90
Posted 23/02/2015 at 00:00:39
Rom got slaughtered by TV pundits today but I'd say that was one of his better awful performances. We've seen him barely touch the ball for 90 some games this season. At least he kinda got a goal and had a few chances. Also sick of pundits saying that a poor corner from Baines is "uncharacteristic" of him. His corners have been poor for years and getting worse under Martinez. I think shouts on here that Besic/McCarthy doesn't work are 1. Funny, considering how everyone has been screaming for Barry to be dropped for Besic and 2. Premature, just like the shouts to axe Robles and get an emergency loan after a couple of shaky performances. Another poor, slow and boring performance today. No one had the guts to pass the ball forward (ie. take a risk and give the ball away) until Gibson came on. Atsu looked a bit livelier too but pretty poor all round again. No confidence in the squad to pass the ball forward with 1 touch or take a player on, which is the manager's fault for too much emphasise on keeping the ball but also the crowd's fault for groaning and shouting things like "that's crap/shite" when a player loses the ball. It's gone on too much this season and the players looked scared of the ball in front of the home fans again. Players like Barry can handle it and prove people wrong but I think it may have a permanent effect on Ross Barkley. Players like that need protecting no matter how old they are. He's not a seasoned Premier League regular and he needs reassurance and support. The way his confidence has declined he couldn't get in a Championship side right now let alone the England squad.
Si Cooper
91
Posted 23/02/2015 at 00:20:21
Craig, Ross Barkley didn't have a good game today but he did play a number of really nice passes that should have yielded more than they did.
If he stuck to doing the simple stuff for a while it may be better for him, but I don't think that is his mentality.
He overplays stuff at times, attempts the nigh on impossible too often, and appears too laid back in his efforts to complete his defensive duties, but I am still betting on him blossoming into a star player in the relatively near future.
I think power is a big part of his game and at the moment he is still coming into his full adult strength. However, that probably means he is not naturally blessed with stamina and so he is going to have to work very hard on his fitness all his career if he is too provide more than intermittent 'surges' during a full 90 minutes.
Paul Smith
92
Posted 23/02/2015 at 00:30:46
Well said Teddy. The anxiety being transferred from the pitch to the fans and vice versa is palpable (rightly or wrongly) and must affect some players' more than others. Maybe Ross being young and impressionable internalises all that negative energy. F@#k knows.
Nicholas Ryan
93
Posted 23/02/2015 at 00:35:47
I have about 20 friends & colleagues who go to the Match. I have asked each of them for their opinion on the Howard replacing Robles scenario.
The universal reaction, was to shake their heads, roll their eyes, and look up at the heavens. Not one of them supported it.
It was a shatteringly awful, illogical, almost cretinous decision. The worst thing is... that RM STILL thinks it's a good idea!!
Michael Penley
95
Posted 23/02/2015 at 03:24:50
The decision to keep Barkley in isn't so bad when you see it as developing a young player in an already broken season. Problem is, ousting a promising young keeper for a 36 year old out of form pensioner is doing the exact opposite. I don't think even Martinez has any idea why he's doing what he's doing.
Tom Laskaris
96
Posted 23/02/2015 at 03:32:02
Well it's official then? Every team in the EPL has worked out the Martinez style of play. I've remained optimistic this season...right up until Leicester last night. Relegation's hit me like a tone of bricks.
Paul Ward
97
Posted 23/02/2015 at 02:48:34
I am in full agreement with (Peter Morris 430). I have never regarded Darron Gibson as anything more than adequate. But after the dross this team has served this season, it was like a vision of hope to see a constructive player making probing forward passes to team mates.
I would also go along with Peter's midfield of Besic, McCarthy and Gibson in midfield at Arsenal. Barkley has had so many chances to show us he has what it takes but it looks like he hasn't. He should be left on the bench for the rest of the season then reassessed. In the case of Howard, I am just dumbfounded how long it has taken fans and management to see what a rubbish goalkeeper he has always been.
Matthew Salem
100
Posted 23/02/2015 at 06:05:17
#90 Teddy. Great post, mate. I agree with everything you write here.
Darryl Ritchie
101
Posted 23/02/2015 at 06:34:00
Amazed that we we were scrambling for a draw, in a match we should of won 5-0. Rom was getting good service, he tried hard, but his finishing was abysmal.
Naisy, bless his heart, was running all over the place, trying to make something happen, but most of the time all he did was narrow the field. Baines has been getting a bit flack over his performance, but there were numerous times that he would look upfield only to find no one home. More often than not, Lukaku would slide over to collect the pass. The Baines/Pienarr magic can't happen if no one is willing to take on the Peinaar " role ". Naismith's a natural #10, and will never be a pure winger.
Tony Draper
102
Posted 23/02/2015 at 07:03:09
Darryl @101
"Amazed that we were scrambling for a draw, in a match we should have won 5-0".
Yep, dead right.
Chris Gould
104
Posted 23/02/2015 at 07:37:39
Dick Fearon, I absolutely agree. Watch Pulis take West Brom above us in the league. Apparently he isn't good enough for us. Then how come a West Brom team, without a player that would get into our team, is just a point behind us and progressing in the FA cup? His Crystal Palace team were a highlight of last season and showed everyone how to take us apart.
All our team needs is someone who can set them up properly and motivate them. Pulis would have done just that. I'm not saying he would be the future, but he'd have steered us back in the right direction.
If West Brom finish above us in the league, can anyone really argue that Pulis wouldn't have, at the very least, comfortably taken us into the top half?
Joe Foster
105
Posted 23/02/2015 at 08:10:56
It's all just so embarrassing
Craig Walker
107
Posted 23/02/2015 at 08:57:51
I didn't think we were all that bad yesterday. We created chances which is more than we have been doing for months.
I was saying to my twin brother "why does Howard insist on palming the ball out?" 5 minutes later and it was in our net. How many goals/games does he cost us per season?
Atsu is one of the worst players I have ever seen in a blue shirt. He was responsible for losing the ball cheaply on the first goal. It was similar to McGeady against Newcastle away. When I saw Nugent coming on I said "he's bound to score".
The crowd is becoming a factor in these games where we are expecting to win. The restlessness is getting to the players. Against better teams like the RS and Man City, the players looked more up for it.
There is too much hindsight being used on TW. People saying Besic should start instead of Barry and we're now hearing it's too defensive with Besic and McCarthy.
Joe Bibb
108
Posted 23/02/2015 at 11:14:07
All of you who say Martinez should go want to stop and think. Howard, Baines, Jags and most of the others you slag off are Moyes buys. He instilled 11 years of negativity into them.
The players still feel like they need to hold the lead, even against clubs like Leicester.
They need to be told to improve on a lead,get more goals.
It's time to get the Moyes Syndrome out of their system. Roberto can do that but it means a wholesale change of players.
Colin Glassar
109
Posted 23/02/2015 at 11:37:43
That's heresy Joe, expect to get crucified. There is an inherent lack of belief in the team which shows especially at GP. It is Roberto's brief to stop this but it's going to take time and a change of personnel. But he doesn't escape blame IMO with his insistence on playing these players when some of them are clearly not performing at an acceptable level.
Peter Roberts
111
Posted 23/02/2015 at 12:42:59
May as well turn the post match threads into a "Roberto out because...."
Reality Is if he didn't blow £28m on a cart horse who gets excused for everything bad about his game because of his age then we may have someone up front who allows the midfield to join in the attack rather than miscontrolling it all over the show.
So for that reason he has to address his error and sell the lad an get a striker and a left winger in. For some reason there may be a club out there willing to part with £20m for the most over rated player I have ever seen.
RM is on thin ice and that is for sure, but the players need to look at themselves.
Jay Harris
113
Posted 23/02/2015 at 15:06:13
Joe Bibb,
I have heard it all now.
So its Moyes fault we have only won 6 of the last 26 games and have conceded a record number of goals against.
Moyes is still picking the team 2 years after he left.!!!
Ray Roche
114
Posted 23/02/2015 at 15:41:15
Yes, Joe,
Jags, Baines, Stones, Coleman, Howard,Mirallas, Pienaar, and before him, Arteta etc., all Moyes buys.

Shite, aren't they?
Darryl Ritchie
115
Posted 23/02/2015 at 16:07:18
Moyes out now!!!....What's that you say....he left us 2 years ago,,,,,never mind .
Nick Page
116
Posted 23/02/2015 at 16:11:02
Could be true that, Joe. Under Moyes we were fckin turgid at home vs Wolves et al. In-fact I think we had a better record vs top six at home than bottom six most seasons. I have stats on this somewhere...
Peter Gorman
118
Posted 23/02/2015 at 16:22:43
What is all this anti-Moyes guff. He was with us for 11 years for crying out loud. They were the best of times, they were the worst of times.
The idea that all the football was turgid doesn't make sense, our style evolved with our personnel. I found most of it pretty good. I have the DVDs and I still watch and enjoy them. Will anyone be watching the DVD of this season?
Darryl Ritchie
119
Posted 23/02/2015 at 16:39:29
Peter. It's not "anti", it's just doesn't have anything to do with the problems we face now.
Nick Page
120
Posted 23/02/2015 at 16:39:45
Some garbage in there though, Peter. The 1-2 vs Bolton at home on a cold Jan in 2012 was just as bad as that yesterday.
Peter Gorman
121
Posted 23/02/2015 at 17:20:11
Yep Nick, there were all manner of results and performances during those 11 years. What was fairly consistent was our league placing however. Seldom below the top 8. Amazing what negativity can achieve isn't it.
Si Mar
122
Posted 23/02/2015 at 17:45:48
I take it Moyes wasn't manager when we beat Sunderland at home 7.1 and Hull 5.1 just one of a few great performances at home over the years?!!
Moyes was a decent manager for us, I'm afraid Bobby is on very thin ice, I hope he can turn things round and take us forward but if we start next season like this I wouldn't hesitate to get rid!

Colin Glassar
123
Posted 23/02/2015 at 17:58:17
Same here Si. Yes, we had some great wins under OFM but we got hammered as well more than once. Someone, earlier, mentioned our recent home derby draw but was it any worse than the thrashing creasehead gave us? Swings and roundabouts I think.
Dave Abrahams
125
Posted 23/02/2015 at 23:19:40
Nick Page (120) Nick no it wasn't, it was much, much worse.
Colin Malone
126
Posted 23/02/2015 at 23:10:10
When was the last time we won the ball in the air in the oppositions penalty area or around it? its a long time ago. Lukaku can't jump, Huth and Upson? thought they retired years ago but we made them look good, why? as with all centre backs who play against us, they have no one who is going challenge them in the air. Imagine Sharpy, Andy Gray or big Dunc against them two pensioners. I have said it before, we are desperate for a centre forward who can win the ball in the air when teams park the bus.
---
Add Your Comments
In order to post a comment, you need to be logged in as a registered user of the site.
Or Sign up as a ToffeeWeb Member — it's free, takes just a few minutes and will allow you to post your comments on articles and Talking Points submissions across the site.
© ToffeeWeb