Kone escapes serious injury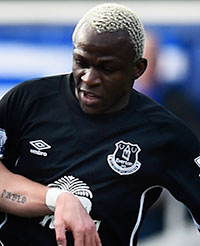 (Photo by Mike Hewitt/Getty Images)
Scans on Arouna Kone's knee have revealed that the Ivorian suffered no serious damage during Sunday's win at QPR.
Kone limped out of the action in the aftermath of Aaron Lennon's 77th-minute winner following a collision with Nedum Onuoha amid fears that he had injured the knee that kept him sidelined for over a year shortly after he signed for the Blues.
It is not clear whether the 31-year-old will be available to face Southampton on 4th April but he will continue to undergo treatment in the interim.
Reader Comments (28)
Note: the following content is not moderated or vetted by the site owners at the time of submission. Comments are the responsibility of the poster. Disclaimer
Rahman Talib
1
Posted 26/03/2015 at 17:00:54
To think we nearly bought Nedum Onuoha.
John Gee
2
Posted 26/03/2015 at 17:20:11
Would anyone like to hear the world's quietest "phew!"?
Terence Tipler
3
Posted 26/03/2015 at 17:20:22
Give the injury time to mature, and develop complications.
Eugene Ruane
4
Posted 26/03/2015 at 17:21:15
Was going to suggest Kone might have just trapped nerve, but the idea of Kone trapping anything just sounded odd.
Colin Glassar
5
Posted 26/03/2015 at 18:27:48
"suffered no serious damage"? So he's suffered some damage then? Probably be out for a few weeks knowing our medical dept.
Darren Hind
6
Posted 26/03/2015 at 18:47:49
I know what you mean, Eugene.
It's a bit like saying Howard has caught something that is "going around".
Tony Foxwell
7
Posted 26/03/2015 at 19:41:18
It's a shame to say, but I don't think he is Everton material anyway and, the sooner the summer comes and we replace him, the better.
Hope he sorts his career out. It won't be here though.Good Luck.
Neal Kernohan
8
Posted 26/03/2015 at 20:01:47
I wish he was injured to give some youth a chance!
Paul Dark
9
Posted 26/03/2015 at 20:05:57
Unlike Rom, a very unintelligent (and crap) player.
Anyone know how long Rom will be out for? Or Will Martinez rush him back as he is given to doing?
Dan McKie
10
Posted 26/03/2015 at 21:05:04
No point rushing Rom back. Not like we are playing for anything.
James Stewart
11
Posted 26/03/2015 at 23:25:10
One of the most irrelevant players ever to play for us.
Mark Andersson
12
Posted 27/03/2015 at 00:03:23
Very harsh comments above, don't forget who brought him here, and it's his job to rebuild this team.
It took him 3 attempts to get Wigan relegated but he will do it next season.
Derek Turner
13
Posted 27/03/2015 at 04:39:45
So we will see him in action again around Christmas then?
Jim Bennings
14
Posted 27/03/2015 at 08:06:02
I can think of a lot more irrelevant players than Kone at Everton Football Club over the years:
Espen Baardsen
Ibrahim Said
Lei Weifeng
Eddy Bosnar
Brett Angell
Ian Durrant
Magaye Gueye
Francisco Junior
Anderson da Silva
Anthony Gardner
Just a few there but there's too many to mention in all and I've probably forgotten half of them.
Nick Page
15
Posted 27/03/2015 at 08:40:00
"I don't think he is Everton material."
What is Everton "material" these days, all things considered?
Pete Edwards
16
Posted 27/03/2015 at 08:53:13
Funny how, after the first couple of appearances after coming back from his last injury, some were saying how he could teach Rom a thing or two about hold-up play and that he should start ahead of him.....just saying
Jim Bennings
17
Posted 27/03/2015 at 09:43:31
I'm actually quite embarrassed by me forgetting to put on the irrelevant players list three of the biggest wastes of time in recent Everton history:
David Ginola
Per Krøldrup
Andy van der Meyde
How could I forget? ... Unforgivable!!
Lee Gorre
18
Posted 27/03/2015 at 09:53:23
Let's not forget Philippe Senderos, Jim!
Tony J Williams
19
Posted 27/03/2015 at 11:25:23
Senderos actually played in Europe for us, Lee... shocking!
James Stewart
20
Posted 27/03/2015 at 12:41:47
How many of those players cost ٤M, Jim?
Mark Andersson
21
Posted 27/03/2015 at 13:12:20
٤ million and most of you think he is shit, wait until Mr Phenomenal offers Cleverly a 10-year contract and more bewildering the board sanctions it. Only at EFC.
I live in Australia and those that actually recognise my accent (Aussies think I'm Irish) automatically think I'm a RedShite fan; after this season I'm considering just saying I don't follow football.
Drew Shortis
22
Posted 27/03/2015 at 13:23:40
To be fair to him, he was heavily involved in both goals against QPR. That being said, he does seem to get tunnel vision when near goal and fails to look up and pick a pass. That may well be down to him being desperate for a goal. I have to agree that we can do better than him in the long run though.
Jim Bennings
23
Posted 27/03/2015 at 15:54:46
James
The ٤ million is just a sign of the times, it's the going rate for average players now.<.p> ٣ million for Krøldrup 10 years ago was a hell of a lot of money. Likewise the wages Ginola must have briefly commanded
٤ million these days will only buy you one of Shane Long's boots.
Dominic Tonge
24
Posted 27/03/2015 at 17:30:31
Ian Durrant was good..... I would like to add Alex Nyarko, Mitch Ward and Prekki to the list... Oh, and was it Tony Thomas? (I think he came from Tranmere.)
Peter Fearon
25
Posted 28/03/2015 at 00:33:41
You all seem to have forgotten Ibrahim Bakayoko. Walter Smith's idea of a center forward.
Jim Bennings
26
Posted 28/03/2015 at 07:56:57
Peter,
I was going to save Bakayoko for when a "worst ever players list" comes out. Claus Thomsen and Marc Hottiger, Mitch Ward and Danny Williamson could join Bakayoko.
To be fair to Baka, he did score two crucial goals in a relegation six-pointer at Ewood Park. The only thing keeping Gazza off my list was a sympathy vote.
Dominic... I forgot about those guys, God we've had some serious shite over the years, haven't we?
Jim Bennings
27
Posted 28/03/2015 at 08:07:02
I also think the only thing that saves Gareth Farrelly from being on that list was "that goal" on the final day against Coventry.
One of the least talented footballers I have seen at Everton with the greatest ever shovel foot shot on him, couldn't pass, couldn't run and apart from that goal to keep us alive, he couldn't shoot either.
Howard Kendall on his third stint signed Carl Tiler, Mitch Ward, Danny Williamson and Tony Thomas, oh and Mikal Madar who will be best remembered for being a moody bastard and missing the worst open goal at the Kop End ever. All I can say is "Fucking hell, Howard mate, who was doing your scouting?"
He did bring Don Hutchison in, had to get one right, I suppose, and very briefly Tommy Myhre who for a while we thought would be a 10-year replacement for big Neville but went downhill quicker than a turbo-charged skateboard.
Mark Pierpoint
28
Posted 28/03/2015 at 08:47:45
Maybe a tad unfair on Kone. I think he may well develop some sort of partnership with Lukaku. He has looked good playing off the big man, or at centre-forward with Lukaku playing wider. He is never going to be a first team regular though I doubt.
Let's be honest, the guy had solid pedigree for the money. Scored goals, albeit for weaker teams, in several leagues including 13 for Wigan. That is what you get for ٤m.
Shame for him that age is not on his side...
---
Add Your Comments
In order to post a comment, you need to be logged in as a registered user of the site.
Or Sign up as a ToffeeWeb Member — it's free, takes just a few minutes and will allow you to post your comments on articles and Talking Points submissions across the site.
© ToffeeWeb