Dismal Blues show zero desire and lose at home again
By Michael Kenrick
19/03/2016

0 Comment [Jump to last]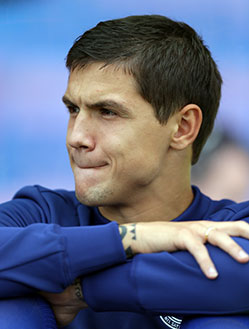 Muhamed Besic is the replacement for Gareth Barry in a line-up that doesn't feature any other changes from the win over Chelsea.
Everton 0 - 2 Arsenal
Everton reverted to type, letting Arsenal, who have failed in the FA Cup and Champions League in the last week, slaughter them in the first half. Mo Besic, on in place of Gareth Barry, who serves the first part of his two-match suspension after getting sent off against Chelsea last weekend, was particularly poor and got hooked at the break.
For Arsenal, Alex Iwobi made his first start as a Gunner and scored. Danny Welbeck also started for Wenger's side who had only won one of their last eight games in all competitions. Brendan Galloway returned to the Everton bench as defensive cover after a long spell back with the Under-21s, while Kevin Mirallas was absent, serving the last portion of his two-match ban.
Everton kicked off and started well, Coleman getting down the left, crossing and eventually getting a corner that was very low and Coleman did well to clip the ball just outside the park-end post. At the other end, Welbeck got in close before Besic whacked it behind off the Arsenal man. Everton attacked with Lukaku crossing for Barkley who could not get his head on it. Funes Mori then had to give up a corner that Gabriel tried to volley, well over off his shin.
Sanchez got forward and crossed to Iwobi who took a fraction too long and was closed down but Welbeck was next to break the Blue line after some clinical Arsenal passing and he went around Robles to score with ease. From the restart, more slick Arsenal passing cut the Blues apart but Iwobi shot straight at Robles.
The Blues were suitably stunned and tried to batten down the hatches, but Arsenal's energy and determination had them looking second-best to every ball. Baines went on a good run but was chopped down by Bellerin. From the set piece, the delivery by Baines did not beat the first man.
Lennon tried to clip the ball forward to Lukaku but he was blindsided by Gabriel. Arsenal continued to look very fluid with the ball but the Everton defence were keen not to concede again, Baines stealing the ball well. But hesitancy when in possession was maddening for a crowd who wanted a much stronger reaction. A poor midfield giveaway saw Arsenal advance and win another corner that came to nothing.
Barkley finally took a shot that was blocked, and Besic then fired in a decent shot that Ospina parried along the byeline. A ball to Lukaku was too easily intercepted, setting up yet another Arsenal advance. Lukaku did win the next aerial clearance but it went lamely to an Arsenal player.
Barkley made something of a stuttering break and Cleverley crossed but a long way from Lukaku but winning a corner that was just abysmally delivered by Baines. Coleman did well until his cross was easily intercepted. Besic did well in defence and then tried a clever ball forward with the outside of his boot to Lukaku that went straight to Gabriel.
Robles cleared the ball long for Lukaku who was beaten again by Gabriel. Lennon went on a good run but passed straight to Koscielny. The turnover saw Arsenal attack and Sanchez going down amidst screams for a penalty after contact first from Besic, then a dive over Funes Mori, so not given. A tremendous cross from Monreal was handled well by Jagielka. Funes Mori was strong to head away.
Another laboured Everton attack won a corner that Cleverley looked to have lifted but it again was headed away by the first defender. Another cross was played toward Lukaku but Gabriel again had the Big Man in his pocket. McCarthy tried to run through but it was blocked and seconds later the long ball over the top to Iwobi was fired under Robles and into the back of the Gwladys Street net for a shocking second goal to the visitors.
Lennon tried to volley in from a corner, high, wide and horrible, underlining a shockingly poor first-half performance by the FA Cup semi-finalists, as Arsenal surged forward once more, Iwobi dancing in again and shooting wide. Everton's only response was long hoofed balls that Lukaku had to watch bounce away from him, as boos rang around Goodison at the break.
John Stones replaced Mo Besic, who had not had a very impressive half, to give Everton a back three and allow Coleman and Baines to advance. Stones was required to make a defensive clearance early on, which he did with his usual confidence.
Everton tried to get the ball forward with pace but an overhit pass saw Arsenal in possession again. Lukaku had a good run down the left and cut in but fired his cross without looking up at an Arsenal defender. Barkley played the ball behind Lennon, and poor clearance of a bouncing ball saw Stones almost let in Welbeck but he recovered well from his mistake. Coquelin tried a potshot from distance, well way from the Everton goal. Robles cleared into touch as if he was playing rugby.
As Arsenal tired, it still looked like Everton had played two games this week, not the visitors. Lennon got free, but his cross was farcical. Everton were getting more possession but doing very little with it. Baines was next to poorly overhit his cross. Lukaku again could not beat Gabriel.
Stones was very strong defending against Koscielny but another Everton attack ended in an awful cross from Baines straight to a defender. Coleman fired in a low cross that Lukaku, Gabriel and Ospina went for, Ospina coming off the worst and needing treatment.
Everton won a corner with Ospina still struggling but Jagielka unchallenged headed over when he should have scored, and Everton then failed to press off the next corner. Cleverley lashed an off-target shot straight at Gabriel. Everton had some better pressure on the Arsenal area but nothing came of it as a bearded Deulofeu replaced Barkley. Coleman and Coquelin had words after a little clash.
Another ridiculous ball lofted up to Lukaku only saw Arsenal craft another attack and win a corner as they seemed to recover some energy against a seriously lack-lustre Everton side who were offering little to nothing. More corners to Arsenal, Giroud heading in ahead of Robles but Clattenberg remarkably calling a foul on Jagielka.
Arsenal broke and were immediately into Everton's area but Iwobi's pass was poor and he was replaced by Chambers. Stones made a soft mistake in midfield and gave the ball away but it eventually came to Deulofeu, who had made no impact since he came on. Lukaku finally got his head on a cross, weakly nodded down to Ospina.
An Everton free-kick in added time led to a corner that Ospina snatched out of the air. At the other end, Giroud fired into the side netting. Deulofeu did a couple of step-overs and crossed straight to Ospina. The umpteenth ball was pumped up in the vague direction of Lukaku before the final whistle blue and more boos hopefully rang loud in the manager's ears. Not good enough by any stretch of the imagination.
A really really poor display by Everton, who seemed to feel they had done all that was required of them by beating Chelsea under the floodlights last weekend. Nobody likes the early-kick-offs but there was simply no excuse for such an uninspired Everton performance that ended all too predictably in their abject EIGHTH home defeat of the season.
Scorers: Welbeck (7'), Iwobi (42')
Everton: Robles, Baines, Jagielka, Funes Mori, Coleman, Besic (46' Stones), McCarthy, Cleverley, Barkley (74' Deulofeu), Lennon, Lukaku.
Subs: Howard, Kone, Niasse, Osman, Galloway.
Arsenal: Ospina, Gabriel, Koscielny, Ozil (75' Gibbs), Sanchez, Monreal, Welbeck (75' Giroud), Bellerin, Coquelin, Elneny, Iwobi (86' Chambers).
Subs: Macey, Mertesacker, Walcott, Campbell.
Referee: Mark Clattenburg

---
---
© ToffeeWeb