Kenwright talks theatre and drama
by

30 Comments [Jump to last]
| 23/07/2015
Interview predates the current Stones saga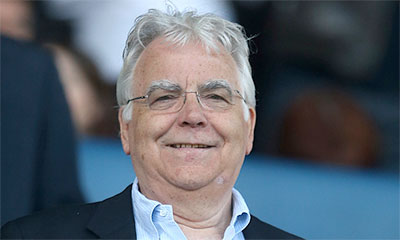 This 'interview' with Bill Kenwright was meant to focus on the theatre in Newcastle but the drama of Everton and football was never far from the surface.
Bill was speaking with David Whetstone of the Newcastle Chronicle about four new shows opening at Newcastle Theatre Royal – an Agatha Christie murder mystery, And Then There Were None, The Sound of Music, Jesus Christ Superstar and The Glenn Miller Story – all of which are Kenwright productions.
He touches on his recent ill-health but, typically, could not be kept away from the topic of his beloved Blues. The conversation appears to have come before the controversy of the Stones saga erupted.
Talk soon veers towards his footballing obsession, that which represents the blue half of his native Liverpool... but first he volunteers a word about his wellbeing.

He sounds pretty chipper but owns up to a spell of ill health. He is determined to get better, he tells me. "You know what, I'm on the right side of the grass... and we've just beaten Stoke City in the Asia Trophy."
Bill explained that he loved Everton, not necessarily football ownership for its own sake. "I said I bought it because it was in terrible trouble and no-one else was around to do it. You buy a club and you get terrible shite thrown at you. He said, 'Oh, right'."
For the record – and this may not reassure the bitter Evertonian who sits behind me – Bill thinks good times lie ahead for his 'blues'. "We've worked really hard to stabilise this club and we've got a great squad, a young squad... Lukaku and John Stones who has to be the best centre back in England."

And Newcastle? "I'm a big fan of Steve McClaren (head coach). I was when he was at Middlesbrough and as England manager. He wasn't in that job very long but he was very communicative. Some are a bit stand offish but he would ask about your players.

"I always thought he was a really good manager and he's got that sort of sharing spirit that you need. If we score I share my pleasure with 40,000 Evertonians. You've got to have that sharing sense that says 'We're in this together'. It's no good saying it, you've got to feel it."
Quotes sourced from the full interview at Newcastle Chronicle
---
Reader Comments (30)
Note: the following content is not moderated or vetted by the site owners at the time of submission. Comments are the responsibility of the poster. Disclaimer
Brent Stephens
1
Posted 22/07/2015 at 15:21:15
So Kenwright praises the talent of the guy but doesn't say he's not for sale. Bidding up the price.
Jay Harris
2
Posted 22/07/2015 at 15:31:04
That stood out to me too Brent.
Our Chairman and ultimate decision maker states Stones is the best young centre half in the business but fails to say he is not leaving Everton.
Maybe he is more chummy with the Chelsea board than we believed because if that was a statement of intent then as sure as hell JS is going.
I gave up my season ticket a few years ago in protest at Kenwright and the Kirkby debacle but if we sell Stones to Chelsea after the way they have belittled us I will never set foot inside GP again till this man is gone.
Gavin Johnson
3
Posted 22/07/2015 at 17:40:27
Just read the Kenwright interview. It would have been nice if he could have offered a little more clarification. Like - the lads not for sale, but we're aware that every player has his price so Chelsea would have to meet our valuation of 50M for England's best CB.
By saying nothing specific we're going to end up with another Lescott saga, where we'll cave in after several bids once a bid creeps up to 㿊M+. Just give them the inflated the valuation and it's up to them if they want to pay it. He'll be a 40M+ player the following season anyway.

Chris Wilson
4
Posted 23/07/2015 at 05:13:04
I could be wrong, but I think this interview was done before a bid had been made. Thought I read that on another thread earlier in the day.
Mark Tanton
5
Posted 23/07/2015 at 05:52:44
This is before the Stones bid, I'm certain.
Julian Wait
6
Posted 23/07/2015 at 05:49:19
Re comments #1 and #2 - I think you're being a bit harsh ... or making 2+2=5.
BK did say "We've worked really hard to stabilise this club and we've got a great squad, a young squad..." ... why would he say that if he's about to try and flog one of the two players he specifically mentions in that quote? It's not going to change Chelsea's valuation and it's not going to do anything to Stones himself except make him feel even more wanted. I am not sycophant but I think there's a standard of objectivity we can all strive for.
Nothing to see her re. Stones.
I might also suggest all go and read "A plea on negativity and the need for patience and perspective" (I believe it was written by Gabriel Garci­a Marquez, Milan Kundera, or possibly by a certain Lyndon Lloyd of TW not too many days ago .... before commenting straight out of the gate with such presumed negativity)
More importantly, I wasn't aware BK was unwell, and I for one, I wish BK a speedy recovery. Let's not resume the ad hominem attacks, frankly they're Rafa (beneath us ...)
Steve Pugh
8
Posted 23/07/2015 at 06:48:00
All you need to do is read where it says "we've just beaten Stoke City" and you would know that it was before the bid.
Or is that too easy?
Rick Tarleton
9
Posted 23/07/2015 at 06:57:55
Isn't Bill a one? What a loveable rogue! How good of him to buy Everton and we don't always appreciate him. He's still Boys' Pen Bill.
Testicles, I don't swear.

Jim Bennings
10
Posted 23/07/2015 at 07:11:07
Sign some friggin players Bill!
Or are you happy to just stave off relegation again like last season?
I reiterate if Kenwright was born a Red like Peter Johnson was, he would have long been hounded out of town.
16 years and no investment, nothing whatsoever done to our clapped out stadium apart from a few coats of paint.
Disgrace really.
Chris Wilson
11
Posted 23/07/2015 at 07:38:36
Uh...thank you, Steve Pugh. I can tell you what isn't too easy, is determining if you're being sarcastic or shitty.
I was just hoping some friendly Evertonian could confirm the timeline of events, so as to clarify why Bill didn't address the Stones saga and maybe help some people not freak out too much. Just trying to be nice.
Liam Reilly
12
Posted 23/07/2015 at 07:55:21
Get well soon, Bill. Whilst I don't believe all your decisions on strategy since owning the club have been correct, and there's a lot of unknowns linked to who actually owns the club, I don't believe that you are the devil either.
And I hope we don't find out the hard way that not all ownership changes are positive.

Peter Murray
13
Posted 23/07/2015 at 08:10:00
Good stuff, Bill, but please sort Chelsea out over Stones.
Gary Cahill, the boss's dummy, now shooting his mouth off.
Tony Abrahams
14
Posted 23/07/2015 at 08:14:45
Been enough written about Bill Kenwright on these pages. You might be right Liam, when you say he's not the devil, doesn't mean to say he's not owned by the Devil though.
Stabilising the club was done by David Moyes. Increased debt, and robbing Peter to pay Paul is how this Board have constantly operated.
The proof will be in the pudding come 1 September. Mouriniho is suggesting he's going to start bidding for players the day after the window closes, Everton usually sign a couple the day before!
Brian Porter
15
Posted 23/07/2015 at 08:36:23
Let's be honest, posting this interview now is fairly pointless, as the facts are simply that the whole John Stones issue blew up almost immediately after BKs words about building a young team, Lukaku, Stones etc.
All he has to do to reassure thousands of Evertonians who he purports to share his love of the club with, is for him to issue a very simple and short statement saying he fully supports the manager in his team building efforts and that John Stones is not for sale at any price, despite Chelsea's determination to destabilise our team and our preseason preparations.
Come on, Bill, show some guts!
Bill Farmer
17
Posted 23/07/2015 at 09:20:03
One thing that's for certain is that Martinez will be kept in innocence of any transfer discussions BK is having with his friend, Maria Granovskaia, Chelsea's Football Operations Director.
I've always felt the chairman hung Moyes out to dry over Lescott's leaving and this business has the same smell to it!
Brent Stephens
18
Posted 23/07/2015 at 09:34:29
Chris #4 "I could be wrong, but I think this interview was done before a bid had been made. Thought I read that on another thread earlier in the day."
Yes, thanks Chris. I think it was Patrick (thanks, also) who pointed that out when I posted #1 on another thread.
Sorry Bill K!
Martin Mason
19
Posted 23/07/2015 at 10:08:45
Why would he need to say that Stones is not for sale? The default value is that he isn't unless he's been offered for sale and this was before the first Chelsea bid. Give the guy a break.
Brian Porter
20
Posted 23/07/2015 at 10:21:21
Yes Martin #19, this interview did take place before any bid was made. My point is that, now the bid has been made and Chelsea are putting us under this intolerable pressure to sell, and to unsettle our player and our preparations for the new season, BK needs to now state categorically that despite Chelsea's behaviour and the utterances of their friends in the press corps, we have ZERO INTENTION of selling John Stones, either now or in the next transfer window. That is what the fans and I suspect, Roberto Martinez want to hear.
Not to do so will serve to undermine our own manager's credibility and make it almost impossible for him to do his job properly. How is he expected to prepare the team for a new season when he doesn't even know if one of his first choice centre backs is even going to be with us for the first game?
Bearing in mind we have no effective cover in that position, does he now go hell for leather to try and secure a top-class defender, which in a way will be counter-productive as it will give Chelsea the green light to believe they are winning in their campaign to lure Stones away through their dirty tricks department?
One thing is for sure, to sell Stones now, with no other clubs bidding for him would be tantamount to us rolling over and surrendering our independence and credibility as a Premier League Club. It will, in my opinion, put us on par with a cash-strapped Championship club, or worse.
Please, please, let it be a long, long time before we consider ever doing business of any kind with that punch of pirates from West London.
Martin Mason
21
Posted 23/07/2015 at 10:41:41
Brian, I agree that this would be nice but surely no chairman can state categorically that we won't sell? In that case Kenwright is far better to say nothing. The default value is that he isn't for sale and if he is sold it could end up being very much to the benefit of the club in terms of paying off debt.
Stone's massive value is his potential which hasn't been reached yet and the fact that he's English and the big clubs are desperate for UK players. We have UK defenders with very good potential. It could be that selling Stones is great business and there'll be a price where this becomes so.
Surely, as a club in debt and desperately in need of money, we can't say "never".
I desperately hope that we can keep Stones and not have to suffer the humiliation that being a feeder club to the likes of Chelsea always brings but I accept that selling could just be an opportunity. Unlike many I think we have a good board and an excellent chairman, I trust them to make the right decision based on information that we fans don't have.
For me, losing Jags will be a greater blow but something that we have to face.
Mark Whyment
22
Posted 23/07/2015 at 11:04:17
Martin Mason #21,
I couldn't agree more. Trust those in charge. Good Health, Bill. ;))
Martin Mason
23
Posted 23/07/2015 at 13:06:26
Long live Chairman Bill. :-)
Alan Williams
24
Posted 23/07/2015 at 13:05:33
I don't get some people. Let's look at this in the real world: yes, nobody wants us to sell Stones but, if a bid arrived over 㿏 million, then we would be stupid not to consider such bid as the added value this will make to the business is worth considering.
Stones has great potential, that's doesn't mean he is a great player as it stands now, so we could replace like for like for less and invest the money into clearing the debt. That to me would be sensible as it would also aid the sale of the club without damaging too much the playing side; if the bid exceeds 㿔 million, then we are stupid not to sell.
Do Barnsley have a sell on clause?
Derek Thomas
25
Posted 23/07/2015 at 13:22:57
The Interview nails him early on: ' Shareholding figurehead... hate figure to some'.
James Marshall
27
Posted 24/07/2015 at 17:34:47
Damned if he does.....
Tony Abrahams
28
Posted 24/07/2015 at 23:11:45
Martin, surely as a club, in debt, and in desperate need of money, can't be getting run properly? Surely?
You say you try to post positively, but never give us any real reasons for your positivity. 64TH ST MAYBE?
Richard Jones
29
Posted 25/07/2015 at 09:03:26
I can't believe Kenwright would use the term "bitter" towards one of our own, a word used by kopites when we throw the Heysal effect at them as an excuse for our downfall; the reality is it's him and his "friends" that have caused our downfall.
If I'm honest, when he uses the word 'bitter' about this bloke who sits behind, it feels like he's having a swipe at all his detractors. This man knows no shame!!!
Phil Sammon
30
Posted 25/07/2015 at 09:33:38
The only flaw to your argument, Richard (26), being that Kenwright didn't actually use the term 'bitter' to describe anyone at all.
Richard Jones
32
Posted 25/07/2015 at 10:23:34
Oops! Good point, Phil, that'll teach me to read things through blurry eyes in the morning!!
Steve Davies
33
Posted 25/07/2015 at 16:28:52
I don't want to wish any Evertonian ill, so I hope on a personal note that Bill makes a full recovery etc......
When I see in the Echo how LFC are putting up new structures and re-building their ground when Bill's Management Team will be adding another flag, probably to Dixie or Labone etc.... I do wonder what the Board at Everton have been doing over the years. No proper business plan, they really are a bunch of amateurs.
As much as I love the Old Lady, all we can expect is restricted views and the reality is that the last proper building built was the Park End built by Peter Johnson. I wrote as much in 'When Skies are Gray' years ago. The Board have let us down over the years and Bill must take some of the blame.
But it could be worse, I am a scouser now living in Leeds. I would take Bill over an Italian chancer anytime. It does put it all in perspective somewhat!!!!
Steve Davies
34
Posted 25/07/2015 at 17:02:21
The reality of all our posts is that money talks.....an analysis has been done, it was on 'Talksport' and there is a correlation between money and success on the field.....so much so that in 1963 we were accused of buying the league when we had all of the John Moores Littlewoods monies.
Unfortunately we have not got a rich 'sugar daddy' like Man City and Chelsea. They were doing nothing before they arrived, and money has bought their success.
Liverpool, Arsenal and Man Utd always had funds from 1980s so were always breaking transfer records regardless of sugar daddlies...
Moyes was actually genuinely fighting above his weight. Therefore the key question we must ask is can we attract a 'billionaire' who will buy into our history etc....but a proper 'sugar daddy' not a Hong Kong or Italian spoofer....without that we carry on regardless. That is the reality. However taking 10,000 fans to France last year shows the passion of our supporters...lions led by donkeys
COYB
Add Your Comments
In order to post a comment, you need to be logged in as a registered user of the site.
Or Sign up as a ToffeeWeb Member — it's free, takes just a few minutes and will allow you to post your comments on articles and Talking Points submissions across the site.
© ToffeeWeb