Everton clinch Funes from River Plate
by

70 Comments [Jump to last]
| 01/09/2015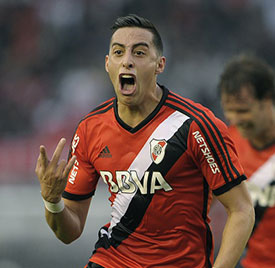 Everton have finally completed the signing of defender Ramiro Funes Mori from River Plate in a deal reportedly worth £9.5m.
The 24-year-old originally came to England on Friday 21st August to tie up a move that has been on the table since the beginning of the month after a fee was agreed between the two clubs, originally believed to be £5.5m. He had successfully come through a medical and was in attendance at Goodison Park for Everton's defeat to Manchester City the following Sunday but work permit issues delayed the finalisation of his paperwork until yesterday.
Funes signed his contract before flying to the United States to join Argentina's training camp in Houston. He will wear the Number 25 jersey at Everton.
A recent addition to the Albiceleste when he earned his first cap, little is known of Funes in England but Blues coach Kevin Reeves has seen enough to recommend Roberto Martinez make him his latest summer signing to fill the void left by Sylvain Distin and Antolin Alcaraz.
"I'm going to give it 100% every time I go out there to play for Everton," he told Evertonfc.com. "When I heard about their interest, I didn't think twice."
The confirmed fee raised eyebrows when it was announced by the club and further investigation by reporters reveals that in addition to having to pay tax on the deal, Everton had to cover an entitlement built into the Funes's River Plate contract guaranteeing him 50% of any transfer fee.
According to a report, the club only found out about the clause late in negotiations but pushed through with the deal because of the imminent transfer deadline and a lack of other options.
The reporter in question indicates that officials from Goodison Park have not been able to confirm or deny these details.
---
Reader Comments (70)
Note: the following content is not moderated or vetted by the site owners at the time of submission. Comments are the responsibility of the poster. Disclaimer
Christopher Wallace
1
Posted 01/09/2015 at 09:59:02
I believe Mori emigrated to the States as a youngster, so I assume he speaks English... can anyone confirm this?
Would be a big plus with regards to him settling in, and more importantly, being able to communicate effectively on the pitch!
Jimmy Salt
2
Posted 01/09/2015 at 10:00:27
How much????
Drew O'Neall
3
Posted 01/09/2015 at 10:01:53
Seems like a lot of money for a player roundly believed not to be up to it.
One thing I will say about Martinez's transfer dealings is, he looks for value if he spends a fee (Lukaku, McCarthy), so I expect this guy is the heir-apparent to Collocini et al for years to come... in which case our investment should be protected.
Duncan McDine
4
Posted 01/09/2015 at 10:02:52
£9.5 feckin million?... I hope that's not in Pounds Sterling. If it is, then I hope he's bloody worth it!!!
James Kirrane
5
Posted 01/09/2015 at 10:03:23
Sounds a bit fishy having to pay an extra £3.25 million according to some reports. The extra money not fully explained.
Hope he is worth it. Come on Roberto sign those two attacking players today!
Peter Laverty
6
Posted 01/09/2015 at 10:06:35
I love it. Sign someone for £500k from South America and it's "who the fuck is he"??
Sign an Argentinian international and River Plate's best defender for a bit of money and it's "How much??" and even better "a player roundly believed not to be up to it"? Are you going on the beliefs of some TalkSport tosser who gets paid to make things up or do you regularly watch Argentinian football and discuss which younger defenders are "up to it"?
Give the players a chance to kick a ball ffs.
John Daley
7
Posted 01/09/2015 at 10:08:26
Drew
When you say "roundly believed not to be up to it", by whom?
There's only been one vocal commentator consistently putting the boot in on the player to reinforce his original stance that the move was never likely. Who else has claimed to see the player perform enough times to even form an opinion one way or the other?
Jamie Sweet
8
Posted 01/09/2015 at 10:08:38
How much???
Sam Hoare
9
Posted 01/09/2015 at 10:12:48
Expectations will certainly be higher now of our most expensive defender! Right now, having believed he was worth £5m purely because that's what the media told us, it appears we have overpaid but only time will tell.
Either way it will take him time to adapt and we likely won't see the best of him till next season and after.
Ernie Baywood
10
Posted 01/09/2015 at 10:12:59
I believe we were going to pay 4M but our supporters were unhappy with the amount we were spending this summer so we upped it. Problem solved.
Ernie Baywood
11
Posted 01/09/2015 at 10:13:02
I believe we were going to pay £4M but our supporters were unhappy with the amount we were spending this summer so we upped it. Problem solved.
James Flynn
12
Posted 01/09/2015 at 10:13:11
Christopher - Yes, his family migrated here when the Mori twins were 10-year-olds, to the Dallas, TX area.
I'm sure his English is fine.
Barry McNally
13
Posted 01/09/2015 at 10:14:15
How did the $4M (٠.5M) first mooted become ٧.5M, WTF? Is Bill's Cayman Islands back account bulging as a result?
Liam Reilly
14
Posted 01/09/2015 at 10:25:13
£9.5M – WTF!
This is a mystery because where exactly is he going to play? He can't possibly be backup to Jags and Stones for that amount.
It could be a day of surprise this one.

Richard Jones
15
Posted 01/09/2015 at 10:25:55
£9.5 million They must think we are as thick as shoite!!
Paddy Howlin
16
Posted 01/09/2015 at 10:26:12
The lad has to be given a chance to pull on a shirt and play, so I will reserve all judgement until he has had a good run in the team. However the escalating fee is bound to raise more than a few eyebrows.
He's also our record signing in our history for a Defender, so expectations should be high. Could be a defining signing for Martinez. Let's hope there are a few more to follow today.....
Ernie Baywood
17
Posted 01/09/2015 at 10:26:29
Maybe that much heralded 3 at the back is finally coming...
Paul Jeronovich
18
Posted 01/09/2015 at 10:26:33
Great, the fee is about average given West Brom are about to pay £7-8M for Jonny Evans. Can't wait to see him out there.
Welcome to Everton fella.
Tony Hill
19
Posted 01/09/2015 at 10:27:02
He is a good age and the recent comments from our Uruguayan friend about this player's abilities are encouraging. I still feel we may be short of cover in central defence but, as with Leandro, let us hope we have secured a top performer.
Nick Page
20
Posted 01/09/2015 at 10:27:20
Only Everton could inflate a transfer fee 300% on the last day of the transfer window. You couldn't make it up.
Christopher Wallace
21
Posted 01/09/2015 at 10:27:29
I reckon that his wages are included in that total, to make it appear that the club are spending more money than they actually are.
River Plate cleaned up last year. I haven't seen this guy play, but you don't win the Copa Libertarores with a dodgy CB.
I'll reserve judgement. I'm sure there are gems to be signed in South America - Aguero, Mascherano, Vidal, Alexis, Suarez, etc all had to be discovered.
Dave Abrahams
22
Posted 01/09/2015 at 10:27:54
They've started already with other operating costs, £4M or £5M becomes £9M over a weekend...
When is the truth about the club's finances going to come out? Very soon, I hope.
Tony George
23
Posted 01/09/2015 at 10:29:44
The club can do no right by some people. The media reports the deal at ١.5M and Mori is seen as a cheap option. When the true figure turns out to be ٧.5M then he's too expensive!
All this before anyone has seen him kick a ball for Everton!
With two more signings likely today, the total spend will be near 㿀M - and that's for 8 players. A "good window" by this club's standards, don't you think?
Christopher Wallace
24
Posted 01/09/2015 at 10:35:15
James 12
Thanks mate, good to know.
Tom Hutchings
25
Posted 01/09/2015 at 10:40:54
I read one review via TalkSport that say he's not up to it and another on SkySports which says he's the perfect fit for Everton... apparently he had a twin brother who played for River Plate and wasn't very good.
http://www.skysports.com/football/news/15134/9968748/ramiro-funes-mori-all-you-need-to-know-about-Everton8217s-new-arrival
Mike Hughes
26
Posted 01/09/2015 at 10:50:41
Here we go again. Another transfer window and Splash-The-Cash Everton are at it again... Typical!
Regarding Mori - 10 goals in 108 appearances for River Plate. The new Derek Mountfield?
Murdo Laing
27
Posted 01/09/2015 at 11:01:59
A big welcome to the lad, and yes, let's reserve judgement eh, let's see him in an Everton shirt and judge him on what he can do? He appears to have been ready for the move to Europe and let's hope the move benefits him, and us.
I'm sorry guys, but I cannot shake off this lingering suspicion that a deal has been done on Stones for silly money. That being the case, RM has hopefully been allowed to earmark at least some of the proceeds for an attacking player.
All speculation, I know, but it's the day for it, isn't it?
Jeff Hughes
28
Posted 01/09/2015 at 11:13:18
Well said, Peter (#6)! Now is not the time to judge value. Let's get behind the lad and give him a chance FFS — and that does not mean three games, by the way. Let's judge when he has completed a good run in the first team.
That's if he does get a run out this year (?). As a supposed left-sided defender, he is more likely to be cover for Jags or a long-term replacement.
Drew O'Neall
29
Posted 01/09/2015 at 11:14:25
Peter, John, 6 and 7
I'm going on multiple comments from multiple sources as alluded to by the term 'roundly believed'.
If you would care to open your browser and insert the terms 'Mori' and 'Everton', you might discover the same opinions.
Now if you just want a row..
Of course I haven't seen the player in person, I refer you once again to my use of the term 'roundly believed'.
Peter, I presume you DO watch a lot of Argentinean football armed, as you are, with the fact that he is River Plate's best defender..
The comment wasn't that he isn't good enough 'before he's kicked a ball' but that it seems a lot of money in light of the reviews, others seem to agree.
Luke Welch
30
Posted 01/09/2015 at 11:14:29
What has Gibson been up to? He's a good player when not injured or in court.
Laurie Hartley
31
Posted 01/09/2015 at 11:25:59
Liam (#14) – "This is a mystery because where exactly is he going to play? He can't possibly be backup to Jags and Stones for that amount."
I think Ernie (#17) may have answered your question. Perhaps on the left hand side of Phil Jagielka.
I hope so.
Victor Jones
32
Posted 01/09/2015 at 11:30:49
TBH, I know very little about Mori. And I expect that most supporters are also in the dark.
What do we really know about South American football? The fact that he has a cap, means nothing. We can all name internationals. That we don't want to see at Everton. FFS, Alcaraz was an international.
I will reserve judgement, but I think that even Martinez would not hand out £9.5 million without an inkling of what he is getting. His big money buys have been okay. Only his bargain basement signings have been poor.
I've just heard that Mori is left-footed. So will he fill in at LB? Just a thought. Now here's hoping that RM and BK have a few surprises in store... 'cause I believe that we are only a few players away from having a good season.
Ben Mackenzie
33
Posted 01/09/2015 at 11:51:52
Yes, I hope this too, on the left of a back 3, with Stones and Jags. Baines (when fit) and Coleman as wing backs.
Andy Meighan
34
Posted 01/09/2015 at 11:52:27
Didn't think twice.
Nice one, kid, that's what I love to hear!
John Daley
35
Posted 01/09/2015 at 11:56:25
"I'm going on multiple comments from multiple sources as alluded to by the term 'roundly believed'.
If you would care to open your browser and insert the terms 'Mori' and 'Everton', you might discover the same opinions"
Nah, seen as though there's so many out there, how about you share... oh, let's say just three... from reputable commentators, not some numpty with a blog. I'll even let you throw Tim fucking Vickery in seen as though that's probably all you've got.
You were asked a simple question, to provide some form of back up to your claim that the player has been "roundly" condemned as crap. 'Roundly' implies criticism has come from all quarters and many mouths. Not just some meff who moved to Brazil to teach English, believes himself to be the font of all knowledge on South American football and can't stop banging on about one player he himself doesn't rate. Not just two or three people either. 'Roundly' implies a general consensus.
Why it's easier to come over all fucking flouncing Blakey from Off The Buses say 'do it yourself Butler, I don't have time for this shit', whilst shiftily looking from side to side as a little bead of sweat trickles down from your forehead to your cheek thereby giving the game away, rather than just providing an example of what you were referring to if the criticism is so widespread, I don't know.

Hugh Jenkins
36
Posted 01/09/2015 at 12:24:11
The guy is a 24-year-old left-footed CB and an Argentinian international.
Jags is 33 and a right-footed CB playing at left CB to accommodate John Stones at right CB.
I think this is Jag's replacement and that is where he will play, at left CB, when he is up to speed and bedded in.

Malcolm Dixon
37
Posted 01/09/2015 at 12:42:42
Just reported in
The Guardian
:
A fascinating update from Andy Hunter about Everton's signing of Ramiro Funes Mori – if the suggestions prove true, this is a quite mindboggling state of affairs:

It is being suggested that the reason Ramiro Funes Mori's price increased from ٤.25m to ٧.5m was because his River Plate contract entitled him to 50% of any transfer fee and, rather than risk the deal collapsing, Everton decided to pay the extra ١.25m with no central defensive alternatives lined up at this late stage in the window. Also claimed Everton only became aware of Funes Mori's entitlement late last week. Everton have not confirmed or denied the allegation.
Sean Patton
38
Posted 01/09/2015 at 12:43:52
You have got it Ernie, I simply don't believe the fee for this guy we all know it will be him and Lennon and some unknown loan player so in order to pacify the fans they trump the price.
Also as Sam says it changes the goalposts entirely on the perception on him at 5M its good value and a risk worth taking but at nearly 10M he is in the same bracket as Evans and Ogbonna so we can directly compare if the manager made the right choice.

David McKitt
39
Posted 01/09/2015 at 12:49:27
You got there before me Malcolm (34), was just about to post the same thing...
Bizarre..
Eugene Ruane
40
Posted 01/09/2015 at 12:50:00
John (32) I could never really go along with Blakey's opinions, although it was hard to disagree with him (in the new uniforms episode when the new uniforms were 'a bit puffy') and he said to Stan "Myyaaaaar...myaaaaar, owwgor dear me what do you look like Baaatlah?...mnyerr" (while bouncing from heel to tip-toe).
Raymond Fox
41
Posted 01/09/2015 at 13:10:51
What gives with all this he's not worth the money!
Why should you care, its coming out of the clubs pocket not your own.
They have decided it's worth paying ٧.5M for him so let's give the lad a chance.
No pleasing some folk!
Christopher Wallace
42
Posted 01/09/2015 at 13:34:56
Compared to the likes of Mings (٧m), Lovren (㿀m), Luiz (㿞m), Chambers (㿞m), etc - ٧.5m, if true, could still prove to be an absolute bargain, for a Copa Libertadores winning CB who forced his way into a quality national team.
Tevez, Mascherano, Alex, Robinho, Diego all had great runs in that comp before making the move to Europe. Hopefully he has a similar impact.
Christopher Wallace
43
Posted 01/09/2015 at 13:39:39
*Chambers £16m
Add to that, Sakho for £20m
Dan Walker
44
Posted 01/09/2015 at 13:55:45
Could be worse.... £9.5M could've bought us two Per Kroldrups.
Richard Reeves
45
Posted 01/09/2015 at 14:31:10
£9.5 million? Yeah... right. That is probably what it could be worth if we qualify for Europe, win the league, he reaches 50 international caps and they get a sell-on percentage. Saying that, he could turn out to be shit hot but we all want that top quality Number 10 (myself... I want that and another striker to compete with Lukaku).
When you get headlines of these values, it makes me think we'll only get Lennon and Mori's price will be used as an example of backing the manager.
Drew O'Neall
46
Posted 01/09/2015 at 15:50:55
John
On the basis I am not writing a dissertation nor giving evidence to my local magistrate I neither am obliged, nor feel compelled, to back up anything I say let alone involve myself in a debate with a person who, judging by the pettiness of their contention and the era of their social references, should really have something better to do than pick arguments on club forums.
By the way it was On The Buses not 'off' them — small point but something tells me you will appreciate it.
Nick Entwistle
47
Posted 01/09/2015 at 15:54:32
Tim Vickery on TalkSport absolutely laid into this guy. As if Titus Bramble was the model of consistency in comparison.
John Daley
49
Posted 01/09/2015 at 16:38:54
Drew,
It's pretty simple. If you don't feel compelled to, or simply can't back up anything you say then probably best not to state it in a way that implies your stance is based on the assertions of others.
If you just want to give your own opinion then that's a different matter. Except you didn't. You made claim to there being a 'roundly' accepted belief that the player won't be able to cope in the Premier League and then made mention of 'multiple sources' stating that very fact. How is it petty to enquire who was part of this absolutely massive Mori bad-mouthing posse? Seems to me there's a Wild Bunch of one, whose opinion only holds any sway because he's been bronzing his ball sack out in Brazil for several years.
That you choose to shy away from simply providing any names when asked (with no hidden agenda on my part) who actually said it, tells everybody all they need to know about the alleged abundance of well documented doubts you claim to have based your opinion on.
Oh, and yeah, you're correct, I missed a word out when name checking a sitcom at speed. It should have read 'Blakey off 'On The Buses'. A cardinal error and I do appreciate you bringing it to my attention. However, I am truly aghast at the fact you seemingly have me pegged as some ancient Pterodactyol looking, carrier bag cheeked, arl fucker that looks like they should be introducing Tales From The Crypt. I'm in my thirties you cheeky git! Just have a penchant for canned laughter, grainy camera work, perky conical nipples parked under hideous cardigans and character actors whose idea of getting ready for a close up was shoving their nasal hair back up their snout with a spit covered finger.
Frank Crewe
50
Posted 01/09/2015 at 17:25:08
"I'm going to give it 100% every time I go out there to play for Everton,"
I should hope so!
Colin Leary
51
Posted 01/09/2015 at 17:35:19
For Everton to pay £9.5 million and not loan him to prove himself is un-Everton-like. Fingers crossed it's a shrewd bit of business and another asset to the club.
Steven Higgott
52
Posted 01/09/2015 at 18:19:36
We will be singing:
When he heads the ball
and scores a goal
That's a Mori (That's a Mori)
On his debut, Well I can dream.
Matt Muzi
53
Posted 01/09/2015 at 19:19:55
The lies that people tell & the fools that believe them!!
Pete North
54
Posted 01/09/2015 at 19:40:05
Ramiro has got to become a top 6 Premier League player to justify this investment by Everton. I really hope he makes it but, at £11.5M, Van Djik to Southampton looks a much better risk. Bill needs to buy Les Reed and get RM reporting to him.
Colin O'Keeffe
55
Posted 01/09/2015 at 20:11:09
Tim Vickerary on Five Live has questioned the ability of Mori to make it in England, says he has neither the pace or physicality to cope with Premier League.
Mentioned a disastrous South American signing he made for Wigan, Bosseli, a striker who cost £9M and did nothing. Essentially he was saying that Martinez has not learnt from that mistake.
Another Kroldrup?
Steve Cotton
56
Posted 01/09/2015 at 20:19:12
Great news. We now have 3 players in the first team squad over 6 foot.
John Crawley
58
Posted 01/09/2015 at 20:25:22
So just over a 70% increase on the reported fee. Here's an interesting article from the law in sport blog which would cast doubt on Andy Hunters assertion http://www.lawinsport.com/blog/arge...ts-of-buying-a-football-player-from-argentina
THE COSTS OF BUYING A FOOTBALL PLAYER FROM ARGENTINA
By Ariel Reck published on 14 July 2015
This blog will briefly examine the charges, taxes, costs and levies typically associated with a football player's transfer from an Argentine to a foreign club, which can – perhaps surprisingly – amount to up to 25.7% of the total transfer price for a foreign club (and can be even more for a domestic team).
This is an important issue because, in the author's experience, foreign clubs often do not consider these inbuilt levies at the beginning of negotiations, maybe because they do not have anything similar domestically. However, almost every South American nation has significant costs and levies on transfer fees, the logic being that the exporting nation charges as much as possible at the time of the transfer because large sums of money are involved and it is potentially the last chance to levy charges and taxes before the player leaves the country for good.
What levies are there in Argentina?
The 25.7% levied on the total transfer price can be approximately disaggregated into the following charges.
The player's share
Firstly, 15% of the transfer price goes to the player pursuant to the national Collective Bargaining Agreement (CBA) and the "Professional Player's Statute", the federal law 20.160. Article 8 of the CBA (55/2009) provides:1
"The professional player´s contract might be subject, during the term of its validity, to a transfer to another club, with the express consent of the player. In such case, the player shall be entitled to – at least- 15% of the gross amount of the transfer, be it temporary or definitive, and the payment of such percentage shall be responsibility of the transferring club by depositing such amount at the Professional Players´ Union."
Almost every South American federation has a similar percentage assigned for the player in a transfer (it usually ranges from 10% - 20%).2 As a labour right, in Argentina, such percentage cannot be waived by the player in advance (in contrast to other nations, such as Spain, were the percentage can be waived).
Social Security Taxes
7% relates to social security taxes. Pursuant to an agreement reached between the Argentine tax authorities and Argentine clubs more than a decade ago (known as Decree 1212/2003), social security taxes are paid by clubs as a deduction of a percentage of the transfer fees, ticketing income and TV rights revenue. The decree states:3
"These rules will apply for the payment of the social security duties to the social security systems an amount equivalent to 2% [later elevated to 7%] of the total income for ticket revenue of the games disputed by the relevant clubs in every category, plus the transfer of players and the TV rights of the tournaments disputed by these clubs in every category."
As many clubs are currently in economic difficulties, the income generated by the sale of a player is a convenient way to arrange for the discharge of any debts that they may have with the National Social Security System and suspend ongoing enforcement proceedings. Article 1 of the decree provides:
"A collection and withholding regime is established for the payment of the personal and labor contributions to the regimens established in laws 19.032.... (social security regulations) for professional football players, medical, technical and auxiliary staff in charge of professional football squads in any category and any other employees dependent from the Argentine Football Association and clubs participating in tournaments organized by the said association in first (Primera A), second (Nacional B) and third (Primera B) division, with the Argentine Football Association acting as collection and withholding tax agent."
So technically, the transfer itself is not taxable in a strict sense; it is a collection and withholding of social security taxes then owing at the time of the transfer.
Fee to the Argentine Football Fédération
There is a 2% fee payable by the club to the Argentine Football Fédération.4 If the transfer is domestic, 2% is payable by each club.
Article 214 (Transfers) of the Argentine Football Federation Regulations states:
"The selling and the buying clubs, to have the transfer authorized, shall fulfill the following requirements: a) Both clubs shall pay at AFA´s treasury an amount equivalent to a 2% of the total amount of the operation. These amounts will be destined to support the expenses of the national team, and a special bank account will be open to that effect."
There is also a 0.5% fee payable to the Player's Union as agreed between the Union and the Argentine Football Association in 2001.5
Stamp duty
Finally, there is a stamp duty levied on the contract, which ranges from 0.8% to 1.2% depending on the jurisdiction under which the document is signed.
Comment
These levies have a considerable impact in any player transfer. In particular, they make the first payment crucial because, according to the national labor and fiscal rules,6 the taxes and levies must be entirely discharged before the release of the player's International Transfer Certificate (ITC), even if the total payment is agreed in installments. If these contributions are not paid prior to the release of the ITC, the club and the national association are jointly liable for these amounts and can be subject to penalties and sanctions7 including fines up to 100% of the amount at stake and –at least in theory- even 2 to 6 years of prison.
This rule is in clear contradiction with art.9.1.3 of the FIFA RSTP,8 which declares null and void any condition that limits the issuance of the ITC. Clubs have been sanctioned by FIFA in the past for including such clauses in transfer agreements.9 Thus, when agreeing the payment schedule in a transfer, Argentine clubs face the danger of being sanctioned either by FIFA or by the taxation authorities.
The levies also affect the way Argentine clubs negotiate transfers, and especially the payment schedule that they are willing to accept. Although the levies are the responsibility of the selling (Argentine) club, the seller will effectively pass on the costs to the buying club by demanding a "net" transfer amount, and then adding on an additional 27% that the buyer must also bear.
As confirmed by the Court of Arbitration for Sport in Genoa Cricket and Football Club SpA v Club Bella Vista,10 the levies are an integral part of the transfer price and therefore count for the purpose of calculating of the solidarity mechanism payable to the clubs that trained the player between the ages of 12 and 23. This represents an additional cost increase.
As to the payment, while for financial and regulatory reasons (i.e. compliance with financial fair play regulations) a buying club will usually be interested in paying the transfer fee in installments, Argentine clubs will generally try to negotiate as much as possible upfront (as they have to pay the levies on the entire transfer value (even if the fee is paid in installments)) at the moment of the ITC release (and the selling club may also need part of the transfer fee to replace the transferred player.
In summary, every club that targets a player from an Argentinean team shall be aware of these regulations in order to assess the real and final costs of the transfer and also to design a payment schedule that fits the needs of the buying but also of the selling club in order to complete the deal.
References
Argentine footballers' Collective Bargaining Agreement, http://infoleg.mecon.gov.ar/infolegInternet/anexos/155000-159999/158453/norma.htm
Brazil, Peru and Bolivia are exceptions to this rule; no such right is established in their regulations. In Argentina the minimum percentage is 15%, in Paraguay 20% for international transfers, in Urugay 20%, Ecuador 15%, Chile 10%, and Colombia 8%.
Decree 1212/2003, http://infoleg.mecon.gov.ar/infolegInternet/anexos/85000-89999/85230/norma.htm
Argentine Football Fédération hompage, http://www.afa.org.ar/index.php?Itemid=238
The rule has proved quite controversial because it was never published but is still is applicable without exception. It started at the end of 2000 as a request from the Players Union to AFA to cover the administrative costs generated by the management of the payment of the 15% that corresponds to the player.
Taxman´s General Resolution 1580/2003 http://www.afip.gov.ar/afip/resol158003.html(especially arts. 5, 8 and 30).
Art.30 of the General Resolution 1580/2003 and further references to law 24.769 http://www.infoleg.gov.ar/infolegInternet/anexos/40000-44999/41379/texact.htmand Genera Resolution 1566/2003 http://www.afip.gov.ar/afip/resol156603.html
ARTICULO 30.- Cuando la Asociación del Fútbol Argentino (AFA) omita efectuar, depositar y/o informar las percepciones y/o retenciones, o realice cualquier otro acto que importe el incumplimiento, total o parcial, de las obligaciones impuestas por esta resolución general y/o por el Decreto Nº 1.212/03, serà pasible de la aplicación de las sanciones e intereses previstos por la Ley N° 11.683, texto ordenado 1998 y sus modificaciones, por la Ley N° 24.769 y, en su caso, por la Resolución General Nº 1.566.
9.1.Players registered at one association may only be registered at a new association once the latter has received an International Transfer Certificate (hereinafter: ITC) from the former association. The ITC shall be issued free of charge without any conditions or time limit. Any provisions to the contrary shall be null and void. The association issuing the ITC shall lodge a copy with FIFA. The administrative procedures for issuing the ITC are contained in Annexe 3, article 8, and Annexe 3a of these regulations.
'Clubs sanctioned for misuse of FIFA TMS', FIFA.org, 31 January 2013, last viewed 8 July 2015, http://www.fifa.com/governance/news...s-sanctioned-for-misuse-fifa-tms-1998807.html
Genoa Cricket and Football Club SpA v Club Bella Vista CAS 2012/A/2944, http://jurisprudence.tas-cas.org/sites/CaseLaw/Shared Documents/2944.pdf
Copyright notice
This work was written for and first published on LawInSport.com (unless otherwise stated) and the copyright is owned by LawInSport Ltd. Permission to make digital or hard copies of this work (or part, or abstracts, of it) for personal use, professional training and/orclassroom uses is granted free of charge provided that such copies are not made or distributed for profit or commercial advantage, and provided that all copies bear this notice and full citation on the first page (which should include the URL, company name (LawInSport), article title, author name, date of the publication and date of use) of any copies made. Copyright for components of this work owned by parties other than LawInSport must be honoured.

Peter Howard
59
Posted 01/09/2015 at 20:29:04
Thierry Henry rates this signing as one of the best bits of business in this window.
I think he knows a bit about football... possibly more than Tim Vickery.
Craig McFarlane
60
Posted 01/09/2015 at 21:24:23
I think a lot of people will be pleasantly surprised with Funes Mori. I've seen him play a few times (one of my best friends is a River Plate supporter) and he looks very good.
Comfortable on the ball, looks solid in defence and can certainly smash a free kick in the top corner. He is around 6' 1" so not huge for a defender, but not exactly short. Plus he has a huge leap when heading which, dare I say it, is slightly reminiscent of C. Ronaldo.
Perhaps the biggest indicator is that he's been keeping a very highly rated CB in the Columbian international Balanta out of the team.
I just took a look over at a River Plate fan board that is quite similar to TW and they are either grateful to him for his time there or absolutely fuming that they let him go. The general consensus is that even at £9.5m he was sold too cheaply and they believe they should have got double or even more for him.
As soon as he gets up to speed with the BPL, I think we'll have a real gem on our hands!
Anthony Dwyer
61
Posted 01/09/2015 at 21:38:24
£9.5M for a back-up, hopefully Mori can prove shrewd signing an may open up the option of playing 3 centre backs, especially now we don't have a proven left back.
Freddy Maldonado
62
Posted 01/09/2015 at 21:46:57
Funes Mori will come good. He is very aggressive and that may cause him some issues early in his Prem career. For example, he may dribble into a wall or may not see the danger of running back quickly after a corner kick.
I spoke with my Dad about this as he watches only South American Soccer. He believes Ramiro is extremely raw for Europe but could slot into any top 5 club in South America. The problem is, that the English Championship may be a tougher and quicker league than an Argentine, Peruvian or Chilean League. Only the Brazilian League could possibly compete with The Prem.
Personally, I see this as a good signing. Funes Mori would have eventually ended up in Italy or possibly Portugal next season and his price would have gone up a few mil. Jagielka has a new project and this one will be a bit harder than bringing Stones up to speed. It will be worth it in 2 year's time.
Chris Williamson
63
Posted 01/09/2015 at 21:55:07
He has said he'll give everything for Everton on the pitch. Sounds great - but please ... don't give your hamstrings, Mr Funes mori .... don't give them - keep them safe.
Welcome, fella.
Neil Thomas
64
Posted 01/09/2015 at 22:32:27
Let's give the lad a chance. One thing he does add, is that he is a left footed CB, something we don't have. Might put a bit of balance in the defence. Let's face it Jags as limited time at his best, and this lad could form a good partnership with Stones.
Eric Myles
65
Posted 02/09/2015 at 02:51:52
Jags is 33 so hopefully this guy will turn into his replacement, and not Stones'.
Christopher Wallace
66
Posted 02/09/2015 at 14:49:18
John Crawley
Interesting, though not entirely surprising. Thanks for info.
Dennis Ng
67
Posted 02/09/2015 at 14:52:25
John 56, it does explain the sudden last minute jump. Hopefully a lesson learnt for future and that we try players next time on much less.
Matthew Williams
68
Posted 02/09/2015 at 17:16:24
When we don't spend money on transfers, fans moan... and when we do spend money, fans moan we spent too much.
James Marshall
69
Posted 02/09/2015 at 17:31:13
I'm quite looking forward to seeing him and Rodriguez play for us.
We wanted new players, we got some new players.
It's really that simple. People can complain about it all they like, but we have what we have and I don't see why that's so terrible.
John Crawley
70
Posted 02/09/2015 at 17:34:02
Dennis it explains why it might have jumped 27% not over 70%! However these costs should have been known to Everton. If I can find them by searching on Google for 5 minutes it's not that difficult is it. If they weren't aware of it - that's total incompetence!!
Drew O'Neall
71
Posted 03/09/2015 at 00:12:38
John (#48),
To name a few of those 'experts' who commented in the run up to his transfer; your mate Tim Vickery, Phil McNulty of BBC and Nick Dorrington of ESPN all panned him. Others have too including various commentators on here. I would say that justifies 'roundly believed not to be up to it' when compared to not a single positive review.
I hope he's a success and will support him from the moment he pulls on the shirt and I value Roberto Martinez' sopinion far greater than some journalist hacks but the point was more about it seeming a lot of money considering the reviews.
I don't listen to TalkSport because it's aimed at neurotic halfwits but, if you're telling me Tim Vickery spouted a load of shite on there, who am I to disagree?
If there are no more questions your honour...
Mike Hughes
72
Posted 03/09/2015 at 00:21:01
John #56
Brief and to-the-point

Add Your Comments
In order to post a comment, you need to be logged in as a registered user of the site.
Or Sign up as a ToffeeWeb Member — it's free, takes just a few minutes and will allow you to post your comments on articles and Talking Points submissions across the site.
© ToffeeWeb