Lennon thrilled to be back at Everton
by

70 Comments [Jump to last]
| 02/09/2015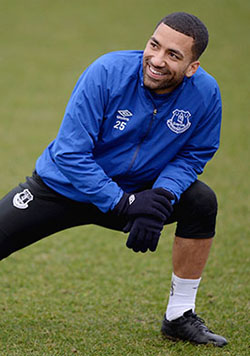 Aaron Lennon says that it's an "unbelievable feeling" to be an Everton player again after waiting the summer to return to the club that he says has felt like home since the moment he walked through the door.
The 28-year-old winger was the subject of a late, deadline-beating deal when he joined the Blues in a £4.5m transfer yesterday that was sealed just minutes before the summer transfer window closed.
It's the second time this year that the Yorkshire-born player has arrived at Finch Farm on transfer deadline day – Roberto Martinez originally snapped Lennon up on loan at the end of the winter window in February but a return to the Blues was always on the cards, provided Tottenham Hotspur lowered their asking price.
Frozen out of Mauricio Pochettino's plans – Lennon wasn't even assigned a squad number by Spurs this season – it was only a matter of time before he left White Hart Lane and, just like seven months ago, when he turned down the chance to join Stoke in favour of Goodison Park, there was only one place he wanted to go.
"It's an unbelievable feeling [to be back]," a beaming Lennon told evertonfc.com. "A lot of people know it's the move I wanted and from the first time I got here, it felt like home.
"I was just hoping it got done throughout the summer, I was just waiting, waiting. Yesterday was a great moment for me to finally become a full time Everton player."
Lennon admits that everything about Everton feels right for him and has done from the beginning. Martinez's decision to bring the England international in last season gave him a new lease on life after he'd seen his prospects of first-team action disappear at Tottenham.
"The loan spell was great for me," Lennon continued. "I enjoyed the whole feel of everything and the reception from everyone to do with the club. I felt so welcomed and I was just hoping throughout the whole summer that this one got done –- and thankfully it did.
"You have that feeling and it was just so comfortable. I knew from very early on that this was the place for me and I was so happy for the deal to get done."
With his previous number 25 taken by another new signing, Ramiro Funes Mori and Aiden McGeady in possession of the number 7 he wore ag Spurs, Lennon has selected to wear 12 on his jersey this season.
---
Reader Comments (70)
Note: the following content is not moderated or vetted by the site owners at the time of submission. Comments are the responsibility of the poster. Disclaimer
Mark Tanton
1
Posted 02/09/2015 at 19:15:49
Welcome back friendo.
David Hallwood
2
Posted 02/09/2015 at 19:22:15
A lot of negativity around TW, or should that be business as usual at TW. But what's not to like about the Lennon transfer; he was a success last season with great energy and work rate, and gave us a much needed drive.
A good addition... and several steps up from McGeady.
Clive Rogers
3
Posted 02/09/2015 at 19:29:13
A bad addition IMO. He is past his best and was just looking for his last contract. He might have been alright for Wigan but not for Everton.
Barry Morrison
4
Posted 02/09/2015 at 19:32:07
His last contract Clive? He's 28 FFS!
Andy Crooks
5
Posted 02/09/2015 at 19:34:12
In my view, he is a good player with a good attitude. So it didn't happen at Spurs for him. Well, we are a better club and it will work out here. Glad to have him.
John Aldridge
6
Posted 02/09/2015 at 19:39:43
A good player who did well last time he was here. More importantly, someone who clearly wants to be here and playing for the club. Welcome back I say.
Colin Leary
7
Posted 02/09/2015 at 19:40:18
Isn't it great that the windows closed? It's like a permanent Sunday now till January without the postman coming down your path!
Steve Chesters
8
Posted 02/09/2015 at 19:42:19
I just don't get it? Martinez presumably knows he wants to bring Lennon back but he then makes a big deal of the stupid transfer deadline situation. Then signs Lennon with an hour to go?

Is it just me?
Eugene Kearney
9
Posted 02/09/2015 at 19:46:17
Good to have him back... and he brought his smile this time!!!

Timothy Blanshard
10
Posted 02/09/2015 at 19:52:25
I was reading a Spurs forum last night trying to get some more information on why Lennon was not in their manager's plans. Apart from being utter bitches online, plus trolling eachother, this is what I learned:

First of all, the Spurs fans think without exception he's past it and his best days are far behind him. Secondly, Lennon apparently turned up for training one day half bladdered and that's why Pochettino had no time for him and didn't want to give him a squad number.

Personally I think he's going to continue to show he is no way past it as he's proved already. Maybe he didn't want to play for Not So Hotspur anymore.
Clive Rogers
11
Posted 02/09/2015 at 19:54:58
Andy,
It did happen for him at Spurs. He was first choice for 4 or 5 years, but his form dipped 3 seasons ago, and Pochettino has booted him out of the first team squad, making him train with the youth players.
Barry, he doesn't look after himself, drinks, smokes cigars and causes trouble in nightclubs. This will be his last PL contract. I expect him to play okay for the first 4 to 6 games, then be a major disappointment.
Peter Gorman
12
Posted 02/09/2015 at 19:59:34
Clive, so still better than McGeady then.
Paul Jeronovich
13
Posted 02/09/2015 at 20:01:16
Welcome back Aaron, the full player list now resembles a decent squad in fairness.
Still thought Charlie Austin would have been a great signing.
Terry McLavey
14
Posted 02/09/2015 at 20:02:03
I think he is a good addition. He was always heading the right way when he got the ball, unlike some of the "crabs" we have.
We are growing stronger every season despite the elusive "No 10" Do we have a homegrown one? The youth has impressed pre-season and in the first few games, maybe there is someone undiscovered. (I resisted the impulse to italicize that in case I left myself open to "flack"... oooops!)
Let's hope we shaft Jose on Saturday COYB !
Jay Harris
15
Posted 02/09/2015 at 20:05:06
I am very happy to see Aaron Lennon come in what was a very disappointing window for us.
His energy, enthusiasm, workrate and speed will help us considerably as it did last year.
All the sour grapes posters should explain what he did wrong when he was here on loan which is the only time we can judge how good he is going to be for Everton.
I am more concerned about Lukaku and the lack of options together with a total lack of goals from MF.
Tie that in to Roberto's tactics and you have a recipe for disaster.
Frank Crewe
16
Posted 02/09/2015 at 20:05:14
A lot less living in marquee signing fantasy land and a lot more living in decent signing reality land wouldn't come amiss around here.
If it had been left to some around here we would never have signed Peter Reid. Too old, too injured, not glamorous enough. Yet he turned out to be one of the best midfield players we ever had.
Did Fellaini really make us any better? Is Lukaku the best striker we've ever had because he's certainly the most expensive. Almost all of the better signing we've had in the last twenty years have been relatively cheap. Arteta, Pienaar, Cahill, Baines, Martyn, Lescott and now Stones were not marquee signings yet they improved the team far more than any costly signings we managed to make.
I would sooner have practical, experienced signings than expensive luxury players any day.

Clive Rogers
17
Posted 02/09/2015 at 20:11:32
Terry,
Don't turn up on Saturday, it's the week after.
Oliver Molloy
18
Posted 02/09/2015 at 20:15:37
Good luck Lennon, I am up for you making me change my mind and hope you do well.
Johnny Rainford
19
Posted 02/09/2015 at 20:16:17
Yeh, well happy with this, boys.
Marquee signings never seem to quite do it for us. Beattie, anyone ....??
Welcome back, Aaron, good to have you in the squad.
Richard Lyons
20
Posted 02/09/2015 at 20:17:16
Well, last season, Lennon certainly breathed new life into a demoralised side bereft of ideas. We're surely a bit more optimistic now than we were in January, so we should crack on and make a realistic challenge for a CL spot. And we can start by giving that twat Mourinho a pasting on 12th Sept!

Colin Grierson
21
Posted 02/09/2015 at 20:20:09
A good addition based on last season's showing. Welcome back lad!
Andrew Laird
23
Posted 02/09/2015 at 20:37:28
An improvement on the fat lad who should never have been given the number 7 shirt and should also never be anywhere near the match day squad unless there is a team outbreak of the Ertha Kitts on a biblical scale. Lennon has workrate which is an infectious trait we need with Cleverley's injury but I would rather have Deulofeu at right wing.
Trevor Peers
24
Posted 02/09/2015 at 20:41:56
Has pace, trickery on the flanks combines well with Coleman, works hard, good addition!
Paul Thompson
25
Posted 02/09/2015 at 20:49:59
Not sure another right winger was a priority, but he was a key factor in turning around our run-in last season. He clearly loved it here and we should give him a good welcome back.
Mike Connolly
26
Posted 02/09/2015 at 20:52:08
Good news, Lennon now can team up with McCarthy to sing the John Stones song.
Colin Glassar
27
Posted 02/09/2015 at 20:55:33
Not only a decent player but he might be a good influence off the pitch as well. Roberto's always going on about good characters needed around the younger players so maybe that was an important factor as well.
Doug Harris
28
Posted 02/09/2015 at 21:00:28
Once Everton has touched you... seems right to me.
He is only still young in terms of reaching his peak, let's hope he does the bizz...
Come on Len Non......
Rick Pattinson
29
Posted 02/09/2015 at 21:08:13
A good signing. A tricky little player to deal with. How anyone can moan is beyond me.
William Cartwright
30
Posted 02/09/2015 at 21:10:55
Potentially a good signing, with a smile on his face. I hope he plays the same way. Many positives to expect. 27 / 8, England international, premier league experience an can weigh in with goals.
I'm seeing a trend with Roberto which worries me a bit. In days gone by it used to be the best 11 plus a couple of utility 'play anywhere' guys on the bench. Nowadays it's the squad game with more in-depth analysis of playing to neutralize the opposition.
Unless you subscribe to the Sin Miedo philosphy which served us well in 2013-14, but was abandoned in 2014-15 in favour of praising the opposition before the game.
Whichever way you look at it, the times have changed and life isn't simple anymore, but we do have the best squad I can remember and some young guns to make the breakthrough this season; Galloway and Dowell look likely but Ledson has gone into hibernation...
Mike Gaynes
32
Posted 02/09/2015 at 21:15:06
If Clive's right about Lennon's drinking and cigars, we may be underrating the health benefits of vice, because he was tireless last year.
I say we all chip in on a good box of stogies for Pienaar and a decent bottle of Scotch for McGeady.
Jim Bennings
33
Posted 02/09/2015 at 21:23:13
Welcome back, Lennon.
Jamie Barlow
34
Posted 02/09/2015 at 21:25:46
He looked fit enough last season. I think he's been pictured smoking a cigar on one occasion, has a drink now and again and has been filmed being thrown out of a nightclub. Hardly George Best is he?
Steavey Buckley
35
Posted 02/09/2015 at 21:28:53
Hopefully, Lennon gets the best out of Coleman.
Dave Abrahams
36
Posted 02/09/2015 at 21:35:33
Welcome back, Aaron, just carry on the way you finished last season, best of luck for this year.
Stephen Scofield
37
Posted 02/09/2015 at 21:36:43
I find it funny how short people's memories are and how quick people are to up their expectations. I cannot remember, in recent times, such a talented squad with a lot more depth than we ever had.
It used to be a case of having a couple of good players and a lot of average/poor players.
Looking at the current squad, we have 3 exceptional defenders, 1 exceptional DM, 1 potentially world class playmaker, 1 exceptional winger, 1 potentially exceptional winger, 1 arguably bordering on world class striker. And the other players are good. My opinion, but beats the days of Rideout, Barlow and Parkinson. I think during the 90s, you could count the great players on one hand with a couple of fingers missing.
Signing Lennon would have been our marque player only ten years ago. I think it's good that we have ambitions for "better" players, however we cannot forget where we've been. I only started supporting Everton in 1990, so have no knowledge of the glory years, so seeing the current squad is exciting.
Colin Glassar
38
Posted 02/09/2015 at 21:37:42
One thing you can say about Lennon is that he always puts a shift in. So these stories about boozing and smoking seem to be a bit off the mark as he's known as being a super fit, model pro. But I might be wrong.
Jason Thomas
39
Posted 02/09/2015 at 21:43:38
The final piece in the jigsaw he's not. But, he was the difference in the second half of last season. We all wanted Yarmolenko. It didn't happen. But apart from him, I think it's been a good window.
Drew Shortis
40
Posted 02/09/2015 at 21:44:16
I glad to see Lennon back. Not doing cartwheels but certainly pleased. He has pace, experience, works hard and will allow Coleman to range forward more if that's how we set up for games. I'm sure Martinez would have wanted him in at the same time as Cleverlry & Deulofeu, but that would have meant paying the £8-9m to Spurs. Far better to bide our time, wait until they have no other option but to accept half that! I think it's a fair price for a player who has been frozen out and didn't even have a squad number.
As for going into work half cut, I'm sure many of us here have been guilty of that at least once in our careers. We all do stupid stuff from time to time. I just hope he doesn't team up with Gibson as a drinking buddy!
I have seen comments from Spurs fans reminiscing about the Lennon-Van Der Vart-Bale trio, so they're not all haters. Sometimes in life things get stale and we need a new challenge to kick start us. Last season we gave that opportunity to Aaron and he in turn helped kick start a spluttering Everton. Now he's back and he seems genuinely pleased to be here. I don't expect him to set the Premier League on fire but I do think he will be a very valuable member of our squad and will make the £4.5m seem like very good business.
Best of luck to him!
Joe O'Brien
41
Posted 02/09/2015 at 21:49:49
Great to have you back. Some speed he's got. Struck up a good partnership with Coleman and doesn't stop trying. Don't know who's going to start on the right tho, am thinking Lennon will get the nod and delaf to come on. Shame we haven't that pace on the left.
This team is the best we've had in years, starting 11 and bench look very strong, just afraid that if some of our core players get injured we'll get well stretched. Fingers crossed.
Bob Benson
42
Posted 02/09/2015 at 21:59:02
A good addition to the squad, but not the marquee player we were hoping for.
Dave Lynch
44
Posted 02/09/2015 at 22:32:12
Mike@31.
We'd need to buy McGeady a fucking distillery before he becomes a footballer.
Tony Draper
45
Posted 02/09/2015 at 22:39:39
As quite a few have said, it isn't a "Hallelujah Signing", well maybe not, but it is a good considered addition of a known quantity who seems to genuinely want to wear our Royal Blue. Good.
Frank @16 excellent reference to Reidy, and you cpuld also for the benefit of the "Low Price = No Value" types, I'm sure that you could also could have added:
Andy Gray, probably crocked has been, 𧶲k.
Trevor Steven, unproven Burnley 19-year-old prospect 𧷤k.
Kevin Sheedy, out of favour Liverpool reserve team, 3 first team appearances, 𧴜k.
Alan Harper, Liverpool reserves, no first team appearances, 𧴜k.
Neville Southall, ex binman at Bury 𧵎k.
Just to put that bunch into context, they cost 𨀼k, Gary Lineker (the leading goalscorer in the country) in the same era cost Everton 𧿘k.
Since they didn't 'cost much then clearly it's no surprise that none of that lot ever amounted to anything, is it?
Barry Jones
46
Posted 02/09/2015 at 22:47:38
A good player at a good age and a good price. He is an attacking threat and always defends well too. He will be an asset. I liked him at Spurs. I always thought that he was quite impressive in the Redknapp days. I recall when him and Defoe took Wigan apart 9-1 at the lane, and so does RM probably.
Tom Bowers
47
Posted 02/09/2015 at 23:16:39
This is a good deal for Everton at the price. I do hope he can make a difference as a squad player as he has the experience. I just cannot believe the way he has been frozen out at Spurs.
I hope he can steer clear of injuries as it is amazing how new players coming to Everton just start to make an impression then get seriously injured such as Oviedo, Deulofeu and now Cleverley, to name just 3 in the last 2 seasons.
Phil Sammon
48
Posted 02/09/2015 at 23:36:20
Colin,
He did get in a bit of a fracas in a club and was pictured with a cigar.
And who the hell cares! Is a cigar once every 12 months going to affect a player? If anything, I hope he waltzes past Ivanovic with one in his mouth next week.
He's a good player to have back, even if I thought another right winger wasn't essential. I just hope we get to see plenty of Deulofeu and Mirallas.
Tony Ashcroft
49
Posted 02/09/2015 at 23:51:51
Tony Draper.
Full marks sir, I couldn't put it better, we live in hope, WELCOME BACK!

Joe Ainsworth
50
Posted 02/09/2015 at 23:57:16
A cigar only really affects a player if Joey Barton puts it out in your eye.
Jack Okell
51
Posted 03/09/2015 at 00:20:50
Drew
39
- a really fair assessment and well worded post.
As much as I think Martinez is tactically inept at times, as a Manager, players he's worked with over the years are always quite keen to reunite. A players perspective on the Manger's ability must impact their decision when agreeing to a transfer. On the flip side to that, 75% of all first team/squad player transfers conducted by Roberto at Everton are footballers he's already managed at some point.
Aaron Lennon - Everton (Loan)
Ramiro Funes Mori - No
Tom Cleverly - Wigan
Gerrard Deulofeu - Everton (Loan)
Samuel Eto'o - No
Romelu Lukaku - Everton (Loan)
Gareth's Barry - Everton (Loan)
Aiden McGeady - No
James McCarthy - Wigan
Joel Robles - Wigan
Antolin Alcaraz - Wigan
Arouna Kone - Wigan
Jim Hardin
52
Posted 03/09/2015 at 02:10:41
If Lennon were a left-sided player (and who knows with RM) his signing would be a bigger plus. He isn't and except for his work rate is dead bang average at best. Having said that it is his work rate and effort that make him a plus to the squad as a possible starter. Any goals he creates or scores beyond 5 should be considered a bonus.
His presence will however, allow Coleman to blast forward which cannot hurt the team's chances. For the price an okay pick-up. Plus, he wants to be here. How bad can that really be?
If he exceeds my expectations I'll send him some cigars myself.
Steve Austin
53
Posted 03/09/2015 at 02:19:49
Stephen-36....reading your post broke my heart, you poor bugger. Supporter since the late 60's, I have seen the good, the bad, and the fucking horrendous.
Tony-42....well put. Money doesn't always buy you success. And great players can be found on the cheap.
Jack-46....this is what I have been thinking, these players want to play for the manager. They want to play for Everton, I think that should say enough on a players ambition. They want to play for us, and they know what we are like.
I would rather have a player like Lennon who is proven, wants to play for Everton, and is happy to be here. Than some of the players from the past who just showed up for a pay check. But I cant blame them since Everton were willing to pay them. So welcome home Aaron.(Once Everton has touched you)
Paul Kelly
54
Posted 03/09/2015 at 02:41:53
For me, Lennon is on enough wonga as it is so I'll kindly ask you to send any donations regarding cognac and cigars to myself (Montecristo Especial is my preferred choice).
As for Lennon himself, welcome back, works tirelessly, links up well with Coleman. Not a bad player but where does this leave Deulofeu? I'm assuming he will be subbed on, Lennon off I should imagine.
Ray Roche
56
Posted 03/09/2015 at 09:47:45
Timothy Blanshard @10
Timothy, do you take any notice of the crap that appears on some blogs or Twitter? Blimey, mate, I think I'd look elsewhere for my info. Any "fact" that begins with "apparently" and then goes on to slag some player off is usually made up, reconstituted rubbish from some wannabe journo who seeks to elevate his status amongst his followers to that of a guy who is REALLY in the know.
Personally I'm glad Lennon has returned. He is energetic, talented and gives Coleman plenty of cover so that he can express his attacking play. And he wants to be here.
Joe Ainsworth @46
Funny!
David Chait
57
Posted 03/09/2015 at 09:49:53
Spurs mate of mine said he would rather we took Lamela than Lennon... I'm not sure what the issue is as he is a good player.
Matthew Salem
58
Posted 03/09/2015 at 10:20:28
"You know, Aaron, at Everton Football Club you are never fully dressed unless you are wearing your smile...."
Tony Marsh
59
Posted 03/09/2015 at 11:04:36
A pal of mine is a Spurs fan and he is made up Lennon is gone. I have never rated the lad. He turned us down when he left Leeds, said he wanted to play for a big club... and then chose Spurs? I can't believe we need a nearly 30-year-old washed-up winger.
Regardless of the couple of half-decent showings last season, this is a poor buy and a backwards step. Instead of off-loading wasters like Darren Gibson, we are adding another no-mark. I just don't get the reasoning behind this signing?

Jimmy Daly
60
Posted 03/09/2015 at 12:18:33
Timothy @ #10. Just go to the Spurs Facebook page.
Every single comment says the same thing, that Levy should have gotten rid of Lamela (who we were reportedly after) and should not have sold Lennon.
The overwhelming majority of comments were thanking Lennon and wishing him well at EFC. All saying what a tremendous player he has been for them over the past 10 years.
Richard Reeves
61
Posted 03/09/2015 at 13:42:03
I hope he keeps up his work rate. His attacking mentality and directness was a positive last season, and something missing in our game. Although I don't think he is as much a priority this season compared to what we needed and could've had, which is a prolific goalscorer.
Peter Cummings
62
Posted 03/09/2015 at 14:13:34
Glad to see Aaron Lenon back and pretty sure he will prove all the negativity wrong during the season.
As for his alleged indiscretions (smoking, drinking, clubbing etc), I seem to recall a certain Duncan Ferguson, who came to us with a real 'bad guy' image and is now a living Everton legend.
So far we have managed to avoid major scandals; players like Albert Dunlop and Tony Kay were a couple of exceptions, as is the recent conviction of Darren Gibson, so Lennon's so-called bad habits bear no comparison.
Steve Schofield, you can get all the 'Glory Days' on DVD, take a look.
ps: The Greatest Everton and England player in history drank like a fish and smoked like a chimney; his name?? William Ralph Dean.

Ray Roche
64
Posted 03/09/2015 at 16:35:40
Tony Marsh@54
Tony, although I disagree with your comments re Lennon, you're bang on the money about getting shut of dead wood. Gibson, for me, has pissed on his chips and should never wear our shirt again. This is the opportunity to off load him at no cost. I'm pretty sure that his recent drink driving stuff would allow us to cancel his contract. On his day he can be superb, but that's only once or twice a season when he's fit.
Smoking, anyone else remember the great Roy Vernon dropping his ciggie butt as he ran onto the pitch?
Ross Edwards
65
Posted 03/09/2015 at 16:40:09
Basically, Naismith with pace. Works hard, good attitude, effort but overall just average. A very underwhelming signing whose impact last season is vastly overhyped in my opinion.
He came in during a period where our performances were simply horrendous and the morale among fans and squad was as low as ever.
Anyone could have come in during that period in time and looked good. Remember when Baines said it took Lennon's arrival for the players to 'embarrass us into working harder'? That's how bad it was last season.
His crossing is poor, his best days are far behind him, he doesn't provide anything we don't already have, what's the point in signing yet another right winger when Martinez doesn't use any or if we're lucky, uses one?
Look at Mirallas and Deulofeu barely getting any game time as it is, and people reacted like we'd signed Messi when Deulofeu signed, now it looks like he'll get even less opportunities.
We don't need him, it's a signing that smacks of desperation, and sums up Martinez's lack of imagination or nous in the transfer market.
Another safe, predictable and disappointing signing, leaving our squad even more unbalanced.
What's the point in paying £4.5m for a player with almost no re sale value, someone we don't need, that doesn't provide any extra dimension, or doesn't even suit the 'Wingerless' system our manager uses?
Desperation. A desperate panic buy.

Eddie Dunn
66
Posted 03/09/2015 at 18:25:48
I like the lad, and he really helped us last season, so let's hope he can make a difference again.
Welcome back, mate.
Ian Brandes
67
Posted 03/09/2015 at 19:16:25
When you consider his contribution last season, who can complain about his return, or the price? I have a good feeling that he will really excel, knowing that he is wanted.
Will this also give Mirallas the chance to partner his fellow Belgian?
Let us hope RM is brave enough to experiment, because good times may be ahead.
Paul Holden
68
Posted 03/09/2015 at 19:47:35
Average player.
Timothy Blanshard
69
Posted 03/09/2015 at 19:51:18
Ray Roche @51.
I never said it was a FACT, nor do I use Twitter or Facebook for that matter. Their loss is our gain. Whether he turned up to train drunk or not, I can't prove one way or the other, obviously; it came from a Spurs fans forum similar to here, hence the use of the word 'apparently'. You clearly skimmed over my post quickly.
Timothy Blanshard @ 10 wrote:
Personally I think he's going to continue to show HE IS NO WAY PAST IT as he's proved already. Maybe he didn't want to play for Not So Hotspur anymore.

Jon Cox
70
Posted 03/09/2015 at 21:40:02
Great player, and what's more, we'll be glad of all those pacey wingers come January/February when the list of hamstring injuries become a huge problem. And as we all know, there's nothing more certain with our Everton.
Welcome back Aaron good luck mate.
Ray Roche
71
Posted 03/09/2015 at 22:55:25
Timothy Blanshard @62
Timothy, I wasn't having a pop at you, my comments were jokingly having a pop at Twitter and the like. Incidentally , I don't use Twitter, Facebook or any other medium to let people know what I had for breakfast or when I last went for a slash.

Andy Crooks
72
Posted 05/09/2015 at 00:51:49
Jon #64, spot on. Lennon came on loan and did a very fine job for us, in fact, turned our season around, yet we have complaints that he has signed.
Ray #58. He owes us and he has the ability to repay. His behaviour has been appalling but I believe it could be a defining moment for him.
Terry McLavey
73
Posted 06/09/2015 at 17:35:24
Clive #17 I'd forgotten about the wonderful International break. You can't beat a stop start season can you?
Terry McLavey
74
Posted 06/09/2015 at 17:43:19
Ray (#58), I do remember Roy Vernon having the dubious talent of being able to smoke a ciggy in the shower!
I also remember my friend and I, as schoolboys, ringing him up to congratulate him on the win the previous Saturday! His number was in the phone book... we also rang Gordon West! His number was in as well!
This ages us, but wasn't it a different world!
Tony George
75
Posted 06/09/2015 at 18:09:07
I have to admit I'm unconvinced by the manager's scatter gun approach to recent signings but feel we have to see all these guys in action before making judgement.
What will be annoying is if any of them arrive injured or, for whatever reason, are never seen in action. Roberto has form in that direction so I trust he will have done his homework this time round!
Add Your Comments
In order to post a comment, you need to be logged in as a registered user of the site.
Or Sign up as a ToffeeWeb Member — it's free, takes just a few minutes and will allow you to post your comments on articles and Talking Points submissions across the site.
© ToffeeWeb