Martinez insistent that summer window was a success
by

30 Comments [Jump to last]
| 11/09/2015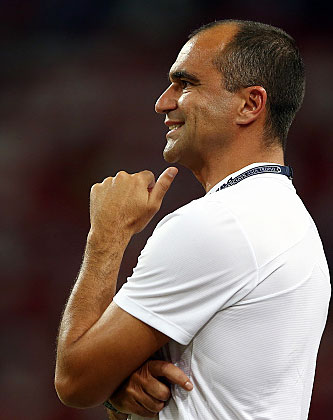 Roberto Martinez says that retaining key players, signing two international players and recruiting young players for the future constituted a bigger victory than "bringing in one good name."
The manager was responding to disgruntlement among many supporters over Everton's failure to bring in the "No.10" that he had identified as a priority at the end of last season.
Martinez admitted that the club did make a genuine attempt to sign Andriy Yarmolenko from Dynamo Kiev but negotiations faltered when it became clear that the Ukrainian club's owner, Igor Surkis, preferred to keep his star player for their upcoming Champions League campaign.
The 25-year-old will remain on the Blues' radar with talks perhaps to be revisited in January, although there could be more competition for the winger then as he will be just six months from the end of his current contract.
"We have a good relationship with Dynamo Kiev because we played them in the Europa League," Martinez says in the Liverpool Echo and they did not want to lose the player as they are in the Champions League after five years and that was the end of the story.
"I don't know what's going to happen in the future but at the moment the club want him for the Champions League and we'll have to assess it after that."
Had the club been able to secure a deal for Yarmolenko many fans feel it would have provided a much-needed shot in the arm for Everton's attack which was a big area of concern during last season's struggles in the Premier League.
Martinez has reiterated his belief that the business he was able to complete represents a successful summer window.
"The window was very, very successful," he said. "Sometimes people don't look into all the detail of what went on in the window.
"Two players, who are very important to us – Kevin Mirallas and James McCarthy – signed new contracts and that is like getting new blood into the squad. We also signed four full internationals, two English, one Spanish and one Argentinian.
"There is the young talent we added in abundance with Mason Holgate, Leandro Rodriguez and David Henen, players who can have a fantastic future.
"And we kept the best performers of the group that finished fifth two years ago and then had an incredible journey in Europe.
"For me, that consistency and keeping the core of the team was a bigger victory than bringing in a good name, who you don't how well he would settle into and how quickly he is going to settle into our league and our team."
---
Reader Comments (30)
Note: the following content is not moderated or vetted by the site owners at the time of submission. Comments are the responsibility of the poster. Disclaimer
James Stewart
1
Posted 11/09/2015 at 17:04:08
Mirallas a player so important? Could have fooled me Martinez has barely played him. McCarthy has been poor so far and I struggle to see the importance of him on present form.
Robin Cannon
2
Posted 11/09/2015 at 17:22:55
I think that's harsh. Signing both Mirallas and McCarthy to longer contracts was a big positive of the close season.
Whether it outweighs some of the transfer market failures is a totally different matter.
Lyndon Lloyd
4
Posted 11/09/2015 at 17:26:27
He obviously has to put his and the club's summer dealings in a positive light but as important as Mirallas and McCarthy are to the side, saying "Two players ... signed new contracts and that is like getting new blood into the squad," is a bit of an oxymoron.
If he can get what is more or less the same squad of players to perform the way they did two seasons ago then fine but, otherwise, the summer business was merely adequate in maintaining the status quo.
Alan Humphreys
5
Posted 11/09/2015 at 17:27:33
Deluded in many ways but I get the sentiment about retaining players. Talked the talk but failed to ultimately deliver. Signing Lennon was as inevitable as it was pitiful, full international not even given a squad number by his club and made to hang on til the bitter end.
You can't expect him to say it was a great window but sometimes the spin he puts on it drives me nuts.
Gordon Crawford
6
Posted 11/09/2015 at 17:30:29
I think McCarthy has been great for us, but playing with Barry is making his job so much harder. But I think the window was a huge disappointment and we seriously lack ambition in my opinion.
Danny Broderick
7
Posted 11/09/2015 at 17:44:14
Usual OTT rubbish. The window was very, very successful? Incredible journey in Europe?
Why can't he just say he was satisfied with the business done, and that the aim is to get back in Europe, without all the hyperbole?
I love optimism, but not blind optimism.
Ian Hollingworth
8
Posted 11/09/2015 at 17:46:24
Phenomenal. The guy never ceases to amaze me
To improve at any level you have to sign better players than you already have
Tony Marsh
9
Posted 11/09/2015 at 17:58:30
The fact we kept Stones and signed Gerard Deulofeu was very decent but the Lennon signing and not accepting 8 million for Naismith was piss poor.

Take the 8 million Norwich offered for Naismith and the 4.5 million we spent on smiler Lennon and we could have signed a proper player for that money.

I don't get it one bit. Two bang average plodders retained and the chance to spend decent dosh on someone who will play has been spurned?
Ged Simpson
10
Posted 11/09/2015 at 18:02:36
Not so, Ian. You can add to the squad and improve the team without necessarily buying better players
Jay Harris
11
Posted 11/09/2015 at 18:08:09
If Dynamo Kiev made it clear they wanted to keep the player why the hell did we waste so much time and energy sending a delegation to Monaco to "tie up the details".
Never thought I would see a manager who is a carbon copy of Billy liar.
How can we have any optimism when we are constantly fed bullshit.
I just pray and hope that this bunch of clowns are changed out as soon as possible for an honest, forward thinking management team.

Paul Ellam
12
Posted 11/09/2015 at 18:09:28
He is right in that keeping those players that many in the media thought would leave (Mirallas, McCarthy, Stones, Coleman, Garbutt) is a huge plus BUT we failed in bringing in the one player we needed.

Now obviously I am not privy to the accounts of our club but I get the feeling that if we had thrown enough money at Kiev they would have sold us Yarmolenko.

Maybe it would have taken another million, maybe two, maybe five. But it was an opportunity for us to prove we are a big club and make a statement to others.

I just hope that this money set aside for signings doesn't suddenly "go missing" like so much has before. Hopefully something will be done in January.

I believe the club is at a crossroads and needs to decide if it wants to challenge the top teams on a regular basis or accept mediocrity. If we choose the latter then we should scrub off the latin motto from the badge forever.
Cristóbal Apara
13
Posted 11/09/2015 at 18:16:58
I insist we have enough quality. What we need are not players but a MANAGER!
Aidan Trimble
14
Posted 11/09/2015 at 18:57:46
Alan (#4), I wish people would stop banging on about the Lennon transfer. We undoubtedly waited until late in the window so Levy couldn't spin his usual shite and ask £9m for the player.

Leave it til the last minute, pay what WE consider is a reasonable fee for an international player who is comfortably under 30 and wants to come here. Case closed.
Harold Matthews
15
Posted 11/09/2015 at 22:09:43
Not a brilliant window but we've improved the squad. Martinez insisted all along that he would bring in players to help and support the ones already here. No mention of marquee signings. In fact, I get the impression that he would prefer to do without one, especially if they were likely to upset the dressing room with different ideas on how to play the game, a la Distin and Eto'o.
This is his squad and he is trying to build it his way with what money is available. It has been his plan right from the start. Putting together a squad of reasonably priced individuals who would play as a team and compete for a place in Europe. How long it will take to achieve this is anyone's guess but I hope he succeeds.
Personally, I think the odds are against it happening any time soon. Present form probably puts us around the middle of the table and the teams below are improving hand over fist. Quite frankly, I have no idea of how we will fare against these vastly changed sides. Home or away, every match will be hard fought and we'll definitely need better luck on the injury front. Happy days.
Peter Mills
17
Posted 11/09/2015 at 22:49:19
One of the most tedious comments to be made on this site, even though it is usually made with heavy irony following years of disappointment, is "It'll be like a new signing".
Our manager is saying just that.

Anthony Dwyer
18
Posted 12/09/2015 at 01:05:38
Agree with some of the comments, Roberto definitely does his best to build up every aspect of ANYTHING that goes on at our club.
He can be frustrating, I for one would have been happy to see him sacked, but I do agree the squad has improved.
He has pointed out how it's improved and it's hard to argue with him.
Del boy and Cleverly improve the first team, the 3 young lads give us extra hope for the future and Mori has to be an improvement on Alkaraz no matter how he plays.
Eric Myles
19
Posted 12/09/2015 at 02:26:38
I don't see that extending the contracts of 2 key players is a success, surely that should be a minimum requirement for a club that wants to progress.
And signing 2 other players that we already had last season isn't progress.
So we've signed 2 first team midfielders for an already packed midfield, a back up centre back / replacement for Stones / Jagielka and 2 for the future while not addressing the key position the manager identified as a priority.
I know that Martinez likes to paint a rosy picture but it's hardly been an inspiring window.
So now it's down to the manager to play these players in a manner that translates into success on the pitch.
Tony Cheek
20
Posted 12/09/2015 at 07:46:18
Agree with Paul Ellam. Yarmalenko was definitely the one that got away. A player that could have really lifted the whole squad and make players around him play better. I am sure Kiev were looking for silly money, but this time I feel it might have been worth it.
I'm just fed up watching our workhorse central midfield. I want some class in there! Probably no chance getting him next window as he is closer to the end of his contract and more big clubs will be after him.
Jim Lloyd
21
Posted 12/09/2015 at 08:13:22
He's done alright in this transfer window. If we had no success in getting Yarmolenko, then I think that was more to do with the actions of their President. I don't see how Roberto can be blamed for us not getting our man. Nor in this case, do I see the negotiators at fault. He wasn't going to be sold at all in my view.
Let's see what happens with their C/L progress and if he becomes available in January.
Otherwise we have brought in some good young players and two experienced Premier League players in Cleverley and Lennon and so far, Cleverley has impressed me with his energy and intelligence. I think Lennon was a reasonable buy and getting Gerry in plus the two young South Americans is a bit of a gamble but better that, than getting someone in a rush.

Kase Chow
22
Posted 12/09/2015 at 08:46:17
It's so sad, frustrating and upsetting when the figurehead of your club spouts so much rubbish. I don't enjoy listening to him and I try to ignore it. Imagine that: he's the main custodian of our club performances and results and I hate hearing him talk.
We all accept the requirement for some positivity BUT he didn't achieve his primary and publicly stated objectives so overall it was a failure. If Lukaku gets injured or loses form, we have no proven goal scorer (Austin could have helped).
If Stones or Jags get injured or lose form, we have no established centre-back (Evans could have helped).
We don't have a consistent No 10 (yes, Barkley has started the season well but most on here are starting to see his best position as coming from deeper).
There's FUNDAMENTAL issues with the squad that haven't been addressed.
We may beat Chelsea today and beat some teams above us BUT over the course of the season, the squad is ill-resourced to make a genuine attempt at top 4 (which again is the stated ambition). In which case, the window was a failure. And to perceive it as anything else is nonsense for the reasons I've given.
Kunal Desai
23
Posted 12/09/2015 at 09:14:01
Just like Elstone, Martinez is nothing more than Bill's puppetmaster. I seem to recall him saying the recruitment process starts months ahead in identifying those players needed for the coming season.
The fact is that is bullshit because for one there is no strategy in place at Everton; they are a plodding football club taking each day as it comes. Yarmolenko was clearly not identified 6 months ago and neither was probably any other Number 10.
Clive Lewis
24
Posted 12/09/2015 at 09:33:46
Well, the fact that Martinez is now suggesting that Stones may end up being sold suggests maybe a verbal deal was done to keep Stones. Lennon is average at best, Deulofeu was another loan deal in reality, with the option of a cheap buy back deal. Rodriguez might be good but I fear Mori might end up a dud. We will have to wait and see.
Brian Porter
25
Posted 12/09/2015 at 09:40:48
I do wish Roberto would keep his mouth shut. The headlines the press are now spinning are 'Martinez hints at door opening for Stones's departure'. What he actually said (and Evertonians used to his shambolic terms of sentence construction), is that we could never have sold Stones in the transfer window as we would not have had time to replace him. Does that say we are opening the door for Chelsea to sign him? Not by my interpretation.
He goes on to say that the next step in Stone's career is 'Champions League with Everton'. Again, is that an open door for Chelsea? Doesn't sound like it. I think he was actually trying to point out again, in the clumsiest way possible, the inadequacies of the whole transfer window system, using Stones as an example but as usual, his feeble use of the English language has allowed the press to open their own door and begin a new 'Stones to Chelsea' saga, when a dignified silence on the matter after the summer's hullabaloo would have been the thing to do.
As I said at the beginning, when will the man learn when to keep his mouth shut. He didn't need to say one more word on the Stones affair but here he goes again, opening his mouth and sticking his brown-shoed foot right in it! Well done Roberto... not!!!
Ian Hollingworth
26
Posted 12/09/2015 at 10:36:23
Ged (9) we will have to agree to disagree as you can improve the squad but I am sorry you only improve the team as in 11 on the pitch by buying better quality players.
The whole saga is typical of plucky little Everton when we should be showing some ambition and only time will tell where our policy will get us.

Tony Abrahams
27
Posted 12/09/2015 at 10:45:19
I was wondering how you could improve the team with players that don't have to be better than the ones who are already in the team?
By changing the manager, or at least the system, maybe, but it's usually better players, that improve a team. Surely?
Mike Childs
28
Posted 12/09/2015 at 10:58:36
I just don't read or listen to RM. Sure helps keep my blood pressure under control. Just like the weather changes everyday so does RM's outlook. Why let him confuse you. He's simply the board's punching bag.
Mike Allison
29
Posted 12/09/2015 at 11:20:31
It's all about delivering now. Pick the right players, play attacking football and win and we'll believe you Roberto.
Nick Entwistle
31
Posted 12/09/2015 at 12:16:14
Calling someone an international is neither here nor there given the PL is better quality than most international football. And love that he's gone for the 'he's like a new signing' line. Bill must love that.
Brian Porter
32
Posted 13/09/2015 at 09:39:54
Tony Marsh #8. Get rid of Naismith? You would probably have been happy to see us get beat by Chelsea yesterday then?
Steven Naismith is an important member of our squad, who gives his all in every game, and most importantly HE SCORES GOALS. I cannot for the life of me understand the people on here who don't seem to appreciate the contribution Naisy has made to the overall squad in the last two seasons.
After Rom and Mirallas, he was our third top scorer last year, and if four of his 'goals' hadn't later been chalked off due to deflections and been judged to be own goals, he'd have been second behind big Rom.
Anyway, HAPPY BIRTHDAY for tomorrow, Steven, and your hat-trick couldn't have happened to a nicer bloke.
Tommy Webber
33
Posted 14/09/2015 at 02:09:44
Haha, big shout out to Tony Marsh
#8
for getting it completely wrong on Nais but I'm not going to bang on at the Naisayers as I'm sure they will most definitely be getting stick off their mates.
On an even brighter note... it would be nice if we could afford a marque signing every other window and get some quality to back the team up in-between.
Add Your Comments
In order to post a comment, you need to be logged in as a registered user of the site.
Or Sign up as a ToffeeWeb Member — it's free, takes just a few minutes and will allow you to post your comments on articles and Talking Points submissions across the site.
© ToffeeWeb