Martinez's praise for Naismith and Stones
by

25 Comments [Jump to last]
| 13/09/2015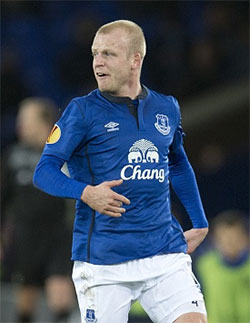 A justifiably thrilled Roberto Martinez reserved special praise for the contribution of Steven Naismith and John Stones following Everton's stirring 3-1 win over Chelsea.
Naismith came off the bench after just nine minutes to score a perfect hat-trick against the reigning Champions – scoring goals with his head, left foot and right foot – to register what was only the Blues' second victory over a Jose Mourinho team.
It was a performance that was hailed by his manager, who lauded his focus and preparedness for the big occasion.
"Steven's performance typified the effort and the character that we have at Everton," Martinez said after the match.
"He hasn't been in the starting XI and all he did was focus and be ready to take his moment and the moment that that arrived he's put things in place that have really made a difference.
"To score a perfect hat-trick against the current champions, I think that shows you a lot and I think he's the type of example that we want at Everton to the younger players, to show them that you need to be ready and you need to prepare yourself so that when you get your opportunity on the pitch you can take it. It was a real joy to see Steven enjoying that sort of performance."
Naismith was introduced to the action after Muhamed Besic was forced off with what looked to be a hamstring strain, a fate that appeared to befall Seamus Coleman towards the game as well at which point the Irishman was replaced debutant Ramiro Funes Mori.
Martinez did not divulge details of their duo's respective injuries, just that they would be assessed at Finch Farm to determine the extent of the problems.
"Irreplaceable"
Stones, meanwhile, displayed the kind of maturity and composure that has made him such a hot property in the Premier League and Martinez credited the 21-year-old for his part in a magnificent defensive stand and restated his belief that he is destined for leadership at the highest level.
"Sometimes you play against the champions and you can beat them," the manager said, "but you look at lucky breaks. But for 90 minutes we restricted Chelsea to two shots on target – one a terrific strike from Nemanja Matic from long range for their goal and the other was a header from Radamael Falcao.
"Clearly John showed we couldn't replace a player like John Stones at that stage. He has been heavily tested but we never had a doubt in the way he would perform and he never let the team down.
"He always trained and performed well and today he showed he is going to be a future England captain."
---
Reader Comments (25)
Note: the following content is not moderated or vetted by the site owners at the time of submission. Comments are the responsibility of the poster. Disclaimer
Duncan McDine
1
Posted 13/09/2015 at 06:39:15
Still buzzing from that win... I can't imagine how the players feel! Roberto rightly highlighted Nessi and Stones' performances, but add that Jags, Barry (who I slated 2 weeks ago) and an ever improving Galloway who all had excellent games. For me, it was only Lukaku that wasn't quite 'on it'... and I have mixed feeling about Barkley's contribution (though it's great to see Ross playing with confidence, he 'hogged' the ball far too long at times).
James Kirrane
2
Posted 13/09/2015 at 06:53:04
A great press conference from Martinez. Intelligent, witty, perceptive and measured. Not one PHENOMENAL. I am sure that at one point he was desperate to say it, but restrained himself. I wonder if he is listening and learning?
Joe Armstrong
3
Posted 13/09/2015 at 09:06:34
What a fantastic performance. Seeing Naisy come off with the match ball was brilliant! I'm made up for him. How can he not be in on the team sheet for the next game?
Not since the United win has Goodison been bouncing. Still buzzing... fantastic weekend for football. Let's hope we can kick on from here.
Robin Tricker
4
Posted 13/09/2015 at 09:13:30
I'm pretty sure Barkley was instrumental in two of the goals.
Adam Luszniak
5
Posted 13/09/2015 at 10:06:41
Duncan, I think Ross played better second half. He bagged two assists, I don't think we can ask too much more... Well okay, maybe a goal if we're being greedy! He's done wonders for my fantasy football team.
Andrew Presly
6
Posted 13/09/2015 at 10:20:21
I'd like to reserve special praise for the manager. He's already veered between the sublime and the ridiculous in his relatively short time with us. He'll be learning all the time but unlike Moyes grasps he is at a huge club who demand the best, however unrealistic that is these days.
Results and as importantly performances like yesterday surely indicate we've got a good one here who is worth persevering with even if there are a few more bumps in the road to come. Back the boss!
Stewart Lowe
7
Posted 13/09/2015 at 10:21:43
I believe that Stones staying at Everton is a statement of how much the TV money will prove to devalue the Champions League and each club's quest to get there. This has been a gradually happening since the last TV revenue to Premier League clubs was decided and is about to become even more so when this revenue to clubs will almost double from next season.
In seasons gone by, the Champions League was the promised land that only the obvious few could ever dream of reaching. Just by getting to the group stage 5+ years ago would bring a club £20M and they would have gone out and bought 4-5 decent players from this, yet £20M would struggle to get you a bang average Charlie Austin and not even one over-inflated Berahino.
From next season, English clubs will no longer be looking at the finances of Champions League football and how that will catapult them onto a much bigger platform. The last TV deal, which ends this season, has allowed even the most so-called smaller teams like Stoke, Bournemouth, Watford and Crystal Palace to go out and spend money that could only have been earned by getting to the Champions League, and that is going to be even more obvious come next season. Teams like Chelsea, Man City, Man Utd, Liverpool and Arsenal will all have to get used to losing more games over the course of the season as these lesser teams will be spending at the same wealthy plate as themselves.
The exciting thing for Premier League fans is that any team in the English top flight can beat any other team and I think that was the stark reality to Mourinho on Saturday against an Everton who didn't need their £40M for Stones because we already get very good TV revenue. The Premier League is a different place since Mourinho was last at Chelsea and almost any team now are able compete for any other player in the transfer market.
The massive downside to all this (and there had to be one) is that with Premier League clubs already skimming the best players from across Europe, this will only get worse. I can see players like Ronaldo, Bale, Robben, Vidal, Pogba, Neymar coming to the Premier League as a result of the vast finances here and it will only make to devalue the other bigger leagues around Europe.
David Connor
8
Posted 13/09/2015 at 12:25:02
Fantastic result yesterday. The manager rightly praised Stonesy and Naismith, but the whole team chipped in to give us a well deserved win.
We are getting together a really good squad of players here and with the addition of maybe two quality signings in January to boost competition for places gives me a lot of heart for the future.
This is exactly why the likes of Naisy are a big part of the squad. He may not be the most gifted of players but he gives you 100% which some players don't. Made up for him yesterday.
Also this is why we desperately need to keep Stonesy; he is irreplaceable. Lets hope Besic's and Coleman's injuries aren't too bad as we have too many players in the treatment room as it is...
Well done, Blues; same again next week please.
Phil Bellis
10
Posted 13/09/2015 at 12:48:53
Stewart, with a measure of financial parity it may well become less tangible reasons that decide a player's PL destination: the club's location (London v Sunderland?), ambition, manager etc.
Having said that, I still can't understand Shaqiri linking up with Stoke!
Colin Glassar
11
Posted 13/09/2015 at 13:32:18
Stewart, your post reflects the comments of the journos on Sunday Supplement today. They argued that there are three elite clubs in world football (Real Madrid, Barcelona and Bayern Munich) who won't sell their best players e.g. Ronaldo, Messi, Neuer etc.... So the likes of Man Utd, Chelsea, City could never afford the top 8-10 players in the world thus staying just below this elite group.
As for the Premier League, they argued, as you do, that with the TV money teams below the Rich Six can now afford a higher quality player and shorten the gap. The days of easy games are well and truly over and, with the elimination of the ridiculous FFP rules, the playing field might just become a little bit leveller.
Frank Crewe
12
Posted 13/09/2015 at 13:43:12
I think Naismith is the working man's player. He is far from the highest paid player at the club. He never complains when he is on the bench. He doesn't think he is God's gift to footy. He knows he is privileged to be paid to do something the rest of us would love to be doing. He has a strong work ethic and always does the best he can and even if he's having a lousy game he never hides.
Finally, he's grounded. He's a working class man who is made up to be playing football for a living and never forgets the background where he came from or the people who pay their money to see him, and the rest of the team, play.
If every player at Everton had his qualities we would win a lot more matches than we lose.
Tony Abrahams
13
Posted 13/09/2015 at 13:55:30
Good post Frank, it's great having ability, but their can be no excuses for not working hard for the team. Lennon is another one, and whilst he won't be everyone's cup of tea, I bet you the players all love having him in the team.
Tom Cuffe
14
Posted 13/09/2015 at 13:57:36
What does FFP stand for ?
Colin Glassar
15
Posted 13/09/2015 at 14:00:31
Financial fair play. Stupid rule to protect the super rich clubs.
Martin Mason
16
Posted 13/09/2015 at 14:06:09
I agree with what's said above but City were a league above us for whatever reason.
Des Farren
17
Posted 13/09/2015 at 14:17:59
I must not say phenomenal.
I must NOT say phenomenal.
I MUST not say phenomenal.
Living and learning.
Roberto.
Tony Abrahams
18
Posted 13/09/2015 at 14:23:24
They are a league above everyone at the minute Martin, but it's a long season, isn't it?
The first thing I hoped for, was Everton, to start playing faster, entertaining football this season. It's early days, but going the match already feels so much better. Long May it continue.
Martin Mason
19
Posted 13/09/2015 at 14:35:12
Tony, I could only watch on TV but I was so proud of them. I haven't seen football like that from Everton for decades and that we've done it 3 times (Man Utd, Southampton and Chelsea) in fairly short time bodes well. If we can just grind out ugly results in between rather than lose playing pretty football then anything is possible. The way we worked the third goal on the right and then back inside was unbelievable.
Jimmy Salt
20
Posted 13/09/2015 at 14:49:35
Nice to see praise going to the players and the manager, pity some people only come on here when there is an opportunity to slate them.
I have been a critic of Naismith but he was awesome. He could also school some of the other players in how to put a foot in and rattle the opposition.
Tom Cuffe
21
Posted 13/09/2015 at 14:49:54
Thanks, Colin.
Stewart Lowe
23
Posted 13/09/2015 at 14:57:14
It wasn't all that long ago I went to Goodison Park under the lights at night to watch us play Stoke. Gary Speed had just passed away, Moyes's face looked about 100 years old.
We had no money to spend, it was very cold out there, and we had no recognised striker, and Bilyaletdinov was having one of his many many stinkers of a game. As I shivered, I thought to myself, it couldn't get any worse than this. And it did; we lost 0-1 too that night.
Fast forward 3.5 years and we have spent 㿈M on Lukaku, ٧.5M for Funes Mori; we have regular England internationals in Baines, Stones, Barkley, Cleverley and Jagielka: we have turned down 㿀M+ bids for Coleman, McCarthy and Stones because we don't need the money..
What a change from that grim night against Stoke.
Robert Duncombe
24
Posted 13/09/2015 at 21:13:24
Any news on Besic and Coleman??
Andy Crooks
26
Posted 13/09/2015 at 23:58:27
Stewart #7, if we have £300 million less than City and we both get a 50% increase where does the gap narrow? They still buy the best on inflated wages and we buy second best on inflated wages. The Champions League money give them extra just as it always has.
As for the game, well I thought Lukaku was fiine and on another day have had a hat trick. Barkley looks like he wants to control a game. His decision making is improving and he is a confidence player. He is going to be very special.
We have some really promising players and on the pitch there could be good day ahead.
Tony Abrahams
27
Posted 14/09/2015 at 09:03:26
Martin, that third goal was perpetual motion, absolutely terrific. When you can pass and move at that speed, no opponent in the world would live with you.
Peter Roberts
28
Posted 14/09/2015 at 12:28:19
I liken this Everton side to the current England cricket team. On their day, they can be ruthless and entertaining but, when it goes wrong, it goes wrong spectacularly. Of course, investment should bring you a better calibre of player but, when you're competing with teams with bigger finances, you're always fighting against the forces of nature.
This is where you need a manager who can instill a team spirit and make the team greater than the sum of its parts. Moyes, for all his faults, was very VERY good at this. Martinez seems to not quite be there yet on the latter part, although the team spirit seems to be back to its 2013-14 level (maybe a couple of bad apples upset the cart last year?). But hey, who knows. All I know is, based on this year's first 5 fixtures, I'd have easily settled for 8 points from those fixtures.
Add Your Comments
In order to post a comment, you need to be logged in as a registered user of the site.
Or Sign up as a ToffeeWeb Member — it's free, takes just a few minutes and will allow you to post your comments on articles and Talking Points submissions across the site.
© ToffeeWeb