Martinez tips Mirallas to regain his momentum
by

40 Comments [Jump to last]
| 22/10/2015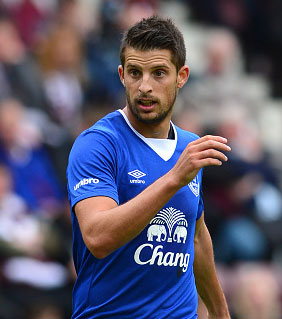 After an impressive pre-season, Mirallas has started just one Premier League game so far
Roberto Martinez has spoken of Kevin Mirallas's absence from regular action this season but insisted that the Belgian remains an important part of his Everton team.
The club's second-top goalscorer in the Premier League in each of the last three season, Mirallas has been an integral part of the Blues' attack and the success of both Martinez's first season in charge at Goodison and last season's Europa League run.
His role in the side has progressively diminished as 2015 has wore on, however, and he has started just two matches so far this season. Speaking to the media this morning, his manager hinted that he hasn't been physically or mentally 100% at times this season but suggested he was now ready to play a part in the Blues' upcoming fixtures.
"Kevin has been very unfortunate from the start of this season,Ē Martinez said. "He had little niggles and a couple of knocks, then the sending-off at Swansea was very harsh and kept him out of three games.
"In different moments in your career there are little spells where, for one reason or another, you cannot get any momentum. But I expect Kevin to discover that momentum and have a massive say in our performances ahead.
"Iíve seen Kevin train with an incredible intensity [over the international break]. Now itís just a matter of getting him back to being match fit and we have enough games in front of us to use Kevin and develop that really strong competition for places.
"He brings a unique goalscoring threat that you always need in your side and heís going to be very positive. The way he has been working during the international break was impressive and I expect a really good period from him once he gets fully match fit.Ē
Read: Miral-less: The missing link in Everton's resurgence
---
Reader Comments (40)
Note: the following content is not moderated or vetted by the site owners at the time of submission. Comments are the responsibility of the poster. Disclaimer
Paul Hewitt
1
Posted 22/10/2015 at 19:15:51
Mirallas still remains one of our better players. Should be starting more games now. Much better than Naismith
James Stewart
2
Posted 22/10/2015 at 19:25:51
Not going to get any momentum catching splinters. Surely 0-3 down at home would have been the perfect time give him minutes and lift the crowd.
I aired most of my views on Mirallas in Lyndon's article so I won't repeat myself but I will say Mirallas has more talent than all of our other wingers combined so we have to get him on the pitch and back to his best.
The left winger spot is fast becoming a joke. Countless times Galloway gets on the ball and no-one is in front of him. Cue about 10 seconds later, Naismith will trot out from a central position. So shambolic it's borderline farce.
Denis Richardson
3
Posted 22/10/2015 at 19:48:17
Well after that piece it's going to look very odd if KM doesn't get on the pitch this Saturday. Personally I'd say it's about time (assuming he plays of course...).
He's just the player we need when we play the 'lesser' teams to help open up defences (never mind giving the fans a bit more excitement).
Hopefully RM feels Mirallas is mentally 100%...
Les Martin
4
Posted 22/10/2015 at 20:08:24
I would love to see Super Kev on one wing and Lennon/Deulofeu on the other, with their speed they can actually get up and down support Rom who often looks isolated due to our slow support. We also can have Ross just behind picking out the passes that could be devastating.

We have three of the fastest wide players in the Premier League and with this in mind it is criminal that we cannot be set up to murder defences on the break.

Surely the penny has got to drop soon with Martinez that the way he sets us up is so unbalanced.
Sid Logan
5
Posted 22/10/2015 at 20:12:58
I wonder whether Kevin Mirallas feels RM is mentally 100%...
Stephen Brown
6
Posted 22/10/2015 at 21:10:40
For all his perceived faults He would still be one of the first names on my team sheet. There's no substitute for pace and a goal threat.
Barry, McCarthy, Lennon, Pienaar, Gibson, Besic. All of these players combined will not score half the goals Mirallas will in a season. Midfielders and wide players must be contributing to the goals scored column in any successful side.
As Les said, get Mirallas, Deulofeu as our first-choice wide men, especially in home games! Barkley in better goalscoring form and we suddenly have a greater goal threat!
David Hallwood
7
Posted 22/10/2015 at 21:10:40
Agree with most of the posters, I would like to see a three of Kev, Ross & Del behind Lukaku and have a real go at Arsenal, although there's more chance of me winning the lottery. But what's obvious is that what's happening at the moment isn't working and we need to come out of the blocks quicker. If we start as dozy vs The Arse as we did against Man Utd, we'll be lucky to get away without a pasting.
However I'm expecting RM to put another defensive mid in, maybe Besic or Gibson or even Cleverley to try to snuff out Arsenal, but IMO their weakness is still at the back certainly not going forward.
Team (4-3-3):
Howard,
Coleman, Stones, Jagielka, Galloway
Barry, McCarthy, Besic/Gibson
Lennon, Barkley, Kone
Lukaku
Lots of work ethic in there.

Duncan McDine
8
Posted 22/10/2015 at 21:17:03
Very good Sid!!!
I think its been quite apparent the whole time he's been with us that KM has serious ups and downs with his attitude.
Ever since that penalty miss, he hasn't been right.
Barry Lambert
10
Posted 22/10/2015 at 21:19:42
If Cleverley plays against Arsenal and Mirallas doesn't then he might as well pack his bags. Him and Gerry should both get significant game time against Arsenal because they will cause havoc with an average defence.
I expect us to come under the cosh on Saturday so we will need to optimize our counter attacking potential.

Peter Weaver
11
Posted 22/10/2015 at 21:20:40
I sometimes think Roberto says it all and does nowt. It's as though he has the same ideas and dreams as we do but can't bring himself to act on them.
Perhaps he sees the game as a psychological exercise rather than an athletic sport. As reflected in his outpourings, he is unfathomable.
I loved the game best when the game and not the talk was all about 'flying wingers'. Before the psycho babblers like he and the Chelsea bloke took hold of it.
Tony Abrahams
12
Posted 22/10/2015 at 21:37:35
Twelve men, David?
David Hallwood
13
Posted 22/10/2015 at 21:41:42
No Tony (#10), Besic or Gibson. Mind you we might need it against the Arse.
Barry Lambert
14
Posted 22/10/2015 at 21:42:25
Well spotted, Tony. Worth a try. If that South African rugby ref is in charge, we might pull that one off!
Andrew Clare
15
Posted 22/10/2015 at 21:42:46
I see Wenger is talking about resting a couple of players. That's how highly he rates us and I'm sure the Arsenal fans are expecting a straightforward win as well. Along with all of the Sky pundits. I just wish we could surprise a few people now and again.

All through the summer, we knew that our number one priority was a creative player; it didn't happen and now we are looking flat and bereft of ideas.

Playing with six defenders will always diminish our attacking options. The team needs freshening up. Maybe Cleverley and Mirallas could have that effect...

Ciaran Duff
16
Posted 22/10/2015 at 22:12:50
Just looking at the Kevin Mirallas bigger picture. Can anyone explain why KM, who appeared in World Cup 14, seems to hardly feature for the national team anymore?
I know they have a strong squad but in the last few games he was not even on the bench. Maybe this is not just an Everton or RM issue?
Dave Abrahams
17
Posted 22/10/2015 at 22:18:37
David (#11), I think you've still got eleven players plus either Besic/ Gibson in your team.
John Daley
18
Posted 22/10/2015 at 23:27:45
"Can anyone explain why KM, who appeared in the WC14, seems to hardly feature for the national team anymore. I know they have a strong squad but in the last few games he was not even on the bench. Maybe this is not just an Everton or RM issue?"
Or maybe it's just something really simple like he hasn't been selected because he hasn't been featuring for his club side?
Michael Winstanley
19
Posted 22/10/2015 at 23:43:51
Or it could be a case of an alien abduction scenario, I've not had one but from the films I've seen they look like they might give you a few mental issues, who knows?
Ross Edwards
20
Posted 23/10/2015 at 00:38:54
Play him then. The amount of contradictory crap that man comes out with. It wouldn't surprise me at all if he got 15 minutes at the end on Saturday when the game's already lost.
Anthony Dwyer
22
Posted 23/10/2015 at 01:12:08
Quite frankly, I believe Mirallas is not in the starting 11 all of the time for one reason: because Roberto Martinez doesn't like him.
Some of you will jump all over this comment but the fact remains Mirallas was the scapegoat during Martinez's first season, often being brought off or left out of the side.
Second season was worse, his treatment was appalling, yet he still bagged goals and assists and was loyal enough to sign a deal, no matter what else was written about him. He even put up with playing second fiddle at times to McGeady, Yes McGeady!!!!
Third season under Martinez and we still don't see enough of Super Kev. Mirallas is a quality player who is also a dead ball man (something were missing with Baines out). He offers a genuine goal threat and is head and shoulders above all our wide men, including Deulofeu.
I feel his treatment from Martinez is awful and Kev looks like he's constantly having to prove himself. For me, he should be nailed on and one of our main men we need to get the ball to as often as possible. Martinez is the problem, not Mirallas.
John Daley
23
Posted 23/10/2015 at 01:15:41
"Or it could be a case of an alien abduction scenario...they look like they might give you a few mental issues, who knows?"
Well, his classy gold car could quite easily be mistaken for something out of The Hitchikers Guide To The Galaxy I suppose. Then again, I don't think Kev could ever be traumatised by a spot of interplanetary kidnapping, no matter what sort of anal probe atrocities were perpetrated upon him by a bunch of bored alien bastards with nothing better to do.
He could be stripped naked, dunked in a sensory deprivation tank, have skin samples taken, blood and semen extracted, be mercilessly mocked in Martian for choosing mousse over gel, have his eyes clamped open and made to watch reruns of his stolen spotkick miss from last season on an endless loop, before being forced to record a full album with that retarded blue elephant that played the fucking keyboard in Return Of The Jedi in order to earn his freedom. Doesn't matter. I'm pretty confident that, whatever the reality, the modest Mirallas mind will act as a sort of self-defence mechanism and make sure the man himself remembers it all going down something like this:
John Daley
24
Posted 23/10/2015 at 01:43:04
"Miralas was the scape goat during Martinez first season, often being brought off or left out of the side."
I don't know about being a scapegoat. As for the rest of that statement, you can go back further than Martinez's first season to Mirallas's first season (under Moyes) and the same thing applies.
Teddy Bertin
25
Posted 23/10/2015 at 04:24:32
#2 Spot on James Stewart. He shouldn't have been on the bench if he's not ready to make an impact to a side that are 3-0 down. He's surely the type of player to bring in when there's nothing to lose. Especially when everything Naisey touched nearly few out of the stadium.
Mike Green
26
Posted 23/10/2015 at 06:18:22
"Mirallas has been kept out of the side for a number of reasons to be honest - attitude problems, injury problems, and a three game ban problem which was brought on by no one but himself.
It's taken a bit of time to sort these three problems out and I'm about ready to trust him over some of his team mates who don't get injured, don't think they're much better than they actually are, and are going to pull in the same direction as everyone else instead of acting like they're the next Marco van Basten when frankly, they just aren't."
That's what I read anyway.....
Chris Gould
27
Posted 23/10/2015 at 07:25:25
Anthony @20. I hate to sound critical, but every post you make becomes a vitriolic attack of Martinez. It's becoming difficult to view your posts objectively.
Why would Martinez need a scapegoat during his first season? It was a fantastic effort.
Martinez has the same problems with Mirallas that Mourinho is currently having with Hazard. If he is contributing goals and assists then you can forgive the defensive frailties. If not, then they both become liabilities.
The manager has to be sure that these types of players are physically and mentally prepared in order to risk them. They need to be consistent. Hazard has been, Mirallas has never been.
A fit and firing Mirallas would get into almost any Premier League team. He could give us a real cutting edge on the left, but he needs to get himself right and show desire and consistency.
I don't believe for a second that Martinez is keeping him out of the team for any other reason than fitness, form and mental fragility.
Tony Abrahams
28
Posted 23/10/2015 at 08:05:39
You might be right about the manager not liking Mirallas, Anthony, who knows? I don't like Mirallas that much either, but it doesn't mean he isn't a good player, on his day.
When he wants to really play, he is as good as anyone (West Ham, in the cup was the best individual performance I saw last season) but he doesn't do it enough. Probably because he thinks he's better than he really is.
Anthony Dwyer
29
Posted 23/10/2015 at 08:17:53
As I said men, many people will jump all over my comments, and maybe many of my comments are a bit of an attack on Martinez too, but can anyone explain why a 27-year-old Belgium international winger can't get into an Everton side who under a manager has not bought a winger (before this season) of any quality.
Is Mirallas not better than what we have? Is Mirallas not capable of goals? Has Mirallas been given a constistent run in one position in Martinez's Everton side ever? (By 'run' I mean maybe 10 consecutive games) Was he not the fall guy for Del Boy in Deulofeu's first season?
Let's be honest, Mirallas could be instrumental to our team if someone put their arm around him a little bit and played to his ego. You may think professionals don't deserve that, but fact is some do and bigger clubs than ours are willing to do it.
Mirallas is a quality player, he tackles back as much as most wingers, he's a defender's nightmare on his day, and he's good enough to play for a lot of good sides. Blame who and what you like; I blame the manager.
Anthony Dwyer
30
Posted 23/10/2015 at 08:25:45
May I add to the above that in the past three seasons, Martinez has bought competition for Mirallas's place on limited resources for reasons I will never understand. He's bought or loaned the following:
Deulofeu twice.
McGeady.
Lennon twice.
Atsu.
As well as that, he's tried Naismith, Cleverley, Kone, Barkley and even McCarthy out there too.
Why not just stick with Mirallas for a short while?
Whilst trying all of the above, Martinez has failed to address the simple fact we do not own a left-sided player. Can anyone explain this to me please?

Tony Abrahams
31
Posted 23/10/2015 at 09:10:31
Anthony, I'm sure we would all love to see Mirallas get ten games on the bounce, but even when he's in good form, he misses a lot of games through injury.
Paul Cherrington
32
Posted 23/10/2015 at 09:10:53
It's crazy that he is not starting every game (when possible of course) with Kev on one wing and Del on the other. This would at least give us the fearless, attacking football Martinez seems to have a reputation for. It worked in RM's first season here so I don't know why he won't do it again.
If I was Kev or Del, I would be very annoyed – one signs a new deal (I assume based on the promise of actually playing) and one is the manager's signing & neither can get a game. In the meantime, he plays people like Naismith out of position there instead.
Anthony Dwyer
33
Posted 23/10/2015 at 09:49:00
Fair play, Tony, Mirallas is often picking up niggles that he's more than happy to sit out with but I can't help but feel if it were one of Martinez's nailed-on players, he would walk straight back into the side.
Look at Tim Howard, he can perform awfully all season, get injured, be replaced by a younger lad who keeps 3 clean sheets in a row, and still walk straight back into the team. That's the type of blind loyalty shown to some players within our squad, and I feel like it's often shown to the wrong players.
Mirallas could do with growing a pair but if he felt like he was a important player for us he may step up to the challenge and play through small injuries but, if he's going to be paid anyway to either sit on a bench or sit in the crowd, the pull isn't the same as what it would be if he were going to start the match.
I don't get the insight to the players a manager gets and Mirallas does come across as a bit of a prima donna but I have one person I know who works with Everton and he tells me Mirallas is always staying behind working on set pieces. He tells me he's not someone who's out on the ale and he tells me he wants to be at Everton.
On what I've seen from Mirallas on set pieces, and the fact he's signed a new deal, I have no reason to doubt that my source is telling the truth!

Paul Hanratty
34
Posted 23/10/2015 at 10:35:39
In my 40 years following the Blues, I don't think I have ever disliked an Everton player as much. Loads of talent but his atitude stinks. Typical modern-day footballer... doesn't give a hoot about the Toffees. As for calling him Super Kev – do me a favour...
Thomas Surgenor
36
Posted 23/10/2015 at 13:15:19
He has to play, this man should be in our best 11 every week.
Offers natural width and a goal threat.

Paul Cherrington
37
Posted 23/10/2015 at 13:30:25
To me, the situation with Mirallas is the same as what happened with Distin. Both know their own mind and will have their say if they think things aren't right. Hence why Mirallas is now getting the cold shoulder, same as Sylvain did.
Show him some love, RM, and see him blossom again.
Tim Wardrop
38
Posted 23/10/2015 at 17:14:17
He's one of the best players at the club and probably our number one finisher. Why he isn't one of the first names on the teamsheet is beyond me. He scores and makes goals, which is the only currency of any relevance in the game
William Cartwright
39
Posted 23/10/2015 at 17:32:24
Anthony Dwyer (28 +31) After sharing the highs and lows of the first 2 seasons under Roberto, I started this season with an emotional clean slate and have been pleased with the games against Southampton and Chelsea, but little else. Various individual performances have also cheered me up but I'm sorry, Anthony; you've ruined it for me. I agree with every word said and point made.
Just what the hell is wrong with Roberto? He has got assets like Mirallas and Deulofeu watching from the wings when they should be out on the pitch at least showing what they can do.
If I'm honest, I never recovered any faith in Martinez when he reinstated the clown Howard after Robles did extremely well last season. He grabbed his chance, as they say, and Roberto simply stuck two fingers up to everyone (except Tim). Well there you go. That will do it.
I would love us to give a good performance and get a result against Arsenal, but with the same old stuff being churned up I just can't see it happening. Shit.
Anthony Dwyer
40
Posted 23/10/2015 at 20:58:39
William Cartwright:
Sorry for pissing on your bonfire mate, but it's really difficult to see it any other way.

Eddie Dunn
42
Posted 24/10/2015 at 00:53:45
I have held fire on Roberto so far this term, hoping that the green shoots seen against Saints and Chelsea, plus the gutsy fightbacks in some games may signal a better future for us all. However, I find myself thinking that my pre-season prediction of a finish around halfway is actually more realistic than the fleeting dreams of Europe, which I began to imagine a couple of weeks back.
Now, when I hear the boss waxing lyrical about every fuckwit that is in the squad, and one of our better new-comers saying we will win at Arsenal, I remind myself of why our manager got up my nose last season. He talks players up and then doesn't play them. His interpretation of games like the derby or the pathetic Man Utd game also makes me wonder why I was so daft to have any hope at all.
The Arse will surely give us a lesson similar to the one in Singapore. We could, of course, surprise everyone with a smash and grab raid like at Southampton, but unfortunately, this Arsenal team are far better than Saints, and Roberto will not go for the win. We will play with our usual set-up, trying to stay in the game, and hope to catch them on the break.
Unless we get really lucky, we will fall behind on the half hour, come out unchanged for the second half, and see Kev or Del with 20 mins left, but not both. We will lose 3-1, and our goal will come when the game is over, and they take their foot off our throat.
I hope I am wrong, but I have seen us screw-up at Arsenal far too many times to kid myself that we will do any differently this time. Enjoy the rugby instead.
Peter Gorman
43
Posted 24/10/2015 at 15:28:04
Mirallas is a big game player. So naturally Naismith will start against Arsenal at the Emirates.
Barry Jones
44
Posted 25/10/2015 at 13:09:59
Difficult to regain your momentum when your arse is parked on the bench.
Add Your Comments
In order to post a comment, you need to be logged in as a registered user of the site.
Or Sign up as a ToffeeWeb Member — it's free, takes just a few minutes and will allow you to post your comments on articles and Talking Points submissions across the site.
© ToffeeWeb