2015 Everton FC Annual General Meeting
by

113 Comments [Jump to last]
| 23/11/2015
Stadium impasse emerges as key talking point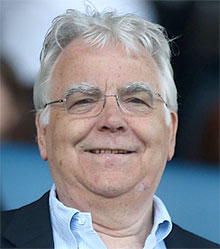 Chairman Bill Kenwright was absent from the meeting
The 2015 edition of Everton FC's Annual General Meeting took place the Liverpool Philharmonic Hall this evening where Chief Executive Robert Elstone updated the club's shareholders on the latest financial accounts.
The proposed new stadium at Walton Hall Park was a central theme of Elstone's address, both in terms of the significance to the club's future in the CEO's opinion and the impasse that has developed between the club and Liverpool City Council over funding of the project.
Elstone made it clear to the gathered shareholders this evening that Everton needed the partnership of the Council in order to proceed with the development and that without it, the club would not be able to build a new stadium. He asserted that what he was offering LCC was an eventual return on their investment together with "social development" and regeneration for that area of north Liverpool.
Main highlights from the meeting
With Bill Kenwright and Robert Earl absent, the meeting was chaired by Jon Woods and led by Elstone, the only two Board members present, who covered four broad topics before manager Roberto Martinez took to the stage.
Performance & Commercial Income
Elstone began by acknowledging that the huge increases in boradcast revenue mean that, "the financial landscape has changed dramatically. We now have a friendly bank manager. That hasn't always happened."
He also said that the club has organisations offering to lend the club money now, which is in contrast to a few years ago when lenders were tightening their belts.
"Debt levels are declining year on year," the CEO continued. "[They] are manageable and under control. [Our] wages to turnover ratio remains reasonably in control. The TV deal has given the club spending choices." He explained that Everton have been able to put money into new players, the retention of existing players, staff and resources, reducing debt and investing in young prospects.
"In the past three years the net spend on transfers has increased by £40 million," he said. "Salaries have increased by a similar figure." He outlined how the board feel that Everton, point per pound, the best performing side in the Premier League with an average league finish in the last five years of 6th with an average wage spend of £62m which he better than the likes of West Ham, Newcastle and Aston Villa.
The CEO said that Everton rank 9th in the Premier League in terms of commercial income and described a new stadium as key to bridging that gap. He also addressed the much-discussed Kitbag retail deal and the abortive Power8 sponsorship arrangement.
"It wouldn't be a general meeting without a comment about Kitbag," he said. "It is a really robust commercial deal. We test it regularly. We need to improve our commercial performance. The Umbro and Kitbag deal's are right for the club. Power 8 paid 2 years money before it went wrong [but] it was brokered by a reputable agent."
Elstone says the focus going forward is on growing future revenues in four key areas: Enhanced commercial income, support from marketing and PR, compelling and differentiated sales proposition and a bigger international footprint.
Elstone went on to express the club's emphasis on adhering to "an Everton way; being a progressive, fan-centric football club. We have a great manager, great backroom, great academy and we're great at training footballers.
"Nobody across the league is batting harder than Everton to get fairer [ticket] prices in the Premier League. Our young fan base in growing rapidly. 1 in 6 home supporters at the Watford game was under the age of 16."
Walton Hall Park
A theme of Elstone's presentation was his assertion that the proposed new stadium at Walton Hall Park would be "a game changer" for the club and remains "a key board priority. It will future proof this football club and deliver a powerful state of intent [if we can do it]." He said that £2.5m had been ring-fenced for the planning application once the club had the go-ahead.
While he admitted that "it's challenging to get the right funding model," the CEO appeared to counter Mayor Joe Anderson's recent assertion that there had been a lack of concrete progress from Everton's end or that the club were reliant on handouts from the local council.
"There hasn't been a lack of progress on our part," Elstone said. "Let's be clear: this is not about Everton asking anyone for money. We have offered a solution which will offer cash, and social development [to the council]. The onus cannot just be on the club; we have to do it in partnership.
Re EFC, CEO comments at AGM that they are ready on stadium.I am looking forward to receiving their planning and financial proposals tomorrow

— Joe Anderson (@joeforliverpool) November 23, 2015
"We have worked hard to progress with the plans right across the board. We need confirmation of the City Council's partnership," he continued, asserting that a stadium at Walton Hall Park would be "a big prize for Everton but an even bigger prize for the city of Liverpool.
"The biggest risk in my opinion is the failure to grasp collectively the belief in the transformational possibilities of Walton Hall Park, but we need help. We need a true partnership approach."
Elstone also played down the notion that there was any viable "plan B" to the Walton Hall Park proposal, explaining that it remains the best site and option after all the retail sites like the one that was proposed in Kirkby were rejected.
He also said that engineers had visited Goodison Park recently to investigate the possibility of redeveloping the existing ground but it remains the Board's belief that rebuilding on the existing footprint would pose logistical challenges that would not be sufficiently offset by the benefits.
"There is very little we can do around the main stand and Gwladys St that would make any sense," he contended. "It's hard to think of something that is economically viable. The only other option is simply expanding the Park End but doesn't feel that would deliver worthwhile benefits."
Borrowing & Investment
The CEO concluded the opening presentation of the meeting by detailing Everton's three existing lending sources as being Prudential, Barclays and JG Funding. "There is NO other lending," he said. "JG funding is a private limited business that does a lot of funding with other clubs. There is no connection with that company and any directors of Everton Football Club."
He also said that "there have never been more people out there looking [for investment in the club]. "There have never been more people interested in investing in Everton and the Chairman is confident [investment] will be secured in the near future."
Comments from the manager
Roberto Martinez took to the stage next and began by describing the two pillars of his recruitment policy: "That young players are given a chance and continuity. We've been brave to improve squad with new senior signings, new contracts and new junior signings," he said.
"We should be extremely proud with the young talent we have, [for example] John Stones, Ross Barkley, Romleu Lukaku, Gerard Deulofeu and others." The manager explained that Everton have the sixth youngest squad in the top flight with an average of 26.
"Bill Kenwright doesn't get the credit he deserves for what he's done for Everton."
Martinez touched on the fact that his team is the only one not to have scored from a set-piece in the first 13 games of the season but trumpeted the fact they have, conversely, scored the most from open play: "We have to work on set-pieces but [the number of] goals from open play is the magic number and it allows [us to] "control [our] own destiny."
Questions from the floor
Elstone began by expressing his disappointment at some of the 41 questions that were submitted for consideration for the evening and he would later describe some of them as "disgraceful" and "should not have been asked."
"There were some positive questions on the list of questions from Everton shareholders," he said, "but some that were disappointing. If you want to know why they were disappointing you can consult the efc shareholders association website."
He then addressed the first question from the floor by restating his position on the proposed ground at Walton Hall Park: "A new stadium is a challenging prospect until we get in a real true partnership with Liverpool Council it will be hard to do. The Mayor is saying the onus is on Everton for plans for WHP. This is a regeneration project.
"We are not working on the new stadium on the premise of getting new investment. New investment and a new stadium are not linked. Would new investment help that? We don't know. Is it being factored into the new stadium funding model? No."
The second questioner, Mark Denny, also touched on the Walton Hall Park issue, asking if it was realistic given the opposition to a stadium development on the green space from local residents. He urged the club to redevelop Goodison Park to which Elstone responded: "If Walton Hall Park does not progress as we want then maybe we will look at [redevelopment] as an alternative."
"It's not just an Everton stadium with a few nice things around it," the CEO reiterated. "It's a vision for North Liverpool that includes a stadium, and at the moment in my view the council doesn't see it like that."
---
Reader Comments (113)
Note: the following content is not moderated or vetted by the site owners at the time of submission. Comments are the responsibility of the poster. Disclaimer
Patrick Murphy
1
Posted 23/11/2015 at 20:08:09
Another twelve months have passed and nothing has altered, aside from the increase in TV revenues. The stadium debate continues and the fall-out between Mr Elstone's statement and Mayor Anderson's should be interesting to watch in the coming months.
Paul Andrews
2
Posted 23/11/2015 at 20:11:19
RE takes the fifth amendment.
"I refuse to answer on the grounds my answer..."
Colin Glassar
3
Posted 23/11/2015 at 20:13:46
Where are the other board members? Do they even exist (apart from in my nightmares)? I honestly think they've been kidnapped by aliens...
Elstone spins better than even Alastair bloody Campbell!!
Mike Oates
4
Posted 23/11/2015 at 20:17:39
Well it looks as though WHP looks likely to follow in the same way as Kings Dock, but maybe not Everton's fault this time.
It's always been clear that it has to be a partnership approach, but I don't see any support from "The Council" other than the land offer. Mr Anderson, make it absolutely clear if there is no financial support from the Council or Developers or Infrastructure Investors then we can all go home!!
Patrick Murphy
5
Posted 23/11/2015 at 20:21:49
Mike, I think the Everton board would like us all to believe that the WHP project will fail due to the Council's lack of aid or will; however, if we ain't got the money in place to fund it, why should the Council take all the risks?
It's a non-starter and has always been a non-starter unless new investment is found by Everton FC and that shouldn't include taxpayers money.
Eugene Ruane
6
Posted 23/11/2015 at 20:23:05
Stu Gore
7
Posted 23/11/2015 at 20:40:18
I hope that £2 is properly ring-fenced. Is that for the stamp and envelope?
Mike Oates
8
Posted 23/11/2015 at 20:45:28
Patrick,
I'm not saying use Taxpayers' money, what I'm saying is that this should be a Council-run project as part of a plan to redevelop Walton. It's crying out for someone to develop a business, residential and leisure plan to revamp County Road, City Road, Goodison Road, Walton Lane etc.
I've just retired after the last 10 years involved in land/area regeneration programmes led by councils wanting to get investment into their cities, towns, county etc. They get investors, developers in to provide the funding. I just feel that Liverpool Council is once again light years behind other City Councils.
Patrick Murphy
9
Posted 23/11/2015 at 20:50:39
Fair enough, Mike, I understand what you are saying there, but is it not up to the club itself to find those investors? Yes, the council can help with the land and other elements but it would seem that Everton are looking for the council to do all the spadework without committing their own money to the project.
Unless Everton produce some real money and a proper plan, why should the council spend a penny of taxpayers' money on something that the club may never have the wherewithal to fund?

Alan Rodgers
10
Posted 23/11/2015 at 20:58:57
I agree with Mike Oates it would be great to redevelop Goodison and help to regenerate the County Rd. area. Walton is pretty grim now ,imagine what it would be like if EFC were to relocate ( not going to happen ) !
Colin Glassar
11
Posted 23/11/2015 at 21:13:19
Why not just build in Stanley Park? It's a stone's throw away, has all the permits in order, we could even nick LFC's blueprints so no monies go to pay the architects. I think that is the most blindingly obvious site but then, we are led by the blind, aren't we?
As for the money to build it... well, as the late great Shoeless Jackson(?) once said, "Build it and they shall come".
Dick Fearon
12
Posted 23/11/2015 at 21:13:30
There are all kinds of alternatives:
1. Takeover by billionaire, not while Bill K is still chairman.
2. Investor; lack of control over investment makes that doubtful.
3. Piecemeal development of Goodison.
4. Raise funds for item #3 by flogging players.
Don Alexander
13
Posted 23/11/2015 at 21:22:21
Let's face facts; the city of Liverpool is way smaller, geographically and in terms of population, than Manchester, Leeds and Birmingham, and don't even think about London. It's also far worse off than any of them in terms of wealth, by any measure available. There is no prospect of reversing these figures. The opposite is true. Born as I was in the city, this saddens me a lot.
Whilst Leeds and Brum have crap teams despite these advantages, Manchester and London get ever bigger and richer. That's going to continue. Teams from those two cities have to be overcome over a whole season in order to get to 'the promised land' of the Champions League.
This season, so far, it might just be that someone other than the usual four gets into the top four. That's why we need to press on, as we just failed to do two years ago, to get into the Champions League proper. But if we do this I'd be dismayed if (and in truth more likely 'when') BK and whoever else then up the price to interested parties.
In the meantime, given the widening gap afflicting our city, any financial advisor would continue to advise that, in order to compete with Manchester or London, the best business model would be for the city's two teams to share a stadium. I know how I'd feel about that but, to repeat, as a business model, it's glaringly clear, and that is how football clubs are solely seen by would-be owners.
Our board, together with Leahy, Green and the rest, all state how devoted they are to 'our' best interests but we're a worldwide laughing stock as a result of decades-long inertia in terms of investment or development, allied to the preposterous asking price now being put forward. Whenever any interested party has been invited in to do 'due diligence' whilst BK has been where he is, they have all, repeat, all, withdrawn their offers within a day or two of beginning that process.
Summat stinks.

Gary Reeves
14
Posted 23/11/2015 at 21:38:16
Dick (#11),
Is there a single more yawn-inducing topic (as an Evertonian) than the mysterious list of unknown Billionaires being wickedly thwarted by BK?
Phillip Green, Richard Brandon, Sheikh Yabooty, Santa Claus... yawn, yawn, yawn.
Jon Withey
15
Posted 23/11/2015 at 21:50:24
£40 million net spend? I can't keep up.
Peter Lee
16
Posted 23/11/2015 at 22:03:36
People on here are often disparaging, if not downright insulting, about Bill Kenwright's statements regarding seeking investment in the club. They suggest that what he really wants is to retain control whilst getting someone else to stump up extra cash.
There was an excellent article in today's Telegraph based on an extended interview with Palace's chairman Steve Parish who appears to be on the point of doing just such a deal.
If Palace can do it, why not us? Would we object to such a deal which introduced a new minority shareholder with a buy-in to the traditions of the club?
Part of the challenge for Everton, of course, is that we are not based in London. The article includes details of corporate covers: West Ham are aiming for 3,000 a game whilst Spurs are looking for 10,000. Further, he talks of each of those generating ٣k per season.
Does anyone out there know what the market is like on Merseyside compared to London in terms of size and willingness to spend? I noticed that the owners across the park appear to have changed their tune recently in this area.
Originally they were talking of all the new seats going corporate but they are now saying that an unspecified number of seats will be allocated to names on the waiting list. If they have overestimated what can be generated at LFC, we must admit that their presence is greater than ours "out there"; what chance us having greater or equal success in any development within a large increase in corporate, whether it be at Goodison Park or elsewhere?
Trevor Lynes
17
Posted 23/11/2015 at 22:13:56
Surely we have taken in much more money than we have spent over the past three transfer windows.
Do the board do any investing themselves ?
We did not spend any money on big names although we supposedly had the money for Yarmolenko.Is this money still available to Martinez ?
Kieran jones
18
Posted 23/11/2015 at 22:18:21
Has anyone seen costings on redevelopment of Goodison Park?
Mike Oates
19
Posted 23/11/2015 at 22:22:10
Peter,
A golfing friend of mine involved in large investment company in London. Lots of corporate entertainment, football and cricket. Interest from abroad centres on clients wanting to watch (in order):-
Man Utd
Arsenal
Lords Cricket matches
Followed though in no great demand by Chelsea, Spurs (but insufficient tickets).
There is no demand for Liverpool, Everton, even Man City and his company reckon West Ham moving to the Olympic Stadium will generate lots of interest in the future. London is the pull other than the "world famous Man Utd"
I can't see it ever changing unless we win multiple Champions League trophies.
Tony Abrahams
20
Posted 23/11/2015 at 22:37:08
Peter (#13), I thought you spoke a lot of sense, but why do people always go on about London?
I'm not stupid, I know it's the capital with probably more money than the rest of the country combined, but we are talking about The EPL here.
Manchester, like Liverpool, isn't London, but these clubs have no problems with the corporate side of things, and I'm sure it would have been the ultimate piss take if Liverpool FC, would have completely ignored their fabled waiting list.
Our City has never been so popular since the sixties with regards to tourism, and has got to be one of the reasons that Everton's gates are getting better.
I know I've gone on, but this should be a debate for another day, because, until we find money, it's all immaterial at the minute.
Colin Hughes
21
Posted 23/11/2015 at 22:39:38
Outside of London, not many Cities have seen a new Stadium built where there is more than one club in it. Manchester City didn't pay for or build the Commonwealth Stadium; Manchester United haven't moved. Birmingham's two clubs have not built a new stadium nor have either of the Sheffield or Bristol clubs.
It only seems to happen in towns or cities where they are backing the ONE project for one club such as Leicester, Derby, Middlesbrough, Southampton, Huddersfield, Wigan etc etc.
On that basis, I can't see Everton ever finding the funding or backing off either the local council, investors or public for that matter.
Dennis Stevens
22
Posted 23/11/2015 at 22:59:04
Once those luvable Reds have finished redeveloping Anfield we then need for Liverpool to host the Commonwealth Games - it's the only way Everton will ever get a new stadium!
Bobby Thomas
23
Posted 23/11/2015 at 23:16:24
Just what does this CEO bring?
Don Alexander
24
Posted 23/11/2015 at 23:37:02
Re Tony Abrahams (@15), you may be 100% right in saying that our city has never been as popular now since the '60s but the bad news is that in the '60s there weren't hordes of tourists or visitors visiting Liverpool or anywhere else to speak of... except London of course.
As others have inferred, the reality is that we're basically perceived around the world as the Osasuna team as per the city of Barcelona; so, given the extraordinarily massive price currently being asked for our purchase, I confidently expect to never leave Goodison Park... for good or, probably, ill.
I'm no fan of the council but how the hell can they be expected, as their money is cut and cut again from Whitehall to the cost of providing genuine service to many afflicted individuals in the city, to put one red cent into creating a stadium for us, certain as they are that, the moment it's built, Blue Bill and his pals will bugger off having trousered a fortune in comparison to their actual investment?
Eugene Ruane
25
Posted 23/11/2015 at 23:53:02
Once again, the power of matching trousers and jacket combined with a nice tie, shiny shoes and a smile, shows you can get away with just about anything.
"Hey he's alright Elstone y' know. Yeah ok he's a bit of a bullshitter like but.."
It's funny (to me) the idea that some questions are out of order or insulting or disrespectful, as imo, the tone and 'content' of 98% of everything uttered by Elstone I find incredibly insulting.
Personally, each time he opens his grid, all I hear is 'listen, you mugs, you fucking hapless dupes - buy your tickets, shut the fuck up and don't even think of questioning me.'
The man deals in flim-flam, deflection, semantics and verbal sleight-of-hand.
What he is would be less obvious if he had the words 'self-serving chancer' tattooed on his forehead.
His interest is him - that's it.

Ste Traverse
26
Posted 23/11/2015 at 23:59:06
What he's said could have been said at anytime in the last decade. Nothing new here. Same shite... different year.
Elstone is even worse than the bloke before him, tubby Wyness, and he was bad enough.
Our CEO is a blagger, but not a very convincing one.
Only snippet for me was they may look at redeveloping Goodison... after being told for years it couldn't be done.
Dave Abrahams
27
Posted 24/11/2015 at 00:27:17
I give up.
Is there any Evertonian who can take us out of present misery? We are going nowhere at the moment and there doesn't seem to be anyone who can make the change to make us prosper in the immediate future.
Alan Bodell
28
Posted 24/11/2015 at 00:32:46
I agree with many on here but the fact that Bill Kenwright was not present was very poignant; the guy bleeds Blue and gets loads but I think, if we had many others on the board, we would not be where we are now – still battling.
Look at our state now compared to our recent times; we haven't had a rich UAE/Russian golliarch ploughing bundles in and we are still mixing it with them... they want our players and we're not having it.
We have the best support in the land – see how many tickets are available for the away games and it's been like that for years. We are renowned for our loyalty and Kenwright is as loyal as there ever was. It could be better but it ain't that bad now.
Andy Crooks
29
Posted 24/11/2015 at 00:34:45
No plan, no strategy. An apparent separation between on-field promise and off-field stagnation. Surely a decision must be made to redevelop Goodison Park, I have read compelling arguments on this site that it can be done.
We make a long term plan that involves strategic sale of players, on our terms, combined with Champions League qualification. It would take an inspired coach and an ambitious, confident board.
That should be the aspiration. That you should be the aim and the plan with total focus involving coach, players and supporters. Failure will mean we are, well, where we are now.
Dave Abrahams
30
Posted 24/11/2015 at 00:56:34
Alan (#22) – Kenwright bleeds blue?
I've had a few drinks, so forgive me, but I know hundreds of Bluenoses who love and support the club more than that phoney bastard.
I wish you could meet the Evertonians I know: they would make you realise what an Evertonian is; Kenwright doesn't come close, nowhere even close to the Blues I know.
He is nowhere near to being one of us, and can never, ever be one of us.
Alan Bodell
31
Posted 24/11/2015 at 01:26:48
Dave, I acknowledge your views mate and know you are loyal and post good stuff often and I know many don't like Bill; I've seen the planes and Blue Union protests but I just don't get the nastiness against the man.
I've been to games from the late sixties, the ups and downs; since Peter Johnson (he was good, wasn't he ?) was offed, we have been on the up under his financial restraints, have we not?

Michael Williams
32
Posted 24/11/2015 at 01:44:50
American here so I comment gently as I have not lived and died with the club as as long as you have. However, I chose this team to support a few years ago and this is what I see.
Everton is controlled by a man who loves the club but he and the other owners don't have the money needed to deal with the City Council or anyone else. We have a club with poor owners so to speak.
Here's where I think Everton is at as a club: We have an owner who truly bleeds Blue but does not have enough money to make big things happen. If Roberto had to get him to buy Lukaku for more than one year's worth of transfer money, how can we expect him and the board to fund a stadium?
Based on what I read in the Wall Street Journal, we would be lucky to get a billionaire to buy this club because that new owner would have to spend to build a new stadium. Very few investors will buy a club when they know the first thing they have to do is spend hundreds of millions building a new stadium. That is not value for money.
At this one moment in time, we have a plethora of quality youngsters, with the full backing of Roberto, playing attacking, aggressive football. As like Belgium, this may be our "Golden Generation"; let's enjoy it like we should and support them as much as we can.
Ralph Basnett
33
Posted 24/11/2015 at 06:15:46
Let the fallout begin, but why do we waste our time when it is the same crap being churned out, just another destination?
Money is the big thing we are lacking, we have a good fan base, an excellent squad and we still cannot attract anyone because we need a new stadium or massive investment in our present shed.
I believe we would generate a lot of cash by shares issue but the major shareholders obviously do not want to dilute their share in the club.
Ever decreasing circles coupled with half season tickets up for sale and then early bird sales and the next AGM.
Yawn, yawn when it comes to the board, and being bored with it, lets just enjoy our relative good run, hope it keeps going and stay united in backing the blues irrespective of what dick owns it - at least until we can actually do something about it, which we won't because we are not like them over the park, bring shame on our club in the media just to oust its owners and get a nice big stand that dwarfs our shed, yardie yar, yawn, moan.
This is what its like being a blue, deal with it!!!!!!

Unless anyone has a few million tucked away?
Rick Tarleton
35
Posted 24/11/2015 at 07:38:46
I sat in the Lower Bullens on Saturday and couldn't see the Gwladys Street goal. If we don't build a new stadium we will continue to struggle for the kind of funds that make successful organic growth the way forward.
I'm with Dave Abrahams regarding the actor who allegedly runs our club. I hope one scheme or another becomes possible, has Colin Glassar (#11) got a point regarding Stanley Park?
James Marshall
36
Posted 24/11/2015 at 07:41:05
Everton: "We really want a new stadium!"
Council: "How much money have you got?"
Everton: "Errr, not very much to be honest."
Council: " What do you propose?"
Everton: "Can you pay for it please?"
Council: "Bye!"
Sam Hoare
37
Posted 24/11/2015 at 08:16:33
We have the best and most valuable squad we have had for years but sadly it will be slowly dismantled because off field we have made zero progress. The board have had three clear remits for the last decade or two.
1. Find serious investment into the club.
2. Find and deliver a new stadium to move the club forward.
3. Improve our commercial income streams to match our league positions.
They have failed on all three. It would at least be honourable if they could admit their failures rather than constantly passing the buck with "It's the Council's fault" etc.
Gavin Johnson
38
Posted 24/11/2015 at 08:22:55
Fingers crossed the American investment stories aren't the usual BS smoke and mirror tactics we're accustomed to with this board. I think outside investment is the only way we can get this project off the ground.
Paul Commons
39
Posted 24/11/2015 at 08:30:19
The fact that there was only ONE non-executive board member at the AGM only goes to prove that Everton has NO proper governance whatsoever.
In that situation, who monitors the actions and performance of the executive? Who determines the business strategy and overall policies of the Club?
Nobody! And in those circumstances, Elstone has the job to die for. Does as he pleases and accountable to no-one. I wonder if he sets his own remuneration?
Kevin Tully
40
Posted 24/11/2015 at 08:58:18
I wonder how many years it will take for the truth to sink in?
Bill Kenwright, Earl & Woods do not want to dilute their shareholding. Therefore, they won't find investment. Trevor Birch is on record as saying they won't even let anyone who may be prepared to invest, have a place on the board.
Last night, the board basically confirmed to the world they want a Council that are making drastic cuts to fund their stadium plans. A board worth a combined £350m no less.
That's it. No need to go any further with this discussion. Now we can just shuffle off and watch the game in peace from behind the 32 columns that hold our ground up.
They have been lying and covering up their own incompetence and intransigence since the day they took control of this club. Why would they change now?
Tony Abrahams
41
Posted 24/11/2015 at 09:14:30
Sam 36, totally correct, but it's easy to see why they failed when you read Paul's post @38.
How can a major shareholder fail to attend, especially knowing that his mate is too ill to be there?
Maybe that should be the next directive, we need to have a new share issue, and maybe the people that care the most can get involved. If it doesn't happen soon, the best squad we have had in 25 years will be slowly dismantled, Sam @36, thanks to Liverpool City Council!
Tony Abrahams
42
Posted 24/11/2015 at 09:33:48
Kevin, I didn't know Trevor Birch said that but when you look at it properly I suppose it makes sense.
If you're not prepared to invest yourself, and have probably taken the money out of Everton in the first place to pay for your shares, you wouldn't want anyone coming in and spending brewsters because it might make you look like a fool. Better to fool most of the people and look like the hero, especially when you consider this was the same man, who once had a front page headline in the echo, declaring he would buy Everton, a new centre-forward with his own money!!???
Sorry it's gone down the same road as so many before, this thread, but only for the prudence of Moyes in the transfer market, and now the money from TV, where do people think we would be with these jokers in charge of "OUR CLUB?"
Colin Glassar
43
Posted 24/11/2015 at 09:44:13
This is like a bloody soap opera. Elstone blaming the council, Anderson calling Elstone a lying weasel, board members in hiding, ailing chairman addressing the audience via hologram like some Princess Leah wannabe etc.....
Once again, they've been exposed for what they are, a bunch of lying fucking wankers!!
Peter Murray
44
Posted 24/11/2015 at 09:52:08
This is neither a football nor financial statement from Elstone. It is a political one. Successive savage, politically motivated cuts by the government have practically bankrupted the city.
Elstone must be aware of this. So let him now stand up and publicly target his fire at the real culprits.
Tony Abrahams
45
Posted 24/11/2015 at 10:00:25
Honestly Colin? This actually happened last night? I don't wish Mr Kenwright no harm, but it sounds more pantomime than soap to me, Colin!
I really hope that Bill has got Everton's best interest at heart, because only a totally egomaniac eccentric could possibly think they are the best man for Everton... Seriously.
Tom Dodds
46
Posted 24/11/2015 at 10:00:33
Now that news of us needing a cash-strapped council handout to build a new stadium has gone national and probably international, you can only guess at the amount of ear-pricking it's caused amongst the elitist clubs that were sniffing around our players.
We stand on the threshold of a dream with this brilliant group of players we have now. I believe we have a team/squad that could possibly spearhead the biggest revival in the club's history.
Sickening, though, that side by side with this scenario in my opinion is a club hierarchy of utterly incompetent, parasitic self-interested charlatans; we might well rue one day that we didn't hound them to hell out of it.
Good on all those fans that tirelessly work away at highlighting the bastards. As for the fool that wants to thank him...

Jim Bennings
47
Posted 24/11/2015 at 10:18:43
Amongst all this bullshit that goes on annually at the AGM, nothing ever changes. Sure, we all have the same questions that are asked every year but we get roughly the same answers with no genuine positive outcome.
Can we just win a friggin' trophy this season please and finally banish our Anfield hoodoo good and proper! I'd pretty much class that as a season to remember.
You can keep all your beating around the bush at AGM's listening to the same stuff being spouted every year.
Ged Simpson
48
Posted 24/11/2015 at 10:33:15
So -
We are a club playing well for the money we have. But no billionaire after us and the Board do not have that money and we have no new candidates for Board who would necessarily be better.
City Council - less money since it was created
So what can LCC do ? Help with EU application on regen grounds.
Now that takes work and long planning meetings and EU specialists .
But it can be done.
EFC and LCC cannot do it alone.
Joe's tweet was a self preserving disgrace. (Oh ...he is hoping to be new City Region gaffer )
Ged Simpson
49
Posted 24/11/2015 at 10:35:14
With you on that, Jim.
Jonathan Miller
50
Posted 24/11/2015 at 10:39:07
So beside the roads, sewage system, law and order "What have the Romans ever done for us?"
I have to look back to when I thought Walter was taking us down and I thought here we go doomed to years in the lower tiers like Leeds, Sheffield Wednesday and Sheffield United etc Moyes came in and changed everything.
I now watch "the Fab Four" tearing into Villa and Sunderland, 10 goals in two games. A team that has gone behind on many occasions and fought back rather than give up. No one likes an obstructed view but I'll put up with it all day long rather than have to suffer the dross offered up to the likes of Newcastle Villa etc in their shiny new stadiums! No denying "The Old Lady" needs a revamp but under the lights for a big game it's a bit special...
The existing board don't have an economic formulae to solve the new stadium and so it would appear neither does a buyer – it's a 𧶀M+ problem!
Tony Abrahams
51
Posted 24/11/2015 at 10:59:58
Ged, Joe, calling WHP a run-down park in the north of Liverpool was an even bigger disgrace. Even if we had the money, this wouldn't be an easy fight to win. It seems to me, that this suits this board, though, because the only way anything will get done is if something is handed to them on a plate.
Kenwright is a puppet first, a businessman second, and an Evertonian third. Sad but true. But if we can't reduce the asking price, I don't know how things can move forward off the pitch for Everton FC.
Sorry if I'm being harsh to our chairman but, after all these years, surely a suitable buyer should have been found by now. Read Kev Tully @39.
Dave Abrahams
52
Posted 24/11/2015 at 11:05:34
Alan (#31), surely if you compare Everton's assets when Kenwright took over as chairman and their assets now, there is a big difference and they have got progressively worse since then.
We never really get to the bottom of our financial state, but I find it very distasteful when Mr Kenwright ( t hurt me to write that) is described as one of us; it is patently obvious, to me anyway, that he isn't.
Chris Owens
53
Posted 24/11/2015 at 11:08:33
Pissing off Joe Anderson will not help. He is publicly accountable, and cannot afford to waste any of the council's money.
Everton FC need to come up with a sound business plan before this can proceed any further. To do that, they need to bring in a competent businessman who knows what he is doing. Surely this can be done for less than the salary of one fringe player?
Denis Richardson
54
Posted 24/11/2015 at 11:20:27
The only interesting thing I read above, given most of it is simply a copy paste from the past, is that he says nearer the beginning that GP redevelopment is again a non-starter due to logistical reasons around 2 of the 4 sides of the ground. (Again doesn't exactly say what these are.)
Then going on, in the second last paragraph he admits that if WHP fails (which is what is going to happen), they will look into redevelopment options for GP.
Seems a bit contradictory to me and would suggest that redevelopment is actually possible. Anyone know what these 'logistical reasons' are, other than buying up houses to be able to expand? My understanding was that LCC would be amenable to moving the primary school. Is St Luke's Church a problem?
Anyone know?
Kevin Tully
55
Posted 24/11/2015 at 11:53:05
The Council have already purchased Finch Farm, which was ridiculous given the fact it was available for £16m and would have made an admirable asset. The Council are actually making money on the lease!

John Keating
56
Posted 24/11/2015 at 11:54:26
Elstone is a chancer. Why should the council fund or help fund a stadium for us in a regeneration programme that doesn't require a stadium?
As far as I'm concerned, they already put themselves in a difficult situation with Finch Farm.
Elstone should put on the table how much the Club will put in plus the enabling partners they are bringing in. Elstone is just setting up a scapegoat when it officially goes tits-up.
Dave Roberts
57
Posted 24/11/2015 at 12:04:09
Apparently St Luke's is a problem. It was a problem when the club left Anfield. It was a problem when the main stand was built. The club offered to build a new church in the sixties when the main stand was being planned but the offer was refused.
The other problem is the angle which Goodison Rd makes with the stadium resulting in the strange shape of the main stand... both this one and its predecessor.
In my view, any meaningful redevelopment of Goodison Park would require either turning the footprint around by 90 degrees, and acquiring the land now occupied by the school, or shifting the stadium back towards Stanley Park and using the land currently occupied by the car park.
Tony Abrahams
58
Posted 24/11/2015 at 12:04:44
Dennis, alls they do is bullshit and buy time. How can you say the complete opposite of something you have said has got no chance, on the same night? When you haven't really got the money, but want an absolute fortune to sell, that's when.
Maybe us scousers have gone soft, and Joe Anderson better be careful that people don't start voting Tory, the way we have accepted the current regime for so long!!!
Tony J Williams
59
Posted 24/11/2015 at 12:19:57
And Lucy is holding the ball for Charlie Brown again......
And so it ever was!
Tom R Owen
60
Posted 24/11/2015 at 12:39:11
Last night sounds like a total waste of time. Elstone actually sounds like Kenwright! Getting upset when asked difficult questions!
RE is only a mouthpiece for Kenwright. I have criticised Kenwright for years and been criticised for it by people who even now think he is doing the best in the circumstances. The circumstances over the past 20 years have been created by BK and his inability to manage the club's finances.
I am sure LCC will be even more determined NOT to partner up with EFC as what is said by both the Chairman and CEO are depending on your goodwill either a) hot air or b) complete lies. Nothing will change as long as BK is around.
Patrick Murphy
61
Posted 24/11/2015 at 12:59:24
This analysis on Swiss Ramble website gives plenty of food for thought about the club's finances. It's quite a lengthy article but there are some pertinent points at the bottom of the article if you can't be bothered wading through all the detail.
Sam Hoare
63
Posted 24/11/2015 at 14:25:45
Very interesting Patrick. I found this bit particularly so:
Everton's net debt rose ١ million from 㿈 million to 㿋 million, but the gross debt was actually cut by ٧ million from 㿝 million to 㿔 million with the real driver being the 㾸 million reduction in cash balances, which fell from 㿁 million to ٧ million. Thanks to higher TV money, not to mention the funds from the Fellaini sale, net debt has improved considerably from the Â㿙 million level in the years up to 2013, which Elstone explained thus: "our pursuit of success has stretched our finances."

There are basically two elements to Everton's debt: (a) 25-year loan of 㿁 million, which bears a high interest rate of 7.79%, leading to annual payments of ٠.8 million; (b) an annual loan of 㾿 million renewable every August, securitised on Premier League TV money, at a stonking 8.2% interest rate.
These interest rates are ridiculous and mean we are paying around Â٣m every year just to service the debts. How they have not been paid off or renegotiated, I do not understand.
Gareth Scott
64
Posted 24/11/2015 at 14:47:01
Who in their right mind would trust Anderson and his chronies anyway? Their track record says it all. They're two-bit local politicians who speak with forked tongues. They've got no money and want Everton to hock themselves up to shell out for a regeneration scheme that they can claim all the credit for on the basis that they've simply given a park at no cost.
If it's £2.5M to go through the planning process – and I can believe it – then it's a waste of money and time 'cos all Anderson'll do is put the mockers on it once he's seen us spend the money.
He's a stitch-up artist. Elstone's got his number. Good man.
Frank Crewe
65
Posted 24/11/2015 at 15:01:09
This pre-occupation with a new ground has become an obsession. Man City were given a brand new ground and it seems West Ham are getting the same. No doubt they'll sell the old one for a tidy sum as well. Arsenal had an old ground on prime land in the middle of London they were able to sell to finance their new ground. Spurs will no doubt do the same.
As far as I can tell, any other ground move hasn't boosted the club involved at all and in a lot of cases it has been a disaster. Has a bigger ground done Sunderland any good? How about the Barcodes 55,000 all seater? Are they thriving in the upper reaches of the EPL?
I've just read the the owner of Bolton Wanderers has agreed to write off £185M worth of loans just to sell the club debt-free and they have a new ground.
We have to walk before we can run. Decisions that should have been taken decades ago were not taken. So it seems pretty pointless blaming Kenwright now for things that happened before he owned the club. When Man Utd were enlarging their ground, we were happy to plod on in Goodison as is. Now it's become a game of catch-up.
Everton cannot afford to build a brand new ground from scratch without a partner who is prepared to put up almost the entire cost. To try to do so without such a partner would no doubt bankrupt the club and send us into a Leeds-like spiral we would never recover from.
We have to get into the Champions League on a regular basis to heighten the profile of the club to make it attractive to potential buyers. Until this is done, whether we like it or not, we have to put a new ground on the back burner and get on with improving the squad and our position within the EPL.
Sean Patton
66
Posted 24/11/2015 at 15:07:04
It's not just that, Sam, but the second loan is inexplicable at a time when there is more money in the game than there has ever been before.
Why do the club still borrow against future TV money every summer when the annual turnover has virtually doubled?
Tom R Owen
67
Posted 24/11/2015 at 15:38:49
Frank (#63),
I do agree about getting on with life; however, BK has been Chairman since 1999 and fucked up big style with the Kings Dock opportunity which it appears comes around about once in a lifetime.
Colin Malone
68
Posted 24/11/2015 at 16:15:07
Where were the City Council representatives at the AGM? Enough said.
Bobby Thomas
69
Posted 24/11/2015 at 16:23:32
Frank (#62),
Sunderland averaged 20k in their last season at Roker Park. They failed to stay in the Premier League and moved to the Stadium of Light starting in the then Division 1 (Championship today).
They averaged 33k in their first season in the Stadium of Light. They got beat in the play-offs (I think???) and averaged 38k in Division 1 the following season. They then entered the Premier League in the Quinn, Phillips heyday and were filling out 47k.
They have been abysmally managed on the football side of things and that is the reason for their woes. They are awful.
Last season, they averaged 43,000. They have developed the club and have the infrastructure.
Newcastle developed their club and went from pathetic gates to full houses of 55k. They gave people something to get behind and people got on board. They have had to do everything that they've done to BECOME Everton.
Meanwhile, all this club does is repeatedly slap its fans in the face. All people are asking for is something to get behind. The new stadium effect is proven – it can last seasons; if we built a 50k stadium, we would fill it no problem.
Graham Mockford
71
Posted 24/11/2015 at 16:31:23
Bobby
Straight question. Who's current position would you rather be in currently as a football supporter?
Everton, Newcastle or Sunderland?
Jay Wood
72
Posted 24/11/2015 at 16:33:52
With respect Frank @63, but your post is all over the shop with your selective presentation of the facts.
First, your claim that "as far as I can tell any other ground move hasn't boosted the club involved at all and in a lot of cases it has been a disaster." And then you list Sunderland, Newcastle and Bolton as examples to back up your point.
This ignores the fact that Sunderland and Bolton, who both languished many years in the lower divisions, were promoted to the PL AFTER moving stadiums, whilst listing Newcastle (who simply expanded their stadium) has nothing to do with your original claim.
It further ignores other clubs that have seriously improved their finances, attracted investment and attained PL status by doing exactly what you seemingly scorn: moving to a modern stadium.
From today's PL you can add the current leaders Leicester to that list, plus Southampton, Stoke and Swansea. All of them - like previously mentioned Sunderland and Bolton - spent years languishing in lower leagues before having a long term vision to improve their standing in which moving to a modern stadium was a major cornerstone in their ambitions.
The conclusion you leap to, that the likes of Bolton are in the dire straits they are now because they moved to a new stadium is a non-sequitur. I would suggest. In your two examples of Bolton and Sunderland, their current plight has more to do with poor managerial appointments, which in turn led to poor transfer policies and high player turnover, which directly impacted on the team's ability on the pitch to retain their PL status.
You go on to say "it seems pretty pointless blaming Kenwright now for things that happened before he owned the club."
Frank, BK has been a member of the Everton board since 1989, before the formation of the PL. He has been the majority shareholder and club chairman since the True Blue Holdings buyout of 1999. That is 26 and 16 years respectively. Jon Woods has been a director for 15 years.
How can you so flippantly dismiss as 'pointless' the blame directed at our current chairman after more than a quarter of a century sat on the board?
And then you conclude "Everton cannot afford to build a brand new ground from scratch without a partner who is prepared to put up almost the entire cost." Yet, some of the above mentioned clubs have done just that, with the club's board funding or securing loans to construct a new stadium, or (in other cases) refurbish their traditional homes.
Our board has done neither, other than oversee two failed ground moves (soon to be three..?) and steadfastly refuse to entertain the idea of redeveloping our traditional home.
And your solution...? "We have to get into the CL on a regular basis to heighten the profile of the club to make it attractive to potential buyers."
Phtt! Easy-peasy, innit?
Bobby Thomas
73
Posted 24/11/2015 at 16:43:00
Graham (#68),
Absurd question that has nothing to do with the stadium issue and this board's inability to address it for 15 years.

Graham Mockford
74
Posted 24/11/2015 at 16:50:14
Jay Wood,
I have always said our Board's greatest failure is not achieving a new stadium but in support of Frank it is not the holy grail.
There is a big difference in the aspiration of the clubs you mention and our own.
If you take Sunderland, Leicester, Sunderland, Stoke and Swansea with their new stadiums, not one of them generates more turnover or match day revenue than we do.
And, other than Swansea, they all have significantly more debt than we do.
I would also say we have by far the strongest and most valuable squad of all despite Leicester's superb performance this year.
A number of posters claim the problems of some clubs has been footballing mismanagement, well who exactly is responsible for the appointment of managers and has ultimate sanction for transfer activity?
Gordon Crawford
75
Posted 24/11/2015 at 16:56:24
Goodison is our spiritual home and it should stay our spiritual home.
It makes me sick to think that the club will consider every other option as feasible, except to redevelop the old ground. And the thought of that shower across the park, getting the whole park to themselves, just sickens me too.
I think we should do a fly over banner saying "Redevelop Goodison!!!!"
Rant over.
Graham Mockford
76
Posted 24/11/2015 at 16:56:51
Bobby,
Why is it absurd? You cite Newcastle and Sunderland as examples of models of governance we should be following.
So I just ask would you rather be in their position currently or ours? You may not want to answer but let me tell you I would certainly rather be in ours.
Duncan McDine
77
Posted 24/11/2015 at 17:12:32
The crazy tv money means that less of a percentage of our income is generated by ticket sales. Unfortunately this makes the ground move less of a priority from a cash-generating point of view.... Music to the ears of our lazy board of directors.
The thing is though, once all the players' wages catch up with the current level of tv income (and it won't be long!)... We're back to the very same position whereby the very poor stadium generated revenue and merchandising leaves us in the shit every year.
Jay Wood
78
Posted 24/11/2015 at 17:15:02
Graham, where in my post do I say moving to a new stadium is the 'Holy Grail' and the solution to all our problems?
Rather, my post refutes (with supporting evidence) his claim that moving to a new stadium is, oft times, "a disaster."
In addition, my post calls attention to a number of factors which impacts on a team's overall standing and performance. It's called balance, Graham, which Frank clearly failed to present.
Similarly, I did not make ANY comparison to Everton's 'aspirations' in contrast to the examples I gave, or to the respective values of their squads, or questioned BK's ability in appointing good managers for the club.
Duncan McDine
79
Posted 24/11/2015 at 17:15:55
Gordon (72)... You might want to do a spell check before you order that banner mate!
Jay Harris
80
Posted 24/11/2015 at 17:24:12
So now we are comparing ourselves to Newcastle and Sunderland.
Never has a comparison been more inappropriate.
At the start of the Premier League we were level pegging with Man Utd in titles won and Chelsea and Spurs didn't even come close.
They all have shown or are showing ambition whereas we have not and do not.
We get the same bullshit regurgitated every year. Poor little Everton need a charitable donation as we have no money while money pours out in the form of interest payments and other "unexplained" operating costs.
For God's sake, Elstone, instead of claiming to not be up to no good, come out and prove it.
Instead of saying we have ambitious plans which can't be achieved without "white knight" funding, develop a fucking plan that can be funded and makes commercial sense.
For 15 years we have allowed GP to rot away constantly claiming it was not viable despite expert proof to the contrary.
Jay Wood
81
Posted 24/11/2015 at 17:27:11
Opps! Accidentally pressed submit button before concluding...
So quite why you broaden the scope of the discussion to multiple unrelated issues when I focussed on one particular question, I don't know.
Oh! And both your posts to Bobby are absurd. I would go as far as to say they are unworthy of you, Graham. You're better than that. Claiming as you do in your 2nd post to him that he cites Newcastle and Sunderland as examples of models of governance we should be following is nowhere close to what Bobby actually wrote.
Ray Roche
83
Posted 24/11/2015 at 17:47:14
Please correct me if I'm wrong but I thought that Arsenal redeveloped the old Highbury site and then sold the apartments to a property company, a deal which made them more money than if they'd just sold the land?
Kevin Tully
84
Posted 24/11/2015 at 18:14:59
Some are missing the point entirely. A redeveloped Goodison – increased commercial revenues and not having to sell players to service debt or refresh the squad – all increase the chances of us progressing.
If the likes of Lukaku & Stones could see progress off the pitch, then surely they would view this club as somewhere to stay and develop their careers?
The current state of affairs on the pitch has been fairly stable for a decade or more. That's fine if 6th floats your boat. To me, it just demonstrates that there is still untapped potential left in the club.
The manager has only just stated that only a top four finish will ensure the current crop of players stay at the club. Ambition is required at the top of any organisation, not stagnation and the acceptance of mediocrity.
Ian Jones
85
Posted 24/11/2015 at 18:48:57
Really interesting comments on this thread. Appreciate that the questions below are basic and the solutions to our club's future are more complex but... I'm going to ask anyway!
1) If we had a 50,000-seater, could we fill it, as per Newcastle?
Ignoring London and the Manchester clubs who generally have bigger catchment areas than Liverpool and higher profiles etc, and can therefore attract bigger crowds, Newcastle with a 55k-seater and Sunderland averaging 47k a while back are fine from a numbers point of view, but they are both cities with a single club.
2) Without an underlying knowledge of the council in Liverpool, and their political persuasions or development policies (having worked for a council in the past who look at each project and see if it's of benefit to an area as a whole), apart from the perceived lack of ability for Everton to assist in the funding, is there an element of the council thinking that – if they assist Everton in funding redevelopment or a new stadium – they have to be seen to help any other large club that just might happen to share the City's boundaries? I assume they are already helping the other lot along the line.
Callum McNab
86
Posted 24/11/2015 at 19:03:00
Peter Lee (#16). Sorry but would you want these clowns at the helm of the club you have or are about to invest millions in? I know I wouldn't.
They have already had the council bail them out by buying Finch Farm while they (the council) have made hundreds redundant (including my wife) and cut major services. To ask anything from anybody else while we have some of the richest men on our board, I find a total embarrassment, to be honest.
There has never been so much money in the game as there is now; due to our poor commercial activities and poor leadership, we haven't got a pot to piss in.
Dave Kelly
87
Posted 24/11/2015 at 19:12:34
Surprisingly, no-one appears to have picked up on a question that I asked our CEO at last night's meeting. It was a simple question; a simply answer was given. So, why hasn't it been reported elsewhere? I ask myself.
The question was that, in September 2014, at our last AGM, Robert announced (albeit reluctantly) that Everton and its partners are in discussion regarding an exciting development that would regenerate the whole North End of the City. That the club would be working in partnership with three key stakeholders. They named Liverpool City Council (LCC), Everton in the Community (EiTC), and Liverpool Mutual Homes (LMH)
Fast forward to November 2015 and our partners are now: Liverpool City Council and Everton in the Community. Not a mention of Liverpool Mutual Homes. WHY???
A full 14 months later and all we are told is that one of our partners are no longer... To then attack the only independent partner was careless to say the least.
The other thing I found strange was that, for the first time in my memory, no votes took place to endorse the accounts or to re-elect a Director as per rotation.
I understand that this may be subject to a legal challenge, but even if it doesn't it leaves us asking "Is Everton Football Club rudderless?"
Never mind... maybe the only partner solidly on board will sell even more scratch cards and rattle the buckets ever louder to fund our new stadium.
Graham Mockford
88
Posted 24/11/2015 at 19:34:44
Jay,
Read the posts; he spent his post (#67) telling us how fantastic Sunderland and Newcastle had done "to develop the club and infrastructure" yet neither are significantly outperforming us in terms of turnover or matchday revenue and they both have significantly more debt than us and most importantly weaker playing squads.
So, if it is "unworthy'" of me to point out we are in a much better position than either of the teams he pointed out... so be it.
Martin Mason
89
Posted 24/11/2015 at 19:36:40
As expected the comments on this subject are a cringing sea of negativity and yet there's much positive happening at the club as highlighted by the performance and attitude of the teams.
In terms of running the club, the current board have actually done a very good job outperforming virtually all comers on performance versus income. We are in an infinitely better position now than when the current board took over, surely nobody can dispute that?
Where they haven't achieved progress is taking us to the next level but which other club has managed this transition even on multiples of our spending? The answer is none, and we must stop these ridiculous assertions that the board should be putting their own money into the club. They are businessmen not idiots and sugar daddies.
We can't afford a new ground but, then again, nobody else in the EPL can, not even Spurs who are looking for £400M from private sponsors. We won't make WHP work because – unless we find a retail leveraged solution – we just can't afford it so it won't happen. The board could be more transparent about it but they'd consider any information as business sensitive even though we feel that we have a right to know.
We are unfortunately a second-tier, low-revenue club in a league that is dominated by money and just one of many clubs hoping in vain to be able to make the next step up. Incredible things have happened at the club though as we have developed a young and talented side with players in every position who are high value and a buzz that I haven't seen in years.
Everybody in the football business, except for a tiny minority of our own fans, are giving us massive kudos for how the club is doing so well despite its revenue limitations. The board are responsible for this transition from the deep depression of the Johnson era and we should give credit where it is due.
Paul Commons
90
Posted 24/11/2015 at 19:46:48
Dave, it was apparent from last night's non-appearance of non-executive directors that the ship IS rudderless!
But with only three of that ilk – and one chronically sick – that's hardly surprising, is it ?
However, there are clubs with a roomful of businessmen who do no better than Everton – both on and off the pitch.
The simple truth is that, for all the bleating about commercial failings, without a new stadium these figures are as good as it gets – and without moneyed partners, we are stuck at Goodison. And, unless all the planners on here find some way to re-site a school and a whole street of houses, we are stuck with the Goodison of today.
But the team is doing OK so I'm just going to enjoy that aspect. After all, it was the team that attracted me to become an Evertonian in the first place!
Raymond Fox
91
Posted 24/11/2015 at 20:00:54
As it stands the club's in a time warp, our best chance of escaping is a new owner that has more money than sense, but they are a rare animal indeed.
If that doesn't come to pass, our first need is a successful winning team; our only chance of that happening is to keep hold of all our top players.
The problem is, even if we could keep them at Goodison, it's still a long shot that we will be on par with the likes of Man City, Arsenal, Man Utd.
The owners will need to stump up a further £100M on two or three stars for us to be a serious contender to the above! On past history, I'm getting into the realms of fantasy I'm afraid.
Another factor working against us is we can't afford the wages that the money clubs can wave under Stones, Lukaku, Barkley and Deulofeu's noses.
In short... I've stopped hoping for miracles.
Tony Marsh
92
Posted 24/11/2015 at 20:06:43
We missed out on the Golden Ticket when the muppets who run this club lied about Kings Dock and fucked the job up. No ifs, no buts... just fact.
We have never recovered from that fiasco and never will. Dream all we want but we ain't getting a new ground – not now, not ever.
Peter Murray
93
Posted 24/11/2015 at 20:27:03
So many of these posts make you despair.
We have always had the anti-Kenwright/anti-Board groups but the increasing anti Joe Anderson/Liverpool City Council diatribes, to put it mildly, miss the point.
I am talking particularly about ;
40 Tony Abrahams
47 Ged Simpson
57 Tony Abrahams
62 Gareth Scott (this one takes the biscuit – talking up neo-liberal economically minded Elstone against a mayor trying to protect the city against neo-liberal devastating cuts).
We have, in the section of the Lower Gwladys where I have been a season ticket holder for yonks, intelligent, passionate discussions/arguments. But there is a positivity about them.
The type of stuff on this thread is just sub-agenda negativity.
Jay Wood
94
Posted 24/11/2015 at 20:28:09
Graham @ 84
I suggest you read Bobby's post again before insisting "he cites Newcastle and Sunderland as examples of models of governance we should be following."
He does no such thing. Like me, he simply counters Frank's post by detailing how Sunderland grew their average gate from 20k in the final season at Roker Park to today's 43k with some seasons touching 47k with the move to the Stadium of Light.
Like me, he gives a reason for their woes which are not related to 'moving to a new stadium' syndrome' which was the basis of Frank's post Bobby and I contested. I quote Bobby verbatim:
"They (Sunderland) have been abysmally managed on the football side of things and that is the reason for their woes. They are awful."
Similarly, Bobby describes how Newcastle went from pathetic gates to regular full houses of 55k, thanks to the initiatives of the board in re-developing the ground. Again, to quote Bobby verbatim, "They (Newcastle) have had to do everything that they've done to BECOME Everton."
So yes, Graham, your posts mocking Bobby are absurd and your charge against him that "he cites Newcastle and Sunderland as examples of models of governance we should be following" is a complete invention on your part.
ps: I notice you did a body swerve to my own rebuttal of your post directed towards me. Funny that, from someone given to incessantly repeating a question to another poster, as you do again in this thread.
As previously mentioned, I enjoy your posts and ability to defend a contrarian position to popular beliefs on TW. I never took you to be someone who resorted to fabrication and distortion in a reasoned debate if your opinion was challenged, rather than concede you might be wrong. I might have to review that belief based on this curious sequence of posts by you today, Graham.
Colin Fitzpatrick
95
Posted 24/11/2015 at 20:51:30
Dave #83,
Remarkable indeed that the alleged partnership with LMH has conveniently evaporated leaving, apart from the council, a rather pathetic claim that the intrinsic charitable arm of the club is a key stakeholder in a major redevelopment project.
To then, as you point out, attack their only supposed partner, the council, was a grave error of judgement, to say the least; however, you know we both have had much experience in dealing with an organisation built on lies... lies which are necessary to conceal that the whole club is a lie from top to bottom.
The icing on the cake is that the Mayor of Liverpool has revealed that the project doesn't actually exist save in the minds of club employees tasked with the unenviable and undeliverable assignment of finding a solution to Everton's stadium problem. Two days a week, Elstone said he was working on WHP, didn't he? Laughable.
The escapade that Elstone presided over last night, let's not pretend Jon Woods was chairing the meeting, was nothing short of a PR disaster. No business was conducted, a director did not retire by rotation enabling the shareholders to, impotently I admit, register their approval or disapproval of the director's role, it was nothing but a faux game, nothing but a PR opportunity to present their fantasy world; they couldn't even get that right.
Elstone proved to everyone that he is totally out of his depth. The directors are worse, Woods does nothing, Earl does less and Kenwright, even when healthy, simply lives in a fantasy world in which he's happy to play at being a Premier League Chairman.
I had my fill of them all over Richard Knights' disgraceful treatment, I don't know how you keep it up; Evertonian's don't deserve you.
Tom R Owen
97
Posted 24/11/2015 at 21:00:41
Graham (#71),
I think you will find it's the same chairman who has employed the sleeze-bag CEO we all admire...
Helen Mallon
98
Posted 24/11/2015 at 22:12:05
Graham Mockford, that's not Bobby's point.
What he is saying is we would fill a bigger newer stadium, even if we were on the same level as the teams you mention, we need an improved stadium.
Gordon Crawford
99
Posted 24/11/2015 at 23:34:29
Lol Duncan (76) that's the iPhone's predictive text for you, (American spelling and all that crap).

Tony Abrahams
100
Posted 25/11/2015 at 11:53:42
Peter, my second post was in jest towards Joe Anderson and Evertonians, in general, but my first post at 41, was stating a fact.
Sorry I can't always be positive, but when Joe Anderson called WHP, a run down park, in the north end of Liverpool, did you want me to agree with him?
I just think it won't be an easy job, getting planning permission so easily, even if something can be sorted between Everton and the council.
I happen to think it's the only genuine park, for miles around and the local residents will put up one hell of a fight to save it. Something that might just suit the present regime, because although I'd love to be positive, I'm not sure even a divi could be with the position our great club finds itself in once again.
Tony Abrahams
101
Posted 25/11/2015 at 12:01:44
Sorry Peter, I've just read my posts again, and I have to agree with you that it was sub agenda negativity. I just have a memory like an elephant for some of the shite we have been told down the years, and the real truth would be nice just for once.
Incidentally though, Bill, did say that publicly when he played a very clever game in hocking Everton. The fact that he has never gone through with it, must be sub agenda positivity!
Brian Harrison
102
Posted 25/11/2015 at 12:52:30
This is our third attempt at moving to a new ground, and WHP looks as doomed as the previous two. I think for Elstone to stand up and lay the blame at LCC is a complete abdication of responsibility. The same problem that was there over other ground moves is still the main reason we are still no nearer to having a new stadium.
Why Elstone and the board just don't admit that they either can't or won't raise the capital for the project to go ahead? Do they seriously want us to believe that it is now the responsibility of the LCC to fund our new ground? They have already in my estimation over-stepped the mark in buying Finch Farm and renting it back to us at a knock down rate.
So, never mind the new stadium debate, I would like Anderson to tell me were he had a mandate from the electorate to bankroll Everton's training ground?
Gordon Crawford
103
Posted 25/11/2015 at 13:25:54
The club seriously need to show some ambition.
I would love to see the club spending big money on the team, and really pushing for Champions League football, than being in a new 50,000 capacity stadium with a mid-table team, after selling our best players.
Bobby Thomas
104
Posted 25/11/2015 at 15:06:57
Graham Mockford
Following my point regarding the stadium issue at #67, in response to Franks post directly preceding it, your asked me this at #68:
"Bobby
Straight question. Who's current position would you rather be in currently as a football supporter?
Everton, Newcastle or Sunderland?"
Your question was a preposterous, agenda-driven attempt to swerve the substance of the stadium issue. You chose to ignore the points I had made. Indeed you have referred to them subsequently, dismissively and childishly at #71 as "telling us how fantastic Sunderland and Newcastle had done".
Well, that's because when it comes down to rebuilding their clubs' infrastructure, massively increasing their fan bases, building 21st Century facilities that are key to attracting future investment and adding value to the clubs, generating revenue and providing home and away supporters with facilities that aren't from the '50s and '60s, they have done fantastically.
Here is a link to Newcatle Utd's average historical attendance. And here is Sunderland's.
You dismiss the fact these, and other clubs, have developed their infrastructure with ambitious projects that have motivated, re-energised and grown their fan bases during the biggest boom football has ever known. Both Sunderland and Newcastle have increased their average gates by 2.5 times. Both clubs have won nothing during this period and have both dropped out of the Premier League and returned in the last decade. They also had no track record of success prior to undertaking their development plans. Look at the league positions.
Your main reason for dismissing these facts is that "not one of them generates more turnover or match day revenue than we do". You also qualified this by stating "neither are significantly outperforming us in terms of turnover or matchday revenue."
This misses the point entirely. It's completely irrelevant. These clubs, in terms of turnover and matchday revenue, are our direct peers, as our West Ham, for now. As I said, Newcastle and Sunderland have had to achieve everything they've accomplished to become us.
We, on the other hand, have done nothing. Zero. Zilch. And that is what we need to focus on. At Goodison, matchday revenue is essentially capped. We cannot grow that important aspect of our income, especially important when everyone is receiving huge, broadly similar levels of TV revenue. It is also now proving to be an issue that is a direct handicap to investment in or selling the club. It is also, increasingly becoming a factor in not attending the match. £45 to see 70% of the pitch? I can understand someone swerving it. Yet we still sell out 12 of 19 league games.
This city is football mad. Football is still booming. We sell out away everywhere and anywhere. We've done nothing for 25 years. After all this time, can you actually imagine the good will an inventive, competent, achievable, deliverable plan for redevelopment or a new stadium would generate?
We have offered nothing to get behind, slapping our fans in the face, failing to provide an adrenaline shot to the existing fanbase and expand it. We exploit the goodwill of our support. We don't embrace it. We propose undeliverable schemes that tease of a better future (Kings Dock), split the fanbase and waste millions of pounds (Destination Kirkby), that we can't get done and then bullshit about it (Park End), or that I am now beginning to believe we have never been serious about in the first place (WHP).
This club has massive untapped potential. It's there. If we built a 50k stadium, we would fill it. If we redeveloped bigger and better, we would fill it. The latter isn't an option as that involved spending money. In the biggest football boom ever known, when everyone else has either redeveloped (some more than once) or built new stadia, and after 16 years of total bullshit, smoke and mirrors and amateur night, I don't think it is beyond the pale to ask "Where is the plan?"
It's time to acknowledge there isn't one. This lot aren't even serious. And no amount of agenda-driven, selective drivel from you can mask that, Graham.

Christine Foster
105
Posted 25/11/2015 at 16:27:55
Bobby, well said. Sadly there is a two-tier approach to supporting the team and supporting the club. Before DK, it was singular, we support our club, warts and all. Post-DK, when the truth was outed, lies seen for what they were, the fanbase felt conned. Still do.
Why is this? Well, it's emotional; it's personal. To everyone of us, Everton is a love affair that in many cases started on conception one Saturday night after a win, we were made you see.. so Everton was probably the reason many of us were conceived...
Laugh, yes, but I bet you there are an awful lot of kids born as a result of a thrashing of LFC by the boys in blue. We live a life with a love affair running parallel to any partner we may find... it lasts until our final breath.
So the point? To many of us, it's serious, it's part of us; to lie to us, to attempt to con us? Well, you cheated on us, you lied to us, the trust is gone. That's what has happened to the so-called custodians of our club.
We support the team, love them with a passion, but despise the business called Everton FC because it continues to lie, continues to mock us, continues to stretch credibility beyond the realms of reality. They blame others before being honest with us and themselves.
We no longer know the truth anymore, we no longer believe today's version.
Of course, the team is also dependent on successful business; without the team, they don't have a business. So its success is vital but a lack of commitment, the inability to commercially attract investment, buyers or negotiate a stadium deal, a lack of a coherent future business plan... the list goes on.
Stadium proposals have never been concrete since the Park End was done. Every single one of them since the Kings Dock fiasco, the search for other dismissed sites: DK, WHP Every single proposal has been thwarted by a club that promotes 'cannot do', rather than 'can do', such is the lack of intent.
There is an old saying, "Where there is a will there is a way" – there never has been a will. There will never be the will until a new owner wants to do it.

Graham Mockford
106
Posted 25/11/2015 at 17:02:09
Bobby #99
I certainly seemed to have yanked your chain such is the frothing indignation of your post.
Let me clarify something as it may help. I do not defend the record of this administration in regard to improving and developing our playing facilities. It is quite frankly indefensible. Missed opportunities, blind alleys and still at square one it appears.
However, the point I was making is that, even with a 50,000-seat stadium, it would not necessarily transform the fortunes of the club in the way many imagine. I don't doubt we would be close to filling it but I suspect we would have to continue the policy of discounting for families and children. The main reason our attendances have been up but actual cash through the gate has decreased in the last few years.
I don't believe there is an investment proposal that would fly that involves the Club financing a development themselves through existing revenues and balance sheet. And even if I was proved wrong, I'm sure it would have implications on funds to continue strengthening the squad.
Sunderland and Newcastle have developed their stadium but in terms of football achievement it counts for absolutely nought, or, to quote your good self: 'Zero, Zilch'. They are both in seriously poor shape, treading water and in danger of relegation. So, in reality, 10 years on or so, what has this building of 'infrastructure' actually achieved? Well they both have significantly more debt and weaker playing squads than we do.
The best examples of stadium developments for me are Stoke and Swansea who have cemented a place in the PL as a result; however, cementing a place in the PL is way below our aspirations, having been in the top tier for over 60 years.
So yes, I want to see improved matchday facilities... but, if that is at the expense of the playing squad, then that's not a trade-off I would choose. That's why we need creative solutions to funding which I fear are beyond the capabilities of Elstone.
Steve Carse
107
Posted 25/11/2015 at 17:36:00
Graham, hasn't the recent decline in gate money been explained as purely a consequence of recategorisation of some income streams?
Graham Mockford
108
Posted 25/11/2015 at 17:50:51
Steve,
You are correct in the most recent accounts there has been a re categorisation.
However, I was referring to the few years prior to this were attendances have increased whilst revenues have decreased.
Brian Denton
109
Posted 25/11/2015 at 18:20:22
Christine, just to test your theory, I had a look at Everton's results for December 1957, when I would have been conceived.
Two standout results: lost 6-2 at Man City, won 5-1 at Bolton. Given the up and down (oo-err missus) nature of my relationship with Everton FC, my money is on the first of those results....
Graham Mockford
110
Posted 25/11/2015 at 19:02:20
Brian
Good game. I just checked myself and we lost 4-2 to West Brom.
I then checked my own three kids. Two defeats to Forest and one to Norwich.
However, I have a different theory. I never watch MotD when we lose so maybe I was otherwise engaged.

Christine Foster
111
Posted 25/11/2015 at 21:07:56
Brian, Graham, I am amazed... Either you have incredible memories or they were such rare events they stick out in your memory!
Whilst such a theory is an undoubted stretch of the imagination, it would explain why Evertonians are born, not manufactured!
You could always say that although Everton actually lost that day, you needed consolation, but I wouldn't admit that to your better half... Not unless you wanted to end a bloodline. :-)
Tony Abrahams
112
Posted 25/11/2015 at 21:38:02
Dave???
Brian Denton
114
Posted 25/11/2015 at 22:53:29
Christine, even I wouldn't claim to remember the time when I was minus nine months old! December 1957 would be the date that my mum and dad did the (aaah gross!) deed.
I got the info from the wonderful Evertonresults.com website.
However my first child was conceived during one of our Championship seasons - I think I'll be looking at great grandchildren for a repeat. Alas!
Jim Hardin
115
Posted 26/11/2015 at 05:58:04
One concern about a new buyer for the club that bothers me relates to a question about club ownership in the English FA. Can a club be moved from one city to another?
With one or two available stadiums (White Hart Lane and Stamford Bridge when Chelsea get relegated and move to the Russian Premier League), possibly in or around the outskirts of London, couldn't a buyer work out a stadium deal and then buy Everton and move to London?
After all, the value of the TV contract is what drives the bus for the teams rather than historical loyalty to a geographic region. This plus the player values and the Everton name will follow with the club. The old grounds can be sold for some other development such as a school for teaching Liverpool FC fans manners or some such lofty endeavor.
The stadium might not sell out initially but with the TV revenue and selling a player or two the lost revenue could be made up for. Granted it is probable that aspirations for top 4 or even 7 finishes might have to be shelved for a while. In the long run a new ticket-buying fanbase would develop, the TV money will increase, and the club could regain its form and push for the top in the city most likely to attract tourists and investors.
Only asking because I worry about a buyer trying to do just this scenario. I understand that the question is simplistic and possibly naive but what, aside from historical references, are the ties that bind, so to speak, Everton to Liverpool?
Could our current ownership, without selling outright, decide Liverpool as the site for attracting a new investor or building a new stadium is a no-go and just bring on a London based financial sugardaddy and move?
Matt Traynor
116
Posted 26/11/2015 at 06:39:09
Jim (#109), the short answer is No. The only case of it happening was the moving of Wimbledon to Milton Keynes, but if you look at the reasoning around it, I think the Football League's granting of it has been seen as an error, and there have been moves to see the "honours" board for MK Dons wiped (so that Wimbledon's 1988 FA Cup win isn't shown) – it may have happened, never followed up on it.
I lived in London when the move was finally announced – I worked with Wombles Season Ticket holders. They were livid, but there weren't enough voices, and an unsupportive Borough Council.
Plus, Milton Keynes had been trying to get a football club for donkeys years. (I actually met the guy who designed Milton Keynes in 1995, and asked him why he spoke as if he was proud of it. He told me his original plans were watered down – and they were when you saw them – but he was still proud of his role in the "bigger vision".) WImbledon FC had been associated with relocation out of London several times. Even to Dublin.
Anyway, it was an unusual set of circumstances that basically saw an "unwanted" club move to somewhere it was wanted. I think even the most ardent LFC fan would be opposed to Everton relocating down south (even if it would be an easier away fixture to get to for most of them).
However, let's just say it was allowed to happen by the authorities, and our new owner wanted it to, then yes I believe it would happen.
The only way our fans would unify and oppose it is if it turned out he was a former LFC season ticket holder...
Tony Abrahams
117
Posted 26/11/2015 at 09:24:01
Kenwright used to go on the Koop, Matt!
Dave Abrahams
118
Posted 26/11/2015 at 11:36:04
Tony ( 107) came down one morning and found you on the step, you looked okay so we kept you and the family allowance came in handy.
Jim Hardin
119
Posted 26/11/2015 at 17:22:33
Thank you for the information Mat. It was because of the MK Dons saga that I wondered about it and whether rules were put in place after.
Add Your Comments
In order to post a comment, you need to be logged in as a registered user of the site.
Or Sign up as a ToffeeWeb Member — it's free, takes just a few minutes and will allow you to post your comments on articles and Talking Points submissions across the site.
© ToffeeWeb