Lukaku: I need to keep working
by

34 Comments [Jump to last]
| 09/12/2015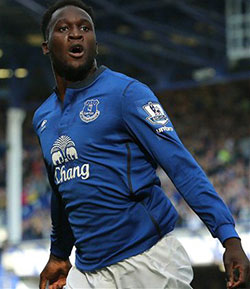 Everton's goal machine might have attained the one-in-two goal ratio that was his target when he established himself in the Premier League but he has no intentions of resting on his laurels.
Romelu Lukaku struck his 50th goal in 100 games for Everton against Crystal Palace on Monday – on another night he might have had a hat-trick – a milestone that neatly illustrates his record of a goal every other game for the Blues.
Such is his ambition and self-confidence that he seemed almost casual when talking about reaching the half-centiry of goals in an Everton jersey and he says that he intends to keep getting better.
"To be honest that [scoring ratio] is the standard I've set myself since I was 16," Lukaku said after the game. "I always had one out of two so you always put your standard there but if you can do better you have to do better.
"I am privileged to be in this position but I need to keep working, working, keeping my head down and staying focused on the next game."
Though he was twice denied spectacular goals by the woodwork against Palace, Lukaku's equaliser rescued a point for Everton when it looked as though they might succumb to the problematic Londoners for a third season running.
The Belgian was noticeably disappointed not to get the three points but he expressed his belief that Roberto Martinez's side is becoming a force to be reckoned with.
"I think if we had won the game we would have made a big step and sent out a big statement in the league because we would have gotten closer to the top six," Lukaku continued.
"We have mixed emotions because I think we played one of our best games offensively and defensively but it is just that one action - you have to be focused for 90 minutes and that is something we all have to learn.
"I think we can score from open play whenever we want and that means something, we are a top side in the making but it is a process you have to go through as a young player, you know you have to improve and learn. We have a young team but everyone put in a great shift and we need to keep going."
---
Reader Comments (34)
Note: the following content is not moderated or vetted by the site owners at the time of submission. Comments are the responsibility of the poster. Disclaimer
Tony Abrahams
1
Posted 09/12/2015 at 07:43:42
Working, working, keeping my head down and staying focused on the next game. When you have the talent, then this is alls you have to do.
Fast becoming a leader, the way he was screaming at Howard the other night, when he never kicked it quickly out of his hands in the last minute, was just epitomising the crowds frustration as well.
The harder you work, the better you will become. Keep it going please, Big Man!
Ernie Baywood
2
Posted 09/12/2015 at 08:09:08
A bit off topic but Wikipedia lists Tony Cottee as having 72 goals for us. I could have sworn he bagged 99 in 199 games.
Ian Jones
3
Posted 09/12/2015 at 08:20:21
I hold my hands up as one who has been critical of him in the past. Still not totally convinced yet. :) However, giving him a partner up front or around him and the right ball and it usually ends up in the net (or hit against the bar or post!), so it's very difficult to fault him this year.
There will always be room for improvement but he seems to be getting better and is growing on me. Very much a confidence player. Last season he started with an injury and the team was poor but 50 goals in 100 is excellent. Can't argue with that stat.
Worrying thing is that, including his loan spell, this is his third season with us so if he is ambitious he will probably want to move on. At the end of last season I would have gladly watched him go for a nice price. And then seen him score plenty elsewhere. This season, I wouldn't be so keen to see him leave.
Graham Mockford
4
Posted 09/12/2015 at 08:38:09
Ernie,
He scored 72 league goals. The remainder were in cup competitions 4 FA Cup, 11 League Cup and 12 in the Simod and ZDS cups.
Laurie Hartley
5
Posted 09/12/2015 at 08:50:28
I also have been a critic but as posted on another thread I am happy to eat humble pie if served up by an Everton player. Can I have a spoon please Romelu.
I think this lad is coming of age as a footballer and as Tony # 1 said is starting to show leadership qualities.
Big strong leader at centre forward, big strong leader at centre half, and big strong leader in goal, and you have a time tested recipe for success.
I wonder if Robles has it in him - he is certainly big enough.
One thing I do know is that this group of youngsters like playing together and that could be the key to keeping them next season.
If we can I think we are on the verge of something special based on last night and our more recent performances.
I would happily eat a serve of the humble pie served by our present manager if he pulls it off.
Les Martin
6
Posted 09/12/2015 at 09:02:41
That last paragraph shows the confidence of the team.
It will be interesting in January if El Bob dips his toe in, as the january rumours have died due to our recent improved form
Alexander O'Brien
7
Posted 09/12/2015 at 09:05:53
To think this lad was getting stick left, right and centre from our own supporters only last season. Just goes to show what quality service does to a genuine goal scorer. Keep it going Rom!
Paul Kelly
8
Posted 09/12/2015 at 09:06:15
Got to give it to the lad, he's bang on at the moment and not getting complacent either, what more could you ask for?
But let's not forget the little Spaniard on the wing, equally as important to this team, we're so much better as a team with him in it and he's bringing the best out of the big man up top IMO, just hope we can keep 'em all.
Mark Andersson
9
Posted 09/12/2015 at 09:17:50
He has improved his first touch a bit, but still he knows he needs to improve a lot more.
It was also good to see how disappointed he was at the team not winning the match.
Really can't see him being here next season if he keeps making progress. A profit to be made I just hope Martinez has someone lined up to replace him, Stones and Del
Sam Hoare
10
Posted 09/12/2015 at 09:31:00
Looking like the best striker in the league at the moment in the absence of Aguero.
The sad thing is how long will he and the rest of the fab four stay? Not that long if we chug along in mid table.
Pretty clear that we now have the most exciting team that we have had in a long time and one with tremendous potential. Although the Sky money and some hefty contracts means we have a bit more power than we did say 5 years ago nonetheless few of the players will be here in 2 seasons time if we do not win trophies and/or get into Europe.
Fair to say that the next 5 months is a golden opportunity to break the glass ceiling and secure the stability of this team for the near future. Much rests on us moving to this next level but league results like our last 2 are harming us and dare I say that, just as the likes of Barkley and Lukaku have stepped up a level this season, so must our manager in showing the tactical nous and decisiveness to turn these draws into wins.
John Crawley
11
Posted 09/12/2015 at 09:51:35
Sam, I agree completely. The league this season is wide open and our inability to string wins together is costing us as is Martinez's failure to address the most important position on the pitch – the goalkeeper.
We had money in the summer and he should have sorted it out. Until that happens, I don't believe we will get top 4, which will be a waste because the team is most probably playing the best attacking football in the league.
Brin Williams
12
Posted 09/12/2015 at 10:02:01
Alex 6 - 'To think this lad was getting stick left, right and centre from our own supporters only last season.'
Giving stick by our own supporters seems par for the course – doesn't it?
Thinking back a short while ago –Naismith was in that category and then went on to near 'legend' status in a very short time.
Nil satis is taken very literally at Goodison and Zero to Hero something we have become accustomed to.
Michael Connelly
13
Posted 09/12/2015 at 10:16:13
I would give Big Dunc a lot of credit for the improvement in his play. As highlighted by Bellamy and Carragher on Monday after the game, he is much better at holding defenders off this season; Last season he was getting knocked off the ball far too easily for someone of his size.
Sandra Bowen
14
Posted 09/12/2015 at 10:27:49
As many have said on here before, a real dominant Richard Gough/Dave Watson type of centre half is what is needed more than anything in my opinion. We haven't had a decent header of the ball at the back for years, Lescott came close but we don't half miss that no-nonsense leader.
Funes Mori has done pretty well so far in the short space of time he's been here but we're still far too easily out muscled defensively. Jags will improve us but I'd love to see a defensive monster alongside the majestic Stones.
Oh, and of course, a new keeper.
Trevor Peers
15
Posted 09/12/2015 at 10:42:37
He seems to have a genuine love for the blues, and all we can do is enjoy it while he's happy to stay.
Undoubtedly he will have dips in form, but how foolish and destructive it is to criticise him when that happens.
Instead, always encourage a player with his huge ability to score goals, and the rewards will always come.
Paul Commons
16
Posted 09/12/2015 at 10:44:58
John, I think you are wrong to vest all our defensive failings on Howard. Although well short of his own standard of say three years ago, the American legend has a poorly drilled defence in front of him.
For all the acclamation of his ball playing skills, Stones is well short of being a dominating centre back and his positioning and heading skills leave much to be desired. (I love the lad's style; the sooner he is moved forward to occupy the Barry role, the better.)
Funes Mori, on the other hand, is no better or worse than BBC's South American observer warned us and I would now like to see Galloway utilised in his natural centre-back position.
Reverting to the topic of Romelu, I suspect he will soon get fed up of trying to score enough goals to redeem our defenders and will be irritating for a move to a glamour club.
Colin Malone
17
Posted 09/12/2015 at 11:52:54
I still find Rom frustrating. He never wins long-ball headers outside the box. Naismith has won more. In his defence, he ain't an out-and-out centre-forward. His asset is running at defenders.
How many goals against top sides? None. Does he compliment balls coming into the penalty area? No.

When Geri has the ball Rom and Ross – who is far too deep when attacking in the penalty box – should know where the ball is going so they can drag defenders one way then attack the incoming cross, whether it be a low or high cross. In my opinion, Rom is a Number 10 alongside a good strong centre-forward.
Paul Jeronovich
18
Posted 09/12/2015 at 14:52:49
Best striker we have had in years. Love to watch him and hope we can keep hold of him.
Aaron Underwood
19
Posted 09/12/2015 at 15:34:16
I think the fact that fan favourite Gerry has been playing a blinder this season has detracted from the fact that we, Everton Football Club, have what is in my opinion the most dangerous striker in the Premier League at the moment – second top goal scorer, and doesn't look like stopping.

He's starting to show strength, leadership, and consistency.
Harold Matthews
20
Posted 09/12/2015 at 16:56:02
He's always been a goal scorer but needed to up his skills for the Premier League and, with the help of Big Dunc, that's exactly what he's done. It's just a pity he doesn't defend set pieces like Drogba or even Jelavic.
Is this his idea or is he following orders? The biggest man in the squad standing on the halfway line while his smaller mates try to defend a corner against giant opposition players. What's that all about? Don't give me the counter-attack theory. It won't wash.
When he did attempt to defend set-pieces, he didn't show much enthusiasm for the job but I won't state my whys or wherefores because I'm not interested in debating the issue. If I was an Everton defender I might want to question his continual remarks about staying focussed because they will know he's not referring to himself. Not surprised certain experienced players are always reluctant to pat him on the back. 22-year-olds should be seen and not heard.
Paul Andrews
22
Posted 09/12/2015 at 17:15:02
Lukaku will develop into one of the best centre forwards in Europe.

Looking at the prices top goal scorers are sold for, £28 million was a steal.
Joseph Terrence
23
Posted 09/12/2015 at 18:18:42
I've been very critical of Rom in the past, but boy has he improved. His uptick in form and work-rate seems to have coincided with Geri becoming a fixture in the starting XI.
That being said, the strides he has made especially in his hold-up and link-up play have been phenomenal. He has quickly become a complete striker, and, dare I say it, one of the best in the game at that.
As others have said, I'm very happy to eat some humble pie. Now let's just hope we can keep hold of him in the summer because there will be large bids coming in.
Des Farren
24
Posted 09/12/2015 at 18:36:24
"It won't wash" – I'm not sure what that means, Harold.
Can I ask do you expect a centre-forward who is 6'-3" tall and 15 stone in weight to continue scoring at his present rate while simultaneously tracking back to defend every corner for a period of 90/95 mins?
He also does put himself about for those 90 mins despite claims on here about his perceived laziness. It is, as you know a very fast game nowadays, so I'm not sure if it is fair to expect this from a man of his size.
James Stewart
25
Posted 09/12/2015 at 18:43:52
Had my doubts previously but not anymore; he is on the road to being truly special. Evidence of this was in The Mail recently.
Drogba at 22: 59 games, 11 goals.
Lukaku at 22: 251 games, 108 goals.
Best striker in the league this season by far and I think it will be a real struggle to keep him. I do agree with Harold, though: Why doesn't he help out defending set plays?! Drogba was absolute class in both boxes.
Brent Stephens
26
Posted 09/12/2015 at 19:02:21
Lukaku is better this season than Vardy in terms of goals plus assists. I just love the way he's developing his abilities in terms of ball control and lay-off (just shows that at his age you're not too old to develop those skills further).
Frank Crewe
27
Posted 09/12/2015 at 19:25:40
@Paul 21
When you consider that Man U paid £36,000,000 for Martial he certainly was a steal. Not to mention a much better striker.
It should be remembered of course that the form of Barkley, Kone ans especially Deulofeu hasn't done him any harm either. I hope he'll keep that in mind when the bids start coming in.
Paul Andrews
28
Posted 09/12/2015 at 21:41:43
Nail on the head there, Frank. We don't want to sell any of them but, when his present rate of development gathers pace, what fee would Deulofeu bring?

Given we paid £4 million, he is another steal.
Steve Jenkins
29
Posted 09/12/2015 at 22:03:00
He's on fire at the minute and that's in no small part to Deulofeu and his service, and Kone linking up and giving him support – where he was the lone ranger last season.
He does deserves full credit for his turn around since last year. Seems all around improved player, particularly his touch, is still a fair way off fulfilling his potential.
Jim Jennings
30
Posted 09/12/2015 at 23:58:29
"When he did attempt to defend set-pieces he didn't show much enthusiasm for the job but I won't state my whys or wherefores because I'm not interested in debating the issue"
"Not surprised certain experienced players are always reluctant to pat him on the back. 22-year-olds should be seen and not heard."
Two of the most bizarre statements I've read on these pages, to which I would ask:
Why bother making such a cryptic affirmation and then refuse to back it up because you don't want to debate it?
At what age should a footballer be allowed to speak up and not simply be "seen and not heard"?
Jack Okell
31
Posted 10/12/2015 at 00:42:33
Paul Commons - Funes Mori has been a more than adequate replacement for Jags. I've been thoroughly impressed at his transition into the prem, which is a real step up from the Argentine league.
Paul Andrews
32
Posted 10/12/2015 at 06:22:38
Steve,
Good shout mate. As in all walks of life, a young man learning his trade will always improve with experience.
His touch is vastly improved. I have watched him closely in that aspect; you notice the improvement in touch, aggression and pace even more after he scores a goal.
Ian Jones
33
Posted 10/12/2015 at 07:47:18
Not wanting to bash Rom as I warming to him but Colin at 17 makes a reasonable point about his goals against top sides.
Only one scored this year against (hmm) top side Liverpool. None last year as far as I can see. However, 6 the year before in his loan spell. Top sides included Man City and Utd, Arsenal, Chelsea.
Whilst at West Brom he bagged a few as well.
My short survey doesn't include matching when he was out injured so perhaps not a fair analysis and possibly renders my analysis pointless.
However, it could be that this year, Roberto has asked Rom not to score goals against these top teams to make them think he is not that good and not worth buying!

Steve Jenkins
34
Posted 11/12/2015 at 11:30:47
Absolutely Paul, there's no questioning his improvement this season.
Lewis Montgomery
35
Posted 11/12/2015 at 13:45:57
Ian
"It could be that this year, Roberto has asked Rom not to score goals against these top teams to make them think he is not that good and not worth buying!"
I'm a huge admirer of Rom's ability and potential. As others have said, though, I hope he's smart enough to realise that his brilliant form right now is partly down to 3-4 other players in the team playing their best football ever / in ages. What Kone's resurgence has done for the team shouldn't be overlooked.
Add Your Comments
In order to post a comment, you need to be logged in as a registered user of the site.
Or Sign up as a ToffeeWeb Member — it's free, takes just a few minutes and will allow you to post your comments on articles and Talking Points submissions across the site.
© ToffeeWeb