Everton vs Leicester City
by

86 Comments [Jump to last]
| 18/12/2015
Match Preview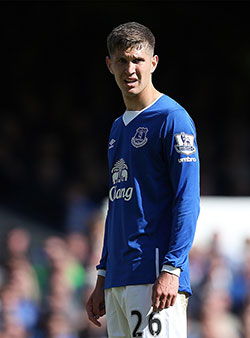 John Stones was declared to be in "perfect condition" by Roberto Martinez despite the knocks he sustained at Norwich
When the 2015-16 fixture list was released back in June, Everton vs Leicester City was regarded as another run-of-the-mill encounter and, given the Foxes' close brush with relegation last season, probably seen as one of those games that the Toffees should win.
16 matches into the current campaign and it's one of the most intriguing matches of the season so far, bringing together the Premier League's two most productive attacking partnerships and its two leading goalscorers.
Leicester – quite astoundingly – come into the weekend as League leaders and in Jamie Vardy, a fairytle story for the ages himself, and Riyad Mahrez they have a duo that has been responsible for more top flight goals than any other this season. Vardy recently set the record a Premier League of 11 consecutive games with a goal and currently has 15 to his name while his Egyptian Algerian "partner in crime" has 11.
Sandwiched in between on 12 goals them is Romelu Lukaku who is on a run of scoring in six straight League games, half of them thanks to the other side of Roberto Martinez's own dynamic double-act, Gerard Deulofeu. The Spanish wizard shares second place in the table of assists thus far with Mahrez, adding to what has all the ingredients to be a mouth-watering exhibition of attacking football.
If that wasn't enough, this will be a contest featuring two of the least secure defences in the top half of the division. The only team to have shipped more goals so far than the Blues' 21 is Leicester who have conceded 22, a testament to the never-say-die attitude that Claudio Ranieri, a man widely derided as a poor fit at the King Power Stadium when he was appointed as successor to Nigel Pearson over the summer, has perpetuated among his charges.
As Everton found out last season, the Foxes often didn't know they were beaten even back then. They came from behind in both games and actually led at Goodison Park back in February until Matthew Upson's own goal two minutes from time ensured that the two meetings between the clubs in 2014-15 would finish 2-2. In that respect, they're probably the last team you want Everton to face in view of the last three Premier League matches where Martinez's men dropped valuable points on each occasion having easily been the better side and held the lead.
Indeed, there so much to admire about the mentality that Leicester have embodied so far, one that renders hollow any excuses that Everton might come up with for not having matched their achievements so far this term. Reality may well catch up with Ranieri's team sooner or later but they have already demonstrated the power of positivity, determination and abandoning all notion of an inferiority complex against the so-called big boys who were supposed to have a lock on the Champions League places this season.
Like the Toffees they have beaten Chelsea at home but unlike their hosts this weekend they have also registered wins over teams in the top half of the table and ground out important away wins over the likes of Swansea and Norwich. That has been the 12-point difference between the two clubs coming into Saturday's game.
The hope, though, is that Leicester's lofty position coming into this one might shift how Everton's players approach the game psychologically and that they can feed off a motivation to be the team that shoots the flying Foxes down and brings them back to earth. Leicester will have had two days' less rest than the Blues, having featured in the Monday night game that proved to be Jose Mourinho's last at Stamford Bridge, and they will be without central defensive linchpin Robert Huth who is suspended. They also have a doubt in Danny Drinkwater who would represent another disruption to the flow that has made them the unlikely Premier League pace-setters.
Martinez, meanwhile, should have the same squad available as the last two League games. James McCarthy was set to undergo another late fitness test to see if he is over the hip problem he picked up at Bournemouth but with Tom Cleverley filling his role in impressive fashion, there is no need to rush the Irishman back so it would not be a surprise if he isn't selected.
Importantly, John Stones has been declared to be in "perfect condition" despite falling awkwardly on his ankle in the warm-up at Norwich last weekend and then requiring treatment during the match after colliding heavily with advertising hoardings. The defender played the full 90 minutes at Carrow Road, however, and appears to have shown no ill-effects since which will be hugely important for the Blues' prospects.
The fascinating dimension to this fixture is that both teams can be explosive on the counter-attack, with Leicester particularly reliant on forfeiting possession and drawing opponents onto them with the intention of hitting them on the break. Whether Martinez's preference for keeping the ball will play into Ranieri's hands in that respect or whether Everton's superiority on paper will give them edge remains to be seen. Of course, it could come down to which of two fallible defences performs better on the day or which of the hot attacking duos wins out. Whatever happens, let's hope the "Moss factor" doesn't influence the outcome – the Blues are on a run of three successive defeats with the headmaster officiating and have won just one of their last six with him as referee.
Kick-off: 3pm
Referee: Jonathan Moss
Predicted line-up: Howard, Coleman, Stones, Funes Mori, Baines, Barry, Cleverley, Barkley, Deulofeu, Kone, Lukaku
Full coverage: ToffeeWeb Match Report
---
Reader Comments (86)
Note: the following content is not moderated or vetted by the site owners at the time of submission. Comments are the responsibility of the poster. Disclaimer
Jim Bennings
1
Posted 18/12/2015 at 08:07:26
It's said before every game every week, but this really is a must win match.
The last three games have really left us feeling like we have been nursing defeats, three draws from matches where throughout most, Palace the entire game and the first half at Norwich and Bournemouth particularly, we have been head and shoulders ahead of our opponents but we have had a combination of bad finishing, bad luck and bad circus act defending.
We must start winning matches; we are getting nowhere drawing every week. Really we should have been celebrating 9 points from the last three games instead of three, this will define whether our ambitions of a top 4/5 challenge are serious or merely pie in the sky.
Tomorrow we can make a huge statement by beating the high flying league leaders, whatever people think of Leicester being top, they are there on merit, they have been the outstanding team of the season, maybe the entire calendar year of 2015.
It will be interesting to see how we cope with the movement of Mahrez and Vardy, they have been every team's nightmare and our defence notoriously struggles with good movement.
Tony Abrahams
2
Posted 18/12/2015 at 08:30:12
I agree, Jim, Leicester City, have been the stand-out team this calendar year. Good honest team, that leave nothing off the pitch, I've been really looking forward to this game since they beat Chelsea on Monday night.
A good win will set us up nicely for the Xmas period, and I expect nothing less.
Mark Daley
3
Posted 18/12/2015 at 08:34:53
"Everton's superiority on paper"? What paper is this?
Our Phenomenal Manager will say we were dominant for long periods, had bad luck and just need a little more ruthlessness blah blah, but the reality is we are likely to get stuffed. I don't care what their name is, they are the league leaders.
Andy Meighan
4
Posted 18/12/2015 at 08:53:06
Mark (3), I don't think we'll get stuffed but I've no doubt it'll be a tough game and I think it'd be foolish to think Leicester are a 2-man team. They're where they are for a reason: they've got a magnificent team spirit and look like they're going to score every time they break.
That said, we do look good going forward ourselves and might (with better finishing and a bit more luck) have scored a lot more than we have. It's the defence that worries me oh and corners we need our midfielders tracking back tomorrow because these have proved how quick they are on the break.
We left ourselves vulnerable a couple of times against Palace when chasing a winner so that worries me. I've said it before but I think this has got draw written all over it: 1-1 or 2-2. Hope I'm wrong!
Tony Abrahams
5
Posted 18/12/2015 at 09:05:28
I honestly think we are past that period now, Mark. I think the pretext now is "you make your own luck".
With keeping Howard in goal, maybe he's not trying hard enough to improve us defensively? I just hope our forwards are a lot more ruthless tomorrow when they get a chance.
Andrew Clare
6
Posted 18/12/2015 at 09:27:28
Does anybody know the last time we defeated the league leaders in any given season? It would be interesting to know.
I think we will be surprised by how good Leicester are. Teams who top the table are normally a different 'kettle of fish' to the rest. They will be supremely confident. We mustn't underestimate them.
Raymond Fox
7
Posted 18/12/2015 at 09:30:36
I think we will again create plenty of chances, but probably so will they.
I haven't seen them play a full match, what's their usual tactics, counter attack or going at the opposition from the start?
Eddie Dunn
8
Posted 18/12/2015 at 09:35:19
The monster Huth missing will give us the edge, but it will be a tough encounter; I will take us to win 2-1.
This really is the pivotal game of the season for us. Win it, and it sets us up for Christmas, with the league-leaders scalp; lose it, and Lukaku's hopes of a top four finish will look as far away as ever.
We really do need to put a marker down with this game, and announce to the rest of the league, that we mean business.
Jim Bennings
9
Posted 18/12/2015 at 09:44:07
Andrew,
I've seen quite a bit of Leicester this season and I won't be surprised by how good a team they are; they have played some fantastic football at a blistering high tempo and I think a lot of people just think of. "Leicester, oh they are a small team" but they are a damn effective team and I've always said, a team that works it's socks off together is almost worth a one goal start.
It will be arguably our most trying game of the season tomorrow as although we have played some of the biggest team's like Man City, Arsenal, Man Utd and Chelsea, none were really at the top of their game, the defeats we suffered to some of them were due to our own poor performances.
Tomorrow for me is against a team bang in form.
Mike Powell
10
Posted 18/12/2015 at 09:52:42
I keep saying this every week: we have got to start winning games – draws are no good to us. Come on, blue boys – let's kick-start the season!
David Graves
11
Posted 18/12/2015 at 09:53:46
If both Huth and Drinkwater are both missing and McCarthy is back for us, then we'll have enough to beat them.
Jakob Herd
12
Posted 18/12/2015 at 09:55:33
I am predicting a 4-0 win here... Yeah I know it's crazy but someone will knock Leicester back soon enough and why not us. No disrespect intended but they will slip up sooner or later. If I were a betting man I would lump fifty quid on that.
Jim Bennings
13
Posted 18/12/2015 at 10:07:08
Jakob
In case you haven't seen much of Everton lately, as soon as Leicester get a corner, your 4-0 prediction is over!
Colin Glassar
14
Posted 18/12/2015 at 10:10:22
Can we practice not giving away corners then, Jim? A few of our clearances have been sliced balls under no pressure.
This is definitely a winnable game but only if we cut out the schoolboy mistakes at the back.
Jakob Herd
15
Posted 18/12/2015 at 10:13:22
Ok Jim I'll accept 4-1
Derek Knox
16
Posted 18/12/2015 at 10:16:55
Having read all the comments and in total agreement, and as Lyndon so succinctly put, when the fixtures were drawn pre-season, who'd have thought that Leicester would be top, and beating them at home would seem like a Herculean Labour?
I have nothing but total respect and admiration for Leicester and their manager (written off by Chelsea, as basically not good enough) and the team who have been assembled on a limited budget, with no megabuck stars (as Man City / Chelski have).
It should prove an inspiration for every Prem team, and indeed Championship teams too, that it can be achieved by honest graft and team play. While I know it's relatively early in the Prem campaign for champions, I would be made-up if Leicester did it (assuming we won't) but not till after we have beaten them tomorrow.
COYB
Raymond Fox
17
Posted 18/12/2015 at 10:29:25
The betting is Everton at Evens. Leicester 11/4. the draw 11/4.
I like a bet but I usually refrain on our matches.
The bookies have come down strong in our favour though.
I do think the timing is right for us to get a result on Saturday, but I don't think I'd be rushing to back us at evens.
11/4 for them is pretty generous considering the results they have had recently!
Still an Everton win for me.
Mark Rimmer
18
Posted 18/12/2015 at 10:35:29
jJm@8... Man Utd and Man City have both put in their best performances of the season against us, that's coming from City and United fans which makes up the majority of my work, so I think we got a bit unlucky there.
But I do think Leicester will win tomorrow because they will simply outscore us due to our leaky defence. I predict 3-2 Leicester 1-1 at half time.
Jim Bennings
19
Posted 18/12/2015 at 10:46:49
It could just have been me then Mark but I remember at half time of the Man City game in August thinking "bloody hell these look crap, they only won that day because of Tim Howard and his classic capers on his near post. .
The United game, again I don't think United were that good on the day, it was a sombre atmosphere due to Howard Kendal's death and well, the team just didn't turn up that day, Manchester United had just been smacked 3-0 at Arsenal and were asking to be tested defensively, we just didn't do it!!
Kim Vivian
20
Posted 18/12/2015 at 11:05:28
This, indeed is a most intriguing confrontation and I think could turn in to one of the matches of the season.
The salient difference between the two sets of statistics and managerial game plans – ie, to not worry about conceding goals so long as you score more than the opposition – is that Leicester have actually managed to do that, whereas we have – on most occasions – managed to atch the opposition score thus dropping the points that would otherwise have made this a top of the table clash.
Intriguing indeed, and a real shame it is not showing live on TV. I will be avidly following on the live forum as always so keep your comments nice and descriptive, guys.
Laurie Hartley
21
Posted 18/12/2015 at 11:20:57
I think it's great to see Leicester sitting on top of the table and I like their manager. I have always thought he had a bit of class.
Nevertheless I hope we give them a pasting. You just never know what to expect with us at the moment. One thing you can guarantee though is that this will not be a 0-0 draw. I am looking forward to a cracking game.
Trevor Lynes
23
Posted 18/12/2015 at 11:54:49
During the Moyes reign our defence was really tight and year after year our defenders won club player of the year trophies. This was achieved by defensive composure and team work. When we have played well against the so called top teams we have worked really hard when not in possession and been able to stop them playing at their best.Now our attacking players are not doing their defensive closing down work and that exposes our back four against speedy counter attacks. If that basic flaw is not addressed then we are in for a torrid game. Hopefully our 'luxury' players knuckle down and harry the opposition when they have the ball.We should be able to beat Leicester if the team works hard and the forwards take the chances that come their way.
DJ Owen
24
Posted 18/12/2015 at 11:59:12
Not sure if this has been said or corrected – but Mahrez is Algerian, not Egyptian!
Tony J Williams
25
Posted 18/12/2015 at 12:31:18
I was thinking about Leicester this morning and I started to get a little angry at them and wanted them to go on a losing streak.....then I thought, fair play to them and if we can't do it, I hope they win the league.....obviously I hope we stuff them tomorrow.
This game will suit them down to the ground. They love their counter attacking play and Vardy and Mahrez have a decent turn of pace in them.
We need to be careful and the second Kone starts lagging on the left in front of Baines, he needs to be subbed.
Baines isn't up to full match fitness yet and near the end of games he is left isolated so often with Kone not having the legs to cover for him, Barry tries but he is as quick as my dead cat.
Keep our heads and we can win this, then Leicester can go on and win the league. It's better than the usual suspects pissing it all the time.
James Stewart
26
Posted 18/12/2015 at 12:50:40
What a frustrating team Roberto Martinez's Everton are. One week the sublime interplay dazzles with 'Rom and Gerry' (the nomenclature the Spaniard has adopted for Romelu Lukaku and Gerard Deulofeu) terrifying defences, the next they're contriving to waste a host of chances and allowing Norwich to come away with what would have seemed at half-time a scarcely credible point.

If they showed any sign of consistency, they could have taken the Premier League by storm in the way that Leicester have. Instead, Claudio Ranieri takes the league leaders to Goodison Park in the last game before Christmas with Everton six points off the Champions League places and firmly in mid-table.

Martii­nez has the building blocks of a top-level side, but supporters are beginning to doubt if he will ever be the man to get the most out of them. This will be all too familiar to Wigan fans, who watched with delight as he led them to a most unlikely FA Cup success, followed all too quickly with a demoralising and hugely damaging relegation.
If Marti­nez is to develop as a manager he needs to prove he can sustain form over the course of a season, rather than glimpses of magic interspersed with comic defending. If he can't crack that there's no way he'll hold on to the likes of John Stones and Lukaku, and Everton will find themselves with one hell of a rebuilding job on their hands. — Written by Toby Moses in The Guardian.
Very accurate in my opinion and those predicting a 4-0 win for us against Leicester might want to check their medication. It's interesting that even the mainstream media are beginning to focus on our defensive frailties.
Brian Harrison
27
Posted 18/12/2015 at 12:52:50
I think that football fans and pundits alike failed to take on board what a class act Ranieri is. You don't get to manage Juventus, Inter and Chelsea unless you know what you're doing. I think the mindset for teams playing Leicester has been this team nearly got relegated last season, so they're getting lucky results. Instead of looking at their league position and giving them the respect they deserve.
I hope RM makes our players forget Leicesters form of last year and make them aware that only a top performance will get us all 3 points. I would also add don't think this game is over even if we get 2 goals in front, they have come back from a couple of games were they were losing 2-0. Also with our track record of not being able to hold on to 2 goal leads, should stop any complacency creeping in.
Dave Abrahams
28
Posted 18/12/2015 at 13:05:04
I like Deulofeu and what he brings to our game: pace and a quick thinking brain. I'd leave him on the bench tomorrow and start with Aaron Lennon; we will need grafters against Leicester, Lennon is a grafter who can play a bit as well.
The Spanish kid can come around the hour mark and replace Lennon who will be feeling the pace then, thanks to Martinez giving no minutes on the pitch for quite awhile.
We can win this if everyone concentrates for 90 minutes and all the substitutes are used, preferably early and the defence does what it hasn't done all season, watches and plays the ball, not the man. Here's hoping.
Brian Wilkinson
29
Posted 18/12/2015 at 13:07:02
Teams we expect to beat we struggle to break down, I think Leicester will play a more attacking game, thats where I think it will play right into our hands.
If we hit them hard and fast, we can win, make no mistake, this could end up 4-3, but if we play how we can for 90 mins, a big if I know, then I fancy us to pick up three points.
Patrick Murphy
30
Posted 18/12/2015 at 13:13:56
God knows what sort of game we might get tomorrow, it might be a one-sided affair for either side, a massive victory for either side, a ding-dong game in which goals aplenty are scored or a drab, goalless affair. Isn't that how football is supposed to be at the top level? Pundits and fans alike not sure how a match may turn out, it makes more than a refreshing change it is what makes the sport worthwhile watching and paying good money to watch.
How many seasons in the last couple of decades have fans been bored by the tiresome predictability of the top league? Any fans who are lucky enough to be at Goodison tomorrow, I hope they get behind the team, in the same way that Leicester garner support at their home ground but minus the silly clapping things obviously. Everton do need to win a league game and soon; hopefully at tea-time tomorrow we will all be celebrating a victory – but who would bet on it?

Nigel Munford
31
Posted 18/12/2015 at 13:14:41
As others have said, I don't think this will be a 0-0 draw, but I do believe there will be a lot of goals. Both strike forces are hot at the minute, ours just need to be more clinical than theirs, and not a repeat of Norwich.
Dave Pritchard
32
Posted 18/12/2015 at 13:24:37
Really looking forward to this. Leicester will be hitting us on the break and it will be a surprise if they don't score.
Our left-hand side is my worry as Mahrez has been running riot down their right flank. Watching the highlights from when they beat Swansea he seemed to be in the proverbial acres of space nearly all the time. Baines wasn't up to speed last week and although Kone does some tracking back his primary task is to get forward.
Eugene Kearney
33
Posted 18/12/2015 at 13:31:37
I'll go with Jakob: 4 - 0.
COYB.
Raymond Fox
34
Posted 18/12/2015 at 13:33:07
Leicester are riding on the crest of a wave of success, good luck to them, they're all 'wonderful' at the moment, managers 'great' etc.
It won't be long before reality pops its ugly head up and kicks them all in the bollocks, that's life. Let's hope it's us that brings them back to earth.
James, that piece you're quoting, how does he know what the majority of fans think, there may be some such as yourself that doubt him but the majority? When we make loads of chances and don't score enough, is that his fault. When we give a goal away like the Norwich game, if there's players in position like the were and they can't get a head on it first, is that his fault!
Managers always get to carry the can, when most of the time i'ts the players who can't do the business, look at Chelsea most of them have played like their legs were tied together.
Dave Lynch
35
Posted 18/12/2015 at 13:53:18
Dave@23.
Leaving Deulofeu on the bench would be insanity...
He will get loads of space because they defend narrow and pack the box; if he's on-blob, he will have a field day.
I'm sticking with my prediction of a comfortable win, I repeat what I said on another thread, "They are not a good side". They are effective but are also very vulnerable and we will beat them.
Paul Andrews
36
Posted 18/12/2015 at 14:11:02
Dave Lynch,
Spot on. Leicester's back four defend the width of the 18-yard box. Early ball will see Deulofeu in lots of space. If he gets his delivery right, we are in business.

Mahrez wants to come inside onto his left foot, a lot depends on Galloway and Baines showing him the outside and Funes Mori covering the right-footed cross. Don't play too high line across the back four, negating the space for Vardy to make the diagonal run for the straight ball or the straight run for the diagonal ball. Most of Vardy's goals come that way.
Peter Barry
37
Posted 18/12/2015 at 14:13:11
Leicester are a perfect example of what a 'Good' Manager can do with a mediocre team whereas at Goodison we have an example of what a 'Mediocre' Manager can do to a good team.
Peter Cummings
38
Posted 18/12/2015 at 14:29:54
Yes, Ray Fox I agree that managers can't always be held responsible for results on the field but in our case RMs reluctance to depart from a rigid plan and ignore obvious solutions to problems causing us to lose points i.e, Howards failure use his height and weight in his area being just one.
Another is his choice of subs and, the timings, when he does,subs should be given more time to adjust not just five or ten minutes,even a few seconds, from the end, our biggest ,and most obvious,problem is our failure to hold on to a lead by allowing the opposition to exploit our 'two halves' habit dominating one then losing the second.
At present we are heavily reliant on our 'deadly duo' to provide goals,if either one is injured we are in big trouble as we have no other options available to penetrate packed defences, although Baines and Cleverley aren't afraid to have a go from distance, and though Barkley has this abiity he seems reluctant to use it given the chance, I was pleased to see their Hulk Hogan won't be throwing his weight around and this will help us take the points tomorrow I believe.
Raymond Fox
40
Posted 18/12/2015 at 14:56:54
As far as subs are concerned, Peter, sometimes it works to change player;s other times it can backfire, it's differing opinions like everything on here.
The manager is closer to his players, I mean information wise, so there can be issues that we're not aware of that influence his decisions. Of course he'll make mistakes like all managers none are perfect.
Although he had the resources at his disposal, Ferguson at Man Utd must have been as close to perfect as you can get as a manager.
Jay Harris
41
Posted 18/12/2015 at 15:04:06
Man for man we are definitely superior and we are at home but they make up for that with incredible fitness, energy and team spirit. They have come back in a number of games this season so they won't lie down like Villa and Sunderland.
The only game they lost this season was 5-2 to Arsenal and as we are considered "Arsenal lite" I will take us to win 3-2 or 4-2.
Having said that, we are due a clean sheet but can you honestly see Leicester not scoring against us?
Robert Workman
42
Posted 18/12/2015 at 15:23:03
Everton have a habit of getting a bad result from the fixture closest to my birthday. Let's hope tomorrow bucks the trend as it is going very well... so far!
David Graves
43
Posted 18/12/2015 at 15:25:10
Come on Dave. Lennon for Gerry? Honestly?
James Morgan
44
Posted 18/12/2015 at 16:14:18
As usual, we will play some lovely, free-flowing, attacking football but we will miss a glut of chances, concede a sloppy goal on a set-piece due to some calamitous goalkeeping/defending and end up drawing or even losing. Typical frustrating Everton under Martinez.
Jim Hardin
45
Posted 18/12/2015 at 16:36:37
Much as Deulofeu irritates me, I think he and Mirallas must start. Leicester's other midfielders, especially Albrighton, like to stay forward and fizz in crosses and Simpson likes to get forward from the fullback spot.
Their injury list is De Laet, James, Schlupp, and Drinkwater, and Huth suspended. So they may be vulnerable to a pacey attack.
Last season when I watched the first Leicester game versus Everton, I thought (and posted) that if you squinted a little at the screen they looked like Everton more than we did. This season, they have eclipsed us.
Sad to say but a glimpse at their squad shows it is deeper and overall, more talented than ours. Look at their strikers and mids who can't even get time on the pitch as well as some of their defenders including the Frenchman they got from Atalanta. Odd that Ranieri turned around the defense from last season with Wes Morgan and Huth both looking like newly minted players. Great job by Leicester but they can start a new winning streak after this weekend's game.
Having said all of that, Everton will win. Stones will manage to actually win some headers. Deulofeu will hook up with Lukaku and maybe Mirallas too. Everton 3-1.
As for Jose, I think he may end up back at Real Madrid for next season after Rafa gets shown the door. He may be able to get them to buy Stones. If so, I hope we hold out for the ridiculous transfer fees they seem to be able to pay in the summer transfer window. I then hope we go buy Shawcross, with apologies to Colin.
Simon Harris
46
Posted 18/12/2015 at 16:56:26
Really looking forward to this one.
With the frustration of the previous 3 league games still smarting, I fancy a tonking could be on the cards for the Foxes.
4-1 to the Ev.
Brian Mahoney
47
Posted 18/12/2015 at 16:56:43
Can't see it being 4-0, especially with Howard in goal. I never thought I'd be looking forward as much to an Everton v Leicester game. These tend to be our lowest attendance games and especially the last Saturday before Christmas but the game's a sell-out.
Keith Monaghan
48
Posted 18/12/2015 at 17:18:27
I agree with those concerned re our left side, particularly if LB plays as many expect. Personally, I'd play Galloway at LB with Baines in front on the left – this would give more balance to our attacking and hopefully get some good delivery from the left. (With Kone on the bench.)
Mirallas could then come on for the last ½ hour if, as seems likely, he yet again doesn't start, in place of any of RB, GD & LB.
Hope to hell we don't sell Kevin, he deserves a decent run in the side – that penalty farce last season was way overdone.
Leicester deserve to be where they are; I still believe we're well able to beat them. I think it's great to see a more even league this season... just hurting that we've so far missed an opportunity to be right in the mix at the top end. COYB!

Dave Abrahams
49
Posted 18/12/2015 at 18:12:52
Dave (#33) you might be right concerning Deulofeu, I'm a big fan of his, by the way, but Leicester will attack and Lennon will give the defenders more cover, although as you say Geri could win the game for us.
You sound so confident of an Everton win I might have a dabble on them, you are most certainly right that we have a good chance of winning, especially if they play the full game and not just one half.
Barry McNally
50
Posted 18/12/2015 at 18:20:47
Statistically we're due win and Leicester are due a defeat!
Alan Bodell
51
Posted 18/12/2015 at 18:20:54
Dave (#26), I like that idea to start with Lennon then bring on the match winner when his legs go, he will chase back and harass.
Many rate Cleverley, I've watched him since his Man Utd days and can see nothing that rates a contract, Ray Wilkins/Didier Deschamps, etc. he just runs and makes safe passes sometimes but the Echo had him as 8/10 last week @ Norwich, maybe I need a trip to specsavers.
Eugene Ruane
52
Posted 18/12/2015 at 18:43:00
Looking forward to it.
League leaders at home, 3 pm Saturday kick off, a week before crimbo – great stuff!
As for the result, I've no idea – we're certainly capable of wellying them (or anyone else for that matter) but they are an incredibly hard working team plus we have no idea which Everton will turn up.
If the first-half Everton from last week play, it'll be a breeze, if it's the mob who showed up in the second half, we're goosed.
You have to take your (possibly half-Celtic, half-Everton wooly) hat off to them for their performances over the past 25 games or so and I do.
Anyway... that said... um... UP THE TOFFEES!
Christopher Timmins
53
Posted 18/12/2015 at 18:44:13
Huth to score close in from a corner, Howard stuck to his goal line but Everton win 3 - 1.
Brian Mahoney
54
Posted 18/12/2015 at 18:56:32
Sorry, Christopher, but Huth's suspended. Still doesn't stop anyone else from scoring, though, as you're right, Howard will be stuck like glue to his goal line.
Tahir Abdullah
55
Posted 18/12/2015 at 18:56:46
Bit pedantic perhaps, but Mahrez is actually French but, like many players in the Algerian national team, he has decided to play for the country of his father's birth... nevertheless an exciting talent and a definite boon for Algeria.
Brent Stephens
56
Posted 18/12/2015 at 19:00:56
Christopher, very long odds against Huth scoring? Isn't he suspended?
Darren Hind
57
Posted 18/12/2015 at 19:13:24
Surprised by the degree of the pessimism. Those who think we will lose will be given a warm welcome and about 3/1 at the bookies tomorrow.
We are better than this crew, better in every single department, We're bigger, stronger, faster and we have more talent... even up front and right wing.
They are without two of their most influential characters and we are the home team... Okay, they have a stronger dug-out than us, but that won't save them.
I won't back us to win, those odds won't pay for Chrimbo. I'll be thinking more in terms of how many we'll win by when I walk into William Hill tomorrow.
I'm going for an emphatic win in front of a well up for it Goodison crowd... I can't fucking wait.
Tim Greeley
58
Posted 18/12/2015 at 19:55:24
NBC, wtf!? League-leading and highly entertaining Leicester verse Tim Howard's very own Everton, also quite entertaining most of the time. Yet they are showing Man Utd v Norwich and Chelsea v Sunderland.

I can understand Chelsea with their drama but United - Norwich is literally the most boring matchup in the League right now. Damnit. Oh well, I'll be following on TW Live Forum 'cause that is good for my health!

As to the actual game, who knows?! Leicester finally has some injuries to deal with and Everton might be in the mood to shake off the taste of 3 straight draws with an emphatic WIN.
Jon Cox
59
Posted 18/12/2015 at 20:01:33
4-1 Darren?
David Greenwood
60
Posted 18/12/2015 at 20:06:49
Fancy 4-3 for us tomorrow.
Kunal Desai
61
Posted 18/12/2015 at 20:09:41
Mahrez and Vardy played an instrumental part in the 2-2 draw at Goodison back in February. I think they will be the difference again and take all 3 points. I can't see how our defence will keep those two quiet. Incidentally, since March, Leicester have won 17 out of 25 league games. That is some run!
David Hallwood
62
Posted 18/12/2015 at 20:12:00
I've given up on hoping for a clean sheet, so let's hope its only 1!! To put it mildly this will be a stern test and I'd be happy with a draw. As long as our Tim doesn't repeat his performance last season (and if you've forgotten he surprisingly flapped at 2 crosses that led to the goals-unlike Tim that).
A slight contradiction from the pessimistic first paragraph, I think we will cope better with Mahrez and Vardy than a bustling front man who can bully both Stones and Funes Mori-witness how easily a journeyman footballer like Cameron Jerome pushed past Stones in the lead up to the first goal.
But then again. who knows knowing us, we may win 5-0!!
Raymond Fox
63
Posted 18/12/2015 at 20:13:43
I don't know about pessimism Darren, I'm starting to get the wind up because were almost all saying we will win and you know what that means.
I started the week confident, no pretty confident we would do them because we are due to give someone a pasting and they are due a fall.
As time gets closer I'm starting to get the willies.
I still think if the team are in one of their going days we will win, but like you I wont be taking the even money.
Ross Edwards
64
Posted 18/12/2015 at 20:27:48
We will be the team to bring Leicester back to Earth. Hopefully there will be goals, 3-2 I reckon.
Colin Glassar
66
Posted 18/12/2015 at 21:14:54
I'm with Darren. Their defence is rubbish, so is ours. Their attack is good, ours is brilliant. I'm going for an 8-5 home win.
Ernie Baywood
67
Posted 18/12/2015 at 21:28:13
You reckon they'll only get 5 corners Colin?
Paul Hewitt
68
Posted 18/12/2015 at 21:39:48
Not looking forward to this match. Leicester will work their socks off for 90 minutes and not let us settle into our passing game. Probably get a point at best.
John Malone
70
Posted 18/12/2015 at 22:02:07
What odds can you get for us to concede from at set piece??
Eddie Dunn
71
Posted 18/12/2015 at 22:15:12
I said the other day that if we took into account the last 10 or so games of last season as well as this impressive start, Leicester would be 10 points (or so) clear. They are an improved team for longer than many think. I still think we will raise our game and beat them 2-1.
We have to win, to show all and sundry that we are in with a say, and we may then have the confidence to put a few wins together.
Defeat will knock the stuffing out of us. A draw would be creditable, given their status, but who needs yet another one of those?

Laurie Hartley
73
Posted 18/12/2015 at 22:17:56
If ever there was a game Mirallas should start in, this is it. Ranieri will set up to neutralise Deulofeu. We need to give them something to think about on the left side.
Mark Daley
74
Posted 18/12/2015 at 22:22:34
I love the optimism! We couldn't beat the RS, Palace, etc. but we'll stuff Leicester! And a squadron of low-flying pigs will do victory rolls over Goodison when the final whistle blows...
Phil Walling
75
Posted 18/12/2015 at 22:45:17
Two similar sides could make for yet another draw. I'm thinking Lukaku doubled with Vardy and Mahrez to score in a 1-1; looks good at 13-1!
Jamie Crowley
76
Posted 18/12/2015 at 23:05:04
Greeley-
Pony up and buy the Extra Time package. It's well worth it. You'll never miss a game.

I'd like to echo Derek Knox's sentiments. Leicester are a club to be admired. They play their hearts out, and it's wonderful to watch. Not one prima donna in the whole team. As Eugene said, a team.
I'm looking forward to tomorrow. Two of the more exciting teams to watch. It should be a fantastic game.
If I had a Christmas wish, it would be to see us string six full-effort, high intensity halves together this Christmas season. Not one half sublime, then the next a silent but deadly fart.
Ho, ho, ho! Let's climb the table. Dare I say we deserve it the way we've played. Time to show our worth.
James Flynn
77
Posted 19/12/2015 at 01:04:10
Mahrez is the key. He plays down the flank been a problem for us all season. Set the lads up to stifle him, Roberto.
If Besic is healthy, play him; attached to Mahrez everywhere on the pitch. Young Muhamed didn't exactly stifle Messi in the WC. He did, though, make him work his ass off for the entire game. Mahrez is terrific, but he's not Lionel Messi.
Let's stop Mahrez.
Harold Matthews
79
Posted 19/12/2015 at 02:24:15
Yes James, and Besic didn't even ask Messi to swap shirts. He prefers to keep his own. No22 that day I think
Harold Matthews
80
Posted 19/12/2015 at 02:39:45
Leicester usually play deep. All of them. They love teams who play narrow up front with fullbacks providing the width. If Baines and Coleman stray too far forward the Foxes will pounce.
Duncan McDine
81
Posted 19/12/2015 at 04:52:08
I predict 0-0. It often happens in games where we expect tons of goals! At least it would be a clean sheet....
Gerard Carey
82
Posted 19/12/2015 at 09:42:17
Alan 49, get someone to bring you or you will end up in the shop next door!!!!
On today's game we will have to show real spirit for 90 minutes if we are to win. Left side will be a problem.
Anto Byrne
83
Posted 19/12/2015 at 09:53:43
The Foxes have had a good run and are full of confidence, they are a settled side with not a lot of quality in depth so it will be interesting to see how they go to the end of January.
They remind of a Moyes Everton team playing good football and getting results, the only difference is their manager is not afraid to win. I just heard OFM is out of work again: two jobs lasting less than a year yet he reigned supreme here for 11 years. What went wrong? Answers on a postage stamp please.

Eddie Dunn
84
Posted 19/12/2015 at 11:04:59
Alan 49. I think Cleverly will prove to be a great signing for us. Before he got injured, he was progressing well. He lost his way at Man Utd, but I thought he always looked bright, creative and a good team player for England.
A lot depends on what the manager asks of a player. McCarthy, for example shocks us when he makes a foray into the box, or has a shot! It must be down to his remit from Martinez.
The other week, Barkley was playing in a deep role, in a very conservative way (just simple little passes here and there) and he was criticised on here by many. He was obviously told to hold back.
Given time, Cleverly will do well. The winner today will be a fine start.
Brin Williams
85
Posted 19/12/2015 at 11:43:18
Call me daft but I happen to think there are lots of goals in this game and with the right approach I predict we come out as 5-3 5-4 winners after scoring in the first three minutes?
Hat-trick for Rom - 2 pens, Barkley 1, Gerri 1,
What odds will I get on that?
There is a Father Xmas isn't there?
Oh and I still believe in fairies.
Howard MotM?????
Brent Stephens
86
Posted 19/12/2015 at 11:52:19
Really looking forward to going to this today. Reckon it could be one of the highlights of the season as a game of football. As a few have also said, I expect a high-scoring game. For no rational reason at all, I feel confident.
Neil Wood
88
Posted 19/12/2015 at 12:39:56
8-5!!! Ha. Brilliant.
I'm thinking we will thump them today. 4-1
That's my new prediction and I think a Lukaku hat-trick.
Brin Williams
90
Posted 19/12/2015 at 13:21:57
Neil - 8-5!!! What you on mate? Alka Seltzer?
Still 8-5 or 4-1 still gives us an extra three more towards the goal difference – any winning score will do me by the way.
Harold Matthews
91
Posted 19/12/2015 at 13:45:22
If we concede two goals and the forwards miss half a dozen good chances, the defence always gets the blame. I've never worked this one out.
Dave Abrahams
92
Posted 19/12/2015 at 13:48:19
Off thread, Harry Scott great Liverpool fighter passed away yesterday, Harry was a good Evertonian who now and again trained at Goodison Park and followed the blues, was a very genuine man who always gave boxing fans their money's worth, be nice if the Blues won today for a fellow Blue.
Dominic Tonge
93
Posted 19/12/2015 at 14:11:34
Well, I hope we win, can't see it though. We will score, they will get corners, game over. 1-3 Foxes.
Glen Garrett
94
Posted 19/12/2015 at 16:31:27
Howard needs to go. Everton need a new keeper urgently. And what is Martinez's love affair with Kone? Mirallas should be starting.
Add Your Comments
In order to post a comment, you need to be logged in as a registered user of the site.
Or Sign up as a ToffeeWeb Member — it's free, takes just a few minutes and will allow you to post your comments on articles and Talking Points submissions across the site.
© ToffeeWeb