Martinez: We have to be better
by

185 Comments [Jump to last]
| 19/12/2015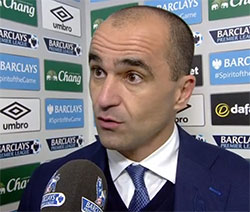 Roberto Martinez was left searching for answers today after watching his Everton side become the latest victims of Leicester City's remarkable run of League form that will see them top the table over Christmas thanks to a 3-2 win at Goodison Park.
The Everton boss was forced to admit that despite Claudio Ranieri having only taken the Foxes' job over the summer, Leicester displayed more "know-how" and nous than the Blues and that allowed them to take a 3-1 lead in the second half that proved too big a deficit to claw back.
Two Riyad Mahrez penalties, the first for Ramiro Funes Mori's clumsy foul on Shinji Okazaki and the second when Tim Howard appeared to upend Jamie Vardy, and then a third goal from Okazaki himself were enough to lift the Foxes to another victory while Everton were left with the Festive blues for a second year running.
Martinez appeared to blame some complacency among his charges who he felt were lulled into a false sense of security by their dominance in possession while the visitors simply bided their time to pick Everton off on the counter-attack. As it turned out, it was more sloppy defending that proved crucial and neither Romelu Lukaku's 13th of the season nor Kevin Mirallas's late strike proved enough to earn so much as a point.
"We probably had a sense of being comfortable and in control and that allowed Leicester to get three goals from very disappointing positions," a despondent Martinez told BBC Sport. "The way we conceded those goals was disappointing.
"But overall it's a performance that we need to learn a lot [from] and get a lot stronger and a lot better. We shouldn't allow the opposition to frustrate us, especially when we play at home and we've got a full crowd and we should make sure that scoring two goals against any side should be a better reflection of the [performance] than it was today.
"After we conceded the first goal I thought we had a very good reaction. We scored the goal and from that point on it was almost like trying to get restarted every time.
"It's very, very difficult to play against this Leicester side; they're probably the opposite to what we have. They have an incredible know-how, they play with the tempo of the game, constantly they try to bring the game to their strengths – the pace and the power of Vardy and Mahrez on the counter and somehow we allowed them to take advantage of that.
"We are a team that needs to get that fluency and that momentum and that tempo on the ball. We have to be a lot better in order to not allow the away team to get us off our way of playing and our fluidity in what we're trying to do."
Martinez was asked if he needed to instil the knowledge and know-how to which he was referring in a specific area of the side or if he needed new players to achieve it. The Catalan responded by saying that he needed it everywhere in the side and reiterated that his side is still evolving.
"The talent that we have is something to be really excited about but obviously today we haven't played as well as we can. We allowed Leicester to enjoy their moment; they're top of the League for a reason and it's because they can get through games having an incredible goalscoring threat.
"Today they didn't need much to get in front of our goal. [They had] no dominance, no periods of possession – what they are is they are a team who know exactly how they're going to hurt you and today, to get two penalties and a goal is an incredible return and, probably, we felt comfortable in those moments and we need to learn from that.
"We have to be better when we're playing at home," Martinez repeated, "we need to perform in a different manner, we need to control games and make them our own games and that's where the work is."
The boss was asked in his interview with Sky Sports what he thought it will take to get Everton out of their current rut of four Premier League games without a win and Martinez expressed his belief that a run of games would help.
"It takes games," he said. "We need to get back on the pitch as soon as we can. We need to get rid of that feeling you're left with when you've been performing really, really well and you don't get the three points."
---
Reader Comments (185)
Note: the following content is not moderated or vetted by the site owners at the time of submission. Comments are the responsibility of the poster. Disclaimer
James Stewart
1
Posted 19/12/2015 at 20:14:52
Not good enough. Talented squad, blinkered and inept manager. The likes of Pardew, Ranieri and plenty of others would be achieving a lot more with our squad. Time to pay the price and get rid.
Eddie Dunn
3
Posted 19/12/2015 at 20:25:20
His excuses are tiresome. Sick of it. He talks at length, and says we have to stop getting frustrated.

It wasn't frustration that caused the dumb mistakes that were punished again.

We can't defend.

Paul Kossoff
4
Posted 19/12/2015 at 20:28:06
Pardew was sacked by Newcastle, Ranieri was a nowhere man, would any Evertonian have chosen either as our manager?
Tony Hill
5
Posted 19/12/2015 at 20:35:27
Drivel. He's been manager for two and a half years for God's sake. Would those who think he is going to turn all this around, please translate these comments and re-assure us.
There is a cocoon of self-regard and smugness about Everton as the happy, balanced, kindly club. I am delighted to see and hear at every match how well we are doing in the community. I would be happier still to see us showing the same excellence on the pitch.
David Flanagan
6
Posted 19/12/2015 at 20:35:48
Leicester are better coached and well drilled which is something we will never be as long as he is our manager.

5 wins from 17 games is poor and he should be gone. He talks absolute garbage and we will never progress as long as he is in charge.
Guy Hastings
7
Posted 19/12/2015 at 20:39:40
It's like listening to re-runs of Kung-Fu.

'So, Grasshopper, what have we learned from this experience?'

'I have learned from this experience that I need to learn...'

'Excellent, Grasshopper. And will you learn?'

'No, master.'

'Excellent, Grasshopper. It shows you have learned.'

Tony Hill
8
Posted 19/12/2015 at 20:42:01
Guy, that has really cheered me up. Brilliant.
Dave Abrahams
9
Posted 19/12/2015 at 20:42:48
We've got to learn, Roberto, you keep saying it, but you and the players never do, and you'll be still saying it three and four months from now.
Richard Farrington
10
Posted 19/12/2015 at 20:44:35
More utter bollox from the guy. He's fast becoming a complete charlatan in my book and I've seen nothing this season to change my mind from the start, get him out.
Today, Leicester showed that our players are basically unfit. We can't defend, we don't ever have a game plan and we are just going round and round on a magic roundabout and I'm sick of his bullshit.
Lev Vellene
11
Posted 19/12/2015 at 20:54:04
Roberto, I like your general approach, but we CANNOT ignore defensive coaching/training! And don't get me started on Howard not wanting players at the posts on corners, either...
But in general, I like Roberto, although his defensive blindness can be devastating!
Still, let these youngsters have their chances and take their falls along with their glories! We might be getting somewhere soon!
Fran Mitchell
12
Posted 19/12/2015 at 20:55:48
A team that should be 4th is in the bottom half.
The man has to go.
Bielsa is available, get him in!
Bobby Thomas
13
Posted 19/12/2015 at 21:01:23
With the best will in the world, Martinez really is talking some serious bollocks at times there.
Gerard Carey
14
Posted 19/12/2015 at 21:09:30
We are stuck in a rut with Martinez. Those waiting for something special to happen under him are deluded, he just doesn't have the knowhow.
Leicester played to their strengths, RM knew what those were and still was unable to deal with it. If we finish out of the top six, Stones and Lukaku will be off in the summer, maybe more.
Tony Marsh
15
Posted 19/12/2015 at 21:10:17
Somebody slap him, kick him, shake him the fuck out of his sleepwalk.
We will never get anywhere until Martinez changes the keeper. We are now gifting 2-3 goals a game almost every game. Howard gives away at least half of those gifts. Do the fucking math, Roberto... Please put me out of my misery.
The best chance ever to gatecrash the top 4 party is this season and we've blown it with the best side we've had for decades.
I thought Kenwright was a diehard Evertonian above all else? Well, if so, what the fuck is he doing allowing this Dopey Clown to keep dragging us backwards?
Tony Abrahams
16
Posted 19/12/2015 at 21:23:00
I don't think anyone could defend the manager after this "beat ourselves again" performance.
Saddest thing for me was I had to take my nephew to his mum straight after Mirallas scored, so then ran into the Lower Gwladys street to watch the end of the game.
It struck me that, since Martinez has been in charge of Everton, Goodison has very rarely "roared", and the last few minutes in the most vocal part of the ground with Everton chasing the game was no different.
We love good football, but we also love leaders, who want to win for us, as much as for themselves. I'm sorry to say, but this team, just doesn't have anyone like this.
A REFLECTION OF THE MANAGER? I'm now convinced it is. The way – or lack of lack of it – that he is using this squad is now unforgivable. It's got to be time for change.
WE ARE SO UNPROFESSIONAL, IT'S A JOKE.
John Daley
17
Posted 19/12/2015 at 21:26:45
".....they're probably the opposite to what we have. They have an incredible know-how, they play with the tempo of the game, constantly they try to bring the game to their strengths – pace and the power... on the counter."
Is it any surprise that the team possess a lack of know-how when the manager himself seems oblivious to the fact that the players under his charge are actually more suited to playing in the manner he's just described as being the direct opposite of their default style?
Tony Abrahams
18
Posted 19/12/2015 at 21:35:09
In the first half, we had Stones and Funes Mori, both defending a throw in from Leicester's left, deep inside our own box. On the opposite side, we had Baines just outside our box, basically defending like a left midfielder.
Absolute fucking madness, I always thought football was about defending as a unit?
Trevor Peers
19
Posted 19/12/2015 at 21:39:02
Sickens me to think with such a talented group of young players, that we can't just get rid of this manager in January and appoint someone with some real tactical knowhow and steel.
Instead, we're stuck with a lame duck of a manager going nowhere, and with very few more wins likely this season.
Brent Stephens
20
Posted 19/12/2015 at 21:41:15
The usual drivel from the manager. All the right words but not necessarily in the right order.
"After we conceded the first goal I thought we had a very good reaction. We scored the goal and from that point on it was almost like trying to get restarted every time."
What on earth does that mean?
Steve Hogan
21
Posted 19/12/2015 at 21:43:00
Roberto needs to ask himself how can a new manager of a club turn things round so quickly and efficiently with even less funds than ourselves?
I wonder if this is really a turning point for him? Quite frankly it's embarrassing listening to him after games now, even the Ginger One as dour as he was, didn't shirk the truth.
He's rapidly becoming the most self-deluded manager in our history; game after game, you can see where the problems lie.
We may have gifted individuals in defence, but they simply don't play as a cohesive unit.
It's now pretty much nailed-on our better players will have realised the same thing. Being honest, would you plan your long term future with this guy in charge of things?
They may be overpaid, overrated at times, but they're not STUPID!!
Bye bye, Stones and Lukaku, to start with.
John Jones
22
Posted 19/12/2015 at 21:44:29
We play some good stuff sometimes but we can not defend. We run out of Ideas, in the second half in games and Martinez has no idea what to do.
Kone is defo his "boy" because he has been woeful in the last couple of games but keeps getting played. Lennon was a really bad signing. Howard has lost it and should be allowed to play out his career in the USA.
But Mainly WE CANNOT DEFEND!!
I really want this Fool out of this Club.

Tony Hill
24
Posted 19/12/2015 at 21:52:37
Trevor (#17), we can get rid of him but it's the board that needs shifting. It requires enough of the fans to make their displeasure loudly known and, if that doesn't work, then we should stay away.
I am a season-ticket holder and I am seriously thinking of boycotting games until this pitiful Board is removed. If enough of us did it, then things would have to change.
I am sick and tired of Kenwright and his clownish lieutenant, Elstone, taking the piss. I am sorry if BK is ill but I care more about our club and its future.
Ross Edwards
25
Posted 19/12/2015 at 21:55:58
I'm fed up of reading his excuses now. The fact of the matter is, he is underachieving with this squad.
Don't expect him to 'learn' or change because he won't. He's done the same things and made the same mistakes for well over 5 years.
Glen Garrett
26
Posted 19/12/2015 at 21:56:06
I am lost for words except that Martinez... he has to go – simple as that.
Our defence are diabolical. Everton have a really good squad to get top 4 but Martinez just hasn't got a Scooby to get them there.
I feel sorry for Lukaku because his goals have and are now counting for nothing. I can't understand Martinez's love for Kone? He is clumsy; Mirallas should be starting on the left, he's got what it takes.
Everton really do need a new goalkeeper; Howard is a major liability. Everton need a manager who is hard as nails and doesn't fuck about, a manager who is always going to be tough with the players and won't settle for second best. I wish the likes of Brian Clough was still around... I would have him at Everton any day. If Billy doesn't have serious words with Martinez now, Everton will fall apart and our best players will go.
Alexander O'Brien
27
Posted 19/12/2015 at 22:03:18
I didn't even bother reading what the stubborn little man had to say as it's the usual tripe after every match. At any other 'big club', the manager would be sacked by now but here it's different.
When you have a talented squad full of top players, it comes down to work rate and Leicester out-worked us like every other team in the Premier League.
Glen Garrett
28
Posted 19/12/2015 at 22:05:24
Mourinho is now up for grabs but can we afford him? Ha, ha...

Andrew Laird
29
Posted 19/12/2015 at 22:43:29
Martinez has instilled arrogance into the team without the desire and ruthlessness to back it up which has led to us being the soft touch we are and has led to the complacency we are witnessing on the pitch.
After 2½ years of conceding soft goals and leaving one side exposed for most of that time, it doesn't seem that you or your clueless coaching staff have learned anything either, Roberto. How many more of his "we have to learn, be more ruthless, be more composed" blah blah blah bullshit before something is ACTUALLY SORTED?
On December 4, this man stated that "The number of options he has at his disposal means that it's very difficult for observers to deduce his first-choice team and it gives him important flexibility when it comes to preparing for a given opponent." The starting eleven has not changed since.
If it is true and Martinez does not practice defending or taking set-pieces, then his professionalism and suitability at Premier League level must be questioned. No more excuses Roberto, sort the fucking defending out NOW!
Andy Walker
30
Posted 19/12/2015 at 22:49:04
3 points out of 12 against Bournemouth, Palace, Norwich and Leicester. That's relegation form. I should fucking hope 'we have to do better', Martinez.
Eddie Dunn
31
Posted 19/12/2015 at 22:53:49
Ranieri has warned his players, that if anyone is relaxed, they will be replaced. A meritocracy. I hope that they go on to win the league, or otherwise get an automatic Champions League slot.
The writing is on the wall, to all of the people who say we can't compete with the big boys. Leicester are doing it.
Hard work, some skill, good organisation... with no bullshit and good management.

Chris Leyland
32
Posted 19/12/2015 at 23:13:49
The man is deluded. A complete and utter buffoon so out of his depth that even if we drained all the water out of the swimming pool, he's still drown.
Christy Ring
33
Posted 19/12/2015 at 23:14:06
Talks utter shite, no shape to our back four whatsoever.
As for Howard, why doesn't he come out as quick for corners? Embarrassing.
Ian Brandes
35
Posted 19/12/2015 at 23:19:58
I have worryingly come to the conclusion that Martinez is the most dangerous manager we have had in decades. Not to opposition teams, I hasten to add, but to our club's ambitions, and aspirations to remain in the top tier of British football.
Given our current run of depressingly dismal results, the pundits, who regularly, and without evidence, hail Martinez as a top manager, will soon be saying "Everton are too good to go down."
And, given the range of ability within the squad, they may no doubt be right. But NOT if we keep this manager.
He must go now before it is too late.
Brian Peter
36
Posted 19/12/2015 at 23:28:49
In any organisation the attitude and culture is set by the management and leaders yes today we suffered from complacency but this was a reflection of your management style.
One of examples of this is the goalkeeper. I will not comment on the many of Howard's errors but every supporter can see them as the players can. The message to the players is, if you are one of the favourites you are fireproof – this breeds complacency.
Today, we were against the league leaders who are not there by luck. You state they have an incredible knowhow, yet – despite having one of the best squads we have had for years – you stick with the same faces and tactics that have blown the last 3 games from winning positions; that is complacency and arrogance.
We have a group of fantastic young players that you have helped to create. The last time we had this was in the '80s young Sharpy, Trevor Stevens, Sheedy etc Howard Kendall went out and recruited Andy Gray and Peter Reid who showed them how to win. That is what you call management learn from it
The frustration is that, due to the crap performances of Man Utd, Chelsea, Liverpool and others, there is a great opportunity for Champions League and keeping this squad together and building on it.
What is stopping us is your complacency and stubbornness.
Tony Hill
37
Posted 19/12/2015 at 23:29:32
I was listening to Radio Merseyside on the way home and we even had the Mayor of Liverpool ringing in to say how shite it all was. Ronnie Goodlass sounded ready to hang himself and clearly thinks RM is hopeless.
Wake up Everton fans, wake up now.
Colin Hughes
38
Posted 19/12/2015 at 23:29:53
I agree with Ian (#27), given the run of the usual "can't win" games we have in January – Spurs at home, Man City and Chelsea both away (forget their form, we don't win at those places) – it will only be a matter of time before we are 3 or 4 points off the bottom three.
Then, when we start winning some meaningless games in the last third of the season and pull away to safety, the club and it's ever optimistic marketing men will drag out its "fantastic end to the campaign" speech in order to sell season tickets in March.
Predictably Everton every year.
Mike Hughes
39
Posted 19/12/2015 at 23:42:11
Martinez is taking us on the road to nowhere.
It's so painfully obvious that it is also dangerous.
The cycle of team selection - tactics - performance - substitutions - results - post-match interview - media soundbites creates frustration, anger and - worst of all - acceptance and apathy.
I can't accept it as a fan. How can the board accept it as business people and custodians? My mind was made up on the man after the WBA result earlier in the year after a desolate Christmas.
(There's an opportunity waiting for you at Swansea, Roberto.)

Don Alexander
40
Posted 19/12/2015 at 00:06:43
"It's very, very difficult to play against this Leicester side; they're probably the opposite to what we have. They have an incredible know-how, they play with the tempo of the game, constantly they try to bring the game to their strengths – the pace and the power of Vardy and Mahrez on the counter and somehow we allowed them to take advantage of that."
Let me translate that into my version of Catalan, Martinez;
"Leicester are the opposite to what we are. They play to their strengths and work hard all over the pitch for the full match. We have been beaten at home today by a team doing exactly what they've done in every match this season, a team that cost about the same as Lukaku alone to assemble, a team that by the standards they usually play to had a fairly easy win today. I am appalled at my own ineptitude and somehow I offer my resignation to Mr Kenwright."
Colin Oakes
41
Posted 20/12/2015 at 00:12:16
For me the writing was on the wall during the warm ups. Leicester going through a well drilled routine involving their vocal and animated coaching staff and doing it with smiles on faces.
Our lot doing it with coaches just standing around hands in pockets not offering anything. What the fuck does Ferguson or any of the others offer?

Ste Lewis
42
Posted 19/12/2015 at 00:13:37
I'm sorry, but I do not accept some of this middle manager find-a-fault bullshit. We have been 'the better team' from the last few fixtures and the young players, and manager, need to learn from mistakes in the tight margins in these games.
Roberto does not read ToffeeWeb, he has more football nous and intelligence than the Live Forum combined – the Internet is embarrassing at times!
With a bit more luck we could very easily have won all 4. Take it on the chin, we didn't and need to get better, win both cups, kick on next year.
He is aware of our deficiencies but we have to experience them, I honestly think we are on the right path. A few wobbles won't change my opinion but not everyone has the balls/foresight for a big, long term change.
Funes Mori has been slashing at the ball Yobo-esque the last few games and the sooner Jagielka's calming influence is back, the sooner we will pick up. He needs a break to consolidate. Good player in the making but we're missing a senior pro and captain.
Let them grow, take the hits, believe in the team. I still believe we can achieve with this team and this manager.
James Stewart
43
Posted 20/12/2015 at 00:17:49
@27 I think you are completely correct. Martinez is an extremely dangerous manager. We won't go down this season but a poor league finish is very much on the cards, again.
That will see us lose the guy who scores pretty much all our goals. An Everton team under Martinez without Lukaku is a truly terrifying prospect.
Eric Myles
45
Posted 20/12/2015 at 00:41:51
Paul (#3), Pardew wasn't sacked by Newcastle.
David Edwards
46
Posted 20/12/2015 at 00:43:07
Please will all the "glass half-full" Evertonians start waking up now about the dead-end that RM is leading us down. This time last year was when I lost faith in him, and nothing he has done has changed my mind.
This season has turned out to be the only one in recent memory which gave teams like us a chance to do the impossible and not only dream of top 4, but to actually win the league. Only Leicester have grasped the nettle and their squad does not compare with ours – so why can't people see it has to lie with RM and his tactics, vision, substitutions, motivational skills and idiotic interviews with the media???
Sadly, Blue Bill will not see this, and we must expect another mediocre season followed by the exodus of the players that could have taken us back to the level we fans deserve. 2015-16 will be the biggest missed opportunity since the EPL began. Shame on you, Roberto and his apologists.
Eric Myles
47
Posted 20/12/2015 at 00:46:00
Their goalie was certainly the opposite of ours at corners.
Peter Carpenter
48
Posted 20/12/2015 at 00:52:50
Well done, Bobby, I'm glad you've spotted a defensive problem... About six months after the rest of us, but never mind. So, what are you going to do about it?
Is it the full-backs? Is Galloway a better defender than Baines? If so, push Baines into midfield, you said you would do that over a year ago. It would be good to have a genuine left-side to the midfield too. Coleman? No real alternative there anyway.
Is it the centre backs? Good to have ball players at the back but it would be good if they headed corners away and made decisive tackles at key moments too. What about one of those big, ugly English style centre-...... no, forget that, not your style.
Stones is good, everyone in Europe wants him but he's got a lot to learn. For example, what was he doing standing by the corner flag when Coleman took the throw that led to their 3rd goal? Yes, he could have helped keep possession but it might have been better to be pragmatic and get back in the centre, making sure they couldn't profit if things went wrong.
And Jagielka will be back soon. But he's been part of a leaky defence too, hasn't he? Play all three... both full-backs pushing on.
Okay, so if it's not the centre backs either... that only leaves the goalkeeper! Old Tim, and yes, he's looking old, even without the Taliban beard. His best saves these days are made with his feet, leaning backwards. Not quick or agile enough anymore? He isn't coming for crosses – wouldn't be so bad if we had one of those big, ugly English... oh, okay, been there already.
Decision-making? Vardy was going away from goal and saw an easy penalty approaching fast from his left in yellow – just tap it away from his grasp and Tim, with a little help from gravity, will do the rest.
Bob, he just isn't making the big saves anymore. Look at Rudd in the Norwich game, 3 or 4 saves kept them in it long enough for an equaliser to come. Hennessy for Palace – same. Poor old Tim is so slow getting down that his saves don't tip the ball round the post... just put off the defender on the line – Barkley v Norwich – so that he miskicks the clearance and they score.
But then you've had your chances to change the keeper: Robles just got going last year when you hoiked him out, despite three clean sheets in a row and starting to dominate his box. Remember in the cup tie at West Ham? He came out, punched and cleaned up both the attacker and Stones. When did Tim last do that? Just think how much confidence the defence would get from a keeper who does that?
Don't believe me? Ask a random selection of 100 supporters at the next game; see if you get more than 10 in favour of Tim. And watch out that you don't end up with a Chelsea-style revolt against a player before too long – everyone can see it's time for a change... why can't you? (Was I the only one slightly disappointed that it wasn't a red card? Bad, I know... but so is Tim these days.)
Over to you. What are you going to do, now that you have recognised that there is a problem? Because teams that need to score two or three (or even four) just to have a chance of winning ain't going to win many and time is ticking away. There are lots of hungry teams out there doing the ugly stuff better than we are, so don't think about it for too long... DO SOMETHING ABOUT IT!!!

Don Alexander
49
Posted 20/12/2015 at 00:53:32
Well said Colin at "36". How the hell Ferguson ever got to be idolised by Evertonians amazed me at the time and now. Anyone looking at his stats as a player is deluded if they think different.
He was a skiver, getting sent off whenever he fancied time off on full pay (nearly always over the Christmas periods in particular, and it was the same at Newcastle, and Rangers).
And we're supposed to revere the fact that, out of work, he turned up and offered to "coach" our kids for nothing before some numbskull decided to pay him. You couldn't make it up – and there's some on here that think he should be our next manager!
John Aldridge
50
Posted 20/12/2015 at 01:22:06
Sorry Bobby, but you're talking bollocks. As per usual.
The squad we have should be doing a hell of a lot better than it is. When Moyes left (and during Martinez's first season) we had a rock-solid defensive unit. What has happened to that defensive solidity must only be the responsibility of Mr Martinez.
We are so weak at defending, particularly at set-pieces. A back four of Coleman, Stones, Funes Mori and Baines should not be leaking goals and making howlers – not when there is also two defensive midfielders in front of it.
Sorry, Bobby, but I'm sick and tired of all the rubbish excuses now. You said judge you at Christmas – well we are here, and you haven't got a clue. We know you're not going to be sacked so please – for the sake of our club – leave. Leave now.
Terry White
51
Posted 20/12/2015 at 01:24:47
Eric (#42), opposition teams take better corners than us. What I find frustrating is, when we do get a corner into the goal area, their keeper can come and catch the ball without a challenge from our players. Where are they all?
We can blame Howard all we like for his inability to come and get the corners but how often does he have a clean run at the ball?
Jim Bennings
53
Posted 20/12/2015 at 01:59:45
Pardew also got Newcastle 5th, which is a minor miracle itself, he did a solid job at West Ham and already with less money than us has Palace performing far better than Martinez has with us.
Martinez just doesn't seem to grasp what's required in this league to win games, as for Ranieri, his CV speaks for itself.
It's very very easy to see how Martinez got relegated, I can see nothing more than mid to bottom battles under this manager.
He's learnt nothing at all from last season. Same problems, same excuses as last season, well there was the Europe excuse last season, what this time?.
Can anyone even see where our next win is coming from? The fixture list in January is horrendous and, when you consider, since the middle of September, all we have won is two games against abject opposition, it's even more concerning.
Peter Barry
54
Posted 20/12/2015 at 03:24:23
The very worst thing you can say about Martinez's inability to create a winning team is 'same old, same old'. He has told us he will never change so the only option is to change him for a competent manager.
Harold Matthews
55
Posted 20/12/2015 at 04:25:13
A disorganized team that were never fully sure what they were doing against a well drilled team that knew exactly what they were doing. Ranieri's long-time top-class experience shone like a beacon over Goodison Park. His intelligent, enthusiastic, mobile players out-fought and out-thought us all over the pitch. A very well-prepared outfit.
I can't say our lads didn't try because they did. Indeed, we played some nice stuff at times. Unfortunately, they played deep and our slow forward tempo allowed them to outnumber our attackers throughout.
At the other end, our defence was wide open and Stones repeated his Sunderland performance. Half asleep and slow as a boat. No surprise when Vardy turned him inside out for their 2nd penalty.
As for his position by the corner flag for their 3rd, leaving Funes Mori to cope with three men in the box. Words fail me. Little wonder the Argentinian barked at him. He had to race across and cover for Stones and Coleman on more than one occasion. The Barnsley lad is amazing on the ball but he's not for me. I like enthusiasm and urgency.
Rahul Sreekumar
56
Posted 20/12/2015 at 05:13:32
Every fucking time... This could have been the post-match comments after any of our last few matches.
To think I used to hang on every word of his when he first came in.
Karl Masters
57
Posted 20/12/2015 at 06:24:11
Spot-on, Harold. Stones and Martinez are two peas in a pod. Talented, but forgetting the basics too often and undisciplined.
Chris Leyland
60
Posted 20/12/2015 at 08:21:25
"He was a skiver, getting sent off whenever he fancied time off on full pay (nearly always over the Christmas periods in particular."
Don Alexander #45, don't wan't to let let the facts get in the way of a good rant but – of Ferguson's 8 sendings off for us – only one was in December.
Dave Pritchard
61
Posted 20/12/2015 at 08:37:23
Just watched MotD after seeing it at Goodison to see whether the defensive mistakes were as bad as they seemed... They were.
Funes Mori's challenge was irresponsible and unnecessary. Stones was completely skinned by Vardy's run, and Vardy would not have scored if Howard had left him alone. And the giving away of the ball from our own throw-in was painful to watch.
All 3 of their goals were giveaways. Funes Mori looks uncertain and makes poor decisions. Stones needs to concentrate more on his defensive duties than on bringing the ball out of defence and looking good. He was so weak when Ulloa nearly scored at the end.
Compare our centre-halves to their two brick shithouses. Jags back asap, please.
Jim Bennings
62
Posted 20/12/2015 at 08:44:17
The trouble is though, Dave, going back to when Jags was in the team, it wasn't really much different: we still couldn't do basic defending.
No, for me the answer was what we didn't do last summer; I don't know how much they would have cost but one of Scott Dann or Ryan Shawcross should have been last summer's top priority for me. The team lacks a vocal leader, even Jags is apparently a quiet captain.
At 3-1 down yesterday, I saw nobody trying to organize or galvanize the players.
Jim Bennings
63
Posted 20/12/2015 at 08:50:34
Stones looks great when he's on the ball but as a defender first and foremost it should about being strong when he's NOT on the ball.
I've always thought he's looked a bit fragile really.
Funes Mori has seemed to get weaker as time has moved on instead of stronger. It shouldn't take him 6 months to show us he's a hard man; if he's played in Argentina, he should be already adapted to the physical side. It didn't take Tevez or Mascherano long to show they wouldn't put up with shit and being bullied.

Dave Pritchard
64
Posted 20/12/2015 at 08:52:43
I know what you're saying, Jim, but I'd still have Jags back in for his experience. I agree that an old-fashioned centre-half is needed.
Trevor Peers
65
Posted 20/12/2015 at 09:15:46
Roberto will probably last till the summer, but surely then his time at Everton will finally be at an end. His brand, philosophy – call it what you like – doesn't work.
This season's results proves there's little or no improvement; we do play some nice football but not winning football. If he doesn't go, god help us.
I went yesterday and our supporters deserve better, the level of frustration is huge. Does BK understand or care what we think, though?
Patrick Murphy
66
Posted 20/12/2015 at 09:20:45
It has nothing to do with any individual player or his particular skill-set but has all to do with the philosophy of the manager.
Roberto wants his players to be brave on the ball, always ready to spring an attack from any area of the pitch, and that is why the players individually and collectively are making mistakes in nearly every match they play. We may indeed have a back four, supposedly shielded by two defensive midfielders on paper, but in reality everything is geared to creating opportunities to get forward. Barry, Cleverley, Barkley and the back four are encouraged to move forward but the price that the team pays for this is a lack of focus on keeping the ball away from dangerous areas.
Don't expect Roberto to purchase the likes of Shawcross et al – they don't fit into his ideal team. To me, that is why he'll never be a top manager; his ideals are fine, and many of them I agree with, but, in the Premier League in particular, giving chances to opponents is footballing suicide.
Roberto won't change; he might get lucky and produce a few good results on the bounce... he may even be lucky enough to win a cup... But I feel that he will never sacrifice his ideals for the good of the club; for that reason alone, I think he should be replaced at the earliest opportunity.

Andy Meighan
67
Posted 20/12/2015 at 09:41:25
I said it last night and I'll say it again: the moron talks loads but says absolutely nothing. I think nearly every post on this thread says it all: the majority of us are sick to the back teeth of his tactics, The defence's inability to defend set-pieces, meaning we are nearly going to have to score 3 or 4 to win a game (that won't happen).
Sooner or later, Lukaku is going to hit a dry patch and God help us when he does... Me personally, I'm fed up with the clown sticking with his favourites, ie, Howard and Kone to name but two, this season. Last season, Howard, Barry, Lukaku, McCarthy – all underperformed but were guaranteed their places.
His substitutions are an absolute disgrace. Every one in that ground yesterday could see Kone was having a nightmare yet he continued to keep him on. Ditto Deulofeu. It actually insults your intelligence...
And anyone thinking we will beat Man City in the semi-final are living in cloud cuckoo land – we'll concede a couple at home and get fucking slaughtered at The Ethiad. We didn't get near them at Goodison and they won with ease without being anywhere near their best, so forget that notion.
The sad thing is, though, there's not a prayer he's getting sacked – no matter how bad it gets – as long as we stay on the gravy train that is the Premier League.... that's all this board is interested in. So basically he's got the job for as long as he wants it.
He's got to change things at Newcastle, personnel-wise and tactics-wise, but somehow I just can't see it.
Oh and Don #45 – spot-on about Ferguson. Only played when he felt like... another phoney fucker and what him Jones and Lawrence do at Finch Farm is anyone's guess. Haven't they got the arse to tell Martinez where things are going wrong? Obviously not...
Jim Bennings
68
Posted 20/12/2015 at 09:50:30
All said and done though, it can't help any of the defenders knowing that clown in goal is behind them, he can soon rush off his line to bring players down for penalties, how many times has he done that?
Howard never ever stands up and narrows the angle, it's a golden rule for a goalkeeper to make yourself as big as possible, that blurt just dives in at the drop of a hat.
As we say though, we had these same discussions this time 12 months ago around December and January when our form totally deteriorated, Martinez was a lucky man to still be in a job after that debacle at Hull on New Year's Day.

Glen Garrett
69
Posted 20/12/2015 at 10:05:33
It's a clear understanding why Wigan went down. If Bill doesn't get another manager, Everton are going to follow the same way. We need a manager that takes no shit and doesn't talk bullshit like Martinez.
Phil Walling
70
Posted 20/12/2015 at 10:17:21
David Flanagan @ 5 says it succinctly: "Leicester looked better coached and well drilled" and Roberto almost admits as such when he says "Leicester know exactly where they are going to hurt you."
That doesn't happen by chance. It comes from researching the opposition, planning and drilling of players so that they become energised and most of all, organised at both ends of the pitch for 90+ minutes.
Yes, the Foxes do have two outstanding front players but, used correctly, don't we have two such weapons in Romelu and Ross? And just why isn't our unusually strong squad utilised more effectively both in selection and game management?
It seems to me that our present situation is different from those of recent years. For once, we have the players but just don't know how to get value for the money invested in them.
Paul Jeronovich
71
Posted 20/12/2015 at 10:26:05
I didn't want to overreact yesterday but today I do. Martinez should be given the next 5 games to turn this feeble defence and goalkeeper around or the season is fucked. Can't rely on the attackers to pull us out of the shit every game.
Brin Williams
72
Posted 20/12/2015 at 10:58:22
Does BK attend matches these days?
Joe Clitherow
73
Posted 20/12/2015 at 10:58:26
For the umpteenth time more vague, non-specific rubbish from the fraud. It's the same rubbish statement with no change to address it. He has actually said nothing here apart from "we need to play better" (no shit Sherlock) but actually even this is wrong: we don't need to play better, we need to play to WIN! None of the "performances more important than results" rubbish he has spouted; he is in a results business NOT entertainment.
Back to the vagueness of his points, if we don't understand exactly what he thinks need to change then the players have no chance of this is how he communicates to them. They look as lost as you would expect with this type of instruction.
For avoidance of doubt Roberto there are some very very specific points that need urgent work, all can be gleaned here, namely, tighter and more organised defence, a commanding keeper, practice of set pieces, more fitness, desire to win, a willingness to take shots and test the keeper rather than score the perfect goal etc etc. These are all SPECIFIC points that could be addressed SPECIFICALLY and I could add more.
Sadly.
John Crawley
74
Posted 20/12/2015 at 11:08:30
To me we don't look as fit as other teams, it was the same last season. We only seem to play for an hour, I'd be interested to see the stats on when we concede our goals.
Talking of centre halfs good in the air, I see Shane Duffy's doing well at Blackburn. Saw him a few weeks back and he won everything in the air.
Bobby Thomas
75
Posted 20/12/2015 at 11:16:28
On Stones I'd say that to make himself the player he could be he needs to get himself away from Martinez as quickly as possible.
Jags will come back in and play. But it won't make any difference. Can you remember how bad we were at Barnsley? Sunderland at home was the equivalent of Wolfsburg last season. It was a result that masked deep flaws.
It doesn't matter who plays in the back 4 really. The established players, Jags, Coleman, Baines, have all gone backwards. After a strong start Mori is getting sucked in by the poor organisation and uncertainty.
The same faults always persist. Crosses, stopping them, way too open, easy to break on, poor shape, lack of discipline, lack of responsibility taking, no organisation, soft center, mentally weak. Martinez has been saying the same things for 18 months. And as for the keeper, yes he's declining, but we don't give him much help do we?
I always have the feeling that the wheels are never far from coming off with this fella. At the moment Rom is keeping the wolf from the door. The first 6 months are clearly a break from the norm, the result of the best of Moyes – the discipline, shape, organisation and fitness - combined with a new, positive voice who opened things up & was the exact opposite of Moyes.
It is now fairly apparent that Martinez lacks substance and over the course of a season the holes in his approach are ruthlessly exposed. We may land a cup due to his high risk, hit and miss, kamikaze approach. We could also end up in bother. However we have a much bigger budget and better players than Wigan so should be ok. Basically, we are incredibly average.
If Lukaku gets injured, we have a problem.

Neil Gribbin
76
Posted 20/12/2015 at 11:18:23
Paul #60,
I fully agree mate. Give him the next few games to see if he can take on board his own points.
If not, adios amigo.
And if he starts Kone in the next game, I will have an aneurism I think
Clive Lewis
77
Posted 20/12/2015 at 11:26:28
Bill Kenwright has a decisive to make.
Stick with Martinez and lose his best players to ambition. Probable relegation will follow.
Get rid and give Eddie Howe or another manager with a patient manner and motivational skills a chance. The players look confused and disinterested this is NOT going to be reversed. The midfield and defense are lost.
Paul Hewitt
78
Posted 20/12/2015 at 11:36:17
Martinez hasn't learned in the last 2 seasons. What makes you think he will learn anything in the next 5 games?
John Keating
79
Posted 20/12/2015 at 11:44:10
We seem to be talking about exactly the same things now as we were last season.
Fitness, lack of on field leadership, substitutions, the need to play tippy tapped at the wrong time, tactics, players picked regardless.
Are we appreciably any better off coming into this Christmas as we were last year.
Our only priority, as last year, is getting to 40 points, European football is as big a joke now than it was last season
Martinez is a fraud of the highest order and his ego has assisted in us wasting a great chance of getting into a European place in one of the most open seasons there has been for years
He has been at Goodison exactly a year longer than he should have and even the apologists are having a hard time excusing him now.
The Wiganisation continues and if we persist in employing this clown the end game will be the same.
Andy Crooks
80
Posted 20/12/2015 at 11:45:26
I don't believe that Martinez has had quite enough time to get us relegated but he certainly has the necessary skills and given time he might just do it.
Jim Potter
81
Posted 20/12/2015 at 11:56:43
Er ... hello. Is that José?
Dave Ganley
82
Posted 20/12/2015 at 12:01:59
And as the Leicester fans gleefully chanted "You're getting sacked in the morning" Evertonians around me eyed each other all thinking the same thing......"Sadly, no such luck!!"
Richard Lyons
83
Posted 20/12/2015 at 12:18:00
Oh what utter crap. So what are you actually going to do about it, Roberto???
I think we're pretty much all agreed that our squad has an abundance of talent. What would yesterday's team fetch – maybe £150m? And that's with Barry, Howard and Kone each valued at ٞ.
Didn't think I'd be saying this, but I think Roberto has taken this team as far as he can – we need someone else to take them to the next level.
Winston Williamson
84
Posted 20/12/2015 at 12:22:46
Well, I thought at the start of the season (after the shite served up last season) I'd give Roberto until Christmas to make the changes necessary to improve us. He hasn't at all.
Defensively we are relegation fodder. Attacking wise we're ok. Good teams are built on defensive organisation. We have none. Thus, we are not a good team.
Roberto out...
Paul Thompson
85
Posted 20/12/2015 at 12:35:28
Well he could hardly say 'we have to do worse'! Unfortunately there have been far too many post-match opportunities for learning that ultimately don't seem to make any difference.
We are playing better football than last season, but most of the same underlying weaknesses are still present. The fact that they haven't been adequately addressed comes back to the manager, who is not really the changing type. As someone said on another site, we are basically an upmarket Wigan.
Brian Harrison
86
Posted 20/12/2015 at 12:40:45
This season we have conceded at least 2 goals 8 times in the league, so in effect you are needing to score 3 or more to win a game. I along with many were pleased with his first season, some suggested that he was benefiting from the defensive qualities that Moyes had drilled into the team. Seems as the games have gone on from that first season the stats seem to show that defensively we are getting worse under RM.
There is no doubt we have some very good players in this squad, but results would say otherwise. So if we do have a good squad of players under performing then the fault clearly lies with the manager.
After sitting through the game I was reluctant to watch MotD, but thought I would be interested to hear what the pundits made of it. After both Keown and Jenas had discussed the game, they were asked what they thought of Everton. Jenas thought RM would by and large be pleased with our form and league position. Thankfully Keown said he thought we were under-performing.
Now I wonder if Jenas would have the same opinion if Spurs hadn't won in 5 games and were in 10th. Just shows how as a club outsiders view us. I just hope our board have bigger ambitions than Jenas.
Michael Penley
87
Posted 20/12/2015 at 13:24:18
Brian (#74),
I've been hearing Spurs discussed as titled contenders despite being surrounded by Palace and Watford who were 1 or 2 points off.
Would those teams be considered anywhere near title contenders? Even now everyone is saying Leicester will fall sooner or later.
Martin O'Sullivan
88
Posted 20/12/2015 at 13:28:09
I have tried to remain positive with Martinez but it is seriously wearing thin now. The football we are playing is just not dominant enough. Let's look at Wigan in his style; they managed to just overcome several seasons but eventually it didn't work. Now Swansea still play the same way and are starting to show cracks and again has never really bossed the higher majority of games in a season, so this too eventually needs to be changed.
Now the big one: Man Utd have been playing with the same model up front and two sat deep in midfield, and they too are struggling for goals and struggling to kill games off and getting beaten in later stages of games. It's not rocket science, it just doesn't prove to be dominant enough and it goes to show that all the possession and passing doesn't win games.
A previous post mentioned that, in his good season, we still had our defence drilled the Moyes way. I totally agree and have always said this is why we were so good that season. This season is going to turn out like last season, you can see it dropping off. BK has to realise that with the crop of players we have we should be doing better and playing a far more attractive and dominant way. If it continues in the Martinez way, we are going to loose top names this summer and that already makes the excuses for a poor next season...
I have finally had enough and I am bored stiff of this rubbish football. So Mr Kenwright do the do and get this clown out, this is not the Everton way..... Martinez Out!
Frank Crewe
89
Posted 20/12/2015 at 13:28:20
We have been over this ground so many times in the last two years it's become boring. It's a pattern. A few good results are immediately followed by a bunch of bad ones.
RM says we have to get better. Well this is his third year and we don't appear to be getting any better at all. If anything we seem to be getting worse. Still the same old problems we've had since he arrived. Missing numerous chances, conceding sloppy goals and dropping points against sides we should be defeating.
Football is supposed to be a meritocracy yet Robles get dumped for an out-of-form Howard. Baines is brought back even though Galloway was playing well. Kone gets picked over a younger, stronger, fitter, faster, Mirallas. Barkley gets picked because... I don't know. Why does he get picked? He does next to nothing. Can't figure out what his best position is, assuming he has one. He's Fellaini without the hair.
If we don't get past Man City in the League Cup then it's going to be another season of early promise followed by another slump into mid-table. Not to mention Stones and Lukaku will be gone next summer.
If RM wants the team to get better then he has to get better. He has to stop picking favourites regardless of form. He has to find a more balanced formation that spreads the load and doesn't put all the responsibility for creating all our chances on the shoulders of a 21-year-old winger. Skillful as Geri is he's not a miracle worker and needs someone on the other wing to stop the opposition doubling up on him. Other players beside Lukaku have to start scoring. We barely get any goals from our midfield players at all. They're getting away with murder. We need a goalkeeper the defense can have confidence in.
If he wants to keep his top young players beyond next summer, there has to be some indication that we are improving and in with a serious chance of competing with the richer clubs. If this doesn't happen then they'll be gone and we'll be back to square one. Another Southampton. Plenty of cash but an average side continually losing their better players.

Jim Bennings
90
Posted 20/12/2015 at 13:29:30
The board seriously need to question what do they really want for this club and have we really moved on at all since the middle years of the David Moyes era when he got us to a League Cup Semi, an FA Cup Final and a good run in Europe?
For me, it seems to be regressing month by month under Martinez, this is the team that is now functioning under his leadership (or lack of it) this is his way of playing, his fitness regime, his mentality.
Over the last 18 months our home form has been horrendous, we barely win at home against any decent opposition anymore, we never keep clean sheets at home, one all season, everything that made Goodison Park a feared venue to visit has deteriorated rapidly, so many teams come to this place now confident they can outscore Everton, nobody comes with fear anymore.
You wouldn't even mind if like Crystal Palace, we were winning a lot of away games but our away form is equally as retched, again a inability to keep clean sheets costing too many point's like at Norwich and Bournemouth.
We contrived to make the worst Manchester United team in memory look fantastic. Rather than get the players psyched up to put in a real show that would have made Howard Kendall proud, we simply showed our usual meek lack of big characters by surrendering in a pathetic way.
We managed to make a crisis-ridden Brendan Rodgers Liverpool team that had been leaking goals look relatively solid. We were equally abject against an Arsenal team at the Emirates that looked dead on their feet following their Champions League exploits.
The man is simply clueless and the next batch of fixtures reads:
Newcastle.. away
Stoke...home
Tottenham...home
Man City...home in the Cup Semi
Dagenham...home
Man City...away in the league
Chelsea...away
Swansea...home
Man City...away second leg of Semi
That's a quite wicked looking fixture list for a team that rarely wins games that are against the odds anymore.
I get the feeling that Martinez could be in an even more precarious position come the end of that run.
Raymond Fox
91
Posted 20/12/2015 at 13:30:56
Why all this talk of underperforming and massively underperforming? We can see the abilities of the players now, can't we, good but not good enough!
Massive over reaction as usual to our defeat by the League leaders, they showed the ability they have, and why it's no fluke they are on top of the Premier League.
We can argue if you like that Robles and Mirallas should have started the game from the off, but that apart, the team Martinez fielded was the best team barring injuries we have.
Defence has never been Coleman's and Baines's strong points; I said way back Stones leaves a lot to be desired as far as defending is concerned, and Funes Mori, who has looked okay, didn't cover himself in glory in this game.
That said, there was very little between the teams and the two penalties they got I thought were on the soft side and both should have been avoided.
I can see I'm swimming against the tide after another disappointing result on here, but you want to get rid of the owners, not the manager, because until they go, nothing is going to change in respect of winning trophies.
By the way, I see on Saturday our last 3 opponents that we drew with, all won away from home: Norwich at Man Utd, Crystal Palace at Stoke and Bournemouth at West Brom!
Don't give the ghost up yet, there's a long way to go this season and there's going to be many more surprises in store, more good ones I hope.
Vince Furnier
92
Posted 20/12/2015 at 13:31:39
I am no Mourinho fan, but he needs a challenge and has a point to prove. We have the best squad we've had for years, the Premier League is wide open, Jose loves Stones...
Come on, Bill, have the conversation and make the big decision.
Mike Gwyer
93
Posted 20/12/2015 at 13:33:31
Almost to a man, every Evertonian has had enough of Howard. It's a mathematical certainty that three things will occur at almost every game: (1) an error, (2) Howard and (3) a goal for the opposition; it's a nailed-on fucking certainty and, just to ensure total match-day mayhem, the two CBs will assist with the error-making whenever possible. I have to ask, how can a back four, that are worth somewhere around £100 million, continually play so fucking shite and not in any way communicate with each other??
You know what, I thought Ranieri was taking the piss when he said that "Leicester had beaten a very good team who passed the ball so quickly", what he didn't add was that "their defence and goalkeeper are total fucking shite and you can just wait for one of them to fuck up with their tippy-tappy Martinez football".
Howard, for me, must be as hard as fuck because no-one seems to be able to tell him "You are sitting on the bench for this game". Nope, every EPL game he plays and every game he has you kicking the shit out of the seat in front of you and, for me, if he isn't aware that most blues have had enough, then he's fucking deaf.
And finally, let's not start about Kone playing instead of Super Kev. That is a joke, seriously a joke. All I can say is that Super Kev has definitely shagged RM's wife and worse still, RM's wife liked it. A lot.
RM, please take your brown shoes and that knob who acts as an assistant manager, but does fuckall squared except hold up an A4 sheet of paper (on a fucking clipboard). Yep, take all your shit, take your mega pay off and go and fuckup some other team.
Andy Crooks
94
Posted 20/12/2015 at 14:05:16
Raymond, this is not an overreaction. This is a sincere response to a run of poor results. Do you believe that our points total reflects the quality of our squad?
In my view everything about the squad is soft. We have a coach who is stubborn, uninspiring and in my opinion tactically inept. At what stage will you think enough is enough?
James Hughes
95
Posted 20/12/2015 at 14:10:23
Fortress Goodison is now just a memory and teams turn up to help themselves to points.
We have a great team and play some amazing football, Ross setting up Kev is a perfect example. But Coleman giving the ball away for their 3rd goal is just typical of the things that never seem to change.
The man is never going to learn and develop his skill set and I can't see the Board getting rid of him unless he gets us close relegation... and even then, I can't see Boys Pen Bill suddenly growing a pair.
I would love him to prove me wrong because this team is in my soul and every year I want to win the league, the race is open and we have the talent. All we need is the strategy, so Roberto, get your fecking finger out and learn the lessons you say need learning.
Jim Bennings
96
Posted 20/12/2015 at 14:16:29
Raymond
We are underperforming and underachieving, with the money we have spent compared to the likes of Leicester and Watford, even Crystal Palace yet they have not taken long to get teams capable of winning football matches.
Martin Keown was at least big enough to admit it, Everton are underachieving, for too long Everton managers have been too protected by the media for doing miraculous jobs..
We are piss weak at the minute, lacking organization, leadership and lacking a management team capable of turning it around.
Ian McDowell
97
Posted 20/12/2015 at 14:28:34
What a job Sanchez-Flores is doing at Watford. A very well organised unit that brought in 10 players in the summer and have fitted straight in.
Ross Edwards
99
Posted 20/12/2015 at 14:37:50
Spot-on, Ian. I'd happily swap him with Martinez. He's got Watford doing everything that we aren't under RM. They're well organised, they are hard to break down, they press and work hard as a team, and they are clinical going forward.
Brin Williams
100
Posted 20/12/2015 at 14:44:56
I never thought I would say this but Vince at 80 has me thinking the same way.
Jose needs a challenge - he's had his whack of 'top teams' now he needs to start building his dynasty and where better to start than at the 'People's Club' and the home of the School of Science – with him on board we would attract Nil Satis.
Go on, Kenwright, break the bank – show you have a pair and all will follow... the support, the stadium, the players, the glory.
Think fucking big, after all, you are Everton's No 1 fan – aren't you?
Just do it!!!
Stephen Brown
101
Posted 20/12/2015 at 15:05:28
It's really depressing! I can't remember how many Saturdays I've watched MotD in the last year? Not many!
It's so clear to everyone we have a good side but a goalkeeper who is well past it and a liability (everyone knows it, including fans of other clubs) and I know some don't agree but if we had a defender like Shawcross we wouldn't concede so many pathetic goals!
Defenders should defend and enjoy defending! I'm a defender for my team (local league level, not very good standard) and I enjoy nothing better than blocking a shot, winning a header, coming off the pitch covered in mud! I enjoy it as much as scoring a goal!
Stones, Funes Mori, Coleman, Baines... nice players but do they love defending? I'm not so sure! Shawcross and his like love defending!! We learnt in PE lessons in school that invasion games (football, rugby etc) are about attack and defence equally! We cannot rely on scoring more goals than our opponents without stopping them from scoring!
I like Martinez but, if this is not sorted in next few games, I'm afraid the board has to act! It's great seeing Leicester doing so well but you can't help but feel it could or should be us!
Frank Crewe
102
Posted 20/12/2015 at 15:07:03
@Ross (#87),
Yeah. But would you have swapped him at the start of the season?
@Brin (#88)
The only "People's Club" that Mourinho would be interested in managing is the "Rich People's Club". He wouldn't get out of bed for penniless beggars like us.
Ross Edwards
103
Posted 20/12/2015 at 15:15:26
I think, Frank, that RM should have gone at the end of last season. But I decided that he should be given a final chance, see if he could learn from his mistakes, and it's clear that he hasn't and he won't.
I'm fast running out of patience with him. His excuses are wearing thin.
John Hughes
104
Posted 20/12/2015 at 15:22:57
James (#83) it was a sublime ball from Ross to Kev for him to score a very good goal, but don't tell Frank Crewe (#77) that though,'cos Ross can't do anything right for him, he must have missed that flick that led to that goal.
Des Farren
105
Posted 20/12/2015 at 15:23:31
Just watched our neighbours being tonked by Watford. Now there is a team underperforming....
Some here need to get a grip.
Peter Cummings
106
Posted 20/12/2015 at 15:25:35
What upsets it for me is to see our fantastic support being shafted time after time actually now expecting us NOT to win games even after taking a two-nil lead.
Both of the Foxes pens, while fully justified, could have been avoided. The first was almost over the touchline but a cross into the area I think would have been smothered. The second took Vardy wide past Howard to an acute angle which would have been hard to score from, although not impossible,
I said in my last posting that if we played our 'two half' performance we would be in big trouble and so it proved, yet again, but gifting the game with pens is criminal, especially when we scored two great goals.
Brent Stephens
107
Posted 20/12/2015 at 15:34:24
Des (#94) "Just watched our neighbours being tonked by Watford. Now there is a team underperforming. Some here need to get a grip."
The Redshite underperforming doesn't mean we aren't. I don't know how anybody can be "gripped" by that.
Mark Andersson
108
Posted 20/12/2015 at 15:36:08
I've just taken pleasure of watching the red shite being easily beaten by the mighty Watford. Liverpool are quite bad but, as usual, we are worse than that shower.
Unless we get shut of Martinez NOW, we will not see the best of this promising side.
Billy boy looks like he is on steroids for some kind of illness as he has ballooned. I wish him well in his recovery as I've been in the same situation not so long ago; however, I hope he can see that Martinez needs replacing. But deep down he is just as stubborn as the manager he appointed.

Trevor Peers
109
Posted 20/12/2015 at 15:37:13
Des (94#)
It's an insult to tell people to get grip after what we've witnessed in our last four easy fixtures. How much disappointment are we supposed to suffer before we complain?
Maybe a ten-match run without a win will convince you just like last season; it's on the cards – look at the fixtures....

Peter Barry
110
Posted 20/12/2015 at 15:39:37
So, Brent Stephens (#96) you think the RS are under performing and yes indeed they are having a really bad season. But we are still BELOW them so what does that tell you about Martinez's Everton???
Richard Reeves
111
Posted 20/12/2015 at 15:41:17
Ross (#88), many people have said how boring Watford are to watch so I wouldn't be wanting to swap Martinez with a manager who is only getting a team well organized. Pulis or Allardyce can do that.

If we're lowering expectations, I would rather see a management team of Ferguson & Sheedy.
Peter Barry
112
Posted 20/12/2015 at 15:41:35
Ooops, sorry Brent, I see you were just quoting Des (#94) – my comments apply to him. not you.
Brent Stephens
113
Posted 20/12/2015 at 15:43:25
7 EPL home wins in the last 12 months. We seem to be going nowhere. Lot's of promising young lads developing. But still developing. Will they be good enough for Roberto's tactics? Only if the defensive side improves.
Brian Porter
114
Posted 20/12/2015 at 15:44:10
Christ, bloody Watford beat RS and are now one point off top four. Doesn't say much for us an and our phenomenal manager, does it?
John Keating
115
Posted 20/12/2015 at 15:48:20
Des, You need to get a grip.
Your post sounds that we're not so bad cos other teams are getting beat by, so called, lesser teams.
Like most Blues I couldn't give a shit about other teams and have no interest how they get on.
The only concern any and every Everton supporter should have is how we are getting on. Our results are a disgrace and the management of the team even worse.
That is the only thing you and any of us should be thinking of.
Patrick Murphy
116
Posted 20/12/2015 at 15:51:32
Our neighbours got beat... woopy woo, that helps Everton FC and its supporters how exactly?
That mindset is one of the reasons that the Everton hierarchy are unmoved by what we do on pitch; good, bad or indifferent, they seem to think the same way. As long as the neighbours aren't hoisting the Premier League trophy, why worry?
We are so fixated on them at times we forget the reason why we exist. I don't even know what the score is from Vicarage Road and, to be frank, I couldn't give a toss, unless we have done the business for ourselves. I'm sure some would be happy if we finished third from bottom as long as the other lot were one place below us.
Ian Riley
117
Posted 20/12/2015 at 15:52:27
I think after yesterday, top four is beyond us! A great opportunity was missed in the previous three games. Sadly, we defend so badly at times, it's laughable.
I looked at Lukaku at the end of the game and thought "Who will you be playing for next season?" He looked as pissed off as I did. The art of our defending we had three years ago has gone and we have two holding players now!!!
Martinez is into his third season and we are not improving, even with better players. Sadly, he is a thinker and talks the talk really well but we are not going to take the next step with Martinez. I want him to succeed because he suits Everton as a club. Unless he puts a fighting mentality with energy into the team, we have nothing.
Martinez will not be sacked, but if I had to choose someone, it would be Alan Stubbs. Gone away and learning his trade and doing well. Might not be everyone's call but knows what all Everton fans expect.
Raymond Fox
118
Posted 20/12/2015 at 15:55:57
Jim B.
Its a matter of opinion and expectancy. I've argued for a while now of how many of our players would be 1st choice picks in your usual top 4 team, admittedly it's hard to pick a top 4 team this season. I'm thinking Man City, Man Utd. Chelsea and Arsenal!
Lukaku is in good form so he's one; Deulofeu is hot and cold so I don't think so; Barkley disappoints me and I don't see him starting for more than in the odd 1 or 2; Stones is showing some defensive flaws in his game so maybe 1 or 2; Baines and Coleman, again 1 or 2... and I think some of those assessments are generous.
There's no-one else in our team good enough so I do think fans think we are actually better than we are.
In the last 5 years, Jim, 16 teams have spent more than us to improve their teams, that in itself is a big handicap.
I put in the previous post that the opponents in our last 3 draws all won away from home, Norwich at Man Utd, Crystal Palace at Stoke, Bournemouth at West Brom, so there's not much wrong – we are just in the main not putting teams away when we are on top; we're talking small margins.
Every ones ultra desperate for some success and its no wonder after 20yrs, but I do think too many are overestimating the overall ability of the team.
Jamie Barlow
119
Posted 20/12/2015 at 16:03:08
I would agree that Martinez hasn't got our defence playing any better and needs to sort it out. He needs to get someone in to help him if necessary. I'm not having that we haven't improved going forward though. Some of our football up front is a joy to watch.
Who is our defensive coach?
John Hughes
120
Posted 20/12/2015 at 16:04:17
Just a thought Roberto di Matteo seems to be doing ok at Schalke 04. I wonder if he would tempted back to the Premier League with us the People's Club?
When he was at West Bromwich Albion, they played some good football, and I think our current players are better than he had there then.
Jim Bennings
121
Posted 20/12/2015 at 16:16:38
Des,
I couldn't care less what's going on at Liverpool, yes they are underperforming but I'm frankly appalled that we are below that pile of shite in the league and we seem to be the only team that can't beat them.

Joe Foster
122
Posted 20/12/2015 at 16:18:05
Nigel Pearson would scare the fuck into the team.
Des Farren
123
Posted 20/12/2015 at 16:24:10
Patrick.
I regularly read on here that "we should be beating these (inferior) teams"... Why? What divine right have we to assume we "should" beat anyone? It is a competitive league with most teams improving because of improving resources, I suppose. Are our players really that good?
Regarding our neighbours, I think maybe you misunderstood me. I was actually arguing in favour of one of the inferiors, ie, Watford... the fact that the team they demolished was Liverpool is incidental, believe it or not. I would have argued similarly had it been any of the usual suspects.
In my view, the story of the season so far has been the resurgence of these "lesser" teams.
Ian McDowell
124
Posted 20/12/2015 at 16:29:38
Newcastle and Stoke have become huge games now for Martinez. I don't think he realises what our expectations are at Everton. Fail to win either of them and there maybe no way back with some fans.
Discussing it yesterday in the boozer, it's clear patience is wearing very thin.
John Keating
126
Posted 20/12/2015 at 16:32:26
Jamie
Our football up front is a joy to watch.
I agree in the odd game but in general I don't think we're any better than Watford, Leicester, Arsenal or a lot of other teams. Just that it's an improvement on last season which was a disgrace.
So what's the point of it being such a joy if we don't get a result? What's the point of it being such a joy if we ship in goals left right and centre?
Overall we have not improved appreciably since last season and with the league being as it is, that, in my opinion, is a crime.

Patrick Murphy
127
Posted 20/12/2015 at 16:34:38
Des (#108),
I don't think I have ever espoused a divine right for Everton FC to win any game against any opponent. In fact, I think you will find that I have advocated that as fans we should respect any club as they are now and not what they were 5, 10 or 25 years ago.
Fair enough regarding the other lot, but Everton failing to win so often has nothing to do with how much improvement other teams have made, but rather our lack of will to win and ability to throw points away as if they didn't matter. If we continue to do so for another six matches, we will have a battle to avoid relegation on our hands; no 'divine right' complex on my part, I can assure you.

Jim Bennings
128
Posted 20/12/2015 at 16:42:58
Nobody says we have a divine right to win any game but in games against Bournemouth, Norwich for example it was unprofessionally thrown away because of inability to defend.
We have seen the team destroy itself all too often due to being unable to learn from mistakes which are being constantly made on a weekly basis.
The only thing that has made this season slightly better is the more attacking play, the win tally by Christmas is exactly the same as last season, 5 wins, few more draws and that's it.
Raymond Fox
129
Posted 20/12/2015 at 17:02:25
Ian, what are our expectations now?
We've not won anything in a long, long time mate.
The reason is all to do with money.
Patrick Murphy
130
Posted 20/12/2015 at 17:09:01
Ray (#114)
Normally I would totally agree with you about the financials dictating where a club will finish, however, this season may be the exception that proves the rule, and we have been found wanting.
I know you have said that our current team isn't as good as many make out, but it is a group of players who most other clubs in the division would give their hind teeth to assemble. We are disorganised at the back and despite having a proper goalscoring striker we cannot win a Premier League game never mind go on anything like a decent run.
Personally, a month or so ago, my expectations were that we would string a good run of victories together and make at least a fist of breaking into the top six, now I'm fretting about the teams below us – whatever the reason for the inability to win matches it isn't good enough for this current crop of players to only be two points in front of where they were last year.

Ian McDowell
131
Posted 20/12/2015 at 17:09:33
Raymond, when playing Bournemouth, Norwich, Palace and Leicester, my expectation would be to win at least one of those games.
Yes we may not have the money of Man City, or Chelsea but I expect the team to be well drilled, hard working and competitive. Add those 3 to a talented group of players and it will take you a long way.
Raymond Fox
132
Posted 20/12/2015 at 17:25:19
In the normal course of events I agree, Ian, but this season is not turning out to be normal.
Yes, we have given some soft goals away but against the teams you mention we also made enough chances to win the games, our strikers have to be held accountable as well.
It's not as if we are getting outplayed.

Jim Bennings
133
Posted 20/12/2015 at 17:46:29
Just watching the Swansea v West Ham game, a player I really like, James Collins at the back looked really rock solid, the type of player we are crying out for in our defence, big vocal leader who actually does seem to enjoy defending!
Andy Walker
134
Posted 20/12/2015 at 17:51:34
I agree Jim 119. Problem is he's not nice enough for Martinez.
Carl Sanderson
135
Posted 20/12/2015 at 18:01:23
We have an excellent back four in Baines, Stones, Jagielka and Coleman, albeit Jags has been out. We have reserve defenders in Galloway, Funes Mori and Browning. We have good defensive midfielders in McCarthy and Barry.
We have excellent attacking midfielders in Barkley and Deulofeu and a metronomic passing midfielder in Gibson. We have a superb striker in Lukaku and capable back-up in Naismith and Kone. The talent is there.
We are hamstrung, however, by a manager who cannot organise a defence. The reservations that accompanied his original appointment have remained and we are now seeing the results. In the most open league for decades we have thrown away any chance of success by our persistence with peddlers of bombast in the boardroom and especially in the dugout.
Marcus Glover
136
Posted 20/12/2015 at 18:01:32
The sad fact is if there was ever a perfect opportunity for a team to break into the top four or even win it, this is that season. I have tried to give Martinez every chance but his excuses are becoming boring.

Any player within our squad that had any ambition would be looking at Everton and thinking can I achieve what I want to with this club.

Something has to change, is Martinez having a 44% win average good enough for him to be the manager? This is the strongest squad we've had for a very long time. David Moyes achieved more with a weaker squad. When will the excuses finish?
Stephen Brown
137
Posted 20/12/2015 at 18:15:15
What role does Dennis Laurence play at the club? He was a defender (in the lower leagues). Is he defence coach? If yes, sack him! If no, then hire one quickly!
Raymond Fox
138
Posted 20/12/2015 at 18:23:22
Patrick, there's certainly some strange results this season, but if we look at the table with the exception of Leicester who well on top of the League and Chelsea who collapsed under Mourinho, the status quo is still in evidence.
There's plenty of football to be played yet, relegation is not an issue for me, there's 12 teams more likely to be relegated than us. Let's see what the rest of the season turns into and what performances the manager gets out of the team.
I think we have to give him credit for putting and keeping this team together, there's a lot yet to play for, and I've not given up hope of some trophy this season.
Jay Harris
139
Posted 20/12/2015 at 18:33:49
Raymond,
We are far too reliant on Lukaku with no other proven goalscorers in the team. We have too much flash without the finish.
Even Bainsey who could be relied on from free-kicks and penalties has had those duties removed from him and Coleman isn't getting into the box nearly as much as he used to.
So while we are entertaining in MF other teams are working out how and when they can hit us on the break because any decent side will score against us with the way we are set up. We go into every game knowing we will concede a goal or two. What do you think that does for the players confidence.
I also think we are one of the most unfit teams in the Prem with some players blowing for tugs after 60 minutes.
James Stewart
140
Posted 20/12/2015 at 18:40:41
Stop press: I think Raymond Fox, you must be Martinez himself! Only Roberto could come up with that kind of spin after such wretched performances.
Stephen Brown
141
Posted 20/12/2015 at 18:46:05
Only a League Cup triumph at Wembley and a good run in the FA Cup can realistically save this season?!
Have these players and this manager really got the hunger and 'dog' to do it? I'm not convinced!
Raymond Fox
142
Posted 20/12/2015 at 18:54:01
Carl, it's no use saying we have an excellent back 4 etc. They have been letting in goals for fun, their making loads of individual mistakes.
Yesterday's match Funes Mori has the player marked, what does he do jumps all over him give the penalty, Howard comes flying out at Vardy when the ball was angling away from goal.
In past games there's been no one in the defence that seems capable of getting their head to the ball in dead ball situations even though their in position.
It's very convenient to just blame everything on the manager but what are they getting paid kings ransoms every week for?You can blame him for sticking with Howard fair enough, that's a given, but some of the individual defending has left a lot to be desired.
Even then in the Norwich and Crystal Palace games especially, our forwards missed that many chances that the bad defensive errors shouldn't have mattered anyway.
Andy Crooks
143
Posted 20/12/2015 at 19:02:51
I know a few Evertonians who stood by Martinez last season and decided to wait until Christmas this season. Well, he's managed to get us a point more, still spouts toe curling platitudes, can't organize a defence, remains stubborn, sticks with his favourites no matter how poor they are. Should he get till next Christmas or should Bill, at last, do something good for Everton and get rid of him.
Brin Williams
144
Posted 20/12/2015 at 19:03:02
FC 95 '@Brin88
The only "People's Club" that Mourinho would be interested in managing is the "Rich People's Club". He wouldn't get out of bed for penniless beggars like us."
Yes, I think you're right – but doesn't that speak volumes about the state of the game today and of Everton in particular?
Raymond Fox
145
Posted 20/12/2015 at 19:03:16
James, nice one mate, just trying to put the other side of the storyline.
Come on they've not been wretched performances, they might not have been the results that we were wishing for James, but wretched performances, no.
By the way the last 4 teams we have played are all at the top of their game, just look at their recent results!
Jim Bennings
146
Posted 20/12/2015 at 19:10:32
I think Raymond has been on the sauce a few days early if you ask me, I'll have a bit of what your having Ray lad!!
But Carl Sanderson your not far behind mate!
An excellent back four??
That's like saying Roy of the Rovers is the answer to your team's goalscoring woes, pure fantasy!!
An excellent back four and goalkeeper worth his salt behind them makes it hard for teams to score against it, and honestly if I was a professional footballer playing in a defence that leaked the goals we do, I'd be pretty embarrassed.
Over the last 18 month's we have gifted opponents ridiculous amateur goals that you'd struggle to find worse on a Sunday league mud fest!
No matter who's played there be it Jagielka, Stones, Distin, Funes Mori, it's looked completely ragged, even when the experienced Leighton Baines was there last season the team still looked all at sea.
Its not even like we can blame the defensive midfielders because Gareth Barry has been, along with Lukaku one of our better performers of late.
The errors are purely down to several things amongst the back five.
A blatant lack of communication and leadership from the goalkeeper right through to the four defenders.
A lack of trust between the defenders and their goalkeeper, they never know what Tim Howard is going to do next, he is beyond erratic but the defence also knows it can never trust him to come out and take the pressure of when defending set-pieces.
Another major problem that seems to really dog our players, concentration, or a complete lack of it, hence why we can't see out a full 90 minutes without some kind of hazardous behaviour.
Jim Bennings
147
Posted 20/12/2015 at 19:15:36
So to say we have an excellent back four is in my opinion pure fantasy!
I know people want optimism but you have to deal optimism out within the realms of reality and what's happening in front of your very eyes.
We don't want to end up like Koppites with totally misguided beliefs of grandeur when the truth is saying something completely different.
Frank Crewe
148
Posted 20/12/2015 at 19:31:23
Watching Watford demolish the RS this afternoon, there's a few things I noticed. They pressed everywhere on the pitch. They didn't give the RS players a moment's peace, especially Coutinho. They were on him like a rash. Keep him out of the game and they lose a massive amount of attacking potential.
The moment Watford got the ball they were on the front foot and up the pitch. No messing about passing sideways and back. Straight for the jugular. Leicester and Palace play exactly the same way. They don't worry about possession just possession where it counts, in front of the oppositions goal.
Maybe this is a new way of playing against more skilful sides. If you can't outpass them outrun them. The only trouble is that it requires young fit players and some of our players are not as young as they used to be.
Martin O'Sullivan
149
Posted 20/12/2015 at 19:47:55
Just to get 65 points this season (which may not even get top six)
We need 2 wins out every 3 games.. Lol
So with Martinez only having a win ratio of 39% average over his managerial career so far, that's only 24.57 points from all games remaining... And based on a full season we are looking at 44.46 on his average!! (Only just safe) That for me is not good enough and based on last and this season it seems to be about right.... Just not good enough mr Martinez.
And sorry about the stats people but I can't see it changing while we play his way!!!
Raymond Fox
150
Posted 20/12/2015 at 19:48:10
What are you talking about Jim, are you on the bottle too.
That's close to what I've been saying.
What I will say in criticism of Martinez, is that attacking football is great to watch but it does put more pressure on the defence when teams counter attack, that's the down side.
The goals for and against point to that difficulty, 3rd highest scored and theres 11 teams that conceded less goals.
Also while I'm on a roll just to prove to James I'm not Martinez incognito, he does talk some crap when interviewed, someone close to him should tell him so.
They are his only faults mind you!

Bobby Thomas
151
Posted 20/12/2015 at 19:57:24
Joe #115
Nobody will brother, they stay home till all grown up.
Andrew Clare
152
Posted 20/12/2015 at 19:58:05
We are only leaking goals because the team is set up to attack. We have a good back four but unfortunately the goalkeeper is past his best.
The one saving grace is that in almost every game that we have lost or drawn we could have won.
I think Martinez has the right idea he just needs two or three new better players to make the whole thing work.
My worry is that if these players don't arrive in January it will be too late as two or three of our better players may leave if the current form continues.
On another note it is almost as though we are in an alternative world at the moment with Leicester top and teams like Watford, Palace etc flying high while the bigger teams are ailing.

Paul Kelly
153
Posted 20/12/2015 at 19:59:28
PLEASE Mr Kenwright if you love this club as much as you profess and before farther time catches up with you do the right thing and get this charlatan out of our club before we're ruined forever.
Peter Lee
154
Posted 20/12/2015 at 20:06:12
Under David Moyes we drew loads of games. I think 14 one season, and a dozen in others. At the time we were bemoaning the fact that if we had just scored one more goal in half-a-dozen games we would have been regular CL competitors.
Now we are still drawing too many games but our problem is not scoring but conceding. One fewer goal conceded ...... etc.
A few thoughts.
Whilst it is just as frustrating we are now much more entertaining to watch.
Making a team more fluid and more able to score, and it isn't just about Lukaku, is tougher than tightening a defence. Roberto Martinez has done the first but not the second.
Defending starts at the front. Strikers close down defenders and create time to organise. The number 10 does the same. the number 10 also has to work back, always. Our strikers do their bit, GD less so, RB is so poor in this aspect of his game and as for tackling and his response to being tackled, words fail me. He was an irrelevance yesterday other than allowing their DM's an easy game.
We often talk of missing J Mc and we do but he is often guilty of switching off when problems develop on our right. With GD being as he is, though improving, McCarthy has to do more defensively. I like Cleverly but he is more forward looking and was doing well at
left-midfield before his injury. We will get more from Leighton Baines with Cleverly alongside. Respect to Kone doing a job out there but he needs to play less now in my view.
The defence itself has lacked leadership, as the team does overall. Phil Jagielka isn't a strong enough character to provide this though he is the best we've got and we are better with him. Incidentally, whilst we are castigating the defensive unit, which includes Gareth Barry and McCarthy, we need to recognise that we haven't been able to play our first choice 7 once this season and on occasion we have had 4 of them missing.
Tim Howard has received a great deal of criticism over an extended period. Goalkeepers rarely appear at the best, apart from demonstrating their shot-stopping abilities, in a defensive unit which is poorly organised or uncertain. We have both problems.
The planning for dead-ball kicks is desperately poor. Martinez has to take the responsibility for that. We used to have players, Ferguson, Cahill, Bent, Saha, Jelavic and Fellaini who would dominate the space just beyond the near post and ensure that front-post corners were not a good option. With those taken out of the equation players had a much better idea of where the ball would be and they could attack it. We cut down the options. This also has the effect of reducing numbers in the middle of the six-yard box giving goalkeepers more chance of coming for the ball.
We could make a good start to improving our strength at corners/free-kicks by identifying the player with the best spring and putting him in that near post.
Finally, I have to agree with those who have suggested that John Stones is believing all the hype. When playing myself I was known to have "strong words" with team-mates who threw up theirs hands berating colleagues for conceding as though it was nothing to do with him. Look at Stones responses to some recent goals. Yesterday he was unnecessarily and ineffectually wide for the throw in for the first goal and his positioning for both the second, Vardy wasn't even behind him, and the third, when he was in the wrong position totally and then virtually jogged back, was appallingly bad.
If nothing else he needs to be reminded of the basics and we then need to see him respond with greater discipline when Jagielka returns.
I would still give RM until season's end. He is under pressure to deliver CL because he will realise that the team we have will not exist next season if we don't. That said, I'd sell Barkley in heartbeat now. And given that Roberto has talked regularly about the need for a Number 10 and Barkley isn't good enough and can't play anywhere else would we be surprised.
Clive Rogers
155
Posted 20/12/2015 at 20:16:53
And now for the bad news. Howard and Martinez both have megabucks contracts till 2019. Pass me that bottle of whiskey.
Sam Hoare
156
Posted 20/12/2015 at 20:25:36
This season is rapidly becoming horribly like last season. We are now as close to 17th as we are to 4th.
The performances do seem to be better so credit for that but what is so frustrating for all of us is that this is so clearly a MISSED OPPORTUNITY. We are lucky enough that our best team in decades is coinciding with a time when the monied teams are struggling and the league is looking open for anyone to really step up. And we are blowing it.
Performances are nice but don't matter one jot compared to results and unless Martinez can start getting some then we are going to lose our crown jewels and look back on this as the wrong man in charge at the right time.
George Freeman
157
Posted 20/12/2015 at 20:27:30
Stephen@127
Dennis Lawrence's title is First Team Development Coach. Whatever that is supposed to mean it is certainly not developing the defence.
Dave Ganley
158
Posted 20/12/2015 at 20:47:36
Personally I do think we have good players. We know this because we have seen them do it. Baines, Coleman and Jags have all been good defenders in the past. We have seen them do it. When they were organised, when it looked as though they were properly prepared for games then they looked decent players. Currently and we can include the last 18 months in this, the defence have looked all over the place. No cohesion, no direction and seemingly little idea who to mark at set pieces. In my opinion, they play how the have been prepared, which is very sloppy. All defenders have a mistake in them but the amount ours have made under Martinez's tenure have been staggering. Stones, as we have seen, has the ability to be a top top player yet seems to be regressing with each game we play. The one big negative I have for the defence is that they could always get off their overpaid backsides and do some extra training among themselves. Surely they must see how disorganised they are and you would think that professional pride would want to make them improve themselves. Sadly, probably not. Boss says we can go home so off we go without a second thought as to whether they need extra coaching. However, there shouldn't be a need for doing extra training. The manager wants fucking for letting the defence deteriorate to the extent that nobody, least of all the fans, has any confidence in it. I have said it before on another thread, the manager seems to think that if he has 2 DM in place then everything should take care of itself. Well it doesn't and we need to practice, something that doesn't look remotely evident watching us play. Get the defence into shape and more organised and we can dispense with the ridiculous notion that we need to play with 2 DM. People like to say how attack minded Martinez is but ffs how negative is it to consistently play with 2 DM?
Have we progressed that much on the attack front? Yeah we play nice little flicks and Barkleys flick for Mirallas was all very nice but has anybody noticed how dire the atmosphere is at Goodison over the last couple of years? Its that exciting, we have managed to turn fortress Goodison into a morgue, devoid of any passion from the fans. The opposition fans take the piss regularly at the lack of support from us fans and there is absolutely no response from us. Why? I don't think I need to be a rocket scientist to state that our so called exhilarating football has sent the crowd to sleep. Occasionally we produce good incisive cutting football, but its very few and far between. Lukaku often is isolated and left a passenger. If we had had him alongside Pienaar, Arteta, Cahill, Mirallas then that would have been a fearsome attack. Alas, Moyes was denied the prospect of spending that kind of money on a striker.
Martinez is dragging us down and no amount of excuses will change that. We are back to the scenario that Roy Keane mentioned years ago, "Everton was just a place to go and collect 3 points" and every team in the league seem to be buying into that theory. We have been quite poor this season. We have had a couple of good results against awful teams in Sunderland and Villa and all of a sudden we are Barcelona. Games against the 2 manc clubs, Spurs, the Arse, RS are conveniently forgotten. We cling on to 2 other results against a terrible Chelski team and Southampton and are seemingly content to brush the shit under the carpet. In truth, we are a mid table team under Martinez. We may brush with relegation but inevitably have a little bit too much than the rubbish below us but will never really trouble the elite because Martinez's tactics and stubborness wont let us. Thats the most frustrating thing with this team. We know how good they can be. Piss poor tactics, lack of fitness, lack of direction, complacency, lack of any kind of consistency. All is a product of Martinez. Anybody who tries to defend him is accepting mediocrity and conceding we have absolutely no ambition. We have absolutely not gone forward, in fact we are significantly a level below where Moyes was operating from. All this talk about taking the game to the top 4 and champions league was utter bollocks. He talks a good game but very rarely delivers and I for one cant wait till he fucks off out of my beloved club and take his seriously flawed philosophy with him. Good riddance
Tony Hill
159
Posted 20/12/2015 at 21:00:45
Dave, there is no more to be said while this manager remains at the club and while we have a board which is really not a proper board at all and which has no plan whatsoever to develop us.
Some of our fans are also content to drift along, accepting our becalmed status as inevitable. In the end, we get the club we deserve.
Ian Riley
160
Posted 20/12/2015 at 21:06:47
Just a couple of questions?
Would Everton be higher in the league with this group of players under David Moyes?
Would anyone have David Moyes back at Everton?
Don Alexander
161
Posted 20/12/2015 at 21:13:44
"138" and "139" speak total good sense. The latter says Martinez has over his several years of management proved just one thing; he's been a loser at so-called lesser teams than us. But at our club with more money and better players than he's ever had before his win ration is, er, exactly the same. He's been found out, and deserves the sack now.
"138" speaks of the way Palace, Leicester and today Watford work their bollocks off from the kick-off to full-time (who'd have thought that would ever have any place in football? It's a whole 90 minutes after all!), and reap the rewards. The fact that the Sky-teams have squads full of arrogant, loaded, contemptuous charlatans in their dressing rooms doesn't excuse our own squad, regardless of the ineptitude of our manager and his coaches. Last season they pulled their finger out from Kiev and for the weeks afterwards and saved us from relegation form. This shows they can do it at a stroke should they want to, but do they want to? Or are they just happy to do what Martinez lets them get away with, letting their bank accounts swell for next to nothing in terms of actually winning games?
Callum McNab
166
Posted 20/12/2015 at 21:31:55
Sorry, I'm no good at putting links up, but if you can find the Q&A that some of our fans had with Wigan supporters when we just got Martinez, it is eye-opening. It is identical to what they went through to what is happening at our club.
This man will take us down as he has already done with Wigan. Get rid and let us move for Howe before someone else snaps him up.
But we all know nothing will change,from this board or the bullshitter that's in charge of us.
Gary Carter
168
Posted 20/12/2015 at 22:22:16
Under Martinez we can't keep a clean sheet
We can't defend set pieces
Our defence doesn't play as one unit it's all over the place
We play with TWO defensive midfielders yet leak goals every game
Our threat from attacking set pieces is non existent
Most of our players fitness levels look questionable
We don't press the ball ANYWHERE in the pitch

We can't hold on to leads
We have 4 of the most talented youngsters in Europe surrounded by other very good players that are predominantly internationals, the best Premier League squad I've seen us have. It's one of the weakest Premier Leagues in history that we should be pushing for the top 4 yet because of Martinez's blindingly obvious shortcomings we are nowhere near.
Martinez should have never been appointed in the first place. We were a top six side and we appointed a manager that had just got his side relegated. Not just that but every season before that he had very nearly got them relegated, a side that Steve Bruce and Paul Jewell had more than managed to keep up. How many top-six Premier League sides have ever or would ever appoint a manager that had just got his side relegated ?
The problems we have now under Martinez are not new, they were the same last season and in my opinion the same in his last ten games of his first season when the Moyes effect started to wear off.
This guy is not good enough for us, he's not even good enough for the Premier League.
Top six side, bottom six manager!
Barry Thompson
169
Posted 20/12/2015 at 23:03:12
@ Dave Ganley - "Anybody who tries to defend him is accepting mediocrity and conceding we have absolutely no ambition".
Isn't this exactly what the Board & Kenwright did when they gave Martinez the position of Manager of Everton Football Club?
"I will get you in the Champions League" – my arse.
Jay Harris
170
Posted 20/12/2015 at 23:20:55
Don,
I totally agree with the point you are making which is one of the reasons Moyes's teams always got the better of star studded Man City.
However, in our case, I think the squad that Martinez inherited were good honest pros developed by Moyes.
In his last couple of years we had the third best defence in the Premier League including an aging Distin.
It didn't take "Wigan" Bob long to change all that.
Don Alexander
171
Posted 21/12/2015 at 00:41:47
Jay, I'm sorry if I confused you re my opinion of the numbskull masquerading as our manager. I just feel that employees, which is what players are when it all comes down to it, feel free, as we all do, to point the finger upstairs when our bosses fuck up.
Unless, like in April last season, it all of a sudden starts to look like the situation might start to impact on our own wages and (Championship) work-load. Only then did some sort of leadership emerge from the dressing room and we staved off relegation but nothing more.
I just want our God-luv-em "Judases" in the dressing room to play like they and we know they can, as per Kiev and the weeks afterwards, and show this shit-house manager the exit door in the process.
Otherwise we're fucked... for years, and maybe irrecoverably.
Nigel Gregson
173
Posted 21/12/2015 at 01:43:51
Its very simple. Remember that so called James McCarthy who offers nothing going forward ? erm without him we leak goals and THAT is why he always plays when fit.
Anthony Dwyer
174
Posted 21/12/2015 at 02:22:32
Do you know what, I'm sick to death of hearing stupid comments made by a manager who us clearly out of his depth managing in the Premier League. He is tactically not good enough, he's too stuck in his ways and he is almost blind to the fact his tactics are not working.
Season 1 for Martinez saw us do well, a new style of play that caught people out, but he's never changed anything about it and we are in season 3.
Every team and manager knows our game inside out, every fan knows Martinez next managerial manoeuvre. I told everyone around me on Saturday Del and Kone would be replaced by Lennon and Mirallas. At 3-1 down you have to go for it, changing like for like solves nothing.
Del had a poor game, that was clear, but what was also clear was he still carried a threat, he still showed willingness to try to beat his man, and if we were going to grab a few goals, he was going to have to play a part in them.
Fact is, he was taken off and we didn't create a thing down the right afterwards.
Martinez would never have considered taking off a tired Cleverley or Baines, whilst still bringing Lennon and Miralas on. >He could have easily mixed it up, Del on the left, Lennon on the right, Mirallas up top with Rom.
There were loads of different solutions to try and get a draw, but it was clear that the manager was only ever going to make like for like changes as he's tactically niave .
We have some fantastic young players who could push us onto great things, but unfortunately this will never happen under Martinez.
James Wong
175
Posted 21/12/2015 at 02:26:53
Martinez got played hard by Raineri tactically. Raineri wanted the space to attack Everton in so they sat back and were happy to take the draw. What Everton should have done was wait for Leicester to overplay before attacking themselves. But Everton played a lot of fancy football in the middle and didn't have much end product because they couldn't break Leicester down.
When Leicester did counter, they went one on one with Stones or Funes Mori, when really Barry and or Cleverley should have helped out but they were too far up the pitch. Same goes for Coleman and Deulofeu and Kone. McCarthy when he plays at least scrambles back and helps out. Barry had a good game in general but he can't do everything.
Peter Barry
176
Posted 21/12/2015 at 02:43:14
Lots on Managers showing just how much DIFFERENCE they make to teams...
Ours, not so much.
David Barks
177
Posted 21/12/2015 at 04:02:03
The thing our manager doesn't realize, when he says the opposition was dominant, is that in fact we played right into their game plan. They and many others before them know that we want to play this slow passing build up, so they sit back and let us make useless passes.
Our players get sucked in, further and further up field and out of position, and then the opposition presses and turns over possession and hits us quickly. Or defense is out of position, spread apart, and just not fully concentrating.
It happens to us over and over again. There is no threat when Barry and anyone else is just passing it around. The defense just watches us, maintains their positioning and makes sure no through balls can be played in. It's not like our goals are being scored from this pretty build up play. Our goals are coming from Deulofeu taking in his man or we're scrapping goals that are a result of the balls bouncing around in the box, just like both our goals yesterday. The first took three cracks at it, and the second was a rebound that Barkley then niacin trolled and Mirallas smashed in.
Harold Matthews
178
Posted 21/12/2015 at 09:25:16
David (#164). Interesting points but saying we are "not fully concentrating" is not quite right. In fact, we are concentrating far too intently on the managers detailed instructions and it is freezing the natural flow of very talented players.
Okay, most players fear to tread on the pitch without instructions. Without them they are lost. Some players, the better ones, are able to improvise as they read the game. Their instructions will allow for this leeway.
Unfortunately, with Martinez, the leeway is very limited. Possession would seem to be the No 1 requisite. Hence the 30-yard backpass from Lukaku with his first touch of the ball. All other options were closed off and he didn't want to risk losing the ball.
Coleman advances up the wing but is always in two minds whether to keep the ball, pass the ball or cross. This is because he knows that a cross occasionally brings a goal but usually leads to losing possession. A big sin. If the cross leads to a counter-attack, he is out of position.
The sideways passing across the back has crept in again. Everyone taking the easiest route. Left footers clockwise. Right footers anti-clockwise. That said, the centre backs are good with either foot.
What we're going to do with all this is anyone's guess. Lukaku and Mirallas can ditch the shackles in and around the box whilst others hesitate. No complaints with Barkley. He's progressing nicely. Deulofeu forced Martinez to let him do his own thing and it has paid off. Yes it's a bit hit and miss but we are scoring goals.
The other end is the problem. Wide open disorganized confusion on a grand scale with no changes in store. Even so, we were very unlucky to concede three goals and I'm hoping the squad are not too downcast. It was a horrible way to lose a game. 2 penalties and a blatant handball. Let's pray they get it together for the next few encounters.
Brent Stephens
179
Posted 21/12/2015 at 11:03:39
Harold (#165), "In fact, we are concentrating far too intently on the manager's detailed instructions and it is freezing the natural flow of very talented players."
Football akin to painting by numbers, as I've described it before. I'm convinced genuine creativity comes from spontaneity, produced with little time to think. Time on the ball and time to make a decision often produces indecisiveness.
Andrew Laird
180
Posted 21/12/2015 at 18:27:45
Nigel, Is that the same James McCarthy who has been involved in 16 games this season with Everton conceding 23 goals in them? The same James McCarthy averaging 2.9 tackles a game for a defensive midfielder?
You are right: it is easy. It's the gaping hole left down one of our flanks every single game where either one of Kone or Deulofeu or AN Other don't track back, its our complete lack of pressing as a team to force mistakes from the opposition and even though we play with two defensive midfielders every game we still let teams waltz through the middle.
It is a goalkeeper bang out of form, statuesque and seemingly mute waiting for his minimum of two inevitable brainfarts whilst watching on helpless behind inexperienced centre backs reluctant to hit Row Z. It is one of the two defensive midfielders getting pulled wide to help out an outnumbered fullback leaving a gaping hole through the middle.
Regardless of personnel it is the way Martinez neglects to set up the team to stifle the opposition as well as scoring goals, a fundamental flaw in our gameplan which is the SAME, regardless of who we play.
Carl Sanderson
181
Posted 22/12/2015 at 08:55:06
Jim 137-8:
Leaving aside your unnecessary and snidey comments about the bottle, fantasists and kopites, I repeat that this squad contains excellent players*.
My contention is that the squad is woefully under-achieving in the league on account of the manager's dogmatic refusal to organise an adequate defensive strategy.
(*I specifically avoided making mention of Howard, who is a liability.)
Andrew Clare
182
Posted 22/12/2015 at 09:26:25
It's a trait of the modern game where a team can look far the better side, dominate the game and create the majority of chances but still lose the game.
A good example of this besides our last few games was the Arsenal - Man City game last night. Managers are realising that teams have to be set up differently in order to win games. Having lots of possession is meaningless if you can't score.
I like Martinez for the attacking side of his approach but defensively he doesn't seem to have a clue and he doesn't seem to be able to change things. It's a big worry.
If I was him I would buy the best goalkeeper available asap. Then I would hire the best defensive coach out there, after that I would drill the team to constantly pressure the opposing team whenever they have the ball in order to win the ball back quickly. My prerequisites for a player would be, very skillful with a never say die attitude.
Mix that all together and you would have a very tough team to beat playing attractive football. Will it happen? In my dreams maybe!
Joe Clitherow
183
Posted 22/12/2015 at 13:34:24
Unfortunately Andrew (#167) and others – you can't cherry pick the attacking parts of Martinez and get a better defence coach in – it is all part of the same beast. Because the defence piles forward it fools people into thinking we are a great attacking side.
For me though we aren't, we are ponderous. It is no coincidence that Lukaku scores nearly half our goals. He is the only one not afraid to miss, i.e. the only one willing to shoot on a half chance. That to me is exciting attacking football. For a supposedly attacking side we hardly ever test opposition goalkeepers.
On Saturday, Vardy ran at our defence only once as I recall but his instinct was to shoot – still with a defender in front of him – and it narrowly curled outside Howard's left post. Barkley runs at the opposition easily 5 or 6 times a game but as soon as he approaches the 18-yard box he checks left and right before an inevitable lay-off to the wing. Don't even get me started on Kone's dithering!
Again, for me this can only be coaching which stifles attacking players to try and score a perfect goal.
Give me shoot on sight any day.
Raymond Fox
184
Posted 22/12/2015 at 15:03:52
Joe, we are the joint 3rd highest scorers in the Prem. with 31 goals, Arsenal have the same, only Leicester with 37 and City with 33 goals have scored more, so scoring isn't a problem!
I do agree with some of your conclusions such as we concede more goals because the defenders are venturing further upfield and this is costing us more goals against.
Many are criticising Martinez for his tactics and that's fair enough. If we look at the scorers, Lukaku has 13 (I think) Barkley has 6, Kone 5, Naismith 3 and there's three players with 1 goal apiece. Kone and Naismith won't be on the field at the same time so we could delete one of those.
What I'm getting at is that the other attackers and midfielders apart from Barkley are not chipping in with enough goals. So the conclusion I would take from that is maybe they're just not good enough.
I think we can all agree that we still need a better Number 10 instead of Kone or Naismith, a top-notch midfielder who can run our play, maybe a more robust centre-half that is good in the air, and ditto a goalkeeper. If we had more quality in those positions, it seems to me that they would not require the defence to advance so far up the field and logically we should not concede as many goals in open play.
Also, at dead-ball situations, we can only get better, can't we? I don't think we can get worse, especially with the new centre half and goalkeeper.

Frank Crewe
185
Posted 22/12/2015 at 15:19:30
Ray Fox @169:
I would point out that Kone got 3 of his five goals in one game. The rout of Sunderland. Naismith got all 3 of his goal in one game also. If you take those goals Kone has scored 2 and Naismith none at all.
Trevor Peers
186
Posted 22/12/2015 at 15:37:05
Roberto never comes across as a knowledgeable top class coach, he's more of a enthusiastic amateur.
That approach is then transferred to the players out on the pitch, that's why they make so many daft decisions and schoolboy errors.
Maybe if he had experienced proven coach working alongside him he might eradicate some of the errors, but that's never going to happen I'm afraid.

Raymond Fox
187
Posted 22/12/2015 at 15:42:58
Yes, Frank you're right, it does not reflect well on the other games does it? It's a pity that Mirallas can't get his act together, he could fill the No 10 spot, but whether he would get the best out of Lukaku, probably not!
I'd sell Stones in the summer and use part of the money for a bigger rougher centre half. Maybe Robles is the answer to our goalkeeping problems, I think the jury's out on that though.
It's midfield that we are lacking the most for me, I don't know what to make of Barkley, he's good but is he going to progress further, I have my doubts.
Tony J Williams
188
Posted 22/12/2015 at 16:07:57
"He is the only one not afraid to miss, i.e. the only one willing to shoot on a half chance"
Amen Brother Joe.
Sick and tired watching the same old shite of looking for another pass when all that needs to be done is put your laces through it. Kone being the worst culprit on Saturday.
Michael Kenrick
189
Posted 22/12/2015 at 17:00:02
Raymond, you're writing an awful lot of posts... I wonder if you take a moment to read any of them? Take this gem:
Also, at dead-ball situations, we can only get better, can't we? I don't think we can get worse, especially with the new centre half and goalkeeper.
You think "we can only get better"? What on earth makes you think we will, though? All the gruesome evidence is out there about set-pieces and the manager... it's been gone through in a thousand posts on here... And guess what: It's not getting any better!!! Watching game after game should at least tell you that.
Then this eternal optimism of "the new centre half and goalkeeper" – tell me what exactly the manager has said again about bringing anyone in next month???
Could it be that your faith in Martinez is perhaps founded on a large dose of irrational optimism that is far too selective in terms of the patterns that are out there for all to see?
Darren Hind
190
Posted 22/12/2015 at 17:32:07
Was with you all the way Harold #163... but then you said the centre-backs are good with either foot.
The more I see of Funes Mori, the more concerned I get, he seems to be trying to perfect the art of the hospital pass.
I agree with the rest of your post, but I don't think the big Argentine should ever be mistaken for a cultured centre-back. I don't rate him with either foot.
Jay Harris
191
Posted 22/12/2015 at 17:35:48
Raymond
There is a reason most of the top teams would like Stones.
He really is that good.
Now if an international back 5 are conceding goals like a sieve no matter who plays then the only logical answer to the problem is in the tactics and formation not getting rid of your best players.
I would argue that without Stones cool head at the back we would be conceding many more.
Dennis Ng
192
Posted 22/12/2015 at 17:43:26
Jay, agree. I was asked once whether Stones will prevent more than Vardy will score. Don't have to guess what I answered.
I generally don't like anything close to blaming players because if a player is out of form, it's the manager's pejorative to rotate them out and back when in form. Sometimes that few games of rest really helps!
Bill Gall
193
Posted 22/12/2015 at 17:55:10
Raymond (#169). Yes, it would be nice to have a new keeper and centre-half plus supporters have been saying for the last 4 or 5 seasons that we need a quality midfielder, ie, No 10. Problem is Martinez has already stated he has no plans for January to bring in players but may be willing to let Naismith and Mirallas go.
Our problem is that some of our positive play and that is the attacking part, is being overshadowed by our negative play, and that is the defensive part of the game, plus it appears a stubborn attitude or lack of knowledge by the manager to change it.
It is the easiest thing to do to quote facts and figures of individual players, goal scoring, pass completion, min played, tackles and every other facts attributed to the game, but as they say the league position does not lie and the position we are in at the moment on our play is about where we should be, and without some changes of attitude will be where we will end, up or maybe even lower. This at the end of the season will have a number of our better young players leaving, and will put us back to another rebuilding of the squad.
The way the season is going we have a fantastic chance of getting into the top four that is slipping away week by week by sloppy performances by individual players plus negativity on part of the manager during the game. We can blame the individual players but the manger is the one who picks the team plus the substitutes so he is the one who has to take the bulk of the criticism. As they say you cant fire all the players it is easier to change the manager.

Raymond Fox
194
Posted 22/12/2015 at 17:57:47
Michael, yes sometimes we post things that you wish you could change, by the way it would be a help if we could on here.
I wrote that we needed a bigger more robust, good in the air centre half, and ditto goalkeeper Michael, not that I had heard we were going to buy them!
As for 'we can only get better' well if we are as bad as its possible to get we cant go worse can we? I did also say especially if we had a new centre-half and goalkeeper, because at the moment who in our defence is any use in the air, Baines no, Coleman no, Stones seldom, Funes Mori best of a bad bunch, Jags when fit, not his best asset. They seem incapable of getting off the ground!
Nothing wrong with a difference of opinion is there, because after any match where there's been a disappointing result there's an avalanche of "sack the manager", and it's slash the wrists time again.
I think it's a more competitive League this season and we shouldn't be surprised it's difficult to get the results we all wish for, there's plenty of evidence that there's few easy games out there.

Frank Crewe
195
Posted 22/12/2015 at 18:06:04
We constantly go on about a Number 10 as though our formation is set in stone. Why not change the formation? How about 4-1-3-2?
Robles;
Coleman, Jagielka/Funes Mori, Stones, Baines/Galloway;
McCarthy
Deulofeu, Barkley, Mirallas;
Lukaku, Naismith.
Gives us more options up front while keeping a DM in front of the back four.
Raymond Fox
196
Posted 22/12/2015 at 18:11:30
Jay, when Stones is bringing the ball out of defence he looks great, but where is he at corners?
There's been a few times this season where he's been beaten for pace, by Vardy for instance on Saturday.
He may be a great player in the future but he's not there yet for me.
Raymond Fox
197
Posted 22/12/2015 at 18:30:43
Bill, I agree with what your saying and Martinez has said that he's not planning to buy this window. What we don't know, is what restrictions he's under from above.
I don't think there's a manager alive that would refuse money to spend on better players if the money was there, but who knows?
Redknapp bankrupted practically every club he managed.
Bill Gall
198
Posted 22/12/2015 at 21:26:41
Raymond,
You are most probably correct about the manger that he may be under financial restrictions, as there have been a number of seasons that a manager in charge of Everton's team, had he been given substantial funding in January to strengthen the squad, we may have gotten higher. But it will not stop the criticism of him for his poor touchline management during a game, that with his comments he tries to direct the blame from himself.
As I said in my previous statement, we had a fantastic chance to reach the top four that is slipping away from us week by week ,and as other people have commented, BK and his board have to shoulder a share of the blame for allowing it to continue.
But I already stated, that you can't drop all the players, and we are not going to get rid of this chairman and board so, the only one left to go is the manager who seems to be providing a good case to do it.
Barry Johnson
199
Posted 23/12/2015 at 19:07:21
Roberto, on paper, Everton is a very good team. It is YOU who needs to do better, as your substitutions are either too late or the wrong choice.
Paul Tran
200
Posted 24/12/2015 at 14:10:09
This is a case of history repeating itself. For the last two years of Moyes's reign, some of us were crying out for a decent striker and at least one central midfielder. Martinez came in, luckily inherited £32m and to be fair, found us a decent striker and two good central midfielders. Sorry, I do regard Barry and McCarthy as good players! There was nothing stopping Moyes selling the player we didn't need and bringing in the players we did, other then himself.
For the past two years, some of us have been crying out for a keeper who can dominate his box and back four, a central defender who can defend and command and a midfielder who can connect with the strikers and actually score goals.
Three years ago, it took a new manager to see the obvious. This time will it take a new owner to tell him or can we for once get a manager that sees beyond his own ego?
Add Your Comments
In order to post a comment, you need to be logged in as a registered user of the site.
Or Sign up as a ToffeeWeb Member — it's free, takes just a few minutes and will allow you to post your comments on articles and Talking Points submissions across the site.
© ToffeeWeb