Martinez laments penalty decisions and defensive lapses
28/12/2015

124 Comments [Jump to last]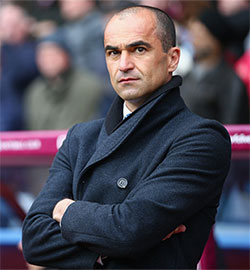 Roberto Martinez says that there is "real anger" in the Everton's dressing room at Mark Clattenburg's decision to deny Seamus Coleman a penalty at one end and then award one to Marko Arnautovic in controversial circumstances in injury time at the other this afternoon.
The referee, no stranger to controversy at Goodison Park after his antics in a Merseyside derby a few years ago, pointed to the spot as the Austrian went down under John Stones's tackle as Stoke went went in search of a winner at the end of a thrilling game but Martinez felt that his defender had got something on the ball.
The Blues were heading for a 3-3 draw which would have been disappointing enough after Gerard Deulofeu's goal had given them the lead for the first time on the day with 19 minutes go.
Earlier, Coleman had been denied a spot kick when he looked to have been fouled by Erik Pieters in the away side's box but Clattenburg awarded a goal kick instead.
"There is real anger at the final decision," Martinez told evertontv. "The penalty is never a penalty. It's a situation where it cost us the draw.
"We would have been disappointed with that but to not even get the draw is tough to take.
"John touches the ball – slightly – but it is a touch of the ball. It is a very soft decision in that respect.
"We are disappointed to be losing a point so late in the game, especially when it was a similar action earlier in the game with Seamus Coleman and their left-back."
"It's sickening"
He would echo those sentiments to Sky Sports as well where he described Clattenburg's decision as "sickening" and "unacceptable" in its inconsistency in view of the Coleman incident.
"As a referee you have to be sure; you have to be 100% sure and he didn't give it straight away. He's had to think or had to get some confirmation or some help from other eyes that are probably further away from the action so it's unacceptable really to see that decision being so wrong.
"The 3-3 would have been tough to take but losing the game after an error from the referee is even more painful. To give that penalty in the 90th minute you have to be certain."
The manager was once more left to rue more slack defending, though, which created the conditions for three of Stoke's four goals. The Blues were picked apart after a quarter of an hour as Xherdan Shaqiri slotted home Arnautovic's touch on.
And with the score at 3-2, Arnautovic's low cross was not dealt with by Tim Howard and substitute Joselu rapped home a half-volley to make it 3-3 in the 80th minute.
That left Martinez trotting out the same lines about his team having to improve at the back.
"Overall we showed an incredible reaction to come back and get in front but at 3-2 we should have managed the game a lot better," the Catalan continued.
"It is the hardest thing to do, to get back on level terms, then get ahead. It was a real blow to lose the third goal but clearly we have to become stronger defensively.
"There are certain actions we have to defend a lot better and, as a team, we have to get more mature. We have to be wiser in protecting that lead.
"We are a young team but we need to learn how to manage games and how to go through those periods a little bit better."
Asked if he felt conceding seven goals in the last two home games was concerning, Martinez agreed but he insisted that his side was "very close to being a winning team."
"Getting some influential leaders back into the side would help but clearly we can do a lot better than we did today defensively even with the players we have available."
---
Reader Comments (124)
Note: the following content is not moderated or vetted by the site owners at the time of submission. Comments are the responsibility of the poster. Disclaimer
Phil Porter
1
Posted 28/12/2015 at 17:56:27
Why do we continue to struggle putting teams away when we eventually go ahead? Howard has to go, been a great servant but too many errors now.
Well done Mark Hughes going for positive substitutions. Shocking decision from Clattenburg, very hesitant on awarding penalty which means he wasn't convinced.
Our defending is woeful at times and it has cost us dearly with 8 draws so far this season. Moyesy would have sorted this!
Paul Tran
4
Posted 28/12/2015 at 18:00:59
He keeps giving us the what, when is he going to tell how he's going to change things?
John Parker
5
Posted 28/12/2015 at 18:02:28
It's obvious some players are not good enough... Howard and Kone in particular stand out. What concerns me is Martinez can't see it and, if that's the case, then he's not the man for the job.

We pussyfoot around too much at the back. Stones may be great one day but, at the minute, he's only above average and gives the ball away too many times.

Stoke showed us today how to move the ball quickly and, but for Lukaku, this would have been a bigger embarrassment
Jay Doyle
6
Posted 28/12/2015 at 18:03:33
Martinez out please

Nick Armitage
8
Posted 28/12/2015 at 18:05:15
Abysmal manager trotting out abysmal excuses.
Clive Rogers
9
Posted 28/12/2015 at 18:06:55
Howard will cost Martinez his job if he's not careful. He is worth a goal a game to the opposition.
Ian McDowell
10
Posted 28/12/2015 at 18:08:14
If this would of been a one off I'd of agreed with him. Unfortunately its been going on nearly 18 Months. Patience is wearing thin.
Jamie Barlow
11
Posted 28/12/2015 at 18:09:04
No shit Roberto.

David Barks
13
Posted 28/12/2015 at 18:10:36
Losers look for excuses, and that's what Martinez is. The three goals prior were unacceptable, the penalty only goes to show what can happen when you don't take matters into your own hands. Giving up 4 goals at home to freaking Stoke, unbelievable that we accept this as supporters. Keep flying those BK banners people, and enjoy your constant draws, defeats, and plummet down the league table.
James Stewart
14
Posted 28/12/2015 at 18:10:43
Ludicrous penalty aside, its sums up the Martinez reign in one performance, shambolic and unacceptable to lose the game from 3-2 up at that stage in the game.
Steve Carse
15
Posted 28/12/2015 at 18:11:31
Shouldn't the manager be managing the game? Martinez's actions become more and more bizarre. Of course the players should have enough know-how to do better when required to see a game out. As a for instance Stones -- who had another shocking game, being responsible Stoke's first and last goals -- should have put his tackle in, be it fair or foul (most teams go for the latter to make sure in such circumstances), when the player in possession was still 40 yards out. But the manager did nothing to 'manage the game'. He took one of his two defensive midfield players off. He had two very experienced subs in Baines and Gibson that he could have brought on with instructions to limit the time the ball was allowed to go free through poor or over-adventurous passing. He had Besic who could have been brought on at 3-2 to chase and harry. But he himself was not interested in 'managing the game'. For Martinez, what happens happens.
Joe Foster
16
Posted 28/12/2015 at 18:11:37
Blah blah blah RM.
John Audsley
17
Posted 28/12/2015 at 18:14:41
More chance of RM being offered a contract extension than being sacked.
The board won't fire him, it costs money....
I can only think that a top manager could turn this set of players into near league contenders.....near contenders that is.
I've had enough of Bob and his complete lack of reality, we should be top 4 with the best squad of players for years.
We might finish 8th if lucky
Peter Gorman
18
Posted 28/12/2015 at 18:15:11
"It's a situation where it cost us the draw."
Man, I would have been irritated with a draw after going up 3-2 with time to see out the win.
Loser is right David Barks.
Joe Clitherow
19
Posted 28/12/2015 at 18:16:57
Every team has the odd bad decision. I would have more respect for him if he addressed the other THREE goals we conceded, or even the other SIX we have conceded in our last two rather than the feeble obfuscation and changing of the subject I have just heard him come out with. Everton shipping large numbers of goals under Martinez is neither bad luck nor bad refereeing.
Graham Morris
20
Posted 28/12/2015 at 18:17:52
Pointless Prat
Bill Gall
21
Posted 28/12/2015 at 18:18:59
As has been stated before Martinez's game management on the touchline is extremely questionable. This is not the first time he has stood with his finger on his lip wondering what he should do,and then after the game places the blame away from himself.
Mark Andersson
22
Posted 28/12/2015 at 18:18:59
No point in criticism or analysing or blaming or moaning as the next game will be the same. In fact why don't we all buy a meat pie and talk with a Wigan accent.
I think my gout is less painful after watching that. Goodnight all it can only get worse.
John Keating
23
Posted 28/12/2015 at 18:19:13
I lament the fact the man is still at our Club
Craig Mills
25
Posted 28/12/2015 at 18:23:01
Does Martinez just copy and paste his post match comments every time we lose a fucking game, " we must learn to defend better", " be more mature", " learn to control the situation better" blah blah blah
How about our back 4, goal keeper and 2 defensive midfielders learn to tighten up, at 3-2 today there was no way it was going to finish at that way, simple runs into the channels were causing utter chaos, it was simply a matter of time - again.........
Mark Tanton
26
Posted 28/12/2015 at 18:23:22
You've tied up your fate with the idiotic Tim Howard. Hopefully you'll both be out the door soon. The penalty stuff is a smoke screen for yet more abysmal, cowardly and unprofessional defending. I'm out.
Paul Tran
27
Posted 28/12/2015 at 18:23:40
You're right, Clive. Martinez is either scared of Howard or isn't seeing what we're seeing. Either way, it's poor judgement that will do for him.
Andy Osborne
28
Posted 28/12/2015 at 18:26:56
Martinez out.
Alan Bodell
29
Posted 28/12/2015 at 18:27:29
Clattenberg again, Stevie G's mate should never be allowed to referee our games ever again.
Jamie Carragher's views on Sky (after the Lescott throw in 2007) will be very interesting, this joke of a ref. idiot hates us.
Gerard Carey
31
Posted 28/12/2015 at 18:27:38
Same old same old, Martinez never learns. Stones had poor game, his defensive positioning is getting worse and now a lot of his passing going astray. Maybe his head is somewhere else!!!. At the end of Martinez' first season things started to go wrong, last season things got worse, and this season is the same. Same mistakes being made and he is not able to rectify it. Selecting Macca today was poor, why not give Besic or Gibson a run. With our squad we shoud be top four at least. And of course Howard will be first name on the team sheet at weekend. Depressing!!!!. Have that pain in my gut after that game today thats normally only there when we lose to the shite.
Michael Evans
33
Posted 28/12/2015 at 18:30:47
RM sees football as a beautiful game like an artist wielding a brush on a canvas creating a masterpiece.
Creativity is all .... defence is just an ugly concept espoused by those philistines that don't share his vision.
This is a very big EGO at work and we're all strapped in for the ride until someone has the balls to pull the plug.
Andrew Laird
34
Posted 28/12/2015 at 18:33:00
We have to be better? That's right, we are Everton fc and you are a stubborn, inept fool who sounds like a broken record. I am not one for the I told you so's but defensively Roberto has an absolutely abysmal record in the premier league so nothing is ever going to change with Sesame street's Bert/Ernie (can't remember which) in charge.
I have had enough.
Tommy Coleman
35
Posted 28/12/2015 at 18:35:05
The team doesn't know how to defend as a unit. Stoke looked like they'd score every time they attacked. Our players don't get in the correct positions quickly enough.
So frustrating as we're a much better side than our league position suggests.
Andrew Harris
36
Posted 28/12/2015 at 18:35:44
No Mirallas or Lennon on bench, Besic and Gibson on bench, this makes no sense at all if you need to tactically change the game. Go with Mirallas and Besic. Stones believes his own hype, the centre halfs are far too inexperienced to play together.

This should have been addressed in the summer window, Huth or Shawcross? Finally sorry Tim but you were finished two seasons ago! Valdes is available. However I can't see any signings with DD being undertaken.
Christy Ring
39
Posted 28/12/2015 at 18:45:11
Agree Andrew #25. Can't listen to his waffle anymore.
Why is Howard still being picked Bob??, and when we went 3-2 up, why didn't you bring on Besic, as we had 5 attackers on the field. CLUELESS.
Patrick Murphy
40
Posted 28/12/2015 at 18:48:16
Her Majesty's Government's flood defence team have turned down an offer by Roberto Martinez to help them in this time of crisis, a spokesperson said it was awfully nice of the Spaniard to offer his help, however they felt that his input would likely exacerbate the situation.
Iain Jones
41
Posted 28/12/2015 at 18:51:14
Just so depressing listening to Martinez. It's just the same old. I've tried to give him a chance after last year but it's the same again this year.

What really annoys me is this year top four was up for grabs like no other year and we have wasted the chance!
Kevin Elliott
42
Posted 28/12/2015 at 18:53:56
Get rid of the two clowns (Martinez & Howard).
Sell Stones and get a proper central defender and decent keeper in.
We are fast becoming an embarrassment.
Jack Cross
43
Posted 28/12/2015 at 18:56:29
According to RM, McCarthy and Cleverley are injured. Said he had to give Marallas and Lennon and Baines a rest after Newcastle.
He seemed more concerned about us not drawing at 3 - 3 that us going behind. And not holding on to our lead. But then he does talk in riddles.
I just can't fathom why he didn't shore up the defence, bring holding players on, especially as we seem to go to pieces when were in the driving seat and have limited time left (9 minutes I think). But who knows what he's thinking. Certainly not on the same wave length as most on here.
So I suppose it's back to the drawing board. Now how many times have we said that.
Even Stones looked out of sorts.
I thought Barry, was our star man again. So why didn't he need a rest?
RM, just doesn't make sense does he? And he's wearing ever so thin.
The strange thing is, we will probably beat Spurs. Convincingly and then loose our next match.
Oh for the joy of being an Evertonian.
Dan Doran
45
Posted 28/12/2015 at 19:07:34
Can someone with more knowledge of the game please help me understand why we are so poor defensively? Is it because we are so intent on attacking that it inevitably leaves us open in the back? It didn't look that way today...And I thought Howard even had a pretty good game. He saved Naismiths ass and actually commanded his 6 yard box for once. You could argue man for man our defenders are some of the most talented in the league but goals against tells a different story.
To those that go to Goddison, would you say that Martinez just can't organize the back line? Does this fall on our Defensive coach? (Google says this is Dennis Lawrence. Who has followed Martinez from Swansea to Wigan, to here...) If so maybe it's time for a new defensive coach. I hear Moyes is available... (It would never happen but I do like the sound of a resilient Moues back line and free flowing Martinez forward line!)
Your (constructive) thoughts are appreciated.
Chris Corn
46
Posted 28/12/2015 at 19:08:45
I've defended him on here and the live forum but even I have had enough. You cannot score twos and threes at home and still lose. Especially in the manner we are conceding. The keeper is a liability and our full backs allow too many crosses into the box. He seems to be unable to control or influence games and it's just a bad joke now. There's more I want to stay but I'm off out but I am well pissed off.
Liam Gould
47
Posted 28/12/2015 at 19:10:08
Martinez hasn't changed from his Wigan days and obviously never will,19 goals conceded in 10 games at goodison so far, we'll end one game with a basket ball scoreline, 3-2 up 10 mins to go to tighten it righr up,he wants to go for another goal.

Nice football or not he can't practice any form of defensive play during training as that defence(not today) is the same except for stones that was water tight under moves that's why we looked great in his first season....out out out!
Jim Bennings
48
Posted 28/12/2015 at 19:14:00
We just continue to leak goals on a regular basis and from the evidence we are seeing, nothing at all is being worked on to solve it.
I said after the Leicester defeat, if you go back to the end of Martinez's first season, our home form is dreadful, and the amount of teams that come to Goodison and score three or more is alarming.
The form at Goodison was always the bedrock for a solid season and a top 6 challenge, it gave us a platform but sadly those days are long long gone.
Goodison is no longer a fortress, teams no longer have any fear at coming here anymore, they just come and outscore us.
7 wins at home from 19 matches last season and so far 3 from 10, its appalling, it's relegation form.
Roger Helm
49
Posted 28/12/2015 at 19:14:39
I feel sorry for Rom having a monster game and still losing thanks to our inept defence.
I'm not even angry any more as our season is over it seems. Top good to go down, not good enough for Europe or for silverware, the only question is will we be 8th, 9th or 10th and I can't be bothered to be honest.
Eventually the Martinez era will be over and we may have a properly organised team. 3-4 is a school playground score!

Sean Patton
50
Posted 28/12/2015 at 19:15:13
He actually sees the incident and decides not to give it then realises he is at Goodison and its against Everton in injury time and treats himself.

If it was any other referee you could pass it off as one of those things but he has awarded countless penalties against us in his time that there is no longer any credible explanation.
Andy Walker
52
Posted 28/12/2015 at 19:20:52
Just look back at how Wigan played under Martinez and now look at us. It doesn't take a genius.......
It will never change as long as this guy is our manager. It really is as simple as that.
Gary Mortimer
53
Posted 28/12/2015 at 19:22:19
Real anger in the dressing room? Really?
Show that anger on the pitch ffs!!!!!
Nodody even appealed the Coleman penalty claim . . . under Martinez we are soft and far far too nice.
Jim Bennings
54
Posted 28/12/2015 at 19:26:58
What gets me is this "you score 3, we''ll score 4" attitude, we don't exactly outscored that many teams do we?
Apart from Sunderland and West Brom, the other games we have conceded 2 or 3 in we have drawn or lost, did we outscore Bournemouth?
Leicester? Stoke??
Last season we conceded 6 at home to Chelsea, lost, we don't exactly win many of these ding dong 4-3 games do we?
So you'd think really that the penny would drop with Martinez and he'd start thinking of winning more games in the 1-0 manner we had at Newcastle, albeit not leave it so late!!
Mind you, it's pointless, he's not going to change, he's a manager that's never worked on setting up a defence and is unlikely to ever change!!
I just think that Newcastle game on Boxing Day has bought him a brief bit of breathing space, with fixtures on the horizon against Spurs, Chelsea and three against fucking goal machine Man City, it could be a very long river leading to a violent waterfall for Martinez..
Andy Walker
55
Posted 28/12/2015 at 19:27:05
It's not like we didn't know what we would get with this Spaniard. Teams that are attractive on the eye but can't defend.
A one trick pony that can't adapt.
John Austin
56
Posted 28/12/2015 at 19:28:42
The players are angry are they Roberto? I should bloody well think so after another home defeat and conceding 4 goals to a mid table team who don't often score away from home. How do you think us supporters feel? The penalty has given you the opportunity to deflect the blame to the referee. Accept that you are getting it badly wrong.
Ian Riley
57
Posted 28/12/2015 at 19:37:29
Shame there is no real anger in the three goals we conceeded!! Martinez is covering over the bleeding obvious! You are not going to change your coaching philosophy. It's a results business not a entertainment industry. Our goals conceeded is becoming relegation form.
I would take any of the top six managers in the championship. Our season is over in the league! Need a lot of luck in the cup matches not to conceed at least three goals against Manchester city.
Our defending resembles Wigan in there prime. Attacking with intent and scoring goals but defending like the red lion on a Sunday morning! Martinez has not learnt from this. Only one outcome, let's hope its not relegation next season!!
Dave Pritchard
59
Posted 28/12/2015 at 19:47:41
Anyone else think that the players over-celebrated going 3-2 up? They've done this before after getting back into a game eg Bournemouth and Leicester.
Then some players start show-boating and thinking it is all over. Yes, blame Martinez and Clattenberg but also blame the arrogance of the players.
Lee Gorre
61
Posted 28/12/2015 at 20:15:26
The main plus with Martinez is that he has significantly improved the squad on the team he inherited in 2013. Although Moyes teams had the stereotype of being dull, that was changing towards the end of his term, we played some exciting stuff in his final year.
But he had a major inferiority complex with the "bigger" teams. Martinez hasn't which is his other plus. However he is deluded and stubborn and as a result is holding our club back from achieving what it should.
He has to go, but there appears a complete lack of any pressure on him. The only glimmer of light is his contract will be up soon unless anyone is stupid enough to offer him a new deal.
The manager in the other dug out today would be the one for me.
Jay Harris
62
Posted 28/12/2015 at 20:22:51
Martinez has continued where he left off at Wigan.
To have lost more games at home than we have won and too have conceded so many goals is totally unacceptable and will destroy the confidence and team spirit.
Please leave as soon as possible Roberto and take messrs Jones and Lawrence with you
Eddie Dunn
63
Posted 28/12/2015 at 20:24:13
Sean 37, I think he didn't give it, then the lino said something on his ear-piece and he then changed his mind.
i thought it was a definite pen in real time, and it was only the slo-mo replay that suggested that Stones got a stud on it, so unlike all of the hot-headed Clatten-bashers, I can see that without the benefit of replays, they gave it.
The fact is, that Stones slid in and was asking for Arnautovic to go over his outstretched legs. Naive defending.
He will learn, but our manager fails to learn, as we panic as a team, just when we have got ahead....just like at Bournemouth after Barks scored. It is all down to the set-up. He has to go, as he is wasting our best chance in years of a CL place.
Steve Guy
64
Posted 28/12/2015 at 20:27:38
Tim Howard is costing us games and points. When he's not creating howler moments of his own he creates a nervousness in his back four (and the crowd) which is palpable. Quite frankly Robles must be a better bet.
We should be comfortably 4th instead of a dodgy 10th
Tony Abrahams
65
Posted 28/12/2015 at 20:28:06
It was only two days ago that the manager was saying lessons have been learned, just because we scored a last minute winner.
One point from the last nine at home, we have conceded seven in our last two matches at Goodison. It's embarrassing, for everyone, especially the man who was saying lessons have been learned. Experience alone should have given him the sense to keep his fucking mouth shut.
I'm convinced Martinez would be a very good youth development coach, were results are not so important.
Paul Ellam
66
Posted 28/12/2015 at 20:29:37
Our attacking play seems pretty good (we should score more from the chances we do get though) and we are the 3rd highest scorers in the league.
The down side is that our defence is woeful!
We MUST change things quick or the likes of Lukaku and Barkley are going to want to go elsewhere to a team who can keep clean sheets and ultimately win things.
We have been short in defence since the summer and have not solved that problem.

Joe Edwards
67
Posted 28/12/2015 at 20:35:31
What you should realise Mr Martinez, is that there is even greater anger on the terraces at your inability to get the best out of what is arguably the strongest squad for over a decade.You refuse to drop a keeper who was past his sell by date 3 seasons ago.The shortcomings and our vulnerability from set pieces remain in place with neither of our centrebacks apparantly completely unable to challenge for balls in the air effectively.

You persist in playing Kone who is at best a Championship player with no more than 60 minutes in his tank.You are unable to coach a team to see out a game and completely unable to change tactics.

You are out of your depth,out of ideas and out of favour with the fans.We are sick to the back teeth of your regurgitated sound bites in post match interviews,the last straw is blaming a ref for losing a game when in all fairness had a Good game.

Do us all a favour Mr Martinez, go back to Spain. We the people no longer require your services.
Mike Oates
68
Posted 28/12/2015 at 20:37:59
I'm afraid John Stones will never be a Premiership centre back, he's more likely to make it at a German, Italian or probably better a Spanish club. He just doesn't like heading the ball, doesn't like people running at him and goes missing just when you need him. He clearly has massive well to do followers particularly ex-pro's and its got to his head - he's trying to walk the ball out, or send suicide passes to our own players.
Now its not all negative as I think he would be far better suited to a defensive midfielder , the new Barry , where he can use his undoubted reading, passing skills to better effect.
Gerard Carey
69
Posted 28/12/2015 at 20:40:08
Dave 44, thought the same thing. As soon as we scored it looked like the players were thinking job done. We really lack a Peter Reid or someone like that to keep the pressure on.
Jim Bennings
71
Posted 28/12/2015 at 21:09:31
Mike
It's funny but I've thought about that myself regarding Stones.
I think alot of people get carried away so quickly at times and they have already earmarked Stones as a world class defender but I asked the question last year, is actual "defending" what Stones is really so good at?
Or is it just bringing the ball out of the defence with skill and composure?.
I myself think John has a few more years to go and become physically stronger before I can really judge him as a world class defender.
I don't think he is going to get any better in this area sadly working under Roberto Martinez, that's not being negative, it's just a fact!!
Stones's natural ability on the ball is his own work, not Martinez's but strangely I think as a defender who first and foremost needs to defend, I think he'd have benefited more under David Moyes.
Martinez will never ever work on defence.
Norman Jones
73
Posted 28/12/2015 at 21:19:23
What a difference a single goal makes. Forty-eight hours ago, Cleverley's late winner saw the manager lauded as a near genius and the team again being seen as having Top Four potential. Tonight, after the'late one' went the other way, the same manager must be removed without delay and the team - apart from Lukarku - is spineless and sinking towards relegation !
Now, let me confess, my own emotions follow that path so I criticise nobody whose optimism has changed to despair so quickly. However, what I'm trying to determine is which way the season will finish. I guess three wins on the trot will see normality restored and, as with last season, some satisfaction will be found in yet another mid-table finish.
Such is the journey all Evertonians undertake - I guess it's our lot.
Max Murphy
75
Posted 28/12/2015 at 21:21:36
We have Martinez as a manager. Why the concern? He is doing what he does best. Leading us to lower table and relegation. I'm sick of repeating myself but the manager has to go or we're rock bottom.
Aiden Jones
76
Posted 28/12/2015 at 21:23:12
Mike, while it is obvious Stones is struggling a bit at the moment I think to say he will never make it as a Prem centre back is a bit rash. He is only 21 , how many centre halves were the finished article at that age. He is playing alongside another Prem novice , has had a novice left back with him for most of the season and has a keeper who cannot exactly give you confidence. Given all of that he is not doing so bad. Maybe a bit of patience is needed with him as he develops ?
Dicky Dalton
77
Posted 28/12/2015 at 21:29:04
I've never been so bored with this so called attacking football . Goodison has been less lively than a morgue for 3 years . Stop playing from our 8 yard area. Play your football in the opposition's half and harass when you lose possession. We did that in the first half to my surprise against Newcastle.

I've had more than enough of this so called entertaining manager. He's bored me shitless . That's my opinion.
Martin O'Sullivan
78
Posted 28/12/2015 at 21:29:30
So for 18months or so the players have been asked to play in the same way!!! I for one would become bored and complacent, these are professional footballers that need to be kept on there toes and constantly challenged to the highest standard, that's the pedigree they possess to be top players. Now the goalkeeper is more comfortable than grandads slippers and has absolutely no threat of his position. The back four are terrible at the moment and are clearly not being drilled to the standard required, but in there defence the formation allows for us to be easily pressured and width applied to oppositions attacks, hence the amount of crosses we seem to flap at. Midfield is just one pass through or around and that's it, they are now trying to run at our own goal or throw in a last ditch tackle. And forwards or forward thinking midfielders we have class in an abundance, but the answer is right there, FORWARD THINKING. No box to box ball breaker or midfield tackler and passer. We do have this but we are not even thinking of using it.
Over RB's career so far he has managed 1 league one honour and an FA cup, but that's a cup run, he did also manage to get relegated that same season. His win rate is 39% that's about 44.57 points per season. If you swing that 2% either way you are looking at relegation or possible top 6. And it has been the same for RB since he started managing in 2007 I think it is??
So basically in not even going to get annoyed anymore, we have the players, we have the infrastructure but we don't have the manager with enough knowledge within his so called philosophy to utilise what he has at his disposal. It's just a shame the board didn't study this before giving him the job. We have not progressed at all and have remained still, in fact probably gone backwards over the 18 months and the platform that had been built 11 years previous has all but been decimated....
If BK can do just one last thing for this club and the fans before selling us, is to bloody well get rid of this mediocre manager and install someone with some fire in his belly.

Norman Jones
79
Posted 28/12/2015 at 21:35:10
Aiden, I'll take the bait and opine that Brian Labone, Roger Kenyon, Mike Lyons and Kevin Ratcliffe were all better defenders than is John Stones at 21.
At that age, they may not have 'brought the ball out ' so stylishly but they were all much more competent and effective at the heart of our defence. And there have been others.
John Austin
80
Posted 28/12/2015 at 21:40:50
Norman 54. I can understand your point. But on another thread, I said earlier that we were fortunate that Newcastle didn't have a decent striker who could hit the target with free headers near goal. We were awful at defending and should have been at least 2 down before our goal. So I for one was not carried away by that win. And I'm sure I wasn't the only one. In fact, the defending at Newcastle explained a lot about what happened today.
Tony Hill
81
Posted 28/12/2015 at 21:44:22
I agree, Norman. Stones is greatly talented on the ball but is strangely lightweight and his positional sense is very suspect. I had hoped, and still hope, that these are defects he can cure; but if we get a big offer then we should take it.
I also think we should be gracious enough to acknowledge how well Stoke played. Shaqiri is a fine player to watch and I also love watching Bojan. I thought Hughes was the wrong choice for them but they are a very good side, much better than Leicester in my view.
Max Murphy
82
Posted 28/12/2015 at 21:46:03
Norman #54 The Newcastle win did nothing for me. If you read my post on Saturday, I said "Normal service will soon be resumed" - which it has. God help or club and may the devil take Roberto Martinez.
Jay Wood
84
Posted 28/12/2015 at 21:59:44
Dan @ 32, I don't claim any 'greater knowledge' than others on our defensive frailties, but here is my two-pennyworth.
Even though RM's first season was a wow, the 2nd season a disappointment and this season offering further frustration, the defensive set up, such as it is, has not greatly changed.
Essentially, the 'default' position of our defensive line up - that is, the prime area they occupy on the pitch on the chalk board is the following:
RM has his fullbacks pushed up wide to the half way line. Behind them, he likes his two centre backs to go wide either side ahead of the penalty area. This creates space down the middle of our half which, depending on who is available (but mostly it is Barry) is filled by a defensive or deep lying midfielder - be it Barry, Mcarthy or sometimes Ross.
The idea is we retain possession from the goalkeeper forward, who has the option to roll the ball out to either wide sitting centre back, or the deep lying midfielder. This is then recycled forward to the advanced full backs, who - when it works well - can interchange with the wide playing midfielders/forwards in the opponents half, by which time our centre backs and covering defensive midfielders fill in the gaps where necessary if the full backs advance high up the pitch.
In the first few games in RM's 1st season, the crowd often had kittens or were exasperated at the continually (risky, in some eyes...) passing of the ball across our back four just in front of our penalty area as the team became accustomed to the demands of the new manager.
Very quickly, the team adapted, however. RM himself at the time commented how many months it had taken for his Swansea and Wigan teams to adapt, but at Everton the players 'got it' in half a dozen games.
The rest of the season offered some scintillating football, inspirational subs and change of tactics within games which often resulted in turning draws into victories, or at worst, salvaging a point from a losing position. The slow paced and perpetual passing across the backline of early season gave way to sharp, incisive and rapid movement of the ball forward which often cut the opposition to shreds. This generated huge excitement and anticipation for the 2nd season.
Alas, it was largely a damp squid. Having been caught out by Everton the previous season, last season teams learnt to cut off the supply line at source and pushed up high on the full backs and centre backs. This resulted in a return to slow, ponderous sideways passing along our backline, just in front of our penalty area.
Quite often, there was not even a need for the opposition to put a tackle in. Just harass the back line, or deep lying midfielders, who would cough up a pass under pressure and the opposition were immediately through to the heart of our goal with both centre backs and full backs woefully out of position in their default positions to effectively offer any defensive cover.
In the bleak mid winter of last season, the players met with RM and expressed their concerns and asked for a more flexible variation of tactics than they were playing. It resulted in the back four being more compact and aligned, with Barry playing deeper just in front of them and Mcarthy playing a touch further forward. Ross was also encouraged to play more around the 'D' of the opposition penalty area. This had the effect of containing the opposition further away from our goal and stopping them from having a free run through the heart of our defence. Goals against were considerably reduced, even though Howard's form dipped seriously from the previous season. Passing was also more direct, rather than incessant 'tippy-tappy' in areas that did not hurt or threaten the opposition.
This season, to be fair, our best back four has been disrupted by injuries and - in John Stones case - the distraction of the Chelski transfer bid.
Baines has just returned to the side, Jags is a long term absentee and SERIOUSLY missed by the team, I don't care what anyone says about his limitations. He was one of those primarily responsible for turning our fortunes around last season and deservedly won the club's player of the year trophy. Stones and Coleman have also been absent through injury.
Both have individually played reasonably well, but Funes Mori and Galloway and still relative virgins in a very tough league.
That said, our defensive organization has looked mostly shambolic this season, from front to back.
Too often the opposition defenders are not pressurized enough in possession, our midfield is too easily played through, wide men given too much time and room to put crosses in and no strong headers of the ball (or a dominant goalkeeper) at the heart of our defence to clear such threats.
Even though we scored 3 goals against them today, I really admired how the Stoke defence played today. There was a discipline, a firmness, an UNDERSTANDING of their roles which, sadly, seems almost totally absent in Everton's defence.
We are a match for anyone going forward. IMO we have the PL's standout forward in Romelu and two of the best providers to feed him in Ross and Gerard.
Sadly, RM has openly declared "Everton is not set up to prevent goals." And it shows ...
It is becoming an increasing concern that this apparent dereliction of duty by the sitting manager is seriously undermining our season and our ability to achieve the prime objective in professional league football: WIN GAMES!
Unless and until RM shows willing and is capable of achieving a better balance to the benefit of the team and individual players, as he currently sets up the team, we will, I'm sorry to say, continue to concede 2 or 3 goals a game.
Let me close by saying I was thoroughly entertained by today's game. It was an exhibition of top quality football with a cascade of top notch goals. But ... we lost.
And if we continue in this vein, all the fine blossoming footballers now assembled at Everton will soon depart and the promise they offer will be fulfilled at other clubs.
Patrick Murphy
85
Posted 28/12/2015 at 22:15:05
You can't concede an average of 1.9 goals per game at home in the Premier League and expect to be successful, Arsenal despite conceding four goals at Southampton recently, have only conceded 18 goals home and away and that is why they currently occupy top spot in the table.
Conversely Everton have only conceded 9 goals away from Goodison in the league which suggests that we can defend when necessary but somehow don't do so to great effect at Goodison. It would be some consolation if we had have conceded a rout scoreline such as Chelsea last season but we haven't it is a constant flow of goals conceded and that has undermined everything positive and points to a struggle to amass points if we lose Lukaku's goalscoring talents.
All the best teams from the past and present are built on defence, Everton are not and no matter who we have in the line-up the problem will continue until a different manager is in place. We'll get away with it this season, next season I'm not so sure.
Tony Hill
86
Posted 28/12/2015 at 22:20:54
I think that's a very accurate summary, Jay. It has been said often before on this site and I have said it recently too, but the two defensive midfielder approach handicaps us from the start. It allows big gaps to form in the centre of the midfield and gives a straight advantage to the opposition once they break us up - most of the goals we concede are the result of simple counter-attacking .
We need a 4-1-3-2 formation in my opinion and Barkley should be a fluid centre of the 3. He has been playing deeper it is true but he still lacks a clearly defined role for us. I would be happy with any of Barry/McCarthy/ Besic as the defensive midfielder (I would go for Besic but appreciate that is probably not the majority view). I would have played Mirallas behind Lukaku but it is pretty clear he's now going. I do hope we have a suitable option lined up who is not either Naismith or Kone.
it all seems a bit pointless though with Martinez at the helm.
Geoff Williams
87
Posted 28/12/2015 at 22:29:36
Yet another disappointing result. Have to agree that Tim Howard is a total liability. He is prone to making costly mistakes but even worse he creates panic and uncertainty in the defence.
Martinez is unable to see the obvious and by constantly selecting Howard he has damaged the goalkeeper's reputation. Howard will always be remembered as a clown and not a great servant to the club.
Martinez has lost all credibility with the fans. His post match interviews are a total embarrassment. Martinez has a great crop of players but he is unable to make the most of their talent. What do the first team coaches do?
Something has to change soon.
Jay Harris
88
Posted 28/12/2015 at 22:33:14
Very good summing up of the situation Jay.
Top players do not like losing and it also eats away at team spirit.
Those that say we have a young team that is still learning have a point but in the context of tactics and preparation they are learning the wrong habits.
This guy has never cut it in the Prem as evidenced by Wigan getting relegated with a record number of goals against. He followed such notable managers as Steve Bruce and got even worse results than them.
I never thought he was good enough for us but now I am totally convinced.
I am sick of feeling like this every week so god knows how the players feel..
Martinez out ASAP.

Kim Vivian
97
Posted 28/12/2015 at 22:40:42
Dan Doran - see my post (217) on the match thread.
Don Alexander
98
Posted 28/12/2015 at 22:44:33
I'm struggling to understand why most of us can't see that under Martinez we're always gonna struggle at best, with relegation a creeping reality in a year or two as the better players get snapped up by others.
The board have for years been ineffectual (it's Christmas, so I'm being kind) in everything they do and are now transfixed by the prospect of pocketing mega-bucks in a few weeks rather than doing anything for us fans. From the point of view of most, if not all of them, they'll never give Everton a second thought once they've all got rich and buggered off.
Meanwhile we all still attend every match, maximising the board's revenues, enabling them to ask the max for a buy-out, making it harder for new owners to then develop a better team with a competent manager.
Jay Harris
99
Posted 28/12/2015 at 22:46:55
I don't normally take much notice of the bollocks that Martinez comes out with but can anyone explain or translate this for me:-
"Yes, it is a recurring theme but one that shows the right path in a way.
"We want to get ourselves in front and therefore you will have to put yourself forward. It is an overall feeling we need to get better in that situation. We know how to protect those leads and make sure we get the return on points."
"At the moment there is a bigger picture, nobody has got their position safe.
"Everyone is fighting for their starting spot, and it's no different for anyone but we have to get better as a team. The competition for places is always there, there are a lot of games in the next few weeks. There is going to be a lot of completion for places."
Mike Hughes
100
Posted 28/12/2015 at 22:51:15
Just seen the winning goal on MOTD. I have to be honest and say that in real time I thought it was a penalty. If it was us, we'd want it.
Either way, RM is papering over the cracks with that as an excuse.

Tony Hill
101
Posted 28/12/2015 at 22:53:03
Correct, Don, but there are too many Evertonians who like the community feel of the club and the fact that Martinez is a nice man and that if we're mid-table then at least we're all in it together and that anyway it'll all somehow come good if only we close our eyes and wish hard enough. And, above all, we must never, ever be negative because that means you're a traitor.
We will end up with what we truly deserve. You pays your money and you takes your choice.

Patrick Murphy
102
Posted 28/12/2015 at 22:59:15
Jay (67) I'll have a go mate Para 1. We are great going forward but concede too often, therefore it is not as if we are completely inept.
Para 2: - We have to be in front and therefore our emphasis is on the attacking side of the game, this creates space for our opponents which they tend to exploit regularly.
Para 3:- There is competition for places, however, the first team picks itself, largely because the quality underneath isn't really good enough and we'll have to do some wheeling and dealing to improve the overall quality of the squad.
Para 4:- I need to do some tinkering in order to evaluate how we can win more games, unfortunately I will end up weakening the team and therefore don't expect to win many more games than we have already, we might lose a few along the way.
All of which doesn't make much more sense than the actual quotes, however, perhaps he is alluding to the possibility of new ownership and from that perspective nothing about the future is assured for anybody presently working for the club?
Tony Hill
104
Posted 28/12/2015 at 23:10:02
I should amplify my response to Jay Wood's post above by saying that I know we are often said to play 4-1-3-2 but I don't believe we do; we remain far too flat-footed and give up far too much room ahead of the defence, inviting the sort of counter-attacks which are presently killing us.
David Hallwood
105
Posted 28/12/2015 at 23:13:28
Jack Cross (#31) are you sure you heard this right?
"
According to RM, McCarthy and Cleverley are injured. Said he had to give Marallas and Lennon and Baines a rest after Newcastle"
Why does Lennon & Miralles need a rest when they've been on the bench for most of the season??
Chris Leyland
106
Posted 28/12/2015 at 23:39:35
Bottom line - get rid of the pretender masquerading as manager before it is too late. The last season and a half we have won 18 out of 57 league games. Despite this, Marinez has convinced some Evertonians that we are playing great football and it is only bad luck and fine margins stopping us from achieving something. Absolute bollocks.

18 wins in 57 games. A win rate of just 31.5% is shockingly bad. His win rate at Wigan was just shy of 30%. This man is a fraud and we are going backwards. time after time we see the same mistakes. His in-game management is truly shocking and I'm embarrased that he is allowed to continue to be the manager of Everton.
Christy Ring
107
Posted 28/12/2015 at 23:41:20
How do you give 2 fringe players a rest, Stoke played the same team 48hrs later?. Imagine if we rested Lukaku, whose played every game where would we be????
Galloway had no one ahead of him, where were Naismith and Kone playing?, Martinez is clueless.
Dennis Ng
108
Posted 28/12/2015 at 00:02:43
I missed the game but caught up on that penalty call. I have to say it is correct. RM is just deflecting blame. You can't blame the referee for stealing the game when you let the opponents stay in the game long enough to take it!
On the part of RM deflecting blame. Perhaps there is substance to the buyout and that he's playing for his job now. Unfortunately, I don't see us getting good results any time soon as long as he lets his EGO dictate style over substance.
Tony Marsh
109
Posted 29/12/2015 at 00:10:48
Why didnt we refuse to play any games that Clattenburg is refereeing?

Derek Thomas
110
Posted 29/12/2015 at 00:21:14
55 yrs and we've come full circle. The man is a latter day Carey / Football purist. Just as Moyes was a latter day Buchan / P.E.Teacher.
We now need a latter day Catterick to get a latter day Denis Stevens and Tony Kay.
aka 'The Goldilocks Option'
Patrick Murphy
111
Posted 29/12/2015 at 00:21:32
Dennis (75) The penalty doesn't explain the loss and in the end it was pretty immaterial, however, do you honestly believe that the official would have given it to the away team at any other ground, personally I don't and Clattenberg like Moss and Mason have a pathological dislike for Everton FC. How many penalties have Everton been awarded this season - answer = none dubious or otherwise.
Michael Penley
112
Posted 29/12/2015 at 00:43:39
Now we can see why Howard never used to come off his line. He's just not very good at it. He also is extremely sensitive to criticism, despite what he says. So when the ball came in he thought to himself "I'll be roasted if I don't go for this!" and went for it, far too late and clumsily, ending up with a missed punch and a goalkeeper on the floor, leaving an open goal for Stoke to fire in.
Tony Hill
113
Posted 29/12/2015 at 00:51:08
Patrick (84), all of that is explainable by the fact that we are as soft as shite, we are a reflection on the field of Teary Bill's sentimental bollocks off it.There is far too much fluffy nonsense around the club; the RS also wallow in treacly drivel but, at their core, they are a hard outfit and have been since Shankly. If they're not winning then they kick up a fuss until it's sorted. Indeed, it becomes a national talking point. All of the officials and media know it.
If we present ourselves as nice and accommodating then do not be at all surprised that we are shat on from a great height. For that, down the ages, is the fate of the nice.
Bob Parrington
114
Posted 29/12/2015 at 00:55:28
IMO, generally speaking Clattenburg had riffed the game quite well over all. Unfortunately, two monstrous decisions ruined what was a fantastic game to watch. If he felt that the penalty call on Coleman was not awardable then he should clearly not have awarded the late penalty to Stoke.
Frankly, Coleman was brought down without the ball being touched by the Stoke player but Seamus had seemingly lost control of it (that is, it would have likely crossed the line before he reached it). The decision against Stones was completely wrong as Stones took the ball.
This becomes a 6 point reversal between the teams if refereed properly.
To lose like this is bad, and to concede so many goals as we do, is poor. However, I can't understand the outpourings about RM on this thread. Yes, Howard is a liability and should be replaced plus we need to add some clout defensively. But is he really that bad?
Gordon Crawford
115
Posted 29/12/2015 at 01:02:29
Penalty or no penalty?, it's doesn't really matter. What matters is that we conceded four at home against Stoke and three against Leicester. Just not good enough.
Martinez needs to go.
Dennis Ng
116
Posted 29/12/2015 at 01:04:31
Patrick, I believe that there's a conspiracy to keep those red teams in top 4 regardless of how crap they are, and us out of the top half no matter how good we are LOL
Jokes aside, I did not see the Coleman foul and had I seen that, might have agreed that that the Stones foul should not be given.
All I want to say is that this does not mask our issue. We can't defend. We are too vulnerable and require a top notch GK (who Howard is no longer) to bail us out. Is this because the back 4 is too young? I do not believe so. As someone mentioned of us playing 2 DMs, our setup is not pure offense but how that made us concede so many, only GOD knows because RM sure as hell doesn't!
Patrick Murphy
117
Posted 29/12/2015 at 01:27:26
Dennis (#89), I keep reading on here and elsewhere that Everton have six outfield defenders; they don't. Barry is often left to carry the ball up the pitch or to link up with those further forward; Coleman is asked to help Deulofeu in his attacking role but has to chase back to do his own primary job. Likewise with Galloway, although he's less effective going forward.
Cleverley and McCarthy are also asked to help out in the attacking third.
Note that those two players set up two of Everton's three goals, so that leaves Funes Mori and Stones with purely defensive duties which means there are whole swathes of the pitch unattended and many of the 'defensive' players have to chase back to retrieve any given situation. In the end it comes down to the 'team' ethic which is supposedly good at Goodison but whilst we attack as a team, we don't seem to defend as a team.
Everton need four out-and-out defenders whose primary – and, in my opinion, only – job should be to break up opponents' attacks and give the players further up the pitch the ball.

I also think that RM's style has a detrimental effect on all departments of the team but in particular the defenders because as they tire they lose concentration they make mistakes. They don't have a minute's rest or respite during most matches as they are constantly involved in all aspects of the game, but the opposition defenders do have periods of rest and time to regain their composure – as do our forward players who don't work as hard most of the time on closing down the opponents defenders.

Charlie Burnett
119
Posted 29/12/2015 at 02:13:49
We're using Howard as bait to be bought. The more he's in goal the more television interviews he does with ESPN.

All this is about selling the club. I just watched Creed and our club badge is all over that film – the stadium being used, fans singing, it says the word Everton and the mighty Goodison Park.

Do you think they headhunted Tony Bellew or do you think this is a stunt to get noticed and sold to a America billionaire? We're a business - BK and the board need this club sold. As for today, shocking. Stones isn't the player we all think he is.
Mark Andersson
120
Posted 29/12/2015 at 03:03:31
Brilliant posts and Jay Woods thanks for the insight.
So back to reality, Martinez's job is safe regardless if blue Bill sells or not.
Our season is over AGAIN before the new year. Even if we managed to somehow beat city over two legs do you seriously think we could beat either the Rs or Stoke in the final. This team Martinez has built has no winning mentality. Too many lost games prove that
We're stuck with Martinez until the end of the season. Longer even if we have new owners come Feb as they might give him another season to assess the situation.
Gareth Barry was brilliant again last night but must feel he is wasting his time playing out of his skin for Roberto, time for the senior players to revolt like they did last season.
The players never suffer half as bad as the fans after a game like that.
Jay Harris
121
Posted 29/12/2015 at 03:59:30
Spot-on, Patrick – the man hasn't even learned anything from his Wigan days.
Hey, he brought all his backroom staff with him and still preaches fine margins as we ship record numbers of goals against.
Harold Matthews
122
Posted 29/12/2015 at 07:57:53
Hughes picked his team with this game in mind. Martinez picked his team with Spurs in mind. Not surprised he lost.
The defending was sickening. Coleman more concerned with being hit by the ball as he slowed down and allowed the cross. Stones, who is not a favourite of mine, completely clueless off the ball as he waves to his team-mates. One of the slowest young CBs I've ever seen, especially on the turn. Bojan thanked him for the extra space and made him look like a pensioner. Even on the ball, his passing was dreadful.
Whether this lad is carrying an injury or not will remain a mystery. With Browning and Jags out and no experienced backup, we're pretty desperate back there.
Not too worried about the lads up front, especially the superb Lukaku. Cleverley for Kone would be ideal plus a fit Jags and McCarthy.
People baying for Besic should remember that, against Newcastle, he couldn't get above walking pace.
Yes, Martinez seems to be sticking with his philosophy and has created a better class Wigan. It's hard to take but a fully fit rirst XI would be very competitive and slightly less vunerable at the back.......and no, I wouldn't have Stones for a big clock. Okay, he's only 21, but will his legs move any quicker when he's 22?
Richard Lyons
123
Posted 29/12/2015 at 08:00:31
I hate to say it, but it's now time to turn "Martinez" into "Martin
ex
", and "Bill" into "Billionaire".
To Martinez's credit, we now have a squad which we can believe in (lack of goalie and influential number 10 notwithstanding), and nobody ever accused Everton of under-achieving under OFM.
For God's sake, we're behind Leicester, Crystal Palace, West Ham, Watford and now Stoke. Did that ever happen with Moyes? (Possibly, but only briefly and not because of crap defending.) I'm not saying I want Moyes back, I just want someone who can enable this team to reach its potential.
"I'll get you in the Champion's League in 4 years", he said - fat chance of that if we can ship 4 goals at home to Stoke City. Sooo depressing...
Brian Porter
124
Posted 29/12/2015 at 08:18:59
It really is time for Martinez to clear his desk, pack his bags, and say "Adios Everton". His tenure has proved to be a dismal failure and it's plain for the fans to see every week – even if BK and the board can't see it.

My big worry is that Martinez will let Naismith and Mirallas go in January, removing our second- and third-best goalscoring potential. Then, if our current decline continues, at the end of the season, it's plain that Lukaku will want out, as will Stones and maybe more. Why would they want to play for a team that in all likelihood is destined for a finish in the bottom half of the table?

Meanwhile, Martinez continues to pick his favourites, Howard and Kone every week. Howard is now statistically the most error-prone top goalkeeper in the Premier League and, apart from three or four games in which he flattered to deceive, Kone has showed himself to be as slow and ineffective as we all believed he was prior to this season.

The above scenarios fill me with dread for the future of our team, who admittedly can play some very pretty football, but who seem to lack backbone and any cohesive defensive ability. Howard's flap at the cross for the third goal yesterday was worse than anything I've seen on a Sunday league pitch, yet still Martinez defends him.

If BK truly loves Everton, as he would have us believe, he must take action to rid us of this charlatan who is nothing but a novice out of his depth at best, or a complete egotistical, arrogant idiot at worst. He is totally out of his depth in the Premier League, and we are heading for a repeat of his relegation season with Wigan unless action is taken to halt our decline.

Liverpool were in a much better position than us when they fired Rodgers so why is Martinez allowed to carry on driving us into the basement of the league?
David Connor
125
Posted 29/12/2015 at 08:38:19
I was at the game yesterday and the vast majority of people seem to be of the same idea that they have had enough of Martinez. We are becoming the laughing stock of the Premier League. The man is showing that his ideas regarding defensive play are woefully inept, the guy hasn't got a clue what he is doing – it's that obvious to every person in that ground.

First season apart he has been a pig-headed moron who will not listen to the thoughts of anyone else. We are going nowhere with this man & his shitty coaching staff. Hopefully when (or if) we get new owners, they will have bigger balls than the shithouses we have on our board now & kick his arse all the way back to Spain.

The man is way out of his depth here, as Moyes was at Man Utd. We will get nowhere near the top 6 never mind the top 4 under this man, it is blatantly obvious. We are in big danger of losing our better players to teams who will challenge for honours.

He needs to try and get the fans back on his side because he has lost most of them now. He needs to drop Howard now just to show people that he isn't frightened to make changes. You cannot continue to pick a keeper who is way past his best, he is costing us dear.The players in front of him must be shitting themselves everytime they see him between the sticks. He is garbage.

I would rather see the team grind out crappy one-nil wins as Arsenal and Liverpool used to than go all gung ho and lose to the likes of Stoke albeit that they are a well-drilled side... Something we are definitely not!
Stu Smith
126
Posted 29/12/2015 at 09:24:18
I couldn't make the game yesterday (in fact due to the arrival of 2 kids in the last 2 1/2 years, I haven't managed to see my boys play at the old lady due to living near Sc**thorpe and finding time). Normally I would agree with a lot of people who say you can't blame the ref for our performance, but while putting a new table together with more nuts and bolts than Frankenstiens monster, I flicked onto my phone to check the score to see it was 2-2. I then spotted Mark Battenberg was the ref and immediately knew we'd lose. The guy has been terrible everytime he's officiated one of our games.
Neil Gribbin
127
Posted 29/12/2015 at 09:40:29
I hate to say it, but maybe it is time for a bit of Kopiteryness. A full on booing of that useless, inept, arrogant pig headed Spanish fool's name. Enough is enough. I am so, so pissed off about yesterday. He is an idiot.

We won't get bought out. We won't buy anyone in January, but we will sell players. We will finish around 10th, our best players will leave, and then it's a sad decline again. Thanks for destroying my holiday Everton.
Tony Hill
128
Posted 29/12/2015 at 10:17:14
Patrick (91), I think that is true about the defensive midfielders and the defence generally. The problem is that Barry/Cleverley/McCarthy do get up the pitch, especially at Goodison where teams sit back, but there are then massive holes behind them. If we had just one proper defensive midfielder and a proper linking central midfielder then the balance would be much better.
Dave Ganley
131
Posted 29/12/2015 at 11:48:39
Same shit, same excuses just different day. Can't listen to his bullshit anymore. How much longer must the fans suffer this blinkered approach to football? We can hardly win at home, in fact we can hardly win full stop. I am seriously worried for us if this idiot manager stays in charge.
To be so lax in defence is crazy and a complete dereliction of duty. Where does he think he is....some no mark club where he can play around with his team and think the fans will accept any old shit? As others have pointed out, the balance is just all wrong. One DM who actually knows his job is all that is required alongside a back 4 who actually know what they are doing. Its pretty obvious there is no defensive coaching going on as they all get in each others way. Alongside the back 4 there was Barry, McCarthy/Cleverly and Barkley was so deep also. Even with all those players Stoke still scored 4! Get a cohesive back 4 with someone sitting just in front and that really should be enough. Even Moyes realised that. Too many cooks etc. Nobody has any clear idea of their defensive roles and the sloppy play yet again when passing the ball across the back 4 just has your heart in your moth. There is just no need to mes around that much at the back. It just invites pressure.
However, it has become increasingly clear that this guy is never going to learn and it is going to be at the detriment of our once great club. Sad thing is nobody at the club will do anything and we, the fans are left suffering with an idiot manager at the helm who is dragging our club one way, downwards.
Jack Cross
132
Posted 29/12/2015 at 12:12:42
David Hallwood 79.
That's what RM said, David.
I agree with you, why would he need to give Marallas, Lennon and Baines a rest?

Liam Reilly
133
Posted 29/12/2015 at 12:19:34
Clattenberg might be a tosses but wasn't the reason we lost that game. 4 goals conceded at home to Stoke is embarrassing and only 1 couldn't have been prevented with some organisation.
Am I right in saying that's 3, THREE wins at Goodison all year. Relegation form which is a ludicrous statement when you look at the quality in the side.
Steve Jenkins
134
Posted 29/12/2015 at 13:53:43
It amuses me people going on about how we should be doing better with this squad yet forget or omit that this squad -Lukoil, Del Boy etc has been built by this manager. He's very well liked by these players and it's unlikely under another manager we'd have attracted them in the first place.
I'm going against the grain and sticking with him to put it right because I believe we could have a very bright future if he only sorted out the conceding goals.
His stubbornness could be his own undoing and I'll have zero sympathy for him if he goes, if it is down to his reluctance to change or address the issues holding us back from becoming a top side, then that will be his own doing.
Clearly Howard needs replacing, and we need to tighten up as a team and at obviously at the back.
These aren't easy things to address mid - season.
He said in a recent press conference (and I agree with him) that managers aren't given enough time anymore to address and find solutions to problems, due to social media.
In this day and age, Moyes would have been gone after that 17th place finish.
I hope that the current Everton board give Martinez the summer to address the keeper and defensive problems, and give him at least 6 months of the following season.
He can either look to address the defence himself, which I don't think is a good idea as it's not his forte, or he can bring in a respected defence coach to solely look to address this.
If Martinez doesn't bring someone in and this doesn't change then he will, have nobody to blame but himself, an ego and stubbornness.
As I've said before the best managers delegate to other coaches where they are not strong, identifying where their own weakness are and bringing something that is strong in that area is what makes them great managers.
Martinez must now do the same in the summer - it's his own lookout if he does not.
Rugby is light years ahead of football, as far as coaching and annals is goes and they've compartmentalised coaching for a long time with defence and attack coaches etc.
We had a problem last season with backward and sideways passing, we were pedestrian and lacked dynamism going forward, Martinez has done a complete 360 on that problem, he's changed that and made us one of the best and most potent attacking teams in the EPL in the following season.
I think he should be given next season to the address the issues of this season, if he doesn't then it'll be down to his own stubbornness and an ego and he will have nobody to blame but himself, and he'll lose the support of even his most ardent supporters.

Liam Reilly
135
Posted 29/12/2015 at 14:18:07
Steve,
If we don't make Europe, then we won't have the same attackers next season.

Frank Crewe
136
Posted 29/12/2015 at 14:36:16
Steve105. Come the summer our main problems both defensive and offensive will be holding on to Stones, Deulofeu, Lukaku etc. Barry will need replacing because he will be too old to continue. We will need squad replacements for Kone, Osman, Pienaar, Hibbert. Howard will need replacing because he is old and crap and has been since the world cup and he is not improving with age.
Personally I don't think we will hold on to Lukaku. He has been with us three seasons and there has been no improvement in our fortunes despite his goal scoring feats. I've no doubt big clubs offering massive salaries will be in for him. Stones will also be gone for the same reasons. No doubt we will have a lot of money to spend on replacements but do you really trust Martinez to spend it wisely?
Remember the only real success he has had in the transfer market has been Lukaku and to an extent Deulofeu who will no doubt return to Barca for a snip.. Of his Wigan contingent Kone-failure, Robles-failure, Alcaraz-failure, McCarthy-average. Cleverley-jury still out. The likes of Mirallas, Barkley and Stones were already at the club when he arrived. So his record his hardly sparkling.
I think should we get a new wealthy owner his first order of business will be to bin RM and bring in a new charismatic manager who can attract big name players and not just disgruntled youngsters with potential.
Iain Jones
137
Posted 29/12/2015 at 15:13:28
Think everyone on here has a point. But if we don't stop conceding goals our season will be over in the next 2 weeks. Then bye bye Luk and stones and possibly Del.
Paul Avery
138
Posted 29/12/2015 at 16:37:01
Martinez your a buffoon

Frank Crewe
140
Posted 29/12/2015 at 17:31:05
Very interesting piece in the "Echo"
http://www.liverpoolecho.co.uk/sport/football/football-news/Everton-fc-talking-point-Roberto-10661445
It appears sloppy defending is nothing new to Martinez.
Oliver Molloy
141
Posted 29/12/2015 at 17:38:59
Frank @ 107.
Robles hasn't had a proper chance so you are a bit quick with him as you are with McCarthy who is better than average for the game he is asked to play.
Cleverly is a good signing - no fee don't forget.
I have just said on another thread I genuinely believe we would have more points had Robles been our keeper the last 6 or 7 games or so.
I do agree with you regards Lukaku, no doubt in my mind he will be off and it wouldn't surprise me if it even happened in January.
How we will replace him I don't know, good strikers are hard to find and every team is after them.
Frank Crewe
142
Posted 29/12/2015 at 17:56:39
Oliver 111
McCarthy doesn't score enough. What two goals in three 2.5 seasons. Although to be fair I could say the same for most of our midfield players. Barry, Besic, Gibson, have not managed half a dozen goals between them.
Funny. You would think with a squad so heavy with defensive midfielders we would concede far less goals than we do.
Jay Wood
143
Posted 29/12/2015 at 18:09:06
Frank @ 110. Thanks for the link.
Some scary reading...
"(Yesterday) was the FOURTEENTH time Everton have conceded three or more goals in 95 Premier League matches under Martinez (that's once every 6.78 games...) The same happened just seven times in Moyes' final 136 Premier League matches in charge."
Graham Mockford
144
Posted 29/12/2015 at 18:24:41
Jay #113
That's the trouble with stats you can often use them to suit any argument.
For instance would you be interested to know that under Moyes we conceded three goals or more 20 times in his first 95 games?
That's once every 4.25 games!!
Robin Gomme
145
Posted 29/12/2015 at 18:28:33
"I feel we have lacked a level of discipline and organisation in our defensive play throughout the season which has undermined our efforts,"
"By this stage of the season I felt that we needed to be seeing more consistent performances, which would naturally translate into better results."
Sounds strangely relevant? The Notts County chairman having just sacked his manager....
Frank Crewe
146
Posted 29/12/2015 at 19:06:15
Graham 113
Look what happened. We avoided relegation by the skin of our teeth.
The attacking fullback no longer works. Everyone plays counter attack these days so you can't afford to be caught with your two fullbacks in the opposing final third. You have to keep cover at the back.
As soon as we went in front RM should have thrown another DM (not like we didn't have any on the bench) on. Gone to 4-5-1 and run down the final ten minutes. But no let's keep attacking that's a much better idea.
If you are losing you attack but if you are winning, especially with a few minutes left, you defend. The players might need to learn this. But so does Martinez. As a manager he has to be procative. He can't afford to stand there with his fingers crossed hoping for the best.
Steve Jenkins
147
Posted 29/12/2015 at 19:07:28
Liam Frank
You're probably right about the players leaving, but it was this manager that brought these players in, and if Stones and Rom are sold it will be for a huge fee - close to £90m in total I would assume.
Identifying and bringing in players of sheer quality has not been Martinez's or his scouts problem in his time here, so I have little concerns that the money would be wisely spent.
Whether Martinez stays or goes - that problem (those players leaving will remain) - unless new owners can change their minds, so we are left in the same situation.
If Martinez stays and spends the money wisely (as he has done to date) then we are left in the same situation - can he address the defensive issues, I would has said previously give him the summer to do so, whilst the following 6 months.
He has addressed the problem last season, so lets see if he can address the following one, if not then he goes, but he deserves the opportunity to do so for me, as he has shown from last season that he can learn and change - last year back, sideways to this year - attacking at pace, with dynamism and far more direct.
Oliver Molloy
148
Posted 29/12/2015 at 19:16:10
Frank, McCarthy's role in the team doesn't include getting in the box very often. When the reported figure of 18 - 20 million was apparently going to offered by Spurs for him I was one of those who said TAKE IT and use the money to buy the type goal scoring midfielder we all wish we had.

However for all his limitations, he does his midfield enforcer job fairly well. Besic I think will be better all round than McCarthy if we can hold on to him, but he is another guy who wants to play week in week out.

You could see how Everton has touched him when Cleverley scored at Newcastle. I think Barkley will be that goal scoring midfielder eventually.

Jay Harris
149
Posted 29/12/2015 at 19:22:52
We don't need bloody statistics to tell us how bad this manager is we see it every week and go home gutted.
We have only beaten teams in the bottom half of the table or non Prem teams this season that is all the statistics you need to want this fella out.
Wigan were easy on the eye look where they have ended up.
Jay Wood
150
Posted 29/12/2015 at 20:16:01
Graham @ 114.
A valid point Graham, only ... I think the respective quality of the squads Moyes and Roberto inherited should also be taken into consideration when assessing their first 95 league games with the club.
For example, in the 6 seasons before Moyes joined, our goals against read 57, 56, 47, 49, 59, 57 = 325.
In the 6 (Moyes) seasons before RM joined the goals against numbered 33, 37, 49, 45, 40, 40 = 244.
That's 81 less goals, or an average over 6 seasons of 13.5 goals per season.
In the 23 complete seasons of the PL to date, Everton's average goals FOR is 49 and goals AGAINST 47.
Excluding the RM's 2 full seasons, Moyes was responsible for raising the medium in the goals FOR column and lowering the goals AGAINST. In his 11 full seasons with us he bettered the 23 year club average of goals scored 7 times, hit the average goals for in his first season and was below average in only seasons 2, 3 and 4.
As you would expect, Moyes bettered the historical goals against average in 10 of his 11 seasons, only going over the top in his 2nd season.
RM, by contrast, is all-square on these numbers. Over and below average in his 1st season, the 61 goals we scored was only bettered by Joe Royle's 6th placed side with 64 goals in 1995-96. Equally impressive was the 39 goals we conceded in RM's 1st season, our 4th best in the PL only bettered 3 times by Moyes.
Then we have last season's below average 48 goals scored and 50 conceded, putting them in the top 10 and top 8 WORST returns in their respective categories.
A simple and totally unscientific and invalid equation to make, but ... if we doubled our current goals for and against tallies as they now stand at exactly the half way point of the season, we will finish the season with a PL record high of goals scored of 70 and a near record high of goals conceded of 56.
Make of that what you will!
Graham Mockford
151
Posted 29/12/2015 at 20:37:29
Jay
Top marks for research, I was maybe being mischievous.
I don't think it takes either stats or being the proverbial rocket scientist to realise that
A) on the whole Moyes set his sides up to be better defensively
B) Martinez sets his sides up to score more goals
I think the real question is will Martinez be capable of adapting his team to build on the undoubted quality to turn that into a winning side. I'm not sure personally, I think he is wedded to his 'philosophy'.
But I still believe he deserves some time.
Jay Wood
152
Posted 29/12/2015 at 21:05:26
Graham, I keep my own records of various Everton data, so it is often literally at my fingertips to check and research stuff.
Like you, I feel that whilst stats can be informative (or misleading, depending how they are presented!) and fun, it only tells part of the story.
Your own eyes, and ears (on comments emanating from the club ... manager ... players) all contribute to prima facie evidence on the state of things.
Personally, I continue to bewildered how we didn't build on and kick on from RM's 1st season. There really was a sense of sin miedo about the manager, his tactics, his telling and timely substitutions. Now, he is far more reserved and conservative and is not showing the same innovation as in his debut season.
I honestly do not put much stock in his media comments as many are inclined to do. Having said that, in recent weeks he has given disgruntled supporters many a stick to beat him with. Just 48 hours on from telling us 'lessons learned,' we get yesterday's late capitulation against Stoke.
Yesterday, with his comments about Clattenberg, is the first time his personae and eternally cheerful and positive disposition has cracked in his Everton career to date. Is this evidence he is also beginning the feel the heat and the growing wrath of the exasperated fan base?
And as an aside, personally, I think passing the blame to the ref for yesterday's loss as he the manager and some posters have attempted is NOT were the fault lies. It was not a singular failing against Stoke alone this season. There is a whole succession of failings from dominant, winning positions.
January transfer window opening soon ... rumours of serious takeover bids ... quality young players itching to test themselves at the highest club level.
Who knows how the soap opera that is Everton will play out over the coming months..?
And STILL tune in to endure the latest episode each week. Only ... it WOULD be nice to have a happy ending now and again rather than a heart breaking cliff hanger every week!
John Keating
153
Posted 29/12/2015 at 21:29:55
If you think the moaning at the ground was bad after Stoke wait until after Spurs thrash us
Stephen Scofield
154
Posted 29/12/2015 at 23:09:42
It isn't defensive lapses per say, it's a ridiculously high defensive line that makes every counter attack look like the last 10 minutes of a semi-final. I really don't understand it. Before Martinez, these "defensive lapses" were twice a season, we seem to have them every game!
I love attacking football, but this is a gung ho attacking style that has no place in 80mins of the 90 of a premier league game.
Add Your Comments
In order to post a comment, you need to be logged in as a registered user of the site.
Or Sign up as a ToffeeWeb Member — it's free, takes just a few minutes and will allow you to post your comments on articles and Talking Points submissions across the site.
© ToffeeWeb