Everton's late surge not enough to overcome resilient Spurs
03/01/2016

217 Comments [Jump to last]
Everton 1 - 1 Tottenham Hotspur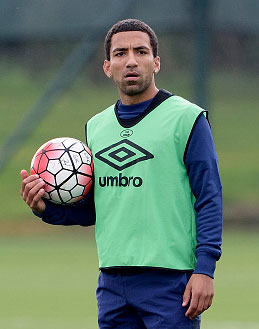 Aaron Lennon scored his first goal of the season against his former club
Everton had to be content with a point from a game that featured two first-half goals but which saved most of its excitement for the closing stages.
The Blues had gone ahead in the 22nd minute with their first meaningful attack of the contest when Aaron Lennon tucked a superb half-volley inside the far post but they switched off in stoppage time at the end of the first period and allowed Dele Alli to send the game into the break level at 1-1.
Having come in for so much criticism for his team's defensive frailties in recent weeks, Roberto Martinez had clearly set his side up to contain Tottenham in the early going and the visitors were in complete control for long spells in the first half.
Harry Kane drove a speculative shot off the base of Tim Howard's post in the 10th minute as Spurs threatened to to turn that early dominance into goals but it was Everton who scored completely against the run of play with an uncharacteristically direct approach of their own.
Leighton Baines back-heeled nicely to Tom Cleverley, starting despite coming off against Stoke last Monday with an Achilles problem, and Romelu Lukaku cushioned his deep ball back to Lennon to score his first goal of the season.
Tottenham were undeterred by the setback and they rattled the frame of Howard's goal again with half an hour gone when Ben Davies hammered a shot off the underside of the crossbar from outside the box following a corner routine.
The hosts, meanwhile, remained largely impotent going foward themselves, with poor decision-making in the opposition half scuppering what few attacking moments they could muster. Nevertheless, they were well positioned heading into the interval until Seamus Coleman failed to track Alli's run to meet Toby Alderweireld's raking pass from inside his own half and the young England international was able to chest down and sweep a shot past Howard.
Everton grew into the game after the half time but it wasn't until an unusually early double switch by Martinez that introduced Muhamed Besic for the ineffective Arouna Kone and Gerard Deulofeu for the unfortunate Lennon that they finally came alive as an attacking force.
And it was the Bosnian, providing much-needed urgency in the final third, who forced a spectacular one-handed save from Hugo Lloris with an excellent volley from the edge of the area with 11 minutes to go. Ramiro Funes Mori then headed the resulting corner agonisingly wide.
That sparked a frenetic finale but the Blues couldn't carve out the clear-cut opening that would have allowed them to claim the points. Lukaku blazed high into the Gwladys Street stand when he was handed a rare chance to run onto a through-ball down the channel and Ross Barkley prompted Lloris into a parrying save at the death with a shot from the angle.
The draw keeps Everton in the bottom half of the table and extends a winless run at Goodison Park that stretches back to 21st November but it at least arrests a losing streak at home to two games.
Full details: ToffeeWeb Match Report
---
Reader Comments (217)
Note: the following content is not moderated or vetted by the site owners at the time of submission. Comments are the responsibility of the poster. Disclaimer
John Jones
1
Posted 03/01/2016 at 18:38:33
Since Martinez took over, he has won 23 out of 49 league games at home and we have shipped 60 goals.
Frank Crewe
2
Posted 03/01/2016 at 18:41:35
If the side we finished with had been the side we started with, we would've won that match.
Kone... words fail me.
Des Farren
3
Posted 03/01/2016 at 18:43:21
Excellent game. Spurs are a very good team but I felt we matched them over 90 minutes in every respect. No complaints.
Keith Conchie
4
Posted 03/01/2016 at 18:48:21
Besic has to start the next game. He was instrumental when he came on. You can see his passion and desire.
He shouts at his team mates with encouragement, gets back to break up opposition attacks, and always looks to start and support our attacks.
Dean Williams
5
Posted 03/01/2016 at 18:49:44
John Stones shaking his head at the fans after he was fudging about on the 6 yard line, wants to stop trying to put himself in the shop and get on with defending. No wonder Howard flaps all the time. Not Howard's biggest fan but Stones is growing a bit too big for his boots really quickly.
Mike McLoughlin
7
Posted 03/01/2016 at 18:51:08
I thought it was a good game to watch. I totally agree Spurs were totally dominant in the first half and were really unlucky not to go in ahead. Positive change in attitude in the second half, players looked a little bit more animated and got stuck into the task.

Kone didn't have the best of games and was rightly substituted almost on the hour with Lennon exchanging with Deulofeu. What a change, the game turned on its head.

I thought Deulofeu really improved things on the right-hand side offensively, although I do think Lennon did well. Besic was brilliant, breaking up play in midfield, chasing back and bringing the ball out of defense.

Only if Bobby had made that change when we went 3-2 up against Stoke or Bournemouth. All wishes and dreams now. Glad to see Lennon having a better game and Stones looked far more in control.

Have to single out Barry for special praise, I thought he was outstanding. Both full backs I thought did well and Lukaku excellent apart from a goal. Cleverley again played well but I don't have him down as a defensive midfielder.

Howard is lacking confidence and I suppose the fans getting on his back doesn't help. Overall both frustrated and pleased with the game and result, I think the 'pleased' edges it.
John Jones
9
Posted 03/01/2016 at 18:52:58
If you look at the stats since the start of the 2014 season. Booby is no better than Walter Smith with a better squad.
We know how Bobby likes his stats... maybe he should take a look.
Stephen Brown
11
Posted 03/01/2016 at 18:55:43
The season could now hinge on the League Cup. A position between 7th & 10th in the league is only acceptable if it's coupled with a cup win!
Besic has surely earned more game time after that performance. A frustrating season so far!
Dean Williams
13
Posted 03/01/2016 at 18:58:39
Stones thinks he's the best thing since sliced bread, needs taking down a peg or two. Shaking his head at the fans, proper tool.
Teddy Bertin
14
Posted 03/01/2016 at 19:02:35
Besic was unreal. Exactly what we're missing. Barry and Barkley have got to move the ball quicker. Mirallas for Kone next game too surely? I like Lennon starting and Deulofeu coming on when legs are tired.

I'm not sure where Cleverley fits in this team, his passing is great but he hasn't got enough in his tackle to replace Barry or McCarthy. Equally he's not explosive enough to replace Barkley. Tough one...

I love that Besic though.
Frank Crewe
15
Posted 03/01/2016 at 19:04:05
I've no doubt the season hinges on the domestic cups. Our chances of making the top six are almost zero so the only way we can reach the Europa League is through a cup.
Dave Abrahams
16
Posted 03/01/2016 at 19:09:58
Mike (#5), a very good summary of the game, I was pleased with the point, and thought Spurs were much the better team but we stuck at it and the subs did make a difference for once.
I thought Cleverley had a good game but he was knackered in the last 10 minutes and I would have brought Mirallas on to try and snatch a victory. Barkley has been improving steadily over the last few games but today for me he had a very poor game, making the wrong decisions time after time with his passing, and even his great bit of skill at the end didn't compensate for his overall poor performance.
John Raftery
17
Posted 03/01/2016 at 19:13:04
Generally we managed the game much better today against one of the top four teams in the country. It was a pity we switched off for a few seconds to allow Spurs back into the game just before half-time.

If we had put in this type of performance, and the manager had made similar substitutions in the previous two home games, we would not have lost them. More of the same will be essential on Wednesday.
Jack Cross
18
Posted 03/01/2016 at 19:13:24
We were lucky to go in at half time at 1-1. It could have been 3-1 to them. So there were no lessons learnt after the Stoke game, not in the first half anyway.
Second half was like a different team had come on to the pitch. Whether it was RM's pep talk at half time or players decided to take charge, who really knows.

But there was no question that Besic added the steel that we have been missing. I would have left Lennon on personally as I thought he did enough to warrant that.
It seemed to be Spurs who were hanging on in the final moments. It was a very entertaining second half, but still 2 points dropped.
Still no place for Mirallas. Things don't look good there. I think if he had replaced Kone... well, we just might have got a winner.
I'd give Man of the Match to Barry again. He as been outstanding in the last three games.
John Jones
19
Posted 03/01/2016 at 19:14:45
Bobby is deluded...
RM: "I thought throughout the game we had a very good performance but first half we didn't have as much of the ball as we would've wanted"
Bobby is deluded... RM: "I am pleased with the way we defended. At this level, you can't give away soft goals and today we showed we'd learned lessons."
La la la...
Jonny Flynn
20
Posted 03/01/2016 at 19:17:46
For a player who has seen so little action, it would have been easy for Besic to play in a sulk but he got stuck in, played some lovely touches, and nearly scored. He lifted the crowd and his teammates.

He went up to Stones when the crowd were on his back for overplaying in the box and gave him a reassuring gee up. Yes, he'll make mistakes but he's Carsley with bit more class. Hope Roberto rewards him with a few starts and not a newly padded seat on the bench!!
Tom Harding
21
Posted 03/01/2016 at 19:18:09
I think we can take more positives than negatives out the game because we did not ship any late goals and looked tighter. I thought that Howard played fine, Ross made some great surging runs (just failing to make the killer ball) and Stones was pretty impressive (although he did showboat a little too much on a few occasions in the box).
Two of these players are young and have really bright futures and Howard has been an excellent servant to the club. None of them deserved the abuse and jeers that came their way and I can't get my head round how lifelong supporters of the club want to treat our players that way!
Post #6: I know some people think the stats don't lie but there is no way that we are as badly off now as under Walter Smith. The football then was dire... do you not remember; whereas now, some of it is often sublime.
Try being more optimistic please! We need Jags back but we can and will defend better. All we need then is a run of 7 or 8 games and we'll be knocking on the door of the top four – I can totally see that happening. Just like Man Utd were top of the table 7 or 8 games ago. This is a funny season and we have so much to play for this year.
Tony Hill
22
Posted 03/01/2016 at 19:18:48
Our formation and attitude in the first half were very confusing, Barkley especially was in no-man's land (though so was Cleverley) and there were the usual great gaps on the left and also in midfield.
With Besic we instantly look a sharper, harder and more balanced side and his performance today was very encouraging. I thought Funes Mori was also excellent.

The one who continues to concern me is Seamus who I don't think is anything like the player he once was.
No complaints in the end, a fair result.
Phil Smith
23
Posted 03/01/2016 at 19:20:07
Happy with a point after that first 45, but we could have won that. Spurs were hanging on at the death.

Kone as a starter is over. Thank God he came off early. He really is the weak link at the moment. Besic was immense. We looked so much more solid with him in the side.
Barry Jones
24
Posted 03/01/2016 at 19:22:22
The introduction of both Besic and Deulofeu totally changed the game. Besic was outstanding. We stopped strolling in the middle and began to win the second ball.
Besic really has the desire to win, which is questionable in some of our midfielders when you see players breezing past them without a challenge. Deulofeu was more of an attacking threat for us, which caused Spurs to drop a bit deeper and give us a bit more breathing space in the middle.
I also thought Gareth Barry put in a good shift. The entire team performed well in the second half and Seamus and Bainsey are beginning to look more like the players that we know they are once more.
One hell of a game. We did well to withstand some intense early pressure from a good Spurs team, so I don't think that we should be over critical with the boys today.
Jim Bennings
25
Posted 03/01/2016 at 19:27:18
You'd have to say you would have taken the draw once they levelled at the worst possible time on the brink of half time, with yet another el cheapo goal given away by our slack defence.
Spurs were head and shoulders ahead of us in the first half, it was almost like watching men versus boys... quite embarrassing.
The second half, we were much more involved in the football match. Besic freshened things up and at least looked like he wanted a go. Deulofeu added threat but I really wish he'd stop just whacking the ball at defender's legs and be a bit more clever when crossing.
Barkley was pretty rank today, seems to be lacking in confidence, his passing wayward and still chickens out of too many winnable tackles. Lennon did well and deserves more starts.
All-in-all, a point is a point; it wasn't the home win we badly needed and to be honest. The league is ebbing away now into just trying to consolidate a top 12 slot; we don't and won't win enough games until we keep more clean sheets. It's no coincidence that our last two wins since November 1st, have both resulted in clean sheets.
On to the biggest game of the season on Wednesday night when we need an absolute mammoth performance.
David Hallwood
26
Posted 03/01/2016 at 19:27:41
The problem with the team is that Kone is being asked to play a role that does him or the team no favours. He's a centre-forward; if we signed Kane or Leneker etc, and played them on the left wing, everyone would be mystified.
If RM insists on playing him, well go 2 up top and go 4-4-2, or 5-3-2. Why do managers insists of square pegs when there are alternatives in the squad.
Jack Cross
27
Posted 03/01/2016 at 19:34:07
Tony Hill (#15),
I couldn't agree more about Seamus. I too think he isn't the shadow of the player he once was.
I thought Funes Mori, probably had his best game today.
I can't see RM going with that line-up on Wednesday against Man City.
He never seems to keep changes running into the next game, successful or not. So I'll be very surprised if Kone doesn't start.
Ben Jones
28
Posted 03/01/2016 at 19:35:28
Sorry to be the negative one, but that first half was terrible. We were scared of Spurs and everyone was in jitters, Barry especially. We were tremendously lucky to be finishing that half level. I just couldn't work out why we were so timid, we gave them so much space and they had 65% possession first half!!
Second half was much improved, and for me Besic changed it. His urgency in closing down made the difference to the whole team, and we were more than a match for Spurs, it's a performance to build on.
I didn't like the Deulofeu sub, should have waited another 10/15 minutes because Lennon was playing well. The fans in the Upper Gwladys didn't like that one!
Kone was terrible, and I know he holds the ball up further forward but what else does he offer really? Mirallas needs a chance, and I imagine he'll start on Wednesday.
But overall, not bad, it's something to build on.
Gary Edwards
29
Posted 03/01/2016 at 19:35:46
Shock horror... Martinez makes effective substitutions. Mirallas on for Cleverley and who knows... we may have won that.
Besic was immense, crunching tackles, good speed around the pitch, only a great save from Lloris prevented him from scoring and no small amount of skill.
Stones seemed a bit miffed after turning Son inside out, hope it's not a reaction to the crowd's derision re: that incident; if so, let's hope it's soon forgotten. For me, that was pure class.

Good result against a very good Spurs. Let's hope Martinez learns from this, eg, Besic to start in midfield alongside Barry, regardless of McCarthy's fitness; Kone on the bench to be used only in the event of Rom needing a rest. Cleverley on the bench too as a midfield replacement – he's really not good enough for the first XI.
Paul Smith
30
Posted 03/01/2016 at 19:36:22
First half, we were boys and Spurs were men. Second half was much better.
Rom was seething with Cleverley at one point and was the only one showing anything in the first 45. Mo and Gerry gave us something extra and Spurs tired in the latter part of the game.
The game in August at their gaff was much closer, they have vastly improved and we have not.
My biggest fear is mediocrity and our best players leaving.
Peter Cummings
31
Posted 03/01/2016 at 19:38:20
We were totally outplayed in the first half except for that great Lennon goal but, as usual, what we always expect when we go in front, Spurs scored. Am I right in thinking Howard should have come off his line as he watched a long high ball into his area end up in the net??
Then, yet again, we saw a complete turnaround in the second half, what a difference Besic and Deulofeu made which, if Lukaku had been on his game, we could have won. In the end, it was a fair result against a very talented Spurs team... But when are we getting back to a full 90 minute performance? Starting on Wednesday, hopefully...
Eddie Dunn
32
Posted 03/01/2016 at 19:42:43
We made a good fist of the second half, but why does the manager put us through this? Almost every man and his dog would have preferred not to have Kone in the starting XI. Most would have Mirallas, and most would have started with Deulofeu over Lennon. We now have to wonder why Besic hasn't been getting more minutes since his return from injury?
This is a game that was almost out of reach at half-time. The formation and poor pressing showed far too much respect to a Spurs team that is resilient but not Barcelona.
Once Martinez snapped out of his inferiority complex, we performed much better. Credit to him seeing the light and changing it in time. Sad, though that most observers could see the problems before him.
This season has now got that Groundhog Day feel to it. The hopes of a high finish diminish with every flawed performance, and slowly our hope of Cup success will slip away in midweek, leaving us with the forlorn hope that the FA Cup will prove to be our salvation. We all know it will not. Man City will be treated with too much respect, and we will be found out in the second leg.
Our manager will not have the bottle to go for it, until the tie is lost. It will be another case of "what might have been". City are vulnerable at the back, but we will not set up to exploit them. The home leg will be wasted, as Martinez will be too scared to go for the jugular. We will have to go to the Etihad level, and hope to pick them off on the break.
This is the beginning of the end for this clown.

Alan Bodell
33
Posted 03/01/2016 at 19:43:53
I agree with most on here that we were lucky to get even at half-time.

I've been screaming for Besic to get game time so a little will help. This guy is much better than Tom Cleverley in every aspect: tackle, pass, awareness, pressing etc. Please, more time, you Spanish donut.
Michael Polley
34
Posted 03/01/2016 at 19:44:50
Overall a draw will suffice. The subs of Besic & Deulofeu changed things in the 2nd half. We looked more solid at the back. Just a pity we conceded just before half-time.
Kone is shite. He shouldn't be starting, he isn't up to the standard of Premier League football.
A big game on Wednesday. Hopefully the atmosphere at the Old Lady will push our lads on for a win. COYB.
Paul Smith
35
Posted 03/01/2016 at 19:45:46
To all those who think the introduction of Besic and Deulofeu changed the game on 60 mins, we already looked like a different outfit from the 2nd-half kick-off.
I agree, Besic for Kone made sense; not sure about Deulofeu for Lennon though.
Sid Logan
36
Posted 03/01/2016 at 19:46:54
Whilst it maybe true to say a draw was a fair result, in the context of the number of draws at home this season, it's another pretty dire result.
Martinez's team talk was probably about the need not to give soft goals away. It didn't work because, in the first half, we looked massively cautious and lacking in confidence. Is it not possible for Martinez to ensure the team to defend well without making them ineffective?
In the second half, we were set up as we should have been set up in the first half. Having dumped Kone and added Besic and Deulofeu, we looked a different team.
Despite Martinez's praise earlier in the week for Kone as a Lukaku foil, in reality he's nothing of the sort. Barkley is by far the better option at the moment for this role.
The two big questions posed by this game are:- Why hasn't Besic had more game time? And: What does Mirallas have to do to at the very least become an impact player in every game?
Actually, the third and possibly most important question is: When will I be able to drive home from Goodison feeling immensely satisfied with both the result and performance?
Will it be when Bobby has gone?
Jim Hardin
37
Posted 03/01/2016 at 19:48:51
Barry,
Maybe the subs changed the game but the fact remains that the scoring was done by the player subbed off. Deulofeu, with all of his stepovers, had one good cross and completely and utterly failed to get back and help out Coleman, unlike Lennon. This left Everton exposed the entire time Deulofeu was on. He absolutely has to learn to help out at least a little, especially when Rom does it. Oddly, the announcers over here were making fun of Deulofeu for being gassed and he hadn't even played a full half yet.
As for Stones, how is he not droppable? He continues to switch off and not link with his right-back and centre-half. He is to blame for the space for the long ball right into his area FFS. This is not the first of many goals conceded by Stones who has cost the team at least 12 points this season, counting the two today and three against Stoke, if not more. I hope to see Funes Mori and Jags partnered soon.
This was a game Everton could have and should have won. When the Spurs hit woodwork twice and got no goals from it, the team cannot concede a goal like it did.
Andy Meighan
38
Posted 03/01/2016 at 19:49:53
How many of us are saying the same thing about Kone? Surely we can't all be wrong. If he starts on Wednesday against Man City, I'll be gobsmacked.

Like everyone else is saying as well, he's got to start Besic on Wednesday; he was brilliant when he got on today. The defence was more compact and solid with him directing things in and around them.

The first half was all Spurs and those calling Coleman should look at how many goal-saving challenges he made in the first half. He wasn't as effective after the break but we were mainly on the front foot.

A big shout to Martinez today for those subs which he hasn't done for a while; with a bit more luck, we could have won the game. All-in-all, probably a fair result.
Gavin Johnson
39
Posted 03/01/2016 at 19:51:32
To be fair to Kone, he often played in this position for Wigan (with the striker that went to Fulham playing in the centre). Kone also chipped in with quite a few assists as well as goals. So, for this reason, I can see why Martinez persists with him. But at the same time he doesn't look like the same player who was at Wigan.
I also thought that Besic played well. He deserves more game time.

I'd also cash in on Coleman if we had another bid like the one we allegedly received from PSG. Buy someone for a fraction of the fee, like the Dutch RB PSG were said to have offered, along with Sam Byram.
Darren Hind
40
Posted 03/01/2016 at 19:54:25
Very poor first half. However, the longer it went, the stronger we got.
Let's hope we can take this momentum into the cup games...
James Marshall
41
Posted 03/01/2016 at 19:55:20
I wonder if other teams' supporters are so critical of the players they're supposed to support? You want them to do well, yet tear strips off them at every opportunity. It makes no sense to me.
Support the team, back the players.
James Stewart
42
Posted 03/01/2016 at 19:58:55
We were dominated in the first half, a really poor start from us, Lennon's goal aside. The second half wa much better. Even more so once the passenger was taken off.

Besic completely ran the midfield when he came on and looked our best player. He has steel and bite that none of our other players do. He has to start in centre mid for me; we are too weak without him.
Clive Mitchell
43
Posted 03/01/2016 at 19:59:08
Eddie (#23), "This is the beginning of the end for this clown."
I have to agree, and I think it's a shame because some of the best players we've ever had will go down with him (ie, leave the club). But he's too inflexible and too lacking in game management interest/skills.

We are, incredibly for Everton in the modern era, a good deal less than the sum of our parts. How I'd love to be proved wrong, but it's not going to happen is it? We're a point ahead of WBA for god's sake.
Conor McGregor
44
Posted 03/01/2016 at 19:59:24
Roberto will be sacked sooner rather than later because of his love for Kone, a pub player at best.
Besic should've started instead of Cleverley as it was a risk to start Cleverley in the first place, because of his injury. Naismith should've started instead of Kone for work rate alone, and he's a far better player who has a better understanding with Coleman.
The club is too big for Roberto; bring in Mark Hughes, with Peter Reid as his assistant, now before it's too late with this group of players.
Brent Stephens
45
Posted 03/01/2016 at 19:59:46
What a contrasting two halves. Well done, Roberto, for the two subs, totally changed the game.
If Besic doesn't start mid-week... I'll thcweem and thcweem until I make mythelf thick.
Christopher Dover
46
Posted 03/01/2016 at 20:05:18
I am convinced the first half was RM's version of a tight defence, ten or eleven behind the ball trying to stop the opposition from scoring, but we gave Spurs so much time and room on the ball in our half, I was amazed it was all even at the break.
The second half, when the subs were brought on, was a totally different team. Kone has to be dropped, surely even our manager can see that.
I would have taken a draw before kick-off, the way we have been playing. At half-time, I would have snapped your hand off for the draw. The second half could have won it, but if that is his version of defence then things will not improve as we were lucky to be even at half-time.
Chris Gould
47
Posted 03/01/2016 at 20:05:26
Jim,
Totally agree re Stones. He is going to be an exceptional player, but his positional play is very poor. Right now he's a luxury we simply can't afford. Give him a couple more seasons and he will be immense, but I'd welcome Jags back in his place.

He is incredibly young for a centre-back and would probably do better playing further forward. He certainly has the ball skills and passing to play as a defensive midfielder. Dier has flourished since Spurs made the decision to play him there. They too felt that he was too inexperienced to play centre-back right now.
Stones will be an England centre-back, and will be a Champions League player, but right now he is costing us points.
Brent Stephens
48
Posted 03/01/2016 at 20:09:29
Cleverley seemed lost first half, with the game swirling around him (perhaps looking to make up for Kone's lack of cover down our left).

He looked better as part of what I thought was a nice midfield 3 when Besic came on – we looked to have better shape, defending better from that base but also using it as a springboard to get forward more and faster.
Paul Tran
49
Posted 03/01/2016 at 20:11:23
A few points from today:
I loved the way they pressed us first half. That's what I want from us every game. Besic did it when he came on; got the crowd and team going.
At half-time on the forum, many were rightly praising Spurs to the hilt. They had the bulk of possession, hit the woodwork twice and conceded with the only shot we had. Funny how we get lots of stick on this site when that happens...
Besic hasn't been playing because he hasn't been fit. That's it. Looked good today and I'd keep him in the team.
Fair result, good performance, but for me it's two points dropped, again.
I think we're close to something. How patient are we? Can he keep the players at the club?
Here's hoping for a win on Wednesday....
Andy Codling
50
Posted 03/01/2016 at 20:16:24
James (#36),
I never understand people who don't like criticism against Everton. The first half tonight we were simply second best all over the park. Kone has a great first touch but he dawdles on the ball.
Finally Besic looked like someone who can give us some bite in the middle of the park. I feel Coleman and Baines are asked to come inside the box when defending, leaving Lennon and Kone to act as full-backs and wingers also.
Boils down to the manager's tactics but, apart from 20 minutes tonight, I thought we were awful.
Les Netherwood
51
Posted 03/01/2016 at 20:17:33
Another memorable day at Goodison Park.
Kone as usual really crap, Cleverley poor as well and all the first-half played in our half of the pitch – sideways, backwards, sideways again... how do they expect to win the game when the goal is at the other end of the pitch? Kone substituted but Lennon also which was strange (except we all know what his substitutions are like).
We were much better in the second half playing more in midfield than our own half, except for Stones who seems to think it a good idea to showboat in his own six-yard box. The transfer window is open... so, who knows?
Another two points dropped at home – a regular feature these days. I am not optimistic about finishing in the top half of the table, and the League Cup on Wednesday is not a promising occasion.
Happy New Year to everyone... I hope!!

Colin Malone
52
Posted 03/01/2016 at 20:18:47
The only way back for Kone is, if the frustrating Lukaku is injured, at centre forward.
The lad is 32 years of age and he is being asked to run up and down the flanks. Get a fucking grip, Martinez.
Dave Pritchard
53
Posted 03/01/2016 at 20:19:22
Howard - flappy again at high balls in the box
Coleman - not his best by some way
Baines - did well for our goal, often exposed in first half with little support on the left hand side
Stones - better although gives you heart attacks at times
Funes Mori - dodgy first half, good second half
Lennon - good game, unlucky to be subbed
Barry - poor by recent standards, looked tired in the second half
Cleverley - good energy
Barkley - flitted in and out of the game
Kone - poorest player on the pitch by far
Lukaku - not quite as good as he has been recently but still put a shift in
Deulofeu - looked dangerous
Besic - excellent and didn't do any silly tackles
Besic for Kone against Man City so that he can ruffle some feathers.

Dave Williams
54
Posted 03/01/2016 at 20:19:40
Funny how we all see things differently. I thought from the team selection that the plan was to sit deep and contain them then attack later on and I think it worked. We were solid at the back and their goal was not a defensive error – give credit to Spurs for a fantastic ball in and a marvellous bit of skill from Alli.
Howard would have got his hand to Kane's shot had it been on target and no goalie would have got near to the one which hit the bar but I hope Robles will play so well this week that RM has to leave him in the team.
I thought Besic looked a lot more physically solid – has he gained a stone of muscle? Very combative and bags of skill and just what we need alongside the excellent Barry.
Funes Mori had an excellent game too but the thought of selling Stones still appeals to me – there is always a mistake in him and his attitude seems to be that he wants away; sell him to finance team building.
Ross was a bit of a mixed bag but these young players are still learning and for me it was a good performance in the end against a decent team and I also thought we looked fitter than them at the end.
Well done, boys... now for City!!
Ian Smitham
55
Posted 03/01/2016 at 20:20:12
Just got back from the best game I have seen this season, maybe Chelsea aside. Have read the previous comments with interest and add that the players of both teams gave everything this afternoon, the end looked like a scene from a Cup Final with players sprawled all over the pitch.
The intensity of the second half was great.
Anyway, I did not see the "Stones" head-shaking incident, but concur that defenders are there to defend and anything more is great, but dribbling around in your own penalty area? 5 up against Dagenham maybe, Spurs at home, no.
However at 15:30 mins in to the game did anyone else witness the Tim Howard incident when I recon he said something to the people behind the goal?
Des Farren
56
Posted 03/01/2016 at 20:21:17
Paul @31, I could not agree more that we improved considerably from the beginning of the second half and before the substitutions.
James @36. If it was only criticism. It's a full blown tsunami of negativity on here most weeks. As for the live forum, it's a bearpit. Some seem to enjoy it though.
John Keating
57
Posted 03/01/2016 at 20:21:48
First half a disgrace, second a bit more even.
Whilst Kone is playing so badly, we cannot afford to sell Naismith.
Jim Bennings
58
Posted 03/01/2016 at 20:30:57
It's weird, I have never known a period of time going back over the last 12 months where there has been such a strange, almost angry atmosphere between the players and fans.
Whether Stones actually did shake his head at the fans is not conclusive, but last week you have Tim Howard sarcastically applauding the fans behind him after he himself is sarcastically applauded for catching a ball, then last season there is James McCarthy telling the Gwladys Street to calm down!
It's not a nice atmosphere at Goodison Park anymore, it's even different than the struggling days under Moyes, I can never remember the atmosphere being so "snipey", for want of a better word.
Dave Williams
59
Posted 03/01/2016 at 20:42:23
Ian, I saw that too – seems to happen every game now and reminds me of Gordon West in 1970 against (I think) Keflavik in the European Cup. It signalled the start of his decline and he like Tim famously disliked crosses and getting hurt!
James Marshall
60
Posted 03/01/2016 at 20:42:47
Andy @44
It's not that I don't like criticism, I just think it's a bit misdirected at times. Yes we've had a couple of defeats and not won enough games lately, but I do think that people are very quick to lay into our players even when it's not completely warranted.
Spurs are one of the better sides in the division and played extremely well in the first half – supporters always concentrate on Everton and rarely (if ever) take into account the tactics and ability of the opposition. Managers and players can't get it spot-on every game, and you have to give credit where it's due. Spurs are probably the best drilled team in the Premier League this year, and very consistent in their performances so we did well to hang in there with them.
A more balanced view is I guess what I'm talking about – rather than all the same old "we were fucking shite" every week, even when we win games. It's just a bit tiring to read all the time.
On a side note – player selection; Martinez is picking teams based on the fact we have a lot of games coming up as far as I can tell. Kone may not be the best player out there but he does keep the ball better than most and does an effective job of defending too.
We weren't a disgrace in the first half – Spurs were better than us, it happens.

Paul Rees
61
Posted 03/01/2016 at 20:43:50
A real waste of a season with the talent we have and Martinez seems to have his head in the sand!!
Dave Williams
62
Posted 03/01/2016 at 20:45:52
James Marshall, what a beacon of common sense! A very sensible and well reasoned post; good man!!
Brent Stephens
63
Posted 03/01/2016 at 20:46:05
Des, yes the Live Forum is a bit like the old boy's pen at times (yes, I really did venture there) – not a place for the faint-hearted. I think people vie to see who can be the most anti-[insert your own name according to poor taste – Roberto, Howard, Ross, Kone, Barry, Stones, McGeady, Osman, Hibbert, Thatcher, Genghis Khan, Rasputin].

Phil Walling
64
Posted 03/01/2016 at 20:49:30
A very good game to watch – from a neutral's point of view. Trouble is, we are Evertonians and want to see our team win. We can't expect the right result always but 3 victories in 10 home games is inclined to stretch the patience and dent the promise that better things are ahead.
Disappointed in Stones who is beginning to buy into all the hype surrounding him. Pissing about in your own penalty area is never recommended and then reacting to the crowd for telling him so displays an arrogance not popular in these parts.
But well done all round and grand to see Besic 'coming of age'.
Bill Gall
65
Posted 03/01/2016 at 20:52:06
I hope those so-called supporters who were shouting abuse at some of the Everton players give their heads a shake.
Regardless of what we think of the manager, who will not be going anywhere in the near future, he is the one who picks them to play and the tactics to use, so if you want to shout at the manager, go ahead. Remember, we support the people in blue on the pitch, who are doing their best in a system that maybe they are not comfortable with, so getting abuse from the spectators may start unrest in the dressing room.
Noticeable there were a number of players on the pitch shouting encouragement and this is the type of reaction we should support – not individualizing players mistakes.
Rob Halligan
66
Posted 03/01/2016 at 20:52:14
Re: Ian (#47). I sit in the Upper Gwladys near the front, so obviously if words were said by Howard I wouldn't hear them. However, I don't think he actually said anything to the fans, he just turned round and gave the sarcastic clapping after he held onto a ball, after the sarcastic cheering he received.

Now don't get me wrong; I would like to see Howard replaced as he has made far too many mistakes recently, but while he's in the team, we need to support and encourage him, not get on his back and lower his confidence any lower than what it is.

Some of the morons who react like they do towards Howard don't realize the impact they have on his confidence with this pathetic sarcastic cheering. Certainly those that sit around me, who are bloody clueless anyway.
Conor Skelly
67
Posted 03/01/2016 at 20:55:19
I have to say that feels like a victory in the context of things. I've been a critic of Besic in the past, and in games where we dominate the ball, I feel he becomes quite redundant. But how he showed me today that he can be a more than useful player against the better sides. He was absolutely fantastic and it was him that turned the game around.

Spurs looked every inch a top four side for that matter. Unlike some people, I don't mind Stones being over-confident. I prefer that than looking at Funes Mori in the first half. I think Phil Vickery might have the last laugh on him. Although I thought he played well in the second half and won many battles in the air, his distribution worries me.

I also have been really critical of Martinez's tactics but today it occurred to me that perhaps some of the players just aren't good enough to execute it. Many times, all that's needed is the quality of the final ball.
Winston Williamson
69
Posted 03/01/2016 at 20:56:51
I thought Besic did not put a foot wrong at all the while time he was in the pitch! What a difference he made! Nothing got past him...
I thought Spurs were superb in the first half. I thought we defended well. A lot deeper.
Second half we looked fitter as Spurs had spent the first 60 mins closing us down and it showed. Our fresh legs helped in midfield.
I think we'd actually win more playing like that against the likes of Norwich, Bournemouth and Stoke..
Dave Williams
70
Posted 03/01/2016 at 20:57:21
We are still developing our team but, whilst I have continued to support RM, I have to admit that results have to improve pretty soon or his support will drop away.

Listening to his interviews, at least he accepts at long last that his defence has to tighten up – we just need him to drop the players who are out of form at the moment and play Besic.

Naismith would be one of the first names on the team sheet for me on Wednesday as we will need his work rate and pressing game against what is a pretty shaky back four. We will beat City by being solid, hunting in packs and breaking quickly, not by passing them to death.
Charles Brewer
71
Posted 03/01/2016 at 21:00:24
I think I must have been watching a different game from many of the people here.
We have had a terrible period in defence recently, with many of the goals conceded involving the centre backs or full backs chasing attackers who have got behind them or being outnumbered after a cavalry charge upfield. Today, the first half consisted of making sure we had a solid enough base to nullify attacks, and it worked. There were two long speculative shots, and then at the end of the half we had a momentarily short-of-numbers defence, an excellent pass which, half a foot either side would have been snuffed out, and a fortunate swivel and a shot which Howard nearly got to.
Otherwise, Spurs had the ball, but no penetration, no idea how to break down the defence or how to get behind the defenders to cross.
After a period of defensive horrors, I did not have the constant expectation that a horrible error was about to happen.
In the second half, almost all the stylish football was played by Everton. Stones completely humiliated the Spurs attackers to the point of being confident enough to dribble it round his own penalty area. Yes, there is a risk, yes it is arrogant, but isn't it the sort of football that we might have expected from Cruyff's Netherlands (the best team I have ever seen), and can you imagine what it did to the attackers' composure? I thought it was wonderful.
All the Kone-bashing seems to be misplaced also. He distracts defenders away from Lukaku, he is sometimes overwhelmed by defenders (but funnily enough, even George Best, Pele and Messi usually didn't score every time they got the ball), and his passes go astray. It very rarely matters, and the difference between the defence splitting pass and the one that goes to a defender or is overhit is so small that getting it right a few times is enough.
Kone is not a great footballer, but his presence this year has coincided with Lukaku becoming probably the best centre forward in England. (Actually I sometimes wonder if Lukaku isn't the victim of alien abduction, and if so, if the aliens read this list, can you please keep the version you have got and leave this one with us.) It's not clear why Lukaku - Kone works, but it does.
Today felt more like a victory than the Newcastle match, and far far better than the Stoke, Bournemouth messes.
Des Farren
72
Posted 03/01/2016 at 21:02:54
Brent@54... I did not know there was a Boys Pen when I started 1960.
What there was, was plenty of humour and the abuse was reserved for the opposition.
Ian Smitham
73
Posted 03/01/2016 at 21:03:14
James (#51), I think you may be right. How the players will be able to perform at that level against Man City will be interesting, as will the team selection at the weekend.
As for Spurs, best team I have seen this season, no weaknesses that I detected.
Kone, also agree with you, is it a coincidence that Rom has scored so many goals this season compared to last, and what has changed? Kone being around?
I left the ground today wondering as always, and concluded that the players not playing made more of a statement than the ones who were. For example, the Mirallas issue, I am sure Harold posted a bit ago that Kev does not even know who Baines is... never mind cover for him.

I always admire the runners. McCarthy for example. But to cut to the chase, is Besic better, does he do more than chase around? For me, yes. Baines, sure Barry has been great, a big well done, but Baines is just the right man for the job now. No disrespect to Barry at all.
I know some are injured and blah, but today I looked at the team and felt I am getting closer to what I think is our best team, and without being controversial for the sake of it, Barry has a place in it. He was excellent again today.
Scott Robinson
74
Posted 03/01/2016 at 21:06:30
It is very obvious by the team selections made of late that we have a very unbalanced squad and that reflects at times how we play. It was reflected even by the Sky commentators that we had 5 midfielders on at once and it would be difficult to maintain any shape. Lennon, Mirallas Deulofeu... and now Kone clearly playing out of position.
In the manager we trust... but the initial starting 11 that went out there clearly wasn't working until Besic and Deulofeu came on. It's difficult to justify Mirallas's exclusion, he looked so glum on the bench.

This definitely wasn't the Everton teams that have destroyed recent top 4 rivals at Goodison. I think the Stoke game did more damage than we realise.
Barry McNally
75
Posted 03/01/2016 at 21:06:46
How Mo Besic didn't start the last two games is beyond me. He should have been man-marking Shaqiri.

If Bosnia think he's good enough to stick to Messi, then that would have been no bother to him. Future Everton captain?
Glen Garrett
76
Posted 03/01/2016 at 21:13:55
I can't understand why Mirallas is on the bench. He is an attacking winger with quality just like Deulofeu and together they should be starting every game, when fit. They should be attacking from the off with Barkley & Naismith playing behind Lukaku, as well as Baines & Coleman overlapping down their sides, giving attacking options all over the field in the opponents half.

This lot together play fast-flowing glow-trotting football when attacking. I don't get Martinez way of thinking, the defence is way open... even my local Village side could score against them at ease.

Stones for me is too over rated & that's my opinion. Not one defender we have is top class, if they were then Everton would be in the top 4 right now.

The problem is Everton are in desperate need of a top class goalkeeper and a complete new top class defence and a manager that really has got the know how to bringing this amazing football club back where it belongs, mixing it up with the big boys and winning major silverware. Martinez is not that man or manager.
Jonathan Miller
77
Posted 03/01/2016 at 21:16:59
Barry much to my surprise has been player of the season so far.
As we ended is how I think we should start Wednesday.
Kone is a centre-forward, end of.
Mike Berry
78
Posted 03/01/2016 at 21:22:27
We only improved when Besic came on. Kone should be dropped from the squad. We need somebody like Lennon down that left-hand side to tackle back and work with Baines. Pienaar?
Brian Denton
79
Posted 03/01/2016 at 21:23:56
Des Farren 63 - I wonder if you are right to say there was no Boys Pen in 1960. Perhaps some of the arl arses can clarify? There certainly was in 1966 when I started going regularly (1s/6d to get in).
If the Boys Pen didn't exist before the early 60s, then it throws into doubt some of the reminiscences of our Beloved Bill!
Mike Oates
80
Posted 03/01/2016 at 21:29:17
Game of 2 halves but overall Spurs should have won it by half-time . Better footballing team, better shape, style, solid at back and excellent upfront.
What annoys me is that 7-8 years ago us and Spurs were always neck and neck in the Premier League and both of us would swap places year by year us, 4th, then 7th-8th, then 5th etc etc – exactly also what Spurs have done – BUT they are still doing it over the last 4 years whilst we have dropped away.

People might argue they have money but over last 5 years we have spent more on a nett spend basis – we spent £20m, they have got in £35m more than they spent. Yes, they got big big money for Bale but they also spent most of it on about 5-6 players, some of whom are now delivering, some of whom have already been shipped out.
So both clubs have bought and sold reasonably well, bring some kids through, so why the difference over last two seasons particularly – can only be the manager and how to play the game, both attack dynamically but they defend as well; we don't and can't – that's the crux.

Tony Abrahams
82
Posted 03/01/2016 at 21:34:01
Couldn't wait for half time, but I didn't want the game to end. I thought we had much more balance once Cleverley went and played on the left but, like people have already said, I thought Mirallas should have been brought on once we were in the ascendency, especially since Cleverley was shattered.
The way we finished the game should hopefully give us some much needed confidence for Wednesday night, especially the way the crowd responded to the players at full time.
Des Farren
83
Posted 03/01/2016 at 21:47:09
Brian@67. I'm an arl arse myself. Said I was not aware of one. I was in the ground among adults.
Can't recall what I paid to get in.
Dave Abrahams
84
Posted 03/01/2016 at 21:47:46
Brian (#67), I used to go in the Boys Pen in 1948, cost 9d (old money), don't know if Billy Boy went then... I'm a bit older than him, but he's such a fucking liar I never believe a word he says. Glad he's over his illness though.
Christy Ring
85
Posted 03/01/2016 at 21:49:57
I'm disappointed with a lot of aspects from today.
First of all, the arrogance of Martinez, by picking an unbalanced team, that included Kone and Howard again, who have been awful, which shows he doesn't give a shit what the fans think. How did Kone last 60 mins? And Lennon was playing well in front of Coleman.
Can someone tell him that instead of blowing up Spurs' title aspirations, we should be competing with them for a top 4 place, not languishing in 11th place, above the relegation zone, and happy to draw with them. We're going backwards.
Besic was superb and showed why he should be in the lineup Wednesday night. But I wouldn't hold my breath, because Bob sees things differently.
Paul Montgomery
86
Posted 03/01/2016 at 21:50:10
Refreshing to see some balance to comments on today's game, which I enjoyed.

It was also good to hear the respect that the Spurs fans have for Lennon – no boos, and a song to remind him of his come-froms even after he scored. Over 300 top flight games and 21 England caps – it is easy to underrate him because he did not cost big money.

For me I think he has looked a proper footballer during what minutes he has had this season and I thought he was really unlucky to be subbed.
James Stewart
87
Posted 03/01/2016 at 21:50:41
@59 I don't think there is any denying we have regressed under Martinez. People forget the football we played in Moyes's last game, it was excellent and we were completely dominant. His achilles heel was obvious to all but it was nothing in comparison to the glaring deficiencies in Martinez's tactical makeup.

We will end up with around the 50 point mark and that for me unacceptable with this squad.
Gerry Quinn
88
Posted 03/01/2016 at 21:52:05
Feckin hell, Ian, 64, your abbreviations for the players are doing my head in. Worse than txt spk!
Gary Heywood
89
Posted 03/01/2016 at 21:53:20
A more intelligent display overall this time. Concentrate on the defence first and our natural attacking ability will follow. Observe, adapt, control.
We need to take the performance after todays substitutions into the whole of the semi final game. Besic and Robles have to start.
Trevor Lynes
90
Posted 03/01/2016 at 21:54:58
I reckon a lot of our fans need to remove those blue tinted specs. We have not got more talent than any of the top teams. Spurs had better players than we had and they also have more bench strength. We have not invested enough and we lack cover in at least three positions. No one could be sure that Besic who is not match fit would have influenced the 2nd half as much as he did.Just look at our bench! We had Galloway, Osman and Gibson sitting there and two at least are aged or slow and Galloway is still lacking IMO. We need a new goal keeper and striker of quality to back up Lukaku plus a right full back.Take a long hard look at our assets as they stand, some a very decent youngsters but a lot are not top class.Barry has some class but is getting old and slowing down. We also have first team squad members who are either not good enough or injury prone.Take them blue specs off and stop trying to see what is not there!
Ste Traverse
91
Posted 03/01/2016 at 22:06:36
I'm sick of the sight of his little favourite Kone still in the side. He offers nothing and the credit he got for that hat-trick against a shit Sunderland outfit has long since run out. It's no co-incidence we improved hugely once he was hooked.
We have wide players on the bench. So what's the point of playing a mediocre striker on the left wing?? Answers on a postcard to the c/o R Martinez, Goodison Park, Liverpool.
No doubt we'll be 'treated' to see him again getting a game in our biggest match in 3 years on Wednesday night and contributing nothing when we have miles better options, ie, Mirallas.
Spurs could have been out of sight in that first half, but we much improved after the 60th minute mark and certainly finished the stronger side. Besic just has to have more game time now, and I felt Cleverley was a passenger.
Tony Hill
92
Posted 03/01/2016 at 22:07:05
I don't agree we were well set up defensively in the first half, though I do agree that some sot of defensive structure seemed to be RM's intention insofar as any sense could be made of our setup.
Coleman made a last-ditch tackle inside the first 10 minutes when Tottenham strolled down our open left-hand side, Kane was allowed to coast down the left-middle for his shot which hit the post while we backed off.

We then missed a less than ingenious corner routine for Davies's shot that hit the underside of the bar and Coleman /Stones lost Alli for the goal. Hardly an improvement on recent games.
Si Cooper
94
Posted 03/01/2016 at 22:19:24
It would be nice to know for sure whether Mo Besic's lack of game time this season has been through choice or whether his fitness has been problematic for long periods? If he has been fully fit for a while then I think it was a mistake he didn't start, but if he has had a series of niggles in training you could understand the manager limiting his exposure with the games coming up. Loved his enthusiasm but he did nearly over do it at times today.
I think Seamus has been our most consistent defender this season. Not his fault he normally has double duties when McCarthy is out. He was a little slow to react to Dele Alli's run but only a pinpoint pass, immaculate control and a smart finish meant he didn't have any chance to make amends.
Supporters need to realise that hectoring players will not yield positive results. The players either already realise where they need to improve and are working to sort it out, or they never will. Giving negative input to a player who is in control of a situation because of anxiety or previous mistakes is only going to make the hackles rise. The only way to influence the game as a supporter is to improve the atmosphere.
Geoff Evans
95
Posted 03/01/2016 at 22:26:37
Need a leader, cue Besic. Need a midfield grafter, cue Lennon.

Golden boys... take note – you know who you are, 'Ninety per cent graft, Ten per cent talent'.

Fraser Auld
96
Posted 03/01/2016 at 22:29:21
Didn't hear too many screaming for Besic to start before the game and to be fair to Cleverley, he has impressed in McCarthy's absence.
Having said that, when Besic did come on, he showed a desire, fight and commitment that put the rest of this team to shame.
Did you see him when Stones was pissing about with the ball in the 6-yard box? He ran straight up to him, got in his face and told him to wake the fuck up!
I'd just about forgotten players did things like that, it has been so long since we had a captain or senior player with balls. We're badly lacking players with the warrior spirit who demand more from their teammates.
Teddy Bertin
97
Posted 03/01/2016 at 22:32:19
Can't believe people getting on Stones's back for being one of the most composed centre-backs on the ball that I have ever seen. Always in total control and had a good game today against a top striker in fine form. He wasn't good against Stoke but the changes in centre-midfield didn't help the back line or the game plan.
Good to see Besic's (and a lot of fans') positive reaction to him; not good to hear people calling him out when he didn't do anything wrong. He's a young lad, those sort of shouts don't help anyone. If anything, they make the lads scared to get on the ball. I thought the crowd were great today though apart from that, especially at the end. We need Goodison rocking.
I think Martinez is really causing a split in the Goodison faithful, seems like a lot of people preferred Moyes's tough tackling 1-0 wins and a lot more don't know what they want. I do know that a lot of us are excited by this young, talented team that Martinez has put together (with a lot of help from Moyes and his old backroom staff) and that if we can keep them together, and get their confidence up, then we could win the league next season, or at least get right up there.

We're not that far behind Arsenal in terms of squad. Look what a top class goalie has done to a shocking defence there.
Tim Wardrop
98
Posted 03/01/2016 at 22:35:41
The thing that's annoying me is the midfield selection. If we're going to play this formation, then it has to be Besic or McCarthy AND Barry or Gibson, or Cleverley. That way, you have an energetic tackler alongside a passer. Playing Barry alongside Cleverley is too imbalanced, the same way that McCarthy and Besic would be.
Barry and Besic together from the start today would have been better. I just don't see where Cleverley fits into this team, unless it's wide left when we need to go more solid, or as Barry's deputy (although I still think Gibson is better for that role).
Robin Gomme
99
Posted 03/01/2016 at 22:37:55
Maybe instead of Kone we just need a forward who can score and put himself about a bit. I seem Mr Traore, formerly of this parish, had an interesting afternoon.....
John Dean
100
Posted 03/01/2016 at 22:38:06
Spurs were excellent in the first half and I was pleased to come off at half-time all square. We were overran in midfield and had no threat down either flank. Kone looked out of his depth on the wing, couldn't hold the ball as well as he usually manages, and is unable to get past his man. So we were too dependent on Lukaku and he can't do it every game.

Ross wasn't in the game much and spurned chances to drive into the goal area when he would not have done 2 years ago; I fear the crowd is destroying his confidence. Defence coped well and Cleverley is starting to run our games.
Si Cooper
101
Posted 03/01/2016 at 22:39:47
James @ 74 - I 'll stick my neck out and say it is debatable. I want us to sort out the defensive frailties but I don't want a return to KITAP1. I vividly remember being outplayed by Norwich at Goodison a few seasons ago, and nothing I have seen this season seems as dismal as that.
It is regression in some aspects and progression elsewhere. If this season ends like last season, then it is regression overall; if we again hit some of the heights of 2013-14, then it may well be overall progression.
Si Cooper
102
Posted 03/01/2016 at 22:43:07
Fraser (#82) – looked to me like he told the lad to ignore the crowd, who were helping no-one.
Geoff Evans
103
Posted 03/01/2016 at 22:45:57
Besic is a natural leader, make him captain and let him kick backsides of under performers.

Barry Jones
104
Posted 03/01/2016 at 22:49:27
Jim Hardin (33), I agree with your comments. Lennon is a solid player with a great work rate. I always rated him at Spurs. But when Deulofeu came on, he tends to push up higher, is more direct and has more pace, regardless of his stepovers and tricks.
As a winger, if you track back too much and think too defensively, you can allow the opposition to camp in your half. Deulofeu, in not defending as well as Lennon, puts more pressure on their back four not to push up too high.
The Spurs back four were more wary of him and dropped a bit deeper, which has the effect of stretching the field and giving us more space in the middle. We had more possession in the middle after the substitutions, and of course, Besic was also instrumental in this.
Steve Davies
105
Posted 03/01/2016 at 22:56:34
Just read an article by RM in a national newspaper.
"We are probably the most exciting team that you would enjoy to watch from a neutral point of view going forward" he goes on further to say "The stats tell you that we are the team with the most goals from open play which is something that is very, very difficult to achieve."
The two words that bother me are 'neutral' as I am not a neutral and 'open' play as I suppose corners don't matter. The more this man talks the more I think is is a phenomenal bullshitter. No mention of defending in the article.
I was talking with my fellow season ticket holder in the Lower Gwladys who told me about RM's fellow countryman Ballesteros the golfer who also had a philosophy. If he had a weakness, such as playing out of bunkers, he would work on it until it became a strength.
RM, take some advice from Seve, get them working on corners and sort out this defense.
As for Stones shaking his head at the Park End and Howard telling the Gwladys to calm down. A bunch of cocky individuals, once they have kept a few clean sheets and have defended like a unit, then they can do that. I like Stones but he consistently plays himself into trouble, but is still learning his trade. As for Howard, I think most people on this site know my opinion on him.
Not a bad performance today but still dropped points after being in the lead.
Wednesday will be interesting. COYB
Barry McNally
107
Posted 03/01/2016 at 22:59:26
Robin (#85), I'd take Kone ahead of that clown Traore, and that's saying something.
Brent Stephens
109
Posted 03/01/2016 at 23:02:44
Si #88 - that's the way I read it too.
Oliver Molloy
111
Posted 03/01/2016 at 23:09:45
Fraser @ 82..
Besic certainly didn't tell Stones to stop pissing about as you put it, he was backing him up if anything.
He made a difference when he came on, did Besic, but like Stones he to needs to learn to release the ball earlier. Barkley pulled out of a few 50-50s today which really annoys me.
If ever there was a match where we would have seen the true worth of Naismith, this was it; just like Besic, he would have ruffled a few feathers.
Another draw at home against a side that is being mentioned as potential winners of the Premier League... no chance.
Ross Edwards
113
Posted 03/01/2016 at 23:10:29
Fair result in the end, the first half was all Spurs and we were almost totally outplayed and lucky not to be 2 or 3 goals down. The 2nd half was much better and I think Martinez should be credited for making early changes by his standards, Besic and Deulofeu, who changed the game and improved us massively.
I was very impressed with Besic and I think he should start on Wednesday, in place of Barry who I thought looked tired towards the end of the game.
I just think that, if we had a bit of ambition in the 1st half, we could have won. Again, performing for 45 minutes. Why can't we perform for the full 90?
Roberto says again that we've learnt but yet again we gave a soft goal away, just a simple ball over the top which we failed to deal with. How many times?
Arouna Kone MUST be dropped. Again he was awful. Surely Martinez can see that he's a terrible, terrible footballer who is out of his depth in the Premier League.
Howard should also be dropped. It's blatantly obvious that our defenders don't trust him and when there is a lack of trust and confidence between defence and keeper you have all sorts of problems.
John Hodgkins
114
Posted 03/01/2016 at 23:19:40
As far as I can recollect, there was a Boys Pen before 1960 because when I was about 10, in 1955, my dad wouldn't let me go in there as he said I would get eaten alive! Happy days!
Gordon Crawford
115
Posted 03/01/2016 at 23:24:01
Dean (#5), I agree with you on Stones. He is starting to believe the hype, and his defending is suffering for it.
Also, Besic has to start the next game, as he gives us that little bit of bite in midfield.
Mark Pringle
116
Posted 03/01/2016 at 23:35:46
I travelled five hours to get down to game today and after 45 mins that seemed like a mistake. First game I've been to since the Chelsea game and it is clear we have major confidence issues.

Baines hardly crossed the halfway line, most likely under instruction to do so. Coleman was really poor apart from one tackle early on. Stones gesturing to the crowd for me is unacceptable and any Everton manager worth their salt would reprimand him for it; Howard Kendall certainly wouldn't have stood for that. Smashing player but dribbling in your own 6-yard box in the last few minutes when your team are not winning just displays a lack of winner's mentality for me and the need for him to mature. I totally agree with the idea of moving him forward one.

Still can't believe the manager won't play with two natural wingers and doesn't include Mirallas. On the plus side, Barry was decent, as was Lennon, Ross and Lukaku... Could Besic be the next Peter Reid? Here's hoping!!
Eddie Dunn
117
Posted 03/01/2016 at 23:38:19
Oliver, I saw Barkley pull out of one tackle when we had a real chance of a break. I couldn't believe it, as at that point in the game it could have led to a goal. Barkley has improved on this aspect recently, so let's hope he gets stuck in against City.
Steve Davies
118
Posted 03/01/2016 at 23:39:47
On BBC News website RM just described our defensive performance as 'Immense'.
How would he describe our defensive display if we managed to keep a clean sheet? Phenomenal?
He is irritating.....with his over exaggeration and hyperbole.
David Holroyd
119
Posted 03/01/2016 at 23:42:48
Lay off Stones. He isn't undroppable but he is a class act. Some of the crowd were at him. He will be off if we aren't careful.
Andy Crooks
120
Posted 03/01/2016 at 23:58:10
Spurs are full of confidence right now and I thought we did well. James Marshall, this is the place to criticize and comment on players, not at the game which is never helpful.
Kone should, in my view, only play if we go 4-4-2, which I still think works sometimes. With Baines getting fitter and Jagielka to come back, I believe we will get more solid at the back and start getting wins.
Also, I hope we don't get a Stones backlash. He is good and will.be great. Perhaps he could do with a rest.
Ernie Baywood
121
Posted 03/01/2016 at 23:59:39
Going to go against the grain a bit and suggest that the first half wasn't that bad. Spurs looked like the home team, which is often used as a compliment but isn't meant like that on this occasion. Possession isn't everything and some of the more incisive stuff came from us.
Agree that Besic made a huge difference. There are games where his style will suit - basically ruffling the feathers of players who want the game at their own pace. I'm not so convinced he's the right choice in every game though.
I thought Tim showed clear signs of the strain getting to him. We might have criticised his decision making in the past but today he looked like he was second guessing his own decisions. Which is about the worst situation you can have. Fully expect Martinez to either again publicly back him (which TW patrons will hate) or take him out of the firing line.
Overall improved performance and I thought we had enough chances in the last 15 minutes to best a very good Spurs side.
There's undoubtedly something in this team. Frustrating as hell.
Dennis Ng
122
Posted 03/01/2016 at 00:10:39
Steve (#100), yea, I'm sick of that too. He's a salesman, not a manager.
Phil Walling
123
Posted 03/01/2016 at 00:13:08
Entertaining or winning football? That seems to be the choice before us. Few of us could not have enjoyed the cut and thrust of today's game and many have said it was 'the best game' of 2015-16 so far.
On the other hand, Everton have chalked up only 18 wins from the last 58 games and that is decidedly mid-table fare. Over that time we have come to see team selection and substitutions almost as a lucky dip although certain names always come out of the hat!
But, for all that, we've seen some good football even though it has too infrequently been of the winning variety. After nearly 30 years of league failure, that seems to be our lot but hey, next week is Cup week and that's this guy's forte. I'm betting next week will see the Oxford moment we've all been promising ourselves. Dagenham, watch out!
Danny Broderick
124
Posted 04/01/2016 at 00:18:56
Kone wasn't at the races, but I feel sorry for him. He has never been, and never will be, a left winger!
I don't know why our managers have become obsessed with playing strikers on the wing. Moyesie did it with Andy Johnson, Anichebe & Naismith. Martinez has also done it with Naismith, Lukaku and now Kone.
I could see we were completely lopsided today, with nothing in front of Baines. It's been like this most of the season. Surely, it would make more sense to have a pair of wingers in the team? It's driving me crazy. I'd have gone with Mirallas ahead of Kone.
Even when he brought on Deulofeu, he took off Lennon, who had played well.
I thought that was a cracking game today. They played well first half, we didn't. But I thought we stepped it up a gear second half, and looked more like scoring a winner.
Steve Jenkins
125
Posted 04/01/2016 at 00:45:37
I love Besic – it was clear to see today that he's that midfield general that we badly are missing.
It's been so long since he's played barring the odd cameo that I'd forgotten what he was about. He's going to be some player once he gets a run of games behind him.
He's a player you can build your midfield around, that bit of spite and energy to go with Barry's experience, Ross driving runs and Del Boy's magic.
I've often thought it's down to tactics employed by Martinez; I thought that not pressing is a Martinez preference, but Besic showed today that perhaps it is. But not pressing can also be down to what's intrinsic in the player; as soon as Besic came on, he was closing down quickly, harrying and harassing the Spurs players, straight in their face and it worked a treat for us.
Martinez can talk all he wants about Barry's experience, which is fine. Cleverley has his qualities and plays some lovely passes... but, again, like Barry, is a Mr Nice Guy.
Neither have that aggressive bite, drive or energy that Besic has and he was instrumental when he came on – he's clearly a leader (of which I can think of none in the present lineup) and something that we have been badly, badly, badly missing.
We need some more Roy Keane, Paul Ince, Duncan Ferguson, dare I say it – Steven Gerrard's figures in our team, and Besic fits that mould.
That's a start; I'd like another one in a new keeper and centre-back, but for now having one in our midfield is a big step forward.
For the next game, I'd drop Kone and play Cleverley, Barry and Besic midfield.
Still some way to go on the defensive front – but it was clear to see a concerted effort has been made to improve and address this by the coaching staff and team – a step in the right direction on that front for sure.
Jay Harris
126
Posted 03/01/2016 at 01:06:52
There was certainly a Boys Pen in the 1962-63 season because I an many others climbed over the railings to run on the pitch when we won the league.
Damian Nolan
127
Posted 03/01/2016 at 01:16:39
For reasons that are unimportant, I was in the ground early enough to watch both teams go through their entire pre-match warm up. The differences were stark even to a mere bystander.

The Spurs players looked totally focused and that may explain the wholly different starts the teams had. Our warm up is conducted very differently. The exercises and drills by EFC were a pale shadow.

It just shows how many things need to be covered in preparation for a game at that level. It is a small point perhaps but as Dave Brailsford said "Winning is about getting a lot of things right".
Mark Wilson
129
Posted 04/01/2016 at 01:18:48
We are an amazingly tolerant bunch, us Evertonians. Just ask the Blue Union or Kenwright Out guys and they will give you chapter and verse as to why that's a part of our DNA apparently that has "allowed" some awful mediocrity to exist at our club for 20 years or more.
Tolerant... I guess it's a fair description given the nonsense that goes on around us but one thing is for sure: we do not deserve eye-wateringly well-paid players getting arrogant with us as they strut around on the pitch giving a pretty passable impression of not understanding what it is to defend... at least the basics:
Commanding your area as a keeper; punching clear away from the danger area; getting out quickly to close down an onrushing forward or not misjudging a low cross-box ball; or... not losing your man so easily it makes you cringe; or watching as a hopeful ball lands in between you and your centre-back partner; or thinking you're Bobby Moore and trying to do magic tricks in your penalty area.......
Neither Howard nor Stones has done well this season. Howard had a terrible time last season. He's even worse this time around yet his arrogance and sarcastic attitude towards the Street End faithful is getting worse...,and in return they are reacting with irritation, cheering every time he hangs on to a cross...,they don't do that a great deal.
Stones has costs us a few goals recently but he has maintained support and rightly so; he is a class act but whether he's anywhere as near as good as he himself seems to believe is questionable. His talent does not however give him the right to treat the Park End to a children's style admonishment.
Goodison has every right to be nervous about our goalkeepers' performances this season. Goodison has every right to worry when, after a series of games where we've thrown away crucial points by terribly loose defending, we dick about in the box at 1-1 against a strong team intent on inflicting more pain on home fans.

Nobody in our squad and certainly not the manager has a right to be arrogant or dismissive of the fact that we only keep a clean sheet once every couple of months.
Howard should know better and frankly I can't stand the guy. He seems to have little time for us or a grasp of just how bad his form is right now. But John Stones seems seems to have self awareness and a practical down to earth manner, so to see him being so dismissive of fans who feared him losing the ball during a few training ground twists and turns when a thump out of the box was required... that was hugely disappointing for me.
I can't see either player being here next season but at least we may get 㿙m for one of them. Stones needs a reality check and I like the idea of him as holding defensive midfielder for a while, give the excellent Barry a break... but I'm hoping some wise head at Finch Farm has a word in his ear along the lines of "You're good son, very good, but these fans here know a bit about the game and they've seen some utter shite defending this year, including from you, so maybe ditch the finger-wagging 'calm down' stuff and focus on defending basics first, then strut around when things are not quite so depressing, okay?"

Teddy Bertin
130
Posted 04/01/2016 at 01:26:11
In other new Traore scores 4 and then gets sent off. Strange player
http://m.bbc.co.uk/sport/football/35218654
Jay Harris
131
Posted 04/01/2016 at 01:44:02
I wish fans would give up trying to wage war with the players. They are only human like us and although they get huge wads they are still sensitive.
Why do you think they perform better when the crowd are behind them? Just ask Leicester, Palace and Watford fans what can be achieved with a bit of unity.
The manager picks the players and if the fans are treating our own with cynicism then expect other players to feel it too.
Some people seem intent on getting John Stones out because he had the temerity to tell them to calm down. If we lost Stones, it would put us back light years. He is a potential Everton and England captain and regular so can we please stop the nonsense because you will be crying when he's gone and replaced with the likes of Johnny Evans.
Michael Penley
132
Posted 04/01/2016 at 01:45:44
If that shot from the corner had gone in we would be roasting Martinez alive right now. As we should be – it was suicide not to mark Davies. He was completely alone on top of the box.
Steavey Buckley
133
Posted 04/01/2016 at 01:53:54
The team as a whole played very well, especially when Besic replaced Kone and gave the team more balance.
My big disappointed (besides Martinez insisting Kone has to play, who gives little in an attacking sense, but leaves a gaping hole on the left side of midfield) is Barkley's final ball, that appears never to find an Everton player, probably to the great disappointment of all Everton fans.
I would like to see Deulofeu play on the left to provide through-balls for Lukaku to run onto. It's worth a try since Kone is pretty useless there.

I do believe (finally) that having centre-backs who can play football does allow the retention of the ball, usually, lost when it is just hoofed up the field. That may suit those who wish the ball is 'got rid of' at all costs, but will never satisfy the footballing purists like me.
Harold Matthews
134
Posted 03/01/2016 at 01:59:54
Very strange game. They closed down like frenzied ferrets all over the pitch and we got everyone behind the ball and let them get on with it. This resulted in one good goal apiece and two Spurs longshots which hit the woodwork. Neither keeper was troubled too much. We allowed them to look good but, truth be told, they were pretty toothless.
The start of the 2nd half was a different story. We defended higher up the pitch, Barkley began to surge forward and Lennon attacked with speed. Barry also showed more forward intent.
On the hour mark, Kone and the excellent Lennon were replaced by Besic and Deulofeu. By this time the frenzied white shirted ferrets were starting to flag and the fresh legs and good attitude of Delboy and Besic in particular, helped us maintain momentum. Lloris was busier than Howard and we were close to winning all three points.
Difficult to say who got the tactics right. We took a risk, let them wear themselves out and pressed late on. They went for broke in the 1st half but only created one decent chance which the brilliant Alli converted.
They're a decent side but no better than us. Our tactics let them look very useful for 45 minutes but that's their limit. It isn't ours. We have players coming back from injury, we're still in transition and there's plenty more in the locker.
Mark Andersson
135
Posted 04/01/2016 at 02:26:56
Great game for the neutrals. Spurs will be disappointed.
So we have a new idol, in Besic. Let's see firstly if he will be picked for a run of games. Secondly if he has the consistency to warrant this love fest.
I can't be disappointed in this season so far as I expected worse. Spurs looked great today while we looked a shadow of what we should be on paper.
Peter Gorman
137
Posted 04/01/2016 at 02:42:08
Ian @64 and everyone else it applies to;
"Kone, also agree with you, is it a coincidence that Rom has scored so many goals this season compared to last, and what has changed? Kone being around?"
Yes. It is a coincidence. The vast majority of Lukaku's goals have been set up by Del boy (who also wasn't around last season).
Mark Andersson
138
Posted 04/01/2016 at 04:19:52
Harold Matthews, what a refreshing outlook to the game; you just maybe right. Well I would like to think so. Does this mean you're onside with Martinez as our manager?
On a positive note, the introduction of Besic certainly got the crowd behind the team. Before then, all you could hear on the TV was the Spurs fans.
Of course the media is bleating on about Spurs before, during and after the match.
Is it still possible for us to get a top 5 finish??? My bipolar views of Martinez are increasingly being tested. However, I still feel the fans should get behind every player who is picked.
I feel sorry for Kone; he tries and is good at some things, like holding the ball up. The fans' frustration is undermining any confidence the players have.
Man City, if on song and a professional attitude, should be too much for this Everton side who can't put two good games together. Goodison Park needs to be in full voice if we are going to get anything out of this game.
The 2nd leg will either make or break our season. I just hope we don't meet the RedShite in the final, if we we're to pull off a miracle of beating Man City over the two games
Ernie Baywood
139
Posted 04/01/2016 at 04:50:19
Interesting that most on here say we started poorly and grew into the game after we scored. Generally I would agree.
But by that logic, our poor performance had us winning, and our improved performance was a net loss of one goal.
That's our problem isn't it? We look far more threatening when teams are camped in our half and we can hit Rom early and get our pacy players up to support him before the opposition have regrouped (as we did for our goal). We also look far more shaky in defence when teams hit us quickly on the break (as they did for their goal).
Our general tactics are to have relentless possession.
Anyone else seeing the problem? Which period of that game was our best again?
Jamie Crowley
140
Posted 04/01/2016 at 05:19:26
I thought the first 60 minutes we were... awful. I mean
awful
. They pressed us, we rarely countered, we often held the ball entirely too long.. it was a definable train wreck.
Then the subs...
For me, I'd never, ever take Deulofeu out. Never. Unless he's simply about to burst from exhaustion. The kid is so dangerous. I don't give a hoot if he "gives the ball away" or "misplaces a pass" because he does so 9 times out of 10 by trying to make a meaningful, defense-cutting pass or trying to make something happen "solo". He's a 90-minute player in my book.
Besic... that kid is marvelous. I love him. He plays hard, he plays intense, he plays the way a real man's sport should be played. He's a joy. He's the obvious answer to the missing McCarthy syndrome.
So...
From a Martinez backer, I ask rhetorically why in the hell weren't these two men on the pitch more? Why the "super sub" situation? Why Kone!!??
Again, we were absolute shit the first 60 minutes. Credit Roberto for making the subs but why not start that way and take the game to them? At Goodison no less!
Oh and finally what a great shout by someone on the live forum to sub in Mirallas for Barry who was flagging and bring Cleverley central. Oh that Roberto would have really shown some sin miedo and gone for it with that substitution!
Ernie Baywood
141
Posted 04/01/2016 at 05:34:07
Jamie, regarding Deulofeu, I'll never get on his back about trying and failing. The aim of the game is to score goals and stop goals. Nothing more. The complicated theories are just ways of people making themselves look more important and knowledgeable than they are. Possession is fine providing it's founded in one of those two aims. Under Martinez, possession has been it's own aim.
Here's a guy trying to find a way to score. What I will say is that once he tires, he neglects the defensive side of the game completely. So, when that happens, we should either cover him or sub him. This season, Bob's just let it play out too often.
Jamie Crowley
142
Posted 04/01/2016 at 05:43:14
Ernie.
I thought Deulofeu did marvelously tracking back today and covering defensively!
But that is definitely the argument for not playing him the whole game – he wanes.
But, for me, I'd keep him out there. Especially at home against a team you need points against.
Get a lead (!) and then, if he's tiring, substitute with Lennon for defensive purposes. Not the other way around.
I realize that's entirely schoolboy analysis... but, for me, it has to ring true a bit.
Jamie Crowley
143
Posted 04/01/2016 at 05:50:46
And... it's entirely bullshit as Lennon hit a beautiful ball for our only goal... ;0)
I know nothing. Keyboard manager to be sure.
James Marshall
144
Posted 04/01/2016 at 06:01:53
I completely disagree on the issue of players having their say back at barracking from our support. If you want to lay into our players, and they speak back to you, that is their absolute right. If you see that as arrogance, then I'm afraid you need to have a look at yourself and understand that these are human beings capable of mistakes – you give them the right of reply by being arrogant enough yourselves to criticise them.
There's even a post on here from someone saying that he thinks supporters 'know a bit' about the game so therefore have the right to abuse our players and not expect a reaction. That's possibly the most ridiculous post I've ever seen on here.
You have absolutely no right at all to abuse your own players, and they have absolutely every right to respond to you. Tim Howard is a good goalkeeper, an experienced goalkeeper who knows more about the art of goalkeeping than you or I ever will, so when he wags his finger at supporters and speaks back to you, I back him over you every time.
Stones is class, and when he also responds to your taunts, I back him every time as well (as does Mo Besic evidently).
Supporters should be backing our players, and anyone abusing our players should be ashamed of themselves.
David Barks
145
Posted 04/01/2016 at 06:16:25
James Marshall,
Just give it a rest. Howard has been awful, and I'd give him respect for wagging his finger if he did the same during each and every one if his screw-ups at himself.

So fans have no right to voice their opinion, but presumably should voice approval in your eyes, and the players of course have every right to talk back to supporters but never admit their own mistakes. What a blind world you must live in. Hear no evil; see no evil; speak no evil, huh?
The players have been crap and are paid to be out there. The supporters, on the other hand, are paying to be there and have had to witness horrible results. When you pay for something, and it is below par of your expectation, as a customer, you have a right to voice your dissatisfaction.
Paul Kelly
146
Posted 04/01/2016 at 06:16:55
Don't worry, folks, Besic won't start too many; after all, he closed down, showed grit, determination and heart. El Bob will have none of that, stepping out of line and all that.
James Marshall
147
Posted 04/01/2016 at 06:23:01
David – Howard has improved, his form is better than it was and today he was fine. Supporters were barracking him sarcastically and you think that's OK. Give it a rest. Are you one of them?
The players haven't been crap, they've been following orders from the manager – our problem is not about individual errors, it's about collective responsibility and a lack of the right formation is what costs us – not individual performances – and certainly not perceived goalkeeping errors from 'experts' like you.
Brian Porter
148
Posted 04/01/2016 at 06:47:04
Having supported the club for 57 years, from the age of six, I find it a sad moment in our proud history when some of us actually seem to be celebrating a home draw against Spurs. That is an indictment of how far this manager has dragged us down. Our record of home wins under Martinez is frankly appalling.
I totally agree with those who have said that Stones is beginning to believe his own publicity and is fast becoming a liability we can't afford; I'd love to see Funes Mori paired with Jagielka rather than Stones & Jags.
Besic should be a shoo-in now he's fit again. He adds that missing dimension of tenacity we are woefully missing in midfield, and also agree there should be no place in the team for Kone who, at best, is of Championship standard, no more. Most of his passes today went to players in white shirts, and he creates no more chances for Rom than Del Boy, so Martinez can't keep pushing that old chestnut down our throats.
Lennon also gives us another attacking option and should start more often. Use Del as a second-half sub, like today, with occasional devastating effect. The manager needs to lose his stubborn, petulant streak and use Mirallas, who just might have won the game for us today, if he'd replaced Cleverley.
As for Howard, I still feel he should have stepped forward when that ball came over the top, narrowed the shooting angle, and could, with quicker feet, have got a hand to Alli's shot. He's had his day and Martinez must wake up to the facts and realise it.
If all that sounds negative I apologise but that's my personal opinion based on watching our great club for over half a century. As a former amateur goalkeeper at a fairly good level, I knew when it was time to quit, nobody had to tell me I was a second slower coming off my line for crosses, or a similar second slower getting down to reach shots like Alli's.

A good team player knows in his heart when he can't produce the goods any longer. Howard plays for his own self-aggrandisement and ego (and Martinez's), and the defence's jitters are in a big way down to lack of faith in the man behind them.
I honestly can't see us winning anything as long as Martinez is in charge. His inflexibility and intransigence are basically strangling the life out of a great set of mostly younger players and I can't see us getting better until his reign comes to an end. Like Kone, his talents are more suited to a Championship club.
Does anybody else think BK heard him wrong at his interview? Instead of saying he'd get us in the Champions League in four years I suspect he said quietly "I'll get you in the Championship in four years". Such an easy mistake to make, Mr Kenwright.
Ernie Baywood
149
Posted 04/01/2016 at 07:10:19
I reckon that's a bit harsh on Howard. He wasn't exceptional for the goal but didn't seem to do too much wrong either.
Now Kane's shot that hit the post... I've no idea how he didn't have time to move his feet for that one.
And the crosses he came for were a mess. Didn't commit to the punch, then punched one he should have caught. You can see it getting very messy.
Ernie Baywood
150
Posted 04/01/2016 at 07:14:48
Jamie, agree about Del. He's tracking back well, but you only get about 45 minutes of that from him. I'm assuming it's fitness but it could even be managerial direction. When he's started, he tends not to defend after halftime.
Bob and Del know the answer to why. I suspect we never will.
Bobby Thomas
151
Posted 04/01/2016 at 07:39:36
Jay (#116),
I really wouldn't get too attached to Stones, he will be off in the summer.
Injuries permitting, he will get at least at least 60 to 80 caps. However, he has plenty to learn. Plenty. He's costing us goals this season. When he moves and he's playing Champions League football, he will really be at the sharp end & it won't all be plain sailing, there will be some tough times ahead. He's not exactly getting top class defensive coaching here, that's for sure.
For me, if he wants to be the player he should be or wants to be, I'd say get away from Martinez. However, from about 24/25 to 34/35 he will be a top class European centre-half.
There's no big deal if he leaves, we trouser the £50 million, sign a replacement and move on. That replacement may well be a better defender as well.
Martinez with the Stones & Rom money though? Hmmmmmm....
Ian Jones
152
Posted 04/01/2016 at 08:16:53
Considering our current position and that of Spurs in the league, a draw is a decent result. The way we started, I expected to get hammered.
To be fair to Kone, and to the surprise of many, he was starting to form a good partnership earlier in the season with Lukaku, so I assume he may have been picked to 'help' Lukaku. His goals helped as well.

Not sure if my timing is correct but Deulofeu came in a bit later and also 'helped' Lukaku. I think Kone was playing just behind Lukaku. Now stuck more out on the wing and asked to help defensively. Never his game... so why should we expect more from him in that position? On current form, he should be dropped.
I would still like to see Gibson feature somewhere. His range of passing is good. He could probably do the Barry role. Barry in my opinion is too one-footed and I noticed on more than one occasion a chance to play Lukaku in yesterday but it was on his right foot and he turned on to his left and the chance to play Lukaku in was lost.
My team in an ideal world would be:
Howard
Coleman, Stones, Jagielka, Baines
Deulofeu, Gibson, Besic, Cleverley
Barkley
Lukaku.
No room for McCarthy at moment or Mirallas. But I think Deulofeu and Mirallas could interchange.
Who would be a manager!?!
Ray Roche
154
Posted 04/01/2016 at 08:49:35
Ernie (#136),
I think Deulofeu is knackered after 50-60 minutes because all our attacks are through him. If we had a left side like we did when Pienaar and Baines were in their pomp, we could spread the load.

Why Martinez can't see the benefits of width on both sides, I just do not know... I'd sooner see a 4-4-2 or 4-4-1-1 with Barkley helping Lukaku than the lopsided approach we have now. Mirallas,Deulofeu, Lennon or even Baines with Galloway behind him could all give us the necessary width.

It might not suit all opponents but the space Walker had yesterday was criminal and wouldn't have happened if we'd played with width down the left. Baines is only half the player he was and his strengths, attacking and crossing, linking up with the wide man (like Pienaar) are now negated.
Dave Ganley
155
Posted 04/01/2016 at 09:13:44
I am staggered reading some of the "positive" comments. I guess it all comes down to expectation really.

If you're happy with that performance and where we lie in the table, and happy with our pitiful home record, and think we are an amazing attacking force, then I guess we get what we deserve.

A substandard manager, players who think they are way better than they are and a morgue of an atmosphere at GP. Happy days eh?
Scott Robinson
156
Posted 04/01/2016 at 09:21:02
I've been thinking a lot about the Spurs goal. Howard didn't appear to do too much wrong but would a better keeper actually anticipate the shot and move more to the left to cover the straight shot down the goal line?

Across goal would've been much more difficult, if not impossible with the direction of travel...
Ernie Baywood
157
Posted 04/01/2016 at 09:25:38
I don't know that's definitely the reason, Ray, but it's one possibility.
I do think 4-4-2 is back. Football formations seem to go in cycles, one emerging as dominant and then another emerging to counter the success with the old. Three in the middle seemed the way to dominate possession and beat 4-4-2, but then there was a move towards these hybrid attacking formations such as 4-2-3-1.
My view is that the likes of Martinez and Rodgers are missing the point. The best teams have more of the ball, but it doesn't follow that having more of the ball makes you more likely to be the best. Teams like Leicester and Watford are showing up these one trick ponies. Possession isn't everything and can be a curse.
At present we play our best football at pace and you don't get that with 60% possession - after your first few passes you've run out of space to move into unless you keep going backwards. In fact you're better off being compact at the back and letting the attackers break quickly. The old 5 a side tactics – leave space to break into.
4-4-2 for us either means converting Ross into a second forward, playing him in a true midfield position, or dropping him. Personally I would play him off Lukaku and see what happens.
Coleman Stones Jagielka/Funes Mori Baines
Deulofeu McCarthy Barry/Besic Mirallas
. . Lukaku Barkley
I wouldn't mind seeing how that side could stretch teams out.
Dave Abrahams
158
Posted 04/01/2016 at 09:27:14
Brian (134) never apologise for giving an honest opinion, you talk a lot of sense, so carry on with your opinions.
Ian Jones
159
Posted 04/01/2016 at 09:27:52
Dave @141,
I am sure many are reasonably happy with the result but not the overall performance. Some of the positive comments will come down to expectation... based on our current situation – mid-table. It is what it is.
Of course, we would all like to be higher up the league. But we are not because we haven't managed to win matches that perhaps we could have with a bit more nous...
However, we didn't lose against one of the teams being thought of as title contenders, so a point against such a team is useful, even if it was at home.
Ian Jones
160
Posted 04/01/2016 at 09:33:43
Dave Ganley,
Just now looked at your previous post @63.
You just about sum it up there!
Brent Stephens
161
Posted 04/01/2016 at 09:37:39
Dave (#141) – "players who think they are way better than they are".
Here we go again, fans assuming they know what the players think. Do you know what I think of that? Well, yes, I guess (and that's the operative word) you do.

David Graves
162
Posted 04/01/2016 at 09:38:53
James Marshall – the time, money and effort I have put into following Everton gives me every right to express exasperation every time Howard fails to come for a cross. Equally when John Stones is twisting and turning inside his own six-yard box with Howard again nailed to his line, I am entitled to express my concern.

I presume you weren't at the match otherwise you would have accepted that it was far from barracking but more an expression of increasing frustration that a number of our players appear to be unable to do the very basics for which they are selected.

Don Alexander
163
Posted 04/01/2016 at 09:47:37
Dave Ganley (#63 & #141) and Brian Porter (#134) speak for me too. The match was important and we got a draw after another shite 60 minutes to start with. A draw, at home, to a team we should expect to beat. But we have Martinez.
What's way more important is where we're going. It's downwards and there's no statistic to show otherwise. With Martinez, there never has been and, three years into his regime, there never will be in my opinion.
Happy New Year? Yeah, right.
Tony Abrahams
164
Posted 04/01/2016 at 09:49:30
Jamie (#126), Cleverley was even more tired than Barry.
Harold (#121), good post in many respects, but is it going to happen? As Mark Anderson says, Martinez, is giving most of us bipolar!
Ray (#140), that's the biggest worry of the lot to me, and why I asked Harold, does he think it's ever going to happen for us. An Everton manager who despite having four wide men on his books, only plays down one side? It's baffling.
Laurie Hartley
165
Posted 04/01/2016 at 09:55:47
Ross (#102) & Ian (#132),
Can't agree with you about taking Barry out of the starting 11. From what I have seen this season he is the hub of the team. He is tiring at the end of games because he is not only covering a lot of ground but is also getting involved in a large percentage of the physical clashes.
Having said that Ian, I posted on the pre match thread your starting outfield 10 with one except, I had Gibson, Besic, and Barry in midfield.
In my view put Gibson and Besic either side of Barry and his performances will get even better.
Apart from Besic's overall impact on the game I also noticed that Funes Mori's performance improved noticeably in the last half-hour. I think these two have a lot in common and will form a strong partnership if given time together. Funes Mori attacks the ball in the air.
Lennon is a good professional footballer and I thought he put in a good performance but Deulofeu's introduction created the conditions for Barkley to come more into the game and make use of his great skill on the ball. They can both lose a man with their first touch and are unpredictable. We looked like the "real Everton" in the last 30 minutes the way we got the ball up the pitch quickly.
The manager got his substitutions spot-on this time and, maybe, just maybe, he intended to "rope a dope" before he made them – or maybe he was just lucky. We will never know.
On Besic – man of steel. I like the way he introduced himself to Alli.
So for me, all-in-all, much encouragement to be taken from our second half display. Now on to Man City.
Niall McIlhone
166
Posted 04/01/2016 at 10:03:50
Paul #26, you nailed it: Mediocrity is where we are at, the table confirms it. And increasingly now, we see ourselves chasing the game at Goodison, we are just too easy to play against, especially at home.
Dave Ganley
167
Posted 04/01/2016 at 10:06:07
To be honest, Brent (#146),

Tim Howard suggesting in the media that the fans don't know what they are talking and he doesn't care what the fans say...

Deulofeu (as good as he can be) throwing his hands up in the air when someone has the temerity to take the ball off him as though "how can this happen" and theatrically throwing himself on the floor to win a free kick/penalty, too busy complaining to be bothered to get the ball back...

Stones fannying around trying to be Bobby Moore when he often gets caught out, suggests to me, in my opinion anyway, that they think they are better than they are. Lukaku had that kind of mind frame, obviously worked at his game and puts in the hard yards, amazing how he puts in the hard work and the rewards come.

You may not have this opinion and that is fair enough but if you disagree with me put forward a reasoned argument not just be rude. How do you know they don't think they are better than they are because performances certainly suggest that at times they think exactly that.
Brent Stephens
168
Posted 04/01/2016 at 10:34:59
Dave, I don't mean to be rude. It's just that I don't see how anybody can say players think they are better than they are unless they've said so. I don't know what they think so I'm not saying they don't think they're better than they are.
I do, though, take a lot from what players actually do, and totally agree about Delboy's antics when losing the ball or not getting a free kick, and when throwing himself. Get on with game, Delboy.
Don Alexander
169
Posted 04/01/2016 at 10:36:19
To those who seem gratified by a point against, quote, "a title-chasing team" I ask a question:
Which Spurs players are better than ours to justify where they are as opposed to where we are?
Man for man, I can't see any, excepting in goal, and this is not intended as a rant against Tim – it's just that Lloris is top-notch.
The difference between them and us is the boss on the touchline / training pitch, and that's all.
Mark Wilson
170
Posted 04/01/2016 at 10:59:48
James Marshall (#130),
'That's one of the most ridiculous posts I've ever seen on here' in reference to my post (#116)... Crumbs, you must be new here then!!
Here's the thing. Firstly, none of us are experts I guess in terms of being paid millions to play football. But the fact that WE pay to watch said 'stars' gives us a small right to reasonably 'have our say' whilst sitting in an ancient if much loved stadium getting soaked to the skin because the roof over your head doesn't extend far enough and this after hours getting to the match in the first place, etc, etc.
Note the word "reasonable" above. I've never abused a player in blue, ever. I have however reacted angrily to terrible performances or incidents of almost childish arrogance and at Goodison on Subday we saw both, sadly.

The Park End did not "abuse" John Stones when he took an absurd risk trying to be clever in his own box. Our fans reacted because here was a much hyped talent doing much the same as he has done a few times this season... and lost the ball in hugely dangerous areas... despite the fact that we were at 1-1 with not long left and have an embarrassing and damaging record of giving up points late on. This time Stones pulled it off and came away with ball, but not before his "calm down calm" gestures belied the fact that he personally has cost us games this season with personal errors that are totally out of keeping with his "status" as one of the best defenders in Europe.

What is "one of the most ridiculous things I've seen on here" is actually that you utterly fail to understand why us ignorant "just paying fans" do not it seems have the right to quite mildly express a mixture of fear and frustration that yet another personal error was about to happen in front of them.
I agree with many on here that abusing players in the true sense of the word is wrong and in case counter-productive. Our crowd isn't always great at self generating encouragement i.e. Getting loudly behind the team when yet again we are under performing.

We could be better in this regard, I get that. But then I've been watching football at Goodison as a season ticket holder for 40 years and I've been witness to a lot of dross sadly, and some brilliant moments, and frankly I suspect our crowd has more patience than most, even if it does result in some library-like quietness at times.
Short memories are common amongst us fans and yours James is clearly one of the worst. Have you forgotten how, despite transfer requests and obviously not being adverse to a transfer too late for us to replace him, John Stones spent a late pre-season being loudly praised as a diamond or whatever, given incredible unquestioning support by most and booed by just a handful of folk as our club held out against intense pressure to sell?
Do we have a "right" to react in exasperation and yes, even anger, when a prodigious talent seems to be getting carried away with his personal rep as his team put in a string of performances at the back that defy description they are so poor? Do we have a right to react when one of the poorest runs of form from a goal keeper I've ever witnessed, 18 months of terrible personal and often unpressured errors help us to a grim record of defensive failure that has so far cost us a top four challenge?

I think we do but not in the sense that personal abuse is the order of the day. No, instead there is a sarcasm in cheering Howard's catches from the Street Enders. It's not borne out of ignorance, it's based purely on lost patience, on awful performances and basically on the fact that we have a no1 keeper who often fails to command his box, who punches like he's got blurred vision and who is demonstrably slow to react when agility might save the day. Has he been better than this ? Yes. Is he nearing the end of his top flight career? Probably. Should he be displaying arrogance when honestly a bit of humble pie might get him the crowd backing he wants ? Yes.
James, not of this is easy or simple or unconnected from the other "stuff" going on right now. Our manager is not getting anywhere near the best from one of the best squads of players in the league right now. All our defenders have at various times been poor but then the manager has no Plan B and has a reputation for not seeming to pay enough attention to defending... which in itself is bizarre.

We are winning few games, whilst often playing very attractive football and the latter, tho at times lovely to watch, doesn't make up for that stunningly simple equation that wins mean progress up the league and defeats or excessive number of draws means mediocre mid table or worse.
So there it is, my "ridiculous" post was about fans having the right to express what was actually very mild exasperation at two players who seem somewhat remote from the reality of our current situation and more worryingly who seem not to have grasped that however brilliant they feel they are, their contribution to basically awful defending is amongst the worst in the team at present.

Your response seems to be "shut up and continue to be to tolerant, and continue to watch in unquestioning silence as a clearly talented bunch of players under perform or behave with an arrogance we don't deserve. I prefer my brand of being ridiculous ! Cheers
Kim Vivian
171
Posted 04/01/2016 at 11:10:35
I actually think Mo is perhaps RM's number one signing. Delboy was a coup of course and Rom priceless, but I think him being with Everton right now has a lot to do with Fellaini swinging him when we were vying with West Brom for his loan season. He, Fellaini and Mirallas were all together with the Belgian squad in the lead up to that and I reckon they opened Rom's eyes to the Everton family and what we are.
Anyway, I have always been a fan of Besic since watching this...
https://www.youtube.com/watch?v=ETnrwdZAk34
... when we first got him. It's not a just selective series of clipos showcasing skills like most of these vid clips, but gives a really good insight into the person, the man and his mindset. I really do think he can become another Everton icon if we can look after him and continue to develop the potential of this great squad.

Brent Stephens
172
Posted 04/01/2016 at 11:41:42
Kim (#154) – nice clip. Interesting the comment about his old team being good getting forward but not back, and them sorting that out with players such as Besic all knowing their position.
I also like the fact that he's played CB and RB, so has an understanding of how to coordinate his game with theirs.
I've been a Besic fan since I saw him in that first (friendly) game for us over at Prenton Park. Such enthusiasm.
Hajde Momo Besic
Jack Cross
173
Posted 04/01/2016 at 12:25:12
Just been listening to RM on radio talking about our squad being too big and there will be some going out (no names).

Didn't he say the opposite only a matter of days ago? That as we have a heavy fixture of games and cups shortly no-one will be leaving?
Harold Matthews
174
Posted 04/01/2016 at 13:07:00
Laurie. "rope a dope", luv it. Yes, Pochettino played under Bielsa, a coach Martinez knows well. He was fully prepared for the Spurs all action start and picked Lennon and Kone for their ability to help out in defence, which they did.
Around about the 55 minute mark, Kane could hardly put one foot in front of the other, Eriksen could hardly breathe and various team-mates were putting in tired tackles. One or two of our own lads were beginning to feel the strain but nowhere near as bad. The rest you know.
For all their possession, especially early on, Howard has seldom enjoyed a quieter afternoon.
My only disappointment was Ross, one of my favourite players. Gus Hiddink has just stated on Sky Sports that, in order to achieve things, players must be prepared to do the dirty work. Sadly, our boy was the only one on the pitch yesterday who avoided it. I'm sure it's not intentional or laziness. Warnock once remarked that Ross did not have one single defensive cell in the whole of his body and he's probably right. The lad intends to do it, and sometimes begins to do it but it doesn't last long.
Andy Walker
175
Posted 04/01/2016 at 13:08:55
Mark (#153), of course supporters have the right to get on the backs of players, although my view is that it serves no benefit to the players, or the team.
We have a goalkeeper having a bad season but the manager keeps picking him so he's on the pitch, yes it's frustrating. Do you think it helps him though if the crowd sarcastically cheers him if he catches the ball?
There is nothing positive to gain for our team from getting on the players backs. It only serves to increase the pressure on them when clearly some like Howard are already struggling. It can only be to the detriment of our team and the advantage to the opposition.
I'm sure such negative actions are a cathartic experience for some fans so it makes them, rather than the players, feel better. But if only they could stop the negativity it can only help, even if only a little. So the next time the fans are ready to exert their right to give a player stick maybe they could consider the bigger picture?
As for our fans being some of the most patient, I disagree. If you watch some of the matches at the likes of Leicester, Bournemouth, Stoke you will notice how the crowd hardly get on the backs of their players. Sure there are groans of disappointment when a mistake is made, but it's a very different sound to abusing, however mild, individual players.

Now I'm not saying we are worse than most, probably average. Newcastle is one of the worst though, a classic example of a group of fans who are so stressed and unable to control their negativity, they pass it onto their team's players after only a few mistakes and the tone is set for the rest of the game. They have done this for years and I think it is a partial reason for some of their problems, it certainly was a factor in them loosing Pardew.
We in the crowd can play our part in supporting our team, we can take a breath when a player fucks up and waive our right to abuse our players. It only can help the opposition if we get on our team's backs.
Dave Abrahams
176
Posted 04/01/2016 at 13:10:55
Mark Wilson (153) excellent post, most of your remarks are spot on. I've watched Everton for many many years, I've never ever seen a centre half dribble like that in the penalty area, yards from the goal, giving the opposition three chances to win the ball off him... ridiculous, of course the crowd were right to have a go, his own players should be doing the shouting at him.
Regarding Howard, when he ran to the Street End at the start of the game, he was given generous applause by the fans; Howard never acknowledged this applause in any shape or form, a bit childish in my opinion. I think Martinez must be praying Howard pulls a hamstring or something so he doesn't have to make the decision he should have made weeks ago and replaced the goalkeeper. The continued selection of Howard is helping nobody, including the keeper himself. If Robles plays on Wednesday and has a good game, he must keep his place until he starts playing like the man he is replacing.
Andy Walker
177
Posted 04/01/2016 at 13:45:46
Dave (#159), it was daft of Stones I agree, but how did the crowd giving him stick, help?
Peter Roberts
178
Posted 04/01/2016 at 14:09:49
I'll cut to the chase – who does John Stones think he is?
We have leaked goals due to mistakes – the last one his challenge that led to a penalty in front of the Park End; whether it was a penno or not, he gave the ref a decision when he didn't need to dive in.
His gambling with the ball is the wrong type of arrogance – it's cockyness at the expense of the team. The fans weren't happy and they let him know – the arrogant kid knows better than the paying fans clearly – after all he has Rio Ferdinand bigging him up. Thing is, Rio isn't an Everton fan and his praise of Stones is a means of self-flattery nothing else.
There will be forwards rubbing their hands together knowing that this kid's ego writes cheques his feet may not be able to cash – for me, it's a sign that he thinks he is above us and is auditioning for a big move.
Seems like Seamus decided to try it also yesterday – deary me.

Craig Walker
179
Posted 04/01/2016 at 14:10:09
I've always been a fan of ball players and people with ability. I like John Stones very much and think he's a class act on the ball. However, we need a centre half who will attack the ball when it's in our penalty area and will nullify the striking threat of the opposition more than we need a Beckenbauer Mark II.
I'm fed up of having my heart in my mouth at every corner and free kick whilst we offer no threat whatsoever in the opposition penalty area during set pieces. I actually think we should cash in on Stones's current value whilst he would still command a high figure and invest the money in a dependable centre-half and a Yarmolenko type No 10.
I have nothing against Tim Howard and think he's been a very good servant and ambassador for Everton but I've been saying for 4 years that we need a goalkeeper who can command his penalty area and back four. Sadly, I don't think Robles is the answer either. There are good goalkeeping options out there. Please go out and get one because Tim Howard is in danger of losing the mainly good reputation he has earned with us down the years.
Besic is the one player who seems to hate losing. He deserves a chance in the starting 11 against Man City.
It is so frustrating being an Evertonian. We are close to being a great side. For years the thing that we lacked was a genuine goalscorer. Now that we have one, we are shipping goals at an alarming rate. Under Moyes, we were hard working and hard to break down but were dull to watch and lacked creativity. I have mates who support other teams and would not watch Everton as a neutral. Now we are the most entertaining team in the division, scoring more from open play than any other team.
Will we ever get it right? I'm starting to wonder why we put ourselves through this. Now it's another January of me watching transfer news hoping we'll land the missing piece in the jigsaw and dreaming. In reality, Man City will turn up against us and knock us out with ease. We'll scrape through against Dagenham only to draw Arsenal away in the next round.

Peter Roberts
180
Posted 04/01/2016 at 14:30:48
If a team offers £50m for Stones then snap their hands off. Simple as that.
It's not that I don't think he is talented; he is, but so is David Luiz and at the moment that is what he thinks football is about "looking good".
I think the kid's ego is way out there – it's all very well looking great and stepping out with the ball, learn to defend!
£50m could really strengthen our team – give us a proper second striker/Number 10 like Yarmolenko, and get a new goally and a replacement centre-half or two.
Dave Abrahams
181
Posted 04/01/2016 at 14:37:45
Andy (#161), it should help him to realise that he can't take chances like that, but the manager and his senior players also should be teaching and coaching him the error of his ways. I admire Stones and think he is going to be a great player; he isn't yet, but he will become one, so the sooner he learns the correct way to defend, the quicker he will be the player that has attracted the big bids that have come in for him.
Craig Mills
182
Posted 04/01/2016 at 14:38:29
Agreed, Peter @164, if Chelsea came back with £40m and maybe Loric Remy, I would say yes, then use the money for overall squad strengthening. We may have the best young centre-half in Europe but we still ship goals like a team in the bottom 3.
Frank Crewe
183
Posted 04/01/2016 at 14:46:45
Stones was getting stick because while he was doing his "Bobby Beckenbauer" impression a few yards from our own goal it was 1-1 with only three minutes to go. If a Spurs player had took the ball off him and scored he would really have found out what stick was.
As for the match itself. Our ninth draw this season. Too good to lose. Not good enough to win. Every season it's the same old, same old. Drawing our way to mid-table also-rans.
In 7 of the last 9 seasons our drawn games have gone into double figures and I've no doubt this season we will do so again.
This season, we have lost one more game than Arsenal yet they are top of the table while we are 11th. The reason? They've only drawn 3 games and won 13. These days, a draw is a defeat. Unless you're trying to avoid relegation, one point is no good. Unbeaten runs are useless if they are all draws, The season we made the top 4, we won 18 games and drew only 7. In RM's first season, we won 21 games and drew 8 and finished 5th.
If we want to finish in the top 4, we have to win games and stop settling for draws and thinking we did well. As far as I'm concerned, that was a defeat yesterday. We had the lead and once again we didn't hold it. We had chances in the second half to win it and once again we failed to take them.
Kone was rubbish – should never have been on the park. Barkley failed to move the ball forward fast enough. His constant hesitating drives me mad. His inability to defend just compounds it. The big wimp should take a leaf from Besic's book and get stuck in.
We have the squad to win far more games than we do. Yet through a combination of poor defending, constantly picking players not up to the job over those that are and lack of leadership both on and off the pitch, we have frittered away our best chance to make the top 4 in years.
Ray Robinson
184
Posted 04/01/2016 at 14:57:53
Re Stones getting "abuse" from the Park End for dribbling the ball around along the goal line with only a few minutes to go – and at 1-1, I reserve my right to express disapproval.

Hurling abuse at a player who is having a nightmare is one thing and totally counter-productive in that it only further damages brittle self-confidence but encouraging a defender to clear his lines when there is obvious danger is totally acceptable.

As for Stones gesturing to the Park End to "calm down", I suggest he takes a good look at himself. Undoubtedly the best footballing centre-back at his age that I have ever seen in 54 years of following Everton, he should take a leaf out of Jagielka's book learn how to defend – something he's only slightly above average at doing!
Frank Crewe
185
Posted 04/01/2016 at 15:12:20
Ray.
Apparently these days defenders are not supposed to defend anymore. Full-backs are supposed to overlap and rush into the opposing half leaving acres of space behind the.
Centre-backs are supposed to come out with the ball. Glide gracefully into the midfield and make cultured passes to the midfield players.
Too posh to punt.
John Hughes
186
Posted 04/01/2016 at 15:36:24
I was in the Street End and I clapped Tim Howard when he took his position at the start and I commented at the time that he never acknowledged the fans who clapped him. That does not help him win support when he really needs it, and he is certainly needs some help this season from somewhere.
James Marshall
187
Posted 04/01/2016 at 15:36:48
Mark WIlson @155
Calm down, calm down! ;)
Honestly, Mark, I got bored about halfway through your rant so I won't even honour you with much of a response. You're welcome to your opinion, whatever it is.
John Stones is a cracking footballer, and long may he twist & turn in our area while you whinge into your pie with all the other whiners in the Park End.
James Marshall
188
Posted 04/01/2016 at 15:42:10
On another note – the funny thing about all of this is that for years supporters have cried out for a creative, exciting, attacking team, after years of boring shite... yet, now you have it, nobody wants it!
Everyone wanted goals, we have goals. Everyone wanted young, dynamic players, which again we have, yet now everyone is complaining and wants a team full of steady Eddies and grafters!?
You can't have it both ways.
The manager obviously needs to balance the attacking threat with a desire to defend, and I would suggest that yesterday we saw the perfect example of what we should be looking for – Spurs. Easily the most consistent, balanced attacking/defensive unit in the Premier League.
Terry White
189
Posted 04/01/2016 at 16:10:17
Ray (#142), I'm afraid that Baines without Pienaar is like Laurel without Hardy. Not the same player... which suggests that much of Baines's success was largely due to his combination with Pienaar. Individually he is not that good and has never performed especially well for England.
Incidentally I see criticism of Coleman (and Howard) for Spurs' goal yesterday. Let's acknowledge that it was an excellent pass and they spotted, I think, that Coleman was still getting back to his position after being caught offside in their half. So, he was not positioned well, but to me more culpable was today's favourite whipping boy, John Stones.

At that stage of the half, he should have been at least 5 yards deeper. As it was, he and Funes Mori were too close together in looking at Kane so Stones provided no protection to Coleman at all when the ball came over the top. Having said which, Alli did take it very well, didn't he? Great first time control and a calm finish.
James Marshall
190
Posted 04/01/2016 at 16:13:32
Terry – nice one, at last someone who can see that sometimes you have to hold your hands up when the opposition play well and score a good goal. Not every goal is someone's fault, and you can't stop everything!
Mark Wilson
191
Posted 04/01/2016 at 16:25:21
James Marshall (#171 – and oh yes #172):
Well, apologies for boring you, James but then your not being bothered to read through my admittedly long post before reaching your conclusion and then lobbing a few insults around hardly adds to your argument... in fact, it was almost arrogant? Crumbs, maybe that's why you rallied to John Stones defence and probably think Howard is right with his newly acquired, almost dismissive "attitude" towards those who have supported him for the last few years.
Anyway, just to be clear, and in response to Andy's well argued post at #160, I actually didn't think Stones got massive "abuse" or that getting on a player's back is productive. It isn't and there are few winners from that approach. But this "discussion" wasn't really for me about abuse or even "whinging into my pie" (they are awful pies, by the way); it's honestly about a couple of players who seem to me to have lost track of our season and their own part in it.
That reaction from the Park End was an instant expression of utter fear and frustration. Fear that we looked like taking crazy risks at 1-1 with minutes left after a season where we have thrown away points late on... and frustration that Stones, and James Marshall of course, simply don't seem to get why they, the fans, are now so concerned by such risk taking.
Did I say that Stones wasn't a big talent? Nope. Is he the real deal? Yes, he looks it most of the time and has the potential to be a truly outstanding player. Is he perhaps getting a little bit cocky as he reads the praise lavished on him by some? I think so, but my feeling that way isn't the same as getting on his back or abusing the guy and as I've said, I have never screamed abuse or had a good boo at a player in our shirt... for pity's sake Unsy was one of my fave players and he took endless stick!
Oh and whilst we are about James Marshall, the answer is yes: we can have it both ways if that means being a classy defender who actually knows how to do the basics and isn't afraid of Row Z when appropriate. That's when the usually calm and collected and very self-aware, and yes classy, John Stones will have fully earned the plaudits coming his way.

As for Howard, I stand by everything I said about his arrogance and apparent unwillingness to take a heap of the blame for 18 less than great months. He hasn't been harshly treated, quite the contrary. I agree it's very disappointing to see the Street End and our keeper at loggerheads like this but, all of a sudden, I think many have just had enough of his attitude, not to mention his awful form. Robles honestly isn't miles better and that's why Howard keeps getting picked, but that says much more about the manager's failings than actually either of our keepers.
Thank you James Marshall for allowing me to have an opinion, whatever it was! Decent of you, old chap, time for more pie whilst reading the latest from our manager who now says the squad is too SMALL!! Give me strength.
Dennis Ng
192
Posted 04/01/2016 at 16:46:57
James (#172), I think you're criticizing human nature LOL. Man City are still in title race but they want Pep now. Man Utd too. Only team that's real contented is Leicester and heck, not sure how many moaners they have when they fired Pearson and hired Ranieri who many will say as a has-been.
All things in perspective, my main worry is that we are drifting backwards, which I think we are. We have more creativity now but that only helps going forward. We seemed to be more uncertain when defending when opponents turn up the pressure. Seems to me a coachable situation, if we have the right coaches.
But alas, we're not going to address that because of how the dictator RM wants things, using the media to pump the players up. Where's the coaching? That's basic needs for a football club. As much as I agree we're in showbiz, RM is WAY too showbiz for our immediate needs. Maybe ship him to Real (now that they are managerless) after we win the League Cup?
Ray Roche
193
Posted 04/01/2016 at 17:11:04
Frank Crewe (#169) – "defenders are not supposed to defend anymore. Full backs are supposed to overlap"
D'you know, Frank, here am I thinking we had wingers or wide men for that sort of thing! Heaven help us. Does that only apply to us or are some of the teams we play against, you know, the ones who attack with a couple of blokes down the wings, tearing us to shreds with intelligent crosses which lead to goals, are they not supposed to do that?
Terry White (#173),
Yes, Terry, Baines and Pienaar have always been more than the sum of their individual parts, but what a combination. I thought it would not be beyond the wit of man, or even Martinez, to try and encourage a similar duo with Baines and Galloway, or Oviedo if he ever gets back to his best, something to give us more attacking threat and also cover when we are defending.
And it's a good and often overlooked fact that some goals, for and against, are just too good to defend against. Otherwise every game would be nil-nil.
Ray Robinson
194
Posted 04/01/2016 at 17:39:31
Stones is a huge talent but he needs to understand where Row Z is when it's necessary. The man was quoted a while ago stating that he had matured as a defender by learning when to take risks and when not to.

I think that meandering around the penalty area in the last minute was a case of him believing his own hype and forgetting the principles he professes to have learnt. He deserved the rollicking that he got from the Park End. It's not as though we were winning 3-0 or haven't a recent history of conceding late goals.
James Marshall
195
Posted 04/01/2016 at 17:55:11
Mark, seriously, take it easy mate, you're gonna blow a gasket!
John Stones does what comes naturally to him, and I'd rather have culture than a Row Z hoofer but each to their own.
David Graves
196
Posted 04/01/2016 at 18:12:08
Your argument of choosing culture ahead of hoof is specious reasoning I'm afraid James. As many posters point out above, you can be a cultured footballer and still defend. It's the defending part that Stones is struggling with at the moment and I'm afraid for all of his undoubted talent he is flattering to deceive.

Anybody got the stat for his number of assists this season?
John Jones
197
Posted 04/01/2016 at 18:27:40
Reading through the Comments on here and I cannot get my head around it.
A few people can see it's the Manager that's the problem. (I admit I cannot stand Martinez; even at his first home game against Real Betis a couple of years ago I was screaming at him, Osman got robbed on the edge of the box in a friendly.) But everyone else seems to be pointing at the players??? I cannot understand why.
Howard & Kone... okay, I understand that. But we have have a great squad, we really do...
Martinez – Sets the Training,
Martinez – Shapes the Team
Martinez – Sets the Tactics
Martinez – Pick the players to Play.
Martinez – Sets the game Plan
Martinez – Adjusts the tactics in the game.
Martinez – Makes the Decision on the Subs
Martinez – Tells the players either to Push up or Defend.
The players follow his lead.
Spurs are a prime example: Villa Boas, Sherwood, Pochettino
Villa Boas Buys a shitload of players most who are still at the club. But cannot get them to gel and is kicked out of the club, Tim Sherwood comes in, notices that some of the players are not up standard and brings in a raft of kids and does really really well but gets sacked, Possibly because the board had lined up Poch.
Poch comes in, gets rid of the deadwood and sicks with the players that did well whilst bringing a couple of quality players and they look as good as any of the top 4 and they have the youngest squad in the Premier League.
They play with a balanced side. they are organised, they score goals and play off a big striker. They don't concede goals – fewest in Premier League (I think). Yet they play good football.
Can you see what I am getting at yet? It is not our players to blame, there is only one person to blame and that is Martinez.
Can anyone tell me when we played with a balanced side? Two wide players, one with a right foot ,and one with a left foot?
Also, didn't Barry say in the summer that the manager played him to much last season? How many games has he missed? (I like Barry.)
My mate said to me the other day "You are on a witch hunt against Martinez; win a couple of games on the run and we will pushing for Europe."
I told him "Look at the table and our fixtures and in the same breath we could be in a relegation scrap."
I am worried... so worried, I will not even talk to my Missus on the day of the match... which means I get no sex when Everton play and that pisses me off even more!
Bobby Thomas
198
Posted 04/01/2016 at 18:46:15
End it now, that's the post of the thread right there.
John Hughes
199
Posted 04/01/2016 at 18:57:48
My Missus said to me when I got home from the match

"What was John Stones doing fart-arsing around at the end? They (Spurs) could have scored and we could have lost."

And she likes John Stones, but not as much she she liked Johnny Morrisey.
Paul Mackie
200
Posted 04/01/2016 at 19:14:19
When Moyes was in charge, ToffeeWeb was full of posters complaining about 'hoofball' and 'route one'. Now that we have a defender who wants to dribble out from the back the same posters are demanding he hoofs it. You couldn't make this shit up.
Yes, there's a time and a place for just 'getting rid' and with a few minutes to go at 1-1 I'd probably say 'getting rid' is an easy option. It does lead to the ball coming straight back at you though so I can understand why Stones chose to do what he did. Is he a bit cocky and chancing his luck? Yeah probably, but I'd take a player like Stones over your typical Premier League clogger any day of the week. At least the lad has faith in his abilities.
Barry McNally
201
Posted 04/01/2016 at 19:14:58
Benitez available!
Andy Walker
202
Posted 04/01/2016 at 19:15:10
Dave (#172), I don't believe the crowd can coach a player. The idea that any player would change their style of play because of the crowd's reaction is unrealistic. Stones will hopefully have had a bollocking from RM about the incident and that is what should influence him for the future. If he hasn't had that bollocking then that's the manager's prerogative, wrong in my opinion.

Although I'm no Martinez fan, I do recognise he, as the manager, must be the person who tells the players how to play and the players will and should, only listen to their manager and training staff. The assertion that the crowd can somehow coach players is, with respect, fanciful.
Peter Laing
203
Posted 04/01/2016 at 19:20:00
Barry, I wouldn't take that prick Benitez if he was the last manager available
Colin Glassar
204
Posted 04/01/2016 at 19:24:54
Same here, Paul Mackie. When Stonesy is strutting his stuff around the Nou Camp, Bernabeu or the Etihad, more than one will be feeling a bit sick seeing him play for another team.

I won't. I'm loving watching him play in the royal blue but I know his time with us is nearly up so I'm going to appreciate him while I can.
Ian Brandes
205
Posted 04/01/2016 at 19:26:44
Stones...? Emperor's new clothes. Needs to learn a lot, and not worth anywhere like £40 million.
Andy Walker
207
Posted 04/01/2016 at 19:43:57
I agree with that to an extent, Ian, but I suspect RM is partially culpable in bigging him up too much.
I think they'd get £40m if he was sold this year though.
Darren Hind
208
Posted 04/01/2016 at 19:48:39
Regarding the Stones incident. I would recommend anybody who wasnt at the game to read the unerringly accurate account Ken Buckley gives in his match report.
I was yards away from the incident, Stones was not abused, the crowd – as Ken reports – panicked and screamed for him to put his foot through it. That's not the lad's way.
When Stones pressed down his flat palms, he was merely telling the fans that he had things under control, there was no abuse only smiles and huge sighs of relief.
John Stones has a lot to learn; he can occasionally be surprised by a change of pace, he can still be eased off the ball by stronger players when not concentrating, he's still prone to be taken under the ball when dead balls are knocked in. He's far from the finished article BUT... the guy is unique. He is already the most naturally talented ball playing defender this country has produced in my lifetime. He is a complete joy to watch.
After years of having yard-dogs hump balls as far as they can go, English football now has a supremely talented defender with ice in his veins... Now gobshites like Carragher are bleating that he has "TOO MUCH" ice in his veins.
If you want to see the Carragher way, come round our house and I'll boot the fucking ball as right down the street... and I'll only charge you a fiver... but if you want to see someone special do something you or I could only dream of doing, get yourself up to Goodison Park.
We are watching the development of a world superstar here. Stop bleating if he gives you a few heart stopping moments. Enjoy and cherish these moments... it's called entertainment
Ray Robinson
209
Posted 04/01/2016 at 19:59:57
Paul (#191), the situations you describe are not contradictory. Taking the ball coolly out of defence instead of hoofing is obviously preferable – but "getting rid" under pressure when there are no other sensible options on is common-sense.
The margins in the Premier League are too slender to take foolhardy risks. We've seen it so many times at Everton, where unnecessary farting around at the back has cost us goals, you'd think the lad would have learnt his lesson. He's actually recently quoted in the papers as saying he understands that there are times when he has to hoof it – so even he claims to understand the difference. I just hope he doesn't do that again on Wednesday night with Aguero breathing down his neck!
He may well be strutting his stuff around the Nou Camp or Bernabeu some time soon but no doubt the managers there will be giving him an appropriate rollicking.
Dennis Ng
210
Posted 04/01/2016 at 20:00:34
Come on guys, he's worth way more.
Totally agree with Darren's point of view. I think his position long term is defensive midfield where he can defend his position as well as set up plays with his movement and passing.
Of course, what bugs me is the person supposedly in charge of developing him...The man that can only play the game one way... Open and attack. Not sure if that's the best way to utilize Stones's skillset.
Colin Glassar
211
Posted 04/01/2016 at 20:15:49
That's what I said, Darren. The problem with a lot of people is that they have a stereotype centre half in mind when they talk about Stonesy.
Bobby Moore would sometimes walk the ball out of defence as though he was taking a stroll in Hyde Park. In those days, maybe your average fan was more educated than today but everyone in the country appreciated Bobby's skill and icy nerves.
Tony Hill
213
Posted 04/01/2016 at 20:29:09
I don't see Stones as a defensive midfielder because he doesn't have the bite. He's a central defender who is in the process of making errors, rather a lot of them at the moment, as he learns his trade.
He needs to develop his heading ability and presence in the box and, above all, his positional awareness needs to improve. As someone has observed, he was in no man's land for Alli's goal and that happens quite often.
I expect him to be a top star in a couple of years but he requires a proper defensive coach and he won't find that at our club.
Don Alexander
214
Posted 04/01/2016 at 20:32:42
I'm old enough to have seen Franz Beckenbauer when he was the same age as Stones. The similarities are frighteningly exciting.
For the record "the Kaiser" could do everything that Bobby Moore could do, but was also a pretty fair match for Johan Cruyff too when his team needed a boost further up the pitch.
Leave the lad alone!
Harold Matthews
215
Posted 04/01/2016 at 20:48:59
Colin. I need a good transfer rumour. Have your spies heard anything?
Colin Glassar
216
Posted 04/01/2016 at 20:50:55
Every top, and I mean TOP, team in Europe would grab John Stones with both hands, and feet, if they could yet some geniuses on here think he's overrated and we should get rid as soon as any pathetic offer comes in.
Despite his obvious shortcoming, which will improve with experience, he is already in the £50m+ bracket. He's young, he's English and he's brilliant so if you want him.......
Oliver Molloy
217
Posted 04/01/2016 at 20:52:27
I think it's in John Stones's DNA: "Thou shall not hoof the football."
It is a funny one but John Stones obviously felt he had the Spurs guy in his pocket; had that been Costa or Aguero or the likes chasing him down, I personally think he would have hoofed it or passed the ball a lot quicker.
If you look at the situation carefully (and I am not just saying this because I am anti Howard) but could it be that John Stones just didn't trust Howard or was doing his best to show him up for the clown of a keeper he has become!?!
I have watched it over and over a few times and I think Howard could have showed more for our young defender... but no; he just stands there. It even looks like initially Stones is looking for Howard to come and collect the ball or if not certainly show for it to clear. Could it be that Stones mouthing the "fuck me" to himself was aimed at the goalkeeper?
On the match itself and the result, as an Everton supporter I am disappointed but not surprised and believe that, if as an Evertonian you are happy drawing AGAIN, then you are happy with the position we are in..
There is no doubt Martinez has assembled a young squad with LOADS of potential, but as a manager he is letting the club and himself down.
I do understand that good teams take time to build and Martinez is trying to sign as many young players for the future as he can, but we need at least three "take no prisoners" players, one at centre-half and the other in the middle of the park and striker / goal poacher and we need them now.
The Incredible One – as I will call him from now on – has stated that, in order for Everton to keep hold of our best young players – and I would include Besic and even Mason Holgate in that bunch – then we simply have to start winning things or they will be off. Well, I agree with him... although it's not rocket science.
Personally I don't believe Stones and Lukaku will be wearing Everton shirts at the start of next season, no matter what "The Incredible One" manages to accomplish this season, if anything.
Man City on Wednesday night could be brilliant or fill us all with despair; let's hope it's a incredible masterclass of attacking football where everything goes right on the night!!!

Jim Jennings
218
Posted 04/01/2016 at 20:52:34
Darren Hind (#195),
Absolutely spot on. Never for a moment did I think Stones was not in control of the situation. The only concern I have is that he clearly said to himself "Fuck me" as the camera went on him after he's given the "relax" gesture.
As for Tottenham's goal, it was almost a carbon copy of a superb goal Alli scored a few weeks ago versus WBA:
http://youtu.be/ozeqSAwZIrg
Tony Hill
219
Posted 04/01/2016 at 21:02:54
Yes it was a carbon copy, Jim, which is why we should have been alert to it, especially after Barry had pointed out the danger as Alli prepared to make his move.
Brent Stephens
220
Posted 04/01/2016 at 21:04:40
Oliver #202 "Personally I don't believe Stones and Lukuka will be wearing Everton shirts at the start of next season no matter what " the incredible one " manages to accomplish this season if anything."
I also feel we'll lose the likes of Stones and Lukaku unless we win the Carling and come out of this season's EPL with significant exit velocity. Over to the Incredible One (or Hyperbollock).
John Hughes
221
Posted 04/01/2016 at 21:15:03
Colin Glassar, there are geniuses on here who do not think John Stones is overrated; there are other opinions besides yours. Not everyone has to agree with yours; rightly or wrongly we are all as you say, geniuses in our own way.

I'll be there on Wednesday night giving my own little "pearls of wisdom" NSNO!
Jon Cox
222
Posted 04/01/2016 at 21:25:04
Tonights star prize goes to,
John Jones.
Great stuff John, just what we needed.
(ps, hope that didn't sound like abuse ;-) )
Colin Glassar
223
Posted 04/01/2016 at 21:29:19
Sorry Harold, all my sauces have dried up.
Dennis Ng
224
Posted 04/01/2016 at 21:30:42
Damn it Colin, you need to hire more spies!
Oliver Molloy
225
Posted 04/01/2016 at 21:37:51
Harold,
Charlie Austin to Everton...
Max Murphy
226
Posted 04/01/2016 at 22:12:22
It's two more points dropped. We draw a game at home and most people appear to be quite content. We were battered in the first half and saved by the woodwork twice. Besic should have been playing the last 3 or 4 games.

As far as I'm concerned, the season is over with Martinez as our manager. His comments make me sick: "The next month is very important for the club." Next effing month!? EVERY game is important in every week, in every month in every season. We just emerged from one of our easiest run of games with Jack Shit to show for it.

Just leave the club, Martinez, and take your Yankee love child with you.
John Austin
227
Posted 04/01/2016 at 23:14:16
It's a sad state of affairs when I read in another thread that Spurs were gutted at dropping two points. Teams now come to Goodison clearly expecting to win.
Joe Clitherow
228
Posted 05/01/2016 at 09:41:50
John Stones will one day be a great centre half when he develops the defensive side of his game.
Sadly for us he has no chance of developing his full potential under Roberto Martinez and Dennis Lawrence.
Sadder still, I think he already knows this.
Michael Kenrick
229
Posted 05/01/2016 at 15:56:42
The attitude of many in the crowd and on here to the sheer brilliance and consummate skill demonstrated by John Stones says something to me that is much more fundamental about us and our all-consuming inferiority complex than "plucky little Everton", "mid-table mediocrity", and all the other labels that have been used to underline our current position as also-rans who can no longer compete with the big boys.
Imagine if he did exactly that superb piece of control against us for one of the big boys – where so many of you now seem resigned to have him play his football in the future... they and the media would be crowing and purring simultaneously.
How so many can parrot the twatsih RedShite nonsense of Carragher should tell you in an instant how this should be judged. I mourned the loss of Rooney, and never forgave Moyes and Kenwright for that one. But losing Stones in this way will be far more pivotal in consolidating our long-term decline.
"We are where we are"... and sadly it's exactly what we deserve for our astounding lack of ambition.
Dave Pritchard
230
Posted 05/01/2016 at 16:23:25
Michael, I appreciate his skill and brilliance when bringing the ball out of defence. If he manages to become generally stronger, especially in the air, and to read opponents better, he will develop into a fantastic player.
James Hughes
231
Posted 05/01/2016 at 16:26:17
Stones is class, pure and simple. If he told the crowd to calm down, then so what? he was right, he is on the pitch not them.
He probably will be playing elsewhere next season and it will be big money earned for the club. So how about we enjoy what we have now and get behind him or is that too much to ask?
Tony Hill
232
Posted 05/01/2016 at 16:26:40
Our outstanding lack of ambition includes, at root, our continuing tolerance of a patently inadequate manager and Board. That is why Stones and others will not stay, regardless of the fans' applause or lack of it..
James Hughes
233
Posted 05/01/2016 at 16:58:14
Tony-216- nail on the head, springs to mind.
Stones has the skill to play at the highest level and I sadly believe it won't be with us. I still think he is amazing to watch and has more skill that any other CB in the country. He will develop his toughness in the coming years and will not just bully forwards but outfox them as well.
---
Add Your Comments
In order to post a comment, you need to be logged in as a registered user of the site.
Or Sign up as a ToffeeWeb Member — it's free, takes just a few minutes and will allow you to post your comments on articles and Talking Points submissions across the site.
© ToffeeWeb