Everton vs Manchester City
by

108 Comments [Jump to last]
| 04/01/2016
Capital One Cup SF 1st Leg Preview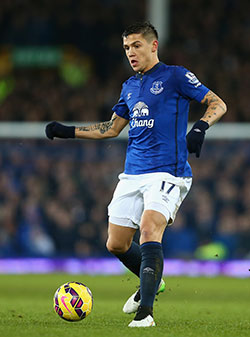 Did Muhamed Besic play his way into a rare start with his performance against Spurs on Sunday?
Everton begin their two-legged League Cup semi-final tomorrow against Manchester City hoping to build the platform from which they can progress to the club's first Wembley final in seven years.
Having overcome Middlesbrough in the previous round, the Blues were handed arguably the most difficult scenario possible in the last four when they drew the highest-placed team left in the competition, with the home tie first. That puts the onus on Roberto Martinez's side to jump out to an early aggregate lead with a strong performance at Goodison Park where they haven't won since 21st November.
With Martinez expressing his satisfaction with his side's performance against Tottenham, it would not a surprise to see him play this one safe to a degree in the first half and again set the team out to be more defensive. The formation will probably be the same regardless but Muhamed Besic's transformative appearance as a substitute on Sunday made a strong case for his inclusion from the start, either in the left sided role in which he was deployed against Chelsea in September (before he succumbed to injury) or alongside Gareth Barry with Tom Cleverley moved over to the left. That would edge Arouna Kone onto the bench which is probably overdue – the Ivorian has become increasingly ineffective in recent matches.
Given the choice, many Evertonians would prefer to see Kevin Mirallas handed a start over using another player out of position on the left but if, as expected, Gerard Deulofeu or Aaron Lennon are named on the team sheet, Martinez is unlikely to go with two wingers. The Belgian has been given playing time in the earlier rounds of the Capital One Cup this season but with the pressure mounting on the manager's shoulders in the wake of some poor results in the Premier League, caution could well win the day, at least at the beginning of the match.
At the back, Phil Jagielka's influence has been sorely missed but Martinez has already confirmed that he won't be fit enough to return, so it will be John Stones and Ramiro Funes Mori at centre half, with Seamus Coleman and Leighton Baines as the fullbacks, assuming the latter doesn't need to rest after playing the full 90 minutes on Sunday. Joel Robles should get the nod as the designated "cup keeper" in goal.
Ordinarily, a straight do-or-die knockout cup tie where anything can happen would make for a much more level the playing field but the two-legged format complicates Everton's task here. As the stronger side, City surely have the luxury of just needing to avoid defeat in the first leg and then getting the Toffees back to Etihad where an Everton side hasn't won in six years.
The reverse is true for the Toffees – you've got to believe we have to take some sort of lead into the second leg to stand a chance of making the final, so unless we make a fast start and get Manuel Pellegrini's side on the rack early on, it will probably be a case of biding our time, keeping it tight and then hoping to score in the second half. Regardless, the long dormant Goodison bear pit atmosphere would be a useful ally if the crowd can get onside.
Whatever happens, the keys to success for Martinez and his man will be to shackle the likes of David Silva and Yaya Toure, two players who have picked us apart in previous meetings, and then deny the deadly Sergio Aguero the space he thrives on to score goals. With the form Lukaku is in this season, Everton always know they've got a great chance of scoring goals – in that respect Vincent Kompany's absence is probably the best news we could have hoped for – so if they can keep it tight at the back, the Blues know they can score against anyone when they're in the mood.

Everton fans have been doing their best to try and put Martinez's record at Wigan out of their minds as the goals have flowed in at the wrong end in recent weeks but it's the Catalan's history with City in an important Cup clash that can provide some comfort. His last act with the Latics was to mastermind victory at Wembley over the Citizens in the 2013 FA Cup Final. If he can repeat the feat over two legs in the League Cup semi-final, he will have taken the Toffees one step further to ending a trophy drought that is now into its third decade.
Kick-off: 8pm
Predicted line-up: Robles, Coleman, Stones, Funes Mori, Baines, Barry, Besic, Cleverley, Barkley, Deulofeu, Lukaku
Full details: ToffeeWeb Match Report
---
Reader Comments (108)
Note: the following content is not moderated or vetted by the site owners at the time of submission. Comments are the responsibility of the poster. Disclaimer
Christopher Timmins
2
Posted 05/01/2016 at 07:27:34
Lyndon, I hope the manager runs with your predicted team. Its a huge game for the club as the lack of Silverware over the past 20 years is a stain on its great tradition.
Kevin Elliott
3
Posted 05/01/2016 at 08:20:12
Wouldn't surprise me if Howard starts in goal, as we're going to need his phenomenal experience for such an important game.
Pete Ellingham
4
Posted 05/01/2016 at 08:24:11
Really hope Besic plays. I think he could do well breaking up the play and provide the energy we will need if we are to beat them! Not sure about cleverly starting, I was a little disappointed with him against Spurs!
Paul Smith
5
Posted 05/01/2016 at 08:33:30
Robles will start this one.
After all the clambering for him to start I actually think he might be rusty and would be inclined to go with Howard - confused ? I am.
Phil Walling
6
Posted 05/01/2016 at 09:04:09
In other words, Lyndon, let's plan to KITANO !!!
Laurie Hartley
7
Posted 05/01/2016 at 09:19:10
Lyndon,
I would go with your line up except I would start Lennon instead of Deulofeu. Coleman is going to need a hand dealing with Kolarov and Sterling. They have Navas and Sagna or Zabaleta on the other wing so they can create width.
Besic must start – if he doesn't the manager has "learnt" nothing from the Spurs game. Besic is the catalyst we have been looking for to get this team performing somewhere near its true potential.
City have a great midfield but I think we can beat them without Kompany in their starting lineup. I watched them against Watford and they look a bit suspect at the back to me. Ighalo gave Mangala a torrid time when the ball was on the deck. Lukaku should have the beating of him and will certainly keep him busy.
Might be a game where we see a couple of goals from Barkley. Here's hoping.
Jim Bennings
8
Posted 05/01/2016 at 09:36:52
We are going to need a near perfect performance to beat Man City. yes, they have been dodgy but only when teams have pressed them high up the pitch and got in their faces; stand off them and they will kill us 4-1.
We need the atmosphere to be like it was against Fiorentina in 2008, we need to scare the shit out of them.
Make no mistake, any City goal or goals tomorrow night will effectively kill off our hopes.
We just won't win at the Etihad given our record away to these types of teams.
Clean sheet and 2-0 win the bare minimum.
Eddie Dunn
9
Posted 05/01/2016 at 09:37:06
Baines recently stated that he still has to "manage" his ankle problem, could this info be a clue to him perhaps not playing against City?

Paul Mackie
10
Posted 05/01/2016 at 09:38:16
Assuming we can actually get the ball and then play it to Lukaku, he'll have a field day against a City defence without Kompany.
David Hallwood
11
Posted 05/01/2016 at 09:46:37
Great piece Lyndon and I agree with team except surely Mirallas should get a run out as we can't keep relying on Lukaku for our goals.
I think it all depends on which Citteh turns up; let's hope it's a low priority for them...
Laurie Hartley
12
Posted 05/01/2016 at 09:48:24
Phil, what is KITANO?
James Potter
13
Posted 05/01/2016 at 09:49:20
Never mind Stirling, Toure and Silva.... It's Kevin de Bruyne we need to put the shackles on if he plays... 10 goals and 10 assists in all competitions for Man City. Let's hope Mo Besic plays and gets stuck into him!
I'd also prefer Lennon to start as he offers cover for Seamus. Deulofeu to come on in the second half when a few City players are hopefully tiring.
Shane Corcoran
15
Posted 05/01/2016 at 09:56:37
Silva has been off form, I've been watching him as he's in my fantasy team.
De Bruyne is a man to watch, as is Toure if he's in the mood. He did nothing against Arsenal a fortnight ago until the last 10 minutes when he almost single-handedly salvaged the game. Fernandinho is proving a handful at set-pieces too for a relatively small man.
Their centre-halves are there to be got at so let's hope Lukaku can bully them a bit. Otamendi is slow and slow on the turn and Mangala is an accident waiting to happen.
Sterling has been terrible lately.
In summary.... we can't lose.
Teddy Bertin
16
Posted 05/01/2016 at 10:09:24
Hopefully he'll rest Aguero as he's still not fully fit. De Bruyne has been devastating recently and can tear weak defences apart single handedly (which we certainly have). Bony will probably play who is overdue a good performance as is Sterling, so I think we will really be up against it.
Hopefully Besic will start and add some pace into our passing. We desperately miss Jags and McCarthy for games like this, they're crucial for keeping big players quiet.
Howard and Kone out, please, Robbie!
Brent Stephens
17
Posted 05/01/2016 at 10:34:50
Laurie – Keep It Tight And Nick One.

Also seen sometimes as KITAP1 – Keep It Tight And Pinch 1.
Brent Stephens
18
Posted 05/01/2016 at 10:38:51
Given the weakness in their defence and ability to close down and hurt the opposition once they have the ball, I suspect we should aim to get the ball up to Rom as fast and as direct as possible, with quick break out in support from Ross, Lennon, aided and abetted in that by quick breaks Besic and / or Cleverley.
Rob Halligan
19
Posted 05/01/2016 at 10:39:11
Phil #9. I'm guessing keep it tight and nick one.
Rob Young
20
Posted 05/01/2016 at 10:52:33
Looking forward to this one! I remember the atmosphere in the semi-final 2nd leg v Chelsea in 2008 was fantastic.

For us to play a semi-final at your own ground is extremely rare (only possible in the League Cup, which has never been kind to us, and in Europe, of course) so we should make sure we enjoy the occasion as much as possible and I am sure we will. COYB (and Stoke!)!!!
James Stewart
21
Posted 05/01/2016 at 10:53:59
We should go 4-3-3 with Besic included. 4-2-3-1 with Kone on the left and we will get killed against City's pace. I wouldn't count on Martinez seeing sense though.
Eddie Dunn
22
Posted 05/01/2016 at 11:01:04
I was at Spurs a couple of months back and watched Lamela, Alli and Kane give the Man City defence all kinds of problems.

I hope we capitalise on their Achilles Heel in our home leg. We need to get at them, not sit back and be too cautious. I would start with Deulofeu.
Dave Lynch
23
Posted 05/01/2016 at 11:15:10
I have this feeling of dread that he will give Howard a start and leave Besic on the bench.
I would go 4-4-2, close down the wings, flood the middle and we can beat these. if we play the tippy tappy shit from the back and we will get mullered.
Kone must not start as he does not help the defence out at all.
Harold Matthews
24
Posted 05/01/2016 at 11:15:41
Not sure we know how to keep it tight. Could have done with McCarthy for this one.
John Raftery
25
Posted 05/01/2016 at 11:46:53
I agree we need to start this game cautiously and remember that this tie will be played over 180 minutes, possibly more. An early goal for City would kill the atmosphere so not conceding will be the priority in the first half. With that in mind Martinez should start with Lennon and as on Sunday use Deulofeu in the second half.
Mirallas should also start with clear instructions to double back in front of Baines in the early stages. Robles will surely play in goal as he has done in the previous rounds. But for his contribution we would have been knocked out against Norwich. This is a huge tie for the club. Our players need to make sure they give everything to the cause.
Ray Robinson
26
Posted 05/01/2016 at 11:59:27
I agree that this is a huge tie for us and I hope the atmosphere is electric. Apparently though, not everyone sees it this way as, according to the official website seating plans, there are still quite a substantial number of tickets left (not all obstructed either), so unless there is a last minute surge, the rest of us are going to have to make up the noise levels for the absentees.

I can't understand our supporters sometimes, I really can't.
Ernie Baywood
27
Posted 05/01/2016 at 12:00:38
I'm with Dave Lynch on this. 4-4-2 and press them.
The players at our disposal are the wrong players for the style of play Bob's got us playing. We don't have a David Silva to create something in close quarters. We have exciting pacy attacking options who want the ball early and out in front of them.
What I'd give to see us come out and have a good old fashioned crack at City. A real Goodison night game.
Al Reddish
28
Posted 05/01/2016 at 12:13:38
I have a feeling we will actually see Osman start this one.
Phil Walling
29
Posted 05/01/2016 at 12:14:56
Yes, friends, I think it was the late lamented Richard Dodd, whose heart was broken by the departure of his hero David Moyes, who first introduced the acronym KITAN0 to describe the Scot's favourite tactic.
With its several variations it was much used in these columns – usually as a derogatory term – and thus entered the folklore of ToffeeWeb. I somehow don't think Bobby ever heard of it!
Kim Vivian
30
Posted 05/01/2016 at 12:27:11
Really looking to coming back up North to watch this one. Love evening games and the atmosphere, and the place SHOULD be rocking. Goodison and our crowd can be worth a goal or two tomorrow.
We need to start and finish this game with real intent. Play like we did in the second half against Spurs and we might be able to go into the second leg with a two goal cushion. We MUST keep a clean sheet because of the away goal rule coming into effect in the event of a draw after extra time, but whether we can manage that remains to be seen.
This is a big and important game for us, and the old nerves are already jangling about tomorrow. It feels like a cup final to me and the whole day is being geared towards 8.00 with a nice early start to get up to Merseyside with plenty of time to savour the atmosphere. Hoping for a repeat of the Wolfsburg tie from last season.
Lyndon's stating 11 looks good to me and personally I see Howard and Robles as equally suspect but would be happy to see Robles on balance I think on this occasion. Besic is a must surely.
Get behind the team, boys and be the extra man.
Mark Daley
31
Posted 05/01/2016 at 12:42:21
Ah yes "the long dormant Goodison bear pit atmosphere"... it's a shame that these days we never get behind the team when it's losing; we're noisy when we're on top, probably because it so rarely happens.
Anyway, we'll have Joel R and if RM does some more tactical substitutions, who knows? My gut says we'll get to the final and lose to the RS; that would be EFC all over.
Eugene Ruane
32
Posted 05/01/2016 at 12:52:07
Phil Walling (25) - Did you mean to write 'KITAN0' or was that '0' just a bit too close to that 'O'?
That said, re Everton, 'keep it tight and nick zero' might be be quite likely tomorrow.
Tom Fazal
33
Posted 05/01/2016 at 13:00:19
I think it is KITANO – Keep It Tight And Nod Off – if the last few defensive performances are anything to go by.
Ian Hollingworth
34
Posted 05/01/2016 at 13:05:39
Given our trophy-less last 20 years this is surely a very important game for Everton FC... Yes? Then we need our most experienced and important players to play in this game?Therefore Martinez has to play Howard given his recent endorsement of the importance of the keeper
Personally I think Howard is finished and should have been replaced a long time ago but the manager must surely pick his best team for such an important game or does he just talk drivel?
Peter Cummings
35
Posted 05/01/2016 at 13:22:16
Two of their players we will have to wary of Mangala and Fernandino who are not averse to putting the boot in to stop attacks, both should have been sent off against us at their ground last season, We will definitely be up against it if we allow Man City the freedom and space their skill and speed can produce.
The biggest threats will come from De Bruyne,Toure, Silva and the odious Sterling if they're on form plus they have the best 'keeper in the Premier League in Joe Hart if we do get in shooting positions, I think we will need a lead to take back to the second leg, but being realistic if we want to get to Wembley it will need a massive U-turn on our recent form to make it happen...
Rob Coles
36
Posted 05/01/2016 at 13:31:48
KITANO is a hotel in New York...........
Kim Vivian
37
Posted 05/01/2016 at 13:48:56
Hey, just thinking chaps (and ladies). Can anyone recommend a half decent curry near to the ground for after the game? Walking not driving as staying local.
Phil Walling
38
Posted 05/01/2016 at 13:52:49
Well spotted, Eugene ! Whilst the usual tactic in games against 'the big boys' was most certainly KITANO, all too often it ended in KITAN0!
But that's what happens when you TAKTAGF, isn't it?
Happy Days, eh?
Craig Walker
39
Posted 05/01/2016 at 13:54:21
KITGIFTPAL - Keep it tight. Go in front then panic and lose.
Brin Williams
40
Posted 05/01/2016 at 14:14:24
Never mind KITANO or even KITBAG - just go out there and mesmerise them.
Everton 3 Citee 1.
Sam Hoare
41
Posted 05/01/2016 at 14:18:54
Typical that we are now playing City 3 times when they have got all the likes of Silva, Toure and Aguero fit. 6 weeks ago they were looking very beatable but have been getting back into the groove with their best players returning.
Not feeling hugely optimistic i'm afraid. Over one tie anything could happen but not sure we have it to beat them over two. Unless we have some of the Wolfsburg luck from last season. Fingers crossed.
Shane Corcoran
42
Posted 05/01/2016 at 14:26:56
Sam, I presume you mean unfortunate rather than typical as I don't think we've been in any way unlucky this season.
But to add to your general point, we also have a most likely resurgent Chelsea soon as well as Swansea, whom even the Blues may have beaten in the autumn.
James Hughes
43
Posted 05/01/2016 at 14:59:15
Pep G. has just announced that he wants to manage in the Premier League next year. (Courtesy of SSN)
Bill, get on the bloody phone now, son,

Jay Harris
45
Posted 05/01/2016 at 15:40:25
I think the formation is as important as the starting players and I hope RM has realized that 4-3-2-1 should be in dusty bin and $-4-2 or 4-3-3 is the way to go.
MF has always been our Achilles heel defensively despite 2 DMs.
So my starting lineup would be:-
Robles
Coleman Stones Funes Mori Baines
Lennon Besic Barry Cleverley
Lukaku Barkley
Sam Hoare
46
Posted 05/01/2016 at 15:58:37
Shane, I suppose I meant typical in the way that teams often seem to be on the up when we face them. Traditionally, not just this season.

Of course I'm sure all football fans think this but nonetheless...
Steve Pugh
47
Posted 05/01/2016 at 16:55:31
I wonder how Pellegrini feels knowing that he will lose his job this summer no matter what he achieves?

Geoff Williams
48
Posted 05/01/2016 at 17:04:19
Jay' s team would be my selection too. Bring on Deulofeu with 30 minutes to go.
Jay Harris
49
Posted 05/01/2016 at 17:34:51
I'm with that too, Geoff.
Dennis Ng
50
Posted 05/01/2016 at 17:36:53
I would pick Mirallas over Lennon. Give them something unpredictable.
Lyndon Lloyd
51
Posted 05/01/2016 at 17:44:50
David (8): "
I agree with team except surely Mirallas should get a run out as we can't keep relying on Lukaku for our goals.
"
I agree with you, David. Unfortunately, my predicted line-up is an attempt to read Roberto's mind so it would be folly to include Mirallas until the manager has demonstrated some faith in him.
On further reflection, I actually agree with the comment above that Lennon will probably get the nod over Deulofeu.
Harold Matthews
52
Posted 05/01/2016 at 19:05:09
You may have got it right first time Lyndon. Playing Deulofeu high and wide would be the best way to shackle Kolarov. That's how George Graham dealt with dangerous attacking fullbacks.
Michael Williams
53
Posted 05/01/2016 at 19:13:44
I look for Lennon and Deulofeu to share time at winger as they both played Sunday and several league managers have noted that sprinters need more time to rest.
I also look for the crowd to boo Stones when he dribbles too much close to the goal, harangue Howard as he sits on the bench, and show anger at the third sideways or back pass amongst the defenders.
Oliver Molloy
54
Posted 05/01/2016 at 20:04:10
The incredible one needs to get a big performance from his incredible players...
Seriously, I think he may bring Galloway back and believe it or not could start Mirallas. In saying that, I believe that Deulofeu has to start for us to give us a real chance and I agree that Besic may get a start.
No matter who the team is we will need to be at our best against Man City – they have some players and if they click we will be up against it big time. They are of course beatable and our job is to allow them nothing and take our chances when we get them. It is so incredible supporting Everton....

I see our former manager is booked for the TV tomorrow.
Terry Downes
55
Posted 05/01/2016 at 21:04:49
Just heard Moyes will be on Sky tomorrow at Goodison. Be interesting hear his take on this team.
Gary Heywood
56
Posted 05/01/2016 at 21:16:22
The whole team needs to step up several gears defensively. City know our defensive weakness and I think they will go all out to score early on. If they achieve this then we are out.
If we can defend well it will give our attack confidence and purpose. I think we need to take at least a 2-0 lead into the return game.
We must not concede at home!
So fingers crossed and hoping for a miracle.
Phil Walling
57
Posted 05/01/2016 at 21:52:10
Don't be surprised if Martinez doesn't start with HIS first choice team tomorrow which means no Besic but with Howard in goal. (Robles will be promised a start on Saturday).
I suspect from the other thread that both Mirallas and Naismith are on their way so not considered but Delboy will replace Kone between 60 and 70 mins.
Dave Abrahams
58
Posted 05/01/2016 at 21:57:56
What makes you think this Phil?
Thomas Surgenor
59
Posted 05/01/2016 at 22:00:17
I believe I once read that Martinez got the job on the strength of his tactical analysis of how he beat Man City (with a poor team) in the FA Cup Final.
Okay, Roberto, show us how you would do it with a wealth of talent at your disposal...
Oliver Molloy
60
Posted 05/01/2016 at 22:02:55
Phil,
The Incredible One has already said Robles will start. When you think about it, it's a win-win situation for him (Martinez): if Robles is rubbish, then he can say "Now you know why Howard was not dropped" and if Robles performs well then he takes the credit and will again select him for the FA Cup tie.
Thomas Surgenor
61
Posted 05/01/2016 at 22:04:36
Sorry, forgot to add to the above;
If he does start with Robles, it will be a true test for the lad.
I'm not as convinced as many on here about him but I do feel he deserves an opportunity and could do no worse than Howard.
If he plays the next two consecutive matches and holds onto his clean sheet in both then surely he has proven that he should be fir....augh wait, just realised how pointless this post is.
He kept consecutive clean sheets last year and got dropped as soon as Howard was ready to return.
Tony Abrahams
62
Posted 05/01/2016 at 22:10:20
Think those bastards across the park have got that KITANO, well sorted. Let's hope we can get a similar result to the one we got at home to Wolfsburg last season, and save the abbreviation for the second leg!
Ernie Baywood
63
Posted 06/01/2016 at 00:24:04
Thomas, I don't think anyone is convinced by Robles. It's just, as you said, that he deserves an opportunity to convince us.
Personally I think it goes beyond that. If he's not picking Joel during Howard's current form then he doesn't rate him at all. That means we have two keepers with no future at the club either due to age or ability. And that's a terrible position to be in that shows real negligence in managing our club.
Victor Jones
64
Posted 06/01/2016 at 00:47:23
Not sure what to expect tomorrow. Will City turn up? But even more important, will Everton turn up? Who knows. In an ideal world I want Everton to hammer Man City. I want Everton to have a 1995 FA cup semi- final moment. But that was a different era. The dogs of war era. This is now. Are we poodles? Or are we bull terriers? This last season and a half, I don't see the fight or the nous. We look like poodles. Pretty at times, but no real fight.
This is a semi-final. So no pissing about. Especially against these opponents. This is no time for pretty tippy tappy nonsense. We need to go for the jugular. We really do need to win this match. IMO we need to go 4-4-2. Double up on the flanks. Give Coleman and Baines cover. Lennon and Cleverly should do that job better than Del and Kone. Besic and (for his experience) Barry to play in the middle. Lukaku up top. Supported by Barkley. Barkley needs to get in this game tomorrow. He bosses this game then I think that Everton win. I would love to see Miralles play alongside Lukaku. But that means dropping Barkley. I would not sacrifice the four in midfield. I don't care if this is not a classic tomorrow night. I only want Everton to at least take a two goal advantage into the second leg. Then park the bloody bus. Do what needs to be done. Semi-finals don't come round that often. Let's make this one count. Man City can be beat. I think.
Changes will be made for Saturday. So let's have a real go of things tomorrow. Here's hoping that Martinez throws out his lucky book "how to play football" manual. And that he loses his stubborn approach to team selection. He abandons tippy tappy. And he shows some of his qualities from his first season. The 3-0 win over Arsenal , in particular. Not asking much. But we might just need something special. Just hope that we do not fold, like we did in the Europa League. At least keep this tie alive over the two legs. The joys of supporting Everton. Who knows what will happen. FFS we don' t even know what team Martinez will pick.
Brian Wilkinson
65
Posted 06/01/2016 at 00:54:39
Robles
Coleman
Baines
Stones
Funes Mori
Barry
Gibson
Besic
Lennon
Mirallas
Lukaku
Impact from the bench
Deulofeu
Naismith
Cleverley
Victor Jones
66
Posted 06/01/2016 at 01:20:28
Not ideal bringing in a keeper who never features in the League. Very poor management that we have two poor keepers. But TBH , how can we really judge Robles. We would really need to see him play in a run of about 20 games. Then make a judgement. I , like everyone else , have seen him make mistakes. And then keep clean sheets. So who knows what he can really do? Top keepers have been on the market for 8 to 10 million. But dithering Everton as usual have shown no interest. We really are the most frustrating bloody outfit, when it comes to identifying weaknesses , and then targets.
I would omit Deulofleu tomorrow. We all know what he brings to the party. But should he play, then he needs to go at Man City right from the start. Not going missing for half the match. He needs to provide cover for Coleman. No leaving that flank exposed. Should he play, then his presence needs to count. I just think that Lennon might bring more , in a game that we really cannot afford to go behind in. And as we don't have a proper left winger. Maybe Cleverly could provide cover for Baines. I have now relented that Kone is not good enough. This game could be a game just out of his league. And it badly shows up our lack of back up, with Miralles and Naismith seemingly not going to feature. God help us should Lukaku ever get injured. We need big performances from every player tomorrow. COYBSOD.
Abhishek Saha
68
Posted 06/01/2016 at 01:53:13
If Kone starts then the cup is as good as over for us. He had his moments but he is a player who needs to be used sparingly. He will not be as sharp if he plays for 90 minutes, week after week. That's beyond him now.
Cleverley or Mirallas should start on the left; the rest of the starting XI picks itself. COYB!
Darren Hind
69
Posted 06/01/2016 at 03:19:03
I think you got it right first time Lyndon.
If we let City dictate the game the way we let Spurs dictate on Sunday we will be knocked out. They have better players than Spurs
They are nowhere near as impressive going backwards, if we can apply enough pressure on their less than convincing defence, we will disrupt their flow and we can win.
We have got to find a way to get past this lot, there are old scores waiting to be settled. We now HAVE to win this fucking cup.
Ernie Baywood
70
Posted 06/01/2016 at 04:26:20
On one hand I'm excited for this fixture but on the other I just know that we won't see a change in tactics.
I'm sure we'll make it close but I'm already feeling with Martinez like I did with Moyes. That tweaks around the team selection make little difference, we're playing to a plan that just isn't trophy winning stuff. At the big moments, the opposition will change something to break the game and we'll continue down our well trodden path.
The idea of taking on that shower in a cup final is the most incredible carrot (though I'm sure we'd hate it in many ways). Please Blues, time to show you can stand up in the biggest moments.
Mike Green
71
Posted 06/01/2016 at 07:06:55
Could it be that history writes 'Evertons League Cup win of 2016 coincided with, and was a definite factor in deciding, the impending takeover by 'x', which we now know to be the defining moment that began their thirty year dominance of the English, and subsequently European, game'.
Hhhhhhhmmmmm........OK, maybe not. Life's all about timing though folks :)
Colin Glassar
72
Posted 06/01/2016 at 08:48:50
I have no expectations whatsoever concerning this game. Que sera sera
Phil Walling
73
Posted 06/01/2016 at 08:49:02
Sad to see RM 'writing down' the importance of tonight's match with his "It's Champions League qualification which will keep our young talent here, not silverware" quote to Reuters and the Telegraph.
Of course he may well be right but does he have to say it TODAY? He goes on to rebutt the 'under-achieving' allegations by saying we didn't achieve anything last year so what's there to under-achieve? Well, I wonder who's fault was that?
Of course, he qualifies that statement by saying 'recent performances merit 4th or 5th spot' but does he really expect the Prem to change the points allocation to reflect the aesthetics of the game just to suit him?
If ever a manager hangs himself out of his own mouth, it's our Roberto. But for most of us mere 'speccies', tonight is all important. COYB!
Brent Stephens
74
Posted 06/01/2016 at 09:38:29
Robles plays tonight, it seems. But what is the rationale for that? It can't be to rest Howard physically - keepers don't need that. So, we assume he thinks Howard is the better player, plays him in the league, and gives Robles a run in the cups. So if he doesn't think Robles is as good as Howard, then he's conceding the cups are less important than the league.
But take a look at an excellent analysis of the stats by Mike Oates ("Top 4 - It's Gone") where he shows the points per game we now need to hit the top 4 and the almost certainty we ain't going to do that based on points per game so far. So we get neither top 4, nor a cup. As Roberto himself is saying, our best lads will be leaving.

Roger Helm
75
Posted 06/01/2016 at 11:49:53
So Martinez is saying that this semi-final is not really important compared with getting to 4th in the Premier League (as if that could ever happen with our defence).
A good way to motivate our players! Can't the club stop him giving interviews? Every time, he says something wrong and/or embarrassing.
Robert Workman
76
Posted 06/01/2016 at 12:01:25
Martinez has a real opportunity to resolve the Howard situation. Despite what he says in interviews he cannot be satisfied with his goalkeeper's form, nor with the criticism of him in the media (not just from Evertonians), nor with the Goodison Park crowd now shouting at him either sarcastically or in anger.
Over the next 7 games (8 if we happen to draw against Dagenham and Redbridge) Martinez will, barring injury/suspension, play Robles 4 times - twice in the League Cup and twice in the FA Cup (I am assuming that we will progress to the 4th Round).
So, what happens in between the 2 semi-final legs? We play Man City away in the League. Why would anyone wish to disrupt a defensive formation prepared to face City 3 times over such a short period of time? It makes perfect sense to leave Robles in goal for the away League game, with an identical match just a few weeks away. Anything else would, in my opinion, be detrimental to the teams chances of success in the League Cup. Indeed it provides an ideal dress rehearsal.
That just leaves 2 more League games against Chelski and Swansea. Again I would suggest that there is no reason to disrupt the team further by a change of goalkeeper when another 2 Cup games are to follow so soon afterwards.
I believe that if Robles is played in all 7 games Martinez and the Everton fans will gain a real sense of just how good Robles is and whether he is a worthy long term successor to Howard.
Tony J Williams
77
Posted 06/01/2016 at 12:38:17
Sounds good, Robert, but I fear he will be quite busy tonight picking the ball out of the net, so won't be playing in the League any time soon.
Norman Jones
78
Posted 06/01/2016 at 12:49:23
That's fine, Robert, providing Robles turns out to be the competent goalie some think he is. My own view is that, rather like Howard, he is a mistake waiting to happen and that Tim will be back between the posts in no time!
Frighteningly, on merit!!
Dave Pritchard
79
Posted 06/01/2016 at 13:04:12
Come on, Tony and Norman, let's be positive. Robles to have a quiet game apart from a couple of penalty saves and a Rom hat-trick for a 3-nil win.
Brian Harrison
80
Posted 06/01/2016 at 13:21:13
I would like to think that playing Robles will improve things defensively, but I think we need more than a change of goalkeeper. But getting a top keeper between the sticks can make a big difference, just look at the difference Cech has made to Arsenal. Sadly Howard and Robles are not great keepers, although I agree that just to placate the fans he has to give Robles a go.
I think we could win tonight but just can't see us beating them over two legs. I think the next 3 weeks could have a great influence on RMs future, we play both Man City and Chelsea away in the league. Lose both of them and get knocked out of the League Cup and I think the writing would be on the wall.
Dave Ganley
81
Posted 06/01/2016 at 13:25:08
Whoever plays tonight, we need to be at City's throats from the off and stay there for the full 90 minutes. The crowd need to do their bit too. Let's make it a bearpit and show City how a proper crowd do it. I can't wait for tonight.
Nick Entwistle
82
Posted 06/01/2016 at 13:28:35
Dave, we do need to be at their throats, but we also need to want it more. Given its the League Cup, a complete irrelevance to their dressing room more likely, will their professionalism stretch to a first leg semi? We simply have to win tonight to stand a chance and Lukaku and Deulofeu need to do what they do best.
Dave Ganley
83
Posted 06/01/2016 at 13:32:26
True Nick, I think if we show that kind of commitment then we are capable of beating anybody. Problem is we very rarely show that kind of commitment for 90 minutes. We can hope.....
Tony Abrahams
84
Posted 06/01/2016 at 13:37:06
Phil Walling, I was under the impression that you were more aware about Martinez, than most of us? Tonight's game means everything to the players and manager, I'm surprised you've been kidded by his bollocks!
Colin Hughes
85
Posted 06/01/2016 at 13:52:00
Can't believe this is not sold out tonight especially when City are getting am extra 2k on normal league allocations. It's just raises the question do we really need that big a stadium to be built when we clearly haven't got massive demand for more tickets.
Nick Entwistle
86
Posted 06/01/2016 at 13:56:15
As much as we'd like the cups to mean something, Colin, it is still the league cup, and a first leg at that. If we lose the semi over two legs, is it really an anguish like in days of old? The cups are fun while you're in them. And only for the fans who remain in them.
It's not like people go out there way to tune into the final of this game is it? Right after Christmas, people are watching their pennies. I'll take three points next league game than a win tonight. Hey ho...
Phil Walling
87
Posted 06/01/2016 at 14:10:43
I think you know I don't buy into 'his bollocks' as you so aptly put it, Tony. I just wish he wouldn't spout it !
However, I think there are those that do - including the ones who matter. I have it on good authority that Roberto is 'only half-way' through his project to re-shape Everton, having had to break up his successful first season squad to lower an aging squad.
There followed an 'encouraging foray into Europe' and Capital Cup semi-final this season. Most importantly, I understand there is much delight at the return to a 'School of Science' style of play and continuous full-houses.
And it wasn't Roberto who 'spouted that bollocks' but one of his employers !
Brian Wilkinson
88
Posted 06/01/2016 at 14:37:26
If you want a bear pit Bobby, unleash the dogs of war, start with Barry, Besic and Gibson in the middle, frighten the shite out of City.
Brian Harrison
89
Posted 06/01/2016 at 14:55:50
Well RM says lessons have been learned well lets hope he learned a lot from the Spurs game. They are quite happy to shoot from outside the box and hit the woodwork from 2 shots outside the box. They also played their number 10 Delli Alli just off Kane, whereas we play our number 10 Barkley just off Stones and Barry. So stop trying to make him into a central midfield player which he isn't and tell him to look for knockdowns off Lukaku and encourage him to shoot from outside the box.
I can't remember the last time Barkley ran past Lukaku, yet Ali did it all the time for Spurs. Also RM needs to address the problem of Ross refusing to make any meaningful challenges, again something Ali does on a regular basis.
I believe that Ross is a talent he is just not getting the good coaching his talent will benefit from. Mind that goes for most of the team.
Finally you have asked for the crowd to get right behind the team, well maybe if you didn't send us all to sleep with your obsessed possession game and took the game to the opposition then I am sure the crowd will be right behind you and the team.
Dennis Ng
90
Posted 06/01/2016 at 15:23:05
I have the feeling that he will be playing the best team now only in the cup games given how that is the only thing that will save him from being a failure. Let's see what he thinks is his best team tonight.
Norman Jones
91
Posted 06/01/2016 at 15:46:54
Phil, are you saying that is the view of the powers that be? It certainly puts the gloss on what has been an over-hyped period of management and would indicate that we are stuck with RM whilst 'he completes his project'.
How can anybody claim that dropping from 5th to permanent 11th over a season and a half indicates progress. Even if we do play pretty football whilst doing so?
James Hughes
92
Posted 06/01/2016 at 16:58:00
Sky Sports are in usual BS mode - Tonight's game at Goodison is the biggest game there this Century !!!!!
So we didn't play in any more important games than this for the past 15 years,....erm ok
Eugene Kearney
93
Posted 06/01/2016 at 17:12:20
Besic to start - please
Brent Stephens
94
Posted 06/01/2016 at 17:15:05
Dennis #86 "I have the feeling that he will be playing the best team now only in the cup games given how that is the only thing that will save him from being a failure."
Dennis, if he really is going to play the best team (in his eyes) then Howard will play?
Eddie Dunn
95
Posted 06/01/2016 at 17:35:26
Team selection will be very interesting after RM's pre-match comments. I really can't fathom his thinking. City have a weakness at the back, but I don't think Martinez will go for the throat tonight, and I have to agree that it is important to be still in the tie when we go to the Etihad.
I would rather be level than 2-1 up, as we can't defend a lead, but we can play on the counter-attack. I expect he will pick his best defenders, ie Lennon starting and probably Kone. I hope Besic gets the nod but I have a feeling he may have to sit on the bench with Deulofeu and Mirallas.
I don't mind as long as RM moves to change things with plenty of time left. We mustn't lose this game.
Alex Doyle
96
Posted 06/01/2016 at 17:40:39
This game defines the season and potentially Martinez's Everton career! We are due some luck. Would like to see Barkley step it up. COYB.
Bill Gall
97
Posted 06/01/2016 at 17:52:31
As there is not much of a chance that BK is going to fire Martinez, we will have to hope he wins onee of the cups to gain entry into Europe as a cup winner. Our position in the league is going to make it very difficult to get into Europe by our league position at the end of the season.
If we do not get into Europe we will have the "vampires" sorry the "leaches" sorry the agents pushing for our better players to move to clubs playing in the European competitions. We all now who the players are, who the bigger clubs will be after, so if a couple of them go it will be back to square one reorganizing the team.
Martinez may make statements that this player or players will not be sold, but the problem is, will BK resist the temptation of obscene amounts of money being offered. We may then have a large amount of funds for transfers but there is never any guarantee that the players you buy are going to make the team any better than the players you sold.
Michael Williams
98
Posted 06/01/2016 at 18:00:41
Is this game not really sold out? I refuse to believe it. Seriously?
Tom Bowers
99
Posted 06/01/2016 at 18:24:32
Everton will not win anything this season and that's a certainty. To win trophies you need good defence and we all know Everton don't.
Sure they will be entertaining to some degree as they have scoring prowess but you have to defend and when the likes of Bournemouth and Stoke pile them in then one doesn't have reason for much optimism.
The ironic part is, that since getting bagfuls against Everton how many goals between them have Bournemouth, Stoke and Leicester scored? Leicester don't have any! Go figure.
Neil Wood
100
Posted 06/01/2016 at 18:29:30
In the Winslow.... Nervous but feeling a 3-1 win. Del Boy brace!!!
Ged Simpson
102
Posted 06/01/2016 at 18:33:40
Nice one Neil
Jamie Barlow
103
Posted 06/01/2016 at 18:39:43
Phil, we're the 3rd highest scorers in the league. First half, job done. Let's hope the second half of his project is to sort out the shambles at the back.
Kunal Desai
104
Posted 06/01/2016 at 18:43:05
Difference between the sides earlier in the season I thought was Kompany. He was outstanding for them, had it not been for him making a couple of crucial blocks and interventions we would have had a couple of goals before they scored and went on to win the game 2-0. Let's see how we fair tonight.
John Crawley
105
Posted 06/01/2016 at 18:45:57
I hope we start with the team that ended the game against Spurs (apart from Robles coming in). I would tell Besic to man mark Silva to stop him playing. We've got a good chance if we keep the intensity going for the 90 minutes. Come on you blues!!
David Barks
106
Posted 06/01/2016 at 18:54:38
Jamie,
The shambles at the back was created by Martinez. It was our strength before he took over.
Neil Wood
107
Posted 06/01/2016 at 18:59:45
But scoring was our weakness David?
Tony Abrahams
108
Posted 06/01/2016 at 19:00:51
Nick 82, a very strange post.
Jay Harris
109
Posted 06/01/2016 at 19:02:11
I would like to park our concerns over Martinez for a week or two and really get behind the lads.
They obviously want to win something and so do we especially those poor kids who have never seeen a successful Goodison.
Let's rock the rafters and show City what a proper club is.
COYB.
Barry McNally
110
Posted 06/01/2016 at 19:02:37
TEAM: Joel, Besic and Deulofeu all start against City tonight. Here is our full line-up.  
pic.twitter.com/Kbn6Y33WvE
Jamie Barlow
111
Posted 06/01/2016 at 19:03:59
I know David. If he is here for another 3 years, let's hope sorting the defence is his second half of the project.
Anthony Flack
112
Posted 06/01/2016 at 19:04:59
Colin (#81 there are lots of home games close together, cost will be a factor with people picking and choosing especially after Chrimbo.
Michael Penley
113
Posted 06/01/2016 at 19:08:42
If Robles doesn't do well tonight I'm not going to blame him, or say he's not good enough to replace Howard. I'm going to place the blame squarely on Roberto for his ridiculously arbitrary schoolboy rotation system, rather than having a proper competitive playing system based on whoever is in form.
Add Your Comments
In order to post a comment, you need to be logged in as a registered user of the site.
Or Sign up as a ToffeeWeb Member — it's free, takes just a few minutes and will allow you to post your comments on articles and Talking Points submissions across the site.
© ToffeeWeb