Martinez hints at January exits
by

68 Comments [Jump to last]
| 05/01/2016
But Mirallas still a big part of manager's plans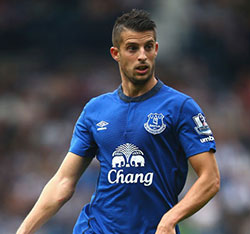 Martinez maintains that Kevin Mirallas can have a big role to play in the second half of the season
While he was naming no names, Roberto Martinez has suggested that, with Euro2016 on the horizon, one or two players could be allowed to leave the club this month to provide them regular football and pare down what he describes as "a really large" squad.
In addition to Steven Naismith, who won't be involved in the European Championships but has made no secret of his desire for regular football, Aiden McGeady, Darron Gibson and Kevin Mirallas are the three names that come to mind when discussing out-of-favour players at Everton.
The trio have just 15 appearances between them so far this season with Mirallas the only one to have started a game and Martinez stressed in his press conference this afternoon that he expects the Belgian to have a big role to play in the second half of the season.
Like Naismith, Mirallas has also publicly made noises of his need for first-team football and that he could look to move during the winter transfer window if he was not being selected on a regular basis. Speculation suggests that Monaco are seriously interested in bringing back to Ligue 1 during the current transfer window but Martinez insists the 28-year-old has been a victim of the form of other players and that he remains a big part of his plans.
"What we've seen with Kevin is that he signed a new contract in the summer. He had a really strong pre-season and, as you know, we allow football to make the decisions. We've got really good attacking options and he was unfortunate.
"He started the game against Watford and from there he had a little niggle and he got a three-game suspension. But the way he's been working in the last few weeks earned him a start against Newcastle and I thought he did really, really well and I expect him to have a major, major influence in the second half of the season.
"Taking into consideration that we have really good attacking play in our team and the options we have going forward are there for everyone to see so the opportunity is there for every player to use good moments of form to help the team and Kevin's a big part of that as he showed against Newcastle."
In reference to some of his other fringe players, the Catalan said that Steven Pienaar should be fit for the weekend game against Dagenham & Redbridge in the FA Cup but he acknowledged that a squad that was expanded to cope with last season's Europa League commitments is now too big to accommodate the needs of everyone.
"The squad is still really, really large," he explained, "because it was a squad built for European football so we've got two or three bodies that haven't able to get as much football as they needed or as they wanted.
"We've got the Euros around the corner so we've got a couple of decisions we need to make in order to benefit everyone but I wouldn't speak about any individual names. Whenever we feel there is a situation that would benefit a player or our squad in general we'll announce it.
---
Reader Comments (68)
Note: the following content is not moderated or vetted by the site owners at the time of submission. Comments are the responsibility of the poster. Disclaimer
Trevor Lynes
3
Posted 05/01/2016 at 16:19:54
He will unload at least two IMO, but before he lets Naismith go he needs a younger and better replacement. Too many times in the past we have let players leave or go out on loan before bringing in new faces. In some cases we have allowed players targeted to slip through our fingers due to tardiness.Clubs like Stoke who beat us to Shaqiri and others who were not allowed to leave their clubs despite us supposedly bidding. I am sick and tired of seeing our once great club act like paupers when they have made money consistently over the past three or four transfer windows. I agree with letting dead wood go but Naismith still has value and must be replaced before he goes.
Jimmy Salt
4
Posted 05/01/2016 at 16:20:38
The squad is too big????? Really, don't know where to start with that.
Although we could do with more strength in depth, so if we get some quality players in who can put more pressure on the regulars then I'm in.
Steavey Buckley
5
Posted 05/01/2016 at 16:20:45
Everton need to start rebuilding for next season, because the blues are not doing to do well in the Premier League. And those players who are not in the manager's future plans, for one reason or another, should be allowed to leave. Sooner than later.

Bringing new players in the January window will help fans forget the season that should have been, instead is turning out to be a big disappointment.
James Stewart
6
Posted 05/01/2016 at 16:22:36
For once I agree with him, we are wasting far too much money in wages on players that barely make it onto the pitch. McGeady, Gibson, Oviedo and Mirallas spring to mind.

I like Mirallas but if he's not going to play him there is no point in having him in the squad on high wages. Kone should be the first out the door! I'll drive anywhere free of charge.
David Barks
7
Posted 05/01/2016 at 16:26:01
"we allow football to make the decisions. ". What an absolute joke this man is. Kone starting in the left is not a football decision, it's a Martinez playing his favorites decision.
Why in the hell can we not start with Mirallas on the left and Deulofeu on the right? God forbid we have two wide players on the pitch at one time.
A really big squad, good God.
Brent Stephens
8
Posted 05/01/2016 at 16:26:11
"a squad that was expanded to cope with last season's Europa League commitments is now too big to accommodate the needs of everyone."
An admission that we won't be in Europe next season by any route so we can divest now? Or maybe unloading a few for 6 months at least saves on the wage bill, and then re-invest once we know we're in Europe again?
That's not too negative, Gary, is it?!
Terence Leong
9
Posted 05/01/2016 at 16:31:32
Come end of the season, I can see close to half-a-dozen players being offloaded or released. So, the size of the squad is probably a little large, only for the next half of the season. The players likely to be offloaded/released are:
Osman
Gibson
McGeady
Naismith
Hibbert
So, even if Mirallas stays, the squad is not overly large; perhaps it'll look like the midfield is still a little bloated, but bear in mind, Barry can perhaps go on for another season and a half after this.
So, if we release Gibson and Osman, then we only really have Barry, McCarthy, Besic and Cleverley in midfield.
Kone will be a squad player, which means that we are light in attack. I would have liked to see Naismith given a crack of the whip for the next half a season there, instead of Kone. Or in this case, even Mirallas himself, as he has played up front before.
Shane Corcoran
10
Posted 05/01/2016 at 16:47:09
I think what he says makes sense unless you want to read negatively into it.
He didn't say we wouldn't qualify for Europe. He said that the squad is very big as we had assembled a squad for last year's European adventure.
I'd say he's happy for everyone to stay for next year's Europa League but with the Euros coming up, it's unlikely that players will want to stay.
Mike McLoughlin
11
Posted 05/01/2016 at 16:56:21
Fair assessment, Terence, like you said a shame Naismith not given a chance. But I agree with your choice to lose. I think Kone could be a decent squad player. What are people's thoughts about maybe putting a bid in for Loic Remy??

Mike Powell
12
Posted 05/01/2016 at 16:56:32
I know its the semi final and I shoud be getting excited, but I can't motivate myself. Martinez as knocked it all out off me. I'd love us to turn them over but just know we won't.

I am expecting the worst before a ball as been played I have never been like this, but that's what he as done to me and many others.
Liam Reilly
13
Posted 05/01/2016 at 16:57:34
If its too large, then why not shed some players in the summer before bringing more in; cause we weren't in Europe at the start of the season either?

Gordon Crawford
15
Posted 05/01/2016 at 17:10:54
If Everton haven't won a trophy by the summer, then we will lose Lukaku and Stones, and maybe even Coleman. We need to keep our better players Iike Mirallas and Naismith and let the dead wood go.

We also need a few quality players this month.
Tony Doran
16
Posted 05/01/2016 at 17:23:31
Not so much a big squad as certain players being crap. Please Roberto get a player who scores 10-15 from midfield. Too many defensive minded players at the moment.
Anthony Hughes
17
Posted 05/01/2016 at 17:24:55
If it's too large and he said he's looking to get rid of a couple then do we take that as no players will be coming in then?
Jay Harris
19
Posted 05/01/2016 at 17:33:58
What a crazy comment.
Have we heard any other club say their squad is too big.
Suggests to me that he has been told from upstairs that the promise to get us CL or even Europe is unlikely to happen so start unloading now.
Jon Withey
20
Posted 05/01/2016 at 17:37:24
Not really sure how many of our players will actually be going to the Euros that we could sell. Not Naismith, Oviedo, Pienaar, Osman.
I suppose Gibson, McGeady and Mirallas... Lennon?
So, Naismith, Gibson and McGeady then?
Paul Ellam
21
Posted 05/01/2016 at 17:52:21
I do think we have too many average players picking up large wages that need to go but I also think we need to show our "star" players like Lukaku, Stones, Barkley, McCarthy and Coleman that we are ambitious and a club they can win things at. < To do this we must bring in players of the same quality as them.
I would suggest we got rid of Howard, Hibbert, Pienaar, Gibson, McGeady and Naismith and sign 3/4 top players in their place. My choices would be a new GK, a CB, a LW and a back up striker.
Easier said than done I realise but we surely have plenty of cash left from last summer (that we didn't spend) and plenty more to come so why not aim high? It's the only way to push this club forward.
Ideal players would be Marshall or Karius in goal, Williams for CB, Bolasie or Yarmolenko for LW and Austin or Dembele as back up forward.
Eddie Dunn
22
Posted 05/01/2016 at 17:59:39
This club is not showing much ambition. Martinez certainly could offload quite a few players who are either near the end of the road, or injury-blighted. However Naismith and Mirallas are not in that category.
The squad may be large on paper, but in terms of fit and able staff, it is a little short.
Hibbo, Ossie, Pienaar are near the end.
Oviedo, Gibson. often injured.
McGeady, not even considered.
Then we have Barry, Kone, Jagielka, all over 30.
Browning, McCarthy, injured.
Others out on loan.
It doesn't leave an awful lot!
Ged Simpson
23
Posted 05/01/2016 at 18:10:42
Reduce wages for takeover?
Ian Jones
24
Posted 05/01/2016 at 18:16:31
Still think a fit Gibson would be worth keeping but finding a way in to the team is difficult. Decent tackler and can pick a pass with both feet. If he goes he could prove to be a good addition to many teams.
Ian McDowell
25
Posted 05/01/2016 at 18:22:56
At the end of this season Hibbert, Osman, Oviedo, Gibson, Pienaar will be out of contact and Naismith and Mirallas likely to leave in January.
Say weekly earnings-wise (just a guess): Osman £40k, Oviedo £30k, Gibson £30k, Pienaar £50k, Miallas £50k, Naismith £40k, Hibbert £25k.

That leaves £265k/week freed up on the wage bill. With the TV deal next season will leave us plenty of room to manoeuvre in the summer should the squad require an overhaul.
Harold Matthews
26
Posted 05/01/2016 at 18:23:38
It's difficult to imagine Gibson and McGeady wanting to swap their massive weekly wedge for a short spell on the Irish bench.
Dean Adams
27
Posted 05/01/2016 at 18:25:26
Bryan Oviedo suffered an horrific injury this time last season. At least give the lad some time to get back to full fitness before you write him off.

I struggle to understand some posters who seem to believe that his injuries have been long term and frequent. The niggles he has suffered since his broken leg are fairly normal in the healing process. He was a wonderful talent before his injury, so just give the man a chance.
Kunal Desai
29
Posted 05/01/2016 at 18:40:13
Dead wood should be cleared out of the club including himself.
Richard Jones
30
Posted 05/01/2016 at 18:48:06
Mike #11
Cheer up mate if this is the first time you feel like this before a ball is kicked you are really lucky or very young. I've supported the blues since 1960 so unfortunately I've had the dreaded feeling before a ball is kicked soooooooooo many times before.

But I'm still a blue and unlike one of our former players I'll always be a blue whatever happens but please God let us get to the final somehow.
Brendan Fox
31
Posted 05/01/2016 at 18:50:12
Roberto talking out of his hole again.
So who are these squad players that need to move to enable them to get more game time to be able to feature for their respective countries in the Euro's? McGeady or Gibson possibly but neither are a shoe in for RofI. Certainly not Mirallas as he barely gets much game time for Belgium anyway even when he's played most games in previous seasons.
Roberto stop talking shite and concentrate on getting the balance right with the team selections and winning some games!
Eddie Dunn
32
Posted 05/01/2016 at 18:52:55
Dean, absolutely, if Brian can get fit, I would be delighted for him and us. I was just looking at what we have got at our disposal now.

I would also love to see Gibson contribute more, does anyone remember those trademark thunderbolts from around 25 yards, that he scored for United?
Dean Adams
33
Posted 05/01/2016 at 18:54:58
He might have been referring to Hibbo and Ossie who could make a miraculous leap into the English team. Maybe even Lennon could get the nod. In Bobby's world, anything can happen (if you listen to his mutterings).
Dean Adams
34
Posted 05/01/2016 at 18:56:17
I remember that for quite a while, when Gibbo played we did not lose!!!
Michael Williams
35
Posted 05/01/2016 at 19:03:18
This is good news. Folks have been complaining for weeks about all the lost wages. I doubt we can get much for any of those discussed except Naismith but at least the wage bill will hopefully have room for a good player or two.
I doubt we see a lot spent for players coming in this month.
Does anyone know the last time EFC spent big during the January transfer window?
Peter Morris
37
Posted 05/01/2016 at 19:19:13
What baffles me is why the club persist with paying players like Gibson, Hibbert and probably now, Pienaar, through to physical recovery after months, sometimes years of full pay and zero contribution, and then contemplate 'releasing' them i.e. paying up any remaining contract and leaving the player to negotiate a new one elsewhere.

It's not as though we are blessed with boundless bags of cash, is it??
Des Farren
38
Posted 05/01/2016 at 19:31:27
Have seen Gibson's name mentioned on numerous occasions regarding inclusion on the bench or in the team.
Strange how no one thinks him worth anything though.
Brian Porter
39
Posted 05/01/2016 at 19:32:58
Still think we need Naismith for the second half of the season. If Rom gets injured who do we play up front, and please don't say Kone.
Paul Smith
40
Posted 05/01/2016 at 19:34:05
People have been suggesting he gets rid of the deadwood (I wouldn't lump Nessy into that) and so he is, or intimates the same.
Can't knock him for that.
Ian Brandes
41
Posted 05/01/2016 at 19:34:48
I do not think the club will lose Osman because he wants to stay with us, and make a move to the coaching side.
I hope this does happen. He would be a great acquisition, and who knows, maybe a future Everton manager, who would actually care about the club.
But Kone, Gibson, McGeady and Pienaar should perhaps be offered elsewhere.
As for the big squad, what happens to our goals if Rom is injured. I dread to think unless of course we are rich in strikers that no one knows about.
And now for a bit of positivity to close. Could Martinez include himself in any clear out?
Eddie Dunn
42
Posted 05/01/2016 at 19:47:55
I imagine that Osman would be handy in a coaching role, and his popularity is well known amongst the players.
I am sure that an injury free Gibson, with a proper run in the side, would benefit us greatly, but is it ever going to happen?
Phil Sammon
43
Posted 05/01/2016 at 20:07:10
'A very very large squad'
Yet we are an injury to Lukaku away from crisis.
4 Right wingers
0 left wingers
'A very very unbalanced squad' - I think rings truer.
Kristian Boyce
44
Posted 05/01/2016 at 20:10:35
So looking at our squad lists from a variety of websites (including this one), it puts us at around 30-32 first team players. The official site includes our U21 team which puts our first time squad closer to 50.
Out of that 32, you have players like Holgate, Stanek, Browning, Pennington, McAleny, Garbutt, Rodri­guez and potentially Galloway (now Baines is back) who as young players may make the bench on rare occasions or go out on loan, but are more or less not classed part of the first team.
Then you have the crocks; Hibbert, Pienaar, Mattino and which also includes Gibson and Oviedo. Lastly a player like Osman who as much as he is part of the squad, his age limits his effectiveness. So on paper it may look like a large squad, but in reality it isn't. Especially when you add the 2-3 injured players we have as well.
Even with the so called large squad, we have areas which we are really weak. We really don't have a backup for Coleman. We actually do not have a left winger/attacker. Mirallas, Kone and Pienaar all have played there, but are not a left footed player.

Lastly and probably most importantly is a backup striker for Lukaku. Kone and Naismith would be the two that would probably play in that role, but they aren't up for the job if we want to make a decent run of things. So for his statement on being a large squad, its just more mindless babbling from a delusional clueless man.
Don Alexander
46
Posted 05/01/2016 at 20:30:14
Is "Martinez" the Catalan word for "Baldrick"?
Oliver Molloy
47
Posted 05/01/2016 at 20:38:39
Lukaku to Man Utd for £37million - who writes this rubbish?
£57 million maybe!
Colin Glassar
49
Posted 05/01/2016 at 20:40:53
The Man Utd press office probably, Oliver.
Glen Garrett
51
Posted 05/01/2016 at 20:47:15
Mirallas should be in the starting line up staring on the left side whist Deuloufeu should be starting on the right there for Everton have two quality fast creative wingers that can run at other teams twisting and turning left and right and having the quality to score themselves and put crosses in and over for the strikers.

Everton have a quality set of players more than capable of getting into the top 4, the sad thing is Martinez does not know how to use these quality players. He hasn't got the know how of who can play with who I believe that he just favours players for his liking. Let's face it, why put Kone playing out wide on the left like a winger when he is a striker when he has a quality winger such as Mirallas sitting fit on the bench? Amazes me that does.

I believe in putting your best and fittest attacking team you got out on the pitch from the start and going for the kill straight away attacking at all times and attacking the ball straight away when the other team is coming at you closing them down and out immediately. Whatever the situation is on the field attack it immediately don't give them no room to do fuck all, no excuses.

Martinez is full of excuses I'm afraid. I'd hate to see Naismith go and as for Mirallas I think he will go in January. Martinez keeps saying that Mirallas is in his long term plans so why isn't he playing him ?
Ian Bennett
52
Posted 05/01/2016 at 20:49:47
Clear out the deadwood, but not sure who will take them though on big wages.
Dick Fearon
54
Posted 05/01/2016 at 21:07:03
I choose to keep Naismith and release the other main contenders. That would clear the decks and allow payroll space for a decent keeper, striker and midfield general.
Karl Masters
55
Posted 05/01/2016 at 21:16:08
If you look at the squads printed on the back of the match day programme this season, Everton have consistently had a longer list than our opponents, which bears out the claim our squad is too big.
In midfield we have Lennon, Deulofeu, McGeady, Osman, Gibson, Pienaar, Oviedo, Cleverley, Barry, Besic, McCarthy, Mirallas, Barkley, Ledson & McAleny. That's 15 players competing for maybe 5 places, which is crazily top heavy.
If you look at the difference in Martinez's first successful season and the very frustrating last 18 months, what stands out is that Pienaar and Osman have hardly played since that first season.
It's players like that with quick feet and who keep the ball and draw fouls that we need.
Eddie Dunn
56
Posted 05/01/2016 at 22:16:35
Martinez can lie all he likes to opposing managers, and try to keep them guessing, but for God's sake don't bullshit us with all this talk of Mirallas being so important to the second half of the season. The lad's been available for ages, and he has been under used to a criminal extent.
Our manager is a spin doctor of the first order, a Peter Mandelson of football. Our squad is paper-thin in places!
I just watched Stoke's awful display against the RS, who, by the end, had lost 3 players to hammy problems! The Evertonian from Wallasey had a great chance at the death to equalise, and he flippin' missed!

I was almost as gutted as watching us screw-up the big games, as I could stomach Stoke beating us at Wembley,
but not that shower of shite!
Darryl Ritchie
57
Posted 05/01/2016 at 23:08:01
I'm not that concerned about the players that may or may not, be leaving. Much more interested in the players that have to come in. The players that could leave are always injured, out of favour or just not good enough, their leaving will not impact our season. They're just a wage bill that could prevent new players from coming in.

We need a keeper, a #10, a left wing and a backup striker( if Rom goes down, we're screwed). The right players in could make a difference.
Mark Hughes
59
Posted 06/01/2016 at 00:33:00
Don't talk about Naismith, Oviedo or Super Kev leaving.
That is stoopid.
Mark Wilson
60
Posted 06/01/2016 at 00:48:05
Utter garbage from the manager and frankly every time he speaks to the press now I cringe waiting for rubbish like this. The squad isn't anywhere near too big. It's not good enough in terms of quality beyond what most would see as the first 17. That's not yo say that we cannot put out a very decent, competitive 11, because we can and its the best, most exciting 11 for some time, just under performing and badly managed and crucially that leads to unbalanced selections that leave us struggling to find our shape and play in more disciplined way.
It's really not large by the standards of teams regularly looking to get into a top four place. It's simply that yes we can let some actually not bad players leave but not without replacing them in a way that improves our ability to cope with injuries and suspensions and loss of form. I'd accept a degree of gamble on younger, even lower league players who are still surprisingly pricey. But if anyone thinks that letting Naismith leave, even for £8m, without replacing him makes sense...well I'm at a loss to understand the thinking. If Rom is unavailable for any length of time we are royally screwed. Kone as our only recognized forward ??? Gerri can in part be covered by Mirallas but the latter should be wide left in the same 11, not bench warming because Marrinez is so blinkered about Kone. Gibson is a prat who at some clubs would have been sacked by now but I honestly think that he has quality tho I guess we do have four decent players when fit for the two defensive midfielder roles the manager insists on playing every game.
I can see that there is cover at left back, less sure about the right tho and as we have seen we are short an experienced Centre Back to help these younger less experienced players stop shipping goals at a rate of knots. And don't get me started again on the bloody goal keeper position !!
So basically it's top four or bust says the mgr if we are to keep at least two of those four superstars. He almost seems to be preparing the ground doesn't he.....we resisted last window....blah blah phenomenal.....but get ready for some serious selling if we don't make top four. He may well be right about this in terms of how those players might respond but given he's responsible for us not competing for top four at present its hard to hear him utter such crap.
In the short term I really think we can overcome City and if we get a couple of key players back like Jags we can reduce the goals conceded and pray for Rom's good health. So maybe Bobby can make fools of some like me and suddenly put together a top four challenge ? I'd be delighted to look very stupid if that happens. But if Martinez really thinks we don't need a couple of additions right now he cannot be remotely serious.

Roman Sidey
61
Posted 06/01/2016 at 02:07:34
Sorry to be that guy, Dean, but Oviedo's leg break was two years ago now. I do agree though he's worth keeping around.
The perverse thing about RM's comments is that if football decided the team selection then the only players who should have played consistently this season are Lukaku, Delboy and... *gulp* Barry.
The other twisted part is Kone is probably getting the nod over Kev due to his willingness to get back and defend (he's better at defending than he is at attacking, anyway) but it is our defense that is the most rubbish.
Anto Byrne
64
Posted 06/01/2016 at 09:02:44
Yes, a massive clear-out is due this summer and the man for the task is the Soton manager who is now suffering second season syndrome while losing some of his better players. With a takeover, it would make good sense to cut a lot of the operating expenditure. The dead wood long past their use-by date players put out to rest.

We as supporters have identified the positions we want to see filled, GK CH and CF and a mature Number 10 playmaker; if he wasn't playing for the shite I would have Moutino and I also like Shelvey...

Shame we didn't spent the cash on Scott Dann although Funes Mori is improving each game we still lack a bit of height at the back. Is their another Davy Weir out there or can we bring him in to sort our defence?
David Johnson
65
Posted 06/01/2016 at 09:41:35
We were playing fantastic stuff the season before last, when injuries and suspensions took their toll and the team lost all momentum, having to rely on the likes of Alcaraz.

While there is some deadwood, I'd have hoped Roberto would be looking to sign a couple. Possibly a goalie, left back and a young Pienaar-type.
Ognjen Mojovic
66
Posted 06/01/2016 at 11:05:43
If the manager thinks that his squad is too big for a season in front of them, than why he didn't clear situation in summer?
Brian Hennessy
67
Posted 06/01/2016 at 12:16:33
Getting rid of McGeady would make room for three more players on the team bus.
Steve Brown
68
Posted 06/01/2016 at 12:58:24
Hope he wants to lower the wage bill to create space for 2-3 players. A centre forward as cover for Rom and a left midfielder are critical just for squad balance, but above all we need a central advanced midfielder. Why we didnt try to get Payet I'll never know.
There is simply no point having McGeady, Gibson, Ossie or Hibbert in the squad if he does not plan to play them. For Oviedo and Pienaar, I think he wants to give them games but knows he has to manage them very carefully.
Barry Pearce
69
Posted 06/01/2016 at 14:26:38
A footballing decision why Kevin is not playing, and Kone is really setting the world alight.
The more nonsense this man spouts, the more it makes my blood boil.
Peter Cummings
70
Posted 06/01/2016 at 14:52:35
As always the comments on the site are spot on and covered every aspect of RBs latest unreal drivel, of course the squad is too big, but if this is the case why is there no regular rotation instead of leaving certain members warming the bench for a full 90 minutes when they can do a job on the pitch.??
Mirallas of course is a case in point, he can turn a potential lost cause into a game winner with his eye for an opening, Naismith with his strength enthusiasm and work rate can cause chaos in opposing defences, Why Martinez refuses to employ two of the most talented wing players at the same time in Miralles Lennon and Delboy to provide Lukaku with the crosses he can feed on is a complete mystery,I wouldn't dismiss Kone completely as he does have his moments and it's all been said about Howard.
Shane Corcoran
71
Posted 06/01/2016 at 15:07:09
Brian #53, have you seen McGeady's arse lately?
Clive Rogers
72
Posted 06/01/2016 at 15:15:08
Can't understand why people think Naismith warrants another chance. He's had scores of chances in the last 4 seasons. He's 30 in September and has never been first choice at Goodison under either of the managers, including the one who signed him.
Andy Codling
73
Posted 06/01/2016 at 15:43:17
Clive no problems with him going but he certainly needs replacing, if Lukaku gets injured then who will score the goals. I think it's a great deal for us getting anything near 8 million for a 29-year-old work horse.
Simon Hermansen
74
Posted 06/01/2016 at 15:46:49
"... the opportunity is there for every player to use good moments of form to help the team and Kevin's a big part of that as he showed against Newcastle."
So much so that I dropped him afterwards and brought back the hapless Kone!
Winston Williamson
75
Posted 06/01/2016 at 15:47:45
Moving players on is part and parcel of the game. It's the signing of the replacements which is all important.
Moyes was good at this and, to be fair, RM has been too to an extent.
Felliani - McCarthy
Anichebe/Jelavic - Lukaku
Distin - Mori
If Naismith does leave we need to replace him with a better quality player.
There are players who can be shipped out without needing to be replaced: McGeady, Osman and Gibson.
Then for the team's evolution we need to replace the following with 'next-level' players: Howard, Kone and Jags. I think you replace these three players with higher quality players and we could be aiming very high....
Christy Ring
76
Posted 06/01/2016 at 18:28:54
Get rid of certain players by all means, as the likes of Gibson, Mcgeady, Naismith, Osman Hibbert and Kone are not good enough for the first team squad. But Bob needs to bring in a striker, a left winger, centre-half and keeper, as we are limited in those areas.
Brian Hennessy
77
Posted 06/01/2016 at 18:36:32
Shane @57. Difficult to see it when it is sat on the bench all the time!
Shane Corcoran
78
Posted 07/01/2016 at 11:29:09
Brian, yet you know what size it is. And he hasn't been on the bench for weeks I thought you'd have noticed.
Tim Locke
79
Posted 07/01/2016 at 23:24:05
Squad too big? Really. It is no bigger than in 13-14 season and we were not in Europe then? In 14-15 the squad was actually smaller than in 13-14 and 15-16.
So I am not such who you think expanded the squad so much. All you have done over the course of 3 seasons in buy in players who you have either loaned back out, our bought players you have had in loan, Barry, Lukaku etc.
Like everyone else, I am a bit tired of the spin put on everything. The government should getting Bobby as spokesperson for the floods. Sure he would put a great positive spin on it. "It has provided a wonderful chance for the community to work together, which we would have had if we hadn't seen the floods."
Michael Polley
80
Posted 08/01/2016 at 13:40:53
Mike (post 10), I know how you feel mate.
Michael Polley
81
Posted 08/01/2016 at 13:44:31
Get rid of Kone before Naismith.
---
Add Your Comments
In order to post a comment, you need to be logged in as a registered user of the site.
Or Sign up as a ToffeeWeb Member — it's free, takes just a few minutes and will allow you to post your comments on articles and Talking Points submissions across the site.
© ToffeeWeb