Naismith could leave Everton this month
by

57 Comments [Jump to last]
| 15/01/2016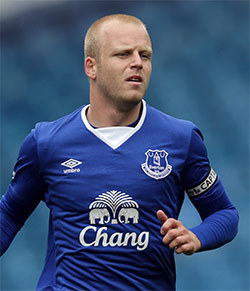 Negotiations have progressed with a Premier League club, assumed to be Norwich City, for the sale of Steven Naismith and Roberto Martinez has suggested that the decision ultimately rests with the Scottish forward.
Reports at the end of January that a fee of £8m had been agreed with the Canaries for Naismith made it look as though his move to Carrow Road that as blocked by Martinez on transfer deadline day in September was back on.
A knock sustained by the player in training this month and interest from elsewhere in his services, most recently from Swansea City, has cooled that speculation but the Everton manager admitted this morning that talks are now at an advanced stage with a club.
Nevertheless, as was the case in the summer when Martinez felt it more prudent to keep Naismith at Goodison Park, the Catalan says that the deal has to be right for all parties. The manager felt ill at ease letting a proven squad player go without a replacement but the Scot's need for first-team football – he hasn't started for the Blues in the Premier League for many weeks now – could see him leave before the closure of the winter window at the end of this month.
"Theres been another Premier League club where we've made a lot of progress," Martinez said in a press conference this morning. "I would say everything is more or less agreed about a possible transfer.
"The issue with Steven Naismith is that he's got a little bit of a knock to his ankle and at the moment the priority is seeing him fully fit and then we'll sit down and see what the next step is."
Asked if the situation was in Naismith's hands, Martinez replied: "It is, up to a point but it has to be right for everyone and I said it before – we are so open on Steven Naismith's situation because it was an open secret that on the last day of the previous window we had an approach from another football club but ... it wasn't right [from Everton's point of view].
"Now it's very much in the player's hands to make the right call."
Meanwhile, Martinez admitted that an approach for Sam Byram had been made but he refused to go into specifics, citing his desire not to unsettle the fullback.
His club Leeds United confirmed yesterday that they had received a £3.7m offer for the 22-year-old who is also wanted by West Ham United if reports are to be believed.
---
Reader Comments (57)
Note: the following content is not moderated or vetted by the site owners at the time of submission. Comments are the responsibility of the poster. Disclaimer
Derek Knox
1
Posted 15/01/2016 at 16:01:58
I, for one, will be basically sorry to see him go, but feel Everton can't resist getting such a good offer. After all we got him for next to nothing, when Rangers were in freefall, due to tax irregularities.
I could never fault his commitment to the cause, what he lacked in pure skill, was substituted by that never-say-die attitude, and pure graft at 110%.
I understand him wanting regular first team football, but having been tried several times with our current set-up, appeared to be a bit of a square peg in a round hole.
I wish him all the best, whether it be Swansea or Norwich, as his final destination. I am sure many Evertonians will share my sentiments, for his contribution, both on and off the field.
Michael Penley
2
Posted 15/01/2016 at 16:42:46
Seems a bit daft to get rid of one of our top scorers and our only natural finisher. Oh well, anything to give Roberto another excuse to play his golden boy Kone.
Tony J Williams
3
Posted 15/01/2016 at 16:49:23
Sad to see him go, so much better player than Kone.
Gordon Crawford
4
Posted 15/01/2016 at 17:25:12
Mistake to let him go at this stage of the season. Kone should be shown the door.
Tony Hogan
5
Posted 15/01/2016 at 17:37:58
Gordon, Kone posted on Twitter that his legs were cold after the game at Man City. Maybe if he ran a bit he would warm up...

One of the worst players ever to wear the Royal Blue shirt.
Gordon Crawford
6
Posted 15/01/2016 at 17:51:33
I heard about that tweet, Tony. If it wasn't so bad, it would be hilarious. Why on earth would you tweet that? He is a waste of space and shouldn't be at Everton, along with McGeady.
James Flynn
7
Posted 15/01/2016 at 17:54:03
Sorry that Roberto didn't see Lukaku and Naismith as a dangerous, attacking duo. Strange that.
Together, they could give any opposing manager the worries.
Gordon Crawford
8
Posted 15/01/2016 at 18:00:57
Naismith's hat-trick against Chelsea was brilliant. That's what he has to offer. But Roberto doesn't want to play him. James your spot on. He loves his favourites our Roberto.
Well, if Naismith goes and Roberto doesn't replace him with real quality, then I will have lost all faith in him as a manager.
John Keating
9
Posted 15/01/2016 at 18:02:27
A big mistake letting Naismith go.
Not only is he one of the few players that appear to give 100% and get stuck in but what do we do if, God forbid, Lukaku gets injured.
Had we another proven goal scorer apart from Lukaku I might understand but we don't.
Tony Hogan
10
Posted 15/01/2016 at 18:07:51
Interesting that the photo on this thread shows Nais with the Captain's armband. He wasn't the club captain but certainly had a Captain's mentality. Big loss to the team and the club.
Martin Mason
11
Posted 15/01/2016 at 18:14:20
It's a shame because he's been a good buy but times have changed and I'd say that he isn't good enough for Everton if they want to go where we want them to. The key thing now is to replace him in the squad with a better player.
Christine Foster
12
Posted 15/01/2016 at 18:23:08
If we were evaluating our current squad and ranking them against skill, commitment, age etc you would have to say that he would rank considerably higher than Kone. Going forward as a club, he may not fit the aspirations of Roberto, that is where the problem lies, but unfortunately for Roberto, and us, it leaves the alternative as Kone, an ageing forward who makes little impact in his contribution to the team or to the strike force.
In the bigger picture neither player may not have the attributes needed by our manager, but if we had to pick a team today it would place Naismith well ahead of Kone.
Roberts is foolish placing all his eggs in Kone's basket should Rom get injured, it leaves a great big hole......
Jackie Barry
13
Posted 15/01/2016 at 18:28:13
Goals per game ratio about the same, neither if I am honest are good enough for Everton FC. I will take the money thanks. Move on, thanks for your service, great hat-trick..
Barry Thompson
14
Posted 15/01/2016 at 18:31:25
Not a great big hole, Christine, more a great big lummox.
Fran Mitchell
15
Posted 15/01/2016 at 19:06:11
Not gonna be missed much, value is about right. Most of his performances have been 5/10, with the occasional goal spread about.
Yes, he's often been used out of position, but still not at the standard we need. Kone is also not good enough, but I very much doubt we have anyone offering £8 million, or even £8k for him.
Hopefully the £8 million will be used towards signing some decent back-up for Lukaku.
Andy Walker
16
Posted 15/01/2016 at 19:16:19
I think he's being pushed out by our manager. Sad.
Les Martin
17
Posted 15/01/2016 at 19:23:00
Roberto says it has to be right for the player and club.

I can only assume that he has a replacement lined up or contingency plans should Lukaku become injured.

Personally I think Super Kev could do an excellent job if required.
Martin Mason
19
Posted 15/01/2016 at 20:01:09
Most managers are eventually brought down by showing absolute blind faith in players who perhaps were once good but no longer deserve it or who were perhaps never good anywhere but in the mind of the manager. RM has a fatal weakness in this respect.
A real shame because he's 80% to being the best manager Barcelona ever had. His visionary attacking strategy though isn't quite backed up by the answer to teams that can counter attack us and his blind faith in players like Tim Howard, Arouna Kone and even Gareth Barry will forever prevent him from making it to the top with any team.
I'll never forget the Liverpool regime under Shankly and Paisley or United under Ferguson which brutally ditched players at any sign of weakness. That is how it has to be.
Tony Doran
20
Posted 15/01/2016 at 20:03:34
A great person and decent player but we should have moved up a notch in terms of suitable players.
Si Turner
21
Posted 15/01/2016 at 20:04:27
Michael (#2),
I am not quite sure how you think he is the only natural finisher? I would argue Lukaku is a natural finisher and with a lot more ability that Naismith.
That being said I am concerned that if we sell Naisy and Rom is injured we end up with impotent Kone up front.
Michael Williams
22
Posted 15/01/2016 at 20:24:13
I think the club will survive this year without Naismith. They've done OK the last three games without him (small sample size yeah). Unfortunately, this is a club that probably needs some money coming in from transfers to try to get the stud players we really want.
Christy Ring
23
Posted 15/01/2016 at 20:35:50
Naismith always gives 100%, but limited ability. I'd take £8m and sign Austin, as Lukaku is the only natural striker we have.
Brendan Fox
24
Posted 15/01/2016 at 22:25:14
I wrote this in another thread and I'll repeat it in this thread.
I'd be gutted to see Stevie go. For me, he is not a starter unless Rom was injured but – as an impact sub to get in the faces of the opposition with a good goal poaching instinct – we have no other player who offers those attributes in that position.
He is a blend of Timmy Cahill and Sharpie played in the right position. Get rid of deadwood like Kone & McGeady long before Stevie!
Mark Andersson
25
Posted 16/01/2016 at 00:57:08
Martinez did the right thing in September keeping Naismith, if he let's him go now it's a gamble.
It's not like we're doing a Leicester city, I think Martinez sees Kone as an all-round better player.
Good luck to Naismith if he goes, I just hope the money is well spent.
Michael Penley
26
Posted 16/01/2016 at 04:44:40
Si (#20),
Lukaku misses a hell of a lot of chances considering he's the main target our midfielders search out in the box. If you look at the Chelsea home game, Naismith got 3 chances all game and nailed them all. If he were allowed to develop some kind of form like Rom is, who knows how good he would be?
Phil Sammon
27
Posted 16/01/2016 at 05:14:44
A blend of Cahill and Sharp??? He's not half the player of either!
Michael (#24),
Naismith has had so many chances in the first team. He was fabulous against Chelsea but has very often failed to make an impact. He's a second striker who we can't fit in the team. I like Naismith but come on... we need better if we're looking to progress as a team.
Henrik Lyngsie
28
Posted 16/01/2016 at 06:42:06
I would not like to loose Naismith. He is a very good impact sub. And then he gives us some tactical flexibility. He can play second striker. He can play offensive midfield and move Barkley a little further back if we are chasing a game.
At first I thought £8 million was a really good price for a sub. But what would it take to replace him. Some of the names I have seen like Austin would not go for ¥8 million and would not like to just be a backup. I could name many players I would rather see go than Naismith. Some would not bring a fee but they would get of the payroll.
Michael Penley
29
Posted 16/01/2016 at 08:35:42
Another thing – Naismith looked so much better with hair (main page pic). Why do players shave their heads? As if we all don't have enough time to go bald in our old age.
Dave Harrison
31
Posted 16/01/2016 at 13:01:14
Charlie Austin gone to Southampton for a pittance just now. Why are we nowhere near that deal?!
Peter Roberts
32
Posted 16/01/2016 at 13:29:44
Just seen that Dave. £4m is the figure quoted on BBC. Absolutely painful we aren't sniffing around that deal or have been touted in the media even.
Brin Williams
33
Posted 16/01/2016 at 13:36:28
Dave 30 Never was a fan of Austin - it was always Ford for me!
Dean Adams
34
Posted 16/01/2016 at 13:51:15
Brin. My preference is for Jags having bought one last year. So refined when compared to such inferior types!!. :)
Christy Ring
35
Posted 16/01/2016 at 14:27:25
Dave, agree entirely. Imagine selling Naismith for £8m, and getting Austin for £4m. Would have been a steal. Don't understand what Bob sees in Kone. Disappointed.
Mark Wynne
37
Posted 17/01/2016 at 20:44:11
What I gleaned from the pre-Chelsea press conference was that the reason Steven wasn't allowed to leave in the summer was that the bid from Norwich came in too late for the manager to draft in a replacement. Now, I know Roberto has talked about trimming the squad because we have a squad size specific to fighting on a European front, but that was also the case back in August. Does that mean then that if Naismith is allowed to move in this window then Roberto has an an attacking signing lined up?
I know the words "straw" and "clutch" may come to mind and Roberto is always coy about signings until the ink is dry, but that appears to be what he is implying.
No?
Jordan Maloney
38
Posted 17/01/2016 at 23:57:39
It's Kone who should be getting shown the door.
Simon Jones
39
Posted 18/01/2016 at 10:56:29
I see it's being reported that he's going to Norwich for £8.5M. They have bought one of our best players IMO. Not the most skilful, not the quickest, just a proper, honest bloke who tries his bollocks off. He could make the difference to Norwich staying in the Premier League.
Gordon Crawford
40
Posted 18/01/2016 at 11:13:45
It's obvious why we didn't go for Austin. We are as usual, putting all our eggs into one basket by going for one big signing. Just hope no one rocks the basket.
Gordon Crawford
41
Posted 18/01/2016 at 11:15:28
I also wish Naismith all the best. Really hard worker and a very honest bloke.
He will be missed I feel.
Martin O'Sullivan
42
Posted 18/01/2016 at 11:24:48
Good, honest worker, Naismith, but ... An abiding moment regarding Naismith this season was in the match away at Swansea. Having nabbed a hat-trick in the previous match you'd expect him to be really up for it in front of goal. In a match we could/should have won, one of the first chances falls to Naismith near the edge of the area. Control it and in on goal? No! He fluffed his lines, and I'm afraid that's the type of player he is in essence. OK but not good enough.
Fran Mitchell
43
Posted 18/01/2016 at 11:35:57
Austin is apparently on massive wages, which kind of explains why more clubs weren't in for him.
Besides, he isn't what we need. We need a left sided attacker and a keeper and another centre-mid with a range of passing to slowly take over from Barry.
Shelvey at 12 million would have been a great signing imo.
Of current premier league players, think we could go for Tadic and Forster from Southampton (recently back from injury).
Brin Williams
44
Posted 18/01/2016 at 11:41:31
Dean 32. Touche - You're not that two Jags fellow by any chance?
I really feel for that one!!
Peter Roberts
45
Posted 18/01/2016 at 12:17:34
Firstly what an absolutely amazing pro this lad is. A massive example to all those money grabbing mercenaries out there.
Got the absolute most out of his talent. His mental strength is something you wish you could bottle and give to our other players - we would be top 4 if they all were like Nais.
Good luck with whatever you do Nais - you will always get a good welcome at Eevrton. Top lad and very underrated player.
Fran Mitchell
46
Posted 18/01/2016 at 12:52:13
"Firstly what an absolutely amazing pro this lad is. A massive example to all those money grabbing mercenaries out there.
Got the absolute most out of his talent. His mental strength is something you wish you could bottle and give to our other players (...)Top lad and very underrated player."
Sorry, but I find this absurdly over-the-top praise.
Decent, hard working, run around a lot players are actually ten a penny. I am I only one who beleives he is being absurdly over-praised.
When he played on a regular basis, he wasn't good, nor consistent enough. Poor touch, too slow, lack of technique. He has a knack of getting the occasional tap-in, but goals from nothing, goals from further than 15 yards from goal, goal making crosses or defense splitting passes were nowhere to be seen.
He was a regular object of criticism, a player judged to be not at the level we want to be. Then all of a sudden he stops playing and we decide to shift him and he's turned into the Scottish Messi.
Yes, the fact the lad does some charity work is pretty decent. But a number of footballers do, even those foreign mercenary ones. Football projects in their home countries, raising money for palestine, ngo's fighting peadofilia and child trafficking at the world cup etc etc. Good on him for helping out, but let's not overdo it. He's a millionaire footballer with limited talent at the end of the day.
Peter Roberts
47
Posted 18/01/2016 at 13:25:29
Fran, your post summed up what many fans are guilty of - viewing a player by reputation and allowing that reputation to deceive their eyes.
You are not the only one who thinks he absurdley over praised but then again we have fans who believe that John Stones is perfect and can do no wrong, that Leon Osman should never have been a professional footballer and that Lukaku was only poor when the team didn't play to his strengths.
Some players can never win, they carry the burden of fans who have an unrealistic expectation of them vs other players. You see, Naismith playing well never suited many fans agenda. They decided very early on that he wasn't good enough and that judgement had to stick, despite him being a player who showed himself to be a big game player on more than one occassion.
No one is making him out to be a messi , its just ignorant fans who couldn't see a player who gave much more than he was credited with. Lets hope your marquee players have the same "ten a penny" traits that this lad showed for us. Sometimes a Ford is a better car than a mercedes - the problem is the name.... it doesn't matter to some that the merc is flawed, its not a ford and that is enough for them...
Brin Williams
48
Posted 18/01/2016 at 13:50:40
Naismith's first games were embarrassing. He was off the pace, and lacked the apparent skill set that would qualify him as an Everton regular. The fans jeered and shouted their abuse, they laughed and called for him
to be brought on when a substitute was wanted - all with ridicule and intended malice.
I know, I was there and I saw how those very same fans gradually grew fond of Steven, if not for his skills, but certainly for his graft, effort, determination, and no holds barred approach.
We all agree that graft and effort is not everything, but when others were showing no apparent interest in proceedings Steven always looked up for it and usually took the game by the scruff of the neck which was often enough of a catalyst to jump start one or two other 'more talented' players
who gave the appearance of not giving a fuck.
His off the field cameos are legend but the price and timing of his departure is probably right
Steven led by example - he is a fighter and will do well wherever he goes, whatever the fan's expectations of him.
Brent Stephens
49
Posted 18/01/2016 at 13:52:31
""Firstly what an absolutely amazing pro this lad is. A massive example to all those money grabbing mercenaries out there. Got the absolute most out of his talent. His mental strength is something you wish you could bottle and give to our other players (...)Top lad and very underrated player."
Yes, an amazing pro in my view - in an all-round sense, "pro" meaning more than just football ability.
Yes, a massive example to money-grabbing mercenaries - his contributions to the homeless etc.
Yes, got the most out of his talent - not great talent but he got the most out of it.
Yes, mental strength - wish we had that in spades in all our players (Delboy, have a look).
And therefore, yes, top lad - in an all-round sense.
Patrick Murphy
50
Posted 18/01/2016 at 13:55:37
Naismith, Osman, McGeady, Gibson, Lennon, Kone et al should be nowhere near Everton's first team and probably none of them should be at the club at all. All of them have provided moments to remember, most of them are good honest professionals, but if we want Everton FC to return to challenging at the top end of the table then the manager must bite the bullet and shift out as many of these players as possible. Some of those players he inherited and some he actually paid good money for but none of them are going to help take Everton to where we all want us to be. One or two journeymen players is acceptable but when a good proportion of the squad is made up of these type of players we aren't going to move forwards at the rate we want and these players are not plying their trade for free they are costing plenty of dosh in wages and perhaps preventing some of the younger players much needed first-team experience.

Andrew Ellams
51
Posted 18/01/2016 at 14:05:59
Patrick, I think slowly but surely he is replacing the so called deadwood. Byram coming in should see the end of Hibbert, Cleverly for Osman, Del for McGeady but it's not easy to unload these players as most of them are probably no longer premiership standards so their wages will always be stumbling blocks. Not to mention our own financial constraints that make a clean sweep of these guys pretty impossible.
Fran Mitchell
52
Posted 18/01/2016 at 14:10:46
Peter, I ain't saying he was woeful. It just appears people are seriously over doing with the praise now that he is going.
And what is this mental strengh of his everyone is talking about? When exactly has he shown 'tremendous mental strengh'? He's never ´played in high pressure games, never took decicive last minute penalties.
It's adjectives like the above that prove his level. A decent player. A good signing for Norwich, would do a job at Bournmouth and a struggling Swansea.
A team with 11 Naismiths? We had that under Walter Smith.
'Makes the most of his talent' - again, no one says that about top players. Its faint praise at its worst.
Nothing against the lad. A decent back-up striker.
I'm just astounded at the unbelievable praise he's receiving. Chelsea hat-trick apart, he never received such praise during his entire career.
Peter Roberts
53
Posted 18/01/2016 at 14:30:19
again Fran and Patrick - fans will always see what they want to see....
Everton won't win anything with players like Naimsmith, Gibson, Kone etc

But we won an 95 FA Cup final with Ablett, Jackson, Paul Rideout... we won the leagues and a Ecwc with players like Van Den Hauwe, Harper, Mountfield, paul power, Kevin Richardson.
Maybe we need to construct a merseyside galacticos with our net spend of £125.75 each year.....
Anyone who doubts Naismith big game appetite... he scored his first goal in front of the gwladys against Liverpool.
Of his 18 premier league goals for Everton 11 have come against Man City, Man United, Chelsea, Liverpool and Arsenal....
i'd call that a big game player wouldn't you?
Kieran Kinsella
55
Posted 18/01/2016 at 15:04:55
This is dragging out so the window closes before we have time to replace him. BK up to his usual antics
Fran Mitchell
56
Posted 18/01/2016 at 15:29:25
Indeed Peter, But let's anaylse that stat.
First of all, 18 Premier League goals. In over 100 games. Less than a goal every 5 games. How many assists? I don't kow, but doubt it is many.
But yes, good on him. He got the goals against the bigger clubs. But then ask yourself, why is that?
Maybe, due to the style of play against these clubs, when we score it is usually a tap in from a set piece having been under the cosh.
If we are a team that is to dominate other teams, control the game and score exciting goals then Naismith simply isn't gonna do it, and selling him is absolutely the correct decision.
No one said about buying galacticos. But you seem to equate British and 'hard-working' to great under-rated player, while foreign and skillful = expensive, lazy and mercenary. Which is totally absurd.
Tony Hogan
58
Posted 18/01/2016 at 16:13:31
Yes, we all know that Steven isn't a world beater, but he is the type of player we could make use of, far far better than Kone, and I can't think of anyone else to bring on as an impact sub apart from KM who Roberto obviously also doesn't like for some reason or other.
Good squad player who would have provided good service if he had been managed right by this clown who seems to be able to do what personally suits him, not what is best for the club.
You don't employ people because they are your mates, eg, ex-Wigan; my opinion is that he is makes decisions for the wrong reasons and it is worrying for the future of our club.
Peter Roberts
59
Posted 18/01/2016 at 16:41:07
Fran, you really are desperate to discredit the lad aren't you?
Why does it bother you so much that people have taken to giving his deserved praise? Not excessive praise, more like admiration and respect for becoming a valued squad member who overcame so much "opposition" for want of a better word.
I see you are adept in the art of spin – unsurprising being an Everton fan under the Elstone regime... you mention Naismith's 100-odd games, why would you do that instead of minutes played (after all we all know he rarely got full 90s – especially as a striker).
More to the point, why not analyse Naismith's chance conversion and goals per minutes after stripping out his right-midfield games??? Is that because the statistics are pretty damning against your case of "Nais bashing"... have a little nose go on, pretty easy to find a good article about this... you will be disappointed.
I will summarise it as this – he has the best chance conversion, the best goals per minutes played and highest shooting accuracy at the club.... but it's not about that. I'ts about giving the player the recognition he deserves.
Mike McLoughlin
60
Posted 18/01/2016 at 19:29:50
I will be sorry to see Steven Naismith go. A real 100% player who never stops running. I feel he is blue through and through; I wish him well in his career at Norwich.
Fran Mitchell
61
Posted 18/01/2016 at 19:57:59
Not at all desperate to discredit him. However I think due to his sale, there has been an incredible amount of over-the-top Naismith love-in going on.
He has been a decent player for us, not great, not unique, nothing that we haven't had before or will never find again, but decent. A decent squad player.
Yes, unfairly used at right wing – but would you really have him as No 9 in a team that plays one central striker?
He was decent. But is not the type nor calibre of player we need, and the sale is good business for club and player alike.
Let's not exaggerate a player's influence – he's a football player, just cause he didn't demand a move or spit at the fans doesn't mean we have to give him eulogies like we're the best man at his wedding.
Brent Stephens
62
Posted 18/01/2016 at 20:06:26
Fran (#56), you don't seem to be able to grasp the fact that most Nais fans like me have never gone "over the top" about him as you say (although that's one of the things that we like about Nais, that metaphorically-speaking he'd always go over the top for us).
You say he's not a great player – I don't know that anybody on here has called him a great player (I haven't read every single post, so correct me if I'm wrong).
Add Your Comments
In order to post a comment, you need to be logged in as a registered user of the site.
Or Sign up as a ToffeeWeb Member — it's free, takes just a few minutes and will allow you to post your comments on articles and Talking Points submissions across the site.
© ToffeeWeb