Jagielka frustrated by Atkinson's 'arrogance'
28/01/2016

113 Comments [Jump to last]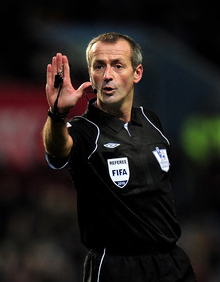 Not for the first time, Martin Atkinson was at the centre of controversy in a match involving Everton
The controversy over Manchester City's second goal in last night's League Cup semi-final decider has been further inflamed by accounts of referee Martin Atkinson's handling of the match and reports that Roberto Martinez will seek showdown talks with PGMOL chief Mike Riley.
Phil Jagielka described as arrogant Atkinson's attitude to his failure to spot a clear goal kick in the lead-up to Kevin De Bruyne's strike that put City 2-1 up on the night and revealed further frustration at a peculiar decision to award a foul throw against John Stones.
"It was a weird one," Jagielka told BBC Radio Merseyside after the final whistle. "Obviously Raheem [Sterling] has had a big touch and, playing football you pretty much guess that is going out, and then instead the ball has been fizzed back across and it has gone in the goal.
"It did happen quite quickly but the way things have gone in the last few games, people can't see offsides and people can't see the ball out of play... We are obviously feeling a bit annoyed at some of the decisions we have got recently.
"I tried to (speak to the referee). He just told me that our defending was brilliant, so it is difficult when things start going the wrong way and they become a little bit arrogant — but unfortunately that is the way it goes.
"If he made a decision wrong, or he didn't see it, that is what happens, but sometimes when you go and speak to people and, in such big games, get the answers you get it is that little bit more frustrating.
"We've not stopped. You keep going, it was still a great cutback and a great finish but the replays show it is not just an inch or so out.
"You expect the officials that are supposed to be of a high standard to spot that," the skipper continued in reference to Atkinson's sarcastic comments, "but this obviously wasn't one of those nights. Unfortunately the ball was out of play, I'm pretty speechless.
"City played well. They hit the post and all sorts of stuff like that. I am not stupid enough to realise that, but it is just frustrating.
"It's a bitter pill to swallow when you get in the changing room and realise the goal that changed the game was so far out. I am not saying it is the best we have played but we certainly didn't get anything out for what we put in there."
There have since been suggestions made that Jagielka could be hit with a fine over his comments to the media regarding Atkinson who famously sent off Jack Rodwell for a legal challenge in a Merseyside derby at Goodison Park a few years ago.
The Blues, meanwhile, must pick themselves up now and head to Carlisle on Sunday looking to progress to the Fifth Round of the FA Cup, surely the team's last chance to redeem another disappointing season. Jagielka doesn't see it that way, although he does feel as though a win against the League Two side would provide a lift.
"I don't think it is to save the season, but at the end of the day it can make the season," said Jagielka. "Things aren't going as well as we would like in the league. A good run in the FA Cup can make things a lot happier, similar to what the league has done.
"There is only one way to do that – go to Carlisle and get a result.
"We have got to try to put some sort of run together to give the fans something to get their teeth into for the remainder of the season. It is important we get our heads up and get back on the ball on Sunday."
Martinez, meanwhile, is reportedly seeking urgent talks with Riley about this and other key decisions that have gone against his team recently, most notably the time added on and an offside goal at Chelsea a fortnight ago.
Quotes sourced from Daily Express
---
Reader Comments (113)
Note: the following content is not moderated or vetted by the site owners at the time of submission. Comments are the responsibility of the poster. Disclaimer
Nick Page
1
Posted 28/01/2016 at 10:46:52
Jagielka's comments on Twatkinson, telling him "our defending is brilliant" apparently laced with sarcasm? If that's true then the club should go public with it and shame the arrogant bastard.
Questions need to be asked the standard of officiating in this country and the potential corruption. We've been done now so many times its no coincidence in my view.
And look at the Lukaku chance right before half time - he blew up due to some infringement in the box! Unbelievable. More like to stop us scoring. Oh, and Martinez out.
Pete Edwards
2
Posted 28/01/2016 at 13:29:40
Wow, if Atkinson said that... something has to be done about it surely!!
Gary Hughes
3
Posted 28/01/2016 at 13:44:58
Just listening to 'TalkShite' talking about last night's game. Phil Jagielka and Leighton Baines pulled the ref at the end of the game and asked him to explain how they missed the ball going out before the goal. All he says is 'Did you see your defending through out the game'.
I'm angry they can get away with saying something like that without justifying there own actions but it's true.
Patrick Murphy
4
Posted 28/01/2016 at 14:20:02
Nick, The decisions were not the only reason(s) that Everton lost the tie last night, however, after a fairly even-handed display in the first period, it was obvious, almost from the first whistle in the second that Atkinson was going to give City every possible decision and advantage that he could get away with and he gave Everton no favourable decisions, particularly high up the pitch –- Osman got pole-axed not far from the City box, and he waved play on. Late in the game we had a half-hearted penalty shout but as is usual in these cases the Linesman flagged for offside or some other infringement, rendering any appeal void. Time is added on for celebrations and injuries when Everton are ahead or have a point, but somehow, that's all forgotten when the elite club has the scoreline in their favour... hmmmm nothing at all dodgy about that is there?
So it makes me believe that somebody from Man City, a player, the manager, official or somebody from the broadcasters had had a word in his shell-like and he altered his performance radically. Also why aren't players booked or admonished by the officials for constantly complaining as were practically the whole City team and as for the City manager waving imaginary yellow cards, talk about a lack of class.
The officials do it in nearly every game, they come out with a pre-conceived idea about how to officiate the match and what they see and don't see depending on who the participating teams are, it's a disgrace but we as supporters of every club have to take responsibility for it too, shrugging our shoulders at the latest incident but packing the stadiums to the rafters regardless of the bad decision making of the men in the middle.
When Hinchcliffe, now a fully paid up member of the establishment says something along the lines of "you can't blame the officials for missing that" then what chance is there of ever seeing a game which is refereed without bias?
If it had have been Chelsea, Arsenal, United or our neighbours on the end of that decision – the ball out of play – we would have seen a media frenzy about it and calls for Atkinson to be demoted, but because it was against a non-elite club it doesn't matter, these things happen, get on with it you crying bunch of wimps. Little wonder we have been pot-less for so long or that our record against the self-proclaimed elite clubs is so utterly abysmal.
Will Firstbrook
5
Posted 28/01/2016 at 15:03:19
I've seen the press concerning Atkinson's alleged comments to the captain after the match. If true, and I don't believe Jags is the type of player to make that up, then there really needs to be some follow-up action.
However, instead of demotion or the like my preferred action would be to have Twatkison officiate our next home match. Crazy you say?! Perhaps. However, in a season best forgotten, the prospect of him stepping foot in Goodison at present could serve as the most entertaining 90 mins of our lives – and the longest 90 mins of his!
John Jones
6
Posted 28/01/2016 at 18:53:52
Sorry for linking this article as it's from the Daily Mail who I'm surprised had time to write about us on this theme, in-between supporting the Nazi party or encouraging people to set fire to refugees and what not. But have a look anyway:
http://www.dailymail.co.uk/sport/football/article-3420897/Phil-Jagielka-shouldn-t-run-media-called-Martin-Atkinson-arrogant-Come-players-grow-bit.html?
Brian Porter
7
Posted 28/01/2016 at 19:52:38
Having read Phil Jagielka's comments about Atkinson I really do think the club should make an official complaint about this appalling man.
It is perfectly legitimate for a captain to approach the ref in a proper manner as Jags did, and question an incident on the pitch. For Atkinson to reply as he did shows his arrogance and unsuitability to handle big games.
Football is a multi-million pound business and it is vital, in mind of the current FIFA scandal, that those officiating in all matches can be seen to be doing their jobs without fear or favour. I doubt we'll ever see full time professional refs/linesmen but something has to be done about the general standard of our so called top class officials.
A good referee is one who is hardly noticed and goes about his job fairly and ensures a free flowing game. People like Atkinson bring the sport into disrepute by the mere hint that they are not fair and impartial.
As for us, until Martinez is gone I can't see us progressing any further than mid table mediocrity at best or relegation dogfights at worst. Most of our lads did well last night, but without proper leadership and with Martinez taking off our main attacking threat we were on a hiding to nothing from the moment Kone replaced Deulofeu.
Peter Laing
8
Posted 28/01/2016 at 20:40:20
Problem now with all of these referees is that they have got huge, inflated egos. It's becoming worse and worse and bordering on corruption in my opinion.
The days of technology being used in almost every other sport regarding contentious decisions suggest that Football is seriously lagging behind. Regardless of people's opinions on Martinez, that decision by Atkinson could, and in some people's eyes should, have cost him his job.
John Jones
9
Posted 28/01/2016 at 20:44:25
We didnt lose last night because of Atkinson, regardless of whether the ball was out or who was on or offside.
We lost because of tactical ineptness. Osman started... and offered what Osman now offers: zilch; puzzling substitutions and no idea of how we were going to get out of our own half in the second half.
Do people actually think, if the second City goal had been ruled out of play correctly, that they wouldn't've scored anyway? It was on the cards and would've happened regardless. That doesn't make it okay or any better to take but it does point to the fact that they were better than us and we had pretty much no idea of how we were going to try and win that game.
Sam Fitzsimmons
10
Posted 28/01/2016 at 20:44:57
To paraphrase Benjamin Franklin:
In this world nothing can be said to be certain, except death and taxes... and corruption in football.

Will Firstbrook
12
Posted 28/01/2016 at 20:55:12
You can bet your life that call would never have been missed against one of the Sky darlings. And you can certainly bet he would never have dared to make a flippant comment like that to one of their captains!
We just don't have the financial clout or spine to stand up to these bent pricks. We are soft and willingly accept whatever treatment we get. Game is hard enough. Don't need tossers like Atkinson tilting the pitch even further against us.
James Stewart
13
Posted 28/01/2016 at 21:02:36
Atkinson along with Moss is probably the worst ref in the game. He has built quite the collection of shocking decisions in big games, how on earth is he still in a job?
That said, we had two penalty calls in our favour against City recently so it is a little embarrassing to hear Martinez harp on about it. Jagielka has every right to call out Atkinson though; good on him.
Paul Hewitt
14
Posted 28/01/2016 at 21:21:27
Although it was a terrible decision, we did have 5 defenders in the box were they had 2 players. Should have been able to clear it.
Ray Jacques
15
Posted 28/01/2016 at 21:24:12
The referee / linesman have made a mistake that resulted in a goal which changed the tie with 20 minutes to go. Whether City would have scored in that last period if the score had remained at 1-1 is purely conjecture. I agree that it is likely that they would have, but we will never know.
Officials make mistakes as do players and I can accept that. However, I find it totally unacceptable that a paid/impartial official would make the comments alleged to him by the captain of Everton Football Club.
If we have any pride as an organisation then our hierarchy should go through the requisite channels and make a formal complaint as to the attitude of this pompous official.
In essence this should be escalated and if our manager is truly heartbroken and believes this to be the cause of our demise last night then this should be done without hesitation. We should bring it out into the public domain and create a right stink until for once one of these tossers is brought to book for his actions..
Phil Roberts
16
Posted 28/01/2016 at 21:24:25
It would have been interesting if Stones, Jagielka, Baines, Barry, Barkley had all, one by one, gone up to the referee and linesmen and told them they were cheats and taking bribes etc. At that point, a decent ref would have brandished a red card and each one of them would have walked off the pitch leaving just 6 players on the field. At that point the referee would have to abandon the game. The FA would then award the tie to Man City, we would be fined, the players would be banned – but the reason for the red cards would have come to major media attention.
It would probably be worth it.
Ray Jacques
17
Posted 28/01/2016 at 21:27:20
Phil, I agree.
It is a matter of time I believe before a manager tells his team to walk off the pitch in protest at the performance of a referee in a top class professional game. I bet Mourinho has considered it many times but not seen it through.
Danny Broderick
18
Posted 28/01/2016 at 21:30:29
With the state of our defending, the priority should be toughening up and dealing with the real problem we have got. Not whingeing about a put down from a referee. Who honestly gives a damn what the ref said?
No wonder we are such a soft touch in defence ff we can get upset about a referee's comment ffs.
Craig Mills
19
Posted 28/01/2016 at 21:39:46
Martinez needs to stop feeling hard done by and sorry for himself, actions speak louder than words Bobby.....
Roger Helm
20
Posted 28/01/2016 at 21:46:20
I don't like to see players mobbing the referee but unfortunately it is part of the modern game to deal with the officials and because we are so nice and quiet referees don't mind giving calls against us. There are many marginal calls that could go either way and in that split second the referee has to be considering even subconsciously what the reaction of the players will be.
Also on his mind will be all the previous complaints and comments. Steven Gerrard was always talking to the ref. It is all part of the repertoire of sneaky and slightly shady tricks, not quite adding up to ungentlemanly conduct, that other teams have and we don't have – making the most of an injury to break up the game when under the cosh, taking extra seconds for throw-ins when winning, little niggly fouls in the opposition half to slow down a counter-attack; that sort of thing. Not nice, but what you need to win sometimes.
Steavey Buckley
21
Posted 28/01/2016 at 21:53:52
In most of Everton's important games, the referees and their assistants have helped the opposition by not spotting obvious 'calls'. If this carries on, Everton are in for a difficult rest of the season.
Dick Fearon
22
Posted 28/01/2016 at 22:03:19
What surprises me is that Jags actually voiced something that happened. Admittedly it was long after the game ended but it is a breakthrough for the quietest team captain in the league.

Other captains are seen to be constantly disputing decisions and geeing up team mates. Jags' attitude is a flow on from that of Martinez who never has a harsh word for any player regardless how many and how bad are his stuff ups.

Hopefully Roberto and Jags are coming to realise that being 'everybody's friend' is not doing the club any favours.
Trevor Lynes
23
Posted 28/01/2016 at 22:06:02
The fact is no one has ever heard Jags complain when we lose a game. He is never involved in idle chit chat and as captain he does have the right to question the referee. Atkinson gave a stupid answer and should be reprimanded as if he was a player he would be fined or suspended.The likes of Keane, Ferguson and Co at Man Utd used to berate the referees at almost every decision against them but Jagielka is not of that ilk and should be treated respectfully. Even Martinez has never lost his cool until the past few games when decision after decision has been palpably wrong.
Ian Riley
24
Posted 28/01/2016 at 22:12:08
The Premier League is a global brand. A multi-billion pound league. Referees across Europe's top leagues should have been pooled. English referees travelling to France, German referees coming to the Premier League.
Everyone believes this would cause bribes and corruption. How? If a European law stated any match official, manager, and player involved in match fixing would receive a minimum jail term of 20 years may deter such behaviour.
The pool of Premier League referees is to small. Any small group which hold influence over decision making hold enormous power. A European pool of referees would develop the standards of both referees and players behaviour.
If English football had embraced the official behind the goal-line, the ball over the line last night would have been seen!!
On a more simple note, if we defend better, we may not need to moan about crap officiating!! Just a thought!!
Tony Abrahams
25
Posted 28/01/2016 at 22:22:14
Danny I definitely care about what this ref said. The issue is not the game itself here, rather what this cunt has said after cheating us. Whether we would have still lost is immaterial, but if I'm in the back row of the top tier and can see it, how can the officials not?
This fella has got previous were Everton are concerned, and if it was a genuine mistake, I would think it would be easier to take. But remembering Rodwell, why did we have to appeal, to get his red card rescinded? If the man was genuine, an apology he was wrong would have gained him some respect, but the bastard proved last night, he's got none of that for Everton.
I can never remember us getting a favourable decision off Atkinson, and to watch the man closely. although his demeanour never changes, I think he honestly does like making us suffer.
We have to be careful with this though, because the man with the whistle carries a lot of power, and it's very obvious these professional referees, pull rank.
Tony Abrahams
26
Posted 28/01/2016 at 22:27:34
Ian Riley, great post. As you said, the pool of refs is way too small in this country, and for most teams, familiarity really does breed contempt.
Colin Glassar
27
Posted 28/01/2016 at 22:27:55
Not to harp on about last nights "ref" but I've been saying this for ages now, the refs in this country are rubbish and only getting worse. The likes of Atkinson, Clattenberg and Moss love to cozy up to the prem darlings.
I remember refs having nice little chats, and smiles, with Creasehead, Lampard, Beckham et al during games and glaring at lesser known players while brandishing reds and yellows. One law for the rich and one for everyone else.
John Jones
28
Posted 28/01/2016 at 22:29:47
I don't think its corruption but I totally agree that certain referees dislike certain clubs based on past instances. Atkinson as an individual is arrogant you can tell that just by the way he runs!
The problem for me is that the game and refereeing havent kept pace, think of it like this, twenty years ago you had unfit fat men playing football and the matches refeereed by unfit fat men. Now you have professional athletes playing football and the games refereed by unfit fat men, the linesman arrived at the by line as the ball was bulging the net.
Peter Askins
29
Posted 28/01/2016 at 22:34:41
You make some good points, Ian @ 18.
I've often thought that in the last few years, we've had much better referees in our Europa League campaign. Conversely, the English "big four" in the Champions League often get decisions given against them by these same continental referees, that the likes of Clattenberg and Atkinson give them routinely in the Premier League.
People are right in posting that we are too nice and accepting of refereeing decisions. Maybe this is because the players are following the lead of Martinez, but hopefully this revelation by Jags, and the recent outbursts by the manager, will lead to more aggression shown towards the officials. This never did us any harm back in the glory days of the eighties, when Peter Reid, Andy Gray, Pat van den Hauwe, and plenty of others, would form a disorderly queue to tell the referee exactly what he should do next!
Brent Stephens
30
Posted 28/01/2016 at 22:40:34
There's no respect between players and refs, is there.
Danny Broderick
31
Posted 28/01/2016 at 22:40:54
Tony,
Whether the ball crossed the line or not, you play to the whistle. Their lad had a free shot on the penalty spot. Let's get our own house in order first.
I just don't share this sensitivity at a referee's comment. This would have been taken as standard years back. A player tells a ref he is having a stinker - the ref tells the player he is not playing very well himself.
ps: I don't buy your theory that the ref cheated us. He got the call wrong. Sterling was running at a hundred miles an hour, the ball crossed the line for a milli-second. The ref and linesman couldn't see it from their positions – it happens.
I'd much rather hear from our captain and manager that our defending has to improve and that they are going to work their guts out to make this happen, rather than hearing how we have been unlucky, or that it was the ref's fault, or that the ref was rude to our captain etc.
Chris Owens
32
Posted 28/01/2016 at 22:44:06
I agree with Danny [13] and Craig [14]. We lost because we can't defend. Stop whingeing and get it fixed, Roberto.
We'd have lost the league game there too, if the referee hadn't helped us in the last minute. Swings and roundabouts.
Dave Bowen
33
Posted 28/01/2016 at 22:44:21
Have to disagree with John @ #6. Goals win games. If the ref had spotted the bleeding obvious, that the ball was out of play, the goal wouldn't have stood and we'd be still 1 up in the tie. How many times have we seen home teams batter the away side yet come away with nothing. Barca v Chelski comes to mind. City would have got more desperate and left gaps at back the err pace of Kone could exploit. (Ok I'll work on the 2nd bit!).

Once that 2nd goal had gone in, there was only 1 winner. The offsides and penalty shouts are the refs interpretation, ie could go either way. That being said, Martinez can still do one.
Andy Crooks
34
Posted 28/01/2016 at 22:44:28
John Terry quoted last week's referee as saying, " They've over- egged the celebrations, John, you have seven and a half minutes", In my view that demonstrates bias, mateyness and collusion. Why have our club not complained?
We get treated unfairly because we are easy to treat unfairly. Referees fear some clubs and managers. No team, player, official or pundit fear Everton. We are a soft touch on and off the field and it is shameful.
John Jones
35
Posted 28/01/2016 at 22:45:19
Totally agree, Danny!!!
Joe O'Brien
36
Posted 28/01/2016 at 22:45:46
Arrogant fucker. I hope Jags does get fined for this, then that fucker might have to admit he did make that comment.
I hope this goes further. Unbelievable stuff that he said this and it's reported that that other comments were made during the match. Unreal.
Tony Cheek
37
Posted 28/01/2016 at 22:47:12
It is definitely time to bring in video for big decisions like this. 50,000 people at the stadium and X millions of TV viewers can see that ball is out. The only ones disputing it is Atkinson and his goon squad! Something has to be done!
Why if we can get "Hawkeye" to judge if a ball is over the goal line, why can't it judge for the other lines round a pitch, which surely can be just as important!
Tony Abrahams
38
Posted 28/01/2016 at 22:48:21
Good point John. When I used to manage in Sunday football, we had one particular ref, who would give a free kick, then an offside from the resulting kick, because he was too heavy to do anything else.
No point arguing with him too much, because it's impossible to win. I remember suggesting an umpires chair would be great for everyone concerned, and especially so for him, because he was definitely heart-attack material.
He obviously thought I was taking the piss, but I actually wasn't, because his stop-start football was no good for anyone. A bird's-eye view, from sitting on a chair, near the halfway line, could only improve how a lot of games are officiated to me.
Andrew Presly
39
Posted 28/01/2016 at 22:48:56
The appointment of Atkinson was the closest thing to a guarantee that we'd get robbed. Anyone surprised by this wasn't paying attention previously.

Ray Jacques
40
Posted 28/01/2016 at 22:53:01
Why do you correlate our defending to the referees decisions? We all know we have to put our own house in order and learn to defend as it's been evident for 18 months. That doesn't give the man in charge of the game the right to basically say that whatever he does doesn't matter because you can't defend anyway!
It's not the refs fault we lost last night... but two wrongs do not make a right.
Nigel Gregson
41
Posted 28/01/2016 at 22:59:15
Dick – I agree. We are one Roy Keane away from actually being a very decent outfit. On-field leadership is really letting us down. Is it any surprise that we beat City when Mo Besic is in the team?
Geoff Evans
42
Posted 28/01/2016 at 23:04:41
He wants to be angry at a lot of other things right now and stop using the ref again as a smoke screen.
Who he'll blame after Sunday hell knows.
John Jones
43
Posted 28/01/2016 at 23:08:32
There aren't many more people left, Geoff; my money is on Charlie Dimmock.
Tony Abrahams
44
Posted 28/01/2016 at 23:14:19
Danny I'm not asking you to buy anything, I just think it was a disgraceful decision from a ref who has got previous with Everton. And to take it as something that would have been seen as standard, was as you said, years ago.
I said last night I never thought it cost us the game, I blamed the managers subs myself, but I just can't have it that both officials never saw it.
Danny if you haven't heard our players say, that we have got to improve defensively, then you must have been on a good holiday, so why can't they point out what that arrogant bastard of a referee said?
I'd sooner the players said nothing myself, because actions speak louder than words, and feel it is also the reason why we are going backwards under Martinez.
Maybe another problem is, it seems to me that most of these modern refs have never played the game. But to suggest that after running at, and then past Stones over a distance of 40 yards, that the ref couldn't see the ball was out, then it's obvious to me he's not good enough to officiate at this level. And wether he's a cheat or not shouldn't even come into it.
Ian Riley
45
Posted 28/01/2016 at 23:26:52
Geoff, fully agree. Martinez and the players need to concentrate on how we are going to get back on track! Our defending deserves no luck. Stop blaming everyone else. It cannot be a coincidence that our second half performance deserved nothing. When our attacking stops our defending stops. It's a cocktail to disaster!
The history of our manager tells a story. Your coaches are following your orders! The statistics are proving your methods are correct! The problem is our league position and cup competitions are suffering. Look again Reberto at the method you implemented at Wigan and at Everton. It's OK to change!!
Nick Page
46
Posted 28/01/2016 at 23:28:55
Seems again like all around us are strengthening and we are buying U21 prospects and loaning a striker back to his home club probably in the vain hope that Lukaku stays in this window. If I was Rom/Stones I'd be off as this manager is a clueless, arrogant man who is alienating the support.
I remember saying how far we were falling behind last summer with the lack of transfer activity and being shot down by certain posters. The club is in a total mess. In a season where Leicester City are top of the pile we have missed out massively due to the shocking management of this once great club.
Oh, and we're unlucky.
Tony Abrahams
47
Posted 28/01/2016 at 23:35:38
It's okay to change, Ian? Don't tell him that because he changed a perfectly well balanced counter attacking system, last night, and left us with a big hole down our right side, and no pace in which to counter!
Tom Bowers
48
Posted 28/01/2016 at 23:43:12
Without a doubt Everton have been ''crucified'' by bad officiating this season but let's not say they are responsible for the teams downward slide in the last 6 weeks.
Something is drastically wrong when a team can concede 3 at Bournemouth, 3 at home to Leicester, 4 at home to Stoke and 2 at home to Swansea as well as 3 at Chelsea and 3 at Man City.
You don't have to be a rocket scientist just a better strategist than Martinez.
Surely he won't be here much longer?
Phil Sammon
49
Posted 28/01/2016 at 23:56:28
Atkinson made some bad and costly decisions and he is also out of order for what Jagielka reports him saying. However, as much as I dislike a lot of these men in black, the abuse they get from players EVERY game is ridiculous. Are they just expected to take it and not give anything back?
John Hughes
50
Posted 28/01/2016 at 23:56:38
I still can't comprehend the fact that Sky control the Premier League and are allowed, quite legitimately it seems, to run a betting business alongside it!
As somebody else mentioned earlier, if one of the 'Sky darlings', including our neighbours, had been dealt such an injustice, there would have been hell to play. The banner on the front of the Daily Telegraph said it all for me this morning: "Ecstasy and agony – City reach final but suffer injury setback" says it all really.

Tony Abrahams
51
Posted 28/01/2016 at 00:00:40
Doesn't seem the type to take too much abuse Martin Atkinson, and is possibly the reason why Jagielka has gone public.
Ian Riley
52
Posted 29/01/2016 at 00:46:57
Tony, last night aside. Unless something changes formation, players or style, a relegation battle could creep up on us. Conceding when you are winning on a consistent basis is down to the philosophy and training methods.
If Martinez cannot see the problem, it's over! The question is, can he or his coaching staff fix it!! The next three and a half months will tell us!
Colin Glassar
53
Posted 29/01/2016 at 00:48:03
Looks like Roberto is demanding a meeting with refs boss, Mike Riley. Ever since this weak-kneed toadie took over the position, refereeing standards have plummeted in this country, even his peers despise him for being a gobshite.
You're wasting your breath, Martinez, talking to this pathetic excuse of a man. One of the worst refs I can remember.
Andy Crooks
54
Posted 29/01/2016 at 00:54:54
I have defended referees for some time but every other sport seems to have cheats and I wonder if we have them in football. I do not necessarily mean bribes and that sort of skulduggery but just weak refs who like being mates with big name players... who like being on first name terms with them and who just purr at a mention in a ghosted autobiography as a good "player's ref".
People take the easy option and Everton and Martinez offer it.

Andrew Presly
55
Posted 29/01/2016 at 01:14:53
Andy, very fair of you to stop short of calling them cheats. But how can we explain the whistle that went right before half time when it looked like Rom had a free header? Yep, he missed the chance but that whistle was blown hard the minute it looked like the sitter it was. Unacceptable.
We lost to the better / richer team, I begrudgingly accept it, but that moment was a bigger telltale of plain old-fashioned corruption than the byline one.
Soul destroying. Also vintage Everton.
Douglas McClenaghan
56
Posted 29/01/2016 at 05:46:57
To be fair, Andy, as Colin says, Martinez is taking this matter further. I don't have much faith in RM these days but I am with him 100 percent on this.
Kevin Pready
58
Posted 29/01/2016 at 06:38:30
One decision I didn't understand was at one point when Stones was faffing around taking to long over a throw in and Atkinson reversed the decision and awarded the throw the other way. Obviously made no difference to the outcome of the game, I just didn't realised that was allowed.
Christine Foster
59
Posted 29/01/2016 at 06:39:53
Defending poorly and woeful refereeing decisions both determine key moments In every game. Did City deserve to win? Yes, but the deserving to win by effort alone is often never always enough but bad officiating destroys the game, it's value of effort put in and the luck on the night.
Bad refereeing changes results and it is happening too often to be just misfortune. There needs to be a referral to a video ref on such decisions, painful but it's the only way to go. Too much is at stake.
It's easy to feel there is a conspiracy here, but the only conspiracy is to ensure any 50/50 decisions don't go in our favor and give us nothing wherever possible against prefered teams.

Andrew Burns
60
Posted 29/01/2016 at 06:42:34
What Jags is saying is probably true, however just get on with it.
This, for me, actually is the sign of an all-time low at Everton when the players are complaining about decisions here and there. Jags, Bainsey and many others should be channeling their anger somewhere else, like in the dressing room, and towards the manager, the way the blues have been playing lately is shameful nothing more nothing less.
It is clear to see that confusion and uncertainness permeates the team on the field and that's down only to one person.
Guy Hastings
61
Posted 29/01/2016 at 06:51:10
George Best was persistently moaning and bitching at a ref about his poor decisions during on game, to which the ref countered, 'You're not having a great one yourself, George.'
Neil Pickering
63
Posted 29/01/2016 at 08:06:17
Blame the ref as much as you want. City should have had two penalties against us in the previous games, so we are even.
Martinez was probably secretly relieved there really was a big talking point in that game, as it detracts from his sheer ineptitude as a manager. Credit to him though he is the absolute master of media spin.
I think he just talks that much bollocks that the journos probably switch off halfway through the question they have asked him, and then can't follow it up with a probing question because they have forgotten what he has just said.
As far as Jags being quiet goes; I'm glad he's not like those other scumbags like Terry, Keane, Gerrard etc. As far as I'm concerned he is a fantastic captain and one of the best centre halves the club has ever had. If we didn't have him this season, we would be in the bottom 3, I reckon. He does Stones's defending for him.
Charles Brewer
64
Posted 29/01/2016 at 08:12:46
There is a famous clerihew regarding journalists which, with suitable changes fits this situation perfectly
There is no need to bribe freely
Thank God, the English referee
But given what the man will do
Unbribed, there is no reason to.
Tony Abrahams
65
Posted 29/01/2016 at 09:11:52
I personally think it's the formation Ian, closely followed by the style of play. Maybe not sure if you should put it down to one match, because as you say it has happened on a consistent basis, but if the players are coached to keep playing when they are two up at Bournemouth, then things might have turned out different.
Agree with you that it is how we are coached, because the same thing happens over and over again, and was the main reason are season collapsed last year, when an exasperated Goodison finally voiced their opinion when the players chose to just ride the game out once again, against QPR.
I sit and despair at our defensive positions sometimes, but just as he looks like he his going back to basics to try and solidify us, he goes and makes an absolutely crazy sub to fix something that wasn't broken (which was definitely the case the other night).
Dave Abrahams
66
Posted 29/01/2016 at 09:16:08
Ray (39) and Christine (58) both make good points, no-one is denying that City were not the better team and didn't deserve to win, no-one is arguing that Martinez is not helping Everton with the way he is running or ruining the team.
What they are saying is the referee was arrogant and out of order with his reply to Jagielka's complaint. It mightn't have changed the outcome of the game, it certainly did not help Everton and that is a fact.
Ray Roche
69
Posted 29/01/2016 at 09:39:01
Now, I KNOW this will sound like a "mate of a mate's hairdressers dog walker told me" type of story but it is true.
A pal of mine, season ticket holder at Goodison, is married to a RS season ticket holder. I know, marriage made in Hell. They are both working in finance, and some years ago attended a dinner in which the after dinner speaker was a former referee. I know his name but I won't publish it for obvious reasons.
Talking with the RS wife afterwards about a derby he'd refereed, he commented that he "Couldn't give them a penalty" after Nevin was brought down in the box for what was a nailed on pen. The guy was a Liverpool fan. I have sometimes suspected referees have their favourites, apart from the ones they are expected to favour like the Sky shower, but that really pissed me off.
I thought that they all had to confess allegiance to a team that they supported so that they would never be in a position where they were refereeing "their" team. All of the above is true and none of it surprises me.
Brent Stephens
70
Posted 29/01/2016 at 09:49:52
Atkinson is a poor ref and we were hard done by on Wednesday with the goal from a ball that was out, about which I'm still pissed. But I actually think his response to Jags, as well as being correct in its implication ("Your defending was brilliant"), is quite amusing.
Think of the shit which refs take from players in football compared to the relative respect for refs and their decisions shown in rugby, cricket, etc. A more serious issue is the reversal of that throw-in for time-wasting – where in the rules...?
Shane Corcoran
71
Posted 29/01/2016 at 09:55:39
Brent, did you not find a link the other night stating that it was in the rules?
Brent Stephens
72
Posted 29/01/2016 at 10:00:39
Shane, I did and tried to post a link but it didn't work. Didn't have time to try again as I was looking for more chips to spit. Will try again now. In effect I think it said time-wasting at throw-in can be a bookable offence without saying anything about giving the throw-in to the other side.
Ray Roche
73
Posted 29/01/2016 at 10:00:58
Brent, I think one of our problems is showing TOO much respect for referees. Every other team gets in their faces and protests every questionable decision yet we meekly accept everything, even when we know we've been wronged. No passion, no fire, success. That's us, that is.
Shane Corcoran
74
Posted 29/01/2016 at 10:03:10
Brent, I see.
Funny that Jagielka says Atkinson told him it was a foul throw as his mouth and body actions suggested differently.
Jake Lucas
75
Posted 29/01/2016 at 10:08:54
His comments were definitely unprofessional, but we are all wrong to turn around and moan that the whole world is against us, we've been on the wrong AND right side of some interesting decisions these past few weeks, just by memory:
For:
Lukaku potentially off side for Funes Mori's goal first leg semi's
Mirallas tackle on Navas in the first leg, no pen
Stones tackle on Sterling in the league, no pen
Against:
Terry goal v Chelsea, both over time and offside
Man City first goal second leg, Sterling potentially off side
Ball out for second goal
It's fair to say the officiating has been poor since the turn of the year, but we've had just as much luck as we've been shafted.
Brent Stephens
76
Posted 29/01/2016 at 10:11:08
Shane, Law 15 on throw-ins, and the supporting Interpretation, say nothing about reversing the decision on which team takes the throw.
Law 12 allows referees to caution players who delay the restart of play by tactics such as appearing to take a throw-in but suddenly leaving it to one of his teammates to take, or excessively delaying the taking of a throw-in or free kick; again nothing about reversing the decision on which team takes the throw-in.
This one should be challenged by Everton.
Brent Stephens
77
Posted 29/01/2016 at 10:14:30
Ray #69 "Brent, I think one of our problems is showing TOO much respect for referees."
Ray, I actually agree with that. Not getting in their face means they can make a 50-50 call against us knowing they won't get a verbal spanking.
Shane Corcoran
78
Posted 29/01/2016 at 10:19:17
Jake, fair play for a showing a bit of balance. It makes a change from the conspiracy stuff.
Brent, I think I'm right in saying Stones didn't actually get to throw the ball so yes, it should be brought up as it couldn't have been a foul throw.
Brent Stephens
79
Posted 29/01/2016 at 10:23:41
Shane, correction, I've just found Law 1 of the Sky Rules – "For whoever has will be given more, especially if it's one of the 2 Manchester clubs, Chelsea or RS".
I'm joking – they don't use the "RS" term.
Shane Corcoran
80
Posted 29/01/2016 at 10:25:56
Good man Brent. You had me going there for a few seconds.
Ray Jacques
81
Posted 29/01/2016 at 11:05:58
Ray (#65), I remember that incident well. It was a cup game at Anfield that ended 0-0 and it was at the Kop end. I think the game was played on a Sunday, Hansen chopped down Nevin and it was the tie that we eventually won 1-0 after the 4-4 draw at Goodison. It's the last time I went to Anfield as sitting in the Main Stand was unbearable.
We all thought we would go on and win the cup but, in true Everton fashion, we were beaten in the next round by West Ham in a night game.
Ray Roche
82
Posted 29/01/2016 at 11:23:51
Yes Ray, and, for those who think we're all conspiracy theorists who think that man never went to the moon, JFK was shot by the FBI and Elvis works in a chip shop, it's a true story.
Jake, I've no problem with showing a few incidents where we've had the rub of the green but if you include the pens given against us v Stoke City and Man City last season and the two red cards not issued to Man City players
And, if you look at, say, the penalty count for the Premier era...
Man City = 72
Man Utd = 76
Chelsea = 78
Arsenal = 72
Liverpool = 80
Everton = 50
Villa = 59
Spurs = 58.
Something of a disparity, I would suggest. Now, I know that there is a counter argument that the top sides do more attacking, but even when we finished top 4 or 5 we only got 1 and 2 penalties and our attacking play this season has resulted in... er... no penalties.
I think that there is a definite bias towards the teams that produce the most revenue for the Premier League and Sky in televised revenue.
Peter Carpenter
83
Posted 29/01/2016 at 11:24:13
Ray and Ray,
I remember it well. Nevin was cut in half by Gary Ablett.
Read the reports here:
http://www.lfchistory.net/Images/newspapers/riley/19910217vEverton.pdf
Peter Carpenter
84
Posted 29/01/2016 at 11:27:01
Note to Roberto Martinez from the Guardian report;
Howard Kendall chose to bolt and chain his defence by adding Keown to Watson and Ratcliffe and bringing in the Dutchman Atteveld to clamp Barnes. The ploy worked perfectly...
Now there's an idea for the next time we are ahead in a cup tie. Oh, I forgot, we don't want to be that kind of team.
Ray Roche
85
Posted 29/01/2016 at 11:28:07
Thanks Peter, that's wound me up sufficiently...
Peter Carpenter
86
Posted 29/01/2016 at 11:33:05
Ah, the days of proper derbies! McMahon carted off to hospital after attempting to put John Ebrell there...
''His shin pad has gone to hospital,'' Howard Kendall, the Everton manager, said.
Patrick Murphy
87
Posted 29/01/2016 at 11:41:48
Funnily enough, that Anfield game was also the last time I made the journey over the park, due to another unbelievable refereeing decision at that venue. I continued to support Everton at Goodison, but my away days became less frequent and came to an end a few years later.
My enthusiasm and belief in fair-play had been worn down, that was nearly a quarter-of-a-century ago and not much has changed has it? Never mind... we keep going in the hope that the Blues can overcome the odds and win something – and soon.

Charles Brewer
88
Posted 29/01/2016 at 12:17:58
On the question of reversing an award for "time-wasting". We'd better watch out if ever get a penalty from Atkinson, because on the basis of that throw-in, if Baines (for example) were to take too long preparing, presumably he could award the penalty to the other team instead.
Tony Abrahams
89
Posted 29/01/2016 at 12:35:49
I wonder if we have ever had a penalty off Atkinson, because he's certainly refereed us enough times?
Dave Abrahams
90
Posted 29/01/2016 at 12:40:19
Ray (#77) – are you sure it was the Kop end?
The same referee did the second match, going into the ground before the match, at the Stanley Park end, my mate asked him why he didn't give the penalty, he just shrugged and smirked, I had to grab my mate to keep him off the bastard.
Don't know if he did the third game, when Dave Watson scored the only goal, we've been robbed by those horrible 'ashamed of nothing' cheating bastards for years and some of those decisions definitely cost us plenty.
Anto Byrne
91
Posted 29/01/2016 at 12:42:47
Sarcasm or not, the defending was brilliant: a half-hearted attempt by Baines with his heel to stop a shot, Stones is not a right back and got skinned by Sterling and the amount of space and time afforded to Aguero and a free header.
I don't agree with all this unlucky nonsense and poor refereeing decisions, the fact is that the other team has played to the whistle, made a chance to score, and we have failed to deal with it.
It's not just an isolated incident, free headers given to Crystal Palace, reckless penalties, silly mix ups, defending too deep and not pushing out for offside thus the Chelsea Terry offside the linesman missed. It's not just Everton – it happens every week in the Premier League and the only way to fix it is to introduce camera replays just like cricket LBWs.
It will fix the debatable and questionable decisions and show the cheats who should be red carded. The ref can call the third umpire and cover his arse. I would start with all Premier League games and crucial cup games.
Patrick Murphy
92
Posted 29/01/2016 at 12:46:43
Dave (#86),
My memory is that it was at the Anfield Road end.
Ray Roche
93
Posted 29/01/2016 at 12:52:54
This article might be of interest, OK, it's about the other lot but it does underline some of the thinking that is going on on here.
http://basstunedtored.com/2012/10/25/whos-the-ref/
Dave Abrahams
94
Posted 29/01/2016 at 13:12:02
Patrick (#87), that's what I thought, whatever end it was it was, a nailed-on penalty.
Gary Mortimer
95
Posted 29/01/2016 at 13:12:36
Jake @71
You don't mention the 2 Stoke City incidents. Jeff Cameron takes out Coleman – No penalty.
John Stones plays the ball before Arnoutovic trips over him – Penalty to Stoke.
Or the Ashley Williams and Neil Taylor hand ball shouts v Swansea
All the penalty decisions are all based on the Referee's opinion. Lukaku and Sterling offside decisions are based on Linesman's opinion of whether they were active (imo – if they are on the pitch... they are active).
Jon Terry's offside and the ball out the other night are simple yes or no decisions – which went against affecting the results of both matches.
I think borderline decisions go against us far more often than they go for us. The reasons for this are:
* We are a soft touch – there is no Captain in the ref's ear all match (a la Gerrard & Terry),
* Referees aren't mobbed like gulls targeting a kid with chips at the seaside, when decisions go against us (a is every professional team in the world):
* The media never care when it is us on the receiving end (as Hinchcliffe's comment the other day confirms);
* The manager is too nice and wants to be everybody's friend.
The fact there seems to be a glut of deflected goals also flying into our net also heightens the feeling of being hard done to.
We all know that defending better would solve a lot of our problems, but when the officials and lady luck go against us too, it becomes a case of siege mentality.
RM spouting nonsense after each match just makes things worse!
Pete Edwards
96
Posted 29/01/2016 at 13:20:12
There's no danger in Jags being fined or asked to clarify his comments as this would mean they would have to speak to Atkinson and they couldn't have one of their own publicly questioned or outed, much like how the FA didn't charge Martinez for saying the ref was abysmal at Chelsea.
So, until this changes, nothing else will and we will continue to see crap seemingly biased performances by the Premier League refs!
Jake Lucas
97
Posted 29/01/2016 at 13:33:58
Gary
Good points well made, and I do agree (the decisions I picked were just the one's that has stuck in my head in recent weeks)
We also haven't had a share of the luck, deflected goals for, eg, one against Swansea City and Man City in the space of 4 days. I suppose it's the fact some people think if we'd had a better rub of the green our season would have been dramatically different, when the simple fact is we just have not been good enough, plain and simple.
I'm 27 and have been supporting/following Everton since I can remember (for me that's since '95), throughout the late '90s and '00s we played worse than this, relegation survival being priority #1 nearly every season. I still enjoyed watching us play because, with the squad we had, they were the only expectations we could ever really have.
Moyes took us up a gear big time, and I feel left the club at the right time, I don't think he could have taken us any further, we needed fresh blood at the helm to take us to the next level. Until recently, I thought we'd made the right decision with RM; even when the majority on here were negative, I was patiently giving him time. But even I'm now starting to lose my patience, with the quality currently available to us, I think anything less than a top 6/7 battle is embarrassing.
Going back to my original point, yes we were unlucky against Chelsea, but we should know how to see a game out, yes we were unlucky against Stoke City, but at home we shouldn't be threatened with a draw let alone a collapse with 15 mins to go against a mid-table team.
Yes, we were unlucky against Man City on Wednesday, but if you want my honest opinion, even if it was disallowed I don't think that would have changed the outcome. We seem to be spending a lot of time dwelling on the past, when we need to brush ourselves off and focus on the next game.
Again, just an opinion, but looking through pessimistic eyes for one of the first times in my lift I think that's the honest truth.
Geoff Evans
98
Posted 29/01/2016 at 13:34:00
Is it me or does anyone else think we can only play for about an hour?
Paul Andrews
99
Posted 29/01/2016 at 13:39:07
Patrick,
My memory was the tackle was made by Gary Ablett?
Peter Cummings
100
Posted 29/01/2016 at 14:14:08
The standard of 'Officiating' in football is at an all time low, with both the FA and referees still taking the view that they can do no wrong even if it is blatantly proved to be otherwise.
So many decisions are proved wrong by replays that it is reaching epidemic proportions, offside calls especially are given if the 'offender' has the width of a toe or head showing past the line and in dozens of cases not offside at all, Also now being tolerated on a regular basis are the penalty area 'wrestling matches' which are never called or given to the perpetrating defenders.
With most grounds now equipped with giant TV screens it is a total disgrace that this technology is ignored when instant replays are available in seconds yet is used as evidence by the FA to decide player punishment or innocence, As a lifetime Everton supporter and while I agree that we have more than our fair share of wrong calls and ref bias this official incompetence is now widespread in our game and needs addressing ASAP.
Peter Carpenter
101
Posted 29/01/2016 at 15:37:24
Geoff, that's bloody H & S again!
Alan Thompson
102
Posted 29/01/2016 at 15:58:49
I'm all for technology helping as it does in cricket and tennis but feel in football you could only appeal decisions when the ball goes out of play which may then see situations arise when it doesn't go out leading to howls of bias and/or disadvantage.
It must also be said that the hypocrisy and cynicism in football would probably see teams trying to use it to an "unfair" or time wasting advantage in a similar way to substitutions being used to slow an oppositions momentum in a game's final minutes. It must also be asked if we really want to slow the game in a similar way to American Football yellow flagging an incident.
It would appear that we must settle for clubs' assessment/marking of referees and the officials appointments being more open to scrutiny. May be the answer lies in having match officials front press conferences in the same way as managers.
Erik Dols
103
Posted 29/01/2016 at 16:08:32
Alan, in field hockey international matches teams can appeal for the video ref any time they want and in theory as often as they want – so even during play – but if their call is wrong they lose their right to call the video ref. Works surprisingly well. They could use it one time to slow down play, as I have seen happening in field hockey, but not more than that.
Won't digress further about the exact details but in field hockey, which is by nature a faster sport than football anyway, it hardly slows the game.
Jon Cox
104
Posted 29/01/2016 at 16:37:46
Can't see us ever getting video tech. in the Premier League.
That would result in a "level playing field" for all. That just wouldn't do for the financial side of football would it?
We should never STFU about this. It should be screamed from the rooftops and officials shamed and questioned at every opportunity.
If it isn't about fairness then don't call it a sport. Why should I or anyone spend good and hard earn't money on something that I can't trust.
Alan Thompson
105
Posted 29/01/2016 at 16:42:16
Thanks, Eric, but I have to admit my knowledge of hockey is limited to one indoor game after which I was not asked back owing to my insistence on using both sides of the bat; bloody Australians!
Allowing only one incorrect call (cricket's two every new ball, for want of a better term) probably would not stop the dissatisfaction with poor refereeing decisions so it would seem that there has to be some follow up procedure.
I do have to admit that I do not know the depth of proficient match officials that might allow for referees to be "dropped" to lower levels or allow the promotion of others but a more open system might be a start.
Alan Thompson
107
Posted 29/01/2016 at 16:48:01
Eric, sorry, but just noticed on the replay it should have been Erik.
My apologies and assume that's my last chance. Well bully for me.
Ian Cowhig
108
Posted 29/01/2016 at 19:00:29
Atkinson's comment should be looked at by the FA. If you make a mistake, then normally you are humble. Not arrogant and sarcastic. Was he hoping for a reaction from Jagielka.
Ian Jones
109
Posted 29/01/2016 at 19:29:18
Anto @ 88 Re sloppy defending. Might have helped if McCarthy hadn't turned his back just as De Bruyne was crossing for Aguero.
Colin Gee
110
Posted 29/01/2016 at 19:41:06
When was the last time we got a penalty? I am struggling to remember us being given one this season.

Patrick Murphy
111
Posted 29/01/2016 at 19:42:42
Colin (#105) None in the Premier League since last season, 1 in the FA Cup against Dagenham & Redbridge, not sure if we got one in the League Cup... I don't think so.
Andy Crooks
112
Posted 29/01/2016 at 21:49:24
Jon (#100),
I think you might be right. I suspect there is a scandal about to hit football. I just hate conspiracy stuff but athletics is corrupt, tennis apparently, why not football? I have always respected referees and thought they were in it for the right reasons.
Now, well it is had to respect many of them.I fear that certain clubs carry weight with officials. They, I am fairly confident, are not getting financial reward, but are getting ego boosting familiarity. That, in my view, is why they do it, for recognition.
Certain types become policemen, and, with some honourable exceptions, certain types become referees. Can you imagine having a beer with any of them?
Ray Roche
113
Posted 29/01/2016 at 22:19:34
Andy, "Can you imagine having a beer with any of them"?
No.
But I can imagine headbutting a few of them.
Jon Cox
114
Posted 29/01/2016 at 01:12:12
Copy that Ray. It's that one time that it happens that opens your eyes. The genie is well and truly hard to put back in the bottle.
For me it was when Fellaini got pulled at Man City a few seasons back for holding a player in the box from a corner.
The result was a penalty for City. The question for me was why were there hardly any penalties from all the holdings from all the corners week in week out in the Prem?
It became really obvious. Since holding or grabbing your opponents neck is by any stretch a foul and is NOT given by refs, in the main, then it must be being used as a tool to disadvantage one team over another.
If questioned the ref will simply say that on the one hand he didn't see anything untoward as in the norm, or, he'll just say he saw it and blew for the foul.
The MO on this scenario is flawless.
I also commented on the Rom header just before half time. The whistle was effin blatant. Another good one for the refs is when a team score a goal blow the whistle for an infringement off the ball. It works every time. (And we all know where we saw that little gem.)
That little media shit ex ref Graham Poll agreed with Atkinson. But hey if you've got three yellow cards in a World Cup you may as well use them!
So I had to ask myself.
William Cartwright
115
Posted 30/01/2016 at 05:03:13
Andy (#107),
Why do you hate conspiracy theory stuff? It happens and the actual truth should always be the best, not the potentially sanitized version. That applies to warmongers, politicians, financiers, royal households, sporting power brokers, the police, and yes even referees.
The difficulty with conspiracy theorists is it is usually more difficult, imaginative and painful than being happy bunnies. Also whilst I accept that happy bunnies are usually more often right than conspiracy theorists, conspiracies doe occur, exist whatever.
Jon Cox
116
Posted 30/01/2016 at 05:27:45
Andy, hope you're right about a scandal, we could do with a clear out.
The term "conspiracy theorist" was coined by one section of society to stop the other section of society from asking to many awkward questions.
Steven Jones
117
Posted 30/01/2016 at 14:20:30
Those taking the opportunity to point out if we defended better, if we pressed and tackled and made sure no one score against us and we take our chances and score more and win matches, then the referees decisions do not matter – then please sign up to the cliché bible and spout some more.
These type of statements are yawningly obvious truisms. They are also a boring insult to the intelligence behind which anyone with a balanced view can see it is veiled or unveiled criticism of the club. Whether that be Bill, The Board, RM or Jags, it is just plain boring.
The plain truth is we got to a Semi-Final – we got knocked out unfairly as the rules are supposed to stand.
Yes, we have a young side; yes, the manager has emphasized a style of attacking play that does not emphasize defence first and forget about skilful passing attacking moves with advanced full backs.
Yes, RM is not renowned for his defensive set-ups.
Yes, we have a bunch of young talent that is evolving and will go through ups and downs.
Yes we have a goalkeeper situation that needs to be fixed – and so on.
However we got to a Semi-Final – RM has collected a set of young talent that is so much more valuable than previous squads – they are assets we can sell... and are assets that hopefully can develop into a top 4 or 6 side with great potential.
And most pertinent fact of this match is an out-of-play goal – even if they score the second anyway, then we go through on away goals. Opinion – but if that goal doesn't stand then we weather the storm – no encouragement to City players or fans, and we secure possession and build our confidence and we play out the game easily.
It is plain injustice. (Technology is needed – or just a slight change in rule to allow 4th official to pull play back even after a goal is awarded.)
John Keating
118
Posted 30/01/2016 at 14:41:31
I see Land Rover have stopped making Defenders..... about 2 years after Everton...
Kp Li
119
Posted 30/01/2016 at 18:52:47
I think the ref should be made to wear a camera on his head, what the ref see's we see.
That will be the future!! You heard it here first..
Add Your Comments
In order to post a comment, you need to be logged in as a registered user of the site.
Or Sign up as a ToffeeWeb Member — it's free, takes just a few minutes and will allow you to post your comments on articles and Talking Points submissions across the site.
© ToffeeWeb