Everton sign Baye Oumar Niasse
by

202 Comments [Jump to last]
| 01/02/2016
Senegal striker signs on until 2020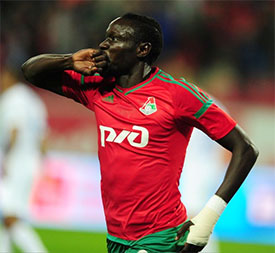 Everton have finalised the acquisition of Oumar Niasse from Lokomotiv Moscow in a deal worth £13.5m.
The 25-year-old underwent a two-part medical today before wrapping up the formalities of personal terms and inking a four-and-a-half-year contract at Finch Farm this evening.
He has qualified for a work permit via the new Exceptions Panel for foreign players in England but is awaiting a visa so he will not be eligible for Wednesday's game against Newcastle United.
Relatively unknown to most observers in the Premier League before this week, Niasse becomes Evertonís third-most-expensive signing in the clubís history behind Marouane Fellaini and Romelu Lukaku.
Reportedly scouted by the likes of Manchester United, Chelsea and Tottenham and approached by Monaco and Bayer Leverkusen recently, it has been revealed that Everton have been watching him closely since October. He is believed to favour a move to the Premier League and the northwest in partcular to be close to his wife who works in Manchester.
"I know Everton is one of the big clubs here in England, with history, fans and great players. It's a big dream to play for them," Niasse is quoted as saying by BBC Radio Merseyside.
It's a great day for me because it's a big dream to be in the Premier League. And it's also a dream to play for Everton so I'm very,very happy and excited to be here.
Oumar Niasse
"The manager believes I am a player who can add something to the team. It was not difficult to understand and talk to each other.
"I started to watch [them[ at the beginning of October when I heard of their interest. They have good players and a good coach."
The Senegal international is described as having blistering pace and ability to lead the line on his own. ToffeeWeb spoke with Russian Football News writer Ilya Sokolov who explained that, "unlike many foreigners who come to Russia, Niasse didn't lose his passion.
"He can shoot from distance, his opening is good, his dribbling is unpredictable. He has some problems with finishing, though. I hope it doesn't become a problem. In Russia he still managed to score many goals."
Writing for FourFourTwo, Michael Yohkin described Niasse's strengths and weaknesses in a bit more detail, explaining that he is quick and strong but is averse to using his left foot and needs to be feel wanted.
Niasse is a versatile and multi-talented player. He is very quick and physically strong, willing to take on any defender. His right-footed shots are fierce, and he is dangerous not only in the penalty area, but from long range as well. The Senegalese is good in the air and knows how to position himself. Having played on the flank in his early days, he possesses sound technical skills.

One of the Niasse's major strengths is his unselfishness. He will usually pass the ball when a team-mate is in a better position, and the number of assists he provided in Turkey and Russia speaks for itself. He is also a very hard-working striker who covers a lot of ground without the ball and loves to chase defenders. In short, he has a potential to become a good modern striker.
Niasse started his career at Ouakam in his native Senegal before moving on loan to Norway following a successful trial with Brann Bergen in 2012. He joined Akhisar Belediyespor a year later and was snapped up by Lokomotiv the summer after that, signing for the Russian club in a £4m deal.
He was named Russia's Player of the Year for 2015 having scored 8 goals in just 13 starts (with six assists) and notching two goals in four games in the Europa League. Only Brazilian star Hulk was involved in more goals in the Russian League last year.
VIDEO EXCLUSIVE: New signing Oumar Niasse says he's delighted to join the Everton family. #WelcomeOumarhttps://t.co/kmE0iqZ9Pk

ó Everton (@Everton) February 1, 2016
---
Reader Comments (202)
Note: the following content is not moderated or vetted by the site owners at the time of submission. Comments are the responsibility of the poster. Disclaimer
Lyndon Lloyd
1
Posted 01/02/2016 at 21:07:37
We absolutely needed another forward to lighten the loan on Lukaku's shoulders, someone more capable than Kone of playing with him
and
capable of scoring goals.
It was an area of the side that needed to be urgently addressed so I'm glad the club have moved to do so. Hopefully he can make the impact Martinez and Kevin Reeves believe he can.
We could have done with a fullback and a goalkeeper but this will do for now.
Mark Gardiner
2
Posted 01/02/2016 at 21:11:28
I don't want to put a dampner on this but I really can't get excited about this signing.
It doesn't really matter that we've signed a forward. We cannot defend and we concede two or three goals every game and the clown of a manager won't change his philosophy that seems to be that defending doesn't matter.
We will still continue to lose games and drop down the league as long as Martinez is in charge.
That said, I hope that I am proved wrong and I wish the new fella all the best.
Simon Smith
3
Posted 01/02/2016 at 21:15:09
We may not be able to defend, but all we need to do is just score 1 more than the opposition.... Job done!
Mark McLoughlin
4
Posted 01/02/2016 at 21:15:28
Is this early planning for a summer exodus?
Mike Corcoran
5
Posted 01/02/2016 at 21:15:49
Well, I never. Niasse one – though Mirallas's nose has been put so far out of joint by this that it's on the back of his head. McGeady out too,
Bill Griffiths
6
Posted 01/02/2016 at 21:18:21
Mark, are you down on this because you think we should have signed a defender instead or you don't think he's good enough?
While I agree we have problems defensively, I think they are more down to tactics and coaching etc rather than our defenders not being good enough.
We do however need another forward who can score goals to either support or replace Lukaku.
While it does seem a lot for a relatively unknown let's hope he can do the business.
Joseph Terrence
7
Posted 01/02/2016 at 21:19:26
Here's hoping he is a success.
Sam Fitzsimmons
8
Posted 01/02/2016 at 21:20:57
I know nothing about Oumar Niasse other than what I've seen on YouTube but can only wish him well and look forward to seeing him make the most of his chance in joining this great club.
Barry Morrison
9
Posted 01/02/2016 at 21:21:11
I hope he does brilliantly, but blistering pace with unpredictable touch and finishing makes me think of Bakayoko...
Dave Bowen
11
Posted 01/02/2016 at 21:22:20
Agree with most of Mark @ #1 says. However, with Lukaku's back-up being the less than prolific Kone, we needed someone else to replace Naismith. Unfortunately, he'll never get in the team ahead of Kone, as he's RM's golden boy. Defence still needs sorting of course.
Chris James
12
Posted 01/02/2016 at 21:22:43
Sounds promising.
Done the business in Turkey, Russia and for Senegal and seems to have good close control, pace and goal-scoring knack.
Just a shame we've feck all to play for this year.
Ged Simpson
13
Posted 01/02/2016 at 21:23:46
Brill... we got our man. Watch next season... and the cup.
Mark Gardiner
14
Posted 01/02/2016 at 21:25:01
@Bill #6
I don't think we needed to sign a defender no. I think that we have enough talented defenders already at the club but the way the manager dismisses defending as a basic part of what is needed to be successful means that those defenders are being made to look fools week in week out. I'm actually happy with the defensive talent that we have both first team now and the young players coming through.
I would have loved for us to spend big on a top class keeper but as long as calamity Tim can walk he will remain automatic choice.
Henrik Lyngsie
15
Posted 01/02/2016 at 21:29:57
The most expensive transfer in this window isn't it? We are outperforming everyone else on the financial side. Have we been taken over without me knowing?
Brent Stephens
16
Posted 01/02/2016 at 21:33:35
Not disappointed. Well done. This is the way to do deals. Last-day signing so we're not shafted on price by being seen to be desperate to sign earlier. Softly softly...
Eivind Nyhus
17
Posted 01/02/2016 at 21:33:54
Great with a real alternative to Lukaku. Being able to rest him now and again will do us a world of good. Niasse being able to aldo play wide is good news, if he and Rom gets a good striking partnership going and we'll get even more goals. Great not having to leave all the responsibility on Rom alone. Hope he keeps scoring and assisting!
Paul Olsen
18
Posted 01/02/2016 at 21:35:07
"They have good players and a good coach."
He is delusional. We're in more trouble.
Brett Jonathan
19
Posted 01/02/2016 at 21:35:56
Won't stop us leaking goals, but we sold one striker and needed a replacement. Just consider this guy a swap for Naismith and we don't have to be too excited/worried with anything just yet.
Hope he does well and welcome to the club Niasse!
Paul Olsen
20
Posted 01/02/2016 at 21:36:38
How many hamstring problems has he had over the years? Guessing he is in for one before February ends.
Raymond Fox
21
Posted 01/02/2016 at 21:38:22
Positive news, that will not go down well on here!
Bill Griffiths
22
Posted 01/02/2016 at 21:38:53
Mark, I agree regarding signing a top class goalkeeper.
Alexander O'Brien
23
Posted 01/02/2016 at 21:39:09
Mark, how can you not get excited? Whilst I agree we need more defensive reinforcement, we also needed someone to play as part of a three replacing Kone. Big signing that fans have wanted so be happy my friend!!
Paul Johnson
24
Posted 01/02/2016 at 21:39:43
C'mon fellas, there is a terrible negative vibe in this thread. Let's give the lad a warm welcome and hope he turns out to be a world beater and not dog shit, like some of you are hoping for.
Lyndon Lloyd
25
Posted 01/02/2016 at 21:39:50
Apparently, Paul (19), he's hasn't had a significant injury to speak of yet
#kissofdeath
Christy Ring
26
Posted 01/02/2016 at 21:40:03
Hopefully he'll live up to the price tag. Will probably play left-wing, has great work rate, which will be a big improvement on Kone.
Just wondering, now that Bill has shelled out £13m+, does that not contradict, that he's in the process of selling the club?.
Paul Olsen
27
Posted 01/02/2016 at 21:43:48
"He's got the pace and skills and he's a neat finisher, but his biggest asset is his work rate. He's tenacious on the pitch, is excellent off the ball and is willing to chase down a lost cause."
Actually sounds like a type of player we need. Evidence of whether it is true will follow.
Helen Mallon
28
Posted 01/02/2016 at 21:44:27
I wrote on another thread that it's a waste of money. Not because I think he will be rubbish but because our season is over, he will not get us into Europe. The money could have been saved and we could have played any of the young forwards we have: Henen, Rodriguez or McAleny till the end of season and used that money to pay off Martinez.
Frank Crewe
29
Posted 01/02/2016 at 21:48:53
Maybe he'll get on the end of some of the crosses Deulofeu keeps lashing across the six-yard box... because Rom certainly isn't.
Brian Porter
30
Posted 01/02/2016 at 21:50:37
Hate it when Martinez talks about him being "in an important moment of his career'. Will someone please buy the man a dictionary? A moment lasts about one second Roberto so his moment has come and gone already.
That aside, let's hope it's a good signing for us and wish our new arrival a long and successful career with us.
Mark Frere
31
Posted 01/02/2016 at 21:52:47
I think this signing has got to be seen as a big positive. Nobody really knows much about him, but he is Russian player of the year... a league that is full of expensive and good players. Yes, there are more pressing matters than the need for another good attacking addition to our squad, but nevertheless, it's still a positive.

Jim Potter
32
Posted 01/02/2016 at 21:53:19
Oh damn – we've signed an exciting young talent.
Inexcusable.
Doesn't the club realise it's their job to keep Twebbers miserable?!
Kev Smith
33
Posted 01/02/2016 at 21:55:01
"He was named Russia's Player of the Year for 2015 having scored 8 goals in just 13 starts"
Must be a short season in Russia or every other player is crap.
This will either be a masterstroke or will cost RM. Hope this works out cos we need something positive right now.
Don Alexander
34
Posted 01/02/2016 at 21:58:15
I'll be happy, for now, if he just helps us achieve what this season has been impossible for RM, two consecutive wins in the league.
Well ............ I can dream, can't I?
Colin Glassar
35
Posted 01/02/2016 at 21:58:37
At least he looks chuffed to have signed for us. Always a good sign IMO.
Mark #4, players come and go but we can't stand still.
Dave Pritchard
36
Posted 01/02/2016 at 21:59:55
Frank (#28), I know Rom has had a few poor games recently but you're very harsh when you think where we would be without his goals this season.
The new signing is encouraging in that it is always nice to know we are trying to strengthen the squad. Whether he is any good remains to be seen. Here's hoping.
Matt Muzi
37
Posted 01/02/2016 at 22:02:29
Good positive signing, just need a new keeper now!!!
Craig Fletcher
38
Posted 01/02/2016 at 22:03:04
I'm not disappointed at all. And for all those who are worried about the financial outlay on a relative unknown, Everton have form for this, we spent a lot of money (in comparative terms) on Fellaini in 2008, and he certainly didn't turn out too bad. We also made one hell of a profit from him; thank you, Manchester United......
James Morgan
39
Posted 01/02/2016 at 22:09:42
We score three plenty of times in a game and still end up drawing/losing, so if this lad can get the fourth then we are on to a winner!
Mike Hughes
40
Posted 01/02/2016 at 22:12:48
Despite everything that's gone on this season (and last) – I am pleased about this signing and hope he can bring a new focus to the team in addition to Lukaku.
I don't know why as, admittedly I know bugger all about him so I'm guessing I'm giving him the benefit of the doubt.
My expectations are so low at the moment (no further slump will do this season) that anyone above the 'journeyman' type would be a bonus.
The price tag suggests quality so let's welcome the lad and hope he has a long and successful Everton career.
A brace in a two-nil win at Anfield would be a good start.
Garry Taylor
41
Posted 01/02/2016 at 22:13:26
Jim #31 LMAO
Scott Goin
42
Posted 01/02/2016 at 22:13:33
I reckon Everton can still screw this up. I won't believe it until he plays a match for us. Even then, I'll think it's a dream and still won't believe it.
Oliver Molloy
43
Posted 01/02/2016 at 22:14:51
Yeah,
Welcome to Everton Niasse, now show us what you can do.
John Roberts
45
Posted 01/02/2016 at 22:21:27
Martinez needs to do a lot more than this to get me back on side. Just hope Martinez isn't wasting money our new manager might want to spend.
Geoff Evans
46
Posted 01/02/2016 at 22:21:46
Good luck to the boy and welcome.
Brian Wilkinson
47
Posted 01/02/2016 at 22:24:07
Okay, we bring in a defender, who do you drop? Coleman, Stones, Jagielka, Funes Mori, Baines, Galloway, Garbutt, the list goes on. We needed strengthening in two places: attack, job done, goalkeeper, that will be done this summer.
Cannot believe the negatives on here, we have one hell of a defence with backup, its' the coaching and management that needs sorting.
You can understand one player hitting a poor run, but not an entire backline.
Steven Jones
48
Posted 01/02/2016 at 22:25:23
Well done, RM .... we always needed to increase our striker pool and the pace, work rate and goal scoring looks good on the video's.
The reports on his work rate and passion are good too ...
Much better than Nais and Kone – so an improvement!
Steven Jones
49
Posted 01/02/2016 at 22:29:00
BTW ... I have to say I love the coaching style of RM ...
We have one hell of a talented back line that is learning and maturing ... yes some orrible individual mistakes .. and yes we need a new GK ..
However the style and skill and expansive play is lovely to watch and this is the only way we can make a leap to the top ...
The defence will sort itself out shortly ...
Colin Glassar
50
Posted 01/02/2016 at 22:29:34
Maybe Kone can return to the centre of defence now.
Peter Mills
51
Posted 01/02/2016 at 22:31:35
"He can shoot from distance, his opening is good, his dribbling is unpredictable".
Blimey.
Ray Roche
52
Posted 01/02/2016 at 22:31:59
Conor McAleny has gone to Wigan on loan.
Paul Montgomery
53
Posted 01/02/2016 at 22:36:46
Brian Porter (#29) – how's your Spanish?
Colin Glassar
54
Posted 01/02/2016 at 22:40:17
£17m spent in this window. Not bad for a skint club!
Christopher Marston
55
Posted 01/02/2016 at 22:42:46
Why aren't we going for Dembele?!!!!!
Jim Hardin
56
Posted 01/02/2016 at 22:46:42
Maybe it is because our major sports over here sign and trade players for big money but what the heck is the problem with you guys over there? This is a good signing and in the range of what other clubs we compete with have paid for their signings too.
Honestly, all I read on here is the glory of past Everton and how we shouldn't settle for mid table etc., etc., blah, blah, blah. The minute any manager goes out and signs a player with potential to be excellent, you all complain about the money.
If you want to compete, the players cost $. No more looking in bargain bins and yard sales for a rare find to be cheaply had. I am not saying stop looking but FFS it shouldn't be the bulk of the team anymore should it? Set the sights a little higher. Lukaku at £28 million and this player at £18 million are still outside the range of what the Sky Top 4 pay. The fact that Everton have two pricey signings and were chasing a couple of others at the beginning of the season should make you all so giddy that you can't see straight. Instead it is, "I doubt he is worth it, African players don't do well over here, etc., and but really we need this, that, and the other." Must you always be miserable sods on here?
I don't rate RM but jeez, he seems to have done okay with Funes Mori and Lukaku, and Deulofeu, and now this player. Everton don't need 2 or 4 million pound signings for the first team unless they are U-18-21s signed for future use. Everton need players who can make a difference and they cost. Crystal Palace, Stoke, West Ham, Watford, Bournemouth, and Leicester have realized this and most have shattered their old transfer fee records to sign better talent. At least in this I can say Everton ownership is trying to move forward a little.
Now Everton need to push up the table, avoid any sniff of relegation, and move on with or without RM. But this is a good signing people so give him credit for where it is due and BE HAPPY!
Harold Matthews
57
Posted 01/02/2016 at 22:48:55
Delighted we signed this lad. Okay, he might dribble and score with his elbows and knees but nothing wrong with his determination and attitude. We need passion in the final third and this lad's got plenty.
Michael Williams
58
Posted 01/02/2016 at 22:49:19
Good luck, Niasse. I hope the fans give you a few games to adjust to a new league and home before they start ripping you.
Conor Skelly
59
Posted 01/02/2016 at 22:50:31
Welcome aboard, Niasse. He'll scare the shit out of defenders. I said the other day I thought he looked boss in the clips. I'm sticking to that.
Colin Glassar
60
Posted 01/02/2016 at 22:51:19
No idea, Christopher. Spurs tried and failed and it looks like Arsenal tried today as well. I have heard that he will go and play abroad in the summer. Great prospect.
Conor Skelly
61
Posted 01/02/2016 at 22:52:57
Yes Harold. Seems like the kind of guy who will bust a gut to get on the end of a Geri cross.
John Jones
62
Posted 01/02/2016 at 22:54:22
Colin (#50) – £8.5M makes £9.5M spent this window. Burnley spent £6M on a centre-back today alone.
Bill Gall
63
Posted 01/02/2016 at 22:56:03
Let's give the boy a chance to see what he can do and not expect 3 goals in his first game. If he turns out as good as he is hyped up to be on the plus side he is not cup-tied and may give more balance on the left side. Wonder if he can get back to defend?

Colin Glassar
64
Posted 01/02/2016 at 22:56:56
Remi Garde to resign. Feel sorry for him and the fans. A great club driven into the ground by clueless yank owner.
Peter Carpenter
65
Posted 01/02/2016 at 22:58:33
Stoke – the next Portsmouth!
Teddy Bertin
66
Posted 01/02/2016 at 22:58:46
Once he settles in, I'd be very surprised if we see much of Kone. Martinez has been playing Kone on that left side and has asked him to track back and shift in to act as a 2nd striker. This guy has attributes that are far better suited to that role.
Bad news for Kev, though, but he's only got himself to blame. He had runs in the team under Moyes and Martinez and hasn't never worked his socks off for the team like Naisey or even Kone did.
Colin Glassar
67
Posted 01/02/2016 at 22:59:11
JJ – you're right; I was forgetting the Nessie money. Still, we have at least got three exciting young players in January of all months.
Colin Battison
68
Posted 01/02/2016 at 23:04:44
I seriously do not believe the negativity on here regarding Niasse. If we had signed nobody you would all be in uproar, so double-headed coin and call tails....

You are all going on about a defender, OK...Baines, normally 1st choice England left back; Mori, Argentina-capped and will get better; Jags,.England; Coleman, ROI 1st choice; Stones, will be a legendary player.

So look at that and say – and I agree with some – we need a defensive coach not more defenders. And not to say the defense is not good enough, one thing I will say about RM, he is the one that has brought some quality additions to this club.

I honestly think we are not that far away from being top 4 side, seriously, some people on here will never be happy.
Paul Thompson
69
Posted 01/02/2016 at 23:06:56
A lot of people said it would never happen. Some said it shouldn't.
From the rest of us, welcome Niasse. I believe this will be a good bit of business. Irrespective of what else we needed, when Naismith left, there was a massive gap where a second striker – who was not Kone –needed to be.
Fast, energetic and play down the middle or on the left flank. Looking forward to seeing the lad play.
Gordon Crawford
70
Posted 01/02/2016 at 23:07:21
Pity there isn't anymore signings. But I'm willing to give this guy a chance. Hoping for the best. :)
Dave Lawley
71
Posted 01/02/2016 at 23:07:54
I'm happy with this signing, a player who will feature in the first team straight away and looks to have real potential. However, I would have been equally as happy with Helen's (#27) suggestion, bearing in mind where we find ourselves in the league at this point in the season.
Laurie Hartley
72
Posted 01/02/2016 at 23:15:25
Jim Hardin # 52 - "you all" is a lot of people.
I am happy about this signing for two reasons: Because he looks like a good player going by the video clips.
It might also mean we are going to have 4-4-2 as our preferred starting formation.

Ian Jones
73
Posted 01/02/2016 at 23:15:40
I was about to add we have two other players in this window... but Colin got there first!
Sam Hoare
74
Posted 01/02/2016 at 23:17:11
Naismith cash + £5M looks like decent business for that lad. Sounds like he works hard and regularly makes/scores goals. If he does so in PL he will soon be worth twice as much. Welcome.
John Hughes
75
Posted 01/02/2016 at 23:29:49
Good post, Jim Hardin (#52) and no mention of Tim Howard! Thank God!
John Beesley
76
Posted 01/02/2016 at 23:36:17
Colin, Remi Garde has not resigned.
Peter Gorman
77
Posted 01/02/2016 at 23:42:25
Just seen his interview on the OS and he looks like he has a very good attitude. He claims he is quick and strong and has a good mentality, let's hope so.
Decent level of English too so should fit in quickly.
Yuriy Ulyantsev
78
Posted 01/02/2016 at 23:43:35
Hi everyone. I'm a Lokomotiv Moscow fan and I want to congratulate you with this transfer.

I just want to tell you about his advantages and disadvantages. Oumar is very diligent, this is the first thing to know about him. For example, you can watch his goal for Loko vs Krasnodar. He is very fast, with good heading ability and good long shots.

But, the main problem is that he didn't study in football school, he began to play professionally when he was 18. So, he isn't good at dribbling. I can describe his game like "hit the ball strait and run".

He depends on game form, he needs to play a lot. And I have to say that last year he was one of the worst players in our team. And nobody believed in him before the season started.
John Beesley
79
Posted 01/02/2016 at 23:53:34
I have always been a fan of Martinez as I met him just after he signed and he is genuinely a nice guy. All his signings say the same thing and he has made some boss signings.
He is not that thick not to realize that defending is a vital part of the game but has anybody ever thought that his style of play is shit or bust which if all goes well will break that top four glass ceiling which a safer way of playing never would with the players at our disposal.
It is a risky strategy but we won't go down and if it all clicks then you could win the league so can everyone give the man time and have some patients.
Colin Glassar
80
Posted 01/02/2016 at 23:55:17
My bad John but, he sounds like he's resigned, he looks like he's resigned, I think he'll resign.
John Beesley
81
Posted 01/02/2016 at 23:58:46
Just remember as well, boys and girls, before anyone starts moaning about this fella, the good old days of Mark Pembridge and Scott Gemmil...
Oh we have come a long way, thinking about it!
John Beesley
82
Posted 01/02/2016 at 00:02:43
I agree though, Colin, whether he does or not, it is very sad to see a club like Villa in such a state due to a shitty owner.
The monopolies commission or someone should put a stop to it, it should not be allowed to play with tens of thousands of peoples lives like that.
Richard Reeves
83
Posted 01/02/2016 at 00:05:18
Obviously being a prolific goalscorer would be great but just preventing Kone being on the field is a positive thing, maybe it's to much to hope for but another striker in the summer and Kone could move on.

Anyway, I wish him all the best and welcome to the madhouse.
Steve Jenkins
84
Posted 02/02/2016 at 00:07:10
I didn't bother watching him until he signed but I like the look of this guy.. Strong, physical, we real pace, can finish and looks unselfish, looks a player to me. Hopefully a different option and more pace up front.
I think Martinez is building a great squad, bloody shame we're so shit a defending.
Denis Richardson
85
Posted 02/02/2016 at 00:07:30
Seems like a decent player and we now have back up for Rom.
£13.5M is not cheap so will see how long he takes to adapt.
Still, our main issue is goals conceded so will see how we do going forward.
Phil Smith
86
Posted 02/02/2016 at 00:07:30
Two other players in this window?? Have I missed something?
Eddie Dunn
87
Posted 02/02/2016 at 00:08:47
Good luck to this lad who is smart enough to have done his homework on us, and he speaks good english to boot.
I wish this young man the best of luck with his EFC career. just what we needed – options up top.
COYBs!!
Brian Porter
88
Posted 02/02/2016 at 00:11:00
Paul Montgomery (#49), not too bad actually, with my Mum having been of Spanish / Portugese descent (Sanchez/ DeSouza), and my son a rampant Catalonian Barcelona shareholder.
Clive Lewis
89
Posted 02/02/2016 at 00:21:33
We should have signed Pellegrini for next season.
Winston Williamson
90
Posted 01/02/2016 at 00:21:34
This signing adds a little more balance to the side. A player who fits the role Kone plays (badly) perfectly. He replaces Naismith in the squad. Naismith's workrate was good, but he didn't fit with how the team plays. Hopefully, Niasse does.
The price will be judged with hindsight.
In terms of the defence... has anyone noticed that we perform best when Stones does? ie, Chelsea at home...
When Stones doesn't play well, we always have a defensive 'mare!
Ian Jones
91
Posted 02/02/2016 at 00:24:53
Phil @ 80:

Matty Foulds – Early in January
Shani Tarashaj – Swis player loaned back to Grasshopper Zurich.
Andy Crooks
92
Posted 02/02/2016 at 00:29:28
Steven # 45, I agree that we have a "talented backline," but I doubt that Jagielka, Coleman and Baines have much " learning and maturing," to do. You love the coaching style of Martinez, I think it is utterly shit.But perhaps the "negative morons," are totally wrong and all is well.
By the way I am happy that we have signed this lad and wish him well. Ithink he will be good.
John Jones
93
Posted 02/02/2016 at 00:32:55
4-3-3 from here on in, I suspect:
Howard
Coleman
Stones
Jagielka / Funes Mori
Baines
Barry
McCarthy
Barkley
Deulofeu
Lukaku
Niasse
Perhaps, perhaps, perhaps!
Steve Jenkins
94
Posted 02/02/2016 at 00:33:11
One thing I've read about this lad from a Russian journo or pundit is that, as his other qualities aside, he is very hard working and apparently chases down and presses the opposition defenders from the front. Which I really hope is true as we really are in need of that – a polar opposite to our other current front line players, that can be nonchalant (without the ball), lazy even, at times to say the least.
Derek Thomas
95
Posted 02/02/2016 at 00:33:24
Andy; we'll really find out just how good when Rom goes.
Dennis Ng
96
Posted 02/02/2016 at 00:43:50
Well, in terms of outscoring our opponents, perhaps we can aim to score 3 more than the opponent so that the odd goal, ref bias or player lapse will stop costing us points.
Good signing to relieve Lukaku's burden.
Peter Carpenter
98
Posted 02/02/2016 at 01:08:14
Hey, who cares about the leaky defence! They score two – we score three, they score three – we score four, they score four – we score five!
Why has no-one ever thought of this before? It's genius. We could even have a flapping rag-doll in goal, it wouldn't matter.... Oh, Tim's back, isn't he?
Ernie Baywood
99
Posted 02/02/2016 at 01:13:29
There's something reassuring about spending a lot of money.
It could be a total waste but I feel much better already.
Wonder if he's any good.
Ernie Baywood
100
Posted 02/02/2016 at 01:18:14
Bloody Stoke beat us to the title of spending the most money.
Good to see Carlisle's Dicker got a move after his FA Cup disappointment.
Goodwillie on the move too.
Dave Abrahams
101
Posted 02/02/2016 at 01:23:15
I have seen him on YouTube which I take no notice of, so I don't know if he is good bad or indifferent, but I wish him the best of luck with our club and hope he an improve the team.
Look forward to when he makes his debut. Naismith has paid for more than half of his fee so that is another reason to wish Steven all the best with his career at Norwich.
I think we need more than this signing to improve the squad but it is a start and the transfer window wasn't great but it is better than some of us thought it would be; let's be grateful for small mercies.
Peter Carpenter
102
Posted 02/02/2016 at 01:28:47
And Fanni too, Ernie!
Alex Moore
103
Posted 02/02/2016 at 02:18:58
John Jones (#87) switch McCarthy for Besic (when healthy) and definitely go with Funes Mori over Jags and I'd be completely on board with your line-up!
Joseph Terrence
104
Posted 02/02/2016 at 02:42:30
When did the Russian league start its winter break?
Peter Jansson
105
Posted 02/02/2016 at 02:44:23
We definitely needed another striker. We need someone else to be able to score when Lukaku has a bad day.
Look at the Swansea game. Lukaku was taken hard and came nowhere... only Deulofeu was doing good but nothing happened with his excellent crossballs.
Yes, we need another goalie. But seriously, Joel Robles, is good enough for Everton to do good if he gets the chance to play.
Most problems in the defence and midfield are not due to that we do not have quality players. The problems are due to bad strategy and bad/no coaching.
Jim Hardin
106
Posted 02/02/2016 at 02:49:15
John Hughes,
BTW, now that Howard is staying, can we rename one goal area "Howard's End" and the other a "Stones free zone"? Sorry, but I couldn't resist.
I also apologize for using "you all" as it is an overgeneralization used over here often. You would not believe the pressure over here on poor Americans when we attempt to converse, even via the internet, with you English and your fancy pants proper language.

Jack Cross
107
Posted 02/02/2016 at 03:08:40
John Beesley 74.
Give Martinez, a chance you say. You also say he is not thick, that he knows we have a defensive problem.
He as had nearly three seasons, I'd say that's more than generous or patient, as you ask.
defensive, were absolutely pathetic. So if he isn't thick and he knows about it, why hasn't he addressed it?
When he makes statements like he isn't interested in keeping clean sheets. Well his defensive frailties speaks for itself wouldn't you say?
You say it could be shit or bust his style of play, and who knows if it clicks, we could win the league.
If there was ever a season for us to do well in the Premier League, it was this season. Teams that usually don't give the likes of Everton and our like a luck in. Well they simply haven't been at their best. Hence Leicester at the top. And granted they deserve it. But Chelsea below us come on. Man Utd, in turnmoil. Man City, not unbeatable.
But next season, Man City will have the best manager possible. Man Utd, may have the special one. And Chelsea maybe Man City coach. So they will have all regrouped and spent big. So the likes of this season is not repeated.
And you say give Martinez more time.
Our time was this season, with the best squad in years. But now it's nearly over. So let's hope the same applies to RM.
Abhishek Saha
108
Posted 02/02/2016 at 03:27:11
This signing was more crucial than defensive reinforcements. Yes, we have leaked goals but are reinforcements the solution to that?? Jagielka, Funes Mori, Stones, Baines, Coleman, Oviedo, Galloway, Browning....
If we sign a defender who right away replaces Jagielka or Funes Mori or Baines or Coleman (the first choice 4 presently) and pushes him onto the bench... will that be good business??
Our defensive lapses are due to the way we are defending and that's a training issue and not a personnel issue.
On the other hand, we do not have any one to replace Lukaku. Kone, Mirallas, Barkley and even Naismith can play as a second striker but is not capable of leading the line against Premier League oppositions! Imagine, if Lukaku was out for periods like Jagielka, Baines, Coleman have... I would not dare to even.
Rom has played almost every minute of the premier league this season, hence we never felt it this way. Last few games, he was carrying a knock and his goals have dried up. We need to experience moments when Lukaku can come off, so far we haven't created any such moment just because we did not have that familiar face on the bench.
Good or bad, time will tell but a technically required signing IMO. COYB!

Garry Corgan
109
Posted 02/02/2016 at 03:32:58
Third most expensive signing? Didn't Lukaku, Fellaini and McCarthy all cost more?
Brian McGee
110
Posted 02/02/2016 at 03:33:18
John Jones (#87) McCarthy over Besic – tut tut...
Mark Andersson
111
Posted 02/02/2016 at 03:41:15
Oh how I love my morning read of TW.
Welcome aboard Niasse. If your're reading TW, the fans that write negative posts are only kidding, it's our scouse humour.
Helen you have a point, however this signing is a investment for the future. Martinez's fate lays at his own feet. Sooner or later he will either triumph or be run out of town.
When you see Bobby change his brown shoes to trainers then you can be at the end of a very long line to kick his sorry arse as he scampers out of town.
Barry Jones
112
Posted 02/02/2016 at 03:44:23
Never seen him play, never heard of him but it sounds like good business to me. Russian player of the year ....he can't be bad and his versatility position wise is useful. Considering the balance is about 5 mill after what we got for Naisy its good business really.
I don't think we need a central defender. Stones, Mori and Jags are all class. We just need a defensive plan. Its baffling that we are so leaky when we also have excellent defensive mids to choose from too and RM ALWAYS plays two of them in front of the back four.
The goalkeeper is still a terribly weak spot and I can't help but feel that his weakness in controlling the box puts great strain and positional chaos on all the players in front of him. A solid keeper who can defend crosses and command the penalty area would alleviate the panic in front of him. I really like Fabianski.
Laurie Hartley
113
Posted 02/02/2016 at 04:16:58
Jim (#98) – I for one wasn't looking for an apology, just pointing out that the term "you all" seems to suggest that everyone on ToffeeWeb has the same opinion about certain topics which, as you are no doubt acutely aware, is most definitely not the case.
Hugh Jenkins
114
Posted 02/02/2016 at 04:37:14
Henrik (#14).
Apparently not. Stoke bought someone yesterday for £18.5M.
Abhishek Saha
117
Posted 02/02/2016 at 05:34:12
BTW, my post (#100) above is by no means a IMWT statement. I was a fan of his till even recently, but his decisions in the League Cup away game to start with Stones (ahead of Coleman) and take off Deulofeu has pushed me across the neutral line.
Daniel Joseph
118
Posted 02/02/2016 at 06:32:25
Welcome to the greatest football club in the world.
Mike Green
119
Posted 02/02/2016 at 06:33:58
Russian Player of the Year, enviable scoring and assist record, looks like real team player. Great age, fills a position where we need players and can play in more than one role. Sounds like a thinker, says he sees us as a 'good family' with an exciting mix of players and wants to be near his wife.
What's not to like?
Steve Sweeney
120
Posted 02/02/2016 at 06:37:30
8 Clean Sheets, 7 when Robles in goal.

For sure we will not keep a clean sheet if Howard plays tomorrow. Looks like Newcastle will be up for this. Tough game.
Mike Green
121
Posted 02/02/2016 at 06:40:22
OK.....wanting to be near his wife might be a bit suspect but everything else sounds right doesn't it? :)
Brent Stephens
122
Posted 02/02/2016 at 06:46:49
Most transfer windows recently I end up very positive (strengthened squad; imagine this or that line up; boy, they can all play; cover in most areas; etc); then get let down by results.
Come on, Roberto, I'm feeling more positive now than at the start of the transfer window. Attack strengthened further (AND Niasse signed, as well as McGeady going out!). So, don't let us down. Sort that defence; it will only take a few tactical tweaks. Looking forward to going to Stoke Saturday and seeing Niasse.
Harold Matthews
123
Posted 02/02/2016 at 07:10:14
I like the idea of this lad. Mirallas can do the job but doesn't work for the team. Naismith can do the job but has no pace. This lad can do the job, will work for the team and has plenty of pace. He'll do. Age 25, plenty of experience and ready to go straight into the first team. If Lukaku goes in the summer, we spend big on Embolo or some other good investment superstar striker.
As for our ball-watching, disorganised defence. ..and yes, they were all ball-watching and not marking their man when Sterling crossed from behind the line. Something definitely needs to be done, especially as our weaknesses have been highlighted time and time again on television. Even the new Swansea manager planned to press high against Stones and co and it worked. Let's hope Jags, Baines and Barry can get us playing with common sense.
Chris Gould
124
Posted 02/02/2016 at 07:12:52
Well said, Brent. I second that.
I'm hoping this guy is a Bolassie type player who gives us genuine threat from the left.
With Deulofeu, Barkley and Niasse behind Lukaku, we have genuine pace all throughout the attack. We really should be set up to play counter attacking football. There is no point in having speedsters in your team if you play possession football. It's too slow.
The defence needs to defend and clear their lines. When the opposition have possession we need to be solid, clear the danger and counter with speed. It's worked very well for Leicester.
We have very good defenders who are made to do things which make them nervous and the whole back 5 become jittery. Take away the pressure of them having to pass the ball about in dangerous positions, and allow them to concentrate on what they do best.
James Morgan
125
Posted 02/02/2016 at 07:14:41
Welcome to the lad.
If only we could see him up front with Lukaku, Mirallas and Deulofeu on the wings, Barkley behind and Barry or Besic anchoring midfield. Oh and Robles in goal as well!
I can dream.
Paul Olsen
126
Posted 02/02/2016 at 07:53:00
To those saying our season is over already and that the money should have been saved for buying Martinez off. If we have a look, the season really is far from over.
A top 6 finish is still a possibility by all means, and an FA Cup run is key. That said, relegation is currently closer than Europe.
Every team except the top 4 have been very inconsistent this season, and there lies our chance. Leicester breaking towards the end of the season is not something that would surprise anyone, although they still seem solid.
That would of course demand that we actually start winning games, which by the looks of it could be the real problem. With our current attacking line-up, scoring goals doesn't seem like a problem. The miraculous feat of actually beginning to defend as well would do all the difference in the world.
We have the players to make a run (bar a top goalkeeper), if they can believe it themselves, and if our manager could just be a little pragmatic for once.
Colin Glassar
127
Posted 02/02/2016 at 07:54:29
Back to reality now, we must beat Newcastle.
Neil Wood
128
Posted 02/02/2016 at 08:08:07
Hear hear, Colin.
Welcome Niasse
Harold Matthews
129
Posted 02/02/2016 at 08:13:00
Newcastle have bought big but are still all out attack. Could be 3-3 again.
Matthew Workman
130
Posted 02/02/2016 at 08:25:49
The team should look like this:
442 diamond.
Robles
Coleman
Jagielka
Funes Mori
Baines
Besic
Barkley
Lennon
Mirallas
Niasse
Lukaku
John Keating
131
Posted 02/02/2016 at 08:38:10
Paul,
That's the most two-sided post I think I've ever read on here.
You have covered every angle so whatever happens this season you can say "I said that".
Definitely you could be a scriptwriter for Martinez, say everything and nothing!
John Aldridge
132
Posted 02/02/2016 at 08:38:24
BBC Breakfast just said we paid £13.5Bn for Niasse. Nice, take that Chelsea and Citteh - that takeover must have went through quietly.
Brent Stephens
133
Posted 02/02/2016 at 09:03:39
John, we'd want some goals for our £13.5 Billion!
Evan Davis on BBC Newsnight also slipped up and referred to Hilary Benn as "Hilary Big Benn".
Kevin Tully
134
Posted 02/02/2016 at 09:05:46
The lad might be just the tonic this team and the crowd need. If he runs down defenders all game, that type of enthusiasm can be contagious. GP definitely needs a lift, remember how Stracqualursi used to get the crowd going just because he put in a it of effort in closing down?

Really looking forward to seeing this guy in action, let's hope he can quickly get used the frenetic pace of the Premier League, we may have got ourselves a bargain if he can adjust.
Joe Clitherow
135
Posted 02/02/2016 at 09:06:42
Brent 125
There may be a deeper, more-Freudian reason there with Evan Davis.
Brent Stephens
136
Posted 02/02/2016 at 09:07:48
Joe, I think you might have put your finger on it?!
Joe Clitherow
138
Posted 02/02/2016 at 09:13:52
I resent that assertion!
Mike Keating
139
Posted 02/02/2016 at 09:19:26
Colin @ 64 – good point. We don't need another defender; we need to sort out the ones we've already got.
John Daley
140
Posted 02/02/2016 at 09:20:19
"BBC Breakfast just said we paid £13.5Bn for Niasse. Nice, take that Chelsea and Citteh - that takeover must have went through quietly."
Bn doesn't mean billions! We paid in beans. They turned the offer down initially (something about chucking in a cow) but they eventually caved after listening to Martinez wax lyrical about how 'magic' those beans were.
Dan Nulty
141
Posted 02/02/2016 at 09:35:51
Yes, we have other issues to address but this is a major one too.
I can only go by YouTube but I'm impressed by this lads movement. Watch how he changes direction and looks for space every time an attack is on. In Ross and Gerry we have the talent to find him. I think him buzzing round Rom could be great.
Kevin Gillen
142
Posted 02/02/2016 at 10:04:30
I don't know how Martinez does it. How has he persuaded the board to part with money again? Congratulations to him.
A great signing in my book but I can't help thinking he is a long term replacement for Lukaku. Is it wrong to think that way?
Raymond Fox
143
Posted 02/02/2016 at 10:09:47
Our more expensive signings since Martinez took over have improved their value, and let's hope this lad does the same. £6m signings are generally more of a risk, that's why they're £6m, most turn out to be average.
For those dogging Kone, our goal tally says he is/was an important cog in the team; he's no passenger, but obviously father time is not on his side.
What gets my goat above all else, is the way the media treat us, especially the BBC. We are always an afterthought, of no account it seems; those 20 years without a trophy are responsible, I suppose.
We have to find a filthy rich owner that is a risk taker and will really flash serious money in the transfer market and on silly wages – it's the only realistic way to crack that top 4.
They can stick the Europa League where the sun doesn't shine, for me; it cocks up Premier League performances. A cup, maybe... if we get lucky with the draw and within games, plus if officials improve their eyesight!
Phil Walling
144
Posted 02/02/2016 at 10:15:32
This signing should ensure we get the five wins and five draws which will see us claim a top half place and another season – at least –- for Roberto.
Of course, new owners may have new ideas but all has gone quiet on that front so 2016-17 may see business as usual but, at last, Bill's Board are backing their manager with hard cash.
The trouble is that ALL clubs will be awash with funds – even little Bournemouth – so the 'running to keep still' mode may well continue. But, at least, Bobby will have every opportunity to prove us doubters wrong about his philosophy!
John Hammond
145
Posted 02/02/2016 at 11:11:31
Great signing and just what we needed – Someone to lift the squad and give Lukaku a break. If he does leave at least we'll have his replacement with a half a season under his belt.
Shane Corcoran
146
Posted 02/02/2016 at 11:38:34
Has anybody considered or mentioned that he's likely to be missing for a month every second January?
Jim Knightley
147
Posted 02/02/2016 at 11:38:42
Well done, Everton. We actually appear to have started competing financially during the recent windows – shame it followed over a decade of barely any spending. If we had back Moyes with this relative spending, then we would have tasted Champions League football. It might not have been pretty, but it would probably have happened.
It is the least we should be doing of course, but at least the potential of spending £10-20mil on a player means that we can compete. Let's buy a goal keeper in the summer, a back up right back, a creative player and a another wide player too, in the act of replacing those inevitability leaving the squad. It is horrible to look at just how good this team can be though, and then to look back at the league table. We should be right up there this season (in a fight for a Champions League place). But then we all know that.
Hopefully an exciting signing will help us kick on. We should be targeting the FA Cup and a top 8 finish. If we do not get those targets, then Martinez must be shown the door. I'm all for patience, but there has been too much of that already.
Gordon Crawford
148
Posted 02/02/2016 at 11:38:49
I feel this guy will score a bag of goals. The questions is where do you play him? As Mirallas has started to look good again.
Joe Foster
149
Posted 02/02/2016 at 11:39:18
Now we just have to wait 5 games or so before he is match fit.
Philip Roberts
150
Posted 02/02/2016 at 11:41:20
Mike Green(114),when you see his wife you'll understand why he wants to be near her :-)

Andrew Ellams
151
Posted 02/02/2016 at 12:02:40
Phil Walling, the game is now about who spends their new found wealth the best and that is one area where I do have more faith in Roberto.
Ian Hollingworth
152
Posted 02/02/2016 at 12:36:29
I am viewing this as a positive move and hoping the lad will be a success.
Now top priority is a top class goalkeeper.
Oh, and a new manager of course.
Oliver Molloy
153
Posted 02/02/2016 at 12:42:14
Paul Olsen
154
Posted 02/02/2016 at 12:46:47
John (#123),
There are always more than one side to things. I do not see a reason to be adamant either way just yet. And unlike some I am not in the habit of rubbing my predictions on others. To be a bit Benitez-y...
1: The season is not over yet.
2: We have a pretty talented Group of players.
3: If we fail to make an impact this season, our most prized assets will want away in the summer.
We can still avoid No 3. How he is going to do that is something of a mystery though.
To provide some more insight into what I really think. I think everything will fall to pieces due to the fact that our manager just is not up for the task. Hope I am wrong.
Frank Thomas
155
Posted 02/02/2016 at 13:04:52
Thank you Yuriy (74) for your comments. This person has watched Niasse play weekly and his comments tally with the YouTube videos.
Niasse will give everything in every game and is very keen to learn but his footwork is poor however he is very fast. At present he will never score a hat trick similar to Naismith's against Chelsea.
I think he could improve dramatically with our 'football school' but that will take time. We may not see the best of this lad for at least 18 months.
In the meantime how does he fit in? Martinez's 'keep possession football' requires intricate footwork and good passing something Kone has not shown and Niasse may not be able to do due to the pace of the game. Stuck on the left wing he would require good crossing ability and Yuriy does not mention any such skill. In the centre along with Rom is the only position for him and hopefully his shooting skill improves.
Jon Withey
156
Posted 02/02/2016 at 13:13:58
Decent replacement for Naismith, adds something to the left, sounds competitive – can't wait to see him play.
Kone holds the ball up well, so I'm not sure his footwork is that bad but he doesn't offer enough pace or movement – hopefully this bloke will deliver.
Jason Thomas
157
Posted 02/02/2016 at 13:18:18
Good luck, Niasse! Score plenty of goals, create loads of chances and show you're worth every penny.
Then maybe the negative people on here may change their minds about signing you.
Go for it lad!
Colin Malone
159
Posted 02/02/2016 at 13:40:50
Welcome Niasse. Go and show Rom what work rate is.
Regarding Citeh, it's a fucking joke. In time, the Prem is going the same way as was the Scottish prem and La Liga.

It's gone from a sport to show business. If I was a Man City fan, I would go to four or five games a season, Would not be bothered going to a home game against Swansea. Joke!
John Raftery
160
Posted 02/02/2016 at 13:51:52
Raymond – the Europa League need not necessarily cock up Premier League performances in the future. If the squad is big and good enough the manager can rotate players to keep them fresh. Spurs have shown how to manage that this season.
Clubs from the richest league in the world will be richer still next season so there should be no excuses about failing to deliver on all fronts.
Phil Smith
161
Posted 02/02/2016 at 13:53:35
Matty Foulds, oh yeah. He seems like he's been with us for ages though. I remembered about the other lad as soon as I posted. Super happy with the signing of Niasse. Hopefully will help out an increasingly wasteful Lukaku just in time to reverse the result against the Potters. Thanks Ian (89).
John Malone
162
Posted 02/02/2016 at 14:03:14
Why are we spending £13.5 million on a risk?
Someone who I thought would've been perfect as a left sided attacker/striker only cost Arsenal £15 million Danny Welbeck!
I hope the lad turn's out to be great for us but can't help feel he was well down the list and a bit of a panic buy to appease the fan's after losing Naismith!
Helen Mallon
163
Posted 02/02/2016 at 14:13:13
Steve Jones 47. Negative Morons piss off you sheep.
Fran Mitchell
164
Posted 02/02/2016 at 14:15:56
Yes, John, totally agree. Danny Welbeck would have been perfect. So much better than this no-mark. I mean, the fact he's crocked, not for sale and not really even that good is beside the point.
And even if he is a panic buy, which seems unlikely, why would it to be to appease the fans? I didn't exactly see a revolt regarding Naismith's sale, and Naismith was back-up anyway, so it isn't like he's gonna weaken the team.
Frank Wade
165
Posted 02/02/2016 at 14:16:00
John (#154), Welbeck 4 goals in 25 appearances for Arsenal in 17 months = Risk. You're joking surely. All signings represent a risk.
Let's just say that this chap has played as many matches since August as Welbeck has for Arsenal since the previous August and scored three times as many goals.
I see Tim Howard has picked up a knock in training. Any rumour in the truth that Niasse has started to pay back his fee already???
A good signing for the Blues.
Phil Walling
166
Posted 02/02/2016 at 14:22:10
Frank @ 149 : I don't think many Evertonians will expect to give this guy 18 months to settle in. Most of our patience in the stars of Russian football has been spent up on McGeady and Billy Whatsisname!
For the money expended, I'll be looking for him to hit the ground running and be a standout performer by next season.
Jamie Crowley
167
Posted 02/02/2016 at 14:23:18
I'm with Steve @47. Helen - BAAAHHHHHH.
Great signing but I've this terrible feeling in the pit of my stomach that Funes Mori was purchased to replace Stones who's gone this summer and...
I think this kid Niasse was purchased as replacement for Lukaku, who's also off this summer.

Gordon Crawford
168
Posted 02/02/2016 at 14:36:24
Maybe these are direct replacements for Stones and Lukaku and maybe they're not. But let's not jump the shark here. Let's just wait and see.
Also why so much negativity over this guy signing? Truly ridiculous. Get behind the team and give the guy a chance.

Harold Matthews
169
Posted 02/02/2016 at 14:40:56
Just read Yurly # 76. Now I'm not feeling so good.
Joe Clitherow
170
Posted 02/02/2016 at 14:41:01
Jamie
Apart from the "baaaah".....
......finally we agree!!!!
Armando Canaj
171
Posted 02/02/2016 at 14:42:07
For goodness sake people. Every new player is a replacement for an existing team member of the same position. Otherwise we'd have a squad of 200!
Hope this fella is up and running by Saturday and gives Mark Hughes a real headache.
Coyb
Jamie Crowley
172
Posted 02/02/2016 at 15:02:21
Joe - the sun is out here in Florida, it's going to be around 75 degrees, everything was so good I didn't think it could get any better...
Miracles do happen.
Will Firstbrook
173
Posted 02/02/2016 at 15:06:54
Reports indicate this lad has been on break and hasn't played a match since Dec 10. Will take some time to get him back to match fitness. Not sure we'll see much of him for awhile yet...
Andy Osborne
174
Posted 02/02/2016 at 15:06:57
Good signing, let's see what he can do. I hope he does well. If, in fact, Funes Mori and Niasse are here to replace Stones and Lukaku, then that will mean we have £100 million over and above the TV money to strengthen the team next season. If it spent wisely, I see a team that could challenge for the top honours.
Deep down, I hope we keep all our players and build from here, but this is not a time for sentiment, it is a time to win. I don't care who is in our team, as long as they beat the rest.
Peter Cummings
175
Posted 02/02/2016 at 15:19:56
Just wondering why the so called big clubs who were tracking him for months didn't step in for him when we showed interest, they could have offered him a ton of better terms in cash and European appearances than lowly EFC could.
Possibly they viewed the tape showing his ability to score goals and, as I noticed, saw that most of them were against really amateurish defending and all with his right peg; however, if he can cope with 'park the bus' defending and penalty area wrestling matches now endemic in the PL he could become a real coup, hope springs eternal.
Gordon Crawford
177
Posted 02/02/2016 at 15:38:45
Pete the same could be said about Lukaku. Why didn't the supposed big clubs go for him?
I for one see this as a positive. Onwards and upwards. :)
Joe Clitherow
178
Posted 02/02/2016 at 15:54:49
Ah the old optimism of the new signing.
Some say it's a great signing, some say a waste of money. How can anyone really say either way right now?
Probably the only one one who can speak with any degree of authority is our Tovarisch Yuriy from Moscow above. But no-one knows how a player will truly cut it in the Premier League.
For me, I will reserve judgement until I actually see him play in the flesh, and at least six games in when he is clearly match fit (which could be a long time given our coaching staff).
Mike Doyle
179
Posted 02/02/2016 at 16:13:49
Agree with Joe. Best to reserve judgement. How many of us would have been encouraged if, a couple of years back, it was announced we would be splashing out ٟ million buying a bloke from a non-league as a main striker?
According to many pundits Jamie Vardy has his limitations – but they don't seem to holding him back.
Micky Norman
180
Posted 02/02/2016 at 16:19:18
I agree with Kevin Tully about a hard running forward who will bust a gut getting the fans going, but it also helps the team defensively if opposing defenders are squeezed and can't pick a good pass out of their half. As good as Lukaku can be, he rarely gives chase to a defender on the ball with much conviction. Look how Tottenham's forwards run down the opposition – they don't concede many goals on the break.
Jimmy Salt
181
Posted 02/02/2016 at 16:19:44
Even if we do sell our young guns we will have plenty of dosh to spend on new players, Times change, players come and go and no one is irreplaceable, just enjoy the ride.
Nick Page
182
Posted 02/02/2016 at 16:26:13
"He's in a very good moment in his career"
Pure Roberto cliché that one.
John Malone
183
Posted 02/02/2016 at 16:28:38
Danny Welbeck has really impressed me for Man Utd, Arsenal and especially England playing as a left sided forward in front of Baines he's fast he's strong can hold the ball up and has good feet maybe not be a great finisher but I'm sure he would make a great foil for Lukaku and fit straight into our young talented team!
My point was why is he going abroad and paying £13.5 million for unknown quantities from a poor league in January?
Surely there is top talent available in Europe? A player in the mould of Perisic at Wolfsburg!
So far Martinez has done pretty well in the transfer market so I'll save my judgement until I've watched him first hand and he's had a good run out, I'm just sceptical as I've lost faith in the manager!

Anthony Hughes
184
Posted 02/02/2016 at 16:31:37
Hopefully he'll fit in with the team well. Surely though if Martinez is looking to build a Barcelona style method of playing then why isn't he bringing in the technical passing type of player. Niasse may well prove to be a great signing but he goes against the grain of what Martinez is trying to build.
Jamie Crowley
185
Posted 02/02/2016 at 16:33:42
Roberto has his detractors, but most (?!) would agree he has an eye for talent.
I'd rather see this guy in that Roberto has faith in and see what he can do opposed to Welbeck.
Never been a Welbeck fan. Not quantifiable, but he just doesn't have that "something", that "spark" in his game. Can't see Welbeck ever getting me off my seat – read barstool in 'Merica.
Adam Smith
186
Posted 02/02/2016 at 17:06:27
Perhaps that is the point, Anthony (#175)! To play the brand of football Martinez wants, we still need to press from the front – which we never do. If Martinez is going to allow Rom, Ross and Geri to be free from the burden of pressing their opponents, then maybe he thought his left-sided signing should be so hard-working and energetic, that he could more than make up for this point?
From the little I've seen and read of this guy, he will fill the Naismith void, but provide the pace and power that Naismith unfortunately lacked, to play that role effectively in our team.
Perhaps also, this represents thinking outside the box from Martinez. He has received a lot of deserved flack this year for poor selections and shoddy tactics but if he is trying something different with this signing, then he should be applauded. Plus, it worked last year with the signing of Lennon – his work rate shamed the others into trying harder (by the players' own admission).
Brent Stephens
187
Posted 02/02/2016 at 17:23:55
Jamie, like you I'm no great fan of Welbeck (BTW do you have a season ticket for that bar stool?).
Chris Gould
188
Posted 02/02/2016 at 17:29:56
John (#174), Welbeck is unavailable. You can't buy what's not for sale.
Plus he's mediocre and is no better than Naismith.
Jamie Crowley
189
Posted 02/02/2016 at 17:30:17
Actually Brent, it ran me $1200 for the regular season and an additional $500 for Cup games.
Doesn't even include food and drink!
Tony Cheek
190
Posted 02/02/2016 at 17:36:27
Remember when Everton thumped Brann from Norway a few seasons ago. Well, Niasse was on trial for them about that time and was deemed not good enough. They sent him packing. Their loss, our gain?
Brent Stephens
191
Posted 02/02/2016 at 17:36:45
Jamie, hope they don't serve only Chang beer.
Gary Russell
192
Posted 02/02/2016 at 17:47:00
No more Naisie but we have a new Niasse. Niicce!
Phil Walling
193
Posted 02/02/2016 at 17:54:21
According to Locomotiv's record, they played their first game since 10th December last night. So it seems unlikely that we shall see Niasse in full blown action much before the end of this month.
Let's try to be fair to the lad when he comes on for those 20 minute cameos normally reserved for Mirallas although it seems likely that Kone will still be asked to play a part.
One or two posters have suggested it will be Stones who is stood down tomorrow. That just won't happen as he will be asked to play himself back into form. Or, in other words, learn from his mistakes.
Paul Ferry
198
Posted 02/02/2016 at 18:35:18
Good looking team for tomorrow that Matthew (125) except that Besic is erm injured and out for a few more weeks and Niasse cannot play (needed to be signed before noon yesterday) and anyway has not had a game since early December, I believe, when the Russian league closed up.

Colin Glassar
199
Posted 02/02/2016 at 18:44:45
Phil, don't you think if Lokomotiv played last night all their players, including Niasse, would be fit and ready to play?
Rob Brown
200
Posted 02/02/2016 at 20:13:06
I just hope he is better than our last 2 signings from Russia.
Phil Walling
201
Posted 02/02/2016 at 20:13:46
Colin, they might well have been fit enough to have played against another team who'd had six weeks holiday but unlikely to be up to Premier League speed!
Would you include him with so little acclimatisation, then ?
Ernie Baywood
202
Posted 02/02/2016 at 20:35:02
Just went to YouTube and didn't see anything too special. Checked Wiki and it's a bit underwhelming... nearly 26 and only 5 caps for Senegal, was trialling for a contract a little over 2 years ago.
I guess when we sign someone and these resources seem favourable it's no guarantee of success so I should probably treat them with the same credibility.
But the price seems a lot doesn't it?
Colin Glassar
203
Posted 02/02/2016 at 21:14:50
Tim Vickery (expert) said Funes Mori was rubbish Ernie, he's not great but he's not bad either is he? Wiki, yesterday, was saying he had 45 caps and had scored an enormous amount of goals etc.... I wouldn't trust either as a reliable source.
Si Cooper
204
Posted 02/02/2016 at 21:32:19
Similar to Jamie Vardy in his attributes and late starting career? Vardy continues to show what outstanding pace and a good attitude can bring you.
John Tyrrell
205
Posted 02/02/2016 at 22:58:20
If Niasse is good as I hope I would start playing 4-3-3 in brackets their backup.
Robles (new keeper)
Coleman (Browning)
Stones (Jageilka)
Funes Mori (Galloway)
Baines (Garbutt)
Besic (Barry)
Barkley (Banega)
McCarthy (Cleverley)
Deulofeu (Mirallas)
Lukaku (Rooney)
Niasse (Tarashaj)
I would then like to see us sign Rooney (think he has the drive and passion we are missing) and Ever Banega (out of contract in summer, also an Argie like Funes Mori) and a goalie.
I would then get rid of some of the players who are to old or never going to make it to the first team these are, Junior, McAleny, Kone, Pienaar, Osman, McGeady, Gibson, Mattioni, Hibbert, Howard.
That would still leave Oviedo, Lennon, Pennington, Cleverley, Henen, Rodriguez, Holgate.

Gavin Johnson
206
Posted 02/02/2016 at 00:10:24
John (#194),
I think that's some team, mate. I'm unsure whether we'll have Stones and Rom next season though. I'll miss Rom and he'll be hard to replace. As for John Stones I think we have to sell a CB for any bid between £45-50m and for that money I won't lose any sleep about him departing. I will wish him the best of luck. He'll be a future England Captain I'm sure.

Mark Pridgeon
207
Posted 03/02/2016 at 06:50:13
Board: Well Bobby we are conceding a lot of goals and have been beat at home by Leicester, Stoke and Swansea, conceding 9 goals in those three games alone. What do we need to get out of this rut!
RM: I think we need a striker.
Board: Genius, any ideas who?
RM: Well I know these agents in Russia who have headed negotiations for us in the past and we've got some good players from them. They have suggested Baye Oumar Niasse.
Board: The same ones that got us Aiden McGeady? Hope he gets his match fitness up at Sheffield, then he can really show us what he can do.
RM: The very guys! They've got this Senegalese guy, scored a few goals and got a few caps for his country.
Board: Sounds great, how much do you need?
RM: £13.5 million
Board: Great, we'll borrow on next season's TV rights........
Maybe not exactly what happened, but you have to wonder what on earth is going on?

Joe Clitherow
208
Posted 03/02/2016 at 09:45:26
Stones and Funes Mori with Jagielka as backup? Really? Really??
It's not some team though as I've never seen a proper fully functioning team from Martinez. He sends out 11 individuals with the instruction to "express themselves in the moment" or some other bollocks. Then everyone else is looking at Everton to take responsibility when the other team has the ball, i.e. about half the time.
Anton Garvey
210
Posted 03/02/2016 at 13:59:48
Martinez needs to be harder and get in the real world. No good being Mr Nice Guy with these players. Get rid of the dead wood, face the truth or lose your job. Osman and Hibbert are finished, the drunken driver (Gibson) never started, McGeady, Kone get the wage bill down...
Oh, I forgot to throw Howard in as well. We want the best for Everton – you're not at Wigan now!
COYB BOYS
Peter Bell
211
Posted 03/02/2016 at 14:32:10
Anton, what do you mean "Osman and Hibbert are finished"? They WERE finished 2 years ago and I was expecting RM to tell them so, but no, what did he do, he gave them both 2-year contracts.
At the time I thought this would be the time for him to show how ruthless he could be as a manager, but I am afraid he failed the test. He doesn't have the balls to say no and just hopes these players will retire gracefully without him doing what Everton FC pay him to do.
It's what made managers like Fergie winners – no time for sentiment.
Anthony Dwyer
212
Posted 04/02/2016 at 02:23:48
Completely agree Peter.
Freeing up Hibo and Ossie's wages would have allowed a top class free to come in on 䀁,000 a week without any changes to the books.
Roberto owes no loyalty to any player who hasn't played many games during his management.
Hibo, Ossie, Gibson, Pienaar and possibly Oviedo could all have been shown the door, although Oviedo looks like he was worth keeping despite the vast array of left back talent we own.
My rough calculations point to a saving of around £200k a week and a extra game here and there for Lennon, Mirallas, Besic and a few youngsters or loanees.
Roberto had his chance and did not deliver, instead he made Distin and to some degree Mirallas his scape goats .
Geoff Evans
213
Posted 05/02/2016 at 08:16:31
If he's worth five and a half mill more than Steve Naismith I'll be impresses.
John Daley
214
Posted 05/02/2016 at 08:33:50
"If he's worth five and a half mill more than Steve Naismith I'll be impresses."
That would make him worth about....oh, I don't know....£9m in my book. Looks like we've been done.
Geoff Evans
215
Posted 05/02/2016 at 13:51:06
Time will tell.
Add Your Comments
In order to post a comment, you need to be logged in as a registered user of the site.
Or Sign up as a ToffeeWeb Member — it's free, takes just a few minutes and will allow you to post your comments on articles and Talking Points submissions across the site.
© ToffeeWeb