Niasse confident of finally making his Everton bow
by

80 Comments [Jump to last]
| 17/02/2016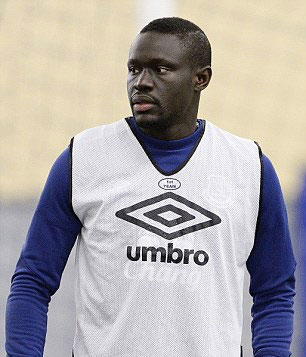 Three weeks after arriving at Goodison from Lokomotiv Moscow, Oumar Niasse is gearing up for his first involvement for the Blues.
The Senegalese striker, a £13.5m capture from the Russian League on transfer deadline day at the start of the month, has yet to feature for the Blues but, as he told Sky Sports this week, he thinks he will play a part at some stage of Saturday's FA Cup tie at Bournemouth.
"I think this week I'm going to be involved. I don't know exactly but I think I'm going to be involved. I just need that start to know where I am because in the Premier League, [like football in general] you need to be in to know what the level is [like]."
With Russia's League having ended in December, Niasse was short of match fitness when he arrived at Finch Farm which precluded his selection for the team against Stoke City a fortnight ago. And while he might have made the bench for last weekend's League defeat to West Bromwich Albion, the impending arrival of a baby probably lay behind his absence from the team sheet on that occasion.
Now, however, he feels ready to play and complete the bedding-in process in his new surroundings.
"It's a new country, a new time but it's not so different because the team is like a family, the team is open. The players, the staff, the training ground – everything is OK for you.
"So, I just need a little bit more time to be settled in and then start a new [journey] with Everton."
However, speaking to the media on Thursday ahead of his side's trip to the Vitality stadium, Martinez said: "We want to make sure Oumar is fully fit and ready. He had a little surgery on his wrist and that area has been causing him a bit of a problem.
"He is getting physically stronger with every session and his positive attitude is contagious.
"The next 48 hours will give us the final answer on whether or not Oumar will be available. He still has an outside chance but, if not, I feel very confident he will be fit and ready to be involved for the next game against Aston Villa."
---
Reader Comments (80)
Note: the following content is not moderated or vetted by the site owners at the time of submission. Comments are the responsibility of the poster. Disclaimer
Kim Vivian
1
Posted 17/02/2016 at 20:36:47
Judging by our levels of fitness relative to say Leicester, he must have been bloody unfit when he arrived here to have spent three weeks getting to our level of (un)fitness.
Mick Quirke
2
Posted 17/02/2016 at 20:39:59
We are a very fit team. I'm enjoying the Leicester story, but I'd like to see em properly drug-tested.
John Daley
3
Posted 17/02/2016 at 20:45:04
Looking forward to seeing how he adapts. I saw him a few times over in the Russian league and if he can show the same energy levels and enthusiasm he did for Lokomotiv then I can see him becoming something of a crowd favourite, given time.
Of course, it depends how Martinez utilises him. He could slot in very nicely on our left hand side, but it seems the manager prefers a more steady presence in that position these days.
Alan Bodell
4
Posted 17/02/2016 at 20:59:21
I've heard the lad is full of energy and unpredictable so I just hope it spurs our lazy over-rated Belgian striker to up his game.
Mick Quirke
5
Posted 17/02/2016 at 21:08:28
How many goals and assists does our 'lazy, overrated Belgian striker' have this season? Another stupid comment by a negative TW poster.
Tony Abrahams
6
Posted 17/02/2016 at 21:12:06
I can't see him playing anywhere else to be honest, John, unless Lukaku gets an injury. Don't mind steady, if it gives us more balance, but we have got some very good attacking players, who all need to start being utilised properly.
James Marshall
7
Posted 17/02/2016 at 21:14:17
The lazy overrated Belgian who's scored more goals for us this season than anyone since Graeme Sharpe?
The fifth player under 23 years of age to score 50 Premier League goals, after Robbie Fowler, Michael Owen, Wayne Rooney and Cristiano Ronaldo...
The first Everton player to score in six consecutive Premier League matches...
The first to score in seven consecutive matches in all competitions since Bob Latchford...
The first Everton player since Dave Hickson to score in 8 consecutive games...
The striker with 20 goals in 32 games for us this season...
Oh, that overrated Belgian. Gotcha.
Andy Crooks
8
Posted 17/02/2016 at 21:15:26
Alan, Lukaku is not lazy. He is, in my view, the best striker we have had since Gary Lineker. I believe he will be a world class player. I am glad he is at Everton and I hope he stays here.
Jim Jennings
9
Posted 17/02/2016 at 21:27:51
"I've heard the lad is full of energy and unpredictable so I just hope it spurs our lazy over-rated Belgian striker to up his game."
Mirallas may be over rated but he's not lazy.
Tony Abrahams
10
Posted 17/02/2016 at 21:29:55
James, Andy, I think Lukaku has become a much better footballer, but I'm still not convinced on his ability to play up front by himself.
He played well against City, in the cup at Goodison, but when Kone is not on the pitch, pushing up to help him, he just doesn't seem as effective.
He hasn't got the frame to keep making run after run, and he's still not always aggressive enough, so I just hope that this Niasse can be the answer, firstly for Lukaku, and more importantly the whole team.
Joe O'Brien
11
Posted 17/02/2016 at 21:30:46
Very silly comment from you, Alan. He is anything but over-rated. We'd be down with Villa only for him.
Dave Clark
12
Posted 17/02/2016 at 21:47:41
Anyone who knows me knows I hate Martinez with a passion. I simply loathe the man, please someone shoot him!
Except for one thing: I do agree with him about in that he said he'd have paid £100m for Lukaku! And so wouldI!
As Andy (8) said earlier, he's the best we've had since Lineker, I'm simply baffled how anyone could think anything else. If there's one person who cannot be blamed for this seasons failure, it's Rom! Leave him out of it!
Please blame the clown instead!
Alan Bodell
13
Posted 17/02/2016 at 21:51:42
If he wasn't so lazy and flat footed with anticipation in the box we'd be up there in the top 4 by now.
How many chances has he missed with the amount of times he has been played in ?, he stands rooted with hands on his hips or pointing to where it should have gone, needs to be more motivated for me.
Colin Glassar
16
Posted 17/02/2016 at 22:16:39
He's just lethargic, Jim.
Armando Canaj
17
Posted 17/02/2016 at 22:19:06
Alan, class mate. Proves there's no right answer in football.
Keep topping up that glass fella.
Alan Bodell
18
Posted 17/02/2016 at 22:20:34
James, they are good stats mate but could have been obliterated if he could have converted what our players have created for him. Does the following suggest he is what he thinks he is...
1st touch, heading, anticipation, shooting, freekicks... If you answer Yes to them then you are not watching the same games I am.
Don Alexander
20
Posted 17/02/2016 at 22:31:51
I was listening to Ray Wilkins the other day and found myself in agreement when he said (of Pato), that he was surprised to appalled that a so-called professional footballer, his words, was not in tip-top nick to play the moment a transfer window opened. I have to say I agree... but that's some modern-day players for you.
I hope this lad's now firing on cylinders though and wish him every success.
I also hope I never get to hear what his hammy's sound like.
Phil Walling
21
Posted 17/02/2016 at 22:34:34
Seems a pity to disrupt the Lukaku - Kone axis.
ps: Just thought I'd join in the piss-take that is this thread!
Grant Rorrison
22
Posted 17/02/2016 at 22:41:55
Hope this fella provides Romelu with a bit of competition. Having watched him I am a bit sceptical but give everyone the benefit of the doubt.
Giving our best striker since Yakubu the impetus to improve and scale greater heights than he already has can only be a good thing. I will wait until he has played 20 or more games in England before I make any assessment.
Sam Hoare
23
Posted 17/02/2016 at 22:47:30
Let's hope West Brom was a blip. We have looked better defensively lately and scoring goals has been the easy but for the most part. The pieces look to be in place, up to Martinez to start getting results. If not then someone else hopefully will.
Grant Rorrison
24
Posted 17/02/2016 at 22:56:34
There is clearly something wrong with us. You can't keep blaming bad luck for the same patterns emerging time and again. Why can't we score goals in games we dominate?
James Marshall
25
Posted 17/02/2016 at 23:11:12
Alan – as of October 2015:
Since joining Everton permanently, Lukaku's shot accuracy in the Premier League is 57.3%. That's higher than the following players in that time period: Sergio Aguero, Harry Kane, Olivier Giroud, Eden Hazard, Saido Berahino, Wilfried Bony, Daniel Sturridge, Wayne Rooney and Christian Benteke.
I honestly think you're wrong in your assessment.
Tom Bowers
26
Posted 17/02/2016 at 23:12:57
Given the season at home so far it cannot be said the Albion game was a blip.
Yes it was one of those ridiculous games you get in a season when if you play till midnight you won't score but conceding just one against crap like Albion was hard to take in the end. Somehow I can't see how the new goalscorer will improve the defensive side of things.
Whilst the squad needs improving all round, from a goalscoring angle Everton are one of the best this season so Albion must have thought it was Christmas that they got a clean sheet.
Let's hope Niasse gets a game against Bournemouth and gives us something to shout about down there without the need for a replay.
Grant Rorrison
27
Posted 17/02/2016 at 23:19:01
Tom 22. We conceded from the only attempt on target. Defensively we weren't that bad. Offensively a bit unlucky.
Mark Frere
28
Posted 17/02/2016 at 23:38:17
He looks very Paulo Wanchope in his style to me... not such a bad thing I suppose. But will never be no world beater.

Anthony Dwyer
30
Posted 18/02/2016 at 00:21:26
Another great decision last week by Roberto, to allow Niasse to sit the game out rather than be on the bench to offer us an extra striker for the last 10-15 mins.
How will we ever manage to hold onto him, teams must be lining up to take this genius.
Steve Jones
32
Posted 18/02/2016 at 00:31:12
@James Marshall comment 7 – I've heard a lot of misinterpretation of Lukaku's goal scoring record compared to Greame Sharp from people, in the press and on TV this season. To set the record straight Lukaku is the first player to score 20 goals or more in consecutive seasons since Greame Sharp in all competitions.
Lukaku isn't the first player since Sharp to get 20 in a season, Yakubu got 21 in 07-08 season, Beardsley got 20 in 91-92 and Cottee got 24 in 90-91 (A lot in the Simod cup!).
Agree though Lukaku isn't lazy but it's clear he doesn't get into the right positions sometimes, he very rarely gets to the front post or as Deulofeu said earlier in the season on advice he had given to Lukaku "the first post" and doesn't get in the six yard box enough.
Harold Matthews
33
Posted 18/02/2016 at 01:04:17
If Lukaku was as brave and aggressive as Funes Mori at corners and freekicks his stats would be even better.
Brian Wilkinson
34
Posted 18/02/2016 at 01:29:58
Alan does have a point, cannot knock his goals but I am with Alan, we've set up loads of chances in the box, Deulofeu time and again expecting Lukaku to make a run towards the near post.
Whether anyone agrees or not, had Naismith played every game in his striking role, he would have been up there for goals. Naismith, when played in attack, knew where the ball was going and ran into the space in the box – not stood there with his hands on his hips.
Brian Porter
35
Posted 18/02/2016 at 06:13:43
Strange how a thread meant to be about Niasse ends up in a discussion on the prowess of Lukaku, but that's TW for you. I can see Alan's point in that Rom could have had a fair few more goals if his anticipation and work level in the box was slightly improved. He has looked a bit lethargic recently, whether through carrying an injury or a dip in form, who knows?
As Brian Wilkinson says, Naismith had better awareness in the box and made runs which anticipated the arrival of the ball, whilst Rom tends to wait for the ball to come to him. Funes Mori has good predatory instincts at corners and Rom should actually take a look at how he consistently gets in there to win those headers – not exactly Rom's strongest attribute.
On the question of whether Rom is a good striker, the answer has to be yes, of course he is, but add the caveat, could he be an even better striker by adding one or two improvements to a couple of elements of his game and again the answer has to be yes. To be fair, he's young and has been left to plough a lone furrow at times by El Stupido, refusing to give him the support he needs up front. Kone is not and never will be the answer to that so let's hope Niasse is. (I knew I'd fit him in somewhere!)
Back to Funes Mori, I hope he gets the chance to add to his goal tally at Bournemouth. I just love the happiness of his goal celebrations and it's about time we had a defender who can get in the box and contribute a few goals per season.
Neil Pickering
37
Posted 18/02/2016 at 08:41:17
I've been Lukaku''s biggest critic, especially last season when I thought he was absolute dogshit to the point I wanted us to cash in. This season he has converted me though. His work rate, touch, and positioning have all improved, as has his attitude.
He is clearly carrying a knock at the moment, and combine that also with a loss of confidence due to the team's inability to see games out I think it's taking its toll on him. Fact is, if you take away his goals, we are where Newcastle are.
Laurie Hartley
38
Posted 18/02/2016 at 08:46:05
I have noticed my recovery time from Evertonitis is improving as we enter the final third of the season and I am therefore looking forward with great optimism to the FA cup tie at Bournemouth. It's the hope that keeps me going!
I am dreaming of a starting line up with our new acquisition.
Robles;
Coleman, Jagielka, Funes Mori, Oviedo;
Barkley, Barry, Cleverley;
Lennon, Niasse;
Lukaku
If we don't win this one with the players we have available, I will spit the dummy.
Up the Blues.
Adam Luszniak
39
Posted 18/02/2016 at 08:46:42
So will this fella be our attacking outlet on the left? I've been very impressed with Cleverley's contribution down that side, but on occasion (see playing any Pulis side) we need more threat down that side, not least to make space for Lukaku. Kone is not up to the task, and Mirallas is clearly not rated at all by Martinez.
Peter Barry
40
Posted 18/02/2016 at 09:00:26
Lukaku was an idle bastard in the West Brom game. Let's hope the competition from Niasse wakes him up.
Brian Wilkinson
41
Posted 18/02/2016 at 09:11:37
Laurie, spot on your team, but I can't get the nightmare out of my head of Bobby's Charlie Chuck moment come Saturday: "I will have Tim Howard in goal with donkey up top, Edith can I have a flake with that Kone, cuckoo.
Actually Charlie Chuck makes more logic than Bobby,
I fully expect Bobby to stick Howard in goal; if he doesn't, even he will find it hard to call Tim back for the Premier League game. Bobby will hope Tim plays well so he can keep him in the team; Kone will get game time, and Mirallas will probably be dishing out the oranges at half time again.
George Freeman
42
Posted 18/02/2016 at 10:29:58
Just received a message from OS reporting that Niasse has a wrist injury?
John Daley
43
Posted 18/02/2016 at 10:33:33
"Just received a message from OS reporting that Niasse has a wrist injury?"
One of the perils of having a heavily pregnant wife.
Denis Richardson
44
Posted 18/02/2016 at 10:41:15
Niasse looks a doubt for Bournemouth.

Great start Γ'β'¬β€œ signs in January and it looks like we'll be waiting a month before seeing him play. (At least it'll be against Villa...)
George Freeman
45
Posted 18/02/2016 at 10:43:30
I thought that might provoke a comment but apparently he has had surgery on his wrist. Could be why he was not on the bench against WBA.
Dave Richman
46
Posted 18/02/2016 at 11:27:44
Just did a little research ..... Lokomotiv Moscow played in the Europa League Round of 32 on Tuesday night, so if he had not signed for Everton, then Oumar Niasse would have been expected to be fully fit and ready by now – at his old club, let alone at a new club who is in mid-season and needing to impress ....
Or am I being unreasonable here? So this bollocks about "well, he hasn't played since December" is a little tenuous and completely redundant... wrist injury or no wrist injury, he should be fit.
Ray Smith
47
Posted 18/02/2016 at 11:51:07
I understand that he chose Everton after speaking with RM, and having done so believes Everton will be in th CL for years to come.
Did I hear this when BK gave RM the job?
Still, we can dream, but that's all it will be whilst RM is at the helm.
Fred Johnson
48
Posted 18/02/2016 at 11:56:29
I would prefer Everton to play with a smaller striker who is fast out the traps. Lukaku is 0 to 5 mph in an hour. The idea of playing a big man up front to offer aerial threat goes out the window too as he rarely gets in front of his man even if the ball's in the sky for an age. He very rarely is capable of taking a man on.
As Alan says, he shows no anticipation for a cross in the box and for me has scored a number of miss-hit tap-ins and pens. Yeah he's big and strong and fast off a rolling start but to say he's the best since Sharp only proves what a bad time we have had since then.
The way Everton play with constant ammunition for a big man, he should be on a lot more.
Paul Olsen
49
Posted 18/02/2016 at 12:07:11
Re Lukaku.
He is good, no doubt. But, he is a £28million striker with a valuation close to £50mill.
Knowing he is ambitious makes me think he wants to be a world-class striker like Suarez (work rate like no other striker) or Benzema (fantastic finisher that always positions himself right). Compared to those two he is at the moment nowhere near. He is more of a Benzema type, so his focus should be on positioning and movement off the ball + becoming ballsy enough in aerial challenges.
His movement in the box and control lets him down. At the moment, he is not mentally strong enough to power himself through in difficult circumstances.
He is still young, and will continue to learn, hopefully. So, yes he is great but he could be Benzema/Suarez great. Which means we need to expect even more from him. He should be a beacon in this side, at the moment he is just a very good goalscorer.
James Marshall
50
Posted 18/02/2016 at 12:10:58
George @ 33
He's worn a brace on his wrist for months and played no problem – you can see it on all his YouTube footage.
James Marshall
51
Posted 18/02/2016 at 12:13:10
He's 22 and the focal point of our team, the best striker we've had since the '80s, revered among many European clubs, and will have options should he want to leave. He's big, strong, quick and can finish yet people want more from him.
Honestly, people need to realise what they have while it's here – we'll miss him when he's gone.
Anthony Hawkins
52
Posted 18/02/2016 at 12:38:34
I agree with a lot of the comments posted.
Lukaku has been both great and could do a whole lot better. His scoring record is the best Everton has seen in a long time but it could be even better!
His stats and goal record could be even better had Lukaku been in the right place at the right time and been on the end of some of Del's crosses.
Del should be one of the first names on the team sheet. I also think Mirallas is being massively overlooked this season and should have been heavily involved.
Robles
Coleman, Jagielka, Funes Mori, Oviedo
Barry, Cleverley,
Deulofeu, Barkley, Niasse,
Lukaku
Nick Page
53
Posted 18/02/2016 at 12:39:57
How come it feels like we're the only ones who buy someone, and then they don't play, whereas every other team's buys play first game after coming in? Why? Now he's gone under for some poxy wrist injury. FFS
Steavey Buckley
54
Posted 18/02/2016 at 12:49:20
"However Roberto Martinez warned that the 25-year-old only has an outside chance of facing Bournemouth in the FA Cup fifth round on Saturday.
Speaking to the media ahead of his side's trip to the Vitality stadium, Martinez said: "We want to make sure Oumar is fully fit and ready. He had a little surgery on his wrist and that area has been causing him a bit of a problem.
"He is getting physically stronger with every session and his positive attitude is contagious.
"The next 48 hours will give us the final answer on whether or not Oumar will be available. He still has an outside chance but, if not, I feel very confident he will be fit and ready to be involved for the next game against Aston Villa."

Source: Liverpool Echo.
James Marshall
55
Posted 18/02/2016 at 12:51:09
He's had the wrist injury for ages – he had a brace on it when he was playing for Lokomotiv.
It does seem odd they decided to operate on it now –why not operate on it when we signed him?
Phil Walling
56
Posted 18/02/2016 at 13:05:43
RM seems addicted to signing player 'bearing a little injury', doesn't he?
Andy Meighan
57
Posted 18/02/2016 at 13:33:21
Alan, you're entitled to your opinion, mate. The game is all about them. I nearly got murdered in the Top Balcony at the Swansea game for daring to call out the beloved Lukaku.
Oh, by the way, that's the same Lukaku who had a magnificent first half of the season but has scored only goal from open play since Christmas and looks like he can't be bothered since. Big money move to a European super power, anyone? Yawn, yawn, yawn...
Nick Page
58
Posted 18/02/2016 at 13:37:16
He's in an incredible moment, Phil. Apparently
James Marshall
59
Posted 18/02/2016 at 13:54:53
Maybe they want him to play in goal.
Tim Locke
60
Posted 18/02/2016 at 14:46:30
Classic, Alan (#4). Nice to see people trying to persuade you otherwise, although, given your comment at 13, I feel your beliefs are: that Elvis still lives, man's not walked on the moon, and gravity is for only those who believe. There clearly is no convincing some even when the facts are overwhelming.
Good to see a couple of people tried to grab something out of the flames for you, no more so than Paul (#38), with his £28m overpriced? Errr... no, Paul, it's not. Sadly, the amount of money in football these days buys you very little.
Sure, we can all point to the bargains: Stones, £3m... err, hang on... £1.25m, thanks, OFM. But most decent, consistent strikers, it is name your price time. If you don't believe me, just look at the money wasted on strikers: Falcao, Torres, Carroll... the list keeps going.
Charlie Burnett
61
Posted 18/02/2016 at 15:40:17
Roberto signed him, watched his YouTube clip, thought that a bargain, then watched him in training and thought "Oooooo... fuck, I fucked up again. I can't show this to the fans... Let's just pretend he's injured."
Tony Dove
62
Posted 18/02/2016 at 16:25:19
Dave@40, that says it all for me. He would either have been staying in Russia or knew he was likely to move. Either way there is no excuse for
being totally unfit.
Brian Porter
63
Posted 18/02/2016 at 16:26:51
Wrist injury? You couldn't write a better comedy script. How come this is the first we've heard of it? As others have said, every other team buys a player and they play them from day one, but not Everton. Martinez has again been economics with the truth, keeping on telling us he might make his debut last week, then this week, now a mystery operation pops up from nowhere.

Andy Meighan has a point about Rom too. One goal in open play since Christmas. Funes Mori has three in that time, I think, and he's not a –28m striker. Rom has been very lethargic recently despite being on fire earlier in the season. He needs to up his game and his tempo.
Peter Roberts
64
Posted 18/02/2016 at 16:28:29
Oh no! someone has criticised Lukaku and a forum goes into meltdown... Blimey - so much for opinions eh.
The fact that can't be escaped is that he is a goalscorer - after 30 years of watching other teams break the bank in order to get the best striking talent, we finally spend proper money on a goalscorer - not a post injury prone saha, not a debatably aged Yakubu, not a mid level level AJ or Beattie - we actually sign someone who has immense athletic attributes and an eye for goal.
The fact that is so loved despite doing a "pretty decent" job - is an indication of how deprived we have been and not neccesarily how good he is.
Does this mean that we are not to question his poor touch or the seemingly 5-6 games spells where he just can't be bothered? Or do people have selective memories that when the net ripples and Lukaku peels away the word "beast" comes out and any memory of him strolling around whilst Olssen mops up every ball just disappears from mind?
I'm sorry but apathy has ruined this club - if someone questions the workrate of a player who has a decent goal return then its not a crime... it may just indicate that the person looks at "performances" and not just blended statistics.
The lad could be one of the best in the world - he won't be though. He lacks the "continued desire" to be a winner in the way lesser athletically gifted players like Cahill, Naismith, Kane, Vardy are. Far too often we wait for a derby esque performance where he terrorised the Liverpool defence or a game where he looked amazing against Southampton and we see him turn up looking like he has been to an Emmanuel Adebuyor seminar on "how to pretend you are putting a shift in".
He will no doubt be sold for good money - his stats, age, and highlight reel are impressive. In the meantime Niasse may be able to light a fire under his backside and we see the player he can decide to be when he wants.
Clive Rogers
65
Posted 18/02/2016 at 17:41:29
Looking through these posts, Martinez has got everyone thinking Niasse will either play wide left or compete with Luke for the sole striker role. Why the hell can't we play two up front and go for it.
Oh and Naismith was poor for Norwich last weekend and was the first one pulled.
Alan Bodell
66
Posted 18/02/2016 at 17:51:17
Peter, your post is what I wish I had originally posted and sums up everything and more I meant at the start of this hissy-fit by some.
Apologies to one and all for the diversion of this thread and I really hope I will have to eat my words with him twatting in loads before he fucks off to where he thinks his skill deserves to take him.
David Price
67
Posted 18/02/2016 at 17:51:39
John Daly, gutter humour.. Love it !!
Eddie Dunn
68
Posted 18/02/2016 at 18:57:39
Alan Bodell has a point about Lukaku, who I must add, I rate very highly.
His stats are impressive, but stats can be misleading.
He will be a super player, but he is young and a big lad, and can't be expected to be like Vardy, who is like a butcher's dog, and can run all day long.
Rom is suited to playing on the break, with the ball put in front of him. His hold-up play has improved no end, and he is a great passer of the ball too.
It is the style of our play when faced with a West brom type team that Rom isn't currently built for.
He is often alone up top with two or more defenders all around him. He may well be carrying a knock, but it is our approach play which is holding him back, not his attitude. He gets frustrated, but often he has a right to, as the succession of daft balls into the air to the massed ranks of West Brom Orcs sent us all insane.
I would love to see the new lad playing up there with him, but will Bobby be that bold?

Peter Roberts
69
Posted 18/02/2016 at 19:05:06
Sorry Eddie, not having that mate..
He has absolutely no excuse whatsoever for the number of times a ball has zipped across the 6 yard box and he has been stood still by the penalty spot.
I'm serious when I say he could have had an extra 10 goals this season. Deulofeu lost the plot the other week, 5 balls he put across that box - every fan in th ground knows where he is gonna hit it but Rom doesn't commit.
Against WBA he allowed their defence to win every lose ball. I can't believe tgat he hasn't had any of the coaching staff ripping into him for it.
Colin Malone
70
Posted 18/02/2016 at 19:26:38
Alan Bodell, I totally agree, I have been saying it for months. Wants a pass on a plate. No aggression, hence his yellow cards tally. I would love to see either Deulofeu or Mirallas behind Rom instead of Ross Barkley.
Nick Entwistle
71
Posted 18/02/2016 at 19:47:59
Just a thought on the photo pf Niasse on the home page. Is this a photo shop? I remember back in the day Match magazine's letters page had a guy questioning how they could have 'Free Poster!' of Andy Cole playing in a Utd shirt before he'd made an appearance. They said they had took his head and shopped it onto the shoulders of Paul Parker.
Teddy Bertin
72
Posted 18/02/2016 at 20:06:25
Idiots.
Waits for a pass on a plate - he's conserving energy. We've had plenty of headless chickens chasing lost causes. Not everyone can play like Vardy.
No aggression winning headers - he's doing exactly what Drogba used to do. Avoids getting hurt or showing the defenders what he can do when going up for a hopeful long ball in the middle of the park and then steam rollers people out of the way when the header can be on goal.
I'd rather have Rom, saving energy and avoiding injury than Big Dunc killing himself to win every single hopeless long ball, only to get injured every other week. Carroll does the same as Dunc, wants to win every single header and be involved in everything only to end up consistently injured. Players have to pick their battles carefully. Barry does the same thing and is rarely injured.
Extra ten goals this season? Like he'd be at Everton if he'd scored an extra 10 goals this season.
Have you guys seen how many chances Giroud, Rooney and Aguero have missed this season as well? Rom's much younger than them and still learning his trade.
Christ, we have one of the most exciting young strikers in the world, who is improving every year and people on here still want to find a negative. Not even a negative actually, more like slander. Slandered with false accusations of being lazy, holding back and wanting to leave, by your own fans after being the best player we've seen at Goodison in years.
What has a player got to do to get the fans behind them at this club?
Tim Locke
73
Posted 18/02/2016 at 20:38:55
Teddy you are spot on. We could have Messi playing and people would be saying he's not consistent; he's missing chances. There are always jokers who think good players are average. Put your boots on chaps like to see you in the box let alone finding the back of the net.
Remember players are human and inconsistent; like we all are no one pulls a blinder at work everyday. That is why stats help, they don't mean everything but they mean a lot. What is key thay are factual rather than opinions. if we went just on feelings then we would have 3 points from Saturday, because I felt we would be WBA. I felt we played better. But the stats say we lost. Guess they are wrong.
Alan Bodell
74
Posted 18/02/2016 at 20:40:06
Teddy, just to answer your rant with your last paragraph..........,
how about breaking a sweat and put a little effort in and that would please me a little more than coming off the field with a kit that needs no washing.
Opinions, its all opinions.
Peter Roberts
75
Posted 18/02/2016 at 20:41:50
Ah right sorry Teddy, I didn't realise Rom was conserving energy when Deulofeu zips one of his 6 yard box specialities across the goal. Rom wants to have a word with Gerry there... Doesn't he know he's only 22 and needs his rest.
As for winning headers I see your point, he's hustling the defenders. What's the point in winning a header and directing if to deulofeu because by the time he gets the ball in the 6 yard box Rom will be getting his well earned rest about 25 yards from the goal mouth.
I mean you are right about rooney, aguero and giroud for the chances they missed, what they need to do is not get there to miss them. .. then they can't be blamed. Fair play Rom is ahead of the game.
I just hope Rom doesn't take us to court for slander, £75k a week can buy the best legal eagles, did he take his national manager to court for calling him a lamppost? He should do, he's broader than that, more like a telegraph pole.
Martin Mason
76
Posted 18/02/2016 at 20:56:46
Brian@29, if Lukaku isn't at the end of the cross then there is the chance that the cross was poor and that is true for the majority of cases. If the striker nets from a cross then everything has gone right from the run to the pin point cross; if he doesn't, the real likelihood is that the cross didn't find the striker not the other way around. i'm sure most would agree that most crosses are poor? All the striker can do is make a run int space to which the cross can be directed and after that it's up to the cross to reach that space as the striker gets there. Most passes are poor in this respect so to blame Lukaku for not being on the end of a "good" cross is ridiculous, he fails to get on the end of poor crosses that's all.
Lukaku is the best striker I've seen at Everton since Lineker and whilst not quite as devastating a finisher or as fast over a couple of yards his strength is far better as is his heading which shows amazing neck strength that most strikers can only dream of. When we give him the service that he needs he is virtually unplayable and at such an early age for a striker.
For a fan to criticize a lad with such massive talent is only on a par with similar criticism of Ross Barkley, the only 2 lads at the club who we could virtually name our price for, the only special talent that we have and the 2 players we couldn't replace. I'm proud that these lads are at the club and pray that they stay; shame on our fans that call them lazy or lethargic. We're fans, they are top class International footballers,there's a reason for that.
Dave Abrahams
77
Posted 18/02/2016 at 21:07:44
Martin (70) the fans moaning about Lukaku are talking about the last five or six games, and I agree with them, he has been poor, out of form is one thing, out of energy and complaining to players when HE has made the poor pass,standing statue like, no movement and failure to get into the six yard box and fight for the ball and make a nuisance of himself, he has done very little of this in the last few games.
Tim Locke
78
Posted 18/02/2016 at 23:11:01
Dave - yeah your right we should have got rid in Jan. Clearly past his best at end of December. Think spurs fans think the same about Kane wishing they sold him in the summer 'cos he was shocking as the start of the season. Don't say it too loudly but heard Leicester fans are annoyed Vardy got a new deal he has lost so much form, heard they are even more annoyed they are not more points clear at the top and thinking of sacking Ranieri.
I say bring Howard back quickly at least then the boo boys will have a sensible player to moan about.
Dave Abrahams
79
Posted 19/02/2016 at 09:23:34
Tim(72) I'm saying Lukaku has been poor for the last few games and that is what the fans are complaining about, I don't have to say get rid of him, he'll be gone in the summer and we will make a very good profit on him.
If you'd like to argue that he has played well in the last few games I am perfectly willing to listen to your argument, but please don't imply something that I never said.
Graham Mockford
80
Posted 19/02/2016 at 11:09:25
Dave #73
I would agree Lukaku certainly hasn't been as good in the last five games, anyone reasonably looking at it would have to agree. And I think you are always reasonable in your posting. No player is above criticism but sometimes a little perspective is required.
The guy deserves to be cut a little bit of slack, he has after all played more football than any other player this season including every single PL game as a lone striker. His record this season speaks for itself.
When you hear nonsense like Peter Barry calling him 'an idle bastard' or Alan Bodell calling him 'a lazy overrated Belgian' or the serial Lukaku hater Peter Roberts posting his usual shit.
"I just hope Rom doesn't take us to court for slander, 㿷k a week can buy the best legal eagles, did he take his national manager to court for calling him a lamppost? He should do, he's broader than that, more like a telegraph pole."
The answer is no of course!
You suspect there is something a bit more personal than just criticism of a players performances.
Phil Walling
81
Posted 19/02/2016 at 11:44:23
This thread seems to have become a 'knock Lukaku' debate so returning to Niasse, his non-involvement tomorrow would begin to sound like a case of the Traores !
The difference, of course, is that Everton have paid good money for this guy rather than have him on trial/loan.
His record seems to indicate that he can play a bit and YouTube clips seem to support that. But I'm always suspicious of ex-Russian league players and their easy access to sick notes. There has been quite a few of them around the Prem.
Fred Johnson
82
Posted 19/02/2016 at 12:01:35
Certainly over rated by Martinez! Potential to be world beater? I don't think so! With the ammunition provided most decent strikers would be near the 20 mark taking pens, free kicks and goal hanging for the last 20 mins when chasing a game. He needs to be more involved in games and distract a defender or two out of a congested box.
I'm sure most would agree that a plan b is needed. Id like to see him work his arse off for an hour and subbed if he starts flagging rather than conserving energy as someone suggested! Made me laugh that one!
Dave Abrahams
83
Posted 19/02/2016 at 15:21:35
Graham (#74) thanks for your measured and honest reply. So tomorrow, when Lukaku scores a couple, including the winner, you will all know who to thank for Rom's improved display: it will the moaners on here who livened him up and got him going again!!!!
Alan Bodell
85
Posted 19/02/2016 at 17:26:46
Graham, I really hope he is prolific until he inevitably leaves for what he perceives to be where his talent will take him but my big annoyance is his lethargy and lack of anticipation.
If you disagree with me, then that's okay too – it's opinions.
Alan Bodell
86
Posted 19/02/2016 at 17:32:59
Graham, I meant to add about your comment re him playing so many games this season etc, he's on £75k a week ffs.
Deep sea fishermen and Oil riggers work a grinding 18 hours a day for far less and seem to be functioning just fine, the 22-year-old needs to eat more Shredded Wheat.
Dave Brierley
87
Posted 19/02/2016 at 20:40:58
At the risk of getting splinters in my arse, I'm really on the fence regarding Big Rom. His goal scoring record is obviously very impressive but Martin Mason's comment "Lukaku is the best striker I've seen at Everton since Lineker" is not one I share. (Just out of interest I agree with a lot of your opinions on here Martin.)
His inconsistency is not unique in strikers but but it's the stark contrast in that inconsistency that strikes me (no pun intended). It is pretty obvious in some games that he really couldn't give a shit and his effort is minimal. And then he pops up with a goal that you can only gasp at. His contribution to the team play is at best, poor and his first touch, as has been often stated on here, is bewilderingly lacking for a pro. And then... he scores one of those really special goals.
I guess I would say that Romelu Lukaku to me is the most confusing striker I have seen at Everton. We would have really struggled without him this season but I won't be that disappointed when he goes at the end of the season.
Add Your Comments
In order to post a comment, you need to be logged in as a registered user of the site.
Or Sign up as a ToffeeWeb Member — it's free, takes just a few minutes and will allow you to post your comments on articles and Talking Points submissions across the site.
© ToffeeWeb