Stones set to return for Bournemouth tie
by

43 Comments [Jump to last]
| 18/02/2016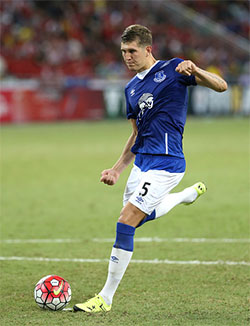 Roberto Martinez expects John Stones to be in the squad for Saturday's FA Cup match on the south coast after he resumed full training following a hamstring strain.
The 21-year-old has been sidelined since the Capital One Cup defeat at Manchester City at the tail end of last month but rejoined first team training on Monday and looks set to be fit enough to be included for the weekend.
Stones may have to be content with just a place on the bench, however, given that Ramiro Funes Mori and Phil Jagielka have struck up an impressive partnership at centre-half in his absence, conceding just one goal in four matches.
Muhamed Besic is unlikely to be ready, however, as he continues his own individual fitness programme to get over his own hamstring problem. He has been out for almost a month since coming off in the defeat against Swansea City at Goodison Park.
And there are still doubts over the participation of new signing Oumar NIasse, with Martinez suggesting in his pre-match press conference that the club's medical staff are keeping an eye on a hand injury.
Many photographs and clips of the Senegalese's recent matches for Lokomotiv Moscow showed him wearing a brace on his wrist which required corrective surgery but he is still feeling discomfort and has what the manager described as "an outside chance" of playing a role this weekend.
---
Reader Comments (43)
Note: the following content is not moderated or vetted by the site owners at the time of submission. Comments are the responsibility of the poster. Disclaimer
Barry Pearce
1
Posted 18/02/2016 at 21:02:58
Didn't the medical people think this could be an ongoing problem.
Vardy has been playing for ages with his wrist strapped.
Hope this isn't a smokescreen.
Martin Mason
2
Posted 18/02/2016 at 21:05:52
I'm beginning to think that unless RM goes then Stones needs to get away from Everton. He has massive potential but needs strong guidance on how to "defend" rather than look good just now which he won't get from RM.
Bob Hannigan
3
Posted 18/02/2016 at 21:39:30
A wrist injury might keep him out? I thought this was premier league football, NOT USA/NFL football.
Brian Harrison
4
Posted 18/02/2016 at 21:46:10
Only yesterday Niasse said he was looking forward to making his debut on Saturday, now he has a wrist injury. I remember when Lineaker played with a broken wrist, he got permission of the league to wear a plaster cast. Something is beginning to smell a little.
Eric Holland
5
Posted 18/02/2016 at 21:53:58
Not another Per Kroldrup!!!
The plot thickens...
George Freeman
6
Posted 18/02/2016 at 22:26:04
Alex Barros is probably one of the toughest riders ever to step onto a motorcycle, and that's saying something. The Brazilian veteran raced at Suzuka with a knee injury that would have left a footballer out action for three months, and now faces a similar test of courage tomorrow after breaking his hand two weeks ago at Donington Park.
Read more at http://www.crash.net/motogp/news/72807/1/barros-im-used-to-racing-with-broken-bones.html#t3YA6KKemHsKhOyg.99
And he is only one of many motorcycle racers that regularly race at speeds of 200 mph plus with broken bones. Puts it all into perspective.
Harold Matthews
7
Posted 18/02/2016 at 22:28:09
I remember Franz Beckenbauer gliding around in the World Cup with his arm in a sling.
George Freeman
8
Posted 18/02/2016 at 22:32:49
Harold
And now he is gliding around FIFA with a broken reputation!
Gordon Crawford
9
Posted 18/02/2016 at 22:38:39
I remember playing in a match for a local team and ending up with a hairline fracture in my right knee. The pain was intense, but I still played on. The adrenaline did help though. :)

Kev Smith
13
Posted 18/02/2016 at 23:48:41
Pele scored an overhead kick against the Germans to make it 4-4 with his broken arm in a sling.

I reckon he would have got a winner if the French hadn't invaded the pitch.
Paul Kossoff
17
Posted 19/02/2016 at 02:00:48
Brian 4, if you remember Lineker played in the 86 world cup with a broken wrist and Peter Reid played with fractured ribs and a hairline fracture on his shin.
I played most of a season in the IOM with a broken wrist in plaster. It seemed the harder I ran the more it hurt, but no way did I miss a game and I wasn't on any pay, never mind 50 thousand a week.
Yes, it smells a bit funny to me with Niasse, hope its not a hammy already.
Chris Gould
19
Posted 19/02/2016 at 08:58:09
Of course he could go out and play with an injured wrist, but what if he fell heavily on it? Why take the risk of making it worse? It's not a cup final we're talking about or a world cup.
I'm as keen to see him play as the next person, but no point risking him aggravating what could turn into a long term issue.
Joe Clitherow
20
Posted 19/02/2016 at 10:17:03
Kev 10
Pele and others were fouled very heavily throughout that game without any action being taken. The referee was an absolute disgrace. As I recall there were heroics from the Evertonian goalkeeper late on
Dave Kelly
21
Posted 19/02/2016 at 11:00:24
I remember reading last week that Niasse had never been out with an injury in his whole career. He comes to Everton and guess what? The Curse takes over...

Stephen Ashton
22
Posted 19/02/2016 at 12:27:04
In the days before subs, I remember Andy Rankin breaking his arm and coming back on for the last 20 mins and playing on the right wing. Sandy Brown replaced him in goal.
David Booth
24
Posted 19/02/2016 at 14:23:19
Stephen: hush it up... if Martinez reads this, he'll jump at the chance to play Howard on the left wing and put Osman in goal!
Dean Peamum
25
Posted 19/02/2016 at 14:39:42
Hector Castro scored for Uruguay in the 1930 World Cup final and he only had one arm. Players today, eh? Big girls blouses.
Jim Hardin
26
Posted 19/02/2016 at 14:46:48
David,
Howard has scored a goal so he might be at least as productive as who we have been playing there. Plus, as some on here claim, he likes to distribute the ball with short passes, he will fit right in, if he can learn to pass sideways and backwards.
Mark Gardiner
27
Posted 19/02/2016 at 15:05:50
So, it looks like the new guy won't be playing tomorrow. That's two weeks in a row where the manager has talked about him being ready to be involved only to see him not being ready.
Do you guys realise that we signed three new players in the January transfer window and none of them have played a single minute for us, indeed two of them won't play for us at all this season. We signed Foulds who is young and in the U-21s, a young Swiss player who was loaned back to his club for the rest of the season, and this new guy who seems to be ready but actually isn't.
Are we the only team in the Premier League who has signed players in the January window only to see all three yet to make any appearance for their new club? Only Everton could have this kind of transfer debacle surely.
Kevin Jones
28
Posted 19/02/2016 at 16:34:47
I remember Shaun Edwards smashed his cheekbone in the first 5 minutes of a Challenge Cup Final at Wembley for Wigan, and played on for the full 80 minutes. You gotta larf, haven't ya!

Jim Bennings
29
Posted 19/02/2016 at 17:43:34
We need Lukaku firing on all cylinders tomorrow, if we can't rush Niasse then Lukaku needs to perform a bit better than he has done in the last month or so, it feels like a long time ago since he was on that outrageous scoring record.
Generally I've noticed when Rom plays well we usually look far better as an entire team, it rubs off on the rest to see the man most far forward looking fit and hungry moving about alot, when he starts trotting around not looking very interested then we start looking tired and pedestrian as a team.

David Connor
30
Posted 19/02/2016 at 18:02:38
If Stones plays, there is a very high chance we will go out of the cup. His head has been turned big-time as Lescott's was by Man City. He has played awfully for a few months now and is a disaster waiting to happen every time he sets foot on the pitch.

The lad seems like he wants out. Sell in the summer to the highest bidder, whoever they may be, draw a line under it and move on. We will be able to strengthen the squad with the transfer money. I really don't think we will miss him that much.

Anyone else feel the same or is it just me? If he stays, I hope he proves me wrong, but for me he is well overated as far as I am concerned. Let him cost someone else points. He's cost us enough already.
Denis Richardson
31
Posted 19/02/2016 at 18:16:48
I remember Pele scoring a hattrick against the USSR in the 60's when he had no legs and only one arm.
Players today....pfsss
Paul Andrews
32
Posted 19/02/2016 at 18:49:22
Denis,
I remember Tony Cottee scoring a hat trick in his first game and he had no arse.
Joe Clitherow
33
Posted 19/02/2016 at 19:12:46
Tony Cottee had a massive arse.
Jim Bennings
34
Posted 19/02/2016 at 19:14:43
David,
Stones will go in the summer, regardless of whether he was performing outstanding on a weekly basis or if he even plays again this season for us, the fact remains he's the flavour of the year this summer much like last, and it will no doubt be the usual long drawn out saga it was last August.
He will go, no doubt he'll go, he's had his head turned yes, which again is a shame because he seemed like such a level-headed decent lad last season.
Anything £40 million upwards then I think sadly we have to take it, he's not going to stay here and develop long term; I've accepted that.
All we must do as a club is get the very very best deal possible and take advantage of the fact the national media loves John Stones.
For me, I'll be sad to see him go but the loss of Wayne Rooney in 2004 initially hurt much more than I'll feel when Stones eventually packs up his Goodison bags.
Paul Kossoff
35
Posted 19/02/2016 at 19:19:30
David (#22), I agree completely with you on Stones, he's overrated at this stage of his career. If we can get £35m + for him I hope we spend that on the team and not on a leaving party for the board.
You don't need to spend mega bucks on centre-halves, look what Huth has done at Leicester, free transfer too.
Bill Gall
36
Posted 19/02/2016 at 19:25:18
I thought Niasse was a footballer, not a basketball player. How come he did not fail his medical if he was injured and unable to play? He may have a problem in his wrist that is easily damaged.
As for Stones, if we finish in a mid-table position like last season, I can't see the board refusing to sell him this time.
Paul Andrews
37
Posted 19/02/2016 at 19:42:00
Begovic and £30 million?
Phil Sammon
38
Posted 19/02/2016 at 22:42:32
Do we need him to play? No. So why rush him?
That said, I wish there could be some consistency among our medical reports. One minute he's raring to go, the next he's injured. EFC is a mysterious place.
Declan Campbell
39
Posted 20/02/2016 at 02:17:24
Paul Kossoff – Huth was not a free transfer; it was an undisclosed fee.
Andy Walker
40
Posted 20/02/2016 at 08:43:04
It seems that it's taken this season to realise that selling a young defender for £35-40M is actually a no-brainer.
If Martinez had any nouse, he would have sold him at the start of this season and brought in another centre-back, a new keeper and another striker. This could have helped avoid another wasted season.
Martinez and Everton received great plaudits for standing firm and not being bullied by Chelsea. I think we can now say this was fundamentally a bad decision. What benefit was it to EFC to keep Stones this season? None as far as I can see. We have just lost the opportunity to cash in on a young defender that is far from the finished article and then invest the money wisely on 3 or 4 additional quality players that could have improved our league performance.
The "Stones should stay for another season" argument has been proven to be a bad call. One of many in Martinez's tenure.
Gary Carter
41
Posted 20/02/2016 at 11:17:40
Delusional!!! Stones is a top defender and will only get better. It was not a bad decision to not sell him – it sent a message to other clubs looking at our other stars. If we sold him, the same people would have been on here moaning about how we won't get anywhere selling our best players!!
The bad decision by the board was appointing and then not sacking at the end of last season a completely hopeless manager that Stones will not develop under!!
Terry Aylward
42
Posted 20/02/2016 at 14:21:29
If as been reported Everton had been looking at Niasse for some time why did we wait untill the last hours of the transfer window to sign him? Strange seeing that his last game was on December 9th.

Why did he not have the surgery on his wrist as soon as he'd played his last game? If we'd signed him as soon as the window had opened, he would have been well fit by now.

Something bugs me about this transfer. I just worry that we've been sold a pup. I sincerely hope I'm wrong. Time will tell.
Jim Hardin
43
Posted 20/02/2016 at 14:35:29
Andy,
I agree that Stones should be sold as I don't rate him as a center back. This is not a comment on his obvious quality on the ball and ability to play other positions.
That said, I applauded RM and Everton for making a decision and standing firm about not selling young players. If they stand firm on it and pass up the money (I hope they don't), then I will applaud them again for standing fast and, at least having some plan other than being contrarian. I will however, continue to complain about Stones not being a defender.
If they decide to sell him, I will applaud that too, as it makes good business sense if the money is used to buy players that are needed instead of disappearing into "Other Operating Costs".
Eric Myles
44
Posted 20/02/2016 at 14:54:09
Bert Trautman played the second half of a match with a broken neck sustained in the first half, big softies these modern day players.
Peter Gorman
45
Posted 20/02/2016 at 15:18:53
I remember the whole team playing at Anfield a couple of years ago without any balls.
Andy Walker
46
Posted 20/02/2016 at 15:32:50
Jim,
I agree with the principal of standing firm but they need to pick their battles. Frankly the amount of money Chelsea were stupid enough to want pay for a 20-year-old centre-back was ridiculous. I would have taken it at least a month before the window ended and then invested it in new players that would have improved us for this season.
Standing firm is fine if there's good reason for it, such as we win stuff subsequently. All Martinez and the club did was achieve good PR at the time with some fans. Inevitably Stones will be sold in the next window, assuming the madness to pay stupid money hasn't waned, and we will, hopefully, do what we should have done at the beginning of this season.
Problem is, we are now also likely to lose Rom at the same time as a direct result of such a poor season. We could have been avoided this if Stones had been sold and a top keeper, centre-back and striker had been brought in 6 months ago and we had ended up qualifying for Europe.
Keeping Stones and turning down massive money to strengthen the whole squad was a gamble. Martinez likes rolling dice – problem is, he nearly always loses. His wife should keep him well away from Vegas!
Andy Walker
47
Posted 20/02/2016 at 15:45:03
Gary I was for selling him in August so I for one certainly would not have been complaining if he'd gone as long as the deal had been done plenty of time before deadline day and we spent all the money improving the whole squad.
I agree with you about Martinez though. Similarly I have been writing that he should never have become our manager from the first day of his appointment.
Jim Hardin
48
Posted 20/02/2016 at 16:55:05
Andy,
Based on your response, I have invited RM to my house for poker. If I win enough, I will ask for 6 weeks due diligence to put in a purchase bid on the Club.
Gary Carter
49
Posted 20/02/2016 at 17:17:37
Andy,
I'm basing this on before we started the season, so, because of Stones's age, because of clearly how good he is, because I thought we were going to have a storming season, because the Euros are coming up at the end of the season and because Man City, Man Utd, Arsenal and Chelsea will be even more desperate for a centre back at the end of the season, and because he would suit Real Madrid's or Barcelona's style of play, we had to say No to £35 million (or whatever was bid) as you can probably add another £5-15 million in to his price tag in the summer if the above factors work out in our favour. If not, he will still be worth £30M+ if it all went pear-shaped, because of his age – and that is clearly what he's worth to us.
With regards to the manager, the only way I see us standing any chance of keeping Stones, Lukaku or Barkley if anyone comes in for them is if we get a really inspirational big-name manager in that would convince them we mean business and are starting to think big. My personal favourite, although a million-to-one shot, would be Mourinho but that will never happen. A slightly more realistic yet potentially huge statement would be Joachim Loew as I believe he's stepping down after the Euros. But it's that sort of "making a statement" signing that we need. The Premier League is awash with money, it's the place to be, we have a very good squad with a balance of youth and experience so why not attract the best name we can. Martinez is so painfully not up to the job, it's embarrassing!
Colin Hughes
50
Posted 20/02/2016 at 19:41:57
Stones is good as finished now as a regular starter as we hardly ever kept a clean sheet with him in the team. Seems like he's lost his place to the Jagielka - Funes Mori partnership and will almost certainly be sold in the summer for big bucks.
Paul Andrews
51
Posted 20/02/2016 at 20:29:56
Last 5 games with Jags and Funes Mori in defence: one fluke goal conceded in all 5 games.
Stones will be on the bench for the foreseeable future.
---
Add Your Comments
In order to post a comment, you need to be logged in as a registered user of the site.
Or Sign up as a ToffeeWeb Member — it's free, takes just a few minutes and will allow you to post your comments on articles and Talking Points submissions across the site.
© ToffeeWeb