Oviedo enjoying his moment
by

47 Comments [Jump to last]
| 24/02/2016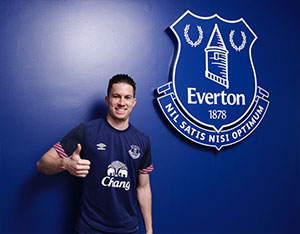 Bryan Oviedo has displaced Leighton Baines in Everton's left-back role for now and is determined to do everything he can to help the team in the final third of the season.
It's three and a half years since Bryan Oviedo arrived at Goodison Park in a Ł1.2m move from FC Copenhagen as one of David Moyes's last signings as manager but a combination of competition for places and injury has meant that he has faced a long wait just to be able to consistently challenge Baines as a first-choice starter.
Having finally regained full fitness after a succession of more minor injuries that followed his double leg-break two years ago, the 25-year-old got an opportunity to prove himself as Baines himself has battled to get back to 100% after successive ankle surgeries last summer.
31-year-old Baines would arguably be Roy Hodgson's own number one pick of left back in his England side at Euro2016 this summer but it looks as though he has a fight on his hands to reclaim the position he has held down for years at Goodison Park.
 
Having recently signed a new contract with the Blues, Oviedo appears happy just to be playing and he says that competition for places in a team like Everton's, where Brendan Galloway has also been a revelation at left back this earlier season, is to be expected.
"At the moment I am playing and I hope to continue to do so," he told the club's official site. "I want to help the team win the next games. We need to focus on Aston Villa. Every player who features in that game needs to give their maximum effort – that is the most important thing for us.
"We are in the top league in the world and if you are in one of these teams then you know you have very good competition for places. I think we have some of the best left-backs in the league.
"Every one of us needs to work hard in training and in the games to help the team. Whoever plays needs to give all they can give."
"Sometimes it is not easy," he continued. "When you have been out for a long time or you have setbacks, it is hard to come back and fight for your place. Mentally you can be a little scared and you have to face that kind of thing when you come back. 
"But, for me, the most important thing is to try to help the team. I am playing in the side now and I am so happy to be involved. At the moment I feel very, very good."
---
Reader Comments (47)
Note: the following content is not moderated or vetted by the site owners at the time of submission. Comments are the responsibility of the poster. Disclaimer
Ian Burns
1
Posted 24/02/2016 at 17:50:25
I really like Oviedo as a player and am delighted he has signed (or is signing?) a long-term contract – but, most of all, I love his attitude. A real team player.
Jeff Armstrong
2
Posted 24/02/2016 at 18:42:34
Where does this leave Galloway and Garbutt in terms of pecking order? Garbutt has not set the place on fire at Fulham so I don't think anyone will be banging the walls down to sign him, so we've got a bit of a traffic problem at left back.

Maybe Baines will be the one to go as he'll probably command a few million and he won't hang around if not playing at his stage of his career.
Brin Williams
3
Posted 24/02/2016 at 18:50:05
Good - and fully deserves his place in the side.
James Stewart
4
Posted 24/02/2016 at 18:51:03
I like Oviedo very much but there is no way he should be starting ahead of Baines. I hope to see Baines restored as soon as possible.
Ben Jones
5
Posted 24/02/2016 at 18:55:39
He didn't play so well at Bournemouth, but he's certainly a better defender than Baines. Baines is better going forward, but until Oviedo declines in his form, you have to keep playing him.
Alastair Donaldson
7
Posted 24/02/2016 at 20:15:02
He's done very well to get back to where he is now... I guess it says alot Roberto has not reverted to type and popped his favourites straight back in.
Baines is a wonderful player, probably still no1 for England IMHO.. but he's drifted a little, like a few players, this last year or so.
Oviedo has the heart of a lion and is all that's good about a pro these days. Very best of luck to him...hope he stays fit.
Michael Winstanley
8
Posted 24/02/2016 at 20:40:53
I'm delighted he's signed a new contract, technically a very good footballer, I can remember a few of his goals when he first got in the side. Hopefully this is the start for him and kicks on.
I was of the opinion Baines would come straight back in but fair play to Martinez, he's given Oviedo his chance; however, I do think he'll start Baines soon as the Euros are just around the corner.
Colin Glassar
9
Posted 24/02/2016 at 21:28:02
True Jeff, I wouldn't be surprised if Garbutt is quietly sold in the summer. We have two top left backs in Bainsey and Oviedo and a more than decent back up in Galloway.
I'm more than happy for Oviedo to continue at left back until circumstances dictate otherwise but for me, Bainsey is still one of our best players and should never be discarded.
Phil Sammon
10
Posted 24/02/2016 at 22:04:51
He deserves his place and after my critique of the Robles/Howard fiasco, I'd be a complete hypocrite to clamour for Baines's immediate reinstatement. That said, I think Baines has to come back in at some point.
If Martinez could make a substitution before the 85th minute, we could maybe utilise this whole squad to its potential.
Darryl Ritchie
11
Posted 24/02/2016 at 22:49:29
I don't think you can compare Baines/Oviedo with Howard/Robles. Tim's form deteriorated, while Leighton has a lot of game left in him. I feel the position is his until his form drops significantly. Baines is the far side of 30 so Oviedo will have his day in the sun, sooner or later.
Throw Galloway and Garbutt into the mix, and no matter who gets the nod, we're in good shape at left back.
Phil Walling
12
Posted 24/02/2016 at 22:51:24
Average at best. There is far too much sentimentality over this guy following his 'injured' past.
Vince Furnier
13
Posted 24/02/2016 at 23:34:07
Well said Phil
David Pearl
14
Posted 25/02/2016 at 03:23:59
I don't think for second Oviedo is 'average at best'. Is he back to the player he was before his double leg break? I don't think so... but he getting stronger. He was out for a long time.
I'd expect Baines & Deulofeu back starting soon. Robles will keep him place. Mori too!!
People shouldn't also write off Garbutt so soon either. I don't rate him as a defender but he has a sweet left foot and is cool with the ball. Perhaps he will go on loan next season too. I think it was Harold on another thread that mentioned that Kane went on loan 7 times before his breakthrough.
Tony Cheek
15
Posted 25/02/2016 at 05:34:08
I still think Baines is our best left-back. Why not play Oviedo as left midfield with Baines behind him? Must be a better alternative than Cleverley, Kone and all the others Martinez plays out of position!
Harold Matthews
16
Posted 25/02/2016 at 06:15:10
Well Tony, no-one crosses a ball like Baines.
Darren Hind
17
Posted 25/02/2016 at 06:33:23
I have a theory...
Something happened to both Baines and Mirallas the day the Belgian stupidly decided to grabbed the ball to take THAT penalty.
Baines is a modest man and rather that fuck him off, he humbly stepped down. Suddenly he was out, he did not take all the free the kicks and penalties any more and I believe he feels the trust of being the main man has gone, so has the devil in his play. Pity, he's my favourite player from the modern era.
Mirallas, on the other hand, knows he made a complete and utter twat of himself and he too has never quite been the same player since. Neither player has enjoyed extended runs in the team, through injury, which doesn't help, but now both find themselves out of the first eleven.
Pity; we lose an awful lot of our threat when these two are not firing on all cylinders.
Phil Walling
18
Posted 25/02/2016 at 08:57:34
We hear much about the players Martinez 'has brought on', Darren. But what about the players he has 'fucked up'?
Certainly Baines and Mirallas... and I'd add Naismith and possibly Coleman to the list. Howard hasn't needed his help.
Anthony Dwyer
19
Posted 25/02/2016 at 09:29:09
Any Blues fan who thinks Baines won't regain his spot, and go on to be one of the best full backs in the Premier League are either stupid or have an incredibly short memory.
Yes Oviedo is playing well, but Baines is a on a different footballing planet than him.
Sorry.
Abhishek Saha
20
Posted 25/02/2016 at 09:38:07
Tony (#14), I couldn't agree more with you on that. In fact, Martinez even deployed that once in his first season. When Oviedo, filling in for Baines, scored (against the Manure I think) and then in the very next game when Baines returned, Oviedo was deployed as a left winger in front of Baines.
Cleverly, Mirallas are all good players but not as effective as a natural left winger would be. Imagine Lennon steaming in down the right and relentless crosses coming from the left from Oviedo.
But what a great combination Oviedo and Baines would make down the left flank, defensive responsiblities need not be addressed separately as both are natural defenders. In fact, Baines can play as the left winger and Oviedo as the full back. Oviedo has younger legs to drop back quickly and Baines with all his experience and guile, may just be able to provide the creativity in the final third that we have been missing.
COYB!

Sam Hoare
21
Posted 25/02/2016 at 09:59:21
Neither Baines nor Oviedo have looked consistently top notch in the last 2 seasons, due in large part to injury but nonetheless.
On balance, I'd say that Baines is 20% better with the ball and Oviedo is 10% better without it. Neither have reached where they were before injury and there is zero guarantee they will again despite Ant Dwyer's insistence on it @18.
Paul Conway
22
Posted 25/02/2016 at 10:15:54
I agree with Phil and Vince: these players are average. Baines is getting older, Oviedo is not world class, that's the difference with the successful teams and us – they have more world class players.
Kone, Osman, Lennon, Mirallas, Howard, Robles, Hibbert, Gibson and Pienaar are all average; Barry (aging) and McCarthy (a liability) all need to be replaced and the team upgraded, if we want to go in the right direction. This is scathing, I know, and some fellow supporters will slate me for it; but everyone has an opinion.
John Daley
23
Posted 25/02/2016 at 11:51:12
"We hear much about the players Martinez 'has brought on', Darren. But what about the players he has 'fucked up'?
Certainly Baines and Mirallas and I'd add Naismith and possibly Coleman to the list."
Naismith was regarded as a pretty poor signing by most, even on a free, and was heavily criticised for his performances (admittedly being played in Moyes's favourite "just throw any fucker in there" position out wide) and only begun to win the fans around after Martinez arrived and utilised him more effectively. No one would have ever believed we'd get £8m for him on the basis of his pre-Martinez Everton performances.
Coleman actually had his best season as an Everton player under Martinez, Mirallas (with his ego and agitating for a move) was originally the architect of his own fall from grace and as for Baines being 'fucked up' by Martinez? That's isn't quite true. Injuries have obviously played a big part in him failing to find his best form. Unless, when you say 'fucked up', you're referring to 'the rumour' and even then I heard Baines was the one who got the better licks in.
Andy Crooks
24
Posted 25/02/2016 at 12:06:30
John, I'm intrigued. What is "the rumour,"
John Daley
25
Posted 25/02/2016 at 12:18:42
I don't believe it myself Andy, but there's been a story going around that the two recently had a heated disagreement that turned physical and they had to be pulled apart by other players/staff.
Whilst a verbal spat can't ever be ruled out, the whole 'squaring up/trading blows/Martinez ran into his office and came back out waving a big machete, swear down lid' stuff I'd definitely put down to pure sensationalism. Losing control like that doesn't really seem to fit with the character of either man.
Graham Pearce
26
Posted 25/02/2016 at 12:29:04
I feel if Baines and Martinez had a big fall out, he wouldn't even be on the bench, Galloway would. There's also the fact that Baines is still getting trouble from his ankle.
To be honest I'd play Oviedo away due to his better defensive play and Baines at home where we have more ball in general as Baines has better quality overall and may help us unlock the teams who sit back and frustrate us.
Frank Bortoli
27
Posted 25/02/2016 at 12:43:05
I have got to say I totally agree with Tony Cheek (#14) re Baines and Oviedo.
Martinez should try playing them together as left back and left midfield. Both have the ability to cross balls and bomb on possibly becoming as effective as Pienaar and Baines were a few years ago. They would also have the ability to interchange positions which can be so effective sometimes.
I would class Cleverley and Kone as 2nd eleven players and not include them ahead of Baines, Oviedo and possibly Mirallas.
We clearly have the players now, what we don't have is balance and a manager with little understanding of how to integrate going forward with defense.
Paul Andrews
28
Posted 25/02/2016 at 13:30:30
If a player sulked because he did or didn't take a penalty, I would get shut. Hard to believe grown men would behave like that.
A disagreement in the pub turns into World War Three once it had gone through a few hands. I wouldn't think there is any truth in the rumour that is doing the rounds.
Tim Wardrop
29
Posted 25/02/2016 at 13:43:15
Is this not the prelude to Baines moving into midfield, like Martinez said in his first season, when comparing him to Philip Lahm? After all, while Barry has performed admirably this season he can't be expected to go on forever. Perhaps Baines will be taking his place to some extent next season?
Personally I'm not sure I fully buy the thought of Baines as a defensive midfielder, but Martinez has certainly intimated it himself....
Peter Carpenter
30
Posted 25/02/2016 at 14:12:58
I have a mental image of our Bobby chasing poor Bainesy around the training pitch wielding his machete. It's making me laugh in inappropriate places.

Actually, I know from a very good source that Leighton Baines took a Kalashnikov in the following day. He gave it to Mirallas, Mirallas gave it to Barkley, Barkley gave it to Deulofeu, he gave it to Osman, Osman gave it to Barry and Bobby escaped.

They'd been told to pass at least six times before shooting.
Victor Jones
31
Posted 25/02/2016 at 14:13:44
Galloway is young. He has time on his side to make a name for himself at Everton. And can he not also play at centre-back. I like Oviedo. But let's see if he really is clear of injuries. And as said by many people, why can Baines and Oviedo not play in the same team. One at LB. The other at LMF. Why not? And why can Baines not do a stint at DMF. I would have thought that that position would have suited him. Maybe give him more time on the ball. But just a small point on Baines. Is he really the best crosser of a ball at Everton? He rarely beats the first man nowadays. His set pieces are bloody awful. What has happened there? Darren's theory could be spot on. Baines is a delicate wee soul. His ego could be dented.... But he does have a footballing brain. I think that he could adapt to a midfield role.
Here's hoping that Oviedo can stay fit. Because I think that he has a lot to offer. Martinez now needs to get a proper left sided player in front of Oviedo. Cleverly and Kone are not the answers IMO. Mirallas is not going to feature (I think his days are numbered). Not really sure about Niasse. Pienaar is finished. What is up with Martinez, in finding a player to fill that left midfieldwing position.
And what is up with Coleman. Is that all down to Martinez. Because Coleman is not the player we had a few seasons back. He is good, but that little something extra is just not there. A team crammed full of LBs, and one fit RB. Only at Everton....
Phil Walling
32
Posted 25/02/2016 at 14:59:59
Shades of Bernie Wright. Now he WAS a good 'un!!!
(Nutcase, I mean!)
Darren Hind
33
Posted 25/02/2016 at 19:16:53
"If a player sulked because he did or didn't take a penalty, I would get shut."
"Hard to believe grown men would behave like that."
What I find hard to believe is that somebody could accuse Baines of sulking simply because he didn't get involved in an unseemly battle on the pitch and wasn't supported by our cowardly manager when it came to making a decision.
Far from sulking, Baines has merely maintained a dignified silence. As Martinez has not only destroyed his attacking threat by making him stay at home to indulged his possession obsession, but he has allowed players to do as they pleased. Its the manager's job to decide who takes penalties and if he leaves it to self-serving players, he is simply shirking his responsibility.
The lengths some people will go to to deflect the blame from Martinez
Paul Andrews
35
Posted 25/02/2016 at 20:50:45
Darren @ 32.
On the contrary, I was agreeing with your point.
"Suddenly he was out, he didn't take free kicks or penalties anymore. He feels the trust of being the main man has gone."
Sulking? At the least a very poor, childish attitude if your summation of the situation is true. Not sure how my post could be seen as deflecting the blame from Martinez though.
Andy Meighan
36
Posted 25/02/2016 at 21:47:11
I posted a few weeks back Baines had a massive fall out with the manager and he hasn't started a game since. So that rumour definitely has some legs. But that just about sums Martinez up.
We've seen it with Distin, who gave the club seasons of great service, and it looks like Bainesy could be going the same way. What a gobshite we've got managing our club.
Darren Hind
37
Posted 26/02/2016 at 02:17:48
Paul Andrews,
You were not agreeing with me, our views are diametrically opposed.
I say Baines kept a dignified silence when Martinez allowed greedy players to take over penalties and free kicks, even though few players in our history have been able to match him in either department.
You, on the other hand, try very hard to sully the reputation one of our finest players in the past 20 years when, without any evidence whatsoever, you accuse him of sulking? ... Nice!
Baines has had his swashbuckling style curtailed by Martinez: he does not get forward half as much and he's gone from being England's first choice full back to sitting on Everton's bench. Yet you think you can deflect blame by trying to make up nonsense about the player?
I wonder if questioned; How many Evertonians would swap the sight of a marauding Baines passing with lightening speed and accuracy in and around the opponents box, for the mind numbing possession obsession we are subjected to by your hero???
Paul Andrews
38
Posted 26/02/2016 at 06:13:28
Darren,
I was actually disagreeing with your take on Leighton's reaction to not taking the penalty.
You suggest "the trust of being the main man has gone... the devil has gone out of his play" I think he is far more of a man than that.
By the way, in my opinion, Leighton is the best left back we have had since Ray Wilson.
Harold Matthews
39
Posted 26/02/2016 at 06:32:22
I like things the way they are but the 10 minutes when Niasse and Mirallis replaced Lukaku and Barkley were very interesting. Maybe next time we can give them 20 minutes.
Tony Abrahams
40
Posted 26/02/2016 at 09:10:13
John, I heard it was Baines, who had the machete shouting FUCKING DANCE!
Eugene Ruane
41
Posted 26/02/2016 at 10:06:34
Nothing wrong with a good oul' rumour.
My guess is there isn't another city on the planet (other than maybe Dublin) where rumours are enjoyed as much as they are in Liverpool
We love them (me included) and almost every Sunday afternoon, as I sit in the pub with 'the lads' (nb: one 'lad' so old he uses a walking stick) I get to hear one.
More often than not they are football-related (ie: Everton/Liverpool) although local gangsters often feature.
"I 'eard ee tried t' shoot 'im in the grid but the fuckin' gun wouldn't go off" etc.
A couple of weeks back, someone (in the alehouse) mentioned Sturridge and someone else casually replied "He's fucked them off hasn't he..said God told him to"
"Eh!? What was that?" I inquired.
Then was told a ludicrous story (involving God, Sturridge, a taxi driver and Klopp) that had me in bulk.
Sturridge was probably knocking football on the head and was deffo knocking LFC on the head etc etc (I was told this as though it had been carved in stone, by Sturridge, live on TV and I had obviously missed it).
Two weeks down the line, I caught a glimpse of Sturridge on the front of the Echo and 'Rumours disrespectful' written underneath.
Chortle.
Tony Abrahams
42
Posted 26/02/2016 at 10:58:13
Funny Eugene!
Paul Andrews
44
Posted 26/02/2016 at 15:35:41
Eugene,
You haven't heard the latest one regarding Sturridge?
My mate, who is a rabid Blue, told me... but I reckon it is more in hope on his part.
Darren Hind
45
Posted 26/02/2016 at 18:58:09
Paul Andrews
"Darren; On the contrary I was agreeing with your point." – post 33
"Darren; I was actually disagreeing with your take on Leighton's reaction to not taking a penalty." – post 36
"If a player sulked because he didn't take a penalty, I would get shut" – post 27
"By the way, in my opinion Leighton is the best left back we've had since Ray Wilson" – post 36
Do the Hokey-Cokey often? I haven't seen that much backtracking since Moyes left...
I clearly point the finger at Martinez for the current situation. You in your latest attempt to defend a manager in the face of overwhelming evidence seem desperate to sully Baines's name by slyly insinuating he is "sulking"...
Like I say – nice.
Paul Andrews
46
Posted 26/02/2016 at 19:49:22
Darren.
You seem to be struggling to grasp my point. I don't believe Baines is sulking. My point was IF a player was sulking I would get shut.
You on the other hand believe Baines's attitude has changed since he had the penalty taken off him. Am I correct in saying that is your opinion?
Dave Abrahams
47
Posted 26/02/2016 at 20:03:22
Eugene (39) the best one about Sturridge came from Red fans themselves: they call him "Golden Wonder" because his bones are made of crisps.
Darren Hind
48
Posted 26/02/2016 at 20:45:50
If you don't think the guy is sulking, why did you introduce and repeat the word?
Nobody else had suggested it
Paul Andrews
49
Posted 26/02/2016 at 20:57:00
As you won't answer my question re your opinion that Leighton's attitude has changed. I will try one last time to explain it to you.
My post that you responded to said "IF a player sulked"... Then went on to say "Hard to believe a grown man would behave like that".
Translation: I don't believe a grown man (ie, Baines) would behave like that.
That is my last attempt. It's like banging your head against the wall.
Eugene Ruane
50
Posted 26/02/2016 at 20:59:35
Dave (#44) I heard last week 'He's on his way to City....Holby City' (brrr-TISH!)
Add Your Comments
In order to post a comment, you need to be logged in as a registered user of the site.
Or Sign up as a ToffeeWeb Member — it's free, takes just a few minutes and will allow you to post your comments on articles and Talking Points submissions across the site.
© ToffeeWeb