Everton vs West Ham United
by

109 Comments [Jump to last]
| 04/03/2016
Match Preview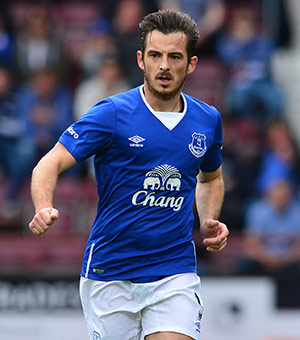 Leighton Baines is dealing with pain in his ankle but his manager says he can play
As the season reaches its critical phase, Everton begin a vital series of three matches at home that will have a huge bearing on their season, both in terms of the Premier League and the FA Cup.
The frustration for Evertonians at watching other teams with as much or even less talent in their ranks as Everton have challenging for the Champions League spots has been growing by the week but they have an opportunity to press their claims for a consolatory place in the Europa League place.
Those claims are bolstered by their away form where the Blues' record to this point is top-four calibre and, with Tottenham's defeat at Upton Park on Wednesday evening, Martinez's men have now lost fewer games on their travels than anyone else.
All the more frustrating, then, that the lowly 11th-place berth that they occupy coming into this weekend's round of fixtures is down to Everton's hugely disappointing home form. Together with some valuable points thrown away at the likes of Bournemouth, Norwich and Chelsea a meagre four wins at Goodison all season tells the story of 2015-16 so far.
Though they are quickly running out of runway, it's still not too late for Martinez's side to achieve lift-off and capitalise on the strangest Premier League season in years but they have to start setting right their poor home record, starting with the visit of sixth-place West Ham this weekend and following it up against faltering Arsenal in a fortnight's time.
The onset of three difficult home games in League and Cup over the next couple of weeks comes at a time when the manager has a couple of selection headaches in defence. Firstly, he has doubts over Leighton Baines and Bryan Oviedo, both of whom have ankle problems that could keep them out of the Hammers clash.
Martinez claimed yesterday that while Oviedo could miss out after limping off in the later stages of the win over Aston Villa on Tuesday evening, Baines is able to play despite feeling pain in the ankle that required two surgeries last summer. That would seem to give the nod to the England international, although both Brendan Galloway — who, coincidentally, made his debut against West Ham last May — and Ramiro Funes Mori could fill in if neither make it.
Funes Mori is that the centre of the manager's other dilemma, meanwhile, now that John Stones has returned to full fitness. The young defender has been edged out of the first team while sidelined by a hamstring injury for the past month but his status as the club's most sought-after defender, combined with his need for playing time ahead of Euro2016 means there's a measure of tension around him sitting on the bench every week.
Working against Stones is that fact that the partnership of Phil Jagielka and Funes Mori in front of Joel Robles has looked a far more steady one that has conceded just one goal in the last six games. The transition to three centre-backs at Villa Park to accommodate Stones's introduction was not a comfortable one, either, underscoring the belief that that formation probably isn't a viable one and leaving Martinez with a conundrum of how to keep all three of his centre-halves involved.
Despite it not being the most scintillating of displays, the performance at Villa and the uncertainty around Tom Cleverley's chest infection should dictate that the rest of the team picks itself for this one. Kevin Mirallas furthered his case for inclusion with two assists on Tuesday and Aaron Lennon's fourth goal in six games makes him the obvious candidate to start wide on the right. You can place bets online with some tempting prices for the game, including first-scorer odds for Lennon if you fancy the winger to continue his scoring run.
Slaven Bilic, meanwhile, will return to Merseyside with question marks in defence of his own. Stalwart centre-half James Collins was forced off in midweek because of a hamstring injury while Angelo Ogbonna limped his way through the second half of that match and is unlikely to be fully recovered by this weekend. The duo would add to other injury concerns in the form of Winston Reid, James Tomkins, Joey O'Brien and Carl Jenkinson, while Sam Byram is suspended.
Everton may have an enviable record against West Ham in the Premier League — indeed, they've taken more points the Hammers than they have against any other club since 1992 — but this promises to be a significant test, not only of the Blues' ability to perform in front of their own fans but to also overcome a highly competent opposition boasting a potential match-winner in Dimitri Payet.
The reverse fixture showed how ordinary Bilic's outfit can be, however, and while it isn't regarded as one of the matches that got away from Everton this season, Martinez's men simply lacked desire in the 1-1 draw back in November, particularly in the second half after Romelu Lukaku's equaliser shortly before half time. It's going to require the Belgian (who loves scoring against the Hammers) to be back to his best, somewhere he hasn't been for quite a few weeks now, as well as the kind of determined, defensively solid display that saw off Manchester City in the first leg of the Capital One Cup in January.
Kick off: 3pm
Referee: Anthony Taylor
Predicted line-up: Robles, Coleman, Jagielka, Funes Mori, Baines, Barry, McCarthy, Lennon, Barkley, Mirallas, Lukaku
---
Reader Comments (109)
Note: the following content is not moderated or vetted by the site owners at the time of submission. Comments are the responsibility of the poster. Disclaimer
Rob Hooton
1
Posted 04/03/2016 at 07:27:16
Going to be a very difficult game and completely uninspired by our home form - hopefully we can take advantage of the Hammers decimated defence though.

I would like Martinez to surprise the life out of me and try Niasse up top with Lukaku but then we may need one of our DM's to do a number on Payet (how I wish we had signed him!).

Which Everton team will turn up? Who bloody knows but COYB!
Roger Holcombe
2
Posted 04/03/2016 at 07:49:06
Good preview, Lyndon, nicely balanced and not the sort you see on fanzines that often.
Let me be clear I'm a Hammers fan but Everton have always been my second team.
The only thing I don't like about Everton at the moment is the "Martinez" attitude summed up by Rob Hooton's comment:
"But then we may need one of our DM's to do a number on Payet (how I wish we had signed him!)."
McCarthy already did that and since that incident, while I still love your club, a lot of respect has gone out of the window.
Phil Sammon
3
Posted 04/03/2016 at 07:51:07
Keep dreaming, Rob. I haven't seen enough of Niasse to call for his inclusion...but I've seen enough of Martinez to know that a change in formation ain't happenin'.
If we play to our strengths, we'll win this. If we invite pressure and dawdle in possession I fully expect disaster.
Colin Glassar
4
Posted 04/03/2016 at 08:01:44
We usually beat WHU and they've got like 7-8 players out injured, plus the fact that they haven't won at GP for about 10 years. So taking all that into consideration, I'm predicting a 0-2 victory to WHU.
Jim Bennings
5
Posted 04/03/2016 at 08:01:45
The next three at Goodison are true acid tests for a team that has suffered in front of its own fans all season. One home win, against a woeful Newcastle, since November 20th, against an equally woeful Aston Villa, in fact the only teams we have beaten at Goodison since September are Sunderland, Villa and Newcastle. I didn't think I'd ever see us being so weak at home ever.
Really we keep saying we are due a big performance (and win) at home but it just seems to repeat itself game after game. Even after a relatively strong first half against West Brom in the second half we completely disappeared.
West Ham will be a big test, our defence (which has also been appalling at Goodison Park) will need to be bang on form to keep out the threat they now pose.
A hard game, but we are no longer in a position where we can say a draw will suffice.
I think we need to win two of these three home games, if not all three even! It won't be easy but we are bloody due some wins here.

Joe Green
6
Posted 04/03/2016 at 08:09:07
Can't see us winning this one unfortunately. We've been good at well beating the bottom teams, but that's it. We were all hopeful after beating Newcastle away, but then disappointed in next home game. See this as the same scenario I'm afraid.
Ian Burns
7
Posted 04/03/2016 at 08:35:11
Chin up chaps – we are in a good moment – we are going to win this one 2-1, with Niasse getting the winner and running out of the ground waving his shirt in delight.
Peter Lee
8
Posted 04/03/2016 at 08:40:42
One of the features of a football match is that everyone has a different viewpoint, literally, we stand/sit in unique places, and we all have a different set of expectations about the game and individual players.
Can't agree with your assessments of Romelu Lukaku and Kevin Mirallas. (My spell-checker always turns Mirallas into "miracles", I wish). Lukaku benefitted from excellent kicking from Joel Robles and got on the end of virtually all to some extent. He didn't benefit from decent, quick service from the midfield. The only time he did in the first half his blocked showy went for a corner from which we scored.
Credit to Mirallas for the decent corner, I assume this was one of the assists you record. He also made the pull-back for the second goal in a 4-on-4 break but, without sounding like "What else did the Romans do for us"... er... what else did he do? In comparison to Aaron Lennon he was so poor. Both are expected to attack their full-backs but are given licence to roam. Lennon does this and is constantly involved to good effect, this was Mirallas's big chance and he was largely anonymous in my view. In the absence of Tom Cleverley, Mirallas will probably get the nod tomorrow but can't say he deserves it after Tuesday's performance.
I was by no means alone on Tuesday at being furious with the slap-dash involvement of Ross Barkley in the second half. Anyone up for trying a different number 10?
Tony Hill
9
Posted 04/03/2016 at 08:56:01
I think we'll win. West Ham are a good side but if we are worried about them coming to Goodison then we really do have problems. This is an important game as a measure for the rest of the season.
Christopher Dover
10
Posted 04/03/2016 at 09:01:16
Cannot put a back three just so Stones gets a game, he takes his turn when one of the others' form stalls or is injured, then it's up to him to prove he is first choice.
Everton need to start when the whistle blows and not stop until the final whistle, not starting like it's a display game or upping the game when one down, fast and plenty of movement by the team and stop playing statues waiting for the ball to find them.
I know the team is better than the way have played but they have to turn it on, cannot stand another RM saying how much possession we had, how unlucky we where and how crap the ref was, but we will get better for the rest of the season.

Phil Williams
11
Posted 04/03/2016 at 09:13:46
"Can Everton recreate Fortress Goodison?" – you ask, Lyndon. Well I think we are back to the old chicken-and-egg question. Can the fans help Everton to recreate Fortress Goodison?
We simply must share some the blame here guys. I know plenty of fans say it's the style of play or are anti Martinez every move and substitution. I also know that when Navaz equalised for City in the semi final, Goodison did what it does best, it sang and supported its team. The result was we went down the other end and got the winner.
The players are paid a fortune but they are not robots. They play better and try things more when we get off their back. Here's hoping I'm not on my own supporting them positively on Saturday and trying not to jump down their throats when mistakes are made.
Ernie Baywood
12
Posted 04/03/2016 at 09:21:30
The old adage that you don't change a winning team doesn't really apply to us. Whatever the selection we've looked good away and shite at home. We've got plenty of players who can rotate in without damaging us.
So I'd change the structure. Either go three at the back and counter, or go two up top and get right at them. Personally I think two up top should get the nod as we finally seem to have some confidence between keeper and centre halves. Stones' England chances can't be our concern – he'll have to earn his spot (which I think he will eventually).
If we just keep on doing the same thing at home and expecting a different result... we're getting into insanity territory aren't we?
Jim Bennings
13
Posted 04/03/2016 at 09:44:04
Tony Hill
Possibly the fact we have won just FOUR home games since last April and lost EIGHT tells you why we are a tad worried by the visit of a good West Ham side.
West Ham will look at the fact they have won at Liverpool, Arsenal and Man City and not exactly fear coming to Goodison.
If we lost at home to Swansea, Stoke, West Brom then again, we can lose at home to West Ham.
The only thing that might work in our favour is the fact we are West Ham's bogey team but then the laws of average brigade will come out saying every hoodoo has to end someday and tomorrow looks ripe for it.
I need further convincing by Martinez and this team before I get carried away, we've hit a decent enough run but not really played anyone other than Stoke, so let's see what this run of fixtures brings us.
Paul Mackie
14
Posted 04/03/2016 at 09:50:39
I'd quite like to see the team set up similar to how we played when we beat Arsenal 3-0 a few seasons ago. A front 3 of Niasse, Lukaku and Mirallas or Deulofeu would scare the bejesus out of any defence, let alone a makeshift West Ham one.
Dick Fearon
15
Posted 04/03/2016 at 09:55:59
We should play (lord forgive me) the same as the RS did against Man City. Cut out our annoying habit of looking to pass back when its not required.
Our back four is as good as any and it is not necessary to protect them with two defensive mids, particularly in home games.
My biggest worry is what if the game hinges on managerial decisions.
Abhishek Saha
16
Posted 04/03/2016 at 09:56:40
Is Besic fit to play this weekend? Last reports said that he could make the squad for the weekend. We need him for the Chelski match, so it will be great if he gets some decent minutes agains the Hammers. COYB!!
Jim Lloyd
17
Posted 04/03/2016 at 10:14:49
I agree with you, Phil. I think it will be a hard game, against West Ham but I think a part of the battle is in our players minds. I wonder how much the players are affected by the thought of playing at Goodison.
The chicken and egg simile is spot on. The players aren't robots but neither are the supporters. I think that there are supporters who are waiting for the team to kick it all off but are also half expecting the team not to.
So they have a mind set of almost waiting for the mistake/perceived slowness, the tippy-tappy, whatever aspect of our play makes them feel that "here we go again" and they'll cut the players little slack.
There's others who (mainly in the Street End) who do their best to create a supportive and enthusiastic atmosphere. There are majority, I think, who are bit of a mixture and want to get shouting in support but are a bit self conscious.
Anyway, some posts will object to this line of thought and fair enough. I can only say, that I believe it does have a big effect on the players.
Whatever the cause of it, the place is beginning to generate a real crap atmosphere. We don't have much control on who's picked or not but I think we owe West Ham one. I remember the witch hunt on James McCarthy. From the supporters, but even worse, from their Manager and there scumbag son of the Chairman. Just going on and on about it. When the tackle by Deir at the Tottenham match on Tom Cleverley was just as bad, or even worse.
I used to like West Ham but their owners are ghob shites so, I'll be giving them stick just for that.
Amit Vithlani
18
Posted 04/03/2016 at 10:29:00
Mirallas, Funes Mori and Lennon are crowd favourites. I would put them in the starting line up. What will fire up GP and turn it into a Bear Pit is seeing Lennon's Terrier-like Hounding, Funes Mori putting in a few meaty challenges like a True Dog of War, and Mirallas leading counter attacks like a Greyhound on Steroids.
These three can inspire the rest of the team and when the likes of Lukaku and Ross are up for it too, any opposition will be in for a tough test.

Tony Hill
21
Posted 04/03/2016 at 10:55:26
I expect a better atmosphere tomorrow after the involvement of Mr Moshiri (the sense of a new start) and West Ham will bring a big following of course. The opposition will not sit back either which will help us and the flow of the game.

Ernie Baywood
22
Posted 04/03/2016 at 11:09:48
You don't think West Ham will sit back against us, Tony?
I don't care how they usually play, they'd be crazy to come at us in numbers when we are so predictable.
Shane Corcoran
23
Posted 04/03/2016 at 11:18:30
Ian #6, that's the spirit.
Good to hear WHU are missing so many defenders.
This is a game for McCarthy to keep Payet quiet, fairly this time.
Also, there should be no question of Stones getting back in. West Ham's forwards have been in good form lately and an understanding back there is what we need and it's what we've been getting in recent weeks.
If we lose this I'm away on holidays.
Sam Hoare
24
Posted 04/03/2016 at 11:20:10
Hope Besic is fit. This match is tailor made for him to take Payet out of the game with a few heavy challenges to get the crowd into it.
If Cleverley was fit then I'd pick him over Mirallas for Left midfield slot as I think his work rate and intelligence may be more useful than Mirallas pace and counter attacking. Though after a good display vs Villa perhaps Mirallas should be rewarded. Rest of the team pick itself:
Robles;
Coleman, Jagielka, Funes Mori, Baines;
Besic, Barry;
Lennon, Barkley, Mirallas;
Lukaku.
More than overdue some decent performances at home. Tomorrow would be an excellent time to start though I predict a score-draw.
Jim Lloyd
25
Posted 04/03/2016 at 11:25:25
Sam,
I think Martinez was quoted as saying that Mo would be okay for the West Ham game. He definitely gets the crowd going and I agree with you about Tom Cleverley but Mirallas deserves his place.
Good to have some top subs to call on as well...
James Marshall
27
Posted 04/03/2016 at 11:50:41
A tenner says he picks the same team as against Villa. Besic won't start – RM rarely (never?) puts an injured player straight into the starting 11, and I agree with that tactic.
Handy that West Ham finished the game v Spurs with 3 at the back, one of them a young kid, and one of them a midfielder. Only one recognised first team defender available would be very useful.
We're due a win at home, and I think them missing so many defenders is a big positive for us. Cleverley is still ill I think?
Tony Hill
28
Posted 04/03/2016 at 11:55:21
You might be right, Ernie, but I don't think they have the players to just sit back and they should be wanting the win tomorrow. Given their injuries, they may be more cautious I suppose, but if they do sit back I would fancy us to get through them more easily than the likes of WBA.
Andy Meighan
29
Posted 04/03/2016 at 12:01:38
I predicted after the WBA game we would only win one more home game this season. Who that will be against, I haven't got a clue... but I get no confidence whatsoever going to Goodison Park now.
I see someone said the players are scared of playing at Goodison. Yes, that's right... but only under Martinez who sets the team up wrong in every home game. This obsession with THREE defensive midfielders (and I'm including Cleverley in that) when fit has to stop.
I'm predicting another poor result tomorrow, possibly a draw, given our struggles at our once fortress. I do hope I'm wrong but this manager instills no confidence in me whatsoever – especially at home.
Jim Lloyd
30
Posted 04/03/2016 at 12:05:55
I wouldn't bet against you James, but he would be great to have to come in off the bench if needed. I think James McCarthy will want to prove something against West Ham after the game at their place.
That's a shame if Tom is still unwell, I just read on another post that he has a chest infection. Proving to be a good player for us.
I wonder if either Bryan or Bainesy will be alright for the game. Hope we've got one or the other alright. Not knocking Brendan, though, he always gets stuck in and likes to get forward as well.
What's been great to see is how Aaron Lennon is proving to be a pretty good buy for us and certainly is as good getting back and harrying their players, as well as causing problems in and around the opposition's penalty area.
James Marshall
31
Posted 04/03/2016 at 12:19:53
Absolutely, Jim. I think it was Tim Sherwood who said something along the lines of, "you don't realise how good Aaron Lennon is until you work with him".
He's such a hard worker, that his sometimes disappointing end product can be overlooked due to the amount of defensive work he does for the team.
I can't remember ever seeing a winger track back as much as Lennon does, and never with so much pace. We don't concede many crosses from that side with Lennon in the team.
Michael Polley
32
Posted 04/03/2016 at 12:46:42
Tough game, but WH injury problems could be to our benefit. I hope we're up for this game, and the crowd get behind the team. Feeling optimistic. COYB
Ray Roche
33
Posted 04/03/2016 at 12:52:04
Michael, I wonder if your optimism is shared by everyone, do you think it will help lift the crowd, the arrival of Moshiri? The possible prospect of team and ground investment may lighten the gloom somewhat.
Denis Richardson
34
Posted 04/03/2016 at 13:12:01
I am really looking forward to this game as with all the bollocks spouted by the manager (and players) about putting in a decent push to the end of the season, this will be the first real test since the new guy took over. First real test at home this year!
If Martinez is serious about being here next season, he needs to start getting home wins against teams above us in the league.
Home form would suggest we're not going to win but given the pressure on RM, I'm hoping for something different. WHU have no less than 5 senior defenders out but then again scoring hasn't been our problem this season...
Will be a good test for us, will wait to see which Everton turns up. If we lose, then the manager only has the FA Cup to save himself.
Raymond Fox
35
Posted 04/03/2016 at 13:12:13
I would suggest that the difference in success between our home and away form is that we are not suited to breaking down teams who's tactics are predominately defensive. It seems very obvious to us, and no doubt to the managers of visiting teams especially.
This is when you miss a clever ball playing midfielder who can create openings for others, Its where we are lacking unfortunately. It's a pity Besic has been off injured so much, I think he would have grown into the player that would have given us more creativity in the middle.
It's going to be a tough game tomorrow, although the betting on the game 7/10 Everton 16/5 the draw 4/1 West Ham says that the bookmakers odds compilers think we are a good thing to win. I have to say that 4/1 West Ham does seem generous to me, even the draw at 16/5 looks big!
Denis Richardson
36
Posted 04/03/2016 at 13:16:59
'Everton manager Roberto Martinez: "This is going to be the first home game Farhad Moshiri bought a 49.9% stake in the club and I'm sure Mr Moshiri will be around with our fans very soon, and everyone will get to know him.
"What is important is we haven't lost anything in terms of the soul of our club."
(aka BBT / Bobby Brown Tongue)
Brin Williams
37
Posted 04/03/2016 at 13:23:12
Nothing wrong with a bit of brown now and again, Denis.
Dave Abrahams
38
Posted 04/03/2016 at 13:38:46
Give us something that we rarely get from Everton home or away: good spells in both halves of energy, effort, movement and concentration. Give us this and the crowd will be behind right through the game, as they were in the Man. City game as Phil Williams rightly points out.
Play for the crowd and the club, you will not be let down by the fans.
Jay Harris
39
Posted 04/03/2016 at 13:59:48
We've had so many false dawns it is difficult to predict this one.
Will the arrival of Moshiri put enough pressure on BBS or will he revert to type and we see the same tippy-tappy shite we saw against Villa with the excuse we are still learning and jam tomorrow.
Will Rom put a shift in.Will super keg get us a goal or will the superior manager and team from the East End (this season anyway) prevail.
We can only hope our lads show up and their injury list affects them significantly.
Coyb
Harold Matthews
40
Posted 04/03/2016 at 14:00:13
As Spurs found out, West Ham have an extremely strong and skilful midfield and this is where we'll need to dominate. Cleverley is a massive miss and Besic is a risk we'll have to take with Niasse or Mirallas entering the fray later on.
Barkley was mentally somewhere else the other night but Martinez and the team went into that game with the Hammers match uppermost in their minds and Ross will definitely give them trouble.
If, as Phil #2 points out, we drop off and invite them to shoot.....they will!!! Payet and Noble can both hit a postage stamp from 25 yards and this is another reason why we must not give away free kicks in dangerous areas. Unlike us, they put them away.
Bilic will have them well organized but they had a very hard game against Spurs and a fine home win is confidently expected.
Peter Cummings
41
Posted 04/03/2016 at 14:01:36
Can't see us losing this one with the many WH defenders missing and us probably at full strength, whatever that means these days, with Martinez's selections,
I noticed in particular our recent target Byram is suspended after 3 yellows; from the few times I've seen him, I don't think Everton missed much by his decision to go 'dahn sarf'.
Sadly I won't be able to get the game here as we don't get the relevant feed so good luck to the boys and all at Goodison Park tomorrow.
Ian Burns
42
Posted 04/03/2016 at 14:24:33
Harold (#40),
Far be it from me to argue any football points with you, I've followed your comments for far too long!
However, this is not a knock at Cleverley but surely Mirallas is a far better fit out on the left and is a more attacking option than Cleverley, who I feel is a far better employed more centrally but we have Ross and 2 x defensive midfield players presently doing well enough to leave Cleverley on the bench.
Mark Andersson
44
Posted 04/03/2016 at 14:30:34
Good write up,Lyndon, Colin nailed it for me and made me laugh.
Hope the fans have something to shout about and not moan about.
Sick of reading we must win this one, after every game. Watched a video clip of some irate Arsenal fan calling for Wenger to leave. Makes me laugh to think Bobby still has a job with us.
Andrew Ellams
45
Posted 04/03/2016 at 14:30:35
I think the Mirallas/Cleverley question is not about who is better player but rather who makes us a better team if that makes sense.

Was it Alf Ramsey who said his job was to pick the best team not the best players.
Rokas Grajauskas
46
Posted 04/03/2016 at 14:45:51
It's been nearly 15 years that I have spent following and supporting Everton. And tomorrow is going to be the first time I visit Goodison Park. 15 years! That's more than a half of my life!
Best wishes from Lithuania and see you tomorrow. Win, draw or lose – ETID! (But I certainly hope to see a victory after flying in nearly 2,000 km for the game.)
Victor Jones
47
Posted 04/03/2016 at 15:43:04
Not sure about Mirallas and Barkley in the same team. Both always seem to under perform. Do they run into the same channels? Should Baines play, then he could be exposed on the left. Mirallas is not the type of player he needs in front of him. Cleverley would be better. Coleman will be OK. He has Lennon to help out. Lennon is now our inform winger. Mirallas and Deulofeu need to step up.
I like a flat back four. Stones needs to show improvement in his defensive game. He lost his man the other night , when Villa scored. Not really blaming Stones,(the whole team slackened off), but his attempted challenge was rubbish. He needs to learn to attack the ball.... with his head. For an international back four... we still look(at times) jittery. Why is that? Is it down to slow tippy tappy? FFS that style of play needs to be booted into touch.(along with the ball) at times. And expect the usual two DMFs. OK, maybe against WHU we need them. But surely that tactic every bloody game, stiffles our attacking options.
I don't know about tomorrow. Will Everton turn up? We win two games...then everything usually goes pear-shaped. Will Lukaku show an interest? Will Barkley get into the game? Will Baines regain his old sparkle? Can Lennon keep his good form going? And what about Mirallas (should he play). Can he turn in a performance? Great to see Joel doing well. His run of games has been a real plus. I now expect no more stupid goals conceded.. Teams will have to work to score against us. No more gifts. Hopefully.
So many iffs and buts about our players , and our tactics. This team should now be in the zone. But as usual with Everton, we are hoping that something happens to spark our season......when it it almost over. As stated..the runway is getting shorter. The top 6 or 7 teams are getting up a head of steam for the last furlong. Martinez and Everton are "thinking" about it. As always , ever the optimist, I'm going for an Everton win. Will we concede? Yes if Stones plays. I'm going for a clean sheet, and The Toffees to win 2-0.
Last point. I know that Stones has many admirers. I also think that he is a talent. But what would be more valuable to Everton Football Club right now. Stones staying at Everton.......or £40 to 50 million to invest in a few quality players. Be honest. As stated above.....its not about selecting the best players.... it's about selecting the best team.
And three centre backs, plus two DMFs never works. IMO. Up the Toffees.
Christopher Nicholls
48
Posted 04/03/2016 at 15:52:55
Really should not disrupt the center back pairing. Funes Mori (along with Besic) has been my fav player this season. John Stones is for the future, that's not a doubt, but EFC need to win as many games as possible for the rest of the season.
Like a couple of other posters above, if fit, I'd have taken Cleverley over Mirallas for same reasons and keep Mirallas and Deulofeu for second half.
Looking forward to seeing Besic come in and add some energy to midfield for at least one of the games this week.
Sticking with optimism. 2-0 to the blues.
Alan Bodell
51
Posted 04/03/2016 at 16:20:01
We do seem to play better against better teams, particularly teams that do not shut up shop at Goodison.
So, with them needing points to dream of Europe and us needing to get our season back on track, I think we can win this but first goal will be vital.
Winston Williamson
52
Posted 04/03/2016 at 16:27:13
I'd like to see a change for a home game:
Robles
Coleman, Jagielka, Funes Mori, Oviedo (Baines)
Lennon, Barkley, Barry, Mirallas
Niasse, Lukaku
4-4-2
Will it happen?? Will it fuck...
Jim Lloyd
53
Posted 04/03/2016 at 16:35:12
One thing looks on the cards. This will be an exciting match (says he!) between to good teams. It looks like their defence isn't going to be at it's strongest but their midfield is top-notch and dangerous
I'm so pleased for Ramiro who's proved that bloody "expert on South American football" should take up Penquin watching. He's not afraid to boot it into Row Z if the situation demands it but he can also play it out, And do a Derek Mountfield.
I like Tom Cleverley, he's full of energy (well, not at the moment, as he's got a chest infection evidently) and does a lot of work on the left, and also likes to get forward and plays some great passes about. But Kev Mirallas should worry their Defence if he's anything like on form.
What I'd like to see,. is Ross Barkley get really would up and play as though he's getting right in their faces, as well as firing in a few shots with whatever foot he chooses.
Most of all, I think, like Dave Abrahams has said, paraphrasing this but "get stuck right into them"
Alan Bodell
54
Posted 04/03/2016 at 16:50:59
I seem to remember Bilic scoring a header on his debut for us against Villa at the Park End that was disallowed, can't research that but does anyone remember that or am I mistaken?
Andrew Clare
55
Posted 04/03/2016 at 17:00:43
I wouldn't get too optimistic because West Ham have players missing. At this level, it's the guile of the manager that makes the difference.
If only we would take a leaf out of our neighbours' book who make up for being a very limited team by persistently pressing and hassling the opposition. We've got everything else but this part of our game is very lacking and is costing us points. Even against a very poor Villa team, we took our foot off the pedal and let them attack more. We have done this so many times this season.
On another note, I hope we play two upfront tomorrow from the off and get at them.
Michael Kenrick
Editorial Team
56
Posted 04/03/2016 at 17:17:49
Alan, perhaps this is what you are remembering from Bilic's Everton debut (against Crystal Palace):
"Stuart actually managed to turn in a looped header from Bilic. For a few sweet seconds we all thought we were on our way. The offside flag soon put paid to that."
And yes, it was the Park End. And others saw it differently:
"Midway through the first half, we did force the ball into their net. Bilic won a header from a corner which Stuart forced over the goal line; mystifyingly, the referee disallowed it. At the next stop in play Bilic went and asked him why it had been disallowed -- the referee indicated that it had been a handball. Having now seen the replay this was a mistake. The handball was given against Stuart who clearly didn't handle the ball."
In fact, read our unique compilation of match reports here. Bilic was very well received in that first match...
Dave Abrahams
57
Posted 04/03/2016 at 17:22:54
Andrew (#45) it makes perfect sense, it's Cleverley for me if fit, gives the team balance and he will turn up for every game. If needed, Mirallas can come on later. I think Deulofeu needs some playing time as well.
Alan Bodell
58
Posted 04/03/2016 at 17:23:38
Michael, tks. so much for this and you've made my day with your rapid response so I can go out and enjoy my night without this playing on my mind.
Brin Williams
59
Posted 04/03/2016 at 17:26:09
What's the weather like up there any chance the game will be called off?
Harold Matthews
60
Posted 04/03/2016 at 17:26:55
Cheers Ian, you're probably braver than me. Cleverley plays the halfback, Mirallis plays the forward. McCarthy and Cleverley (or Besic) either side of Barry gives us a good balance and fill the hole in front of the fullback. Cleverley will also help Baines to attack.
Nothing wrong with Mirallis. A lone ranger but a constant goal threat.
Jim Lloyd
61
Posted 04/03/2016 at 17:31:04
Supposed to be a decent, dry day tomorrow, Brin. No "Storm, bloody Jemima or whatever" about either.
Hope I'm wrong here, but isn't Tom Cleverley stricken with a chest infection?
Paul Conway
62
Posted 04/03/2016 at 17:37:13
I know our home form has been lousy this season, to say the least but, as a betting man I have to stick by the formbook. We have a good record against the Hammers.

Last week Arsenal went to United in great shape, although they had not won at Old Trafford in a good number of previous visits. United won true to form!

We should have rolled over West Brom and Swansea as the formbook suggested, but we just did not have the luck that they had and we should have won. I know the bookies get rich by the fact the form does not stay true, but sometimes, its horses for courses!

I only hope Martinez doesn't wait until the 87th minute to bring on Niasse. Otherwise, what's the point in keeping a dog and barking yourself!
Ian Burns
63
Posted 04/03/2016 at 17:42:00
Harold (#51) – thanks for the explanation; your post makes perfect sense and obviously well balanced as described. Maybe it is the free spirit in me that wants to throw Mirallas into the mix!
Anthony Flack
68
Posted 04/03/2016 at 18:56:17
The site is frequented by kinder and more respectful folk than I. I nearly choked on one of my spuds at post #2.
West Ham under Bilic are very physical, Big Sam built this basis, they kicked us off the park at every opportunity. One robust challenge against a poor plucky West Ham player does not warrant a crappy comment like that.
Jeez how about the challenge on Cleverley at Spurs, another BBC favourite team, barely got a mention. It did not result in me losing respect for Spurs.
So, Roger, in the politest possible way I disagree, go away and grow a pair.
Lyndon Lloyd
69
Posted 04/03/2016 at 18:59:13
Rob (2), I'm not sure what you mean by the "Martinez" attitude but I don't think the majority of Evertonians would want one of own to deliberately nobble the opposition's best player. It just doesn't fit with the Corinthian spirit held by a fanbase known for holding a greater appreciation for the skill exhibited by opponents than most.
I certainly wouldn't endorse that and I don't believe Martinez does either. McCarthy's tackle was a poor one but he's not a malicious player and I would be very surprised if there was any pre-meditation in it.
Payet has been a joy to watch this season and many Evertonians have said he is exactly the kind of player we've needed, albeit perhaps youger and a little less expensive overall. But, I'm not going to lie, I felt a little relief when he had to be substituted in the game at Upton Park. That's not to say I was glad he was injured, just a compliment to his ability to change a game single-handedly.
---
Jim (52), Cleverley is a doubt with a chest infection, yes. I made reference to it in the original post above.
Adam Luszniak
70
Posted 04/03/2016 at 18:59:41
Not sure of the reasons behind it, but Mirallas has not played at his best since West Ham away in the FA Cup when he was the only player on the pitch who looked like a game changer.
Cleverley is a different kettle of fish but he is intelligent and can see a pass, a quality we are sorely lacking from midfield.
I think Mirallas will get the nod over Cleverley due to his illness but I also think he probably deserves it given his assist midweek. After all, it's hard to reach peak performances through sporadic sub appearances.
Adam Luszniak
71
Posted 04/03/2016 at 19:03:36
Lyndon, I'm sure I read somewhere that Martinez was interested in Payet but couldn't offer the wages that West Ham could.
Jim Lloyd
72
Posted 04/03/2016 at 19:11:29
Absolutely right Anthony. Tackles in a match can go astray. James got booked for the tackle, but Dier of Spurs did a very similar one which put Tom Cleverly out of the game of a couple of months.
What got my goat was the repeated, very, public comments by Bilic and by the son of the owner on James McCarthy's tackle.
Roger, I think you'll find the vast majority of Evertonians think a lot of West Ham and the tradition it's always had of playing good football and the fans were great working class people who loved the football played over the years.
Don't be swayed by the comments from people in very public and powerful positions, who ought to know better.
The poster who said "do a job" doesn't mean to imply a nasty tackle with the intention of injuring Payet. He's talking about the same kind of tackle that Mo did on Toure. A great tackle that Billy Wright would have been proud of.
Lyndon (59), Thanks for that. Knew I'd seen it today!
Frank Wade
73
Posted 04/03/2016 at 19:20:22
Michael 50, thanks for that link to the historical reports. I didn't realise such comprehensive reports were available. A place to go on a rainy day.
Eugene Ruane
74
Posted 04/03/2016 at 19:20:44
Well tomorrow I shall (as I have for most of this season) enter Goodison thinking 'well I don't have a fucking clue how this is going to go.'
Yes we can score goals but..well you all know the rest.
At this stage of the season, I'm no longer getting worked up about team selections and/or substitutions as I think none of those things address the real problems we have (I won't go into detail again, but very basically, a combination of mental fragility and lack of leadership).
Hopefully, one way or another, we can do enough to get the win.
As for them, well if I was the mange-headed Hammers boss, I'd start with Carroll and just lob high balls in at him for 90 mins and watch the ensuing panic (hopefully Slaven is as idle a manager as he was as an Everton player and instead of swotting up and looking at tapes of our recent home games, he's spent his evenings at the Klub Swankiplumz drinking vintage Pomagne).
Have to say, given their present form, I'm surprised (some) bookies are offering 4/1 on WHU – seems very generous.
Up the Toffees!
Lyndon Lloyd
75
Posted 04/03/2016 at 20:29:09
Adam (61), Everton were almost certainly interested in Payet but were simply not prepared to pay 㾹m (was it?) for a 28-year-old and then meet his reported $100k-a-week wage demands.
(Note that WHU have since given him a new contract worth - I think - $125k p/w.)
That would have broken our wage structure and represented a significant outlay for a player who turns 29 this year. Pretty prudent based on the club's pre-Morshiri finances and I have no problem with it in principle.
In hindsight, of course, you wonder whether Payet would have had enough influence on our performances to make up the difference in merit prize money we'll currently losing by being 11th as opposed to 6th but at the time, the strategy seemed sound.
Things might be different going forward with the new investment, of course.
Brian Porter
76
Posted 05/03/2016 at 07:07:50
Some good posts here, especially Amit (#18). I so agree with you that crowd pleasers like Funes Mori with a few terrier-like tackles and barnstorming headers from corners, Lennon running at their defenders and Mirallas (if he plays) are definitely the type of players who can quickly get the crowd on their feet and right behind the team. Add to that, I hope a good showing by Barkley and maybe a fully wide awake Lukaku and we really could win this one.
Before anyone knocks me for mentioning Rom in that way, it can't have escaped anyone's attention that his goals have rather dried up since Christmas and there have been games, recently where he really hasn't looked fully up for it, either because he's been carrying a knock or just had his head elsewhere. I really hope he hammers the Hammers today as he is good at doing, and maybe reaches 30 for the season, but he needs to more fire in his belly to get the crowd going as the first three players mentions are doing consistently at present.
Here's to a great game and, hopefully, three more points to push us up the table.
ps: I saw some stats yesterday that show Funes Mori is far and away our best defender this season in terms of tackles made, clearances and headers. Jags is next with Stones a long way behind in third.
Potential? Yes. Finished article? Not yet John. He has to improve his defending if he wants to recognised as a truly great...er...defender! Cut out the pretty stuff in the box and get down to basics again or he will simply become a highly valued luxury.
Tony Abrahams
78
Posted 05/03/2016 at 07:57:54
Been said by enough people on this thread, but just play on the front foot. It really is, as simple as that.
Colin Glassar
79
Posted 05/03/2016 at 08:06:57
Will Moshiri be at the game today? His continued silence, and absence, is starting to worry me now. Is this another one of BK's tricks to pull the wool over our eyes? Why doesn't he show his face? Lord Lucan is easier to spot than this guy.
P.S. I hope Stonesy either starts or plays at some point today. It's criminal to leave a player like him on the bench.
Paul Setter
80
Posted 05/03/2016 at 08:46:16
If the buffoon in charge picks the best side available,we will smash West Ham; they aren't all that good... and have several defensive injures. By 'our best team available' I don't mean garbage like McCarthy – he needs to be dropped... file under 'talentless headless chicken'.
I would like to see Baines start with Mirallas in front of him, preferably Besic if fit instead of Barry... and hopefully more than 9 mins for Niasse.
Dave Lynch
81
Posted 05/03/2016 at 08:54:08
Colin.
It may be because the FA havn't sanctioned the deal yet. It would be a bit embarrassing if he came waving a scalf only for our corrupt Sky 4 loving FA to knock the deal back.
Colin Glassar
82
Posted 05/03/2016 at 09:02:44
When it was announced Dave they said it would be finalised by Wednesday. It's now Saturday and nowt!! I'm just asking why does everything connected to Everton take so much time?
Duncan McDine
83
Posted 05/03/2016 at 09:25:01
Colin, I'm as baffled as you are about the illusive new fella. Regarding John Stones, he's without a doubt one hell of a talent, but right now I'd rather see Jags and Mori continue. Stones shouldn't be shoe-horned into the side simply to keep him happy... It must only be to benefit the team, and right now, that wouldn't be the case.
Gareth Clark
84
Posted 05/03/2016 at 09:27:11
Given our poor home form, I'd like to see a change:
Robles
Coleman Jagielka Funes Mori Baines
Lennon McCarthy Besic
Barkley
Lukaku Niasse

Dave Ganley
85
Posted 05/03/2016 at 09:42:19
Eugene #74, just about sums up my feelings too.
Well its nice day so hopefully we can be up for it for the full 90 minutes and get a win
COYB
Ian Riley
86
Posted 05/03/2016 at 09:51:39
Really difficult game to call! West ham have the hunger and talent to beat anyone. If we don't go at them from the start, we will be in trouble!
Dave Lynch
87
Posted 05/03/2016 at 09:52:30
Probably because where no one of the SKY 4 darlings Colin.
You can bet anything if this was City, Utd or the other lot, this would have been ratified within seconds.
Then again, BK is involved so anything could happen really.
I'm just concerntrating (misspelt purposefully) on todays game, I predict a 2-2.
Ian Bennett
88
Posted 05/03/2016 at 10:14:47
Robles
Coleman
Oviedo
Jags
Mori
Barry
McCarthy
Lennon
Barkley
Cleverly
Lukaku
Change it with impact subs when needed.
James Marshall
89
Posted 05/03/2016 at 10:36:45
Colin - I've posted it a few times, and if you do a little digging online you'll see that the deal will be ratified next week - it's merely business/legal process and not really anything to do with EFC as such. Don't worry about it.
It's interesting to read so many posters talking about needing a big tackle or something a bit 'narky' to get the crowd up for a game - I'm of the opinion that this is something old fashioned that you just don't see the best teams do/need to have a boisterous crowd anymore. It feels like a shame to me that supporters need some agro to get them fired up to support the team. I get it, people like that 'Sunday League/up & at em' approach but you're unlikely to see that sort of thing very much moving forward, in my view. I'd much prefer our support to just get behind the team from the off regardless of the situation - at all times. I know this won't happen as it's a cultural issue, ingrained in British supporters.
Anyway, moving on - really looking forward to the game today, and that's something else I've noticed in recent weeks. Quietly there has been less & less talk of intrepidation in the run-up to games which to me makes it feel as though people are more confident than they let on.
I've always been an admirer of West Ham - similar to us in many ways and I think both sets of fans realise that. I also like Bilic, and his scruffy, don't give a shit attitude - he seems to be a decent manager too.
The season hinges on the next few games so we have nothing to lose now - attack with purpose, defend with honour - and maybe get stuck in a little bit!
Up the blues!
Darren Hind
91
Posted 05/03/2016 at 10:49:49
Dont know where Payet came from or how much they paid, but what a find.
Keep him quiet and we will to a large degree keep WH quiet.
Brian Porter
92
Posted 05/03/2016 at 11:02:35
Ian #88, the big problem is Martinez doesn't seem to understand the meaning of 'impact subs', unless it's sending a forward like Niasse on for the last three minutes! Not much impact there.
Jon Stern
93
Posted 05/03/2016 at 11:02:58
I'd love to see Martinez make use of Besic's man-marking abilities, Darren.
It's one of his strengths (he successfully kept Messi and Bale quiet before).
Laurie Hartley
94
Posted 05/03/2016 at 11:08:04
The left side is the problem once again. It wouldn't be if Cleverley or Besic were match fit. What the team needs for this game is a big shift from Ross Barkley.
By that I mean I would like to see him do more pressing and harrying. He is a free spirit but he would be a world beater if he could add this to his game.
Sad to say I think it is too soon for Besic to be risked so I would put McCarthy in front of Baines and play Barkley a bit deeper in front of Coleman and behind Lennon. If he goes missing Lennon will cover for him.
This team should be able to take a weakened West Ham apart.
Robles,
Coleman, Jagielka, Funes Mori, Baines
Barkley, Barry, McCarthy
Lennon, Mirallas
Lukaku.
One thing that stood out for me in the Villa game was the way Mirallas looked up and picked Lennon out for the goal. You only have to do that once or twice in a game and your well on your way to picking up the 3 points. I would definitely start him for this one.
Up the Blues.
Chris Gould
95
Posted 05/03/2016 at 11:16:11
Payet is quality, but it would have stifled Barkley's development if we had bought him.
Barkely has 8 league goals and 7 assists.
Payet has 7 league goals and 6 assists.
Payet has played a few games less due to injury, but Ross has repaid the faith. Much rather have a 22 yr old future star than a 28 yr old on a huge wage.
Colin Glassar
96
Posted 05/03/2016 at 11:19:38
Thanks James, I just thought it had all gone very quiet recently.
My team for today would be:
Robles
Coleman
Stones
Jags
Baines
Lennon
McCarthy
Barry
Mirallas
Barkley
Rom
James Hughes
98
Posted 05/03/2016 at 11:32:26
Sad article about Tommy Lawton on BBC today, never saw the man play but I knew he was held in high regards by those who did.
http://www.bbc.co.uk/news/uk-england-nottinghamshire-35360384
Ernie Baywood
99
Posted 05/03/2016 at 11:34:18
Darren #91. Not sure you could call him a "find". He's had a few big money moves and a fair bit of interest from big clubs. French international too. Can't say I watched him at Marseilles as I don't watch any foreign football any more but he was becoming a big name.
History says he doesn't stay too long anywhere and has forced moves before. Personally, I'd rather avoid him, keep Ross on the park, and look for a younger player for rotation and development.
Ernie Baywood
100
Posted 05/03/2016 at 11:39:51
James #98 The Daily Mail ran the story with a bit more detail a couple of months ago. Some ToffeeWeb discussion on it
here
James Marshall
101
Posted 05/03/2016 at 11:54:25
Allegedly we passed on Payet so Ross could play his role. Seems reasonable to me - unless you want a quick fix (I don't).
Anto Byrne
102
Posted 05/03/2016 at 12:18:38
I would be happy with a couple even three 1-0 wins ensuring clean sheets and confidence building for the defensive structures. Oviedo if fit has to play as he is deceptively quick defending and not afraid to get hurt. Baines is the back-up until he proves he can work without Pienaar.
Pity Cleverly is sick as he is a really top notch player with a great eye for a pass. Stones is now cover for the central defence he has to work on his aerial work and add a few pounds of muscle to his upper body. I sure hope we have seen the last of Kone but I doubt it, maybe he will score a few goals.
For me Kevin Mirallas is our most dangerous forward ahead of Lukaku and Lennon lets hope he turns it on today.
Peter Barry
103
Posted 05/03/2016 at 12:19:44
These are the games which will prove if Martinez is the real deal or if he is, as I believe he is, just a plausible conman who whispered in Bill's ear what he knew Bill wanted to hear.
Phil Walling
104
Posted 05/03/2016 at 13:04:43
I have to say I'd be happier with our present position if it had been gained by the continued inclusion of the likes of Galloway and Garbutt .
I've never been one to judge the club/manager on how much gets spent in the transfer market but we rarely have more than one home grown player on view and I think the manager could be braver.
As it is, expensive signings have frequently underperformed or lost their bottle when it has really mattered. Perhaps today they will prove that phase has truly passed.
Mike Powell
105
Posted 05/03/2016 at 13:09:45
I don't fancy our chances today – we are woeful at home, and with this buffoon of a manager, nothing will change.
Please prove me wrong. COYB
Jim Hardin
106
Posted 05/03/2016 at 13:32:48
Colin,
Just curious as to how keeping Stones on the bench is criminal?
Who exactly is he better than in current form and not based upon some vague notion of anticipated greatness (not yet demonstrated)? Who would he replace? Baines or Oviedo ? No. Jags? No. Funes Mori? No. Coleman? No. McCarthy? No. Barry? No. Barkley? No. Can he play an advanced left winger role? Not sure his defending would be any better than Cleverly and it wouldn't offset the loss of offensive ability of Mirallas.
So I ask again, where would he play? It would be criminal to start him. Plus, given that Besic and Niasse need time as well as DelBoy, it would be only a little less criminal to waste a sub by a straight swap for Stones in for one of the defenders just to give him minutes.
Rob Hooton
107
Posted 05/03/2016 at 13:33:15
Roger 2 and others completely misinterpreted my first .comment - I meant man mark him out of the game not hack him. I've always been a firm but fair player and not dirty and like to see the game played that way too. Your comment was churlish Roger but if you thought I meant for the wonderful Payet to be intentionally injured I can understand it.
Hope we stuff the Hammers anyway!
Raymond Fox
108
Posted 05/03/2016 at 13:50:48
I agree Jim, I'd be selling Stones in the summer if we can get the figures that have been bandied about, he's been talked up too much this season.
His displays in general have not matched all the hype, not surprising is it, as the lad is still wet behind the ears, he's still learning the game.
Phil,
Galloway and Garbutt did get some playing time, Galloway picked up an injury which ruled him out for a period, you know what happened to Garbutt.
So who would you drop/would have dropped to accommodate the above.
Jay Wood
109
Posted 05/03/2016 at 14:07:05
Three at the back today then. Big call.
Not convinced by that formation meself, but ... let's see how it pans out.
John Mckay
111
Posted 05/03/2016 at 14:10:09
Wonder if it will be 3 at the back of will stones play more of a Barry role?
Peter Roberts
112
Posted 05/03/2016 at 14:16:42
Team sheet per Sky Sports
Joel
Coleman Stones Jagielka Funes More
Oviedo Mccarthy
Barkley Mirallas Lennon
Lukaku
Bit of an odd line up unless Barkley is playing deeper and Oviedo is going wide left??
Phil Sammon
113
Posted 05/03/2016 at 14:20:10
It can't be three at the back, surely!
We went to pieces when we tried it the other night...and aside from Italy in the 90's it's proved to be a great big pile of pretentious shit!
Colin Metcalfe
114
Posted 05/03/2016 at 14:22:36
John , great point there is a growing belief that Stones could play further upfield , I have said this before but he reminds me of an old fashioned sweeper .
This season Barry has done well but nothing spectacular if McCarthy does all the dirty work then the other DM has to bring more to the table offensively and I think Stones should be given the opportunity .
Mark Gardiner
115
Posted 05/03/2016 at 14:24:06
Oh dear. Martinez has shoe horned his favourite Stones into a winning team and completely changed the formation.
Don't change a winning team unless forced too and certainly don't go with a new formation that you haven't used at any part of the season.
I fear the worst and will be delighted to be proven wrong.
Brian Porter
116
Posted 05/03/2016 at 14:32:42
Colin @96. You seem to be the only person here who wants to drop our best defender, Funes Mori. The stats back that up as well, it's not just my opinion.
Chris Gould
117
Posted 05/03/2016 at 14:38:52
Barry has thus far been one of my players of the season. Dropping him for Stones? Don't understand it at all. 3 centrebacks forces the fullbacks to become wing backs. What's the point of the 2 wingers in front of them? If Stones is taking Barry's place in cdm then he better have a great passing range because McCarthy doesn't.
Jay Wood
118
Posted 05/03/2016 at 14:39:18
John Stones is a ball playing centre back.
Personally, I wouldn't want to see him shoe-horned into any midfield role.
David Pearl
119
Posted 05/03/2016 at 14:41:18
Hey Phil - Keep dreaming, Rob. I haven't seen enough of Niasse to call for his inclusion...but I've seen enough of Martinez to know that a change in formation ain't happenin'. thanks for the laugh!
I think we need to wait for the game and see how we are set out. I cant really see Oviedo in midfield, seriously. It must be 5-4-1
Anyway COYB
Jamie Barlow
120
Posted 05/03/2016 at 14:41:57
Mark, Barry is probably Bobby's first name on the team sheet so it couldn't have come easy to drop him. He must not be fully fit. Maybe Stones will play more of a Barry role today as John@111 has said.
Christy Ring
121
Posted 05/03/2016 at 14:56:48
It seems Barry has a chest infection, still well enough for the bench. I hope Stones plays as a defensive midfielder, because we have conceded 1goal in 3 games, and that was at Villa because he changed the formation to include Stones, totally ridiculous.
Phil Sammon
122
Posted 05/03/2016 at 15:00:36
David Pearl 119
Hold you're horses, chuckles. Let's see how the players line up. I reckon it's Stones in deep centre mid. Fuck knows who's going to dictate play.
David Pearl
123
Posted 05/03/2016 at 17:03:19
I actually did see the team go up with Stones in mid just before kick off but it was a 3-man defence to spare my blushes!
And now of course it's another pot of bollox. None of us are laughing now, hey! To play so well and control the game to just throw it away like only we can!! Again and again. As soon as they got one, you knew what was coming.
Bring on the cup.
Add Your Comments
In order to post a comment, you need to be logged in as a registered user of the site.
Or Sign up as a ToffeeWeb Member — it's free, takes just a few minutes and will allow you to post your comments on articles and Talking Points submissions across the site.
© ToffeeWeb