Agent: Everton in talks over Koeman deal
by

347 Comments [Jump to last]
| 02/06/2016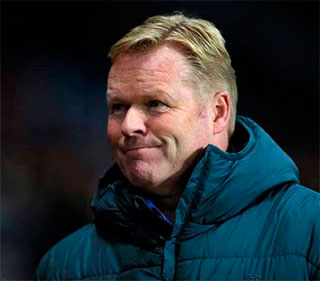 Updated
Everton's pursuit of Ronald Koeman could be close to success, with the Saints boss's agent telling BBC South that the two clubs are in talks over the Dutchman becoming the new manager at Goodison Park.
The Southern Daily Echo have reported that no permission for formal talks between Koeman himself and Everton had been given by Southampton — Paul Joyce in The Express claims that he has asked the Saints hierarchy if he can talk to Everton — but Dutch sources were claiming on Friday evening that the 53-year-old now has an agreement in place via his agent Rob Jansen and that compensation between the two clubs is now the main obstacle to getting a deal done.
News on the Toffees' search for a successor to Roberto Martinez had gone quiet this week as the club awaited Koeman's return from a post-season break in the Caribbean but it is believed that Jansen held talks with the Everton representatives in London yesterday.
Sky's Alan Irwin has reaffirmed that according to his sources, Koeman was not be able to talk directly with the Blues until the issue of an estimated £3m compensation package to the Saints was agreed. And as Lewis Coombes of BBC South tweeted, any direct talks without that being ironed out would be deemed an illegal approach. According to Coombes, Koeman has still not had direct talks with Everton.
Having claimed late on Wednesday night that Farhad Moshiri and Chairman Bill Kenwright were hopeful of tempting Koeman to Merseyside with the prospect of big wages and a sizeable transfer kitty, The Mirror were the first to report that a deal for Koeman was almost done after Dutch journalist, Tim de Wit of NOS, had sparked a frenzy of chatter with a tweet suggesting that Koeman was travelling up to Liverpool for negotiations (that was likely an assumption made on Everton's geographical location).
None of the more reputable UK media outlets joined them in reporting that news but De Telegraaf in the Netherlands reported earlier today that Everton hope to announce Koeman as Martinez's replacement "within 24 hours". Reports on the south coast of England initally played down the talk, saying that the Saints are still confident Koeman will stay at their club, at least for the remaining year of his contract but both Sky Sports News and NOS in Holland then announced that negotiations are now underway between Jansen and Everton, who confirmed as much to the Dutch media outlet.
The Mirror's David Maddock claims that Everton have offered the 53-year-old a £7m-a-year salary package and a transfer kitty of £100m in addition to what any sale of Romelu Lukaku would raise. That echoed reports in the Netherlands earlier in the day claiming that an agreement was close, with the Dutch Telegraph saying that Moshiri "will stop at nothing" to land Koeman.
Marcel van der Kraan from the paper told Sky Sports: "Koeman is the man Mr Moshiri, really wants and he's made that clear. The next 24 hours could be very decisive. If I was putting my money on anything, it would be on Koeman heading north."
The news comes just a couple of days after rampant speculation that Everton were targeting an ambitious managerial ticket of Unai Emery and Monchi, the duo behind Sevilla's three successive Europa League triumphs.
Emery has reportedly been ear-marked as the potential new boss at AC Milan or PSG but, according to the Liverpool Echo, Monchi could still be part of the equation at Goodison, with Moshiri having identified the 47-year-old as his pick for director of football at Everton. Monchi, himself, has told Spanish radio that he wants to take time out from the game "for a rest", however.
---
Reader Comments (347)
Note: the following content is not moderated or vetted by the site owners at the time of submission. Comments are the responsibility of the poster. Disclaimer
Carl Rutherford
1
Posted 02/06/2016 at 23:20:24
Seems to at last be something credible and concrete. Sky sports saying koeman has a column in the Dutch newspaper that broke the story.
Sizeable transfer funds seem to be the key to his apparent change of heart.
Muj Rasul
2
Posted 02/06/2016 at 23:22:03
Like I said yesterday, Monchi and Koeman dream team. Sell Lukaku, keep Stones and Barkley and buy top talent. Things haven't looked so good in my lifetime.
Gavin Johnson
3
Posted 02/06/2016 at 23:22:08
I bet the reported £7m wages did no harm either, Carl.
Gerry Quinn
4
Posted 02/06/2016 at 23:26:24
What is "phenomenal" in Dutch?
Gerry Quinn
5
Posted 02/06/2016 at 23:27:46
I should have guessed...."fenomenaal"
Carl Rutherford
6
Posted 02/06/2016 at 23:32:07
I guess it makes the relocation easier!
Still no one can be critical we have chosen the cheap option!
While no appointment can be considered risk free he ticks a lot of boxes for me. It makes a big statement about ambition within the club. I like the fact that Moshiri is made very little comment in the press but apparently moved mountains in the background to get (hopefully) his number 1 target. It all seems a little unEverton like.
James Flynn
7
Posted 02/06/2016 at 23:37:55
Koeman will do.
I'm going with the notion that EFC is now run by a man with ambition. Not another Kenwright "financial friend(s)" (Be interesting over the next two years if the books still show those two high-interest BVI loans).
And if anyone can present a logic where Moshiri is only Usamov's frontman, I'd like to hear it.
No, I'll stick thinking a man with his own ambition, Moshiri, is in charge.
If it's Koeman he gets 2-3 years, cuts the mustard, gets more years. Doesn't cut it, he goes and . . . . NEXT!
ANd if he scores Monchi, we're in a good place to start.
Timothy Morris
8
Posted 02/06/2016 at 23:43:00
Fingers crossed. Solid choice. Though I would like to see what Lakaku could do under him, I am willing to lose him. I may have to think of sacrificing one of the children.
Kevin Rowlands
9
Posted 02/06/2016 at 23:44:17
Now 1/8 on sky bet, this one is happening, wouldn't mind Foster, Long and Mane coming with him as well, welcome to the greatest club in the world Mr Koeman!
Roy Johnstone
10
Posted 02/06/2016 at 23:50:36
Leicester have just won the league. I'm seeing nothing directly below them that is the finished article. if koeman (or monchi) have insight into a few untapped high quality European players, we can easily compete for top 4. If he(or him) is what he appears to be. Time to be positive. COYB!
Phil Davies
11
Posted 02/06/2016 at 23:51:14
I've gone off him, suppose I had my head turned a bit too much by Emery. Koeman doesn't tend to stick around for very long plus apart from Southampton I couldn't tell you where he's been successful.
If it is him though, he get's my full backing and I look forward to defensive stability.
Gordon Crawford
12
Posted 02/06/2016 at 23:53:21
Hope it's finalised tomorrow. :)
David Fanning
13
Posted 02/06/2016 at 23:55:20
Shit!!! I wanted O'Neill!
Oliver Molloy
14
Posted 02/06/2016 at 23:58:12
7 million is a mad amount of money to pay Koeman - how does he deserve a salary like that?
That would have him in and around Wenger, Mourinho, Pellegrini was on 4 million!
They say Koeman was on 2.5 million at Southampton and they're offering him another 3 years with another 1 million each of those years.
So, if true why are we offering this crazy money , we could get the likes of Simeone for that - surely !
Bill obviously isn't in charge anymore !
John Pierce
15
Posted 02/06/2016 at 23:58:24
Still not sure its happening but the blocks seem to be falling into place. With the reported money involved, I'm a little underwhelmed thats its 'just Koeman. but I guess to get him to come we had to show how serious we are
Whilst I want high standards and Koeman to understand he can't finish 11th, outside the top 7 to be fair, he might be the guy whos told Moshiri wants you to see through the stadium move. Anyone think thats an issue to provide continuity through the move?

Tony Byrne
16
Posted 02/06/2016 at 00:00:06
Kevin#9
Include Virgil van Dijk as well.
This is happening in the next 48 hours.
DOF is Marc Overmars.
Sam Hoare
17
Posted 02/06/2016 at 00:00:17
Phil@11. I had my head turned too! Was very much a koemanite a month ago but the Europe turnaround against the RS got me dreaming of an Emery/Monchi wonderland.
Koeman has done a good job at Soton for 2 years and if he got us up to 5th next season that would represent success. Dunno if he's the one to take us higher than that but am encouraged that whatever happens the future looks brighter with Moshiri.
Roy Johnstone
19
Posted 02/06/2016 at 00:03:18
I remember a manager who blew us out for a bigger club. He stuck around for too long, and now wants back in as the money train has chugged it's way into town. Farhad is getting a chance to fuck it up from me. If koeman is who he wants, let's cut the bullshit, and get behind him. We will all sit in judgement come August.
Brian Porter
20
Posted 03/06/2016 at 00:04:39
Would rather have had De Boer than Koeman. He is by all reports, more adaptable and after Martinez, adaptability is an important factor for me. Koeman is very set in his ways, like someone else I could mention and definitely worth £7m a year.
Ernie Baywood
21
Posted 03/06/2016 at 00:05:46
He's done a very good job but I would have thought this is a very different landscape for him. From doing well with stabilising a club that has sold it's best players... I was hoping our next manager was joining a club that was retaining it's best and looking to spend.
If it happens he gets my support but I have a similar underwhelming feeling as I had once before.
On the bright side, I do feel like we mean business and the team's manager is only one part of a club showing ambition.
Colin Leary
22
Posted 03/06/2016 at 00:12:02
It looks like Moshiri is the real deal. Usmanov will be on board next. COYB
Andy Meighan
23
Posted 03/06/2016 at 00:22:59
All this Monchi talk is getting me down. Has he got some sort of magic wand? No, it appears not. No away wins for Sevilla all season and they lost 7 of their last 10 league games.
So him and Emery beat Liverpool. So has everyone. Apart from us. Is that reason to appoint either of them? No, it's not.
Why do people get carried away with all these fancy names? Whoever comes in has a massive job on their hands. End of.

David Barks
24
Posted 03/06/2016 at 00:28:12
No talk of getting us up to 5th, or 4th, norm of that. The only thing that should be said is that we expect to win the league within a set number of years. That's what the goal and expectation should be.
Not playing style, no performance was good and the results will come. If he comes in then it should be stated at the press conference that this club is now focused on challenging for a league title. Not some cup run and hoping for a League Cup or FA Cup. The board should state that we aim to compete at the top, that the manager will be backed to do so, and he has come here to win the league.
Gary Hughes
25
Posted 03/06/2016 at 00:33:14
I like what Koeman has done at Southampton but he managed to lose a match 6-1 at home to an average Liverpool team which sets alarm bells ringing immediately. I think he's also a 4-2-3-1 merchant which is a formation that I've come to hate.
Having said that, he also came from 2 down to win against the same team so I find myself torn. I don't know what Emery's preferred formation is but he is clearly top drawer and categorically no flavour of the month. I think he would be the preferred option.
Colin Maughn
26
Posted 03/06/2016 at 00:35:35
Let's all wish for the best. Remember nothing has been confirmed as yet. Let's hope all the twists and turns are finally settling down. The manager is one person but we also need the team to function.
Phil Jeffries
27
Posted 03/06/2016 at 00:35:45
Moshiri is making his point to Arsenal with this appointment (if it comes off). He was widely tipped as Arsenal's replacement for Wenger when the time comes, so Moshiri leaves Arsenal and steals their future manager.
As for any negative comments regarding Koeman. Take yourself back several weeks under Martinez. Feeling happier now?
He may not have been my first choice. But I for one thank Moshiri for giving us a debate between Koeman, Emery, Pelligrini, Mourinho and De Boer. Last time under BK we were debating Martinez, Lennon and Pearson!
We also have a breakthrough regarding the stadium and it's time to grasp a new era. A new dawn. Whoever gets the gig, it's the choice of a new leader who knows what he wants and wants to bring success back to our club. I can live with that and will certainly give him the chance to show us what he can do.
COYB!
Nick Entwistle
29
Posted 03/06/2016 at 00:43:53
Phil, If the Arse want Koeman he will know about it, and you don't think he'l jump ship next season? Did he just not sign a new contract on the south coast?

Mike Dolan
30
Posted 03/06/2016 at 00:45:22
I'm impressed by the sticktoitivness that Moshiri has shown in pursuing his manager. Its beginning to feel like we are a big club again.
Koeman can't fail here he just has to get the players fit again. He has some great players here already to work with. It was a total management failure the last couple of years.
Nadeem Akbar
31
Posted 03/06/2016 at 00:51:20
I am very optimistic with this appointment.
Tadic, Mane, Van Dijk, Bertrand, Forster & transformed Shane Long. I could probably go on.
Like it has been mentioned many times already so refreshing to see us being linked with managers of the calibre we are at the moment.
Onwards and upwards next season hopefully.
COYB.
Tony Draper
33
Posted 03/06/2016 at 01:16:02
BUGGER !
Bloody Dame Edith Kenwright has betrayed us once more and again !
Was seriously hopefull that we would build upon our recent, "drippy tappy" football and the ideal candidates must surely have been the much loved pair, national treasures Barry, Paul and Edith Chuckle !
To me !
To you !
To Tim !
Jamie Sweet
34
Posted 03/06/2016 at 01:26:11
Will he have this £100m transfer kitty before or after the sale of Lukaku and or Stones?
Anthony Dwyer
35
Posted 03/06/2016 at 01:29:21
Nick 29.
Nope Koeman has not just signed a new deal mate.
My thoughts on Koeman are that he is that he is clearly a man who has adapted well to the EPL.
He has followed Pocachino to Southampton, and made his own success stories.
Pocachino was sought after for his brand of football at the saints, as wel as bringing the kids through, but Koeman has gained more points than Poc did in both his seasons at Southampton, dispite having his best players taken away from him in both seasons.
Im not convinced at any manager in world football when it comes to managing my team tbh.
Jose doesn't bring the kids through, Pep has won things at clubs I could win things at. Pellagreeni wasted money on shite like Mangala, Otimendi and Bony (even though id have them all like, but massively overpriced), Mark Hughes & Moyes are both experienced at being average in this league, and De Boer and Emery are both unproven here.
All in all though, the biggest plus for me is talk of Koeman being Morashi first choice. If that's true and he's got his man, then that in itself is promising.
If Koeman comes id only want two of his ex players, with that possibly extending to four if we lost players. Id take Forester anyday of the week along with Maine, id also consider Van Dike if we lost Stones and Bertrand if we could off Oviedo and Baines didn't recover his form. One Dutch player id like him to bring in would be Wigaldum from Newcastle, he would be great for us, his eye for goal reminds me of a Tim Cahill type.
Anyways, heres to hoping things are coming to a conclusion, we need someone in asap as we have a big re building job doing.
Convince the good players to stay ( Stones, Barkley, McCarthy, Del Boy coleman, Miralas, Mori,Jags , Baines and hopefully Rom)off a load of finished (Howard, Ossie, Hibo, Pienaar, Kone, Gibson and possibly Barry)or just plain shite players (McGeedy, Oviedo, Kone again) and start building for the future with the young talented kids we have on the way through and some real quality signings.
Kieran Kinsella
36
Posted 03/06/2016 at 01:34:39
Manager jumping ship assumes he does well which is good no? Phil Head (isn't he the guy who called Watson a piece of shit) is comparing Koeman to Walker. If so, does that mean we will win the cup next season under Stubbs?
Laurie Hartley
37
Posted 03/06/2016 at 01:37:19
I'll believe it when we hear it from the club.
Great career as a player and proven track record in the premier league.
If he is Moshiri's first choice that will do me.
Chris Wilson
38
Posted 03/06/2016 at 02:15:59
Someone made an interesting point on another thread that compared the Man City managers that were hired after they gained their billions - that it was like bringing in new managers in stages. Hughes then Mancini, Pellegrini, and soon to be Pep. The club stabilized itself, improved the playing staff and the facilities so that they would look like a much more attractive prospect, and as a result they were able to attract a higher caliber of manager - certainly better than Mark Hughes. I think that could be the case with us.
We're kind of a train wreck right now, but Koeman is a solid and respectable (potential) hire. IF he has ambition to manage Arsenal, or a team in Spain, or the Dutch National team; it benefits him to make US a better team. If he can bring in good transfers, involve the younger players, and put us back into European contention, then Arsenal or somebody is going to come calling. Meanwhile we would have a much more attractive team, with hopefully a stadium plan in place, and money behind it. We could then be in a better position to draw that top tier manager that is just out of reach right now. It could be a win-win for all involved.
Donald Neville
39
Posted 03/06/2016 at 02:19:06
Bring Frasier and Wanayama.
Kieran Kinsella
40
Posted 03/06/2016 at 02:21:10
Chris
Your City comparison doesn't really work. City fired each manager than got a better one. You're suggesting Koeman will leave us for a better club then we will replace him with s better manager from a bigger club. If we reach the point where we can get tier 1 managers, why would Koeman be wanting out?
Mark Andersson
41
Posted 03/06/2016 at 02:22:39
I thought it was going to be Moyes, I suppose he will do hahahah
Just a few more day's before we know if this is true or more smoke and mirrors.
Dan Parker
42
Posted 03/06/2016 at 02:54:51
After last season, I find it hard to get excited about anything. Lukaku whilst a brilliant young goal scorer set the league alight early on, he downed tools with a quarter of the season left.
Engineering agent moves to Champions League clubs might get silverware but he'll always have on his head that Jamie Vardy, at Leicester, scored more goals, showed more determination, never gave up and stuck with it until the end and gained the rewards to go with it.
Sorry Rom you're a great goal scorer when your head is right but you don't have the right attitude. Goodbye, adios,
Good luck, bye
Gareth Clark
43
Posted 03/06/2016 at 02:59:52
Koeman over De Boer - if you look where they've managed.
Koeman has managed in Spain, Portugal, Netherlands and England.
De Boer has come through the ranks at Ajax - only managed at one club, in one league.
Personally- I hope we get Koeman for 3 years, then he will probably be off to Barca (fair enough). After which - someone like De Boer will have that little bit more experience & we get someone like him in.
Victor Yu
44
Posted 03/06/2016 at 03:16:13
We should be aiming at Simeone or Mourinho in 3 years time.
Chris Wilson
45
Posted 03/06/2016 at 04:29:38
Kieran Kinsella, fair point. I was more going with the idea that they replaced their managers and moved onto one that their hierarchy assumed was a better caliber of manager (in this case you correctly pointed out that all of the managers except Pellegrini were fired. I think Pell just didn't have his contract renewed, yes?).
With regards to my Koeman thoughts. If he does turn us into the new Premier League bully and wants to stay, then awesome! But I was referring to the rumors that suggest he is waiting for the Arsenal job, as it's been suggested he has his heart set on taking over the London club when Wenger steps out or is pushed out. So IF that is the case, it would behoove him to build us up to sell himself. And IF he does leave us to pursue that avenue, then hopefully he has left us in a healthier position to draw a higher profile manager who sees us as an incredible opportunity (top tier was a poor choice of words on my part).
That was really my only comparison with Man City - the potential to be in a healthier position as a club to possibly grab that next caliber of manager. But I appreciate the response. Most of the time my comments fail to generate a response or I end up killing a thread outright.
Danny Broderick
46
Posted 03/06/2016 at 04:44:10
Koeman is my first choice. He's the most high profile of all the managers we have been linked with - this is being reported in the world's press. This is important, as we need to make a statement. Getting someone's sloppy seconds like Pellegrini would do absolutely nothing for us.
If we can get him in now before the Euros, he should have time to bring in a few players before the season starts. COYB!
James Kirrane
47
Posted 03/06/2016 at 05:45:25
What I like about Koeman compared to OFM is that he a appears to be flexible and adaptable. When their defence was going through a porous phase earlier in the season he addressed the issue.
He is not afraid to blood and play young players regularly – thinking of Dowell and Davies for next season. He also appears to be quite shrewd in the transfer market.
Admittedly his team were beaten by the RS in the League cup – but I think he played a weakened team. They came from 2-0 down to beat the RS at home and also have a good away record against the RS in the last few seasons under Koeman.
I know that his earlier record at places like Valencia was patchy, but he appears to have learned his lessons. He also appears to have a sense of humour.
https://twitter.com/ronaldkoeman/status/493689458458644480

Ben Mackenzie
48
Posted 03/06/2016 at 05:56:11
This guy is class. He doesn't talk shite either. I can't wait to see what changes in our performances he will bring.
Eugene Kearney
50
Posted 03/06/2016 at 06:12:09
Great. Things are moving and we seem to be getting somewhere (hopefully).
Showing our muscle now - with Overmars or Monchi (maybe) for Director of Sport (or whatever title they decide on for that position).....
And Rom wants his move away sorted before the Euros, I think.....well, we'll get the negotiations going pretty soon. He seems to know where he wants to go anyway.
John Daley
51
Posted 03/06/2016 at 07:15:31
No time at all for the Daily Mirror but, damn, just seeing the words "
Everton manager
" followed by "
money no object pursuit
" and then the listing of a "
£7m-a-year salary, £100m transfer kitty PLUS whatever Lukaku is sold for and the promise of a new stadium
" must be like magical lob on elixir for a lot of you arl buggers on here.
I recommend waking the missus up and making the most of this unexpected Mirror fuelled 'morning glory' (maybe going so far as to reenact the scene from American Psycho where Patrick Bateman is pointing and winking at his own reflection in the mirror whilst on the job), before heading downstairs, making yourself a slap up breakfast and sitting back to scoff it whilst allowing yourself just a slither of belief that the real Everton may finally be about to rise from it's own decades long slumber in similar devilish style.
Lewis Barclay
52
Posted 03/06/2016 at 07:35:32
Colin Glassar
53
Posted 03/06/2016 at 07:44:08
John D, it is hard to believe this is all real and not some really sick dream.
Andy Bone
54
Posted 03/06/2016 at 07:44:38
If anyone wants a chuckle go to the Southampton Daily Echo page about the Koeman story. Fan responses are amazing. "He would need he £100 million to get to where we are now" and "it would take seasons for him to achieve there what we have this year" are among my favourites.
Duncan McDine
55
Posted 03/06/2016 at 07:55:13
Like it Lewis! I don't want another thread to go down the Alan Partridge route, but reminds me of the South African guy and Alan didn't realise he was saying "can't"
Marc Jones
56
Posted 03/06/2016 at 07:56:24
Very underwhelming if true. The reported salary is just obscene, for someone I see as doing okay, but then Everton have history in paying the manager very well. Koeman was not in my top 3 – it was Emery, FdB and Pellegrini in that order and has been since before the Europa League final.
As has been alluded to, every manager has his pros/cons. I do feel that Koeman views us as a stepping stone but then he could be to us. If he gets us to the next level and by that I mean regular European slot then he can leave with my blessing. Maybe then we can start to shop for a really top, top draw manager.
As for Monchi he's not a fancy name, the reason people get excited is his track record of hunting and finding talent. Sevilla are a small-ish team with exceptional players they have to sell on. Porto were/are the same. Monchi could turn out to be a spectacular failure IF he came here but you don't try you don't get. We're Everton we should be aiming high!!
Whoever we appoint should be given time and our support. All I do know is Moshiri is pulling the strings so we've exciting times ahead

Ian Burns
57
Posted 03/06/2016 at 08:21:51
John D - 51 - another of your off-the-wall amusing posts which has me smiling over my cornflakes. I'll have you know being an "arl bugger" I would be delighted if I could lift my head let alone wink during such occasions!
Koeman doesn't quite do it for me but given where we were prior to the last game against Norwich, I would have paid for the taxi to GP myself, so I can't really complain. He gets my backing if he makes the right decision.
Keith Harrison
58
Posted 03/06/2016 at 08:32:28
Andy (54) According to the Soton fansite, we are miserable buggers, the next Leeds/Blackburn/Villa, over expectant, will need more than 𧴜m to correct things.
They seem to forget the players we already have here, including some superb academy prospects, big fan base, and - hopefully - a manager who can bring the best out of these lads, or at the very least, make them a sum of their parts again.
Anthony (35), your spullchucker seems badly awry mate, hehe. Agree with your post wholesale, but you haven't categorised the wonderful Niasse. I think the lad may 'disappear' and we just claim the insurance?
Exciting times ahead.
Scott Hamilton
59
Posted 03/06/2016 at 08:41:40
John (51) - Hilarious! Unfortunately I'd got to work before I had the chance to utilise the aforementioned appendage.
Keith (58) - Apparently 'Pedigree Chum' have made an offer for Niasse.
Stewart Lowe
60
Posted 03/06/2016 at 08:56:55
What a big mistake this is. Koeman has been sacked from almost all 7 clubs he has managed. 7 clubs in 15 years tells me he has been hired by a lot of clubs because of his name and then sacked for poor results. The best he has done with a club was 2 Dutch titles which mean nothing to me as it's a very weak league. De boer has won 4 of them and Steve Mcclaren has won 1 and they aren't in the running for this post. So how does a 7th and 6th place finish with Southampton mean he is the next best thing and the potential to beat teams managed by Wenger, Conte, Guardiola, Klopp and Mourinho? It makes no sence to me??? Does this mean we are happy to have a manager who can get us 6th or 7th at best? 15 years of mediocrity in his managerial career and now gets the chance to spend our £150m. It's ok people saying but he will take us higher than Southampton on a bigger budget but the regular big 5 will also be spending massive budgets, so how is a Koeman who had been sacked many times and not got above 6th in the premier league supposed to be this amazing ambitious manager to bring the glory days back to Everton? Absolute garbage
Mike Allen
61
Posted 03/06/2016 at 09:12:17
Top four that's not winning, moving up the table is a start but don't be satisfied with just top four – we need to enter all competitions with the belief that we can and want win them all.
Last season, all we heard was "we are a top four team" – never once "we are a winning the league team". It may not happen over night but at least let's be in the mix to win things; second is for losers.
Phil Walling
62
Posted 03/06/2016 at 09:12:53
Seems a bit like a Dutch Moyes to me. Can't believe Mosh is so keen to blow up to £7M a year on another 'seventhish' manager currently on £1.25M !
Koeman must think all his Christmases have come at once !
Thomas Surgenor
63
Posted 03/06/2016 at 09:14:31
For all you kids on the koolaid, my time hop seems to think it's been exactly 3 years to the day since we signed Roberto. (Or well 3 years since I made a Fb rant about his signing).
I will give koeman a chance but I'd have preferred the monchi/emery duo or even Sampaoli.
I think he is a better appointment than Roberto was but just thought we could "do better". But I will support him 100% and give him a clean slate here.
Mark Tanton
64
Posted 03/06/2016 at 09:15:35
Not much enthusiasm on here for a man who worked wonders at selling club. What do we know about De Boar really? And why are so many desperate for him?
Tony Butler
66
Posted 03/06/2016 at 09:28:54
You'd be better off with Mark Hughes, Ryan Giggs or Frank de Boer.
Koeman wouldn't leave Saints who are in Europe to build a new team up to that position in the Premier League.
Iain Latchford
67
Posted 03/06/2016 at 09:31:37
I'd be surprised if his basic wage is £7m per year. I'd imagine there is a pretty hefty bonus structure which gives him the potential to earn that based on getting in the Champions League, winning cups etc.
Lee Whitehead
68
Posted 03/06/2016 at 09:37:13
FFS – a month ago most blues would have done almost anything to get Koeman on board (not including his fat little mate) and get rid of Martinez.
Now I'm reading the comments and some people are fukin moaning!!
The man is a class act – so lets embrace the appointment (if it happens) and start showing some positivity.
Patrick Murphy
69
Posted 03/06/2016 at 09:41:44
Mark (64) It is a trait of some Evertonians to adore those players that are out of the team and lambaste those that are in the side. It is also a trait of some to admire and salute our rivals at the drop of a hat, but to put on their most cynical outlook when examining what happens at our club.
Likewise with managers, those that are seriously linked to Everton FC are examined for flaws and those flaws are pointed out on a regular basis without apparently looking to see what positives the particular manager may actually bring to the club. Now that the club have a few pennies, the same people will be crying 'what a waste of money' when a player doesn't perform to their pre-conceived ideals, which is just a flip of 'we ain't got money - we can't compete' mantra that has beset us for so long.
You can make some Evertonians smile most of the time, you can make many Evertonians smile some of the time, but you cannot make some Evertonians smile ever!. As for myself, I wait to see how the games pan-out and offer my views on what I have seen, there's little point in fretting about what may or may not happen.
"Worry never robs tomorrow of its sorrow, it only saps today of its joy."
― Leo Buscaglia
Brian Williams
70
Posted 03/06/2016 at 09:43:38
De Boer.....the man's name is De boer. :-)
Bobby Thomas
71
Posted 03/06/2016 at 09:43:49
I think Koeman would be a solid appointment. But if his name wasn't Ronald Koeman with that fantastic playing career behind him and you view his coaching record in isolation then it isn't one to get giddy about.
As I've stated elsewhere, I think Pellegrini's track record is superior by far.
Alan J Thompson
72
Posted 03/06/2016 at 09:49:49
In the words of the Bard (managed in the Midlands before moving to the capitol and was known for his inspirational half time speeches);
"Give me a lean and hungry man...."
Nigel Gregson
73
Posted 03/06/2016 at 09:51:46
Phil walling, we're finally in agreement. This Koemen was thumped 3-0 at st. Marys by our much maligned former manager earlier this year and could only manage 1-1 draw with us during a period which was catastrophic enough to get the OFM sacked. I don't see how he's an improvement over Roberto or Moyes.
Kevin Tully
74
Posted 03/06/2016 at 09:54:42
Oh no...please don't tell me Phil W isn't a fan of this manager? Are you making your position clear from the off Phil? Does that mean we will have to endure three more years of 'he's shit, seventhish is all we can expect..I've got mates in Southampton"
Can't take it mate.
James Morgan
75
Posted 03/06/2016 at 10:00:02
Talks are happening according to SSN.
John Daley
76
Posted 03/06/2016 at 10:01:41
"This Koemen was thumped 3-0 at st. Marys by our much maligned former manager earlier this year"
...and they twatted us last year. So what? Why does a defeat against Everton suddenly carry more significance than victories over Spurs, Man City, Man Utd, Arsenal, Liverpool, Chelsea and West Ham in the same season?
Iain Latchford
77
Posted 03/06/2016 at 10:02:12
Koeman is probably reading this and going back to Southampton saying "I'll tell you what, give me £4m a season and a house on Sandbanks and I'll stay here".
Ben Mackenzie
78
Posted 03/06/2016 at 10:04:56
Breaking news on ssn. Must be happening.
Nigel Gregson
79
Posted 03/06/2016 at 10:05:28
John Daley - they do in the context of "is this guy really an improvement ?" For the last two seasons he's only beaten us once and lost twice.
Mark Andersson
80
Posted 03/06/2016 at 10:13:10
Good point John Daley, if appointed I feel he will settle in quickly and get rid of the deadwood and bad apples. I had a real dread of Moyes returning, before that I had a dread of Martinez not getting sacked. So this could well be good news.
As far as him been sacked at other clubs, maybe unlike Bobby he learns his lessons and becomes better for it.
Laura Round
81
Posted 03/06/2016 at 10:15:43
Right, SSN on. Thankful it's half term for once. Gonna camp out with my boys in the hope it happens today.
Ernie Baywood
82
Posted 03/06/2016 at 10:16:14
I refuse to judge a manager on his performances against us. It didn't work out well last time.
It does feel like whoever gets this job is one lucky fella. A team capable of a lot, significant cash to spend, and a predecessor who they couldn't fail to be better than.
And it sounds like they'll take home a decent wedge too.
The manager can only do so much. The real improvement might lie in an improved club.
John Daley
83
Posted 03/06/2016 at 10:16:26
It absolutely doesn't have any bearing at all. Nor does it give any indication of whether he'd be an improvement over the last guy at actually doing the last guy's job. It's fucking nonsense logic.
Is he going to be sending a team out to play against Everton if he's Everton manager? Are managers and players only judged on the basis of how they fared in direct match up's with 'the mighty blues' these days? If you managed a team that ever lost against a Martinez team you're automatically marked as a meff with a big fuck off 'M' daubed on your forehead, like in the Scarlet Letter, except we use brown paint to signify 'You're Shite!'?
Steve Hopkins
84
Posted 03/06/2016 at 10:21:10
Exactly John Daley (83), and it's not likely that he's going to be playing against a Roberto Martinez team anytime soon, however he does seem to manage to get some pretty decent results against teams we should be competing with (United, City, the Shite, etc) and that's what really counts!
Michael Polley
85
Posted 03/06/2016 at 10:23:31
Good news. I did say a few days ago don't worry about Kenwright; Moshiri is now calling the shots, and he has got the financial punch to go with it. COYB
Clive Lewis
86
Posted 03/06/2016 at 10:23:34
Its a gamble, and a very expensive one by all accounts. If Koeman fails I expect him to be out the door sharpish on that salary.
Unai Emery is the one that has proven potential. The logic of this move is he is patient and is good defensively, however it does not always translate into top 4 potential. Although he will obviously do better to than Martinez .
Its no better an option than Mark Hughes another manager that should not get anywhere near our door.
Looking for evidence of trophies or top four achievements its a lot of money for a gamble.
Phil Walling
87
Posted 03/06/2016 at 10:40:29
My comments were based on the evidence that Koeman's Premier record is certainly no better than that of Moyes who most of us deride.
For the sort of money being talked about I would hope to have seen some medals.
For all that, he looks an improvement on Martinez for which we should be eternally grateful.
Gary Clarke
88
Posted 03/06/2016 at 10:43:26
Sorry, but for me it's a massive anticlimax if this happens. The job he's done at Southampton is what I'd expect Moyes to have done, and I wouldn't want him back.
Lewis Roll
89
Posted 03/06/2016 at 10:50:57
Jesus, some people wouldn't be happy if we had Guardiola in charge.
https://twitter.com/RonaldKoeman/status/729657878894784512
Jim Potter
91
Posted 03/06/2016 at 11:14:02
How can you judge a manager fairly when you start picking out individual results? That's crazy. No one would pass such a ludicrous examination. Teams have bad days. Teams lose.
But whoever gets it in the end, one things for sure ...... you're going to 'get it' on these merciless pages ..... before a ball's been kicked (you will have been).
Whoever gets it will be flawed and human (unlike seemingly some of you perfect beings). And no matter how good they are they will be held hostage to whether a bunch of millionaires want to turn up on any given day. (And yes, I know, a good manager can minimise such occurrences).
Let's give whoever the new guy is, a break ....... or are you really that desperate to piss on his parade so early? Then again, I know you are.
Alec Smith
92
Posted 03/06/2016 at 11:19:48
Can't get excited about Koeman. He's like a Martinez who understands that you do actually need to defend. Just can't understand why we have thrown everything at him.
Having said that, I'll get behind him 100%. Needs a couple of exciting signings this summer to get everyone buzzing!!
What are the odds Southampton pick up De Boer? Geez we could really find out then if we made the right choice, eh!
Don Alexander
94
Posted 03/06/2016 at 11:28:49
What is the new manager going to have to deal with?
First, a discontented, disillusioned squad (and if they're not, they should be after the past two seasons) keen to win a trophy. So, they should be willing to listen and learn from a guy who was one top player, one of the best attacking defenders in history. He was also a mainstay in Barcelona's team under Johann Cruyff (that's the team allegedly worshipped from afar by Martinez) so he knows EXACTLY what does and doesn't work in football.
Second, a squad with a number of elderly players (and one or two useless ones) who will have to be replaced. Yes, one or two of our youngsters may prove to be all we need but some sort of buying nouse will be necessary in the short term, and at Southampton he's shown he has bags of know-how as far as that's concerned.
Third, possibly replacing Lukaku and any other want-away. Well, he replaced Ricky Lambert with Graziano Pelle and if John Stones/agent wants to wave bye-bye to a man who was just about the best in Europe in his precise role then more fool him.
Lastly, Koeman may see us as a stepping stone to a "bigger" club. I just hope Mr Moshiri ties him to a three year contract max, with winning a trophy and/or playing in the CL proper within that time as the mandate for an extension. By then, hopefully, the stadium issue will be largely reality and we will then have other such quality managers queuing up to join us.
The decades long complacency and impotence from the boardroom seem thankfully to be over.
Peter Barry
95
Posted 03/06/2016 at 11:28:54
Moyes was derided for his boring football his 'knife to a gunfight' pessimism and his 'all track back' mentality not to mention his backstabbing LIES and the CONTEMPT he expressed for Everton when he left for his 'beloved' Man U and tried to persuade Everton players to join a 'much bigger' club.
Rob Halligan
96
Posted 03/06/2016 at 11:29:13
Reading the Southampton daily echo comments on this matter is a huge giggle. A lot of their fans keep harping on about the fact they have qualified for Europe two seasons running. They didn't even make the group stages of the Europa league last season, beaten by the mighty FC Midtjylland from Denmark in the qualifying rounds.
Then they harp on about any transfer war chest will include any monies from the sale of Lukaku and Stones. Should either or both of these be sold I reckon we will have upwards of £180M to use in the transfer window, not the £100M they seem to think we will need just to get anywhere near them. That bit made me laugh....just to get anywhere near them!!! Southampton have never been a bigger club than us, and never will be. This is a club that have probably spent as many years outside the top flight as they have in it.
I then tried to find their honours list, but couldn't find one. I do remember them winning the FA Cup in the 70's, and I think that's about it!! Probably not worth making a list for.
There are other posts from their deluded fans which are a good laugh, so I recommend you go and have a look.

http://www.dailyecho.co.uk/sport/14533715.Southampton_hopeful_over_Koeman_despite_Everton_link/

Ben Mackenzie
97
Posted 03/06/2016 at 11:34:29
Brilliant Rob, isn't it? Made me laugh reading Southampton Fans comments. Almost as deluded as kopites!
Charlie Dixon
98
Posted 03/06/2016 at 11:40:39
There's no pleasing some people!
Great appointment. Look forward to seeing him splash our massive warchest over the summer. He's also a straight talker and not that it matters was a genuinely world class footballer in his day.
Let's at the very least get behind him and his backroom staff before the doom mongering starts. All those who are still wallowing over Mourinho or Simeone get back into the real world!!!!
Fingers crossed this come through and the start of a new exciting Moshiri led chapter can start at our great Club.
Garry Corgan
99
Posted 03/06/2016 at 11:42:47
Christ, those Southampton fans are deluded. They have a couple of good seasons and they think they're up there with the top clubs in Europe.
Apparently we're not a top club and our entire squad needs overhauling because we finished in the bottom half (just.) With no changes to our squad whatsoever, it's absolutely plausible we could finish fourth or above next season.
As for our 'decrepit' stadium, how quickly have Southampton fans forgotten the Dell? But fear not, because they've now moved into a identikit plastic shoebox.
The very idea that Everton isn't a step up from Southampton is unbelievable to me. We are a much, much bigger name in football, with a much broader fan base, a greater history ... what are they thinking?
Dan Davies
100
Posted 03/06/2016 at 11:43:45
Been doing something similar myself Rob, well worth a look! Them Southampton fans are well 'bitter'.
Louis Johnson
101
Posted 03/06/2016 at 11:51:55
I have never, ever, felt moved to comment on an article on ToffeeWeb before, but this subject has compelled me to register.
I really feel that the next Everton manager needs to have been a top-level, successful player, someone who will command the respect of the players. The last top-level player who managed Everton was the late, great Howard Kendall and this says a lot about where we've been as a club.
I think part of the many complex problems that undermined Martinez's time as manager was a basic lack of professional respect from the players – this was arguably the case with Moyes too. In this regard, Koeman would be an excellent choice: as a player, he basically won everything except the World Cup (multiple league titles and domestic cups with Ajax, PSV Eindhoven and Barcelona), two European Cups/Champions' Leagues with two different clubs (PSV and Barca) and the European Championships with The Netherlands – and he was an absolutely key player in all of these teams, performing alongside other great players.
This alone makes other footballers sit up, pay attention and take what he says seriously – he has been there, done it and won it.
As a coach, although not reaching this level of success, he has been assistant at Barcelona, won titles with Ajax and PSV, and won the Copa del Rey with Valencia; he has a good record in the transfer market as well as showing that he can work in the English top division and that he understands British football and British football fans.
All of this is more than Emery and Frank De Boer can offer and, in terms of achievement, is streets ahead of the people who have managed Everton since 1998. Koeman was a major figure in world football when I was growing up and, for me, he still has that aura; given that we cannot, at the moment, offer what Man Utd, Man City, Arsenal and Chelsea can offer in terms of likely success, I think he would be a good appointment that marries ambition with realism.
Chris Leyland
102
Posted 03/06/2016 at 11:54:47
Rob Halligan - to be fair, they have won the Hampshire Senior Cup 17 times and we have never even got to the final of that competition.
Paul Mackie
103
Posted 03/06/2016 at 11:56:40
Seems like Moyes 2.0 to me but with better experience as a player.
Ian Burns
104
Posted 03/06/2016 at 11:58:15
Don - 94 - good post - sums up the situation perfectly. Unfortunately, it hasn't rid me of my reticence about this pending appointment but I am trying my best to warm to the possibility.
Phil - 87 - hadn't thought of it in terms of comparison with Moyes - made me think! Then I thought I would compare their playing careers, which took me all of half a minute.
One person who is beginning to come out of this with his standing enhanced with Evertonians is Mr Moshiri, who appears to be acting in the way we all hoped. Decisive; determined and dogged in his pursuit.
Paul Tran
105
Posted 03/06/2016 at 11:59:58
I can understand why some are reticent. Doesn't stir the blood as much as an unknown, unproven in England manager.
I like the fact that he was a winner and world class player. Doesn't guarantee managerial success, will guarantee respect from better players. I like the way he's dealt with replacing existing players with better ones two seasons running; we desperately need this right now. I like the fact he's managed in different leagues, won a couple of titles, had his arse kicked and seems to have come out the other side better.
From Moshiri's perspective, I can see the reasoning behind him being first choice. Good at quickly buying and building a team, two decent showings in the league with a smaller club while losing players. Knows the league, speaks the language fluently, illustrious past. Plus the job will he a step up for him, which for me, is very important.
Whoever we get will be a gamble. If we get him, I'd welcome him.
Derek Dolan
106
Posted 03/06/2016 at 12:00:11
Don't waste your money Moshiri.
Koeman is Martinez mark 2. Full of his own self-importance. We'd be better off with Moyes for half the money because he'll deliver the exact same results if not better.
(Note - No, I don't want Moyes, I'm aiming much higher than 5th – 7th place thanks)
Look at Koemans record and playing style for crying out load. There is nothing to get excited about with Koeman. A journeyman manager with an average record and limited success.
How is this guy the answer?
James Stewart
107
Posted 03/06/2016 at 12:17:08
I still feel Koeman has a lot to prove but some of these comments are just silly, play style and how he conducts himself are a long way from Moyes 2.0. Look at their results against the big clubs for instance, he beat them all.
Solid appointment; let's put all the negative mutinous energy left over from the Martinez reign to bed and get back to being 100% behind the Koeman.
One thing I like already about him is that he plays with 2 wingers. Now how about a cheeky bid for that Mane....
Rob Halligan
108
Posted 03/06/2016 at 12:19:58
Chris Leyland, great achievement by Southampton that. However our 45 Liverpool senior cup victories puts that in the shade!!
Ian Burns
109
Posted 03/06/2016 at 12:21:17
Type or paste your comment here. PLEASE capitalise initial letters of proper names and use proper grammar. No txt-speak; all-lowercase posts are likely to be deleted
Phil Martin
110
Posted 03/06/2016 at 12:21:55
I don't want Mourinho because he's focused on short term success and winning trophies at the expense of youth players. Yes I know we've only produced one outstanding young player in a generation and subsequently sold him while still a teenager - but that's beside the point.
I don't like Pellegrini because he's too laidback and didn't win the title at City in his last season. Yes I know he won it in previous years and also won other trophies and was totally undermined by the announcement of Guardiola. Plus his excellent record with Villareal, Real Madrid and Malaga counts for nothing. He won't cut it at Everton.
I don't rate Koeman - forget the fact he rebuilt relegation prospects Southampton after having their spine removed - qualifying for Europe. And yes despite losing more players in his second season, he still only got them to 6th . Also his titles in the Dutch league count for little plus he won the Spanish cup over 5 years ago. No better than Moyes, that!
Emery - 3 back to back European trophies is nothing to shout about, with this season's poor domestic away form. Just a slightly better Martinez.
Frank de Boer - 4 titles in the Dutch league are worth no more than my Morrisons 'Match & More' points. Plus he's desperate for the job, too desperate for my liking.
Simeone - nah his English is crap.
Can we just give the job to Allardyce or Hughes and save some dosh?
James McPherson
111
Posted 03/06/2016 at 12:28:50
Just incredible, the amount of negativity. Yes, it's opinion, but to slip so seamlessly and effortlessly from slagging off the previous incumbent to the new man tells me that there's just a persistent and pernicious negativity within the club now. The source of this is undoubtedly the barren years of hardship and disappointment but that in itself can't provide absolute justification for some of the comments. We have turned into something resembling a man winning £999,999.99 on a lottery and spending the rest of his days whining about how he's not a millionaire. Just so depressing. Not the EFC spirit I once knew.
Paul Mackie
112
Posted 03/06/2016 at 12:29:15
James (107) - When I referred to him as Moyes 2.0, I mean in terms of league placings. That's all that matters to me. We could play the most exciting football the world has ever seen, but if we finished 11th each season I'd consider the manager a failure. Likewise, if we won the league on the back of a dodgy penalty decision each week I'd be ecstatic.
I know that he's managed to get Southampton to the Europa places 2 seasons running with a medium sized budget, but that doesn't mean he would do better if given cash to spend. His previous managerial positions don't exactly point to him being the one to take us into the top 4.
David Chait
113
Posted 03/06/2016 at 12:29:22
Very good Phil Martin... hahaha...
I've stated from the start I am not excited by Koeman, BUT and its a big one in his favour I think, is that he will promote our youth.
That was and is key for me. I feel our soul is in the youngsters we groom for success and a career. To nip those on the brink of breaking through with a short term minded manager is not what I would want.
Kevin Rudge
114
Posted 03/06/2016 at 12:29:40
I've been divided by the speculation and the array of quality names we are being linked with, they all have their pros and their cons, but its fair to say, this guy has been Moshiri's 1st choice since day one if reports are to believed. The fact we have actually landed him (possibly) can only fill all Evertonians with optimism about where we are headed. COYB
Brian Williams
115
Posted 03/06/2016 at 12:32:16
I actually think there are people on here who would moan no matter WHO we get or were close to getting.
Some of em would jump off Koeman's back and onto the next one linked, despite having previously supported the latest linked man... just so they can fucking moan!

Sam Hoare
116
Posted 03/06/2016 at 12:42:38
Ridiculous to judge a manager on one or two past results!! Ridiculous to judge him at all to be honest till he's spent a year at least at Everton.
He's not my first pick (Emery) but did an undoubtedly excellent job at Southhampton who a few were tipping for relegation after selling their team two years ago.
If we were to take one player from Soton I'd probably pick Tadic who looks a proper playmaker.
Andrew Clare
117
Posted 03/06/2016 at 12:45:44
The Southampton fans comments are ridiculous. There is a bigger club in the neighbouring city- Portsmouth and they are wallowing in the lower divisions!
Dave Older
118
Posted 03/06/2016 at 12:48:17
What do some fans on here want exactly?? Alf Ramsey?? Alex Ferguson?? Brian Clough???!!!! Who else are we currently going to attract after finishing 11th in our domestic league? Do people really think Simeone would leave a Champions League team and join us instead?? Get real....
Ronald Koeman has done very well with a club like Southampton and with financial backing he could take us back to the big time. Give the guy a chance, if he does indeed get the job.
I am just happy Martinez got given the boot, I would take just about anyone instead of that incredible clown.
Tommy Coleman
119
Posted 03/06/2016 at 12:50:26
Phil Martin
110
Ha ha. Well done.
Charlie Dixon
120
Posted 03/06/2016 at 12:51:41
Spot on James McPherson.
It's getting to the point now that the negativity is killing this Club and any enjoyment in supporting us.
A good clue to how decent an appointment this would be is to ask non Everton fans. I (sadly) know a lot of Arsenal fans who are gutted that he's speaking to us as he is a lot of their first choice to replace Wenger. Even my Gobshite mates have gone quiet. Most importantly the Southampton fans reaction is also pretty telling.
Colin Metcalfe
121
Posted 03/06/2016 at 12:52:01
Just got off the plane from the States, disappointed we are still in talks with Koeman fingers crossed this will fall through!
Not the man to lead Everton for me!
Kevin Tully
122
Posted 03/06/2016 at 12:53:48
Out of all the 'gettable' managers out there, Koeman was probably in the top 3. A win rate of 48% in the Premier League is not be sniffed at, especially when the board are selling numerous players from under your feet on a regular basis.
He will get instant respect in the dressing room, which shouldn't be underestimated, the first thing the pro's ask is 'what's he ever done as a player?'
I would imagine he can attract signings from most clubs because of his reputation – another positive. He knows the Premier League and the teams we will be competing against. I also see the reputed massive salary as a statement of intent. ٤ or ٥m a season means you have to deliver. There will be no fucking about waiting for 5 years for European football (top 4) He will be gone in 2 years if he doesn't deliver massive progress.
I for one can't really see a downside. Just hope it's confirmed shortly.
Paul Thompson
123
Posted 03/06/2016 at 12:57:06
That Ronaldo is shite. He didn't score against in both games in the 2008 season. Why aren't we going for Messi? NSNO my arse..
Raymond Fox
124
Posted 03/06/2016 at 13:04:17
I've got a suggestion, get Alex Ferguson out of retirement.
Only joking, but he'd sort our prima donna's out!
I don't care who the manager is, we wont win anything unless we spend big.
Don't quote Leicester because what they did I cant see it happening again this century. They proved its possible if everything falls your way, which it did.
How much of these rumours are true, or are they a figment of the media's imagination?
Paul Ferry
125
Posted 03/06/2016 at 13:14:40
Steve Hopkins
126
Posted 03/06/2016 at 13:21:54
Paul (123) Messi has also never scored against us so likewise is crap
Mike Mulhall
127
Posted 03/06/2016 at 13:23:36
Moshiri should wear a cape and underpants over his trousers such is the impact he has made on me, he is proving to be a good leader for the club.
I can't stand all the moaning, if I am honest. To some degree, the club has encouraged discontent in the fan base by neither listening to or considering the fans. Added to that the ambitions and sinking so low to sell DVDs such as "Everton 3 Liverpool 0" have encouraged us to have a negative outlook as, to be quite frank, we have been embarrassing at times.
These are positive times, relax and enjoy it, it hasn't happened since the 80s consistently.
Jay Harris
128
Posted 03/06/2016 at 13:24:39
I really cant understand all the negativity towards this process.
Moshiri has done more for us in 6 months than Kenwright has in 15 years.
We now have hope and aspiration as opposed to misery and desperation with Martinez whose appointment and process was diabolic and totally amateur.
My preference was Emery before he won the Europa and came for interview but I would be very happy with Koeman (light years ahead of Moyes for the avoidance of doubt) or FDB.
It was unrealistic at this stage to attract Simeone although I believe we tried.

I think Pellegrini was a strong favourite at one point until they went through the due diligence and found Koeman ticked the most boxes.
If he does accept the role I cant wait till he appears before 40000 Evertonians and realises how this club touches you.
I havent felt this optimistic in 20 years.
Phil Jeffries
129
Posted 03/06/2016 at 13:25:46
I can't believe the gash on here regarding Koeman. He wasn't my first choice but I'll be behind any appointment of Koeman, Emery, De Boer or Pelligrini. All have good and bad points. But our billionaire chairman has picked his man and that is who he is after. If it fails, we move on to the next. So stop moaning!
To go from Martinez to any of these candidates is a drastic improvement and I am really looking forward to pre-season and a host of signings to arrive at Goodison. Remember how bad things were after that 3-0 defeat to Sunderland?
A few weeks on and it looks like we have Koeman as manager and a distinct possibility that a new stadium will also be delivered. Only some Evertonians could whinge about that!
Kieran Kinsella
130
Posted 03/06/2016 at 13:27:09
Any manager is a gamble but the reality is that our financial situation has changed so getting it right isn't as critical as in the past because, if Koeman sucks, we can actually afford to sack him.
John Daley
131
Posted 03/06/2016 at 13:27:36
"
We'd be better off with Moyes for half the money because he'll deliver the exact same results if not better
"
-Edward Woodward: Manchester United (not the Equalizer) May 2013.

"I'm aiming much higher than 5th – 7th place thanks"
You're aiming for much higher? You personally? How exactly are you doing that, beyond saying you would like someone better (in your book) on ToffeeWeb? Have you been hitting the phone, ringing around agents of managers you adjudge to be more suited to the job and saying you can make it happen? Sorry to break it to you, but unless you're hiding your light under a bushel then you're just a supporter, on the outside looking in, you don't get to have 'aims' as far as the club is concerned.Hopes, wishes, dreams, desires...maybe, but that's about it. You're not directing anything here and you'd have to be deluded on a David Icke scale to say you possess an intention to personally achieve a particular outcome in a process you have absolutely no involvement in.
One person who would have the right to state what they're aiming for at Everton would be the next manager and, if it does indeed turn out to be Koeman, you might be relieved to know he too doesn't believe a 5th-7th place finish is the pinnacle or anything worth bragging about too much:
"What we did last season was fantastic but it was just qualification to the Europa League. It was not a trophy or a title".
Alan Peake
132
Posted 03/06/2016 at 13:28:09
Phil Martin @110
Your comments about Pellegrini at City and that his record abroad counts for nothing, and he won't cut it at Everton is a contradiction to your views on another post where you cited them in his support, after I commented that it would be a backward step for Everton if he was appointed.
Keep up with the 'consistent' views
Andy Osborne
133
Posted 03/06/2016 at 13:29:16
Well, if it is Koeman, then I'll give him my full support and hope he spectacularly succeeds. If he doesn't, he will lose my support, as Matinez did.
The Southampton fan feeling seems to be that they don't want to lose him, which is a good endorsement. They have had him for two years and know him better than us.
I read an article in which we were critesised for underhanded, unsettling tactics, to "get our man". I think this is a bit rich seeing there hasn't been anything said by the club at all, to my knowledge. It seems to be all press speculation. The feeling was the big, rich club are bullying their way to get want they want, again. If we have, then good, being the nice little club didn't get us anywhere, so throwing a bit of weight around might not be a bad thing.
Finally, I don't think we can judge Koeman on league placing alone. He had a different set of circumstances to deal with at Southampton. Each year he has had his top players sold, and had to start again. At Eveton, he will be allowed to build and add to his squad each season. I am judging him now on his ability to handle the Southampton situation successfully, and I will judge him later on how he performs with us. The summer transfer window is crucial, and his first season also. Good luck Ronald, if, in fact, you are the man.
Archie Bigalow
134
Posted 03/06/2016 at 13:30:47
Moshiri, we can assume, is acting on the advice of those experts he is employing to advise him.
The alleged move for Monchi but not apparently Emery, at this time, would point to that.
The club and its team appears to be in flux at the moment with many players perhaps leaving and needing replacing.
A new stadium on the horizon. The Euros about to start.
Perhaps the thinking on the board is that we need a manager in now who knows what he will be up against in the Prem, who will be, at least aware of our current playing staff, has a proven track record of quickly replacing players with similar and better quality players, has ambition and is an international name.
That would be Ronald Koeman.
I myself wanted Emery but can see that Koeman may be a better proposition in the short to medium term to steady the ship and cause the immediate progression of the fortunes of Everton F.C.

We might also get to laugh and perhaps even fall in love with Sammy Lee on the touchline of Anfield as he shouts and screams us over the line to a 0-6 victory.
Enjoy the ride.
Phil Sammon
135
Posted 03/06/2016 at 13:34:02
Alan 132
Alan, I'd suggest it's you who needs to 'keep up'. If you can't spot the sarcasm in Phil's post then I strongly suggest giving your eyes a good wash.
Kristian Boyce
136
Posted 03/06/2016 at 13:35:29
If we get Koeman, I bet De Boer goes to Southampton. We can then see who is the better manager.
Peter Laing
137
Posted 03/06/2016 at 13:39:52
Reasons to be cheerful, 1-2-3.
We have an owner who let's his money do the talking, goes about his business in a stealth like manner and in the coming weeks / months will assume further control of the Club through the acquisition of more shares.
We have the prospects of a new stadium, again being carefully deliberated without the previous waffle and pie in the sky fantasy that dogged all 3 previous failed attempts.
We have a new manager soon to be in situ and a possible director of football with a transfer war chest and a bright new 'blue' print, it's never been better to be be an Evertonian.
In Moshiri we trust COYB, FTRS !!!!
Andy Osborne
138
Posted 03/06/2016 at 13:47:58
Another thing, which I think is relevant. When BK and his mates gained ownership 16 years ago?? They used only the minimum amount of their own money to gain control. Since then, they have been playing at football club owners with other people's money, either loans or proceeds from transfers.
Moshiri seems to have used his own cash to gain control (to all intense and purposes), and then pledge more of his own cash to build and advance the club. If true, then with that amount of commitment, he can get whoever he wants as manager, because it is his money on the line. I have my opinions, as do we all, but he's put in the cash.
I hope he chooses well, and I hope he's the real deal, because if he does, and is, then I get what I want, which is a successful team to support. I am too young to remember the sixties, but old enough to have experienced the eighties. I miss those times, I want them again, I am getting bored of being the second team in the city, according to most outsiders, when in fact, we all know we are the first.
Alan Peake
139
Posted 03/06/2016 at 13:58:58
Phil @135
Point taken I should have read it how its written not how I interpreted it, blinded by not wanting Pellegrini at any price - eyes duely washed
Denis Richardson
140
Posted 03/06/2016 at 13:59:39
Andy 138 - we all hope Moshiri is the real deal but he hasn't put any money into the club yet. He's simply paid other shareholders to take ownership of their shares, none of his cash has actually gone into the club... yet.
In saying that, I'm made up that the likes of Koeman, De Boer, Emery etc are the ones being spoken about as serious contenders and that Moyes is not in the frame.
Koeman will do me although £7m/year (if true) is a ridiculous amount of money for any manager, nevermind Everton. If the amount is true I hope a large chunk of it is performance based, e.g. base salary is 3m/year plus an extra million for every league place above 7th. Believe Ranieri had a clause last season that meant he got an extra £100k for every place Leicester finished above 17th (he got a £1.6m bonus for winning the league plus a new contract.)
All the noises are good, hope for an announcement soon, then the dreaming can really begin.
Eivind Nyhus
141
Posted 03/06/2016 at 13:59:54
Two weeks ago, everyone on here was ranting and raving about how Moshiri should get a hold of Koeman, a proven Premier League manager, and winner, to lead Everton. Fast forward to Mosh actually doing so, and tons of people suddenly thinks Koeman is a stinker? Sometimes I understand why the rs call us 'the bitters', cause this is just silliness now.
Koeman isn't my nr 1 choice either, but guess what, he's probably the most proven, highly though off manager we can get. His record with Soton is a lot better than Emery's is with Sevilla (not one away win all season in the league?), and I get why people got exited by the Simeone rumors, but come the fuck on, nobody actually though he would come here? If so, they are the problem, not Mosh and his managerial hunt.
Getting into Europe twice, with half a proven squad two seasons in a row, in the Premier League, is a giant accomplishment, and makes me wonder how far he could have gotten the saints if they didn't always sell off their best. If we sell Rom and keep the rest, while adding a few new faces, and not selling off tons of players the next seasons, I think Koeman could do great things for us.
I'm still hoping on Monchi joinging him, that could be a great combo.
Jason Davenport
142
Posted 03/06/2016 at 14:02:34
This just in on BBC rolling news:
"We understand Everton have not been given permission to speak to Ronald Koeman. #Saintsfc won't be commenting on the issue."
BBC Solent Sport

Raymond Fox
143
Posted 03/06/2016 at 14:04:51
Jay H 128, get a grip man you cant get so optimistic on TW.
You were one of Martinez sternness critics, given the opposition in our league it will be interesting to see where our new manager finishes, top 8 will be very decent in my eyes.
How much we spend will go a great way to determining where we do finish, we have been the nearly men for 20 years because we have never spent enough in the transfer market, lets hope that changes this season.
Nick Entwistle
144
Posted 03/06/2016 at 14:05:03
Eivind, I think in this country we have a problem with manager's being seen as belonging to somebody else. Utd fans being annoyed with Mourinho's appointment an example. That Chelsea person.
Where as in Italy managers and players swap between rival clubs frequently and is not seen as a problem.
Jay Harris
146
Posted 03/06/2016 at 14:07:24
Sorry to piss on everyones chips but it is being reported by BBC that Southampton have refused Everton permission to speak with Koeman so I'm guessing that all talks have been held with his agent and the situation is reliant on us agreeing a compensation fee with Southampton if he is interested or him just resigning and arguing about it later.
Phil Walling
147
Posted 03/06/2016 at 14:07:38
Nick, you are dead right. Let's just hope he does better for us than he did for Saints and then we can wish him well when he moves on to the Arsenal!
Andy Osborne
148
Posted 03/06/2016 at 14:12:57
Dennis 140, agreed. I suppose my point is that he has used his own money to pay other shareholders, but has then pledged to inject more, for transfers and stadium. BK and mates didn't do the second bit.
I, like you, hope he is the real deal.
Jason 142, I know it is tough on Southampton, but if Koeman wants to move, and Everton want him, there is very little they can do. If it comes to it, he just needs to buy out the remainder of his contract and resign. Then he becomes a free agent. It's just the same as player transfers, as Lukaku is reminding us in every interview.
Tony Hill
149
Posted 03/06/2016 at 14:13:14
Jay, people like Moshiri don't get stopped by that sort of technicality and, as you say, if he wants to join us then a way will be found.
Sean Patton
150
Posted 03/06/2016 at 14:14:39
Jay
Let's hope that is the end of it then and Moshiri moves on to Emery; sadly I think not.
Denis Richardson
151
Posted 03/06/2016 at 14:20:56
Jay, the whole 'refusing permission' thing is a bit bollocks given we can simply speak to his agent, who then obviously speaks to RK.
At the end of the day it comes down to comp. S'ton can't stop him from coming to us if he wants to, presumably he can just resign. Luckily he only has one year left on his contract so the comp shouldn't be too high. Although if we're going to pay him 7m/year, that's our wage structure well and truly fooked.
Eivind Nyhus
152
Posted 03/06/2016 at 14:26:54
You are probably on to something, Nick, but I still find the constant moaning a little disheartening. I love Everton, and I, usually, really like our supporters!
The negative outlook I had during the 15-16 season dissipated with Martinez's sacking, but sadly I seem to be in a minority of positive supporters these days. We've got a new man in charge, seemingly doing what we all wanted him to do (go after high end targets), yet a big piece of our supporter group is as poisonous as ever. The Facebook comments I read on us signing that 18-year-old from Coventry(?) yesterday were disgusting, and does not belong anywhere near to our beloved club.
Jay Wood
153
Posted 03/06/2016 at 14:28:07
One of several (alleged) targets I personally would be happy with, but as ever I'll wait for the official announcement from the club.
For those wading into a man who hasn't even been appointed yet, his work in the PL at the Saints has been outstanding, all the more so that in both seasons he has had the best talent sold from under him, but he successfully recruited cheaper and better players.
After a dodgy start (which included us tanking them at St. Mary's), they recovered well (other than the thrashing in the LC against ... 'them').
In 2016 Southampton's league record since the New Year reads:
P 18 W 12 D 3 L 3 F 33 A 17 Pts 39
Only Leicester bettered that.
In that run they had S-I-X consecutive clean sheets.
Some of their results over the season:
W 3-1 A Chelsea
W 4-0 H Arsenal
W 1-0 A Man Utd
W 3-2 H L'pool (after being 2 goals down)
W 2-1 A Spurs
Not a bad return, eh?
Moyes v2.0 indeed...
David Israel
154
Posted 03/06/2016 at 14:28:45
Stewart Lowe # 60, I tend to agree with you. I'm not exactly over the moon about this potential appointment. Friends in Portugal also tell me he was quite suspect at Benfica, some ten years ago, and left after just one year (although he did manage to beat Porto home and away, which is no mean feat, and knocked the RS out of the Champions League).
Looking at Koeman's record, though, the Dutch League may not be the best in the world, but it does tend to be competitive among three or four clubs and he did manage to win it three times and with two different clubs. And let's not forget that, two years ago, Southampton were relegation candidates for many people, but he did an excellent job there.
So, all in all, I have mixed feelings.
PS There has been no mention of his assistant. Surely he'll have the dignity of staying out of this.
Andy Osborne
155
Posted 03/06/2016 at 14:35:23
Re ٥ mill. I was working on an article about the cost effectiveness of Premier League managers about four months ago, before my laptop crashed!!
From memory, at the start of last season Muriniho (㾸m), Wenger (㾶m) and Klopp (٥m) were the biggest earners. This season Guardiola (㾻m), Muriniho (㾻m), Wenger (㾶m), Klopp (٥m), Conte (£??m) will be biggest earners. You pay peanuts, you get monkeys. Whilst a pay packet in the millions is not even close to peanuts, it is all relative. We may debate whether Koeman is worth ٥mill, but that is what top teams are paying their managers at the moment.
It always confused me how a team can pay a player 𧷤k a week, and then expect them to listen to a manager who was earning less than them. No wonder we have a bunch of Lukaku type Prima donnas out there.
Bob Parrington
156
Posted 03/06/2016 at 14:40:27
Mum Rasul #2. Agree to an extent but suggest Barkley should go too. Don't see how to build a winning team around him because too much dithering before making a pass. Holds up transition from defence to attack as a result. Guy has some good skills that are shown occasionally but don't think the good side outweighs the not-so-good side.
Eric Myles
157
Posted 03/06/2016 at 14:44:28
Andy #155, you surely have to question the cost effectiveness of offering a guy £7 million, who is negotiating an improved deal with his current club of £2.5 million.
Is he really going to do 3 times the work for us?
Would he be just as happy on £4 million?
Jeff Armstrong
158
Posted 03/06/2016 at 14:44:36
Andy (#155),
Lukaku reportedly on £3.2 mill a season, Martinez £3.5 mill.
So the numpty WAS likely the top earner, which is how it should be.
Michael Spear
160
Posted 03/06/2016 at 14:52:39
Paul @125...been there, done that. Now running at 56pc "gone this summer". The power of ToffeeWeb, eh? Or just a sense of realism down on the south coast? If they're right, it will soon be time for us all to get real and get behind a new manager that most would have wished for only a few weeks ago.
Jay Harris
161
Posted 03/06/2016 at 14:53:12
Eric
We don't know what the figures are or what is represented.
As usual the press sensationalize everything.
Any numbers will probably include bonuses and incentives such as top 4, winning the league, Cups etc.
We have to trust Moshiri unlike Bill who has enjoyed the fans trust and abused it for 16 years.
This is a man who is putting his own cash where his mouth is and not shouting about.
Phil Martin
162
Posted 03/06/2016 at 14:54:09
I can tell you any number you read in the press will be an estimate of an approximation incorporating all possible bonuses. Koeman will
not
get a flat ٤-7M a year.
He will likely get ٣M with incentives based on cup wins and league placing. Let's just say if he earns ٥M this year – it'll be because we've won a trophy and qualified for the Champions League. In which case I'd suggest makes that good value!
Andy Osborne
163
Posted 03/06/2016 at 14:55:18
Eric, of course this is silly money. But players have been earning silly money for years now, it is all ridiculous. As some have suggested, I expect the £7m is a headline figure and is a base plus bonuses.
But if others are paying stupid amounts, then we have to, if we want to attract a good manager. £7m for Koeman is a lot, but let's see if he earns it. It's not my money, so I'm not bothered, it's Moshiri's.
Bob Parrington
164
Posted 03/06/2016 at 14:58:03
Elvind #141 - some good points but "me thinks" a success story will come from the Board, management group and players all being in unison. Now there is a great opportunity to put the whole group together. Farhad Moshiri has some great business skill-sets and, as long as the individual board members put their own egotistical self-interests to one side, it should be possible to attract the right manager and then put the management/coaching group together and put the player group group together. Sell those who don't fit the new regime and replace with those who do. Accept that mistakes will be made but have the balls to admit to errors and correct.
Onward and upward - COYB!
Damian Wilde
165
Posted 03/06/2016 at 15:02:42
Will he get £7 million though or is it paper talk?
Eivind Nyhus
166
Posted 03/06/2016 at 15:14:49
Bob, I tend to agree. I'm not saying we should keep players/staff not fitting the new managers vision, I think a team with tight knit familiar players is a stronger unit than a bunch of new guys, and a few 'old' players. And that makes Kormans Soton run even more impressive to me.
Paul Andrews
167
Posted 03/06/2016 at 15:15:38
Jay 153,
Look at the players sold from the squads he created as well. Hopefully this goes through.

I am not the slightest bit interested in a he wage offer,apart from being really pleased we have someone in charge who doesn't take no for an answer.
Gordon Crawford
168
Posted 03/06/2016 at 15:15:49
Southampton refusing us permission to speak to Koeman is hilarious. They can't stop the inevitable.
I wish they would just seal the deal and let's get on with the Euros. :)
Joe Foster
170
Posted 03/06/2016 at 15:21:41
Bookies have suspended betting.
Steavey Buckley
171
Posted 03/06/2016 at 15:25:11
Before anyone gets carried away by the idea of a new manager taking Everton to new heights, should recognise, first, last season, if Everton had a top goal keeper, would have virtually saved 10 points; and if Everton had not thrown so many points away, there would have been another 10 points+ the points Everton lost when the team imploded when Martinez lost the dressing room at the end of the season.
Altogether, Everton lost the minimum of 20 points, add them together, Everton would have had enough points to qualify for the Champions League. So there is plenty of talent at Everton to have the confidence to challenge for Champions League next season, who ever is the next Everton manager.
Cindy Cole
172
Posted 03/06/2016 at 15:31:24

I could just about stomach Koeman if we can also get Monchi as DoF (unlikely, no doubt). Can't see us winning anything with him though. Emery would be a far more astute appointment.
Nadeem Akbar
173
Posted 03/06/2016 at 15:39:55
I am optimistic with this appointment. I have been following the Blues for 28 years and it is so refreshing to be linked to managers of this calibre.
Mane, Tadic, Forster, Van Dijk this guy has an eye for a decent player.
He has transformed Long into a lone striker and let's be honest, his first touch and hold up play is probably better than Lukaku and £65M is being touted. I would get shot with that sort of price.
He has consistently bettered Southampton when their best players were being sold. Hey its got to be better than Martinez.
Let's all get behind him and hopefully onwards and upwards next season.
Raymond Fox
174
Posted 03/06/2016 at 15:39:59
Too many if's Steavey.
Paul Tran
175
Posted 03/06/2016 at 15:44:09
Steve, if all those ifs had come off, we wouldn't be looking for another manager!
Good points which show that our last manager performed poorly and blew the opportunity to spend Moshiri's money this summer.
Terry Underwood
176
Posted 03/06/2016 at 15:45:09
Oh no!!!!
Andy Osborne
177
Posted 03/06/2016 at 15:46:49
Football clubs, a strange old business. Players, managers, even owners, come and go, but fans, we endure. We have every right to think we own the place, but we don't. Best we can hope for is that an owner shares the same goals and ambitions as we do. And that the managers and players, get and understand our passion. Here's hoping, and here's hoping that Koeman gets it, and instills that in our team for the next few years.
Steavey Buckley
178
Posted 03/06/2016 at 15:53:30
When Everton were last great under the great former manager Howard Kendall, Everton had a world class goal-keeper in Neville Southall. He saved Everton at least10 points every season, and gave the defence in front of him great confidence. So if Everton want a top 4 finish, they will have to go out and find a top 4 goal-keeper, and they don't come cheap, because any team with ambition is looking for one. So you don't need a great manager to work that one out.
Mike McLoughlin
179
Posted 03/06/2016 at 15:57:19
If Southampton choose to play hard ball and force Koeman to honour his contract then I hope there is a back up plan ( mmmm ? You know who it will be) they would be well within their right to do that which would frustrate our plans. With Pelligrini and De boer free agents it would hopefully not be a problem. But with Moyes in the wings makes for a worrying time. Not that I think Motes would do a bad job but he turned his back on us once he would again
Eric Myles
180
Posted 03/06/2016 at 16:04:01
I get that the £7 mill is the headline figure, but then surely the £2.5 mill is also?
And I doubt very much that any of the manager's payments are "Moshiri's money" they will come from the income of the Club, as I'm sure player acquisition will also.
I can only see Moshiri putting his hand in his pocket to fund the stadium, either by guarantee or loan, which will ultimately increase the value of his shareholding.
Gordon Crawford
181
Posted 03/06/2016 at 16:05:15
Mike they can play hardball all they like. Everton just need to talk to his agent and he can relay the information to Koeman. Then Koeman can resign his position or buy out his contract.
Problem solved.
Still would rather have Emery.
Darren Hind
182
Posted 03/06/2016 at 16:13:11
"Lets put all the negative mutinous energy left over from Martinez reign to bed and get back to being 100% behind Koeman"
Yeah fuck the discussion, lets start happy clapping before he's even signed.
I'm not against or for Koeman, as Paul Tran rightly points out they are all gambles in one way or another, but I am against people telling others they are being negative because they are not doing cartwheels at the prospect of a manager they don't fancy.
If somebody has an opinion or point I haven't considered I want to hear it. . .thought that was the point.

Paul Kossoff
183
Posted 03/06/2016 at 16:13:59
If I was the chairman of Everton, or owner, I would want it clear why Koeman wanted to leave Southampton, if it was purely down to getting a bigger salary then I wouldn't want him.
Too many players and manager's are after the big pay packet and don't care where they have to go to get it,China, UAE, USA,
it dosn't matter to them or the agents, and don't make the old excuse that it's a short career, that doesn't come into it when with the stroke of a pen they are set for life.
Offer Koeman a million more a season than Southampton are giving him, and if he says that's not enough tell him not to let the door hit him on the way out, or as they say in Yorkshire,
'I hope it stays nice for thee.'

Brian Williams
184
Posted 03/06/2016 at 16:14:12
.......by the way. There's nothing been confirmed, no concrete evidence regarding Koeman.
So this COULD all just be paper talk.
Just saying.................
Paul Kossoff
185
Posted 03/06/2016 at 16:15:59
Brian, I hope it's paper talk as I don't want him.
Emery or De Boer for me.
Fran Mitchell
188
Posted 03/06/2016 at 16:25:50
Some of the comments on here are just embarrassing.
Firstly, what the heck is this (paraphrasing a few of the comments I read "haha, look at them Southampton wankers saying this and that.....they should know their place, we are a big club and they are nothing, wankers, and what's this shit....rejecting the opportunity to speak, his contract means f all you dicks, accept the inevitable"
Lamentable. No doubt from the same people who think Lukaku should be hung for saying 'I Want to play in the Champions League'....
Paul Kossoff
189
Posted 03/06/2016 at 16:29:33
As someone on here said, £7m a year is crazy, and Koeman doesn't warrant that salary. but is there another player yet to join Everton in the background, Usamov perhaps ?
Fran Mitchell
190
Posted 03/06/2016 at 16:31:47
As for Koeman, if he do get him, it is great news. The job he's done at Southampton is fantastic, he overcame the 2nd season syndrome, managed to turn around a poor spell of form mid season, bought well, record points for his team.
His earlier experiences have some dents, but then isn't that what can sometimes make a great manager. He seems like someone who learns, is still learning, that is far from the Moyes' and Martinez' of this world who are stuck in their ways.
Koeman also promotes youth, which with are current set up is a great combination, is an internationally respected football figure, and it seems he is ambitious.
Personally, I hope that in 3 years the top clubs are circling him, that would mean he's done a stellar job.
Dennis Ng
191
Posted 03/06/2016 at 16:36:48
Paul, agree that $7m is insane. Not sure Usmanov would join us but Moshiri does have a lot of rich friends that can join the fray. I think we can hire much better candidates with that money but while I'm underwhelmed by Koeman compared to Emery, he's not that bad when viewing his work at Southampton against his past failures. Let's see if we can tie down the DoF position with Monchi, that would be the big win for us.
Brian Williams
192
Posted 03/06/2016 at 16:43:02
All the Koeman talk is a big misdirection trick ;-)
Iain Latchford
193
Posted 03/06/2016 at 16:48:06
I haven't seen a great deal of Southampton under Koeman (nor Ajax with de Boer or Sevilla with Emery).
Can some describe his playing style to me? A lot of people seemed to have an opinion on de Boer saying he was too similar to Martinez, which seemed to be based on things they'd read online. People like Emery's "style" mainly because they hammered the RS in the second half of the cup final.
What's Koeman all about then, apart from "doing well after having to sell some of his best players"?
Paul Kossoff
194
Posted 03/06/2016 at 16:55:16
Brian 192, sorry to say it but I agree, I will be very surprised if we get him.
Fran Mitchell
195
Posted 03/06/2016 at 16:55:51
Iain, from what I've seen there is a focus on the wide men (tadic, mane) and a traditional center forward. Counter attacking, and high pressing.....but I may be completely off.
It is worth remembering he was a beast of a player, with huge technical ability. A skillful, attacking defender (scored 10-15 goals a season)....Ideal tutor for stones and mori.
Mark Frere
196
Posted 03/06/2016 at 17:00:23
I really cant understand the negativity by some towards Koeman, he would be a very solid appointment. He's won domestic titles as a manager with Ajax and PSV, won a Cup at Benfica, got them to Quarter Final of CL. He wasn't successful at Valencia or AZ... but most managers who have long careers have a blemish or two on their record.
He's got PL experience, doing a fantastic job at Southampton rebuilding the whole squad after Pochettino and their best players departed the club. What's not to like?
I would be happy with any of the front runners we've been linked with eg, Pelligrini, Emery, Koeman and FDB. For some reason I am slightly leaning towards FDB over Koeman. I know that probably makes no sense as Koeman has PL experience and has managed in many different countries... I just have this dream that FDB could turn out to be an absolute gem, with his willingness to develop youth and his sides are set-up very well defensively. All good sides are built with a strong defence.
All managers are a risk, they all have pros and cons. There are very few managers that can be considered 'elite'. I can only really think of Mourinho, Pep G and Simeone; and even with those managers there's pros and cons: Mourinho doesn't give youth a chance and can easily fallout with players. Pep G has only managed the worlds best players. Simeone doesn't speak English and hasn't managed in PL. LVG was considered one of the best in business before he joined Man Utd and look how that turned out.
I think it's refreshing that we are looking at more high profile managers, I think we should only be moaning if we are going for run-of-the-mill managers like Mark Hughes, Allardyce ,Moyes etc.. Let's just get behind our new manager. Furthermore, we now have Moshiri on board, who won't settle for Mid-table mediocrity. So if Koeman or whoever, don't produce the goods, then they will suffer the same fate as Martinez.
Paul Kossoff
197
Posted 03/06/2016 at 17:01:06
Iain, Koeman is a 4 2 3 1 merchant I think, hopefully adaptable to the situation in hand.
Paul Kossoff
198
Posted 03/06/2016 at 17:04:53
News, Radio Solent reporting Saints have refused Efc permission to speak to Koeman they will not be making a statement, there you go!!!
Ian Pilkington
199
Posted 03/06/2016 at 17:05:40
Fran Mitchell @190
In three years time we will be "one of the top clubs", in fact with Mr Moshiri's money we are arguably back to being one for the first time in nearly 30 years.
Tom Bowers
200
Posted 03/06/2016 at 17:12:15
We have to be positive regarding this news and if it is to be Koeman then hope he can do the job we all want. There was a lot of negativity over the Martinez appointment especially as he had taken Wigan down and that was understandable negativity.
Whilst Martinez did appear to know what he was doing at first with some good results he fell away badly and seemed to have lost the support of the players. What success he did have was largely due to the wonderful wing play of Coleman and Baines but the following season other teams found ways of counteracting that threat and Everton suffered.
Koeman has done a decent job with Soton in a short space of time despite losing some of the players that Pocchetino had done well with. Nobody knows what any new manager will bring to the table but it's for sure The Blues need to get someone in soon.
Steve Brown
201
Posted 03/06/2016 at 17:14:34
My hope was that we would attract a top 4 manager from Germany, Spain, Italy or England. Someone who has won a trophy in one of those countries and regularly takes teams to the Champions League. Because that is what we should be aiming for. That makes it a fairly narrow field.
Koeman doesnt really excite me as much as other touted names, BUT he is a million times better than Moyes and Martinez so if he is the target let's stop dicking about and seal the deal. That way he can get planning for the new season, head to the Euros to talk to our players and start preparing his transfer targets.
Ian Burns
202
Posted 03/06/2016 at 17:15:34
If Radio Solent are correct in reporting that Soton are refusing EFC permission to speak with Koeman, I wonder if we will respect their wishes.
If you recall we kicked up on hell of a fuss on TW when Chelsea/Mourinho refused to go away over the Stones affair until we finally dug in our heels but it left a sour taste which survives to this day.
So do we respect Soton's wishes or do we do a Chelsea/Mourinho?
Joe O'Brien
203
Posted 03/06/2016 at 17:16:06
Paul they can refuse all they want. It's just a way of getting a bigger compensation package. Contracts are worth very little these days. If a player/manager wants to leave, they'll leave. Koeman will be our manager and I think it's a great appointment
Iain Latchford
204
Posted 03/06/2016 at 17:16:26
Thanks guys. It would be good if we could have a discussion based on tactics, styles, what we want to see, what is suited to the Premier League etc rather than simply comparing who has won what, where, when etc.
Moshiri doesn't strike me as a fool and he's clearly seen something he's prepared to pay a lot of money for.
Jim Knightley
205
Posted 03/06/2016 at 17:19:16
Brian Porter (20) and various others. I think describing Koeman as set in his ways is baloney. I really can't understand it based on what we've seen at Southampton.
This season Koeman moved between 3-5-2 and a formation resembling 4-2-3-1 but occasionally 4-3-3 at points. I can't think of any Premier league manager who effectively instituted a 3-5-2 in recent times, or one who was capable of motivating his team to move between formations. This was motivated in part by personnel decisions - Soares is more of a wing back than a right back and Mane frequently plays as a striker, even if he is generally behind one or both of Pelle and Long. Again, Pelle, Long and Mane played in the same team at points, or one of Pelle and Long, illustrating an ability to move between different styles and formations. He has shown in one year far more adaptability than Martinez ever demonstrated. I think accusations otherwise are born out of lack of awareness about Southampton's team this year. I don't understand the point of being belligerent just for the sake of it.
Importantly, he has twice shown an ability to remodel a side after the loss of essential personnel. Alderweireld is about the finest ball playing CB in the league in my opinion, and his lost was strongly felt. Schneiderlin is a fantastic DM, and United looked so much worse defensively this season when he was dropped as a means of improving the attacking threat. Koeman swapped him for a slightly different player in Clasie, illustrating his desire to change style. The loss of Rodriguez to injury was massive, as were the departures of the likes of Shaw, Clyne, Loven and Lallana, all of whom were central to Southampton's success and style. Koeman has unbelievably not only brought in cheaper replacements but improved Southampton in the process. He is one of the few managers who has over-performed in this league.
He would be fantastic for this football club. He has shown an ability to adapt, both to circumstance, and in terms of tactics and formation. With our squad, and potential spending capacity, he could take us to the next level. I'd rather have him than Pellegrini or Emery or De Boer.
I put my neck out there when I criticised Martinez two years ago and warned of problems ahead. I put my neck out there when I criticised those bemoaning Lukaku a year ago, because of my belief that he is a 20 goal a season striker. I'll put my neck out there again now: I think Koeman, if appointed, will oversee the best period since the 1980s. I think he has the ability to get us into the top 4, and based on everything I'm hearing, we've finally got the budget to compete.
He and Moshiri will start a new dynasty. I've never been this excited as an Everton fan.
James Morgan
206
Posted 03/06/2016 at 17:21:07
Since the fact that PL clubs will be earning significantly more money this season, I don't see the problem in Koeman getting a big wage. But if he doesn't prove to be worth it down the line then we cut our losses and move on. Let's give the guy a chance, Moshiri seems a shrewd and ambitious man so for once as a blue, I am optimistic.
Iain Latchford
207
Posted 03/06/2016 at 17:21:20
Good stuff Jim, just what I wanted to hear.
Steavey Buckley
208
Posted 03/06/2016 at 17:22:35
Everton are panicking too much over a new manager when Everton have David Unsworth, who has done a fantastic job as manager with the under 21s. David Unsworth is worth at least 10 points extra a season compared to Martinez. If Everton can secure a top class goal-keeper, keep Stones and Lukaku and couple of useful additions, especially, a left winger, Everton can challenge for a top 4 position.
Jim Potter
209
Posted 03/06/2016 at 17:37:01
We perhaps have a biased and inflated opinion on our beloved club. Others see us quite differently. Let's play a little devil's advocate ....
We finished 11th. Our best players want to leave and those that don' t apparently undermined the last manager. We currently have an ageing stadium and are an unfashionable club that has won jack shit in over twenty years and no league title for nearly thirty. We are the second club in a wet northern city based a long way from the bright lights of London. Our fan base is ageing and diminishing. We don't own our training facilities and are thirty + million in debt.
I won't go on because it's depressing me, but you get the picture.
So Mr Simone .... how"s about it? Leave your very successful and promising team, the sunny capital city, adoring fans, etc, etc, and come to Everton.
Er ...... gracias .... pero ....
Get real chums. The likes of Koeman, De Boer and Pelligrini aren't as cataclysmic as some might think.
Brian Williams
210
Posted 03/06/2016 at 17:39:35
Simeone....Simone is a French waitress!
Kim Vivian
211
Posted 03/06/2016 at 17:41:28
If this isn't going to happen there's some good bets to be had on the alternatives right now.
You can get 12/1 on 2nd fav Emery, 16/1 on 3rd fav Pellegrine or even 20/1 on DM if you want to soften your pain if that were to happen. RonK as short as 1/10 and his best is showing at 1/4.
Someone knows something.
So Brian#192, Paul#194 and others - get yourselves down the bookies to make yourselves a wedge if you believe it's a smokescreen.
Jim Potter
212
Posted 03/06/2016 at 17:41:43
Maybe she'd come Brian?
Jamie Crowley
213
Posted 03/06/2016 at 17:44:42
Jim Knightley -
I was solidly in the DeBoer camp until I read your post.
Well said. Bring on Koeman!
Tony Draper
214
Posted 03/06/2016 at 17:45:17
Interesting remarks from Dutch journo Marcel van der Kraan just now regarding Ronald Koeman, on talksport.
It was van der Kraan who broke the news that Everton were in contact with RK, he just let it slip that he learned that from RK no less.
Now he has added that Koeman IS in dialogue with Everton.
Elsewhere, it seems that Koemans reaction to recent discussions with Led Reed (Soton's "Sporting Director"), was not favourable. This also seems borne out by a minor remark made by van der Kraan.
Hopefully, I can get links to substantiate this soon.
Jay Harris
215
Posted 03/06/2016 at 17:47:51
Just an update guys.
I posted earlier to say the BBC had reported that Southampton had stated they would not allow Koeman to speak with Everton.
However that is now off the beeb site so hopefully things are happening.
Paul Tran
216
Posted 03/06/2016 at 17:48:36
Only one bet today, Kim, Minding at an unexpected big 6/4. Should be been 4/9. Sometimes the shorties are worth it!
If we really want Koeman, we'll get him, eventually
Steavey Buckley
217
Posted 03/06/2016 at 17:49:01
Everton fans have taken their eye of the ball about aspects of last season and what is needed for the next. Martinez was well and truly the reason why Everton failed. Yet, he did one good thing in his second season as manager by securing Lukaku as an Everton player. Because he scores goals that Everton will need to make an impact on next season, whoever is the manager. And it is not just Everton who need a goal scorer for next season, Man United and Chelsea also need one, even though both clubs have top managers.
Tony Draper
218
Posted 03/06/2016 at 17:55:18
Have also spotted that Koeman is 7/1 NOT to become our next manager, not sure who with.
Ray Roche
219
Posted 03/06/2016 at 18:00:58
Jim Knightley #205
Jim, as usual, a beacon of clarity and intelligence in your posts.
Kevin Rowlands
220
Posted 03/06/2016 at 18:01:01
Ok, just checked sky bet, if you want to make a tenner you'll have to put a hundred on, he's now 1/10, it definitely going to happen.
Jamie Crowley
221
Posted 03/06/2016 at 18:03:15
Whaaaa???? 1/10?
Where Kevin?
Jamie Crowley
222
Posted 03/06/2016 at 18:05:03
Just checked oddschecker...
Something's afoot.
Mark Melton
223
Posted 03/06/2016 at 18:23:19
Ive just had a text from a mate in PR, who has a contact at the club. The text said "deal done, announced soon". He's usually right with his gossip.
Sam Hoare
224
Posted 03/06/2016 at 18:24:05
Any chance Unsworth could be Ronald's assistant instead of Sammy Lee? Nothing personal against Lee but like the cut of Unsie's jib and he's well placed to help the likes of Davies, Dowell, Ledson and Walsh transition into the first team.
David Israel
225
Posted 03/06/2016 at 18:25:25
Jim Knightley # 205, your post is the most enlightening piece I have ever read on Ronald Koeman. I now know more about his character, style and formations than all my previous readings on him provided me with.
And, I must add, I have been converted.
Welcome, Mr Koeman (but don't bring your assistant)
David Israel
226
Posted 03/06/2016 at 18:27:40
As for the Radio Solent report that Southampton aren't allowing us to speak to Koeman, perhaps we can pledge that we won't speak to his assistant, and they'll change their mind.
Jamie Crowley
227
Posted 03/06/2016 at 18:34:15
Surely Sammy Lee isn't part of the package...
No way.
That henchman / minion can't wear Blue. I'll never get onside with him. Fucker jumping up and down like a douchebag. Will never like him, wearing Blue or not. Can't go there.
Ian Jones
228
Posted 03/06/2016 at 18:34:35
I wonder if we would like it if another team was going after our own manager. Appreciate this is mainly stirred up by media but still not good to see. However, if it had been Martinez :)
Keith Harrison
229
Posted 03/06/2016 at 18:35:21
Jim Knightly (205). case for the defence put most eloquently my friend. Excellent.
Jim Potter (212). She would if I got at her!
Jonathan Miller
230
Posted 03/06/2016 at 18:40:49
"I'm not interested in The Everton job". "How much? ٤m+! When do I start?

Two seasons ago Southampton's squad was decimated by departures for me Koeman was manager of the year that season. Just don't bring that Umpa Lumpa with you!
Ian Burns
231
Posted 03/06/2016 at 18:41:29
I thought Ronald Koeman's assistant was his brother Erwin not Lee?
Jamie Crowley
232
Posted 03/06/2016 at 18:46:49
I honestly don't know Ian... but if it's Lee I can't stomach him.
Don't know what it is he just drives me nuts.
Jim Potter
233
Posted 03/06/2016 at 18:48:45
Keith #229. But she looks like Iain Dowie in drag.
David Israel
234
Posted 03/06/2016 at 18:49:35
Ian, I think you're right. Here's the staff hierarchy at Southampton, according to Wikipedia:
First Team Manager Ronald Koeman
First Team Assistant Manager Erwin Koeman
First Team Coach Jan Kluitenberg
First Team Assistant Coach Sammy Lee
He can bring his brother, and even his mother-in-law. No problem.
Kevin Rowlands
235
Posted 03/06/2016 at 18:57:13
Ok Sky bet no longer offering odds on the Everton managers job, I'd expect an announcement very soon. Also, about Sammy Lee, I was also skeptical but I read somewhere that he's a really top bloke and the complete opposite of Aldo, Gerrard and Thommo, in that he doesn't despise Everton, and has a lot of time for us as a club, that's ok with me if true.
Ian Jones
236
Posted 03/06/2016 at 18:58:08
Fran @ 190 and Jim @ 205. Both sum up the situation effectively...
However. Koeman isn't ours yet
There will be a lot of deflated fans on here if he doesn't arrive....
:(
Tony Byrne
237
Posted 03/06/2016 at 18:58:54
Tony#214
I also heard that interview on talksport earlier.
Marcel Van Der Kraan hinted that Everton & Southampton were "this afternoon" discussing a compensation package.
Jim Knightly,
Your post gave me a great feeling sir!
I hear Overmars has been sounded out as DOF.

Mark Ryan
238
Posted 03/06/2016 at 19:03:07
Jim @ 205. Stirring stuff. I just would like to see a manager who will deal with petulant players. Players who leave 30% on the pitch as they trudge off to take their shower. I want to see a captain who deals with penalty squabbling and takes a grip of players. I want to see an end to over exuberant celebrations the likes of which we saw at Bournemouth this season. I want to see manager who will happily kill a game off and one who will stand before the press and say " we need to be better than that and we will be". I want some honest toil and if we can garner some of the team spirit shown by Leicester this season I think we'll be okay. I think Koeman or De Boer could give us this. Here's hoping.
Ian Jones
239
Posted 03/06/2016 at 19:09:46
Agreed, Mark
Christopher Wallace
240
Posted 03/06/2016 at 19:13:48
Koeman lost Lallana, Lambert, Schneiderlin, Lovren, And Clyne.
He brought in Tadic, Pelle, Wanyama, Van Dijk, Bertrand.
Jay Rod been really unlucky with injuries, but Mane was brought in and has been excellent.
Southampton made a massive profit, whilst getting an improvement on every player that needed replaced.
Forster was another great signing, and he has Davis and Ward-Prowse doing great things.
Yes, it's a gamble giving him so much money. I think he's earned the right to show what he can do with a few quid.
Koeman was a very intelligent footballer, and I like a lot of what I've seen him do as a manger over the last few seasons.
Iain Latchford
241
Posted 03/06/2016 at 19:15:11
Jim is solely responsible for a seismic shift in favour of Koeman. He owes you a pint sir. Cheers.
Iain Latchford
242
Posted 03/06/2016 at 19:20:12
Mark, if I remember correctly people didn't mess with Koeman as a player. He was a tough cookie. I think he'd get the respect of the players and any shirkers would be quickly be shown the door. Beware of the quiet man and all that.
Steve Davies
243
Posted 03/06/2016 at 19:25:38
Made up if we get Koeman. Even if he brings Sammy Lee to Goodison what the hell. At least he is a scouser and I would have him over that gobshite Jones any day. You all know if were not a Blue you would have been Red. It is the scouse way.
Get good money for the prima dona Lukaku and happy days. Apparently Koeman has a good sense of humour too. He will love Everton and I am sure we will love him.
COYB
Colin Glassar
244
Posted 03/06/2016 at 19:25:41
Great post Jim K. I, like many, am not totally n the Koeman camp but if he becomes our gaffer I will support him like I supported Roberto and the fella before him.
As for Sammy Lee, well, someone posted last night that they met Sammy at a doo and he was as nice as pie and very complimentary towards Everton. If he doesn't want to join up with Koeman then I'd definitely like Unsy to get a chance. I do hope RK brings his back room staff as they are really into physical and mental fitness.
I'm very interested in seeing what is Lukaku's opinion of all this. Interesting days ahead.
Jeff Armstrong
245
Posted 03/06/2016 at 19:27:58
Koeman or Martinez ? No contest
Koeman or Moyes? Ditto
Koeman or De Boer? Koeman, Prem expierence.
Koeman or Simeone ?never going to happen, move on.
Koeman or Benitez ? We are Evertonians
Koeman or Emery? Not happening, move on
Koeman or Pellegrini,? Close, but I'll go for the younger better communicator.
Koeman it is then.
Mark Frere
246
Posted 03/06/2016 at 19:30:00
Wouldn't mind a striker with similar goal-scoring stats to Koeman to replace Lukaku.
239 goals in 685 games in club football - not bad for a defender, eh?
Daniel A Johnson
247
Posted 03/06/2016 at 19:31:39
At Southampton he has progressed the team season on season.
Unlike Martinez he didnt have 2nd season syndrome and despite an iffy start to this season and some bad injuries he worked his way through it.
No one should underestimate how far back Martinez and his coaching staff has set this group of payers. Koeman will get them in, work on them, get them fit and hard to beat. From that platform we can see some steady progression.
He may want to move on to Barcelona but that will only happen if he's a success with us. He's hungry and ambitious.
I'm all for him get him in now and let him go to work.
Onward and upwards fellow Toffees
Jeff Armstrong
248
Posted 03/06/2016 at 19:35:05
Colin, why would you be interested in what Lukaku thinks of all this? Who gives a flying about Lukaku and what he thinks?

Lukaku isn't even interested in what he himself thinks, he just speaks... without thought.
Tony Draper
249
Posted 03/06/2016 at 19:37:03
Sam @224.
Agree completely about Rhino being involved in the new managerial team, whoever the manager is.
Even before he returned to Everton as a coach he had made real efforts to equip himself as a coach and aspiring manager. We know him as a real Blue, and he really is.
It was this Henry Winter article in "The Telegraph" (7 Sept 2013) which alerted Everton to Rhino's coaching CV.
It's a bloody eyeopening read, but it took a respected journo to alert Everton to the value of one of our own.
Doesn't that say so much ?
PLEASE read this, you won't regret doing so:
Link
Terry Riley
250
Posted 03/06/2016 at 19:37:45
I am personally as scouser living I Holland, a little scared that if we are successful under the Koeman regime I'll have to endure the Dutch "only with the Dutch mentality " remarks. But my choice was always: if we do go Dutch, then with Koeman...... and at least the Blues will broadcast live here more often!
Tony Hill
251
Posted 03/06/2016 at 19:39:35
Sammy Lee was saying to a friend of mine three or four years ago that there was an exceptional crop of Everton youngsters coming through so that's encouraging as to his awareness of the club and its assets.
These are indeed exciting times to be a Blue. Two months ago, I had never felt lower when it looked as though Bill was going to drive us onto the rocks. I'm assuming nothing about the season ahead but we have hope again, and that's a joyful thing.
Colin Glassar
252
Posted 03/06/2016 at 19:39:38
Tony #66, when you referred to "you'd be better off with........" Who exactly are you referring to? Evertonians? Are you not of this tribe by any chance? Hmmmmm
Ged Simpson
253
Posted 03/06/2016 at 19:43:29
It would be a fairy story if Rhino could do it. Either he stays or cuts his teeth elsewhere and comes home ?
Tony Hill
254
Posted 03/06/2016 at 19:48:40
Tony (249), that is an excellent piece. I think he's a serious candidate as a future manager of our club. A bit too early this time round but he is a major credit to the club. The purchase of young Sambou shows the faith the top people must have in him.
Tony Draper
255
Posted 03/06/2016 at 19:55:18
Tony @254.
Doesn't that utterly convince you about Rhino as a coach ?
Agreed, maybe too early this time around.
BUT, not forever.
His love of the Dutch "Total Football" sounds a great fit with Koeman & Koeman & Sammy (he isn't involved for no good reason) or with DeBoer, Bergakamp & Stam.
He really MUST be part of our new managerial team. Has to be.
As to Sammy Lee ?
If Sammy was part of the team that won us the EPL? I could easily handle that.
Ron Sear
256
Posted 03/06/2016 at 20:04:18
I wonder how the Everton players will cope with the smartphone ban:
Link
Damian Wilde
257
Posted 03/06/2016 at 20:05:21
Thanjs Tony, fantastic article.
I think Unsy will stay.
Tony Draper
258
Posted 03/06/2016 at 20:14:36
Thanks Damian @257.
I consider highlighting that and things like it as a duty to Rhino, TW, Evertonians and to Everton FC.
Raymond Fox
259
Posted 03/06/2016 at 20:17:16
Tony, David's been sat in my lounge here in Chorley any number of times when he was a youngster.
He and my eldest lad played in the same school football team and were best mates for a long time.
He was always a nice kid, not seen him for years now unfortunately, he signed for Everton and my lad went to work in London.
His cv does make for good reading, lets hope whoever becomes the new manager sees the merit in him and keeps him at the club.
Terry Riley
260
Posted 03/06/2016 at 20:18:08
The Dutch Paper Algemeen Dagblad has Just announced on its site that "Koeman is akkoord met Everton" Koeman has agreed terms with Everton!
Paul Black
261
Posted 03/06/2016 at 20:18:13
Colin. 252...
About Tony, 66...you sly old English fox)))
Any response?
Rob Hardy
262
Posted 03/06/2016 at 20:24:27
Re the Unsworth eulogy in The Telegraph, he appeared totally in thrall of Moyes – no thanks.
Martin Mason
263
Posted 03/06/2016 at 20:25:02
The problem that clubs can face is megalomaniac new owners with money who believe they know football. Moshiri is obviously in the driving seat now though and he wants to go for goal but ٥ million a year for a first team head coach is fucking obscene and an insult to what was once a working class game. Even now this is 25000% of the average wage in the UK, who said it's only a game.
If Moyes would come for half that, and a still obscene amount, I'd say snap him up. Koemans is still a big risk.
Mind you, Blatter and 2 of his administrative cohorts at FIFA paid themselves 55 million pounds over 5 years. Should we as working/middle class fans really support this cess pit of a game? Remember, every cent of this money comes from us via Sky, BT, season tickets and the money we spend in response to the bombardment of adverts. We live in disgusting times in many ways.
Paul Black
264
Posted 03/06/2016 at 20:26:51
Terry, is there an English newspaper equivalent?
So we have an idea how seriously to take it....)
Terry Riley
265
Posted 03/06/2016 at 20:33:41
Paul, tha AD as the Dutch call it is maybe the DM of the Dutch press.
Andy Walker
266
Posted 03/06/2016 at 20:34:39
We now have a billionairre running our club, thanks to BK by the way, these sort of guys don't accept no for an answer. Looks like some of our fans can't cope with this.
As I keep repeating, Mosh buying into our club is TRANSFORMATIONAL. Get used to to it!
Kevin Rowlands
267
Posted 03/06/2016 at 20:35:28
Martin, where is the proof it's 7 million?, as for Moyes that ship sailed 3 years ago and isn't re docking on Merseyside any time soon, thank goodness.
Paul Black
268
Posted 03/06/2016 at 20:36:09
Terry, thanks dude and is it too early to start thinking what we can get Mosh for Xmas?)
Is this it?
Terry Riley
269
Posted 03/06/2016 at 20:38:37
What do you get the man Who has everything.... Everton FC!
Sean Connor
270
Posted 03/06/2016 at 20:39:19
With regards Koeman, I think £7m is a high risk gamble, yes he has a very high standing in the game, but I don't won't us to be acting desperate either. Also, you have to question if he is using us as a tool to get a better deal with Southampton, or if Wenger decides to leave in 18 months, and he wants the Arsenal job, he will dump us. We, need someone with a clear project in mind
Jay Harris
271
Posted 03/06/2016 at 20:40:27
Why is there so much hatred on here for people you don't even know.
He is a proper scouser and not a big head.
FYI Sammy Lee was brought up near the Bull ring and even when he was playing pro for Liverpool would always play a bit of football with the kids in the street over there.
Can you imagine Lukaku doing that.
Also bear in mind that the constant in Southamptons success through Nigel Adkins, Pochettino and Koeman was Sammy Lee.
Kevin Day
272
Posted 03/06/2016 at 20:41:42
I've not posted anything for nearly 2 years after being a regular contributor.... Whoever we get as manager, and I'm not 100% it's going to be Koeman, I do not wish to hear some bold statement like "I'll get you champions league" like OFM, I want to see the talking on the pitch....
Kevin Rowlands
273
Posted 03/06/2016 at 20:42:44
Maybe we can name the home end in the new stadium the Mosh Pit, after our new savior, oh and the new stadium the Usmanov Docks Arena, great times are coming baby!
Christopher Dover
274
Posted 03/06/2016 at 20:43:35
Martin you said it, it was a working class game, but have you have only just noticed Its not and has not been for many years. The players we watch are mostly millionaires playing a game they would have played for very little, but would you refuse if someone wanted to pay you £30k + a week?
I don't particularly agree with the pay they and managers get but that's the times we live in, if you cannot take it then only solution is to do what others have done and give up watching premiere league football.
If we ever want Everton to compete then they have to move to the present day and that includes paying going and above going rate to get who they want be it manager or player, if they don't then the championship awaits or a permanent fight at the lower end of the PL.
Terry Riley
275
Posted 03/06/2016 at 20:45:51
Sean, I started to write about Moshiri's connections to Arsenal and maybe he knew that Koeman was being lined up by them......well time will tell if when Whinger goes what will happen!
Paul Black
276
Posted 03/06/2016 at 20:46:31
Terry...so I guess we're his pressy.....HA !!!!!
Right I'm off to throw a fresh adult pamper on and go for a few pints of Screech Owl...hoot, fucking hoot))))))
Have a good one dude...
Sean Connor
277
Posted 03/06/2016 at 20:47:09
Lukaku, will have to be a superstar at the euro's otherwise that big ego will take a big dumping. I still don't understand why if your the main man at a club, become a fans legend, why go to a club where your not even guaranteed a place, unless your an established superstar, or have agents just taken over, sorry for the rant

Tony Hill
278
Posted 03/06/2016 at 20:48:29
Andy (266), Moshiri has arrived because he wanted to and sees profit in it. Bill may have, belatedly, opened the door but I see no reason to thank him.
Jim Bailey
279
Posted 03/06/2016 at 20:48:32
Martin@263
And what exactly?
it would take me 15 years to earn what Rooney gets every week.
You can't take that stance, yes it's obscene, but we support the club no matter what. Don't know about you but I could never ever stop supporting Everton under any circumstances, just wish I had the finances to go more often than I do.
COYB
Chris Leyland
280
Posted 03/06/2016 at 20:49:52
Don't get the Sammy Lee hatred.
Should we all hate Sheedy - he used to play for the shite?
Dave Watson?
Alan Harper?
Peter Reid grew up as a red.
I don't care about Sammy Lee's past. If he improves Everton as a coach then we should welcome him with open arms.
Neil Madden
281
Posted 03/06/2016 at 20:50:08
#209 Jim Potter. I know you were playing devil's avocado and all that, but the bit about an ageing fan base just isn't true. Didn't we find out a few weeks ago that 25% of our season ticket holders are under 22? I think there might be another team in L4 with that problem from what I hear.
Andy Walker
282
Posted 03/06/2016 at 20:53:12
I love all these folk that come out of the woodwork now and tell us that Mosh is now in charge. No shit eh! Who'd have thought, a billionaire leaves Arsenal invests a pile in out club and as part of the deal agreed with BK insists on control.
If you take off your anti BK glasses and look at this from a no prejudiced perspective it's not exactly rocket science. BK had his faults of that there's no doubt, BUT he found us a billionaire with experience in the EPL, who was prepared to invest his own (as opposed to borrowed) money in our club at a time when global asset values have crashed. BK legacy to us will be Mosh.
Tony Hill
283
Posted 03/06/2016 at 20:54:58
And years of mediocrity.
Andy Walker
284
Posted 03/06/2016 at 20:56:31
Tony 278, that has to be the most naive post I've read on here.
Yea he just turned up handed over a couple of 100m's and it was nothing to do with BK. It's not like any other EPL clubs would have welcomed him is it? Trot on my friend.
Tony Hill
285
Posted 03/06/2016 at 20:58:46
Ah, it must have been Bill's legendary charm that did it.
Raymond Fox
286
Posted 03/06/2016 at 21:00:09
Steve 84, teams we should be competing against Utd, City, Liverpool etc.
On what basis do you come to that conclusion, in your dreams.
Were trying to compete against teams that spend between 5 and
10 times more each season on players.
We can hope we can compete and maybe with Moshiri on board we may at last have the transfer funds to have a realistic chance of 'levelling the playing field'.
Andy Walker
287
Posted 03/06/2016 at 21:02:13
Tony, perhaps you can enlighten me as to why Mosh sold his shareholding in Arsenal (valued at a similar amount). He could just have sat on that and reaped his divi and capital accumulation?
Mmm must have been something that pursuaded him to pile into Everton. No one else had wanted to for years so why did he?
Jim Bailey
288
Posted 03/06/2016 at 21:02:53
Chris@280
Spot on.
Steve Bell
289
Posted 03/06/2016 at 21:03:36
We've seemingly pulled off a great coup. Congratulations Mr Moshiri, this has been conducted in a very un-Everton like manner and that can only bode well for the future. It's been highly amusing to see the Moyes apologists try and find new ways to continue their love in with the man from three years ago, just for the love of god guys, LET IT GO. We're now being backed by a billionaire whose moves so far have been very professional. We're in danger, finally, of competing on something approaching a level playing field, with clubs who for so long have operated with backing beyond our means and yet, there are still some people on here moaning. Amazing
Andy Walker
290
Posted 03/06/2016 at 21:04:08
Can't bring yourselves to say it can you Tony. Go on it will be a cathartic experience.
Martin Mason
291
Posted 03/06/2016 at 21:05:48
Chris@274
I've stopped and I am look at cancelling my Sky subscription but they have me by the balls because of cricket and bike racing.
I'll always be an Evertonian but I maybe I need to withdraw from this disgusting parody of the game I loved. Remember they were paid £20 a week once.
Tony Hill
292
Posted 03/06/2016 at 21:06:26
Because he saw a great opportunity and a fat profit in a superb club with a massive fan base where he could have control (assuming he is not a stalking horse for Usmanov). Do you seriously think that someone who is worth multiples of Kenwright and is an astute accountant needed Bill to lure him in and was only persuaded by the old ham?
Martin Mason
293
Posted 03/06/2016 at 21:12:50
I welcome Lee with open arms, he is probably more important than Koemans.
Andy Walker
294
Posted 03/06/2016 at 21:15:21
Tony are you seriously saying that Mosh was the only billionaire on the planet who thought, 'I know I can invest a few hundred mill in Everton and make a fortune'.
All the other billionaires on the planet simply didn't notice for years the no brainer that was investing in Everton and Mosh suddenly saw the light and thought fuck the guaranteed income from Arsenal, I'm going to sell everything and buy into Everton.
Nothing to do with BK, in fact he probably only knew about Mosh when he made an offer for his shareholding completely out of the blue.
Phil Martin
295
Posted 03/06/2016 at 21:15:22
If this comes off and Big Ron is given the kind of transfer funds we're reading about. Then I'll hold my hands up and admit I was overly sceptical about Moshiri. It's going to take some getting used to seeing competence at Everton.
Sean Connor
296
Posted 03/06/2016 at 21:26:59
Thanks terry, I do believe the Arsenal connection will be around for awhile, and think Usamanov may take over, if he can't oust Kroenke.
Obiviously, if it is Koeman and he has never denied he wants the Barcelona job eventually, like players of course we are a stepping stone for now, until this club gets the respect of Europe. I can't wait till we put the RS in there place, the thought of us getting the better of makes them shit scared, excuse the language. Enough, about them, Everton now, it could be the best of times, but also the most worrying of times, as we have not been here since we were classed as the Mersey Millionaires, and like them we have to make it count now.

Dave Abrahams
297
Posted 03/06/2016 at 21:27:13
Terry (269), what do you get the man who has everything, penicillin would come in handy.
Tony Abrahams
298
Posted 03/06/2016 at 21:29:21
Tony, great link with regards to Unsworth. I heard Stubbs, was the one who insisted that Everton, brought Unsy back, because he thought he was a very good coach.
Unsworth, never repaid the favour, because he wouldn't leave Everton, to go with Stubbs, to Hibs!
It looks to me that he likes working with the younger players, so it wouldn't surprise me if Unsworth was soon heading up our accademy.
Not overly convinced by Koeman, but hopefully he's getting better with age, regarding being a football manager, and if he comes, I don't think we will have ever had, another manager, with such a high profile in football agreeing to manage our club.
John Daley
299
Posted 03/06/2016 at 21:32:09
"Also bear in mind that the constant in Southamptons success through Nigel Adkins, Pochettino and Koeman was Sammy Lee"
Jay,
Sammy Lee only joined the Southampton coaching staff in June 2014. He came on board just after Koeman. He was at Bolton prior to that and one of Benitez's back room boys at the RS before that.
David Israel
300
Posted 03/06/2016 at 21:32:18
Jim Knightley converted me to Ronald Koeman and some of you have me almost converted to Sammy Lee, too.
Let me make one thing clear: it is not about Sammy personally; not only have I never met him, as I have no clue as to his character and personality. This should be pretty clear.
Furthermore, I have to confess I was not being 100% serious when going on about him. One can still put a light touch in one's comments, I suppose. If he's part of a coaching staff that brings us success, I could not be happier.
Welcome, Sammy! Once a Blue, always a Blue, as some people say, over at Old Trafford.
Ian Riley
301
Posted 03/06/2016 at 21:32:36
If this comes in. Our new owner is in charge. If Mr kenwright was in charge. Moyes would be strolling in on a five year contract. Moyes better take a job or he will have a regular slot on match of the day next season.
Christy Ring
302
Posted 03/06/2016 at 21:35:26
I'd be thrilled if we got Koeman. When he took over at Southampton, they sold their best players and the pundits on Sky had them favourites for relegation, instead he got them into the Europa league.
As for Sammy Lee, Gary Ablett (RIP) in his book, wrote about him being a sneak, and was the reason Benitez got rid of Gary at Liverpool.
Terry Riley
303
Posted 03/06/2016 at 21:47:23
Dave (297) dead Right!
Mark Frere
304
Posted 03/06/2016 at 22:06:28
Andy (282) - yeah BK and that silver tongue of his... only took him 16 years of a 24/7 search to find the right man. Truth is, you don't have a fucking clue whether BK was a big factor in persuading Mosh to invest in our club. Its all conjecture on your part. Kings Dock, Kirkby and the appointment of Martinez will be Bill's main legacy... not particularly good if you ask me.
Andy Meighan
305
Posted 03/06/2016 at 22:24:25
Colin (#244), who gives a flying fuck what Lukaku thinks... he's played one game for us since January and made it patently clear he wants away. Any incoming right-minded manager would chase the overrated fucker right out Finch Farm after what he's said to the Belgian press. As far as I'm concerned, the quicker he goes, the better.
John Nugent
306
Posted 03/06/2016 at 22:25:10
I know this sounds like " my mate knows a fellow down the pub who has a cousin who's brother works at Goodison , however here goes.
I understand from an ex blue player that Koeman is a done deal and it will be announced tomorrow.
Trust Me.

Steve Sweeney
307
Posted 03/06/2016 at 22:25:27
Sammy Lee is a total professional and I would welcome him to the team he supported as a boy. Also he would be a great mentor to Rhino

Good times ahead I hope. 㿭M for Lazy Boy? Get in!
Darren Hind
308
Posted 03/06/2016 at 22:31:06
Played against Sammy Lee in my younger days. Took him to school . . thats how I remember it anyway
He went on to be a European Champion who played in Europes best stadiums I had to get my class 1 to even drive there
Seriously; Although he had already been earmarked, he was not what you would call a natural. everyone who played though "why him ?" He was however seriously driven, fiercely competitive . .that has to be considered a step in the right direction
Neil Madden
309
Posted 03/06/2016 at 22:32:23
Mark and Andy etc above. Time to draw a line under BK. Personally, I can't stand him but let's be honest if we are all still here in 50 years time we'll still be arguing over him. Let it go. Let's unite and look forward to the future. It's not about BK now, it's about the Mosh. Nil satis nisi optimum.
Terry Riley
310
Posted 03/06/2016 at 22:36:04
The Mosh ....like that
Paul Rimmer
311
Posted 03/06/2016 at 22:37:28
Looks like we've gone for the safe option with a manager used to losing a number of the better players and building a new squad and producing the goods.
Iain Latchford
312
Posted 03/06/2016 at 22:37:38
Seems most bookies are no longer taking bets on Koeman. Pretty sure it's all done and dusted.
Let's roll..
Rob Halligan
313
Posted 03/06/2016 at 22:40:25
Like you Darren, I too played against Sammy Lee at school. I always remember putting a crunching tackle on him and putting him flat on his arse. He must have fell all of about 6 inches!!
Jamie Crowley
314
Posted 03/06/2016 at 22:49:27
Martin...
I welcome Lee with open arms, he is probably more important than Koemans.
How in the world would Sammy Lee be more important than the Koeman's?
You've got to explain that one...

Tony Draper
315
Posted 03/06/2016 at 22:52:27
Ian @301.
No Blue, no he won't.
He's not even yesterdays man. He's like them big stone heads on Easter Island. Something from an era long, long since forgotten, an aberration of a misguided culture. One which brought about its own miserable demise.
Time to move on, it'll be OK letting the kids watch MoTD next season.
Darren Hind
316
Posted 03/06/2016 at 23:00:16
We could do worse Rob. If memory serves me right he would be on the line for all Laird's matches, every Sunday morning - despite winning everything the professional game had to offer.
He might be fat, he might be round and if he played against you , his arse would deffo be on the ground.
But I would have no problem at all accepting his grounded, desire to succeed
Sean Connor
317
Posted 03/06/2016 at 23:17:17
Im glad, that we are not trying to budget anymore, but the surplus of players is a worry, osman, hibbert, they have been loyal servants. If you, include gibson, niassme, kone waste of time like nyorko. At, least naysmith put a shift in, thank you but good bye.
That, will take at least a 19 person squad, so utility players like harper, richardarson, clarke etc.
We won it in 85, like Leicester, similarities uncanny, all for one, same system.


Paul Andrews
318
Posted 03/06/2016 at 23:18:16
Sammy Lee, a good lad from the Bully. Nobody, Blue or red, got a bad word to say about him.
Kevin Rowlands
319
Posted 03/06/2016 at 23:18:23
One thing I'm really looking forward to is our Ron and the Mosh man putting Lukaku, gobby Roger, and the obnoxious agent well and truly in their place, I think it's going to go along the lines of 'you've got 3 years left on a contract, we're calling the shots here, now go and train with the reserves and SHUT THE FUCK UP' I love this new and improved Everton!
Mike T Jones
320
Posted 03/06/2016 at 23:20:39
So much vitriol on here!
We are all keyboard warriors.
Kenwright may have no money and been a bit of a dreamer but we are still here in the top Division.....no trophies, I accept that....The Shite have had one in 10 years havent they? (I think)....he didnt sell out to the likes of Gllette? and Hicks?. Echoing the sentiments of posters far more erudite than me, Moshiri couldn't have just waltzed in. So all stop with the witchunt against the Chairman. Just rejoice that we appear to be on the cusp of something better.....i think we are going to compete again. As someone who was at the Bellew fight on Sunday there is a sense that something good is happening at Everton again.....Stop with the small club mentality
Tony Draper
321
Posted 03/06/2016 at 23:29:28
In attempting to gauge Saints fans feelings over the last few days, I've been playing "Peeping Tom" on a number of their fansites. Generally speaking, I see no point in just gainsaying them. Also, for the greater part, I find them remarkably like us. Seriously, they are just fans of their club chucking the self same concerns around.
But, the Southampton Echo had this utterly weak "30 Reasons" aimed at Ronald Koeman (well at Saints fans really). So I responded.
In fairness, I didn't disgrace either Everton FC or TW.
If you fancy a chuckle ?
Sadly the link wont work, I'll repost the link.
Colin Glassar
322
Posted 03/06/2016 at 23:29:46
I would just like to say to The Ronald, welcome aboard mate. You're joining a great club with some excellent players and some strange, but fiercely loyal fans.
Tom Bowers
323
Posted 03/06/2016 at 23:35:31
Everton need to start afresh, new manager, new strategies and new players which means having a clear out of the old guard to some extent.
Some players have been good servants and other are just sick note problems etc.
One or two others may have dreams of their own and will want to go so let them depart.
We only want players who want to play for the club and the new manager and succeed on the field.
Tony Hill
325
Posted 03/06/2016 at 23:39:35
Mike (320), I am very happy to look to the future though I will never accept that Kenwright has been a good thing for Everton nor do I know what "keyboard warrior " means; someone who expresses a forceful opinion via a keyboard rather than by stabbing or shooting or exploding someone, I assume. I think I know which I prefer.
But you are correct: now is the time for us to draw a line and welcome a new era and I am grateful that Moshiri has shown himself to be the new dawn we all hoped for (regardless of the Koeman outcome, I think we can say that).
Tony Draper
326
Posted 03/06/2016 at 23:42:08
David Israel
327
Posted 03/06/2016 at 23:46:50
On the subject of BK and his role in attracting The Mosh (yes, that one will certainly catch on), it is obvious that he did play a role, at least by selling him some of his shares ;-). Some people on here point out that, prior to The Mosh, no one was found to invest in the club, but let's not forget what has become more or less obvious: BK was probably never looking for someone to take over the club, just someone who would invest handsomely and leave him in charge, at least notionally. And that sort of person is most certainly much harder to come by. I think therein lies the explanation for the long wait.
But I agree, let's give it a rest. In the end BK found an investor, and the signs are good.
Colin Glassar
328
Posted 03/06/2016 at 23:53:11
Out: Ossie, Hibbo, Gibson, Kone, Niasse, Funes Mori
Remain: Lukaku, Ross, Stones, Mirallas, Del
In: Claesens, Van Dijk, Praet, Wjinaldum, Witsel and either Batsuyahi, Embolo or Inaki Williams
Mike T Jones
329
Posted 03/06/2016 at 23:53:53
David Israel - you don't know that re: investment
Tony Hill - sitting at a keyboard (like me now, a bit pissed) , putting the world to rights
Mike T Jones
330
Posted 03/06/2016 at 23:57:27
By the way Tony, I'd rather we chat via the keyboard than you stab, shoot or explode me........those thoughts never crossed my mind !
Tony Hill
331
Posted 03/06/2016 at 23:57:48
Mike, I bet I'm more pissed than you. Happy Christmas.
Gordon Crawford
332
Posted 03/06/2016 at 00:02:36
Colin, Funes out? The guy has had a good first season in the premier league.
David Israel
333
Posted 04/06/2016 at 00:04:08
Mike T. Jones, of course I can't be sure. That is why I qualified what I said. But it does sound logical, don't you think?
David Israel
334
Posted 04/06/2016 at 00:05:16
Tony Draper: great post and very gracious. Thank you for sharing the link.
Tony Draper
335
Posted 03/06/2016 at 00:07:41
Colin @328.
The Saints "outbound" appear to possibly include:
Shane Long,
Graziano Pelle,
Victor Wanyama.
Every two years their manager exits.
Every year their players exit.
Their owners (apparently) are open to offers, but have a 3 year timescale.
I do feel for Saints fans.
Surely they can't maintain their excellent record of replacements ?
One false move ?
Then they are back in the Championship.
Mike T Jones
336
Posted 04/06/2016 at 00:08:25
David....you said it is 'obvious'.......
Anyway, let's all agree there appears to be a brighter future!
Tom Roberts
337
Posted 03/06/2016 at 00:08:37
I spent some time with the WINNING EFC coaching staff at the recent Dallas Cup. I asked about David Unsworth as I was curious. I was left in no doubt how highly he is thought of at Goodison. He is a hard task master and that's what I want to hear.

I know that he will get the opportunity in years to come to take over the top job at Everton. I love that we have so many ex-players on the staff and hope that remains under hopefully, Ronald Koeman.

There's never been a better time to be a blue. Sit down, strap in and enjoy the ride.
Colin Glassar
338
Posted 04/06/2016 at 00:09:48
I'd sell him if the Barca (£25m) rumours are true, Gordon. Even without Van Dijk, I rate Jags and Galloway higher than him. His passing and decision making our poor to say the least.
Mark Frere
339
Posted 03/06/2016 at 00:11:10
Why Funes Mori out, Colin?
David Israel
340
Posted 04/06/2016 at 00:20:49
Mike T Jones, I don't want to be a bore, but I did say "more or less obvious" and later added "probably" ;-).
Be that as it may, it is certainly healthy that we are discussing what happened, instead of complaining that it hasn't happened!
COYB!
Tony Draper
341
Posted 04/06/2016 at 00:23:11
David @334.
David Unsworth Pre Everton Coaching Credentials !
Link
Although, I'm guessing that you actually meant my 326 link ?
TBH, I'm trying to spread the former link.
Thanks for the "Saints 30 reasons", feedback.
If you like that, then I'm certain that the link earlier @249 regarding Rhino's coaching credentials from 2013 and it makes a great case for his inclusion in the forthcoming managerial structure. COMPELLING !
Tony Hill
342
Posted 04/06/2016 at 00:24:45
Colin, FM is another victim of Martinez's bewildered defensive policy. I think he's a jewel in the making and I don't agree that Galloway - as the only other left-footed central defender we have - is in the same class yet.
This is a man who does very well for Argentina remember. The mistake is to think that the performance of any of our players under the godawful previous manager is a serious guide.
The great benefit of Koeman - one of the best and most intelligent defensive players of the last thirty years - is that he will educate and strengthen people like Stones (if he has the brains to stay), FM, Galloway, and my own tip for the top, Mason Holgate. Not forgetting young Foulds.
Colin Glassar
343
Posted 04/06/2016 at 00:27:09
Tony, personally their only player I'd like is Van Dijk. Good solid player with a bit of skill and score goals.
Mark, I said IF someone pays us what's being reported ie £25m. He could turn out to be a decent player but I see him as a mistake waiting to happen.
A bit of fantasy football now. I'd like a team of
Claesens
Coleman
Stones
Van Dijk
Baines
Del
Witsel
Barkley
Wjinaldum
Williams
Lukaku

David Israel
344
Posted 04/06/2016 at 00:27:40
Yes, Tony #341, I meant the Saints post.
I remember reading the article by Henry Winter on David Unsworth when it came out, but it was most timely of you to bring it back. I certainly agree with you that he should be a part of the new managerial structure.
Mike T Jones
345
Posted 04/06/2016 at 00:28:37
David...you aren't a bore, least not that I could comment upon first hand having never met you.......I just read your second line....I didn't realise you amended your position on line 6 of the same post......as I said on Post 336, I want us all to agree on a brighter future.
Best.
Laurie Hartley
346
Posted 03/06/2016 at 00:29:28
Louis Johnson 101 - congratulations on becoming a ToffeeWeber and a very well thought out first up post.
For what it is worth I agree with your observations.
Tony Hill
347
Posted 04/06/2016 at 00:35:49
Just to clarify my post above, Foulds is a left-footed player though, of course, untried as yet at any senior level. The future is bright.
Mark Frere
348
Posted 04/06/2016 at 00:37:11
Colin, I think he looks a decent player to me and would be eager to see him in the side with decent defensive set-up. BTW, who is Williams?
Tony Draper
349
Posted 04/06/2016 at 00:47:25
Colin @343.
Very much agree about VVDijk, although I reckon that FMori under one of the greatest European defenders as manager could only improve. Indeed, that eye for a goal might even be exactly the issue for them to "bond" over.
If not ?
Then Koeman's decisions would be....... Koemans decisions.
Mostly, if Ronald does join us (with or without a "Big Scout", 'cos thats what I see Directors of Sport/Football/Development as), then I'd be looking for "smart signings".
Personally, IDGAF about big name players. I'll take anyone who turns out to be a WINNER !
(Peter Reid was a so called "crock" when he arrived, but he was an out and out winner).
David Barks
350
Posted 04/06/2016 at 00:49:42
So basically the clubs are discussing compensation. Hope this can just get wrapped up so we can all know what the direction is for next season.
What about being ambitious and making an effort to take James Rodrigues from Madrid? He's not playing and is a great player. Could have an impact for us like Alexis Sanchez did at Arsenal.
Jamie Sweet
351
Posted 04/06/2016 at 00:54:21
I would be more than happy with Koeman. It's easy to get swept away with ideas of what Emery for example might be able to bring, but out of all the named candidates, it is Koeman who has the best blend of both continental AND Premier League experience (bar Pelegrini who doesn't excite me at all).
Last season he managed a team which beat Arsenal, Man City and Liverpool scoring 4, 4 and 3 goals respectively against these teams. The Saints were one of only two teams to win at Old Trafford. His team also recorded 6 clean sheets in a row, but his team is far from being overly defensive.
He has always been a fierce competitor. He always stood out to me as a player who gave everything he had to the team, every game, and he will expect the same from his players.
Get him signed I say! Exciting times to be a blue!
Christy Ring
352
Posted 04/06/2016 at 00:56:50
David israel 344# Unsworth is a true blue, but he only came back to the club last year. The man who deserves the plaudits, and brought the young players through the last few years is Kevin Sheedy, he's the man who should be involved in the new managerial structure. Credit where credits due, a genius.
Tony Draper
353
Posted 04/06/2016 at 01:13:49
Christy @344.
In fairness mate, no-one has bypassed Kevin Sheedy's contributions to Everton FC.
As a player he was sheer class. Determined. Our 10th highest all time scorer. Not bad for the man with the cleanest shorts in footballing history !
As a coach, he has a sterling reputation.
The dialogue regarding Rhino emanated from a comment insisting that Unsy be part of the future managerial setup.David returned to Everton in September 2013 (the article that I keep referring to was published on 7 Sept 2013).
Here's the David Unsworth Coaching CV article Link

Tony Abrahams
355
Posted 04/06/2016 at 09:53:35
Loads of people responsible for the success, that the accademy is hoping to bring to our club.
The coaches, can only work with what they are given, so Martin Waldron, who has a hugh network of scouting in place, should also take hugh credit.
Frank Crewe
356
Posted 04/06/2016 at 11:15:29
For those who are suggesting Van Dijk, Mane, or any other Southampton player, I would think part of any compo deal to get Koeman would include a ban on him raiding his current club for players.
As much as I would like to see those players at Everton I'm sure Southampton are fed up losing managers and players every summer. Wouldn't blame them either. Remember how we felt when Moyes tried to get Baines as well as Fellaini.
Paul Kossoff
357
Posted 04/06/2016 at 14:47:24
Frank 356, It was Southampton selling those players before Koeman arrived, and selling willingly, why would a club that is obviously there to make a large profit on players want to block potential sales?
Paul Kossoff
358
Posted 04/06/2016 at 14:50:18
Koeman has apparently agreed to become Everton's new boss and wants the deal done this week.
Paul Kossoff
359
Posted 04/06/2016 at 15:00:05
Colin 343, Can't agree with your dream team, Baines, Coleman and Stones are not good at defending, Barkley and Lukaku are lazy.
I would sell all of them and expect to see an improvement in the squad.
Jon Withey
360
Posted 04/06/2016 at 15:04:33
I'd be made up if we could get Fraser Forster.
I reckon Koeman would get more out of the current squad anyway but we could do with a No.10 & left winger
Alan J Thompson
362
Posted 04/06/2016 at 15:37:05
No other billionaires interested in Everton?
Does that include the Sheikh at Man City or the Americans who did their due diligence?
24/7 for how many years?
---
Add Your Comments
In order to post a comment, you need to be logged in as a registered user of the site.
Or Sign up as a ToffeeWeb Member — it's free, takes just a few minutes and will allow you to post your comments on articles and Talking Points submissions across the site.
© ToffeeWeb