Fan Comment
'Here We Go'
Simon Hart

10/08/2016

7 Comments [Jump to last]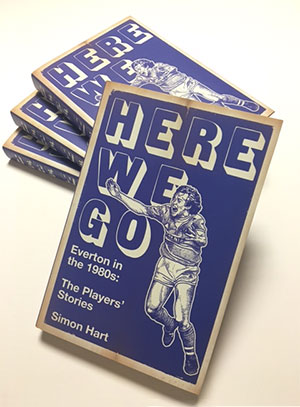 It was a time of big hair and tight shorts; of flying headers and fearsome tackles; of Tuesday-night booze-ups at the Conti and head-tennis battles at Bellefield. It was Everton in the 1980s, our club's wonder years, a time which brought four trophies and as many Wembley finals in a shimmering spell between 1984 and '87.
For an Everton-supporting child of the 80s, it is hard to think of a more enticing subject for a football book. There have been enjoyable books about other clubs in that era – Simon Hughes's 'Red Machine', Andy Mitten's 'We're the Famous Man United' and Martin Cloake and Adam Powley's 'The Boys from White Hart Lane' – and when the opportunity for me to write a similar tome about Howard Kendall's Everton presented itself last summer, courtesy of the aforementioned Simon Hughes and deCoubertin Books, a wonderful, nostalgia-soaked path opened up.
It was a path that led to varied places: from the pupil referral unit in South Wales where Neville Southall works today with children excluded from mainstream education, to Paul Power's home in southwest France (where his 1986-87 Everton Supporters' Player of the Year award is proudly displayed), via the BBC's Match Of The Day control room in Salford for an evening with Gary Lineker – or at least part of it, as we looked back on the TV blackout of 1985-86.
The end result is 'Here We Go: Everton in the 80s: The Players' Stories', a book comprising interviews with a dozen players from the era, who together recall not just Everton's silver-streak years, but the full span of the decade – from Mike Lyons at the start through the likes of Kevin Ratcliffe and Derek Mountfield to Pat Nevin at the finish.
Thirty years after the start of Everton's last title-winning campaign, it remembers the good times as well as the bad – and for all our fond recollections of the 80s, it is worth noting the average gate of 19,290 for 1983-84 was the club's lowest since the First World War, a product of both the hard times on Merseyside and the discontent at Kendall's team's teething problems, prior to their sudden blossoming.
The fact so much has been said and written already about the gold rush that followed meant a conscious effort in 'Here We Go' to find light-shedding, fresh perspectives. Paul Wilkinson remembered how it felt hitting Goodison winners against both Everton and Liverpool in the same season … and revealed that one condition of his eventual departure to join Brian Clough at Nottingham Forest was that he remove his mullet.
For the same reason, I met Kevin Richardson, one of the decade's unsung heroes, now coaching Newcastle United's Under-17s. Richardson is one of only two players from that era to have later featured in an English title-winning campaign with another club. The other, Bobby Mimms, made only three appearances as Blackburn Rovers reserve goalkeeper in 1994-95 whereas Richardson was on the pitch at Anfield as an Arsenal player on the night of Michael Thomas's championship-snatching goal in 1989. Yet, as he reflected, he was happier at Goodison, driving his second-hand Datsun Cherry, plugging gaps around the pitch, and witnessing all manner of pranks, including the turd left in John Bailey's toilet bag (the identity of the player who deposited it became clear in a subsequent interview).
Such silliness was inevitable given the sheer youthfulness of that great team. When Everton won the European Cup Winners' Cup in May 1985, Kendall was only 38 and seven players of his starting XI were under 25. They grew up together. "We were so close, on and off the field," Adrian Heath told me over a cup of coffee in a Knutsford café last December.
Those bonds helped Everton touch greatness. Indeed it is impossible to imagine a team celebrating winning the league today with karaoke on the team bus and the manager on the front row in his underwear. It is equally impossible to imagine a modern-day Everton squad turning up en masse to say goodbye to their manager in 30 years' time as happened at Kendall's funeral last October.
But then it was a different time. For one thing, Everton players then had to be playing – and winning – to maximise their earning potential. Defeat hurt in more ways than one. While writing the book, I caught a glimpse of Arouna Koné walking across the Goodison pitch with a broad smile on his face an hour or so after last December's 3-2 home defeat by Leicester – whether unfair or not, it was an image that came back to me a few weeks later when Mark Higgins, sitting in his local in Buxton, spoke about his deep love of Everton.
Higgins was the nearly man of Everton's golden days, struck down by injury just as the sun broke through the clouds; he gave a touching account of the pain of missing out – and an equally heartfelt reflection on what it means to be back working on match days at Goodison.
He is not the only one thrilled to be back at the club: Pat van den Hauwe is working for Everton In The Community following his return to Liverpool after 20 years away with South Africa. "I just went missing for twenty years this time instead of two days," he said with a grin about his time away, as we sat in an executive box in Goodison's Main Stand. Van den Hauwe's story is as colourful as they come – and underlines why everyone was (rightly) terrified of Mick Harford in the 80s.
'Here We Go' ends with an interview with the man I felt most privileged to spend time with, Colin Harvey. Amid a succession of illuminating insights into his long years as Everton player, coach and manager, it was particularly intriguing to hear how he devised the pressing game that suffocated opposition teams.  Pressing's all the rage these days – from Klopp to Pochettino to, we are told, Koeman … Kendall and Harvey had Everton doing it as well as anybody three decades ago. Glory days indeed.
'Here We Go' is out this month. To order copies, visit www.decoubertin.co.uk

Follow @Simon22ph
Reader Comments (7)
Note: the following content is not moderated or vetted by the site owners at the time of submission. Comments are the responsibility of the poster. Disclaimer
Dennis Stevens
1
Posted 10/08/2016 at 11:09:47
Just received it – can't wait to read it!
Simon Bradley
2
Posted 10/08/2016 at 18:22:15
I live in the US. I see you can get this on Amazon Kindle, but I really want the physical copy. Ill have my family send one over to me, as I can not wait to read this book. And, my favorite Everton player ever is on the front!
My first season ticket with the Blues was that 83-84 season mentioned above. Needless to say it was tough at first but you could certainly see the makings of something VERY special at the end of it with the two Wembley appearances, and players like Heath, Steven Sheedy, Sharp etc. blossoming into some of the best players ever to wear an Everton Shirt.
For two seasons, we played scintillating football, and in 85-86, inexplicably it should have been us with the double, we were by far a better team then Liverpool that year. I still can't believe we lost out to them in both competitions. It took a heck of a long time to get over that, in fact, I still haven't.
The previous year, was nothing short of fabulous. It included the best few weeks of my life – beating Man Utd 5-0, Liverpool at Anfield etc. That United game, and the 4-1 destruction of Sunderland towards the end of the season, are the two best performances I have ever witnessed, by any side. 4-4-2 played to absolute perfection. We destroyed teams.
Happy days! Can't wait to read all about it.
David Pearl
3
Posted 10/08/2016 at 21:49:45
Great stuff. 1985 I was 15, and Howard Kendall only 38... I feel old now! Funny to know that the side was young – not so funny that the team broke up a couple years later. Oh well... proud to be bitter.
I loved that side, they played so well together zipping about all over the place. That was football. Sheedy and Sharp were my favourites. Now we have Niasse and Lukaku.
Damian Wilde
4
Posted 10/08/2016 at 22:00:02
Great article, which makes the book sound mouth watering! Look forward to reading it.
Lukas Polster
5
Posted 10/08/2016 at 22:55:58
Lucky to live in Liverpool during '80s and watching this great team develop. I returned to my native Austria just as it fell apart in the late '80s. I still get to few games but I never will enjoy a time like this again
Steve Carter
6
Posted 11/08/2016 at 04:46:43
"...witnessing all manner of pranks, including the turd left in John Bailey's toilet bag". Really?
Peter Mills
8
Posted 14/08/2016 at 19:54:54
My nephew, James Corbett, owner of deCoubertin, the publishers of this book, very kindly gave me a copy after the match yesterday.
I started to browse through it this afternoon, and was still reading it 3 hours later. It's great, some stories you've heard before, some you haven't, and a treasure trove of wonderful memories. If you were around in the 80s you'll love it, if you weren't then read it and you'll see why we still bang on about it.
Thank you, Simon and Jim. "We're Everton and we'll be Everton forever."
Add Your Comments
In order to post a comment, you need to be logged in as a registered user of the site.
Or Sign up as a ToffeeWeb Member — it's free, takes just a few minutes and will allow you to post your comments on articles and Talking Points submissions across the site.
© ToffeeWeb