Report
Blues hang on for a point after early Barkley goal
By Michael Kenrick
13/08/2016

213 Comments [Jump to last]
Share: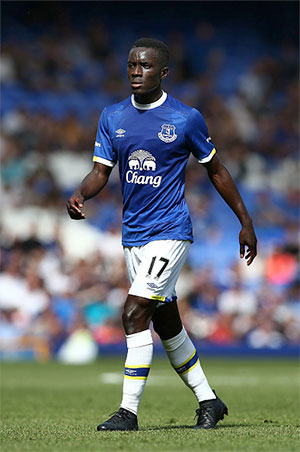 Idrissa Gueye made his senior competitive debut for Everton
Everton 1 - 1 Tottenham Hotspur
Everton's 2016-17 Premier League campaign kicks off with a tough assignment against last season's 3rd-place finishers at Goodison Park.
Ronald Koeman's first team selection for Everton is hampered by Coleman missing out with a knock, and Romelu Lukaku is also out with an ankle injury he picked up against Espanyol. No place for new signing Ashley Williams, who is way behind in pre-season preparation but Idrissa Gueye makes his debut for Everton.
Spurs kicked off but soon conceded a free-kick that stalled down the right as the early play was particularly scrappy. Barkley tried to advance to the byeline but Wanyama had the measure of him. Holgate in a back three called upon to clear decisively early on.
Wanyama took out Mirallas conceding a free-kick a fair way out that Barkley curled over everyone, it bounced almost in slow motion in fornt of the diving Lloris who totally missed it s the ball bounce up inside the post and the Park End net. Great start for Everton and Ross Barkley!
Spurs responded with some determined attacking and blocks were required, especially from Jagielka. Deulofeu got forward well and cut inside but rather scuffed his low shot at Loris.
Everton conceded possession for a spell but then moved the ball around nicely until the loose forward ball into the Spurs area. Blues were forced to indulge in some pass the parcel around the back to retain possession, Wanyama getting called for another clip on Mirallas, and another free-kick opportunity but this one well out, yet fired in brightly by Barkley and headed on well by Jagielka, forcing the save from Lloris.
Kane was penalized, perhaps unjustly, for a strong shoulder-barge that sent Funes Mori flying, and once again, Everton stoked the ball around nicely, a tremendous cross in from Baines that Barkley got underneath rather, under some defensive pressure.
Spurs persisted in driving down the middle but the Blues were defending well, and denying them space, with Holgate looking very good. Deulofeu got loose and played the ball forward for Mirallas, both down the right, but his low shot was straight at Lloris when more invention was required on the shot.
The standard of football overall was already an order of magnitude better than the garbage Martinez had served up for the understandably critical Goodison crowd, with far better tempo and good defensive shape to keep Spurs in check.
More Spurs pressure but it was kept at distance, with Eriksen finally making a shooting at Skekelenburg. Some excellent distribution from Funes Mori almost put Lloris in trouble with Deulofeu prowling, and then picked out Barkley well on the edge of the area. /p>
Spurs tried to get the ball forward earlier and almost caught the Blues out but Gueye was alert to the danger. Deulofeu got a chance to run at the Spurs defence but was both indecisive and selfish, missing a ball to Barkley. He did better on the next attack but it was Barkley's touch that was too heavy.
Michel Vorm was a surprise change, the Spurs keeper Lloris coming off at 35 mins, with a hamstring problem.
Alli ran at Jagielka but it was like running at a brick wall, such was the control of the Everton skipper. Mirallas then did well to steal the ball and retain possession through Stekelenburg, with Holgate pumping a great ball forward down the right.
The pace slackened somewhat ahead of half-time, Spurs playing the game at walking pace, the Blues forming an organized defence in front of them. Deulofeu again had a chance to run at Spurs but could not beat Dier.
Deulofeu got one on a plate when he anticipated a poor backpass but his execution was nowhere near smart enough, giving Vorm the opportunity to block it away. It ended an excellent half from Everton nevertheless.
Spurs edged possession in the first half ans that's how things continued as they game resumed but Everton were still too strong for them in defence and Barkely was able to break strongly, feeding Deulofeu who could not beat Dier but won the first of three corners that were delivered well by Mirallas.
McCarthy fed Deulofeu with good movement but again his run in was thwarted too easily. He then took a poke from the edge of the area that Vorm collected easily, when a pass would have been the better choice.
Spurs second switch was surprisingly the excellent Dier, scarified for another striker, Janssen. It led to a better play from Spurs, and a setup for Alli who fired high and wide. At the other end, Mirallas tried a snapshot onto the top corner that had the power taken out of it via a deflection, allowing Vorm to save with ease.
But a superb cross in from Walker, a fine header from Lamela and Spurs were level. So much for all that good defensive structure and discipline. So much for all those chances squandered by Deulofeu.
Spurs looked much brighter and full of energy., as the Blues struggled to restrain them. But Deulofeu did feed a nice ball to Mirallas on the run but the Belgian could not dig out the shot. No-ne on the bench who could do much different for Everton, as Koeman looked on impassively, with Spurs threatening to turn the Blues over.
Barry looked to release Deulofeu but he had strayed offside, and was visibly starting to fade after 65 mins, finding himself offside again. Time for Arouna Kone, perhaps? Yes, the change was made on 68 minutes.
Gueye was far too easily disposed in the middle but it was mopped up. However, the game was being played almost entirely in the Everton half, Janssen winning a corner headed away well by Barkley. Back came Spurs but Gueye did well to break up play and set Kone free, then get into the Spurs box for the return ball. Funes Mori tried his shooting skills from some distance, drifting wide with Vorm scrambling.
The Blues won a free-kick similar to Barkely's scoring one, but his execution this time was poor, unable to clear the first lone defender. The 70% fitness comment seemed to be all too accurate, as Lennon replaced Mirallas, who had sadly produced no end-product to speak of despite putting in some effort.
Everton had seemingly weathered Spurs' peak post-goal impetus and now set about holding on for the draw. They almost gave one up off a Spurs corner, Stekelenburg producing a magnificent point-blank save off Janssen. But it was all Spurs pressure into the final 10 minutes, Barry upending Rose dangerously on the edge of the Everton penalty box. Eriksen curled it well enough but just over Stekelenburg and over the bar.
Lamela got free doen the right and a supeb block defelced it, nmaking the save by Stek extremely difficult as he pushed oit up onto the bar and away. But pressure from corners was intense, as Koeman made the final change: Cleverley on for Barry.
Kone did well to release Barkley but he almost stopped and crossed a lame ball before going down with cramp. All hands at the back as Spurs kept coming forward, and another corner to defend, headed away by Barkley.
Into 3 minutes of added time, and the Blues able to play some possession football to relieve the pressure, and play down the clock, clinging to a vital point that should really have been three with better finishing from some good opportunities. But most will be happy that Spurs did not win this one.
Everton: Stekelenburg; Holgate, Jagielka, Funes Mori; McCarthy, Gueye, Barry (84' Cleverley), Baines; Barkley; Deulofeu (68' Kone), Mirallas (77' Lennon).
Subs not used: Robles, Galloway, Davies, Oviedo.
Tottenham Hotspur: Lloris (35' Vorm), Rose, Vertonghen, Alderweireld, Walker, Wanyama, Lamela, Eriksen, Dier (56' Janssen), Dele Alli, Kane
Subs not Used: Mason, Onomah, Winks, Davies, Carter-Vickers.
Referee: Martin Atkinson

---
Reader Comments (213)
Note: the following content is not moderated or vetted by the site owners at the time of submission. Comments are the responsibility of the poster. Disclaimer
Terry Davies
1
Posted 13/08/2016 at 14:07:58
If Lukaku is fit why isn't he in the squad? Cant see that team being 3-5-2 unless McCarthy plays right back!
Ciarán McGlone
3
Posted 13/08/2016 at 14:10:57
3 Players who are primarily defensive midfielders.
Looks like a very unbalanced side.
Derek Thomas
4
Posted 13/08/2016 at 14:21:03
Off topic or not; Loving the Hull attitude.
Keith Glazzard
8
Posted 13/08/2016 at 14:28:59
Martin Atkinson - jeez!! The result would seem to be a lottery then.
Phil Malone Jnr
9
Posted 13/08/2016 at 14:32:07
4-3-3 today boys.
Jay Harris
11
Posted 13/08/2016 at 14:38:25
I thought last night that if Lukaku had played it meant he was staying because he would have wanted to help the team out. I suspect he is going now.
Still looks a good solid MF something we have lacked so hopefully we can sneak one or two.
David Milner
12
Posted 13/08/2016 at 14:58:21
I expect McCarthy to play slightly forward of the other 2 DFM's.
Could work though. Lukaku still has stitches in the back of his ankle.
If he had of played it would probably have opened up again.
Les Martin
14
Posted 13/08/2016 at 14:59:04
I can assure you that the line up after the window will bear little resemblence to the one put out today, needs must.
Robert Elliott
15
Posted 13/08/2016 at 14:59:27
I thought the days of us arriving at the first game of the season and having to field a makeshift team were over. Clearly the arrivals of Moshiri, Koeman and Walsh aren't yet enough to change the way Everton operate. Fingers crossed for today and let's hope things are a bit more settled next week.
Mark Morrissey
16
Posted 13/08/2016 at 15:13:30
Get in Ross Barkley
Mike Mulhall
18
Posted 13/08/2016 at 15:50:08
Impressive first half, not seen fight for a while.
Phil Sammon
20
Posted 13/08/2016 at 15:52:36
Good first half.
The positives:
- Gueye was excellent. What a little bag of energy. And quality!
- Delivery. 3 years of shit deliveries from set pieces. Somebody has told them to beat the first man.
- Deulofeu. Terrible finisher and needs to up his work rate...but he has surprised me. Retained possession really well.
The negatives:
- Lots of shit haircuts
David Milner
21
Posted 13/08/2016 at 15:55:13
Well deserved lead at half time & from a team only 70% fit.
Nice to see the team have listened to those 9 magic words from Ronald.
DO NOT FART AROUND, GET RID OF THE BALL.
McCarthy & Jags look like different players this year.
Jim Potter
22
Posted 13/08/2016 at 16:02:22
Let's keep this going boys. Playing well. COYB!!!
Joseph Mullarkey
23
Posted 13/08/2016 at 16:21:25
As always we still can't hold a lead.
The golden retriever bounds away.
Michael Lynch
24
Posted 13/08/2016 at 16:55:59
Koeman wasn't playing mind games when he said we were 70% fit - so a decent effort from a side not yet firing on all cylinders, and several players short of the kind of team Koeman probably wants to field.
Spurs were decent second half, and Stek made some great saves. The new lad Gueye was superb, and Kone is available on a free to the first club to ring us on Monday
Gordon Crawford
25
Posted 13/08/2016 at 16:58:27
Didn't see the game, but I am so pleased to read some of the positive comments. We are heading in the right direction it seems. COYB
Roy Steel
26
Posted 13/08/2016 at 17:00:53
After listening to the game on the radio, sounds like Joe Hart can stay where he is. Stekelenburg sounded marvellous. Good start against a very good side. The best is yet to come; we must believe. coyb
Phil Sammon
28
Posted 13/08/2016 at 17:02:10
Fucking hell...anyone see Barkley's interview after the game? I've never seen a PL player so knackered after 90 mins. We saw in the game the lad had cramp - after he was absolutely dripping with sweat, still struggling for breath 3-5 mins after the whistle.
David Morgan
29
Posted 13/08/2016 at 17:02:10
Superb effort first half and did well to hang on second half. Stekelenberg man of the 2nd half and Gueye man of the 1st half. They looked less than 70% fit in the end but the pressing and tactics made a refreshing change. Williams wouldn't have got beaten by Lamela on the cross but Holgate did well overall.
The subs offered little to help but by then all 10 outfield players were tired. We need new players quick and Lukaku back. Bolasie came on for last 25 for Palace and Kone starts for Sunderland. But as well as the front 3 played we need more attacking options fast.
Alex Mullan
31
Posted 13/08/2016 at 17:05:30
We just need a sub keeper rather than a #1 now. Still 1 injury from Robles but id be happy if this guy got the gloves.

Michael Polley
32
Posted 13/08/2016 at 17:10:43
Take the point considering the lack of fitness. It will take a while before Koemann is happy that we are play the way he wants us to play. Looking forward to seeing Williams reinforce our back four. Also looking forward to some new faces arriving next week
. COYB
David Barks
33
Posted 13/08/2016 at 17:11:13
Phil,
That's partly because he spent most of the match chasing shadows, as opposed to the Spurs players who had most of the possession and could rest on the ball.
Paul Conway
34
Posted 13/08/2016 at 17:11:46
Well the 2nd half was definitely a sign 'o the times... the last 2 seasons!
Its of no surprise that the players Koeman brought in were by far the better performers, in what was an uninspiring display, and the goalkeeper actually kept us in the game.
Let's not get carried away by Barkley's over-hit free kick. Mirallas and Deulofeu were back to their prancing best. You have to know how bad you are when you are replaced by Aroune Koné.
As he himself, in a like-for-like substitution could find himself being replaced by 'traffic Koné'!
I can't wait for the new acquisitions and the big clear-out.
Michael Kenrick
35
Posted 13/08/2016 at 17:12:51
Massively disappointing for me that we didn't win that.
Deulofeu was no different to what he has always been. Poor execution of the critical final ball, missed some crucial chances that would have won us the game. Simply not good enough for me. Mirallas was just the same as he has always been; no end product.
Defense better but guess what: we surrender a headed goal to a good cross swung in. Exactly the problem last season.
Martinez may have gone but his miserable legacy remains and it is going to take a lot to shake off.
Christopher Nicholls
36
Posted 13/08/2016 at 17:16:52
Much better pace to the game today, especially first half, which was excellent. Gueye had a very good first game and team looked lively in the first half. Work rate and speed of passing were the best in a long time. We looked like an Everton team again.
We were pegged back by a good Spurs goal. Still a few players short and faded at the end, but few (if any) comp in second half, but few complaints (if any) with the players that were out there today. Got a sense that there is a little more to come from Barkley this year.
Well done, Mason, on decent game. Two very good saves from keeper.
Paul Conway
37
Posted 13/08/2016 at 17:19:16
Phil Damon (#28)
Exactly. Mirallas and Deulofeu should have been given a shovel... to lean on. They had their hands on their hips a lot... a sure sign of fatigue.
Mirallas even had his hands on his hips just before he delivered a corner.
David Milner
38
Posted 13/08/2016 at 17:22:20
Overall a decent display, obvious though we do need a couple of strikers on the pitch. Kone & Cleverley were useless when they came on. Just not Premier League quality.
Hopefully we DO get in 4 more players. Both Barry & Jags faded badly but then it is not surprising because of their age.
To think at one time we were linked with Janssen, instead we got Niasse.
Good performance from Stekelenburg, Gueye & Holgate (despite him getting caught out).
David Barks
39
Posted 13/08/2016 at 17:23:36
Nobody should be saying great performance or good performance. We sat back and defended in our home opener and gave up an easy goal from a cross.
We needed our keeper to save us on multiple occasions, and our sole goal was from a fluke free kick that made ya way through the box untouched.
William Cartwright
40
Posted 13/08/2016 at 17:23:51
Stekelenburg looked good. Could be another swansong season or two there. Gueye looked good, especially in the 1st half. Striker and No 10 and more solidity and we will be good.
Fitness was a concern as we were under the cosh for the last 15 minutes with Spurs building up a head of steam. Good point at the end but could easily have been 3.
COYB.
Paul Tran
41
Posted 13/08/2016 at 17:24:46
Exactly, Michael. I mentioned on the forum that all we lacked today were proper strikers. We need to buy at least two and I've got every confidence well get them.
Nice to see some energy and purpose from the players. Now let's get more quality. Like the look of the two new signings today.
Kris Boner
42
Posted 13/08/2016 at 17:25:46
I reckon you've been rather harsh there Michael. The defensive performance showed very little of the Martinez weaknesses.
Conceding a header to an excellent cross that was poorly defended by a young centre back will happen when you are forced to rely on youth. Holgate will learn.
Offensively in the first half we were excellent, and I'm still confused/stunned how well Deulofeu led the line considering he is absolutely not a centre forward. Admittedly he missed chances, but so does every forward.
That there was as promising a performance as you could realistically ask for after a very tepid preseason, and the terrible previous season.
Kevin Rowlands
43
Posted 13/08/2016 at 17:26:23
C'mon Michael that's a ridiculously way over the top post. We just played a team that nearly won it all last year. When I seen the teams to start I really feared the worst. The team were excellent in the 1st half and Geri caused them fits with his speed.
Personally I'm made up with the result and the effort, also idrissa Gueye was superb and Stekelenburg very good, some decent signings in the next few weeks and we will have a lot to look forward to.
David Barks
44
Posted 13/08/2016 at 17:28:48
Made up with a draw in the home opener, that was barely achieved while the team defended for dear life? That's very sad...
We should be competing to be better than Spurs, not being thrilled that they didn't beat us, at our own ground.
Brian Denton
45
Posted 13/08/2016 at 17:29:11
Not bad, but the way we faded was a bit distressing. I hope we can get back to Moyes levels of fitness quickly.
PS Crap cast-off goalie looked ok to me
Steve Bingham
46
Posted 13/08/2016 at 17:36:09
Just got in from the match and no complaints. We were really in control until they equalised. But there's no doubt in my mind that we would have lost that match last season easily by a margin.
Young Holgate did excellently and Gueye was outstanding. Shame we couldn't have seen out the win but it's still a huge improvement under Koeman.
Barry Williams
47
Posted 13/08/2016 at 17:42:14
David Barks 44
I think people being happy at the result is more to do with the circumstances than it being Spurs.
We have undergone massive upheaval, we are implementing a style change and had 2 debutantes and adopted an untried formation of 3 centre backs, one being a youngster, with our top scorer out... against a team that were disappointed to finish 3rd, whereas we were possibly flattered by an 11th placed finish. So I guess we should have been expecting a 4-0 home win!?
Michael Kenrick
48
Posted 13/08/2016 at 17:43:52
The contrasting views are to be expected, I suppose, given the number of fans who have been brought up on the Moyes mentality of firmly limited expectations as Little Everton did their best to punch above their weight...
Well, enough of that shit already. This is the start of a new era... We are Everton!
Brian Williams
49
Posted 13/08/2016 at 17:44:39
Just got back from the game and can't believe some of the negative shite that's getting spouted on here.
For a team that finished 11th last season, playing without a recognised striker, and still short of up to four first team players (transfers in) with a new manager against one of the top three teams of last season we did more than okay.
We bossed the first half but admittedly tired in the second, but last season we'd have lost that game without a doubt.
If that was 70% fit then I can't wait for 100%.

Alan Bodell
50
Posted 13/08/2016 at 17:45:54
1st. half ours and 2nd. theirs, I thought Mirallas was excellent in the 1st. half with every touch always threatening and late on when ours got tired.
Why not bring on Tom Davies? This lad will chase the paper bag for 90 mins but that's okay, 1 point with a 70% team lacking Coleman, (Lukaku is no miss) so onwards to WBA and 100% fitness.
David Barks
51
Posted 13/08/2016 at 17:46:04
I expect to win the home opener. That's my expectation. I don't care what circumstances or excuses are put out. We should have already strengthened the side. There is no excuse to have not already brought in another quality striker.
We defended and were wasting to hang on to a draw at home. That to me is unacceptable.
Kevin Rowlands
52
Posted 13/08/2016 at 17:47:09
David B, what match were you watching? The team was given a standing ovation at half time and rightly so they were excellent 1st half and if Geri takes that chance would have been deservedly 2-0 up.
Spurs are a very good team and it wasn't any surprise they upped their game 2nd half. You might be pissed off but Koeman was very pleased when interviewed after the match, I think he knows more than you.
Oh and one other thing, a 'fluke' free kick, you must be fucking kidding.
Steve Barr
53
Posted 13/08/2016 at 17:51:12
Didn't we lose to Tottenham 1-4 on the season opener 1984-85 then go on to win the title?
Things are looking up already with a draw!
David Barks
54
Posted 13/08/2016 at 17:52:15
Kevin,
It's that attitude that has allowed Everton to be satisfied with just hanging around. And it was a fluke free kick, it bounced in the box after missing everyone's head and the keeper was frozen to the ground expecting someone to get a head on it. It was a cross that bounced it's way in, not a shot.
The team worked hard and ran around closing down in the first half. That's expected. Second half we offered just about nothing going forward. That would not be acceptable at City, Spurs, United, Chelsea or Arsenal. To say it's acceptable at Everton is a disgrace. Not good enough, hanging on for a draw at home.
Kris Boner
55
Posted 13/08/2016 at 17:52:40
Okay Michael, firstly I refuse to accept that my mentality has been irrevocably warped by the Moyesian era.
I fully desire Everton to challenge at the top table. I don't accepted that drawing with the team that finished third and almost won the league is some kind of unacceptable result.
Coming off the back of a terrible season, the promise the defence showed today whilst still looking dangerous offensively, without our main striker and still playing three defensive mids, gave me massive encouragement that I don't have to accept a draw with Spurs as a good result all season.
But to start with. After a poor preseason. Without, what is considered a consensus, the required signings. On the back of two of the worst seasons we've had in a decade. This. This was progress.
And if I see more of the same we will definitely finish higher than last season and it gives me a greater belief in the 'Koeman project' than I had before.
Ray Robinson
56
Posted 13/08/2016 at 17:53:29
Gueye was excellent, Stekelenberg made two outstanding saves but the man of the match for me was Barry. For a guy his age, he looked the fittest player in the team (admittedly not the fastest!)
We seriously need reinforcements up front as Deulofeu and Barkley are too lightweight to be out and out strikers.
Holgate played reasonably well but in the second half, whether by design or by accident, found himself drifting into the middle leaving the wing exposed and McCarthy having to cover as full back. It suggests to me that Koeman will go with three centre backs when Williams is fit.
All in all, a good battling performance. We'd have lost that game last season.
Brian Williams
57
Posted 13/08/2016 at 17:56:49
David Barks. Does that go for whoever we might have played in the first game? I ask because Spurs were/are a much better team than us at the minute and may be so for some time to come.
Love your passion but think you're being unrealistic to be honest.

Barry Williams
58
Posted 13/08/2016 at 17:57:49
David B (51)
I believe circumstances and excuses are different things. You Say we should have already strengthened the side, I would say we have! Stekelenburg and Gueye look excellent to be fair.
But ask yourself this, why would top layers who can get into a Champions League team choose Everton at the moment? If they did, then it would be for the money and that would, for me, be the wrong type of player!
Yes, I would have liked a win today, but the reality is we are rebuilding not just a team but a whole club. New majority shareholder, new manager, new assistant, new fitness coach, new director of football, new training techniques, new players and a new way of playing after 3 years of ingrained habits. Things will not suddenly go amazing overnight.
In the general scope of things, Koeman has had no time whatsoever. How long did it take Kendall and Ferguson to get things right? Did Man City become a power overnight?
For me, that was okay today given all I have mentioned. My expectations in life are that I should be spending my Saturdays with 2 or 3 hot models satisfying my every sordid whim, but here I am replying to you!!!
Anyways it is all about opinion!
Brian Williams
60
Posted 13/08/2016 at 18:05:07
Barry? You'd rather be with two or three hot models than watching the Blues?
What's wrong with you man? :-)
Barry Williams
61
Posted 13/08/2016 at 18:07:19
Brian, a combination of both would be adequate!!!!
Kevin Rowlands
62
Posted 13/08/2016 at 18:07:50
No, David, it was a superb delivery; a fluke is if it deflects of someone into the net. I would argue that it's attitude like yours that creates a problem, you're the type of lad who has unrealistic expectations and would stand in the terraces screaming abuse at the young lads for any little mistake made, like that really helps.
We are coming off a very poor season, have a new manager, are going to have a squad that will look a lot different on September 3rd. With coaching changes, the way we play changes which means we will have to be patient as there will be ups and downs.
On paper, we had a tough game against very difficult opposition today, we drew 1-1 which given the circumstances was a good result, but you expect us to play them off the park, get real FFS!
James Marshall
63
Posted 13/08/2016 at 18:08:21
Williams, Jags and Funes Mori as a 3 sounds good to me. We also look really solid in the middle with Gana in there. The kid is class and has so much energy.
Bolasie and a striker and I reckon we'll be OK.
Mike Bird
64
Posted 13/08/2016 at 18:09:00
David - which quality striker should we have bought in by now?
David Barks
65
Posted 13/08/2016 at 18:21:13
Kevin,
It was a superb cross that ended up in the net, not a shot. If something that is not a shot ends up as a goal with nobody touching it, that's a fluke. Or did you think Howard's goal years ago where the wind carried it all the way down the pitch and into the net was not a fluke?
There's no abuse being shouted. Drawing at home while having to defend most of the match is not acceptable at Everton. The last 2 seasons were not acceptable. Everyone knew what date the first match would be, and who was under contract. Just as it was obvious that Niasse is not good enough, so should it be that neither is Kone.
Guardiola is the new manager at City, they haven't lowered their expectations because of that. They've only increased expectations. Mourinho is the new manager at United. They have increased expectations, to win he league, in his first season. The board has been telling supporters for 15 years now that it's a project. Enough is enough. We should win at home. We should not be defending for dear life.
Derek Cowell
66
Posted 13/08/2016 at 18:21:59
I can't believe there is so much negativity from some people who definitely have unrealistic expectations. I feared a defeat today against a very good Spurs side who were at full strength, whereas we played without a recognised striker. Last season we would have caved in late in that second half and lost 3-1.
We defended really well and the new keeper only really had to make one very good save late on. We competed in midfield but ran out of steam late on but the manager has recognised the need to improve fitness.
Rome wasn't built in a day ffs! This will take a while and that was a good result considering the previous two seasons. Gana was very impressive in midfield and looks a bargain at ٥m. People need to get real, this is not 1984-85!
Jay Wood
67
Posted 13/08/2016 at 18:22:27
Happy with that, given the summer in which a new manager has arrived introducing a new training regime, new tactics and style of play and a (thus far) tepid recruitment of new blood.
The first half was an encouraging glimpse of what RK will bring to the team. Good shape and defensive solidity. Energy and a higher pressing game. A desire to play the ball forward frequently and quickly.
This was achieved with a makeshift side playing an unfamiliar formation against a team that could have won the title last season. None of the starting XI let the side down today. The (already...) much maligned 'cheap, rejects' Gueye and Stekelenburg were standouts.
As honestly anticipated by Koeman, fitness is an issue as the way the team faded in the 2nd half demonstrated. I have no doubts this will be remedied by RK very quickly.
Yes, Geri should have given us a more comfortable lead on the stroke of half time, but otherwise he had a fine game Yes, it was disappointing how we again conceded from a cross and header into the box, but Holgate will learn from this.
For the likes of Michael Kenrick and David Barks to imply any blue expressing any sort of satisfaction with the game are brainwashed Moyesites is nonsensical.
I anticipate evolution, not revolution, under the stewardship of Moshiri and Koeman. That is not meekly accepting mid-table mediocrity. I desperately want Everton to lift silverware again. I'm not going to pout and shout my dissatisfacton with the new order after the single opening game of a new season.
David Barks
68
Posted 13/08/2016 at 18:26:09
So let me get this straight. Hull City can beat the champions at home, with a squad in absolute shambles. But Everton should be happy not to lose to the club that finished third, in our home opener?
Okay. And we wonder why the Board never feels pressure to actually invest and move this club forward, and that Spurs have passed us by, along with City, and we haven't won a trophy in over 20 years.
Derek Cowell
69
Posted 13/08/2016 at 18:29:35
Are people saying that we should have won that game on the way the game actually went or just because they think we have a right to win every game because we are Everton and can somehow beat any other team?!
We played well in the first half but in the second half we had to defend when Spurs stepped it up and attacked us more and we tired late on. The way the game actually went it was a good point. In some peoples' fantasy world we should be winning 5-0 every week despite the evidence of the past couple of seasons.
As I said before, get real. There are other teams in this league who are better than us and Spurs are one of them. It was a good point the way the game panned out!
We will no doubt win other games this season when we don't deserve to. I personally look for progress from last season and I definitely saw that today. Last season we were totally outplayed by Spurs at home and somehow scraped a draw. Today was infinitely better than that.
Joe Foster
70
Posted 13/08/2016 at 18:31:23
I had it as a draw and a draw it was. We looked better than last season and the players looked like they had shed a few pounds. Roberto fucked us and Ronald has the unenviable job of fixing it.
Ian Bennett
71
Posted 13/08/2016 at 18:34:08
My summary would be a fortunate goal, some great closing down, weak finishing, and some good last ditch blocks and saves earn a good point. I was impressed with Gueye, the keeper, and Jags, but Koeman has a big turnover of staff pending over the next 2 to 3 transfer windows. Much of the squad appears to be deadwood.
Upfront we have big problems with us needing at least one striker, maybe two. Keeper doesn't look a priority unless we can get a top target. And right back can be covered if we keep 3-5-2.
Minimum targets - striker, left wing, play maker and centre back.
Jim Hardin
72
Posted 13/08/2016 at 18:36:21
Bothered a bit about the goal being conceded (not the goal itself but the twat who scored it).
Overall, plenty of encouraging signs. I thought Everton would score in the first 9 minutes of the second half with the series of corners put in by Super Kev.
Everton's play looked more positive and forwards. Like it so far but get three next game. (3 goals and 3 points).
Barry Williams
73
Posted 13/08/2016 at 18:39:34
David Barks
Is Barks a surname or a verb? Just joking mate!
I can understand your frustrations and we all wanna be competing with City etc. but after the Martinez debacle, with an eye on reality, what were/are your expectations and what was/is the timeline?
Stan Schofield
74
Posted 13/08/2016 at 18:40:15
So far so good given that we're not the finished article, it's a work in progress. The devil is in the detail, which Koeman seems to be addressing.
Kevin Rowlands
75
Posted 13/08/2016 at 18:42:45
David, stop talking shite and making things up, you said we defended for most of the game, did you watch the 1st half? We played very well and could/should have been 3-0 up and were applauded off the pitch.
The only time we were really on the defensive was after they scored and they got their tales up. Before that, Stekelenburg had very little to do. They scored in the 67th minute, so your claim that we were defending most of the game is complete horseshit.
Simon Bates
76
Posted 13/08/2016 at 18:44:49
To put it quite simply, we would have lost that last season, so progress is progress.
With the team he was forced to field, for the first 55 mins we bossed it, and should have been 2 up, if Deulofeu had scored that sitter.
Spurs are quality and at 1- 0 were always going to come at us; overall, I'm happy with that.We probably should have won, but a hard match out of the way and we are unbeaten!!!
Patrick Murphy
77
Posted 13/08/2016 at 18:50:29
A draw was about right, we did fine in the first-half and possibly should have gone in two to the good but Del Boy let himself down with his finish, not for the first time and an infuriating habit that this group of Everton players have had for a few years now. Second-half was more akin to last season and there wasn't too much to get the Goodison faithful excited. The players still believe it is incumbent on the crowd to get them going, when I would argue it is up to them to get the fans excited.
It's going to take a little longer than some may think to rid this squad of some of its bad habits and to alter the mind-sets of some of the players. Good points, the Keeper, Gueye, Jagielka and Holgate. Bad points, the usual suspects Barkley, Del Boy and a few others who flatter to deceive and last of all Kone who has lost all confidence in his ability to be a Premier League footballer.
First point and goal on the board let's see what we can glean from the Hawthorns.
Liam Reilly
78
Posted 13/08/2016 at 18:50:47
This comment in the article is everything wrong with this site right now:
"So much for all those chances squandered by Deulofeu."
That's just shite. The boy ran tirelessly and held the ball up excellently for his size. His one on one had no space and he tried to put it the only place he could. It was excellent goalkeeping.
Great performance; they just got tired. A few more weeks and a few new additions and this side is a different prospect.
Amit Vithlani
79
Posted 13/08/2016 at 18:51:42
Yep, I am with those encouraged by a point, not least because recent history has seen the two sides cancel each other out on many occassions.
With better finishing we might have been 2 up at the break and I think it would have been a different game.
The level of fitness was very poor, Gana, Holgate and Mirallas excepted. Barks, Geri and Baines were gasping early in the second half and Mccarthy hardly got forward.
Stand outs: Gueye - looking like a steal, Stek - looking like a steal, and Holgate - looking like a steal.
Combined transfer cost 9m. One in the eye for those who think we should be spunking squillions on their Football Manager wank dreams.
David Barks
80
Posted 13/08/2016 at 18:52:55
Kevin,
Our play was spent closing them down and trying to counter attack. We were set up to counter attack. They had most of he possession. The last third of the game was all them pressing us and threatening our goal.
We had chances in the first half and didn't take them. We didn't take them in part because we started without a recognized striker, because we have failed to buy one despite knowing it was a need. We played with 5 at the back and an additional two defensive midfielders, at home.
We hung on at the end. We didn't win. I expect us to win at home. And I expect us to be the team going for the win, taking it to the opposition at home. We started with only three attacking players, no striker. One of the reasons why our keeper had relatively little to do in the first half was that we were playing with so many defenders on he pitch, and closing them down. I expect more from Everton in our home opener.
Peter Howard
82
Posted 13/08/2016 at 18:54:50
Interesting comment from Koeman in his post-match interview.
He said Deulofeu should have put us two-nil up at half -time and then ' .. we could have looked to close the game out ."
I was happy to hear that .Imagine that - an Everton manager wanting to close a game out.
Pragmatism wins you far more than romanticism .
Chris Williams
83
Posted 13/08/2016 at 18:54:57
Just back from the game and my immediate reaction is that it was a hard earned draw, just about deserved.
Much better display, solid defence good organisation and better energy and shape, particularly in the first half. This is the sort of game that we could well have lost last season.
It was a makeshift team missing some key players but they acquitted themselves well. 3 centre halves with McCarthy playing as a defensive wing back it was basically a defensive set up, with no centre forwards and a solid midfield in front of the defence. Given the circumstances, lack of fitness etc, it was a decent performance against a strong side.
Strengths on the day- Defensive organisation, Holgate looks a prospect and Jags did what Jags does. Stekelenberg had a good game with a couple of excellent saves and Barry covered and organised as usual. Gana was a breath of fresh air and looks a steal.
Problems on the day- fitness was as poor as RK said, clearly not one given to bullshit, Mirallas and Deulofeu buzzed and ran and did their best but it was a thankless task they had. Clearly attacking reinforcements needed and quickly. Not much on the bench.
First half better than the second when they ran out of steam with nothing on the bench to freshen or change things.
Overall a workmanlike performance and a deserved point.
I'm not sure what people expect if they thought it would be any different on the day.
Encouraging was the thing I took from the performance.
Ron Sear
84
Posted 13/08/2016 at 18:57:59
A very simple question, was there anybody who did not feel just a little bit more optimistic during the first half? Speed, aggression, forward passing, a rock solid defence, it was all in place. All I know for sure is that when I looked around all of the fans had big smiles on their faces.
Okay, so we tired in the second half, had no strikers worthy of the name and fitness is clearly an issue but the result could have been a hell of a lot worse.
Eddie Dunn
85
Posted 13/08/2016 at 18:59:14
A good point, with plenty to be optimistic about. The new boy Gueye looks fantastic and most of the lads played with a vigour missing from our recent past.
The fact that we could have lost it near the end was mostly down to fatigue on our part. The manager certainly lacked options from the bench... oh for a couple of strikers!
Denis Richardson
86
Posted 13/08/2016 at 19:00:33
Hoping for a win but would have taken a draw before the off given the pre-season and fitness issues. Very good first half from the boys and Spurs came back strong in the second; a draw was a fair result. The Mirallas, Deulofeu, Barkley front three interlinked well and chased down the opposition; no surprise to see them blowing hard on the hour. Will get better.
Team needs to continue working on fitness over the coming days and hopefully we'll get the Lukaku situation sorted asap and a couple more faces will come in. All-in-all, a decent start and good signs that the Koeman method's getting through.
Gueye and Stekelenburg gave two very decent debuts too.
Defoe just equalised for Sunderland, Guadiola's going to find out quick he's not in a one or two team league!
Kevin Rowlands
88
Posted 13/08/2016 at 19:02:22
A very simple answer Ron, David Barks.
Christy Ring
89
Posted 13/08/2016 at 19:03:35
David (#54), Totally over the top.
A draw against Spurs was a good result, considering we had a winger playing upfront. No more tippy-tappy football, and the players gave everything, with and without the ball. Also, Koeman brought on 3 subs!!
Simon Harris
90
Posted 13/08/2016 at 19:03:53
A Moyes-esque display with a game plan built on organisation and a solid defence.
Really happy with the start to Koeman's reign and love his post match comments about Barkley becoming a great if he can up his work rate and improve defensively.
None of the Martinez drivel and late collapse which is reassuring and whilst
I wasn't expecting much from his 1st season if he can add a few quality players we could have a good season.

Stan Schofield
91
Posted 13/08/2016 at 19:04:39
David @80: Normally I too would expect more from us when at home, but the situation is surely quite abnormal.
No, it's not 'brilliant', but it's a decent start given the problems we've had. I can't see any reason to be downcast, since the strong likelihood is that we'll improve, whether it's slow or rapid no one knows.
Not sure how we could reasonably ask for more at this stage. I'm not a fan of mediocrity, I was raised on Alex Young and Alan Ball, so naturally expect a lot from Everton, and I see this as a start, hopefully of something big.
Amit Vithlani
92
Posted 13/08/2016 at 19:05:44
Agree 100pc @Stan 91
David Barks
93
Posted 13/08/2016 at 19:11:47
Feel free to direct your words toward Michael Kenrick as well people, he shares the opinion that draws at home are not good enough for Everton FC. I never said there was nothing to take from the match. The closing down in the first half was much better.
But when you keep saying that it's good considering we started with a winger up top, who's bloody fault is that? The club has known for months that a striker is needed. To date we've signed one DM and one GK. You're missing the bigger picture, that the team is under prepared. And that is a trait of the club in general, not the new manager.
Stan Schofield
94
Posted 13/08/2016 at 19:16:09
David @93: Agreed, we are under prepared. I would imagine Koeman would agree as well, but it's just my guess. But surely we might reasonably expect preparation itself to improve in this new 'regime' as it develops, hence resolving that issue which has been there for some time.
Dave Williams
95
Posted 13/08/2016 at 19:25:07
Would the many ToffeeWebbers who slagged off Koeman and Walsh for buying Gueye like to withdraw any of their comments? He looks a cracking buy at only £7m and Stek also looks an inspired acquisition whose arrival was also greeted with ridicule by some.
I think RK and his team of helpers know what they have to do and have made a decent start. The fact that Lukakus very expensive " understudy" has been deemed not fit for purpose is down to the previous regime and unfortunately it takes quite a lot of time these days to sign a player.
I know we are all entitled to our opinions but I for one have seen enough to give Ronald some decent time to formulate his own squad and get the fitness right. There will doubtless be some ups and downs and certainly a new striker is desperately needed but I am looking forward to seeing where we are at the end of the transfer window and indeed the next one- I suspect there will be some movement out as well as in by then!
Kevin Rowlands
96
Posted 13/08/2016 at 19:26:06
David, you do realize that we are coming off a season where we had the worst HOME record in our 138 year history? Or have you forgotten that? Today was very encouraging and definitely a step in the right direction, and yes I did tell Michael that his post was way OTT, yours on the other hand are just ridiculous.
David Barks
97
Posted 13/08/2016 at 19:33:08
Kevin,
Why are you getting so angry? You should be happy, I'm the one who should be hurling insults since I don't like failing to win at home. I'm fully aware of last season's home record, which is why I'm disappointed we didn't win. You're supposed to win at home.
Starting with 5 at the back, 2 DMs, no recognized striker at home. Is my opinion that this isn't good enough to start the season ridiculous? That should be something that only occurs in the middle of the season due to an injury crisis, not the first match of the season where you only have one striker out injured.
Should the club not have acted sooner to bring in quality attacking options to avoid today's scenario where our substitutions were Kone, Lennon and Cleverley, with Deulofeu and Mirallas making way? What exactly is ridiculous about not being pleased that we failed to win?
Peter Gorman
98
Posted 13/08/2016 at 19:34:12
David Barks, I would have loved a win also and I almost get where you are coming from (certainly our goal was a fluke) but we did pretty well in first half, especially Stek and Gana as pretty much everyone has noted
But surely you have optimism? Koeman's two signings were great, Mirallas and Del were great at holding the ball but need to work on decisions. We cleared the ball to touch, pressed all over the pitch and tried early balls. Basically, everything required to entertain.
Darren Hind
99
Posted 13/08/2016 at 19:39:39
Kevin Rowlands
"Stop talking shite and making things up"
The guys said Tottenham had more possession. That's a fact and all the happy clapping you can muster wont change that. It is you who is making thinks up. Barkley couldn't believe he scored. An intended cross which ends up in the net = fluke.
Michael,
I share your disappointment. Spurs may have had the majority of possession but they were dog shit and this game should have been wrapped up long before they decided to play around the hour mark; two points dropped for sure.
Positives: We defended from the front and played with a purpose that has been missing for two years. Disappointing but not a complete disaster. There were encouraging performances out there. More to come from Koeman's troops.
Damian Wilde
100
Posted 13/08/2016 at 19:39:57
I thought we played very well in the first half. Everyone played well, especially Barry and Jagielka who were superb. Good halves for Gueye & Holgate; we deservedly went in ahead.
Second half, we looked a bit unfit and lacking in quality, but hopefully these will be addressed through more training and new signings; plus the return of key injured players, let's not forget, we were missing Coleman & Lukaku.
Spurs were the better side in the second half, but apart from towards the end they had no chances. Maybe due to tiredness, but Holgate was leaving tons of space late on. Draw fair result. We are clearly DESPERATE for two new strikers, even if Rom stays.
The one annoyance – Ross Barkley. Decent first half, but terrible second half. Infuriates me when he loses the ball and jogs around gently, rather than furiously trying to win the ball back. And his cross at the end... the lad is just thick. New signings could see Ross dropped. He'll only ever be 'average' at best, next Rodwell.
Decent day, enjoyed the game. Let's go again, COYB. And great to see Mirallas on the pitch!
Joe Clitherow
101
Posted 13/08/2016 at 19:42:33
Saying that we need a striker and getting the right one are two different things. Players are not stacked on shelves with a price tag that you take to the checkout. The alternative is that you just get any old shite in because someone wants to sell him to you. We already got one of those for 13.5M.
Koeman/Walsh must have a list of strikers that are good enough, and then they have to work down the list in order, sounding out the player and the club they are currently contracted to. The problem is we are not alone as every club covets the type of player we want.
Of course we all fucking know we need a striker, as well as other positions - but the truth is that the total weapon we had in charge for the past three seasons has pushed us way down the attractiveness league for the players we want as well as the real one. Based on the side he inherited, I reckon he had set us back up to 5 years in terms of progress. We have the most unbalanced squad in terms of cover for positions I have ever seen at Everton. Progress is all I want to see right now. It will take time and opportunities to get the players we want. Anything else is just a wage drain to appease the people on here who are screaming to sign someone, anyone.
Some people have completely unrealistic expectations but I'm glad we have a realist in charge of the team instead of the fantasist who has infuriated me for the past few years.
Richard Dodd
102
Posted 13/08/2016 at 19:43:39
Whilst it's understandable that the club would want to wait until Lukaku's future is determined before signing another big fee striker, it is hardly surprising that, as a consequence, Koeman had only Kone A and Niasse to choose from this afternoon – and opted for neither!
I imagine we have seen the last of the Deulofeu experiment so it will be Kevin's turn next week whilst our 25 goals man continues to ponder over whether Everton's 𧴿k a week smells as sweet as that of Chelsea's similar offer...
Get him sold so we can start the season proper!
Tim Locke
103
Posted 13/08/2016 at 19:44:32
Typical Everton start to the season, took a lead and lost a lead. Don't think the season is made or broken on the open fixture.
Clearly we could have won, but think Tottenham would have said they should have won also. Football is sadly is not focusing on what we should have done and fail to comment on what the opposition didn't.
Observations:
Tempo – a lot better, back to Everton of old. We did slow in second half. I will be interested to see Lukaku within this tempo; many will say he is too lazy.
Shape – a million times better, held it well and didn't have players playing in the same positions.
Speed – moved the ball better, quicker and with more purpose. A lot less being exposed and caught in possession.
Passion – looked like it was back a bit, I think there is more to come but players looked up for it.
Possession – we had less but what we had we did more with, made other teams play into us and allowed the counter attack.
I have not reached excitement yet but think expectations have increased.
Kevin Rowlands
104
Posted 13/08/2016 at 19:55:05
Darren. he said that we defended MOST of the game, that never happened therefore yes he was talking shite.
BTW, I am one of Everton's and especially Lukaku's biggest critics when deserved, today was not one of them days. All things considered, it was very encouraging as nearly every poster on here has stated.
Mark Tanton
105
Posted 13/08/2016 at 19:56:56
In news elsewhere, Alan Pardew said that sadly Yannick Bolasie's "heart and soul is elsewhere. He's close to moving and he goes with our blessing, but it's not done yet."
Brent Stephens
106
Posted 13/08/2016 at 19:57:46
Koeman joins us late. Some players returning late from international duty. Our main goal-scorer from last season missing. Our regular RB missing. A team getting used to new tactics. A team that Koeman says is yet to achieve full fitness. Opposition that could have won the league last year.
In that context, a very encouraging first half. A second half where we battled hard to limit the damage. Holgate a novice holding his own for the most part against quality opposition. A keeper who looked a definite improvement on Howard. A new lad, Gana, who looked every inch a Prem player. Jags still impressive in defence, alongside Funes who had a generally solid game. Barry still impressive in midfield. Barkley who tackled and competed for headers and chased men down more than I've ever seen him.
A TEAM that looked as if they were all playing FOR EACH OTHER.
I'll take that for the first "competition" game. The first game, mind! If Koeman has got us playing like that in the first game, given everything as in context as above, with hopefully more quality players to come, then I'm hopeful for the future.
Gana - MotM.
Paul Conway
107
Posted 13/08/2016 at 19:58:47
The performance wasn't down to Koeman., after all his acquisitions kept us in the game. He played with the cards he was dealt, or the team he inherited.
I would hate to think of the outcome had we played without them and against a fit Spurs team. After all, we all know what Spurs are capable of. As opposed to an Everton team without the Koeman additions! Plus we were at home!
Can we please now drop the super Kev tag. It really does not become him.
Dave Abrahams
108
Posted 13/08/2016 at 19:59:47
A very good first half, I think most fans were happy with the way we played, could have had a bigger lead.
We lost the sharpness we had in the first half around the hour mark when Spurs took over. The team kept at it but didn't look like adding to the score line but, like a lot have said, we stayed in the game and didn't fall apart.
There was much to like about the performance and we will get better, I'm convinced of that, the team will change very quickly. The way we play will be faster and some of the disappointment shown on here today will pass, I think it is mostly frustration that we didn't win.
Roll on, the rest of the season.
Peter McHugh
109
Posted 13/08/2016 at 20:01:22
Don't understand angst towards Barks. We should not be hanging on at home for a third of the match and only playing on the counter.
Reason is because manager late, director of football late and singings late / not arrived. Martinez should have gone well before and process has taken long. I don't know but suspect David is concerned of "same old Everton" particularly with Kenwright still around.
I'm a lot more positive, frustrated because of reasons above, but positive with Moshiri and his plans and willing to be patient. Clearly a lot of positives for me since Moshiri took over including what occurred on the pitch today. COYB.
Jay Harris
110
Posted 13/08/2016 at 20:03:32
I thought today's performance fully vindicated the appointment of Koeman, his backroom staff and Walsh and the two acquisitions that some idiots have been belittling.
Both were head and shoulders above what has gone before.
I think if we would have been properly fit and had Seamus and Lukaku out today we would have beaten a very good Spurs side.
While I am disappointed to have not taken 3 points I feel more optimistic than I have for a long time.
Danny O'Neill
111
Posted 13/08/2016 at 20:04:25
So David Barks; every club should win every home game. How simplistic and if football was that easy, why bother following it? Give me an example of when that has ever happened. Even Arsenal's "invincibles" didn't win every game at home. Neither did the only other team to achieve that (Portsmouth). Unrealistic aspiration.
Howard Kendall's English Champions of 1984-85 lost 4-1 at HOME to Tottenham on the opening day of the season.
It's not where you win or when, its how many points you gather over the season that counts.
Good point, good start, considering the pre-match pessimism surrounding the build up.
Mark Tanton
112
Posted 13/08/2016 at 20:05:55
August will always be a slow month for us because the club are perennial late movers in the market, no matter how disruptive it is every season.
Gana is the proof, too, that those who turned their noses up at a 'Villa relegation reject' were just plain daft.
Winston Williamson
113
Posted 13/08/2016 at 20:07:03
Contrary to the hyperbole of our best squad in years we have been bang average for two straight seasons. The squad was set up (player-wise) for Martinez's shite tippy bollocks.
Unfit, no fight, no commitment!
This squad has some good players, but we have some shite too. RK needs time to implement his system, including finding the players suitable to play it. It's definitely not going to happen after 7 weeks and 1 league game.
1st league game showed signs of his system being implemented. Additionally, it show a little residue of RM.
We still look unfit (but a little better than this time last year), but showed fight and commitment!
If we'd won 3v1 would we be saying RK is a footballing God and we're going to win the league? We may have been happier, but we would still appreciate the fact we need new players and the system still needs work!
Patience and progress
Andy Crooks
114
Posted 13/08/2016 at 20:08:45
Jay Woods, excellent post. Michael K, very harsh stuff, in my view. Surely you could see the green shoots today.
Martin Mason
115
Posted 13/08/2016 at 20:11:45
According to one report I read we were very good until we ran out of steam. Fitness can be worked on so I'd take today as a positive.
Kone played for Sunderland today, could that mean he is staying with them?
Paul Smith
116
Posted 13/08/2016 at 20:20:11
David Barks exactly right. To start the season unfit and without a striker is no reason to celebrate. We've known for months we're we are short and seem unable to address it, for reasons no-one on these boards know.
On the upside, Gueye, Stekelenburg and Holgate looked excellent and after listening to Koeman on EFCTV, Barry might be our playmaker with Geuye the energy and muscle. So maybe no new midfield maestro.
I love who they've brought in so far (Moshiri and Koeman) but I got a severe case of the galloping shites when I see Cleverley and Kone coming on.
Paul Tran
117
Posted 13/08/2016 at 20:26:43
After all that, I'm torn. For an hour we made a Spurs side look ordinary with our pressing and work rate. Mirallas and Deufelou worked hard and stretched them, without looking like proper strikers. Like last two seasons, we had chances and missed them. Like last two seasons, it cost us when the opposition had their good spell.
Feels like two points dropped combined with the promise of how good we will be if we have a couple of good strikers to make our good spells count.
I'll put my tin hat on and say that today showed why Koeman wants to keep Lukaku. Drawing up a list of good strikers is easier than buying one.
Two points dropped, I'm confident about the future.
Roger Sunde
118
Posted 13/08/2016 at 20:28:58
Would take a draw before the game started, so I am happy.
At least it doesn't seem like we need a goalkeeper.
Andy Walker
119
Posted 13/08/2016 at 20:32:30
Andy 114 I completely agree. For some reason the majority of posters on TW have had a set of key narratives for a number of years:
1. Moyes is crap, KITAP1, ginger tosser, dour Scot, knife to a gunfight etc etc
2. Anyone who suggested 'be careful what you wish for' (rebuffing calls for Moyes to be sacked as we only finished 5th) was jumped on by a large majority of posters calling them 'Moyes apologists'. Nice.
3. Ongoing, BK is an idiot he will never sell. Kind of destroyed by him finding us a billionaire, although some cling loyally (in their heads) to finding any tenuous reason to cling to the anti-Kenwright /"only in it for himself" narrative.
4. Martinez's appointment was fantastic news, anyone who suggested it was a massive gamble (based on hard evidence of his managerial record pre-joining us, mind) was roundly accused of being negative/Moyes sympathiser.
5. Koeman's appointment, I thought it was brilliant and a statement of intent. Today's performance showed signs of a different style and mentality. It's early days but it was positive. But guess, what we maybe seeing efforts to create a new (Moyes style) too low expectations, we should win the league in year 1 narrative, I hope I'm wrong.
Well done today, Koeman and your team.
Time has shown us that the first 4 populist narratives have proven to be misguided, I hope the 5th never gets off the ground, but if it does I think it will be about as accurate as the first 4.
Paul Williams
120
Posted 13/08/2016 at 20:41:10
Decent start. On paper our hardest game in the first 7. We have 6 games now against teams expected to finish bottom half. That should give chance to recruit a few players and get us up to 100% fitness and 1st place by the time we play City 8th game. Just need to stay there then. Simple.
Paul Conway
121
Posted 13/08/2016 at 20:41:27
Darren Hind (#99) spot on.
Spurs were lacklustre and we were at home. The very fact that Koeman made 3 substitutes told the story. We were knackered.
For the people who are happy with a home draw, I suppose there's only 39 pts to go to save our asses. If they are the same people who criticised Koeman's purchase of Stekelenburg and Gueye, be twice as grateful!
Christopher Wallace
122
Posted 13/08/2016 at 20:41:54
Anyone describing something as "Moyes-esque" should be banned permanently.
Peter Mills
126
Posted 13/08/2016 at 20:57:21
I was very encouraged by the performance, although the fitness issues were very apparent. I agree with many that we would have lost that match last season.
Sitting in the Main Stand on the Park End goal-line I had an excellent view of both goals. Barkley's free kick was very good, their goalie did not know whether to come for it, stay in the middle of his goal anticipating a header, or follow the flight. In the end he was bamboozled, so the goal was the outcome of a clever delivery.
For the Spurs goal, yes, the scorer got in front of Holgate, but the cross itself should have been prevented.
Anthony Dwyer
127
Posted 13/08/2016 at 21:00:11
Great result IMO, Spurs are as ready as can be, the two main signings done early, the back 5 plus Dier all same as last season, Lamela improving all the time, plus Erickson, Ali and Kane would get in every team in the prem.
We had key players missing, namely Coleman, Williams and Lukaku plus others, a makeshift team, and after 60 minutes it was easy to see what RK meant when he said we were only 70% fit.
I'd have taken 1-1 all day long, onwards and upwards.
Christopher Wallace
129
Posted 13/08/2016 at 21:07:39
Some of the reasoning to back up opinions in this thread are a bit mental, to say the least.
It seems that people are struggling to find a go-to scapegoat, so they'fe just rambling a load of aul' shite!
For what it's worth, I'm disappointed not to win, but realise that we were lucky to get a draw in the end, which was a positive result all things considered.
Tony Draper
131
Posted 13/08/2016 at 21:13:21
A point each was fair.
I thought Mirallas and Deulofeu worked hard up front and certainly made a decent case for themselves as an alternative strike force.
Gana was MotM, comfortably and made a joke of any "relegation fodder" jibes. He'll become popular pretty quickly with a few more performances like today's.
Stekelenburg amazed me with truly brilliant save. No matter who we might sign this week he surely has his name on next week's teamsheet.
Holgate looked like a far older more experienced player Koeman must be delighted with him, I know that I am.
Overall I'm comfortable with that, I'm expecting improvements as we go, but that was OK for a start.
I'll not add any negative observations although I do have just a couple.
Steve Hogan
132
Posted 13/08/2016 at 21:14:44
Joe (101)
Summed up pretty accurately I'd say. Only when Koeman is able to say this is MY squad/team now, will many realise the damage Martinez has done to us in the past with his 'fantasist' regime.
Unbalanced squad, infantile tactics, pathetic fitness regime, we are only just taking the first tentative steps of recovery. The critics need to get real.
I saw the first shoots of recovery today, nothing more, nothing less, Koeman knows his work has just begun.
Raymond Fox
133
Posted 13/08/2016 at 21:49:09
I would have willingly taken a draw pre match, and even more so when the team was announced. Anyone saying otherwise is not using his grey matter very well I have to say.
We all want Everton to win every game, but you still have to weigh the chance of that happening logically. When the teams were announced, Spurs went to 5/4 fav from 6/4!
We do need up to 4 top quality players to give us a serious chance of finishing top 6, but if we can get the right players I'd be most optimistic of being there abouts.
So far, I like what I've seen of Koeman, he seems a tough taskmaster which is how I expect the man in charge to be.

John Malone
134
Posted 13/08/2016 at 21:50:55
One of the thing's that pleased me most today was the reasons and timing of Koeman's subs.
I sit in the Main Stand up high behind the dugout and I saw Deulofeu getting tired and not moving into position down the line when we had a throw-in; Koeman pointed where he wanted him to be and he never moved. Koeman yelled in frustration and called Kone to get changed straight away! The same thing when Mirallas put a simple pass out of play and Barry gave away a free kick in the edge of the area!
I really like the first impression of Koeman – he comes across as knowledgeable and no nonsense. Instantly I can feel the standards and expectations lifting, the early signs are encouraging!
Tom Bowers
135
Posted 13/08/2016 at 22:00:54
With a squad like Everton's I would think players like Deulofeu and Mirallas are instructed to give it their all for a least a full half and then be replaced (depending on the score) around the 60-minute mark.
With players in the squad like Lennon they should be able to keep the opposition at full stretch but not Kone??? Spurs came back strongly as one would expect but generally the defense stood firm to preserve at least the point.
With more additions to make the squad stronger by month end, I see this team doing way better than the Martinez group. They didn't miss Stones and Holgate filled in nicely for Seamus but the real eyecatcher was Gueye who looks like he will be a force with the Blues.
David Pearl
136
Posted 13/08/2016 at 22:02:42
Really impressed with Gana today. Not too impressed with long clearances from the keeper that kept coming back. However, Stekelenburg certainly proved a few doubters wrong, which included me.
James McCarthy? Playing as a stop-gap didn't really seem too involved as usual. Deulofeu, Mirallas & Barkley isolated as the game went on... still we need those 2 that Koeman said for next week... but really we need a bit more than that.
All-in-all encouraging and for the most part the crowd seemed happier, mainly due to Gana – he has everything doesn't he. Surprised at how good he was. Hopefully Lukaku is back next game.
Christopher Wallace
137
Posted 13/08/2016 at 22:02:45
Side note - any player earning tens of thousands of pounds a week for playing football should take responsibility for their own fitness. There's absolutely no excuse for any of these guys not to be "match fit".
They've all been playing football every day since they were kids. They're not kids any more and it's really not much to ask for them to be at peak fitness, when the club turning them into millionaires requires them to be.
Mike T Jones
138
Posted 13/08/2016 at 22:15:21
Gana is just quality. If we improve in small percentages elsewhere in the team this will be a good ride to be on.
He has strength, pace, ball control, game intelligence . And he grafts. He is immense. I went to espanyol last week and some moaned about him, especially when he was penalised for the penalty. I told my mate sat next to me who was moaning that this guy was good. Only one game, but I love him already
Brent Stephens
139
Posted 13/08/2016 at 22:19:48
Mike, one of the things that makes Gana so good, I think, is his fast feet. Fast in getting in to nick or block the ball without diving in. Quick to ping a pass. Seems to be on his toes all the time to give him that speed with those feet.
David Price
140
Posted 13/08/2016 at 22:30:16
Koeman was impressive with his formation. The team responded. Spurs showed their quality and we hung on. Honest assessment from the manager, he will build this team his way and I'm surprised that the negative reaction to a draw can't see the quality of manager we now have.
Dan Davies
141
Posted 13/08/2016 at 22:34:19
Gana is going to be a very good signing. Chris@137 couldn't agree more mate.
Stan Schofield
142
Posted 13/08/2016 at 22:41:39
I'll probably be accused of overstatement, but for me, Gana reminds me of Alan Ball and Peter Reid, the lad's got fire in his belly. He's a great signing.
Mike T Jones
143
Posted 13/08/2016 at 22:43:27
Fair play to Gary Lineker.
Richard Dodd
144
Posted 13/08/2016 at 22:46:47
Getting a trifle carried away there, aren't we. Stan?
Kevin Rowlands
145
Posted 13/08/2016 at 22:46:56
Peter 126, didn't you realize it was a fluke! Absolute rubbish, it was a superb delivery and did exactly what it was supposed to do (if no one gets a head to it) trouble the keeper which it obviously did.
Andy Williams
146
Posted 13/08/2016 at 22:49:13
Martinez wanted players to enjoy themselves and play 'sin miedo' but imposed a system that stifled their natural instincts. The team today, apart from on a few occasions after they had tired in the 2nd half, looked far more confident and comfortable.
It was not Moyesesque. His approach could be seen in the taking off of Defoe and replacing him with McNair. A very good start considering with much to be optimistic about.
Kevin Rowlands
147
Posted 13/08/2016 at 22:53:21
Stan 142, completely agree, I thought he was outstanding today. At £7 million he is without doubt in my mind going to be the bargain of the transfer window. Next summer he'll be worth what Chelsea paid for Kante. Outstanding business by Everton and fills me with hope that Walsh/Koeman know exactly what they want and what they're doing.
Jeff Armstrong
148
Posted 13/08/2016 at 22:54:24
Please... let's not go too OTT on Gana. Besic was the last great thing to happen and, let's be honest, 2 years later, he's further back than ever.
Funes Mori was fantastic in a 10-minute cameo against someone or another... "Probably his best 10 minutes in a blue shirt."
Let's just let the lad settle in and develop.
Lev Vellene
149
Posted 13/08/2016 at 22:59:02
Who killed Tony Draper, and replaced him with a white-laced angelic being stuffed with positivism???
I'm happy about today's result, but his perceived positivism is threatening to choke me in runaway molasses... :P
Eugene Ruane
150
Posted 13/08/2016 at 23:00:06
'Anyone describing something as "Moyes-esque" should be banned permanently.'
A comment that could be described as unbending, brusk, intransigent, miserable and dour.
Or, to put it another way..
Christopher Wallace
151
Posted 13/08/2016 at 23:16:46
Touché Eugene - love it!
Dan 141 - I'd like to think each and every poster on TW agrees with that comment. Injuries aside, it really does beggar belief that any pro footballer should be struggling fitness-wise, let alone an entire squad at a top level club!

Lev Vellene
152
Posted 13/08/2016 at 23:20:35
#150 Eugene: I love me some Gollum, and may he spout his verses about too-little over at Sunderland, while we wait for BK to not grow too lyrical at our end... I want nut-kicks, not lyricism... :D
Peter Roberts
153
Posted 13/08/2016 at 23:21:36
Just a nod to the attendance which was 34,424.
Which begs the question, why was this game listed as a sellout on the official site???
Andy Williams
154
Posted 13/08/2016 at 23:24:43
Agree entirely Stan re Peter Reid (too young to have seen Ball). He is a player whose quality lies not only in simply winning the ball, but also with the way he lifts the crowd and consequently the rest of team. I think Ashley Williams will have a similar effect. Quality signings.
Stan Schofield
155
Posted 13/08/2016 at 23:37:45
Andy, yes, he looks natural in an Everton shirt, as if he's proud to play for us. I know he's a professional, but he LOOKS as though he's an Evertonian. And that's the trick for me. And, yes, I think Ashley Williams will be similar. This is what it's all about really, forget the money and all that shit.
Michael Kenrick
156
Posted 13/08/2016 at 23:42:39
Don't know where you're getting that from, Peter (#153), but I don't buy it.
OS lists 39,494... so some dyslexia entering the equation, methinks. An excellent opening-day attendance, and judging by most posts, they went home happy despite us dropping two valuable points.
And Kevin, the possession stats for the first half, which we dominated with our fine play, were 46%-54%. I may be wrong but usually, when we don't have the ball, we find it hard to attack... in fact, we have to defend, because, yea, the other lot have the ball.
So yes, it's hardly bollocks to say we had to defend for most of the game. Sadly, that's what we do when we score early.
All it would have taken for a completely different complexion on the game and the result was Deulofeu's effort to go in before half-time. 2-0 up and we would have been hard to beat. Fine margins etc. But on the day, on the field, it's what should really have happened.
Not 'unrealistic expectations' in any way, shape or form. Nothing to do with this "on paper", "what the bookies say" bollocks. The game as it is played — on that patch of grass. Good to see that Darren gets it.
Keith Glazzard
157
Posted 13/08/2016 at 23:47:02
When your coach says his team are only 70% fit, you know you might be facing a few problems. We could have been 3 up at half time, but would still have been clinging on at the end. I think it is a sign of how far standards were allowed to slip over the last two years, but what do I know? Loads of positives though, and you all know what they were.
Jay Griffiths
158
Posted 13/08/2016 at 23:47:59
Our starting eleven produced plenty of commitment and endeavour. The first half was a complete surprise.
What does concern me, and I hope is addressed asap, is the comparison of the two benches. If the two benches competed in a seven-aside match, we would be tonked, I'm sure. Depth of squad allowed Spurs into this game.
Christopher Wallace
159
Posted 13/08/2016 at 23:49:18
You could see why Del Boy isn't a striker in that moment, Michael.
If he had just let the ball roll over to his left foot, it would've opened the whole goal up, or ended up penalty/red card if the defender made any challenge.
Massive moment in the game... never fancied him to bury it.
James Watts
160
Posted 13/08/2016 at 23:53:52
The thing I was pleased with the most was that we didn't cave in. Last season (well the last 2½ seasons) we would have lost that 3-1 or 4-1, without question.
I thought Gueye was immense, and was really pleased with what I saw from Holgate. Stekelenburg was pretty impressive too with his couple of excellent saves.
Overall, happy with what I saw, especially first half. Disappointed we couldn't get the win, but relieved we didn't concede a second.
Now get some more signings in, get fitness up and we'll have a real shot at doing something half-decent this season.

Dan Davies
161
Posted 13/08/2016 at 00:05:34
Chris@151, we all need time away to re-charge the batteries and get away from it but these well paid millionaires should be set specific fitness levels to return to Finch Farm with and if they don't, there should be fines, simple.
It's called being professional.
Kevin Rowlands
162
Posted 14/08/2016 at 00:14:03
No, Michael, just because the possession stats are in Spurs' favor the 1st half doesn't mean we were 'defending' like we were the last 15 mins or so. We were easily the better side in the 1st half, controlled anything they threw at us and really should have been 2 or 3 up at the half.
I honestly don't understand the negative feelings, our 2 new signings were excellent, the crowd were well into it, unlike last season, Martinez left us a fucking nightmare, I'm very happy with our performance and effort today, kinda like our manager was, Michael.
Stan Schofield
163
Posted 14/08/2016 at 00:15:18
Exactly, and it strikes me that Koeman isn't tolerating anything but full commitment, which is quite right when there's a paying audience.
Professionalism is two things: competence and attitude. The first is a given, otherwise they'd be out. The second is (apparently) being sorted after the debacle of last season, and if there's no commitment you're out. Simple.
This is partly why the likes of Gana and Williams have been signed. No fucking about.
Andy Williams
164
Posted 14/08/2016 at 00:19:40
Once again I entirely agree Stan. It is all about passion. It is what was missing entirely within Martinez's style.
David Barks
165
Posted 14/08/2016 at 00:20:43
Kevin,
So did you also throw he managers opinion in everyone's face the past two seasons when he said how great everything was as we lost match after match?
And if you don't have the ball, that means you're defending. And if the other team has the ball about 10% more than you, that means you're defending most of the match. And when you are the horn team and the keeper is playing time wasting tactics by moving the ball around his box for a minute before taking a goal kick, with nearly 20 minutes to go, that means you're holding on for the draw.
We set out to counter attack. I don't care if we did it well in the first half, we only ended up with one goal. And the same tactic let them continue to come at us in the second half, as we inevitably tired, and we held on for the draw.
I said at the end of the first half that there was total commitment across the pitch. That's not the level of expectation I have for Everton. I expect more, especially in our home opener.
Kevin Rowlands
166
Posted 14/08/2016 at 00:27:13
David, not going to get into it with you anymore, I will just refer you to about 95% of the posters and the comments of our manager after the game.
Stan Schofield
167
Posted 14/08/2016 at 00:41:57
David @165: I think you can over-analyse, and I can't be arsed doing that anymore. I go with an overall feeling, and as cynical as I am, and although I'm used to repeated disappointment, I can't help but feel positive.
I think it's because specific details are being tackled, and the devil is in the detail. No high-level philosophies, just basic getting things right.
Mike T Jones
168
Posted 14/08/2016 at 01:11:58
Dafne schippers. Fabulous
George Cumiskey
169
Posted 14/08/2016 at 03:31:43
David Barks, spot on – everybody knew for weeks we were short of players. Why is it we only put offers in for players after we got the Stones money? What happened to the so called £100 million warchest?
Nigel Gregson
170
Posted 14/08/2016 at 03:34:40
Michael - agree completely. I've said earlier even before to the game. This has David Moyes mark 2 written all over it. Blood thunder and running around, be happy with a point and lower expectations before any game. You said it well earlier. No one's giving any "time" to Jose and Pep to get to winning results. Those teams expect victories. Why should we be any different ? is this seriously the blue print for our glorious future under 'realistic' ronnie ?
Dave Lynch
171
Posted 14/08/2016 at 05:25:37
Nigel.
It is a blueprint for the future because what "Realistic Ronnie" is being is ... er... realistic.
Realistic about what we have and where we are at present, when he has built his own team and instilled his own ethos on the players his expectations will change and he will become more realistic about what he expects us to achieve.
Andy Walker
172
Posted 14/08/2016 at 07:50:16
Yes Nigel 170, we should have won by at least 3 goals, playing sublime football. Nothing less than winning the league will be sufficient to say Koeman has had a decent first season.
Next season, well it must a a double winning one mustn't it? The league a given, plus maybe the FA Cup, after all we can't be too unrealistic with our expectations and aim for the Champions League winners, that can only be realistic for season 3 or maybe even 4 if we get all soft.
It's only us hardcore fans who really see the true picture. Maybe we should resurrect the 'apologists' tag for all those with such low expectations of Koeman. Can't believe we're still waiting for our first win of the season.
Paul Tran
173
Posted 14/08/2016 at 08:44:47
Sad thing is that there's a collective excitement on here about highly paid players doing the bare minimum, ie working their tripes out and leaving them on the pitch.
The hardest bit will be getting them to do that every game while thinking and concentrating.
Quality up front would have got us three points. Let's hope Koeman can put a rocket up Lukaku's rear end and find two decent strikers (three if he leaves).
Bet there's some sore legs in that team this morning. About time!
John Austin
174
Posted 14/08/2016 at 10:23:49
Once the team was announced, I would have taken a point. That's not about low expectations - just being realistic given the position we are currently in and the strength of the opposition.
Very pleased with the first half performance for all the reasons already posted by others. As poor as he was, I don't think RK had any option but to bring Kone on to at least give our hard pressed defenders something to aim at. If anything, I thought RK could have made the changes a bit earlier as we were increasingly conceding possession. The ball just kept coming back as the Spurs' defenders were unchallenged. Granted, it didn't improve when Kone was on the pitch as he just hasn't got what it takes, but it was worth a try.
Del Boy and Mirallas worked hard first half but it's clearly not a long term option. Neither are goal scorers in the real sense and we presented no aerial threat or challenge. I was also disappointed with Del Boy's lack of ability to beat a man in key positions.
Barclay did not do it for me second half. Decision making poor and like others, I worry that he'll not fulfill his potential.
All in all though, pleased with what I saw. Jags, Barry and Gueye were immense. Impressed with keeper and Holgate too. Look forward to the next home game when we should be strengthened in a number of positions.
Stan Schofield
175
Posted 14/08/2016 at 10:31:33
Paul @173: I don't think there's any 'excitement' as such, but there is a degree of relief after last season. Just relief, then we can ramp up our expectations as we progress.
No bullshit, just attention to detail, like signing Stekelenburg, Gueye and Williams for starters. These are just starters, we progress from there.
Jason Pullen
176
Posted 14/08/2016 at 10:51:06
Nigel, why would Pep be given time? He inherited a quality squad with limitless cash to improve it further. Ronald inherited a mess and a team less appealing to quality players. The comparison, whilst depressing, is pretty silly right now to be fair.
David, I applaud your feeling that home draws are disappointing; they are. But in context, from where we were, there were positives. Negatives yes, but not new negatives I don't think.
I am expecting progress this season, and I don't think being happy about seeing a little in game one is that bad. Let's hope we get to where we all want to be sooner rather than later.
Raymond Fox
177
Posted 14/08/2016 at 11:02:18
Stekelenberg (lets call him Stek I don't want to be trying to spell his name often) had an excellent first game and I'm well satisfied with a point for the team considering injuries etc.
Just looking at the fixtures they are very kind to us for 2 to 3 months at least, we could well get plenty points on the board early. that is if we play well enough.
Paul Tran
178
Posted 14/08/2016 at 11:04:34
Those of us into racing must note that Mick Channon has a very well bred two year old called Koeman. Channon describes him as 'one for the second half of the season'.
Keep an eye on that, it might be an omen!
Ray Roche
179
Posted 14/08/2016 at 11:06:28
Overall pleased with yesterday's performance but the fact that we had to bring the completely ineffectual Kone on just underlines how short we are of quality attacking players.
In his pre season appearances I thought that Shani Tarashaj looked an option but he hasn't even been given a squad number. If he can't do better than Kone, he must be pretty damn poor.
Nigel Gregson
180
Posted 14/08/2016 at 11:10:12
Jason – inherited a 'mess'? If it was such a mess then why were the expectations so high last season? Why did Man City pay £47.5 million for one of the players in this mess? Did this 'mess' score the most goals ever by an Everton team in the PL era last season?
You can say Conte inherited a 'mess' too, I bet you he's not getting a whole season if he's out of the top 4 by Christmas.
As far as money is concerned, if Ron wasn't offered enough money and transfer budget, he shouldn't have taken the job. He's gotta deliver – and fast!
Ray Roche
181
Posted 14/08/2016 at 11:15:49
Nigel, if you don't think that a team with the worst home record in its history, a team that it is widely accepted didn't perform to the basic standard expected, a team that were clearly physically not fit enough to last 90 minutes of Premier League football, but who were accepting Premier League salaries, could not be described as a "mess", then you have different idea of how a club should perform at this level compared to a lot of Everton fans.
Jason Pullen
182
Posted 14/08/2016 at 11:19:29
Is fast one game?
Dave Ganley
184
Posted 14/08/2016 at 13:20:13
Michael Kenrick, David Barks et al, I fully understand where you are both coming from but it is hard not to factor in the circumstances coming into this fixture. I always go to Goodison expecting a win (well mostly, the Martinez years completely knocked that out of me) but to ignore the damage Martinez did to the club is too simplistic. He bought some really average players, he let the players develop unbelievably sloppy habits, he let the fitness levels of the players drop alarmingly and he left with the morale of the club in tatters.
Now it could be argued that the players should take responsibility for their own fitness levels and that is a fair enough comment. However, they didn't and we are where we are. When most PL players come back for pre season they still have a high level of fitness and as such doesn't take too much to reach optimum levels again. Over the last 2 years, our players have allowed their fitness levels to drop alarmingly so it's going to take more than 5 weeks to get back up on par to everyone else.
I agree that a draw on the opening day of the season is no reason to be singing and dancing from the rooftops but it was a vast improvement on the awful dire football we have been subjected to over the last couple of years. The first half pleasantly surprised me. We played good football and probably had more shots on target than we had in half a dozen games last season. Spurs I think only had 1 shot on target in that first half and that was comfortably saved. I was very disappointed to see how the players faded badly in the 2nd half but it was a decent point in the end.
It's going to take time for Koeman to clear up all the shit left by Martinez. It's also going to take time for top players to come to us unfortunately. Until we start producing in the pitch, why should good players in their prime want to come to us? Yes we know Kone and Niasse are awful but I guess Koeman needed to give them a chance preseason to see for himself. Lukakus injury was not foreseen and if he had played then we probably would have been discussing a win not a draw. As it is there were plenty of encouraging signs for the future in that display. The players worked hard (yes I know that should be a given but as we know, over the last couple of years they didnt) Barkley showed flashes in that first half that he can put his foot in and intimidate opponents with his size. I have been his biggest critic over the last couple of years but I thought he was decent until he, shockingly for such a young lad, tired from half time onwards. Del boy likewise, how lads of that age can be so unfit is unbelievable, hands on his knees even before half time. Koeman will get them properly fit and then we shall see them firing on all cylinders for the full game.
The game was a big step forward for the fans and whilst a draw is not acceptable for any home game, it has given us a glimpse of what is to come. If we had the necessary fitness levels to last the game that could have been a rout for us considering how dominant we were in the first half, and that was without a front line striker. I am cautiously optimistic about the future and think you both, Michael and David, should be also.
Colin Glassar
185
Posted 14/08/2016 at 13:32:36
I got a last minute ticket to the game yesterday and I totally endorse Dave Ganley's post. We were very good for 60 minutes then the tiredness kicked in.
A few days ago I said we won't really see this team click until late September early October. Give Koeman a few more weeks, and new players, to get his team at 100%. I'm now far more optimistic than I was a week ago.
William Cartwright
186
Posted 14/08/2016 at 13:38:30
How can someone that small, playing in boots straight out of the '50s, give away a penalty in his first game, and still be named as Man of the Match, deservedly so, in both games he's played in?
Beyond me. Must be something to do with heart I suppose.
Joe Clitherow
187
Posted 14/08/2016 at 13:43:50
Nigel,
I know you are gutted at the loss of your hero Roberto still, being his most ardent supporter and all, but it bewilders pretty much everyone else on here, even the other hardcore Martinistas, some of whom who are even posting on this thread with a bit of a turn around.
It does beggar belief that you are still clinging on to the belief that Martinez was on the verge of something special. He wasn't. Nothing positive anyway. This would have been an Everton relegation season with the idiot in charge, which would have been something special in one way.
You really do need to get over it and stop posting the ridiculous cherry-picked facts that you have been for a good while.
He really was at least as shit a football manager as people on here have been saying for a while and the state he left this football club in is probably even worse than we thought.
Acceptance is the key to moving on.
James Hughes
189
Posted 14/08/2016 at 14:09:26
Nigel, The expectations were high at the start of last season because we wanted to believe the previous campaign was just 'second season syndrome'. All would be well and the lads would be back to how it was in the first glorious season under Martinez; they very quickly proved us wrong.
I was relieved when he was sacked last season as I envisaged us in a battle against relegation this term, one we would lose. That is all history and we live in the present and at least for the next few weeks Martinez still has influence on the present.
Three seasons of light training and no set-piece planning was highlighted by Ossie in his book. Add his philosophy of outscoring opponents and we know how well that worked!
Paul Tran
190
Posted 14/08/2016 at 14:10:15
Completely agree on all fronts, Dave. What struck me about Barkley was that although he looked knackered, he was still trying to charge around at the end of the game. This is his season, under a hard taskmaster, to live up to the hype.
Peter Fearon
191
Posted 14/08/2016 at 14:56:26
The same old song with different music. We got the opponent on the rack, squandered chances that could have put the game beyond doubt, let them get back into the game, faded in the last quarter of an hour and were lucky to hang on for a point.
How many times have we done that? How many matches have followed that predictable pattern?
Yes, there were stylistic innovations and a lively approach in the first half but I found the Spurs game anticlimactic. Every substitution weakened us: Kone (groan) Cleverley (groan) Lennon – who immediately dropped back to defend.
It may be Koeman's first match but it was a result you might expect from Martinez. All those fans who heaped so much venomous, vicious abuse on Martinez last season, who are they going to target this season now that the whipping boy is gone? The players maybe? Of the 14 who played I saw only 5 or 6 who deserve to end the season in an Everton shirt.
Nigel Gregson
192
Posted 14/08/2016 at 15:05:35
Joe,
My posts are about Ronald Koeman, the current manager, and the last game Everton played followed a pretty average pre-season. Perhaps its you and the collective hate on this site towards OFM that is letting you give realistic Ron so much wiggle room.
He's supposed to be ushering in a new era with supposedly deeper pockets. Nothing he has done so far has impressed me yet. Let's see him win some games first before we decide whether he's actually any good yeah ?
If our expectations this season were 7th place with lots of running around, we could have brought back David Moyes.
Steavey Buckley
193
Posted 14/08/2016 at 15:12:46
Everton's main weakness is the back four. Nothing has changed from last season. If the back 4 is attacked, they will fold.
Dave Ganley
194
Posted 14/08/2016 at 15:13:44
Peter what utter nonsense. Martinez deserved every bit of criticism that went his way for the complete and utter mess he left our club in. He was never good enough for the club and I also never wanted him.
Those players you say that are not good enough to don an Everton shirt are Martinez players. To say that yesterday was more of the same is just ridiculous. We showed more desire in the first 45 minutes than we did for a great deal of last season, and the one before that, come to think of it. Did you actually go/watch the game at all?
As for who is going to be the whipping boy... well, if all do their job, then why do we need one? Or is it just you that feels the need to be critical all the time?
Joe Clitherow
195
Posted 14/08/2016 at 16:41:34
No Nigel, your posts are about defending RM, they always are. Now he is gone that is by attacking the manager who (thankfully) replaced him. Hence your cherry picked record score statements and refusal around the 'mess' statement. I don't hate RM as a person. But I do hate the destruction he wreaked on Everton Football Club which will take some time to purge.
My expectations under Martinez were relegation this season. Criticism of Moyes was based on acceptance of seventhish as the pinnacle of our ambition when we were already there or thereabouts. That's a world away from the laughing stock RM turned this club into, coupled with the contempt shown to knowledgeable supporters with the drivel he spouted. Given the absolute mess (yes, mess) he has left us in I'll take 7th for this season irrespective of your barbs and bile towards anyone not your hero.
Do you even know who Ronald Korean is? Are you aware of the ambition he has shown and the achievements he has accomplished in his footballing life? Suggesting that seventhish through blood and thunder is the limit of his ambition now is misguided at best, farcically ridiculous more likely. If we cannot match that ambition he'd be off.
Personally, given your comments overall, and it is just my own opinion, I think you understand the square root of nothing about football, which then starts to make sense why you'd be drawn towards RM as a kindred spirit.
Darren Hind
196
Posted 14/08/2016 at 16:58:49
"Just because the possession stats are in Spurs favor the 1st half doesnt mean we were 'defending. like we did in the last 15 minutes or so."
You're right, Kevin, but we were still defending. we defended from the front in the first half, we pressed Spurs really high up the pitch. I called Spurs dogshit, but having read Paul Tran's post, I think I'll reconsider. Paul is right, we made Spurs look ordinary. They could not get into their usual smooth rhythm.
The disappointment is, that we settled for a draw, the all-too-familiar late retreat was all too predictable. The claim that tiredness forced us back doesn't wash with me; by surrendering the initiative, we were made to work even harder.
You seem to think it's negative to expect our team (as the home team) to drive on for the winner. I see it the opposite way. I think settling and being content with the draw is far more negative.
More to come from this team, but people are entitled to be disappointed when their team stops trying to win a home game long before the final whistle.
Chris Williams
197
Posted 14/08/2016 at 17:13:39
Finishing seventh this season would not be the same as seventh even 4 years ago. More clubs have stepped up a level and surpassed us because of more money coming in and better management and organisation.
Spurs under Pochetino, West Ham under Bilic, Leicester, Southampton under RK and even 'them' under Klopp, and they've strengthened further this close season.
Where the was a Top 4 there is arguably 7 or 8 ahead of us (actually there are 10 ahead of us the last two seasons).
While they were strengthening we weren't standing still we were going backwards at an alarming rate and we've got a hell of a lot of catching up to do and we need to be realistic in our expectations.
There were some encouraging signs yesterday and for the first time in a long time the Goodison crowd responded to the teams efforts and spirit. It was not the prettiest and it is not what we want but it was a start and a decent effort by a weakened unfit team against a very strong fit physical team. There were signs that his message was getting through, in the organisation of the defence and the defensive midfield as well as the pressing further up the pitch.
I think we will see further improvements over the coming weeks but we need to be realistic in our expectations.
Cue all the comments quoting our motto.
John Hughes
198
Posted 14/08/2016 at 17:18:07
Nigel Gregson: "What is the difference (between RK's situation) and Jose and Pep?"
If you truly believe that then I agree with Joe Clitherow, you clearly do not understand much about football. There's a world of difference and I for one am grateful that Koeman has come from a relatively comfortable position to take on the challenge and move us forward.
UPDATE: Liverpool have just gone 3-1 ahead at the Emirates – Koeman out!
Joe Clitherow
199
Posted 14/08/2016 at 17:35:19
Darren
"I think settling and being content with the draw is far more negative"
I'd agree with 100% mate, but that isn't what happened yesterday at all. The fact is, as you intimate, Spurs changed the way they played after half time yesterday and we don't have the personnel or, yes I'll say it, the fitness right now to have coped with it. We were still really good for the hour, which is when Spurs got their first chance and their goal. They pegged us back from then on.
Deulofeu didn't close down a defender just after they scored – as he had been doing really well all game by the way – and I could see Koeman get really pissed off by that straight away; it was obvious Del was getting hooked. Kone was signalled straight away – and, if you're looking for the term 'dogshit' to apply anywhere, it was when he came on.
Wasn't by design or the lack of ambition that got a point against a very good, very settled side yesterday.
New players, better fitness and more organisation will have our expectations rising very soon again, I'm pretty sure of that.
Paul Tran
200
Posted 14/08/2016 at 17:36:27
I'm possibly going out on a limb here, Darren, but I wonder whether the players, on some level, wondered where the next goal was coming from? I certainly was. Maybe that's why we retreated?
I remember Kendall's great quote from the 1985 team, 'Play the game in the other team's half.' It was great to see us do that for 45 mins yesterday. When a team does that, it's difficult for the opposition to get a foothold in the game.
With two decent strikers and a higher level of physical and mental fitness, we could be interesting this season.
Peter Fearon
201
Posted 14/08/2016 at 17:38:22
Dave Ganley (#194) Utter nonsense?
It is a matter of unassailable and indisputable fact that Everton have repeatedly gained the upper hand against difficult opposition only to squander chances, fade and allow the opponent back into the game. Clearly we did precisely the same thing on Saturday so where all this optimism comes from I don't really know. Martinez was excoriated for exactly similar results.
I agree with you a number of players need to go but alas for your deep seated contempt for our former manager, not all of them are Martinez signings. If we can hold on to Lukaku (a Martinez signing) and produce better service from Deulofeu (another Martinez signing) we may do OK.
So far, even the usually optimistic rumor mill has linked us primarily with overpriced mediocrities. Imagine if Martinez had sold Stones and bought Ashley Williams! He would have been hung in effigy.
Mark Fitzgerald
202
Posted 14/08/2016 at 18:06:49
Encouraged as I was with the performance, the game just reinforced my pre-season opinion that our squad is simply not good enough currently (just note our subs). Effort, though admirable & appreciated, is not enough. We need quality to challenge at the top of the table. And I'm hopeful that messrs Koeman & Walsh will rectify that situation.
It was telling that our two new signings were our best players. So, keeper sorted. The addition of Williams at CB will certainly upgrade us defensively (and whispers of another CB to come). DMs sorted with the excellent Gueye and the timeless Barry (I think Macca will slip down the pecking order). Bolasie will bolster our widemen ranks challenging Mirallas & Delboy to compete for the second wing..
For me we desperately need a top class striker (to play alongside, not instead of, Rom). And a top class creative presence in midfield (sadly I no longer see Ross as that player, hope I'm wrong). Those two signings, improved fitness, and more time to adapt to RK's management could see us improve dramatically.

Raymond Fox
203
Posted 14/08/2016 at 18:06:51
What Nigel and myself for that matter have complained about is the way over the top criticism of Martinez.
Many state that they didn't want him in the first place, fair enough that's your opinion, but the abuse he received before his sacking was not pleasant to witness. I accept he lost the majority of the supporters, and there had to be a change of manager and his staff, his position was untenable then.
If we inspect his time as manager, 5th in first season with record number of points for the club, second season, 11th but take into account we were playing in Europe which is generally accepted as a handicap to league form, 11th last season with the strange anomaly of good away form but abysmal home form, its not great but its far from the disaster that is purported to be.
Add to that two semi finals last season of which in the FA Cup if Lukaku had scored when he should have done on a couple of occasions the FA Trophy could well have been standing in our cabinet instead of Utd's.
All this is not relevant to Koeman's reign as manager anyway, which is what we should be concentrating on, he seems to be a no nonsense guy where the players will know whats required of them, all in all what with presumably more money to spend the future seems rosy.
I don't expect Martinez critics to change their minds but I can't see the need for all the derogatory terms when mention of his name appears in a post, Belgium don't seem to think he's as bad as some of you make out. He tried to change the style from the Moyes era to a possession based game which you have to say in his last season didn't work out well.
Criticism is legitimate, but in my eyes and no doubt Nigel's, it is, as I said before, way too biased.
Jay Harris
204
Posted 14/08/2016 at 18:23:56
Raymond
I don't think its biased to criticise what you see before your own eyes.
You have always defended Martinez against a groundswell of opinion against him.
You are entitled to your opinion but when a manager who has just got his club relegated is given a top 6 club to manage after promising CL football, backed to the hilt with finances, Lukaku, McCarthy, Kone, Alcatraz, Niasse, Robles, Delofeu etc. and then takes the club backwards at an alarming rate it is no wonder he got criticised and sacked.
As most knowledgeable people know Martinez was totally out of his depth.
We now have a genuine winner of a manager who has been in the job 5 minutes and some people are already carping.
I for one am fully behind what is going on and what I saw yesterday. We were light years ahead of where Martinez was taking us.
Jim Bailey
205
Posted 14/08/2016 at 18:29:45
Nigel @192 and Raymond @203.
As a certain John McEnroe was heard to scream, you cannot be serious.
Martinez systematically dismantled this club in order to pursue his idiotic dreams and philosophies.
Thank God we now have someone in charge who actually understands what is needed to succeed in the Premier League. Jeez, what do people like you two actually want?
Martinez invited criticism of his so-called tactics, surely even for both of you the last two seasons were a fucking disaster.

Joe Clitherow
206
Posted 14/08/2016 at 18:40:20
Raymond
A lot of the animosity towards Martinez is I think based on the blatant contempt I think he showed towards Everton fans by often insisting black was white in amongst his incomprehensible drivel. I found it personally insulting. Either he was lying through his teeth or he genuinely believed what he was saying and frankly I'm not sure which scenario is worse given what we were paying him.
As for Belgium, hardly a ringing endorsement that a national football association don't understand the game any more than it is for our own English FA. They appointed Hodgson ffs. Having said that, he may do better with an international team as his damage would be limited, not being responsible for fitness and training most of the time. We'll see but I don't give a jot to be honest.
The man was a complete unmitigated disaster for Everton Football Club and we all need to move on, but just at the moment his legacy still casts a dark shadow over us. It took him about half a season to undo the decent team he took over, I'd give Koeman at least the same length of time before we can pass proper judgement.
We all need to move on together like I said; mercenary players and managers come and go but we're stuck being Evertonians.
Peter Fearon
207
Posted 14/08/2016 at 18:40:45
Raymond Fox (203) You are 100% on target.
Martinez was naive in many ways and clearly there were things going on behind the scenes that will be in someone's memoir some day, but he did not deserve much of the vitriol aimed at him. The same people who so viciously vilified him will turn in Koeman fast enough if he is not spectacularly successful.
As for Saturday, two points thrown away at home are two points thrown away at home no matter who is in charge or which "new era" is supposedly beginning.
Dave Abrahams
208
Posted 14/08/2016 at 18:41:02
Raymond (203) you are correct that it is all about how different people see the same situation. In Martinez's case, when he came, I had an open mind about him.
After his first season, I was looking forward to the second one but became disillusioned with his methods and the way he was using the team. After he brought Howard back and dropped Robles when the lad had done well, it was obvious to me that he wouldn't take Everton to the next level upwards.
I still hoped he would turn things round in his third season but it became worse as the season went on and so did his attitude, he just refused to change his philosophy even when it was apparent that the team wasn't responding to his plans and football ideas.
He was given time and money but stuck to his game plan that was not working; he had fair chances at Everton but failed miserably.
Chris Williams
209
Posted 14/08/2016 at 18:50:33
Who cares about Martinez. He's gone and no longer our concern.
Ffs folks, let it go, will you?
Joe Clitherow
210
Posted 14/08/2016 at 18:55:06
"Imagine if Martinez had sold Stones and bought Ashley Williams!"
Nope, I can't actually imagine that happening, irrespective of how many goals were shipped, and despite the fact he had him getting splinters in his arse most of last season and running down his contract.
The fact that I can't imagine that happening is right at the heart of the huge issues most of us had with the man, namely that he couldn't see problems right before his eyes and he was certainly incapable of taking decisions that could potentially start to rectify them.
Denis Richardson
211
Posted 14/08/2016 at 18:56:26
Raymond 203 - The vast majority of Martinez' post match utterances didn't reflect what actually happened on the pitch. I don't believe he intentionally goes out to deceive people, I do however believe that he's deluded and is so over optimistic that he's incapable of living in reality and accepting that things can and do go wrong and recognising that his footballing 'philosophy' is flawed.
He talked his way into the Wigan job, managed them for 4 years and every season the team finished in a worse position than the one before. He somehow managed to talk his way into the Everton job and pretty much the same thing happened with us. Started off well then rapidly went into reverse. He really should have been let go at the end of his second season, alarm bells were already ringing loudly around December 2014.
He is truly a strange man. When you first hear him speak he sounds knowledgable and you think 'wow, what a breath of fresh air'. Problem is after a while you realise that he's extremely good at talking nonsense and always paints a rosy picture, totally ignoring what actually happened. He is either an extremely good con artist or he truly believes what he's saying and simply cannot see any negatives, ever. Some of his comments regarding the likes of Barry, Stones, Barkley, Lukaku etc were frankly just ridiculous. There was also nothing lost in translation, the guy's English is better than most TWs having lived, studied and worked here for more than half his life, over 20 years.
Belgium have hired him imo because he's got the gift of the gab and he again has managed to con someone into believing his crap. Over time they will also realise that it's all hot air (Lukaku and Mirallas seemed to think it was a joke when his appointment was announced). It'll be interesting to see him trying to explain to the likes of Hazard and De Bruyne how the game should be played.
I am truly amazed that a guy like this can get near, let alone actually get, a top managerial post. Truly demonstrats the power of convincing bullshit.
The guy is a delusional optimist with an excellent apitude for talking bollocks.
Mark Murphy
212
Posted 14/08/2016 at 19:08:02
I agree with Chris.
It's like the Tories still blaming Gordon Brown for the world wide financial crisis.
Let it go.
Tom Bowers
213
Posted 14/08/2016 at 19:20:07
Martinez has gone and so has Moyes. Both flattered to deceive and the fans suffered hard and long. We have a new era so let's embrace it and see what Big K can do.
We all know he needs time and will build his own team and strategies. Yesterday's game was encouraging against a really good team unlike the first game of last season against Watford. One swallow doesn't make a Summer even if they had won but the signs are encouraging.
Hopefully he get's Bolassie in the door and the offence can be more menacing against the better teams.
John Daley
214
Posted 14/08/2016 at 19:36:53
"This has David Moyes mark 2 written all over it. Blood thunder and running around, be happy with a point and lower expectations before any game"
Does it? I would say it has 'any half-decent manager in the fucking world not welded to an idealistic and impractical philosophy of how the game should be played' written all over it.
Preaching maximum commitment, effort and work rate isn't a mantra explicit to Moyes. It's the bare minimum any manager who is not a soft touch should be seeking to eke out of every player in his squad. You may label it 'blood, thunder and running about', but I expect most will more familiar with it under it's former name: 'the fucking basics'. The stuff you bring to the party first, that gives you a sound platform to build upon and earns you the right to play more expansive stuff without the threat of getting sand repeatedly kicked in your face every time another team proves ready to stand toe to toe. 
That Koeman has sought to instil such virtues from the outset shouldn't come as a surprise to anyone considering the amount of scorn the last guy attracted by clearly not being arsed with such boringly simplistic shite.
That three seasons of strolling about under the pretence of tiring opponents out through possession retention and preserving energy until the season enters it's penultimate stages, would take more than five weeks to filter out and replace with a readiness to run yourself into the ground, should be equally unsurprising.
The manager coming out and stating as much doesn't amount to an attempt at 'lowering expectations' but rather a simple update on where we currently stand, compared to where he would want us to be. I don't see the problem with that at all.

Dave Ganley
215
Posted 14/08/2016 at 19:40:03
Peter Fearon, Martinez got the stick he got due to the fact he didn't have a clue what he was doing. He was so far out of his depth it was untrue. He single-handedly dragged this club downwards and in the process produced some of the most mind numbing shite football that we have seen from Everton for a very long time. Even Walter Smith games were more exciting than that rubbish they served up.
I'm not going to get into the debate about who was responsible for his first season, suffice to say that when he was finally making his mark on the team we got well and truly thumped at RS and the Arsenal in the cup. The man was just an idiot and treated the fans with contempt. Good riddance to bad rubbish.
As to your assertion that as soon as it goes a bit sour for RK the same abuse will be hurled at him, well no not really. Koeman has been there seen it and done it as a player and has a decent record as a manager so actually knows what he is doing. Martinez hung himself with his own rope and as such got down the banks from the fans. I have never seen such a backlash from the fans for many years so it says a lot what the match going public thought of it.
The fans are very patient and we never saw this kind of unrest in Walter or Moyes reigns. We also won't have that kind of unrest in RK reign either. As I said he knows what he is doing and has a plan A, B, C and probably more besides. It may work and it may not but it won't be for lack of trying on his behalf. Martinez was a one trick pony and that trick was shite that's why he got the abuse and deservedly so after treating the fans like fools also.
Darren Hind
216
Posted 14/08/2016 at 19:45:38
Have to agree, Paul.
I've been interested to read a few people talking about the long-term damage they feel has been done by Roberto's prolonged presence. Our players simply don't believe. I feel yesterday's retreat was as much about mental fragility as physical tiredness. The crowd is the same; there was a real sense of "Here we go again" as Spurs piled on the pressure.
Spurs kept believing; we were lucky to get out with a point in the end.
Koeman has his work cut out, let's hope he doesn't have to rely on poor old Arouna too often...
Tony Hill
217
Posted 14/08/2016 at 20:08:00
Yes, mental fragility has been at the core of our difficulties for a very long time now. We can buy all the talent we like but if we expect to fail when the pressure hits us, then that is exactly what will happen.
For that reason, I am encouraged by the signing of Williams. He's of an age and temperament whereby he will not tolerate defeatism and I think he has been bought by Koeman to lead (I would make him captain straight away – it wouldn't shock me if Jags left us actually).
I trust Koeman who had the priceless asset of being an arrogant bastard as a player, to accompany his great talent.
Dave Ganley
218
Posted 14/08/2016 at 20:21:17
I agree with your assessment of mental fragility, Darren, but have to say that there was no sense of the crowd being the same "Here we go again" where I sit. I felt the crowd were very supportive during the latter stages of the game and they appreciated the effort put forward by the players. There was certainly no "here we go again" opinions where I was.
Geoff Williams
219
Posted 14/08/2016 at 20:32:50
I thought it was a really good first match. Every player gave 100% and worked harder than they had in previous seasons. The work rate of Barkley, Mirallas and Deulofeu for the first 60 minutes was surprisingly good.
I'm not a fan of Deulofeu but his ability to lay off balls was, at times, a pleasure to watch. If only Lukaku had the same touch. I am much more optimistic than I was eight days ago.
Dave Abrahams
220
Posted 14/08/2016 at 20:48:30
Darren (216) I was glad Martinez went at the end of last season but to blame him solely for the mental damage to Everton players is to absolve others from the past.
There is no doubt Roberto didn't help but, in the past, Moyes was just as much to blame for the way Everton players crumbled in the big games. Coming out of Wembley after the Liverpool semi-final fiasco, I met a good bluenose who said to me "We both could have wrote the script for that match" – absolutely true.
Moyes planted the seeds of doubt in all of his players who didn't turn up in lots of the important matches.
Paul Tran
221
Posted 14/08/2016 at 21:42:23
Darren, I wasn't necessarily thinking of mental frailty, though it's been with us for years. I was thinking more simply of looking up the park at Deufelou and Mirallas and wondering where the next goal was coming from.
There's been a dearth of goals preseason and yesterday's was a good ball into the box which found its way in.
Strikers, Big Ron, strikers. Nail Lukaku to the floor and find a couple more.
David Ellis
222
Posted 15/08/2016 at 04:28:56
David Barks...why do you have such high expectations? Its like saying "I expect to win the lottery". It's not going to make it any more likely that I will win the lottery.
Some facts: Spurs finished 3rd last season with the best away record in the league and were at full strength. We have n't won our first match in the league for 5 years. We have a new manager who has not yet re-built the squad (despite best efforts to bring players in before the season starts). Our main striker and right back were injured (the two positions we don't yet have proper cover for). Spurs has a wage bill significantly bigger than ours. We lost our last 3 pre-season games and Spurs were scoring for fun in theirs.
What on earth are you expectations based on? I was expecting a spanking
Bob Butchard
223
Posted 15/08/2016 at 04:55:38
When the manager went public in midweek decrying the squads fitness etc, I was expecting a slow dogged start as we saw so often under the previous manager. I was pleasantly surprised therefore when the whole team looked lively and up for it in the first half. A different attitude to start the season no doubt influenced by the new gaffer.
Spurs were made to look ordinary, not a patch on last season's form. Okay the fitness prediction came back to bite them after the break, but it is already apparent that when the team is up to speed, we are in for a complete change this season. He has unearthed a new dynamo in Gueye and a keeper who looks hard to beat.
Another three or four new additions seem to be about to join the ranks and, along with the young talent he is sure to bring through, I am hopeful to see a squad that we can back against anyone in the Premier League by the turn of the year. COYB.
Peter Fearon
225
Posted 15/08/2016 at 05:20:32
Dave Ganley (218) Repeating points in a higher octave and a louder tone is not defending them. I am not defending Martinez other than to say the intensity of the hatred cast at him is unjustifiable. He failed. So did David Moyes who only managed to avoid that vitriol because fans were content to aim their barbs at Kenwright.
If you really believe the level of football was higher under Walter Smith then I can only say the results show that to be demonstrably wrong. Some fans have to hate. The calumnies directed at Tim Howard at the close of his Everton career exemplifies that.
Andy Walker
226
Posted 15/08/2016 at 07:49:02
Peter Fearon, what point are you trying to make? Are you really suggesting you couldn't see any differences in the way we played on Saturday compared with the Martinez days?
Nigel Gregson
227
Posted 15/08/2016 at 11:45:06
"Do you even know who Ronald Korean is? Are you aware of the ambition he has shown and the achievements he has accomplished in his footballing life? Suggesting that seventhish through blood and thunder is the limit of his ambition now is misguided at best, farcically ridiculous more likely. If we cannot match that ambition he'd be off."
Joe attempting to keep this forum respectful so I'm just going ask one thing. What exactly has Koeman achieved in his managerial career that merits such a pedestal – especially in the Premier League? Are we not allowed to question his ability as a manager just because he had a great playing career?
Dave Ganley
228
Posted 15/08/2016 at 12:34:54
Peter Fearon I didn't say the football was of higher level under Walter, just that it was more exciting. I don't hate Martinez the man, this is the misconception many people have of anybody having the temerity to criticise the man. I hate what he has done to the club and how far back he has set it. Just because I choose to criticise Martinez there is no need to generalise about people electing to hate.
Why have you brought Tim Howard into this? Are you suggesting that I also hated him? Well for the record, I thought the booing of him was not necessary, it wasn't his fault he lost form and was still playing, Martinez chose to play him.
David Moyes and others didn't have such contempt thrown at them because they didn't have the resources Martinez had. They were limited managers in their own way but just weren't good enough. Martinez took over a healthy club and infected it with rotteness imo and will take a good while to rectify those mistakes and it is very trite of you to suggest that all who disliked Martinezs methods and were vociferous about it are just people who have to hate and will do so again with Koeman. It appears that you are the hater because our views differ about Martinez
Peter Fearon
229
Posted 15/08/2016 at 14:38:08
He "took over a healthy club and infected it with rottenness." Rottenness like Romelu Lukaku and Geri Deulofeu, I suppose. Rottenness like John Stones and Ross Barkley who were given the opportunity of extended runs in the side that Moyes did not give them. Rottenness like European qualification and the highest place finish in five seasons.
He ultimately failed as a manager. I don't miss him. The idea that he is totally incompetent, deceived fans, etc., etc., ad infinitum is nonsense. He enjoyed success elsewhere and he will probably enjoy success again.
We don't have to dress this stuff up with hyperbole or hatred, not for managers and players and not, as fans for each other.
David Ellis
230
Posted 15/08/2016 at 15:48:03
Peter Fearon – yes well said. I was glad Martinez left. But some of the criticism he has received is OTT.
Dave Ganley – I also agree with a lot of what you have said. Martinez oversold everything and then didn't deliver and that was a real turn off. He also bought good quality players (Lukaku, Barry, McCarthy, Deulofeu), but unfortunately had them playing a style which was unwatchable – I was unable to watch them after January this year, a mixture of boredom and terror!
Koeman does not have the management track record of the other big 3 northwestern clubs managers...but he did well at Southampton and was a super star as a player which helps gets respect from any Billy Big Balls we sign (and we just signed another in Bolasie). I also like what he is doing so far...so I have high hopes.
Let's move on re: former managers.
Darren Hind
231
Posted 15/08/2016 at 18:56:46
I know what you meant Paul. I was adding my thoughts to the belief that Martinez did long term damage.
Deulofeu and Mirallas are an ok supporting cast to a main striker, but neither have the tools to take lead role. I think the same can be said for Bolasie
I too, often wonder where the next goal is coming from, but Lukaku's presence doesnt always ease my concerns, in fact sometimes he increases them.
We seem forever Riddled with doubt, we cant see a game out because we worry we wont score any more and too often look to hold a lead rather than build on it. How many times have we invited the sucker punch because we didnt fancy our chances of scoring again ?
Dave
I agree about Moyes, but this is our fourth season without him. Surely any lingering influence he may have had has gone.
Dave Ganley
232
Posted 15/08/2016 at 19:36:23
Peter, imo he did take over a healthy club and infect it with rotteness. Stones only arrived the season he took over so it was asking a bit much for Moyes to give him an extended run and Barkley just wasn't ready when Moyes was there. He barely looks ready now. Both players regressed when Martinezs influence took over. Stones didn't even want to be here for the last year, hardly a shining endorsement to want to stay under the tutorage of Martinez. It was also no coincidence that both Stones and Barkley were the only 2 players not to feature in the euros. Both had pretty average seasons at best and weren't fit. Lukaku and Del boy are/can be decent players but del boy has shown more effort in that 1 game on Saturday than he did in a dozen for Martinez and Lukaku just stopped playing for the latter part of last season, again hardly a shining endorsement for Martinez. You just had to look at the players on the field last season to see how little team spirit there was. Martinez bought poorly In that respect and allowed a rotteness to seep in and players were playing for themselves.
To be honest Peter we will just have to agree to disagree over Martinez. Even though I didn't want him, I did want him to succeed because I want Everton to succeed. I took absolutely no pleasure in seeing an Everton team play with such little passion and guile as we showed, in fact it was painful to watch and I can't remember the last time I thought that on such a consistent basis. For me he was/is a failure. Winning the fa cup on the back of getting your club relegated doesn't constitute success to me. League form is everything and a cup win is icing on the cake. In that respect he destroyed our league form when he got his feet under the table.
Ed Fitzgerald
233
Posted 16/08/2016 at 17:53:38
Late coming to this thread and it makes for interesting reading. We all want Everton managers to succeed whatever our misgivings about them., don't we?? Martinez deserved the sack and he got it but to say that Stones and Barkley regressed under Martinez is a bit daft, as he did at least play them and one has just left for £47.5M.
I really don't give a stuff about whether we like the manager or not, we just want successful, attractive, exciting football. Spurs are a very good side and they has us on the ropes in the second half just as they did for much of the game in January when it was also 1-1.
It is time for all of us to move on from the Moyes/Martinez debate the reality is that Koeman is in charge now with a big backroom staff including a director of football, he has a big transfer budget (and salary) that neither of the previous incumbents had at their disposal. It is right and proper that we expect him to deliver success (i.e. win something) within a reasonable time frame (3 years) otherwise it will be taxi for Koeman.
Nigel Gregson
235
Posted 17/08/2016 at 03:51:28
Hear hear Ed - perhaps everything I wanted say delivered in a better way than I could.
---
Add Your Comments
In order to post a comment, you need to be logged in as a registered user of the site.
Or Sign up as a ToffeeWeb Member — it's free, takes just a few minutes and will allow you to post your comments on articles and Talking Points submissions across the site.
© ToffeeWeb