Report
Blues beaten in the first minute
By Michael Kenrick
27/11/2016

262 Comments [Jump to last]
Share: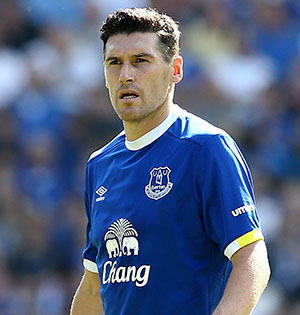 Gareth Barry returns to the starting line-up after serving a one-game ban last weekend
Southampton 1 - 0 Everton
Ronald Koeman stuck with his senior players for the game at Southampton, making just one change from last week as Gareth Barry replaced James McCarthy.
Barry returned after serving a one-match suspension last week against Swansea City, with McCarthy not on the bench. Jagielka retained his starting position as captain despite concerns over his form and an increasing number of mistakes. Deulofeu and Mirallas were benched with Lennon and Bolasie preferred despite poor performances from both players last week.
In stark contrast to Koeman's reluctance to use any of his young and well-performing Academy players, his old side gave a full debut to 19-year-old Josh Sims as one of six changes from the team that played in the Europa League on Thursday.
Everton kicked off but Southampton were at them like tigers and the ball was in the Everton net off a cross that Coleman chested down and set up nicely for young Sims, almost on the goalline but not offside, clipping the ball to Charlie Austin who had an easy last touch inside 40 seconds. Unbelievable statement of Everton's astounding lethargy and horrific defending.
The tempo of the game was far too lively for the Blues, pressed at every turn with challenges flying in, totally disrupting the slow and deliberate passing possession game Everton rely on. They did their best to settle, and Lennon got in a cross straight to Forster.
Everton resumed their slow passing game but the home side very effectively pressed them back and denied any ball into the Southampton area, the turnover coming eventually, with Redmond trying a cutback that was out of play.
Coleman pushed Redmond over a little too forcefully but the free-kick was punched out by Stekelenburg and then fired high by Højbjerg. The Saints were happy enough to slow things down a little and probe for an opening that came as Redmond picked out the diminutive Sims who could not get enough power on a free header to beat Stekelenburg.
Southampton were playing well and moving the ball around effectively, whereas by contrast, Barkley had a chance to run forward with it, played up to Lukaku blocked off by three players who easily stole it off him. Højbjerg had another pop from distance that flew a foot or two over the bar.
Everton did finally make an attempt on goal, Coleman getting to the byeline and pulling back well for Gueye whose atrocious shot will do his lousy goalscoring stats no good whatsoever.
A protracted session of pass the parcel around the back looked to release Barkley but his control let him down. Bolasie got to the edge of the area and spooned a lazy shot well wide, no real attempt to put it on target. Boalsie made amends stealing the ball back and combining well with Barkley to win a decent free-kick wide left. The ball was curled high by Baines and there was Barry at the far post, all alone underneath it, but inexplicably headed over when it looked easier to score.
Too many forward balls played vaguely in the direction of isolated Lukaku who had no chance of collecting any of them. Meanwhile, fast running by Redmond won a Southampton corner taken by Ward-Prowse and it caused havoc before being hacked way by Gana.
Everton got forward down the right but Coleman and Lukaku were outnumbered. The Blues tried a more central approach but Lukaku's pass back failed to find Barkley, and the ball was turned over for another speedy counter-attack by Southampton.
Williams and Austin had a little wrestle with each other. A more lively move started with Bolasie winning the ball back and putting in a good cross but Barkley was challenged and could only head it wide. Everton got a corner that came to Barkley, who laid it back for Gana, and another atrocious strike from the non-scoring midfielder — shameful really — bringing another shockingly poor half for the Blues to a painful end.
The early pattern of the second half was not too promising, the ball coming back to Stekelenburg twice for hoofs up-field that were repeatedly won back by Southampton. The ball did finally come to Bolasie but he could not get in a decent cross and Gana was fouled.
Southampton seemed to have so much more space and accurate passing as they surged forward and won an early corner, taken by Ward-Prowse, through a group of Blue statues, Højbjerg slashing it behind off the post. Sims then had a shot that Stekelenburg had to save.
Gana decided to run the ball in, a driving run stopped illegally on the edge of the area, Lukaku stepping up to take the set-piece that he lamely whacked well over the bar. Poor from the big man.
Gana gave away a free-kick for holding Højbjerg from behind. Bolasie picked up the ball and scampered forward, beating Van Dijk but he lashed the ball while stretching and it flew wide. Bolasie was showing more energy but Gana's ball to Coleman was horribly overhit, wasting the opportunity.
Then, the Saints made a fine cross from nothing, superbly headed by Austin, and superbly saved by Stekelenburg. Another home corner and Austin came very close to his second again. The hour mark... but no sign of any predictable subs by Koeman.
Better play finally saw a shot on gaol, an acrobatic one from Bolasie, straight at Forster. Deulofeu replaced Lennon, but Southampton still looked the more likely to score, Everton still looking lethargic. Baines shockingly mugged buy Sims who scampered down the other end but misplaced his final ball.
Bolasie tried to curl one in but it landed on the roof of the net. Mirallas then place Barkley who had had a rather poor game, not really expressing himself as we know he can. Redmond came close as time ticked away with Everton still trailing.
Jagielka did well to contain Redmond and dispossess him and the Blues got forward to p[play in a couple of better crosses but no attempt on goal. Bolasie was fouled by Højbjerg, the kick curled in by Baines, winning a corner that was headed away but Everton were finally applying something akin to pressure on the home side.
But at the other end, Sims got well forward, a fantastic cross clipped away by Baines, then a shot parried by Stekeklenburg, crossed for Austin to finish Everton off but he could only stab it wide.
A deep cross and a fantastic point-blank save by Stekelenburg. Bolasie scampered away from the corner but refused to pass to Deulofeu, then lost the ball cheaply. Mirallas got behind the defence and pulled back for Coleman but his shot on goal was blocked as Valencia came on for Baines, Koeman's final change.
The young Sims, who had run Everton ragged, and set up the goal from Austin, was withdrawn to a standing ovation from the home side. Everton attacked with more desire but equal end-product as the home side tired into the last 5 minutes.
Bolasie tried to make something from the left but Southampton were not going to give up easily and were always ready to push Everton back into their own half. Mirallas went on a run but could not cross effectively. Long replaced Austin.
Deulofeu pulled out an excellent cross from the left that Valencia headed inches wide. Stekelenburg launched a great ball fro Lukakau who played Mirallas in for a run at the Saints goal but his return ball was too far ahead of Lukaku and the chance evaporated. Jagielka defended well to contain long as it became more and more frenetic.
Jagielka lumped the ball forward and it came down to Barry but his shot was tamely driven at Forster. The whistle finally went and Everton were soundly beaten from the kick-off, despite the flattering 1-0 scoreline, because it could easily have been far worse. Koeman failing miserably to do the business with the players he has at his disposal.
Southampton: Forster; Cedric, Fonte, Van Dijk, Bertrand; Højbjerg, Romeu, Ward-Prowse; Redmond (79' Clasie), Sims (84' McQueen), Austin (89' Long).
Subs not Used: Taylor, Yoshida, Rodriguez, Reed.
Everton: Stekelenburg, Baines (82' Valencia), Jagielka (c), Williams, Coleman, Barry, Gana, Bolasie, Barkley (70' Mirallas), Lennon (65' Deulofeu), Lukaku.
Subs not Used: Robles, Cleverley, Funes Mori, Holgate.
Referee: Craig Pawson

---
Reader Comments (262)
Note: the following content is not moderated or vetted by the site owners at the time of submission. Comments are the responsibility of the poster. Disclaimer
Craig Mills
2
Posted 27/11/2016 at 15:55:13
Considering how shit they were against Swansea, I was expecting a bit more than Barry in for McCarthy...
Brian Porter
3
Posted 27/11/2016 at 16:01:23
How the hell does Jagielka warrant a starting place? I'm losing patience each week with Koeman. No imagination, no attempt to freshen things up.
Funes Mori played in all our good games at the start of the season and in our last win and last clean sheet against West Ham. That should be telling Koeman something...
Patrick Carty
4
Posted 27/11/2016 at 16:02:55
Nice to see a bit of youth been given a chance... 😠
Keith Monaghan
5
Posted 27/11/2016 at 16:10:17
I too would have put Funes Mori in for Jags – his 1st team starter days are drawing to a close.
I would also have put Mirallas & Davies in for Lennon & Barkley. Whatever people say about Mirallas, he's our most likely goal threat after Rom, and Barkley just isn't at it – has no vision, slows our play down, and gives opposition defence too much time to organise and mark up tight.
A morale-boosting win is desperately needed – COYB.

Peter Gorman
6
Posted 27/11/2016 at 16:23:22
From BBC: Southampton boss Claude Puel has been explaining why he has handed a Premier League debut to 19-year-old winger Josh Sims.
"He's a good young player. He's played some very good games for the Under-23s. He has the maturity and it's a good chance for him."
Looking at our line-up, I can't help feeling a tad envious of Puel's thinking and wish some youthful exuberance would come in and shake the first team out of their collective puss.
David Hallwood
7
Posted 27/11/2016 at 16:23:34
None of the young lads on the bench – but hey ho... 2-1 for us!
Don Alexander
8
Posted 27/11/2016 at 16:34:29
Well, Dave Halewood, they've delivered the first part of your prediction in just 40 seconds.
Phil Greenough
10
Posted 27/11/2016 at 16:36:54
This is getting harder to handle every week.
Colin Hughes
11
Posted 27/11/2016 at 16:43:29
Why is it that Everton never start a game at 100 miles an hour? Always start pedestrian in a game until it's too late; it's so hard winning games from behind in this league.
Max Murphy
12
Posted 27/11/2016 at 16:44:17
Shit. My bet is down inside a minute.
Peter Gorman
13
Posted 27/11/2016 at 16:45:10
Perhaps inspired by Unsy and the U23s Goodison sleepout, the seniors are making a fine effort doing their own at St Mary's.
Christy Ring
14
Posted 27/11/2016 at 16:45:54
Another woeful start, total contrast in the hunger and drive from Southampton, and our lethargic effort.
Paul Setter
15
Posted 27/11/2016 at 16:47:17
Watching Everton is like pulling teeth. We are absolutely poor... such a bang-average mid-table side.
Mike Dixon
16
Posted 27/11/2016 at 16:51:52
I watched Arsenal before this rubbish. Cavernous the gap.
"Champions League" said Baines... Deluded.
Ciarán McGlone
17
Posted 27/11/2016 at 16:53:57
Bland, thoughtless and plodding.
Roger Helm
18
Posted 27/11/2016 at 16:57:00
We look like a team of journeymen not very interested in the game.
Mark Rimmer
19
Posted 27/11/2016 at 17:00:48
They just seem a lot more up for it. We'll have a bit more of a go second half but the game will end 2-0 or 3-0.
Ray Smith
20
Posted 27/11/2016 at 17:01:35
I thought playing a pressing game was performed in the opposition's half of the pitch!
Max Murphy
21
Posted 27/11/2016 at 17:02:56
Absolutely atrocious. Out-thought, out-played and out-Koeman!
Ralph Basnett
22
Posted 27/11/2016 at 17:03:20
Southampton manager standing up watching the game. Koeman sitting down, hands clenched watching his fucking feet, says it all really!!!!!!!
Colin Hughes
23
Posted 27/11/2016 at 17:16:37
No goals in this team... in fact, on doing some research, we have not scored 4 in a match in 2016, something West Brom, Swansea and Palace have just achieved this week and the Red Shite do every other week.

Roger Helm
24
Posted 27/11/2016 at 17:19:31
Well, we can only get better, Southampton only scored one, and we had some chances. We will win 2-1.
Jeff Armstrong
25
Posted 27/11/2016 at 17:20:58
And what have we got on the bench? Same old shite to replace the shite already out there. Koeman has no imagination, at least give yourself some different options on the bench! FFS!!!
Peter Hadwin
26
Posted 27/11/2016 at 17:23:12
I do not understand how, after such a poor display against Swansea, it is McCarthy that carries the can. Not even on the bench. Yet Cleverley makes the bench ahead of Davies. Uninspiring selection and then a terrible 1st half.
We need something inspired in 2nd half. Koeman must take a lot of responsibility. Jags looks shot and our team looks sluggish.
Dean Williams
27
Posted 27/11/2016 at 17:23:15
In the illustrious words of Thunderlips (Rocky 3), "All fake meatball". That's exactly what Koeman is.
I thought he spoke shite at his one-man show at the Titanic last week. And he's proving me dead right, he has absolutely no passion or desire to succeed at our great club.
If he's using us as a stepping stone, he's not doing a great job of that. Give me a thimble of Klopp's passion ahead of this fool.

Mark Morrissey
28
Posted 27/11/2016 at 17:24:54
It's hard to know where to start with this. All I can see is a half-arsed team. Comfortable in their own skin doing very little for a lot of money.
Quite what our gameplan is, I can't see. Same team, same dross, same "non"-gameplan. If you can't raise your game with people like Koeman and Duncan Ferguson in the dressing room, then I'm at a loss as to what you need?
Just lethargic dross. I expect 3 changes at half-time.
Nev Renshaw
29
Posted 27/11/2016 at 17:26:51
What a bunch of over paid prima donnas we have. Give me Joe Royle's 'dogs of war' any day.
Andy Crooks
30
Posted 27/11/2016 at 17:30:42
Absolutely abysmal. Devoid of energy, guile and confidence. That was as bad as it gets. Pedestrian, passionless, predictable.The team selection was spineless and craven.
Christopher Dover
31
Posted 27/11/2016 at 17:30:47
Watching Everton has become a chore again!
Slow... putting it mildly, they do not talk to each other obvious the way Barry was dispossessed with no call from team mates.
Why Koeman does not at least try something different, I don't get; it cannot be much worse than what's happening now.
All I can hope for is they try in the second half but I'm not holding my breath.
John Parker
32
Posted 27/11/2016 at 17:30:53
Unbelievable. Jagielka, Lennon and Barkley stank the place out last week and they start again and at half-time, like the rest of them, have been woeful. I hope they prove me wrong 2nd half
Patrick Murphy
33
Posted 27/11/2016 at 17:32:38
We couldn't have wished a worse start to the game but I do think some of the observations on this thread are over the top. With a little bit more skill and luck, Everton could be leading 3-1 at half-time.
I'm not saying it's a good performance but, at the moment, what we're witnessing is probably as good as it gets with this current group of players. Lukaku is THE problem and would be the problem in most Premier League teams.

Mike Allen
34
Posted 27/11/2016 at 17:33:21
What the fuck has changed??? A fucking shambles of a team and a manager... he must see the same lack of effort from the same players, week-in & week-out.
Body language is there for all to see yet same faces turning out the same dross, absolutely nothing to build on, slow in thought, slow to move, another goal conceded inside the six-yard box.... and worst of all, no motivation.
Christy Ring
35
Posted 27/11/2016 at 17:33:29
Have to change the formation, and put Mirallas or even Valencia upfront. Lukaku is a lot more dangerous with a 2nd striker. Change it.
Dean Williams
36
Posted 27/11/2016 at 17:44:40
Koeman, you tool... show a bit of passion.

John Charles
37
Posted 27/11/2016 at 17:50:03
Is hard to believe that we chased Koeman. This is worse than Martinez when at least we could attack ,and worse than Moyes when at least we could defend.
This is mind-bogglingly poor.
John Hammond
38
Posted 27/11/2016 at 17:53:23
It's just hit-and-hope stuff; it's embarrassing. No movement, no-one seems arsed. Barkley doing the same thing over and over again: losing possession from a tackle or a poor pass; Jags has been terrible today.
Dean Williams
39
Posted 27/11/2016 at 18:02:22
Zero Fucking imagination.

Ciarán McGlone
40
Posted 27/11/2016 at 18:10:20
Barry, Lukaku, Barkley, Bolassie. Utter cack today.
Andy Meighan
41
Posted 27/11/2016 at 18:17:24
Patrick (#33) always got a lot of time for your posts. But that's an outrageous thing to say – we could be 3-1 up. You don't really believe that, do you?
We are an embarrassment. Slow, ponderous, lethargic and players who don't give a flying fuck about them lads and girls who have travelled a long way and spent a lot of cash to witness that shite. I'll be delighted if we snatched a draw or unlikely win. But, I mean, come on...
Colin Hughes
42
Posted 27/11/2016 at 18:17:53
If it ain't bad enough watching us these days but the RedShite are firing on all cylinders and are one win from another cup final and in the title race. Sad sad days.
Christy Ring
43
Posted 27/11/2016 at 18:19:03
Now is the time to play our younger players. We have nothing to lose. Barry is finished, Baines past it. The senior players have no desire or bite.
John Charles
44
Posted 27/11/2016 at 18:21:18
Man Utd, Arsenal and the RS to look forward to in the next month.
Merry Christmas from all at EFC.
John Parker
45
Posted 27/11/2016 at 18:21:24
Useless, Spineless, Gutless, Clueless.
Anto Byrne
46
Posted 27/11/2016 at 18:22:43
Total Dross.
Dave Ganley
47
Posted 27/11/2016 at 18:24:17
Fucking useless. And to think that some on here thought this was the best squad since the 80s... ffs. Martinez started the rot and it's just carried on.
No heart, no vision, no fucking hope. Absolute pile of shite. Makes Moyes's teams look like Barcelona.
What I wouldn't give for a Cahill, Arteta or Pienaar – players who actually gave a shit and could actually play.
Peter Gorman
48
Posted 27/11/2016 at 18:25:16
Is anyone running a sweepstake on which player will be wheeled out midweek to tell us all it just isn't good enough?
Roger Helm
49
Posted 27/11/2016 at 18:27:44
We basically need a whole new team, starting with a proper centre half. None of our players would get into a top six side. Why not play the kids? How do you know if they will make it if you don't give them the chance? That young Southampton lad played a blinder today.
I think Koeman has given up on our squad, except for those he brought in himself.
Colin Hughes
50
Posted 27/11/2016 at 18:28:49
Remember Lineker saying on MotD about four or five years ago "be careful what you wish for" regarding fans wanting Moyes out. What we would do for a team with Moyes-like stability now.
James Byrne
51
Posted 27/11/2016 at 18:28:52
It's becoming very difficult to make excuses anymore under Koeman.
That performance was terrible and it appears to be consistent. We look like relegation fodder.
Max Murphy
52
Posted 27/11/2016 at 18:29:03
I believe that performance was worse than any under Martinez. This is Everton FC in name only. This is not a team I can support when I see utter dross. Every player to a man is crap.
Karl Jones
53
Posted 27/11/2016 at 18:29:13
That was terrible. Get Koeman out ASAP. There's no fight or energy whatsoever in this team and the signings he's made have been just as poor as what we've already got.
At least under Martinez we were able to hit teams on the counter and looked like we could score. Under this clown we don't look like we can score against anyone, no matter how bad.
He's got to go. Give Unsworth and Royle another go at least until the end of the season and get some pride back.
Ernie Baywood
54
Posted 27/11/2016 at 18:29:17
Obviously shit and I could pick apart the tactical side if I could be arsed but the biggest issue is that we don't have goals in this team. For all the poor play, we still had plenty of the ball in their third. Yet only managed a single shot on target in the 93rd minute.
I watched that Austin header and it occurred to me that we don't have a single player who could produce that.
We are waiting for the money. That's Ron's big plan. The players are playing like they're waiting for the money. We're watching a club that, from top to bottom, doesn't really give a fuck right now.
Teddy Bertin
55
Posted 27/11/2016 at 18:30:18
Everton, I'm bored. I'm dangerously bored. So bored that, for the first time in my life, I'm looking at the RS with genuine envy.
The team has no energy, no passion, to flair, no vision and no plan
Bolasie couldn't hold down a place in the Palace team (the worst side in the Premier League).
Lukaku doesn't want to play for us and it shows.
Mirallas's attitude stinks yet he thinks he's too good for us.
Barry, bless him, is finished.
Baines looks very, very average.
Coleman slightly better but way off his peak.
Jageilka has lost confidence and looks a real liability.
arkley has two great feet but no stamina and no footballing brain (he'll never be Gazza because he can't read the game).
Valencia is a joke.
Kone is a joke.
Niasse is a joke.
We are a joke.
Peter Cummings
56
Posted 27/11/2016 at 18:30:31
I don't think Koeman should be sacked; he should do the honourable thing and resign asap.
Patrick Murphy
57
Posted 27/11/2016 at 18:32:48
What did we learn today? Probably that the players actually do care but are just not good enough in key areas of the pitch. We are all guilty of expecting something from this team that they are just not capable of, ie, flowing football, good understanding and razor-sharp decision making.
If the young players were put into the white-hot atmosphere of the Premier League with the current senior players, they would be ruined for life. I can't wait for the transfer window – not for the addition of new players but, on current form, we might have to wait that long to celebrate a victory.
On another day, we may have taken a point at St Mary's but that's the best this team can hope for on most away days. There was no lack of effort – as some believe – out there today, they just aren't good enough and I would argue not fit enough either.
Anyway, on to the next match, to see if we can find another unique way to surrender the game before it's got going.
Teddy Bertin
58
Posted 27/11/2016 at 18:32:54
But no, Colin, I would have Moyes back. Have you watched Sunderland?
Christopher Dover
59
Posted 27/11/2016 at 18:33:06
Arr well... three easy games to come – for the opposition. If we get one point out of nine, we will exceed my expectations.
Yes, Koeman needs time but, for the sake of us fans, do something to change the team – it's not working game after game... please try something else before we all (or most) give up on this season.
Paul Burns
60
Posted 27/11/2016 at 18:33:20
Same mistakes over and over.
Koeman's useless; if we hadn't've won early points against shit teams, this season would have 'relegation' written all over it. It still might with this unfit, gutless, clueless squad.
How has it come to this? Action is needed NOW.
Dan Davies
62
Posted 27/11/2016 at 18:35:55
Indefensible really. Cue mass hysteria...
Tony Hill
63
Posted 27/11/2016 at 18:36:45
This is very worrying indeed. I genuinely cannot see us beating any side at the moment, and I can see us being beaten by most. There is nothing at all which offers any hope and that is the simple truth.
I am one of those who had thought that we could re-build and be patient but there is something rotten at the core and it is obvious that Koeman doesn't know what to do.
There are some very serious alarm bells ringing.
George Cumiskey
64
Posted 27/11/2016 at 18:36:58
Utter surrender, worse than at Chelsea, we have got to get rid of the fucking cowards from our club, starting with Barkley and Lukaku.
People are saying we need 2 or 3 new players we need 5 or 6 or we could end up fighting relegation.
And let's not forget good old Ronald keeps picking players who are having nightmares – where's Davies – is he injured?
Has anyone seen all season one pressing game, which he keeps talking about??!?!
Jonathan Miller
65
Posted 27/11/2016 at 18:37:58
Poor again! One shot on target! The team looks disjointed and lacks any creativity or penetration. I've no idea when the next win will come but, unless we bring in a game changer in January, we could be in a relegation battle.
Andy Meighan
66
Posted 27/11/2016 at 18:39:18
All I keep hearing about Koeman is how his honesty is refreshing Absolute bullocks. Let's see how straight talking the coward is tonight, explaining another abject performance away. Fucking embarrassing...
I feel ashamed to call myself a fan. God help the poor souls who travelled all the way down there today. Let's see if honest Ron apologises to them. Not a chance.
How the hell is Bolasie warranting a place, week-in & week-out??? He's shite. Then again, he's not alone. 6 or 7 are as bad every week.
I said the start of the season, we won't finish in the top half of the table, and I'll be right. And please don't tell me it'll be okay come January... It won't. He wouldn't know a good footballer if it smacked him in the face. "Give him time..." My arse. I'd give him something but it wouldn't be time.
Patrick Murphy
67
Posted 27/11/2016 at 18:40:36
One shot on target is a misleading statistic, that was certainly relevant at Stamford Bridge but not today as there were plenty of chances created that weren't taken.
Barry's header in the first-half and Gueye's two miscues were good if not very good chances and if any team fails to make the most of those types of chances they will struggle to win matches.
Andy Ellis
69
Posted 27/11/2016 at 18:42:08
Truly dreadful, a complete clear-out required. Not one player in that squad is worthy of the shirt, a total disgrace. Koeman can do one un all, what do they do all week?
We have no direction, do not play as a team, just all-round abysmal. Should refund the fans who went today and the Chelsea game, feel for them.
David Mosses
70
Posted 27/11/2016 at 18:43:02
What can you say about that? Total crap... only one player had a decent game and that was the goalie. Everyone else were pathetic, Barry, Barkley, Jagielka, Baines, Lukaku, even Gana was off the pace.
I'm slowly losing patience with Koeman, his game plans are simply not working. I know he inherited shite but to be honest he should have them playing better than that. If he can't get them playing better then we really are in for another poor season.
Roll on, January – let's see what he brings in.
Max Murphy
71
Posted 27/11/2016 at 18:45:07
Patrick (#) "Probably that the players actually do care" –You really think so? Standing around waiting for the high ball to land at their feet instead of challenging for it; watching space instead of marking players in the box.
And you comments about young players was completely contradicted by the performance of Sims, who ran Everton ragged.
Why should our club have to rely on transfer windows? After the dross we got last time, I would stick with the young players and make Unsworth manager.
Paul Wilcox
72
Posted 27/11/2016 at 18:48:34
Koeman's a fraud. Time to get shut.
Joe Foster
73
Posted 27/11/2016 at 18:48:58
Last season, I thought "Well, it can't get any worse at least."
Oh, by fuck – it can... it really can.
Andy Crooks
74
Posted 27/11/2016 at 18:49:58
Ridiculous and utterly pointless calls for Koeman to go. I will not try to defend what was an utterly abject show from players and coach but he has been manager for a few months and inherited a squad that had been coached by, in my view, the worst coach in our history.
I would like Koeman to be bold, I would like young players to be given a chance, but everything now is about immediate results and Koeman is being ultra cautious.
I don't like what I am seeing any more than most Evertonians, but, our coach is not being sacked and the idea that he should be is insane for multiple reasons.
We are, again, crawling towards 40 points but the man with the money has picked his coach and I think and hope that time will show he is right.
Teddy Bertin
75
Posted 27/11/2016 at 18:50:27
Way worse performance than under Martinez by way. Didn't dominate possession, didn't hit Southampton on the break, didn't play any nice football and we were outplayed by an average side.
Dave Bickley
76
Posted 27/11/2016 at 18:52:41
Thierry Henry, re the Lukaku penalty:

"Why give it because no Everton player appealed".

They just can't be arsed! Lazy, lethargic shite!
Brian Williams
77
Posted 27/11/2016 at 18:53:42
There just HAS to be something fundamentally wrong at the club, has to be.
For a team of players, of the level of quality that we have, to perform in such a way for the last three weeks now, at least, there has to be something going on, or going wrong, behind the scenes.
There's no other explanation for a performance lacking in EVERYTHING that's needed to win a football match.
We've played two teams in the last two weeks who were lacking in confidence and lacking in wins and both of those teams have been better than us in every department.
Something STINKS!
Sean Patton
78
Posted 27/11/2016 at 18:53:58
How can you be 1-0 down after 40 seconds to a team that were playing away in Europe on Thursday night?
A shameful display from one of the most heartless uninspiring clueless teams in Everton history with a manger who just sits there and watches on impassively.
Geoff Evans
79
Posted 27/11/2016 at 18:54:35
Anyone making excuses for this shite deserves them and each other.

Andy Crooks
80
Posted 27/11/2016 at 18:56:03
Paul, yes let's get shut and fork out millions in compensation. Let' s appoint, err, who? Then let's sack them after 12 games and pay out more.
I like what I'm seeing no more than you but, for fuck's sake, losing at Southampton is not the end of the world.
Richard Reeves
81
Posted 27/11/2016 at 18:56:15
Not the man for the job, I'm afraid. I'm sure we'll improve but with a lot of money needed as he won't bring through the youth.
I suspect, at the end of the three years, we'll be around fifth, sixth or seventh with a squad of late twenty-year-olds, leaving the next person the job of building for the future.
Frank Kearns
83
Posted 27/11/2016 at 18:58:26
P45s all round... useless, dis-interested, more concerned about their hair styles than Everton.
[I'm angry, in case you haven't noticed.]
Dave Lynch
84
Posted 27/11/2016 at 18:58:52
If I was Koeman, I'd have Unsworth in my office first thing Monday. The conversation would go something like this:
"Right Dave, go through your squad with me and point out the lads who could do me a job better than the garbage I have at the minute.
"Oh! by the way, sorry about this but you'll have the useless bastards who are replace in your squad next game."

Patrick Murphy
85
Posted 27/11/2016 at 18:59:12
I really do despair with some viewpoints on this site at times how come Everton FC only appoint 'cowards' as managers? Moyes, Martinez and now Koeman have all been labelled that by sections of the fan-base for what reason? Because they are unable to make average Premier League players into top class performers?
I can understand the vitriol after games like last week and at Stamford Bridge but today, whilst it wasn't always easy on the eye, it was better than in those two previous games. It seems that, if Everton fail to win, blow the manager out, blow the players out and anything else associated with the club.
Like all the rest of the Goodison regulars, I'll be there again next week, hoping and wishing that this team can nick a victory and get out of this rut, but all the vitriol in the world won't make any positive difference to the result and, if we're not careful, the thing we least desire may become a reality.
What happened to the defiance in the face of adversity that we as Evertonians used to display? When did we as a fan-base start to believe that changing the manager every five minutes would lead to what we all want?
I don't know if Ronald is the real deal or not, but until he has had at least half a season in the job, we have to be a little more patient. If you want to take your ire out on anybody at the club, it should be the directors and owners of the club – they are the real decision makers and they set the standards for the club or at least they ought to.
Ron Sear
86
Posted 27/11/2016 at 19:01:24
Utterly abysmal. Computer programmers need to do a rapid update of those apps where you score the player so they include include minus numbers for the player who actively aids the opposing team. In this match, it would be easy to score Everton minus 5 for every Everton player bar none.
John Davies
87
Posted 27/11/2016 at 19:01:52
A big job to turn this team around.
Koeman will spend big in January and he will have to. We need to sign at least 3 starters, a centre half a No 10 and a wide right. Holgate has to play right back next week.
Jags, as good a servant as he has been,needs leaving out. Barkley give us nothing today except slowing the counter attacks down.
We don't have the players to play the system we start with. I am confident in Koeman's ability to turn it around and remain positive in the long run.
If he gets it wrong in this window and the summer that will be time to look at it differently.
George Cumiskey
88
Posted 27/11/2016 at 19:02:04
Andy @ 74 – did you watch the match or did you just hear the score?
Andy Crooks
89
Posted 27/11/2016 at 19:02:22
Brian (#77), what quality are you talking about? There is not one of them within a million miles of being Champions League quality. They are an overrated shower of shite and I own up to the fact that I have overrated them. There is not a man among them and I suspect that Koeman is starting to realise that.
Terry Hayes
90
Posted 27/11/2016 at 19:03:24
Just listened to Koeman's post-match explanation when asked why Everton always start slow: "Well it's Everton – we gave the ball away and they scored... erm... we were better in the second half though..."!!!
Wow, now I understand why we paid the 6 million quid. The man's a football genius!!! Lucky for us we didn't go for Conte or Klopp... phew! !
Rob Williamson
91
Posted 27/11/2016 at 19:03:46
Those of you – like me – who think that Davies and some of the other youngsters should be given a chance... don't hold your breath. In his post-match interview Koeman said,
"I wasn't aware of Josh Sims when I was here."
If that is symptomatic of his views on the use of youngsters, then it looks like we are going to be stuck with Dad's Army for some time yet.
Sam Hoare
92
Posted 27/11/2016 at 19:04:08
Pretty appalling display that. Being out fought and out thought by a team that played away in Europe on Thursday night.
We are on a turgid run at the moment and I can't see what Koeman has tried to stop it. Same players, same tactics (or lack of clear plan). Surely the likes of Davies and Holgate or whoever might at least offer some energy.
Things look very worrying at the moment and I'm just glad we had those 4 wins at the start of the season as there aren't many teams playing worse than us. Hopefully Ron can earn his corn and turn it around or this season will disappear into mid table scrapping (or worse) very soon.
Andy Crooks
93
Posted 27/11/2016 at 19:05:48
George, look at my post #30. It was poor but the coach is not being sacked.
Andy Ellis
94
Posted 27/11/2016 at 19:06:30
Patrick Murphy (#85), I really do despair if you think that was better!
Phil Walling
95
Posted 27/11/2016 at 19:07:04
Andy, what makes Moshiri an expert 'picker of coaches'? Before he came here, he'd had no frontline experience of top class football – he was just a minor investor in Arsenal who'd had the same manager for 20 years.
To me, Koeman is a boring plodder of which we've had more than a few. Of course he can't be sacked but I think Moshiri is far from the genius he was hailed.
Geoff Evans
96
Posted 27/11/2016 at 19:09:57
Teddy (#75): We've been getting outplayed by average sides for the last two-and-a-half seasons, so what's new.

Patrick Murphy
97
Posted 27/11/2016 at 19:11:13
Being an Evertonian, I have to find something positive even if it's only to say that the pile of shite isn't quite as stinky as it was the last two occasions that I saw it – that's all I'm saying, Andy (#94).
But I do get the feeling that some people are happier when Everton are a complete car-crash and they almost hope that it gets worse in order to prove they were right about whatever point they want to make.
Tony Hill
98
Posted 27/11/2016 at 19:11:54
Andy (#80), it's not though just about losing at Southampton. Like you, I would stick with Koeman but there is something badly wrong with the team and the atmosphere at the club. You can feel it in the Goodison air when you go to the match.
Our spirit and soul have disappeared and we are a shell. There may be more to this than meets the eye but anything we say on here is going to be speculative in that regard.
My first practical step would be to drop Jagielka and to appoint a new captain.
Tony Draper
99
Posted 27/11/2016 at 19:13:18
Dave @84.
YES ! Yes, he definitely should.
However, why waste Rjino's (Dutch spelling, OK, my typo) time training seasoned pro's who blatantly can't be arsed? Why should Rhino be saddled with them? Why should WE be saddled with them ?
And my apologies, Dave, if this appears in any way as a criticism of your comments, it most definitely is not.
Christy Ring
100
Posted 27/11/2016 at 19:13:18
Slow, pedestrian, no drive, Lukaku isolated, and on his own upfront. Absolutely nothing has changed since Martinez left, except we create less chances now. SHOCKING.
Mike Powell
101
Posted 27/11/2016 at 19:13:28
What was that that I have just watched??? Because it wasn't football.
Absolute fucking disgrace to Everton FC. I don't think I can go anymore... I can't take it. I will go as far and say we are the worst team to watch in the Premier League. We will get destroyed by Liverpool.
We need a new team – never mind 5 or 6 players; we need at least 10 – the only player I would keep is Barkley... every player around him is utter gash.
Anyway, thanks Everton, for ruining another weekend. You go back to your mansions while I have to go and do 12 hours listening to all the RS fans given it loads.
Fuck Of... I've had enough of this garbage.

Nicholas Ryan
103
Posted 27/11/2016 at 19:14:35
Sorry, but Terry Edam has to go.
George McKane
104
Posted 27/11/2016 at 19:16:07
When things were going really badly for Kendall – we had just lost 3-0 to Liverpool on a Sunday – the first thing on Monday morning he appointed Colin Harvey as Coach, demoting his best mate (just forgotten his name).
Decisive Management – knowing what he was doing building an Everton team with Everton ideals.
I want Koeman and Moshiri to show some courage, bravery, initiative and management skills.
Do something NOW – it's falling apart.
Geoff Evans
106
Posted 27/11/2016 at 19:16:34
Rob 91: PANIC!

Mike Green
107
Posted 27/11/2016 at 19:17:02
We simply don't have enough players who look like they've got a point to prove. Too many players in the autumn / twilight of their careers, too many with their thumb up their arses waiting for a move, too many who think their days are numbered so they're going to wait and see, too many waiting to see who comes in in January to see if we're a club worth getting up for on match day and giving a shit and too many who seem to think a game is going to just go and win itself on its own.
They are one of the highest paid football teams in the world and have discounted the possibility of ever winning anything so why fucking bother? And who the fuck is Ronald Koeman? He's obviously not grabbed them by the boo-boo has he? Have a run out, pick up the money, turn up for training, switch off, go home, do just about enough safe in the knowledge you are made for fucking life. Amateurs.
Clive Rogers
108
Posted 27/11/2016 at 19:18:25
Can't Koeman see that Lennon is not trying.
George Cumiskey
109
Posted 27/11/2016 at 19:20:06
Andy, I just read your post at #30... exactly right, but truthfully can you see a flicker of light at the end of the tunnel? I can't.
Craig Fletcher
110
Posted 27/11/2016 at 19:20:06
Just read this on the BBC website from Koeman's post-match interview:
"I wasn't aware of Josh Sims when I was here and he is not my problem – I work for Everton, not Southampton."
Now, given that Koeman was only at Southampton less than six months ago; how is it that he was unaware of, obviously, one of the most promising Under-23 players Southampton have got?
Certainly lends credence to the perception that Koeman is shy on giving promising youth players a crack in the first team.
Peter Gorman
111
Posted 27/11/2016 at 19:21:25
Patrick, not read all the posts but the managers tend to get branded cowards when they persist with the same old shit tactics and players instead of doing something non-cowardly (i.e. brave) by shaking up the system or the personnel.
You talk about defiance in the face of adversity? Mate, the adversity is self-inflicted by players who visibly don't have any professional pride, so who can we be defiant against except ourselves? Which we are being by voicing so much displeasure.
Your point about some fans being happier if the side is a car-crash is pretty baseless, I doubt it gives anybody much pleasure in being able to predict with uncanny certainty that we are shite.
Paul Olsen
112
Posted 27/11/2016 at 19:22:39
What worries me most is the fact that I fail to see what Koeman actually wants from his players.
I see no signs of an attacking plan except thread the ball along sideways and hope Rom gets a chance.
What is his grand plan? Are we going to be a pressing team? Passing? Counter-attacking? There is no sign that we are working towards any sort of vision of how we are supposed to appear on the pitch.
If we were playing football manager, this would be a side where nearly no-one scored more than a 5 on the off-the-ball stat. Anticipation and vision is also sorely lacking in this team. How does Koeman plan to address this?
Peter Gorman
113
Posted 27/11/2016 at 19:24:09
And can we edit the title of report to 'Blues beaten before the first whistle' to provide a more accurate impression to our dear readers.
Colin Glassar
115
Posted 27/11/2016 at 19:26:03
I wrote the other day, on another thread, that these days I watch Everton with utter indifference and with an out of body experience. This, my friends, is not my team. I no longer recognise this shower. This bunch of fakes. This group of charlatans.
This lot are unrecognisable from the great teams of the past. Even our really crappy teams of the early 70s, 90s and more recent times, at least showed some effort. This pile of wet turds should be ashamed of themselves, and ashamed to wear the shirt.
I hope their coach breaks down on the way home, in the middle of nowhere, and they spend a freezing night thinking of their pathetic and abject display. I also hope they give a thought for the 1000s of poor sods who travel all over the country watching this shite. People who have real jobs, real difficulties and real lives. These twats live in their little bubbles worrying whether to buy a gold Bentley or a Silver Rolls. They don't give a toss about the fans and they show it.
I'll never give up on Everton but this lot make it so difficult. As for the manager, either buck up or fuck off. This is now beyond a joke.
Raymond Fox
117
Posted 27/11/2016 at 19:27:54
I'm not very impressed with Koeman, he does seem resistant to change anything, the jockey can't win without the horse though.
The trouble with the performances is down to the players in the main, they're simply very ordinary.
Martinez was crucified on here for two seasons, now it's Koeman's turn. You won't solve anything at the club by sacking managers, it's the players who want sacking!
Paul Olsen
118
Posted 27/11/2016 at 19:30:34
Lukaku needs to prove his 㿲 million price tag today. There was plenty of crosses, he failed to come close to connecting with any of them. He always appears to be one step behind the excellent Van Dijk (Man of the Match by a country mile).
Charlie Austin on the other hand looked much more like a 㿲 million man today, of course alongside a more determined set of teammates. He at least managed to carve out some very good chances on his own.
John Graham
119
Posted 27/11/2016 at 19:31:05
I think they have already began their Christmas celebrations. No hunger, no enthusiasm, no teamwork, no guile, no confidence... and last of all – no spine. The only thing they would be good doing at the moment is the mannequin challenge.
Only one player stood out: Stekelenburg – and if we were a decent team he wouldn't have a chance to.
Maybe they need a night or two out camping in the freezing cold to liven them up.
Nicholas Ryan
120
Posted 27/11/2016 at 19:33:18
"...Shocked, stunned, amazed, bewildered are just some of the emotions, we are feeling today "
These were the words of a Monty Python sketch, about a spoof election result. Sadly, they seem a perfect fit, for the current EFC malaise.
There will always be the odd game, when, inexplicably, nothing goes right but when you have 3 games in 4 like that, then something is drastically wrong!
Mike Green
121
Posted 27/11/2016 at 19:33:53
Brian (#77) – I think you're spot on. It feels like everyone's treading water at the moment and bit by bit going under.
Tom Hutton
122
Posted 27/11/2016 at 19:35:03
You would have thought with a later kick off that the early Christmas lash-up last night would have been out of their system. Is there any photos of the 1st team having a tab at half-time?
The wife and the cat disappeared upstairs after about 45 seconds and stayed there for the duration, apologies have been made and accepted!
Over riding memory was in the 54th minute, Van Dijk controlling the team, directing where the ball should go and somehow Southampton managed to string 3 or 4 accurate passes together. Not sure if they practise that sort of thing but maybe we could give that a go during the week?

Paul Setter
123
Posted 27/11/2016 at 19:35:08
Rotten to the core this club. Inept chairman, a manager no better than his predecessor, a striker who thinks he is something considering Champions League quality, an awful falling-apart stadium... the list is endless.
I wasn't confident before the game and I'm certainly not confident with our next 5 games. It's become a chore supporting this club, needs something drastic happening. Youth maybe... I don't know... but it's not pretty at the moment and needs refreshing.
Damian Wilde
124
Posted 27/11/2016 at 19:36:11
Patrick Murphy, you think it's acceptable Koeman never gives youth a change e.g. Holgate & Davies? Let's be honest, they could not do any worse, yes?
We have an average squad, but Koeman should be getting more out of them. Poor side, poor manager.
Koeman gets ٤ million a year. Disgrace.
We're an utter shambles and he presides over this.
Simply 'NOT GOOD ENOUGH'.
Tony Abrahams
125
Posted 27/11/2016 at 19:39:01
If the first pass doesn't go backwards, then the second pass definately will. Not a team, just individual players, out on that pitch, with very little movement, and even less energy.
Not much has changed, Bolasie tries, but he does very little to bring others into the game, and everyone waits for Barry, to try and get on the ball.
We are so static it's painful, and if the manager doesn't try and change something soon, then I'm not sure I would want to give him any money in January, because this inflexibility, and same old, same old, we are witnessing at the minute, doesn't fill me with much confidence in the man.
Max Murphy
126
Posted 27/11/2016 at 19:39:18
Colin (#115) - well said. I coudn't agree more.
This manager and team make a complete mockery of:
"Nil Satis Nisi Optimum".
Colin Glassar
127
Posted 27/11/2016 at 19:40:39
Sad to see the demise of Baines, Barry and Jagielka. All great servants to the club but to see them puffing and panting today, getting caught out of position, arms flapping, losing out on almost every 50-50 ball etc just brought home the rebuilding job we need to to do. But to do so we need a manager with courage. Does Ronald have it or is it just Dutch courage?
I can (barely) excuse these three today as age has obviously caught up with them but their teammates have no such excuses. Spineless, cowardly bottlers. Today most of them were as useless as being in a brothel with a limp dick.
Scott Hall
128
Posted 27/11/2016 at 19:40:49
Colin Glassar, I feel exactly the same. Not one of these players looks like they are trying. Lukaku won't even need to shower before he gets changed.
I was never a Moyes fan but mostly, and of course there's always the odd game, but mostly the players at least tried during that 11 years. Effort can overcome quality at times, but quality means nothing without effort.
This lot? They don't give a fuck. And I include Baines and Coleman in that. Those two used to break their necks getting down the line and would pump crosses and pull backs into the box. Nowadays, they just jog a little and say "Fuck it, I'll give a square ball."
Going through the motions is all this team does.
Jimmy Hogg
129
Posted 27/11/2016 at 19:42:31
Team works hard but looks clueless. No pattern, no passion and no aggression.
Put Barkley, Jags and Bolasie on the bench. We need an injection of young hungry players until reinforcements arrive in January. We just don't look capable of scoring a goal.
I thought this season was going to see Mirallas back to his best, but he gets messed around too much.
God help us for the next three games.
Kevin Tully
130
Posted 27/11/2016 at 19:50:02
Oh my. I very nearly had a 'connery' watching that first half. The advert at half time for walking football for the over 50's was like a re-run of our first half highlights.
Something seriously wrong in that dressing room. Either most of the players or the manager will be the victim of these gutless performances come the end of the season. Disgusted with all.
Patrick Murphy
131
Posted 27/11/2016 at 19:50:13
Damian (#124),
Everton FC, like most other clubs, only give youth a chance when they are outstanding talents, such as Rooney or Barkley, or when they have no money to spend and are forced to do so, as happened in the past at Everton FC.
Could it be that Koeman doesn't want to throw youngsters into the mix too quickly because he wants to protect them? Or could it be that he doesn't want to give his current favourites any excuses for their failure as a team? Or could it be because he doesn't think that any of the youngsters are better than those currently in the first-team?
I don't know the answer but I do get the feeling that we are all being taken for mugs by the current board and they would be quite happy to see the wage bill reduced and the transfer expenditure lowered as they 'plan' an ambitious ground move which may or may not come to pass.
Aston Villa tried to promote youngsters instead of buying ready made Premier League players and it didn't do them any good at all.
The salary of the manager is not important, if he was on 𧴜m a year and we were running away with the league we wouldn't worry about it. The board make these decisions on behalf of the club; if they overpay their staff, that's their problem and it doesn't really matter because the TV money covers it.
Phil Walling
132
Posted 27/11/2016 at 19:51:21
Colin @115; we had some 'right up and downers' during the reign of the the last manager who you were far more patient of than I, but this time we sing from the same hymn sheet.
Koeman is a disappointment in that we all thought his impact would be far more positive and immediate. Trouble is, these players will no more play for him than they would for Roberto and he knows not what to do about it!
But the difference this time round is that, like you, I don't give a flying duck. Unlike so many younger Evertonians, my life was blessed by seeing – and feeling almost a part of – the teams of Catterick and Kendall Mk 1 so perhaps that was my ration of football perfect.
I'll still back them to win but without expecting any return on my stake. But, when I go home, there won't be anymore wasted Saturdays in the Sports Bar in Pafos as I play The Lone Evertonian crying in my beer!
Mike Oates
133
Posted 27/11/2016 at 19:51:23
I'm not saying our youth are good enough but at least give one or two a try, in place of the deadwood there at the moment. Will Koeman do it, NO, he has no interest in youth.
How the hell can he say he doesn't know Sims, the youngster who tore us apart today? He is 19' he was there the last few seasons Koeman was in charge, he is an English Youth International, and yet Koeman doesn't know him – a terrible indictment of a man who will not take a chance with the youngsters. If I was Davies, Holgate, Dowell, Walsh I'd been asking for a transfer.
Barkley – you've had your many chances and you've not improved, you slow play down, you can't win the ball, you can't keep it, you don't link play – goodbye!
Tony Hill
134
Posted 27/11/2016 at 19:55:55
The body language on the bench was not encouraging, was it? A look of total resignation, I thought.
I hope Patrick (#131) isn't correct and that Ronald doesn't feel that he's been sold a load of bollocks by the new regime. No doubt Jim White will tell us.
Ian Riley
135
Posted 27/11/2016 at 20:00:49
No fight or desire. Very worrying. Thank god for our good start to the season. I actually can't see us improving until tactics change or new players are brought in.
Unacceptable by our players. If not work hard for the manager, do it for the fans.
Not one aspect of our team has improved under Koeman. We can't defend or attack well and we have no desire.
I want a winter break now!!!
Kevin Rowlands
136
Posted 27/11/2016 at 20:02:08
Not sure why this result is a surprise. Southampton are a better team than us, full stop.
I'm willing to give Koeman the benefit of the doubt right now because four of his five signings have been our best players so far and the fifth one was desperation right at the end of the window, not his fault.
The sooner Lukaku, Mirallas and Deulofeu are shown the door, the better, and Jags, Baines and Barry pensioned off asap please. Koeman knows he inherited shite; I'm willing to give him the next two windows to get rid of it.
Paul Birmingham
137
Posted 27/11/2016 at 20:06:31
Another very piss-poor performance... and it's echoing the last 2 seasons. Definitely no chemistry and no backbone and no captain. Time to wield the axe and offload the lacklustre lazy arses who are wearing the EFC shirt.
It's forbidding what we now face and desperate times mean desperate risks but surely get some of the U23 midfield in and play another upfront with Rom. We must be the easiest team to play against and our defence is a joke
So... time to build survival plans as our permanent 7th slot won't last too long. Groundhog Day amidst a lifetime of this and tbh 30 years since we were at the races!

Tony Twist
138
Posted 27/11/2016 at 20:07:01
Koeman gained his coaching badges with the manager genius that is Ruud Gullit so he ain't going to be the greatest but I did expect more from him than what we are getting.
I expect a higher-than-average manager to already change things and assess and then change things again if needed. He has done nothing.
His man management skills have been found wanting with numerous abject performances of late. This team suits the manager, very very lazy.
You bring in youth to show up the first team regulars... maybe even to push the first teamers to up their game.
At the moment, I blame the manager but there are few first team players who have performed consistently enough to be considered worthy enough to wear the shirt.
Anthony Hughes
139
Posted 27/11/2016 at 20:11:39
All and sundry amongst us knew the last transfer window should have been the time for mega investment in the squad.
Koeman must have known the squad wasn't up to it and serious moves should have been made to sort the squad out. We spent fuck all in the summer and now we are paying the price for it.

Paul Smith
140
Posted 27/11/2016 at 20:12:17
Just back from St Mary's... never known the away fans so bereft of energy and passion, just like the Everton team really.
I've no idea what to think anymore.
Patrick Murphy
141
Posted 27/11/2016 at 20:14:27
Ian Doyle in the Echo writes:
The ongoing Americanisation of Great Britain has continued apace with the arrival of Black Friday to these shores in recent times. And Everton have been guilty of taking the concept of handing out cheap gifts a little too literally.

In the last two years, the passing of Black Friday has prompted the Blues to embark on a run of form that has seen them win only one of their next 10 Premier League games. Last season, they dropped 21 points in that period. The previous year, the tally was 24.

This campaign, of course, Koeman's side haven't even bothered waiting for the sales pitch.
Oh dear can we cancel Christmas?

Colin Glassar
142
Posted 27/11/2016 at 20:15:38
I hear you, Phil. I've been an Evertonian since I was five years old.
I watched the '66 final with the wide-eyed innocence of a child. I cried after Geoff Astle ruined my first real FA Cup Final.
I walked with head held high after winning the title in the 69-70 season. I cringed under the latter years of Catterick and Bingham. Had my hopes raised under Lee only to be dashed... and so on and so forth.
Like you, I've experienced the sweet, sweet taste of success and glory. I've also lived through years of pain and anguish. But this shower of excrement don't deserve my time. They don't get us and neither, apparently, does the manager.
This is unacceptable. This goes against everything we stand for. You might be a crap footballer with little or no talent but, ffs put in some effort. Show some fucking pride in what you do. Be men and not some arse-licking ponces.
Everton have been in decline for almost 30 years now and for the life of me I can't see who can stop it. Koeman looks clueless, the players don't seem to give a toss. Maybe Moshiri can call his mate Jim. Maybe he can fix it.

Chris Perry
143
Posted 27/11/2016 at 20:17:33
Just got back home, a relative 20-minute journey. My god... how shite were we? Ross is not a Premier League midfielder... too slow, too predictable.
Jags is past it, as is Baines... and then we have Lennon. I actually thought John Lennon played, he was that slow, clueless and lethargic. Only Deulofeu and Mirallas showed any willingness.
Don't get me started on Bolasie, 㿈 million? My fucking arse... absolute shite and more to come.
Jay Harris
144
Posted 27/11/2016 at 20:17:42
It seems to me that the team spirit that Moyes painfully built up has been demolished by his successor. I get the impression that, under Martinez, cliques of players formed and the finger-pointing started.
Since the Norwich game, the same scenario seems to be prevalent that the players are only playing for themselves and will not put themselves out for the team.
Koeman needs to get a grip of Lukaku and show him that he has to hold the ball up better. He was second to almost every pass today and don't get me started on his heading ability or lack of.
I personally am with Patrick and Andy Crooks in stating we must be patient. It took Kendall Mk 1 around 18 months of dross before his side came good and we all know what happened after that. There are no quick fixes now – just ask Man Utd who have been through 3 top managers in 3 years and still not improved despite spending around 𧷤 to 400 million in that time.
The problem there was similar in that cliques of players were at work behind the manager's backs.
Allan Board
145
Posted 27/11/2016 at 20:20:21
This lot have taken the piss out of the fans for nearly 3 years now. I have every sympathy for all Evertonians who still part with their very hard-earned cash only to have the ultimate insult aimed at them – players who don't care or try for them.
Just for one game, don't go, and let the wankers play in an empty ground.
Michael Lynch
146
Posted 27/11/2016 at 20:20:36
Statement of intent from Koeman needed. Drop half the team, bring in a few kids. But it looks to me that Koeman doesn't actually think we're that bad. So it's same old same old for the rest of the season. Fucking great.
Jan Sear
147
Posted 27/11/2016 at 20:21:47
Another pathetic performance. Have we really moved on from the Martinez era? I don't think so.
A weak, inept display by the team was epitomised for me by many things. I was particularly surprised at the wearing of little, black gloves by a number of players on what was, after all, a reasonably warm day. I'm a 71-year-old avid fan and rarely wear gloves even in winter, so why on earth supposedly fit young men do so is a puzzle. What effete wimps!
Perhaps they need to work more on their basic skills and start to produce a valid and effective team pattern, rather than showing what spoilt brats they really are.
As a previous contributor has said, people are spending hard-earned money and sacrificing all sorts of other pleasures to watch young millionaires prance about, show little commitment to the team ethic and, in some cases, merely turn up to collect extremely high salaries.
Sorry to be so negative.

Anthony Hughes
148
Posted 27/11/2016 at 20:22:35
We need ridiculous amounts of money spending on this squad. We probably need 4 or 5 㿔 million pound signings for the first team and a couple of 㿀 million back-up players. Pottering around with loan deals and unknown foreign youngsters isn't going to get us anywhere need the top four.
The problem is, who would want to sign for us? And I'm not sure if I trust Koeman to mould such a group of players into a team.
Julian Exshaw
149
Posted 27/11/2016 at 20:25:37
Through my 46 years of supporting Everton, I have lived for every game. As soon as one games ends, I can't wait for the next one, changing plans, letting people down in order to see the boys in blue... these days admittedly via tv/internet, living on the continent as I do.
Today I sat down at 5:30 pm as per usual, trawling through the web looking for a site. The only difference to the last 46 years being (apart from technological advances) that I found myself not caring if I missed a minute or two, or even a half.
Having found a link (via ToffeeWeb as always), I saw that we were one down already. Instead of f-ing and blinding at Mrs E and my pug, I just sat there somehow expecting it and knowing that we were never going to win. I endured the rest of the game, my only consolation being that I knew every other blue who adores our beloved Everton was feeling the same.
What I can't get over, though, is my almost "couldn't care less" attitude and my resignation that we were doomed to defeat. I don't know who to blame for this... what good does blaming do anyway?
The lack of passion in our team seems to be slowly spreading to this fan, at least. It won't take a lot to get it back; a rocking Goodison Park under lights next week as we slaughter Man Utd would do the trick. The sad thing is, I just don't see it happening.
Phil Rouse
150
Posted 27/11/2016 at 20:26:50
The only positive note that for me was that I never bothered to get up at 4:30am to watch this shite. At least last season we knew where the back of the net was!!!
Clive Rogers
151
Posted 27/11/2016 at 20:27:25
Some of Koeman's signings are beginning to look like bad buys.
Bolasie at present is little better than Niasse. Williams was the wrong age to play alongside a 34-year-old. Neither of them can get off the ground for crosses and both are sluggish on the turn.
Gueye, although good as defensive mid is not a good fit alongside Barry as neither score many goals. He has only got 7 in his whole career, and none in the Premier League. He won't get an easier chance than today's and Barry is fading fast.
Valencia must be poor if he is only worth playing for the last 5 minutes when desperate.
Michael Lynch
152
Posted 27/11/2016 at 20:28:39
The Telegraph:
"It was such an impressive team performance, in fact, that you struggled to pick out one outstanding performer. And so naturally the eye was drawn to Sims, the latest product of the academy Koeman so famously spurned when he was in charge. For all his success on the pitch, Koeman's distrust of the club's youth production line opened up a major faultline with the club's upper brass. There is a certain irony, then, in the fact that the youth and vigour of a player like Sims is what his side so badly lacked here."
Nail on the head there.
James Flynn
153
Posted 27/11/2016 at 20:32:27
This first season of the new regime, unfortunately, means get to 40 points. Because Koeman is right, it
WILL
take three years.
The players DID try today. Nonetheless, we're into our third straight season of being a bottom-half team. And it showed.
Jags, Baines and Barry, God bless the the three of them, are finished. They have no part in Everton's future. Mirallas and Delboy, too. Yet all five will be featured this season.
McCarthy, Lennon, Cleverly. They'll be featured too. We add paycheck collectors; Gibson, Kone, Besic, and Niasse.
This first season of the new regime, unfortunately, means get to 40 points. Because we're about to see a major transition. And it WILL take three years.
Dave Abrahams
154
Posted 27/11/2016 at 20:36:27
I said on a thread this morning, I would be wary of playing too many young players at the same time in the first team.
I never saw the game but listened on the live forum and, judging by way most fans who saw the game are reacting, I would have no hesitation in selecting Kenny, Davies, Holgate and Walsh next week,. They couldn't do any worse than today's players and I would guarantee they would give twice as much effort.
It's hard to see where Koeman is going with this team and why he is persevering with mostly the same players and the same system, although to be honest I can't see what that system is.
What I can see is it is hard being a Bluenose and has been getting harder with every season since you know who took over and no sign of him letting go of the club.
Alan McGuffog
155
Posted 27/11/2016 at 20:38:43
Has anyone, employed by Everton Football Club, over the last 30 years, truly given a flying fuck?
Anthony Hughes
156
Posted 27/11/2016 at 20:38:48
Why are we surprised by Bolasie though? Yes he's quick but for an attacking player he has a very poor goal scoring record. Why would it be any different here?
Williams is what he is — a 32-year-old stopper; is he an improvement on Stones?
Steklenburg may or may not be our No 1... we don't really know.
The Valencia loan was desperation.
Gueye, whilst he has a good engine, has no goals in him
On the whole, a transfer window fuck-up really. It will be very interesting to see what happens in few weeks when the window opens.
We must know who the players are we want and we need them in in the first week of January. None of this last-minute shite again when we already could have shipped points in the league.
Ernie Baywood
157
Posted 27/11/2016 at 20:40:36
I'll happily call Ronald a coward. I think he would argue he's just doing his job.
He's in a position where he is expected to finish mid-table unless he is given significant funds. Mid-table isn't a struggle in this league, there's more than enough dross underneath us.
His approach seems to be to absolve himself of responsibility until the money is available. It suits him to trot out the same shite as he can then blame previous management. If he changes things too much, it will be on him.
In any business, if you offer anyone a huge amount of money with limited responsibility, they'll take it. And they won't be deliberately pushing to be held accountable for their performance.
That's our mistake – we've hired a very senior guy and not challenged him to do anything. This season will be painful. We'll tread water because that's exactly what we've set out to do. What we see on the pitch is precisely aligned with our entire club's approach.
So we wait for the money. There's nothing else to do. It will be frustrating for those of us who actually give a fuck. If and when the money comes we'll be able to judge them again... and we'll lose a year or two in the process.
Tony Abrahams
158
Posted 27/11/2016 at 20:41:28
I think post 112 by Paul Olsen, pretty much sums it up.
Paul Conway
159
Posted 27/11/2016 at 20:42:33
Julian (#149),
I hear what you are saying. The same for me. I used to be shit scared of going to the toilet while watching Everton, for fear of missing a goal. Now, I have no fear of taking a dump during the match, knowing that, if a goal is scored, it's most likely against us, or the added bonus of us scoring... very unlikely!
It's a kind of Russian roulette that I have devised to break from the excruciating performance that we call football. >I have already stated in an earlier thread, that the only goal threat we could pose is if the opposition were all on rohypnol... highly unlikely!
James Power
160
Posted 27/11/2016 at 20:44:40
A sequence about a third of the way through Southampton season last season
L L D L L W L L
From match day 13 to match day 20
Then
W W W D W W
So it has happened before with Koeman and he righted the ship. Perhaps he can do the same again? So in the words of Jerry McGuire, "Who's comin' with me?"
No?
Mark Murphy
161
Posted 27/11/2016 at 20:49:05
Fuck off, Everton!
45 years a blue and I've never ever before thought after 1 minute that it's game over!
We are fucking shite! Get rid of all except Seamus.
Patrick Murphy
162
Posted 27/11/2016 at 20:49:39
James (#160) – that means we'll beat Man Utd, Watford and Arsenal, draw with the other lot and win against the reigning champions and Hull.
Not good enough – we need to beat the dark side.
Stephen Brown
163
Posted 27/11/2016 at 20:51:42
For Koeman to have any credibility now, he has to make 6 changes at least for the next match! That type of pathetic performance cannot go on!
We have been shit for 2 years plus but continue with the same 4-2-3-1 formation EVERY match! Do we really need two defensive midfielders?
Colin and other posters are so correct – I've never felt so disconnected with these players! And please please don't roll one of these players out this week with some sort of scripted shit about 'putting it right' 'learning our lessons' – it's all bollocks!
No interviews, less talk more action!! Davies, Holgate, and Dowell must be given a run!
Rob Nunn
164
Posted 27/11/2016 at 20:52:11
Julian. Don't stay up late. I am in Bali and as much as it is a magical, mystical place, it will always be spoiled by yet another inept performance by the team that pronounces "nil satis nisi optimum" on its badge but displays a performance that shows nothing of that character.
Koeman – a dour Dutchman bringing worse than dour performances to our team. At ٤M per year he should be embarrassed to pull a pay check this month. I know I would be far too embarrassed to do so.
It is not the players. It is our uninspiring manager with his comfortable salary with all the dull Dutch food he can eat. Can't we see he gets fatter as we fall further down the table?
Colin Glassar
165
Posted 27/11/2016 at 21:02:49
Julian E, ditto mate. I lived and worked abroad for many years in the pre-Internet age. I saw Everton win the Cup Winners Cup on a black and white telly on the Caribbean coast. I had to wait two days to find out if we beat Man Utd in the FA Cup Final because I was in the middle of nowhere.
I used to anxiously await my mum sending me the pink Echo every couple of months to catch up with the news. I'd put them in chronological order and read then from back to front, including the ads and the birth and death notices.
I have lived, eaten and breathed Everton for as long as I can remember but I've never, ever been so disappointed (and turned off) as I am now. We are on the box again next week but as that old hag used to say, am I bovvered?
Colin Malone
166
Posted 27/11/2016 at 21:04:37
Unfucking believable. I cannot believe the stick Jags is getting. I watch week-in & week-out Jags giving so much passion.
I watch Lukaku, I'm too angry to put into words... Shite, is one word.
James Power
167
Posted 27/11/2016 at 21:06:16
Patrick, they are all the dark side.
Anyway, onwards and sideways, er, upwards. Come on, gentle beings, it's okay, or not, just remember if you feel bad about this, we are all going to die in the end.
Feel better?

Paul Conway
168
Posted 27/11/2016 at 21:08:04
Colin Glassar,
'A limp dick in a brothel' – not forgetting the whore being paid for by Everton Supporters!
Just to add... I already stated on another thread that these tossers should reimburse the fans who paid for a shirt in good faith with their name on it!
Also, on another thread, I stated that, under the Mike Walker and Walter Smith eras it was dire but we didn't have the same expectations that we were going to be taken out of the shit by the scruff of the neck with an injection of dosh.
Now, we are waiting on the parting of the waters, with all the wonga (err, em, supposedly!) at our disposal. I, like you, experienced the boyhood fairytale, and then the mid-eighties. But watching that shite today, all that seems light-years away.
Now, my only disappointment is for the younger generation of fans who have been starved of success and possibly ridiculed by their peers for having chosen a sad package which is EFC!
Tony Abrahams
169
Posted 27/11/2016 at 21:13:20
Fair enough James, but I just want Everton to win something for my kids before I go!
Tony Draper
170
Posted 27/11/2016 at 21:17:38
Call yerselves EVERTONIANS?
Grow a set of hairy bollocks!
Bloody disgraceful pretending to be proper Blues.
The team has performed poorly (they did) then the majority here has displayed fuckall loyalty, but did so deliberately.
Damian Wilde
171
Posted 27/11/2016 at 21:33:10
Patrick M:
I din't mean sticking all the youth in, just the odd one or two. We couldn't do any worse, could we?
I see that Koeman wouldn't play the youth at Southampton.
What is your opinion on Koeman's performance so far?
Brent Stephens
172
Posted 27/11/2016 at 21:36:14
Mark #161 "I've never ever before thought after 1 minute that it's game over!"
That's about the worst part of it, Mark. Knowing a miserable 89 minutes is probably to follow. With every ticking second, every misplaced pass, every tame challenge just confirming it.
Individually and collectively inept.
Colin Glassar
173
Posted 27/11/2016 at 21:41:54
Tony D, do shrivelled hairy bollocks count?
Brent Stephens
174
Posted 27/11/2016 at 21:43:10
And I do believe, maybe naively, that most of the lads were trying today. Maybe that's the worst part of it.
Duncan McDine
175
Posted 27/11/2016 at 21:52:24
Just got home from the game... how shit was that?
I was at Chelsea too and I honestly don't know which game was the worst. On this form, we'll be sliding down to the foot of the table quite rapidly.
Jags and Barry were as bad as I've ever seen them. Gana and Ross were both very poor.
Koeman looked as disinterested as the players. Southampton were crap but never really looked under pressure. Can't get much worse...
Mike McLoughlin
176
Posted 27/11/2016 at 21:56:59
I have to say, I am not yet convinced Koeman is the man to take us forward. I thought the team was poor last week against Swansea where they started very pedestrian and the same has happened this week. There was no change in the football played, worse in fact.
Defence is in disarray, the midfield non existent and Lukaku not getting any service and any danger he posed being snuffed out by superior numbers. The team showed no passion or pride in the shirt.
What I don't feel from Koeman is passion for the club. You look across the park and Klopp has oodles of passion about the shite and it shows on the field. Koeman shows nothing of this passion.
If he doesn't show passion for the club how can he instill it in the players. Like I said, the jury still out on Koeman as, up to now, he looks quite unremarkable.
Christy Ring
177
Posted 27/11/2016 at 21:58:58
Baines had a shocker. The amount of crosses from the right, without a challenge in sight, was unbelievable.
Stephen Brown
178
Posted 27/11/2016 at 22:05:27
Sad to see Baines, Jags and Barry today! They looked exactly what they are – players well past their best! The average age of the team is clearly a factor in the poor form!
The young lad Sims playing for Saints had everything we didn't, ie, enthusiasm, energy and played like he enjoyed it! It makes it all the more mystifying why Davies, Dowell etc aren't given a chance as they they can't do any worse
Dave Williams
179
Posted 27/11/2016 at 22:10:44
A very similar performance to the Chelsea game with the big difference being that Southampton weren't as good at creating and taking the chances afforded by our team.
We fail at the very basics – it's simple stuff and they did it better than us: ball control, passing to a colleague, moving off the ball to make the next pass simple and forward, moving towards the ball to take a pass rather than wait for it to arrive and have it nicked by the opposition, tackling harder, more aggression in challenging for balls in the air, marking the opposition in the penalty area. This is the basic stuff we were all taught as kids and quite what we do in training baffles me because it sure as he'll isn't practicing the basics!
The back 4 is way too old with 3 of them past 30 and we still lack a defender who is dominant in the air. CM is second to most balls, can't create, can't pass forward and allows the opposition too much space to pass and move. The wingers are not midfielders but rarely beat a man (Bolasie did a few times but with no end product), Ross started okay-ish but did nothing after half time and Lukaku stood and waited allowing their defenders to take the ball before it got to him.
So disappointing and I just want to know what are we doing in training all week and why does Koeman not play Davies and Holgate cos they both look ready to me! I'm not calling for Koeman's head at this point but it is all genuinely puzzling me why he allows us to play exactly the same every week. If we do this against Klopp's shower, the 0-4s of Roberto's reign will look like good results!
Andy Meighan
180
Posted 27/11/2016 at 22:12:42
Colin (#166), put Jagielka up for sale in January and see how many clubs in the Premier League come in for him.
"Shows so much passion" – what a fucking idiotic statement! He's been a decent servant and that's it. Him and Williams shouldn't be anywhere near our club. Two slow old men.
Kurt Knight
181
Posted 27/11/2016 at 22:12:57
One thing that stands out to me about the game is Jags. The man just played like he was tired.
His twilight I believe is now, much as I want to like him as a person. It's time for a change at his spot and leadership.

Patrick Murphy
182
Posted 27/11/2016 at 22:20:26
Damien (#171), I can't give an honest answer to your question because I don't know what's in his mind or what he hopes do with the current players in the long-term.
On the positive side, I'm hoping he is just giving the current players enough rope to hang themselves but that is probably being kind to him at the minute.
On the negative side he seems to be persevering with the same formation with the same players, give or take the odd one or two.
Martinez, persisted with the same players, playing the same formation week-in week-out so from that perspective nothing has changed and in some respects we are getting worse.
If I was Koeman, I'd tell Jags to find a new club in January, and one or two others too. We're not going to get into Europe via the league this season, so we have to write it off from that perspective. Considering we are almost half-way to safety I would put a couple of youngsters in the side; Davies alongside Gueye for example. Holgate at Right Back with Coleman on the wing who couldn't possibly do any worse than Deulofeu, Lennon et al. I'd ditch Barkley to the bench and put another player up front with Lukaku.
Personally, if I had the money and owned the club I would tear a few players contracts up, pay them off and allow them to leave on frees in January. Then I would give the manager a points target and tell him if he failed to meet that target, he's out of a job.
Drifting along, hoping something turns up, seems to be the way Everton FC has operated for so long, it's beginning to grate on all of our nerves and there seems to be no wish by those in power to change things.
Perhaps a relegation might be the best thing to happen to Everton FC because it might wake the club up to its issues.


John Charles
183
Posted 27/11/2016 at 22:22:11
The call for patience or "it will take at least 2 more windows" is fine apart from the history of the last window.
A keeper who is Howard-lite, capable of great games and great gaffs.
A centre-half to mirror the one we already have... are Jags and Williams the slowest pair in the Premier League?
A center-mid who started great but has not shown much since the Man City game, and even when playing well, offers little going forward.
A winger with pace to burn but no plan or end product.
And a forward loaned in desperation.
Doesn't inspire confidence that the next 2 windows will solve our problems.
Andrew Clare
184
Posted 27/11/2016 at 22:25:56
We are well and truly in the wilderness.
Like Leeds, Sheffield Wednesday and Wolves. Season after season of nothingness. I know we are in the Premier League and they are not but that's the only difference.
Yet another season without a trophy, We are just fading away.
Ray Roche
185
Posted 27/11/2016 at 22:28:51
Did anyone notice Jags, towards the end, go to take a throw in and Coleman(?) wanted to take it. Jags just threw the ball down and his whole nature seemed to be "Fuck you", to no-one in general as he ran back.
There is something very wrong at Finch Farm. If there is any sort of team spirit I'll show my arse in Lewis's window. We could see under Martinez a split from the hierarchy and coaching staff but this, to me, appears to be throughout the team.
Someone on the live thread intimated that it was probably because Koeman has removed the cushy life they enjoyed under Roberto, and maybe that's the case, but it needs to improve.
Ciarán McGlone
186
Posted 27/11/2016 at 22:38:09
Koeman gets handsomely paid to analyse and rectify the issues. His solution is to pick the same players in the same positions.
Let's not beat about the bush (because he certainly wouldn't)... he's been shit so far.
These are not terrible players. That's a convenient justification. And neither is this malaise Roberto's fault.
I don't think he should be sacked. But it's time to stop making stupid fucking excuses.
He's paid to do a job and he's failing miserably.
Mike Connolly
187
Posted 27/11/2016 at 22:38:23
I can't remember a worse captain than Jags. Alan Ball would have been ripping into them all on the pitch. However, maybe not this team. It's too old, slow and no enthusiasm.
Our once brilliant overlap full back Baines has even lost it . He gets well up the pitch and passes it backwards. I think we're in deep shit at the moment – hope I'm wrong.
Dave Williams
188
Posted 27/11/2016 at 22:40:53
I agree with the comments re Jags. He has been a great servant to the club, never quite got back to his former level after his injury just before the FA Cup Final against Chelsea, but he now looks slow in thought and deed and flustered.The entire defensive aspect of the team seems to lack pace, power and aerial ability and I can't remember the last time we dominated the opposition's attack.
This is a young man's game and five of our starting eleven were over 30 with a couple of them well over 30!!
There comes a time when you get to that age and it becomes difficult to cope with players who are younger, stronger, faster and most importantly still have that desire and aggression that tends to fade a bit with time. It happened with Tim Cahill at the end and to my mind Jags and Baines are there now and probably Barry too though he might have a bit left yet.
Dave Williams
189
Posted 27/11/2016 at 22:48:14
Mike,
I recall Bally hitting Keith Newton on the pitch for a bad error in a game which was perhaps not great captaincy but showed a passion and will to win which seems to be sorely lacking in this team. I remember Rats doing the same to Pat van den Hauwe for a similar error and Grobellaar thumped one of the RS for the same.
Where are the players who care now and who can drag the performance levels up during a game? Moyes gets stick on this site but he always looked on fire during a game and clearly cared passionately – I don't see that in Ron... yet!!
Clive Mitchell
190
Posted 27/11/2016 at 22:55:44
We can all recall Everton sides that this lot aren't fit to serve dinner to – but let's just stay in the modern era to make an assessment of the side we saw today. West Brom gave more in the first five minutes against Burnley than Everton did in the match against Southampton. So did Burnley against Man City.
Everton's effort and fight and force are not up to Premier League standard. And if the manager's not at fault for that, what exactly is he responsible for?
Derek Thomas
191
Posted 27/11/2016 at 22:59:11
Ray @ 185; Koeman may have removed the cushy life – but he hasn't replaced it with anything. It's not to far away now to say that both ON and OFF the field we may even be worse than last season.
How to earn 6M quid; Baring Injury/suspension keep your basic 8 average/under performing outfielders the same then shuffle any 2 from 4 under performing wingers.
They draw the 3rd round of the FA Cup soon... there will be 63 teams thinking 'Everton, home or away – don't care'... In fact, make that 64 teams (for 2 different reasons) who seem to think: 'home or away – don't care'
Moshiri – Get your head out of the Plans for Bramley-Moore Dock for a minute and take a serious look at what the fucks going on here... and while you're looking keep in the back of your mind that sometimes it's better for all to admit early on when you've made a mistake rather than drag it out... or at least put Koeman on notice of what you are thinking.
If standing still is going backwards then wtf are we doing?

Colin Hughes
192
Posted 27/11/2016 at 23:02:34
Watching Man Utd - West Ham Utd highlights on MotD now and I'm convinced United will rag us next week. They create loads of chances and it's only a matter of time before they hit somebody for four; given our resolve in the big games we will oblige as usual.
Patrick Murphy
193
Posted 27/11/2016 at 23:03:57
Colin (#192), I too am more concerned about next week's game than I was prior to watching MotD – it's fun being a Blue, isn't it?
Eddie Dunn
194
Posted 27/11/2016 at 23:04:19
Dear me! A poor performance and another deja vu experience. However, for those going mad and wanting Koeman sacked. The players he has shown faith in have let him down. He has inherited most of this bunch, and the old guard is simply getting past it.
Baines has trundled into the opposition half less and less over the last two years, and since the demise of Pienaar, Baines has reverted to stopping and passing backwards. This is nothing new.
Jags has also been on a steep nosedive over the last twelve months. Barry, so important to us, was signed as a stop-gap, and has done as well as we could have hoped, but he is 35. So, no surprises for me.
I thought we would do well to finish in the top half, and we well might. Koeman proved at Southampton , that he can get a team set-up and playing well. Patience please... this was billed as a 3 year project, and it is very early days.
I know there is much to improve on, but we must not get over emotional. There are a lot of shit sides in the Premier League – there might have been record amounts of money spent, but it is an inflated market and, apart from the top 4, the rest is mediocre.
Mike Corcoran
195
Posted 27/11/2016 at 23:04:59
Hmmmmm... no cohesion, full stop.
No partnerships, no triangles going forward, poor use of space, no invention, smacks of a manager who can't understand why the players don't just know instinctively how to boss a match, and then cabbages their heads instead of getting to grips with his job.
Rom never wins a header so don't pump it to him, learn how to play the ball in front him. Players need to move into space so Barkley has a forward option, etc etc etc.
Clive Mitchell
196
Posted 27/11/2016 at 23:13:05
Eddie, there are plenty of really poor sides in the Premier League, but none who've given a weaker, more spineless, more couldn't-care-less effort than our lot did this afternoon.
And that's down to the manager.
Patrick Murphy
197
Posted 27/11/2016 at 23:15:42
How does the MotD commentator say that the defender wins the ball when he so evidently didn't? And it should have been a penalty.
'See what you say' rather than 'say what you see' is the mantra for these silly commentators.
Bob Parrington
198
Posted 27/11/2016 at 23:22:21
I managed only to see the Optus 2 minute highlights and we looked absolutely shit.
Anybody else in Australia having the problem with Optus using Fetch TV that they have not shown all Everton's EPL games, this one included? Just the highlights but the game not included in the On Demand section. I took the Optus package on because they told me all EPL games would be shown so I'm more than pissed off.
Gavin Johnson
199
Posted 27/11/2016 at 23:27:11
Horrible game. We need 5 new players, and a minimum of 3 in January.
As others have said, it's becoming abundantly clear that Baines and Jags look over the hill.
Baines no longer offers anything going forward. I know Koeman isn't setting the team up to play with a high line like his predecessor, but I don't think it's just tactical. I think the niggling injuries have finally caught up with Baines. The same can be said for Jags. They've both been loyal servants, but time waits for no-one.
A new centre-backis a necessity for me. I don't understand why we didn't try and sign Van Dijk in the summer. He was outstanding today. It's rumoured Klopp and the RS want him so can't see him wanting to sign for us, even with the Koeman factor. In the meantime, give Holgate a game partnering Williams.
I'm probably in the minority but I'd like to see Valencia played alongside Rom from the start. We need another attacking outlet. We're too predictable and our game is far too dependent on Lukaku. Valencia is a 2nd striker. Give him the opportunity to play to his strengths. He only got 10 mins today, but he looked lively and offers something different.
Andy Crooks
200
Posted 27/11/2016 at 23:29:56
Clive, it's not down to Koeman that Baines and Jagielka are done as Premier League players. Or that Lennon strolls around like a begloved muppet. However, if he picks them next week it is.
We have alternatives and they surely cannot be as poor as that shower of shite today. We were under pressure and some of our players were walking back, actually fucking walking. I expect that our coach will have seen enough of them.
James Marshall
201
Posted 27/11/2016 at 23:31:25
You're shit and you know you are...
From this thread it's quite clear that we're shit and we know we are...
We're quite simply rubbish.
Blame the manager all you like, but the last one couldn't get this lot playing either – anyone else see a pattern emerging? I'm not sure it's the manager's fault anymore...
David Edwards
202
Posted 27/11/2016 at 23:37:52
Joe (#73) – I agree entirely. I wasn't convinced about a good start, given the opposition in the first few games, but we can't even get enough points from the so-called also-rans either these days. We are going to get really tonked by the Sky 6 at this rate.
I thought Koeman tackling our lack of fitness would give us some dividend – but it looks like he is doing worse than the Spanish clown despite this so called improvement.
Forget the two-year plan, Ronald. Work better with what you've got. Because surely, if you can't get any more out of the squad that Roberto could, you are a bloody imposter, or you cannot motivate and lead your team adequately.
To correct an earlier post this season – he's not the Messiah, he's a dead end. Prove me wrong, RK, I'm happy to eat humble pie!
Patrick Murphy
203
Posted 27/11/2016 at 23:42:34
Gavin (#199),
You say he won't come here "even with the Koeman factor".
I'm reading here and elsewhere that the Koeman factor would appear to be a negative and not a positive attribute – so Van Djik nailed on for the other lot then... :)
Eddie Dunn
204
Posted 27/11/2016 at 23:44:57
Patrick (#197), my thoughts exactly – the commentator was making up reality as he spoke. It was a clear pen, and it wasn't even mentioned later. The same guy stated that Lukaku could hardly be blamed when he gets such poor service, as Lukaku received a ball to feet and allowed Van Dijk to kick it from between his legs!
Lukaku's movement in the box was limpitesque – no point even trying to get a ball to him, if he stands still, marked by two.
The worst aspect, and one that Koeman is responsible for is the zonal marking. It is not working.
It would not be so bad if the goalkeeper would use his height and reach, and come for the crosses. It was like having Tim back, rooted to his line and calling for offside.
Too many players living on past reputations. This league waits for no-one – Barry is an exception, the game is too quick these days, and there are fewer veterans about.
Baines, Jags and Barry are being caught out for pace, and Lennon is showing why Spurs got rid of him. His early effort helping us to pull out of the relegation places under Martinez, has been replaced by a journeyman approach.
Koeman needs to change the marking system and drop the old guard. If these guys were picking up draws here and there, and their experience was helping us, then fine, but surely Funes Mori and Davies deserve to start.
I would also bench Lukaku and give Valencia a start – it might wake the big pudding up out of his coma.
Ian Linn
205
Posted 27/11/2016 at 23:45:23
We are such a shit team to watch right now. Boring boring boring boring boring boring boring boring boring boring. And we usually lose too. I've lost interest.
James Marshall
206
Posted 27/11/2016 at 23:52:22
We've had 2 shots on target in our last 2 games.
Says it all really.
Gordon Crawford
207
Posted 27/11/2016 at 23:56:37
Think I might start selling Vaseline before the next few games, as I've a feeling it's going to be very painful.
Mike Berry
208
Posted 27/11/2016 at 00:04:17
I am sure that Ronald realizes behind the scenes that he needs to clear out the "yesterday's men" but it is going to take time. I think he is hiding his true feelings from the camera.
It appears we are going to be in for a very ordinary season until the Manager can effect changes through transfers. I feel there are going to be massive changes, and we all know that Jagielka, Baines and Barry will be moved on.
I can't see Barkley, Mirallas, Lennon or Lukaku being around next season either, the latter because he has given us another season to what appears to be no avail.
Interesting 12 months coming...
David Edwards
209
Posted 28/11/2016 at 00:14:00
Colin (#142) – bang on! Haven't always agreed with every post, but you have hit the nail on the head there.
As a young lad who cried his eyes out on the stairs, when Astle's goal went in, I can't believe that I'm starting to lose that passion I've always had, even through the dark days of the past.
Why do I now hanker for the passion of early/mid-term Moyes, even though we never really threatened to win anything silverware-wise? At least he had players who gave a fuck to put in a performance, and feared what the dour Scot would say if they didn't.
God – we are so bog-standard average! ...and what is our new saviour doing about it?
Gordon Crawford
210
Posted 28/11/2016 at 00:19:34
Why can't he say play Davies and some other young lads? I'm sure they would give it their all. I just don't think these players care, period.
Derek Thomas
211
Posted 28/11/2016 at 00:20:24
Rob; @198,
Me to; after fruitless searching, on demand actually means at 10.00am.
They probably looked at the no doubt plunging EFC viewing figures... numbers and click rule - and based their decision on them... seems we missed out to the Confederations Cup who took the other 'box' in the On Demand section.
I gave in and watched the 2 min 'highlights' (which was bad enough) so I 'saved' myself nearly 2 hours at 7:00am. This allowed me to mop the floor and do some other jobs before it got too hot... and I've 'saved' another 2 hours by not watching at 10:00
I can sit in the garden, type this and watch the floor dry... much better use of my time. Foxtel shite, Optus shite, and Everton and Koeman even shite-er.
Mark Wilson
212
Posted 27/11/2016 at 00:24:41
Patrick (#182) there was a lot in your post I agreed with until you wrote those mind boggling words "perhaps a relegation would be good for the club".
No it wouldn't – it would be an utter disaster that would probably take us many years to recover from. If the "answer" is "relegation is good for you", then think again please.
Our supporters are the most patient in the country. They are patient but not stupid. Usually it's the magnificent away core that spot the underlying issues first as they get up close to players hiding, lacking interest, urgency or passion. Even with the telly showing at least 55 minutes of all our games, the away crowd have the knack of calling players out when they know they are being cheated, and the same goes for a manager and his staff.
But interestingly I think even the far more patient home support have quietended down to a whisper which is a silence a lot louder and telling than for some time. Why? Because regardless of the obvious lack of wins or decent performances they see the gutless passionless lack of effort for what it is – a malaise that many top class managers simply wouldn't allow to fester in their teams'.
The lack of urgency is a reflection on Koeman. Where's the drive ? Where's the leadership ? These things can be addressed but it's not happening. If you keep doing things the same way, you get the same outcomes. That's why this current slump is such a mess ahead of three fixtures where getting shamed is totally on the cards if Koeman stubbornly retains his approach.
I get it that we can try to sort the pathetic failure in the summer window in January. It will be pricey and the best transfer targets won't like what they see right now, a supposedly top class manager with his head down giving rubbish post-match assessments and a team going through the motions and badly letting themselves and the fans down.
We can pay over the odds it seems, wage demands will be extortionate as players know they have us over a barrel. So surely we have to use these next three games to inject some spirit back into the side, get them playing with passion and urgency so sadly lacking now. The fans know we face a going over in all three games, but if we really give it a go with three of the younger lads coming in and a 4-4-2 set-up that gives us shape and organisation, there's a chance we might get a bit of pride back and actually perform.
Koeman isn't totally to blame here, of course he isn't. He and his staff will be shocked at how far Jags has slipped but he needs benching quickly. Ross? It hurts to say it but in my view he needs six to eight weeks out, and Davies must surely get a run? Before the Swansea match I gently suggested a different right back option and Coleman ahead of him on the right wing.
I honestly think it cannot be worse than ANY of the wingers we have right now, and has the attraction of offering a more solid defence in a 4-4-2. Holgate, or maybe Kenny or if back fit, Browning. I too would give Valencia a chance alongside Rom. Funes Mori clearly isn't high on Koeman's list and he's prone to some real cock-ups, but I think the so-far desperately under-whelming Williams plays better with Funes Mori at his side... and I'd make Williams captain now.
Koeman has a big week ahead of him. Of course you can't sack an Everton manager after so few games but this manager isn't getting the patience from many supporters unless we at least look like everyone gives a toss. Put in these desperate lack lustre Swansea, Soton, Bournemouth, Norwich type shows in the next three weeks and the fans will show just how little time they are prepared to give him.
But say enough is enough, try to change things round, show some fight, some passion, some real urgency, and the support will accept that ahead of getting a boost from the January window.

Patrick Murphy
213
Posted 28/11/2016 at 00:34:45
Mark (#212),
I suppose I was looking at it from the perspective that the club needs a rocket up it to make it realise it has to change its ways. Look at Newcastle – I know they lost on Saturday – but they will probably come back leaner and stronger next season and be challenging at the higher end of the Premier League.
Meanwhile, Everton FC seem to have been ploughing the same old furrow for year after year with no real signs of progress and quite a lot of regression. I don't want us to be even close to the relegation spots never mind end up in one as in truth like you say we'd probably fester there for a long long time. But something has to give and soon, as this death by a thousand cuts and too many false dawns is very difficult to accept.
Barry Jones
214
Posted 28/11/2016 at 01:32:43
I wish Koeman had the balls to take off Lukaku. We needed movement, energy and guts up front, things that Lukaku is incapable of providing. I wonder how the players who put in a shift feel when they are subbed and see that lazy bastard still out there failing miserably.
I was looking at Shane Long on the bench for Southampton. I would take Long over Lukaku any day. He is the type of player that we need to lead the line right now.
Mike Dolan
215
Posted 28/11/2016 at 02:26:09
I'm not sure if a little optimism will go down on this thread but we really do have to give the regime time to right this ship. We have been hauling water for two years now; this side was getting to old before Martinez arrived.
We do not have a player who can control the tempo of a game. For all of the flak that Osman took in his years here I'm thinking he would look awfully good now. We have absolutely nothing in attacking midfield. So we are easy to read and easy to beat.
But contrary to most of the posts above we are no longer a totally lost cause. All of our games except Chelsea have been close. Whatever we do in January will improve us a bit more but as Koeman said at the beginning of the season it is going to take 5 windows. So get a grip folks and keep an eye on where we are going.
David Barks
216
Posted 28/11/2016 at 02:31:10
Barry Jones,
And Everton fans spouting that opinion is one of the reasons why this club is a mid table nothing, with no ambition. Shane fucking Long, who couldn't even get in the game for a poor Southampton. You know what, have at it. Have a bunch of headless chickens. Were you one of those crying out for Lennon to be inserted because of his "workrate". A lot of good that does. How about a manager actually trying to set the team out to provide some attacking support for our striker?
Every single commentator has been mentioning it: Lukaku is isolated up top with two and sometimes three defenders being able to mark him knowing that there is no other threat. Today the announcer mentioned that at times Virgil would just leave the defense because he knew he had two defenders back and we had no other players up top.
It must be a defenders dream going up against us, knowing they can simply surround our one striker and that there will never be any other players going forward. Mirallas was the only player today who made a forward run, Lukaku found him and played him through, but he sent in a poor cross instead of a shot after a poor first touch.
But yeah, Shane Long would solve that. I'm sure he'd have much better luck against three defenders, beating teams single-handedly. Or he'd just run a lot from side to side and that would for some reason make people like you feel better. The ambition of a good portion of our supporters is disgusting.
Peter Barry
217
Posted 28/11/2016 at 02:43:59
Neither our team nor our Manager are good enough and, if this form continues, relegation is a real possibility.
Koeman OUT!!!
Bob Parrington
218
Posted 28/11/2016 at 02:58:50
Derek (#211). I couldn't have put it better! Thanks for the laugh. I needed to be cheered up.
Kevin Rowlands
220
Posted 28/11/2016 at 05:35:29
Barry, spot on, woof woof doesn't understand that Long was on the bench because they played in Europe on Thursday and the manager was rotating his squad. If we had Long and Austin up front vs the human pinball machine, we would be a much better side and a lot easier on the eye.
The sooner this lazy, "legend in his own mind" overrated lump is moved on, the better. It can't come soon enough... and yes, howler, before you remind everyone, a fit and fully focused Anichebe over the 'world class' oaf every day of the week for me.
Rick Barnes
221
Posted 28/11/2016 at 05:52:29
Bob and Derek, re: Optus, I found that too, it's coz they can only have a certain number of games on demand. But if you set Everton as your favourite team tag, every game will be automatically recorded and stored in "Recordings" (under 'My Stuff'). Whether you want to watch them after a game like today's is another matter...
A few short comments on the game – Jags can't jump. Too many (Deulofeu, Mirallas, Lukaku) try intricate little touches rather than bulldoze into the box. Coleman's the only one showing urgency when the clock was ticking down. Lukaku spends too much time pointing at the exact blade of grass where he wanted the ball fed right onto the tip of his boot, rather than actually getting onto the ball, sliding, diving, trying to throw himself at it. Oh how we miss a fearless Cahill throwing himself into harm's way trying to get on the end of the bloody ball...
Alan J Thompson
222
Posted 28/11/2016 at 05:52:47
This will probably start an endless response of an Einstein definition but why has the manager not rung the changes? I can accept 1 or 2 games unchanged but he must now start dropping those who have played poorly in at least the last 2 or 3 games or who quite obviously are no longer the players they used to be, and I don't mean just to the bench.
Funes Mori or Holgate to central defence, Davies and/or Walsh to midfield to offer something creative with one less defensive midfielder and, in January, recall all players on loan who have any sort of first-team experience even if that is only one game.
Start sending the message, perform or spectate, nobody is guaranteed a game every week and from upstairs, what is the game plan and why don't we see it!
And if the answer is wait until January then we will be fighting at the wrong end of the Premier League.
Barry Williams
223
Posted 28/11/2016 at 05:58:47
That was absolute rubbish, but can we get some things straight?
Some posters want Koeman sacked. Good call! Not to mention the probable huge amount of compensation he would command, he would take all his backroom staff with him, who need replacing. So we replace them from within, with Unsworth, who has never managed at this level, and what if he fails miserably, what then? We would have to rebuild again!
Secondly, this was not worse than any display under Martinez. Short memories, yes it was dire, but the levels under Martinez were so low and abject in the end they went off the radar, do I need to make a list!!!???
Now, I think Koeman needs a number of transfer windows to sort this out. I haven't criticised him on here yet, but I will. The team was so predictable, apart from who played right wing, the other 10 players could have been predicted by almost all fans. therefore, no surprise element. We are therefore easy to plan against.
We need to mix it up. Get a support striker for Lukaku when required. That could be from 1 of 4. Valencia, Mirallas, Deulofeu or Bolasie. Rotate and drop players. Give more game time to youngsters like Davies or Holgate etc who will provide energy, enthusiasm and a kick up the arse to those under-performing regulars.
More game time to Funes Mori too. Sometimes play Coleman as a winger! It would send a message to the other wingers. Too many one-dimensional players who are one-paced in the team at the same time. Too many old legs playing at the same time.
Things need mixing up a lot more imo! Experience and youth are a great combination, a happy balance needs to be struck. I am not sure we have enough leaders in this team, despite us having a few international captains, bizarre!
Kevin Rowlands
224
Posted 28/11/2016 at 06:37:00
Oh and Baz 214, have a word with yourself tomorrow mate because you and others like me ARE the reason why we're mid-table garbage. It's got nothing to do with the players or manager of course! Woof woof!
Jay Woods
225
Posted 28/11/2016 at 06:48:37
We plainly have neither the players nor the manager to get to where we want. We have actually gone considerably backwards since The Defeatist left us for Man Utd, although I still wouldn't want him back.
As a priority, I just want rid of Koeman and his going-through-the-motions, indifferent management style.
Damian Wilde
226
Posted 28/11/2016 at 07:52:26
Agree Jay. He just doesn't look arsed.
Michael Penley
227
Posted 28/11/2016 at 08:26:11
I said before we got Koeman, without knowing much about him, that he didn't look like he cared. A number of people reassured me and told me to watch his videos as a player.
I wasn't convinced, since you can be a winner as a player and a defeatist manager. It's looking more and more like I was right.
Timothy Blanshard
228
Posted 28/11/2016 at 09:29:05
I have a feeling that there is maybe too much stick and not enough carrot, the players look shit scared.
I predicted to my missus we'd get beat, I just expected it to be by more. It's gone very stale very quick. I hope he can turn it around and soon.
Barry Pearce
229
Posted 28/11/2016 at 10:10:37
The thing that worries me is, Koeman said he would pick players on merit, ie, form.
Well, if these players are picked on form, god help us.
Gerard Carey
230
Posted 28/11/2016 at 10:10:43
I will ask the question: What top rated players will want to come to us in January if we are sitting mid table after our tough run of games coming up? Maybe Palace have another hidden gem of a winger that we can splash another 㿊 million on!
Seriously, something has to change. Give one or two of the U23s a chance. Bring in Holgate, maybe the idea of pushing Coleman forward would help. Play 4-4-2 for a change with only one holding mid.
What really riles is just sticking to the same ol' same ol'!!?? We have heard of not changing a winning team but, when it's a losing one, how about Koeman getting his finger out and actually earning his wedge?
June Brennan
231
Posted 28/11/2016 at 10:39:15
Absolute rubbish. Look, they can't be arsed. We will know which way the club are heading in the January window. If we don't buy, you can expect the same crap with Everton just being lucky if they stay mid table.
The manager looked embarrassed and not knowing what to do. Can someone enlighten me on what he writes on his scrap of paper after the goal? His sidekick was more professional writing in a notebook (sarcasm).
Paul Burns
232
Posted 28/11/2016 at 10:50:29
Less than 3 years ago, I watched Everton scare the life out of Arsenal at the Emirates, a performance full of skill, guile and movement with basically the same players.
Barkley looked like a world beater, the new Gascoigne; McCarthy gave an incredible show, full of energy and intent; and the whole team sprayed the ball around and gave a good, footballing Arsenal side a lesson in passing and possession football.
Roll on till now and we are a shambles. How has it been allowed to happen?
Some players have got older and less effective, some have failed to mature, and others have gone so far backwards, they look like they wear lead boots and have lard injections into their heads and arses before each game.
It's disgraceful that the coaches and medical staff, dietitians (if any) and all involved in the running of a professional sports team can be so shambolic in their working that the only thing that matters, the team, is in such a diabolical condition that they look like eleven people chosen by lottery from the crowd to represent us.

Scott Robinson
233
Posted 28/11/2016 at 10:56:23
I had similar thoughts after watching the Blues demolish Southampton at St Mary's, 0-3. How could it unravel so quickly?
To me, essentially the same group of players have been playing together for awhile now; the culture of defeatism and inevitability has snuck in to the mentality.
We need fresh blood, starting this weekend.
Dick Fearon
234
Posted 28/11/2016 at 10:57:07
If only the whole damn lot in a public place were placed in medieval stocks and pelted with rotten fruit.
I would pay serious money to see that.
Paul Burns
235
Posted 28/11/2016 at 11:19:28
I'd be too busy lobbing rotten fruit.
James Marshall
236
Posted 28/11/2016 at 11:35:52
Who puts their foot on the ball, looks up, looks around, and then makes a forward pass with intent? Answer: nobody. Therein lies our biggest, and to me, most obvious problem.
Lukaku doesn't do much because he's stuck up front waiting for what exactly? The occasional cross? We have zero creativity in the team and it's killing us.
You can go on about everything else (age of players/motivation etc) but unless you have at least one playmaker in your team (it isn't Ross) you're never going to create anything, and therefore won't win games.
Football is a simple game made complicated.
Anto Byrne
237
Posted 28/11/2016 at 11:39:12
For eleven years, we suffered the dour one with the occasional joyous moment, then we got the village idiot and the constant verbal nonsense – although, had he not been so bloody minded, perhaps he could have achieved some success.
For me, it was from one extreme to another and now we have Big Ron whom I feel does not have the heart for it. Of course he gets well compensated but without results and attractive football how long are we prepared to put up with this shite.
I think it was Mick Channon or Matt le Tissier who poured cold water on the move from St Mary's. The expectation on the south coast is not what it is on Merseyside. Soton are the top dog in their region while Everton have the massive shadow of Red Shite and really unless your a die in wool Evertonian nobody gives a flying fuck about us and our History.
We don't figure on Match of the Day and if I'm lucky, the paper might have a sentence about us if we are playing the big teams. Other than that we are anonymous and big Ron has a massive task to turn us into a top club able to compete at the top level.
Koeman has to make the changes and he should sell Lukaku in the window and play a more Dutch style of football. Barkley is another Osman. Its time for a massive clear out and if Ron ain't up to it then Unsy is the man.
John Barnes
238
Posted 28/11/2016 at 11:54:59
What amazes me is that every player, coach and manager gets criticised on here and beyond, but for the past 3 years one main stick on selection or pairing has been Barry and McCarthy and now Gana. And that is where the problem really is – central midfield. Just what do they do?
Protect the back 4? No.
Win the ball? No.
Link up play with the forwards? No.
Provide through balls? No.
Create chances? No.
Score goals? No.
I now a lot of you will slaughter me for that but the evidence is there; you can drive a bus through our midfield when we don't have the ball and it takes us 6 or more passes to get out of our own half when we do have it.
Kevin Tully
239
Posted 28/11/2016 at 11:57:05
There are clearly major problems with this team. It looked like someone had taken a random 11 players from all over the world who hadn't even met and just thrown them onto a pitch yesterday. There wasn't one passage of play where you thought: "Yeah, I can see what Koeman is trying to do here."
Now, that may be down to the players who cannot adapt to the style of play Koeman wants, or the manager hasn't got a clue how to get the most from his players.
We said it was no use Martinez trying to turn us into 'Barca lite' because we never had the personnel, so maybe this 'pressing game' is just as alien to this bunch of fools pulling on the jersey. Maybe it's the fact we can now go out and replace nearly all of the first team that has got the current mob so shit-scared that their footballing brains have frozen?
Whatever has happened at Finch Farm, we are definitely broke, that is undeniable.
Michael Long
240
Posted 28/11/2016 at 11:58:08
Embarrassing, slow and a nightmare and that was just Jagielka and Barkley's performance. God fucking help us when we play Man Utd, Watford, Arsenal, the shite and Leicester. Where do I begin with some of these players.
Stekelenburg – kept the score down, however prefer Robles. Need to go for someone like Butland or Forster.
Coleman – cannot defend to save his life. If Man Utd came in for him, get rid
Jagielka – Finished simple as if you start him in any the next daunting games, it's not rewarding him it's punishing him.
Williams – Not his best game but still our best centre-back, would love to see him alongside Van Dijk two leaders at best.
Baines – As much as I love him can the man learn how to stand up to a cross ffs.
Gana & Bolasie – not great but they were the only ones who tried going forward and had chances and shots at goal.
Barry – not exactly finished, however time to give Davies or Walsh a chance.
Lennon, Mirallas, Deulofeu – the most inconsistent fuckers in the league.
Barkley – As much as I want to see him progress and star for Everton, he doesn't do himself any favours. I look at players like Gana, Kante, Allen, Besic, Yacob, Coquelin, Defour, Fernandinho, Herrera and more they are less the size and muscle of Barkley yet get stuck in and drive forward. This lad can't even slide tackle. Never mind Ozil or Toure, Barkley needs to watch videos of Gerrard, Lampard and Scholes, three English midfielders who were the best at decision making.
Lukaku – In what way could he think he can get into Barcelona or Bayern's team. Lukaku is literally one of those players when he's hot he is boiling, when he is cold he is freezing. On his day he is unplayable, when he is off form you might as well play 10 men. Look at Costa, Aguero and Kane –even though they score, they run everywhere their work rate is second to none. Lukaku needs to man up at times, for his age he is quality but still needs to learn big time.
Koeman – time to change this bollocks of a 4-2-3-1 system, it is boring and shite. We don't have the players for that system.
Everybody going on about January. We could be in the bottom half by then which won't exactly excite top players. The young ones need a chance; others have got to be dropped and fucked off.
Frank Crewe
241
Posted 28/11/2016 at 12:07:50
We need a dominant centre-back because Jags is finished. We need a creative attacking midfielderbecause Barry is finished. We need another forward because Rom needs help.
We have to stop using this 4-2-3-1 formation. We have tried Mirallas, Deulofeu, Bolasie, Lennon in every possible combination and none of them have looked particularly good.
Barkley isn't going to be any better than he is now while he has a hole in his backside. He is inconsistent, lacks confidence and needs replacing.
Personally I would seriously start looking at the players bubbling under. Maybe they'll make it or maybe they won't. But we have seen the lethargy that has become ingrained within our first team players because they lack any competition for places. The team needs an injection of energy and enthusiasm because we have too many players just going through the motions and have lost the ability to raise their game. Although with five players over 30 in the side that's hardly surprising.
Come January we will need some serious reinforcements or any hope of european football next season will be gone. Although this is easier said than done.
I notice Pochettino is grumbling about Sissoko.
No doubt he would have been the same for us. 㿊 million and he's hardly started a game. How do you find players who want to play and not just collect big wages?
Ray Roche
243
Posted 28/11/2016 at 12:20:35
McCarthy to Celtic with Dembele coming the other way might be a start.
Brian Furey
244
Posted 28/11/2016 at 12:27:23
Did anyone hear what came out of the big players meeting last week? It looks to me like the manager has lost the players belief and trust and we are a rudderless ship.
People saying the players are scared of Koeman yet not many seem to be trying to hard to rectify things.
We look a totally different team from 2 months ago.
Ian McDowell
245
Posted 28/11/2016 at 12:32:56
The performance yesterday and even the 2 games prior suggests something is wrong between the manager and players.
The defence was a joke yesterday, I lost count of the number of times the ball went across our 6-yard box and we failed to attack the ball and clear.
Koeman must either get the players back onboard or get rid. I reckon he will be given the opportunity to make wholesale changes over the next few transfer windows.
Ste Traverse
246
Posted 28/11/2016 at 12:42:25
I've read some ludicrous things on here over the years but for a few to suggest that Shane Long, even fucking Big Vic, would be better options up front are about as ludicrous as it gets.
Tony Hill
247
Posted 28/11/2016 at 12:45:09
Whatever responsibility Koeman may have and whatever may be going on behind the scenes, it is an utter disgrace that our players are showing so little commitment, both mentally and physically.
This has been the case now for much of the last year. How can they live with themselves professionally? They should be ashamed.
We are probably fools, though, for expecting anything more from the modern players – they play only when they want to and only for themselves.
James Marshall
248
Posted 28/11/2016 at 12:52:07
Brian, it appears that the BIG meeting conclusion was that they would all forget they'd ever met, and treat every game like a kickabout in the park with some other blokes they just met.
Andy Meighan
249
Posted 28/11/2016 at 12:59:52
John (#238), I wouldn't slaughter you for that. I think you make a valid point. This obsession with two defensive midfielders is driving me mad. And it quite plainly doesn't work. And as you rightly said, the evidence is there.
Peter Roberts
250
Posted 28/11/2016 at 13:07:51
It doesn't take a genius to work out what is wrong. Barkley narking at Lukaku – understandably by the way. The kid gets slated but he has absolutely nothing to pass to and nothing to play back to him.
Some players looking like they are not part of the manager's plans – maybe good old honest Ron has told them as much.
We need a proper outlet – yes, Rom is a good finisher and that is it; he offers absolutely nothing else. The team suffers – we nearly conceded yesterday when he dropped deep, picked up a simple pass and lost it in our own half... he's not a footballer.
Barry looks finished, as does Jags and Baines. Maybe they just can't be bothered taking their bodies that bit further for this manager? Something clearly isn't right.
Trevor Peers
251
Posted 28/11/2016 at 13:19:26
I'm beginning to lose all hope after reading some of the excuses offered in defense of Barkley. He is as good as Rodwell – no better, no worse.
Kevin Rowlands
252
Posted 28/11/2016 at 13:23:29
Peter 250, bang on the money but I hope David Barks doesn't read the post or you'll be accused of having a disgusting attitude and be one of the reasons we are mid-table garbage. Go figure that one out?
I believe there was a reason that Koeman was bigging him up recently; he wants him out and at the best price he can get. Imho, the main priority in the next two windows is to move Lukaku on, the sooner the better, for the sake of the team.
Peter Roberts
253
Posted 28/11/2016 at 13:36:08
Kevin – it's no secret that I'm not convinced by Lukaku. It's not personal, its not a vendetta its simply a case of seeing that its all smoke and mirrors with the lad.
I can not for the life of me understand how someone escapes criticism the way he does for what I could only describe as "Nyarko-esque" laziness. He has very little consideration for his team mates and the shirt.
When he scores its for him and him alone. His goals act as a criticism buffer he needs to get himself in credit enough just so he can down tools for a bit.
Watch him when we get the ball... his movement is juvenile at best. Like a kid who has just learned the offside rule "run in a straight line and try not to breach the defensive line before the ball is played".
Absolutely no dropping off - darting another way and changing direction, no angling runs or curving them. When he can't be bothered – he really can't be bothered.
The difference is we have fans who will tolerate this. That lot across the park got shut of Balotelli quick sharp – what's the difference in his work rate? Look at how they treat Strurridge... "play for the team or not at all".
With Lukaku, he is feted as some sort of superstar that we must provide service for and indulge. I can't wait for the day he is sold and, provided the money is spent wisely, we will see a forward or two who understand the importance of team play.
Mike Corcoran
254
Posted 28/11/2016 at 13:36:15
Don't know if it's true but someone told me Koeman only works 3 days, Mondat to Friday, teh rest of the time he's back in Holland. Easy-jet wanker.
Gary Willock
255
Posted 28/11/2016 at 13:41:26
Mike@254 - I understand he is a TWAT. A Tuesday Wednesday And Thursday man.
Kevin Rowlands
256
Posted 28/11/2016 at 13:55:08
I agree, Peter, I've banged on about him and his shortcomings as a footballer for nearly two years now and taken some real flak for that.
I have read so many times that we would be up shit creek without his goals which is just not true, he never played a minute or scored a goal in 11years under Moyes and we were never relegated because teams find other ways to score.
Take the lads goal scoring away (btw he went nearly six months without a goal last season) and what does he offer? Absolutely fucking nothing, he's a complete liability.
I also agree that Ross would be a better player and more productive if he wasn't playing with that clown up front.
Bobby Thomas
257
Posted 28/11/2016 at 14:38:41
Peter (#253),
Spot on. He is one of the main problems I think. Lazy, comfort zone, no pressure on his place, half-arsed, does it when he feels like it.
But hey, we are lucky he's here. According to him. And the manager. What motivational skills. It was actually the worst kind of arse-kissing bull Martinez used to indulge in.
Just get him and his ego gone and let's get someone hungry who will actually work, run channels and, shit, they may even be able to hold the ball up and put a performance in more than once a month.
Peter Roberts
258
Posted 28/11/2016 at 14:55:58
Steady on, Bobby Thomas... by all accounts, wishing for a player who works hard and holds up the ball means we will sign Marcus Bent or Denis Stracq... all huff and puff but no goals.
Did you not know that you either get goalscorers or team players? – you can't have both. Watching the likes of Shearer, Rooney, Suarez, Costa, Aguero score goals whilst working for the team is a figment of your imagination.
Kevin Rowlands
259
Posted 28/11/2016 at 15:14:47
Peter, you can also add Messi to that list, his work rate and ability to create chances for the team is incredible.
I can honestly say I have never seen a player in all my years supporting Everton get such a free pass in every piss-poor facet of his overall contribution to the team just because he bangs in a goal now and again. It's a fucking joke.
Andrew Clare
260
Posted 28/11/2016 at 15:35:06
I agree that the over-30s need replacing, that we only signed one decent player in the transfer window and Lukaku offers nothing apart from his goals. Having said that, I have no doubt that if he was playing with better players he would score more often.
We have no attacking threat and no creative players, the defence is old and the players most certainly cannot adapt to Koeman's style of play.
If we were a top foreign team, Koeman would be very close to the door, as it is we will keep persevering until hopefully we play better.
I firmly believed that Koeman will get it right eventually as he has only been in charge for 3 months but I can understand the doubters. His signings, the ignoring of the younger players, and the attitude of the first team really worry me though.
Soren Moyer
261
Posted 28/11/2016 at 18:04:30
After only 4 months in charge of Sevilla, San Paoli has created a monster with a group of average players/loanies. THAT is what I call a good manager.
Mark Wilson
262
Posted 28/11/2016 at 18:08:34
I've just finished reading the depressing reports of how Koeman showed little or no interest in Southampton's Academy. Why it is starting to ring true is simply that we are told he's only been to one Under-23 game this season and nobody's sure what he sees of the younger groups.
It seems his one appearance watching Unsy's crew coincided with a first team like performance, and he left unimpressed with Unsy furious that some had missed an opportunity.
So that's that, is it? Can't be surely. I mean Koeman keeps giving a bunch of poor performers chance after chance after chance, so why not have another look at the younger players who might actually run round a bit, look interested, like they care about the result and giving supporters 100%.
If his way of turning things round is simply to try and spend 𧴜m in January then that's no answer. The real quality isn't coming here if they have seen anything of this team this season.
The manager has a huge challenge ahead, were playing every inch as poorly as Martinez had us performing, but somehow the rest of the league have conspired to keep us at seventh when bottom three is more our form guide.
What you don't need to do, Mr Koeman, is shut down your options without giving some a chance to show they can at least play with a bit of pride and enthusiasm.

Gordon Crawford
263
Posted 28/11/2016 at 18:12:52
Just watched Come Dine With Me, with my missus. And some dude created a dessert called Everton Mess, which sums us up perfectly.
Patrick Murphy
264
Posted 28/11/2016 at 18:20:56
Recipe for Everton Mess.
One large dose of luvviness
2 heaped spoons of Sugar coated Drivel
One Early Bird, (which seems to get earlier every year)
40,000 suckers who live and breathe the club
One zipped tight wallet of an Iranian Billionaire
Oodles of over-paid, untalented, sad excuses for footballers/coaches
Add a dash of strange commercial deals
Leave to fester for over 20 years and hey presto! An Everton Mess.
Colin Malone
265
Posted 28/11/2016 at 18:25:58
If we could have swapped defences on Sunday, would it have made a difference? IMHO, no. Because we cannot keep the ball in front of the defence, the defence is getting bombarded for most of the game. They get a respite when we decide to have a go for the last 10 minutes.
The only reason he kept Lukaku on was in case his stock goes down. Hopefully January will end that.
Jags for England. Still a great defender.
Mark Daley
266
Posted 28/11/2016 at 18:44:44
Stodgy with a bitter after taste. You'll feel like you've been stuffed.
Gordon Crawford
267
Posted 28/11/2016 at 19:08:52
You forgot to add the crumble (Goodison). But spot on with the ingredients Patrick.
Spot on Mark.
Tony Abrahams
268
Posted 28/11/2016 at 19:20:39
Patrick and Mark, funny, but the real Everton mess is out on the pitch. They got rid of Martinez because they thought he was too soft, and now they are trying to get rid of Koeman because they think he's too hard.
Didn't the same thing happen to Moyes early in his Everton career when the players downed tools and we ended up with our lowest ever points tally in a season?
If it isn't just right for modern day footballers, then the first fella to suffer is the manager, even though he's gonna make Brewsties, whilst us the fans suffer like fuck, both in the pocket and with are mood.
Dick Fearon
270
Posted 28/11/2016 at 19:57:59
What poor sod gets to clean up the mess they left behind?
Max Murphy
271
Posted 28/11/2016 at 19:58:32
I think we should all take a 10-year holiday from football. Following Everton is worse than going to work.
Paul Ferry
273
Posted 29/11/2016 at 04:02:02
Mike Corcoran (#254);
Don't know if it's true but someone told me Koeman only works 3 days Monday to Friday, rest of the time he's back in Holland. Easy-jet wanker.
Tell us who 'someone' is Mike as you clearly know and being interested in your post I would love to know its integrity.
By the way, '3 days Monday to Friday' could sound like a typo and mean 5.
So, my 'someone', David Unsworth, tells me that Ron is there all week long.
Who is your 'someone'?
Bob Parrington
274
Posted 30/11/2016 at 01:49:20
Rick (#221). Thanks mate. I'll try that.
Andy Crooks
275
Posted 30/11/2016 at 22:11:19
Mark (#262), the idea that we pay millions if pounds a year to a man who knows nothing or cares nothing about our youth players is utterly insane.
Also, the notion that we on ToffeeWeb know more about our young players and are privy to information unavailable to the coach is ludicrous, in my view.
I would like to see changes, I would like to see Holgate start, also, Davies. I can, however, accept that we pay a lot of money to a coach who must see them and pick his team. Too soon, in my view, to challenge his decisions.
---
Add Your Comments
In order to post a comment, you need to be logged in as a registered user of the site.
Or Sign up as a ToffeeWeb Member — it's free, takes just a few minutes and will allow you to post your comments on articles and Talking Points submissions across the site.
© ToffeeWeb