Report
Clinical Blues finishing destroys Saints resistance
By Michael Kenrick
02/01/2017

139 Comments [Jump to last]
Share: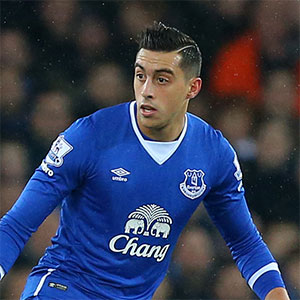 Ramiro Funes Mori was the beneficiary as Ronald Koeman decided to pull Phil Jagielka from the starting XI again after his start against Hull just three days ago.
Everton 3 - 0 Southampton
Everton kicked off 2017 with the first of three successive home games in league and cup as Southampton made the long trip to Merseyside.
Ronald Koeman named a youthful line-up to face Southampton, with Dominic Calvert-Lewin making his full debut and Tom Davies in midfield. Funes Mori returned to the defence with Jagielka and Barry sitting on the bench where Mirallas and Valencia were rested, with Lennon starting.
For the visitors, their impressive centre-back Virgil van Dijk iwas suspended; Maya Yoshida replaced him.
Leighton Baines led the team out to a bright but cold Goodison Park and Ross Barkley got things going prior to the required hoof upfield from Ashley Williams. Everton's forward play was stymied by Southampton pressing, Davies responding with some physical challenges. Cedric remained down after Baines had sent him sliding off the pitch onto the path, and was eventually replaced with a head wound.
At the other end, the ball came to Barkley and he tried a shot into the ground that Forster needed to save. Davies linked well with Lennon. Calvert-Lewin fell awkwardly after showing plenty of spirit trying to drive the Blues forward but he could no longer continue and Mirallas came on very early to replace him. A massive disappointment for the young lad.
The visitors came worryingly close when Redmond came in at the far post on a high header from Williams but headed well over. More stoppages made it a very scrappy start but Baines forced the pace and got in a low cross that was too close to Forster.
Funes Mori was easily pushed off a defensive header and Tadic got loose as a result, winning a corner and the Blues struggled to clear their lines but they did and Lukaku got the ball to his feet but was driven wide for his weak shot.
Gueye gave the ball away as an attack was building, and the Blues were pressed back again, and a horrible ball back from Barkley almost put Funes Mori in trouble but they held position only to build with numerous cross-field passes and little forward progression.
A more lively attack developed but the ball pinged around with some poor crosses until it went out for a corner and from the second, the visitors attacked with pace and got the ball in the net but illegally, Rodriguez offside as he handballed over the line.
A Mirallas shot was deflected behind for another corner but Southampton were defending stoutly, Davies's shot blocked. Barkley got in a good cross that Lukaku was ready for but Fonte intercepted. Davies showed determination but the opponents were perhaps too physical for him an effective in keeping the Blues outside their area.
Everton were winning corners but nothing of note was coming from them, as the Blues found it hard to chisel an opening, while the Saints always looked threatening coming forward, the Blues not helping with misplaced passes. Rodriguez turned Davies brilliantly and beat Williams but fired over.
A much better move, back to front in three passes, saw Mirallas scampering forward but he lashed his shot over the bar. But generally the Blues had laboured in possession, Davies's enthusiasm getting nipped in the bud by some resolute Saints blocking and tackling.
Redmond got a free header before the break that he could only glance well wide. As has been the norm, it was a horrible half of football to watch, with chances and quality football very sparse on the ground.
The abysmal football continued after the break, Lennon failing to keep an easy ball from Gueye in play. The ball proceeded to bobble around in the general direction of Robles in goal for him to whack it away. Everton did win a corner but the second ball from Gueye was shockingly lacking. Lumped balls gave Lukaku little to chase, free-kicks played backward to Robles receiving deserved derision from sections of the Goodison crowd.
A moment of inventiveness from Davies almost released Lennon but the Saints defence were quick to stifle the life out of him. The shows a bit more desire to chase down 50/50 bobble balls, of which there were legion.
Lennon on for Valencia... would that make any difference? Incredibly yes, a great cross his first contribution but behind Mirallas at the far post. Then a corner won off Coleman's cross and a corner from Barkley actually finding by a Blue shirt.
Lukaku won the ball in midfield and drove forward but his shot was simply horrible, scuffed wide. Coleman looked to get behind the Saints line but was well offside. Barkley and Coleman linked better to win another corner but this one headed away and the second ball stalled again by the seemingly impenetrable mass of red-and-white stripped shirts.
At the other end, Redmond got free and seemed set to score but hesitated and Robles was out to block well. And for a few minutes, it became end-to-end, with Lukaku getting a ball to chase only for him to overhit is first touch out of play. It was enough to make a grown man weep at times such was the abject paucity of what passes for Premier League football.
Queue a goal! And it was Valencia who powered the ball over the line from close range after Lukaku's nailed-on header was well saved by Forster, the big man himself having played in Coleman to make the cross off a brilliant first-time flick out to the right. A goal that had seemed almost impossible...
Mirallas got the ball forward to Lukaku who tried to curl one into the top corner but it was a foot too high. Barkley played the ball nicely and Mirallas played in by Gueye to Valencia who was fouled by Yoshida... Penalty! Up stepped Capn Baines, SCORE!
The game suddenly seemed a radically different affair, Barkley almost creating magic at one end and Rodriguez so close to beating Robles. Barkley went off to a great round of applause, Barry coming on to hold things down for the final 5 mins or so.
Williams pulled off an incredible clearance to a goalbound effort from a Southampton corner, and The Saints almost repeated the feat from the other side, Coleman this time preventing Rodriguez from scoring.
Barry once again showed his vision and skill with some exquisite passing and, when the ball came to Lukaku, he ripped the net with a rocket after a beautiful pass from Davies to make it 3-0 in the 89th minutes. What a fantastic game of Premier League football!!!
Everton: Robles, Coleman, Williams, Funes Mori, Baines, Gueye, Davies, Lennon (61' Valencia), Barkley (85' Barry), Calvert-Lewin (11' Mirallas), Lukaku.
Subs not Used: Hewelt, Jagielka, Cleverley, Holgate.
Southampton: Forster, Cedric (6' Stephens), Yoshida, Fonte, McQueen, Ward-Prowse [Y:40'], Romeu, Clasie (77' Long), Redmond, Rodriguez, Tadic (67' Boufal).
Subs: Davis, Reed, Bertrand, Lewis.
Referee: Kevin Friend
---
Reader Comments (139)
Note: the following content is not moderated or vetted by the site owners at the time of submission. Comments are the responsibility of the poster. Disclaimer
John Graham
1
Posted 02/01/2017 at 14:47:58
Like the look of that team. Plenty of energy and some attacking help for Barkley.

Let's hope Davies shows us all why we have been wanting him to start for a while.

COYB
Ciarán McGlone
2
Posted 02/01/2017 at 14:56:58
Just seeing Barry out of the team gives us a bit of hope. Not sure where he's going with Calvert-Lewin... but at least we should be a lot more mobile from the start.

Chris Gould
3
Posted 02/01/2017 at 14:58:03
Wow!!
Now let's see what these two youngsters can really do.
Brave line-up.
Ciarán McGlone
6
Posted 02/01/2017 at 15:57:58
Generally a better first half than we've seen all season (Spurs aside).
A couple of points:
Williams continues to look worryingly easy to get past;
Lennon appears to be doing a lot of walking about;
Lukaku is awful with the ball;
The crowd are asleep;
Apart from a couple of astray passes, Ross is having a good game. I think we can safely put that down to Gana and Davies having decent games too.
Joseph Terrence
7
Posted 02/01/2017 at 16:43:07
Am I the only one to have noticed that Rom didn't celebrate either goal with the team?
Mike Powell
8
Posted 02/01/2017 at 16:59:03
Barkley was superb today. MotM by a mile. Well played, Ross.
John Graham
9
Posted 02/01/2017 at 17:04:25
Disjointed first half with no team able to string together more than two passes. Lennon working hard but not an attacking threat. It got much better when Valencia came on.
I thought Barkley did well, always looking for the through ball. Davies worked hard but still some way to go I think. Rom poor in the first half but better when Valencia came on, so difficult to get the ball off when he's in that kind of mood, and a cracking third goal.
I thought Robles did very well even though I'm still not too confident in him.

Roger Helm
10
Posted 02/01/2017 at 17:05:43
Amazing what three points will do – an abysmal game, with appalling paucity of football, becomes a fantastic game of Premier League football when we win!
Mark Andrews
11
Posted 02/01/2017 at 17:07:26
Ciaràn McGlone (#6). Davies had a good game? Love the lad's energy levels but he needs to find a blue shirt with a pass.
The Lukaku assist masked a poor performance from the lad. I know he's only 18 but is passing beyond his realm?
Mick Davies
12
Posted 02/01/2017 at 17:14:44
Koeman should listen to the fans, maybe that £6m a year should just go to the ToffeeWeb members: we need 2 up front, Jags and Barry should never start, and Tom Davies is a real player
Paul Tran
13
Posted 02/01/2017 at 17:17:45
Great result after 70 mins of dross. Now for some serious investment in much-needed guile and strength.
Craig Fletcher
14
Posted 02/01/2017 at 17:18:10
A welcome three points. Both teams were poor, luckily we were poor for only 70 minutes, Southampton were shoddy for the whole 90.
Enner Valencia's fresh legs when he came on was the difference. I thought young Tom Davies got better as the game went on, wasn't shy about getting on the ball, we have a real talent there.
John Charles
15
Posted 02/01/2017 at 17:21:40
Just out of ground... Maybe worst first half of season but much improved last 35 minutes.
Barkley was good, Davies encouraging, Williams and Robles worrying. Well done Baines for taking the penalty, and great finish by Rom.
However, as always, winning football is good football!!
Jay Wood
16
Posted 02/01/2017 at 17:23:34
For 70 minutes, that was painful watching. No player looked likely to spark Everton into life.
Valencia on for Lennon changed everything. I like Lennon, but he was as poor as I've seen him in an Everton shirt.
Suddenly, something was happening. Seamus was getting further forward. Ross and Tom were linking better. Valencia playing across the entire backline was pulling players out of position. Romelu started holding up and laying the ball off better. Mirallas on the left was linking better with Baines.
It all came together with the first goal, set up by Lukaku and Coleman. Barkley showed GREAT composure leading up to the penalty, first seemingly turning back into trouble, then further annoying the crowd by playing back to Funes Mori, but his immediate movement across the pitch to receive Funes Mori's return pass gave Ross the space to run at and hurt the Saints, playing in Mirallas, onto Valencia – stonewall penalty.
Finally, great pick out by Tom Davies for the 3rd goal after a strong blocking tackle by (was it Baines or Barry?). Clever play by Lukaku to let the ball run across him before finishing with an unstoppable shot.
Still awaiting a full 90-minute performance, but the stagnation of recent months has been halted to a degree and we are now well placed as the transfer window opens.
Onwards and upwards.
David Barks
17
Posted 02/01/2017 at 17:24:21
We came through that period getting many more points than I thought we would. Can only be happy about that.
The first half of the match was again just poor, slow passing and players hesitant to take a man on. Crosses from either Coleman or Baines consistently terrible for most of the match.
But as the game went on, and crucially when we went two up top again, we dominated play. Barkley seemed to be gaining confidence with every 5 minutes that went by and that can only be good. Whoever the disgrace of a supporter was who was berating Barkley with "You're shite, lad" as he went to take a corner should be dealt with on his way out the ground though. Absolutely pathetic.
Davies grew into the match as well and offered so much more next to Gana than Barry has. Barry has a lot to offer, but not for 90 minutes. Coming in late in games when the opposition's legs aren't fresh is where his place is now.
Overall, this should help with the confidence on the team, they should be able to build on this. But I thought the same before the Hull match, so who knows.
Denis Richardson
18
Posted 02/01/2017 at 17:26:40
Win and a clean sheeup. Welcome 2017!
Not a great game but wtf cares.

David Donnellan
19
Posted 02/01/2017 at 17:30:54
Joseph (#7), I noticed that as well, I don't know what to make of that.
I thought our midfield were much better today, Gueye was his usual consistently good self & covered every blade of grass. Tom Davies looked very assured in there, his awareness & positional sense were spot on & he gave us a bit of energy in there, also as mentioned above, he wasn't shy on showing for the ball.
Barkley was much better today, his decision making & distribution was a lot better, a few stray passes but nothing to write home about. A well deserved standing ovation for the lad from the Everton fans! Up yours, Gerrard!
Steavey Buckley
20
Posted 02/01/2017 at 17:34:37
Tom Davies was nearly my MotM but it has to go to Valencia for breaking the deadlock with a goal and making the penalty that Baines scored from. Although, Tom never stopped running and harrying the opposition into making the mistakes, and if McCarthy can replace Gueye who goes away with Senegal on international duty, Barry should not start again in midfield.
A special mention must go to Lukaku for always trying to get a goal, and he got his just deserves with a wonderful goal into the top right hand corner.
On the negative side, Everton's crossing from both sides of the pitch, except for the cross by Coleman for the first goal, were quite dreadful. And the corners got no better neither, except to say, they were quite dreadful as well.
Why corners always have to be outswingers, with no extra pace that always lead away from the goal, made the goal-keeper's and the opposition defence's job look easy. Swinging the ball in with a bit of pace towards the penalty spot causes far more danger and uncertainty.

Adam Scott
21
Posted 02/01/2017 at 17:37:56
Barkley was superb today. A real midfield general performance. As always with Ross, it is sustaining this.
I agree with Jay about the movement for the goal. Don't see that enough in our midfield.
A mention for Funes Mori. I've been a critic, and don't get me wrong he wasn't up against much today. Dealt with the high ball though and gets around that pitch. If he is here, him and Williams have to be first choice. I am not against looking at 3 at the back with Holgate more though.
Davies. A good start. I think he will make mistakes, and I don't think that he is the messiah, like some. He will develop into a very good player though if people do not put massive expectations on him.
Lukaku – Second half, top drawer. When Valencia come on and played close to him, he was at his very best. Need to build around him. Anyone who is critical has to look at the toothless attack that Southampton had. That is the alternative.
Overall ,I see green shoots here. January is massive though. Barkley needs a bit of praise and building up here though.
Ray Jacques
22
Posted 02/01/2017 at 17:41:06
2 weeks to get new signings in. Results are starting to come, hopefully the performances will improve as confidence increases.
Seventh is probably as high as we can get as the top 6 are in a league of their own; however, with 3 or 4 new faces we can have a go in the second half of the season.
Adam Scott
23
Posted 02/01/2017 at 17:43:55
Maybe Ray, maybe. I think we have to look at Leicester though. End the season well and we can really go into August ready to make an impression. We have to be looking at the next 18 months without taking our eyes off the short term.
This transfer window, both in terms of who we buy, but who who we get rid of (what is think is equally important in this squad) will be key.
Eddie Dunn
24
Posted 02/01/2017 at 17:45:47
David Barks, I also heard that Neanderthal shouting at Barkley – he must have been near an effects mic'. Ross was outstanding too, so the twat confirmed his own moniker!
Valencia got closer to Lukaku and the result was more space for the big man, as the defenders suddenly had more to think about.
I thought Williams did amazingly well to dig that header out from under the bar. The centre-halves were bound to be exposed at times as our full backs were caught upfield so many times.
The centre-backs often look like the guilty parties, but are often not to blame. Williams let the winger past at one stage because he had to stand Rodriguez up. There was no Baines ,as he was still jogging back in the distance , and yet to most observers it looked like Williams was at fault. It is the perils of wing-backs.
Coleman, though has to improve his crossing, as it was so wasteful, and he also needs to shoot more, like he used to.
A great result after such a poor first half.
Colin Glassar
25
Posted 02/01/2017 at 17:46:11
Will we be last on MotD tonight? I suppose so.
Sandra Bowen
26
Posted 02/01/2017 at 17:47:14
Barkley simply plays better when he's surrounded by high-tempo midfielders. Encouraging result and we're definitely looking a lot more solid which is Koeman's priority at the moment.
Hopefully the football will improve as confidence grows. There were certainly less long balls today.
Still desperate for extra creativity but let's enjoy the three points and the new-found endeavour.
George Cumiskey
27
Posted 02/01/2017 at 17:49:26
Barkley was MotM and superb... oh my god, what game!! Were you watching!!! Unbelievable.
David Donnellan
28
Posted 02/01/2017 at 17:50:53
I heard that "your shite lad" shout, but I thought I heard Ward-Prowse's name in amongst that & Barkley just happened to be on camera when it was shouted out. I could be wrong though!
Conor Skelly
29
Posted 02/01/2017 at 17:56:16
Huge win for us today. I thought we looked devoid of ideas in the first half and, up until the hour mark, I couldn't see where a goal was going to come from.
Coleman gets himself into great positions but his end product is so poor ninety percent of the time it frustrates the life out of me, not to mention Lukaku. Finally though, he put one in that beat the first man – but what a leap from a standing start by the big man and Valencia was alive to pounce on the lose ball.
The sub for Lennon changed our attack. All of a sudden, we had options for the man in possession when breaking forward and looked a threat every time we got the ball.
I thought Tom Davies had a good game. Of course, there were moments of over-running the ball and sloppiness but he provided an energy and intent in possession we missed. He needs to stay in and get a run of games. He not only gets himself about but has a trick or two in him and can make things happen and change the direction of play.
Ross came alive too in the second half because he had more options. He gets criticised a lot for his decision making but a lot of the time we are so static that as a play-maker he has no options and gets caught between trying to create something and doing the simple pass. In a team of better players with more movement, Ross Barkley will improve and become more consistent.
It's a big month for Koeman, Walsh and Mr Moshiri. We need quality reinforcements to bolster the squad. Money should be spent on an aggressive leggy forward (Vardy) and a somebody to provide better delivery from one of the wings, preferably the right. A centre-half would be nice too but I think Funes Mori is better than people give him credit for.
A look down the fixtures shows you that 13 out of the remaining 17 games are ones we would expect to win. Time to kick on now.
COYB.
Andy Meighan
30
Posted 02/01/2017 at 18:01:46
Colin (#25), we definitely won't be last on MotD tonight. That honour will go to Boro and Leicester for dishing up some of the worst fayre I've ever seen in my life. A disgrace to the so called best league in the world.
As for us, you can't argue with a 3-0 win especially after performing so poorly for an hour. That would have been 5 without defeat only for the devil's club spawny goal.
But hey, it was only a few weeks back I couldn't see us winning another game, so at least there's signs it's improving A few decent signings, a bit of deadwood shipped out, and it's onwards and upwards
Dermot Byrne
31
Posted 02/01/2017 at 18:09:13
3-0 whilst playing crap for at least half the game. Great to see improvement.
10 points from 15 in last 5. I'd have taken that before Xmas. Maybe the manager does know how to improve an average squad?
John Pierce
32
Posted 02/01/2017 at 18:23:50
Encouraging last 20 mins. Iced by Davies's vision for the third. First 70 mins turgid and no better than recent weeks.
Maybe the fitness element is paying dividends? We are scoring a lot of late goals.
I thought Robles was good today, one flappy corner apart he was okay. Good 1 on 1 saves when needed.
Up and down from Davies but always looking to transition quickly. Took opposition players with him when he dribbled. Will say when isolated 1 on 1 on the flank looked a concern. Lovely weight of pass for Rom, in front no touch required.
Rom, of whom I will always believe should do more, had a very decent game today. Hold up was passable and made more better decisions than not. Ironically his massive miscontrol fed Valencia.
Ross was better, a little higher up the pitch, the situation as often required him to be instinctive, that's when he's very good. However, too ponderous in possession for me, but an improvement no less.
Segwaying to Enner, he templates what is required and simply created more space for Rom. His energy over the last few weeks or so merited a goal.
Finally Koeman, my arch nemesis, deserves a pat on the back. Whether enforced or by design, selection and subs were effective today, still have no idea what shape we play. But there's been a small nudge in recent weeks in results, which will always give the manager space.
If Koeman repeats his league cup debacle then he will deserve everything he gets. Leicester are poor away from home. We need to see progress and sustain the little momentum we have. Wholesale changes in the only competition we can win would be foolish.
Phil Walling
33
Posted 02/01/2017 at 18:28:14
We began and ended the Christmas/New Year period in seventh spot. However crap most of the football may be – and regardless of whether or not all these Man Utd casts off are signed in the window, I see no reason why that Moyes-like position should not be Everton's at season's end.
Koeman will be seen to have done a splendid job. Surely no-one was seriously expecting anything better. Were they?
Roman Sidey
35
Posted 02/01/2017 at 18:33:26
Currently on our best 3-match run since the winning streak in September, so let's hope the feeling is infectious in the squad.
Dispatching of Southampton like that is actually significant inasmuch as they are arguably the closest team in the "rest" bunch to troubling our spot in 7th – West Brom surely can't maintain their lofty achievements.

Andy Williams
36
Posted 02/01/2017 at 18:36:06
Spot on, Conor. I had another argument with somebody at the game re Ross. He needs players moving for him. When Valencia came on his runs were making space for himself and the other forwards and he played some lovely passes.
It comes to something when Gerrard has to speak up for him against the naysayers. I think he will benefit from having Davies alongside him as he is always looking to create space.
Conor Skelly
37
Posted 02/01/2017 at 18:36:12
The Leicester game comes at a bad time for us. I hope we don't see a similar situation to the Norwich game and lose our league momentum.
Lets knock Leicester out of the cup and have Moshiri tap Vardy up after the game.
Ian Bennett
38
Posted 02/01/2017 at 18:46:08
Valencia isn't the answer, but boy did he improve the play. A mobile foil gives so much more room to Lukaku and Barkley. I thought Ross looked so much better playing deeper, with someone offering decoy runs.
The first half was poor, but with a day's more rest and some legs in Gueye and Davies we looked good for a big win in the end.
I felt for the young Calvert-Lewin, I hope he gets another chance soon.
Finally, I hope Koeman has learned that he can only play 2 from 4 in Baines, Barry, Jags and Williams – some good pros but legs are gone.
Tony Hill
39
Posted 02/01/2017 at 18:46:57
Good ending and that will do for now. I thought Funes Mori had a fine game.
I have never seen Ross acknowledge the crowd as he did today. It fleetingly crossed my mind that he knows something we don't but I am sure it was a reaction to the Gerrard comments.
Some of Davies's tackling and general play later on in the match were great to see. Let's keep building.
Ray Robinson
40
Posted 02/01/2017 at 18:48:33
The final 20 minutes mask the fact that the previous 70 were an insult to the Premier League, where, despite the changes made by Koeman, we looked awful. The introduction of Valencia certainly gave Everton a bit more directness.
Shame that Calvert Lewin went off so early as he really does look a decent prospect. However, a 3-0 win is not to be sniffed at and will surely boost confidence.
Just one other point, I noticed how Lukaku didn't bother to celebrate with the team when captain Baines insisted on taking the penalty and scored. Good on Baines for doing so and poor show Lukaku for throwing a strop.
Bill Watson
41
Posted 02/01/2017 at 18:54:52
Barkley had his best game for some time and Davies added energy and movement in the middle.
The quality of corners and centres is appalling: don't they practice them in training?
The Mirallas defacating bit reminded me of the classic Football Echo report from many years ago: "Tommy Wright had a great shit from 25 yards!"
John G Davies
42
Posted 02/01/2017 at 18:59:17
10 points out of a possible 15. We would all have been happy with that.
Koeman is finding out more about his squad in every game. Trying different formations with different players to see what his priorities are.
I remain fully confident he will get it right in the long term. The fact that the shouts to sack him have died down is an added bonus. Give him time.
Christy Ring
43
Posted 02/01/2017 at 18:59:32
Valencia changed the game, and credit to Koeman. The big difference was, he played closer to Lukaku, which makes him a bigger threat, and Ross excelled, having more options and space.
I hope Koeman can see now, Barkley is an Evertonian.
Andy Crooks
44
Posted 02/01/2017 at 19:03:07
I thought we would win well but I was still a bit disappointed. Valencia needed a goal and game time, he got both. He will be good. Great day. Last on MotD I suppose.
Great show by Sunderland adds a little to the day.
Chris Corn
45
Posted 02/01/2017 at 19:06:37
Andy (#36), Barkley did well today but I don't agree with Gerrard.
I agree more with Carragher and Henry who said it is up to Barkley to start performing and that managers and the fans shouldn't be blamed for his shortcomings.
Let's hope he builds on it.
Des Farren
46
Posted 02/01/2017 at 19:09:34
Probably not, Phil @ 33, but having spent 㿞M, we are maybe entitled to expect something.
Dave Abrahams
47
Posted 02/01/2017 at 19:12:30
Another good result, performance no better than before until Valencia came on and played as a second striker creating space for Lukaku to run into and Barkley to use.
I love Coleman's enthusiasm but the crosses he puts in are terrible, he never looks up and just jinks them in, no variation like smashing the ball into the six-yard box along the floor. The first time for weeks, he put some pace on his centre we scored.
Everyone seemed to improve after the Valencia substitution but before that the whole game stunk, I hope this win improves the confidence of the team and we keep it up in the cup.
MotM? Valencia for his goal, getting the penalty... but most of all, for changing the game and putting smiles back on our faces.
John Pierce
48
Posted 02/01/2017 at 19:14:08
Might be a little technical but perhaps worth a shout. Ross can and does play decent through-balls, today was a case in point. Often today included he underhit more than he made.
I hope he learns to give that pass a little lift, creating the distance, the touch on the ground, the weight.
Just a couple of green shoots in Ross's game today. Good in parts but not as good as several posts are espousing.
Darren Hind
49
Posted 02/01/2017 at 19:14:20
I agree with Mick Davies. 'm more convinced than ever that Koeman is a little slow.
Three weeks ago, he was responding to pressure from all and sundry to play the youngsters: "They're not ready" was his response to the calls for their introduction.
The pressure to give them a chance has clearly proven too much to resist and the Dutchman is reaping the rewards of doing a complete volte face.He may not have liked the home truths he was receiving from the faithful... but at least he seems to have relented.
As said above; not a great spectacle for 70 mins, but Valencia got off the mark (more to come there). Baines showed he is still the man to take the penalties... and after watching the lump for an hour, we got to see the beast in full flow.
MotM? I'm going for Davies. Composed, skillful and combative.
"Not ready"? My arse!
Mike Powell
50
Posted 02/01/2017 at 19:15:30
I think Barkley was superb today.
Andy Crooks
51
Posted 02/01/2017 at 19:17:41
We are getting points without being at our best. We will give someone a proper thumping soon. Then, it will build confidence and the tide will turn. I honestly believe good times are coming.
David Price
52
Posted 02/01/2017 at 19:19:10
Very impressive performance, solid at the back, Robles did well. Midfield strong.
Watching Davies the last 25 minutes in particular reminded me of Trevor Steven, the way he glided round the pitch and head up looking forward.
First steps from Koeman in taking us on. He's the right man, no doubt.
Roman Sidey
53
Posted 02/01/2017 at 19:24:55
Andy, let's hope it is Leicester next week.
Jim Bennings
54
Posted 02/01/2017 at 19:24:55
That last 20 minutes today was so much better and that's what it should be like for opposing teams coming to Goodison, so please, Ronald, can we start playing two strikers more often especially at home!.
Barkley had his best game for a year or more; finally he looked like a player that wanted to take responsibility and get the game by the scruff of the neck.
Valencia added that extra worry for Southampton's defence and I was reasonably impressed by the tidy nature and pressing of Tom Davies.
It hadn't been pretty at times this season under Koeman but ,to give him credit, we have had a relatively solid home record and the defence has cut out the vast majority of self destruct goals that flowed on a weekly basis last season, Yes, we are still suspect to crosses and corners on occasions but in the main especially at home we have done ugly defending quite well and ugly defending is something we were all screaming for last season.
Let's see how the transfer window this month and in summer develops, Koeman does need time to address the bigger picture and stamp his authority.
We need to remember the state this club was in last Spring – it was in complete crisis on its knees.
Brian Williams
55
Posted 02/01/2017 at 19:26:50
An excellent result and a very good last 20 minutes. Have to agree with Ray Robinson that for the preceding 70 minutes we were shite.
The substitution changed the game but what changed it even more was the sudden appearance of "confidence". Players started doing things they didn't have the bottle to do earlier. Started trying things they hadn't dared during the first 70 minutes.
A few observations.
Ross can be as wonderful as he can be woeful. He played very well on the whole but does make some basic mistakes. I can forgive that if he does as well as he did today.
Lukaku's a right diva. For the penalty, for those who weren't there, Coleman actually took the ball off him and gave it to Baines and Rom had a right cob on. He didn't celebrate Valencia's goal much and his own not at all. What's wrong with him?
Davies showed today that he's got the makings of being a very good player while also showing that he's still got a lot to learn. I can understand Koeman's reluctance to not start him, but he didn't let anyone down by any stretch of the imagination.
Last observation: At least six players needed between the two transfer windows.
Andy Williams
56
Posted 02/01/2017 at 19:30:16
Chris,
Barkley is an instinctive player and much of that was knocked out of him by Martinez.
The fella in front of me is always niggling at him. Barkley had just made a handful=l of good runs and passes and the crowd was screaming at him to shoot when on the edge of the box. He shot way over and the moaner tore into him.
The lad is a true blue and how must it feel for him to have every stray pass condemned by his own. He has so much talent but also has some obvious fragility mentally.
Yes, he needs to learn but how does anybody learn when every mistake is treated in such a way. You may be able to learn in such a manner but then you must be a stronger character than I.
Anthony Dwyer
57
Posted 02/01/2017 at 19:34:03
IMO, the first half was a little bit strange in that we played within ourselves, but Southampton were happy to draw this game, and the lads looked a little bit nervous.
We wasn't as slick as if have liked, and the tempo of our football wasn't the quickest, but its another clean sheet, 3 points, and 7 out of 9 since losing the derby.
One thing that did concern me was the reaction of the crowd once we went one-up. I thought Barkley and Davis especially looked to play keep ball, which was the sensible thing to do, as, even though Southampton went behind, they didn't panic and kept to there game plan.
Keeping the ball exposed Southampton and forced them out, that's something clever teams do, and if you then have the quality to use the spaces the opposition leave in behind, chances come.
I'd now like Ronny to leave Robles in goal (something I didn't like the idea of at the start of the season). Funes Mori should be our main centre half (something I don't think Ronny will do as he doesn't seem to like him). And Davies has to stay in the team, hopefully with McCarthy while Gana is away.
As an added note, I felt sorry for Calvert-Lewin, he started brightly, shame for the poor lad.
Jim Hardin
58
Posted 02/01/2017 at 19:34:09
Excellent result.
Lukaku ran his butt off and did well on high balls and playing the ones that found his feet, mostly holding off one and two defenders. The commentators over here were lauding him.
Barkley is still frustrating when he passes behind the runner instead of in front, but better (I did count 5 passes directly back 25 yards to Funes Mori though without looking for another option on the attacking half). His mistakes though were amplified because the cameras kept flashing to Koeman who looked like he was chewing nails and glaring at Ross.
Davies, young and rash and gave the ball away too much, but half the time won it right back. Lennon, pressing and speed but little to offer on the offensive side. Although,Coleman seemed to bomb forward knowing Lennon had his back if needed.
Mirallas was energetic and made several good passes but man, I can shoot like him, which is why I am not a pro.
I like Funes Mori, no secret to anyone on here. He did really well playing higher knowing (hoping) Williams was staying back to be almost a sweeper. I thought they did well.
Baines still discouraging on defensive coverage but better on his offensive side. He and Davies though both to blame at the end for the last run up the pitch where Robles had to come out one vs one. Davies still dives in too much and WTF was Baines doing going to ground?
Now to Robles. Still punches too much instead of catching. However, he is starting to read the game better and was immense coming out to completely take away any sight of the goal on the couple of breakaway moves. If he continues improving and coming out then he must start in front of mis-Stek.
I don't see why any changes should be made to the next game. COYB!
Chris Bentham
59
Posted 02/01/2017 at 19:36:59
Koeman is here for 2 years minimum no matter what. He needs 2 windows till he has his team.
Barkley is playing well, he needs support. Gerrard was spot-on – the supporters need to stop using him as a scapegoat.
We are where we deserve to be, the performances are getting better, so let's be positive.
Mike Doyle
60
Posted 02/01/2017 at 19:37:08
Analysis on the BBC site shows Tom Davies covered more ground than any other EFC player. Map shows lots of box-to-box activity. Plus a good assist.
Well done, young man!
Chris Corn
61
Posted 02/01/2017 at 19:38:33
Andy (#56), so at what point does Barkley become responsible for himself?
You're blaming Martinez who effectively just let Barkley do what he liked and have no discipline. Now Koeman is at fault for not indulging him.
Tony Abrahams
62
Posted 02/01/2017 at 19:40:29
I thought the Man of the Match today was definitely Everton's crowd.
Awful second-rate football, which only changed when we finally went to playing with two up front, but the crowd stayed with the team, which isn't easy to do when you're exasperated!
John Keating
63
Posted 02/01/2017 at 19:46:12
Valencia helping out Rom and therefore improving his performance only supports what many have been calling for all season. Rom by himself up top is no good for both him and us.
Young Davies's energy allows Barkley more movement and space and also allows him to do his thing.
Hopefully today gives Koeman confidence on only playing 1 defensive midfielder in games, especially at home. I sStill reckon a goalie and striker are a priority.
Brian Williams
64
Posted 02/01/2017 at 19:54:20
It's Calvert-Lewin, by the way, just as it's Barkley not Barclay.
As supporters, we should at least know our players' names and how to spell them!
Andy Williams
65
Posted 02/01/2017 at 20:05:11
Chris, I am not saying that he should take no responsibility but I am saying that some of the idiotic comments made about him are detrimental to his development.
If he wasn't one of our own he would not be suffering the abuse he does. I truly think we are in danger of driving away a great talent.
Jay Wood
66
Posted 02/01/2017 at 20:05:12
BW @ 64
Good point, Bryan...
Eugene Ruane
68
Posted 02/01/2017 at 20:07:33
Pleased (obviously) with the points and the win.
Enjoyed watching Davies's "you'd better not drop me" performance and Valencia did very well after coming on.
But (yeah always a but) we are so far away from being a side that has any kind of... um... fucking.. erm...'style' or 'pattern' or 'philosophy.'
Or to put it another way, what is Everton's 'game'?
(What is Everton's team, for that matter?)
I'll be honest, we seem to have no real plan, so until we do (until there are signs of REAL change) I'll enjoy our wins, bemoan out losses/draws etc, but try not to get too worked up by either.
At present, success/failure seems to boil down to, if we get a bit of luck on the day, we've a chance of a win; if we don't, we'll probably lose (which is not really a plan as such).
When I see signs that we are bringing in (enough) players who can genuinely influence things (ie: players who can physically muscle opponents, players who can shout 'Fucking man on!!', players with real football brains who can pick out a run, or can consistently cross a ball well), then I might be prepared to invest a bit more effort into... um... you know, bursting blood vessels and all that good TW stuff.
Up the Toffees!
Tony Abrahams
69
Posted 02/01/2017 at 20:10:27
They say you never stop learning so, at 18 years of age, young Tom Davies, has a hell of a lot to learn. But, modern football, is as much about energy, as anything else, and this kid covers a lot of ground, both for himself and his team-mates, and seems to relish hard work.
We all want quality, it's the name of the game, but until we find it, then this kid will do for me. He's not the messiah some people think he his... but only a fool would think he doesn't deserve his place in the team right now.
Mike Dixon
70
Posted 02/01/2017 at 20:15:32
Lukaku refused to celebrate the first two goals. He looks like a man helll bent on leaving to me.
I don't understand all the TW's giving Barkley stick for passing backwards when no-one but no-one moves in front of him. Is there a stat for 'least moved' attack? We would piss it.
Scoreline flatters.
Andy Crooks
71
Posted 02/01/2017 at 20:18:51
Good post from Jim Hardin.
Jon Cox
72
Posted 02/01/2017 at 20:23:05
Andy, yeah, especially the bit about Tom Davies.
Brian Williams
73
Posted 02/01/2017 at 20:29:37
Nice one, Jay! :-)
Pete Edwards
74
Posted 02/01/2017 at 20:31:06
Why do some still expect Barkley to make every pass he attempts!
Name me one player who can and does it and I'll shit a golden egg for you!
If he only plays one or two successful through-balls a game that result in goals (or clear chances), I'll be happy
Peter Morris
75
Posted 02/01/2017 at 20:34:37
I was disappointed with what looked like an almighty sulk from Rom today. He clearly wanted to take the penalty, and Bainesy, captain on the day and nominated penalty taker, shooed him away and duly stroked home.
Rom just trudged back to the centre circle, hang dog. He was the only out field player to offer no congratulations to Baines, yet when he himself scored, Baines ran from his left back position to pat him on the back.
Shame on you ,Romelu, you big daft lump! It's not just about YOU!!!
That's how it looked to me anyway.
Mark Fitzgerald
76
Posted 02/01/2017 at 20:35:19
Eugene @ 68, good post, echoes my own feelings on the current state of the players, manager & team outlook.
Laura Round
77
Posted 02/01/2017 at 20:36:38
He definitely wanted it Peter... no way. Not after Wembley!
Jay Griffiths
78
Posted 02/01/2017 at 20:38:45
No 43 Christy. You've quoted us verbatim from the stands. Touche.
Ian Riley
79
Posted 02/01/2017 at 20:38:54
Koeman has been criticized on this site over the past few weeks. His changes (subs) today showed why we are in the stands.
He demands more from the players and is honest in his analysis. A quality manager whom we are lucky to have. I hope we give him the players he needs to take us to the next level next season.
Graham Mockford
80
Posted 02/01/2017 at 20:54:47
Peter Morris (#75),
That's more or less how I saw it. Although to be fair I think he had a word with himself trudging back to the halfway line because he definitely signalled to Baines before the kick off to congratulate him.
I thought Davies added some energy once he got into the game. I also thought Funes Mori played well. I think a pairing of Jags and Williams isn't going to work. As Carragher pointed out against Hull, both of them want to play in the armchair and don't cover full backs effectively.
Even though Funes Mori played well today you always watch thinking there is a gaffe in him. A centre-half should be high on the shopping list.
Colin Malone
81
Posted 02/01/2017 at 20:59:44
Spot on again, Ronald Koeman.

Thank you for seeing the gift of our diamond Ross Barkley and the potential of James McCarthy.
Jon Cox
82
Posted 02/01/2017 at 21:38:59
Graham, I think RK is after Hertz Van Rental from Southampton.
Mick Davies
83
Posted 02/01/2017 at 21:44:32
Ian @ 79.
A quality manager whom we are lucky to have.
Really? He's getting 'results' by doing what most of us on here have been saying for months 'Rom needs a partner' – 'Jags is finished' – 'Youth should be given a chance' etc. He's only fell upon these combinations by chance.
If he carries on with this side (minus Gana of course) and doesn't insist on playing dinosaurs and square pegs, I'll give him credit. I just have a feeling he'll do a 'Norwich' for the FA Cup game.
Ernie Baywood
84
Posted 02/01/2017 at 21:59:08
Rom looked in a bit of a sulk the whole game, even by his own standards. Didn't even celebrate his own goal.
Looked a bit odd to me.
Dave Cooney
85
Posted 02/01/2017 at 22:02:03
Think this might be why we don't seem to have any 'plan' or style or just a simple way of playing:
Robles -– makes Dai Davies look like Gordon Banks.
Coleman – can't bend it like Beckham. Runs like an Ork.
Baines – gone all serious like since he cut his hair. Think he got pissed off after one of the lads drew a penis on his Midge Ure cream trench coat at the back of the coach to Spurs away.
Ashley Williams – sounds as Welsh as Ray Winstone. Not as hard as the 'daddy' though. Pity that, thought he was gonna shake up the overpaid beauts.
Jagielka – Great servant... needs to join that over-50s walking football league in Coronation Park.
Mirallas – your dodgy mate who'd kop for anything in town. Always looks caned. I reckon he turns up at Goodison still in last night's clobber with his head in his hands.
Barkley – ace.
Gueye – our number 17's Gueye. Never fails to amuse me.
Davies – if you think he looks a bit weird, check out his uncle Alan.
Lennon – bit like that crap pressie you get off your wife. The effort needs to be commended but fuck me.
Lukaku – Sky reporter after the game: 'Great goal, Rom (like he's his best mate). You don't get many with your right foot'. Lukaku replies looking the other way with his hand covering his mouth. The reporter looks bemused then turns and thinks, 'Knob'.
Koeman – remember singing 'Atkinson's long leather' when 'Big Ron from the Swan' was Man Utd's manager. Koeman's tight black raincoat is reminiscent of it. It might be one of Baines's cast-offs.
Patrick Murphy
86
Posted 02/01/2017 at 22:21:41
Dave (#85),
I take it you enjoyed the match; what time is your medication due?
Graham Mockford
87
Posted 02/01/2017 at 22:28:47
Dave Cooney,
Have you tried the matchday Live Forum? You'd fit right in.
Patrick Murphy
88
Posted 02/01/2017 at 22:28:59
The only player who looked as if he was an Everton player was young Davies – that's a compliment to the kid but a huge slur on the rest of the team who remain strangers to what Everton as a club is all about.
That is probably a tad harsh on Baines and Coleman but the first hour of today's game was painful in the extreme.
Jay Harris
89
Posted 02/01/2017 at 22:29:46
I thought the crowd were very poor today. It was like everyone was still hung over from New Year.
I think we are seeing odd flashes of brilliance from individuals rather than a cohesive team effort and am hoping that Koeman can reintroduce the team spirit that Moyes generated with everyone working with a sense of purpose.
I thought Valencia turned the game for us as a stale 0-0 was looming. Davies was a non stop driving force and we will miss Gueye for the next few weeks.
Damian Wilde
90
Posted 02/01/2017 at 22:32:12
For 70 minutes we were utter dogshit and you look at the team and think most of them need to go. Last 20 minutes we were very good, though Southampton are not very good.
I thought Davies had a decent game. Barkley I thought was crap. He hit a ridiculous shot, which I think ended up in the Upper Gwladys. He often lost the ball. And how many times dud he get the ball, dance about and ended up turning around and passing back? A lot. So often he doesn't pass forwards. He just looks a bit thick. The fella next to me said it's like playing with 10 men
There is so much deadwood. The following probably need to go:
- Cleverley
- McGeady
- Kone
- Mirallas
- Lennon
- Deulofeu
- Jagielka
- McCarthy
- Stekelenburg
- Williams
- Niasse
Good win, but we need serious improvement.
Steven Jones
91
Posted 02/01/2017 at 22:35:58
Bravery and credibility from a supporter is when they can criticize – but support their team to reach the next level.
Barkley deserved that ovation at the end – those detractors of any of our players do the job of the kopites, when needless abrasive comments impact the emotions of our players. When it is young ones, like with the talent Ross, it is an absolute disgrace and shame on those that fall to their own weakness of character and blurt out awful over-exaggerations, falsehoods and caricature observations to feed their own egos... support Everton not your own egos!
Get behind Holgate, get behind Davies and get behind our diamond – he is a Toffee and a very rare talent. Make the enemy without, not within, gentlemen!
Graham Mockford
92
Posted 02/01/2017 at 22:36:27
Damian,
At least you've found a like mind to sit next to. I guess you didn't join the standing ovation when Ross was subbed.
And in your deadwood you have McCarthy and Williams. Get a grip man.
Tony Dove
94
Posted 02/01/2017 at 22:40:01
Davies looks a real prospect and let's hope everyone treats him as that rather than as the finished article. He looks more like an Alan Ball type player than a holding midfielder. Sounds good to me.
Gordon Crawford
95
Posted 02/01/2017 at 22:48:11
No one should agree with Slippy G on Barkley needing to leave Everton. But I do agree that Ronald has been too public in his criticism of Ross. Ross needs to stay and work hard, that's the best advice he will hear right now.
His confidence is low, that's a fact. He needs an arm around him not a kick up the ass. But maybe, just maybe, he is turning the corner. I for one hope that he is.
Bring on the signings and the good news about the docks. :)
David Donnellan
97
Posted 02/01/2017 at 23:04:52
2nd last on MotD! I shouldn't be surprised really.
We only won 3-0!
Gavin Johnson
98
Posted 02/01/2017 at 23:09:02
Missed the game today because of work. It's the 1st game I've not seen this season. Makes me wonder if I should miss more. 3-0 against Saints is good result I wouldn't have predicted.
Chris Gould
99
Posted 02/01/2017 at 23:19:23
Well said, Steven Jones and Graham Mockford. There are a few on here who every week say Barkley is shit, Koeman is clueless, they're all shit... blah blah negative blah. I wish there was a way to filter posts on this site.
Now of course there have been matches where Barkley has been shit and Koeman has baffled us all, but today wasn't one of them and anyone who thinks otherwise has expectations beyond the realms of reality.
Damian, I don't know if you really believe Barkley was shit or if you just like to be provocative. Either way, it's a ridiculous statement. But pretty much a standard negative post for you.
Damian Wilde
100
Posted 02/01/2017 at 23:20:00
Jay Harris:
"Thought the crowd were very poor today."
No, that would be the team for 3/4 of the game. Can you blame the crowd? The utter dogshit generalky served up, I'm amazed we actually show up. At the moment it's like 'oh fuck it's the match today'.
Graham, no I didn't. Also, why should McCarthy stay? He has one half-decent game and suddenly he's ace. Same happens when Barkley has his quarterly good game, suddenly he's Xavi.
Barkley is Rodwell Mark II.
Jeff Armstrong
102
Posted 02/01/2017 at 23:22:00
Damian, everyone on here knows you hate Barkley, but you lose any credibility when the lad has a decent game and yet you still feel the need to come on here and slag him off for the bits and pieces he got wrong.
Garry Corgan
103
Posted 02/01/2017 at 23:38:07
Slightly strange that Lukaku didn't seem to celebrate any of the goals, even his own – though his teammates did mob him after the last one.
George Cumiskey
104
Posted 02/01/2017 at 23:39:07
Barkley and the rest of the team besides Davies were poor for 75 mins so don't get carried away. Good result – poor performance!
Sam Barrett
105
Posted 02/01/2017 at 23:39:24
Just realised... THREE ex-Everton players on MotD!
Chris Gould
106
Posted 02/01/2017 at 23:42:05
Damian, you've just said that same comment about Barkley on another thread. What's your problem with the lad?
He's one of ours and he's only 23. Is this how you'll treat Tom Davies once he goes through an inevitable bad patch or continues to make a few stray passes like today?
You've written him off and called him Rodwell Mark 2. Even when he has a very good game you call him shit? How do you expect anyone to take you seriously?
You sound like you have a personal grudge against the kid. Seems to me like you want him to fail so you can say, 'told you so'.
David Hallwood
107
Posted 02/01/2017 at 23:46:30
Yes Sam (#105) but we were still 2nd to last. BTW did anyone notice Lukaku's body language, not celebrating the goals, even his own. Interesting.
Graham Mockford
108
Posted 02/01/2017 at 23:49:56
Damian,
No one compared Ross to Xavi but you included McCarthy in a list with Kone, McGeady and Niasse.
Arses and elbows come to mind.
Dave Abrahams
109
Posted 02/01/2017 at 23:53:28
Strange on MotD, they didn't even discuss the Can incident which could have been a third penalty for Sunderland, mind you there will be questions asked in Parliament over Liverpool getting two penalties awarded against them in the same game.
Eddie Dunn
110
Posted 02/01/2017 at 23:56:30
Chris Gould. Thanks for saving me having to write that.
Trevor Peers
111
Posted 02/01/2017 at 23:57:14
Davies was easily MotM today, he added a fluidity and an excellent 1st touch to the midfield that has been missing all season, it certainly helped Barkley who had probably his best game for years.
That said, they must produce it consistently as all good players understand; let's see if they can reproduce that form, say over ten games. When they don't do it for long periods, supporters have every right to be critical, but not abusive.
Glossing over serious flaws in the team, by pandering to favorites, one of Martinez's worst faults, is idiotic and those who put forward that argument damage the clubs reputation by accepting gross mediocrity.

Armando Canaj
112
Posted 02/01/2017 at 23:57:46
George (#104),
"Good result – poor performance!"
Isn't that a mark of a good team and coaching staff!!! Win despite a poor performance.
Lord, we won. Get over it, people...

Glenn Williams
113
Posted 02/01/2017 at 23:59:55
Thanks for clueing me in on why Rom didn't celebrate his goal. On the penalty, I was too excited over the fact that we have gone back to having Bainesy be the man from the spot. I did not notice the kerfuffle between Rom and others over the ball. If its true that Coleman took the ball from him and gave it to Baines then great.
However... the quality of our crosses from Coleman & Baines and especially our corners from Barkley & Mirallas has me going stark raving mad. It's been a season long sore spot from me. What in heck can be done to improve in those areas since no doubt crosses/corners are practised daily????
Am I dreaming that young Brendan Galloway was a very decent crosser of the ball during his run last season before his injury? Why exactly was he sent out on loan? I think he would have been much better off in and around our first team. Certainly he could have contributed more than Oviedo (who I don't dislike)?
Andy Crooks
115
Posted 02/01/2017 at 00:01:36
"Deadwood" are actually people. Hugely paid but not, for some fucking reason, covered by employment law?
"Shipping out" is an utterly cretinous concept.
Brent Stephens
116
Posted 03/01/2017 at 00:03:42
Damian (#100) "Barkley has his quarterly good game, suddenly he's Xavi." – Stupid comment.
"Barkley is Rodwell Mark II." – Stupid comment.
Sam Barrett
117
Posted 03/01/2017 at 00:05:58
The only strange thing about MotD Dave was 3 ex Evertonians instead of the usual kopites. Obviously the editor is a kopite – as you say, they never even mentioned the Can "penalty"!
Brent Stephens
118
Posted 03/01/2017 at 00:08:43
Damian (#90),
"Barkley I thought was crap".
Clearly you don't think.
Anthony Dwyer
119
Posted 03/01/2017 at 00:15:57
I agree, Brent, a typically pathetic comment about a lad who is in a bit of a slump in form.
Ross played well today, well against Hull and is expected to play like Messi every game to be given bit of credit from some clueless blues.
Probably the same fans who think Rom is shite and Naismith should still be at the club.
Give it two months an the same fans will be ribboning Davies because he's not in double figures goal wise or something equally as stupid.
Credit where it's due!
Charlie Lloyd
121
Posted 03/01/2017 at 00:40:21
I do like Koeman's honesty at interviews.
We weren't special in the first half and he acknowledged it. Fair comment. Unlike last season's events.
Ross played pretty well today. A few passes went astray early on when the whole performance of the team was poor but he got a grip in the second half and started to control it. Also, his work off the ball has massively improved in the last month. By being kept alert and involved without the ball it's keeping him concentrated when he has it. He still has to produce this consistently but there are signs of a more complete player there.
I've posted some negative comments on Ross in the past because it's like today's performance that I want from him and, hopefully, long may it continue.
To those who think he was poor today – take a look at yourself.
James Watts
123
Posted 03/01/2017 at 00:41:28
Well, well, well. The penny has finally dropped for Mr Koeman.
I was absolutely delighted to see DCL & Davies start. Wasn't so delighted DCL went off injured but was delighted with the way Davies played. It just goes to show this lad is ready, without a shadow of a doubt.
He gave us everything we've been missing in the middle of the park. Drive, enthusiasm, forward passing and some nice tackles. He wasn't perfect, was up against a very average midfield, is by no means the end product and will have dips in form but I believe we have a real star in the making there. Just a shame Koeman didn't want to play him months ago!
Overall, I thought the first half was shit. The second half much, much better. I thought Robles, Williams, Davies & Gana were our stand out players.
And special mention to Koeman. I thought he got everything right today for the first time in a long time, from team selections to substitutions. Let's hope the lessons have been learnt!
Gavin Johnson
124
Posted 03/01/2017 at 00:45:06
I didn't see today's game but Barkley looked like he had a great game on the highlights on MotD this evening. Killa and Keown thought he was outstanding.
There has been a marked improvement in Ross's game in recent games since low points like the Sunderland game in September. He been playing really well since the Arsenal game, apart from the derby where he did disappoint.
I've said it on other threads and I'll say it again. We need to be building the team around Ross. I don't agree with any of the abuse he receives on TW. I wouldn't blame him if he refused to sign a new contract.
I agree with other posters that we'll soon see a Tom Davies backlash as soon as he has a few bad games.
Charlie Lloyd
125
Posted 03/01/2017 at 00:50:47
Let's at least consign one thought to the archives.
"Koeman doesn't play kids"
Davies, Calvert-Lewin, Holgate all started now and Kenny on the bench in the derby.
Reasons to be cheerful.

Kevin Dyer
126
Posted 03/01/2017 at 01:07:23
Blimey, no wonder Goodison Park is a tomb sometimes with some of you miserable lot there. Faint with praise or what! Can we please celebrate a good win and apply some constructive criticism?
The starting team was fine. Calvert-Lewin was a bold choice but at least playing central, feel for the lad going off. Pleased to see no Jags and Davies in for Barry. For 30 mins, we played the right way but lost confidence/direction and started hoofing it again, allowing Saints to take control. Some good performances, nothing outstanding, Lennon invisible.
Sadly the expected reaction wasn't forthcoming 2nd half so I was worried we were going to lose it, as soon as they found their shooting boots. Looked shaky again defending any kind of cross, thought Funes Mori would help more in that department.
Finally, hauling Lennon off the right thing but pleased it wasn't a direct positional swap but Valencia playing up top. Immediately swung the game with Ross and Lukaku playing 50% better. Southampton never adjusted although still dangerous on the counter.
Great move by Koeman. I've slated him but that was a decisive intervention. Getting Barry on in the last 10 mins also a strong move, calmed things down broke things up and as one nice passing from him. That's his role now in this team.
Davies gave us mobility, energy and confidence. Whoever we bring in at central midfield he should play a part rest of the season. A couple of times he ran into trouble, which is to be expected, good in the air but needs to direct his headers better. Good assist and massive endorsement from Koeman to not take him off.
Okay, it's one good result, at home against a more fatigued team in a poor patch, nothing more but encouraging nonetheless. Some good signings and we can look forward to a solid finish. I see no reason why we should drop from 7th. Still not a coherent 90 mins this season and we'll want to see that, plus more inclusive attacking play, like we had at spells tonight.
Nigel Gregson
127
Posted 03/01/2017 at 02:00:01
Full credit where its due. I've slagged Koeman off in the past, but this is exactly the type of win we need to be delivering at this stage of the season – hoofball or otherwise. Played kids too – bravo, sir. Long may it continue.
Table doesn't lie and our current 7th place is a fair reflection of how we have played so far in the season.
David Ellis
128
Posted 03/01/2017 at 02:09:36
I don't think we should focus too much on individuals' performances. We just don't seem to flow well as a team – at least for the first 70 minutes.
It's a team game and the answer is getting the players to gel rather than hoping for a transfer window saviour. (Is Schneiderlin really better than Tom Davies?). All players look better when players around them are doing their job well off the ball. This is the manager's job and hopefully they will start to click soon.
A few decent results (if not great performances) may bring us the confidence we need to start playing better.
David Ellis
129
Posted 03/01/2017 at 02:16:01
But on the other hand it is fun to talk about individuals:
Barkley was great – he's a class act. Head and shoulders above anyone else on the pitch.
Jay Rodriguez – I thought he was brilliant two years ago ... I hope he gets back to full form and would like to see him in a blue shirt.
Tom Davies – took responsibility and can pass forwards and run forwards. A good outing and hopefully will get more game time during AFCON.
Lennon – he's really a wing back, not a winger.
Coleman – lacks quality going forward, but the quantity is so great it almost makes up for it.
Valencia – made a difference.
Mirallas – total show pony
Robles – did well I thought apart from one cross he should have come for but didn't.
Overall, a more clinical team would have buried us in the first half but Southampton were not good enough to do it – nor is any team outside the top 6 – so we are nailed on for 7th this season.

Michael Long
130
Posted 03/01/2017 at 02:16:37
Great result to start the new year. Possibly the worst 70 minutes of football you are ever likely to see, but how one substitute changes that. Hands up high, Enner Valencia!
Great to see the young lads Davies and Calvert-Lewin (gutted for him with the injury). However, it was nice to see them start and in for the ageing members, still give Holgate a shot like.
Robles – Made 3 important saves, still need a keeper this month. However, IMO he has to be number 1.
Baines actually manning up; Barkley was a positive and so on.
This result however, does not change the fact that we need signings; even if we would have won all our games last month, fans would still be the same on this point. Also, I looked at our bench today and I thought, other than Valencia, we are so short in attacking options. Needs to be done early and not deadline day.
Cleverley, Mirallas, Lennon, Jagielka, Kone, Oviedo, Niasse and Gibson need to be shipped off.
Goalkeeper, centre-back, attacking midfielder, wingers and definitely strikers in.
This is the time now where Koeman, Moshiri and Walsh need to prove their ambition by fucking the dead-wood off and bringing in young hungry players who can do a job.
Leicester next, we really have to take this cup seriously now, because the last time we tried to be billy big bollocks was a home tie against Norwich in September and since then we took the foot off the gas. Won't be easy, however we seriously can't take anything for granted.
Gordon Crawford
131
Posted 03/01/2017 at 02:23:55
Ross was very good today. Some people need to give him a break. Valencia, Davies, Calvert-Lewin all did well.
Yes, I noticed that with Rom, very strange indeed. Looks like he is sulking about something. Maybe he is trying to get his move and he has been told "You're staying."
Kristian Boyce
132
Posted 03/01/2017 at 04:33:17
With all the Chinese money floating around, I could see Lukaku leave this window for some ridiculous amount. Knowing his agent and his money grabbing ways, I wouldn't be surprised if we get close to the world record for him.
Anto Byrne
133
Posted 03/01/2017 at 04:40:01
Finally get a bit of energy in the side with some kids and Barkley looks a different player. I give my MotM to Lukaku for a solid all round performance leading the line with 3 men in close contention.

It was an amazing finish letting the ball do the work and a fantastic strike into the back of the net. That was the highlight for me.

Not wanting to count my chickens but a good run of form is now required and we could do quite well.
Mike Dolan
134
Posted 03/01/2017 at 05:32:38
Very encouraging. Everton can not be a great team with this squad but they look so much better now than they have for a long time.
Koeman's coaching and training seems to be getting through to the players. Valencia's running and simple quick passing created so much space for Barkley and Lukaku it was text book.
Barkley is really improving every game now he is a physical force, really looking like an ace midfielder. I'm praying we can bring in Schneiderlin in the next few weeks he's a truly class player, the type that makes all the players around him that much better.
Davies brings a lot of energy but maybe not quite the finished article yet. All-in-all, the last five games have been very encouraging, confidence is up. I like where we are going. Onward and Upward. COYB.
Ernie Baywood
135
Posted 03/01/2017 at 05:43:54
Somebody posted earlier a thank-you for clueing them in on Lukaku's reason for not celebrating... but for the life of me I can't see it in the posts. Anyone able to clue me in?
It was beyond unusual, but I'd suggest even angling for a move wouldn't bring that body language. And the team seemed to go out of their way to celebrate respectfully with him. Possibly out of respect due to some non-footballing incident or issue?
John G Davies
136
Posted 03/01/2017 at 08:14:12
Just read an interesting fact:
Yesterday was the first time this season any team in the Premier League had started with two teenagers in the team.

Brent Stephens
137
Posted 03/01/2017 at 09:19:12
John G, "The first time this season any team in the Premier League had started with two teenagers in the team". If correct, that's really interesting! Maybe Koeman is not so derelict in his duty to youth after all.
Paul Tran
138
Posted 03/01/2017 at 09:31:31
Very true, Brent. Another urban myth demolished by facts?
Sam Hoare
139
Posted 03/01/2017 at 09:55:29
I only watched the extended highlights but seems we were a tad fortunate and if Rodriguez and Redmond had their shooting boots on then could have been a different story.
Williams in particular seemed to give up a fair few chances, being easily skinned to allow Rodriguez into the box for a chance he should have buried, mistiming a few headers, and letting Redmond run past him for an excellent chance in the 2nd half when 0-0.
He has been a little better lately but still looks a long way off his assured performances as Welsh skipper. As much as we could use improvement all over the pitch, I still feel we look very underpowered at centre-back for a team in which the manager seems to be prioritising solidity and organisation above attacking power and prowess.
Ultimately a good 3 points which sees us better positioned than perhaps the performances merit which I guess is preferable to the other way around. We will miss our Gueye I think but hopefully a few January additions, along with more reliance on energy over experience, can see us edge closer to a team capable of putting in a 90-minute performance rather than the the sporadic bursts we have seen so far.
Stan Schofield
140
Posted 03/01/2017 at 11:01:32
It's always nice to win, but we're still lacking in terms of organisation, a need to gel more as a team. Individual performances and pressing have to be on the back of effective organisation, otherwise we'll continue to be too hit-and-miss.
But 10 points from a possible 15 can't be bad if we're not playing well overall. Imagine what we could do if and when we do gel more and play well consistently. We have the players, regardless of all the talk about transfer windows...
David Price
141
Posted 03/01/2017 at 11:44:18
Guys, reference Romelu and the lack of celebration. It's soon the 2nd anniversary of the death of his best friend, 10/01/15, Malanda, aged 20, killed in a car crash. Rom looked to the heaven's after he scored. Maybe his thoughts were elsewhere.
Chris Williams
142
Posted 03/01/2017 at 11:58:42
I think that was the reason put forward for Mirallas hijacking the penalty kick last season, David.
Certainly something wasn't right with him...
Mick Davies
143
Posted 03/01/2017 at 19:34:54
Damien Wilde @ 90: Good idea, let's get rid of McCarthy, at 26 he's well past it, but you don't include Barry on your list. So while Gana is away, we can have a 36-year-old who moves like a glacier partnering an 18-year-old who's played less games than Niasse.
I don't know if you noticed our early season games before Mac got injured; then the Arsenal game and the 1st half of the derby when he was played in his ideal position?
Maybe all that high tempo chasing and tackling isn't to your liking, but to those of us who are knowledgeable enough to notice the 'dirty jobs' and 'unglamorous' work that has been neglected in his absence appreciate him; I bet you're more Justin Bieber than Justin Hayward, loving the bells and glittering whistles
Mick Davies
144
Posted 03/01/2017 at 19:37:19
David Price @ 14, please don't post such commonsense: you've just shattered all those conspiracy theories.
Brian Williams
145
Posted 03/01/2017 at 20:22:48
Mick (#143).
You're best just ignoring Doctor Wilde!
Mick Davies
146
Posted 03/01/2017 at 20:45:12
Brian (#145), thanks, I'll try and take your advice... it's just ridiculous comments here and on another thread about McCarthy or any other of our players who at least 'have a go' winds me right up.
Some of our players get slagged off for not moving; others for moving too much.
Dean Adams
147
Posted 03/01/2017 at 20:57:55
Sam Hoare (#139),
Having been at the game I can say categorically that your assessment of Williams is woeful. Williams was class yesterday, making a last ditch header contorting his body to put the ball over the bar on one occasion and countless times he was a rock.
Funny how the highlights make things look so different.
Graham Mockford
148
Posted 03/01/2017 at 21:11:22
Dean,
I've been in the 'can't make my mind up' camp on Williams.
Mostly he has defended with assurance and he's definitely brought some organisation to the back four. However his distribution is limited at best and I thought Carragher's comments on the Hull game were quite pertinent. He likes to stay central and doesn't track runners in wide areas. If he's playing with Jags then you've got two central defenders in the same boat.
I thought he looked more effective with a more mobile Funes Mori alongside him but I'm not convinced about Funes Mori either. You can't fault his commitment but he lacks composure and his distribution his even worse than Ashley's.
I think a centre-half should be a priority this window and maybe we might see more from him.
Darren Hind
152
Posted 04/01/2017 at 17:56:34
If there anyone out there who wouldn't cost an arm and a leg and is better than Holgate? I haven't seen him.
---
Add Your Comments
In order to post a comment, you need to be logged in as a registered user of the site.
Or Sign up as a ToffeeWeb Member — it's free, takes just a few minutes and will allow you to post your comments on articles and Talking Points submissions across the site.
© ToffeeWeb