Report
Blues mugged by Foxes after taking the lead
By Michael Kenrick
07/01/2017

354 Comments [Jump to last]
Share: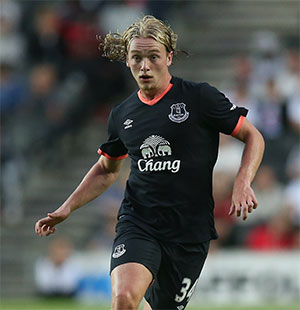 Tom Davies makes his second start in the absence of Idrissa Gueye who is at the Africa Cup of Nations
FA Cup: Everton 1 - 2 Leicester City
Holgate, Davies, Barkley and Valencia are in the starting line-up for Everton with three centre-backs as they take on The Foxes in this season's FA Cup 3rd Round.
Lennon and Calvert-Lewin are out injured, and Idrissa Gaana Gueye has departed to the Africa Cup of Nations. Jamie Vardy is not included for Leicester City who give a debut to their new signing, Wilfred Ndidi.
Leicester kicked off but Everton took control and won the first corner after a good spell of early possession. Barkely took it but Funes Mori's shot came to nothing. At the other end, Ulloa and Gray combined and came close with a flicked header
Lukaku played a great ball across the face of goal but it evaded Barkley who was the closest. Lukaku again tried to drive into the area but was blocked. Barry gave the ball away and that allowed the Foxes to build again.
Everton continued to press and forced Huth to give away another corner but nothing came of it. Leicester tried to break but Baines prevented their progress and broke well but Valencia's touch was poor; however, another corner from Barkley but it ended up as a break for Leicester. Davies tracked Gray well and drew the foul.
Ndidi took a shot that was blocked by Williams, but it led to a fantastic break with Lukaku set to run in on Schmeichel but the ball from Valencia was poor and a great chance was gone.
Gray got free and ran at the Everton goal with Funes Mori failing to to delay him and Robles needed to make the save.
Lukaku got Coleman forward but the move broke down and Leicester counter-attacked but Ulloa pulled up with what looked like a hamstring problem, Ahmed Musa replacing him.
Valencia could not get much change out of Huth, but Barkley was stronger and got Everton forward for another corner that Barkley took, Williams flicking on to Funes Mori but he waited for it to bounce and ended up skying the ball high over the bar.
Lukaku and Holgate tried to combine but it broke down and Musaa was fouled by Williams. Holgate shielded the ball back to Robles allowing Everton to build again. Davies did well to win the ball back but the move came to nought.
A cross came in from Baines that seemed to be in Schmichel's range but he palmed it on to Lukaku who headed it just wide. Another corner resulted from the second ball. But Barkley's corner bounded straight through. Another Everton attack saw Lukaku win the ball back from Ndidi and Coleman played it back for Lukaku but the Big Man's strike was over the bar.
Into added time before the break, with Davies trying to get forward down the right and Holgate combining with him, crossing in for Valencia but it broke down and Musa tried to break, unable to get away from Barkley. Everton turning the screw a little before half-time.
Gerard Deulofeu replaced Holgate after the break and soon put in a great ball for Lukaku who had moved too far behind the Leicester defence and was called offside.
Chilwell won a corner off Coleman, comfortably claimed by Joel Robles. Everton won another corner at the other end that once again Barkley swung in to the near post but it went out for a throw-in. Another poor touch from Valencia ended the Blues move.
Barkley played in a good chance for Valencia but it was blocked. Better pressure from the Blues winning yet another corner, this time Deulofeu but just as poor to theh near post and it set up a dangerous Leicester attack with Musa breaking fast but Baines was back to block Simpson's shot.
A Leicester corner was delivered well by Gray toward Morgan at the the far post but Robles commanded the ball well. Everton attacked brightly with Deulofeu adding some excitement but unable to create a clear chance as the Blues pressed for the first goal.
Williams broke well and Deulofeu played in a good-looking ball but Valencia fluffed it again and that was his final action, Mirallas on in his stead.
Everton looked to build again but a poor touch from Lukaku but Deulofeu took the initiative, skinning Chilwell, and setting up Lukaku for a tap-in and the opening goal. Classic Deulofeu of old.
Leicester came close from a corner. Then Gray scampered down the left, and Musa somehow got the ball into the Everton net despite Baines's block, the ball hitting the post before Robles appeared to punch it into his own net!
The game came to life, Mirallas being denied before Gray at the other end came close. And it was Leicester who incredibly got the next goal, Musa firing home off a ball from Drinkwater, to turn the tie on its head. Koeman's response was to exchange Barkley for Kone, a lst and now desperate throw of the dice to stay in the FA Cup.
Kone and Mirallas tried a one-two that didn't work, Mirallas getting frustrated with Mendy. Gray, who had been a problem for teh Blues was replaced by defender Fuchs as Ranieri looked to hold their lead and knock the Blues out at the first hurdle.
Kone got forward and tried to bulldoze his way through Simpson but he was crowded out and failed to get the ball to Baines. Everton tried to build through Davies and Deulofeu but the ball was lost. Baines was next to try and get through, then Funes Mori fouled Musa and his name went into the book.
Mirallas drove forward and fired in a great shot that looked like it was goalbound but Casper Schmeichel had different ideas, touching it behind for a corner. It was getting frenetic now as the Blues were trying everything they could to penetrate the Leicester defence as the visitors were backs to the wall.
Deulofeu got frustrated and pulled a shirt to give away a silly free-kick and Everton entered panic mode as the seconds ticked away, Everton winning a corner off Chiwell. Deulofeu swung it in and Williams was up for it, another corner, that Kone tried to reach. Davies was then foulked by Kapustka. Barry tried to reach the free-kick and head home but he could not as the match went into 4 minutes of stoppage time.
Kone seemed to have a chance but went for the extra pass instead of shooting. Kone and Deulofeu tried to construct something but it ended with over-elaboration that went behind. Kapustka had a shot at the other end that Robles saved and tried to get the Blues forward again but Mirallas fouled as time ran out for the Blues efforts and a massive post-mortem on the cards as they are thrown out of the FA Cup at the first hurdle by the reigning Premier League Champions.
---
Reader Comments (354)
Note: the following content is not moderated or vetted by the site owners at the time of submission. Comments are the responsibility of the poster. Disclaimer
Dennis Stevens
2
Posted 07/01/2017 at 15:01:24
I had to read the team a second time, a little more carefully - I initially had an image of Barry Davies in midfield!
Dick Fearon
3
Posted 07/01/2017 at 15:11:23
Live Forum was there a minute ago now it has gone.
Wayne McNee
4
Posted 07/01/2017 at 15:12:55
Anyone got a channel name for stream?
Terry Murray
5
Posted 07/01/2017 at 15:13:02
Anyone got a link?
Lee Courtliff
6
Posted 07/01/2017 at 15:15:06
I worked through my dinner hour to get home early and now I can't find a bloody stream!!
Ben Dyke
7
Posted 07/01/2017 at 15:18:54
No streams today lads. Highlights on MotD later.
Wayne McNee
8
Posted 07/01/2017 at 15:19:46
No Kodi streams seem to work
Derek Knox
9
Posted 07/01/2017 at 15:25:01
I have checked all the usual sources, and it doesn't appear to be covered by any of the companies, yet Sutton v Wimbledon is, very strange.
I would have thought with it being two Premier League sides locking horns, it would have attracted attention.
Garry Corgan
10
Posted 07/01/2017 at 15:25:50
http://ToffeeWeb.com/comment/live/
Eddie Dunn
11
Posted 07/01/2017 at 15:50:56
Best I can do is commentary on Talksport2. Radio Merseyside can't broadcast outside of the Merseyside area due to contractual agreements. It's like the old days!
Peter Cummings
12
Posted 07/01/2017 at 16:04:41
Having to rely on BBC sports here in Canada on the Internet, the verdict from the pundits at HT: 'Boring'. So, even with Vardy and half their team missing, the Foxes don't seem to be fazed, changes seem to called for or a pen given, hopefully to us.
Jim Gore
13
Posted 07/01/2017 at 16:06:43
Live commentary on the official website.
Joe Edwards
14
Posted 07/01/2017 at 16:07:48
We have Russian greatest oligarch investing in our beautiful club, we're about to out-spend most clubs in the January transfer window and we're not even on the GODDAMM telly!!!
Iain Johnston
15
Posted 07/01/2017 at 16:08:59
Eddie @11,
I'm listening to Radio Merseyside in North Yorkshire via the internet.
Paul Tran
16
Posted 07/01/2017 at 16:23:59
I'm on Radio Merseyside from up here in the Highlands. One up through Rom!
Andrew McLean
17
Posted 07/01/2017 at 16:24:13
I wouldn't expect the match to be televised. It's the 3rd round and the PR has always been about fixtures that you wouldn't expect 38 other times in a season.
Mick Davies
18
Posted 07/01/2017 at 16:33:58
The sooner McCarthy gets fit, or Senegal get knocked out, the better; Barry is finished.
Eddie Dunn
19
Posted 07/01/2017 at 16:37:08
Ian, I tried it on the net but they stopped it! Down in West Wales. Got it on TalkSport2 though.

Mike Gaynes
20
Posted 07/01/2017 at 16:40:23
Now down 1-2 on two quick goals by the substitute Musa. Barkley has been replaced by Kone.
Christy Ring
21
Posted 07/01/2017 at 16:43:26
Mick (#16), Totally agree, should have started Cleverly or even Kenny, Barry is finished. I also don't understand why Holgate was taken off, as he's the only centre-back with pace.
Mike Gaynes
22
Posted 07/01/2017 at 16:46:33
Christy, appears to have been a change from a three-at-the-back alignment to a four-at-the-back. The sub for Holgate was Geri, at halftime.
Karl Parsons
23
Posted 07/01/2017 at 16:46:34
London via Talk Sport 2 for me and its painful to listen too...
Dan Parker
24
Posted 07/01/2017 at 16:50:33
We seem to be the World Champions at immediately conceding after scoring a goal.
Kunal Desai
25
Posted 07/01/2017 at 16:51:39
22 years without silverware. Embarrassing.
Alistair Grist
26
Posted 07/01/2017 at 16:52:49
Utterly predictable...
Jim Bennings
27
Posted 07/01/2017 at 16:53:51
Don't know why we bother entering Cup competitions.
Apart from one Cup final in 22 years and a few self-destruct Semi-Final defeats, we are quite simply shite in them, no excuses this season with no Europe.
We need more than just Schneiderlin this month; when you watch us, we are lacking at least five top quality players if we truly want to challenge clubs like Tottenham.
What a waste!!
John Harrop
28
Posted 07/01/2017 at 16:54:13
So, we're out of both cups at the first hurdle, and in general we're playing scrappy miserable football. Is this guy really an improvement on Roberto Martinez?
Robby Burns
29
Posted 07/01/2017 at 16:54:32
Mid-table mediocrity – here we come.
Russ Quinlan
30
Posted 07/01/2017 at 16:54:44
If this result doesn't give the owners the kick up the arse to bring some decent players in, then god help us!
Mike Gaynes
31
Posted 07/01/2017 at 16:55:11
And that's it. Beaten at home, from a winning position, on two goals five minutes apart by a schmuck who hadn't scored since October. Done and dusted.
Clive Lewis
32
Posted 07/01/2017 at 16:55:22
Koeman out – I've had enough.
Denis Richardson
33
Posted 07/01/2017 at 16:55:22
Bollocks, out at the first attempt.
That's the silverware dream parked away for another year. We can 'focus on the league'.
Liam Reilly
34
Posted 07/01/2017 at 16:57:29
Shocking; seriously tough supporting this shite, week-in & week-out.
How can they not be up for that game? We need a fucking fire sale.
Ian McDowell
35
Posted 07/01/2017 at 16:58:18
John that's a good question.
This time last season, we where in one cup semi-final and still in the FA Cup. Mid-table, playing some excellent football, making some shocking defensive howlers.
Now we are out of both cups, playing garbage football, and still making defensive howlers.
Peter Cummings
36
Posted 07/01/2017 at 16:58:20
Game over, season finished, Koeman should now do the right thing.
Amit Vithlani
37
Posted 07/01/2017 at 16:58:26
Heard the coms on World Service. We missed a couple of chances but it was a poor collapse, having taken the lead at home. The cups are a big black mark against Koeman. Poor home defeat to Norwich and now Leicester.
This fucking nonsense that the Premier League is the Gold Standard has to stop. No contest when it comes to trying to win a trophy versus fucking 7th in the league. A cretinous comment from Moshiri.
Anyway the last cup defeat sparked a collapse in form. Hoping the same thing does not happen, although the best we can look forward to now is 7th in the league.
Eddie Dunn
38
Posted 07/01/2017 at 16:59:12
Well, Koeman picked a strong side, and Leicester rested Vardy, and missing others, but we couldn't do the business despite taking the lead at home. Worse listening to it, as at least seeing it gives you an inkling as to what went wrong.
The radio made it sound like Schmeichel kept them in in, but Robles fumbled. I suspect that our midfield was overrun, but await some eye witness accounts from those that went.
Gerard Burke
39
Posted 07/01/2017 at 16:59:49
Season over and it's only January 7th. I am Everton supporter 51 years this year and I am seriously losing faith.
James Peter
40
Posted 07/01/2017 at 17:00:10
Shooting from the hip here a little bit, obviously disappointed but didn't someone from the board say the other day how the cups aren't our priority? If that comes from above, are we surprised we're out of both cups so soon???
Seamus McCrudden
42
Posted 07/01/2017 at 17:00:51
We need a clear out. Team is in complete transition.
Dave Lynch
43
Posted 07/01/2017 at 17:00:58
No Peter.
The owners should do the right thing and get their hands in their pockets.
Not enough quality in the middle of the park and we need another striker to put pressure on and help Lukaku.
Fucking gutted.
Colin Battison
44
Posted 07/01/2017 at 17:00:59
Absolute dross. Gareth Barry is completely finished – no tempo whatsoever when he plays and we cannot stretch teams as everything is far too pedestrian.
Jesus Christ, we need some players in quickly. Season over already.
Ciarán McGlone
45
Posted 07/01/2017 at 17:01:32
It's getting particularly hard to have any faith that Koeman has any managerial talent.
These players are not shit, as some fans would have us believe... But for some reason, the quality of football we are seeing is generally atrocious.
Colin Hughes
46
Posted 07/01/2017 at 17:01:52
Surprise surprise? Leicester get their 1st away win against Premier League opposition this season. It's always us who oblige.
Mark Morrissey
47
Posted 07/01/2017 at 17:01:54
Appalling result. I was not at the game so can't really comment but it's a sad, sad day, not to beat a Leicester team that has lost 3 decent players to the AFCON. Will the owners trust Koeman to move this club forward?
Eddie Dunn
48
Posted 07/01/2017 at 17:02:19
Well when you have to bring Kone on to save your bacon, you know you need to go shopping for better.
Seamus McCrudden
49
Posted 07/01/2017 at 17:02:26
Hope the board loosen the purse strings now. Need major investment in this squad.
Bill Gall
50
Posted 07/01/2017 at 17:03:03
Normality resumed, at least it will not matter if we sign any new players who are cup-tied. Once again, a Premier League team who is struggling in the league are given a boost by Everton.
Geoff Evans
51
Posted 07/01/2017 at 17:05:26
Lost to Leicester Reserves. Fuck off, Koeman you and your team are a joke. Out of the cup before Accrington who? Exactly.

Paul Smith
52
Posted 07/01/2017 at 17:07:51
I thought we had turned the corner. Not sure he's the right man for the job, absolutely no improvement.
Gary Reeves
53
Posted 07/01/2017 at 17:11:38
Paul Smith (#52),
Why did you think we'd "turned a corner?" Explain – genuinely interested.
Bobby Mallon
54
Posted 07/01/2017 at 17:12:37
Jesus, stop bloody moaning will ya. You would think we have a divine right to win games. We have just been beaten by the Premier League Champions, don't forget!
Craig Mills
55
Posted 07/01/2017 at 17:12:52
Arguably the end of the season; nothing to play for apart from 7th in the league. Cups have been a joke for Koeman.
Ian McDowell
56
Posted 07/01/2017 at 17:13:24
Put the cheque book away now for January. The season is over and we have the heights of 7th to play for with Saints and West Brom. So let's forget about signing players and paying stupid over-inflated January prices.
Michael Lynch
57
Posted 07/01/2017 at 17:15:05
Bobby (#54), we may have been beaten by last season's Champs, but they've been shite this season and haven't won a game away from home until today. And this was a half-strength side they put out.
I'm not saying it's the end of the world, but this is a very disappointing defeat.
Mike Gaynes
58
Posted 07/01/2017 at 17:17:01
Bobby, we got beat by the Premier League Champions' leftovers. At home. Leading after 65 minutes. By a side that hadn't won away since last spring.
Mick Davies
59
Posted 07/01/2017 at 17:17:27
Never mind, we can concentrate on the league now... only Man City next, then our bogey team, Crystal Palace.
Hywel Owen
60
Posted 07/01/2017 at 17:17:41
Martinez's team played good football, scored goals but could not defend. Koeman's teams play crap, cannot score and still concede soft silly goals.
There are three players in that team whose total age is about 100 years and are so slow it is beyond belief. New players are badly needed but then so is a new manager pdq.
David Booth
61
Posted 07/01/2017 at 17:18:22
I'm all for patience with managers, but only if they show SOME tangible sign – even minor – of progress.
Koeman really doesn't know what the fuck he is doing and like his players, relies completely on the possibility of something happening by chance or things just magically gelling.
There appears to be no cohesive plan or strategy whatsoever. Just throw all the names in the air and the first eleven that land go in the team. Tactics? Game plan? He hasn't got a clue.
There appears to be no long-term philosophy for the players to buy in to. Every game is a complete lottery, with the past result having absolutely no bearing on the next outcome.
I really dislike what I have seen from him so far: from his demeanour, to his apparent lack of nous or influence, to the dreadful way his team are playing after more than 20 games in charge.
It won't happen, but I would be delighted if he wasn't here tomorrow. He's bloody awful, arrogant, living on his reputation, and not the inspiration we thought he would be.
Season finished by January. Als u dit leest Koeman, gaan!

Jim Bennings
62
Posted 07/01/2017 at 17:19:16
We need to sign TOP QUALITY!
Compare the players we have with teams who challenge for honours and all we have is past-it has-beens or average like Funes Mori, Cleverley etc!
It's unfair to expect the kids like Davies to drag us out the mire... We need to start signing TOP QUALITY for the here and now not just future potential . We have got the bloody money now so start acting big, Everton!!
Robert Elliott
63
Posted 07/01/2017 at 17:19:22
Maybe whoever is in charge of arranging transfers at Everton should stop dicking about and get Schneiderlin signed. Barry's legs have gone and, with Gana away for six weeks and McCarthy injured, we need central midfielders urgently.
Colin Hughes
64
Posted 07/01/2017 at 17:20:04
Koeman hasn't exactly endeared himself to the fans in his first season has he? Committed the ultimate sins, lost the home Derby match and gone out of both cups at home. Would like to know the last newly appointed manager we had to suffer that fate.
He won't get away with another shit showing next season. See you in August, I'm off to support whoever the RedShite are playing in their next massive fixture.
Steavey Buckley
65
Posted 07/01/2017 at 17:20:06
Another wasted season that began when Koeman lost the plot at the beginning of preseason, when he put too much faith in a lot of Everton players, who will be moved on, too late, before the beginning of next season's preseason.
As for Schneiderlin, Man Utd will have to drop their price or Koeman should not buy him, because there is little to play for until the end of the season. And if Schneiderlin is still with Man Utd at the end of the season, the price will even get lower.
It's a pity, Everton needed someone like Schneiderlin out their today, because the Everton midfield was overrun at the turning point of the match, when Everton went from 1-up to 2-1 down.
Paul Rimmer
66
Posted 07/01/2017 at 17:20:11
Koeman's cup record at Southampton and Feyenoord prior to that was terrible too.
Mark Daley
67
Posted 07/01/2017 at 17:21:04
Good to see Naismith getting a never-say-die injury time equaliser. I wonder if Norwich would sell him?
James Doran
68
Posted 07/01/2017 at 17:21:21
We lost intensity in the middle of the park and it cost us dearly. We need Schneiderlin and fast.
Ian McDowell
69
Posted 07/01/2017 at 17:22:41
So now Man Utd know we are in dire need in the middle of the park and will out another £5 million on Schneiderlin.
John Belshaw
70
Posted 07/01/2017 at 17:23:44
Yes, we need a clear-out but begin with Kenwright and his cronies first who have contributed nothing to the club.
George Cumiskey
71
Posted 07/01/2017 at 17:23:56
Bobby Mallon! "Stop moaning" – are you joking? Can you see something nobody else can? We are as bad as we were last season. Koeman doesn't seem to have a game plan.
We need at least 6 new players to go straight into the first team, but can you trust him with the cash? He keeps picking the same players, week-in & week-out, no matter how bad they play!
Geoff Evans
72
Posted 07/01/2017 at 17:24:35
I have serious doubts about this club what it's trying to achieve and how they're going about it. The lack of pride and passion is palpable. To me, it appears to be just a cold-blooded business. The club seems to have lost its heart.
Mick Davies
73
Posted 07/01/2017 at 17:25:04
Bobby Mallon @ 54, are you not angry and upset? We have a divine right not to get knocked out at home in both cups at the first attempt to teams lower than us: our support deserves the right for at least a fight from players earning obscene amounts of money and a manager earning more than them.
David @ 61, I know how you feel. Leaving Barry on for 90 mins against a side packed with pace is ridiculous. Limited though he is, the more mobile Cleverley would have been a better choice.
Martin Jamieson
74
Posted 07/01/2017 at 17:25:05
Awful to say but I find Koeman completely uninspiring. Even worse to say, the guy across the park is quite the opposite and way better to listen to and... look at the results!
Raymond Fox
75
Posted 07/01/2017 at 17:25:43
We can't put it together, can we? The only competition we could get some glory in, down the pan! Happy days.
That 'bad' manager, Roberto, could get us to two cup semis; so much for our present so-called good manager...
Tom Bowers
76
Posted 07/01/2017 at 17:26:10
Just when we may think the corner is being turned, they run into a bus. So typical of the season so far – if not Everton for many years.
Koeman cannot seem to get the chemistry right when it matters. All they had to do after getting the lead was play compactly and defend it but they couldn't do it at home against a team that is having a poor season and also missing players.
No excuses, Koeman – you are failing the Goodison faithful.
Christy Ring
77
Posted 07/01/2017 at 17:26:37
Mike (#22),
My argument was Holgate is a lot quicker than Williams, or Funes Mori could have went left back, because Baines will not close down for crosses. Robles too slow.
Another shambolic cup performance, a disgrace. Why would you leave Barry on, and replace Barkley, when we needed to score? Midfield was toothless without Gana or McCarthy.
Joe Clitherow
78
Posted 07/01/2017 at 17:28:13
Poor decision to take off Holgate – who was doing well – for the Spanish John Oster, who, despite creating our goal, was then a total passenger leaving Coleman horribly exposed by the pacey Musa. Seamus was very poor today too.
10 seconds of activity from Deulofeu is followed by 5-10 mins of hands on hips pointing to someone else to get the ball. The most unfit footballer I have ever seen.
Also, I don't think Barry should start again. Not his fault and he is tidy on the ball but he slows the whole team down too much.
Gavin Johnson
79
Posted 07/01/2017 at 17:28:36
Bobby (#54). I don't think it's an overreaction. The season is over again for a chance to win something. We should be beating teams who are in the bottom half of the Premier League – Champions or not.
A very disappointing end to what has been a very good week for Evertonians.
Duncan Allan
80
Posted 07/01/2017 at 17:29:12
I've been saying it for the last 3 years – any team with the slowest player in the world will not win anything.
Nev Renshaw
81
Posted 07/01/2017 at 17:29:46
Hell! Who'd be a bloody Evertonian? Not too many seasons ago, our team were about on par with Tottenham Hotspurs. They've gone on to get better and better, we've slipped back. WHY!?.
Mick Davies
82
Posted 07/01/2017 at 17:29:46
Christy (#77), good post... nothing to disagree with there.
John Parker
83
Posted 07/01/2017 at 17:31:18
Just to add to a point earlier saying they wouldn't by Schneiderlin, I agree but would go further and say don't buy anyone in this window.
The season is as good as over, we're already paying a ridiculous amount of wages to at least 8 players who should be sold as soon as possible. Why splash out more when the best we could hope for would be 7th which doesn't guarantee Europe, use the rest of the season to confirm where we need to strengthen.
Then, with no major tournament in the summer creating an obstacle for signings, make the signings we realistically can expect and push on from there – either with or without Koeman, as I'm still unsure about him.
Andy Wheeler
85
Posted 07/01/2017 at 17:33:29
Oh well, that's another season over with then!
Chris Owens
86
Posted 07/01/2017 at 17:33:40
January 7th, and it's season over. No need to pay over the odds to bring in other clubs' rejects now. We may as well keep our money until the summer, and give our youngsters a chance in the first team until then.
Maybe we'll have a new stadium underway by then, to help with our attempt to persuade better players to join us?
Patrick Murphy
87
Posted 07/01/2017 at 17:38:35
We shouldn't be losing cup-ties at home to teams that are under-strength or out of form; however, take a closer look at Everton's cup results at Goodison in the last 30 years and today wasn't anything out of the ordinary. How many times have we lost as soon as we draw a team from the same division, either in the first game or in a replay? Not only that but how many times have we gone out to lower league teams at Goodison or in a replay?
BTW the last time Everton beat opponents from the same division in the FA Cup Third Round was way back in 1988 and that proved a marathon tie which Everton eventually won 5-0.
I am totally pissed off, but not at all surprised as this is what being an Evertonian is all about – having your expectations crushed at the earliest possible moment. Moshiri and company have much to do and not a lot of time to do it.
Anthony Dwyer
88
Posted 07/01/2017 at 17:38:44
Ffs, our team really do seem to know how to deflate our fans.
Yesterday, we were looking at a great agm meeting, buzzing about potential new signings etc, then THAT!
We win a game, lose a game, blow hot and cold all the time, the manager makes decisions that simply baffle me, and we don't look like a side who believe we can win matches.
1-2 down and Ronny takes off Barkley, who wasn't at his best, but is surely more creative than 90% of the players Ronny left on the pitch.
Throwing 4 up top and leaving Davies to do all the graft, knowing that Barry didn't have any legs, Williams looked injured and Ronny thinks taking Ross off is the answer.
Our squad has to improve, massive money needs spending, but Ronny is not blame-free – he has to manage what he has better, and what he had was a 1-0 lead to a bang average team, and he lost.

Gordon Crawford
89
Posted 07/01/2017 at 17:39:07
1. We need a clear out, starting with the manager. Sorry but I don't rate him. How can he not motivate these players and find a system that works??
2. We won't attract any big players if we have nothing to play for. Unless we pay ridiculous salaries it won't happen.
Embarrassing Everton. Some of the players and the manager should hold their heads in shame.

Mike Gaynes
90
Posted 07/01/2017 at 17:41:58
Christy (#77), I didn't see the game... I was just presuming that they started out exactly as you described.
Jay Woods
91
Posted 07/01/2017 at 17:43:20
Missed it, out shopping in the snowy wastes of Riga. Did we lie down and surrender like we did in the recent derby or was it the usual story of powder puff attack?
Kevin Elliott
92
Posted 07/01/2017 at 17:45:43
Preston beating Arsenal 1- 0; lovely work from McGeady.
Kim Vivian
93
Posted 07/01/2017 at 17:47:53
Off topic – can someone help me because I think I must have been hibernating and missed it, but how long has Aiden McGeady been at Preston?
Eddie Dunn
94
Posted 07/01/2017 at 17:50:15
I, for one, am not surprised by this result. I feared it from when I heard the draw. We haven't got the nous to control a game, to manage a situation and see it out. We have all seen this bunch of bottlers screw it up many times before.
We should have done more shopping pre-season, this window is too late now. 7th is our ceiling and the reward is a place in the energy-sapping, season-ruining Europa League.
Moshiri said he wasn't bothered by silver, he likes the league position. So he doesn't really "get" Evertonians.
Koeman is trying my patience, I have stood by him so far, but his post match bollocks was meaningless. To play Barry, and take off Barkley when we needed a goal was dumb. To only have Kone to strike terror into the hearts of the Leicester team is an indictment of our club. Leicester had lost Vardy, Mahrez and Simiani and still had Ulloa and Musa to call on.
I heard the commentator say that "Kone could have had a shot but opted to take another touch and the chance went begging"! We have all seen that before.
The season is now of academic interest only.

Ricardo Gimpardsle
95
Posted 07/01/2017 at 17:51:36
About 6 months, Kim.
Ian McDowell
96
Posted 07/01/2017 at 17:52:27
I suspect Ross Barkely has no future at Everton under Koeman. To be substituted when 2-1 down at home in a cup tie is pretty damming.
Chris Leyland
97
Posted 07/01/2017 at 17:52:59
Just got back home from that crock of shite now. The reality is that the players are simply not good enough and there are no winners in the team and too many of them are content to take their massive wages without seemingly giving a fuck.
We need a wholesale clearout and to bring in far better quality players with better attitudes and winning mentality.
I haven't had the benefit of seeing their second goal on TV only saw it live at the ground, but was it a 'Worldly' or was it the woeful half-arsed defending that I thought it was?
Anthony Hughes
98
Posted 07/01/2017 at 17:54:06
I am on the side of giving Koeman more time but – fuck me – he's making it difficult for me!
Kim Vivian
99
Posted 07/01/2017 at 17:54:50
Fuck me! That's a long sleep, isn't it...
Anthony Hughes
100
Posted 07/01/2017 at 17:58:43
A couple these Preston fellas look okay here.... that McGeady guy looks top quality.
Liam Reilly
101
Posted 07/01/2017 at 17:59:18
What I'd like to know is: Does it actually hurt these prima donnas to lose these games? Because it fucking hurts me and has for the majority of 40 years.
I can look forward now to another Monday bashing from the loveable reds at the office, where I pretend not to give a shit but really want to take them outside.
Then, later in the week, maybe watch 'Insert Name' getting wheeled out to tell us how they are working hard in training to put it right, before another mauling at home to Man City.
Despair.
Tony Hill
102
Posted 07/01/2017 at 17:59:51
The atmosphere today was terrible, the fans sense the lack of fight and cohesion in this team and the silence of the crowd, a couple of games excepted, has become a habit.
Same problems: no leadership or hardness. It's baffling and worrying to hear Koeman say post-match that he couldn't understand why we dropped back after the goal. He's the coach, FFS!!! Strange game in which to push Coleman forward, and I'm afraid our centre backs were found badly wanting today.
We're a soft-centred team and, in my opinion, a soft-centred club. We have a very long road indeed to travel if we are going to make good on the optimism most of us felt only a couple of days ago. New stadium? Let's find our backbone first.
Nev Renshaw
103
Posted 07/01/2017 at 18:00:42
Ian (96). I'm of the same opinion as yourself. No place in the long run for Ross. He's never realised his potential playing for us. He'll probably be a revelation playing for another team.
The pity is, we won't get a good price for him now. We should have dumped him two seasons ago when all the big clubs were sniffing around..
Tony Draper
104
Posted 07/01/2017 at 18:01:55
We heard this week that season ticket prices will be frozen for next season. Now I know why:– fuck-all to play for for half a season, but charged full whack.
Brian Williams
105
Posted 07/01/2017 at 18:02:35
We were outthought and outfought. Too many lightweights in that team shitting out of 50/50 after 50/50. Lukaku doesn't look interested and his sulk continues.
Leicester had three or four "athletes" in and around the midfield – big, strong, fast players who brushed our midfield aside. It's not so much a rebuilding job, more of a total demolition, that's needed.
Kevin Elliott
106
Posted 07/01/2017 at 18:04:20
Can we please swop teams with Preston?
Ricardo Gimpardsle
107
Posted 07/01/2017 at 18:04:45
Without the players he wants and needs, this will continue.
Frank Crewe
108
Posted 07/01/2017 at 18:05:54
I would point out that Stoke lost 2-0 to Wolves, West Brom lost 2-1 to Derby, Bournemouth lost 3-0 to Millwall and Arsenal are currently 1-0 down to Preston. At least the side that beat us is actually in the Premier League. I would think their fans are feeling pretty much the same as we are.
That being said, it still hurts to go out in the third round. But now that we are it's really time to start clearing out the deadwood. The older players, of which we have far too many have to go and until they are they certainly shouldn't be on the team sheet again this season. The perennially injured have to go also. But the old and the crocked all have big money contracts so it's going to take time while we wait for their contracts to run out or we can find some sucker clubs to buy them.
In the meantime, Koeman has to start bringing in younger, brighter players. Men that aren't tainted with the loser mentality that has infected so many of our current squad over the years. Hopefully Lookman and Schneiderlin will be a good start but we need a lot more, especially defenders.
I also think Koeman has to start giving the younger players we already have a serious run in the side. The likes of Davies, Holgate, Deulofeu, etc need extended runs and not get hooked every time we struggle, only to be replaced by some antique like Barry or a journeyman like Cleverley.
Geoff Evans
109
Posted 07/01/2017 at 18:06:42
Liam (#101). The answer to your question mate, is no. Even my first missus had more passion... just.

Dave Ganley
110
Posted 07/01/2017 at 18:08:27
Just back from the game. The worst thing for me was we controlled that game for 70 minutes, scored then just fell asleep. Made a few stupid mistakes at the back... again. They scored twice then heads just dropped. This was worse than the RS defeat. Another defeat plucked from the jaws of victory.
Pathetic the way we just crumbled in that last 20 minutes. All we could do when we went behind was make stupid petty fouls. No heart and no good.
Craig Walker
111
Posted 07/01/2017 at 18:08:44
This season now means that I watch FA Cup games hoping someone knocks the RS out and I cheer on every team who the RS play until summer comes. Then we'll sign some new players. Except we won't. And so it continues. Season after season.
We need 5 new players this month and a waterside stadium announcement to retain my interest because I'm wasting my life getting pissed off every weekend for the one good result in 10. Only Coleman, Gueye and Lukaku when he can be arsed are good enough. Fed up!
George Cumiskey
112
Posted 07/01/2017 at 18:09:32
Some people compare Barkley to Dele Alli – he couldn't lace his boots. Another no-show from him today – when will you realise he's gone as far as he will ever go???
Tony Draper
113
Posted 07/01/2017 at 18:11:47
Ian @96 & Nev @103:
I read a rumour this morning that some Chinese outfit was prepared to shell out a bloody fortune on some Premier League player. Amongst the four named was Ross Barkley. (BTW, the following comments are not directed at you two, just follow on from your posting.)
My reaction was, I hope to fuck it's Barkley, 'cos we'll get a bucketload for him, an unjustified bucketload. I've seen enough of him "jogging from the waist up" behind an opposition player that he donated the ball to.
To say that Barry, Jags, Baines don't have the legs anymore, but Barkley is a young professional who puts in one shift in ten! The kid must be a dope.
Take the Yen.
Ricardo Gimpardsle
114
Posted 07/01/2017 at 18:14:14
Tony Hill (#102),
A friend of mine, a season ticket holder of 30 years was told by those sat by him to "shut up lad, your disturbing us". He subsequently stopped making a noise and has not sat there since (his season ticket). That is why the atmosphere is shit. I have heard that this is quite common at Goodison.
Jim Gore
115
Posted 07/01/2017 at 18:15:15
I really can't see any improvement at all under Koeman – in fact I'd say we are worse!
I wouldn't bother paying big money out this window; play more youngsters who will give 100% more effort, then have a big clearout in the summer.
Brian Williams
116
Posted 07/01/2017 at 18:15:31
Not having that, Ricardo, sorry.
Chris Perry
117
Posted 07/01/2017 at 18:16:46
The transfer window shopping list just got longer.
Ross – please go to China!
John Pickles
118
Posted 07/01/2017 at 18:16:57
Taken off and replaced by Kone... I hope they've taken away Ross's belt and shoelaces.
Seriously, do other teams have only one player who can kick a ball into a net more than once a season?
Lukaku: doesn't do much other than score.
Deulofeu: doesn't do much other than create chances.
The Rest: don't do much.
Ricardo Gimpardsle
119
Posted 07/01/2017 at 18:17:50
Brian!! Are you saying that it does not happen where you sit, or are you questioning my comment about my friend's plight?
Eugene Ruane
120
Posted 07/01/2017 at 18:17:55
A relegation battle.

A derby win.

A few genuine world class signings.

Koeman sacked, a new manager installed.
An incredible run of wins that takes us into Europe.

All the above are theoretically possible, but I can't really see any of these things happening, which (kind of) means we'll have virtually nothing to get excited about until mid August.
Still, that's only (siiiiiiigh!) seven and a half months....

Paul Curwen
121
Posted 07/01/2017 at 18:18:34
That was the flattest atmosphere I've witnessed at Goodison. Leicester travelling fans put us to shame... I didn't see anyone off their seats in the Gwladys until Gerry came on and started tearing up the right wing.
It was as if we'd lost before we started. Atkinson was as usual a myopic bottle merchant. The best team won... we need a fire-sale to clear out the deadwood.
Geoff Evans
122
Posted 07/01/2017 at 18:19:32
Even the Barkley defenders must be getting pissed off with this waste of space. A true reflection of this team: no passion, no guts, minimum talented powder-puff.

Frank Crewe
123
Posted 07/01/2017 at 18:19:39
"Deulofeu: doesn't do much other than create chances." Isn't that what he's supposed to do? Maybe if we had more than one forward who knows where the net is, he wouldn't need to do more.
Mike Benjamin
124
Posted 07/01/2017 at 18:22:57
Deulofeu and Mirallas are gutless, bottling not even 50/50 clallenges.
The manager's substitutions baffle me constantly – Kone? WTF!!!
Tony Draper
125
Posted 07/01/2017 at 18:23:17
FFS, this was Leicester, LEICESTER!
Not Barça!
Not Real Madrid!
Not PSG!
Not Bayern Munich!
Not Juve!
Not AC Milan!
Just Leicester City.
And Everton are a decade away from being a name that those European giants would even look at twice.
Thanks so much to Sir Phillip and "Billy by the Radio"; terrific legacy.
Don Alexander
126
Posted 07/01/2017 at 18:23:54
To everyone giving Koeman a shooing – it's the players, again, that are mostly to blame.
These players, like us, have seen and heard what's going to be going on this month, next season and so on until we're in a new stadium and, in dreams, in the Champions League. This means that almost all of them know they're on borrowed time already.
I suspect most of them share our opinion that they personally are not up to what's needed but, on a £million+ per year, most of them are happy to run their contracts down until someone in charge fucks them off and takes whatever financial hit is incurred.
To have a hope of attracting proper professional players who can play a bit the board need to get very active this month so that we do qualify for Europa because 7th is likely to deliver that.
With the current shower ,17th would seem to be acceptable.
George Cumiskey
127
Posted 07/01/2017 at 18:25:34
Geoff@122 spot on! Now let all the fan club come on and say how great he is and he's not getting used properly. Hasn't he got the nous to work out himself how to get the best out of himself???
Michael Parkes
128
Posted 07/01/2017 at 18:26:50
People asking for Koeman out... Are you messing! and get who in exactly? The man has been in charge for half a season; give him a chance. He is performing better with the same squad that finished in the bottom half of the table for the past two seasons.
The beginning of the season consisted of putting the manager, backroom team and foundations in place, which have been done. This season is about seeing what players can and can't adapt to the way he wants to play.
This window and the next one will be about starting to get players in he wants. What will a new manager do with this current squad that he is not? Deluded, some people....
Peter Laing
129
Posted 07/01/2017 at 18:28:27
Koeman has essentially slaughtered the Club's recruitment strategy and hung the team out to dry with his comments about Tom Davies being the best player in the side at the age of 18.
Over to Moshiri – or is it Dumb and Dumber still pulling the strings?
Andy Meighan
130
Posted 07/01/2017 at 18:31:32
Bobby (#54) – "Stop moaning"??? No, I wont stop moaning. I'll moan until I'm blue in the face.
We're witnessing football from the Dark Ages. A manager who hasn't got a clue how to affect a game, and tactics that a fucking Sunday League manager could see right through.
Add to that, out of both cups at the first hurdle, and a league campaign that isn't going to trouble anyone, and I'd say everyone of us has a right to moan.
Beaten by the Premier League Champions? Yeah, sure, they are as bad as us... .
Let me tell you something, Bobby: Koeman is not the man for Everton. He's been here for 6 months and we've yet to put a good performance in for 90 minutes Now that tells me all I need to know about the so-called messiah.
It's worse than under Martinez and, by god, is that saying something. I hope to god Moshiri doesn't give this clown a warchest because I dread to think what he'll blow it on.
Brian Williams
131
Posted 07/01/2017 at 18:34:26
Ricardo I'm saying that it's NOT quite common. I have fellow season tickets mates all over the ground, know lots of others and, like I say it's NOT quite common, so you heard wrong.
Not calling your mate a liar, so it's obviously an isolated incident.
Patrick Murphy
132
Posted 07/01/2017 at 18:40:01
Brian (#131),
I don't know how common it is but some people nowadays think they have invited you into their living room, rather than watching the game in a public space, and they do protest very vehemently if a fan decides to have an isolated shout. I know because it has happened to me.

Brian Williams
133
Posted 07/01/2017 at 18:41:51
S'pose it depends what you're shouting.
What did you shout Patrick, and what did they say?
Patrick Murphy
134
Posted 07/01/2017 at 18:42:43
I told them to STFU – I was sleeping at the time! :)

Brian Williams
135
Posted 07/01/2017 at 18:44:06
Ahhh.... so you were talking shite then.
Peter Cummings
136
Posted 07/01/2017 at 18:44:16
I have at least memories of my team doing the business many times in the past: great players, excellent managers, regular success in all competitions, backed by the greatest support in the world. But my heart now bleeds for the thousands who now have to suffer humiliation, heartbreak, pain and disappointment, week after week, season after season, over the last 20 yrs, with no end in sight.
As one who started loving Everton at the age of six from the Gwladys St boys pen until the January day in 1980 when me my missus and two sons boarded a 747 at Manchester airport to our new home in Canada, my whole life revolved around Goodison Park and all activities concerning the royal blue shirt, a loyalty which continues even to a depressing day like today, by every means available to me and a loyalty which will never end.
But, as I enter my 80th year, I really wonder if I will ever get to see those great days return, if only to benefit those who still turn up, game after game, and once again see our motto NIL SATIS NISI OPTIMUM once again come to pass... because they deserve only the best.
Craig Fletcher
137
Posted 07/01/2017 at 18:45:48
Almost off-topic, ladies and gents, but a question for the floor.
If the current Premier League top six clubs win the League Cup and the FA Cup, and the losing FA Cup finalist is also one of the top six in the Premier League, would that mean that seventh place in the Premier League would be good enough for the early qualifying rounds of the Europa League next year?
I'm grasping at straws obviously, but my point is there is still something to play for this season (if indeed 5th / 6th place, as some are suggesting, are already out of reach).
Mike Powell
138
Posted 07/01/2017 at 18:46:26
All those who saying Tom Davies is the answer to our midfield problems, can we knock it on the head? He is a championship player at best.
I don't understand why you have a go at Ross who is 20 times better, but Davies can do no wrong.
Brian Williams
139
Posted 07/01/2017 at 18:46:53
Yeh Craig we could qualify by finishing 7th... God forbid!
Patrick Murphy
140
Posted 07/01/2017 at 18:47:24
Brian (#135) No! I am not talking shite then, I have had to move my seat – and I really don't have to justify anything to you, or do I?
Sorry if my attempt at humour was misplaced but there you go – one man's meat, etc.
David Booth
141
Posted 07/01/2017 at 18:48:44
I vehemently disagree with all the people who keep justifying Koeman by saying we are doing better than last season. This myth has got to stop.
At this precise moment in time, we have just three more points. THREE, not six, seven, nine or 12. We have lost six games, compared to four at the same stage last year and are out of both cups – where we got to the semi-finals of both last time.
And if we lose the next game or two, as is highly likely, we will be worse than last year. So stop this 'improvement' fallacy.
The crux of the problem and the reason behind this unfortunately premature dissatisfaction with Koeman is that nothing has changed. Despite his pledges and pleas, we are playing exactly the same as we did under Martinez – with EXACTLY the same results. In real terms, that makes us worse than we were, because the six teams we need to be in contention with, are ALL showing signs of progress and leaving us further behind.
Whereas we continue to stand still, shrugging our shoulders, looking bemused and increasingly accepting another season of sideways mediocrity as acceptable.
Brian Williams
142
Posted 07/01/2017 at 18:50:19
Patrick, I asked you what you shouted and what the people who had a go said. I thought you were making a serious point, then you come back with, you were asleep at the time. So I thought you were just talking shite when you said it happened to you...
Liam Reilly
143
Posted 07/01/2017 at 18:51:02
I don't think the losing finalist gets into Europe anymore, Craig; I think the place goes to the league.
Colin Glassar
144
Posted 07/01/2017 at 18:51:52
Craig, we could win the Fair Play League but, with Barry starting every game...
Patrick Murphy
145
Posted 07/01/2017 at 18:52:27
Okay, Brian, no problem. I wasn't talking tripe but there you go. I might be the only person that it has happened to, apart from the guy who brought it up in the first place.

Brian Williams
146
Posted 07/01/2017 at 18:56:03
Again Patrick. What did you shout and what did the people say?
Y'see, if you stood up and shouted "Effing move yourself, Lukaku, you big black cunt," then people around you would have every right to complain, whereas if you stood up and shouted "C'mon you Blue boys" they wouldn't.
So "What did you shout?" seems a fair question.
Kim Vivian
147
Posted 07/01/2017 at 18:56:15
If this Preston game ends up a draw, where will the replay be played?
George Cumiskey
148
Posted 07/01/2017 at 18:58:04
Peter Cummings @136 – your post brought a tear my eye. I too can remember the great times and I'm only 68, but the young fans of today have had a long hard road, and it looks like it's not getting any shorter. When will we ever learn?
Dean Adams
150
Posted 07/01/2017 at 19:01:11
Brian.
I would take what you are saying as being very abusive. That of course is just my opinion, but you seem to think that your handful of friends can see and hear every part of the ground and also that Patrick is some kind of racist idiot.
Now, I have met Patrick and he is a gentleman and I would never expect him to be rude or derogatory to fellow blues in the Old Lady.
Ste Traverse
151
Posted 07/01/2017 at 19:01:43
Fucking gutted. Another season potless, but hey we may be getting a shiney new stadium down by the docks so everything is fine isn't it?
I don't care about new fucking stadiums, I want to see this club actually achieve things on the pitch.
I remember when we got knocked out of the League Cup, that beaut Martin Mason was on here stupidly arguing it was somehow a good thing we were out. I wonder if that fool is saying the same tonight after this defeat as yet another year will slip by with us winning fuck-all?
Oliver Molloy
152
Posted 07/01/2017 at 19:02:06
Eugene, a first win at Anfield since NINETEEN FUCKING NINETY NINE might help!
Regards today's result nothing to be surprised about for me. I see it that there are a few players / bad apples in our current squad who know their days are numbered with Koeman and they just are not putting in the required effort.
How many players have we got who just are not good enough (although they think they are) – 5 - 6 or maybe?
The time to judge Koeman will be the first 6 to 10 games at the start of next season – providing he gets the players that will make the difference, of course.
Patrick Murphy
153
Posted 07/01/2017 at 19:05:21
There were no racist, homophobic, sexist or expletive language involved, Brian, I can assure you. Often times it can just be that an individual or group don't like the 'cut of your jib' . I hope that is a satisfactory enough answer for you, Brian, as it's the most I'm going to say on a public forum.

Brian Williams
154
Posted 07/01/2017 at 19:05:23
Dean. I asked, out of interest, what Patrick shouted to cause people around him to complain. Patrick replied with a joke, he says, and then I merely made the point that it would depend what a person shouted as to whether those in the vicinity were justified in their complaint.
I did NOT suggest Patrick shouted any racist comment at all, merely that if a person DID, those around him would have cause to complain.
Ray Robinson
155
Posted 07/01/2017 at 19:08:25
David (#141), my angle on the comparison between Martinez and Koeman would be different. Would be now be on 30 points with Martinez? I very much doubt it and a relegation struggle would have been very much on the cards!
Koeman still has a hell of a lot to do to justify his salary but I wouldn't trade him in for the Spanish bullshitter. The league position is a much better indicator of progress than the cups – though it would be very nice to still be in one.
Brian Williams
156
Posted 07/01/2017 at 19:08:46
Patrick, if that's the case then it's those people that have the problem and not you, mate. Perhaps there are some rogue Evertonians amomg the crowd.
I hope you don't find my asking "abusive" towards you, like Dean does, but if you have done then I apologise. Last thing I want to do is upset a fellow Blue.
Tony Draper
157
Posted 07/01/2017 at 19:18:00
I think the (justified in my opinion) frustration is that Koeman's team has no distinct character. He implies that we will play a pressing game, but no-one presses, NO-ONE!
Perhaps Ronnie should have been hard at work at Finch Farm rather than taking his much needed second family holiday following the conclusion of the season.
I've always said that he must be given a full season before he can be fairly judged. That said, I wasn't anticipating us departing both cups so very early.
He'll need to conjure some fair sized rabbits out of his hat now to impress by the time he pops away on holiday, however.
John G Davies
158
Posted 07/01/2017 at 19:18:56
Eugene.
I think 7th will get you Europa League.
We are well capable of finishing 7th.
Dean Adams
159
Posted 07/01/2017 at 19:21:46
Brian. That is fair enough and my comment was purely to garner a more accurate picture of Patrick's predicament for you to realise that not all blues are reasonable and fair minded. :-)
David Booth
160
Posted 07/01/2017 at 19:21:54
Ray (155), the league position is an irrelevant misnomer. Of course we could be on 30 points. We were only one win off that last season. Are you satisfied with that?
It is blatantly obvious that we are no better off whatsoever, with no sign of any progress. Indeed, we have already received two significant (cup) indicators that make it very clear we are actually regressing.
But put statistics to one side. Use your eyes. Do you really think we are any different, better, promising or improved in any way? If so, please enlighten us about the green shoots you can see – where most of us see tumbleweed?
Ricardo Gimpardsle
161
Posted 07/01/2017 at 19:23:53
Ray you are probably right, we could well be in a relegation fight had we kept Mr Martinez. Thankfully we are making progress but it takes time to make these things work.
Terry Underwood
162
Posted 07/01/2017 at 19:24:23
Oay, I'm just as disappointed as every other blue, but, in reality, I always expected the cup winners to come from Chelski, Citeh, Arsenal, Manure, Tottingham, or, reluctantly, the RS. We honestly have a way to go before we can compete with this lot on a REGULAR basis.
Koeman was not my first choice as manager, but now we have him, I am prepared to give him time. We have an ageing squad, but there does seem to be a gradual changing of the guard. Have patience my children, good things come to he who waits. Just don't make us wait too fuckin' long.
COYMB
David Booth
163
Posted 07/01/2017 at 19:27:02
Ste (151), good point well remembered. Only this morning, I reminded myself of Martin's ludicrous comments about how losing was good for us. Where is he now, I wonder and how would he regard the latest embodiment of his revolutionary theory?
We have lost the will to win and it is over the horizon right now, well out of Koeman's reach or sphere of influence. We have got to start wanting to win something, anything and ideally everything again. But sadly that has now been shelved until next season... again.
David Barks
164
Posted 07/01/2017 at 19:31:14
No offensive philosophy, still weak defensively, worse in the Cups, on virtually the same number of points as last year...
How exactly is that progress? I'd love to know...
Dean Adams
165
Posted 07/01/2017 at 19:35:55
Maybe now we can see the real intent of the board.
If we get just one or two through the door in January, maybe then will be the time that Koeman takes a good long look at the U23 squad and utilizes the young talent that we have.
Sometimes, when we are forced into a situation, we can find the best resolution. Life is quiet a funny game, just like football.
Julian Exshaw
166
Posted 07/01/2017 at 19:41:59
Work in progress, is it? I bloody well hope so but it looks more like a work in deterioration to me.
Another year of hurt, another year of feck all while the usual suspects get richer and move further away from us. How much patience are we expected to have?
Some good signings, beating the RedShite and qualifying for Europe would go a long way to calming me down... but, right now, I'm pissed off big time!

Alan Bodell
167
Posted 07/01/2017 at 19:42:17
Pretty clear to see now that quite a few of the squad know they are not in his plans and are waiting to be shipped out and, as long as we keep Seamus, then that's okay by me, the rest can go and 'earn' their corn elsewhere.
Oh, I forgot Gana, Davies, Baines, Holgate... but that's all, folks.
Brian Williams
168
Posted 07/01/2017 at 19:42:54
I think, not 100%, that if one of the top four wins the FA Cup then 7th will get Europa League.
Tom Bowers
169
Posted 07/01/2017 at 19:44:00
I really don't look at any match these days and expect a win simply because, like many other fans posting here, I agree that Everton have a long way to go and the present squad is not good enough from which to pick a winning combination. There has to be a clearout of deadbeats, some either now or at the end of the season.
On reflection, putting Kone back in the squad today may have indicated Koeman's ambition in this competition because surely he doesn't intend to put him in the Premier League squad.
I am seeing also that the FA Cup is going like the Mickey Mouse Cup whereby some teams are resting key players and playing some youngsters and deadbeats especially in the early games.
Pity Everton didn't start some more of the fringe players today.
Rob Nunn
170
Posted 07/01/2017 at 19:48:47
I didn't watch the match here in Indonesia and, by all accounts, I am glad I didn't.
One question springs to mind: In what sphere of reality does a manager disrespect his workers? It is the manager's responsibility to get them playing.
To be quite honest he seems as bland as Dutch food – a hodge podge of sprouts. Wish I got £6 million for the memory of doing something 20 years ago

Tony Sullivan
171
Posted 07/01/2017 at 19:52:04
Koeman's post-match comments are correct. The board need to back his judgement. The majority of our players are not good enough. His comments about Davies sum up the shortcomings.
Roger Helm
172
Posted 07/01/2017 at 19:53:18
Very disappointing – we were tidy enough, then stopped playing when we went ahead.
Let's not despair – you can call Leicester, but they are the Champions, and in the knockout stage of the Champions League. It's no disgrace to lose the them.
For those wanting Koeman to be sacked – you want us to be a club who sacks managers every six months if we are struggling? Actually we are not – we are seventh in the league, young Davies and Holgate look like they will be fixtures soon, we have a rich new owner, with maybe an even richer backer, and a new stadium to look forward to.
If you want to be miserable, go and support Villa.
John Charles
173
Posted 07/01/2017 at 19:55:32
Just in from the game, had to have a pint after watching that dross.
The malaise runs right through the team but starts with the manager. It was he who bought Williams (the slowest most cumbersome, non progressive player I have witnessed in blue for a long time) and Valencia, who has the control of a Lukaku but without the speed or strength.
He who insists on playing Barry who is obviously spent. He who takes off Holgate but leaves on Coleman who was truly awful and he who takes off Barkley (not great) for Kone!!
Most importantly it is he who sends the team out with absolutely no style of play – we don't press, we don't sit off and hit on the break, we don't play possession football – we are rudderless and clueless.
Whilst reading the programme I noticed that you can now register (or even renew) your season ticket from this week – haha.
Whilst not the worst Everton team I have seen in my 44 years of match going it is possibly the most boring, spineless and passionless. I would not want a return to the Dogs of War, football has moved on, but there has to be more than this dross.
Rob Halligan
174
Posted 07/01/2017 at 19:57:26
Tony Draper (#104) ...well dead easy, mate. Don't fucking buy one!!
Rob Halligan
175
Posted 07/01/2017 at 19:59:43
Same to you, John Charles (#173).
Rob Nunn
177
Posted 07/01/2017 at 20:06:43
A manager by definition manages. He does not blame his resources. Particularly in public.
Jay Griffiths
178
Posted 07/01/2017 at 20:07:41
Palace tickets have turned up. I'm looking at them now like they're a debt recovery demand. Starting to wonder what this "manager" practices and preaches to his players...
That scruff across the park has got a mate that is doing a fine job at Huddersfield. A cerebral chap and a seemingly good football man. He's got a personality and a bit of charisma too. Wouldn't that be a nice sub plot for when we have to face that lot?
Colin Glassar
179
Posted 07/01/2017 at 20:18:32
Hart, Van Dijk, Schneiderlin, Fabregas and Jay Rodriguez (or Callum Wilson) and this window would be a good one.
I know we wanted Depay on loan but there's no way we are paying 㿊m for him.
Chris Leyland
180
Posted 07/01/2017 at 20:26:28
All these comments about us regressing are bollocks.
Koeman inherited a squad in terminal decline for 2 years. One that wasn't trained or managed properly during that time. He actually wasn't backed properly in the summer transfer window by the Board despite all the positive noises from Moshiri. So, he basically has the same shitty losers he inherited from the previous clown but they are older and in rapid decline from their prolonged mismanagement.
He has actually stopped them declining further. Yes, the football isn't pretty and yes, we are far too inconsistent but he has stopped any further decline in the league. The time to judge him is next year not this.
I don't give a shit that we got further in the cups last season as we still failed spectacularly in both competitions, didn't we?
I think that it is a safe bet that we will finish higher and with more points this season than we did do either of the last two. Any of the doom mongers above want to put their money where their mouths are and place a bet that we don't?
Nigel Munford
181
Posted 07/01/2017 at 20:30:59
Roger, Villa or maybe Stoke eh!!
Liam Wilson
182
Posted 07/01/2017 at 20:42:42
Oliver Molloy, are you originally from Belfast? I sat beside an "Oliver Molloy" in P6 and P7 who was a mad Evertonian and "Toffee prophet" who went a long way to converting me to all things blue and putting me on the road to (occasional) bliss?
David Booth
183
Posted 07/01/2017 at 20:46:12
Chris (#180), it's not bollocks at all, we have at best gone sideways.
I also heartily dispute the allegation that the players are 'shitty losers'. Koeman is just incapable of motivating them, in any game he has managed since taking over. Even Martinez could do that.
Not only that, half the team is his and they are still collectively clueless. He chops and changes more than Ranieri at his best. Drops players on form and retains those who are abject. Changes everything that does not need changing and leaves blatantly obvious things that do – such as some consistent support for Lukaku up front – unchanged game after game... after game.
There is not one shred of evidence that we are playing better, are fitter, more motivated, more organised, more committed or psychologically stronger. And I'm getting tired of slagging the players off as some sort of defence mechanism for him.
'Shitty losers' you say. Ah well, let's buy another 11 or 12 then like Williams, Stekelenburg, Valencia and Bolasie?
The players can rightly be criticised for their performances in every game – which is Koeman's direct responsibility. But not for their ability. Coleman, Baines, Gana, Holgate, Davies, Barkley, Deulofeu, Mirallas and Lukaku are not in terminal decline, as you allege. They are just working for a manager who is.
He's had two dozen games to mould them into a unit and has so fair failed to do so. Even bad players can be organised and motivated by a good manager. Look what Royle did for example.
We have not had a SINGLE game all season where we have played well from start to finish, outplayed the opposition, and looked like we had a masterplan, or even an emerging identity.
And if you "don't give a shit about the cups", then your opinions deserve the sort of disdain such a flippant, nonsensical comment merits. Go and have a pint with Martin Mason sometime. You two are incredible kindred spirits.
We've had 30 years of next transfer windows and next seasons and look where it's got us. Nowhere.
Koeman's had six months to show he's up to it and he clearly isn't. I would love to see him go: voluntarily or otherwise. Right now.
Andy Meighan
184
Posted 07/01/2017 at 20:48:11
Chris (#180),
Yes, we did fail in both cups last season. But at least them cup runs kept our season alive. What have we got to look forward to this season? Nothing – that's what...
I've said this all season: we will be lucky to finish in the top half of the table, given the way we've performed so far. Man City and Chelsea at home... THEM; Man Utd, Spurs & Arsenal away hardly fill you with much hope whereas results are concerned, do they?
At the risk of repeating myself, there hasn't been one game under Koeman where we've performed for the whole of the game. He's been here long enough to have well put his stamp on albeit a poor squad. And he's already had one window in which he failed miserably – Gueye being the exception.
I'm worried about the type of player he thinks can turn us around Look at the players we were allegedly linked with in August: Kone of Sunderland... Sissoko [Yes, me too]... Gabbiadini... no thanks. And others of a similar ilk.
No, I'm sorry, but this Evertonian of nearly 50 years knows that Koeman isn't the man for the job. I desperately want him or anyone for that matter to succeed. Please god, I hope I'm wrong... but I feel this is all going to end in tears.
Then again Martinez had a great first season. So let's hope the opposite is happening with Koeman. Or is that me dreaming?
Jay Griffiths
185
Posted 07/01/2017 at 20:50:38
Touché, David Booth (#183). You've stolen my thoughts.
Liam Wilson
186
Posted 07/01/2017 at 20:56:21
David Booth... take a bow. 100% agree with your post. Now get your tin hat on for all the abuse you will (undeservedly) and inevitably get.
How long did Frank de Boer get before he was found out? Answer: 85 days. And to think we were courting him just like Ronald Koeman.
Why do we continue to suffer fools?
Andy Meighan
187
Posted 07/01/2017 at 20:56:24
Hart... Van Dijk... Fabregas... Schnerderlin... Rodriguez... Wilson...
What fucking planet do some of you live on??? Because it sure isn't this one!!! We'll be lucky very lucky to get one of those and then we ll probably have to pay well over the odds.
Colin Malone
188
Posted 07/01/2017 at 20:58:24
We have what is the spine of a great football side. Idrissa Gueye... Full stop.
Don't get me started on the lump up front.
John Raftery
189
Posted 07/01/2017 at 20:58:38
In the back of my mind, going to this game, was the fact we have not won two successive games since September. The team lacks the quality, pace and energy required to maintain a consistent level of performance from game to game.
Koeman has not taken us backwards but equally so far he has not taken us forwards. Plainly we do not possess the squad capable of an extended cup run or challenging the top six.
Today's exit may prove to be a blessing in disguise, albeit heavily disguised, if it proves to be the catalyst for a total revamp of a squad which now looks tired and flat. That does not mean we should pay significantly over the odds for players this month but it should mean we get at least half a dozen lined up for the summer.
Priority signings would have to be a top class goalkeeper, centre-back, central midfielder and a couple of forwards. If that happens, there can be no more excuses from Koeman. If it doesn't, we will all have legitimate questions to ask about the club's recruitment strategy.
Andy Meighan
190
Posted 07/01/2017 at 20:58:42
David (#183) – thank you. Brilliant!!!
John Harrop
191
Posted 07/01/2017 at 21:04:28
It's strange how only last year we had 'the best squad in years' with only Roberto Martinez holding us back from reaching the heights. Well Roberto was replaced with a 'star' manager. Now suddenly, half of the team needs to be changed!
Ask yourselves this – would David Moyes have gotten more out of this squad than our current manager? No I don't want him back. I just believe that a manager should be able to do more with the squad that he already has.
Derek Thomas
192
Posted 07/01/2017 at 21:05:35
John G Davies @158;
This is Everton remember, and we're quite capable of NOT finishing 7th... or 8th... or 9th.
Scant consolation, I know, but like more than a few on here have mentioned, I too have been at this EFC lark for more than half a century and you get to see patterns... well you do if you look.
More often than not or so it seems, if 2 teams play league and cup close together you get the spoils halved... like I said scant consolation.
When Ball was a manager he asked, "How do you motivate millionaires?" It well known that the only true motivation is self motivation. Somebody, usually the boss or other 'Authority Figure' can apply techniques to 'motivate', but you have to buy into it, you have to want to be, allow yourself to BE motivated. That takes a certain amount of discipline – and the only true discipline is Self Discipline... so round it goes. How do you motivate millionaires?. Throw more money at them, we've tried that.
There's more than a slight case for the powers that be putting the cheque book down the back of Bill's sofa, or where ever they keep it now and saying to Koeman and Walsh, go away and fine tune your targets, come back in the summer... and while you're doing that, start making plans to move out the vast majority of those dirty dozen or so of the old, the halt, the lame, the has-beens, the never-will-bes and the just plain seriously gash.
I have a vision of Moshiri's ex KGB bagman/board member looking at the plans for Bramley-Moore Dock, doodling little stick figures in the foundations and putting 'RK' & 'SW' and all the other usual suspect's initials next to them... now THAT'S motivation!!
Liam Wilson
193
Posted 07/01/2017 at 21:07:11
John Harrop,
Moyes might have "got" more, but he probably wouldn't have "gotten" more.
Dean Adams
194
Posted 07/01/2017 at 21:08:40
David Booth,
Half our team are Koeman's buys? Fascinating bit of maths there! He bought Gana (away) and Stekelenburg (injured), Bolasie (injured) and Williams (playing!!). We have Valencia on loan as we failed to get our targets. How on this planet is that half the team?
So today he had one of his chosen players in the team. It has been much the same all season, but you deliberately ignore the facts. Give the man time, for god's sake!!
John Harrop
195
Posted 07/01/2017 at 21:11:02
Liam (#193). As past participles of get, got and gotten both date back to Middle English. I'm so old, I date back that far too!
Martin Cassidy
197
Posted 07/01/2017 at 21:11:34
When oh when will Everton rise again, get Unsworth and the young players in who want to play and give 100%. Stop wasting money on players who just don't cut it. There is to much deadwood at present who don't give a toss.

Let's build a great team with the young lads we have and add a top keeper it starts from the back to be great. Keep Idrissa Gaye, Baines, Colman, Holgate, Davis, Calvert-Lewin, get rid of the rest and cash in on Lukaku now.

Get in a quality center back under 30 years of age and a top striker who can control the ball with his first touch and put a shift in, unlike Lukaku who is another "can't control". You know the one – his first name was Carlton and he played for West Ham.
Paul Hewitt
198
Posted 07/01/2017 at 21:15:00
Okay, to everyone who wants Koeman sacked: Who would you get in, and how long would you give him?
David Booth
199
Posted 07/01/2017 at 21:15:50
Dean, that's five out of 11 he intends to be the first team – as near as damn it half as far as my 'O' level maths tells me?
And I'm not just using today as a snapshot. He's had them for more than 20 games.
So yes, HALF a team – and they're still no different to what we got used to under Martinez.
Rick Tarleton
200
Posted 07/01/2017 at 21:16:57
I'll put it simply: me, two sons, two grandsons, one making his first iconic visit to Goodison at six years old, drove the t250-mile round trip from where we live, near Leicester to watch this performance.
Apart from Baines, I wouldn't have given another player 5 out of ten. This was appalling. Leicester weren't even interested, they have Europe and a potential relegation battle to fight. The cup was so unimportant, they didn't even put Vardy on the bench. Yet they won and in the end deserved to win.
The Everton defence kept getting lost, the midfield dominated possession, but in the end they passed square or backwards and the forwards stood still; I'll exclude Valencia, he did try, and waited for a miracle pass.
This is as bad as I've seen in sixty-four years of watching Everton. It's this bad, because this group of players, individually is a talented collection, but as a team, as a unit and as a sign of being well-organised and well-managed, they are appalling. Slow, pedestrian, totally lacking in inventiveness or organisation.
If it's the players, get rid, if anyone will take them. If it's the manager, sack him... but do something!
David Booth
201
Posted 07/01/2017 at 21:18:34
And in disputing my calculations Dean, what are you now going to do to advocate support for Koeman?
Unlike the Romans, what has he ever done for us?
Can you, or anyone else, give me just three things (asking for more would be clearly ludicrous), he has done, achieved or changed since taking over as our ٤m-a-year manager?
I await your list(s) with great anticipation...
John G Davies
202
Posted 07/01/2017 at 21:20:33
Derek (#192).
I take your point but I am confident we will get 7th. Not ideal... but it would be an improvement on last season's 11th – and I would see that as progress.
Dean Adams
203
Posted 07/01/2017 at 21:20:42
David. You might have got "O" level maths but that must be the end of your educational endeavours. Only one played today; two in the last game. Bolasie was doing okay before his injury. Valencia is not one of his buys, so including him is stupidity.
You really do not get this maths lark either, so I imagine your qualification came as a big surprise. Never mind... because you clearly have little hope for us under Koeman so nothing anyone tells you will help.
Oliver Molloy
204
Posted 07/01/2017 at 21:27:11
David & Liam, can I ask who you would replace Koeman with and were you initially happy with his appointment ?
David Booth
205
Posted 07/01/2017 at 21:29:32
Dean, he has still bought half a team – and to no effect...
Whether they played or not today is of no consequence. They were all bought by Koeman to change the team. And have done precisely nothing of the sort! Between them they have 78 appearances, not including being used as subs.
That's my point. Now what is yours – apart from a crap maths lesson?
And Valencia most definitely is one of his buys. Koeman took over in June and Valencia joined in August. Time to get YOUR facts right.
But like I say, apart from just arguing with me about whether five is half of eleven – what do you see in Koeman that an rapidly increasing number of Evertonians cannot?
Dean Adams
206
Posted 07/01/2017 at 21:33:23
Oh David!! Really? To tell you what he has done, first of all you would have to be open-minded and astute. But:
1) As the chosen manager by Moshiri, he has bought into the ambition that has been widely publicised in the media.
2) As a well known and respected manager, he has improved our overall standing in the European stage, which will help to encourage bigger named players.
3) He has identified the root cause of the problems that are endemic to this club and is working to rectify the problems by pointing out that shit is indeed shit and not some form of wonderful marvellous thing that Bobby would have told us it was!
Hope that you can understand these concepts, but I won't hold my breath as you have shown little aptitude for such matters of gravity!!

David Greenwood
207
Posted 07/01/2017 at 21:35:03
No consequence. Lmfao.
Does anyone (Patrick perhaps) have our league position at this stage last season?
David Booth
208
Posted 07/01/2017 at 21:35:29
Oliver, that's an interesting one and I am not going to open up a whole new argument by suggesting possible candidates. That's maybe for another thread somewhere?
But he is not doing what we hoped for, by any stretch, is he?
Nor, worryingly, is he showing any sign of being capable of doing so.
Tony Hill
209
Posted 07/01/2017 at 21:36:12
The lack of movement in our team, of quick and incisive passing, of instant control, is so basic as to be embarrassing. It is a cliche to ask what they do during the training week but I genuinely would like to know. We don't look like other sides somehow, we don't shape up like them – even some of the poorer ones in the league.
I also think there are major ongoing fitness issues in the side. We cannot sustain pressure, or defend accurately, for anything approaching 90 minutes.
All of this was true under Martinez. What is it about us? I think those who point to cosy, ingrained complacency are right. Everton, the Family Club; warm, generous, lovely and unsuccessful.
Seamus McCrudden
210
Posted 07/01/2017 at 21:37:35
Rick, I'd sack the players. It's become stagnant and pre-dates Koeman by two seasons. They get paid regardless of their gutless performances.
Sign some new players now, ship out the ones that are not involved and rid ourselves of the mental malaise that's affecting our team.
John G Davies
212
Posted 07/01/2017 at 21:41:26
David.
Give him a bit of time to create a team in his own image.
Your point is similar to a mechanic saying about a car "this car finished 11th in its last race, I have changed 4 tyres and the suspension. The gearbox and engine need attention though to make it more competitive."
Fuck that, though – the car should still be getting a podium finish.
Michael Shaw
213
Posted 07/01/2017 at 21:42:08
Everton's board have focused their efforts on club stability and being prudent rather than gambling on success, since the late-nineties. Kenwright and Co stubbornly refuse to change that mentality, so it runs through the club.
They prefer to look at similar sized clubs like Leeds and Villa in the Championship when they should be aspiring to compete with the likes of Spurs, another club similar in stature to Everton.

They are not proactive enough in moving the club forward. That explains why Moshiri was not allowed the majority shares. He is too ambitious for their liking. The squad is stale, the players lack passion and the supporters are left feeling numb with disappointment.
Colin Williams
214
Posted 07/01/2017 at 21:43:36
Stop trying to butter this fecking guy up! Let's get something straight, just because the bloke had a top career as a player, means fuck-all concerning being a manager!
All this guy wan's to do is spend. Top managers always pride themselves of getting better out of players who are underachieving within the game, that's why their top of their profession.
All this guy wants to do is fecking moan about players and spend silly money on players who no fucker else wants – instead of spending time coaching and developing players back to form plus, looking within the club to solve a problem!!! Not keep spending silly money on shite! Which does not move our great club forward. Just close the door after you!
David Booth
216
Posted 07/01/2017 at 21:49:44
Dean, if you're truly, honestly convinced by that then you are perfectly entitled to your own personal view. So you're happy with what you've seen so far this season then?
Happy we're out of two cups by January?
Happy we've not put in one solid 90-minute consistent performance in a single game this season?
Happy that he has not been able to find and field a consistent team for 23 games?
Happy that we doffed our cap to Liverpool again?
Happy that he has not worked out that Lukaku needs another player alongside him?
Happy that it took him 20 games to realise that Davies might be a good addition to energise an ageing midfield?
Meanwhile, the three points you make are straight from a PR manifesto and all open to conjecture.
We want to see tangible improvement on the pitch and a team that wins cup games – not some fanciful blue sky thinking about raising profiles and buying-in to ambition... Buying into the FA Cup Final, or a European place would be more like it!
And please stop the personal digs. I am more than happy to debate things with you, but questioning my open-mindedness, aptitude and astuteness are inappropriate.
I might not agree with them, but I accept you have differing opinions to mine. As an Evertonian, I am happy to discuss them with you. But I would not be snidey at the same time and would appreciate it if you would not either please?
Patrick Murphy
217
Posted 07/01/2017 at 21:50:41
David (#207),
Everton were 11th with three points less than we have now. On the downside, we were still in both cup competitions. Everton won a further 20 points from the remaining 18 matches and ended up with 47 points.
You would hope that Koeman's team could improve on that tally, but I wouldn't bet on it, unless there is a sudden influx of enthusiasm from most of the players.
As an aside, today's attendance for a Third Round tie at Goodison was the highest since 1988 and it's those supporters who attended today who I feel the most sorry for. I couldn't really care less about who manages or plays for the club as long as they are all pulling in the same direction and it seems we'll have to wait a little while longer for that to happen at Everton.

David Booth
218
Posted 07/01/2017 at 21:56:36
Precisely, Patrick. Just three points better off – so no real difference. And certainly nothing that could be claimed as a positive improvement?
And we were still in two cups and had only lost four league games, as opposed to six under Koeman.
Like you, I certainly wouldn't bet on this team, under this manager, doing anything to improve that.
Michael Shaw
219
Posted 07/01/2017 at 21:58:15
Two miserable first round cup exits and just three points better off in the league than a year ago. Turgid football that lacks quality, passion, identity or character. Slow at the back, robotic in midfield, toothless in attack and apathy in the stands.
Geoff Williams
220
Posted 07/01/2017 at 21:59:13
My view of the game will obviously be different to many on the site but here goes:
I thought the team passed the ball well in the first half but without any end product. Davies started off with a few misdirected passes but grew in stature as the game went on and looks a great prospect.
I thought Holgate looked comfortable playing as a fullback although I thought the idea was to have three centre-backs with the width being provided by Coleman and Baines. Coleman however played just inside so Holgate was often the widest player on the right.
I could understand the thinking behind bringing on Deulofeu at half-time and the substitution seemed to have paid off when Lukaku scored from Deulofeu's cross but the balance of the team was now fatally flawed. Leicester now found a lot of success down Everton's right. The usual poor defending resulted in the customary gift goals.
I was flabbergasted at the two further substitutions. Mirallas and Deloufeu should never be on the pitch together and Kone simply shouldn't get a game. These substitutions were made by a man who has absolutely no tactical awareness. Throwing on more and more forwards doesn't make for a more attacking team.
I don't agree with the criticism directed at Barry. I thought Barkley did okay, as did Valencia, but I believe Williams is a huge weakness.
So, once again, our season is over by the first week in January. It is all the players' fault and nothing to do with our wonderful manager.
David Greenwood
221
Posted 07/01/2017 at 22:00:59
Thank you Patrick.
The cups are very disappointing.
I expect us to go well past 47 points.
Our supporters deserve better. Couldn't agree more.
Dean Adams
222
Posted 07/01/2017 at 22:01:09
David Booth. Why so many questions? Seriously, if you cannot understand, then how on earth will I or anyone be able to help you? First of all, can I just say that never in my life has 5 been half of 11, but a squad is around 25 so that is just 20% of the squad that were brought in by Koeman, not 'bought', as you keep insisting.
I have not once said that I am happy with the situation, but you just continually show your lack of understanding of just how to build a team. I do think he has done the right thing with Davies, as he clearly sees this squad as not good enough; he does not want to ruin the lad before his career takes off – excellent management. Oh and "out of a PR manifesto", mixed up or what, PR manifesto, really!!
If this time next year we are in the same position, then and only then will I join the knee-jerkers who have no patience and little idea of how to improve things.
Liam Wilson
223
Posted 07/01/2017 at 22:02:13
Oliver... are you from Belfast or not?
Oliver Molloy
224
Posted 07/01/2017 at 22:05:00
David,
It must be a nightmare trying to get players to give everything when many of these players know they have been found out and will be out the door as soon as it makes sense for the club and manager to do so.
I think it is unrealistic to expect Koeman to change Everton with the squad he inherited in one season; and reading between the lines – Koeman's comments after the match directed to Moshiri and the board could be interpreted as something amiss regards transfer targets and mucking about!
Geoff Williams
225
Posted 07/01/2017 at 22:07:18
I wouldn't trust Koeman with a farthing.
Tony Abrahams
226
Posted 07/01/2017 at 22:08:06
The people I feel most sorry for are the fans, it is very true Patrick. I was walking along County Road, after the game, and I bumped into my oldest son, who had a face like thunder. Seventeen years, he's been going the game, travels everywhere and has seen us win fuck-all.
Sometimes I blame myself, and just want to see us win something for the kids like my two sons, but it's not going to happen any time soon – not while we have a squad of players with such a weak mentality, and a manager that doesn't play to its strengths.
David Greenwood
227
Posted 07/01/2017 at 22:08:37
David.
Four places and three points higher. Not much granted.
However, no real difference?
Would you be saying no real difference if we were four places and three points lower?
I don't think so.
Tom Bowers
228
Posted 07/01/2017 at 22:09:07
Martinez had an immediate impact with the squad when he came in, as most new managers seem to do, but Koeman has had absolutely zero impact except in the opposite direction. Forget about being 7th. at the moment, staying there won't be any achievement.
What is disturbing is the lack of intensity shown in practically every game this season, almost like many of the players are just going through the motions.
What good will new players be if Koeman cannot inspire or motivate? The man does not seem to get excited on the touchline – no matter what seems to be happening on the field.
David Booth
229
Posted 07/01/2017 at 22:10:16
Who brought Valencia in then Dean? Jurgen Klopp?
He was signed – loanee or not – by Koeman. Therefore he counts as one of FIVE signings he has made.
Nicholas Ryan
230
Posted 07/01/2017 at 22:13:34
"...Taxiiii..."
Andy Meighan
231
Posted 07/01/2017 at 22:14:03
Dean (#222). Your ignorance is astonishing. David is spot on with everything he says.
David Booth
232
Posted 07/01/2017 at 22:15:34
Oliver (#224), I know what you mean, but surely a godo manager should be able to show he is at least capable of changing things.
For example:
Ranieri did – immediately – with a team of relegation beaters.
Warnock does it at almost every club he goes fire-fighting at.
Conte did with a team of drastic under-achievers last season.
Pochettino has elevated one of our peers, Spurs, to a level we can only dream of at the moment.
And Joe Royle did it with us.
What really concerns me is that Koeman has shown not one indicator he is going to make a difference.
David Booth
233
Posted 07/01/2017 at 22:17:51
ps: As Tom (above) points out, even Martinez wowed us all in his first season...
Ray Robinson
234
Posted 07/01/2017 at 22:18:27
My view of things is that Koeman really does need to start justifying his enormous salary but that we are better off with him than we would have been under the other clown. That doesn't mean that everything is hunky dory but at least we have a manager now who appears to see the issues rather than one who clearly didn't (or if he did, chose to ignore them).
I will give Koeman and Walsh one or two windows to fundamentally change the dynamic and mindset of the team before I call for him to be sacked. I do believe that he has a plan but is straight-jacketed by a team that clearly cannot execute the full-on, in-your-face type pressing game that he would like to play.
You can't make lily-livered, one paced players with no heart into dynamic dogs of war, no matter how good your coaching skills - so a far-reaching change of personnel is required. Let's see what things are like after one or two transfer windows.
He did manage to turn Southampton around after a mass exodus of players, so, seemingly, he can do it.
Mike Green
235
Posted 07/01/2017 at 22:19:03
The last thing we need is the Europa League – it's 1st, 2nd, 3rd, 4th or failing that, 8th for me. Truly awful competition.
Dean Adams
236
Posted 07/01/2017 at 22:20:44
David Booth
"Meanwhile, the three points you make are straight from a PR manifesto and all open to conjecture."
As a matter of little interest my brother has a masters in PR and has worked with some very high profile clients, some even you would've heard of. Never in my life however have I ever been accused of creating a PR manifesto. I just see what is there to be seen. I realise that many people do not see the things I see and suffered the same kind of comments when I openly criticized Martinez on his appointment back in June of 2013. I was right then, but other people saw differently and were very vocal about it.
As I told them then, I care not what you think because I know that your knowledge is not based on fact, but fiction and the inability to see the bigger picture. Do not worry as I see you are not alone though. It does appear though that for every answer you are given you find a little bit of simplicity in your peculiar take on how things are, at least in your mind!! Life might be rather difficult for you is all I can suggest.
Oh and for God sake, Valencia was not bought by Koeman, he is on loan which is definitely not the same thing. Why do you fail to understand even the most basic facts?
Michael Shaw
237
Posted 07/01/2017 at 22:24:32
Most of Everton's hierarchy are more concerned not to end up up like Leeds or Villa in the Championship, when they should be aspiring to be more like Spurs and challenging for the top four. They prefer stability and mid-table security rather than gambling on success.
It's called the comfort zone and it leads to apathy and mediocrity. It explains why Moshiri was only allowed 49.9% of the shares. He is far too ambitious for the board.
Brent Stephens
238
Posted 07/01/2017 at 22:25:46
So disappointed. So conflicted about which of the various explanations for our woes takes precedence.
But I still believe I can't judge Koeman after only a few months. Come on, get on with it, Everton.
David Booth
240
Posted 07/01/2017 at 22:30:41
Mike (#235), we've not won anything for almost 22 years – and you are being dismissive about another chance to do something about that? The Gobshites nearly won it last year – and I bet you'd have given your eye teeth to have been in the final instead of them? I would!
We should surely be looking to grab every chance of silverware we can? We are most certainly not in a position to pick and choose. Norwich at home ring a bell here...?
Chelsea, Liverpool, Arsenal, United, City and Spurs can maybe afford to be so selective, in pursuit of more glamorous prizes. We most certainly cannot.
Dean Adams
241
Posted 07/01/2017 at 22:44:12
David Booth
"And Valencia most definitely is one of his buys. Koeman took over in June and Valencia joined in August."
Right. You clearly said buys. That is not a loan and you know it. Each time you are proved wrong you move the goal posts to suit your clearly stupid take on things. Yes, Koeman brought him in, but only because the players he wanted were not available and he needed some numbers coming in. The sheer fact that you fail to understand that shows me and everyone reading this that you are just not capable of higher reasoning and that you never will, that is just not my problem – after all it is you who lives with that failing.
Then, in #233 you say Martinez wowed us all, but that is just more of your lies as you would know if you did some research. Clue here, go back to 3 June 2013 and read the Martinez thread, you might just learn a few things. I will of course, not be holding my breath!!
Michael Shaw
242
Posted 07/01/2017 at 22:47:15
David (240), the blues rarely get past the 3rd Round of the League Cup so what chance of real progress in The Europa League? They play all those group games against sides that no-one has heard of, then get humiliated and outclassed against decent opposition in Portugal or Ukraine before the competition even gets serious.
David Booth
243
Posted 07/01/2017 at 22:51:35
Dean, I've worked in PR and journalism for 40 years. And with all due respect to your brother, and his masters, I'm talking to you, not him.
I know all about such 'mission statements'. And that's all they are. Statements of intent. It takes two minutes to write them. What we need is evidence. Not promise, potential and platitudes. And right now we have none of the former, but plenty of the latter.
Net result: out of two cups, cut adrift from the pace-setters in the league, and borderline abject at best in every game we've played.
Give me points over propaganda every time – and right now we have just three more than at the same time this year under Martinez.
Koeman has been woeful so far and nothing he has said or done has made any difference at all.
Mike Green
244
Posted 07/01/2017 at 22:52:26
David – let's try winning trophies that are achievable first - like the two domestic cups.
I'm probably wrong but I think you have to get through 15 games before you contest the final of the Europa League, its schedule notoriously crucifies League form, is rigged half way through to let arguably superior teams in through the back door, and no one gives a fuck about it until the final where they might have half an eye on it unless their teams in it – where they might have one eye on it.
It's a joke and sums Uefa up at its worst. So no, not for me.
David Booth
245
Posted 07/01/2017 at 22:54:09
Michael (242), so best not bother then?
Don't bother even aspiring for Europa League success, because we've not done very well before?
Great concept. That'll put us back amongst the elite...
Chris Gould
246
Posted 07/01/2017 at 22:56:04
Very sensible, Brent. I'm with you. Koeman doesn't believe in many of these players and has no interest in mollycoddling them. I believe he has no time for players that don't reach his standards and has lost patience with many. I think people underestimate the malaise that set in under Martinez.
I'm patient enough to see this season out and then see what can be done in the summer. I'm not going to measure him on how well he does with the rubbish he was left with. He came to us after preparing for a transfer window with Southampton and Walsh joined after preparing for Leicester. The European Championships were also a disruption. Koeman clearly didn't get in the players he wanted and was let down.
I believe he will come good and I also believe we'll finish this season with about 64 points which will be a vast improvement on last season. We will all get the chance to wait and see... because he's not going anywhere.
Raymond Fox
247
Posted 07/01/2017 at 22:56:14
David (#183), you're right in what you say, we are not one iota better than we were last season.
Chris (#180), like a good few others blamed Martinez for everything including the weather for our shortcomings, we were supposedly a potential top 4 side, this season has shown that we are/were not.
Why, because the club tries to challenge the usual top 6 teams with a squad that has been mainly assembled cheaply. Yes, we have one or two expensive players such as Lukaku (but wants away) that cost good money, but its a policy that's failed for >20 years.
Until we can compete on the same transfer level with the best teams we are always going to be disappointed.
Now how the hell we are ever going to achieve parity wealth-wise – unless we can get another billionaire to buy the other 50% of the club – I don't know.
We can argue the toss about this manager getting it wrong or that manager making mistakes, but if the quality of the squad is not good enough, you are flogging a dead horse.
David Booth
249
Posted 07/01/2017 at 23:00:33
Mike (#244), best stick to what we've been good at for almost quarter of a century then – winning nothing. How can you want us not to compete in it and win it?
I'm an Evertonian. I want us to win every game – or at least try to – and not give up on something before we've even had a go.
I'm selfish too and those recent excursions to Lille, Wolfsburg and Young Boys were as much for me as the team. Wonderful trips that thousands of fellow Evertonians will remember forever. Better that than enviously watching Channel 5 on a Thursday night and wishing it was us?
Such a 'were not worthy' attitude – amongst fans, players, manager and directors – has got us to where we are today: meandering, mid-table and mediocre.
Jay Griffiths
250
Posted 07/01/2017 at 23:01:08
If an American Apache picked some of our lads off by mistake, it had the euphemism, blue on blue. Quite apt considering some of the blue on blue on here tonight.
My opinion on Koeman is totally unsure now. I was initially pleased with the appointment. I've spent a small fortune taking my son to all our games this season and I can only choose one in which we fully deserved the win in both halves. Boro at home. Even Sunderland away, we were poor first half.
There just doesn't seem to be any parameters to our style of play. When we've had a poor performance, Ron has been quite open with his criticism of certain players. Justifiably a lot of times, but at no point has he held his hand up for poor player choice, formation, strategy etc. There's no way he has evaded culpability for some of his decisions this season.
For a man that is so open and honest then for me, it's so long as it's on a one way street. I really hope with the right funding our travails will be rewarded, but I am now concerned and the optimism I had is starting to depreciate. Just my opinion on what I've witnessed first hand, so no verbal mortars, if possible.
Mike Green
251
Posted 07/01/2017 at 23:04:49
David – seems to me you're in the mood for a ruck tonight so I'll leave you to it. I would say aiming for the Europa League is the definition of mediocrity though, I guess we just have different standards.
Oliver Molloy
252
Posted 07/01/2017 at 23:06:20
Tom @ 224.
Martinez inherited a squad of players that were drilled as a team and they we're let off the reigns so to speak and allowed to play football the way many of us Evertonians wanted to see us play.
Martinez's first season was a win win situation for both players and manager as the get out clause was the "complete football" philosophy etc etc.
As for the players he will get in - as Koeman has already made clear it is up to Walsh to find the players that can play the way Koeman wants, and Walsh has said this also. Only then, in my opinion can we judge.
I'm not sure that Bolasie was Koeman's choice, nor Williams, and Valencia was a panic signing. As for him not showing emotion, I would rather have the likes of a Koeman than the increasing number of " attention seeking look at me " managers marching onto the pitch high giving everything in sight, a total bunch of numpties the lot of them.
Koeman providing he gets the backing he was promised will turn things round.
Liam @ 223,
I don't know what thus has that got to do with the debate exactly, but no, I'm not.
Michael Shaw
253
Posted 07/01/2017 at 23:09:00
David (#242) This Evertonian is not a pessimist. He is a realist. I agree with Mike (#244) ''Let's try winning trophies that are achievable first – like the two domestic cups.''
The problem at the moment is that the players are like the supporters. They turn up for each game hoping for the best but fearing the worst. The mentality throughout the club has to change before it is able to think about winning trophies.
David Booth
254
Posted 07/01/2017 at 23:13:28
Mike, I'm genuinely not and just think differently to you.
I'm genuinely staggered that an Everton fan, after 22 trophy-less years, can say he doesn't want us to enter a competition – because it's too difficult? Let's at least try and gain some experience.
The more we get, the more likely we are to win it. Would you say the same about the Champions League too? That's even more games.
We're shit in Europe, because we shit ourselves at some stage every time we play in it. The only way to overcome that, and not suffer from 1960s stage fright of Johnny Foreigner when we go to the likes of Ukraine or Portugal, is to keep going there until we beat them. Then it becomes a habit. A winning habit. Something we need to instil increasingly urgently.
David Booth
255
Posted 07/01/2017 at 23:16:02
Michael (#253), the only way to change that is to start winning them, surely?
And if you're now advocating that we don't even try, we will forever be underdogs.
As for winning 'achievable domestic trophies' – where does today fit in with your plan?
Brian Wilkinson
256
Posted 07/01/2017 at 23:23:54
Stop bloody whinging, it hurt today's result but before kick off and for a few weeks we were calling for Holgate and Davies, Robles, Funes Mori instead of Jags, and Valencia to play alongside Lukaku.
Thank Christ Tom Cleverley did not start.
Anyway, on a plus side, the window is still open and in the long term we can try and bring in the players needed now instead of scraping a couple of cup wins and making do with what we had, this can only be a good thing. Sure, I will get blasted from pillar to post, but the squad we have now would not have made Wembley this season.
Time to offload the deadwood, strengthen now and build for the following season.
Onwards and upwards, fellow Evertonians.
Mike Green
257
Posted 07/01/2017 at 23:30:54
David – do you not see the perversity in debating wanting to win the Europa League when we currently can't get past Norwich and Leicester Reserves at home at the first time of asking – on the night we've just been knocked out? After relinquishing a lead with less than half an hour to go?
Yes – I'll give you the experience it gives the team, and fans, can be invaluable and unforgettable. For that it's worth getting involved. But only for the real prize which is IF we manage to get into the Champions League.
For me, when you weigh everything else up, it simply isn't worth entering – if we came 5th and were offered to, I'd skip it and would save myself for a push at 4th the following year instead.
Michael Shaw
258
Posted 07/01/2017 at 23:44:27
David (#255),
Like I said, until the club and its players stop accepting mediocrity by default, then even the domestic trophies are out of reach, never mind the Europa League marathon.
The Champions League has one round fewer (two games) than the Europa League and the financial rewards, as you know, are much higher. Also, the later inclusion of sides that finish third in their Champions League group makes a total mockery of the competition. More cons than pros in most people's eyes.
Everton finished 5th or 6th on four occasions under Moyes and also 5th under Martinez to qualify for Europa League football yet it achieved very little except for a few decent trips abroad for the supporters. No-one is going to shout from the rooftops at the prospect of more Europa League football.
I suppose a few might say that you have to be in it to win it, but is it worth all the effort? Not so sure....
Gavin Johnson
259
Posted 07/01/2017 at 23:48:41
Bring back David Moyes! ;)
David Booth
260
Posted 07/01/2017 at 23:52:07
Mike and Michael.
I give in. Like you two.
Mike Green
261
Posted 07/01/2017 at 23:58:35
David - you should take some of your own advice (#216 final two paragraphs).
Goodnight.
Don Alexander
262
Posted 07/01/2017 at 00:00:10
Dave Barks, maybe it's an age thing but I doubt anyone but their own fans remember any team that's ever won the Europa.
Add in the reported fact that the winners of the cup get €6 million, whereas every team qualifying for the Champions League gets €8.5 million just for turning up in the group stage, and you might just start to think the competition's for schmucks.
And then there's the effect is has on the season at home for just about every English club who've never competed in it, including us. "Disastrous" tends to cover it.
So no, trips to Lille, Aalborg or Farhad Spunkitus or whatever don't get me trembling with excitement compared to Madrid, Milan or Munich.
Mike Green
263
Posted 08/01/2017 at 00:08:31
Spot on, Don (#262).
David Donnellan
264
Posted 08/01/2017 at 00:12:01
After a long journey, I've just got home from the game.
Disappointed to say the least, we controlled large parts of the game especially in the first half, but as usual we don't do enough at the business end of the field.
I don't think Leicester were that brilliant, to be honest; their game changed when Musa came on for Ulloa, that seemed to spark them into life.
As for us, I would have kept Valencia on; without being spectacular I thought he put in a decent shift & gave their defence something to think about. I didn't get the Kone substitution, he was brought on & stuck out on the left where he was never going to make an impact really.
It amazes me how we can take the lead in the 63rd minute & still lose the game. Leicester had been quite tame until the 2 goals they scored.
Oh well, we officially have fuck all to play for now, this won't be a memorable season. Onto the next game I suppose!
John Raftery
265
Posted 07/01/2017 at 00:12:16
Mike (#257) If entry to the Europa League is pointless, what is the point of a push for 4th to qualify for another competition we would have no hope of winning?
Don Alexander
267
Posted 08/01/2017 at 00:24:25
John at (#265), the point is cash, world-wide exposure and the chance that, with good stewardship, the club progresses to even more success without the crucifyingly long Europa bore-athon.
Mike Green
268
Posted 08/01/2017 at 00:31:05
John – see Don (#267)
David Booth
269
Posted 08/01/2017 at 00:45:43
Mike: see John (#265)!
Mike Green
270
Posted 08/01/2017 at 01:00:47
David – see Don (#262).
It's fine, we'll have Champions League, you have Europa League – enjoy!
James Marshall
271
Posted 08/01/2017 at 01:07:16
I'm pretty sure I'm going to be in the minority here, but I agree with Koeman – the attitude of the players is shocking at times. He's inherited a lazy squad who simply don't work hard enough.
Everyone seems to blame the manager repeatedly, but this is now two managers unable to get enough of a work ethic out of this squad, and to me that says the blame lies with the players, not the manager.
He can only do so much, and no matter how much tinkering with formations, and substitutions, he doesn't control their actions on the pitch.
The core of this squad doesn't work hard enough to consistently win football matches, and it's the manager who gets hung out to dry – well I'm sticking with Koeman on this one and pointing the finger at our half-arsed players.
Until we buy players with the right mentality, work ethic, football-nouse, skill and commitment, our results will continue to be patchy like they were under Martinez.
You could bring in Mourinho, Guardiola, Klopp, Wenger, Ferguson, or Brian bloody Clough to manager this lot, and we'd still be shite.
David Booth
272
Posted 08/01/2017 at 01:10:08
Mike: if we can't win the Europa League (in your opinion), we almost certainly can't win the Champions League – even if we were even capable of qualifying for it.
Christ, we can't even get through to the next rounds of the FA or League Cups.
We should be wanting to win ANYTHING we have the opportunity to take part in.
Until then, we cannot pick and choose.
John Daley
273
Posted 08/01/2017 at 01:10:44
"He has bought into the ambition that has been widely publicised inn the media."
Well, he was certainly "bought". No doubt about that. However, beyond him actually being here, what evidence is there at all to indicate he's been so enthused by big talk from above that he's decided to dive in balls deep and bareback? 
Far from coming across like he's got the bit between his teeth, to most of the outside world it must just seem like he's doing a fucking cracking impression of that face Steptoe pulls after Harold calls him a "dirty old man". 
He looks about as enthused over his immediate future as a medieval Scottish bride would on her wedding night, after answering the door to an English Lord who has turned up to claim the right of Prima Nocta and said, "Fret not about the massive dildo, lass, for I've brought peach schnapps, Â plenty of lube, and for later: the best of Chris De Burgh".
Personally, I don't care if he's bought into a 'project'  ( Link ) or if he feels any personal attachment to the club ("It crushes my little heart like a paper cup when he says 'Everton' instead of 'we'. Makes me feel so worthless. What times 'Loose Women' on lad?") or what the media make of the man. All that matters to me is the improvement he can get out of his players, the points his team picks up and the performances they produce. Thus far, he's not shown anywhere near enough to engender blind faith in good times lying just beyond hoof-ball hill. 
" he has improved our overall standing in the European stage, which will help to encourage bigger named players"
How are you measuring this 'improvement' exactly? I would have thought our 'standing' in Europe was higher when we were actually competing in European competition, rather than sitting it out?
Did AZ, Feyenoord and Southampton similarly reap the benefit of Ronald Koeman's reputation and receive an immediate shot in the arm in the European recognition stakes, irrespective of results and performances on the pitch? Were 'big name players' lining up around the block, waiting with bated breath, for the chance to work with the ex Barcelona wunderkind, on the basis of his name alone, when he was slumming it at those clubs? What about when Valencia finished rock bottom of their Champions League group under his charge? Was the well hidden irony that their reputation and 'standing' in Europe inversely rose while their performances stunk the competition out?

"...He has identified the root cause of the problems that are endemic to this club and is working to rectify the problems by pointing out that shit is indeed shit"
Strange. A manager simply shrugging his shoulders and saying "shit is shit" is a positive now?
To me, it seems he hasn't even begun to figure out a viable way forward, other than to extol the virtue of more pressing/effort, while he puts his feet up and waits for a load of mythical new signings to emerge from the fog like fucking Lancelot at the end of Excalibur, because only then can the Knights Of The Ron Table be expected to start laying into the opposition. Not a moment sooner, like.
After all, he surely can't be expected to lead these men? This motley rabble currently at his disposal and who look to him for tactics, guidance and instruction? He never brought them on board and, besides, half of them are right bellends. Why, you'd have to be paying a man an absolute fortune for him to even consider taking on a task like that.
Right, Ron? Ron??
Of course it takes time for a manager to change things around, make his mark, implement plans and stamp his personality on the place but, with half a season gone, it's surely not too much to expect even the slightest kernel of what Koeman sees as the way forward to be beginning to sneak through. I've seen nothing beyond a return to absolute basics with little to no hint of how he plans to kick things on. 
At most, he's shoved a fucking cork in it for the time being in the hope it will prevent further leakage and buy him some time.
"open minded and astute"?
More like 'closed up shop with an arse toot'
Damian Wilde
274
Posted 08/01/2017 at 01:13:08
Rob Halligan, what's with your arrogant, rude & dismissive comments? Given the shit that's being served up I think us STHs have a right to be pissed off.
You'd be the sort of idiot waiter when someone complains the chicken is under-cooked; "Well don't come here then."
James Marshall
275
Posted 08/01/2017 at 01:13:27
I think Koeman has indeed identified the problems at Everton – it's our shitty, lazy, rotten attitude players who can't be fucked half the time.
Damian Wilde
276
Posted 08/01/2017 at 01:21:39
All this 'Koeman can't do much with this squad'. Well, he's clearly not a good manager then, is he? People thinking he's amazing 'cause he took Saints to 7th, so what?
Okay, the squad is poor, but the turd we're serving up is way beneath what we have. It's like we have a 6.5/10 squad, but he has us playing 3/10, not congruent.
Man's a fraud. I know he won't go, but I'd be happy if he does. People say attitudes are bad; well, if he was so good, he'd sort that out, yeah?
Koeman out.
David Booth
277
Posted 08/01/2017 at 01:30:04
What John Daley (273) said.
Eloquently well dispelled John.
We have seen nothing from Koeman at all this season.
Cork in the bottle is a most succinct analogy.
'Bought into the ambition', 'improved our standing on the European stage', 'identified the cause of the problems'... Exactly what, having unearthed these gems - cut and pasted from the intro to any aspiring company's report and accounts - is he actually doing about them then?
Nothing.
Out of the cups; cut adrift in the league; playing like a team of clueless strangers; different tactics, formations & players every week; no identity and not a single indication that he is capable of making positive, winning, long-term changes.
Today cannot be brushed under the carpet. Many seem happy to do so though. And that is why we are where we are and who we have become.
Until we start winning trophies again, or at least going to the wire, we will remain what we have been for almost quarter of a century: second rate losers.
James Marshall
279
Posted 08/01/2017 at 01:43:00
Yes we're second-rate losers, and have been for years – look at the teams who win, they buy players who are winners. We can't attract them, so we have a team of losers.
Chicken/egg...
Mike Dolan
282
Posted 08/01/2017 at 03:32:51
I didn't see the game today. The result is very disappointing but really not that unexpected. We just do not have the players.
Typically when ever this team loses there is always a call to replace the manager but realistically is there another manager who could do more with this group of players who are just not good enough to ever be consistent. Moyes even said the season before he left that the core of this squad was aging and a huge investment was needed.... Three years later, guess what?
I do know one thing and that is that this club has great ambitions to join the European elite. Big clubs do not change a playing style to accommodate the players. Out of the players that took to the field today I would make a guess that only Davis and Holgate maybe Barkley have a chance of being with the club in two years time.
I loved Koeman's dig at the board and Walsh to get their fingers out and bring in some players.

Alan J Thompson
283
Posted 08/01/2017 at 05:05:37
My reading of Mr Koeman's remarks concerning the signing of players: what he has recommended amounts to an ultimatum to the Board.
Does anyone else read it that way?
Chris Williams
284
Posted 08/01/2017 at 05:30:53
I do, Alan. He is seeing history repeating itself and time passing and he is letting it be known that it's not good enough.
He's absolutely right to do so.
Thomas Lennon
285
Posted 08/01/2017 at 09:13:52
For the first time in decades, we have a manager under pressure to win every game, not just be best of the rest. We aren't used to this, the team aren't used to it, and damn sure the club aren't.
Truth to power is the way forward, Moshiri and Usmanov are listening, those responsible for delivering players better make sure they are too.
Comfort zones throughout the club just got a lot more difficult to find. Carry on, Ron.
John Malone
286
Posted 08/01/2017 at 09:14:48
Cue the Moshiri smear tactics!
No doubt the new regime will spin some positive news spun in the media this week to nullify the negativity at being dumped out of another cup!
Not good enough; I accept the squad is below par but the manager has to get more out of this squad!
Gerry Killen
287
Posted 08/01/2017 at 09:17:05
As my old Gran used to say: Patience is good advice, but a bitter pill to swallow.
We cant just sack the Manager and think everything will be okay, it's obvious most of the playing staff are simply not good enough, and have been so for some time. We are not going down, so we should use the rest of the Season targeting the best we can get , get rid of the obvious deadwood and play the best younger lads to gain Premier League experience.

It's a fact of life that we are second-class and we have to bite the bullet – for now anyway. We WILL come good one day and look back at this time as a defining time, we have a vision for the FUTURE that will be the envy of clubs around the country.
Cheer up, boys. Keep the Faith!
Nick Armitage
288
Posted 07/01/2017 at 09:26:12
Disappointing and typically Everton but we can't judge a whole new management team after a single transfer window.
This time next year we'll see a very different and much better Everton, with or without Koeman.
Hywel Owen
289
Posted 08/01/2017 at 10:42:20
Whether Koeman is wise to have a go in public at his players is debatable. Managers who criticise the Board in the media almost inevitably are out of the door. Like so many former footballers, he has his brains in his feet and not between his ears.
James Marshall
291
Posted 08/01/2017 at 11:41:46
Thomas@285 has it absolutely bang on.
Koeman's remit is to win every game, but his hands are tied by players that don't share the same commitment.
Buy better players, get better results. This lot are only as good as they can be arsed to be from minute to minute.
I'm glad we've got a manager who slates his half-arsed players when they're... half-arsed.
Mark Morrissey
292
Posted 08/01/2017 at 11:53:16
Alan @283. I agree. If he doesn't get what he wants come the close of the window, I think he might even walk. What's to lose? He'll get another job, Martinez did and he was sacked. He'll say "this was not the project I signed up for, I have been sold a dummy"
Ciarán McGlone
293
Posted 08/01/2017 at 11:58:18
If this is the best football Koeman can get out of these players, then he's a poor manager... If he's on strike as some sort of way of demanding a whole new team, then he's a fuckin' disgrace.
Either way, he's in trouble.
James Marshall
294
Posted 08/01/2017 at 12:17:40
Ciaran – he's taken a team that finished 11th in the last two seasons, and been tasked with making them finish in a European spot – we're 7th so he's doing what's been asked of him.
Moshiri himself has been quoted (it's available on YouTube) this last week saying that league position is the only thing that really matters at this point in time, and I for one agree with him.
People are losing their shit over us getting knocked out of the cups – the hierarchy aren't, so why you think he's in trouble, I fail to understand.
The owner of the team says league position is what matters – let's all remember that.
Brent Stephens
295
Posted 08/01/2017 at 12:23:16
"If he's on strike as some sort of way of demanding a whole new team then he's a fuckin' disgrace".
And if he's menopausal, he needs to see the doc. Disgrace.
And if his wife is making all his decisions, he should get a divorce. Disgrace.
And if his dog ate all his notes, he should shoot it. Disgrace.
And if...
Ciarán McGlone
296
Posted 08/01/2017 at 12:29:43
James,
Conversely, he's also taken a team that's played some fantastic football over the last 3 seasons and turned them into a bunch of talentless, whimpering cowards.
John Daley
297
Posted 08/01/2017 at 12:32:32
League placing might be all that matters to Moshiri, James. It might be all that matters to you. Doesn't mean either of you are right to view things that way. We've gone 22 years without winning so much as a thripenny upright, so to expect supporters to just toss them off as a worthless irrelevance is a bit rich.
Are you saying you would take 7th over a trophy (remember those?) in the cavernously empty cabinet and a couple of trips to Wembley?
You say Koeman has been tasked with qualifying for Europe by Moshiri? Well, why even aim to finish in a Europa League spot in the first place if we're just going to turn round and say "Can't even be arsed with that. It's only a cup"?
Joe O'Brien
300
Posted 08/01/2017 at 12:50:36
Ciaràn, "a team who have played some fantastic football over the last 3 seasons"!
Really? I must have been watching a completely different team than the team you were watching.
Jay Griffiths
301
Posted 08/01/2017 at 12:55:56
Southampton away, Stoke away, Chelsea away, Carlisle away Boro away and possibly a couple more. We left these grounds happy with our performance last year.
Mind you, I did still call for Bobby's head when I felt short-changed. I might be a hard sell.
James Marshall
302
Posted 08/01/2017 at 13:02:44
John – you know full well the implications (and difference) between a domestic cup and being in Europe. You're a smart man, you don't really need me to point out the differences do you...
I'm not for one minute expecting anyone to accept domestic cup failure, far from it – but I am saying that it's not the biggest deal either. Making Everton a consistent force in the is the way to make us progress.
Winning a cup might be a short-term fix for supporters rabid for a trophy, but what has it done for the likes of Wigan and Portsmouth aside from a nice day out and a hangover? The only two teams outside of the established order to have won the FA Cup since us in '95 since those cup wins, are either of those clubs even in the Premier League?
As for the League Cup, well again, what has a cup win done for Birmingham, Swansea, or Middlesborough? I'd say probably nothing in terms of progression to the top of the game
I'm not saying I'd take 7th as a preference over a cup win, what I am saying is that progression in the Premier League is our focus.
Yes we're irked at being knocked out of the cup, but it's just one game that's the beauty of the cup, right? Win = glory. Lose = bust. Done.
Ciarán McGlone
303
Posted 08/01/2017 at 13:17:32
Joe,
I assume we we're watching exactly the same games. There was some great football played by these players under Martinez – especially in his first season. If you disagree with that then I think you'd be in a minority. Martinez wasn't up to the job, but that's not the point I'm making.
The point I'm making is that it's easy to excuse Koeman by stating the players are duds. I would argue that this patently isn't the case. We generally have good players who (for whatever reason) are being managed poorly.
John G Davies
304
Posted 08/01/2017 at 13:18:06
John (#302).
Perfectly put. I could not agree more.
This club of ours needs to be challenging four top four on a regular basis. That HAS to be the priority.
James Marshall
305
Posted 08/01/2017 at 13:22:05
Ciaran – 3 seasons on the bounce, the same patterns of play are happening, under two different managers, and aside from Gana, with the same players. So, forgive me, but why do people still blame the manager all the time?
Why are the players so exempt from fan-criticism even when the manager himself states publicly that their attitude on the pitch stinks?
Every finger is pointed at the manager, which I often think is what the media do – it's a disease that's spread to supporters as well. Never the players, always the manager.
Was Koeman on the pitch when we conceded 2 goals yesterday? Was he the one missing chances yesterday to win us the game?
David Booth
306
Posted 08/01/2017 at 13:26:27
James (#302), why can't we compete in them all? This notion of 'sacrifice' is an anathema to me.
It is surely not acceptable to be prepared to lose any game and how can a supporter become conditioned to accept losing – when we have not won a sausage for 22 years?
We have sadly had to get used to managers and players not trying their best for the alleged 'greater good' (although that never seems to materialise), but how can an Everton fan just shrug his shoulders so?
Doing so is becoming a contributory factor in giving you the club you deserve.
James Marshall
307
Posted 08/01/2017 at 13:26:31
"The point I'm making is that it's easy to excuse Koeman by stating the players are duds. I would argue that this patently isn't the case. We generally have good players who (for whatever reason) are being managed poorly."
Poorly managed by Martinez. Poorly managed by Koeman.... At what point do we spin this coin over and say they're actually not that good as players? Try a third manager? Just to be sure...
Ciarán McGlone
308
Posted 08/01/2017 at 13:27:16
The players are not exempt James. They are criticised when it's deserved.
James Marshall
309
Posted 08/01/2017 at 13:28:23
My name isn't John, but it seems you're both talking to me!
I'm not shrugging my shoulders, I'm just making the point that losing one game get's you knocked out of the cup – losing one game. Just let that sink in for a minute.
James Marshall
310
Posted 08/01/2017 at 13:30:44
So everything that goes on, on a football pitch, is down to the manager?
He doesn't control the players, he doesn't micro manage every thought process, or every move they make. They repeat the same mistakes, not the manager.
John G Davies
311
Posted 08/01/2017 at 13:33:46
David Booth
312
Posted 08/01/2017 at 13:33:49
True, in isolation James (corrected my earlier naming error!), but that is to divert the tone of the topic here – which is that we have just got dumped out of the cup by a team who we should not have lost to and the implications thereof on the effectiveness of Koeman's management.
I still can't believe you accept defeat so matter-o-factly though...
Ciarán McGlone
313
Posted 08/01/2017 at 13:34:03
James,
I would assume you would accept that the manager picks the team, formation, tactics, substitutions, training etc..??
A simple question.. have you seen any managerial improvement this season?
Kim Vivian
316
Posted 08/01/2017 at 13:40:18
Why are people assuming 7th will offer a Europa League entry? It's theoretically possible as pointed out elsewhere but pretty unlikely.
Main short term objective now should be to get safe and then blood some youngsters and new recruits, and build a foundation for next season.
James Marshall
317
Posted 08/01/2017 at 13:40:21
Isolation – isolation of the fact that it's the players repeating the same mistakes on the pitch, yes. The manager talks about this openly, he screams at them from the touchline, yet everyone still blames him.
We have players like Jagielka and Funes Mori making glaring errors that lead to conceding goals, yet this is down to the manager as well? I don't get it – I really don't.
What do you mean, "should not have lost to"? Why? On what basis? They're a Premier League team, and reigning champions. We lost to them – one game, out of the cup. It isn't the end of the world, it's just fans freaking out about not doing well in the cup.
Last year we went to the semi, and lost – one game, out. Nobody remembers the losers regardless of what round you go out. It's disappointing, but ultimately not much difference and doesn't change the landscape for Koeman, Moshiri, Everton, or us.
Ciaran – yes, I've seen us move from 11th the last 2 seasons, to 7th this season. I'd call that an improvement. We're less gung-ho, more controlled in our patterns of play as well – yet the players make the same mistakes.
I'm not sure how many more times I can repeat this... ;)
Ciarán McGlone
318
Posted 08/01/2017 at 13:41:45
I'm glad you've seen improvement James. I most certainly haven't.
Ciarán McGlone
319
Posted 08/01/2017 at 13:43:39
However as a footnote. I think it's pointless getting rid of him at this stage. But I have a horrible feeling that this tenure is going nowhere.
I hope to hell I'm proven wrong. We await and see.
Seamus McCrudden
320
Posted 08/01/2017 at 13:46:45
I hope so too, Ciaràn, but he has to be given a chance surely?
David Booth
321
Posted 08/01/2017 at 13:47:15
James, am I understanding this correctly: you're not at all angry we lost yesterday and you are happy with the 'progress' made under Koeman?
If so, what exactly, is this 'progress' – apart from a meagre three points more than Martinez garnered for us at the same stage last season?
Rob Halligan
322
Posted 08/01/2017 at 13:49:50
Damian Wilde (#274). I've had a season ticket for the past 25 years. In the past 18 years I've missed a grand total of 3 league games, home and away, and 4 cup games, home and away, including that Europa League game away in Russia.
It's people like you who do nothing but fucking complain and moan about everything Everton. If you don't like it, the answer is simple... DONT FUCKING GO.
James Marshall
323
Posted 08/01/2017 at 13:51:01
David, no – you maybe missed my earlier posts on this thread. I'm not happy with the way things are – I'm inclined to be 'happier' to look toward our league progress, and future though, rather than a quick-fix cup run.
Of course I'm not happy we got knocked out, I just think there are more important things to focus on as a club at this point in time.
Yes we all want to win something – I was there in '95 and it was brilliant, but it didn't actually help us change the club.
My point isn't about being happy now, it's about the future.
Colin Hughes
324
Posted 08/01/2017 at 13:51:31
James (#317), you say you have seen us "move from 11th the last two seasons to 7th this season" but I have news for you, there is still 18 games to play.
Also take into account many of those games are what I call Everton's usual unwinnables at the likes of Anfield, Spurs, Arsenal, Man Utd plus homes against Man City and Chelsea and not mentioning all the relegation outfits that annually get their points against us by working harder...
So don't be surprised if we appear in 11th place again come May.
Dean Adams
325
Posted 08/01/2017 at 13:56:03
We could be just like our big rivals, Villa. They won the Intertoto Cup about 20 years ago and of course they won relegation too!!
It just is not possible to compete without the finances of the top six. We need a bit of time to see the money flowing through the club.
James Marshall
326
Posted 08/01/2017 at 13:56:08
I won't be surprised if we finish 11th.
James Marshall
327
Posted 08/01/2017 at 13:57:09
Well said, Dean. Patience dear blues, patience.
*puts on tin helmet and retreats to anderson shelter*
Brent Stephens
328
Posted 08/01/2017 at 14:16:36
Noting that many have been calling for Holgate to start and Valencia to be given more time, I'm assuming Koeman picked his best (in his mind) starting XI yesterday. Which means, I assume, that he saw yesterday's game just as important as a league game (else he would probably have fielded a weakened team?).
He saw it as important either because the FA Cup competition is important in its own right or for reasons of maintaining any impetus we might have been building before this game. On that basis, whatever his motive, losing yesterday was not unimportant, can't be written off as "just another tinpot cup".
Tony Abrahams
329
Posted 08/01/2017 at 14:39:43
Well said, Dean; patience, dear blues?
Villa spent money that their owner couldn't sustain once they failed to break into the Champions League places, and Koeman upto now has not even remotely shown us any kind of style to see what these new faces will be coming in to change?
Evertonians are amongst the most patient fans in the country but spending money without a long term plan with regards to playing a certain way is not the way forward. There are way too many contradictions in Ronald's present format for him to be given loads of money and I for one would sooner be patient with somebody like David Unsworth who is very well thought of and bleeds blue blood.
Maybe I'm wrong and we have been waiting for someone like Koeman to come in and change the way we think but Bolasie was way over-priced and we definitely dodged a bullet with that Sissoko.
Brian Williams
330
Posted 08/01/2017 at 14:41:09
Brent, I agree, and have to say that – until we scored – we were, to a great extent, the only team looking likely to win the game.
Thing is though, as we all see a lot of times, the build-up is far too slow; it's always the same, left to right in front of the opposition's one or two banks of four then right to left.
Leicester's second was a cracking goal made by quick, slick passing that made our defence look like mannequins. It was through the middle, give or take, a route our players showed yesterday they just don't know. Nobody wanted to shoot, Mirallas excepted, and seemed actually scared to try anything for fear of failure. I can remember at least half a dozen chances to shoot on the edge of their box where the player wouldn't.
Another point I've made numerous times is the number of our players who are forever shitting out of 50/50s. Can't get my head around that.
The other thing I can't get my head round is Rom's whole demeanour. Someone said he didn't celebrate last week because of the anniversary of a friends death. So what was yesterday's reason? Not just for the non-celebration but his whole demeanour.
I noticed him and Seamus having quiet words on more than one occasion and I'm sensing that Seamus doesn't have much time for his sulky demeanour either.
Yesterday showed that, whatever else we lack, we lack bottle, heart, desire – call it what you will...
Paul Kelly
331
Posted 08/01/2017 at 14:43:28
Jay Griffiths @ 250, nicely put, echoes my feelings on Ronny boy.

James Marshall
332
Posted 08/01/2017 at 14:48:05
We didn't set the price for Bolasie – and it's a moot point if you think he was overpriced. Palace and Everton agreed it was the right price.
As for Unsworth and bleeding blue blood. I give you, Moshiri's Museum.
With respect, we need forward, not backward thinking.
Kevin Tully
333
Posted 08/01/2017 at 14:54:18
It must be a strange atmosphere in the Everton dressing room just now. Here we have a manager who will hang his players out to dry if they don't perform, something they are definitely not used to. Suddenly, expectations are being raised from all quarters, when 7th was viewed as 'doing quite well' under previous regimes. Kenwright & Co were very content with that position.
Then, for the first time in their Everton careers, these players can be replaced! Don't underestimate how all these things can effect the morale around the club. Transition is an overused excuse for some teams, but the whole club from top to bottom is in a state of flux, some of our poor millionaires will rise to the occasion, some will sink at the first sign of pressure.
You heard what Hibbo & Ossie had to say: "Things just aren't the same." Well I say thank fuck for that. It won't be easy transitioning from Bill's luvvie atmosphere into a ruthless corporate entity, who will dispose of non-performers at the drop of a hat (that includes the manager) but it's exactly the medicine this 'museum' requires if we are to catch up with the current Sky 'Top 6.'
We are going through a revolution, there will be bumps & tears along the way. But I sincerely believe it will be worth it. The other option was unthinkable.
John G Davies
334
Posted 08/01/2017 at 15:05:30
Kevin.
Precisely.
Great post.
James Marshall
335
Posted 08/01/2017 at 15:11:53
Nice one, Kevin.
The days of freeloading at Everton are over – Koeman doesn't give a fuck and he'll hang them out to dry...
Shape up or ship out!
Ciarán McGlone
336
Posted 08/01/2017 at 15:20:23
Shape up or ship out.. I don't think anybody disagrees with this mantra.
Simply stating that it should apply to all, Koeman included.
Tony Hill
337
Posted 08/01/2017 at 15:25:24
Yes, Kevin, fully agreed. Which is why I would like Kenwright and his cronies out. Start the ruthlessness at the top – except we've gone in precisely the opposite direction by appointing two of the old ham's mates.
Brent Stephens
338
Posted 08/01/2017 at 15:26:40
Brian (#330), "the build up is far too slow... left to right in front of the opposition's one or two banks of four." Yes, I agree.
I liked the way at least Tom Davies several times got a quick, cute pass through that first line of four. I love the lad's perception and ability to execute a pass – a young Gareth Barry in that respect.
"Nobody wanted to shoot, Mirallas excepted." Also a beef of mine.
"numerous times... the number of our players who are forever shitting out of 50/50s." And again, a clear failure of our lads.
Tony Abrahams
339
Posted 08/01/2017 at 15:43:32
Very good post, Kevin. The club, is definitely at a cross-roads.
James, it doesn't matter who set the price but in footballing terms Bolasie was definitely over-priced. It's possibly this forward thinking that is making us pay top-bat for Schniederlen, if he comes, and the bit about Koeman not giving a fuck seems to be as long as he's absolved from any blame.
I want to see Everton win, who doesn't? But the fact that I cannot see even a remote style taking shape surely isn't backward thinking, especially when I can't see it with my own eyes.
Unsworth was only an example, James, it's early days but I like watching Eddie Howe's team play. Whenever I watch them, they don't appear to be scared of anyone, and usually play on the front foot, with players getting involved, and running forward at pace.
Is this too much to ask of my own team, who look like they have all won a competition to play for Everton, the way most of them are performing at the minute?
John Daley
340
Posted 08/01/2017 at 15:50:31
"
When you say that a manager bought 5 players and that 5 is half of eleven ..
"
Again with that?
------------------------
Disembodied Voice: "Hey kids, are you ready to check in on the Adams residence and see what our old friend Dean is rocking on with?"
Doped up on Sunny D squad of kids: "YEEEEEAAAAAAHHHHH!!!"
Edgy 5yr Old: "Is he patting himself on the back still?"
Disembodied Voice: "Shhhhh! You little shit. It's about to start":
Disembodied Voice: "Now, let's all show our love by doing the Count Dean cackle:
 "AH AH AH AH AH AH AH AH"
Edgy 5yr Old: "What's so amusing about basic fucking arithmetic and division you felt Transylvanian tit? Â It's impossible to have a clean cut down the middle so that there is exactly half of an eleven man football team, unless you take a chainsaw to some poor twat... or hand Kone a start."
Disembodied Voice: "Right, I'm sick of telling you, lad. Sod off to the dog shit spattered side of the street and go sit with that boggly eyed green bastard who beds down in a skip."
Edgy 5yr Old: "Fine. At least he doesn't piss himself at sums."
Tom Bowers
341
Posted 08/01/2017 at 15:52:16
I have to agree with Tony Abrahams that Everton have no shape, nor style or any positive system that controls the game. Koeman must take the blame but won't and people can argue all they like but giving him time doesn't seem to be improving anything.
I said a while back he seems to be winging it and doesn't show enough emotion on the touchline. We kept giving Moyes more time and he is proving even now that he is just doesn't have the smarts. Just look at how well Real Sociedad have improved since they fired him.
Matt Muzi
342
Posted 08/01/2017 at 16:05:56
I wonder how good a relationship Koeman has with the current squad? You look at Klopp & Pochettino & the way their respective players are towards them. I don't see that with Koeman.
That, added to some of his comments to the press, concern me.To me his comments about the board & Walsh, seems to smack of almost defiance.
We all new the summer transfer window activity was going to limit us, but I really do think it's foolish to expect a lot from this window, unless we're going to spend silly money and I really can't see that happening.
I said I wouldn't judge Koeman until he's had a chance to build his own team, but I had expected him to get a lot more out of the current squad than he is doing.
Paul Tran
343
Posted 08/01/2017 at 16:10:20
Two things have to happen, regardless of the name of the manager.
First, the culture of mediocrity, low expectations and redefining success throughout the club has to be changed.
Second, the culture that players can coast, underachieve and still be irreplaceable has to change.
Koeman's facing these players down. He's calling them for poor performances and they're generally proving his point by not responding. Now he's reminding the club what he needs.
He may well turn out to be not right for us, but I'm all for him standing up to the players and the board to make the long-awaited changes we need.
James Marshall
344
Posted 08/01/2017 at 16:16:56
I seem to be the only person who see's a squad/team managed by two very different managers, but the same problems exist out on the pitch.
That to me says it's the players, not the manager. I always get the feeling they're just not a very bright bunch of human beings, unable to follow basic instructions for very long.
They continuously start slowly, lack concentration, then go for it towards the end of games. The manager then comes on TV every week and complains about the same things – if he's complaining live on TV, I would suggest he goes and says the same things to the players – they just don't listen because it then happens again, and again.
Do people on here think he doesn't bother saying it to them? Because I find that hard to believe – even more so given he keeps saying he knows what we need, and we need new players!
John G Davies
345
Posted 08/01/2017 at 16:21:29
For year after year under the wonderful care of Uncle Bill, we have lived on the edge of poverty. Absolutely skint.
Having to sell players to balance the books.
Having to sell training grounds.
Having to take large interest loans from off shore shysters.
All of a sudden, we can spend and we are moaning that players are overpriced. Lads,it's not your money. Who gives a fuck if a player we want is overpriced.
James Marshall
346
Posted 08/01/2017 at 16:26:32
That's a very good point, John! Supporters want us to spend money, they want us to have loads of it, but when we spend it, it's too much money!
I don't understand why any player is seen as overpriced anyway – clubs set the price, not supporters!
Gerard McKean
347
Posted 08/01/2017 at 16:29:32
Just back from a Sunday lunchtime post-mortem pint. It was the usual group of lads, all lifelong Evertonians and all just a bit fed up.
Then in walked someone we hadn't seen for a few decades because he tends to sleep a lot: our old mate, Rip van Winkle. Sensing the mood, Rip immediately let rip:
"That's what you get when you put out a weakened team! I mean I know he might be saving legs for whatever the League Cup's called this year semi-final next week but…" Our faces told the story.
"What, you mean this WASN'T a weakened team? Surely the new manager must have brought in a top goalkeeper as a priority as soon as he came in last Summer? Please tell me he didn't replace the ageing Jags with the ageing Williams! And Gareth Barry… he was a decent player when I last went to sleep but you can't be serious that he's an automatic pick 20 years later!"

Rip went on but I'm sure you get the drift. His comments on the bench selections were laced with almost as much incredulity as his reaction to being informed that legs were not being saved for a semi-final:
"So plus ça change, eh?" shrugged Rip, reverting to his native Dutch. "And if Everton wanted a Dutch manager why didn't they get Philippe Cocu from PSV, the best of this generation? Look at it closely, what has Koeman ever really achieved as a manager?
But when did Everton last do due diligence, a thorough background check on ANYONE appointed to a very senior position?" Nepotism trumps ability around Goodison.
"I'm off for a kip", said Rip, "and hopefully when I wake up this new owner will have realised that Kenwright and his cronies have made enough money out of Everton and presided over a longer period of mediocrity than I even sleep for, and that he's brought in competent professionals dedicated to giving the best supporters anywhere what they deserve."
Tony Abrahams
348
Posted 08/01/2017 at 16:53:14
I care about the price we are willing to pay for players, especially when they are overpriced, for one very simple reason. Is it sustainable?
As you said yourself James, winning a cup is great for a good day out and a hangover but it's no use for any club if they can't sustain it. Especially if they are going to start paying well over the odds for players and the wages, which is I'm sure what happened to Portsmouth? Just Ask any Leeds fan what they think,of Peter Ridsdale?
Maybe Koeman's problem is a good thing, and it might force Moshiri to push "prudent Bill" further into the background but only if it's sustainable.
Maybe if it's not, we can get a few quid out of Kenwright's Tonny, because he promised to buy us a centre-forward with his own money when he was skint and he's one of the few people who has prospered out of Everton these last few years, along with the players and the managers, despite them turning Everton into a shadow of their former selves!
Jack Cross
349
Posted 08/01/2017 at 16:56:27
I think it's plain to see that Koeman just can't do anything with this bunch of players.
He know's he was left a much worst squad than first thought.
We all agree that you don't need to be world class, but the show of guts and determination with a will to win would make us fans feel at least the team were trying. I really think Koeman has given up on them. And I can see a big summer clear out.
So lets judge Koeman, when he puts his team together that he thinks will bring us success and not before then. Because really it isn't fare on him.
I personally think he should leave the January window alone and all the inflated prices of not-so-good player's.
Big clearout in the summer and spend big, then we can show our intent and our push forward for that very achievable 4th position.
John Pierce
350
Posted 08/01/2017 at 17:01:55
Ambition is the key word here. The company has to show it and actually the fans need to show it too.
Why do any of you care how much a player costs? Are you the bean counter at Goodison? Dream hard and expect the club, based on Moshiri's word, to match it.
Show we are a grow up club that can act in a professional manner and force the sales of players we want.
For those who think financial rack n ruin will follow, FFP whichever way you look at it, stymies that prospect in the long term.
For those who cite Aston Villa, Lerner just withdrew the money, not even prepared to keep pace with the norm. They weren't wreckless, he lost interest.
Laughable some people think we should put away the chequebook and wait until the summer. Koeman has hung the squad out to dry, you think with no incoming players in January and they're gonna play for him? Fat chance.
Koeman has dug his trench, his line in the sand etc. He was sold the job on the basis he could get the players in he wants, based on his words to date, a thinly veiled ultimatum to the board.
I think he's been poor to date, but fair play, he knows the squad is mediocre and knows he has been poor too, at least he won't perish wondering what if. If he doesn't get the investment he's off, no doubt.
Koeman is saying the moment is now. Patience is overrated, I've had a gut load over 20 odd years. Be a horrible big nasty bitch of a club, piss people off, make people covet what we have. Because invariably that means we've been successful.
James Marshall
351
Posted 08/01/2017 at 17:08:29
Tony – I see your point, but that whole 'doing a Leeds/Portsmouth' thing is a distant memory and not really true of the Premier League landscape anymore – especially with Moshiri involved.
The TV money is massive now, and you're already worried about sustainability? I reckon it's time to ride the wave, and enjoy the cash flowing into the club!!
Brent Stephens
352
Posted 08/01/2017 at 17:12:42
John (#350) – much sense in that post.
Andrew Clare
353
Posted 08/01/2017 at 17:23:07
Five first team players are required now, in this window. So we can have a strong, impressive second half of the season.
Let's get on with it – I've had enough of waiting all these years for something to happen.
John G Davies
354
Posted 08/01/2017 at 17:37:53
Tony.
I am surprised at your post tbh mate. Me, you, your arl fella, mine and all our families have been kicked in the proverbial bollocks by the shithouse of a chairman for years. We have been like skint kids with our noses pressed against the sweet shop window for years.
Just sit back mate and enjoy the influx of higher rate players. If you don't buy a raffle ticket, and all that...
Alan Bodell
355
Posted 08/01/2017 at 17:45:34
Andrew, you're sort of right there with the need of 5 (at least) good additions but it will take time as there will be a lot of 'us and them') until the wheat is sorted from the chaff in the dressing room.
Kim Vivian
356
Posted 08/01/2017 at 17:53:08
John Daley – keep 'em coming, man.

Tony Abrahams
357
Posted 08/01/2017 at 18:19:05
As long as the players really play for the shirt, John G, and show as much tenacity as Mr Kenwright did in holding onto his train-set!
Being serious, I agree with you to a point, John, but it makes me sick when you see mediocrity making fortunes and, only for Moshiri, Martinez was taking us on that old slippery slope to ruin.
In saying that, yesterday's visitors have gone the other way and administration never turned out to bad for them, did it? So maybe you have a point, and I should start enjoying the ride. It would help though if I started enjoying going to Goodison Park again first.
I knew I'd made a rick when I bought tickets for the Top Balcony yesterday because my little godson had never been in that stand before... and after 20 minutes, I was thinking to myself, "I was in this fuckin stand the day Tranmere beat us 3-0!"
John Daley
358
Posted 08/01/2017 at 18:29:26
I can see where Tony (@348) is coming from.
I've had something of an about turn on the "It's not my money, so why should I care?" school of thought myself. 
Six months ago I'd have said "Nah, don't give a shit", but back then the rumoured 𧴜m 'war chest' seemed like the sort of significant cash injection that could really see a side crack on.
Since then, we've seen how far such a sum is likely to stretch in reality. (think: the "rack him" scene in Braveheart, but with Jeanette Krankie cast in the role of 'wee' William Wallace. About that far).
If anyone had told me in the summer that they were going to go out and buy Ashley Williams, Bolasie and a unknown  kid from Charlton and come  back with no change from 㿞m, I would've said they were either having me on or re-enacting the 'get rid by any means' antics of Richard Pryor in Brewsters Millions. 
Add to that, attempts to splash a further 㿞m on the decidedly average Sissoko and Kone and it seems like a hell of a lot of money can quite easily be chucked at  players who are unlikely to move us more than a hair's breadth forward. 
By all means, pay over the odds for players of proven quality who are likely to give the team an immediate boost and provide something we're currently crying out for (proper Number 1, a playmaker, another goalscorer), but when you're seemingly prepared to cough up large sums for the bang average, on the basis they might bring a bit more physicality to the party, then you could very easily find yourself burning through a sizeable pile at considerable speed without coming close to solving all the problems on your plate.
Chris Leyland
359
Posted 08/01/2017 at 18:36:42
John Daley, the problem is 'players of proven quality' are:
1. Seldom readily available; and

2. If they are, clubs with more pulling power than us are likely to sign them.
We have rarely signed players of proven quality in my living memory. I can name a few exceptions in the last 30 odd years:
Kanchelskis, Beardsley and maybe Gary Speed?
But beyond that, I am struggling to think of any others.
John Daley
360
Posted 08/01/2017 at 18:40:16
Chris,
Maybe something to do with the fact we didn't have the proverbial pot to piss in during that period? Now we're being told we have.
Chris Leyland
361
Posted 08/01/2017 at 18:47:11
But John, prices have gone up massively too haven't they? So, 㾷m gets you a promising 3rd tier teenager like Lookman and 㿅m gets you a midfielder with a bit of pace and with Premier League experience.
㿙-㿞m gets you a young England defender who isn't very good at many aspects of defending but does look okay with the ball at his feet bringing it out of the back.
How many players of proven quality would be willing to sign for us even if we put in bids for them and their clubs were willing to sell them?

John Daley
362
Posted 08/01/2017 at 19:08:11
Chris,
As I indicated in my post above, I'm not adverse to paying over the odds for players, 'full stop', and would be behind doing so for problem or key positions we're obviously short in, but there still has to be some value in doing so, other than simply bringing an extra body onboard with Premier League experience.
I don't want to kick a guy when he's down, but take Bolasie as a prime example. You can't tell me no other winger with a better track record was out there, who could have been tempted to join Everton and whose club would have said "㿈m? Ooooh, You drive a hard bargain."
Besides him? We went for the lazy, easily attainable, in our own backyard option, but paid mightily heavily for it. True, the prices in the English game are out of control, but then why confine yourself to that market?
John G Davies
363
Posted 08/01/2017 at 19:22:52
Me too, Tony. It's hard work lately. But we will be there next week and every other game in the future until we cant, it's what we do, we are Blues.
I just want my grandkids to see us as a top side again,a side that can stand up to the big teams. I want them to see us in Europe and at Wembley.
I'm sick to the brim of seeing young blues crying and coming out of games downbeat. Let's get back to where this great club should be.
Dave Abrahams
364
Posted 08/01/2017 at 19:47:14
Tony (357) I hope you were taking the piss when you called Kenwright, Mr.
Jay Griffiths
365
Posted 08/01/2017 at 20:17:38
Paying over the odds for mediocre players is scary. There's other variables. It sends a poor message out there and encourages future mercenaries. It smacks of desperation.
Makes me feel like a zebra with a limp. We'll get picked off by carnivorous agents. The players agent then demand extortionate wages. Other players established at the club then have leaverage for future demands.
Spending big rather than spending wisely can be the catalyst for the hierarchy to eventually say enough, no more £s. It eventually falls back on us, the supporters. They get their money back incrementally from us down the line.
We do have to spend, and spend big, but I do care that we get value. Value to the extent that we're not raging in our seats. After all, how many of us have questioned the logic and the instigator of the Niasse signing?
John G Davies
366
Posted 08/01/2017 at 21:29:25
Jay.
Should we go back to deals like offering £12 million for Shearer the day after a bid of £15 mil had been accepted?
It won't fall back on us, the supporters, next season – the club has already announced a freeze on season ticket prices.
Jay Griffiths
367
Posted 08/01/2017 at 21:49:31
Not what I said, John. I just want value not be haphazard in our dealings. Some people say why should we care? It's not our money.
Niasse was a dreadful deal. The outlay for Bolasie and Williams is excessive. At this recent point our policy has seemed a little shoddy.
I'm not asking questions of posters. Just my opinion. Can't be doing with quirky samurai on the warpath.

Tony Abrahams
370
Posted 08/01/2017 at 22:37:37
Jay (#365), you said it so much better than me. As John Pierce said earlier, Randy Lerner, just got fed-up, but I wonder why he did?
Taking the piss Dave? I'm pretty sure Kenwright is hoping Farhaad is thinking about naming a stand after him when we get our new ground.
Back to the monetary issue and I also don't want Everton, to go and spend a load of money just yet for two reasons. John Daley just gave us the first one, and the second one is down to how the manager is currently performing with what he's got.
John G Davies
372
Posted 09/01/2017 at 09:03:04
Jay.
"Can't be doing with qwerty samurai on the warpath"
Bit of an overreaction there surely? I always try to be courteous and respectful in posts. I apologise if I offended you in any way.
Ste Traverse
373
Posted 09/01/2017 at 13:56:35
Tony (#357).
I, like you, went in the Top Balcony for only the second time on Saturday, and the other time was for me was in that infamous defeat to League One Oldham in 2008!
Staying out of that stand in future methinks.

Jay Griffiths
374
Posted 09/01/2017 at 13:59:57
John, no problem with you at all. As you've read there are some key board trap door spiders waiting to pounce. Appreciate the comment.
ps. I did say they get their money back eventually. May be in 1, 2 or 3 seasons it starts. Ricky Hatton gave his box up at Man City in protest at their clawback policy.
Tony Abrahams
375
Posted 09/01/2017 at 14:20:46
I know what you mean Ste, but I thought the view was terrific. By the Park End, not a post in sight, and I actually thought you could see more aspects of the game from this Vintage Post!
Lukaku really disappointed me with his lack of real effort and, although we scored first, it was clear from the start of the second half that Drinkwater was going to have the freedom of Goodison.
Also thought the reshuffle was the wrong thing to do at that time and why ask a player, who has been asked to attack change his role to defend when we could have just left the defender on?
Don't think the manager put nowhere near enough thought into this, which is very frustrating when it was the only real thing we had left to play for?
Ricardo Gimpardsle
376
Posted 10/01/2017 at 14:11:08
Mike Green (#261),
That was very amusing and I nearly missed the utter irony involved.
---
Add Your Comments
In order to post a comment, you need to be logged in as a registered user of the site.
Or Sign up as a ToffeeWeb Member — it's free, takes just a few minutes and will allow you to post your comments on articles and Talking Points submissions across the site.
© ToffeeWeb