Barnsley vs Everton
23 July

29 Comments [Jump to last]
Pre-Season Friendly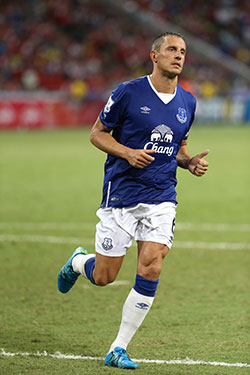 Phil Jagielka's hamstring flare-up means he missed out along with John Stones
Everton's first domestic warm-up game of the summer takes place at Oakwell as Barnsley host Ronald Koeman's Blues.
As fate would have it, former-Tyke John Stones will be absent from the squad after picking up a knock in training and he is joined in the treatment room by Phil Jagielka who has reportedly suffered a recurrence of the hamstring problem that afflicted him over the final few weeks of Roberto Martinez's rein.
While Stones could recover in time to face MK Dons on Tuesday, the skipper is an early doubt for the season-opener against Tottenham in three weeks' time.
Koeman has said that the rest of the returning internationals will get at least 45 minutes' of action as the Dutchman bids to bolster their fitness while also continuing to run the rule over his players.
Kick-off is 3pm with live streaming available to purchase at evertontv.
---
Reader Comments (29)
Note: the following content is not moderated or vetted by the site owners at the time of submission. Comments are the responsibility of the poster. Disclaimer
Derek Thomas
1
Posted 23/07/2016 at 06:35:14
On beIN3 for aussie viewers...and I don't believe for one minute Stones is Injured
Colin Metcalfe
2
Posted 23/07/2016 at 07:14:52
I think Stones is just not fit and that's it , give him a few more weeks to get up to speed !
Koeman has to sit Stones down and convince him that his future is with us , we would be crazy to sell him even for 50M !
Eddie Dunn
3
Posted 23/07/2016 at 07:40:02
I suspect that a transfer is imminent and the health of the player will not be risked. I know it is all conjecture, but he has previously expressed his will to leave, and he failed to force his way into the national side, due to our poor season.
Manchester is waiting, the only question is, which part?
Sam Hoare
4
Posted 23/07/2016 at 08:01:56
I also reckon Stones is off.
Which, with Jags injured, leaves us with only Mori as a fit senior CB. Thank goodness he's no longer going to the olympics!
Have a good look at Holgate and Galloway today as currently one of them they might be starting vs Spurs.
I'm sure we will buy a CB before the window shuts. A real beast please. Van Dijk or Koulibaly will do.
Laurie Hartley
5
Posted 23/07/2016 at 08:22:14
Bad news about Jagielka - he and Barry bring stability. It has highlighted our need to strengthen in this area. Funes Mori and Galloway are both left footers.
I hope the Koulibaly speculation has some substance.
Phil Jeffries
6
Posted 23/07/2016 at 08:24:03
I'll be watching this in Australia... 10pm kick off for me. I agree that Stones is probably off. A 'knock' in training is he good old excuse used for not risking the transfer of a player being sold. With that said, Everton will only be selling if the deal is right and a replacement is lined up. If we sell Stones, then we'll need at least 2 other centre backs with Jags a doubt and squad numbers thin in that area. I have to say I'm not sold on Pennington. I'll get the chance to check that out tonight. COYB!
Jason Thomas
7
Posted 23/07/2016 at 09:11:13
I'm not being tight, but £5.99 a game or £16 for the lot. Why? It's not going to generate vast amounts of money and only pisses fans off a bit. Good PR would be to at least stream the low key games for free.
Anyway, my love and excitement is back after last year's pain. It's not going to be straight into top four but I genuinely believe we can/will win the title in 3-5 years.
The good times are coming back! Get comfortable, fasten your seatbelt and keep your arms inside the car at all times. Enjoy the ride Toffees!
Mike Allison
8
Posted 23/07/2016 at 09:44:06
Sometimes a knock is just a knock. Stones may leave, but not being risked in the first pre-season game hardly constitutes incontrovertible proof.
I hope none of you are lawyers, or ever get called for jury service.
Tony Abrahams
9
Posted 23/07/2016 at 10:00:17
Mike, just imagine Phil Walling, on jury service?
Looks like Stones, will go to City, but I'm not sure if it's the best move for the kid, now we have Koeman.
Don't get me wrong, Guardiola's teams work so hard, it can generally protect centre halfs, but with a no nonsense defender now in charge of England, I think Stones needs to start learning the ugly side of defending, if he's to even become an England regular now.
Paul Mackie
10
Posted 23/07/2016 at 10:07:24
If Stones leaves now rather than learning from one of the best goal scoring defenders the world has ever seen then he's a moron. I think he'll stay for what it's worth.
Olalekan Taofik
12
Posted 23/07/2016 at 10:29:37
I think the match will be a real test for us.
As for Stones, I believe there is a cover-up somewhere, the mind of the lad is in Manchester.
I have observed that we hardly play 6 or 7 quality opponents, nor involved in competitions during pre-seasons and it always affect our early good off when season begins.
Could it be that we are not a top class team nor having quality players or is it managers lack of vision or what ?
Dazz Storm
13
Posted 23/07/2016 at 10:50:49
Here's a link for the game...
http://premier-league-lives.net/clubs/Everton/
Mike Allison
14
Posted 23/07/2016 at 10:56:01
By the way, on Koulibaly, his comments in the press about leaving Napoli are nearly identical to the kind of thing Lukaku has been absolutely lambasted for saying about leaving Everton.
Are we happy just to accept that and be grateful it's working in our favour? Is anyone who's slagged Lukaku off willing to accept that actually it's just a normal part of football that some players will do it? Is anyone going to say they don't want Koulibaly because of his comments?
I'm interested to see which way the cognitive dissonance is going to fall in this one.
Rick Cole
15
Posted 23/07/2016 at 11:21:56
Cheers Derek!
Any Aussies know how to catch the Everton games this season if your not on optus.
I can't watch live too often due to shift work.
Any help would be greatly appreciated.
It's a kick in the teeth to see fox sign up Liverpool, Man u, and Chelsea TV, trying to appease the loss of the Premier League rights.
Pandering to the foolish masses!
Laurie Hartley
16
Posted 23/07/2016 at 11:46:40
Mike # 14 - I'll answer your question.
I didn't know that Koulibaly had been mouthing off like our own Lukaku. However if what you are saying about Koulibaly is correct, and I have no reason to doubt it, I will say this - if Koulibaly has the same attitude as Lukaku I wouldn't want him anywhere near Everton.
I acknowledge it is part of football these days that some players will mouth off about wanting away from their club but as a fan I don't have to accept it - I just don't like it.
I had to look up what cognitive dissonance means and now that I know, I can see where your coming from and have to admit I had been suffering from it up until recently. However, as I have stated on other threads, much as admire him, if Stones really wants out he can go also.

Phil Walling
17
Posted 23/07/2016 at 11:57:16
Hey, Tony @9; the last time I did jury service, I was appointed foreman and we well pissed off the judge by repeatedly asking him to clarify questions of law.
In the end, we came to a 'not guilty' verdict on the basis that the evidence was presented in a very sloppy manner although most of thought 'he did it'!
What a way to pass a week !
Laurie Hartley
18
Posted 23/07/2016 at 11:59:35
Rick # 15 - from what I can make out if you are not with Optus you are out of luck. Here is a link which I hope you will find useful.
http://eftm.com.au/2016/07/how-to-watch-stream-the-english-premier-league-in-australia-our-complete-guide-29815
Dominic Tonge
19
Posted 23/07/2016 at 12:03:49
Rick @15 ,
Are you just after a stream - if so use eplsite . It's normally ok . Just google eplsite and follow links.
Martin Nicholls
20
Posted 23/07/2016 at 12:20:34
Rick#15 - can you install Mobdro on your tablet? If so, do it and check out the channels available - last week's game was on BeIN Sport albeit with a Spanish commentator (not El Bob before anyone asks!)
Rob Hooton
21
Posted 23/07/2016 at 13:15:12
Rick, livefootballol is also apparently good. if you install acestream too can get good quality (so I have been informed)
Eugene Ruane
22
Posted 23/07/2016 at 14:05:40
Phil (17) -
"and we well pissed off the judge by repeatedly asking him to clarify questions of law."
Well my guess is he was just thick and the jury were just much smarter.
"In the end, we came to a 'not guilty' verdict on the basis that the evidence was presented in a very sloppy manner"
Evidence presented in a sloppy manner eh?
Tut!
I think we all know how frustrating that can be.
Paul Evans
23
Posted 23/07/2016 at 14:23:53
Hi Guys, first post on here. :)
No Niasse today, I've read he's agreed a loan with Galatasaray? Hope it's true and Koeman pushes for a new striker.
Anyone know what's up with Barry? Not in today's squad.
Tony Abrahams
24
Posted 23/07/2016 at 14:25:09
Brilliant Phil, I think I like you a lot more after that little tale!
Colin Glassar
25
Posted 23/07/2016 at 14:37:53
So thanks to you Phil we are all a bit unsafer these days due to your technicalities? I say if they look guilty they probably are guilty.
Frank Wade
26
Posted 23/07/2016 at 14:49:05
Starting line up. I am guessing positions:
Robles
Davies, Holgate, Galloway, Baines
Besic, Gibson
Lennon, Dowell, Deulofeu
Mirallas
Frank Wade
27
Posted 23/07/2016 at 14:53:21
LIVE Forum is open now on home page
Darren Hind
28
Posted 23/07/2016 at 14:53:21
The only time I did Jury service, I was told to go home soon after arriving for the first three days because I "wasn't needed" . On the fourth day they told me my stint was done. Didn't even get on.
I felt like Kevin Mirallas.
Dave Abrahams
29
Posted 24/07/2016 at 12:06:44
Colin (25) God help anyone up in court if you are on the jury.
My mate was on jury service once, a lad was up for a robbery, one of the other jury servers said after less than an hour studying the evidence "come on, he's obviously guilty and I'm dying for a bevy".That convinced most of the others to carry on judging the case and they eventually found the lad not guilty.
Colin Glassar
30
Posted 24/07/2016 at 12:13:53
I've been turned down three times Dave. I think that's my chance gone.
---
Add Your Comments
In order to post a comment, you need to be logged in as a registered user of the site.
Or Sign up as a ToffeeWeb Member — it's free, takes just a few minutes and will allow you to post your comments on articles and Talking Points submissions across the site.
© ToffeeWeb