Everton launch new third kit
16 August

68 Comments [Jump to last]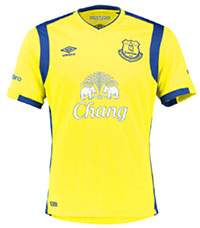 The club unveiled the second change strip for the 2016-17 at an event at Everton One this evening.
The new third kit is evocative of the away kit from the 2013-14 campaign, featuring a bright yellow jersey and blue accents on the shoulders and cuffs.
The shorts are Everton blue with yellow panel while the socks are yellow with blue stripes.
The team will sport the new kit for the first time at West Bromwich Albion this weekend.
---
Reader Comments (68)
Note: the following content is not moderated or vetted by the site owners at the time of submission. Comments are the responsibility of the poster. Disclaimer
Kevin Elliott
1
Posted 16/08/2016 at 19:46:48
Nooooooooo. Yuk...
Andrew McGreavy
2
Posted 16/08/2016 at 19:47:24
I do like that kit, I love the bright coloured Everton shirts, will purchase that and show it off with pride down South...
Alasdair Mackay
3
Posted 16/08/2016 at 19:51:09
Yes. Yellow away kits always remind me of the 80s – which is never a bad thing for an Evertonian!
Stephen Brown
4
Posted 16/08/2016 at 19:52:26
Yellow should always be our away kit imo!
Gareth Clark
5
Posted 16/08/2016 at 19:54:29
I prefer the orange/peach colour of our warm up jerseys to be honest.
Alan McMillan
6
Posted 16/08/2016 at 20:01:09
It's a grower... maybe a blue Chang logo would look better but I really like the dark navy/pink jersey this year. Always an easy choice for a birthday present. :-)
Mike Mulhall
7
Posted 16/08/2016 at 20:06:57
Compared to Norwich's away kits, it's amazing!
Alexander O'Brien
8
Posted 16/08/2016 at 20:11:11
The design and colour isn't bad. The logo in white is a designers school boy error. It's lost in the yellow and I can't imagine Chang are very happy with it.
Paul Conway
9
Posted 16/08/2016 at 20:13:24
Flashy kit, poncy hair-dos and multi colour fluorescent boots doesn't make a player any better.
I wouldn't be arsed if they played wearing bin-bags, as long as they get down to the task in hand.
John Daley
10
Posted 16/08/2016 at 20:16:32
Eugene Ruane
11
Posted 16/08/2016 at 20:17:14
Brent Stephens
12
Posted 16/08/2016 at 20:20:55
Cups at last, Eugene!
Dean Adams
13
Posted 16/08/2016 at 20:21:02
Eugene, is that second link your opinion of the kit designers?
Mark Morrissey
14
Posted 16/08/2016 at 20:22:01
Thanks for the first picture... quality, could look at it for hours. It was going to be my new screen saver and then along came...
Kevin McCartney
15
Posted 16/08/2016 at 20:22:11
When are we going to ditch bloody Chang and bloody Umbro, crap design, colour, material... bloody Umbro stuck in the 70s/80s – cheap look and feel... disappointing!
Iakovos Iasonidis
16
Posted 16/08/2016 at 20:23:20
Sorry but this is plain shit.
Paul Ellam
17
Posted 16/08/2016 at 20:25:53
Already on order – I like it very much!
All the haters – don't buy it; you're not obligated to... easy really.
Colin Glassar
18
Posted 16/08/2016 at 20:27:48
Spot on, Kevin, the Chang deal is embarrassing.
Kim Vivian
19
Posted 16/08/2016 at 20:33:39
I quite like that. Different but just not too sure about the two rucksak straps. Looking forward to seeing it in action but thumbs up for now.
Last year's white grey hoops thing was utter pants. Horrible.
Les Martin
20
Posted 16/08/2016 at 20:37:26
This is better than the first kit which is spoiled by the yellow on the sleeve.
However, this yellow will be a big grower as the two main colours of blue and yellow always compliment each other and these are strong colours too.
Simon Bradley
21
Posted 16/08/2016 at 20:38:27
I'm a stickler for just plain. I LOVE our home kit, why couldn't they just have a plain yellow shirt?
I don't like the blue on it (except on the cuffs). Basically just a home shirt but yellow where blue and small blue splashes on the cuffs – that would have been nice.
As to all the comments regarding Chang and Umbro. I agree. New shirt sponsor, and kit manufacturer needed.
Ian Bennett
22
Posted 16/08/2016 at 20:39:38
'Ucking woeful!
Eugene Ruane
23
Posted 16/08/2016 at 20:40:31
Paul (17) -
'All the haters - don't buy it, you're not obligated to - easy really.'
Sort of..but another way of looking at it is that if you love it and you're wearing one, you're not actually looking at it.
But if you are a 'hater', you won't be wearing one yet will be forced to look at all those (puddins) who are.
Hardly fair.
Jamie Crowley
24
Posted 16/08/2016 at 20:41:43
Love it. Absolutely love it.
That bright yellow (in some quarters it's actually called "safety green") is very, very popular with the 18 and under crowd here in the States.
It's sharp.
Rob Pryor
25
Posted 16/08/2016 at 20:48:00
That logo's not gonna show up...so it's not all bad then
Anthony Jones
26
Posted 16/08/2016 at 20:50:36
Too bright. Looks like a cycling jersey with an elephant related after-thought.
Richard Reeves
28
Posted 16/08/2016 at 20:52:58
On the subject of yellow kits the majority of Evertonians (myself included) want amber and blue so why does the club never make them seeing as it's all about making money?

Still, it's not bad but I prefer the second kit.
Jay Woods
29
Posted 16/08/2016 at 20:56:26
How hard can it be not to mess up our old style blue and yellow?
Very, apparently.
That Alan Ball kit... could kit designers not study that and use it as the template? Timeless perfection.
Colin Gee
30
Posted 16/08/2016 at 20:57:39
Why do we need a 3rd kit anyway?
If we are away from home and the home side plays in blue, then we change to our black away kit.
Dean Adams
31
Posted 16/08/2016 at 21:00:14
Looks like the Derby County home shirt, just different colour.
Anthony Dwyer
32
Posted 16/08/2016 at 21:39:34
No kit will ever make everyone happy, but for me I think its boss.
Great colour, bold and bright, I personally won't buy it for me but I will have it for my lads, I'm sure it will look the part.
Agree with some comments about Umbro and Chang, both shire logos.
Our Nike kits were much better, I was also happy to buy the kids the tracksuits etc too, I will always buy Everton kits for my kids, even if they were Dunlop, but it would be nice to be Nike, Adidas or Under Armour.
John Keating
33
Posted 16/08/2016 at 21:57:51
Love it and going to get it as long as they do 5XL
Mind you I really do prefer the direct opposite of the home kit.
I just prefer blue with white trimmings for home and white with blue trimmings for away.
That should be enough and throw this third strip money grabber in the pit
Bob Hannigan
34
Posted 16/08/2016 at 22:08:35
"Lovely"!
WTF?
Let's forget about new kits until we finalize an improved squad.
Eugene Ruane
35
Posted 16/08/2016 at 22:08:57
Jamie (24) -
'Love it. Absolutely love it.'

Well hard to understand (for me) why but..I think you get a pass being American.
That's not a dig by the way, what I mean is..um..I'm guessing tradition isn't really a big deal over there..in the same way as it is here.
Sorry, I'm not describing this well am I.
All I mean is I can say 100% definitely, that if I was put in charge of Everton just for tomorrow, there's no chance by Thursday, we'd be called 'The Everton Wolverine Pirate Hawks' or that Z-Cars would have been replaced by this Link
James Stewart
36
Posted 16/08/2016 at 22:10:34
Disgusting wouldn't be seen dead in that.
I was hoping for a Koeman inspired dutch orange and navy affair. Sadly that seems beyond the mental capacity of whoever designed this rubbish. Looks like the Leeds United kit of about 10 years ago only worse.
Anthony Jones
37
Posted 16/08/2016 at 22:16:34
Still, need to get shut of Umbro. Their quality control is shite.
Thomas Surgenor
38
Posted 16/08/2016 at 22:22:31
The white Chang logo ruins it and makes it look amateurish.
In fact the whole Chang deal is amateurish. Thankfully the deal expires at the end of this season and I can't see Moshiri wanting to keep them on.
A new valuable sponsorship deal would allow us to fast track the squad refresh and get around the FFP a little easier.
Dazz Storm
40
Posted 16/08/2016 at 22:41:25
How can we fly like Eagles... when we look like fuckin Budgies...?
Ste Traverse
41
Posted 16/08/2016 at 22:46:34
Not a bad shirt but I don't buy them anymore.
I think it's a disgrace and a total rip off we don't keep any shirts for 2 seasons now. The last one was the 2000 til 2002 home shirt.
Stan Schofield
42
Posted 16/08/2016 at 22:58:25
Putting on my Gok Wan hat, I think it'll work really well.
Barry McNally
43
Posted 16/08/2016 at 23:20:15
In the last 15 years Everton have had a new home kit every single season and astonishingly 29 different away / third kits
Link
Barry McNally
44
Posted 16/08/2016 at 23:22:23
Sorry make that 30 including the new 3rd kit.
Keith Harrison
45
Posted 16/08/2016 at 23:38:55
I tort I taw a puddy tat.
Love it actually. Better than that green monstrosity.
Jamie Crowley
46
Posted 16/08/2016 at 23:43:35
Eugene -
Love it.
History over here is relative. You'd never, ever mess with the logos of the Yankees, Red Sox, Bruins, Canadiens, Celtics, Cubs, Dodgers, etc. Timeless.
Everton are in that mold.
I'm definitely looking at this through a different lens, only a decade or so of support and admittedly not having that culture and upbringing of Everton timeless / institution of English football.
We all have our faults.
I liken it to this. If the Red Sox messed with their "look", no matter how sleek or modern or trendy, I'd be like, "Get the fuck out of here! Crap! You don't mess with it!"
I just come at this from an entirely different perspective.
Jamie Crowley
47
Posted 16/08/2016 at 23:47:28
Oh and Eugene...
It's got to be Guns n' Roses Welcome to the Jungle.
Fuckin' song is played a bazillion times at every American sporting event, usually accompanied by a smoke machine and a wild light show.
My gag reflex kicks in every single time
Gordon Crawford
48
Posted 16/08/2016 at 23:57:09
What is going on with the Chang logo? That should be blue. Makes it look awful.
Eugene Ruane
49
Posted 16/08/2016 at 23:59:15
Jamie, I swear I almost went for 'Welcome To The Jungle' but thought it was a bit more Glasgow Celtic (look it up) and felt 'We're Not Going To Take It' had a nice Kenwright-inspired feel to it.
Max Murphy
50
Posted 17/08/2016 at 00:53:28
Wow! A new kit! That should win us the league!
David Lok
51
Posted 17/08/2016 at 01:39:26
Why don't they just borrow 10 from Stekelenburg, his kit looks much better?
Brian Porter
52
Posted 17/08/2016 at 01:54:54
Yuk.
Willliam Bruce
53
Posted 17/08/2016 at 08:04:12
God I hate that logo, not sure if its worse than Man Utd's Chevrolet one.
Let's get rid.
Does anyone drink the stuff anyway?
Kevin McCartney
54
Posted 17/08/2016 at 08:14:57
Chang = Two white elephants ... hmm now where did I hear that phrase ... 'white elephant', in the room ... and we have fkng two of them on our shirts, ffs, you couldn't make this up if u tried.
Happy reading:
https://www.google.de/search?q=white+elephant+meaning&rlz=1CDGOYI_enDE623DE623&oq=white+ele&aqs=chrome.3.0j69i57j0l2.4471j0j8&hl=en-GB&sourceid=chrome-mobile&ie=UTF-8
Eric Myles
55
Posted 17/08/2016 at 08:37:07
Like it but the sponsor logo really should be blue.
Tim Sharpe
56
Posted 17/08/2016 at 09:13:39
I like the yellow, really striking, but the Chang logo in white is an amatuer schoolboy level error. It does not contrast like the blue on the rest of the kits.
The only reason I can think of it that chang insisted their logo is white???
Michael Penley
57
Posted 17/08/2016 at 09:24:51
Why are we complaining about not being able to see the sponsor? I've been wanting to get rid of sponsors from kits for decades.
Willliam Bruce
58
Posted 17/08/2016 at 09:35:30
I agree Michael @57.
As an interim measure I think the logo should be in yellow.
Olalekan Taofik
59
Posted 17/08/2016 at 09:52:55

The new kit is okay as it looks bright and inviting.
Kim Vivian
60
Posted 17/08/2016 at 10:30:31
Prices of kit really are becoming a fucking joke.
Tony J Williams
61
Posted 17/08/2016 at 12:19:21
Horrid!
Here's me taking the piss out of my redshite mates for their monstrosity and then this lands on our plate....
Eric Myles
62
Posted 17/08/2016 at 12:21:53
Could be sponsors preference Tum (#56) as the Chang logo normally is white, but wasn't it green on our white shirts a few years ago?
Tim Sharpe
63
Posted 17/08/2016 at 12:29:53
@Eric - you're right. It was either green or purple on the white and "Blackberry" kit season before last I think.
Maybe it looks better in real life than on a picture with a white background. Will wait and see I suppose. It'll never make it to Scotland to be sold anyway, so I won't get it here
James Newcombe
64
Posted 17/08/2016 at 12:39:19
Wouldn't be bad if not for the Chang logo... Which looks bizarre in this application.
Liu Weixian
65
Posted 17/08/2016 at 12:41:01
This is a monstrosity. It looks like a rip-off from the Derby County shirt and the white sponsor logo adds to the horror.
Colin Hughes
66
Posted 17/08/2016 at 12:52:07
That's what I call a roadworks kit.
Michael Carr
67
Posted 17/08/2016 at 13:45:05
Completely agree with those saying we need a new kit manufacturer. As much as I love my club, I begrudge paying £50 for something, which if it wasn't for the crest, would cost £5 in Sports Direct.
Karl Masters
68
Posted 17/08/2016 at 16:26:52
Lazy design (lifted from the Derby County design), incredible intensity in the yellow, phenomenal mistake with the white logo on a yellow background!
A mish-mash of thinking... Just like this kit.
Matthew Williams
70
Posted 18/08/2016 at 15:01:54
Gotta be amber and royal blue for me. The Puma 2001 shirt nailed it for me.
As for this one, ok but reminds me of the Ukraine national shirt. Chang in white? Needs a strong Royal Blue outline really!
Anthony Dwyer
71
Posted 21/08/2016 at 13:24:34
After seeing our kit on the lads in action, I think its a belter.
Great colours, great kit, best we can get from Umbro and Chang.
Add Your Comments
In order to post a comment, you need to be logged in as a registered user of the site.
Or Sign up as a ToffeeWeb Member — it's free, takes just a few minutes and will allow you to post your comments on articles and Talking Points submissions across the site.
© ToffeeWeb