Everton eventually breeze past Glovers
23 August

95 Comments [Jump to last]
Everton 4 - 0 Yeovil Town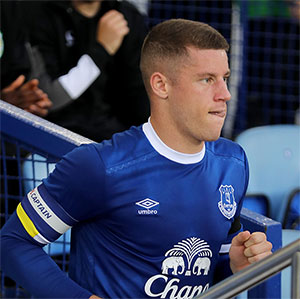 Ross Barkley runs out as captain of the side for the first time
Everton are through to the third round of the EFL Cup on the back of a comfortable 4-0 victory over Yeovil at Goodison Park.
Arouna Koné came off the bench with 12 minutes left to put the icing on the cake for Ronald Koeman's side, scoring two excellent goals to round off the scoring after Aaron Lennon and Ross Barkley had put them into a commanding lead.
Barkley's goal capped a memorable evening for the Wavertree-born star. Handed the captain's armband by his manager, the 22-year-old bounced a long-range past the Yeovil 'keeper in the 68th minute and then lifted his jersey to reveal a heartfelt message to Sid Benson, the scout and influential club figure who died recently.
Everton's players wore black armbands to mark Benson's passing and acknowledge his many years of magnificent service to the club.
Koeman named a strong line-up, with Ashley Williams and Yannick Bolasie making their full debuts and Barkley wearing the armband.
Romelu Lukaku made his first start of the season after coming on as a substitute at West Brom on Saturday, as did Bryan Oviedo and Aaron Lennon.
Maarten Stekelenburg kept his place in goal as Koeman foregoes the "cup keeper" option, leaving Joel Robles on a bench that featured regular starters Phil Jagielka, Kevin Mirallas and Leighton Baines.
Gerard Deulofeu, who was pictured going through what might have been a late fitness test on the pitch earlier this evening, was not included in the squad.
Both sides had early sights of goal, with Lukaku curling a shot a inch over the bar from the edge of the box in the second minute while, at the other end, an under-hit Ramiro Funes Mori backpass was almost seized upon but Stekelenburg was able to smother the danger.
Lukaku then tested the Yeovil keeper from a Barkley corner but his header was saved and fired wide when well-placed a few minutes later.
In between, Lennon won a second corner with a quarter of an hour gone and Lukaku was there again but his effort was hacked off the line following a well-worked set-piece routine.
Yeovil, meanwhile, continued to try and carve out chances of their own and Matt Butcher went close from about 12 yards out after Tom Eaves had knocked the ball on but he missed the target.
Everton took the lead after 27 minutes through a well-worked passing move that ended with James McCarthy pulling the ball back for Aaron Lennon to stroke home.
The home side then had a decent shout for a penalty when Bolasie brought the down well and advanced into the box but while he appeared to have been brought down, the referee waved away appeals for a foul.
The best option was to give Ross the captain's armband. It means a lot to him — he's a big Evertonian and he's come through the Academy.
Ronald Koeman
Back-to-back corners late in the first half almost led to the second goal of the game but Holgate headed wide from another dangerous Barkley delivery.
Everton probed in the early stages of the second half but the home crowd started to get restless as the score remained at 1-0.
Lukaku smashed one chance wide and failed to anticipate a bouncing ball forward that might have put him in, while Oviedo hammered an effort into the side-netting and Holgate almost connected with Lukaku's ball across goal following a Barkley free kick.
Koeman withdrew McCarthy and Holgate midway through the second half and Barkley doubled the lead shortly afterwards. The midfielder lined up a direct free kick from distance and whipped a shot past the 'keeper to make it 2-0.
Barkley completed his evening's work with 12 minutes to go when Arouna Kone came on for his second appearance of the season from the bench. And the Ivorian made it 3-0 with a terrific driving run and strike that left Krysiak in the Yeovil goal helpless.
And Koné grabbed his second with another fine solo effort, taking the ball past one defender with a clever dink, nudging it wide of another and then belting it home from close range.
The emphatic result puts the Blues into the hat for tomorrow's third-round draw.
Quotes sourced from ToffeeWeb match page
---
Reader Comments (95)
Note: the following content is not moderated or vetted by the site owners at the time of submission. Comments are the responsibility of the poster. Disclaimer
David Booth
1
Posted 23/08/2016 at 18:59:35
Excellent. A strong team and none of this 'cup goalkeeper' nonsense.
I like our new manager very much.
Now let's take this competition seriously and win the bloody thing!
Adam Lawson
2
Posted 23/08/2016 at 19:21:23
Barkley to captain.
James Morgan
3
Posted 23/08/2016 at 19:23:58
Strong bench as well. When we get a few more in we will have a really strong squad.
Mick Davies
4
Posted 23/08/2016 at 19:24:33
Gibson fit enough for the bench . . . . hope he doesn't do any warming up, be out for a month
Paul Hewitt
5
Posted 23/08/2016 at 19:32:13
This could be a cricket score tonight.
Gareth Clark
6
Posted 23/08/2016 at 19:32:23
Very happy Robles isn't starting!
Still wondering where Tarashaj has gone?!
Anthony Dwyer
7
Posted 23/08/2016 at 19:45:35
Any links men ????
Colin Metcalfe
8
Posted 23/08/2016 at 19:46:13
I, on the other hand, am very disappointed Robles is not playing. He has all the tools to make a top keeper. Anyone remember his spectacular display at West Ham a few years back?
I don't why Koeman doesn't rate him but maybe he has a poor attitude; seems a bit immature at times – it's a big shame he can't push for his place in the team!
Eugene Kearney
9
Posted 23/08/2016 at 19:50:00
David at #1 - Totally agree with you.
Great line up and strong bench too... big message to all players – competition for places too.
We've got a good strong squad and we'll be able to move forwards now.
Mike Green
10
Posted 23/08/2016 at 19:52:43
Barkley Captain - interesting ..
Michael Polley
11
Posted 23/08/2016 at 19:59:18
COYB
Raymond Fox
12
Posted 23/08/2016 at 19:59:41
-Don't remember Robles letting the side down in this competition – or the FA Cup last season!
Other than that, sensible selection with the starting line-up and the bench.
Plenty options for some subs to get half a game or whatever.
John Graham
13
Posted 23/08/2016 at 20:05:42
Yes, strong bench:

Robles (rubbish),
Cleverley (rubbish),
Gibson (rubbish),
Kone (rubbish).

Championship players at most. This is where the up-and-coming kids should get a bit of game time and experience rather than on a Tuesday night in an empty stadium.
Dazz Storm
14
Posted 23/08/2016 at 20:06:57
There's no links as it's not been shown on TV for some odd reason. I was looking forward to this, I've looked everywhere.
Anthony Dwyer
15
Posted 23/08/2016 at 20:11:15
Has anyone got a link for the game ??
I've been working away today Won't be back til tomorrow so want catch this online.
Anthony Dwyer
16
Posted 23/08/2016 at 20:14:19
Lennon gooooaaaaaalllllll ..⚽👊
Alasdair Mackay
17
Posted 23/08/2016 at 20:15:11
Can't find any links in my usual spot.
Might wander down to the local sports bar and watch the other games, see if they have highlights as goals go in.
Victor Jones
18
Posted 23/08/2016 at 20:19:20
I agree that the bench is not really that strong. A few youngsters should have featured but the first eleven is strong. Surely strong enough to beat Yeovil? Can Lukaku find his shooting boots? Will we make this a comfortable evening. Or will we huff and puff. At least Koeman has set us up tonight to give us a proper chance to progress in this cup. Not like the efforts of past managers. The hapless defeats to Leeds and Swansea in recent years spring to mind. Lennon has just scored. Will the floodgates now open? Let's hope so. COYBs
Eugene Kearney
19
Posted 23/08/2016 at 20:21:02
Don't know any links but listening to commentary on official website.
Mark Morrissey
20
Posted 23/08/2016 at 20:25:01
They are showing all the goals as they go in on Gillette Soccer Special.
Ross to McCarthy and he pulls it back across goal to Lennon who slides it in with his right foot. Lukaku has fluffed his lines so far according to Tony Gale... he's had 4 chances and has taken none.
Paul Setter
21
Posted 23/08/2016 at 20:59:11
Lukaku really is gash.. The most overrated player in the league... Please please Chelsea buy this mule of us.
Alexander O'Brien
22
Posted 23/08/2016 at 21:31:47
Who's that dark haired, fleet footed wing wizard coming inside and unleashing an cracker from 20 yards?? Shit, it's Kone!! He's staying put
Craig Fletcher
23
Posted 23/08/2016 at 21:38:49
Kone scores twice after coming on as a sub? What the ...
Michael Polley
25
Posted 23/08/2016 at 21:47:39
Took our time but eventually got there. Lukaku needs to sharpen up and start converting those chances.Put it down to lack of match fitness ??? Pleased for Barkley and Kone was impressive when he came on. Kone is a bit of an enigma isn't he
Mick Davies
26
Posted 23/08/2016 at 21:49:05
John @ 13, Yes, strong bench:
Robles (rubbish),
Cleverley (rubbish),
Gibson (rubbish),
Kone (rubbish).
Feeling a little stupid now? And doesn't Robles have a cup winners medal?
Kevin Judge
28
Posted 23/08/2016 at 21:51:58
All joking apart about Kone, he played about 20 minutes. Rom could not even score.
Gerard Wood
29
Posted 23/08/2016 at 21:53:44
Paul (#23) – who do we buy to score 20 goals???
I wish people like you would get in the real world – we are lucky to have him!
Colin Maughn
30
Posted 23/08/2016 at 21:59:54
Colin @ 8 Koeman was upset with errors Robles was making during one of the preseason games.
Oscar Huglin
31
Posted 23/08/2016 at 22:02:04
John Graham @13
How's that humble pie?
Jay Harris
32
Posted 23/08/2016 at 22:02:51
Good result and four cracking goals from all accounts.
Would like the crowd to show a bit more patience with the lads though.
Dave Williams
33
Posted 23/08/2016 at 22:02:51
Feel sorry for Kone. He gets a lot of stick and he is lucky to still be playing after the injury he had. He destroyed us in the QF for Wigan and has ability and strength which he showed tonight.
I know it was only Yeovil but I am really pleased for him- he deserves a break.
John Harrop
34
Posted 23/08/2016 at 22:04:28
One of Arouna Kone's most successful periods was the 2006-7 season at PSV Eindhoven when they won the championship for the third successive year. His manager at that time was one Ronald Koeman.
Craig Mills
35
Posted 23/08/2016 at 22:11:45
Good professional job done tonight, these ties often cause an upset but we were excellent throughout tonight. Only negative was Lukaku for me, plenty of chances wasted by the big man – needs to find his shooting boots quick.
Kevin Rowlands
36
Posted 23/08/2016 at 22:17:23
Paul (#21), 100% correct sir, all the Kone joking aside, how long and how many games without scoring is he going to get a free pass from the Lukaku apologists on here? It's now 13/16 games and ZERO goals, isn't he supposed to be prolific or something like that?
I'm with you, mate, I'd love Chelsea to take him off our hands but I doubt any top club wants him, especially at the asking price, hence his 'decision' to do us a favour and stay. I'd swap him with Rondon at WBA and give them £5 mill on top just to get rid of the hugely overrated big lump.
Gordon White
37
Posted 23/08/2016 at 22:19:59
A few more performances like that . Could Kone''s form improve? Stranger things have happened at sea. Valid and interesting points made by John #34, Fave #33 and Jay 32.
After a number of poor performance's, I started to criticise , as much as anyone else. But I hope I'm wrong. I would be more than happy to eat my words if Kone starts to score and provide assists more regularly. It's in all our interests if he does. I'd be delighted to be wrong.
John Graham
38
Posted 23/08/2016 at 22:20:09
Ok so Kone surprised everyone. Every dog has its day as they say. If he does the same over a few games I'd say good on him. If he did it for half a season I would admit I was wrong. But think you will find over time I will be proved right. As for the others, well . And Robles has a medal, well done lad. He can compare it with all the other lads from Wigan and Birmingham. Doesn't mean he's a good player.
Gordon White
39
Posted 23/08/2016 at 22:21:46
Dave # 33. Sorry.
Peter Mills
40
Posted 23/08/2016 at 22:38:18
A comfortable enough win, but it wasn't the most entertaining of games. We are short of guile in midfield. Gueye was impressive again, a lot of forward movement broke down at Ross, I suspect Bolasie will entertain and infuriate in equal measure, and Rom could do with starting to anticipate where crosses are going to go rather than rocking back on his heels.
Christy Ring
41
Posted 23/08/2016 at 22:39:27
2 goals for Kone, if Martinez was still in charge, he'd be given a new 2 year contract.
Tony Hill
42
Posted 23/08/2016 at 22:39:44
I thought Lukaku's hold up and general play were pretty good actually. I'd rather he scores against Stoke than Yeovil. Very good from Barkley, and Williams' experience and natural positional awareness are going to be great assets.
Nice straightforward win though we obviously still need to recruit - guile is what we lack (apart from a quick striker) and I wonder if Koeman is looking to Barkley to supply it. I'm a big fan of Ross but I want another option to break open defences.
Christopher Wallace
43
Posted 23/08/2016 at 22:51:38
Interesting that Kone has 2 more goals in his last 10mins than Lukaku has in his previous 16 games!
We really do need a striker in. Rondon not a bad shout – felt a bit sorry for him after the WBA game, where he looked useful while his team mates were useless! Could do with a more prolific striker as well.
Christopher Wallace
44
Posted 23/08/2016 at 22:53:32
Carlos Bacca
Jay Harris
45
Posted 23/08/2016 at 22:56:39
Fill your boots lads the ubiquitous Balotelli is on his way.
Or is he?
Just feel we need someone in quick to get the number 9 firing on all cylinders.
Alun Jones
46
Posted 23/08/2016 at 23:00:09
John Graham, I don't think it's fair to simply call 4 of our bench rubbish. Gibson is a class act and let's hope this season he can push on and get some serious game time. If he can keep fit I'm sure RK's opinion will differ from yours.

Kone, however, is rubbish – I agree, despite his brace last night.
Olalekan Taofik
47
Posted 23/08/2016 at 23:02:26
What a game against lowly rated team yet to win in their last five games or thereabout. Our boys were ruthless against them.
Perhaps Arouna is trying to make a statement? RK should not be deceived... If he can't get a hat-trick against Yeovil, he should do it against Man Utd and the other top contenders.
Kone should be released and for Lukaku he needs to be alert and convert all his chances.
It's really a good game and good night for EFC fans. I wish the team a good draw tomorrow and ruthless weekend in the Premier League.
Bye.
Stephen Ashton
50
Posted 23/08/2016 at 23:13:52
Don't exaggerate, Christopher, it's only 13 games!!!!!
Dan Davies
51
Posted 23/08/2016 at 23:14:43
Bang em in Kone' lad. Top striker EFC!
Dan Davies
52
Posted 23/08/2016 at 23:15:57
Romelu who?
Andrew James
54
Posted 23/08/2016 at 23:24:02
I like Ross being captain. Hopefully it will help his progression. He's scored 2 in 3 now along with an assist. He began last season well then faded. Here's hoping he can put it all together. Seems he's now on free kicks and we all know he can hit them from distance in normal play.
This could be his season, like when a certain ex-RS captain went from being potential to a proper player in 2003-04. I don't like the comparison but he's the most similar one I've seen in the last 20 years although Ross doesn't tackle with two feet and is more skillful.
Phil Bellis
55
Posted 23/08/2016 at 23:44:09
Tony (#42)
I was sat with neutral friends who were also impressed with Rom's "distribution and leading the line".
A bit nonplussed but came around to watching more closely and agreeing.
John Austin
56
Posted 23/08/2016 at 23:53:53
Tonight was almost a training game in parts. Us knocking it around without really going anywhere. And the crowd didn't seem up for it either. But we have struggled in games like that in the past so well done blues.
John Pickles
57
Posted 24/08/2016 at 01:20:41
4-0 and all some can do is on here is whinge at Lukaku.
Personally, I hope he scores when we need goals, and he will. That's what he does.
Anto Byrne
58
Posted 24/08/2016 at 02:38:23
As Koeman has said, it's all about what you do off the ball and when you don't have possession. They double up on Rom; sometimes they crowd him out with 3 defenders. With another striker, it can free him up and he is dangerous.
So long as he does a job and the team win games, I'm not worried about him not scoring. 2 or 3 games to get match fitness and he will bang em in. Keep the faith.
Peter Barry
59
Posted 24/08/2016 at 04:01:22
So the 'useless' Kone grabs two while the £75 M man goes yet ANOTHER game without scoring.
Peter Barry
60
Posted 24/08/2016 at 04:04:34
A 'natural' striker does not pick and choose which games to score in; a 'natural' striker scores whenever he can and currently Lukaku can't.
Richard Leeming-McHale
62
Posted 24/08/2016 at 05:55:17
Oosh! A revitalised Kone??
Brian Porter
63
Posted 24/08/2016 at 06:28:06
Lukaku just seems to squander chance after chance. If he can't put them away against poor Yeovil, what chance has he got against Premier League defences who will be marking him tightly all season?
Kone got two against League Two opposition and I believe that's about his level, though to his credit he now has a better strike rate than Rom over the last 13 games. Doesn't say much for Rom does it? New striker has to be a top priority and there's not long left to get it sorted.
Brian Porter
64
Posted 24/08/2016 at 06:37:29
I was also pleased to see Lennon get on the scoresheet last night. The best of our four goals in my opinion. There was something of the 'fox in the box' about the way he nipped in to grab his goal. I still think he has a lot to offer the squad.
Hopefully RK agrees and uses him accordingly. One of the few who did his reputation no long term harm last season once he was given his opportunity.
Stan Schofield
65
Posted 24/08/2016 at 08:04:10
Lukaku's touches and overall presence were good, as they were against West Brom. He'll no doubt start banging them in soon, which hopefully will eliminate (or at least reduce) the moaning about him on TW.
Bill Griffiths
66
Posted 24/08/2016 at 08:35:40
On the whole, Rom had a decent game other than not putting away one of the several chances he had. He led the line well, brought others in to play and showed effort and commitment.
I thought as well that we looked a lot more dangerous from set pieces last night, Ross putting in some decent free kicks and corners.
Tony Hill
67
Posted 24/08/2016 at 09:06:15
A word for the maligned McCarthy who played well apart from setting up the first goal. I continue to believe that he's a major part of our team and, like others, he needs his fitness and confidence to be boosted.
Steven Jones
68
Posted 24/08/2016 at 09:07:33
Ross brilliant last night!!
Set up a number of chances and building his fitness ...
Like the piece early on where he pressed got the ball and went on a run – put two of their defenders on their rears and laid gilt edge chance on for Rom
Ross will prosper under RK fitness, press and go for jugular approach. COYB's
Nathan Rooney
69
Posted 24/08/2016 at 09:09:04
Pleased that Kone got a couple, but as Monica Lewinski said, one swallow, does not a summer make.
Hope he kicks on and gets some pre-injury Wigan form back for us.
Rom needs to sort himself out and find the onion bag quickly!
Only minor niggle last night was that a few more of the younger players never got a start or even on the bench, but that's just me.
You can't really fault Ronnie to be fair, he ain't really put a foot wrong and he obviously sees the EFL Cup as a great chance of us winning something (fingers crossed he can change our history in this bleeding competition!)
Martin Nicholls
70
Posted 24/08/2016 at 09:16:28
Tony#42, Phil#55, Stan#65 and Bill#66 - I too was at the game and agree your comments about Rom. Kevin#36 - so you'd swap Rom and £5million for the not so prolific Rondon? I thought you'd "set joking aside"!
Kevin Rowlands
71
Posted 24/08/2016 at 09:27:53
Martin, yes I would, the latest excuses from the apologists is 'he leads the line well' or he'll 'score when its needed'. It was a League Two side and he still can't get on the score sheet. Even the prolific Kone managed to do that.
At his current goalscoring rate, he will bag THREE this season. Not bad for a world class £75 million striker is it?
Btw, Rondon is a beast of a player and imho will be plying his trade at a top club in the near future. I'd take him over the human pin ball machine in a heartbeat.
Martin Nicholls
72
Posted 24/08/2016 at 09:59:54
Kevin - each to his own I suppose but for the record, the 23 year old Lukaku despite his admittedly poor current barren spell has scored 93 goals (60 while playing in England) in 222 club games. The 26 year old Rondon coincidentally also has 93 goals 15 of which were scored in Venezuela, 33 in Russia (where even Niasse scored goals!).
I'm not criticising Rondon as I agree he's a decent player but as a striker I don't think his record compares with that of Lukaku and therefore don't think I or any other "supporter" of Lukaku can correctly be described as an apologist.
Kevin Rowlands
73
Posted 24/08/2016 at 10:25:30
Nigel, I agree, but how long is this lad going to get a free pass from fans before the question is asked isn't he supposed to be scoring? Games wise it is now closing in on half a season since he last scored, you can throw in all the stats you want as an excuse but his recent ones are simply not good enough.
Joe Clitherow
74
Posted 24/08/2016 at 10:32:44
Kevin
Give it a rest will you, we all know your point of view. The further introduction of the 'apologists' word in this contexts makes you look ridiculous – the word is divisive, patronising and insulting and is a TW disease. Resorting to ad hominem attacks is generally a poor decision and shows desperation in the argument – I've no idea why this applies in your posts but it certainly seems to.
Lukaku's finishing was desperately poor last night and he is going through a bad spell as all strikers tend to - and it is a long and really bad spell too, agreed. We can all see that, just as well as we all know what he is NOT good at as a striker. I don't have a problem with you pointing those things out (though it's been done to death and anyone can see them). The problem I do have is when you dismiss his record to date, or start a qualitative analysis of the goals (as in stating "He only scored against so and so" as you did recently).
Koeman is the manager and in my opinion understands a great deal about football, unlike the last last idiot we had. He's doing OK so far, and right now I trust him to make the right calls over any player, however tough.
Ernie Baywood
75
Posted 24/08/2016 at 10:33:51
Is he getting a free pass, Kevin? I think most rational people see him as someone who is underperforming at present but with a good goalscoring record previously.
Which is pretty much what you said, but without the attempt to label a section of ToffeeWebbers as 'apologists'.
Andrew Ellams
76
Posted 24/08/2016 at 10:49:06
How is Lukaku getting a free pass? He has had no end of stick on these pages over the summer, some warranted some not. Right now he's the only proper striker we have and is desperate for goals which he won't get picking up splinters on the bench.
Kevin Rowlands
77
Posted 24/08/2016 at 10:49:18
Joe, I could say the same about the posters who continually make excuses for the lad to give it a rest. If you go through the Lukaku posts for easily over a year now it's excuse after excuse completely ignoring his form, lack of goalscoring, heading ability, poor touch, hold up play, attitude, the list goes on and on.

I and others come on here and point the obvious out and are attacked immediately, apologists may be the wrong word to use but believe me I've been called a lot worse on here by some for my views on this subject.
Mike Green
78
Posted 24/08/2016 at 11:12:00
I've been a big critic of Lukaku's, mainly for his perceived attitude towards the club. Difficult as it may be, I'm going to try and keep my council until the end of the season on him now though; Ron's persuaded him to stay until then so I'm going to see how it pans out and run the rule over him after a year under the new regime.
And that pretty much goes for all the players and the manager. Until then, let's just get behind the team; we're heading in the right direction but it's going to take time.
Ernie Baywood
79
Posted 24/08/2016 at 11:15:18
You're just determined to announce yourself as speaking the truth in the face of a majority opinion.
You're wrong, you're expressing the same opinion as everyone else!
Do you really believe that ToffeeWeb is full of posts completely ignoring his "form, lack of goalscoring, heading ability, poor touch, hold up play, attitude, the list goes on and on."???
Based on that statement alone you must see that anyone who reads this site would give you zero credibility?
Kevin Rowlands
80
Posted 24/08/2016 at 11:21:52
Good advice, Mike; for anyone offended by my use of the word 'apologist', I apologize. I've probably gone on about this subject too much now and will give it a rest for the season after this post but will just sign off by saying football is and always will be "What have you done for us lately?" In Lukaku's case... not too much, I'm afraid; hopefully that will change.
Laurie Hartley
81
Posted 24/08/2016 at 11:33:45
Mike (#78) – like you and many others I have been critical of Lukaku and in fact posted on one occasion recently that he had completely alienated me over his comments to the press.
However, I think I will take the same tack as you and see how things pan out this season – mainly due to the fact that Koeman described him in the post Match interview as a "quality player".
One thing is for sure though – he will have to start scoring shortly because that (stating the obvious) is what is expected of a striker – especially when the striker is being provided with regular opportunities by his team mates.
Now that it has been established he is staying, I hope he does find some form and starts banging them in because, if he doesn't, Koeman will drop him and I think that would be bad for all concerned.
Gerry Quinn
82
Posted 24/08/2016 at 11:45:47
Another lovely story of our fabulous fans...
http://www.liverpoolecho.co.uk/sport/football/football-news/everton-fans-take-a-bow-11791992?

Dan Nulty
83
Posted 24/08/2016 at 11:58:16
Given Lukaku's scoring record over the last 4 seasons I think it is suffice to say that at some point he will come good. He wasn't the only player suffering from a lack of form the last 11 games of last season. He also came back not long before the season started, it is going to take him some time to get up to speed.

These aren't excuses, these are facts. Whether you like the way he has behaved or not, like what his agent/father have said or not, he remains an Everton player and we need him firing and soon. We should all get behind him and cheer him on. I'm confident he will have another 20 goals by the season end.
Brian Harrison
84
Posted 24/08/2016 at 11:59:27
I like others have criticized Lukaku at times, but the fact is that RK has decided that he is our main striker for the coming season. I think Lukaku will find that he will have to do more than he did under our previous manager to satisfy RK.
As for his lack of goals of late I think we have to judge him under RKs tutelage. You can be certain that if the lack of goals continue he will come under pressure from the press as well as RK.
Victor Jones
85
Posted 24/08/2016 at 12:04:42
Good to see Kone get a couple of goals. Useful man to have around for when we play lower league teams. Allows a few first teamers to have a rest. And he usually manages to score against the lower league defenders.Can he do that in the Premier League? I'm not so sure... well, yes I am, he just doesn't do it when he comes up against well drilled defenders. So he will only be used sparingly. He might just nick a goal coming on with around 15 minutes left. When the opposition is tiring. Maybe.I'm trying to be positive about Kone. You can't be to critical of a player who has just scored two very good goals. Lukaku could have done with scoring a few goals. Confidence..confidence..confidence.But I still wager that come next May , that Lukaku will have scored far more goals than Kone. Although I wish that he would bloody well start. Sometime soon. Kone scoring goals. Lukaku not able to hit a cows arse with a banjo. It's a funny old game .
Shane Corcoran
86
Posted 24/08/2016 at 12:05:20
Nice one Gerry. Being an Ireland and Everton fan, I must be the soundest man alive.
Dave Ganley
87
Posted 24/08/2016 at 12:10:12
Comfortable game for us last night and happy that Ross took on the responsibility of the captains armband, I think it will do him the world of good. Thought it was a very good spot of him to notice the keeper out of position at the free kick and score from it.
As for Rom, well yeah he had a poor game in front of goal but anyone who thinks he is/will be getting a free pass from Koeman obviously hasn't been taking note of how Koeman does things. For the record Rom will come good, he's too good not to and I also think RK will improve his all round game by making sure he defends from the front, anybody at the game last night will have noticed that he was chasing after defenders and also running back onside when the ball was cleared from Yoevils area.
The big talking point for me is the urgency to get in a proper playmaker. At times we looked a bit one dimensional in the 2nd half. We need someone just to see a pass amid a packed penalty area. Aside from that, I was pleased overall as we generally have a habit of making hard work of these games. Roll on the next round
Eugene Ruane
88
Posted 24/08/2016 at 12:14:05
Shane (86) - My mate's an Ireland and Everton
and
works in the hospital utilising diagnostic imaging techniques.
He must be the ultrasoundest man alive.
(here all week)
Ernie Baywood
89
Posted 24/08/2016 at 13:59:43
Dan 83 - I certainly hope so. We all know of examples of strikers who just lost the knack. A few games can be bad luck, a few more and it's bad form. After that you start doubting what was the exception and what was the norm.
I'll still never get my head around Jelavic. He went from deadly to unlucky to poor to just absolutely pitiful. And he did it with compete support behind him.
I don't think it will happen to Rom (for one, the boy doesn't lack confidence) but he'd want to find his form soon.
Alan Bodell
90
Posted 24/08/2016 at 14:30:59
The fact Lukaku gets loads on here is due to his laziness and constant gobbing off about a move to a 'top club' as much as his poor touch, hold up, heading, set piece taking, anticipation and it would be nice to see him look like he really enjoys a team goal that he is not involved in and I think Koeman will play a big part in how his career goes from here - I really hope it's positive for us as much as him.
And stats DO lie as they don't show how many great chances are missed and he has had numerous fall into this catergory.
Stephen Ashton
91
Posted 24/08/2016 at 14:55:33
John #57 we won't and he doesn't. Seem to remember a semi final at the end of last season.
Gareth Clark
92
Posted 24/08/2016 at 15:00:55
Give Lukaku a chance to get a couple games in.
He gave up last year towards the end. But I think he will be amazing this season.
The big difference between last season & this season, is that the goal scoring isn't all up to him.
So even if he has a shit game, we still have the possibility of getting goals through Ross, Deulofeu, Mirallas, Bolasie, etc.
The positive I take from him being so bad with his finishing in last nights game - is that at least he is getting into those goal scoring situations, he is creating... The finishing is just a bit off at the moment.
Koeman is going to make him work hard & he'll learn a lot.
I just hope he stops throwing his arms up all the time... Really pisses me off!
Shane Corcoran
93
Posted 24/08/2016 at 15:15:15
Excellent Eugene, the Roscommon wit is strong.
Colin Metcalfe
94
Posted 24/08/2016 at 15:28:29
Seems that most people on think Rom will come good and start banging them in but what if he doesn't ?
Fernando Torres basically peaked during his first season with the RS and went downhill from there at a fairly young age and has never really recovered the form that made him one of the most feared strikers in Europe .
I certainly hope this is not the case with Rom and we have missed the chance to offload him for some serious money !!
Michael Polley
95
Posted 24/08/2016 at 16:09:40
Needs more match fitness and hopefully he'll start finding the net.As for Kone I remember him destroying Sunderland last season at Goodison,but then he faded away for the remainder.
Ciarán McGlone
96
Posted 24/08/2016 at 16:48:36
Kone hasn't suddenly become decent because he scored two against Yeovil.. (which is a nice place)..
James Morgan
97
Posted 24/08/2016 at 16:52:33
Colin #94, didn't Torres get a few bad injuries as well though? I seem to remember him having a foot/ankle problem that was hampering him.
John Graham
99
Posted 24/08/2016 at 18:43:29
Ok Alun (46) I will admit I was glad when we got him. But has he ever been fit, will he ever be fully fit. I and many more will be very surprised if he ever plays more that two consecutive games. His time and his chance has gone. I do think if "FULLY " fit he would benefit the team greatly, but it's never going to happen. So as I first started with THE BENCH WAS RUBBISH.
Steven Jones
100
Posted 24/08/2016 at 20:03:42
Dan Nulty - 83
Spot on ...
Rom needs game tine - that is why he left him on 90 mins.
Come November he will be in full cry!
Took Barks off early - so RK is liking what he sees with him - still more fitness and pressing and urgency to make him click.
Bolasie needs more game time - 30 min cameo's is where it is at with him until he is 90 min fit.
If we can manufacture a couple more results then we will be in good shape end of September.
Gordon Roberts
101
Posted 24/08/2016 at 22:19:58
Would Martinez have given the captaincy to Ross? No, he wasn't brave or confident enough to be so bold. Nice one Ron, great management and self belief. Let's all be patient as there will be difficult times ahead for sure
Robert Workman
103
Posted 25/08/2016 at 20:30:22
It's clearly a week for the also-rans. I have just seen a guy called Kayode, who I regarded as a very unfortunate mixture of Kone and the 㾹.5m player-with-no-number, score an unbelievable goal for Austria Vienna to ensure their passage to the lucrative stage of the Europa League.
After the 2 wonder goals scored by you know who on Tuesday, it is clear that "every dog (or coyote) has his day".
Add Your Comments
In order to post a comment, you need to be logged in as a registered user of the site.
Or Sign up as a ToffeeWeb Member — it's free, takes just a few minutes and will allow you to post your comments on articles and Talking Points submissions across the site.
© ToffeeWeb