Barkley: Captaincy a dream come true

40 Comments [Jump to last]
23 August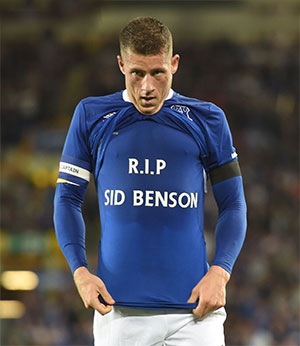 Barkley reveals his personal tribute to Sid Benson after scoring in the 4-0 win over Yeovil
Ross Barkley enjoyed a special night at Goodison Park this evening, rewarding his manager's faith in handing him the captain's armband for the match against Yeovil by scoring a goal and delivering a heart-felt message to one of his mentors Sid Benson.
Ronald Koeman made Barkley captain skipper for the first time, explaining after the game that, "the best option was to give Ross the captain's armband. It means a lot to him - he's a big Evertonian.
"For him, it's the next step. He is a talent but he also needs [the chance] to show more responsibility for the rest of the team".
Barkley was a lively presence in Everton's midfield throughout and he doubled the Toffees' lead when he sneaked a long-range free kick past the visiting goalkeeper mid-way through the second half.
In lieu of a celebration, the boyhood Blue lifted his jersey to reveal "RIP Sid Benson" on his under-shirt, a tribute to the Everton scout who past recently passed away.
"It's every Evertonian's dream to captain the side and lead the club out," Barkley said after the 4-0 victory that booked the club's passage to the third round of the EFL Cup. "It's a dream come true and I'm glad that we won as well.
"[I found out] just before the game. The manager said I'm captain today and [he explained] how much it is to be captain so just go out there and show what you can do, which we did do as a team.
"I was hoping to get the goal but the most important thing was for us to go through to the next round, which we did do.
Of his personal tribute to a figure close to his heart, Barkley said: "It was just a little message for Sid Benson and his family as well because, who knows, I might not be where I am today without him. He spotted me when I was a kid and brought me to Everton. Ever since then he's spoken to me weekly and I was sad to hear he had passed away.
"I'm sad to see him go but I know he's watching down on all us Blues. He was the biggest Everton fan you'll see."
---
Reader Comments (40)
Note: the following content is not moderated or vetted by the site owners at the time of submission. Comments are the responsibility of the poster. Disclaimer
Colin Glassar
1
Posted 23/08/2016 at 22:55:14
Nice touch by Ross and great to see a great Evertonian captaining his team.
Anthony Dwyer
2
Posted 23/08/2016 at 22:59:11
Great day for Ross, I'm made up it was capped with a victory.
Big thing here for me is what RK is doing with certain players.
I might be reading into something that isn't there, but for me he's been elevating Ross with talk of him being a man and not a boy. He's done a similar thing with Mirallas, telling people he has talent and needs to deliver. Also Deulofeu being told about fitness, and being deployed as a striker, as well as the fact he can play both left and right.
He's telling these players who clearly have loads of ability, that he expects them to become main stay top draw players THIS SEASON.
Great management.
Everton Wint
3
Posted 23/08/2016 at 23:02:30
Good on ya Ross. A true blue captain. Showing real appreciation for the blue that scouted him. RIP Sid Benson. COYB
Brent Stephens
5
Posted 23/08/2016 at 23:04:05
Good piece of man-management. Beauty of a goal. And again a wee bit more from Ross in challenging for the ball. What a goal, though.
Kase Chow
6
Posted 23/08/2016 at 23:27:22
Very proud of Ross - congratulations
I wish he would be more appreciated by the crowd - he plays a tough position: creativity. He actually scored a decent number last season + assists and only tailed off (I believe) because he had such a terrible manager
Ross Barkley, true blue - stay and fulfil your obvious talent
Eugene Ruane
7
Posted 23/08/2016 at 23:28:07
Fantastic, congratulations! Think of it, captain of Everton is dream all of us will have had in our lives and this young lad achieved it tonight. Nice gesture with the t-shirt.
Thomas Kelvin Jones
8
Posted 23/08/2016 at 23:31:16
Well done Ross. My favourite player by a country mile!
Stephen Scofield
9
Posted 23/08/2016 at 23:37:32
If Lukaku displayed half the passion Ross does, he'd be unstoppable. A true Evertonian through and through. I really hope when he hits his potential he stays put. He can drive us to the title...
Jay Wood
10
Posted 23/08/2016 at 23:49:25
What is there not to like in this post?
Very astute management by RK, naming him as skip (knowing how highly valued that honour would be to a lifelong Blue), signalling how highly he rates and trusts Ross, elevating him to a position of such importance and influence.
Check, check and check.
Ross (based on the club's official site radio broadcast in the absence of any tv stream) responded well and played well, scoring a peach which he celebrated in quiet dignity with a tribute to the recently passed scout who discovered him.
Check, check and check.
It's these seemingly small things that many associated with Everton get right time and time again that makes me so proud to be a Blue.
Similarly, with each passing day, in his words and actions, Koeman in many small ways, continues to impress and demonstrate that we are in very good hands with this manager.
James Stewart
11
Posted 23/08/2016 at 23:54:42
A very nice touch by Koeman and it definitely had a positive impact on Barkley. Always thought he could be a Gerrard type figure with the right guidence.
Drew O'Neall
12
Posted 24/08/2016 at 00:14:10
Bad move by Koeman, the honour of becoming Everton captain should have been an ambition retained for use when it mattered unless it was tempered with the line "You could be club captain like Duncan Ferguson or like Everton's Steven Gerrard, if you can consistently reach the levels you are capable of..." Etc
Liam Reilly
13
Posted 24/08/2016 at 00:15:38
I don't think Koeman does nice touches; he sets out his stall to win.
Making Ross captain is a statement that the lad has the talent and now needs to stop with the potential nonsense and prove he's the real deal by taking responsibility.
Great management.
Ste Lewis
14
Posted 24/08/2016 at 00:19:06
Playing in our back garden 1 on 1 with my 6 yr old, it's always "Who are you? I'm Ross Barkley". Tonight we sat centre of the Gwladys, me holding him aloft for the best seat in the house as that free kick went in. Never seen him so happy! Well in Ross! As an aside, very impressed with Gueye again.
John Daley
15
Posted 24/08/2016 at 02:08:57
Drew @12,
How can making Barkley captain tonight be considered a 'bad move'. Even leaving to one side the compassionate grounds behind the choice, did it not pay off? The player himself obviously appreciated it, put in a good, goal scoring, performance and the ambition to captain Everton 'one day' will simply be replaced by the ambition to captain Everton 'again'. The manager will also have learnt a lot about Barkley's willingness and potential to step up and accept more responsibility as a key member of the team, rather than just coast along under the promising kid mantle.
After damn near a decade of having to put up with the team being led out by the flipper footed Phil Neville feigning passion for the cause, it was just nice to once again witness a proper Evertonian and a proper footballer full of pride at being given the honour of wearing the armband at Goodison tonight.

Mike Dolan
16
Posted 24/08/2016 at 02:46:12
John Daley@15 – you nailed it.
Great management, great gestures all around, great to have a real Evertonian as captain.
Good to know that this great club is suddenly doing the little things right again.
Ian Bennett
17
Posted 24/08/2016 at 07:43:41
It was a good move by Koemen, give him the responsibility to see if he grows. Kendall did it with Ferguson, and that turned out really well.
A nice touch from Ross, all the young lads owe the man a lot. An unknown who probably never earned big money, but did it for the love of football and played a vital part.
The other side of the coin was if not Ross last night, then who? Too soon for Williams, where as the rest don't strike me as captain material.
Ian Burns
18
Posted 24/08/2016 at 08:00:03
John Daley - 15 - Your post saves me typing - spot on. I can get on with my toast and marmalade now.
Peter Mills
19
Posted 24/08/2016 at 08:04:46
Delighted for the lad, congratulations, it shows Ross and every young player at the club what can be achieved. He has suffered a bad injury and bad management at Everton and England, this was a shrewd move by Mr Koeman who is clearly looking for him to step up to the plate.
I don't think he quite did that with his performance last night. Too many arracking movements stalled at his feet, perhaps he was trying too hard. I would love to see a top class attacking midfielder alongside him to guide him, and provide that bit of craft currently missing from the team.
Steve Hopkins
20
Posted 24/08/2016 at 08:30:54
A lot of people have been saying this every season but I think this really is the season that Ross
must
shake off his tag of potential star and become a genuine star particularly after what happened (or didn't happen) at the Euros, he's not a kid anymore.
Having said all that it was nice to see him wearing the captain's armband and hopefully the added responsibility will help him make that last step to the greatness he seems to have been forever tipped for
Paul Hay
21
Posted 24/08/2016 at 08:39:35
Good management of a player/situation in my opinion. Absolutely delighted for Ross and I hope that he really enjoyed the experience and as John (15) indicates, inspired him to make it permanent one day.
Job done last night-well done boys.
Keep the faith.
James Morgan
22
Posted 24/08/2016 at 08:44:38
John #15, bang on.
Some people will find any reason to criticise or moan.
Lee Gorre
23
Posted 24/08/2016 at 08:46:19
Bad move Drew? Why who would you have given it to? In terms of time at the club, Barkley was the longest serving on the pitch last night. There weren't any other realistic candidates.
Jim Burns
24
Posted 24/08/2016 at 08:50:32
Ronald Koeman is impressing me quietly more each week - making the right calls with the right players - a proper people manager. Smart move RK.
Congratulations Ross - well deserved praise lad. You had to put up with a lot of shit last season - a lot of it on here.
In my view, a combination of the two managerial inepts - Hodgson and Martinez - between them wrecked your confidence and confused the hell out of you, respectively.
You've always cared and borne the weight of blue expectation heavier than others did and , in my humble opinion, Martinez's reign affected you more than most.
Time to put all that behind you and get back to the sort of performances we know you are capable of - against Man City at Goodison in 2014 sticks in my recent mind - we lost 3-2 eventually, but you tore the arse out of them at times that day.
Well done again young man - blue class.
Gary Edwards
25
Posted 24/08/2016 at 09:14:49
Kase @ #6, Barkley gets more than a fair deal from the fans .. it's so wrong to think otherwise. The level of adoration for him is akin to Rooney before he left & of course big Dunc. He lost his way a bit under Martinez, last season looked overweight and confused... we all want him to succeed and realize his potential.
He needs to buckle down, work hard and be all he can be. If he doesn't, I cannot see this new regime tolerating anything less. IMO he needs to get busier and I'd also like to see him introduce a little bit of aggression into his game, à la Liam Walsh.
Dave Abrahams
26
Posted 24/08/2016 at 09:26:32
Great management by Koeman. One of the things Ross lacks in abundance is confidence, the role of captain, even for one game, is telling him the manager rates and and trusts him.
Barkley wasn't great but you can see an improvement in him since the start of this season; he wants to have a look at the arrogance of Bolasie, who knows and believes how good he is.
Ross has got to believe how good he can become. We keep saying this; hopefully it will eventually get through to him. Little by little, he is getting there.
Dave Ganley
27
Posted 24/08/2016 at 09:44:33
Well done Ross. I've been a critic of Ross's over the last year or so but he really seems to have bought into Koemans new regime and credit where credit is due, Ross had a decent game. I thought his goal was good vision seeing the keeper so far over anticipating the cross.
Also I think it was a great move by RK making him captain and giving him more responsibility,it did seem to galvanise Ross more and he was certainly more vocal too. Well done Ross keep it up, maybe you can become the player we all want you to be.
Nathan Rooney
28
Posted 24/08/2016 at 09:53:02
I think giving Ross the armband was a masterstroke by Ron Koe, and for me Ross didn't disappoint.
I was nearly in tears when he gave his after match interview, as you could see how much Sid meant to him, and what being made captain of Everton meant to him as well.
It must have been special and emotional night for him to lead HIS team out at Goodison, but for me he used the emotion and responsibility very well, and played well on the night, albeit against fairly weak opposition.
He does need to kick on and fulfil his potential, but in Koeman, we now have a manager that I trust and believe will get the best of Ross (and the rest of our team).
Is it any wonder that he has looked shocking at times considering the managerial geniuses he was working with in Bobby and Woy!?!

I know in my own profession, my productivity, drive and commitment piss off into the sunset and I "go through the motions" when I have to deal with incompetent whoppers as my managers on a daily basis, so I can see how Ross may have been affected negatively!
Ernie Baywood
29
Posted 24/08/2016 at 10:26:47
Happy enough with Ron's words here. Ross does need to take more responsibility... a nice move I reckon.
He's becoming a senior player, far from a kid with potential. Time to show it, Ross.
Colin Malone
30
Posted 24/08/2016 at 10:45:54
Well done, Ronald Koeman. We have a great talent in Ross Barkley. The only and I say the only problem with Ross, is he needs to be more responsible on the pitch. So to give Ross that extra responsibility can only help him. Again a great move by RK.
Steve Powell
31
Posted 24/08/2016 at 12:29:15
Agree with Liam Riley @13. This was not a gesture, but good management - give him a taste so that he will work hard to get more.
Ross's celebration was the nice gesture of the evening.

Drew O'Neall
32
Posted 24/08/2016 at 12:53:07
John 15, others
Don't get me wrong, I don't see giving the captaincy to a true blue Evertonian as a bad move and he clearly did put in a captain's performance motivated by receiving the armband.
The point I was making was why waste it on a nothing game only to take it back the following week (presuming that's what he does) when Barkley, as someone we presumably want to keep at the club, can now tick that off his 'ambitions while still at Everton' list.
Does that make sense? My thinking was to hold back the honour until a time when perhaps it was contractually more beneficial or when we needed to arrest a spell of bad form for example. Cynical I know but that's the job of the manager in my opinion, to manipulate circumstances to Everton's best advantage.
Hope that clarifies it wasn't a moan per se.
David Price
33
Posted 24/08/2016 at 17:42:21
Drew, nothing wrong with dipping your tie in first before diving in. Koeman got it right and saw first hand how upset Ross must've been when Sid Benson passed. Superb man management.
Gordon White
34
Posted 24/08/2016 at 18:18:00
I think it was a good idea too. I hope he gets it to keep one day.
Martin Mason
35
Posted 24/08/2016 at 18:45:57
I like Ross Barkley as a player and as a person, he was made up by the promotion and it showed up in a good performance. Whatever Ross is, he is among the best midfielders in the EPL (as he has been at every age level) and if he doesn't meet the expectations of some then I believe that it is the expectations that need looking at.
He is still improving and we have yet to see the best of him and when Koeman says he is a talent, that is a much more meaningful praise than, for example, he has talent. I agree with him, Ross is a genuine talent by any standard and if he gave any hint of wanting to leave I'd say the bidding would be fierce.
Ross dedicated the game to the passing of a loved mentor, most footballers would have dedicated it to "me, me, me". I'm very proud that we can develop and keep players of this calibre
Les Martin
36
Posted 24/08/2016 at 19:29:06
What a great Manager we have now. Ronald realised that this extra bit of responsibility may just tip Ross into the next level, excellent management. A lovely sign of thanks to Mr Benson too.

I am expecting a few who have not been on their game to get the shake up this season. If Rom gets a new contract (which I don't think he needs) then he will earn every penny as I feel Ronald will warm his pants when he is pants.

We are slowly moving to a new level of play and work ethos which is very interesting and I think rewarding soon.
Andy Crooks
38
Posted 24/08/2016 at 21:39:38
I think one of the pleasures of being a supporter is the idea "What if that was me?" – identifying with a lad who has done it and sharing his joy.
It has always given me great pleasure to see Irish lads do well at Everton. Not because of national pride but because it could have been me and I love it for them. Ross being captain last night made me feel really good, really good. I can't explain why but it just did. And he did just great. Well done, RK.
Gordon White
40
Posted 24/08/2016 at 22:06:56
To pick out just a few: Andy (#38) and Martin (#35), very well put. My feelings also.
Listening to him (RB) giving the after-match interview, it gave me a really warm feeling. I think he represents very well what I would like to think is the true Everton Spirit. His family must be so proud.

Tony Draper
42
Posted 24/08/2016 at 22:14:11
I really like Ross, he appears as a decent human being, talented footballer and most importantly, a fellow Evertonian.
Ronald Koeman, in handing the Captain's armband, has formally ended Ross' apprenticeship.
Now, our:
"Diamond called Ross Barkley"
He made you Captain of the Blues,
Koeman expects the best from you,
Show him you're a Toffee through and through!

Go!
Go!
Go Barkley!
Show us what you're made of Rossy!
Make us proud!
Barkley shoot the whole world down!
Steven Jones
44
Posted 25/08/2016 at 08:16:28
Ross is not potential he is real now!
Top scorer already this season and loads of chances created – he laid two gilt chances on for Rom last night... one an open goal, quality delivery.
He is Ace – he is one of us and he has the potential to become even better and through that attract lots of other top stars who are in awe of him. I just loved it early on when he went on one of his runs and took out a couple of defenders, putting one on his arse then laying to Rom.
As well as his work rate, I can see his first-time pass and touch improving as well this season.. Guys, he is knuckling down and he is producing right now – no potential – he led us through this fixture and scored the effective winner with that free kick.
I just love this time at Everton! COYB's!!!
Martin Mason
45
Posted 25/08/2016 at 18:22:16
Ross has gone up a mile in my view for his RIP Syd Benson gesture. Absolute class from a modern player who are normally short on modesty.
Add Your Comments
In order to post a comment, you need to be logged in as a registered user of the site.
Or Sign up as a ToffeeWeb Member — it's free, takes just a few minutes and will allow you to post your comments on articles and Talking Points submissions across the site.
© ToffeeWeb