Everton's League Cup woes continue with Canaries defeat

286 Comments [Jump to last]
20 September
Everton 0 - 2 Norwich City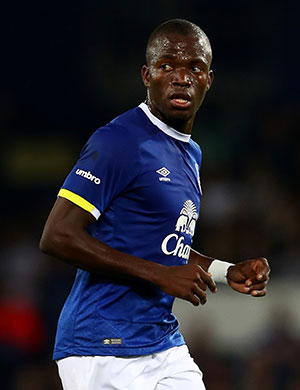 Enner Valencia makes his first start as an Everton player
Matthew Lewis/Getty Images
Ronald Koeman's unbeaten start to life as Everton manager came to an ignominious end as his much-changed side slumped to a miserable defeat to Norwich City and were turfed out of the EFL Cup.
Following in the footsteps of previous Blues bosses, the Dutchman made a raft of alterations to the settled line-up that had won four Premier League games on the bounce but those players charged with staking a claim for greater involvement let him down with a largely toothless display.
Struggling to carve out clear chances at one end, Everton conceded from the only two shots on target the Canaries, who had made 10 changes of their own, managed all evening, with ex-Toffee Steven Naismith scoring on his return to Goodison Park.
Koeman bemoaned his side's luck after the game and there was some sympathy given that the Blues had two goal-bound shots blocked by defenders during the game and John Ruddy made two more decent saves but Romelu Lukaku shone like a beacon in his absence through injury and Everton toiled up front without him.
Enner Valencia had been handed his full debut instead of the Belgian who picked up a toe injury against Middlesbrough on Saturday, while Gerard Deulofeu played off the new loan acquisition in a line-up that offered pace but little in the way of a physical focal point for the attack.
Tom Cleverley made his first start of the season and there were recalls for Ramiro Funes Mori and Mason Holgate in defence, Aaron Lennon in midfield, while Seamus Coleman was handed the captain's armband in the absence of Phil Jagielka.
Things started promisingly enough for Everton but it became clear midway through the first half that there was a worrying lack of cutting edge about them.
After Oliveira had dragged a disappointing shot across goal from the visitors' perspective, Everton took control of the game in the early stages, with Valencia skipping down the left with purpose but only finding goalkeeper John Ruddy with his cross.
Great work down the opposite flank by Coleman ended with a tempting cut-back for Lennon but when the winger's goal-bound shot was blocked by the arm of Steven Whittaker, referee Andrew Madley waved play on and there was no call when Valencia went down under Ruddy's challenge as the pair challenged for the rebound.
A couple of minutes later, Cleverley released Deulofeu down the channel but the Spaniard's side-foot shot was blocked behind by Ruddy and then when Funes Mori sent Valencia scampering to the byline down the left again, his cut-back aimed for Cleverley was cut out by Robbie Brady.
Everton's performance ebbed as the half wore on, however, with the final ball consistently lacking as moves broke down around the opposition box. Barkley and Deulofeu, in particular, were guilty of profligacy with the ball and it led to increasing frustration among the home fans.
A neat move involving the duo looked promising five minutes before the break, however, until Barkley was pulled back illegally and the referee awarded a free just outside the box. Barkley's direct effort was on target but lacked venom and Ruddy was equal to it.
It was Naismith, however, who broke the deadlock at the other end, the picking up Oliveira's flick, surging into a huge hole in Everton's defence and then slicing a shot as he slipped in front of Funes Mori that arced over Stekelenburg and in shortly before half-time.
Everton came out for the second half needing a quick reply and Barkley had an early chance when a headed clearance dropped to him with the goalkeeper off his line but his attempted lob bounced well wide.
Having flattered to deceive for much of the evening, Deulofeu then had a purple patch of activity during which he came ever closer to testing Ruddy. His free kick after another quick move involving Barkley saw Valencia tripped on the edge of the box by Yussuf Mulumbu missed the target by a couple of yards, though and his next two efforts following good work by Lennon both cleared the bar .
Funes Mori, meanwhile, rifled a shot into the side-netting as the Blues continued to press. A lovely pass by Gueye found Deulofeu in space down the channel again and his cut-back to Cleverley was shuffled on to Barkley unmarked on the other side of the box but he wanted too long with the chance and his shot was charged down.
Increasingly in need of some inspiration, Koeman made a double change midway through the second half, with Yannick Bolasie replacing Lennon and Kevin Mirallas coming on for Deulofeu. The changes almost reaped instant rewards when Bolasie's cross was cleared but Funes Mori won a free kick outside the box which Mirallas took and Ruddy clawed away for a corner.
From the resulting set piece, the ball sat up for Valencia as Williams challenged for it but Pritchard blocked the Ecuadorian's cross on the goal-line and was able to divert it behind again.
The size of Everton's task was made that much more difficult when Josh Murphy was allowed to cut inside, progress along the area and that belt an unstoppable shot into the top corner and make it 2-0 with just over a quarter of an hour to go.
Bolasie had a low shot that was straight at the goalkeeper saved before Arouna Kone was thrown on for Mason Holgate with just eight minutes to save the game.
Williams' header off a free kick also found Ruddy's arms while Kyle Lafferty's late tackle on Funes Mori set up another set-piece opportunity but once again it was delivered straight to the keeper.
With time ticking down and home fans filing out of the stands, Gueye smashed an excellent shot goalwards but Ruddy was again on hand to beat it away. Valencia then saw a leaping far-post header drop the wrong side of the post.
Having made such an impressive start to the new season all competitions, this defeat comes as a massive disappointment, particularly given the burning desire among Evertonians to end what will be the club's 22-year trophy drought by the time the League and FA Cup finals are played.
Though his side had chances to score, the performance will hopefully have underlined for Koeman the paucity of alternatives in some key areas of the field, not least in attack where the loss of Lukaku was critical and in central midfield where Gareth Barry remains a vital cog in the machine.
The opportunity to bounce back with an improved display at Bournemouth where the first-choice line-up will hopefully be restored beckons but another dismal exit to lower-division opposition in the League Cup will still leave a sour taste for a few weeks to come.
Full details: ToffeeWeb match page
---
Reader Comments (286)
Note: the following content is not moderated or vetted by the site owners at the time of submission. Comments are the responsibility of the poster. Disclaimer
Mike Allison
1
Posted 20/09/2016 at 19:12:31
Any idea what formation that works out to? Somebody is playing out of position.
Mark Fraser
2
Posted 20/09/2016 at 19:17:02
Looks like it could be a 3-5-2 to me or if we're talking really daft 3-5-1-1...

Andrew Ellams
3
Posted 20/09/2016 at 19:18:53
Funes Mori at left back maybe Mike?
Mike Allison
4
Posted 20/09/2016 at 19:21:13
That's my first thought, but I don't like it. Maybe Coleman at left back or maybe wing backs somehow. Just seems obvious to give Oviedo a run out to me, or Garbutt.
Andy Stone
5
Posted 20/09/2016 at 19:25:41
I imagine Wigan would be less than willing to return Garbutt to us for a cup tie
Matt Garen
6
Posted 20/09/2016 at 19:28:46
My guess would be a back 3, Coleman and Lennon wide, 3 in midfield with Geriand Valencia up front.
Craig Mills
7
Posted 20/09/2016 at 19:29:02
Bit surprised with how many changes after what Koeman said in the press conference yesterday but it still looks a pretty good team.
Colin Glassar
8
Posted 20/09/2016 at 19:31:36
Coleman, Holgate, Williams, Funes Mori – surely?
Andy Stone
9
Posted 20/09/2016 at 19:35:24
Colin (#8) one would think that is how the back four would look. A shame that Browning isn't fit, he would surely have been given a chance and to rest Ashley Williams.
Andy King
10
Posted 20/09/2016 at 19:38:43
I'm not going to lie, I'm completely baffled by that team. I can only see Lennon at left wing back in a 3-5-1-1 formation or Funes Mori at left back in a 4-4-1-1 line-up...
Neither of these players seem particularly suited to those roles, and it must be a kick in the nuts for Oviedo to not get in ahead of them.
He can't be faulted as yet but, with the bench being as strong as it can be, it looks like Koeman knows he's taking a bit of a risk...
John Crawley
11
Posted 20/09/2016 at 19:46:17
Disappointed again that neither Davies or Dowell are being given a chance in this game. No matter how many times we see Cleverley, he's still bang average.
Charlie Martin
12
Posted 20/09/2016 at 19:46:51
Just seen Martinez starts in goal for Forest tonight... Belgium act quickly.
Mike Allison
13
Posted 20/09/2016 at 20:28:10
Sky Score Centre have Colin's back four (8), but then Deulofeu down the middle and Valencia on the left.
Naismith scores as I type...
Michael Polley
14
Posted 20/09/2016 at 20:35:26
Changes at half-time, I reckon...
Mark Morrissey
15
Posted 20/09/2016 at 21:25:47
Why not a full strength side? I know Rom's rested but I want to win some silverware. Surely we want to win this??? Baffled... and now it's 0-2???
Sean Picton
16
Posted 20/09/2016 at 21:38:49
Koeman has learned a lot about his fringe players tonight – Deulofeu, Funes Mori, Lennon, Cleverley, Valencia. Let's hope we can get through to January without any major injuries.
Craig Walker
17
Posted 20/09/2016 at 21:39:18
Barkley isn't good enough I'm afraid. I have a West Ham mate who says the same about Valencia. Not good enough tonight but Koeman is the man to sort it. Let's get back at the weekend and hope for some stadium news soon.
Paul Setter
18
Posted 20/09/2016 at 21:44:30
Think this hits home a little that our back-up really ain't all that, no Bolasie, Mirallas, Baines, Lukaku, Barry and Jagileka and their replacements aren't good enough. I just hope our wheels don't come off now and we can stay on track on how we have been doing...
Mark Morrissey
19
Posted 20/09/2016 at 21:44:52
I won't have a knee jerk reaction and start moaning. I haven't been to the game tonight but I hear Norwich made 10 changes. Does anyone know where the game was lost? Maybe Koeman doesn't fancy this cup.
Tommy Coleman
20
Posted 20/09/2016 at 21:44:59
Infuriating.
Dreadful decision making at crucial times. Summed up by two Barkley chances. 1st chance, he should have hit with his left but cut onto his right and lost the ball. The 2nd chance, he should have hit with his right but cut onto his left and lost the ball.
It's games like this that can derail good form.
Matt Butlin
21
Posted 20/09/2016 at 21:47:57
Oh well. Sooner or later we were going to 'come a cropper'. Glad it was in the 'odd-job-bob-a-job' cup... COYB. 3 more points at the weekend now Koeman knows a bit more about the squad.
Patrick Murphy
22
Posted 20/09/2016 at 21:48:07
Never going to win that trophy, are we? From that point of view, given our lack of real strength in depth, it's possibly not such a bad thing that we only have league games to concentrate on between now and January.
I wanted us to win the game and the trophy, but we weren't good enough tonight and the Canaries fully deserved their passage to the next round. Funnily enough Norwich have a very good record in the League Cup. However, the League Cup, I believe carries a European place for the winners and we have yet again thrown away our chances by too many alterations to the first team and a real lack of cutting edge without the big Belgian.
Very Everton to have the press on their side over the weekend and then screw it up big time against a Championship team. Let's see what reaction we get on Saturday.
Daniel Joseph
23
Posted 20/09/2016 at 21:48:55
Koeman Out
Liam Reilly
24
Posted 20/09/2016 at 21:49:19
Too many changes.
Still, there can be no more excuses about tiredness for the remainder of this season.
Only the best 11 should start.
Andy Crooks
25
Posted 20/09/2016 at 21:50:07
This was coming. If I ever bet on an Everton game, there was money to be made tonight. However, It' s a blip. I do not think it is a reflection on our squad. Our good start has been based on continuity and I think that six changes invited defeat.
I hold the League Cup in high regard and I am gutted we are out. However, there were always going to be days like this. The trend is still upwards.
Oliver Molloy
26
Posted 20/09/2016 at 21:50:11
No excuses, a smash and grab job by Norwich. We should be winning against the likes of Norwich even with changing the side.
Too many below-par performances including the player who a lot of people are still raving about – Ross Barkley. Great players show their class in every game they play in and tonight confirmed beyond any doubt I'm afraid our Ross Barkley is not one of them.
Extremely poor for the umpteenth time against lesser opponents.

Gordon Roberts
27
Posted 20/09/2016 at 21:50:38
A strange starting line-up given Koeman's comments that he planned to make minimal changes in the previous round. Not enough depth in the squad yet – let's all keep the faith.
Gary Mortimer
29
Posted 20/09/2016 at 21:52:06
No doubt Ross will get all the blame, but Deulofeu could have (and should have) won that on his own – instead, he didn't work the keeper from any of the really good opportunities he had.
Valencia, Cleverley and Lennon offered absolutely nothing – just empty spaces where they should have been playing. All of them far too lightweight and ineffectual.
Saying that, we could easily have 2 penalties for handball – the 2nd on the line so a red card too. Mulumbu should have gone after tugging Coleman back when he'd already been booked.
By the way Norwich made 10 changes from their team at the weekend... that was their reserves.
No doubt the media will suddenly remember that we exist now that there's a chance to take the piss.
Tony Kost
30
Posted 20/09/2016 at 21:53:13
A bit of a reality check I suppose. And it's shown what sort of strength in depth we have/haven't.
Onwards and upwards.
Derek Cowell
31
Posted 20/09/2016 at 21:54:50
Maddening!! Every year not matter who the manager is we tamely surrender in this competition and usually to lower league opposition. Last season was an unexpected exception. Why don't we start with the strongest side, get into a winning position as early as possible and then make changes to rest players. six changes to a winning team is too many. Mind you apparently they made a few too and still manages to score twice.
I don't know why we even enter this cup every year if only to let the fans down time and again. Realistically most EPL teams are only playing for two trophies every season and we always surrender one early doors!
Does nobody at the club ever learn!! Pissed off again, like every other season! Did the RS take the piss? I think not!! Will they win it? Well they've got more chance than us again!!
Mark Andrews
32
Posted 20/09/2016 at 21:55:43
Back down to earth with a resounding bump! I'd love to hear the rollocking delivered for that inept performance. All over the park we were poor. Too many players didn't turn up tonight. Not signing a striker is looking like a major problem now as Valencia is ineffective and lightweight. You could pick most of the team tonight and savage them after that display of ineptitude and sloth.

Did Martinez come back for one last hurrah? Ross, what have one touch when 15 will do? Cut away the first team and we've not got a lot left have we?
Frank Crewe
34
Posted 20/09/2016 at 21:56:07
We enter it because it's compulsory.
Jeff Armstrong
35
Posted 20/09/2016 at 21:56:46
Funes Mori is not a left back. It was obvious after 25 minutes. I thought only Coleman, Gueye and Williams came out with a bit of credit, and that includes Koeman who had a stinker.
Eddie Dunn
36
Posted 20/09/2016 at 21:57:28
When asked the other day about our chances of winning the league, Koeman laughed and said it was impossible. Here was the evidence. Our back-up players are simply not good enough.
Lennon, Cleverley and an out-of-position Funes Mori showed us why they are not starters. Without the nous of Baines, Barry and Jags the team lack leadership and tonight we were opened up for both goals, with missed tackles on the edge of the area.
Of course we missed Lukaku, but Barkley was pretty awful, needing too much time and Koeman made the wrong change taking of Geri. Mirallas hit one shot but was otherwise ,anonymous. Kone was simply Kone.
Even Coleman seemed inhibited by the Captaincy and was unwilling to bomb forward until late on. A sobering episode. Perhaps it is better to be rid of this cup, less games is probably a good thing for this squad.
Ray Jacques
37
Posted 20/09/2016 at 22:01:46
Disappointing, but the team chosen should have enough to beat lower-tier opposition at home who also made changes. The fringe players (plus Barkley) have had a chance to impress the manager and the fans and have missed their opportunity probably because as we are all aware, they simply are not good enough for the Premier League and cannot even show quality against a Championship side.
Lets hope we don't suffer injuries or suspensions before January so we can strengthn in the window as the thought of Cleverly, Lennon, Funes Mori and Valencia being starters is not confidence inspiring.
I feel we should give Barkley the benefit of the doubt until Xmas as he no longer has the excuses we make for him such as not coached, managed, questionable fitness that have been trotted out the past two seasons. However that game tonight should have been tailor made for him to dominate and show his quality and I must admit that, with each passing week, I have serious doubts about his ability to learn and improve as he continually makes poor decisions and loses possession.
Richard Lord
38
Posted 20/09/2016 at 22:01:58
This shows how we need some more depth, that's for sure, although it's pretty damning when you think players like Lennon, Cleverley et al aren't able to fill in against a lower league team.
A striker is a must for January, along with midfield creativity...
David Midgley
39
Posted 20/09/2016 at 22:02:01
John (#11) Yes. I didn't know Tom Cleverley was on the pitch. Lennon was ineffective.
Valencia had match time but I think he needs to be alongside somebody. There will be comments about him but I don't think he can be judged by this. He will be fitter and Koeman must see something so I will trust his judgement.
This was a reality check for EFC and us supporters. There are three months to go before the next window and I think a few will still get the opportunity to show what they have, if anything. Some will not be able to step up to the mark and will go and they will bring others in.
Obviously I am disappointed but not too upset. We have been brought back to earth and hopefully we can learn from this. Koeman and the team won't get it every time!!! So let's turn the page and move on.
Peter Murray
40
Posted 20/09/2016 at 22:02:45
Ronald, maybe you can overdo the "fear factor" and maybe next time you are going to have a one-on-one talk with a player who has had a bad game (Ross at Sunderland) you could do so without the details being leaked to rags like the "Daily Star" beforehand.

Doesn't do a lot to help team morale.

Tony Draper
41
Posted 20/09/2016 at 22:03:44
That really was a poor show all round. Fortunately, we haven't been like that every week, so I'm not googling a route to "The Sloth of Despond".
Can't really hide behind the "host of changes" excuse since Norwich made even more of them than we did.
However, making so many changes clearly meant that Koeman & Co genuinely don't give a blow of a ragman's bugle about the EFL Cup.
Danny Broderick
42
Posted 20/09/2016 at 22:05:52
The team picked tonight still should have won the game. I can understand resting Barry, he can't play every game at his age now. Lukaku was injured, and it was an ideal game for Valencia to make his debut. I also think it was an ideal match to give Gerry and Lennon game time.
The one change I wasn't sure about was Funes Mori at left back – he's simply not mobile enough to play there.
In any case, they scored twice from their only 2 shots on goal. We just didn't look dangerous up front.
I understand the changes (mainly) that the manager made. My conclusion is that we don't have much in attack if Lukaku is not there. We need to wrap him in cotton wool.
Ciarán McGlone
43
Posted 20/09/2016 at 22:06:08
This is why our transfer window was disappointing.
Hardly the end of the world, but shows the strength of our alternative team.
Craig Mills
44
Posted 20/09/2016 at 22:07:58
Didn't see that coming tonight – shambles of a performance and not one expected from Koeman. No hiding from the fact this was Norwich City reserves who have mugged us 0-2.
Decisions to change a winning team can knock the confidence of the squad and fans, really poor, embarrassing performance from the players and manager tonight
Derek Cowell
45
Posted 20/09/2016 at 22:08:07
I know it's compulsory to enter this cup but you wouldn't know it from our efforts most seasons! Will we also be happy to surrender in the FA Cup in January when we have players at the African event for a month? Squad players will have to play then as well! People pay good money to attend these games. Maybe the fans should be like the club and simply not bother to attend. Let them do their annual surrender behind closed doors or with just the other teams fans present.

We get nothing to shout about in this cup anyway! I can remember attending three finals against Villa in 1977 and one against the RS in 1984 and we were all taking it seriously then. You wouldn't think that this was the easiest route into Europe each season would you?! Koeman has said that he wants to qualify for the Europa League. Well here was a chance!!
Kevin Rowlands
46
Posted 20/09/2016 at 22:14:59
Back down to earth with a huge bump, on reflection I wish Gueye was rested now, again easily the best player on the pitch. Looking at the positive at least this will confirm to Koeman that the likes of Cleverley, Kone, Lennon just aren't good enough and as for Gibson, injured? He hasn't even played a fucking game this season, the man's stole a living for years.

I love Ross but his and also Geri's decision-making are shocking at the most important point – in the final third, hopefully the manager can sort that out. Anyway, a good win at the weekend and all is well again.
Peter Jamieson
47
Posted 20/09/2016 at 22:16:26
Just proof that the squad isn't good enough.
We have a good 11... even 13 or 14... but beyond that, nothing much.
I'd even forgotten Cleverly was an Everton player.
I'm a firm believer of play your best 11 at all times. If we want to win domestic cups, that is the only way we will.
Andy Crooks
48
Posted 20/09/2016 at 22:16:31
It seems to me that to expect reserves to be selected and, without any game time, play to their best, is ludicrous. To judge players and write them and our squad depth off on the basis of this evening is utterly unfair.
Had this cup been taken very seriously then there would not have been six changes.
Martin Mason
49
Posted 20/09/2016 at 22:20:07
I think is shows how poor players like Lennon, Cleverley and Deulofeu actually are and what a piss poor team we were last year.
Ray Jacques
50
Posted 20/09/2016 at 22:21:13
Liverpool and Arsenal both made lots of changes for games away from home. Didnt do them any harm. Our squad players should be good enough to beat Norwich reserves at home, stop making excuses for them.
Joe Clitherow
51
Posted 20/09/2016 at 22:21:44
Heading home from the game and I'm not sure who was mugged – Everton by Norwich or me for paying for that
I've been a staunch defender of Ross but I thought he was truly shocking tonight. Not only do we lack strength in depth but some of the players we have lack the necessary desire. It's all the more frustrating because this is a competition we can win and should be targeting.
I expect both barrels from Koeman.
Bill Gall
52
Posted 20/09/2016 at 22:21:59
I cannot believe that people think it is okay to go out of this competition. We want to get into European competitions and this was one opportunity to do it. Regardless of the competition, surely it is better to hold up one piece of silverware than none at all.
As for the changes, apart from Valencia, the manager has had these players for 8-10 weeks and should not have to have them play in a game to know what they can do. We are supposed to be building a fortress at Goodison, but going by tonight, we have not even built the walls.
Don Alexander
53
Posted 20/09/2016 at 22:22:58
Nigh on 40 years since the prolific Villa goal poacher Chris Nicholl drove a dagger in our heart in our one and only final we fail again.
I just hope we leave our League Cup jinx at Goodison when we move to pastures new.
For what it's worth Ross again showed worrying absence of instinctive football know-how. Perhaps he'll develop into a good, rather than great, player if Koeman allows his promise even more time than the four years he's now spent as a regular.
Conor Skelly
54
Posted 20/09/2016 at 22:24:01
Without Lukaku, our attack has no point. We didn't treat Norwich with enough respect. If we had of done, we would have taken the few chances we had.
What we learned tonight for sure, is Valencia is and will be an invisible man. He offers literally nothing as a lone striker and, without an adequate back-up to Rom, we play without any point.
Big reality check as far as the squad is concerned.
Max Murphy
55
Posted 20/09/2016 at 22:31:23
Normal service resumed.
On a positive note, out of the League Cup means we can concentrate on finishing mid-table.
John Austin
56
Posted 20/09/2016 at 22:31:39
Yes, we should have won tonight, whatever team we put out. No excuses. But I can't help but think that we have been getting a bit carried away with our start to the season.
Was I the only one who left the ground on Saturday feeling a bit flat? We started badly (again!) and against a better side could have been beaten before we got going. Yes, we had a good 15 or 20 minutes before half-time to win the game but I was disappointed with the second-half performance. I admit that our game management has improved and that there are a number of positives.

For example, we are pressing better and we don't look like losing games like last season. But we gave them too much of the ball and most definitely are not the second best team in the league by a long way. As many have said tonight and previously, we are work in progress. Talk of "doing a Leicester" is crazy – but oh how I would love to have egg on my face at the end of the season!
James Watts
57
Posted 20/09/2016 at 22:32:16
Five things we learnt and confirmed (again) from tonight:
1) Big Ron IS human! That was a shocking team selection (no 'proper' left back?!?). Six changes was stupid. Why oh why oh why did we not start with our strongest team first, then bring on the back-up players when/if we were in a comfortable situation?? Ron's first big mistake. I hope he has learnt from this.
2) Valencia is shite, no matter how much gloss was put on it when he moved across on loan. If Lukaku gets injured, we are well and truly up shit creek. Apart from a bit of pace, he offers even less than Kone. Not getting a good striker in was the biggest balls up of the window and could bite us big time.
3) The enigma that is Ross Barkley. Will it ever be solved? My gut feel is he will be off to Sunderland or Norwich by the time he's 25.
4) Funes Mori, Cleverley & Lennon will unlikely play again this season, barring an injury crisis. Why wasn't Davies starting instead of Cleverley?
5) Even if we had a world XI consisting of Suarez, Messi, Neymar, Ronaldo up front we would still never win this cursed trophy.
A a bonus ... 5) point a). We can now concentrate on winning the title.
Tony Hill
58
Posted 20/09/2016 at 22:32:55
A serious disappointment. The whole occasion was flat and I feared the worst from early on. Full credit to Norwich who I thought were excellent on their own terms but the simple fact is that we have tamely exited one of the three trophies we were contesting this season.
Valencia tried hard but will never be a significant option up front and our impotence minus Lukaku is indeed very obvious. I am also sorry to say that even I am beginning to doubt that Ross is going to come through; his paralysis when he had his big chance tonight was painful to watch.
No need to overreact, and we will re-goup, but I am not going to downplay such an insipid and dispiriting performance.
Bobby Thomas
59
Posted 20/09/2016 at 22:33:01
Did he honestly play Funes Mori left back, or did he go 3 centre backs?
If he played him left back, that's mental.
Patrick Murphy
60
Posted 20/09/2016 at 22:33:02
Andy (#48),
It may well be unfair to criticize the squad or its chances of doing well this season, but we couldn't beat a Norwich team that had made wholesale changes themselves. We weren't unlucky or robbed – we lacked any real fight, desire call it what you will and that's a terrible indictment of those who were selected for the game.
As for the Premier League, I'm back to get us to safety first Ron and then we'll see where we are in relation to seeing European football at Goodison Park next season. The fringe players and perhaps a couple of first team players are not at the necessary level to play consistently well to achieve what we all desire.
As Bill said earlier, the League Cup is possibly the shortest way to gain entry to Europe but, for some reason, nobody has taken it really seriously at Goodison for most of the last 30 years.
Ian Cowhig
61
Posted 20/09/2016 at 22:36:28
If you look at our games this season, It hasn't been all fantastic.
Spurs: First 45 – really good. Should have been 2-up; Second 45 – had to contain Spurs. Stek saved us a point.
WBA: First 40 mins – poor, Goal just before half time got us back in to it. Second 45 – dominated.
Stoke: Not a brilliant game at all. Shaded it, but lucky pen to win it. And a deflected one at that.
Sunderland: First 45 – Poor. Better second half. But only really played really well for a 15 minute period.
Boro: First 20 mins – not good. Again like Sunderland. Played well in a 25 minute period up to half-time. Second half was a non-event.
The main stay this season has been the defensive solidity we have had. Unlike last season, when it was frail and we conceded sometimes 2 goals in very short periods when not playing well. This season, we haven't. So when we have put it together we have still been in the game.
The changes up front with run-outs for Geri, Lennon and Valencia etc in my view were the right call. But I believe we should have kept the defence together as a unit tonight, with Idrissa and Tom Davies in front.
Eddie Dunn
62
Posted 20/09/2016 at 22:39:16
Don, we were in the final in 84 too!
Christy Ring
63
Posted 20/09/2016 at 22:42:54
We lost at home to a Norwich team, who made twice as many changes as us. Koeman was always going to rest a few players, but tonight's selection showed that, without Lukaku, we are totally toothless upfront, unless Niasse miraculously comes good.
Michael Polley
64
Posted 20/09/2016 at 22:43:46
To be fair, the first goal was a bit flukey. Naismith slipped and scooped it over Stek. The second was a good goal that no defence would have stopped, but I agree – we were poor, and Barkley is not learning, which is very worrying.

I wonder if Koeman was using this game as an experiment to see who gets offloaded either in Jan or next sumner. He looked totally disinterested sitting in the dugout.
Max Murphy
65
Posted 20/09/2016 at 22:44:14
My nephew's a Fulham supporter – and he couldn't understand why we went for Stekelenburg. He said Fulham supporters regarded him at best, crap, and were glad to see the back of him.
5 clubs in 5 years says it all. Tonight, no movement for either goal. I don't rate this player.
Peter Mills
66
Posted 20/09/2016 at 22:44:24
That was a very poor performance, it was desperately disappointing to surrender our chance of winning a cup so meekly.
A few players will have had their cards marked (Deulofeu, Cleverley, Valencia), and Barkley did himself no favours at all – what a frustrating lad, we want him to succeed, indulge him even, but so many attacks break down at his feet.
Neil Sagar
67
Posted 20/09/2016 at 22:46:05
Hopefully this won't affect our league form as we are clearly not equipped for a top four fight and prolonged cup runs without adding at least 3 more quality players. Something's got to give and an early exit in the League Cup is the lesser of two evils.
Pete Edwards
68
Posted 20/09/2016 at 22:48:51
Where was Niasse? I hear he's in a bit of goalscoring form right now!!
Patrick Murphy
69
Posted 20/09/2016 at 22:52:18
I think it's a bit rich to start having a go at the keeper who has played fairly well in his matches for Everton so far. What was he supposed to do with a miss-hit shot and a screamer?
Sometimes I think some Blues enjoy losing far more than they do watching their team win. We're out of a cup, it happens, we'll get over it. How? ... well, I don't know yet.
John Wells
70
Posted 20/09/2016 at 22:54:01
To be honest, I could not care less about tonight, it's league, league, league for me. We don't need to waste energy in this cup. We don't need players injured; next season, we can concentrate on this with a better squad which will only be obtained with a huge performance in the league. Lukaku must stay sound.
Paul Conway
71
Posted 20/09/2016 at 22:58:05
This competition is useful for a number of reasons.

1. If you win it you have a chance to redeem your season.
2. If you already have success, it's another feather in your cap.
3. If you get knocked out in the first round by lowly opposition (no disrespect to Norwich!), you get a good opportunity to see how much shite and deadwood remains in your squad and start to dread the AFCON on the horizon, as you assess who you have to replace the participants with!

I watched this match via streaming. One thing's for sure, whatever the language was Aroune Koné's name sounded really spectacular. Such a shame that his performance did not match.

With our current league standing (2nd) and given the performance of certain players against Norwich, I can honestly say we look a right motley crew!
Danny Broderick
72
Posted 20/09/2016 at 23:04:23
Max (65),
Do yourself a favour mate. Watch those goals back again. Big Nev at his best wouldn't have saved either of them.
Stekelenburg has been one of our best players this season. I know he had a few clubs the last few years, but he's clearly not a bad keeper. He's played over 200 games for Ajax, and over 50 for Holland, including a World Cup Final. He's clearly no mug, even if it didn't work out for him at Fulham.
Mark Murphy
73
Posted 20/09/2016 at 23:06:02
I'm in Mallorca and checked on here for the result. Saw the result, yawned, and shrugged!

I went to all three games in the final of 77 and it was fun and ultimately devastating. But since then, I can't say I give a shit for the Redshites cup and can't even remember nor care who won it last season.

Meh!
Rob Halligan
74
Posted 20/09/2016 at 23:06:09
Max Murphy #65 ...are you for real? To blame Stekelenburg is beyond belief. The first goal was an absolute fluke, and the second a fabulous strike which no goalkeeper on earth would have saved.
Apart from the two goals, Stekelenburg had sweet FA to do.
Go and join your nephew watching Fulham. It appears to be your level.
Tony Hill
75
Posted 20/09/2016 at 23:06:35
John (70),
I understand that point of view but I am afraid that tonight confirmed me in my view that we will be doing very well indeed to get top 6 this year and top half may be more realistic. If that sounds gloomy on the basis of a cup result, then I'm sorry but the thinness of our squad is plain and, unless we are very fortunate, we will not be able to put out our first eleven every time.
We are 4 or 5 high quality players short of a serious challenge for the top level of the Premier League.
Anthony Dwyer
77
Posted 20/09/2016 at 23:08:16
Big cock-up for us tonight in my opinion, we can't really win the league, so the cups are important.
Also a huge wake-up call for everyone at the club, it's clear that we have no strength and depth to our squad.
Another big problem is Ross, his confidence is shot again, the lad has to man up and bounce back, he's not mentally strong enough to be a pro player acting like this.
Look back at the likes of David Beckham, look at the problems he had to encounter, getting sent off for England and being hammered at every ground in the country, or being sold without wanting to leave Man Utd. Big players bounce back, they use their bad times to become bigger and better, but Ross seems to shrink every time anyone gives him any type of criticism.
Our squad was tested a little today and it failed miserably: Ross is out of form, Mirallas hasn't done an awful lot, places are there for the taking and no one stood up to the challenge of taking them slots.
Lastly, can Niasse really be any less useful than Valencia, because I seen nothing good in him tonight, he looked like a little boy up against Bassong.
Depressing.
Martin Mason
78
Posted 20/09/2016 at 23:14:52
Will you head-bangers please stop treating this like it's the end of the world, FFS. It will be a very good learning process for the club and will free it from the delusion that the new regime inherited a healthy squad for anything other than survival.

We know where we stand now and the club can act accordingly. We as fans must understand the reality and act like adults in seeing how long it will take to make the transformation that the club is committed to. As fans, we think it should be overnight; as rational adults, we must understand that this is not going to happen.
Max Murphy
79
Posted 20/09/2016 at 23:17:16
Patrick, a player who plays "fairly well" is not what Everton need. We need players who play very well or brilliantly. 20,000 Fulham supporters can't be wrong. If he was a very good player, why has he had 5 clubs in 5 years?
Facts don't lie. Don't you think the Dutch connection had something to do with our manager signing him?
Patrick Murphy
80
Posted 20/09/2016 at 23:19:17
Koeman is just like Moyes and Martinez et al – using Everton FC to feather his nest. I suppose Max and us suckers are paying to watch it, is that what you mean?
Peter Lee
81
Posted 20/09/2016 at 23:19:56
Well, where to start?
Our positive start to the season was down to the manager and the purchases made. We have moved into a solid back four that knows what their individual jobs are as part of a unit with the defensive two and the goalkeeper. We have had pace and aggression beyond that with the exception of Ross Barkley.
Tonight Ronald changed two of the back four but, instead of swapping like for like in Oviedo for Baines, he chose Funes Mori. What did he learn from this? Erm, after 20 minutes he saw that Argentina's first-choice CB isn't a full-back. So change him out.
He confirmed that Holgate is a promising CB with things to learn. Didn't he know this already? He learned that Tom Cleverley isn't Gareth Barry. Well, there's a surprise. He isn't a defensive midfielder so now the manager has confirmed this for himself.
He learned that Valencia is not a central striker, despite the man's moans about being played out of position, wide at West Ham. He learned this after seeing the man on the training ground. He didn't need to set up a team to bang crosses into the box for him to get nowhere near. He didn't need to swap the wingers and try it with two different ones. Valencia does not have the physical presence to do the job.
Hopefully he has learned that Ross Barkley is capable of listening, understanding and trying to change his game but, in the final analysis, he isn't up to the job.
What could he have done differently?
Firstly he shouldn't have given a press conference that suggested he believed in playing a settled team when he had no intention of doing that. He could have started with the usual back four with Gueye and Tom Davies in front of them. He would have learned a bit about Davies I'd suggest. He could have swapped Oviedo in.
He could have "rested" Barkley and given Cleverley a go in the Number 10 hole. Again he would have learned something from that. He could have played Kone, our only realistic centre-forward option if Lukaku is injured, and checked how he got on with two wingers banging it in. He could even have played Valencia and Kone as a front two.
He has seen enough of Deulofeu to know his capabilities. (Anyone giving odds on Barcelona exercising the buy-back clause?) So why not start Lennon on the right? Having swapped him for the second half to the right, why not leave him there with Bolasie on the left wing where he has been at his best so far?
This game plan and the team sent out to deploy it were shambolic. Nothing was gained from this and it was down to the manager. I haven't seen any interviews, I would be impressed if he coughed to that.
Anthony Dwyer
82
Posted 20/09/2016 at 23:21:25
Martin, how does expecting squad players to do a job vs Norwich at home make us irrational?
Stekelenburg, Coleman, Williams, Gana and Barkley are the core of our side, Deulofeu, Lennon, Cleverley, Holgate and Funes Mori have been in and around the first team for a bit now and Valencia is our back up to Rom.
It should have been good enough, the fact it wasn't means we have issues.
We didn't even back Norwich up, we never put pressure on and never really looked like scoring. That for me is a problem.
Martin Mason
83
Posted 20/09/2016 at 23:27:46
Anthony, that is my point, we have problems but we need to accept that these aren't going to be cured overnight. I think we agree really?
Colin Hughes
84
Posted 20/09/2016 at 23:27:56
Niasse, Kone and Valencia all at our club at the same time, has there ever been a time in our history when we have had such a trio of crap strikers all at once?

Howard Bevan
85
Posted 20/09/2016 at 23:28:16
So disappointed. A night when family's could all go together (reduced prices; 㿔 not 𧵄 as normal). Never seen so many young Evertonians in Gwladys St. My kids soooo gutted.
This was a night that can create so many new young supporters for our famous club but we blew it (again). 22 years is far to long. When are we going to take these competition's seriously?
"When are we going to win something?" ask my kids. "I don't know," is my answer. Keep the faith.
Anthony Dwyer
86
Posted 20/09/2016 at 23:32:53
True, Mason, we have to expect better from the so-called pros we have taking a wage from the club. The club messed around too much in the transfer window, we didn't back Koeman enough, we didn't get rid of the proven deadwood.
I think you're right mate, we both seem to know the squad isn't good enough, but we should be able to expect better.
Lee Gorre
87
Posted 20/09/2016 at 23:34:55
Poor team selection tonight, poor use of subs in that it was like-for-like with no changes to the shape. A complete lack of urgency. For the first time, I'm baffled by RK's assessment, hopefully it's s one off.
Best start since 1978-79 ...we beat Wimbledon 8-0 in the cup in that early run, no fucking about with the team back then.
David Pearl
88
Posted 20/09/2016 at 23:35:47
Yes Colin.

Colin Gee
89
Posted 20/09/2016 at 23:37:00
Anyone who thought selling Lukaku in the summer was a good idea, there was your answer tonight...
Let's hope he is fit for Saturday and for the rest of the season.
Tony Hill
90
Posted 20/09/2016 at 23:37:06
Yes, this is a longer project. No need to panic at all and there are still very encouraging signs with our first choice team. Let's keep our expectations steady for this season, let Ronald develop us with the January and summer windows and let's get our new stadium going.
Everything to look forward to but I still feel sick to the stomach after tonight. That feeling never changes for us all when we lose, does it?
Anthony Dwyer
91
Posted 20/09/2016 at 23:37:41
Lee, I agree, mate... first time Koeman has disappointed me too.
I expected a change at half time, I also expected to see Kone with the other 2 sub's when nothing had changed.
2 up top at half-time was a must, imo, Kone or Mirallas at half-time with 2 wide men and 2 centre-mid players.
Not really difficult.
Nick Armitage
92
Posted 20/09/2016 at 23:39:53
Burnley did the same to the shite, sucked it up, scored with their 2 shots and won 2-0.
We've played well this season, Koeman will be pissed off and the players will know that that kind of performance is not acceptable.
Back to the Premier League.
Peter Lee
94
Posted 20/09/2016 at 23:43:11
Nick, difference is they had 20 shots on target and really should have won the game.
Jack Convery
95
Posted 20/09/2016 at 23:45:00
It's down to the players' attitude – take Fabregas at CFC. He's not in the first team so what does he do – he scores twice when chosen to show the manager what he's about. Our bench warmers need a kick up the ass but, as they're seated most of the time, that may be difficult.
Chris Watts
96
Posted 20/09/2016 at 23:45:36
I don't know why people are getting so flustered about this.
Jags and Barry are 34 and 35 respectively. There is no way they can play 3 games in a week so, unless you want to see them knackered for Saturday, they don't play today. Lukaku has a sore toe. Again, if he played tonight and missed 2 league games, people would be up in arms at the stupidity of the manager.
Baines obviously needed a rest as well. Maybe the manager wanted to give Cleverley and Lennon a go to see how they go. By the sound of it they had 2 shots and scored both and we missed a load.
What it does prove as many have mentioned is that we have a lot of average Martinez signings who are simply not good enough. Valencia isn't good enough backup to Lukaku and we really should have done better on TDD/
I can't understand why Davies didn't play though.
Max Murphy
97
Posted 20/09/2016 at 23:45:40
Patrick, every manager wants to "feather their nest" no matter what club they're with. Naturally they want to be successful, as it enhances their careers, which leads to bigger wage packets. In my mind, Koeman used nationalistic nepotism, instead of his footballing judgement, when he signed Stekelenburg.
I agree, I was a sucker watching a terrible Everton side get defeated by, what was essentially, Norwich reserves c AT HOME!
Dave Lynch
98
Posted 20/09/2016 at 23:48:21
Errrr...
That's cup football, one team goes through and one doesn't.
There have been multitudes of Premier League teams who have been beaten in cup competitions over the years, it was just unfortunate that tonight was our turn.
Onwards and upwards.
Patrick Murphy
99
Posted 20/09/2016 at 23:48:32
It's good to find out the facts about how our neighbours performed even in defeat some weeks ago, such a good thing to read about after we've been dumped out of a competition on home turf by a Championship reserve team.
I must remember to start watching the RS on more occasions aside from their annual visit to Goodison, so that I too will be fully aware of how they are playing and the reasons why they get the results they do... but I'm an unsociable so-and-so and that just ain't gonna happen.
Ernie Baywood
100
Posted 20/09/2016 at 23:52:56
Well this game was effectively the same as our games to date. Restricting our opponents' chances and creating more for ourselves. The difference here was a bit of luck for Norwich and a lack of real cutting edge from us.
I'm not going to say "It's only the League Cup" as this was one of our best chances of silverware. It was important. I had no issue with the changes though – you've got to make them sometime and the middle of three games in a week is the obvious time.
The only plus I'll take is that sometimes you need a reality check. It will take a huge effort for this current squad to do well given the lack of depth in key areas. They should now realise that. And the club should know more about what is required in January.
Roll on the weekend.
Danny Broderick
101
Posted 20/09/2016 at 23:53:00
Colin (#84),
I remember us having Angell and Barlow as back-up strikers in the '90s. I also remember Walter Smith persisting with Steve Watson up front.
I went to West Brom away a few years back on New Year's Day and we brought on Anichebe and the Stracq in search of a goal! Admittedly we won that one 1-0 in the end!
Our strikers could be better, but sadly we have had shite up front before. Remember Bakayoko?!
Teddy Bertin
102
Posted 20/09/2016 at 00:04:04
Max (#65) even Van Der Saar looked poor some weeks at Fulham. I wouldn't judge any goalies on their performances there. Awful defence for as long as I can remember apart from an uncharacteristic solid back line under Roy Hodgson.
John Daley
103
Posted 21/09/2016 at 00:05:59
I'd be inclined to cut Koeman some slack tonight. It wasn't simply about 'resting' players or not really being arsed about progressing in this competition. It's still relatively early days in his reign and he'll still be in the process of running the rule over certain players.
It's all well and good people saying 'he's been playing I Spy with them for eight weeks now', but the only way he can truly discover if they're capable of cutting the mustard is by seeing how they cope in competitive matches and situations where there's more at stake than being made to look a bit of a twat in training.
No surprise to see Barkley being singled out for a slating again even though most around him were equally as poor. Deulofeu was, in my opinion, the most wasteful player on the pitch by far. For someone whose raw speed poses such problems for opposing defenders and gets him into promising positions in front of goal several times throughout a game, his reading of the resulting situations is poor and he scores nowhere near as often as he should. Couldn't finish a fucking Mr Men book most of the time.
Patrick Murphy
104
Posted 21/09/2016 at 00:07:59
It's not as if we are unused to bowing out of this competition, more often than not when we least expect it, as this piece from five years ago illustrates. Since that piece was written we have lost to Leeds (A) 1-2, Fulham (A) 1-2, Swansea (A) 0-3, City Semi-final aggregate defeat and of course tonight.
Colin Malone
105
Posted 21/09/2016 at 00:12:53
Ross Barkley has peaked.
Looking at that display tonight, is Leon Osman worse than any of them players, excluding Gana?
Dominic Tonge
106
Posted 20/09/2016 at 00:18:18
Hmmm, that was not great. I do feel that Ross was just trying too hard tonight – it was as if he realised we were toothless and was trying to force things. He needs to learn to win his battle, play simple early on and build his momentum in games.
Lennon is pointless, Deulofeu was as culpable as Ross with the poor decision making, in fact worse to be frank.
Gutted.
Stan Schofield
107
Posted 21/09/2016 at 00:19:16
There's a bit of an over-reaction from some posts on here. Yesterday, we were doing great, but now it's a disaster apparently.
I thought we knew the squad lacked depth, and that we had a good core of 11-13? It's a cup game, and cup games are unpredictable and liable to give upsets by their very nature.
If we win 4-0 on Saturday everything will no doubt be brilliant again, and Koeman will no doubt be a genius. Let's hope the team doesn't react like TW.
David Pearl
108
Posted 21/09/2016 at 00:25:37
I remember John Spencer playing for us; unfortunately Valencia is the same type of player as Niasse. Strange one.
Leicester won the league with a small strong core of players but we need our core players to stay fit and have the same consistency to maintain our position. Not likely.
Certain players need to grow up. We have too many players not to be trusted... Basically all of our forward players. Hopefully they bounce back and show they mean business on the weekend.

Jon Cox
109
Posted 20/09/2016 at 00:28:21
It was the sheer lack of interest that got me.
Three or four of them tonight need to be looking over their shoulders come January.
Including Ross and Del.
Keith Monaghan
110
Posted 21/09/2016 at 00:28:36
Ant @ 82 – if Ross is part of the core of our side we are in deep trouble. Tonight was another typical performance by him; game after game he is consistently poor – slow & laboured, too many touches on the ball to no effect, very bad decision-making, lazy & non-participant when he doesn't have the ball, hides instead of making himself available to receive the ball from team-mates.
He's been around the Premier League for 5+years and still makes very basic mistakes – Koeman I suspect has him sussed out – the only thing saving him is the absence of decent creative midfield player.
Others played poorly of course, so it's not all abut him – but Moyes, Warnock, Hodgson & Allardyce aren't all wrong. He was very lucky to be in the England squad at the Euros – a sad reflection of the lack of decent English creative midfield players in the EPL.
As disappointed as I was tonight, it wasn't a waste – we should have won – and it wasn't Stek's fault we didn't. Our build-up play was too slow and laboured until Mirallas & Bolasie came on, and some of the finishing very poor.
Howard Bevan
112
Posted 21/09/2016 at 00:34:33
I just want to see my team win something . 1984 first cup I ever saw us win will always be my proudest moment supporting this magnificent club . Waving my flag . Turning round to my Dad and saying ' I want to go to school next week..!! ' . We need to take these competition's seriously .My kids have not been there . Lack of atmosphere again tonight . 22 years is too long .
Michael Long
113
Posted 21/09/2016 at 00:43:57
First of all, how can you take a competition seriously if you make 6 changes to a team who are 2nd in the league?
Stekelenburg, Coleman, Williams and Gueye were the only players that looked reliable, yet they are in our XI every week, which shows how useless the majority of others are.
I felt sorry for Valencia tonight. He got poor service from Barkley and Deulofeu. Lennon tried, yet he was taken off instead of Deulofeu... or Barkley.
Holgate is not a centre-back, Funes Mori is not a left-back. However, Cleverley and Kone should be nowhere near that 18, let alone the 11. If you wanted to give players a chance, give Davies, Dowell, Walsh or dare I say it... Niasse.
Meanwhile, I'm more confident Koeman can turn it around, unlike the other soft shite we had in Martinez. Just a shame we don't take any cup competition seriously.
Bournemouth next, hopefully redeem ourselves. Be tough but let's hope.
ps: Back to Gueye, I love the lad so much, him and Barry look great, however he was completely isolated to a certain aspect because the lack of service from Cleverley and Barkley. Either get stuck in, or fuck off, the pair of them.

Jack Cross
114
Posted 21/09/2016 at 00:54:10
It doesn't matter who you play, unless there are injuries (Lukaku), your strongest team should be on the pitch.
This is another lost route to Europe.
As for resting players, they have played 5 games for god's sake.
I think if we have one or two injuries we will cope. But it did bring home that we need a lot cleared out and I'd include Barkley. He as had enough chances. Being scouse, is just not enough to keep his place.
Peter Cummings
115
Posted 21/09/2016 at 00:54:33
Koeman stated before the game that he would treat Norwich with ''the greatest respect'' then proceeded to rip a winning team to shreds when even they fielded a reserve team, It was back to the Martinez era with a bang,
I hate to say it but if ever a team is in a false position in the table, it is Everton FC. Evident, as John Austen #56, mentioned against both, Sunderland and 'Boro when we let both of them off the hook instead of swamping them. At the time, I posted the lack of a killer instinct; even against Stoke, who have conceded 8 goals in two games, we were sadly lacking and could easily have lost,
The sad fact is, if we have to rely on a single, and erratic, striker in Lukaku, the writing will be on the wall in no time. Heads will have to roll, starting I regret to say with Ross Barkley as well as the resident dross the club is saddled with. Maybe we could try pairing Niasse with Lukaku up front, just a thought. I just hope we can silence the many naysayers, myself included, to believe in miracles.
John Raftery
116
Posted 21/09/2016 at 00:59:44
All Premier League managers know that they are now judged only on league results. The cup competitions provide light relief but winning one or both of them will not save a manager's job if league results fail to match expectations. One can understand therefore that any sensible manager will prioritise the league position over silverware.
That said, assuming our manager was keen to keep the feelgood factor going at Goodison, he slipped up tonight on several fronts. There were too many changes of personnel while the formation was never going to trouble a packed defence. Valencia was totally isolated in the middle until Kone arrived with only seven minutes to go. The 68th minute introduction of Bolasie and Mirallas for Lennon and Deulofeu was a like-for-like change which failed to address the lack of a physical presence up front.
The match proved yet again that without Barry and Lukaku the team cannot function as an effective unit. Despite the arrival of a new management team and several new signings, our dependency on those two remains as significant now as it has been for the past three years.
A consolation is that we can concentrate on the league for the next three months. Moreover, we will not have a two legged semi final to worry about in January when we will most likely be without Gana and Bolasie who will be in Africa.
Anthony Dwyer
117
Posted 21/09/2016 at 01:01:40
Keith, I'm inclined to agree with most of what you are saying, but I still hold some hope for Ross. He's back to hiding and over-thinking his play, he really needs to man up.
I don't think he's a poor player though, not even close. He is a decent player who has the ability to be a really good player, whether or not he has what it takes to step up to the plate is debatable.
Deulofeu is a similar player in that he's got bags of ability and one may say potential, but at 22 he has to have more than just potential.
One thing I would add about Ross being a core member of our team is that I can't think of anyone in our squad capable of taking his place. Dowell may be the best bet but Koeman hasn't given him any time as of yet.
Gordon Crawford
118
Posted 21/09/2016 at 01:48:14
Manager's first big mistake. Play your strongest team always. Brian Clough would have played his first eleven against a pub team. But Koeman is a smart man and he will learn.
Max, to blame the keeper is ridiculous. He has been inspired since we signed him. Too many players are just not good enough tonight and that showed.
As for Ross, I am very concerned about his form. He isn't the same player from 3 years ago. I do believe his head is pickled. I am struggling to see how he will ever improve.
Si Cooper
119
Posted 21/09/2016 at 01:50:02
Unfortunately tonight was simply confirmation that the squad is worryingly thin in some areas unless some of the youngsters can make the grade this season.
Tom Cleverley just isn't good enough. Did nothing to impress and disgracefully avoided putting a challenge in when they scored their second. And I expected Valencia to show far more desire given his opportunity to lead the line.
If we are to attract top players to join us, then performances like tonight need to be very rare this season. In an ideal world, we could be dismissive of this competition; for where the club is at the moment this is a sheer waste of a reasonable chance of competitive success.
Howard Bevan
122
Posted 21/09/2016 at 02:53:04
Why, why, why, why do we change teams for competitions that can get you into Europe??? ER's medal around his neck. 22 years.
Bill Gienapp
123
Posted 21/09/2016 at 03:33:40
Disappointing result, but all these supporters frantically reverting to the attitude that the club is in a state of crisis and completely dismissing our otherwise great start as a mirage seriously need to get a grip. Arsenal got bounced from the League Cup by Sheffield Wednesday last season. Leicester City were eliminated by Hull. Shit happens.
Personally, I had little issue with the squad selection, other than Funes Mori starting at left back and maybe Cleverley getting the nod over Tom Davies (which would have been moot anyway, if McCarthy were healthy). It's easy to brazenly demand we send out our best XI every match, but Barry and Jagielka aren't pack mules, for God's sake – you're going to run them into the ground if you don't permit them the occasional rest.
It was obvious Lukaku wouldn't be playing after his injury scare on Saturday. And Lennon and Deulofeu should be more than capable of filling in for a match such as this. In fact, a week ago, many were demanding that Deulofeu be inserted in the starting XI... now, apparently, he's crap and should be dropped altogether until we can unload him in January. Yeah, okay. Sure.
Peter Barry
124
Posted 21/09/2016 at 05:01:43
I have watched us play all our games this season and, apart from the Sunderland second half, we have looked decidedly MEDIOCRE.
Apart from the Spurs game that we were lucky to get a draw in, we have picked up points from the most likely places we should be getting them from in a normal season. But in no game have we looked DOMINANT and likely Champions.
But as usual many Evertonians let their dreams and wishes cloud their rational judgement. Come down out of the fantasy clouds guys before you are made to by reality.
Rafizi Ariffin
125
Posted 21/09/2016 at 05:10:18
If Lukaku is out injured, we'll be in trouble. We really need a backup striker URGENTLY. Not sure if we can wait till January. IMO, Valencia's too light. Kone's too relaxed. Who else have we got.? Niasse... surely we can't rely on him as Koeman does not fancy him at all.
How about our young strikers in the Under-23s? Are they up to the standards of our 1st team (the likes of Dyson, Brewster, Duffus, Calvert-Lewin)?
Darren Hind
126
Posted 21/09/2016 at 05:28:31
I think this shows the transfer window was far from being a complete success. Why oh fucking why were we chasing yard dogs like Sissoko when players like Bony and Negredo were available on loan?
I know some will insist we have alternatives and that theory may well work in the lower reaches or even in soccer, but in top end football you need viable alternatives. Niasse and Kone have long since had their limitations exposed, Valencia isn't good enough either... and what the fuck are we doing trying a lightweight winger up top?
It would have been nice to buy a 25-goal-a-season man, of course, but we needed to at least sign a "presence" – somebody who knows how to occupy a pair of central defenders.
We are stuck until January, Lukaku has no partner. He has no deputy and, worst of all, he has no competition.
As it stands now, our entire season depends on (A) Lukaku being fit and (B) Lukaku being in the mood.
Paul Ferry
127
Posted 21/09/2016 at 05:33:16
Very simple, Peter Barry; look at the equivalent games last season and how many points we got. We battered Spurs, by the way, and THEY were very lucky to get a draw.
Do you – deary me – think that the 2nd half v Sunderland and minutes 30-45 v 'Boro were... erm... 'MEDIOCRE'???
Brian Porter
128
Posted 21/09/2016 at 06:21:40
Lots of rhetoric and panic talk here at present.
OK, Koeman got it wrong this time. Six changes to a settled team was too many if he wanted to maintain continuity of our good form but some of the comments here about some of the players used last night really surprise me.
So, according to some, Funes Mori isn't good enough for Everton but is good enough to be a regular starter for Argentina? This is the guy who recently kept Suarez in his pocket for 90 minutes in a World Cup qualifier and was played out of position last night, not his fault.
Lennon didn't too too badly at all and made some good runs and telling passes. Valencia was playing his first full game with players he's not well acquainted with and maybe needs time to settle. Agreed, Cleverley was poor, but Stek couldn't be blamed for either goal yet some are calling for his head too.
The major blame, imo, lies in Koeman making too many changes to a winning team when maybe three would have been enough, together with some terrible finishing by Deulofeo and a tepid display from Barkley. Three points on Saturday is now vital to get us back on track in the league and we can hope that Koeman has learned a big lesson from last night.
Paul Tran
129
Posted 21/09/2016 at 06:22:18
Once again, Barry's absence showed. Once again, Lukaku's absence showed. The best teams have a strong spine and without those two, our spine isn't strong enough.
Barkley and Deufelou are two talented players with a complete lack of nous. There's only so long you can put lack of nous down to being promising. I suspect playing for us will prove the high point in heir careers.
Harsh to judge Valencia on one game. Darren's point about presence is a good one. When Lukaku is poor, he still creates space for others.
A very disappointing result and performance. Koeman said the right things afterwards, but I bet he's marked his card for a few of them last night. Him and Walsh need to get some irons in the fire by January.
Dave Ganley
130
Posted 21/09/2016 at 06:30:50
I thought this was a throwback to last season. Lots of possession but no cutting edge. But toothless really. I thought Valencia may be ok with decent players around him but last night he didn't have that.
If I was Big Ron I would have Deloufeu practising day after day at the training ground one on ones. You never have the feeling he will score when through on goal and last night proved that again. Ross was poor again. Will he ever prove to be consistent?
Lennon Cleverley and Funes Mori will only ever be squad players, just not good enough for regular first team football, although bit of sympathy with Funes Mori playing left back, although always prone to error as shown last night.
All-in-all very disappointing. We should be beating Norwich at home regardless of what team we put out. No excuses.
Paul Smith
131
Posted 21/09/2016 at 07:29:06
Assuming Koeman wanted to show his sentimental side and give the fringe players a game, it backfired big time. I don't blame him, he must want to accommodate Cleverley, Funes Mori, Lennon et al but I prefer the ruthless Koeman taking every game as if his career at Everton depended on it.
Well done to Naisy, btw, and I'm reminded of just what a thoughtful and amazing fan base we have when he scored. Roll on Saturday, I will be there at Bournemouth believing again.
Joe O'Brien
132
Posted 21/09/2016 at 07:38:28
Before the match, a lot on here were saying we should ring the changes and see how the 2nd string get on. We do so and lose then all of a sudden the view changes to, big mistake by Koeman he made too many changes.
Nothing like a cup exit to get the old ToffeeWeb back to its best. It was the EFL Cup ffs... not for one minute am I saying I wouldn't have liked to win it, but we made changes, players who haven't played that much under Koeman and still in the Martinez mindset. It'll take at least 3 windows to get the squad Koeman wants. He's still playing what he inherited.
We lost; it was an upset. Happens every year to different teams. No need to be so quick to press the panic button.
We go again on Saturday against Bournemouth, where I fully expect 3 more points to remain 2nd in the league.
Steve Harris
133
Posted 21/09/2016 at 07:51:59
Paul (#131), seems strange to me that our "thoughtful and amazing fan base" can applaud an ex-player when he scores against us but the same 'thoughtful' fans can't wait to berate Barkley (who actually still plays for us) every time he touches the ball!!
Andrew Clare
134
Posted 21/09/2016 at 07:55:23
The most disappointing thing apart from losing was that Norwich, a division below us, also played a weakened team. Too many changes made the players look worse than they are, as they are just not used to playing together.
Koeman must already have had a good idea what's required in January but after last night he will have no doubts at all.
Eddie Dunn
135
Posted 21/09/2016 at 08:14:53
Peter Lee , you make some very good points and it is clear that Koeman got his selection wrong.
Max Murphy, how can you criticise Stek for either goal "no movement"! The first looped over him and the second one was pinged beautifully into the top corner.
Michael Polley "No defence would have stopped" the second goal. The defence could have got to Murphy quicker and closed him down.
Valencia is no Rom, but could work off the main striker with two up top. However, it was puzzling to see us popping crosses over for their big centre halves to have heading practise, with no height of our own in the box.
Geri at least had a go at the defence and had he stayed on might have eventually scored. Kevin, on the other hand ran into blind alleys when he appeared.
As others have said, with Jags and Baines back in and Barry in the middle, we will have our solidity again. Most worrying though, is our dependence on Lukaku. The lack of an alternative who can hold the ball up, and provide an aerial threat will surely cost us later in the season.
Even someone like Adebayor or Crouch off the bench gives you these qualities. You don't have to break the bank to find an old pro who can do the basics.
Paul Smith
136
Posted 21/09/2016 at 08:41:45
Steve, the same question was asked on Sky.
I can only put it down to pure frustration at a homegrown talent that I/we have put so much faith and belief in *rightly or wrongly* turning out to be another Jack Rodwell. I'm /we're all gutted mate.
Dave Pritchard
137
Posted 21/09/2016 at 08:42:03
We can't just point at our changes as the reason for this defeat. Norwich had their reserve team out after 10 changes. Reality check after beating some of the lesser Premier League teams. Saturday will be interesting to see if the first eleven can get back on track.
Paul Hughes
138
Posted 21/09/2016 at 08:45:08
Merson seems to have called it correctly, we have only 13 decent players. The 'fringe' players selected: Lennon, Deulofeu, Cleverley, Holgate, Valencia, should have been making an unanswerable 'pick me !' statement. None of them came close to doing that. Funes Mori is excused because he was played out of position.
Added to that, Barkley was truly dreadful, lack of technique and poor decision-making throughout.
I also thought Koeman missed a trick with the 'like for like' substitutions he made. It was clear to me that Valencia is no lone striker, and so he needed, as the only option, Kone alongside him for longer than 5 minutes.
Oh well, at least that means no more grim midweek journeys around Manchester – just the joy of Friday rush hour traffic to look forward to for the next home game.
Tony McNulty
139
Posted 21/09/2016 at 09:22:26
Disappointing, but two time-honoured Goodison traditions were kept alive:
(1) applauding former players who were rated for their attitude, honesty and service to Everton (Jimmy Gabriel was applauded in the same way when he scored on his return to Goodison).
(2) screwing up in the League/Milk/Martin Scorcese (or whatever it is now called) Cup.
Stan Schofield
140
Posted 21/09/2016 at 09:23:22
It would have been nice to have progressed in this competition, but quite frankly the league does take priority, and if we want to progress in the league we cannot play the 'core players' (11-13, or whatever) in every game; EFL Cup games have to take a lower priority when working with the squad we've got.
All 'top teams' have this problem, they haven't all got squad strength-in-depth, having to MANAGE what they do have. Well, that's what Koeman is doing, managing the situation, against a backdrop where he's already made it clear that we need to strengthen the squad. Lighten up, fellow blues!
Paul Burns
141
Posted 21/09/2016 at 09:25:07
Garbage. A month into the new season and we're down to being left with just the FA Cup to win already.
The transfer dealings were again an embarrassment, it seems we will never learn. No wonder all the young kids don't want to support Everton, this level of performance has been killing the club for decades.
Tony Abrahams
142
Posted 21/09/2016 at 09:27:49
Some good points made by Peter Lee, the most obvious point was made by Darren, but the most interesting point was deffo made by John@116.
That first sentence got me thinking John, and the more I thought about it, the more I think how fucking sad English football has now become.
It used to be about winning cups but, after 11 years of Moyes, we should know better than anyone that football in England is now about consolidating your league form to keep the money rolling in.
Coming 4th now means that there is more money in less glory? It's all about the money... money... money!
Stan Schofield
143
Posted 21/09/2016 at 09:31:23
@140 I should have said EFL rather than EPL. That's how important the league cup is, couldn't even remember what it's called.
Paul @141: If that isn't a defeatist attitude, I don't know what is. Only the FA Cup? What about European qualification through a good league position? Or, dare I say, winning the fucking league itself, despite what Koeman pretty much has to say in public?
Just trying to cheer you up mate, but looks like I'll fail miserably!
Trevor Peers
144
Posted 21/09/2016 at 09:32:45
It was obvious before the season started our main problems lay across our attacking midfield. Lack of creativity, goalscores and power from this area is holding us back; I'm convinced Koeman knows that and will rectify the situation, but it will take time.
Two from Barkley, Deulofeu and Mirallas, need replacing with quality, so far only Bolasie has been added. Last night just highlighted how much we depend on Barry and Lukaku to carry the team forward, without them we are struggling.
Koeman probably got the team selection wrong, but it must of been a shock for him to see how flat the performance was, with squad player's like Lennon and Cleverley coming in and just not performing.
Valencia looked lost up top, 4-4-2 would suit him better, but we definitely need another quality striker.
Stan Schofield
145
Posted 21/09/2016 at 09:35:11
Tony @142: Really? If I felt like that, I'd just vote with my feet, and not bother watching anymore.
Dave Ganley
146
Posted 21/09/2016 at 10:04:29
Steve (#133), I'm not sure where you got your assertion that everyone berates Barkley every time he touches the ball nobody I saw or heard at the ground did that last night. Having said that, it shouldn't detract from the fact that he was poor yet again last night. I do have a certain amount of sympathy for Ross as he, imo, has been very poorly coached over the last 3 years.
Having said that, he is an experienced player now with over 100 appearances and should be consistently doing better. He seems to be having more poor to average games than influential games. It's time for him to step up to the plate and deliver on a consistent basis.
Mark Wilson
147
Posted 21/09/2016 at 10:06:07
Those who defended that dire last few days of the transfer window and made the usual silly jokes about "fume" etc etc, take a look at the replay of this pathetic defeat and see why the rest of us were so critical of the club then. This cup exit was made in three days at the end of August, though there was help from the notion that we could make six changes to a winning team and not see the impact.
Yes, Norwich City made even more changes but they had a plan and it worked, which essentially was to stay deep and hope for a bit of magic. Well, they got a Naisy lucky goal and a bit of magic, but it was all that was needed as our so called fringe players and a few so called regulars, let everyone down, again.
I expected to see a rush to defend Koeman. He's an impressive manager who until this defeat had talked straight and the respect was well earned. A decent start against nobody really has helped. But all this crap about the league and doing a Leicester is fine as excitable fan talk or punditry goes, bottom line the EFL Cup is was a real priority this season, alongside but not second too a decent league position and maybe something in the FA Cup. We've thrown ourselves out of the EFL Cup and it's just not good enough to wax on about fume and over reactions.
Where's our standards gone? Destroyed by Martinez I guess but this time things should have been different. We ballsed-up the transfer window so badly it's not true. Gueye a major success. Yes. Amazing value, but he arrived before Walsh tho I now see the latter is being hailed as the hero of that deal... how? Williams looked a great buy to me but I'm underwhelmed so far, thought he was awful last night. Holgate has so much potential but he struggled against Norwich reserves and its right that he's going to need time. Interesting to see him in his alleged best position under no pressure. I feel he may be an outstanding defender in three at the back with wing backs scenario. Valencia wanted No 9 but we will never win anything in the air with him there, he's got pace and has to be played of the centre forward... but you can see why West Ham felt they could let him go, he's neither a winger (we have plenty) nor an out n out striker.
As for poor Ross B I despair. We all wanted and hoped for so much from the guy but it's never really happening is it ? Better than a Rodwell by far but there's something missing there, a football brain, something to see the best pass, to stop the headless chicken impressions. He try's, a lot. He cares, a lot. He's one of us I'm sure. But that's not enough. Sadly.
The only hope with him is to take him out of the firing line again and really work with him, that's why we've paid a huge sum for Koeman and his team. Keep him involved on the bench but re think his position. I've changed my mind after the last few weeks. I think he's worth a proper go right up top alongside Rom but before that he needs to sit out some games.
We have it in us to beat Bournemouth then Palace despite this lost momentum. But please don't diminish this defeat by a Championship reserve side. It was far worse than many here suggest. We aren't paying £6 million a year for a manager to make mistakes. That sounds harsh but that's why we upped our game, allegedly, in chasing Koeman so hard. We do have a few real positives to get us through till January but poor value or not, we must strengthen and build quality in January or things will go badly wrong if injuries hit us. Meanwhile, I haven't lost the faith etc etc but I am in fume mode if you like because we've lost momentum when it didn't need to happen.
Frank Banterwaite
148
Posted 21/09/2016 at 10:13:07
Mark Wilson (#147) – Can you explain why "We ballsed up the transfer window so badly it's not true"?
Do you want to see players coming to the club who don't want to play for us but are doing it just for the money? A la Alex Nyarko or Ibrahim Bakayoko?
We had a fantastic transfer window – it is going to take time for RoKo to rebuild the squad and it would be ridiculous to think he could do it all in one transfer window immediately after he has joined the club. I'd rather he assess his options and then makes a value judgement on who he buys and sells in January or at the end of the season.
Stan Schofield
149
Posted 21/09/2016 at 10:17:40
I'm defending Koeman. What he said at end of post-match presser last night is important:
"We didn't throw a party after thirteen points from five [games] and we don't cry after tonight. It's football. We're disappointed and tomorrow we start preparing for the Bournemouth match this Saturday."
Apart from what he's doing at the moment, I'm not sure what else he could reasonably do, given the squad we have.
Tony Abrahams
150
Posted 21/09/2016 at 10:37:03
I think I'm just stating the way it is for most teams in the Premier League, Stan, and I do think the drug is leaving me very slowly.
A cup or 4th? Fuck running round Wembley for a day, it just doesn't pay enough! Ask Van Gaal.
Chris Williams
151
Posted 21/09/2016 at 10:47:33
Tony,
I've had the same feeling from time to time in recent years, and what you say is undeniably true.
But it passes usually.
This could be an exciting time but it will unfold gradually I guess, with stumbles along the way.
I'm persevering, and counting my blessings. At least I support a proper club with decent values supported by real supporters albeit in a shitty system.
John Daley
152
Posted 21/09/2016 at 10:47:40
"Gueye a major success. Yes. Amazing value, but he arrived before Walsh though I now see the latter is being hailed as the hero of that deal... how?"
That's incorrect. Walsh was already at Everton when Gueye signed.
Terry Underwood
153
Posted 21/09/2016 at 10:50:01
OK we lost in the League Cup or whatever it is now. No big deal, forget it... move on. Bigger fish to fry.
Let's not start turning on the manager and players. Back to the league, let's get the bread and butter right, then we can start chasing the cake.
Brian Harrison
154
Posted 21/09/2016 at 10:58:50
Last night's result was not because Koeman picked the wrong team nor was it down to the transfer window. We had nearly all the possession had enough chances to have won the game easily. We wasted some excellent chances; irrespective of who you are playing, you squander that many chances, then you usually pay the price.
As he said after the game he was disappointed with the result but like the professional he is he wasn't shouting from the rooftops after a good start to the league. So he will no doubt behind closed doors tell the players that wasn't good enough.
I wish that our home crowd was more like our away fans, whenever you go away our fans are brilliant but at home they don't seem to have the same enthusiasm. Why I don't know but considering we have made a good start to the campaign, Goodison has become very very quiet for long periods. Let's hope that improves as the season progresses.
Chris Gould
155
Posted 21/09/2016 at 11:05:27
People need to stop banging on about the transfer window. The club wanted some specific players who they couldn't get. We will try again when we are in a healthy league position and see if we can persuade them to come.
I read many who used WHU as an example of a club who were getting players in without any trouble...well how is that going for them?
The 4 senior players we have bought have walked straight into the team and strengthened it. The jury is still out on the one loanee. Time to move on and get behind those we have. Concentrate on the league and see where we are come January.
Oh and everyone needs to get behind Ross Barkley. There isn't a ready made replacement in this current squad. We need to get behind him. Moaning and groaning is going to kill his fragile confidence. It's way too early to write him off.
Frank Banterwaite
156
Posted 21/09/2016 at 11:12:55
Chris – exactly. If players didn't want to join us then I wouldn't want us offering over the odds just to make them chose us over another team.
We've got in four players, all of whom have Premier League experience and all of whom have slotted straight into the team and made it stronger. How anyone can argue that this has been a poor transfer window is beyond me.
Seems like some are happy for us to sign football mercenaries just for the sake of it.
George Cumiskey
157
Posted 21/09/2016 at 11:17:29
This result shows we should start looking for players now, not wait until the last minute. There are a lot of players who are not good enough, including a lot of the first team squad, but getting shut will be a problem if they are on nice big fat contracts. Barkley has all the skills but not the application or desire, and at his age, I don't think you can teach him that!
Mike Keating
158
Posted 21/09/2016 at 11:29:55
Peter Lee @ 81... Spot on – pity you didn't have a word with Koeman before the match.
With regards to Valencia, he reminded me of someone all evening but I couldn't put my finger on it. Then, with the light of day, it came to me; he was that tricky kid at school who set the Under-12s alight but then got picked by the Smartarse PE teacher to play for the First XI.
If Lukaku gets crocked or goes off on one of his sulks, we are fucked. We should never have sold Naismith.
Eddie Dunn
159
Posted 21/09/2016 at 11:42:52
Ross Barkley usually looks better when we are playing a side from the upper reaches of the Premier League or away from home when the opposition are more minded to attack us.
Where Ross seems to struggle is when he has banks of players in front of him and he has to play a quick ball or decide to try and beat his man. Last night he made the wrong choice on several occasions, particularly when he could have taken an early shot but instead switched feet.
The ability to open up massed defences does rely on teammates making the right runs in and around you. Last night the movement was too predictable and only Geri seemed capable of hurting them.
I watched Man Utd trying to breakdown Watford's defence without success. Rooney, Mata(later on) Ibrahimovic, Rashford, Martial etc. It isn't an easy thing to do, but it isn't all his fault.
There certainly doesn't seem to be much of an alternative for us in that department unless we play Cleverley in the 10 role. It might suit him.
Christy Ring
160
Posted 21/09/2016 at 12:14:11
Last night showed that some of our squad are lacking. Cleverley, Murphy waltzed by him, without even a tackle and scored the second goal, he pulled out of a tackle that cost us the 3rd goal at Bournemouth last season. Tom Davies would be a better option with McCarthy injured. Deulofeu is better off the bench. Lennon hot & cold.
Steavey Buckley
162
Posted 21/09/2016 at 12:34:47
What is really disappointing about last night's game: fringe players not really putting a shift in. I can understand for them, how hard it is to get up to speed after been left out of the first 5 league matches, but not to be over active to impress the manager, when they do get a game, like last night, means they will not be able to get up to speed to get a look in.
Lacking in energy not only affects seasoned pros, but will affect academy players as well, who also allow the game to go on around them, instead of trying to makes things happening by a good tackle there or an extra sprint to retrieve a lost cause.
Raymond Fox
163
Posted 21/09/2016 at 12:54:25
Everything's roses when we are winning, but let us lose a game and it's 'slash the wrists' time again. It's football, guys, anything can happen, they were poor but it only takes two or three players in key positions to have an off day and it affects the total performance.
It's the same old story though, which was a problem last season – how many of our total squad would get in a usual top 6 / money club starting 11? Possibly two and that's arguable.
Until we can attract a better standard of player to the club, we are going to be disappointed as usual. How do we get top players here when they can see we have no track record of winning anything in recent times? It's a vicious circle that's very hard to break.
Matt Ostnes
164
Posted 21/09/2016 at 12:58:52
Funes Mori will unlikely play again his season, he's not good enough for first team football.
In other unrelated news, Funes Mori will be again the starter centre-back in a top 3 National team in a World Cup qualifiers match. He will play alongside the starter centre-back of the leading team of the Premier League.

Stan Schofield
165
Posted 21/09/2016 at 13:02:11
Tony @150: I've felt the same, but then it comes back when we start doing well. You're right in that there's too much domination by money, and agents seem to be trouble makers half the time. They're like some lawyers, who can gain more than the warring parties. Seems to me that agents gain more than players and fans in terms of reward compared with effort.
Anyway, at the moment I've got a lot of enthusiasm, not dented by the fucking League Cup. Minor teams win that all the time, but only major teams figure consistently in the top 6 of the Premier League. Once you start being at that level, life becomes more interesting, silverware or no. So I'm happy that Koeman put out an obviously weaker side yesterday. If he'd put out the best 11, and there was an injury or two, I'd be right pissed off.
David Booth
167
Posted 21/09/2016 at 14:06:59
Inexcusable. But, more worryingly, not inexplicable.
I'm not going to dissect the player changes one-by-one, as I abhor the 'resting' policy for modern day footballers.
Absolutely bloody ludicrous to fall for this bullshit about them being tired or needing a break. What? From playing football for 90 minutes more than once a week? Anyone who accepts that, or seeks excuses from it, is simply exacerbating the problem.
For me, such ridiculous rotation means two things: losing the game due to the wholesale disruption caused and loss of continuity and morale.
Quite apart from that, should drafting in 'internationals' such as Deulofeu, Cleverley (what a misnomer that name is), Lennon, Funes Mori and Valencia render us as useless as we were?
Liverpool won away at Derby with a similarly altered line-up and Arsenal thrashed Forest, again away, with a team of reserves.
And there lies the rub for me, because it was attitude, not ability or personnel, that let us down last night.
The likes of Arsenal and Liverpool have a winning one. Aside from some notable exceptions, in all the time I have been watching Everton, we have perhaps the most fickle club culture of all our peers.
The 11 players on the pitch ran around like headless chickens right from the kick-off last night. We thought we could stroll it and every player looked to be playing for himself – not the massive club that is Everton FC. There was no evidence whatsoever of a proud, imposing team strategy (paramount when changing half of it). Completely, collectively clueless.
We showed naivete from front to back for the whole 90 minutes, and that, as we know, is Everton, isn't it?
Whenever Liverpool take to the pitch, in their minds they are still the great team of the eighties, even today. Likewise Arsenal, who always play in a manner that reflects their heritage, regardless of who pulls on the shirt. It gives them an edge. It intimidates opponents. They win trophies.
By contrast, we have a pub team approach and that makes us vulnerable every time we play games like this. There is no fear factor playing against Everton and consistently bowing out in such a preventable manner just rolls that on for yet another season. The only way to change that is to start winning trophies and you don't do that by resting players.
This is – or rather, was – such a winnable one too, with Europe as a reward. Yet we treat it like some pre-season friendly, EVERY year. While ever we do that, we will always be plucky Everton, especially in this Sky-bankrolled, 'big club'-obsessed football world we live in.
It's a vicious circle and to break it, we need to start winning things. Anything. Until we get a winning mentality ingrained in everything we do, results such as last night will continue to be the norm. And as such, we should not be as shocked as we all evidently are.
Frank Banterwaite
168
Posted 21/09/2016 at 14:27:08
David you have put a tremendous amount of time into writing a completely rubbish post.
Liverpool may well have had a winning attitude in the 70s and 80s but that has long since gone – "Whenever Liverpool take to the pitch, in their minds they are still the great team of the eighties, even today." I think that must just be one of the most nonsensical things I have ever read.
They have had some shocking cup defeats over the years, probably as bad as or worse than us – I remember Phil Jevons scoring for Grimsby at Anfield to beat them; Northampton beat them at Anfield a few years back; Peterborough beat them.
No one thinks of us as 'plucky Everton' – there is still a recognition of our heritage and status as a club.
Peter Mills
169
Posted 21/09/2016 at 14:33:23
David (#167) – strong words. I wish I had written them. Our new manager has done very well so far in actions and interviews, but I think he had a poor match last night.

Alan Bodell
170
Posted 21/09/2016 at 14:46:57
Norwich played a brilliant tactical game last night by giving us no space from the first minute, their closing down was as good as I've seen and the fact we couldn't cope with albeit a couple of bench players in the side.
It could be a blessing early on that we need much more midfield creativity than our boys in midfield showed and Koeman will know that more than any of us.
Patrick Murphy
171
Posted 21/09/2016 at 15:11:09
David's post isn't really that far off the mark is it? I don't know about other clubs but when fans start applauding the goalscorer for giving his new team the lead, in what was becoming a difficult fixture, because the opposition player once played for us, is a sign of 'niceness' that we sometimes berate our players for.
It's this 'niceness' that leads us to accept defeat all too readily and make excuses for some of the players whilst simultaneously slagging off those who didn't achieve but at least tried to turn the match in our favour.
It also appears on occasion, for it to be acceptable for us to write off points when we play the 'elite' teams home or away, because that's the way of the current football world.
I'm not too bothered about the League Cup in particular, but I am perturbed that this type of failure has happened far too regularly in the last 20 years and it's about time somebody at the club emphasised that we enter every competition with the sole intention of winning it.
Until the whole club and that includes us as fans, refuse to accept mediocrity and lacklustre performances from the team, we'll continue to witness shock results similar to last night. Whilst Everton can't win every game they play, we should be able to watch any Everton eleven in the full knowledge that they are giving everything they've got in order to win. Last night that wasn't the case and that's a sad indictment on the 'professional' footballers that we've got on our books at the present moment.
I can only hope that the manager and his staff can squeeze every ounce of effort from whomever they choose to represent the club on the pitch between now and the New Year, and every point won will be welcomed regardless of who we happen to take them from.
Onwards and upwards, hopefully, and whatever happened to 'we don't care what the RS say"? It seems that their team and their supporters views on football occupy many Evertonians thoughts far too often; to me, they are just another club who we compete against.
David Connor
172
Posted 21/09/2016 at 15:19:11
There's one saving grace from last night's disappointing and poor result: Koeman now knows that a big proportion of our squad simply isn't good enough. Watching a team is the only way he would find that out and not on the training ground. But we all know that our squad isn't up to the job... hopefully 5 or 6 of the team that played last night will not be at our club next season.
It is still essentially Martinez's squad. Koeman will need time to build his own squad, that's for certain, and he will do that providing Moshiri backs him. A good league position is essential to attract good players.
A lot of these players are now playing for their Everton future. On last night's performance, some players didn't seem to give a shit. But that seems to be the modern day footballer for you.
David Booth
173
Posted 21/09/2016 at 15:19:50
Frank (#168), my point was much broader than that – and I don't want to get into a parallel debate about us versus them – but sadly Liverpool do provide a good illustration.
Yes, they are not all-conquering any more and have endured some high-profile defeats as we have. But they have still won the League Cup four times and been runners-up twice in the last 20 years alone. Please don't tell me that's down to just the players they have had during that time, as they've been no better than ours?
Everton, by contrast, have appeared in two finals in the entire 55-year history of the competition. And lost them both.
Until we start winning things, we will remain susceptible to many more nights like last night, and fizzle out without a whimper. There is no equivalent fear playing Everton, as Norwich reserves demonstrated.
(See also Swansea, Fulham, Leeds, Brentford, Blackburn, Middlesbrough, Bristol Rovers, Oxford, Sunderland, Coventry, York, Millwall, Portsmouth and Bradford City, to name but a few.)
Tony Hill
174
Posted 21/09/2016 at 15:20:51
David and Patrick, much truth there. I think what has disappointed many, myself included, is that the directionless pattern of our play last night was a regurgitation of the Martinez diet. There was a lethargy and lack of hardness to the whole performance.
I have no doubt though that it won't be happening again in a hurry and certain players will have signed their suicide notes.
Denis Richardson
175
Posted 21/09/2016 at 15:24:30
Colin 84,
Anichebe, Stracqualursi, (M) Geuye.
Unfortunately you don't have to go that far back!
Paul Kossoff
176
Posted 21/09/2016 at 15:31:01
Despite the quality signings we have brought in this season, we are still doing business on the cheap. The Stones money paid for the new players; the mythical Moshiri transfer input hasn't happened.
If we had a Boni or an Austin up front instead of West Ham's cast off failed '10 goals in 67 appearances,' striker, would we have been in the next round of the cup? Probably yes.
Kone, Valencia, or Niasse are not going to get us a top seven or higher finish. Would Gana be here if he hadn't have had a ٥ million buy out clause? Would our new keeper be here if he had a ٤ million price tag? We have a new manager but really nothing has changed.
We were beaten at home to Norwich's 'reserve side,' only one of the Norwich team that played against Nottm Forrest in the championship on Saturday played against Everton last night, that was Robbie Brady. This was a reserve team we were beaten by.
You get what you paid for and that's what we got last night. The squad is not good enough, too many second-rate cheap option signings, nothing has changed.

Denis Richardson
177
Posted 21/09/2016 at 15:45:26
Love this thread, back to the true TW tradition, missed you for a couple of weeks.
Excellent start to the season but one defeat in the league cup and people are up in arms
- too many changes!
- bad substitutions!
- Koeman sounding like Martinez!
- Koeman playing players out of position
- crap transfer window!
Especially love the last one given the supposed 'crap transfer window' has led to 13 points from the first five games. Just happens to be our best start to a league season in 38 years.
It was a shit result, main thing is the manager and the players learn from it and bounce back. Let's look forward to Bournemouth.
Stan Schofield
178
Posted 21/09/2016 at 15:55:14
David @167 & 173: I agree to some extent, although I can't stand the phrase 'plucky little Everton', god knows where it came from. The Everton I naturally think of is that of Young, Ball, Labone, Reid, et al – not the mediocre version of Everton we've got to know during the last two decades.
This surely is the very job Koeman has on his hands, to transform us into a team with winning mentality and ability. His recent reference to us being 'too nice' is reference to that. I believe he's started the process well, the league games so far being testament to that, although it's early days. He's only been here a few months, and changing the players has only just got off the ground. I'm prepared to give him a fair bit of slack, since – no matter what manager we have – it's going to take time to change what you basically say has been a cultural problem.
Regarding Liverpool, don't forget they sacked Rodgers last season, and Klopp is still finding his feet. He's done his nut over some of Liverpool's performances since he took over. No doubt a lot on TW would have had a similarly adverse reaction if Everton rather than Liverpool had been beaten 2-0 by Burnley. Last season, I thought, we could do with someone like Klopp. Well, I think we have now, only better, because Koeman has more Premier League credentials and he's sorting things a lot faster than Klopp has been.
I think we're all sick of Everton's lack of silverware and consistency in the league, but we surely can't just write off the supposed new era on the basis of being knocked out of the League Cup of all things. I'd rather that than win it but be crap in the league.
Paul Kossoff
179
Posted 21/09/2016 at 16:00:07
Andy 48, "It seems to me that to expect reserves to be selected and, without any game time, play to their best, is ludicrous."
Norwich had ten reserves against our six, we were beaten by Norwich's 'RESERVE' side, not their first team.
By beating us, Norwich's 'reserve' side, proved that, if your reserves have a backbone, a bit of pride, some effort and can actually do the job they are paid to do, then our six reserves should have beaten Norwich's ten.
Don't be making excuses for that defeat last night, Andy, that shambles don't deserve to be excused.
Si Turner
180
Posted 21/09/2016 at 16:06:09
Dennis (177) you are spot on.
It was a blow but some of the above comments are fickle.
I am confident for a win now on Saturday after this wake up call. Bournemouth are poor and our first team will be too much for them.
Paul Kossoff
181
Posted 21/09/2016 at 16:35:07
Denis 177, Are you referring to me in your 'crap transfer window?' I didn't say that, I actually mentioned the 'quality signings,' Koeman brought in. But would you have 'in any dimension you could think of,' brought in Valencia on loan as back up to Lukaku? Would you have chosen Fulham's fifth-choice keeper? Gibson, Kone, Cleverley, McGeady, Niasse all still on our books... sorry but they are not good enough.
Yes, we are in a fantastic position in the league, but we have only played one decent team, Spurs. If we had brought in another two or three class players to this squad, what could we achieve? I would rather have a squad filled with prime than a squad bloated with cheap cuts.
Mark Morrissey
182
Posted 21/09/2016 at 17:18:44
IMO... RK has priorities. This was not one for him. IMO, it ought to have been.
You get 3 chances to get into Europe. The Premier league top 6 qualifies you for Champions League or Europa League; The FA Cup; The League Cup. Koeman should have tried to get us into Europe via the League Cup. He decided not to do that by fielding a changed side. The ploy did not work. So we re-focus on the League.
I am old school. Brian Clough always played his best 11, whatever the next fixture was and you only got into Brian Clough's team if someone was dropped for being off their game or via an injury.
We have had 5 games. Why on earth he would not want to keep the winning side together is at odds with me. IMO he should play his best 11 all season and only introduce new players when there is an injury. If he was not fussed about the cup, he could have sent the team out that beat Boro and said "We have an important game against Bournemouth on Saturday and so I want you to do this tonight. I don't care if it doesn't quite work, it's match practice, we are only 5 games into the season lads and the more you play and practice together, the better we are going to be."
Look, I think he's a really good manager but sometimes people have good ideas. Brian Clough never changed a winning side and he won a European Cup with Forest FFS. It's only MY opinion but I hate resting players when you are winning. They don't need a rest. We are only just starting the season.
We've even had an International break. if he does the same for the FA Cup, I'll start going off him. I want a cup. This club needs a cup. This club HAS to win a cup. I still think we will win against Bournemouth.
Mike Powell
185
Posted 21/09/2016 at 19:02:48
It just proves a point: our second string are not very good. We have a good first eleven but not much after that.
Those people who want Deulofeu to start every game – can we knock it on the head? He is nowhere near good enough.
Darren Hind
186
Posted 21/09/2016 at 19:29:08
"Back to true ToffeeWeb tradition"..."Excellent start to the season, but one defeat in the League Cup and people are up in arms"
What on earth are you talking about, Denis?
Scroll all the way back to the start of the thread, read the title... it's a thread about last nights game, not the game against Borough or West Brom... Last night's game. What would you have people do come on claiming we were wonderful ?
These players and this manager have had no end of praise heaped upon them for the start we have made this season, but we were a fucking eyesore last night and if people are invited to give their honest opinion, that's what they will say... Did you even see the game?
When people say there were too many changes, that's because there was. The substitutions were bad too.
Koeman did play players out of position and we did fail to land the striker every Evertonian knew we needed in the transfer window.
These comments are not just classic TW – they are classic Evertonian. They are called honest opinions.
If the truth hurts, get some ear plugs. The overwhelming majority of Evertonians I know like to call a spade a spade. If we play well and win on Saturday, they will say so.
Paul Conway
187
Posted 21/09/2016 at 19:50:03
Stek can't be blamed for the goals he conceded. Some of them were fortuitous for the opposition unlucky for us and the one from Murphy (has to have the luck 'o the Irish with a name like that!)... well, even the goalkeeping greats would not have smelled it!
Tony Abrahams
188
Posted 21/09/2016 at 20:11:21
Stan, whilst not disagreeing with you regards agents, they don't set the budgets, or pick the team.
I wasn't even moaning, I was just thinking about what John had written and I thought that it wasn't like that for everyone, until I remembered that Van Gal got the sack 24 hours after winning Man Utd the FA Cup.
I think it's something I've been aware of for a long time but, as Chris says, these moments usually pass, and although I could vote with my feet, I do still enjoy watching Everton.
(Ross Barkley, if you read ToffeeWeb, I'm not enjoying watching you though kid, because if you play good, bad, or indifferent, it's not the end of the world. But not having the belief, "REAL BELIEF" to match your talent, really is a crime.)
Hopefully Chris is right again, and exciting times are around the corner, because we've waited that long we have already been driven round the bend!
Chris Williams
189
Posted 21/09/2016 at 20:14:31
Tony and Stan,
And we're not getting any younger!
Tim Wardrop
190
Posted 21/09/2016 at 20:26:43
The conclusions that people on this forum jump to on the evidence of one match are generally completely absurd.
Andy Meighan
191
Posted 21/09/2016 at 20:31:35
My god... Valencia has had one game and been absolutely slaughtered. I'm not saying he's the answer – far from it. But let's face it, Messi would have suffered with that service. Give the lad a chance.
Frank Crewe
192
Posted 21/09/2016 at 20:45:47
There seems to be a disconnect with the aims of the club and the aims of the fans. We want to do well in all the competitions we are in but the club just wants to finish high in the table because that is where the money is.
Five games in and players are "rested" while multiple changes are made in a competition that offers a possible way into European football next season. It just seems ridiculous to me. Teams full of weak links like Barkley and the discouraged squad players will never win. If we had European games to play it would be different. Then we would have bigger fish to fry. But the two domestic cups are our best chance of winning some silverware this season and now one of those chances has gone
Come the final next March we will be kicking ourselves. Especially if the RS get there. Won't be a Mickey Mouse cup then. We'll be praying for whoever their opposition is to beat them.
Sacrificing a cup may make business sense but from a fan point of view it's very disappointing.
Rob Halligan
193
Posted 21/09/2016 at 20:46:14
Leicester played a total of 43 games last season, including 2 FA Cup and 3 League Cup games. Didn't do them any harm in the end.
Not saying we will win the league, but we have 15 league games between now and our next cup game. A really good chance to play the strongest team every game without any disruption due to EFL games, and get a good few points on the board. Barring any injuries and suspensions, of course.
Tony Hill
194
Posted 21/09/2016 at 21:00:06
Darren Hind (#186), quite right. We do no favours to the club by piously insisting that every comment must be carefully measured and that it must somehow occupy the "centre ground". Such an attitude means that you end up terrified of calling shite for what it is.
It was the attitude which kept Martinez in his job too long and which has held us back while more ruthless opponents went ahead of us over the last two or three decades.
I think we have in Koeman an excellent manager and I think we'll thrive with him, but we were awful last night and we went out of a competition we should have been very interested in. No harm in saying so.
Brian Harrison
195
Posted 21/09/2016 at 21:20:33
First, Koeman didn't rest players, he took the opportunity of looking at players who have had very little game time. Just like Liverpool did and Arsenal did – the difference is that they won and, despite having numerous chances to win, we didn't.
He has been here a couple of months and the improvement is there for all to see. But he isn't a miracle worker and he will need time and a few transfer windows to get somewhere near the players he wants.
We have finished in the bottom half of the table for the last 2 seasons, so we have to take that into account when trying to sign players. Also, we have no tradition in Europe apart from our Cup Winners Cup triumph which was decades ago.
I can just imagine how the posters on here would have reacted had we won 4-0 but both Gueye and Lukaku had picked up injuries that would keep them out for 5-6 weeks. They would have then been castigating Koeman for playing them against Norwich at home, no doubt telling Koeman we could have beaten Norwich with our reserves.
Mark Morrissey
196
Posted 21/09/2016 at 21:24:05
Just turned TV on and Man Utd are beating Northampton 1-3 and playing tonight are Rooney, Ibrahimovic, Rashford, Fellaini, Herrera etc... and they are playing in Europe and they don't look too tired.
Commentator says, "It's on nights like this where your team can suddenly start to gel" ... just saying.
Rob Halligan
197
Posted 21/09/2016 at 21:28:10
Ibrahimovich, Fellaini and Rashford all came on as subs. It was 1-1 for a long time.
Michael Penley
199
Posted 21/09/2016 at 21:46:37
I'd like to politely remind everyone that, before the game, most of us (not me) were suggesting starting 11s not too dissimilar to what Koeman picked. Go take a look at the pre-game banter if you don't believe me.
It seems only now it becomes apparent to us all that we should have played our best side?
Tony Hill
200
Posted 21/09/2016 at 21:55:50
All the top clubs have found their way into the next round quite comfortably and with changes made. It wasn't the selection, it was the half-arsed attitude that killed us.
Denis Richardson
201
Posted 21/09/2016 at 22:09:59
Paul (#181), wasn't referring to anyone in particular. The transfer window being 'poor' has been mentioned by many people.
Am I satisfied with the current squad? No. However I'm also realistic. You can't sign an entire new side in one window and in signing 4 senior players who went straight into the first team and more importantly improved the first team, I think Koeman has done a decent job transfer-wise so far. We went after other players and didn't get them for whatever reason.
I wasn't impressed with the Stekelenburg signing initially but he's done a good job so far and is certainly better than what we had, also only cost £1m. I'll happily admit I was wrong there. Williams, Gana and Bolassie are definite improvements. Only a decent back up for Lukaku was really missing. Valencia is not the answer but presume he was all we could get at the last minute. So not a perfect window (when have we ever had one?) but by no means the disaster some are making out. We are second after all - early days I know.
Re the dross: no-one wants them. It's that simple. Not exactly much we can do about that. Tried to give Niasse, McGeady and probably others away for free but not even the local pub teams were interested. Also Koeman didn't offer Gibson a 2 year extension!
Rome wasn't built in a day and the current squad is certainly better than it was in May. Most importantly Martinez isn't there anymore, unfortunately Koeman is. Can't have it all I guess.
Fingers crossed we'll get another face or two in come January. Until then, let's hope we can keep the league form up. The League Cup is gone, no point crying about it. Koeman isn't perfect and our back-up players are shite.
Rob Halligan
202
Posted 21/09/2016 at 22:16:01
Well, tonights draw has definitely shown its a chance missed. West Ham v Chelsea. Man utd v man city. Shite v Spurs. Leeds v NORWICH.
Fran Mitchell
203
Posted 21/09/2016 at 22:20:58
It was disappointing.
But, on the upside, would winning the League Cup really be such a great feeling? We've waited so long for a trophy, I can't see the League Cup really satisfying our cravings.
Who won the League Cup in the last 3 seasons? You'll need Wiki or Google to answer that. That itself says how important it is.
Secondly, we were bound to have that 'get feet on the ground' 'back to reality' moment. Better being in cup than the league.
Denis Richardson
204
Posted 21/09/2016 at 22:25:18
Darren 186,
Imo, some of the comments are the usual TW OTT reaction. Every single football team on the planet will have an off-day at some point, no matter how good they are.
Did I see the game? No. However, reading all the comments, a few suggesting that we didn't actually play that bad and, had we taken our chances, we would have won. The stats also back that up. They had two shots on target and scored twice. One a fluke and one a belter. Should we be beating Norwich at home? Yes... but shit happens.
On paper, I would expect the team chosen to beat Norwich at home 9 times out of 10, so I don't have issues with the selection – other than Funes Mori at left-back perhaps. This just happened to be the 10th. Re making too many changes, we made 6; Norwich made 10. So that logic doesn't really stack up.
It was a shit day in the office, barely 6 weeks into the season. It happens. All the negative crap is out of proportion, imo. If we win against Bournemouth, most of the people on here will be happy-clappy again.
Koeman's been in the job only about 3 months. He had to make some changes last night, that's what a squad is for. Just so happens the squad players didn't do the club justice on the night. Let's give the manager the benefit of the doubt and see where we are later in the season. Far too early to make judgements.
David Booth
205
Posted 21/09/2016 at 22:28:14
Fran, are you seriously being choosy about what we win – after 21 years without a trophy?
Success breeds success and right now we are desperate for something to stick in the cabinet!
You may be using such a sentiment as some form of consolation, but come on...
Since when did a cup final win and entry to Europe become something we can do without?
Mike Green
206
Posted 21/09/2016 at 22:29:15
Well, thank you, Everton. Always unpredictable but five of my sixfold teams (Tottenham, Man City, Man Utd, Arsenal and Liverpool) all obliged while high-flying Everton, at home to Norwich Reserves, lose 2-0. That's 𧶀 I won't be toasting the boys with then – cheers!
Patrick Murphy
207
Posted 21/09/2016 at 22:32:00
Mike (#206), If you had known your history relating to Everton and that competition, you would never have backed them, but I must admit, nobody I know contemplated going out at this stage prior to the game, so I totally understand why you would put Everton in your accumulator.
Ray Robinson
208
Posted 21/09/2016 at 22:33:02
Sorry to be disparaging, Fran, but your post makes my blood boil. As someone who has witnessed four league championships, three FA Cup wins and a European Cup-Winners Cup win,
any
fucking trophy will satisfy my craving for success.
What the hell do you think will happen? We will miraculously do a Leicester, win the Champions League or Europa League?
The EFL Cup represented a one-in-two chance of realistically lifting silverware this season. Honestly, anyone who isn't bothered about last night's defeat and thinks that we'll go from zero to major success in one fell swoop is deluded.
I might be wrong but didn't Man City start their run with a League Cup success? Be grateful for any success before you start running away with yourself. In years to come, people will have a better chance of remembering a cup success than a team finishing in the top 4.
Andrew Presly
209
Posted 21/09/2016 at 22:43:57
It'll be 22 years without a trophy for us as I'm told the FA Cup Final this year is later than the one in 1995.
Patrick Murphy
210
Posted 21/09/2016 at 22:46:59
It can't really be the case that only Evertonians and particularly those on TW who react badly to a home defeat by a lower division side can it? I mean as far as I'm aware, most of the supporters of the 'elite' clubs fill the airwaves with OTT comments and observations every day of the week.
Football is a results driven business and always has been, obviously it was a lot less intense in times gone by, but the reaction to a defeat is pretty universal I would imagine.
Anyway let's hope we don't have too many reverses in the coming weeks and months and we can fill the TW pages with fulsome praise for our team... Mind you, there will be just as many typical OTT reactions to that too – it's the nature of the beast.

Andy Meighan
211
Posted 21/09/2016 at 22:58:47
Mike (#206), I'm actually quite pleased your bet went down.... because every Evertonian I know (and believe me, I know a lot ) would never put them across the park in a bet hoping they'd win. Which effectively was what you did. I'd rather be skint than knowing them horrible bastards made me 𧶀 better off.
Damian Wilde
212
Posted 21/09/2016 at 23:12:34
Totally blame Koeman here, six changes is just plain stupid.
Tom Bowers
213
Posted 21/09/2016 at 23:13:59
We have to move on from this result; after all it is the ''Mickey Mouse'' cup. So what if we never win it, as the important thing is getting respect back in the competition that matters.
We all want the right result against Bournemouth after throwing away 2 points there last season and they too must be reeling somewhat after losing in extra time last night to lowly Preston.
With the ''first team'' back on duty they should take care of business and if that results in staying ahead of Liverpool then we should be happy.
The RS investors must be getting real antsy right now, having no European football this season so Klopp must be under tremendous pressure.
Big K, however, appears calm and surely is not expected to work miracles overnight so what he has achieved so far is encouraging.
Stan Schofield
214
Posted 21/09/2016 at 23:53:57
Tom 213: I try to ignore what the RS are doing, but it's difficult not to get great pleasure when they lose.
Anyway, despite all the hype with Klopp when he joined, it's taking him time to get them to where he thinks they should be, and he's done his nut about some poor performances, so as you say the pressure is probably on.
I think Koeman is a much calmer bet with more Premier League credibility, and no amateur dramatics, of course. I also think some folks on TW could bear this in mind when they get down when we lose like last night. In the big scheme of things, it looks nothing compared with the progress we're making overall, so far.
Ray Robinson
215
Posted 21/09/2016 at 00:08:03
I agree that we must all see the bigger picture, that overall we are progressing and that the league is "more important" but never let it be forgotten that we play football to
win
things. Finishing first in whatever competition we compete in must be paramount over merely trying to qualify in the top four.
Am I missing something? There is no roll of honours for merely qualifying for the Champions League. Never be totally dismissive of any cup win. After all, our greatest night in Europe was in the Cup Winners Cup, one which many disparaged at the time because the champions didn't compete in it.
Never pass up the opportunity to win any silverware as it could be a long time coming round again.
Darren Hind
216
Posted 22/09/2016 at 05:20:41
The you go again, Denis. I simply don't know what you are talking about.
Like everyone else who regularly logs on to this site, I love it, I may even be addicted to it, I log on almost every day... but I could never get my head around this Mythical "negative TW".
Anyone who has ever attended a game anywhere, or visited a pub to watch a game, will testify that this site offers an accurate reflection of the mood of Evertonia (football fans in general). If people are smiling here, they will be smiling in the alehouses on County Road; if they are complaining here, they will be complaining in the chippie on Goodison Road. But here's the thing... They will not all be smiling and complaining about the same things.
I could never quite get my head around those who complained bitterly about the "negativity" towards Martinez then conclude their posts with "it's the players fault, they're shite"... or those who whine about "negativity" towards Lukaku and murder Niasse and Kone to drive home their point.
Its' a kind of deluded belief that, because they support an individual, they're negativity isn't really negative. They spend a season hammering Jagielka, but it's offensively negative to criticise Williams???
I bet if I traced back your posts, Denis, I would find lots of negativity. Were you always positive about Martinez? Did you always back Moyes to the hilt?
I'm not being hypocritical here, I criticised both myself. I will always insist I was giving an honest opinion... just like the critics on this thread have done. Is your negativity superior to theirs?
Negativity – criticism of someone you rate;
Positivity – criticism of someone you don't rate.
How many so called "glass half full" posters will tell you Niasse is crap ?
Disagree with people by all means, but can we please ditch this "Typical negative TW" bollocks once and for all? It's just a bone idle go-to card and it's always played by self proclaimed "positives" in an attempt to dismiss criticism of their particular flavour of the month.
Fran Mitchell
217
Posted 22/09/2016 at 05:39:04
When people say 'when the Premier League is almost impossible, etc etc, the League Cup represents one of the few opportunities for silverware' I think that shows silverware in itself no longer means shit.
As I said, the last few winners of the League Cup are who? Can anyone honestly answer without using Google? I bet that 95% can't.
And in relation to 'winning breeds success'. No. Good players and money breed success. For that, Champions League is needed, not the League Cup. Aston Villa, Wigan Athletic, Birmingham City and a few other shit teams have won cups and it meant fuck all (apart from a good party excuse for a day or two).
So I prefer we did our inevitable cock-up in the League Cup than in the Premier League.
I ain't pleased we lost. But hey...
Mike Green
218
Posted 22/09/2016 at 06:52:17
Patrick (#207) – I know, novice mistake...
Ray (#208) – I totally agree, I think the same may apply to Chelsea under Abramovich, I might be wrong.
For a club as decorated as ours not having the third biggest domestic trophy in our cabinet is careless at best, especially when it's so winnable when everything else is realistically out of reach. When other teams brag about how much silverware they've won and increase the gap on us, do we think they leave out League Cups? Personally, I'd love to win it, every year if possible.
John Daley
219
Posted 22/09/2016 at 08:37:02
"...the last few winners of the League Cup are who? Can anyone honestly answer without using Google? I bet that 95% can't
."
The supporters of the team who won it will be able to answer without any problem at all, as will the players, coaching staff, Kath from colonic irrigation and anyone else you would expect to give more than a passing shite about the club they're associated with.
That's all that matters. Not whether it's emblazoned into the memory banks of the neutral with no more than a passing interest in how clubs outside their own prosper, or that it might crop up on Question of Sport a couple of years later and confuse some loopy cow, who looks and sounds the spit of a sea lion shoved in a crop top and told to carry on clapping and honking for half an hour.
"..'winning breeds success'. No. Good players and money breed success"Hasn't worked out that way at Man Utd in recent years, has it? They've not lost their wealth and they've continued to bring in 'good' players, but they've been a mile away from the success they had previously and the two pots they and their supporters want.
Dave Ganley
220
Posted 22/09/2016 at 09:03:57
Well said, Darren Hind. Why shouldn't we say exactly how it was on Tuesday? Quite frankly it was pretty awful really. If we want to take a seat at the top table, then we can't ignore a performance like that, especially when it's a cup game.
Quite rightly we have praised the performances in the Premier League this season. They have set the standard and when they fall from that standard, then we have a right to let them know that.
There was absolutely no intensity on Tuesday. We even stroked the ball around a la Martinez reign, all possession and no substance. No point saying that if we had taken our chances then we would have won. We didn't and erm, we didn't.
Imo, the changes we made shouldn't have made any difference. The team out there should easily have been good enough to beat Norwich reserves. For the first time this season, Koeman has made a mistake. Yes he is fallible. He obviously didn't send the players out with the right mindset and didn't react soon enough to amend the problems when they arose.
I'm quite sure he will learn from that but it doesn't make it any easier to swallow that we are out of a cup that we should be straining to win.
And that brings me to my next point. Mickey Mouse Cup? Glad we're out of it? Concentrate on the league? What the fuck are you people on? How many years without a trophy? 21 and counting. Believe me, a day out at Wembley and winning the League Cup, I would be celebrating then as much as any league title or FA Cup win and I have celebrated both in the past. It's been way too long without lifting a trophy.
I can't believe people can be so choosy. Of course winning breeds success, how the fuck can you argue against it? To put it into perspective, Man City have won this, Liverpool have won this multiple times, as have the Chavs and Man Utd. They all realise that a trophy is, well trophy.
I'm sure if we ever get to the final, then those that decry it will quite happily forgo their Wembley ticket? Just don't fucking understand some people, and I bet Kath from colonic irrigation agrees with me too!!
Paul Kelly
221
Posted 22/09/2016 at 09:16:17
Applauding the post above.
Denis Richardson
222
Posted 22/09/2016 at 09:23:45
Darren - not really sure how to explain it as I think/thought what I said was pretty clear. I'll try again in fewer words.
It was a shit result, off day for the team, it happens. We move onto the next game.
Result had nothing to do with the transfer window, wasn't because we made too many changes. The team, for whatever reason, simply didn't perform on the night. If it happens on a regular basis then I can understand some of the comments (I'd be joining in too) but for now hopefully this was a one-off.
Martin Mason
223
Posted 22/09/2016 at 09:52:06
Whingeing about Tuesday isn't going to change the result and it doesn't change the overall very positive situation that the club is in now. Whilst disappointing, it was a very positive result in a way in that it shattered any illusion that we have the strength of squad needed to compete for major honours. I trust that the club will work on improving the strength of the squad but it is what he inherited and I for one have no irrational expectation that the club can wave some magic wand to change the situation quickly.
I for one don't care if we don't win trophies immediately or make winning a trophy an immediate priority over development of the squad. I care that we improve steadily and realise our potential to get to the top and the trophies will come. I believe that our league form is much more important than progressing in but not winning a minor trophy and I'd take a Champions League position any time rather than winning one of the cups.
The negativity on here is overwhelming when we lose. We have great fans in general but this is dreadful from our own supporters.
Dave Ganley
224
Posted 22/09/2016 at 10:37:06
Martin, of course whinging about the result isn't going to change it. I'm quite sure nobody thinks it does. However, as Darren has said, this is a forum, and this post is about the game on Tuesday. Most people have given their thoughts about it. Whilst some may have been over the top most have been measured. What gets my back up is when people come on and says it doesn't matter. Fair enough, that can be their point of view but don't start saying people are whinging when they come back with why it does matter. It's our hard earned cash that we are shelling out to watch Everton on a regular basis and when we see what we witnessed on Tuesday, we have a right to say it does matter, we do want a trophy and we want to see that it matters to the players. On Tuesday I don't think we saw that.
If not winning a trophy is not your priority then fine. Winning a trophy is my priority. The development of the team goes hand in hand with winning. The more we win, the more chance the better players want to come to us. If we have an attitude of that trophy doesn't matter, then we get the players that attitude deserves.
I guess you could turn your post around by suggesting that it is you being the negative one by suggesting that 4th place is better than winning a trophy. For me, that's everything that is wrong with modern football. What do I remember more fondly, Wembley 95 or 4th place in 2005? You bet your arse its the sight of the Mancs crying into their ale as Dave Watson lifts the FA cup
Derek Thomas
225
Posted 22/09/2016 at 11:13:50
Martin @ 223; This is what we need people to post after a poor performance and cup exit.
Link
David Booth
226
Posted 22/09/2016 at 11:16:27
This is not just about losing one particular game.
Instead it's about the on-going attitude of our club.
Those who say it doesn't matter, we're better off out of it and top four is more important, amaze me.
We haven't won a trophy for 21 years. We've just had our best start for about as long. And now it's all been undone by a performance that takes us right back to square one.
We'd better win handsomely at Bournemouth this weekend, because if we draw - or heaven forbid, lose (which some of the top four brigade on here seem to think is not a remote possibility) - Tuesday's result will prove to be even more significant.
How an Evertonian can not want us to win every game is unfathomable to me. Indeed, how we allow managers to get away with such ridiculous psychology is too.
If we had been in contention for the title consistently for the last 20 years and slogging it out in Europe week after week, then you could possibly (even then, only possibly), be excused for regarding the League Cup as a low priority.
But we haven't. So why the hell do we?
Win seven games: you pick up a trophy and get into Europe before anyone else.
Yet some of you, apparently, would rather we didn't. What?????
Our casual, over-confident team selection and team performance against Norwich was right out of the Martinez handbook. We we're clueless and all that we have achieved in the first five games was rendered invalid.
Until we create a culture of success at the club and make every game a cup game (no pun intended), we will always be like the British weather: some sunny intervals giving way to frequent showers.
It was not good enough. We should be looking forward to a trip to Leeds and a place in the last eight.
Now our only interest in the competition is hoping that someone stops the gobshites getting to the final again. Because they sure as hell want to win it!
It will matter then eh?
Patrick Murphy
227
Posted 22/09/2016 at 12:14:04
Derek (225) I believe that if and when we ever move to a shiny new stadium Everton FC should adopt "Sunshine, Lollipops and Rainbows" as the new club anthem. Perhaps, Bill will have his ultimate excuse for not strengthening the squad, because of all the money invested in said stadium. It won't matter though because 'winning silverware' is not our raison d'être.

Martin Mason
228
Posted 22/09/2016 at 12:16:43
Have we become a fan base of pot hunters who would trade quality for a few pieces of silver? There are many great fans of other clubs who give strong support in the knowledge that they will likely never win silver
The concept that we can just start winning, get better and win pots all at the same time is a fantasy, we will improve only by hard work (by those at the club, not us fans) and over time. The club has a massive task to make the team competitive at the top and it doesn't yet have the quality in depth to compete week in, week out on several fronts.
I'm totally positive over what is happening at the club, Tuesday was disappointing but that's life and we move on. I support the club, manager and coaching staff and trust them to digest the lessons from Tuesday and do whatever is necessary. Negativity of the kind displayed on here is a real weakness for supporters and whilst applicable for long term under-performance like that displayed by RM surely it isn't at all for a club that is just 5 unbeaten league games into its current tenure? It seems to me that some supporters are looking for failings when it'd be far, far better to look at the good things that are happening. Criticism can be a very positive thing when it is constructive but it can be a corrosive poison when it isn't.
What I saw Tuesday was a demonstration of how important Rom is to us and a massive problem area as we just don't have any back-up of the required calibre.
Stan Schofield
229
Posted 22/09/2016 at 12:16:45
David @226: I don't think many if any folks have said the league cup doesn't matter at all, I think everyone would agree that every game and very cup matters. I think most comments are about priorities, and in my view the league cup has second priority to league position at the moment given the squad we have. It's not unusual for teams to be changed significantly for cup games. If we'd beaten Norwich there wouldn't be much debate about this, but it happened that we didn't play well with the team Koeman chose. If he chose the strongest team every time and the likes of Lukaku got injured in a league cup game, Koeman would get hammered on TW for not using the squad sensibly. We lost, it's disappointing, but not a disaster, and Koeman has already said it'll take two years to get the squad sorted.
I couldn't really give a shit about Liverpool, even though I like to see them losing. I'm focusing on Everton, not them. And anyway, Klopp is still trying to sort them out, has made plenty of changes without winning, and has done his nut about some performances. He's trying to squad manage like Koeman is, and it doesn't always produce a good results. So sod them.
If some of the players on Tuesday were shite and didn't put a good shift in, well I'm sure that will help guide how Koeman changes the squad. Yes, there's been a cultural/attitude problem at Everton, but I for one am hoping that this is changing now. There's certainly evudence of this despite Tusday.
Ste Traverse
230
Posted 22/09/2016 at 12:40:45
I really can't understand the attitude of some Blues. Into the 3rd decade potless and some beauts are trying to tell us winning the league cup 'wouldn't satisfy our craving for a trophy' (what?????) and it's a 'mickey mouse cup'.
Well, we aren't in Europe, and haven't got a good and deep enough squad to win the Prem, there's only this and the FA Cup to go for, so no-one would be arsed if we finally won this damn thing? Utter rubbish.
No doubt these types, though, would be first in line for Wembley tickets if we ever got to the final of this thing again.
Given our pathetic lack of success since 1995, absolutely no way has any Everton fan the right to look down their nose at this competition.
David Booth
231
Posted 22/09/2016 at 13:04:14
Ste (and many others before you): precisely.
What sort of parallel universe do those Evertonians who don't want us to win the League Cup live in?
It's simple, what would you prefer:
A) To win our first trophy for 21 years and get into Europe immediately?
B) Get knocked out again by a lesser side and pretend it's a bonus?
How anyone can regard 'B' as the right answer is absolutely ludicrous.
Football's about winning games and winning trophies. Not finishing fourth.
Peter Gorman
232
Posted 22/09/2016 at 13:12:16
I love the yay/boo reaction that fans seem to oscillate between after every single game.
Why wait to see what pattern emerges when you can have the fun of jerking the knee every week!
George Cumiskey
233
Posted 22/09/2016 at 13:12:30
Koeman did the right thing giving the fringe players a runout; the sad thing about it is that these players are just not good enough, even against Norwich reserves. The best thing to come out of this is that now he knows how desperate we are for quality replacements.
Martin Mason
234
Posted 22/09/2016 at 13:15:07
Ste, the chances of us winning this cup and continuing to do well in the league at the same time are thin as we don't have the strength in depth that, say, Liverpool do. Nobody is looking down their noses at this competition we're just not whingeing about being out of it. Some of us look longer term than one game and it is the long term that matters for the club. We're out, there's nothing you can do so moaning is pointless.
We know it was a bad result and we know the main causes but it isn't the end of the world for the club or anything that is going to have a significant effect on how we go over the next couple of years. Bournemouth now and hopefully a much better performance.
David Booth
235
Posted 22/09/2016 at 13:22:17
Martin, I know where you're coming from and agree that the longer-term view is the one that matters.
BUT, would not winning the game on Tuesday and maybe getting to Wembley and even winning the League Cup (for the first time), not have an even more significant effect on how things go in the next couple of years?
I seem to recall that reaching the final in 1984 heralded a rather successful period in our history...
Stan Schofield
236
Posted 22/09/2016 at 13:35:28
Yes, it would have been great to have won on Tuesday, but we didn't. I'm disappointed, but not as disappointed as I would be if we'd won on Tuesday but been way down the league table. So it's all about relative disappointment, and relative pleasure. It would give me pleasure to win the league cup, even more pleasure to win the league, and even more pleasure to win both.
Martin Mason
237
Posted 22/09/2016 at 14:33:32
David@235, I'm really sorry that we didn't play well and win on Tuesday and would have been ecstatic if we'd have gone on and won the Trophy but we didn't. It's a matter now of how we recover from it and how we can raise the standard of our squad players so that they can be played without significantly weakening the team. I was surprised we lost but not as surprised as RK who was a bit flustered when interviewed. We still have the league programme to see through and the FA cup which we should be better equipped to do well in. As I said a CL place based on league position I'd swap for going out early in both Cups.
Yes, the Cup in 84 was a springboard to greater success but the subsequent success was more likely down to us having a great side rather than winning the cup. The Cup was also a top competition then but reduced value now. I take the point about the winning mentality but for me winning a Cup is a much lower priority than developing the squad, getting a new ground and getting into the top 6 for a Euro place.
Chris Gould
238
Posted 22/09/2016 at 14:46:34
I'm not convinced we should worry too much about how some of the squad players played. In the league it will only ever be one or two changes at a time dependent on injuries or suspensions. I think the team can handle that as long as it isn't Gueye or Lukaku who are missing.
6 changes was too much, but in saying that, if we'd had Lukaku on the pitch then the result may have been different. Even though he isn't always effective, the team play better when he's in it.
David Booth
239
Posted 22/09/2016 at 14:55:27
Martin: winning the League Cup is the equivalent of a top six place, in terms of European qualification is it not? And it takes only seven games, not 38 – a good proportion of which are likely to be against so-called lesser opposition.
I detest this obsession with top four and top six places (the latter which many clubs then regard as an irritation). I want Everton to win things AND finish in the Euripean places, or top of the tree. One is not exclusive of the other and we were perfectly capable of winning on Tuesday, but contrived/chose not to.
Finishing in the top six does not feature on any 'honours' list. Winning a cup does. That's the sort of mentality that is also strangling the FA Cup now.
I lament this crazy obsession with money and 'Champions League'. It doesn't end up in my pocket and is ruining football.
Gordon Crawford
240
Posted 22/09/2016 at 14:59:16
Don't care what trophy it is, we should be in it to win it, and it should hurt like hell when we don't win. In fact any loss to any opposition should hurt like hell. To ease 21 years of hurt would have been a dream come true for me and many other true Evertonians.
Also our transfer window was a decent success. We didn't have a defender like Williams, but now we do. Barry aside, Gueye is a better midfielder than any other at the club. Bolasie is a better option than most wingers at the club. And as for Stecklenburg, well he is a better choice than Robles in my opinion.
Yes we seriously need another striker or possibly two and a play maker, and we should have got them in. But that a side, we are much stronger than we where last season, fact.
Martin Mason
241
Posted 22/09/2016 at 15:24:59
David
Yes but to win a Cup you have to win all of the rounds and to get in the top places in the league you just have to be consistent and good enough. The chances of us winning a Cup are low because at some time we will meet Man City or somebody else who will undoubtedly beat us. So, the chances of us getting into Europe are much higher based on league position. For the club the earnings from Europe are much higher than what we'd earn winning a cup now. You'll also notice that few clubs now are winning league and Cups and being in Europe.
Everybody wants Everton to win every game but realists understand that this just doesn't happen now. The bar has been raised and every game is difficult. I also disagree about the credibility of teams that get into the CL or win a second rate trophy, and Everton obviously think the former is best. Any sponsorship deal will be based almost purely on league position which governs how much exposure they get on Sky.
Football clubs are limited Companies whose sole objective is to provide a return for shareholders and they have no obligation to win cups unless it meets that objective. What ruined football is greedy clubs like Everton forming the EPL to bleed the game dry of money.

David Booth
242
Posted 22/09/2016 at 16:10:11
Ooooooh, best not try to win them then Martin, if we might have to face Manchester City en-route?
But just a minute, didn't we beat them at Goodison in the same competition last year and, had we not shit ourselves at their place, we'd have got past them and into the final?
And haven't we played Yeovil and Norwich (reserves) so far, with Leeds next, had we applied ourselves on Tuesday?
We could then have drawn the likes of Hull, Reading, Bristol City or Preston right through to the final itself. Conceivably not a City in sight...
Best not bother trying to win the league then, as we play Man City TWICE, as well as Man Utd, Chelsea, Arsenal, Spurs, Leicester, Liverpool and 12 other teams who are all better than anyone we have and could possibly have faced in the League Cup?
I have truly never heard such defeatist logic.
Gordon Crawford
243
Posted 22/09/2016 at 16:32:56
Martin, your negativity, kills me. Since when did the League Cup or whatever it's called now, become a second rate trophy? I would be happy with an egg and spoon cup at this moment in time. Winning breeds success and let's be frank we haven't had any for 20 plus years.
I remember when that other shower across the park were scared of us, and that's because we were successful. Now they spank us nearly every season and that's because we reek of a second rate mentality.
Hopefully Koeman will start to change this, as frankly! I am tired of seeing other teams lift trophies. And I agree with David Booth; Everton might as well give up football if we are scared to play the likes of Man City.
Martin Mason
244
Posted 22/09/2016 at 16:38:54
David, I really wanted Everton to win but after the initial shock disappointment, I'm over it and looking forward to Saturday; I've put the razor away and covered my wrists again.
I have a life Dave and it doesn't include having a autopsy, funeral, obituary and search for the guilty every time Everton have a bad game and I'd recommend that you shed your bitterness and join me on the positive side. We lost a game we should have won, that's all.
Just a point on the defeatist bit – def:
A person who expects or is excessively ready to accept failure. synonyms: pessimist, fatalist, yielder, cynic, prophet of doom, doomwatcher;
None of those apply. The only difference between us is that I can accept defeat without moaning especially in the knowledge that as a fan I can do nothing about it. I take the disappointment without applying the twisted logic that any defeat has to be the fault of the club. We're on a long journey back to the top level from the incredible low left at the departure of the clown, we must accept that there will be defeats along the road.
David Booth
245
Posted 22/09/2016 at 17:10:17
Martin, we must remain happy to disagree.
We are both perfectly entitled to share quite opposite views and I look forward to exchanging them with you on many future occasions - hopefully when we win a few games... or the FA Cup. If we avoid City of course!
But just to clear up one very important aspect: I have no 'bitterness' to shed and fully realise that losing games, as much as winning them, is part of football life for everyone.
However, what I cannot come to terms with is when the team - and fans like yourself - are prepared to accept losing in such a casual manner.
I know we can't win every game. But we should have won on Tuesday and we could have won the cup.
The fact we didn't appear unduly bothered about either, concerns me greatly.
And as fans we can do something about it. We can let the club know we are not prepared to tolerate their apparent willingness to surrender such important fixtures. Indeed, any fixture.
We too need to adopt a winning mentality, as much as the club evidently does, if things are ever to change.
I want positivity as a culture from top to bottom. Not an option, on a selective game-by-game basis, as you seem to be suggesting.
Martin Mason
246
Posted 22/09/2016 at 17:29:36
David
I believe that the club genuinely wanted to win the game Tuesday and thought that they could do so and rest key and injured players at the same time. I also believe that Koeman was genuinely shocked to lose.
I don't believe that we have seen any lack of positivity as a culture at the club on the basis of one defeat and certainly not it being used as an option on a game by game basis. I believe that you base your comments on the opinion that the club deliberately lost on Tuesday; I base mine on the premise that they didn't as there's no evidence to support it.
Andrew Clare
247
Posted 22/09/2016 at 17:40:35
We lost because we have a very weak squad and I am beginning to realise, although it grieves me to say it, that we have one or two players that aren't going to reach their potential. So weak a squad in fact that a Championship team away from home who also made several changes defeated us.
We should be looking to field our strongest team in every competition especially as we are not in Europe.
Hopefully over the next two or three transfer windows the squad will improve. Alex Neil is a very good manager by the way and definitely one destined for great things .
Martin Mason
248
Posted 22/09/2016 at 17:43:15
Andrew, I agree. Our problem Tuesday isn't that we went out to lose but were beaten by a better side on the night.
Patrick Murphy
249
Posted 22/09/2016 at 17:48:42
Martin most Evertonians of most vintages have seen it and heard it all before, that is why as we get older and run out of time, we are prone to be a little more concerned with what's happening in the here and now and not what may transpire in the future, near or far. I could have found far more material from any of Everton's League Cup campaigns from the last 20 years but here's a little reminder of 'ground-hog' day.

Everton 1, Crystal Palce 1
Blues worthy shame goes on (Echo)
Sep 13 2001 by David Prentice, Liverpool Echo
EVERTON . . . . . . . . . .1 C PALACE . . . . . . . . . . 1
(AET, Palace win 5-4 on pens)
ANGRY Evertonians want answers to some simple questions. Some are incomprehensible. Why they can't beat lower league opposition in the Worthington Cup or why they can't ever win penalty shootouts is probably beyond even Einstein's comprehension. Why they insist on kicking off at eight o'clock is irritatingly obscure also. But there is one man who can answer one much more fundamental question. The Blues are clearly bankrupt of ideas on the field. Last night's almost predictable penalty shootout exit to Crystal Palace highlighted that. But do they have the funds off the field to rectify that situation? ..
Everton's present squad is pitifully thin. They were apparently taking the Worthington Cup seriously this season .
Blues' Kings denial
Dec 2 2002 Liverpool Echo
EVERTON today continued to deny claims they are about to scrap their move to Kings Dock.
The club said they were "working tirelessly" to secure the finance for the move, despite increasing fears they may be about to pull the plug. The Blues need to raise £35m by Friday to cement their part of the 55,000-seat arena project. The Goodison Park board is reported to be considering diverting money to support manager David Moyes's team building rather than putting it in the stadium. But club spokesman Ian Ross insisted today: "There has been no change. Everton Football Club continues to work tirelessly to secure the necessary funding for Kings Dock."
Mick Davies
250
Posted 22/09/2016 at 17:58:40
Never won this, and for a club of our stature, that's ridiculous; even Tranmere have reached the final since we last did. I really thought Ronnie K would be up for this, probably our best chance of winning silver and also gets us into Europe if our league position fails.
Disappointed but I hope we are at full strength for Bournemouth, and no repeat of our last kick disaster down there last season.
Steavey Buckley
251
Posted 22/09/2016 at 18:06:40
I did say after the transfer window was closed, that Everton were still short in midfield and upfront. Yet, there was enough talent on show against Norwich for Everton to win.
One reason why Barkley and Deulofeu were not as effective as they should have been, is their inability to breakdown packed defences. Barkley and Gerard are much happier running into empty space. But once they are closed down, their problems begin, of what should they to do next.
Stan Schofield
253
Posted 22/09/2016 at 18:16:26
If we'd won on Tuesday, the response on TW would have been "Great management by Koeman, he gave squad players a chance to play in an important competition, leaving the core players to focus on our next league fixture at Bournemouth to hopefully consolidate our good start with a win there".
But we didn't win, so instead we get all the hand-wringing and criticism of Koeman's management, plus all the usual 'It's just Everton messing up again".
If we start losing position in the league after a number of games, I might get concerned. But to get concerned after one defeat? I don't think so.
Gordon Crawford
254
Posted 22/09/2016 at 18:36:52
It's not about losing; it's about how we embrace or don't embrace defeat. As a football club we should be furious that we lost the way we did and do everything we can to put that record right again. Yes we are going to lose from time to time, that's just the way it is. But we need to get back to only the best will do.
Brent Stephens
255
Posted 22/09/2016 at 18:38:43
With you, Stan. Not getting concerned after one game. Trouble with "it's just Everton messing up again" is that it doesn't actually itself put the finger on what the problem is, if anything. To say "Everton" means sod all.
Ste Traverse
256
Posted 22/09/2016 at 18:47:30
Mason has done nothing but spout rubbish on this site for years. And his posts on this are no different.
We should forget cups because we might meet Man City? Well we have to face them in the Premier League. Should we pull out of that?
TROPHIES is what it's all about. Not a bloody 6th placed finish. That doesn't go on our honours list.
It's ridiculous that any Blue under 26 won't have any memories of this club winning anything. I turned 40 over the summertime so remember our 80s glory years, I want young Bluenoses to experience the thrill of seeing an Everton captain with a piece of silverware in his hands, rather that thinking we should be aiming for an upper mid-table finish and see it as somekind of 'success'.
David Booth
257
Posted 22/09/2016 at 19:02:19
Ste: what you said again!
Sometimes wonder if I've strayed onto an accountancy forum with all this talk about money and the financial rewards of a top six finish.
Time to stop accepting defeat so matter-o-factly and start winning trophies.
The money and the 'benefits' of so-called Champions League football will then follow and hopefully keep the bean counters amongst us happy.
Stan Schofield
258
Posted 22/09/2016 at 19:11:27
David @257: I don't recall much mention of the financial benefits of finishing in the top 6, apart from your posts mentioning it. Sounds to me like you're the one with money on your mind. Like many posts on TW that have been obsessed with the supposed 𧴜M 'war chest' and the price of players.
I don't give a shit about the money. I'm interested only in us doing consistently well, which consistent finishes at the top of the league, accompanied by one or more title wins, would represent. Do you think that if we'd won the FA Cup last season our management problems would have evaporated and Martinez would have stayed? No? I don't either.
Darren Hind
259
Posted 22/09/2016 at 19:35:20
Denis
You've explained absolutely nothing. You didn't even see the game yet you come on attacking the opinions of people who did.
You brandish the rusty old "negative TW" sword simply because you don't like what you read . .Nothing personal mate, but what you are doing here is as negative as it gets
"I don't know what happened, I only know that I disagree with you lot".
Martin Mason
"The negativity on here is overwhelming when we lose"
You should have been here earlier in the year mate, one prize beaut kept hoping we would lose all our games because he wanted the manager gone. A box set of happy clapping songs will be in the post to you if you can name him.
Stan Schofield
260
Posted 22/09/2016 at 19:39:41
Ste @256: The Everton I automatically think of is the Everton that won 8 major trophies over the 55 years I've supported them. That's a trophy every 7 years. I regard the last two decades as an anomaly, a hiatus pending us winning more trophies.
If I subtracted that 20 'un-Everton' (as far as I'm concerned) years, that makes it a trophy every 4 or so years. So that's my expectation.
I'm 62, and I also would like to see 26-year-olds, and 7-year-olds (my age when I saw the first title) see success, consistent success that brings a trophy every few years. In my book, you are more likely to have that when you are consistently near or on the top of the league.
Martin Mason
261
Posted 22/09/2016 at 19:53:01
Ste
The function of EFC is to make a profit and distribute this to its shareholders and the profit is determined by league position and amplified by getting into the European positions. There is no argument on this, all clubs aim for the best league placing that they can achieve not on winning cups . Now, I never at any time said we should not forget cups because we may meet Man City. Try reading what I say even if you don't understand it.
It is indisputable that in modern football a team which is limited by squad strength is limited on the number of fronts on which it can compete and the most important front is EPL games.
Given our current position, what we did on Tuesday was absolutely correct which was to field the weakest possible strength of team that we could while still having a high probability of winning. Had we been playing Man City we would have fielded our strongest team. We got it wrong because we were outsmarted by a good manager with a team that carried out his instructions to the letter.
Darren, me old Beaut. Fact please not myth if you mean me. It was one game and I would still say the same in spades. Anything was worth getting rid of Martinez short of relegation. I'm sure you'll agree I was on the right side of that argument.
Jay Wood
262
Posted 22/09/2016 at 20:09:57
It appears to me that both Martin and Stan are unconsciously, or deliberately, misinterpreting or misrepresenting the
disappointment
expressed by many that Everton has again exited this competition early to a lower league side.
Their laissez-faire attitude to this is neatly summed up by Martin, who states: "The EFL Cup is not important, continuing our good league form is."
In doing so, they attempt to present themselves as more stoical, calmer and rationale beings, able to take a longer perspective on the club's ambitions, rather than other posters they attempt to portray as over reacting hysterics.
Martin's claim is presented as an 'either-or' scenario, as if they are mutually exclusive. That we can either go for cup glory and sacrifice a higher league position, or vice-versa.
Why? Why can't they be mutually inclusive, an 'and-and' scenario? That is, go for cup glory and attempt to maintain a high position in the league? If we genuinely wish to be seen as a club with ambition and a winning mentality, which in turn will attract better quality players, we need to achieve that in every competition we enter now, not only 2-3 years down the line.
There are many who accepted the wholesale changes RK made. There are many who acknowledge beyond our starting XI there is a shortage of quality. There are many disappointed by our exit who don't use it as a stick to bash the club or RK with, as Martin and Stan are claiming.
There are many who quite reasonably expected the starting XI against Norwich, which consisted of 9 internationals and 2 junior internationals, including fringe players with a point to prove to the manager, to have offered more than they did.
There are many, given RK's pro-active intervention and use of subs in his Everton career to date, who were disappointed he didn't do more in-game to improve things on the pitch.
Whilst all genuine Evertonians want the team to win every game (apart from the like of Martin Mason, who frequently posted last season he wanted Everton to lose every game to ensure Martinez was sacked), that doesn't equate to Blues expecting even demanding we should win every game, as Martin and Stan are trying to label some fans. It is understood and accepted Everton will lose. What is rightly being questioned here is the manner and timing of a particular defeat.
As ever, Martin attempts to claim some morally superior higher ground for himself, telling another poster:
"The only difference between us is that I can accept defeat without moaning especially in the knowledge that as a fan I can do nothing about it. I take the disappointment without applying the twisted logic that any defeat has to be the fault of the club."
From where I'm sat and from what I've read, it is the author of that final clause who is using twisted logic, not other posters he, rather pompously, critically sniffs at.
Ciarán McGlone
263
Posted 22/09/2016 at 20:17:46
It could be worse... he could be waffling about his null hypothesis.
Brent Stephens
264
Posted 22/09/2016 at 20:19:13
Martin "The function of EFC is to make a profit and distribute this to its shareholders and the profit is determined by league position and amplified by getting into the European positions."
Yes, I sat there on Tuesday night thinking, shit, if we'd have beaten Norwich and gone all the way to Wembley, we could probably have increased the shareholder dividend a bit more at the end of the financial year. Bugger.
David Booth
265
Posted 22/09/2016 at 20:30:35
Martin, the 'function' of EFC is most certainly not to 'make a profit and distribute this to its shareholders'.
That's fine inside the boardroom, but unfortunately this is a football club, not a financial commodity.
Everton were founded in 1878 to win football matches. Have we had a change of mission statement that we have not been told about?
Yes, money is king nowadays and more important to many club owners than winning things. Indeed, competitions are often quoted in terms of how much they're worth, as opposed to the merits of winning them.
If that's a world you wish to live in and you'd rather focus on the bottom line, then fine.
But that's not football. It's 'Monopoly'. And it's killing the game.
Apart from the key three or four major shareholders, who gives a fuck about profit distribution at Everton?
Take a straw poll outside the ground on any match day and see how fans you can find who would prefer a healthy balance sheet over a bursting trophy cabinet?
None!
Me and 40,000 other match-going Evertonians want to win things, not toss off over a set of report and accounts!
Martin Mason
266
Posted 22/09/2016 at 20:35:25
Jay@262
I admire your passion but the owners of football clubs have no passion. There is a massive disconnect now, their aims not aligned with the fans who watch the game.
Brent
This is how I would answer your point too. You have no input in how the club is run unless you and many others stop buying the product and this is the only power you have. Fans now are no more than customers who don't even need to be on the same continent never mind the same City as the club. You have 3 choices, watch it, don't watch it or get Sky and BT.
David Booth
267
Posted 22/09/2016 at 20:36:10
Jay: eloquently and effectively expressed from start to finish.
As I stated earlier, it is not a either or scenario. Why can't we be successful on all fronts?
One would catalyse the other, surely?
Accepting defeat and this crazy back story of it all being about the bottom line is just arguing for argument's sake.
Brent Stephens
268
Posted 22/09/2016 at 20:42:41
Martin #266 "Brent. This is how I would answer your point too."
Martin, relax a bit, pal. Can't you see the jest in my post. Don't take yourself so seriously. Seriously. Don't rise to us other posters. We're only winding you up. You take the bait so often - hook, line and sinker. It's great fun, though.
Brian Harrison
269
Posted 22/09/2016 at 20:46:14
I was interested to hear Klopp extolling his fans to be as passionate for the game against Hull, as they were for the Chelsea game. He says the supporters should view it as Hull are coming to try and steal points from them.
I think our fans should adopt the same approach, but too often now at Goodison if its not one of the so called Sky 5 then we seem to think we should beat them without massive vocal support. We seem to delight in singing "we only sing when were winning". Which bye and large is exactly what happens.
Against Middlesboro it was the same atmosphere until Mason made the stupid decision, which got the fans angry. Then they really got behind the team and what a difference it made. Again against Norwich the atmosphere was "we should beat these" and, even when we went a goal behind, the atmosphere didn't change.
Tony Hill
270
Posted 22/09/2016 at 20:56:20
Brian, part of the problem is that the team is making slow starts (as we usually did with Martinez) and on Tuesday it was painful sideways passing for much of the first 20 minutes. It's an old debate this but the onus is on the team to get the fans going, not the other way round.
If the fans manage to lift the team then that's a happy bonus not a requirement. I do agree though that Goodison can be flat but I'm afraid that's to do with the seating and distribution of the fans. True of many grounds.
Stan Schofield
271
Posted 22/09/2016 at 20:56:59
Jay @262: You need to read my posts again mate, properly this time.
Patrick Murphy
272
Posted 22/09/2016 at 20:58:46
We just need to don red shirts and rename our ground and we'll be on our way. Seriously though Brian (269), you're right, it did take that decision by Mason to awaken the fans to boiling point and the crowd were right behind the team from that moment until half-time. But to be perfectly honest the Goodison crowd has a long history of being quiet on many occasions, think back to Joe Royle's time when we finished in sixth place and missed out on Europe.
Sometimes it's because, many Blues want to watch the game unfold and are concentrating hard, at others it is so boring that diversions such as phones etc are far too tempting. I think the days of a raucous football ground for the entirety of a match are long gone – unless it's a 'special' game. I honestly don't want to be part of a circus act or have the club contrive stuff like our neighbours often do to create a 'must be at' event.
Give me Goodison quiet or in bear-pit mode every day of the week. Obviously if the team are pushing forwards and being aggressive in their tackling the crowd will get behind the team, but if they are 'managing' the match to secure the victory there's not that much to get excited about apart from the final result should they end up victorious.
Stan Schofield
274
Posted 22/09/2016 at 21:09:26
Brian @269: I often strikes me as slighty odd that Klopp seems to feel a need to ASK the fans to be passionate. It's either there or it isn't. If he needs to ask, RS might have a passion problem.
In my experience, Goodison is quiet much of the time, but when it has got going, it's done it with a vengeance. All-seater stadiums don't help the atmosphere. Oh for days of 60,000 at Goodison.
Ray Robinson
275
Posted 22/09/2016 at 21:17:05
"I admire your passion but the owners of football clubs have no passion."
- bloody hell, Martin Mason, the all-seeing eye now knows the psyche of
every
football club owner. The same self appointed purveyor of wisdom claims that there is a bigger picture than the defeat on Tuesday. Agreed, but winning trophies is the end goal of any ambitious football club, not just maximising profit. A "minor" trophy today can be the catalyst for the "bigger picture" to take shape tomorrow.
Obsession with qualification for the Champions League really does my head in. In my lifetime, we won the league in 1962-63, 1969-70, 1984-85 and 1986-87, we won the cup in 1966, 1984 and 1995 and the Cup Winners Cup on 15 May 1985. I can't even remember what season we finished 4th and qualified for the Champions League preliminary round.
Most people on this site are not slitting their throats because Everton failed dismally against Norwich or even that Koeman made 6 changes to a winning side – but they are raging that some supporters accept the defeat so willingly in the interest of some "bigger picture" (which is by no means inevitable anyway). As many contributors have already pointed out, winning a trophy in the here and now and aspiring to greater things in the future are not mutually exclusive – in fact that's how many teams start a run of success.
Brian Harrison
276
Posted 22/09/2016 at 21:23:14
Maybe I am hankering for a bye gone age, but I have been inside Goodison when we had 75,000 in and the noise at times was deafening. I think all-seater stadiums have dampened the atmosphere at a lot of the games.
Although the atmosphere usually seems better at night games but it might just be my imagination, as the atmosphere was very flat for the night game against Norwich.
Tony Hill
277
Posted 22/09/2016 at 21:36:30
Best atmosphere last season was Chelsea for the quarter final and I thought the atmosphere was pretty good against Stoke a few weeks ago. We won't get back the old crowds and raw energy, I'm afraid.
David Booth
278
Posted 22/09/2016 at 22:15:31
Ray (275): what you said!
Stan Schofield
279
Posted 22/09/2016 at 22:23:50
Ray @225: Yes, football is more than a business. It's really all about passion. I suppose some business folk key into this to make a profit, some perhaps ONLY to make a profit. Others perhaps do it to make a profit and pursue a mission or, to use the phrase we've now got used to, a 'project'.
In our case, I'm assuming, and hoping, that Moshiri and company are on a mission. His right hand man, Ryazantzev, said it was bigger than just a project. We can interpret this, but my reading (probably based on hope) is that Moshiri wants to build Everton into a 'global brand' to use the fashionable jargon.
To me, it's not just folks with cash (like the Chinese buying West Brom), but something bigger. Maybe Moshiri wants to prove something after his experience with Arsenal. Everton is no doubt a challenge, which if successful, i.e. consistent and sustainable, not just a one-off when we win a trophy, is would be a major achievement.
Like when John Moores financed our success at the start of the 60s, but on a bigger scale now. There surely must have been a good reason, beyond just a hefty salary, why Koeman came here?
Ray Robinson
280
Posted 22/09/2016 at 22:41:52
Well Stan, I'm hoping it's to win trophies! At the moment, some of our supporters are looking at a "bigger picture" and counting on the new regime getting us straight into the Champions League. I sincerely hope that they get their wish but I put it to all that all clubs (even City with their billionaire owners) have to go through various evolutions before they can sit at the top table.
What's wrong a League Cup, Europa League, Champions League route? Winning trophies on the way to the bigger picture?
Jay Wood
281
Posted 22/09/2016 at 23:22:08
Stan @ 271 and 273.
YOU might like to eat your words. I assure you, I read your posts well. No misunderstanding by me in my post @ 262.
Stan @ 107:
"There's a bit of an over-reaction from some posts on here. Yesterday, we were doing great, but now it's a disaster apparently.
"If we win 4-0 on Saturday everything will no doubt be brilliant again, and Koeman will no doubt be a genius. Let's hope the team doesn't react like TW."
(Clear evidence of your misinterpretation and misrepresentation of what others have actually posted, as well as being mocking and condescending to fellow posters.)
Stan @ 140:
"It would have been nice to have progressed in this competition, but quite frankly the league does take priority ... Lighten up, fellow blues!"
(Clear evidence of your laissez-faire attitude to our cup exit, and again, being condescending to the opinions of others.)
Stan @ 178:
"I think we're all sick of Everton's lack of silverware and consistency in the league, but we surely can't just write off the supposed new era on the basis of being knocked out of the League Cup of all things. I'd rather that than win it but be crap in the league."
(Further evidence of your misinterpretation and misrepresentation of others opinions, whilst also promoting the idea progress in the cup and a lofty league position is somehow mutually exclusive.)
Stan @ 229:
"I don't think many if any folks have said the League Cup doesn't matter at all." (Oh yes they have!) "I think everyone would agree that every game and every cup matters." (Oh no they don't! Read your own and Martin's posts as evidence.)
Stan @ 253:
"We didn't win, so we get all the hand-wringing and criticism of Koeman's management, plus all the usual 'It's just Everton messing up again."
(Further evidence of your misinterpretation and misrepresentation of others opinions.)
Let me know if I missed anything, Stan.
Cheers!
Stan Schofield
282
Posted 22/09/2016 at 23:23:31
Ray, yes, that's right. All I was saying earlier is that, once you've got a consistent position at the top of the league, life gets more interesting, and you're more likely to win trophies. It's as simple as that for me.
Stan Schofield
283
Posted 22/09/2016 at 23:41:22
Jay @281: Wow, you went to the trouble of looking through my posts. I feel honoured, in an odd kind of way. The comments you've inserted are of course your own interpretation of what I've written, and of course you're entitled to that.
I wish I could reciprocate by going through your posts, but I've never done that kind of thing on TW. It's just not serious enough to justify such effort. In other words, I couldn't be arsed. I was too busy having a pint at my local.
David Booth
284
Posted 22/09/2016 at 23:48:29
Stan, the equation isn't:
get to the top of the table - start winning trophies
It is:
develop a winning mentality in every game - start winning trophies (and get to the top of the table as a result)

Jay Wood
285
Posted 22/09/2016 at 23:56:28
Stan @ 283 ... @ 271 (and 273) you requested:
"Jay @262: You need to eat (read) my posts again mate, properly this time."
Request fulfilled.
I hope your pint didn't get too warm as you continued posting here on TW.
Health!
PS - what David @ 284 said about your flawed thinking.
Stan Schofield
286
Posted 22/09/2016 at 00:00:15
David @284: Thanks mate, I learn something every day on TW.
Jay @285: It was a couple of pints of Guinness, at just the right temperature. The barmaid, with great skill, put a shamrock in the head. My thinking is usually flawed. But I do like Guinness.
Jay Wood
287
Posted 23/09/2016 at 00:06:50
Stan @ 286
"The barmaid, with great skill, put a shamrock in the head... (cough!)"
Can I have the name of your local and the working hours of that particular barmaid..?
David Booth
288
Posted 23/09/2016 at 00:07:24
Happy to help Stan!

Stan Schofield
289
Posted 23/09/2016 at 00:11:01
Jay @287: It's a very exclusive service I'm afraid. A most enjoyable one too.
Mark Wilson
290
Posted 23/09/2016 at 01:19:02
I really missed the boat here with a chance to respond to some of these posts! But cannot leave this thread without saying that being one of the earliest blues to find and contribute to TW, in all those years I've never seen a post quite like Franks when he described the transfer window as "fantastic". Whatever you're on, Frank, please share it as it's powerful stuff.
The notion that our "efforts", some may say "failures", in the window this time around have not had an impact on the squad is just bizarre. The defeat against Norwich was in part (a big part in my view) a reflection of the lack of depth and quality beyond the best 12/13. There, I've said it again and still feel it's a tad more balanced a view than describing a zero spend outcome that saw no top class striker addition or No 10 or cover CB as "fantastic".
Yes, there was some bad luck. Yes, on reflection maybe Koeman might feel that, given the lack of strength in depth, six changes was about three too many. But this wasn't a hard luck story, it was a very, very, poor exit from a competition we MUST take seriously. Yet we rarely seem to back various managers muttering to that effect with equally serious team selections or effort or quality.
How some of you bat it all away with a dismissive "it's just the League Cup" is simply beyond understanding. But there's the thing, isn't it; we put up with Martinez for 18 months too long, we don't seem to care about mediocrity. Why are you like this? Throwing away a run in the League Cup matters, a lot.
Worse still is the notion that wins against Bournemouth and Palace will "wipe away the hurt" etc as if any balanced analysis can be forgotten in a couple of weeks when we will still be out of the cup and still have just the 2 competitions to go for. There's no comparison between the two, really there isn't.
We will put our best 11 out on Saturday then next Friday after that. And we can mostly all agree that the best 11 is looking competitive this year, well managed, getting fitter, playing differently and more effectively. But if two or three get injured, particularly up front, then you will again see the impact of that "fantastic" transfer window and why the majority in this thread are so pissed off at giving up a cup run so easily.
Martin Mason
291
Posted 23/09/2016 at 10:15:57
The concept that Everton gave up a cup run so easily is fantasy unless it can be shown that they deliberately gave it up as the extremists believe. They they took a gamble on rotating players and they lost – that's all.
If you believe that they should have played their strongest team to ensure winning, then I ask would you also accept the reduction in quality of the strongest team due to injury in cup games and perhaps ending up playing 3 games a week?
We experimented, we lost; there isn't a shred of evidence that we lost deliberately so just get over it and stop complaining. We have a possibly great season ahead: one door is closed, two are still open. The League Cup compared to a Champions League position? Only to pot-hunting fans, I'm afraid.
I look forward to seeing the team develop in terms of ability, getting results, and gaining strength in each transfer window. If we do it properly, then silverware will come for the pot hunters, silverware for me will be beating the Sky 4 regularly and playing in the Champions League. That is how we'll develop – not as a mid-table team scrabbling for minor pots; success will be sitting at the same table as the big boys.
Matthew Williams
292
Posted 23/09/2016 at 11:31:06
Even if we had won, it would've been Leeds next at Elland Road... we all know our record there over the years... sigh.
Still gutted like!
Jay Wood
293
Posted 23/09/2016 at 17:30:27
Martin @ 291.
Earlier in the thread you accused others of using twisted logic and attributing to fellow posters attitudes and opinions they actually hadn't expressed.
Now you come up with this beaut:
"The concept that Everton gave up a cup run so easily is fantasy unless it can be shown that they deliberately gave it up as the extremists believe... there isn't a shred of evidence that we lost deliberately so just get over it and stop complaining.".
I look forward to you offering categoric evidence, be it a shred or otherwise, that anyone – anyone at all – has suggested Everton deliberately lost the game.
Given your psychobabbel about what the primary function of EFC is and your oft-repeated claims that supporters are merely consumers of 'a product' (which totally ignores the emotional investment that naturally comes from following your favourite sports team), you continue to demonstrate, Martin, both in relation to the justifiable disappointment some have expressed about our cup exit, and the deeper, broader issue of the emotional aspect of supporting Everton...
YOU. JUST. DON'T. GET. IT!
Ray Robinson
294
Posted 23/09/2016 at 19:53:42
Martin @291. I've come to the conclusion that you live on a different planet from the rest of us mere mortal "pot hunters".
"The League Cup compared to a Champions League position? Only to pot-hunting fans I'm afraid."
The two are not mutually exclusive!
As Jay said, "YOU. JUST. DON'T. GET. IT! "
Martin Mason
297
Posted 23/09/2016 at 23:56:56
Ray @294, of course I live on another planet (have a different view to you?) – that is my point. Success for me is playing at the same level as the best teams and beating them, not necessarily winning silverware in the short term. I'd be happy if we won them of course but not at all at the expense of a high league position.
What reaction would you get from RS and Man Utd fans when you say, "But we won the EFL Cup in 2016?", compared to their 19 titles and 5 European Cups? They would howl in derision and class us, as they always do, as small club mentality with bitter fans. Everton will get respect and start getting income as a world brand when we start playing at the top level in view of the whole world and stop being a small club.
Ray, I understand that they aren't mutually exclusive events but that is irrelevant; the chances of doing both are very small now for a club with such a shallow squad as us and of the two, for me, for the club and all rational supporters, the high league position is by far the most important. I've explained why and I'll explain again if you didn't understand. Believe me, I get it very clearly.
Jay, outside of your fevered dreams and overactive imagination, you will never, ever, have sport out of me. The only wobbles you'll get are from laughter.
Guys, as soon as you come with the personal stuff, you know you're on the wrong side of the argument. Just think for a change, what is good for the club – not what is good for minority fans – and that is Champions League football. Also respect that we don't all have the same opinions and having a different one to you doesn't mean I "don't get it".
Jay Wood
300
Posted 24/09/2016 at 09:42:46
Martin @ 297 'Guys, as soon as you come with the personal stuff, you know you're on the wrong side of the argument.'
Oh please, Martin. Spare us your condescending piety.
You have clearly misinterpreted and misrepresented contrary opinions to your own following Tuesday's defeat, both on this thread and others. Don't (once again...) try to claim some artificial moral high ground for yourself when you describe others with the termerity to hold different opinions to your own very befuddled views as:
@ 78 'headbangers' who should 'act like adults'
@223 'whingeing ... negativity on here is overwhelming when we lose. We have great fans in general but this is dreadful from our own supporters.'
@228 'a fan base of pot hunters.'
@244 'I've put the razor away and covered my wrists again. I have a life and it doesn't include having an autopsy, funeral, obituary and search for the guilty every time Everton have a bad game and I'd recommend that you shed your bitterness.'
@291 'pot-hunting fans.'
@ 297 'a small club mentality with bitter fans.'
Still waiting for you to offer categoric evidence that anyone – anyone at all – has suggested Everton deliberately lost the game, as you claim.
David Booth
301
Posted 24/09/2016 at 12:18:58
Martin, you deludedly view the holy grail of so-called Champions Leage qualification over actually winning things - and perversely regard that as a distinct either/or conundrum.
I, meanwhile, am one of 40,000 match-going 'pot hunters' and you are singularly out of step with all of us as you are on this thread.
You are symptomatic of the money-driven world the (again so-called) Premier League are trying to herd we 'customers' in to.
You're going to be lonely all on your own, although Stan might come and keep you company?
We are here to win things, not qualify.
Show me an honours list that includes that?
Besides which, as has been pointed out innumerable times so far, why can't we do both?
Stan Schofield
302
Posted 24/09/2016 at 13:41:30
David @301: Thanks for mentioning me mate, I appreciate it!
Jay @300: I admire your stamina for trudging through posts!
Martin @297: I know you've been accused of being a WUM, but I haven't noticed it. Just a suggestion, you could flit between being a WUM and a WDM, that way they wouldn't be sure what you were doing in any one post. Not that I'd do anything like that of course.
It's possible, just possible, that you three guys all want the same thing, but the posts have got so intertwined and complex that track has been lost of the main point. Which I think is (although I could be wrong), to win the Premier League occasionally (indeed, as often as possible), as many cup competitions as possible, and to be at the elite 'top table' all of the time.
With a bit of prioritisation perhaps thrown in (or perhaps not, depending on your perceptions) wherein something like the League Cup, although of course important (because it's a cup) might not be considered as important as winning the Premier League. Or something like that.
David Booth
303
Posted 25/09/2016 at 12:53:57
Well, well, welly well well: just come and explain that theory of yours again Martin: sod the cup, because you might meet Man City and focus on the league... where you might meet, er, Bournemouth?
And sorry Stan, even you might have a changed perspective now – but you and Martin are right out on a limb on here after yesterday's routine win turned out to be as routine as Tuesday night.
Stan Schofield
304
Posted 25/09/2016 at 17:36:26
David, I can't decide whether that's a WU or a WD, but the uncertainty is acceptable.
Add Your Comments
In order to post a comment, you need to be logged in as a registered user of the site.
Or Sign up as a ToffeeWeb Member — it's free, takes just a few minutes and will allow you to post your comments on articles and Talking Points submissions across the site.