Everton vs Norwich City

46 Comments [Jump to last]
19 September
EFL Cup 3rd Round Preview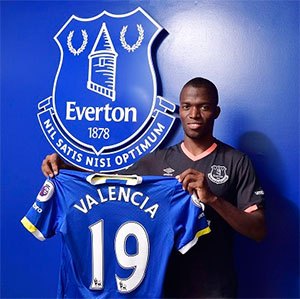 Enner Valencia will make his first start as an Everton player
Going great guns in the league, Everton's attentions turn back to the seemingly interminable quest to win the League Cup as Norwich City return to Merseyside for the first time since the first match of the post-Roberto Martinez era in May.
That day former Toffee Steven Naismith and the already doomed Canaries were easily beaten in the atmosphere of relief and renewed positivity that pervaded Goodison Park and new boss Ronald Koeman will be hoping for an equally comprehensive victory to the 3-0 win that afternoon or the comfortable ride his side had against Yeovil in the last round.
Norwich are off to a good start in their bid to bounce straight back into the top flight. Following their 2-1 win at Nottingham Forest on Saturday, they sit second in the Championship behind early leaders Huddersfield Town.
Koeman explained in his pre-match press conference today that given the recency of their demotion and their chances of being promoted again this season, he regards the East Anglians as a Premier League team and will not be taking them lightly.
He confirmed, nevertheless, that there will be at least one change to the team that started against Middlesbrough on Saturday, with Enner Valencia coming in for Romelu Lukaku who has a minor toe injury, and also hinted at other changes.
Koeman suggested that the chance was there for a few players to stake their claims for more regular action after being forced to watch on from the sidelines for the most part as he has retained a largely settled side in recent weeks.
While Darron Gibson is ruled out as he recovers from groin surgery, the likes of Tom Cleverley, Aaron Lennon and Gerard Deulofeu will be hoping for a chance to shine, as will Joel Robles who was not handed a "cup goalkeeper" assignment in the last round.
Koeman insisted that Everton would be taking the EFL Cup seriously this season given its importance in the light of how hard it would be to win the Premier League.
"The [League Cup] is important," the Dutchman told the media . "Normally, we can't win a [Premier League] title. I think Leicester last season was an exception and then you have the EFL Cup and the FA Cup which are important for the other teams.
"Of course we're taking it seriously. Normally we'll make some changes but all the players who will start tomorrow are training hard for the opportunity to play and we will start tomorrow with a strong team.
"[A game like this] is always an opportunity for players who did not play a lot in the last few weeks because we didn't change [the team] a lot.
"I'm the kind of manager that when the team is doing well and if the players are performing how I expect [then I won't change it] … perhaps one or two changes can be made for tactical reasons.
"Some players will get their chance tomorrow and you take notes about that because that means that after tomorrow you can make your conclusions about players and make decisions about competition. We like to have that competition [in the team] and it's a big opportunity for some players and they need to respond.
"[Valencia] will start tomorrow," he concluded.
Norwich manager Alex Neil, meanwhile, is expected to make changes himself and that could hand Naismith the chance to face his old team again after being one of the older heads at Carrow Road who have not featured all that much in the early part of the season.
In his own "presser", he said that while the Championship must be the Canaries' priority, he still wants to do well in the cups and, as such, he won't be "going there to send some kids out as lambs to the slaughter." That could open the door to another ex-Blue in the form of goalkeeper John Ruddy and defender Sebastien Bassong who scored Norwich's goal when the clubs met at the fourth round stage of the same competition last October.
Everton had to win on penalties that night but Koeman will be hoping to get the job done inside 90 minutes so he can move on to preparing for the trip to Bournemouth on Saturday.
Kick-off:
20 September, 2016; 7.45pm
Referee:
Andrew Madley
Last time:
Everton 1 - 1 Norwich City
(
Everton won 4-3 on pens)
TV: It appears as though the match is only being carried live by beIN Sports Arabia 9 and being streamed online by beIN Sports Connect in the USA and Canada
Full details: ToffeeWeb match page
---
Reader Comments (46)
Note: the following content is not moderated or vetted by the site owners at the time of submission. Comments are the responsibility of the poster. Disclaimer
Colin Glassar
1
Posted 19/09/2016 at 18:50:39
What was Gibson doing to get a groin strain? Opening a jar of pickles?
Gary Creaney
2
Posted 19/09/2016 at 18:51:05
Always found it weird that when we (or any team) play a Saturday then a Tuesday there's rarely any mention of the quick turnaround but when it's the Thursday/Sunday brought about by the Europa League it's a huge problem. It's almost as if there is an imaginary replenishment of body and mind at midnight Sunday. Purely psychological the Europa League myth in my opinion.
Norwich should provide a good challenge but it would be good to see Holgate, Funes Mori, Oviedo, Lennon and a couple of others get a good run out.
Joey Brown
4
Posted 19/09/2016 at 18:58:48
One thing you can't knock Ronald Koeman for is honesty. Just very to the point on what he does and why he does it.
Chris Gould
5
Posted 19/09/2016 at 19:38:51
Gary Creany, I think the main difference regarding the Europa League is when you have to travel to an away tie in Russia or some other Eastern European country.
Also, the following Premier League match is affected by the quick turnaround of the Europa, whereas this quick turnaround only effects the less important League Cup tie, where you may be able to play some squad players.

Nigel Munford
6
Posted 19/09/2016 at 19:47:21
Colin, I'm sure there's far more exciting ways to get a groin strain than opening a jar of pickles.
Les Martin
7
Posted 19/09/2016 at 19:53:19
Rom's temporary injury could be a blessing to get Valencia accustomed to the first team. Obviously we want Rom fit, but we need an able deputy and Valencia has an opportunity here that will do him no harm.
Perhaps Deulofeu and Lennon will for Bolasie and Super Kev, maybe in with Barry rested and Funes Mori in for Jags? Holgate for Seamus, but maybe that's too many changes for Ronald. It will be very interesting to see how we are set up.
Andy Meighan
8
Posted 19/09/2016 at 19:59:47
Nigel (#6), enlighten me, please.
Ray Roche
9
Posted 19/09/2016 at 20:02:25
Nigel, I heard he did it climbing out of the wreckage of his car after it had ploughed into a garage. Maybe.
Mark Morrissey
10
Posted 19/09/2016 at 20:07:49
Please don't underestimate the challenge that Norwich will represent. We need some silverware this year.
If we are to progress as a club we need to start winning things and with these victories we will attract top players and encourage others to stay. I'm sure this is not lost on Koeman.
Len Hawkins
11
Posted 19/09/2016 at 20:29:40
Colin you make him sound like an elephant, surely he'd only strain his wrist opening a jar of beautiful crunchy Barton's Pickles.
Colin Glassar
12
Posted 19/09/2016 at 20:32:48
Wasn't it Jermaine Jenas who dropped a jar of mayonnaise on his foot and was out for weeks? Gibbo might have had the jar between his knees when his groin went.
Frank Crewe
13
Posted 19/09/2016 at 20:55:02
It always amazes me how players who are apparently made of glass like Gibson manage to make it through all the various youth stages without all these constant injuries. Yet as soon as they reach the 1st team suddenly you can't blow on them without them being out for six months.
You would think there would be some way for clubs to weed these kind of players out before they start earning the big bucks and waste their clubs money and the physio's time.
Gary Creaney
14
Posted 19/09/2016 at 21:24:24
Chris Gould, I do accept that except for the fact that 3 of 6 group games are at home and Eastern Europe isn't always the away destination. And many times we haven't rested any players in the league cup after a weekend game.
Gavin McGarvey
15
Posted 19/09/2016 at 23:06:32
Frank (#13),
You have to remember that young, promising players represent large bags of free cash to clubs. It's a bit like deal or no deal, do you want to believe that yours is the one that's worth 50p or 㿞,000,000?
While there are some players who let themselves go once they've got their contracts, more likely for most is the hiding of injuries by their clubs and the optimistic views of club officials. Look at the use of cortisone injections by clubs, whose interest is that in? Certainly not the players. It's just greed by the clubs.

David Booth
16
Posted 19/09/2016 at 23:51:21
No 'cup goalie' bollocks – let's get this damn thing won.
It's not an experiment or a pseudo-friendly – it's a new and long-overdue trophy in the cabinet and a European place next season.
Koeman, you Blues!
David Ellis
19
Posted 20/09/2016 at 03:04:59
Stekelenburg;
Holgate, Williams, Funes Mori, Baines;
Gana, Cleverley;
Lennon, Barkley, Deulofeu;
Valencia.
Maybe this is too many changes given the comments of Ronald Koeman but it's a decent side – all are solid Premier League players. I hope to see Tom Davies get some game time as well.
I think Barry, Jagielka and Bolasie could do with a break. Holgate, Deulofeu and Barkley need game time to continue their development. Lennon, Cleverley and Funes Mori won't let anyone down.
Mike Gaynes
21
Posted 20/09/2016 at 05:31:01
I like your lineup, David, although I would also give Oviedo a run out in place of Bainesy, who is coming back from an injury-filled season and hasn't missed a minute so far. Like Barry, he needs a night off.
Gareth Clark
22
Posted 20/09/2016 at 08:05:43
One would think Funes Mori, Holgate, Lennon & Deulofeu deserve a start... maybe three at the back??
Steklenburg
Holgate, Williams, Funes Mori
Coleman (RWB), Oviedo (LWB)
Deulofeu, Idrissa, Barkley, Lennon
Valencia
Robles, Jagielka, Baines, Davies, Cleverley, Bolasie, Kone
With this formation, Koeman can change into a back four if needed:
Coleman, Holgate, Williams, Funes Mori.
Personally I feel that Holgate & Funes Mori are the ideal replacements in the Premier League as they can slot in at RCB & RB and LCB & LB, respectively. Plus, they will do a decent job there too.
Denis Richardson
23
Posted 20/09/2016 at 08:46:57
Happy for Rom to have a break, it'll be a long season.
Would probably give Funes Mori and Holgate a run out as well.
Derek Knox
24
Posted 20/09/2016 at 09:51:56
Colin @1
They can be difficult to open at times, especially pickles, where one has to resort to placing the jar between one's legs, whilst turning the lid and singing "Come All Ye Faithful"! (:
Col Wills
25
Posted 20/09/2016 at 10:38:55
I'd heard Gibbo was doing keepie uppies with the Branston 'Tm' in his kitchen bollocko
Paul Kennedy
26
Posted 20/09/2016 at 11:12:43
Going great so far... up beat, looking forward to each game with hope and expectation. It is good to review some of the older posts on here and look for a little bit of Humble Pie (or big in some cases), particularly the item headed "Moshirir – Nothing has changed". Err I think it has...
Or the very long one about the useless midfielder from Aston Villa. Yep the same little work horse who is taking the Premier League by storm.
Still, we are all entitled to our opinion. I just think we should be giving plenty of credit where it's due.
Robert Leigh
27
Posted 20/09/2016 at 12:10:21
Steklenburg
Holgate - Jagielka - Funes Mori - Oviedo
Davies - Gueye
Lennon - Barkley - Deulofeu
Valencia
Robles, Williams, Baines, Cleverley, Dowell, Mirallas, Kone
Gives Barry a rest, Barkley a chance to continue his form from Saturday, a couple of lads a run-out and ammunition on the bench if required. COYB!!!
Jack Convery
28
Posted 20/09/2016 at 12:46:28
Nigel – having to do an emergency stop can do your groin in. I wonder what he was about to hit? I know it wasn't the back of the net... or a ball for that matter.
Jack Convery
29
Posted 20/09/2016 at 12:50:09
With regrards to the team for tonight, I would make 3 changes at most. Players who have not played recently and are not picked to start can come on later in the game. I would play Robles, Funes Mori for Williams, and Valencia for Lukaku. It's about time we won this Cup.
Nigel Munford
30
Posted 20/09/2016 at 12:51:57
Andy, here you go, all you'll ever need to to know to understand groin strains:
http://www.m.webmd.com/fitness-exercise/groin-pull
Nigel Munford
31
Posted 20/09/2016 at 12:52:35
But no mention of cars or jars of pickles.
Lewis Barclay
32
Posted 20/09/2016 at 13:00:45
We've got to give Gueye a rest I think! He's worked his socks off since the start of the season and we don't want him getting injured.
Can Holgate play defensive midfield? Or drop Barkley deep and see how he performs.
I'd probably rest Bolasie and Mirallas for Lennon and Deulofeu too.

Craig Walker
33
Posted 20/09/2016 at 13:15:14
Darron Gibson had got a note from his mum that says he has a suspected veruca and is unable to partake in any physical activity.
How is he still on our wage bill?
Probably got his groin strain skipping back from the cash machine on wages day.
Jim Knightley
34
Posted 20/09/2016 at 13:15:51
I'd bring in Deulofeu, and obviously Valencia is coming in for Lukaku. I'd play Funes Mori instead of Jagielka and maybe Holgate instead of Coleman, but that would be the extent of any changes. We don't have European football to contend with, and I don't think we should change too many for risk of upsetting the balance and our considerable momentum.
Brian Harrison
35
Posted 20/09/2016 at 13:17:22
I guess Valencia, Deulofeu, Funes Mori, Oviedo, Holgate, Kone and Cleverley will all have some part to play tonight. I suspect that he may also give Robles some game time. Mind, whoever out of the above play, we should have too much for Norwich.
Jamie Crowley
36
Posted 20/09/2016 at 15:22:51
Start with your strongest team. Make substitutions at half-time for those tiring legs.
Liam Reilly
37
Posted 20/09/2016 at 15:24:03
Too many changes will disrupt the side's rhythm.
I suspect it'll 'be 2 or 3, as we need to be in that last 16 and avoid the burden of extra time and penalties.
Brian Wilkinson
38
Posted 20/09/2016 at 15:33:15
I received a text from Jim White to clear up the Gibson injury, he was helping Richard Wright clear his loft and he broke Wright's fall out of the loft yet again.
According to Merson, Everton will struggle with lack in depth. As a sports pundit, you would think he would know the players who cannot even get into the starting eleven, let alone the youngsters we have in the Under-23s. Strange how he can think Leicester last season had strength in depth.
Not too many changes tonight and job done.
Andrew Clare
39
Posted 20/09/2016 at 15:33:59
I hope we don't underestimate Norwich tonight. They are going very well in the Championship and they won't be a pushover.
Brian Wilkinson
40
Posted 20/09/2016 at 15:41:39
Worth a punt on Lukaku first goal tonight, good chance he will claim it from the stands.
Tony Heron
41
Posted 20/09/2016 at 18:00:22
Made me laugh, that (Brian @40). When I played football (many years ago!), we had a guy who would always come off at the end of the game close to the ref. When the ref asked for the name of the scorer(s), he would always give his own name in!
Watch where Rom is at the end of the game tonight!!
Mike Corcoran
42
Posted 20/09/2016 at 18:08:32
Any links? Nothing on the usual mamahd.com
Ray Roche
43
Posted 20/09/2016 at 18:20:45
Mike,
http://mamahd.com/football-live-streaming-online-for-free

It has Everton playing.
James Marshall
44
Posted 20/09/2016 at 18:21:44
eplsite.com, a few links there too
Duncan McDine
45
Posted 20/09/2016 at 18:24:16
Lets not forget, they have another World Cup qualifier week and we have just 3 games (including tonight) till then. Surely Baines, Barry, Ross and whoever else won't play for their country can all play the next 3 games.
Eddie Dunn
46
Posted 20/09/2016 at 18:34:43
Frank Crewe 13. On the subject of Gibson, do you remember some of those Howitzer shots he fired in for the Mancs? What exactly happened to his legs that has prevented us seeing similar efforts for us?
I heard that he hurt his groin playing Pokeman Go, trying to catch a Petrolipum.

James Marshall
47
Posted 20/09/2016 at 18:48:17
Team news: Stekelenburg, Funes Mori, Williams, Holgate, Coleman (c), Gueye, Cleverley, Deulofeu, Barkley, Lennon, Valencia
Subs: Robles, Jagielka, Kone, Mirallas, Bolasie, Barry, Oviedo.
Ian Hanes
48
Posted 20/09/2016 at 18:51:30
Is Holgate or Funes Mori playing left back??
Mike Corcoran
49
Posted 20/09/2016 at 19:01:57
Cheers for the links
Paul Conway
50
Posted 20/09/2016 at 19:53:40
I think this competition is starting to regain a certain amount of kudos. A lot of top coaches are starting to take it seriously, none more so than Mourhino and Conte who could use it to save their asses!!
Add Your Comments
In order to post a comment, you need to be logged in as a registered user of the site.
Or Sign up as a ToffeeWeb Member — it's free, takes just a few minutes and will allow you to post your comments on articles and Talking Points submissions across the site.