McCarthy in the frame for Ireland qualifier

29 Comments [Jump to last]
Wednesday 5 October 2016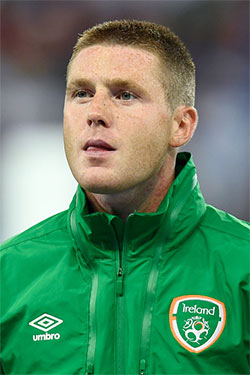 James McCarthy is being considered by Martin O'Neill as a starter for tomorrow's World Cup qualifier against Georgia despite limited training since he recovered from surgery on his groin.
The midfielder has been out of action for club and country for the past six weeks and he was forced to return to Finch Farm from international duty to go under the knife to correct the injury last month.
His rehabilitation from the operation is complete but Everton manager Ronald Koeman will no doubt be concerned over the McCarthy's match readiness given that he only has a few full training sessions under his belt.
Asked about the situation in his press conference last week, the Dutchman expressed his reservations about McCarthy's call-up by Ireland but admitted he had little control over the situation.
"[T]hey've called James up after not playing for six weeks. You have to accept the Fifa rule [allowing them to do that].
"The player wants to go. I hope [Ireland] will protect the player and realise that he hasn't had team training for five to six weeks. [McCarthy] is a risk... but we'll see what happens next week."
O'Neill reiterated McCarthy's desire to play in his comments to the Irish media today and was quoted in the Irish Times as saying that he will be selected in the team if he feels he is ready.
"I'll listen to the player," the Ireland boss said. "He's over the injury. Would his fitness be a concern? Of course, and lasting the match would be a concern.
"But he has trained over the last couple of days and I think [that he thinks] he's fit and wants to go if selected."
O'Neill's assistant, Roy Keane, meanwhile has stressed that the Irish camp won't be taking any unnecessary risks with players and insists they don't go against clubs' advice when it comes to selection.
"I don't think we've ever yet put a player in where we thought we were taking a massive risk with him and almost going against the club's wishes," Keane. "We take that on board, of course we do.
"James did a bit on Monday, we had a bit of a game on Tuesday and he's come through it, no reaction.
"I'd like to think he'd be available for Thursday. Obviously we've been getting medical feedback from the club doctor and our own doctor but the most important feedback I always look for is from the player.
"He seems really upbeat and actually looked quite sharp in training."
---
Reader Comments (29)
Note: the following content is not moderated or vetted by the site owners at the time of submission. Comments are the responsibility of the poster. Disclaimer
Ian McDowell
1
Posted 05/10/2016 at 17:14:14
He could do with some game time if he's to be considered for Man City away. I think he may be in the frame for that game considering the amount of closing down we will be doing.
Mick Davies
2
Posted 05/10/2016 at 18:45:56
I'm sick of the Irish management and the trouble they've caused our players. Gibson, Coleman and now McCarthy have all been selected/played when they shouldn't have. It's a selfish attitude and a kick in the teeth to those who pay their wages.
Frank Wade
3
Posted 05/10/2016 at 20:12:23
Mick 2, sorry to hear you're sick of the Irish management, but you're way off here.
Gibson was fit, for once, played for his country and went for a ball awkwardly and did his cruciate. Absolutely no fault can be applied to the Irish manager. FIFA rules applied, so Everton were NOT out of pocket for his wages.
Don't know what incident you refer to with Coleman.
If McCarthy plays and has a recurrence of his groin injury, the Irish FA will have to pay his wages. If he picks up an unrelated injury, FIFA will pick up the tab. In my opinion, he shouldn't be considered for this match after his operation, even if he thinks he is over it, as he is not match fit.
Barry McNally
4
Posted 05/10/2016 at 21:13:21
Why does Roy Keane have his own press conferences? Don't know of any other assistant either internationally or domestically that is in front of the cameras.
Shane Corcoran
5
Posted 05/10/2016 at 21:17:05
Exactly Frank.
I'm sick of the same old conversations on ToffeeWeb every time the International week comes around.
If he's fit let him play and get some much needed game time, just like Coleman did the last time.
Tony Abrahams
6
Posted 05/10/2016 at 22:02:14
Agree with that Frank/Shane. The kid needs to play football, and I don't see how Everton won't benefit; if indeed, O'Neill plays him.
Craig Fletcher
7
Posted 06/10/2016 at 00:24:24
Totally agree. If McCarthy is fit; the player feels up to it and O'Neill & Keane wish to play him, so be it. If he gets some good game time and comes through the match okay, ultimately it will be Everton who benefit.
Eddie Dunn
8
Posted 06/10/2016 at 08:38:45
Sorry lads, but I'm not so sure about this. Keane saying "the most important feedback is from the player" just isn't good enough. Players have always pushed themselves to play when they should really leave it for another week or two. they want to keep their place in the team and love their country or are impatient.
Frank, I'm not bothered about the wages, but I am bothered if he comes back too soon and we are without him because of it. With Gueye going to the ACN we will need him back to his best. It should be down to the medical staff.
Shane Corcoran
9
Posted 06/10/2016 at 10:20:13
Eddie, I agree it should be down to the medical staff.
Liam Reilly
10
Posted 06/10/2016 at 11:24:51
A conundrum this one.
I don't think he should've traveled at all but FIFA set the rules.
But the other side of the coin is: if Barry is fit, both he and Gana will start against Man City so where will McCarthy get any match fitness?
So, in this case, probably worth taking the chance.
Trevor Lynes
11
Posted 06/10/2016 at 11:38:25
Maybe he wants to put himself in the shop window.He will be on the bench at Everton unless Gueye or Barry get injured.
Frank Wade
12
Posted 06/10/2016 at 14:53:45
Eddie 8, I think we are in agreement on whether he plays. As I said above, I thought he shouldn't play. Apparently now he has had a few training sessions and is feeling okay, with no recurrence. It's unlikely he would have traveled and trained without the medical clearance. From his personal point if view, he is anxious to get a game under his belt and play in the World Cup, which is understandable.
The point about the wages was made in answer to a previous post and several others in the past quoting the Gibson injury, who seemed to think that Everton have to pay players who get injured on International duty.
We will need him fit in January as you say.
Coleman played against Serbia, was shaken enough, but got some game time, which helped him fit in for next club game and he's been fine since. So there are 'potential' positives. What they call a risk/reward hole in golf?
Eddie Dunn
13
Posted 06/10/2016 at 15:13:24
Koeman seemed a bit worried about it in the interview. I suppose if he plays with no after effects, we will all say it was a good thing, with him getting some match practise, but if he has a recurrence TW will be awash with "I told you so" posts!
His injury record has been poor for quite a while now. Remember many of us moaning about Martinez's so called Physio knowledge, bringing him back too early from hammy strains?
We really will need him soon, so I am hoping he just gets 15 mins at the end.
Oliver Molloy
14
Posted 06/10/2016 at 15:27:20
I agree with Roy Keane.
The most important feedback is indeed from the player. McCarthy is hardly going to risk another spell on the sidelines, or even risk his football career for a qualifier group match, is he. It's not a World Cup Final we're looking at.
Barry @ 4
Because he's Roy Keane... magic player that never held anything back and tells it like it is – still. Love it when he's asked a stupid question!

Jay Harris
15
Posted 06/10/2016 at 16:13:59
The problem as I see it is McCarthy plays with his heart, not his head, and relies on endeavour rather than skill; so, if not fully fit, he is likely to be injured again.
His injury record the last 2 seasons has not been good... suggesting that relying on the player's opinion is not the best course of action.
James Hughes
16
Posted 06/10/2016 at 16:52:47
Slightly off thread, I see Holgate and Galloway are playing for England U21s tonight.
Frank Wade
17
Posted 06/10/2016 at 19:15:48
Fingers crossed lads, McCarthy starts, Coleman too.
Oliver Molloy
18
Posted 06/10/2016 at 19:27:26
McCarthy starts so must be fit, although not match fit.
It will be interesting to see how long he lasts.
Darren Hind
19
Posted 06/10/2016 at 20:03:25
Just said on another thread that I don't see a swift route back to the starting 11 for Funes Mori. Macca's in the same boat.
Hope he plays. If anything happens to Barry or Gana, he needs to be able to answer the call. It's in everybody's interest that he plays and is match ready. Good luck to him and the Irish team.
Tony Abrahams
20
Posted 06/10/2016 at 20:49:12
It might not be swift Darren, but I still think McCarthy still has a big role to play for Everton this season.
Brian Hennessy
21
Posted 06/10/2016 at 20:59:30
Coleman scores first international goal for Ireland with a Messi-style dribble from the wing, sheer determination got him over the line.
Great stuff, Seamus!
Tony Hill
22
Posted 06/10/2016 at 22:01:22
Hilarious goal but shows how effective Seamus can still be for us if he's allowed to attack at pace.
Interestingly, he says that Koeman is allowing that to happen in a way that Martinez's systems did not over his last two seasons. We need to see much more of it.
Eugene Ruane
23
Posted 06/10/2016 at 22:45:56
Re Coleman's abilities (well done on his goal, by the way), it must be rather a poser for managers.
I mean it's natural enough I suppose for a manager, looking for crosses for his big lumpy forwards, to think "Ooh look, a tricky Spanish / Belgian / Congolese winger, he'll do me."
However, Coleman never looks better than when he has the entire right side of the pitch to himself.
When he's looked ineffective and somewhat 'confused' (to me) is when there is a winger ahead of him kind of... um... getting in his way.
I remember on quite a few occasions last season, Coleman and Deulofeu almost occupying the same space. f I'd been Seamus, I'd have been thinking "Why don't you piss off up by the corner-flag and let me have a run at them." And if I'd been Deulofeu, I'd have been thinking "I'm here now, you get back and let me do my thing."
I have no real solution but if there's a winger playing with Seamus, there needs imo to be more of a plan (?) than I've seen so far.
Christy Ring
24
Posted 06/10/2016 at 22:50:23
I thought McCarthy put in a decent second-half performance, winning a lot of tackles.
Peter Roberts
25
Posted 07/10/2016 at 11:01:37
Completely irresponsible. 45 minutes maybe.... 90?
The lad has weak hamstrings. Not good.

Dave Abrahams
26
Posted 07/10/2016 at 19:27:58
Eugene (#23), I think Lennon plays okay with Seamus, he can do his share of attacking and when Coleman attacks. Aarron covers the defensive slot, they can both tackle and never give up, but the manager hasn't taken to Lennon up to now; maybe he will get round to it.
Oliver Molloy
27
Posted 07/10/2016 at 20:38:32
Peter, who are you saying is irresponsible – the player, Ireland, Everton?

Don Alexander
28
Posted 08/10/2016 at 00:07:49
Good that McCarthy got a match under his belt and made up for Seamus. As others have said, with no winger in front of him, he has excelled in the past, and did the same with distinction when on loan to Blackpool.

Eugene Ruane
29
Posted 08/10/2016 at 01:07:49
Agree with that Dave (26). Lennon maybe less naturally 'gifted' than the others, but possibly (probably) reads things a little better.
Add Your Comments
In order to post a comment, you need to be logged in as a registered user of the site.
Or Sign up as a ToffeeWeb Member — it's free, takes just a few minutes and will allow you to post your comments on articles and Talking Points submissions across the site.