Everton vs Swansea City

67 Comments [Jump to last]
Friday 18 November 2016
Premier League Preview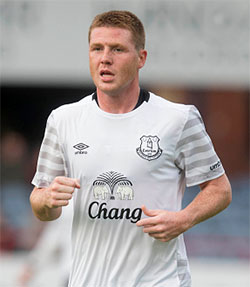 Though many favour giving Tom Davies the nod, James McCarthy is the likely replacement for the suspended Gareth Barry
Evertonians — well, this one at the very least — bade a not-so-fond adieu this past week to the final interruption to their club's attempts to gather some momentum in the Premier League as World Cup qualifying and meaningless, premature friendlies exit stage left until March.
Everton's players may have had their international commitments to distract them from the 5-0 defeat at Chelsea last time out but, for Blues fans, it's been a long fortnight to stew over what was a comprehensive mauling by a team that was unrecognisable from the derided mob that eventually cost Jose Mourinho his job this time last year.
Ronald Koeman was right when he emphasised that his team got the same number of points for the defeat as they would have had they only lost by a single goal's margin but he was equally on point when he described the result as "unacceptable" in his pre-match press conference yesterday.
"You can lose but not in the way we lost, not even against Chelsea and how strong they were that day," the Dutchman told the media. "We made it too easy for them but I am really optimistic we will get a very good reaction this Saturday."
Everton certainly need a reaction, one that speaks to the pain and humiliation that Tom Cleverley's comments suggest the players were feeling as they trudged off the pitch at Stamford Bridge and the matchup they have been handed for their attempt at a riposte is a favourable one.
Swansea City come to Merseyside with their new manager denying they are a club in crisis but their return thus far of a single victory and their lowly position of joint-bottom of the Premier League alongside a similarly chaotic Sunderland would seem to indicate that a crisis is certainly looming unless results improve.
Bob Bradley's introduction to English football hasn't been the stuff of fairytales and he has managed to pick up just one point in four games since assuming the helm at the Liberty Stadium as the somewhat controversial appointment of the Swans' new American owners.
Swansea put up a spirited but vain fight in his first match at the Emirates where they lost 3-2 but successive 3-1 defeats to Stoke City away and Manchester United at home have underscored the size of the job ahead of Bradley and his team.
It means that Everton will have few excuses if they can't get back to winning ways against the kind of opposition they should be beating. Koeman's side are unbeaten at home since he took over and, the frustrating draw with Crystal Palace apart, they have been doing the business on home turf. That bodes well for a game that offers the Blues a chance to get back onto the coat-tails of the top five, depending on how results go elsewhere this weekend.
It's likely to be an emotional occasion for Ashley Williams who meets his old club for the first time since he left them for a new challenge over the summer. He departed Goodison on the winning side back in January having helped Swansea beat Everton in a league match for the first time ever but this time he will be aiming to reverse the teams' fortunes in what is almost certain to be his 10th start for the Blues.
And he looks set to be reunited in defence with Leighton Baines for the first time in two months in what is likely to be a reversion by Koeman to a flat back four after the left back completed his lengthy layoff with a hamstring injury. With Seamus Coleman a lock for the other fullback slot, it means that the manager will have to choose between Phil Jagielka and Ramiro Funes Mori — the former's seniority, status as captain and fewer miles logged on his return from international duty might all combine to ensure he gets the nod.
Koeman is forced into another change in midfield as Gareth Barry serves a one-game ban for accumulating five bookings but Idrissa Gueye is back from his own suspension and James McCarthy's availability following a hamstring strain of his own could see him slot into Barry's place alongside the Senegal international at Tom Cleverley's expense. Many fans would prefer that Tom Davies, the stand-out performer in yellow at Chelsea after coming on as a second-half substitute, but McCarthy would be better bet based on the preference for experience Koeman has demonstrated so far.
Whether there are other changes further forward surely depends on how much Koeman wants to shake things up from a fortnight ago. Kevin Mirallas was the man sacrificed to accommodate a five-man defence but he added precious little to an anaemic attacking display by Everton after being introduced before half-time. Even though he has been talking up the need to step up his performances in recent days, Gerard Deulofeu has flattered to deceive, while Aaron Lennon has looked decidedly ordinary on most of his outings so far.
It suggests that Koeman could opt for more of the same again this week and, presumably, challenge his erratic forward line to prove they're worthy of regular selection.
There's a sense — or perhaps just a hope — that somewhere along the line, this Everton side is going to wallop some unsuspecting team and that, if it's going to happen, it could be against the likes of struggling Swansea. By the same token, Koeman has yet to get the team firing on all cylinders playing consistently effective joined-up football and it may be that fans should focus on victories, however they come for now, while the Dutchman searches for the right blend.
Kick-off 3pm, Saturday 19th November 2016
Referee: Martin Atkinson
Last time: Everton 1 - 2 Swansea City
Predicted Line-up: Stekelenburg, Coleman, Williams, Jagielka, Baines, Gueye, McCarthy, Barkley, Mirallas, Bolasie, Lukaku
Full details: ToffeeWeb match page
---
Reader Comments (67)
Note: the following content is not moderated or vetted by the site owners at the time of submission. Comments are the responsibility of the poster. Disclaimer
Dave Pritchard
1
Posted 18/11/2016 at 08:41:10
A draw or defeat here will be a big let-down and crank the pressure up on Koeman after a difficult couple of weeks which has seen him having to answer criticisms about the team's performance and his comments in interviews. How the players react to the mauling at Chelsea will also be informative. I would like to be confident of a win but I am not.
Phil Walling
2
Posted 18/11/2016 at 09:46:03
Notwithstanding the Chelsea debacle, Swansea's recent form would point to a win for Everton. The paltry 8/13 odds on such an outcome don't tempt me to wager on my team pulling it off although I have little doubt they will do so.
I note that we are widely being laid at 20s to make top four and for 'super-pessimists' 1000 /1 is on offer against relegation.
7/2 is the best offer available on a top six finish and I have managed to negotiate 2/1 for my favoured top seven come May. (Money for old rope!)
Place your bets!
Brian Furey
3
Posted 18/11/2016 at 09:48:31
Good to have Baines back and it would be nice to see him get back to hitting in great crosses to Rom. Will he or Rom be hitting penalties? With McCarthy getting his chance to come straight back into the team in Barry's absence, he needs a big performance if he is to push for a starting place every week.
Mirallas has been the biggest disappointment this searson so far but I wouldn't be surprised to see him get a goal in this game. I'd rather see Bolasie on the left and Lennon on the right. 3-0.
Peter Barry
4
Posted 18/11/2016 at 10:14:18
A team comes to Goodison that can't buy a win in the Premier League... so guess what happens next?
Mark Morrissey
5
Posted 18/11/2016 at 10:40:21
Peter @ 4... I'll have a guess. We will win by 2 clear goals and you'll walk out of Goodison thinking "If Swansea had beaten us, I could have had a right good moan on TW and asked for Koeman's head."
That's my guess... am I wrong? I really hope the players have a different mindset to you.
Max Murphy
6
Posted 18/11/2016 at 10:58:36
Paddy Power offering 5/1 on a Swansea win. Easy money.
Brian Harrison
7
Posted 18/11/2016 at 11:24:14
I keep banging on about it, but our problem is the lack of goals in this side, apart from Lukaku. He has scored 7 league goals, the nearest then is Barry and Barkley with 2 goals. So it seems if Lukaku doesn't score, then we struggle, and we need to rectify this problem very quickly.
Because if he has a spell, and all strikers have them, when he doesn't score, who the hell is going to take his place? Neither of our wingers have been regular scorers, and the midfield doesn't produce many goals either.
The question is: Are we set up just to provide goals for one man, or do the rest of the team lack the quality in front of goal? Whatever the answer is, then we need to change something so we are not so reliant on one man.

Brent Stephens
8
Posted 18/11/2016 at 12:07:03
Peter #4 "A team comes to Goodison that can't buy a win in the Premier League so guess what happens next."
Not the most positive of guys when it comes to Everton, are you, Peter! I'll be positive and predict a win. Might be wrong like -– ops, it's catching.
A couple from our Rom will do me.
Andy Meighan
9
Posted 18/11/2016 at 12:15:41
٣ scorecast: Lukaku to score 1st goal and Everton to win 4-0 – should be at least 80/1.
Brian Wilkinson
10
Posted 18/11/2016 at 12:27:01
We are due a penalty and Baines due a goal, could be worth a punt on Baines first goal.

Scott Hall
11
Posted 18/11/2016 at 12:49:13
How does Martin Atkinson still get the Goodison Park gig? He has repeatedly demonstrated that he is a dreadful referee and that he loves to give a decision against Everton. I can't stand him.
Max Murphy
12
Posted 18/11/2016 at 13:11:03
Brent (#8) - How can we be positive watching Everton? The team continues from previous 2 seasons: no cohesion, no team spirit, no leaders, blah, blah, blah. Do yourself a favour and put a bet on an away win.
Dave Pritchard
13
Posted 18/11/2016 at 13:19:37
I don't think questioning whether we will win tomorrow makes someone disloyal to Everton. I am not that confident of a win but I certainly hope we win and win well.
Winston Williamson
14
Posted 18/11/2016 at 13:29:43
How many chances do Mirallas, Deulofeu and Lennon get?
Robles (last game a cleansheet)
Coleman, Williams, Holgate, Baines
Davies, Gana
Dowell, Barkley, Bolasie
Lukaku
See how youth responds to watching the senior team repeatedly shoot themselves in the foot.
Phil Walling
15
Posted 18/11/2016 at 13:37:50
If I was making a book, Winston, I'd lay you 10/1 against Davies starting. Koeman said as much against playing kids quite recently.
Anthony Hughes
16
Posted 18/11/2016 at 13:39:03
Got us in an accumulator tomorrow. Got Lukaku in my fantasy footy as captain so i'm expecting a comfortable win and a nice clean sheet.
Winston Williamson
17
Posted 18/11/2016 at 13:41:19
I know, Phil. It just feels like we continually prick our finger against the metaphorical pin by picking players like Mirallas, McCarthy etc who let us down on numerous occasions.
Even at 10/1 I wouldn't bet on Davies starting, nevermind my whole teamsheet.
Nicholas Ryan
18
Posted 18/11/2016 at 13:48:13
Random Everton thoughts:
Deulofeu has to play; Robles is better than Stekelenburg; Galloway should be brought back and given a game; we should have bought Shaqiri.
Minik Hansen
19
Posted 18/11/2016 at 14:18:39
My thoughts on Macca: if he plays, he will be sent out to early shower by Atkinson. Seems like not having a guaranteed start, he will struggle, giving away a cheap freekick to the opposition close to the goal, or at worst a penalty.
That said, he can prove me wrong or the team will lift his game up. Looking at our team, it's a great time to play against Swansea at Goodison Park. COYB.
Peter Barry
20
Posted 18/11/2016 at 14:48:04
Mark #5 and Brent #8, I have been an Evertonian far too long , 60+ years, to let a silly little thing like misguided optimism distort my thought processes.
Richard Lyons
21
Posted 18/11/2016 at 15:23:37
Minik (#19) – I imagine the Swans will be thinking it's a great time to be playing Everton away...
Gareth Clark
22
Posted 18/11/2016 at 15:48:12
I would love Davies to start for Barry, but I don't think it will happen unfortunately.
Stekelenburg
Coleman Jagielka Williams Oviedo
Idrissa Cleverley
Deulofeu Barkley Bolasie
Lukaku
Robles, Funes Mori, Baines, Davies, McCarthy, Mirallas, Valencia.
I'd give Oviedo at least a half, and bring Baines on early in the second half... Ease him back in.
Deulofeu deserves a start, Mirallas hasn't done much with his string of games.
On a side note – I think we should look at Dembele from Celtic as a striker target in the summer window... Looks very promising & still very young.
Kim Vivian
23
Posted 18/11/2016 at 15:56:26
I'm expecting us to get our goal difference back up tomorrow. Absolutely no prisoners to be taken please.
Anthony Hughes
24
Posted 18/11/2016 at 16:07:39
Yeah, someone is due a horrendous arse kicking off us. 7-0 please.
Jay Harris
25
Posted 18/11/2016 at 16:18:15
I would love to be proved wrong, Anthony, but we haven't got 7 goals in us.
That has been the problem for years – there isn't a goalscorer in midfield with the exception of Mirallas and he seems to have dried up since deciding to please the manager and run around like a headless chicken.
I will be very disappointed if Stekelenburg starts after his atrocious showing in the last two games but, apart from that, I think we all know the team picks itself.
Brent Stephens
26
Posted 18/11/2016 at 16:19:51
Max (#12) – bet against my own team?! Heaven forbid. Well, maybe.
Peter (#20) – "I have been an Evertonian far too long, 60+ years, to let a silly little thing like misguided optimism distort my thought processes."
What's distorted them, then?! Like you, I have been a blue for over 60 years. So you missed the successful years? Or you don't like to think of them? "Misguided optimism" – Bali is such a lovely place but you never seem to have a positive thought in your head.
Come on Everton, do it for Peter!
Brian Williams
27
Posted 18/11/2016 at 16:37:40
Three-nil win. Those of you predicting a draw or loss need to take a look at yourselves, ffs.
Laura Round
28
Posted 18/11/2016 at 17:02:20
Home record so far so good. Gotta be a win. I'm going 3-0. Not freezing my tits off to lose to Swansea. Coyb 💙

Tom Edwards
30
Posted 18/11/2016 at 19:31:56
I don't think it is being disloyal to predict an Everton defeat. I think realism is the best way. We are not exactly prolific at the moment. I have a feeling we will win narrowly but we will make it hard for ourselves.
I am going to find the Swansea players who have never scored a goal at any level and get a couple of quid on them scoring! Let's face it, how many times does that happen? Some unknown scroat who couldn't hit Kim Kardashian's arse with a tennis bat, manages to get a goal against us!
Darren Hind
31
Posted 18/11/2016 at 19:50:39
Been a long fortnight. It would be very nice to see a big win, but I'd take 1-0 right now, regardless of how we get it. Got to get back on track.

Clive Rogers
32
Posted 18/11/2016 at 20:09:27
Based on their performance against Chelsea, the following should be dropped: Stekelenburg, Jagielka, Oviedo, Cleverley and Mirallas.
Andy Crooks
33
Posted 18/11/2016 at 20:22:14
Sometime, maybe injuries, will allow a young player a start. I just have a feeling that we need a spark, a young lad who will get a chance and take it. I wish Koeman would give that chance tomorrow.
No-one from that shaming at Chelsea deserves to be safe. This is an opportunity for our coach to be bold. Give some lad a chance!
Neil Wood
34
Posted 18/11/2016 at 20:55:09
I'd love to see Deulofeu involved again. We are at home and we need to be attack-minded and let players like him loose. He's a confidence player and this is the perfect opportunity to kick start his season.
I don't care what the doubters have said previously about him. No-one captains the Spanish U21s and is their top scorer to boot without having a special something.
He's the all time top scorer with 16 goals in 32 games. In the top 10 goal scorer list come names such as Raul and Morata... Previous captains like Thiago... Xavi...
He needs a run of Premier League games and to show what he is more than capable of.
Teddy Bertin
35
Posted 18/11/2016 at 21:20:08
I like Tom Davies a lot but you can hardly say "stand out" performance against Chelsea. Like everyone. he looked out of his depth and lost out there.
Alan Bodell
36
Posted 18/11/2016 at 21:46:01
Teddy ffs mate, he came on when we were 5-0 down and had 20 mins. to 'stand out'? – I know we all expect him to do well but he's not fucking Houdini.
Lyndon Lloyd
37
Posted 18/11/2016 at 22:04:18
Teddy (35), he stood out by being about the only Everton player on the day prepared to have a go and to look like he knew what he was doing. He made one poor error that almost led to a goal but was otherwise impressive and it was his determination that forced the corner from which we had our only effort on goal in the entire 90 minutes.
He's more than earned a chance and I think tomorrow's game would be ideal.
Tony Dove
38
Posted 18/11/2016 at 22:22:48
Lyndon, hear hear but no chance.
Darryl Ritchie
39
Posted 18/11/2016 at 22:48:58
If Koeman plays his high pressing game, Lukaku, Mirallas, Barkley and Bolasie will have to pressure their centre-backs and full-backs, or it won't matter who plays in the midfield. Without pressure up-field, the whole shebang falls apart.
Dan Davies
40
Posted 18/11/2016 at 23:00:07
A lot has been said about our manager on TW and other places lately. I'm thinking it's about time these players paid back the loyal fans with a performance tomorrow.
Slate the manager as much as you want – it's about time these lads got their act together and did what they're paid to do – win matches.
Starting tomorrow.
Eddie Dunn
41
Posted 18/11/2016 at 23:01:50
We will see if Koeman will sacrifice any of our regulars for that defeat; the team selected will be indicative of his mindset. I would think Davies has done enough for a starting berth but it all depends on how McCarthy is looking in training.
I would also give Robles a chance.
Joe O'Brien
42
Posted 18/11/2016 at 23:13:52
I'm predicting a cagey start but we will beat them by 2-0 or 3-0. Rom with two and Bolasie.
I hope that he'll give Tom Davies a start; like many, I think tomorrow's match is perfect for him. With McCarthy just coming back from injury, there is no need to risk him against a team who we should comfortably beat.
Baines straight back in and Robles deserves a start also.
Tom Bowers
43
Posted 18/11/2016 at 23:42:13
Swansea can play some nice stuff but you just know they will park the bus. Most teams with inadequate creators will struggle against this kind of tactic which unfortunately is rife throughout football these days.
Everton's problems have been in midfield and, with Ross being up and down with his form, we never know what the next game will bring.
Luckily Gana is back and Baines so there may be better options with the offence but it always helps if you can get an early goal... If that ''early'' goal is a winning one in the 89th minute, I will take it.
Steavey Buckley
44
Posted 18/11/2016 at 23:42:53
Will there be an effective Everton midfield tomorrow? That's my main concern.
Peter Barry
45
Posted 19/11/2016 at 03:12:46
Brent Stephens (#26) says 'Bali is such a lovely place' in trying to justify his optimism and cast me as a cynic but I am willing to bet he has never even been here and certainly never lived here. So he knows as much about that as he does about my feelings for Everton.
Oh and I do remember when we were successful – that's why I am so disappointed with what we are now and how the team hardly ever even seems to try.
Anto Byrne
46
Posted 19/11/2016 at 04:04:21
The Chelsea game will be either a massive wake-up call or spell the end for about 6 players masquerading as footballers. I expect a 5-goal drubbing as we should be burying these sides with the quality of our side.
Brent Stephens
47
Posted 19/11/2016 at 07:09:55
Peter, I've never lived in Bali but we stopped over there to and from Oz in the early '80s. Nusa Dua on the way out, Kuta on the way in. Denpasar airport. Flew Garuda via Jakarta.
Tony Abrahams
48
Posted 19/11/2016 at 08:51:46
What's the Bali soup like?
Brent Stephens
49
Posted 19/11/2016 at 08:55:14
I was more into the fish, Tony. The grouper was delicious as I remember it.
Soups? Heinz Cream of Tomato will do me.
Peter Barry
50
Posted 19/11/2016 at 09:05:29
Brent (#48), Bali is completely and utterly different now to what it was then for the one or two days you were here in the '80s and I mean completely different – you would not even recognize it at all from those days. BTW, which surfing beach did you like best: Kuta, Sanur or Bedugul? Oh and that would be Nugurah Rai Airport; Denpasar is the capital and is 10 miles away from the airport.
Brent Stephens
52
Posted 19/11/2016 at 09:09:09
Peter, I never did any surfing. But do remember the sand on the beaches wasn't the best. Volcanic ash??
The airport was always known as Denpasar then (don't know about now) -– in fact I think the airport code was officially based on Denpasar?
Brent Stephens
53
Posted 19/11/2016 at 09:11:10
ps: Peter, how safe do you feel these days after the Bali bombings? Back to normal??
Tony Abrahams
54
Posted 19/11/2016 at 09:29:27
Hienz Cream of Tomato, Brent? You're deffo better going for the fish.
Peter Barry
55
Posted 19/11/2016 at 09:32:16
I was in the Sari Club Kuta and Paddy's Bar a week before the bombings and in Jakarta I lived very close to the Marriot Hotel and Aussy Embassy and was there when they were bombed. Bali seems quite safe now but you never know there are far more 'Bule' (Whites) here than there ever has been and so it must be a tempting target.
But Bali being mainly Hindu its not so easy for Muslims to get away with things. Like I said it was a long time ago when you were here the beaches are all sand now. Oh and Sanur is calm it has a reef just offshore and Bedugul is a lake in the mountains.
Brent Stephens
56
Posted 19/11/2016 at 09:36:55
There but for fortune, Peter. I think you watch the games live in Bali, so enjoy today. COYB.
Paul Conway
57
Posted 19/11/2016 at 09:44:12
Neil Wood (#34),
What about that bet you offered me, that he would be in the top assists this season? I offered you Mirallas with him.
They have both proved that they are not the players we can count on. It's a good job you didn't take it on!

George McKane
59
Posted 19/11/2016 at 10:39:50
Just getting ready to go to The Dark House to meet my fellow Blues. As I walked up to the top floor of our House in New Brighton, I could see Goodison shimmering in the Winter Sun like a diamond drawing me over the water to bathe in its glory.
For all it's pain, it's marvellous being a Blue – especially on 3:00pm Saturday kick-offs... wonderful.
"From a little spark may burst a flame... as one who sees in dreams and wakes to find the emotional impression of his vision still powerful while its parts fade from his mind" – so said Dante on his way to Paradise... just like us good souls on our way with fellow Loved Ones on our way To Blue Heaven.
All written before I have had a pint at TDH.

Tony Abrahams
62
Posted 19/11/2016 at 11:15:35
He's high on life, Ray, because he's going to Goodison to watch his team... it's what Everton do to us sometimes!
Ray Roche
63
Posted 19/11/2016 at 11:24:19
High on life? For some reason, I'm bricking it.
I'm taking a couple of mates and one is taking his little lad for his first Goodison experience. I'M as nervous as anyone!
I just so want him to enjoy the game and see us win... so if anyone sees an excited 7-year-old in Row NN in the Main Stand, it'll be him. I'll be in the Lower Gwladys biting my nails.
Gordon Crawford
64
Posted 19/11/2016 at 11:44:16
Ray – no biting of nails to be done; should be a comfortable 3-0 win. :)
Neil Wood
66
Posted 19/11/2016 at 12:23:03
I'm pushing the boat out on a 5-0 win today. Have a feeling!
Brian Harrison
67
Posted 19/11/2016 at 12:28:34
Just heard a guy from William Hills say that no new manager has lost his first 5 games as manager in the Premier Leaguie. Bradley has lost his first 4... let's hope we make sure he is the first.
Tim Greeley
68
Posted 19/11/2016 at 13:01:18
Bob Bradley is a US national treasure!! Ehhhh... not so much. :)
I'm pretty sure he has managed a draw and to go with the 3 losses so we aren't set up to save his hide this time. Honestly we have to beat this team by two clear goals, they suck and are playing awful. Take it right to them.
Cheers to George McKane, great post. I hope the post-match, and post-pint, sentiments are even rosier!
Andy Meighan
69
Posted 19/11/2016 at 13:16:38
Another classic post from George (#59). Who have you been listening to on the way over, mate? I'm intrigued...
Peter Cummings
70
Posted 19/11/2016 at 13:29:29
No excuse if we don't score a comprehensive win today, The Swans are the Premier League whipping boys (unfortunately for them) so they should return to the valleys after a similar mauling we suffered last game. But, like most of us long sufferers, the feeling is they will not lie down like we did at the Bridge.
Chris Gould
72
Posted 19/11/2016 at 14:23:27
Starting XI to face Swansea: Stekelenburg, Baines, Jagielka, Williams, Coleman, McCarthy, Gana, Bolasie, Lennon, Barkley, Lukaku.
Subs: Joel, Deulofeu, Mirallas, Cleverley, Valencia, Funes Mori, Holgate.
Colin Hughes
73
Posted 19/11/2016 at 14:40:18
A few players there who may be a bit rusty such as Baines, McCarthy and Lennon, not much game time between them for some time. We can't afford to carry too many players who aren't fully fit in this league so it could be costly.
Dave Older
75
Posted 19/11/2016 at 19:29:54
Are some people on here really saying to sack Koeman already?? Seriously?? We are looking poor at the moment I know, but give the guy a chance.
It looks like the January window can't come quick enough for us. We need some quality players in ASAP. I think the young lads like Davies and Holgate need a run out too.
Koeman has a huge job on his hands, let's back him and hope Moshiri opens his wallet in January!!!
Add Your Comments
In order to post a comment, you need to be logged in as a registered user of the site.
Or Sign up as a ToffeeWeb Member — it's free, takes just a few minutes and will allow you to post your comments on articles and Talking Points submissions across the site.