Funes Mori determined to fight for his place at Everton

20 Comments [Jump to last]
Friday 9 December 2016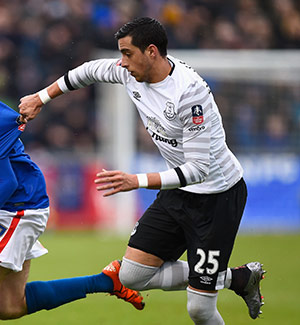 Ramiro Funes Mori says that it feels good to be back in the Everton side and that he wants to prove himself so he can keep learning under Ronald Koeman.
The Argentine defender found himself warming the bench following the arrival of Ashley Williams from Swansea when Koeman decided that the Welsh captain's experience and that of Phil Jagielka would make them a better central-defensive partnership.
It prompted Funes Mori to provide the first indications in October that he might have to seek a move away from Everton in order to play regular first-team football and retain his starting role at the back for his country.
Restored to the team, however, in place of Jagielka against Manchester United last weekend and likely to again be in the starting XI at Watford again tomorrow, the 25-year-old now wants to get his head down and cement his spot.
"My first year at Everton was very good, personally, because I never expected to play a lot," Mori said in the Liverpool Echo. "I want to stay at the club and keep fighting for a spot and grow as a player.
"I started the season playing but the manager had his reasons and I didn't play for a while. I'm starting now and I have to keep training and work hard.
"I knew I was going to get my chance again so I have to prove myself and play well to keep playing.
"I don't like to be on the bench, I like to play every game, but the manager had his reasons so I coped with that, I stayed focused, kept training and knew I was going to get my chance again."
---
Reader Comments (20)
Note: the following content is not moderated or vetted by the site owners at the time of submission. Comments are the responsibility of the poster. Disclaimer
Ricardo Gimpardsle
1
Posted 09/12/2016 at 18:32:30
Wow, an EFC player who is determined! I wish more of the squad would show some determination and show us why they were bought in the first place.

For those who were told they were not good enough by Koeman, get your head out of your arses and prove him wrong.

That is the response he was looking for when he gave you the challenge, not this meekly crying 'cos he upset you.
Colin Glassar
2
Posted 09/12/2016 at 19:06:25
If you learn to pass to a fellow Evertonian, you still might make the grade, Ramiro.
Jim Potter
3
Posted 09/12/2016 at 19:08:11
I'd play the very promising Holgate before either Funes Mori or Jags right now.
Jimmy Sørheim
4
Posted 09/12/2016 at 21:17:33
Give Mori a break, he has only played a couple of games here and there so far, it is Jagielka who has given away penalties like crazy, not Mori.
I want Mori to get match sharpness and keep Jags on the bench so that our defence can be trusted again
Also Joel Robles MUST start against Watford, Stek has made slipped in more then a handful of soft goals. it is now time for Stek to be benched!!!
Mike Gaynes
5
Posted 09/12/2016 at 21:50:36
Ricardo( #1), too bad he wasn't "determined" enough to hustle back and cover his keeper's mistake instead of just watching the bouncing ball.
That said, I'd still choose him over Jags this weekend. And definitely over a lad, no matter how promising, whom we've never seen play center back for the senior side.
Tony Hill
6
Posted 09/12/2016 at 21:58:26
Jim, I think Holgate is one of the best young natural talents as a defender that I have seen. I would place him ahead of Stones because he has a better positional instinct. He also seems to have an intelligence and self-possession which promise well for the future. That said, he remains raw and in fact was poor in his last full game against Norwich (along with others of course).
I think Koeman is using him well; I also think the manager knows what a gem he's got. But I don't think the boy is yet ready for a regular starting slot.
Funes Mori is a talent in my opinion, he gets goals too and has the right attitude, as these quotes demonstrate. He needs a good run in the side again to build confidence. Yes, he has errors in him but I want him to stay with us and develop. Aged 25, playing with/training against the very best in the world internationally, we'd be fools now to discount him.

Jim Hardin
7
Posted 09/12/2016 at 23:16:50
Mike,
Too bad that Mistek can't figure out when to come out and when to let his defender shield the player, who had no support to pass to, to the endline. By all means, go ahead and blame the defender who was doing his and William's job for the goalkeeper, who should have been on his line to cover any weak shot Ibra could have gotten off.
Barry Jones
8
Posted 10/12/2016 at 01:26:50
Jim, you know... and we know... that you are correct on this one. But no need to labour the point just because of all the stick you took defending Timmy.
Anthony Dwyer
9
Posted 10/12/2016 at 01:49:39
I seem to see things a little different from a lot of blues.
IMO Funes Mori is our best centre half, he should be the main man in our defence and we should be looking on playing him, week-in & week-out.
Brian Porter
10
Posted 10/12/2016 at 06:11:50
Anthony Dwyer (#9), I happen to agree with you. He will only really show how good he is if given a protracted run in the side. Younger than both Jags and Williams and a reasonable goal threat too. A natural left-footer too, which neither of the other two are.
Andrew Clare
11
Posted 10/12/2016 at 09:25:14
Let's face it, Jags has had his day at this level. Funes Mori is the future. He is not an Argentina international for nothing.
He needs a long run in the team to build his confidence. We will then reap the rewards. I'd like to see both Holgate and Funes Mori in the centre of our defence.
Chris Owens
13
Posted 10/12/2016 at 17:43:13
Ramiro. A word of advice. Fold your socks down, you big tart.
Eric Paul
14
Posted 10/12/2016 at 21:00:55
Barry @8,
The problem wasn't "Timmy" – how bad does Bravo look with Stones in front of him???
Tony Draper
16
Posted 10/12/2016 at 22:55:37
Thank God that we sold Stones. He can play football, but he can't defend. Today, he proved why we are well shut.
If you think that I'm wrong, then consider how delighted you'd be if Everton had paid in excess of 㿛½ Million for him.
He just WILL NOT learn. That backpass today, for Vardy's hat-rick?
I'm NOT impressed with Williams thus far. Stekelenburrg stinks.
And until our defence is solid again, then we're just no different than this time last season.
Brent Stephens
17
Posted 10/12/2016 at 23:03:15
Yes, Tony. We robbed Man City for the Stones money. A case for the fraud squad. I know some on TW were high on the Stones bollocks about him being the next Bobby Moore or Beckenbauer but the lad is too often a walking (dribbling) disaster.
John G Davies
18
Posted 10/12/2016 at 23:22:02
Tony (#16).
Stones is a poor defender; all over the place positionally.
To get 㿛½ million for him is daylight robbery.
Tony Draper
19
Posted 10/12/2016 at 23:37:09
In response to the Holgate fans above. Count me in.
Defenders who can defend are old enough.
Tony Draper
20
Posted 10/12/2016 at 23:43:19
Oh, and back on topic, Funes Mori actually looks like he wants to play for us. Degsy Mountfield did too.
I still love Degsy.
Jim Hardin
21
Posted 11/12/2016 at 02:34:14
Brian Furey
22
Posted 12/12/2016 at 16:59:05
I'm happy for Funes Mori as, like some have said, he seems passionate about playing for the club and was one of the few who looked up for it at the derby last aseason.
I am worried though that Williams seems to be on a downward slope and is often looking a bit slow and second to the ball. Maybe it's the teams overall lack of confidence but even Coleman doesn't seem to be his normal gut-busting self. Baines has been on the decline for a while and maybe we should have let him go to Man Utd back then.
I see Fellaini is getting a hard time from the Man Utd fans. I'd say he'd be happy enough to come back to us but not sure Koeman would rate him.
---
Add Your Comments
In order to post a comment, you need to be logged in as a registered user of the site.
Or Sign up as a ToffeeWeb Member — it's free, takes just a few minutes and will allow you to post your comments on articles and Talking Points submissions across the site.