Funes Mori wants more playing time

76 Comments [Jump to last]
Thursday 6 October 2016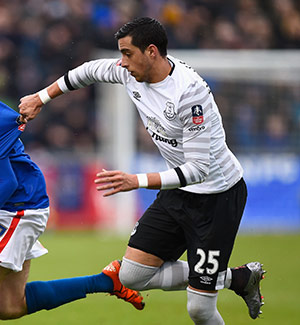 Ramiro Funes Mori says that he needs to be playing regularly if he is to keep his place in the Argentina national side.
The defender was a frequent starter for Everton last season but has been relegated to bench duty under Ronald Koeman following the arrival of Ashley Williams.
Funes Mori says he will see how things go but he suggests that he might need to look to move on from Goodison in search of regular action.
"I started playing, but then the manager decided I had to be a substitute," he told La Nacion.
"I'll see how things are going, because if I don't play I will look for a way out to have that continuity of which we spoke, because I've place in the national team also based on play.
Although Paton [Bauza, Argentina manager] gives me great confidence, I need continuity. And to play… at Everton or elsewhere."
---
Reader Comments (76)
Note: the following content is not moderated or vetted by the site owners at the time of submission. Comments are the responsibility of the poster. Disclaimer
Patrick Carty
1
Posted 06/10/2016 at 17:14:48
Williams and Jagielka are playing well at the moment so I can't see a change in the centre-back pairing any time soon. Knuckle down and your chance will come.
James Watts
2
Posted 06/10/2016 at 17:24:01
Cheerio! Don't let the door hit you on the way out ...
Brian Cleveland
3
Posted 06/10/2016 at 17:35:17
While an okay player, he doesn't convince me. There are better, I think. I don't think he is better than either Jags or Williams.
Prone to panic and decision-making not always the best. Passing pretty average, tackling reasonable but not that good... decent header of the ball, but more in attack than defence!
He doesn't fill me with confidence so I won't be too bothered if he moves on, but cover is the issue, although Holgate has looked pretty assured in his appearances so far.
Understandable if he feels the need to move on for the continuity.
Paul Conway
4
Posted 06/10/2016 at 17:51:30
What is going to happen if Koeman eventually fulfills his wishes for 2 players for every position? At all times there has to be someone on the bench while his position is filled for the moment.
If good international players don't want to sit on the bench while they see their counterparts playing out of their skin, will they want out?
Does that mean we can only have shit on the bench and they will be happy to be there? Err, em... we already have that!

Brian Williams
5
Posted 06/10/2016 at 17:51:30
Let's get a good price for him in January if he really wants to go, and replace him with like-for-like at a similar age.
A full Argentine international should go for a fair amount...
Martin Mason
6
Posted 06/10/2016 at 18:29:32
He isn't an EPL standard defender for me because he loses the ball when he plays it out, he has no distribution skills and that doesn't work in the EPL. He has talent though and he may fit perfectly into Spanish or Italian football.
Whatever, we'll sell him for twice what we paid which is great for the club. If we do well this year it could crazily be on a negative transfer budget.
Mike Gaynes
7
Posted 06/10/2016 at 18:44:44
Sorry, Ramiro, but with you on the bench and Williams in the lineup, we've cut our GA/per game in half from last season (from 1.4 to .7), and we currently have the second-best defense in the Premier League.
It's not all down to you – the coaching change and Gueye have had a major impact as well – but right now the defense looks better without you.
If you gotta go to keep your World Cup dream alive, good luck to you.
Mark Dunford
8
Posted 06/10/2016 at 19:10:25
Lost my support with the disgraceful foul and subsequent petulant behaviour at the derby last year. Hope Galloway gains experience at WBA – he is far better long term prospect and, as others say, Funes Mori will command a decent fee. Thanks, but no thanks.
John Daley
9
Posted 06/10/2016 at 19:20:28
"He isn't an EPL standard defender for me because he loses the ball when he plays it out, he has no distribution skills and that doesn't work in the EPL."
Of all the criticism that could be aimed toward him as a centre-half, that his distribution is crap is a strange thing to single out when the players he's fighting for a place against are Jagielka and Williams, both of whom are pretty poor themselves when required to stroke it about. I'm sure Funes Mori is equally as capable of simply twatting it long toward the general vicinity of wherever Bolasie might be, as seems to be the default mode of defensive 'distribution' thus far this season.
We haven't seen anywhere near enough of him, under a different manager, to determine that the liking for a dodgy pass out from the back is actually part of his defensive make up rather than the result of a Roberto Martinez instruction.
Rick Tarleton
10
Posted 06/10/2016 at 19:41:43
His one advantage over Williams and Jagielka is that he is a left-sided defender. Jagielka can be inspirational, but I'd like to see Funes Mori and Williams given a few games together.
Darren Hind
11
Posted 06/10/2016 at 19:48:48
Difficult to see a way back for him, Jags and Williams are doing okay; Holgate and Young Brendan look the part.
He's lucky in the sense that he has very little competition for his Argentina shirt and because of the players around him, he will always look decent.
Never been a huge fan, but John Daley makes a very pertinent point. It would be very wrong to judge the guy based on his performances under Martinez. He was no worse than anybody else, was he? Jags and Williams are getting no younger so he will get chances.
I think he deserves a fair hearing, I'd like to see him play under a proper manager before writing him off.
Raymond Fox
12
Posted 06/10/2016 at 19:51:27
Not suprised he's looking to move.
Why would we get twice what we paid for him, Martin? Apart from maybe players prices in general have risen slightly, he was a Argentine International when we bought him.
I'd sooner have him than Jags; he hasn't done much wrong in my eyes.
Stu Smith
13
Posted 06/10/2016 at 19:57:13
Weren't Barcelona interested in the summer????
Lenny Kingman
14
Posted 06/10/2016 at 20:03:25
So, as well as a ludicrous sum of money for services rendered or not, we have to play him in the first team, regardless, so he can get his place in his national side. Do one.
Why not return to your beloved Argentina, I'm sure you'll be guaranteed a start every week down there to showcase your not so obvious talents.
One drawback though. You will have to take a small pay cut. Around £50k+ a week. A price worth paying I'm sure for such a patriot.
Phil Sammon
15
Posted 06/10/2016 at 20:06:21
I don't know why some people are so keen to see the back of him. He's a good player. Williams & Jags look stronger... but so does the entire defensive unit under Koeman.
I can understand why he wants out. Fair play to the guy that he actually wants to play football. However, we only have 3 centre-backs with any decent Premier League experience. If I were Koeman I'd ask him to see out the season and leave in the summer.
John Malone
16
Posted 06/10/2016 at 20:08:24
No big deal if he want's to go!
He is good in the air but doesn't offer much else, he dives in a lot and struggles to clear anything that isn't on the deck!
He couldn't lace Jagielka's or Williams's boots – they have both forgotten more than he knows about defending and are both much better players for me.
It's a shame really as, if he bided his time and learned from the pair of them, it wouldn't be long before he would be taking their place in the side.
Easily replaceable with a European centre-half; as long as we recouped the money we paid, I'd let him go tomorrow!
Dave Abrahams
18
Posted 06/10/2016 at 20:30:40
I think Funes Mori just needs to be patient; he's a good centre-half for me, he will get back in the team and stay there once he does.
Jags has been a good player for Everton and puts his body on the line in every game but he is not getting any younger, so Funes Mori will get his chance sooner rather than later; then it is up to him.
Denis Richardson
20
Posted 06/10/2016 at 20:46:08
Must say I'm surprised by the amount of negative comments on this. I always thought (and still think) he's a decent defender. He's also the only left footed centre-back we have. Jags and Williams are not exactly young so I wouldn't be in a rush to sell Funes Mori. I'd like to see him play more with Williams but as Jagielka is captain that won't happen.
Would be amazed if both Jagielka and Williams get through to January with no injury or suspension so Funes Mori is still very useful. Koeman needs to give him some minutes. It's also a long season.
In the line of players that need shifting, he's certainly not near the front.
Peter Mills
21
Posted 06/10/2016 at 20:54:06
It would be a shame for the club to lose a lad who is a regular for Argentina. He has had nowhere near long enough to adapt to playing in England for a manager who knows a bit about defending.
Tony Hill
22
Posted 06/10/2016 at 21:01:30
He was very good when he began with us when many were pleased that Tim Vickery had got it wrong. He has wobbled latterly but I think he's got talent and he has the important knack of getting some goals.
I think Jagielka's best days are behind him and that his captaincy is a problem for us, so I'd prefer him to go if anyone has to.
Tony Abrahams
23
Posted 06/10/2016 at 21:05:36
His distribution is poor, but he should be okay playing in Italy or Spain, because these two countries are light years behind the English when it comes to playing football from the back!
Martin, although I don't know you personally, you always make me smile; you remind me of that old Talking Heads classic from years ago mate!
Bobby Thomas
24
Posted 06/10/2016 at 21:55:25
I can't see Koeman having him.
Jim Hardin
25
Posted 06/10/2016 at 22:36:10
Darren,
Well put. The only thing I disagree with is the players around Funes Mori on the Argentinian side making him look good. Otamendi is the weaker of the pairing and Funes Mori covers for him. Further, Rojo is useless defensively as a left back. He stays out wide and too far up the field and doesn't track back to cover a ball played in behind leaving Funes Mori to have to go out and cover.
The player, Mas, who also plays left back, seems a very good player and defensively better than Rojo who really should be a midfielder the way he likes to get involved in the attack.
As you say, it is hard to judge anyone based upon last year's manager and his "style of play."
Don Alexander
26
Posted 07/10/2016 at 00:15:20
The EPL is a weird beast and Señor Funes Mori has in my estimation acquitted himself satisfactorily up to now. That said, he ain't the finished article but, unless he's conceited enough to believe he knows it all (a condition afflicting more than a few in modern day millionaire player-world), he just might reach the top if he listens to a centre-back genius such as, erm, Ronald Koeman.
Over to you mi amigo.
Anthony Dwyer
27
Posted 07/10/2016 at 00:58:55
Funes Mori deserves game time as far as I'm concerned; the lad looks like a top talent with the odd mistake in his make-up, like many other defenders.
Argentina international who likes to play with passion, heart-on-the-sleeve type of guy. I for one like him and think he should be used a lot more.
Jags and Williams look decent, but they're ageing fast and either of them could look equally as good with Funes Mori alongside them.
Fran Mitchell
28
Posted 07/10/2016 at 01:35:59
I think he is a good player, and he's a defender with a goal in him which is always a bonus.
Jags is getting on, and if the club really is looking to build a team over the next two years, then Jags needs to be moved out of the first 11. Let's see if Funes Mori will improve and fully adapt to the league. Him and Holgate could well be a top class back-pairing in 2 years, but without game time we'll never really know.
And those saying "Tchau, you know the way out" ... Jesus, you moan when players 'are lazy and sit around just for the salary' or are 'unambitious and just sit on bench when could be playing' or moan when they say 'I wanna play'.
He's on international duty. He's being interviewed and obviously the question comes up of his lack of game time. What do you expect him to say "Nah, I love sitting on the bench, and if I get dropped by Argentina, who gives a fuck? We're never gonna win the world Cup anyway, are we?"
Matt Ostnes
29
Posted 07/10/2016 at 03:01:20
You guys sure love your league, saying that Funes Mori isn't at the EPL level but he would be fine in the Spanish or Italian League. I'm not so sure that a team like Leicester could win a championship in Spain.
Some statements are also intriguing, considering that Lukaku and Funes Mori are the only ones who are indisputable starters in top National teams. Oh, and Argentina with Funes Mori never lost a single game (you know, against teams that have Suarez, Neymar and Alexis Sanchez; I don't know if they are at the EPL level).
Ernie Baywood
30
Posted 07/10/2016 at 04:15:45
A 25-year-old full international – I'd quite like to keep him around though you can understand him needing game time for his career and international prospects.
Personally I think he's a hard one to judge. Played under Martinez where central defenders were consistently asked to do the impossible. Unsurprisingly no-one achieved it, so hard to criticise him too much there. He was also alongside Stones which was never going to work as a partnership.
I suspect he's an EPL defender capable of holding down a spot. With us, he'll have to bide his time and earn that place. Somewhere else, maybe he would go in as first choice.
He really does look like Jerry Seinfeld.
James Flynn
31
Posted 07/10/2016 at 05:17:57
Well, he took and he gave tonight.
Scored one and fouled his man in the box, giving up a penalty.
Brian Porter
32
Posted 07/10/2016 at 06:13:15
Darren (#20), Jim (#25), agree with you guys. How many times do TW members cry out for players to play with passion and fire in their bellies? Well, this lad does that!
And how long do those so keen to get rid think Jagielka's ageing legs can go on? He missed a fair few games last season with soft tissue injuries and is in the twilight of his career, so, to be fair, is Williams.
Funes Mori is the type of left sided centre-back we need and I see him as a long term successor to Jags. I don't think Koeman would actually want to lose a regular Argentine international starter so I for one hope he can reassure Funes Mori that he is a big part of his plans for our future.
Brian Porter
33
Posted 07/10/2016 at 06:43:49
ps: I just watched Wales v Austria. Williams was decidedly AWOL for Austria's first goal. So nobody's perfect... but please, we should know all defenders can make mistakes. Do those who criticised the signing of a 32-year-old centre-back now want to see him replaced due to lack of pace?
Please, let's remember Funes Mori is one of ours and he should be applauded for wanting to play regularly, rather than sit bench-warming and picking up a,wage for doing nothing.
James Stewart
34
Posted 07/10/2016 at 07:15:19
Not good enough, simple as that. For once, we have two no-nonsense centre-backs who know first and foremost how to defend. Funes Mori is more use in the opposition's box than his own and always looks like a disaster waiting to happen. I would take the money for him all day long.
Ajay Gopal
35
Posted 07/10/2016 at 07:26:38
I agree with most comments in support of Funes Mori. I think he needs to be reassured by Koeman about his role – if he gets about 10-15 games this season, combined with last season's experience, he could mature into a solid EPL defender in about 1-2 years time, which is when most defenders enter their prime. He also chips in with useful goals. With Jags, Ashley and Baines entering their twilight years, in a few years time, Everton's back-line could look like this:
Coleman, Holgate, Funes Mori, Galloway.
If they can be backed up by a real top-class goalkeeper, Everton's defence will be well sorted out.
Peter Laing
36
Posted 07/10/2016 at 08:29:28
Personally I would like to see Koeman go with 5 at the back for some games which would utilise Funes Mori and allow Coleman and Baines to play as wing backs. I'm still not convinced by our lack of aerial capability in defending crosses and set plays and still believe that Funes Mori has a future at Goodison should he be afforded a bit more game time.
John Keating
37
Posted 07/10/2016 at 09:06:46
Good, bad, experienced or inexperienced. If you are not happy at the Club, then best for everyone to go.
Koeman should have a sit-down with him, they can both give their opinions and a decision made. If he's still not happy, then ship him out at the best price we can get.
Hugh Jenkins
38
Posted 07/10/2016 at 09:14:28
Ajay (#35). That back line looks excellent and ultimately, Coleman may also be replaced by Browning. That back line would be truly formidable.
Kevin Gillen
39
Posted 07/10/2016 at 09:57:24
I can't believe all the posts ushering this lad out the door when he is stating the bloody obvious. "I need more game time" shocker. He is a talent, this lad, although he does lose his head at times (West Ham & Liverpool last season).
Stan Schofield
40
Posted 07/10/2016 at 09:58:03
There seems to be great enthusiasm on TW for (a) transfer windows, i.e. shipping people in, and (b) letting players go, i.e. shipping people out. Seems to me the that our 'new era' is to be marked by a very high staff turnover if TW is anything to go by.
Here's a thought: We could persevere with talented players, ironing-out faults as far as possible. I know it's a bit old fashioned.
Paul Kelly
41
Posted 07/10/2016 at 10:06:59
Mark (#8) he got more support from me for that 'foul' and badge waving behaviour, I loved every minute of it. Wish more of them had that sort of fight.
Clive Rogers
42
Posted 07/10/2016 at 10:33:22
Paul (#41),
Any fool can kiss his badge, especially on £50 grand a week. I'd be more impressed if he could kiss his elbow.
Jonathan Tasker
43
Posted 07/10/2016 at 10:34:35
Funes Mori is an awful defender so I very much hope he doesn't get to feature more in the team.
Kim Vivian
44
Posted 07/10/2016 at 10:35:57
Keep him or watch him flourish elsewhere.
I like Funes Mori. Still young, plenty to learn from a good mentor (Koeman) – I like his goals – I like his passion – and I like his threat at set-pieces. If we lost him, many on here would be blathering on about '...light in defense'... 'why can't we spend on a quality defender'... 'what we need is' blah blah blah etc.
We've got a ballsy international quality defender who makes, I would say, no more no less errors than any other defender (Everton or otherwise) and to boot has got a goal or three in him.
Some of the negative crap posted on here about some of our players drives me to despair tbh... (most actually – I can't think of one current player who isn't targeted by the boo-boys at some time).
I guess we just need a team made up from a selection of T-Webbers and we would be top 4 every year.
And perfectly salient points that Funes Mori makes. Of course he needs the game time to keep his Argentina case open. I hope he gets it with us.
Brian Furey
45
Posted 07/10/2016 at 10:39:09
Well said Kevin @39. I thought there would be loads on here "defending" him but I am surprised how many are keen to show him the door. It's not like he's Lukaku and always getting his game.
He simply stated that he's not happy he's not getting a game now and it's bad for his international career. That's totally being honest in my book and he believes in himself to be 1st choice.
I think South American football is very different to EPL. The fact Koeman was chasing Kone in the summer doesn't bode well for the lad so I would not be surprised if he leaves next year if Jags & Williams continue to do well.
Franny Porter
46
Posted 07/10/2016 at 10:42:22
Matt Ostnes (#29), I don't think people are referring to the perceived quality of the EPL as opposed to La Liga etc, they are more referring to the style of football generally favoured.
Over here, the football is a lot more frenetic and aggressive with not much time afforded on the ball; in Spain and Italy, the emphasis is more on playing the ball and taking your time.
People are suggesting here that the styles in Europe would be more suited to Funes Mori than the football here.
Both styles have their merits but I know what I prefer to watch.
Tony Abrahams
47
Posted 07/10/2016 at 11:13:18
Matt (#29), it was only one man, honest. In fact, the CD that Martin reminds me of is called "Stop Making Sense" or maybe it's my irony that doesn't make much sense?
I agree with Peter (#36), and would also like to see us experiment with 3 at the back, especially if we are going to play Bolasie like we did last Friday night.
Brian (#33), I haven't seen Wales last night but the position Williams took up in the build up to Naismith scoring for Norwich the other week was truly atrocious for a man with so much experience. He's a good player and I like him but I do think his reading of the game could sometimes be better. Same with Jagielka, and possibly another reason to go with three?

Victor Jones
48
Posted 07/10/2016 at 12:01:00
Don't be writing our Argentine international off just yet – we might just be needing him. I just heard that Jagielka is out of the England squad through injury. Should that stretch to the next Everton game, then Funes Mori should get his chance.
He and Williams is a pairing that I wouldn't mind seeing. It might just work. Or would Koeman go with Holgate and Williams? Now that would be interesting.
Anyhow, let's hope that Jagielka's injury is not too serious... and he recovers quickly. We are going to need everybody fighting fit this season.
Jay Wood
49
Posted 07/10/2016 at 12:08:41
Yes, that's the spirit! Let's get rid off asap a regular full international centre back 'cos of course we've got LOOOOAAAADDDDS of cover in that position.
Injured Jags withdrawn from England squad.
Still want rid of Ramiro?
Bobby Mallon
50
Posted 07/10/2016 at 12:25:15
I can't believe the drivel some on here spout (not a good defender, no distribution skills... Martin Mason to name but one on here). The same I suspect who were telling us Stones should hoof it).
How many of our defenders have scored goals over the last two seasons? He is a top defender and I promise you, neither Jagielka nor Williams would get in the Argentina side.
Paul Kelly
51
Posted 07/10/2016 at 12:51:14
He would of looked a bit weird trying that walking off the pitch at Anfield, hey, Clive? But impressive, granted, if he had.
Eddie Dunn
52
Posted 07/10/2016 at 13:02:39
Jags has a thigh problem. Bloody internationals!
Geoff Williams
53
Posted 07/10/2016 at 13:23:10
His heading is superior to that of Williams and his distribution is just as iffy too.
Colin Williams
54
Posted 07/10/2016 at 14:47:32
Bobby (#50), I totally agree with your comments ('drivel' is the right word). He's a top defender; I was delighted we have him! He's been here 5 mins, and the so-called top coaches are spouting shit again!
No wonder we can't keep our top players! IMO this lad will be a top defender, just let him play! Jags and Williams are well past their prime – this lad is nowhere near his prime and still playing in the first eleven for one of the best countries on this planet!!! And people are saying 'get rid'!! Ridiculous!
Mal Smith
55
Posted 07/10/2016 at 15:17:40
Well I think he is very promising; he is young and can learn... he also scores goals which is a bonus. You do not play centre-half for Argentina without having talent.
If he wants to go, fine but I would hope he will stay and fight for his place and become a good centre-half in the Everton tradition.
There are too many fans very quick to knock a player; he is new to the Premier League and will not have learned anything under the idiot Martinez; under Koeman, things could be different.
Paul Kossoff
56
Posted 07/10/2016 at 16:16:04
Don't blame him moaning a little as he's gone from first choice to back-up to Williams, who I don't think is a great alternative to Funes Mori.
I still worry when the crosses come in the box as a few times Williams is nowhere near or is stood flat-footed looking up.
Darren Hind
57
Posted 07/10/2016 at 16:59:37
"And I promise you, neither Jagielka or Williams would get into the Argentina side"
Well no, Ones English and the other is welsh. It's far more difficult to get into the centre of Everton's defence than Argentina's. Their alternatives are very poor.
I think people look at Messi and Aguero etc and think they must all be world class. Far from it, individually their defenders are crap and Funes Mori would still be chosen if he had his legs tied together.
People need to put a stop to this "well he plays for Argentina so he must be good." It's palpable nonsense. Perhaps they would gain some perspective if they sat down and made a list of how many poor players have played for good teams – provided they have all night.
It's not Funes Mori's fault that Argentina don't have top central defenders at this moment in time; you can only be the best in your position when it comes to international football.
Let's judge him on the games he plays for Koeman. It's the only thing that counts.
James Watts
58
Posted 07/10/2016 at 17:02:38
I personally don't rate him at all. He might be an Argentinian regular but far too error prone and I think he's crap defending in the air – albeit good attacking in the air.
True, we haven't got much cover and that's the only reason we should be keeping him in my opinion, and much more importantly it seems to be Koeman's opinion too! I much prefer the experienced and steady partnership we have at the moment. Holgate and Galloway will hopefully be the future.
James Hughes
59
Posted 07/10/2016 at 17:12:14
There really is some negative people about. I agree with Paul #41 at least he showed some passion & pride in our badge.
As for the shite spouted that he can't defend, well I remember the Street end booing Ratcliffe when he first started playing and the same crowd calling Watson a yard dog. They turned out alright.
Clive #42 feckin behave
Mark Morrissey
60
Posted 07/10/2016 at 17:51:20
I think he's got raw natural talent and I'm sure you don't get into Argentina's national team if you're rubbish. I hope he can progress and flourish under Koeman.
Paul Conway
61
Posted 07/10/2016 at 18:22:34
Personally, I think he is a solid defender and he can only get better playing with players who are first choice internationals, of which Jagielka and Baines are not, discounting Jagielka's inclusion by Southgate.
I think it is far too early in Koeman's era to lose a player of FM's potential under a new regime and quality players...
If he does go on the transfer list, there will be no shortage of takers... And not surprisingly, better clubs than ourselves.
James Marshall
62
Posted 07/10/2016 at 18:58:49
I haven't read the comments, but I would suggest he learns to be better at football, then he might get a game.
John Harrop
63
Posted 07/10/2016 at 20:25:04
Latest game versus Peru:
"Ramiro Funes Mori opened the scoring for Argentina with a calm finish after Peru was unable to clear a corner kick..."
Yeah, just rubbish isn't he!
James Marshall
64
Posted 07/10/2016 at 20:28:20
Opening the scoring for Argentina is one thing; learning how to be a dependable DEFENDER in the Premier League is quite another...
He's not on the pitch to score goals, is all I'm trying to say.
John Harrop
66
Posted 07/10/2016 at 20:45:56
Correct me if I'm wrong, but don't goals win football matches?
John Harrop
67
Posted 07/10/2016 at 20:57:07
Perhaps I should have read to the end of the report.
"Funes Mori turned villain when he tripped Guerrero in the box and Cueva scored a deserved equaliser with the 84th-minute penalty."
Sell him now!
Peter Cummings
69
Posted 07/10/2016 at 21:26:01
At a time when the England team's credibility is at rock bottom and, quite frankly well deserved, to hear a player so dedicated to playing for his country he is prepared to change clubs to represent pride in playing for that country, unlike many in the EPL who cry off at the slightest excuse unless England is playing a 'big' name on the international stage, is refreshing to hear.
Like many TW posters I believe the lad is far from being a lost cause as an Everton player, he has some slight faults which can easily be ironed out with regular playing time, he can score goals, he is a 90-minute performer and obviously enjoys playing for EFC when he does, there is nothing wrong with love of country, sadly lacking in England these days, I say England as the other UK national teams, Wales, Scotland, Ireland, eg, show real pride and love of country when playing. So I hope Funes Mori stays put.
Tom Bowers
70
Posted 07/10/2016 at 21:32:01
I think the lad is better than Williams and should be playing. To be honest, Everton are lacking in the air with the Jags/Williams partnership.
Anyway what about that sensational goal by Rom and with his right foot too!
Michael Farrelly
71
Posted 07/10/2016 at 23:14:07
Why don't they just keep their mouth shut and get on with it. Would any Premier League manager select him in front of Jags or Williams? Of course not!
He will get plenty of game time, we all know how long the season is, there will be injuries, fatigue etc. When he does get that precious game time, he really needs to improve big time. He needs to take heed of the fortunate he has been blessed with playing along side either one of these experienced 1st picks.
Now all he has managed to achieve with his rant is gone and pissed Koeman off. In doing s,o I'm afraid he may have hastened his own demise. Leaves one wondering just what their personal managers or agents advise them on!
Brent Stephens
72
Posted 07/10/2016 at 23:20:17
Say what you want, Funes Mori. Free world. TWebbers say what they want, so...
Tom Bowers
73
Posted 07/10/2016 at 00:03:27
Yes, players should not mouth off to the press concerning selection. If you don't like it, then ask for a move but don't sulk like a baby. Personally I didn't see the need for Williams to be bought, especially at his age, but Big K did and that's tough on Funes Mori.
With Jags and Williams both more likely to get knocks and take time recovering, Funes Mori would have been good back-up but I think he may have burnt his bridge with Big K now as a number of clubs may be bidding for him in January. By then young Holgate could ready to step up if not already.
Brian Wilkinson
74
Posted 08/10/2016 at 05:39:58
With our lack of strikers, I would certainly give him a try upfield, if memory serves me right Chris Sutton was a defender then used as a striker, as was a Sheffield weds player in the early nineties, not sure if it was Paul Warhurst or David Hurst.
Might sound daft, but looking at our other striking options, nothing to lose trying the guy out there.
Eddie Dunn
75
Posted 08/10/2016 at 09:19:01
Tom, on Lukaku's goal – it was a big deflection, so probably would have gone straight into the keeper's gloves otherwise!
Ray Roche
76
Posted 08/10/2016 at 09:34:13
Jags has picked up another injury so Funes Mori might well get his wish. He's certainly worth keeping.
Brian (#74), And Fred Pickering was full back until Blackburn had to push him up front in an injury crisis. He scored against us so we bought him and he scored three on his debut. 97 League appearances, 56 goals; 106 appearances, 64 goals overall. Not bad for a converted full back who's career was blighted by injury.
Ed Fitzgerald
77
Posted 09/10/2016 at 08:29:57
Football is about opinions, isn't it? Personally I think Jagielka is and always has been massively over rated. I don't doubt his endeavour or commitment I just don't think he is the great player lots of people on TW purport him to be. He is really good at making last ditch tackles and blocks in the box, but I don't think he has great positional sense and his distribution is and always has been poor in my opinion.
I really like Funes Mori he is comfortable on the ball and is strong in the tackle and in the air. He is South American and appears languid on the ball as most of their defenders do, but you don't get to be in the Argentine national team if you are a poor footballer, can we honestly say that for the England team?
It is one thing to to get back to basics in defence and I accept we probably needed to after the over indulgence of Martinez's defending style, but and it is a big but, there needs to be balance. Jagielka and Williams appear to me be ponderous in their thinking and are reverting to smashing the ball the full distance of the pitch at all times.
We can't pretend that bar a second half at Sunderland the football we have served up thus far under Koeman is particularly entertaining or thrilling to watch. I would imagine Funes Mori is a victim of a safety first policy and I would be sad to see him go.
Paul Tran
78
Posted 09/10/2016 at 08:39:03
Martinez bought him, so that's case closed for a lot of people on here.
If Martinez 'ruined' the squad, surely they've got a chance to prove themselves under Koeman?
I think there's a very good defender there.
Ciarán McGlone
79
Posted 09/10/2016 at 09:18:45
I'd play him ahead of both Williams and Jagielka.
Brian Porter
80
Posted 10/10/2016 at 06:38:52
After being caught out of position the other day, Williams was again caught out against Georgia last night. Funes Mori for me is actually a far better for player. I believe Koeman has brought Williams in to help 'steady the ship' but he and Jagielka are definitely NOT the future for Everton, both in their 30s with their best years behind them.
Hopefully Koeman can convince Funes Mori that he has a big part to play in our future if he's patient. Jags for one seems to pick up regular injuries and can't possibly go all season without being absent so Funes Mori should get the game time he's looking for IF he's prepared to be patient.
---
Add Your Comments
In order to post a comment, you need to be logged in as a registered user of the site.
Or Sign up as a ToffeeWeb Member — it's free, takes just a few minutes and will allow you to post your comments on articles and Talking Points submissions across the site.