Osman: Martinez refused to change tack for derby games

14 Comments [Jump to last]
Monday 19 December 2016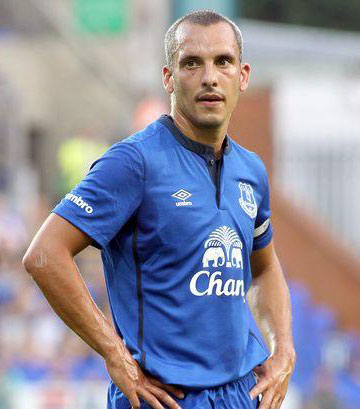 Local boy Osman didn't start in any of the six Merseyside derbies under Roberto Martinez
Leon Osman says that Roberto Martinez's insistence on sticking to his emphasis on possession-based football in matches against Liverpool was partially to blame for his failure to beat the reds.
The ex-Blues midfielder also reveals that the former manager wouldn't play him in Merseyside derby matches because of his emotional involvement in the local tussle.
Martinez oversaw six derby games in his three-year spell as Everton boss, drawing four and losing two, both of them ugly 4-0 reverses at Anfield.
The first in January 2014 was partially attributable to injuries but the second was as humiliating a defeat as Evertonians can remember, with Liverpool registering 37 shots on goal as the Blues simply capitulated.
"We were still trying to outplay and outpass teams at that point," Osman explained to The Times in reference to the more recent drubbing at Anfield in April. "We were going to Anfield and the manager was more concerned with us dominating possession rather than outfighting them that night."
"We spoke to him about what was required at a derby at Anfield — I certainly mentioned it — but he was of the opinion that if we played well, we would win the game. But derbies are a little bit different. Liverpool sat back a little bit, let us have the ball and hurt us on the counter. The better derbies are the ones with a bit of bite in them.
"We had lost our way and to go to Anfield and lose like we did... it was deathly quiet afterwards. Some of the lads will remember that.
"In six derbies under Roberto, I never started one. He said to me I would get too emotional and he didn't want to risk losing me. I wanted to come on in that one even though the game was gone. I was still doing my star jumps in front of the manager."
Osman also reveals that despite the awful manner in which they lost Martinez's last derby, the importance of the occasion wasn't lost on the players at Everton's Halewood training facility.
"This game would be on your mind for days and weeks. At the training ground at Bellefield, and then Finch Farm, there was a board in the changing room and on it would be written, "Six more sleeps" or whatever. You come in the next day, wipe it off, "five more sleeps." The game meant everything."
"It was a bad night. The fans were turning away and saying no one was showing this and that. I wish I could have got on as well and in that situation it is about showing some fight for the fans."
---
Reader Comments (14)
Note: the following content is not moderated or vetted by the site owners at the time of submission. Comments are the responsibility of the poster. Disclaimer
Jay Harris
1
Posted 19/12/2016 at 18:46:01
No surprises there then.
Colin Glassar
2
Posted 19/12/2016 at 18:58:38
Thanks Ossie, very enlightening. You see? Some players really do care. That last derby is scorched into my soul. I've seen the RS batter us before but never had we surrendered so pathetically like that one.
Rob Hooton
3
Posted 19/12/2016 at 19:03:04
Surprised Ossie didn't get a go in goal doing star jumps in front of El Bob!
Mike Gaynes
4
Posted 19/12/2016 at 19:08:49
Cracking comments. There really was a discernible difference in the way we played those games under Martinez to the way we played 'em under Moyes. I loved the way Cahill and Ossie and Hibbo went warrior in those.
Still fond memories of the way those three and Johnson and Carsley got the job done in 2006, one of my favorite games ever.
John Daley
5
Posted 19/12/2016 at 19:23:57
"At the training ground at Bellefield, and then Finch Farm, there was a board in the changing room and on it would be written, "Six more sleeps" or whatever. You come in the next day, wipe it off, "five more sleeps."
Guess some daft fucker forgot to wipe it off one day
John Daley
6
Posted 19/12/2016 at 19:28:22
Mike,
Let's not make out Moyes had the approach to these games spot on. You could count the wins on Mordecai Brown's mitt.
The last manager who truly 'got' this particular derby was Joe Royle.
Lee Courtliff
7
Posted 20/12/2016 at 10:24:24
Moyes was just as bad as Martinez. We may have conceded more under Bobby but at least he wanted us to play football and win the game.
Moyes would have been happy with punting it up the field and desperately hanging on to a nil-nil.
"Knives" etc.
Andy Meighan
8
Posted 20/12/2016 at 15:21:30
Why didn't he say something at the time instead of leaving it until Martinez is well out of it? The players don't give a fuck about losing derby games, it's us that feel it. Having to go to work and listening to them gloating fuckers with their idiotic comments and songs.
If our players did care, they might just have a better record in derbies. As it is, they don't. I'm sick to death of our players bigging it up in the run-up to the derby and then not delivering.
Our record in this fixture is fucking atrocious and I truly believe I'll never see another win, especially away.
Moyes, Martinez and now this fucking cretin clinging to grim death for a goalless draw like it's some sort of great result. Fuck off, the lot of you. You're not Evertonians and never will be.
Fed up of Huyton.
Des Farren
9
Posted 20/12/2016 at 19:28:55
Martinez is an easy target now, Leon. What about the players' attitude, including your own? Koeman is having exactly the same problems with these players but is strong enough, hopefully, to enforce his ideas.
Don Alexander
10
Posted 20/12/2016 at 21:54:59
My sympathies are with Ossie. Having reached the dizzy heights of full international just before BBS took over, it must have been galling to have seen it all then fade away as the team started sinking.
To have been unselected for a derby at that stage in his career because Martinez deemed him a "local boy" risk would have really pissed him off for good reason. After all, he wasn't a gormless 23-year-old still unsure of just how football should be played in midfield was he?
Erik Dols
11
Posted 21/12/2016 at 14:36:04
This says so much about the fundamental division between Martinez and the fan base. Yes, we like the School of Science and love football on the deck, good passing et cetera.
But in a derby match? I want to see players that put up a fight. Players that are a risk to get too emotional in a derby match? I actually want those players to play. I'd rather lose fighting for all we got, going down on a stupid foul that gives them a penalty kick, than surrendering the way we did that day. I'd rather have finished that match with 9 players due to red cards (I know, Funes Mori got one on the day).
We're still only one point off 7th place and if you would have asked me before the season, I would have said that 7th place was acceptable. and a clear improvement over last season. But it doesn't feel like that at all.
I hope this feeling changes but I can hardly be bothered at this time. We will not get relegated, we will not push for Europe. Are we expecting too much too soon? The great start certainly raised my hopes too much.
Ognjen Mojovic
12
Posted 23/12/2016 at 17:15:18
It is disturbing to find out that they couldn't agree over the way the game should have been played.
A lot of those players are still in the squad. Why they collectively didn't refuse to play in the way they think it's inappropriate?
Right now, I really don't believe that they can produce any kind of a result over the long period of time.
Ognjen Mojovic
13
Posted 23/12/2016 at 17:17:42
How messed up are the squads of the worse teams?
Mike Powell
14
Posted 26/12/2016 at 14:16:43
Martinez was a buffoon and the worst manager we have ever had. It was his fault I gave up my season ticket. He ruined are club; it will take a season or two to get it sorted.
---
Add Your Comments
In order to post a comment, you need to be logged in as a registered user of the site.
Or Sign up as a ToffeeWeb Member — it's free, takes just a few minutes and will allow you to post your comments on articles and Talking Points submissions across the site.